Consumer Complaints and Reviews

I have been a Windstream customer for many years primarily because I live in an area where they have a monopoly on the phone lines and therefore a monopoly on the phone and internet service in the area. My main complaint right now is with their repair service in the event you have a problem with any of their equipment. I upgraded my internet service and was told they were so busy it would take 6 weeks to get someone here to do the work. So the day the work was to be done (which had a window of 8 am to 7 pm) Windstream called and canceled about 10 am and said he would be here the next day. So the work finally was completed but a problem with my caller ID surfaced immediately and Windstream said that would take another 2 weeks for repairman to make it back out.
Today was the day they set up once again with a window of 8 am to 12 pm. Once again at 10 am I get a call saying "Sorry cannot get there till Sat." This is the worst customer service I have ever experienced. Obviously my time means nothing to them. If there was any other service in this area I would have switched years ago. I cannot wait for that to happen. Please be advised that their appointments mean absolutely nothing, but they always tell me to have a nice day.

I have phone and internet service through Windstream, although I never use the phone. It's supposed to be high speed and it is as long as you're plugged directly into the modem. Wireless is about 1.5 Mps. I tried talking to customer service about the problem and they said they only guarantee the speed when hooked up directly, not the WiFi, even though I pay $10/month for the modem and wireless router. I asked if I could buy a new modem and router and they said I could, but they couldn't provide any help if I had problems with the other device. I told them they're not helping with the device I pay them to provide.
This is not the first problem I've had with the company and I've only had service with them for 2 months. There have been multiple issues with billing and installation. But I won't get into those. The problem is they're the only show in town when it comes to internet since I live out in the country a bit. So they've got a monopoly on the area and therefore don't need to provide good service. You'd think they'd at least try, though.

The service provided is so bad and has been that way for years, we have stopped bothering to complain... It does no good. Can't even stream a movie in low res without countless delays for buffering. Internet is SLOOOOOOW. If you can avoid Windstream in any way do it!!! Crappy company, poor service, uncaring personnel.

Ordered internet service around October 15. Finally received a confirmation number, then a different one, with instructions to schedule installation. Called the number supplied who informed me that neither confirmation number was valid. Waited a month. Received a bill for telephone service, which was not ordered nor installed. On Nov. 26, Called billing number, who stated that internet service was not available, and they would credit my account. But I had to be transferred to another number to terminate service. Waited 48 minutes on hold. Called back, waited 28 minutes on hold. Tried their online contact. After filling out the form, the site came back with an error message. Tried online chat. It came back with an error message. Called billing back and finally got a human who cancelled the account and gave me a confirmation number. Absolutely the worst customer service that I have encountered.

After 5 years stuck in an area where Windstream has an effective monopoly on 'high speed' internet access, I'm finally moving, so It's time to review. Pros: No problems with automated billing, online account management interface is fairly well designed, timely storm outage service recovery. Cons: Cheap DSL modem/router components fail, predictable service outages during any precipitation event, rural hardware maintenance clearly not prioritized, bandwidth ridiculously limited for the price, bandwidth not as advertised, multiple dropped connections per hour on a daily basis (twice while typing this review), poorly trained telephone and on-site support staff.
To put it bluntly, you probably will not get what you think you're paying for with this company. If all you need to do is browse the internet for occasional entertainment, you may be fine, right up until your equipment starts to fail, unless you live in an area in which Windstream has decided to deprioritize their service quality. If you need even a vague sense of certainty that your internet connection will be functional from minute to minute, or day to day, this company is not a good bet.
If you or your household intends to stream video, play networked games, download large files, or engage in any form of time-sensitive activity while online, find another provider. In short, do not reward this company with either your dollars or your loyalty if you have any other option. If no other option is available, never make plans that rely on this service functioning as advertised or expected. Reviewer credentials: Network switching systems maintainer and operator, Windstream service user.
How do I know I can trust these reviews about Windstream Internet?
635,598 reviews on ConsumerAffairs are verified.
We require contact information to ensure our reviewers are real.
We use intelligent software that helps us maintain the integrity of reviews.
Our moderators read all reviews to verify quality and helpfulness.
For more information about reviews on ConsumerAffairs.com please visit our FAQ.

1/8/16 (Tuesday) lost internet. Called and service tech was going to forward problem to another tech... Latest to have it fixed would be Thursday 1/10/16. 11/9/2016 Called again 10:32 am. Going to send out a tech. Was told the 1st ticket # was sent to the wrong department, Second Ticket # was corrected to dispatch a service tech.
Called Customer Care 866-445-5880 for reimbursement of internet charges. Not very good service, told me they would be 10 days out from sending a tech out! I received a 800 call with a recorded message telling me that a tech would be sent out the following morning (Friday) between 8:45 and noon. Waited until 3:30 pm and called the support tech and he told me the soonest would be Nov. 19 and he talked to a supervisor and they moved it up to Nov 16th. How can this company remain in business with customer service such as this? How would a business survive in this day and age with service such as this?

I've been a Windstream customer for at least five years. I have a lifetime contract for unlimited High speed internet that cost $59.99 for 12Mbps download speed, but recently (maybe 5 or 6 months) it seems the speed throttles down at certain times pretty consistently. When I call, they want to send someone to check the inside of my house (cha-ching), because clearly (or so they tell me) the problem is inside my house. If that's true, why does my download speed work great during the day, but dips so low at night and on Sundays. It literally takes at least a minutes for a response, just like a good ol' fashion dial-up connection. My recent speed check result was 1.41 Mbps download speed and I'm not surprised.
This all seems odd to me and I suspect they're throttling down my connection, hoping I'll complain, then beg them to come repair the problem, and smile when they hand me the bill to fix a problem that doesn't exist. I have complained, but either cancel their appointment or told them I'll find another carrier. If I'm right, isn't what they're doing illegal, especially since I paying for high speed Internet and getting low-speed service? I can't shake this gut feeling I'm being scammed and I'm sure I'm not alone, either!

WindStream is the most horrible worthless pathetic joke of a ISP to exist. My max download speed is 300 kb. I was promised I would be getting a minimum of 3 mbs. CS is a joke. None of the people know what they are doing at all. UNPLUG IT AND PLUG IT BACK IN. **. That. They inflated my bill from 60 a month to a 100 a month so I am paying 40 dollars more than I need to in order to have internet that is 17x slower than what I was told I would get. Bottom line, WindStream is a complete joke and is not even remotely good enough even IF it's your only option. Pure ** those that review Windstream and say it's good are employed by them or are not avid users of the web.
3 years I have had them and it has only gotten worse. The CEO can't run a company for ** and is a horrible at his job, along with a majority those he has employed. I was told multiple times a technician would show up to review with me and find a fix. They NEVER showed up whatsoever. And when they did, it was when I needed a new router which is another way of saying, I needed to make a purchase from them and have them install it for me. They won't help you unless they make a profit out of doing it. They are like teenage boys that never come out of their room to do chores unless you pay them. DO NOT GET WINDSTREAM.

We been a customer of Windstream for around eight years, as they were the only Internet provider in our area of Kentucky. Recently we bought a Roku device in order to watch streaming news shows as well as other live streaming shows. Our reception is less than perfect as when watching these live streaming shows on Roku they frequently drop-off and buffer or have to re-load. This is not good and believe they could provide adequate bandwidth for us as they provide in larger Kentucky cities. We are charged the same price but receive less than good service. We checked with a local computer place and they said that Windstream doesn't provide enough "Bandwidth" to provide quality service. We checked the system control on our Roku Device and under "Internet Connection" it is rated "POOR". We feel we should receive the same level of service as the larger cities as we are charged the same.

There is no possible way I could recommend Windstream. They are possibly the WORST company I've dealt with in my entire life, and that is really saying something. I've been with Windstream since 2008, and unfortunately they are the only ISP around. Their HIGHEST speeds are only 25 Mbps DOWN and Mbps UP.
On top of not offering decent speeds, there have been a plethora of problems with our internet dropping for about 6 months now, and after a seemingly endless amount of phone calls it seems as though nothing can be done. The techs that are supposed to come out to customers' houses have closed countless tickets from us "within 1 minute of opening it and deciding to not show up" (words from one of the level 2 technicians). The fact that even speaking to numerous level 2 technicians and supervisors over the course of 6 months can't get us anywhere towards the right direction, is just ridiculous in itself. I have not been able to talk to anyone above a supervisor either!
It is sad to see a public company provide such terrible service AND customer support. Amidst our 100+ phone calls over the course of the past 6 months, we've been hung up on over 25 times. (No exaggeration, over 48+ hours of phone time alone in the past few weeks.) Please, stick with dial-up or even satellite until someone decides to provide a somewhat reliable service. This review should be 0/5 stars. The images attached are us after dealing with Windstream for 8 years.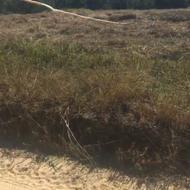 I have had my services with Windstream ever since June 2016. That is the month that all my problems started occurring. Windstream said it would be six weeks or around six weeks for my line to be buried. It is now October. The line is still not been buried. After numerous phone calls emails and notes written on my account not one thing has been done. The wire that is supposed to be buried is on my neighbors land. My neighbor is a farmer who grows his own crops and fee for his animals. My line has been placed going directly down the middle of his field. In order for him to get his crops he has to cut my line down because there is no other way for him to harvest. Like I said I have called many times and talk to many people. Nothing has been done.
I'm extremely disappointed in the entire company. I am an unsatisfied customer and I will never in my life recommend Windstream to another person. But I promise I will let every individual them know of how terrible this service has been to me. My husband and I rely on this Internet service for our jobs and no one seems to care. Something needs to be done and I promise I will take every measure it takes to get something done. If you are reading this and are contemplating this service, my advice is steer clear. Don't let it run in your head another time. Save yourself before it's too late because this company is nothing but a deathtrap. I had to walk down my dirt road and physically pull my line off of my neighbor's property, out of a field. I should never have had to do this and it's complete bull crap.

Dumped TWC because of unethical billing practices only to receive unethical billing practices from Windstream. I subscribed to the Kinetic Preferred Bundle because of a $250 one-time credit. My first bill arrived today. The bill is deliberately confusing so they can mask over $30 in surcharges and taxes. In addition, my credit was not posted. After speaking with, not one but two, customer service representatives, I have been "assured" the credit will post to next month's bill. Stay tuned...

DON'T FALL FOR THIS COMPANY'S SALES PITCH! We were sold a business phone and internet package that they claimed was comparable to our existing carrier - it is not and neither is the customer service! Their prices have increased every 6 months. Meanwhile we spend hours (sometimes whole days) without phone and/or internet service. When you call to complain they just re-route you to other people, never resolving the issues. WORST CUSTOMER SERVICE WE HAVE EVER DEALT WITH!

Overrated and overpriced and deceptive. Pros: Service has been fairly reliable for the 5+ yrs of using them. Cons: Was paying for 12Mb of service but only getting 3Mb of service. We had no idea how long the service was like this but would suggest that all Windstream users do speed test weekly or monthly. When complaining about this they indicated that they could not refund any money because there was no way to find out how long we were running on 3Mb.
The next issue was we had a service problem last Dec (2015). Pretty sure the issue was on their end, but they had a tech come out. The tech came out and replaced the modem even thought the tech could not determine the modem was bad. NOW we are getting charged $10/month for the modem. Before the modem swap, we never had a modem charge. The reason not being charged a monthly modem fee was we had received the internet service when the customer actually purchased the modem from Windstream. Of course the Tech who replaced it, NEVER mentioned we would be getting charged a monthly fee. :P

Windstream is awful--so bad in fact that I took the time to register with CA just to complain. First off, we have been customers for YEARS, and have lived in this house for 40+ years with the same phone number so we were loyal customers to whomever before them. We were on vacay and I missed the Sept payment. My bad--I own that. However, NO notice, NO phone call, NO ANYTHING. Just shut off service. And they are a PHONE COMPANY. There is no reason they couldn't have used the phone to call and tell us or leave a vm. They just wanted their $100 reconnection fee. Horrible. I told the CS rep that we are also VZ customers and they hound you to death blowing up your phone with calls and texts to remind you that you are past due. That's why I've been with them 10+ years. Keep a close eye on your bills because W is looking to line their pockets anyway they can. :/

We have been Windstream customers for as long as they have been in control of our area. We have suffered miserably with long outages and painfully slow "high speed" internet for years because we had no other choice. We were unable to benefit from the new technology everyone else had, e.g. SMART tv's and streaming devices because of constant drops and slow, slow speeds. Customer service was very agreeable every time I called and said they could see all the drops and they'd send someone out, then I'd hear the same story that everything looks fine. I finally had a tech to look me right in the eye and say "Windstream sucks!" Finally, after many painful years, HughesNet is available in our area and I am free of Windstream.

It took almost 4 weeks to install the service and gave me appointment times between 12 to 10 hours. Initially got a half of the service that work in an acceptable speed, and finally got full service but doesn't work any faster and customer support is telling us that our equipment's fault and then they hung up on me. I've had phone service for a week and I'm about ready to turn them off.

Been a customer since they bought out iowa telecom and have been going to upgrade internet since 2009. Still today where I live in iowa my speed is point 8mb of service. Been holding on but continued to be lied to about upgrades. Now maybe they say by 2019 3mb speed. Windstream sucks.

I've been a customer for 8 years, and I've put up with all of the outages and slow speeds because the price used to be right ($35/month). Over the last year the price has slowly gone up, and is now up to $65/month! Last week we returned from vacation on Aug 17 to find no internet. I called on Aug 18th and was told it would be fixed by Sat. When no one showed up on Sat I called on Mon (Aug 22). I was told "oops, no, your ticket is set for Sat Aug 27th." So a week and a half to get a service tech to fix our internet?! Ridiculous! Unfortunately for us, with our luck, my wife started a new online job and now can't get her hours in (because the library and coffee shops have closing times and she'd normally put in some evening hours).
So now I've had to spend extra money for more data on my phone because I can't save that data through being online at home, and we're losing money from my wife's job (which they're not happy she hasn't been putting in enough hours). Additionally, speeds are just horrendous! The first year we were running about 3 mbps. We paid $10/month extra for "high speed" which was supposed to give us 6-20 mbps. It bumped us up to just over 6 mbps, the lowest they promised for the extra price. We were told we were at the end of the DSL line and that was fastest they could get (when our house is in the middle of our town).
Anyway, for our general uses it was fine, and the price was right (again at $35/month at the time). For a couple of months I noticed the speeds were so slow it was noticeable. After some research (I'm not the most tech savvy) I checked the speeds and it averaged barely 3 mbps. After some calls they got it back up to just over 6 mbps, but that seems to come and go. I talked to my neighbor and found out he had the same issue, complained, and they got his up to 12 mbps. When I called I'm still told the same excuse (after 6+ years), even though other neighbors in the area report higher speeds and Windstream continues to expand in our area. So apparently the 20 feet between houses cuts our speed in half, or are they just too lazy to do some extra work to fix the issue?
If I wasn't moving in a couple of weeks I would just find another internet provider. I would like to have my internet back for at least my last 2 weeks so my wife can work right up until the end, but I'm so fed up I just want to cancel immediately! The only positives I've had are I get right through when I call, and their customer support people are nice. I know it's not their fault they work for a company with so many issues.

I set up internet for our home. Service is supposed to be installed today. Windstream is the ONLY internet service provider for my area. I've tried to get other service with no luck. I knew most people disliked or hated Windstream. By that statement, I mean EVERYONE I ever spoke to about Windstream hates them. I think I will be included in that group. Here's why: I had a bad foreboding about how this was going to work out from the get go and I was right. I kept getting emails saying I was getting a different service than what I was ordering or emails telling me the price had changed and even several phone calls from an automated system telling me these things. Their automated system didn't work (I would press the number to be connected and it NEVER worked) so had to hang up and call another number to discuss yet ANOTHER problem with getting service installed. Got everything squared away, or so I thought.
Service tech calls and says he can't get an internet signal at the box but can get a phone signal and he will have to go back to the office to try to figure it out. So I'm waiting and I get another email saying that I am going to be getting up to 6 Mbps service NOT the 12 that I was originally told I would get. I call to ask why and am given a lot of different possible reasons for that along with getting smarmy attitude from the customer service woman. I finally have had enough of the runaround and ask to speak to someone who might be able to give me a better answer. She puts me on hold and gets her supervisor. He immediately starts speaking to me like he is better than I am, saying he can give me the same reasons that the customer service rep. gave me and that he can't give me a definite answer as to why I can't get the speed that I was originally quoted but I may sometime receive the up to 12 Mbps speed. WTF?!
I told the customer service rep about my neighbor's speed (they have Windstream too of course) which exceeded the 12 Mbps. She looks up their address by the phone number I gave her, puts me on hold, and then relays all this info to her supervisor. He proceeds to tell me what I already stated above and that he looked at my neighbor's address to see their internet speeds (he couldn't give any details of course) and then says he saw that they weren't my next door neighbor and he saw that they lived on another street. I said, "I never said they were my NEXT door neighbor! I said they are my neighbors! I live two minutes from them and what does that have to do with anything?!"
He brought his attitude down a notch or two then. He said he has seen people live across the street from each other where one house could get internet and the other couldn't, and he's seen the same happen to people that live next door to each other where one could get internet and the other couldn't. I think that's BS but whatever, I didn't care to argue. I understand there could be many reasons for not being able to receive the same speeds as my neighbor's who live on another street. But there is a BIG speed difference! One of the reasons, (the main one he kept giving), was that maybe my neighbor lived closer to the main office and that's why they could get a faster speed! Not true because we live about the same distance away but, doesn't that sound a little ridiculous?
I asked if I needed to talk to the technician installing it to find out why my speeds are not going to be what I was quoted as getting. He said, yes, I could talk to the tech to find out. Haha! I may get more help from him! Anyway, I told him "Thank you so much for that helpful info" and hung up. It's almost 3 p.m. and still don't have internet and haven't heard back from the tech.
This is my initiation into the Windstream world. So far, I've not been treated like a valued customer at all. I've been given the runaround, treated as if I was lying, the product I'm paying for has been represented as something it's not (been lied to), and I've caught them trying to change the services and prices that I originally ordered. I guess they were hoping I wouldn't catch it or wouldn't care. Not starting out too good, but if I want internet I will have to have Windstream. This does not seem right! They shouldn't be the ONLY internet and phone service provider! Guess I will just have to see how things go.

I have had Windstream DSL for over 8 years now. I have changed modems and routers, ran new lines inside my home and even paid to get the fastest speed they have available. Still, my internet is painfully slow and frankly seems to be getting slower. I have called them multiple times but never get the situation resolved. I have no other real options for internet in my area unless I want to go to a satellite provider and get limited data. I am so frustrated with Windstream and their pathetic product. Normal websites often take several minutes to load. Sometimes the speeds are better and sometimes worse. It is so slow right now that I can't even run a speed test. Windstream DSL is a waste of money. As soon as I find an alternative I am gone and never looking back!

I was promised 12 mbps when I was looking to buy a house in the area. After purchasing the house the Windstream installer announced they had to put a throttle on my internet to 1.5 mbps. I initially was charged 63 per month for phone and internet. Now it is 100. The phone line has never worked. Always so much static. I have to use the cellphone. Customer service never answers on any media.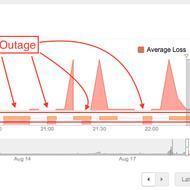 I have been a Windstream Communications customer since December 2015. We have been very disappointed and frustrated. We have made multiple calls for help and get the same old "it's our fault" from support. It's pretty clear that their network in this area is insufficient to serve the needs of all the customers here. There are hundreds if not thousands of complaints here and nothing is being done to correct the problems.
The attached graph shows the repeated outages in the past 24 hours. I spent hours on the phone with their support staff trying to fix this only to find out that there was a Windstream-wide outage at the same time. We spend good money, as do may others in this area and get very poor service and patronizing attitude from their support staff. I'm hoping someone will step up and make these guys live up to their commitments. I only want medium network service. What I get is really poor network service.

Our business was a long term Windstream corporate customer until this year. We received a notice from Windstream indicating we may see a modest rise in our monthly fees. Then they hit us with a more than 250% increase in our bill. No real notice and their response to our discussions were POOR and unprofessional. Highly recommend finding a different partner for business internet needs.

As I write this I have been waiting 1 hour and 9 minutes on the phone for someone to answer. I called the main phone line and from experience now I should get online and start a chat at the same time knowing that someone would eventually answer. Chat did answer, just to give me another phone number to call. Haha. So I called that number and still on hold. I have a billing question... again. I seriously do not understand how this company stays in business!!! At this point, I am not hanging up, I will leave my phone sitting on speaker phone all night if I have to! If there was another broadband company available in my Texas town I would change but Windstream has it here and they are my only choice. Charter where are you? ...Oh someone answered... I'll fill you in on the call after we hang up.
...OMG! I was told it was billing... It is not and the call is being transferred... I am on hold again!!! She came back to the phone and told me there is a 4 min wait with this new transferred call... It is now 4:15 pm... Update: (time:4:22). Well a very nice lady did finally answer and was able to fix my problem! That is good. I will continue to hope for a new company in our area though. That was a ridiculous amount of time spent for a 2 min resolution to a simple issue.

Windstream here is a total joke. We called last week because once again we have intermittent service and they said they would be out by Tuesday, a week later. Well here it is Tuesday and no show. Called Windstream and we were bumped due to higher priority service call. "Why did you not call?" "We don't need to"; was their answer. Called other service providers and no one is allowed to service the area. Called the city government and they said Windstream has a basic lock on the area due to federal funding. Am calling the State Representatives and governors office. This is monopolistic practices (in my opinion) supported by government regulation.

We signed up with Windstream because Dish Network sent us to them for service. Since day 1 it has been garbage. We can't even run our Dish On Demand because the Internet signal is too poor to use it. We have made entirely too many calls and got no help. They say unplug and repugnant the router. Nothing changes. They said "Get a high speed router." It cost 80 dollars. We did. Nothing has changed. I bet if we stop paying our bill we go to collections yet they can legally rip people off and No one helps us people who are paying for their garbage. Why can't anyone help us consumers? What they are doing should be illegal. Currently desperately searching for a reputable service provider because Windstream is neither.

Internet service is awful. Customer service gives you a different answer every time you call. A year ago I was told that the "copper cable" was going to be changed to fiber optics. Six months ago it was close to being complete. Just called and received an answer that my area was not slated for any changes as far as being update to fiber optic cable!!! It is sad when there is no other provider in the area. Still have to pay for awful service and they know it!

Dido... everything these people have said is 100% accurate... I'm just not sure which is worse - Windstream's customer service or their internet, because they are both pretty darn horrible!!!

Currently working on finding a new internet provider as Windstream is, by far, the WORST supplier I have ever used. Everything was working fine until they started promoting their faster speed and kept pressuring me to upgrade. When I didn't upgrade it seemed my internet magically stopped working as well as it used to. When I called and brought this up they said it was a coincidence and that it was because I had too many devices using the internet. I have the same amount of devices using the internet as I did two years ago. Their internet is horribly slow and their solution is to unplug the modem and then plug it back in... Who has time to do this multiple times per day? They also have charged me for things that when I called and asked what the charge was for, their answer was "I'm not sure". Very helpful... They are not a trustworthy company.

ConsumerAffairs Research Team
The ConsumerAffairs Research Team believes everyone deserves to make smart decisions. We aim to provide readers with the most up-to-date information available about today's consumer products and services.
As one of the most popular of the mid-sized ISPs, Windstream ranks among the top 10 largest ISPs in the nation. It is especially well-known throughout the Midwestern and southern states, including Arkansas, Georgia, Iowa, Kentucky and Texas.
Customer service: This is one company that consistently receives positive reviews for its devotion to keeping customers happy and exceeding expectations.
Steady expansion: For the past several years, Windstream has been acquiring smaller ISPs and enlarging its coverage area.
Standard speeds: Like Earthlink, this is a mid-sized ISP that can provide a good quality of service for standard Internet usage.
Social presence: In addition to normal customer support channels like phone, email and chat, Windstream maintains active communities on Facebook and Twitter.
Best for Windstream is best for smaller businesses, rural consumers and those who prefer a local option with high-quality customer experience.
Compare Internet Service Providers
Windstream Internet Company Profile
Company Name:

Windstream Internet

Year Founded:

2006

Address:

4001 Rodney Parham Rd.

City:

Little Rock

State/Province:

AR

Postal Code:

72212

Country:

United States

Website:

http://www.windstream.com/