Consumer Complaints and Reviews

I tried to find the diagrams for KitchenAid Model KDTE204DSS1 to no avail, as they keep providing a different but supposedly similar model. The washer has a pump that whines and screams and now it will not pump. I did the usual, and cleaned the filters etc. Finally with a turkey baster, I emptied all of the water from washer. I then carefully removed the three prong brown wire from the pump. I twisted the pump and it came out in my hands. Once the pump is totally dissimilar to all pump on the dishwashers that Kitchen Aid lists. This does not make very happy. As I write this, should I find/buy a pump in the morning and put it in place and the machine again fails, I look at the circuit board and head to Sears to buy a Kenmore. Kitchen Aid needs to be in the garburator.

I purchased a KitchenAid dishwasher in September of 2010. The purchase price with installation and taxes $800.29. A service call was made March of 2013 with a broken latch. In 2015 the same problem occurred. This year 2016 in September the latch broke again and now it's two months later and the panel of the whole electrical circuit board does not work. I am extremely dissatisfied with this product. I actually have never gone online and made a statement as far as dissatisfaction with an appliance. It seems like to me that not only are products made to break with being told I should have purchase an extended warranty which from many of the reviews is an additional waste of money.
I wish I had looked at more reviews prior to purchasing the product. Dishwasher model number is kuds30ixbl. I was upgrading appliances and wanted a nicer product. I will never recommend a KitchenAid appliance again. When I spoke with people on the phone it was very dissatisfied. Basically I'll have to say that most companies are no longer concerned with customer service. I plan to look for the cheapest dishwasher I can find with as few electronics and things to break as possible.

Bought our KitchenAid spring 2016. November 2016, I noticed our cupboards next to the dishwasher are ruined because someone at KitchenAid had a brilliant idea of doing a side steam vent instead of a front vent. Clearly the product designer at KitchenAid has never used their own product... or they just don't care about the consumers buying a poorly designed product.

Whirlpool owns KitchenAid. BUYER BEWARE!! The dishwasher does a good job but God help you if you ever need to use the warranty. Mine has a door leak. The repairman came out 5 times and replaced the tub twice, the door liner, the door, the hinges and the latching mechanism. There is still a 50/50 chance it will leak depending on how hard you slam the door and I do mean SLAM. They have taken up almost 15 hours of my time. The warranty says they will repair or replace the washer. THEY WILL NOT. You are dealing with dishonest people with no integrity. They are like an insurance company and they will do whatever they can to wear you down and not honor their obligations. Do yourself a favor. When looking at products, pass up the KitchenAid items.

We purchased a KitchenAid dishwasher (Model KDFE304DWH0) on 09/02/2014 from Lowe's in Simpsonville, SC. We purchased a 3 year warranty. On 10/05/2016 the dishwasher stopped drying the dishes. We called Lowe's. On 10/07/2016 a service tech from WFCC AUTHORIZED SERVICE INC. (ASI) came out and said the (owl??) water sensor needed replacing, and they would order the part(s) and call to schedule replacement. On 10/12 I called ASI and was told they would call me when the part was in. On 10/21 I called Lowe's and they could not find out if the part had even been ordered & would get back to me in 7-10 business days. We have now been without the use of the dishwasher for 3 weeks and no repair has been scheduled. Based on my experience, I would not recommend anyone buying a KitchenAid appliance from Lowe's.
How do I know I can trust these reviews about KitchenAid?
633,951 reviews on ConsumerAffairs are verified.
We require contact information to ensure our reviewers are real.
We use intelligent software that helps us maintain the integrity of reviews.
Our moderators read all reviews to verify quality and helpfulness.
For more information about reviews on ConsumerAffairs.com please visit our FAQ.

You would think that you spend more money on a trusted brand that it would last for more than 5 years. It's only been used a couple times per week for my wife and me. Called three repair service companies who all told me that the issue is most likely a faulty circuit board which cost about half the price of a complete new dishwasher. Please be assured that I will never buy another appliance from KitchenAid in my lifetime. Hopefully my experience proves beneficial to you!

This appliance is a disgrace. After 2 months the control panel broke and was replaced. After 3 more months the soap dispenser broke and was replaced. The door is coming apart at the side. Today the handle came off in my hands. It is now 10 months old. I can only think this product is designed to enable the sale of extended warranties.

I purchased the top of the line KitchenAid dishwasher 2 years ago, paid over $900. I bought the extended warranty and it broke within first 2 years. Turns out there are no parts for the repairs. National back order. This is a new appliance. I paid $250 for the extended warranty only to get a buyout of $573. I am now without a dishwasher and out over $600. My other rant is that they are now going to throw this thing in a dump. What is their carbon footprint? I have never been so dissatisfied with an appliance in my life! KitchenAid can kiss my ass!

Glasses do not come out clean. Our new Kitchenaid Dishwasher does not clean glasses and dishes. I have cleaned the machine numerous times and tried several soaps. Company officials told me it's my water. Funny. None of my neighbors seem to have trouble with their dishwashers. This machine also takes over 2.5 hours to do a normal load of dishes. I purchased an extended warranty but feel like giving up and purchasing a new machine. We have been hand washing the dishes for a few months now. :( Do not purchase this product.

I purchased a KitchenAid dishwasher two years ago. I have a KitchenAid refrigerator that is 25 years old. The dishwasher KDFE1040BLO has been worked on 4 times. They have replaced the water valve and the motor. Just yesterday, it dumped water all over the floor and the heated dry is not working. Thank goodness I took out an extended warranty. I know that KitchenAid is a good brand, but I am very disappointed in my dishwasher. It hasn't worked 3 out of the last 6 months.

Kitchenaid dishwasher model kude201xwh6 - Oh how I wish that I had searched your website for reviews prior to purchase! My situation sounds much the same as other reviews. The top rack rollers are simply defective. We have replaced ours through service calls and self repair no less than 5 times in the past 4 years. Finally on the last repair the technician completely replaced the roller and rack arms because the factory had recalled the parts. Yet, I wasn't notified of this by the company. My dishwasher had to break down first before the problem was addressed. To me this smacks of covert activity and doesn't promote my loyalty to the company. Additionally our motherboard has been replaced twice... The first replacement was defective. And today I'm doing dishes by hand as the control panel is unresponsive again.
We purchased the extended warranty - thank goodness, but again using a warranty on what will now be the 8th time a service tech comes to our home is ridiculous!! Worse yet when we talked to the service department, they have only documented three service calls! What's that about?? In hindsight, I remember there was paperwork to sign on some calls and not on others. So, I can't "prove" or verify the number of visits through a paper trail. I would suggest always documenting whenever you call regarding your appliance or have a technician enter your home. Writing the dates, times, and contact person on the appliance manual would be an excellent place to store that information. With each service call the response time is getting shorter. Of that I am very thankful, but shame on any company that would have even three warranty service calls on a product! Buying an appliance shouldn't be a gamble; it should be a wise investment.
We were thinking that perhaps the dishwasher was just a lemon. An oddity that the company would gladly replace. It does happen that for an unknown reason one will just be "bad". Unfortunately, as I read these reviews, I don't see much hope of the situation being rectified to our satisfaction. I will pursue a request for replacement and hope the company will honor my consumer request. It appears their dishwasher line leaves much to be desired. Other review sites indicate that the KitchenAid dishwasher is better passed over for a more reliable brand. It is unfortunate as the dishwasher meets my expectations when it is operational. However, I will report any satisfactory outcomes I encounter through my attempts at recourse.

I find it ridiculous that I paid a lot of money for this dishwasher & it keeps breaking. Had bought an extended warranty for it. If I hadn't I would have paid 2 times out of pocket to fix it to date. Control panel went out less than 2 years ago & it is broken again!? Of course my warranty is up now.

We purchased KitchenAid model # KDFE204EWH1, paid $145.00 to have it installed, bought extended warranty and it has never cleaned a dish. We had two technicians out who gave us "hints" to help, i.e. put more soap in, run your faucet until the water is so hot that you can't touch it because the first rinse in the machine is cold water, use Jet Dry. I've been using dishwashers for a long time and have never needed technicians to come to the house and instruct me on how to use it. KitchenAid has officially chalked the problem up to "owner misuse". This is highly insulting and ridiculous. We even paid our plumber to come and see if the problem could be caused by our plumbing - negative on that. I called the company and was told that if I try another dishwasher detergent, that it might help. "Other customers have found it to be very helpful".
Give me a break! The machine is a piece of garbage and has never, ever worked. $1,000. of our money has been thrown out the window and we have been treated poorly by this company to say the least. Save your money, do your research and buy something other than a KitchenAid/Whirlpool. We now have to clean our dishes by hand. Horrible machine, horrible company to deal with. They will not send anyone else out to look at the dishwasher unless we pay for it. They have done all they are going to do and don't care that the machine doesn't work. They are finished with us as we are with them.

My KitchenAid dishwasher is leaking out the front and when it is in drying mode the control panel gets covered with condensation. I have contacted the store in which I purchased my appliance and they are coming out for the second time. After reading other reviews I am having some concerns over the quality of this product. Is there any way to force KitchenAid to stand by their products, and replace faulty appliances as needed?

I own a Kitchenaid dishwasher model # KUDS301XSS9. We bought it from Sears less than 3 years ago with the service warranty package. I've had to have a service guy out 3 TIMES IN LESS THAN 3 YEARS to fix 3 separate issues. The lower racks wheels have been falling off and melting, causing damage obviously. They, Kitchenaid, won't send me replacement wheels unless I pay $30 a piece for a pennyworth of plastic. They make their products so poorly that it's basically guaranteed to fall apart in no time flat so you'll be bound to pay their grossly inflated prices for replacement parts. Do yourself a favor and buy parts elsewhere online for a fraction of the cost. This company is such a joke and refuses to stand behind their products. Lost us and my family as customers for life.

I purchased a model KDTE204DSS0 KitchenAid dishwasher on 12/1/14 for $717.48. It has a stainless steel tub. Fourteen months later (2/16) we had water leaking from multiple pinhole leaks in the stainless steel tub where the base of the tub is molded to fit the screen and pump. I called Whirlpool and they said that the tub has a lifetime warranty but it can only be installed by an approved appliance repair facility. That cost $150.00 (I removed, delivered and installed the dishwasher again myself). On 9/8/16 (seven months later) the dishwasher is leaking again and has again the same pinhole leaks in the new tub. I get a slight shock when I touch the screen inside the tub and believe there is a galvanic reaction going on that is eating up the stainless tub at its thinnest area.
Since I find no other reviews mentioning this problem, and it appears to be more than just a tub problem but a unit problem (i.e. a lemon), I asked Whirlpool to replace the unit. As you already know, they said no but would replace it for $17.00 less than I paid for the last one less than two years ago. If I paid another $150.00 to replace the last tub that would be about $500.00 a year to wash a load of dishes every other day. This negative review is as much about the manufacturer as it is about the faulty dishwasher.

What a piece of junk! When did KitchenAid allow their products to become inferior to the point of totally frustrating the consumer. KitchenAid used to be a quality product. I've only had this for 3 years - in the first year the plastic clips broke on the back of the thing and I had to contact a supervisor to get them in time for the holiday. Basically the top rack is worthless - totally and completely worthless. All the plastic pieces snap off and break - clips, rollers, etc. When you try to adjust them to get the rack to go back in so you can close the door the plastic things break. I ordered extra plastic clips when I got them the first time and those have broken. By the second year the bottom rack was falling apart and would not roll back in. The wheels are broken.
Furthermore, the electronics is crap. I will use a setting and come back 3 or 4 hours later and it is still running - or trying to run. Half the time the dishes don't even get clean. I'm so angry. I'm a single parent and spent my tax refund check getting this and it works worse than the 10 year old thing that I had before this junk. At least the 10 year old dishwasher didn't have plastic pieces breaking. Stop making this crap in China and make it in the U.S. with quality parts and quit making it cheaply so that you can blame the Chinese for your own design flaws. Quit paying your CEO a fortune and making crap. Concentrate on making something that lasts. Since KitchenAid is owned by Whirlpool I assume the same will be true of Whirlpool's quality.

We just renovated our entire home, and I wanted a good, solid, basic dishwasher for the basement kitchen, thinking this a better option for my teens. This is not our main kitchen and it doesn't get the normal amount of use like our main, upstairs kitchen, and I didn't want anything too complicated. The KitchenAid dishwasher was installed and leaked from day two. It leaked out the sides and all over the floor, and ruined the brand new cabinetry that it was installed next to. In the two years that we've had it, it has been serviced 7 times, and tomorrow will be the eighth. It was barely nine months old and a pump had to be replaced.
Early on, I begged the KitchenAid company for a new unit. I even offered to spend a little more and get a totally different unit, knowing I'd have to have another cabinet panel made to match our cabinets. Anything to get this lemon out of my kitchen! Nothing doing. I'm basically stuck with it, and now whenever I call (again) for service, they want to charge me the service call because it's out of warranty, even though they have the service history. I ask for a supervisor and they finally agree to foot the service call, but for how much longer, it's anyone's guess. Thank goodness I chose two Bosch dishwashers for upstairs. They are quiet and work wonderfully, and they get a lot of use!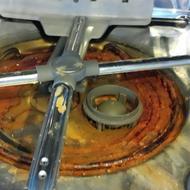 Dishwasher just quit working about 3 weeks ago. After about one week, I tried cleaning the inside. The bottom was all "rust". When I went to wipe it out I got shocked. Needless to say, I left it alone. Called technician in and he said it was the worse dishwasher he had seen. The seal on the motor evidently leaked and blew out all the functions for operation. It would be too expensive to repair. Here is a picture of the dishwasher. This dishwasher was installed 2 years and 1 month ago.

Control panel wore out after 6 years in a summer home. The part has been discontinued so the whole dishwasher has to be replaced!

When I was a kid my mom loved KitchenAid but we bought a Bosch because the style we wanted. After it failed miserably I said we will purchase a KitchenAid. We purchased our KitchenAid dishwasher in 2014. We Paid for installation also. With it we bought A warranty. After just over two years, the top rack of the dishwasher failed. The top rack will not slide out and we've found metal ball bearings in the dishwasher that we assume are from the side rails. So frustrating... This is standard use and it is crap. When I called to get it repaired I was told that this type of repair is not covered by the extended warranty and the estimate was 2/3rds. The cost of the dishwasher. I was talking to my mom and she told me "Son they will take care of it..." They didn't and I told her "It is not the brand it used to be." The top rack finally completely broke and now we have a bottom rack only. We are so over it and so sad.

A PERFECT machine. I have one in FL and one in NH. FL unit (model number not available now) is plagued with "false starts" but works well and reasonably quiet. It has received 2 service visits and both times the false, short starts have been judged "normal". Strange... BUT it does recover automatically and works very well for 5 years now. My NH unit, model KDFE104DSS0, is a STAR. So quiet that half the time we forget that we turned it on. Love it!

The dishwasher does work quite well. The problem is the racks are garbage. They fall apart easily and are very very costly to repair. All the little bits fall off constantly hit the element and melt and burn. The adjusters on the top rack are very poorly made and quickly become useless. The wheels are the first thing to go. I asked KitchenAid if I can just buy two new racks with all the bits attached. They said no! I would have to buy all the bits and pieces, and yes get the technician in to assemble the whole thing starting at 400.00!!! NIce really nice, so they have you anyway you turn. This will be the second time we have had to replace all the bits of on a 5 year old dishwasher, first time was around 400 bucks so 800 in total to Date. Thinking of cutting my losses and just buying another brand. I think environmentally this is a total shame to toss a good dishwasher out. Shame on KitchenAid. File # **

Kitchenaid Dishwasher KUDC10IXWH8 purchased 06/14/13, have had problems right along, had pump problems, finally changed pump on 05/11/2015. Now, I smelled burning wires, could not find source. Opened dishwasher to empty and saw that the dirty water had not emptied out. Had someone check the plug and saw that it had burned and melted. Think it melted into the wall plug also. Will contact Kitchenaid today.

Since posting the initial review, I was contacted by a KitchenAid engineer who scans online reviews about their dishwashers. I'm happy to say that the dishwasher has now been repaired at no cost to me. Hopefully the replacement rails and adjusters will last longer than the original ones did. I'm very pleased that KitchenAid stepped up to make this right. I've been a loyal customer of KitchenAid and will continue to be in the future. But this is only a great dishwasher if it stands the test of time and that's yet to be seen.
Original Review
We purchased our KitchenAid dishwasher Model KDTE334DSSO in April of 2014. We paid $895 plus installation for the dishwasher. With it we bought the 48 month extended warranty for $375, which covered 3 KitchenAid appliances that we bought together. After just over two years, the top rack of the dishwasher failed. The top rack will not slide out and we've found metal ball bearings in the dishwasher that we assume are from the side rails. I was told that this type of repair is not covered by the pricey extended warranty and the estimate for parts & labor is approximately $400. Having to pay $400 to repair a 2 yr. old dishwasher with an extended warranty is outrageous! And to add to the frustration, the repair parts are back ordered. Piece of junk! KitchenAid brand isn't what it used to be! Buyers beware!!

Biggest piece of ** you will ever buy. Plastic parts constantly break. Cleaning is most of semiocer. Better off washing by hand!

I purchased KitchenAid because of their reputation for quality product, and good service. I received neither. My dishwasher is less than 4 months old and the motor is out already. Ok, so the repair tech orders the part, and it's on backlog for one month! Imagine - it's not like this is some obscure part - it's the dang motor! You mean to tell me KitchenAid doesn't stock these?? Ridiculous. So sorry I chose KitchenAid!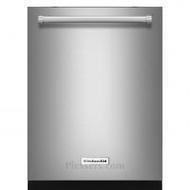 We bought this dishwasher a KitchenAid KDTM404ESSO s/n f52302835 last year July 2nd because of the reviews. It was a higher end dishwasher and had great write ups. The dishwasher leaves residue on everything. We called our sales company Home Appliance in Brunswick, Ohio and they told us it is probably clogged. I checked it, it was clear. Called back and they said you are using too much detergent. I asked for a contact number for a rep for KitchenAid and only got the factory phone number.
In March or April the motor quit working. We called and they came out and confirmed it and ordered the motor for a warranty replacement. I told the service man about how it doesn't clean anything completely and he said you can't use Cascade. Cascade is what they recommend in the papers that come with the unit. He recommended some other brand which we bought and it still didn't clean the film off all the dishes.
He came back out and explained that we were stacking the dishes in the dishwasher wrong and that the bottom rows had to be facing each other and took the top silverware tray out for us (you can't fit 12" dishes in with this in, the wash arms hit it). We did a load with him there and they came out cloudy. He said, "Oh, you have to do sani rinse with your wash 'cause the new dishwashers don't use any water". I said, "That's great but then we would be up to almost two and a half hours to do a load". His reply was that is the way the new dishwashers are, meaning live with it. I would understand a lower end dishwasher doing all this stuff, but this was a $1200 plus installation dishwasher. We do not want this unit anymore at all. We made a mistake thinking it would be as good as our KitchenAid mixers and it isn't on the same planet.

Purchased a KitchenAid Dishwasher Model KUD30IXBT4 Series F15106777 dishwasher with extended warranty four years ago and it already quit working. Unfortunately it is no longer under warranty as of March of this year. Control panel does not function as of today. Not impressed. Will never buy another KitchenAid Product as long as I or anyone in my family lives. And am going to spread the word to everyone I come in contact with. Very disappointed in most appliances on market today. Have had nothing but headaches. This is our second dishwasher in 8 years and there is only two of us living in our household. We take very good care of our stuff.

My wife and I bought a KitchenAid Dishwasher, Model KDTE334DSS, just about two years ago. The top rack on this appliance is the biggest piece of GARBAGE I've ever seen in an appliance, and has been falling apart since we bought it, and paid close to $1000 with installation and delivery. The entire rack system is supported by chintzy/cheap plastic parts that constantly break. Now the control panel is not working so we can't run it. The repairman tells us the part is $250, without installation, BUT IS ON BACK ORDER WITH NO DATE LISTED FOR AVAILABILITY. To make matters worse, I call KitchenAid and the arrogant response I get is "there's nothing we can do to help you", and when I ask why a part for a two year old appliance is on back order, and if there's a problem, I'm told it's because "it's a popular" dishwasher.
I ask to speak to a supervisor and I'm told "sure" but then get hung up on. KitchenAid products are clearly GARBAGE and KitchenAid employees will treat you like GARBAGE. Reminds me how the US auto industry lost so much consumer confidence. I will NEVER buy any other KitchenAid product and wouldn't shed a tear if they went out of business...

ConsumerAffairs Research Team
The ConsumerAffairs Research Team believes everyone deserves to make smart decisions. We aim to provide readers with the most up-to-date information available about today's consumer products and services.
KitchenAid has been a household name since the release of its first stand mixer in 1919. The company has nearly 100 years of experience crafting kitchen appliances to an exacting standard.
Nine wash arms: Where other dishwashers make do with three washing arms, KitchenAid dishwashers use nine to ensure all dishes get clean, regardless of placement.
Window and lighted interior: Do you hear a banging or clanging during the wash cycle? There's no need to pause and open the dishwasher when you can look through the conveniently lighted window.
Unique clean-water wash filter: Water gets filtered while in use to remove food particles, and the filter is self-cleaning, so you don't waste any time cleaning it yourself.
Super quiet operation: With dishwashers as quiet as 39 decibels, the only problem with a KitchenAid dishwasher might be remembering whether you've already turned it on.
Pro scrub: While KitchenAid doesn't make a wide variety of models, the ones it does make come with features like pro scrub, which uses 40 jets to tackle the worst baked-on food messes.
Best for Families, homeowners and apartment renters
KitchenAid Dishwashers Company Profile
Company Name:

KitchenAid

Address:

P.O. Box 218

City:

St. Joseph

State/Province:

MI

Postal Code:

49085

Country:

United States

Website:

http://www.kitchenaid.com/