Consumer Reviews and Complaints

Architect Series II Model KDTE704DBL0 is a $1,799 piece of junk. We purchased this top of the Kitchenaid line dishwasher to replace a 16 year old Bosch dishwasher. It was installed on May 11, 2015. Just two years later, in May, 2017, the control panel which operates the entire machine failed. It was still under warranty (labor not covered). It took a week to get the part which was replaced on May 26, 2017 at the cost of $100 for labor. About two weeks later, on June 10, 2017 the replacement control panel failed. This time it took over two weeks to get the replacement part. It was installed at the end of June. The owner of the appliance store gave me a break and only charged $50 labor this time.
On Thursday, September 7, 2017 the second replacement control panel failed. And I am once again without a dishwasher. I have not yet heard when the third replacement control panel might be delivered and installed. And even when the dishwasher is repaired... After this how can I have any confidence that it will work for long? It was a horrible decision to buy this dishwasher. The price was three to four times the cost of the average dishwasher. I thought we were purchasing a quality product that would last for many years. I am so disappointed by how unreliable this dishwasher has proven to be. I wish I had stuck with the Bosch. My sister bought a Bosch for $1,200 a few months before I needed to replace my 16 year old Bosch. It's working fine and she loves it.

KitchenAid model KUDE70FXSS Dishwasher - Bought this unit in 2011. Out of the box, the control panel never worked right. I would frequently have to 'reset' by unplugging and re-plugging the machine to get it to work. 3 years in, the control panel died and was replaced by the appliance store under an extended warranty. The top rack wheels have broken off twice and been replaced. Bottom rack wheels have broken off once and been replaced. Top rack after 6 years is peeling and rusted. Dishes will not clean completely unless you wash them first (kind of defeats the purpose of having a dishwasher) and the prowash cycle takes forever to run. All this time my wife has said, "We paid a lot for it and we will make it work."
FINALLY last week, a rubber spatula fell on the heating element and burned badly... stunk up the whole house. After days of fighting trying to get the burnt smell out unsuccessfully, I got my wife to agree to get rid of it and buy a new dishwasher.... It is NOT a KitchenAid. All that is left now is to get rid of the stove and refrigerator (yeah the stove/oven don't work much better).

I purchased a KitchenAid dishwasher for $900 four years ago and purchased the extended warranty from the retailer to cover it for five years. The wheels, plastic proscrubber part, and the control panel have broken so many times in four years that I have maxed out the value of the extended warranty and the company offering it will no longer repair the dishwasher. I called KitchenAid and spent half an hour being told the equivalent of "** customer." They will not take any responsibility for the poor quality of the dishwasher. Don't purchase a KitchenAid dishwasher unless you're ready to buy a new one in four years. The quality of the dishwasher and responsiveness of the company to customer concerns are terrible.

In January of 2013 I bought a KUDE70FXSS dishwasher. It was a top line model and I wanted to buy local. The racks are now rusting out as they come with nonpermanent little plastic caps at the end of the racks. We didn't realize they were gone and now the whole rack is starting to rust to the point where new caps won't fit on the racks. How wonderful! I paid over $1400.00 for this unit and now it's rusting out. What a poor design. KitchenAid or my supplier P.C. Richard won't cover it because it's considered "cosmetics ". I should have bought a German dishwasher! I'm disgusted! You try to do the right thing!

I've had this dishwasher model KUDS30iXSS4 with stainless steel tub for 5 years and the only way to get dishes clean is to set it for pot scrubber and on the longer cycle. The top rack has plastic wheels to roll it in and out that completely broke off so it can't be used. Replacement parts are over $135 and I don't know if I can fix it myself. I've had dishwashers last 15+ years with 0 problems so I think this one isn't living up to expectations. I bought the stainless tub because I thought it would last. I can see from these reviews the top shelf wheels are a major design fault. Many complaints about the plastic wheels breaking off as well as other plastic pieces failing. When I replace this and I'm sure I will have to, I won't replace it with another KitchenAid.
How do I know I can trust these reviews about KitchenAid?
881,173 reviews on ConsumerAffairs are verified.
We require contact information to ensure our reviewers are real.
We use intelligent software that helps us maintain the integrity of reviews.
Our moderators read all reviews to verify quality and helpfulness.
For more information about reviews on ConsumerAffairs.com please visit our FAQ.

I bought the Kitchenaid KDTE404 (architect series) dishwasher for $900 and had it installed by company who sold it to me. The dishwasher bottom rack was broken, but installer/company repaired it within a week. The rack system is crap. Has plastic inserts with ball bearing. Inserts get hard, breakoff and ball bearing fall out. After 30 months the top rack fell off due the roller assembly breaking. Bottom rack has same issue. Cost for replacement of upper and lower assemblies parts alone were over $350 with discount. Dishwasher must be completely un-installed to replace assemblies. Dishes come clean, it's very quite, but if the racks fall out/down while loading, it's not really a good product. I can break my own dishes thank you very much. Next repair gets it booted to the side walk.

I asked around before buying my last dishwasher, hoping to find a brand and a model that would last for some time. Instead, I purchased a Kitchen Aid from Sears. It stopped working last weekend, so we called a Sears for repair. They were booking appointments more than two weeks out. Next, we called a reputable, independent appliance repair shop, and they told us that our dishwasher had a "defective motor" that would cost more than $500 to replace. So between purchasing the product, paying for delivery, paying for install, then paying for a repair tech to come out and tell me that the dishwasher needed a new motor, I am into this Kitchen Aid dishwasher for more than $1,325 for a dishwasher that didn't even make it to two years of light service.
Kitchen Aid should be ashamed of itself for selling an expensive product that couldn't handle 3 washes per week over a year and a half. Their standards and workmanship are not to be trusted, and I'm stunned that such an expensive piece of equipment had such a short life. I conclude by saying that I will never buy a Kitchen Aid appliance again, and I don't recommend that anyone who reads this become a customer either.

We purchased our KitchenAid Dishwasher KUDE40FXSS1 5 years ago. Although it washes the dishes well, to date we have replaced an upper basket wheel mechanism 6 times and now ALL of the wheels on the lower basket have broken due to being brittle from the high temperatures required to clean the dishes. We are so disappointed in the CHEAP plastic used inside the dishwasher! The last time we replaced one of the upper mechanisms, the part came with some metal pieces. Brilliant! Why didn't they think of this is the beginning? So far, it is working well!
We are now in the process of replacing the lower wheel mechanisms - all four of them. Until those parts arrive, we have to delicately pull out and push in the lower basket or the wheels fall off. Thank goodness we can replace the parts ourselves. I feel sorry for the people who have to get a repairman in. The cost to us has been substantial, I can't imagine what it might cost to pay someone to fix it! I will never buy another KitchenAid Dishwasher and I tell anyone who asks to never get one either!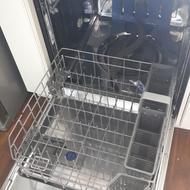 We built our house 3 years ago. We chose a KitchenAid kude48fxss6 for our dishwasher. We chose the "higher end" model thinking it would be better. The dishwasher's 1st issue was in our 2nd year of having it. A gasket of some kind went on the inside. The water during the cycle found the path of least resistance out, and cause a fair bit of water damage to our floor by the time we came home and saw. My husband repaired the dishwasher with a $5 part. The parts store commented that it was a very frequently breakdown on these dishwashers. Next came the plastic nub that connected the top basket to the roller. Each basket has 4 of these nubs. Plastic becomes brittle over time especially when exposed to hot Temps and water. So not surprisingly one broke. And now mother recently the entire connection piece that the baskets roll on has broke.
Fortunately my husband has been able to fix these items but it's extremely disappointing that we spent good money on such garbage and also have to still repair a damaged section of floor. There isn't any accountability for the disposable garbage these manufacturer's make. The use the cheapest components designed to last just long enough though standard warranty so that you are stuck repairing and or replacing. It should be criminal. They should take notes from the Toyota production systems and learn about continuous improvement. Then people would be fistful to the brand and their businesses would thrive rather than their current model of cheat and deceit. Sincerely, a mom of 3 little kids who has better things to do than wash extra dishes.

From the very start it only cleans the dishes if you put them in clean. Salesmen said I could put dirty dishes in. Not unless you want them coming out dirty. Everything has to be thoroughly rinsed before they go in, the regular cycles takes hours to run. So disappointed. I had my first KitchenAid for 15 years and it was quick and cleaned like it should. Repair man said everyone is complaining about the same thing. He had to fix the runners on the upper shelf because they were plastic and cracked. I would replace this in a second if I could afford to throw out the expensive piece of trash that it is. Picture are right after cycle ran, I turned dishes over to show insides for pictures submitted.

We bought the Kitchenaid Architect Series model # KDTE104DSS0 after much research for $800. 2 years later the motor is dead (typically lasting 10+ years) and KitchenAid will do nothing. The customer service rep got a supervisor but they refused to even help on the part cost. So now after spending $800 we must pay another $400 to fix. I could have bought another Bosch to last another 11 years (the last dishwasher in this house) but went with a domestic piece of garbage instead. I'm appalled that they wouldn't even give a discount on the part - instead tried to sell me a NEW dishwasher at a discount! I will never ever ever buy KitchenAid again. So disappointed in their customer service. I understand, things break - but own up to it instead of relying solely on us coughing up another $200+ at the time of purchase. We could barely afford the dishwasher and trusted that the brand would hold up. Obviously a mistake.

My husband and I bought this KitchenAid Dishwasher, Model# KDFE104DSS1 Serial# F52627380 in July 2015. It has not been cleaning the dishes properly for the last 6 months. We called KitchenAid and they stated that it was out of warranty and we could buy a new warranty for $350.00 and it would cover the dishwasher for another year. We spent over $600 for this dishwasher and bought it because of the name. My husband took the dishwasher out and pulled it apart and (after speaking with appliance repair representatives and the internet) figured it was the pump motor bearing. He went to the appliance part store and got a new motor, installed it and it worked. How can a dishwasher pump motor break after only 21 months and the dishwasher is only used twice a week? I would never recommend this dishwasher or any other KitchenAid product to anyone. The customer service only wants to sell you warranties.

The valve that allows water to shut off in the dishwasher freezes open causing the water to flow out of the front of door and flood your floor. The first time I was standing there and thought the door may not have closed. About 4 months later I was not there and it flood the kitchen, into the hall and living room. Called Sears. They sent a repair guy. He saw the water did not turn off even when you opened the door of the dishwasher, he said these valves have a problem and sometimes it is intermittent. Sears tested the valve and of course it worked, so they said the water damage was not from that. So lesson learned take a video. So where else did the water come from? Spent $800 for a turn off valve for dishwasher under sink and plumber said no leaks. Need this valve because I do not trust this dishwasher, will be looking at Bosch.

I bought a brand new KitchenAid dishwasher in Nov 2016. The one with the window on front door. Gave trouble within a week. Waited 2 weeks for a serviceman who said pump was faulty. Said it would be another 2 weeks before that arrived. In meantime I insisted on Best Buy (where I bought it) giving me a new one. What a saga. A month later the new one eventually arrived. Guess what? Within a week same problem. Repairman again. Pump faulty again. Another 2 weeks. Pump replaced. Within a week same problem.
Contacted KitchenAid direct which is really Whirlpool. Awful customer service. Scheduled a replacement this week but failed to keep appointment. Got a few hours notice. They're giving me another new one. Have told them this is the last one. If this one is crap like the last 2, then they just take it away. Not getting another. No appreciation of fact that a family of five have been washing dishes by hand for several months while $1200 piece of crap sits in our kitchen.

We bought the dishwasher about 2 months ago, I have had Sears service out to check it out and the tech basically said it was all my fault. The dishwasher doesn't clean, it doesn't dry, you can't interrupt the cycle (add a dish) without starting over. I have to make sure the dishes are spotless before putting them in the washer. Many times the detergent door won't open and when it does the packet just sits in the holder and never gets into the washing area. I feel that I have wasted close to $850.00 which is something I can not afford. I would never buy anything they manufactured again.

Bought Kitchenaid Model #KUDE40FXSS5 in 2012. Within first year the top rack fell off the runners and had to be replaced. As that was under warranty Kitchenaid sent repair kit, but we had to install it. March 30, 2017 I started cycle. Within minutes water was pooling in front of the dishwasher. Turned off cycle. Drained water from dishwasher and called repairman. He knew immediately what the cause of leak was as he had seen it often. The ring that connects and tightens a water hose to the pump was not tight enough. The original ring could not be tightened as it was installed at the tightest possible connection allowed by that plastic ring. He replaced with a Bosch metal screw tightening ring. Called Kitchenaid and they refused to help with payment for repair. This machine cost $1200 new. This is inexcusable and I will never recommend this product.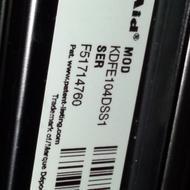 We did a total kitchen remodel and included a dishwashing machine, which the house never had before. We sprung for the higher end stainless steel tub KitchenAid KDFE104DSS1 (2016). 3 months later the machine stopped moving water, but could still drain. Warranty phone call... repair tech does two visits... one for diagnosis and one for part install (new pump). Up and running. 5 months later same deal. Another warranty call and two visits... back up and running. Now I notice the rusting slide rails for the upper deck. Now into the out of warranty mode and the pump fails again.
Going shopping today for a cheaper machine... putting the KitchenAid trash out on the curb for the recycle guy. BTW there were intermittent events for soap dispenser door not opening. (No dishes in the way.) Food pieces splashed around hanging on the walls... and then there's the smell. This model likes to hold used water between washes and after just one day of no use, OMG what a stank.

Within 6 mos. of use my KitchenAid dishwasher has a broken detergent dispenser. The sliding door will not click to the close position. I purchased 3 KitchenAid appliances at the same time and all 3 have had problems in the 6th month - a non-working interior oven light, a microwave that displays an error message rendering it useless for a couple of hours, and this detergent dispenser problem. : (

We have been generally pleased with out KitchenAid Dishwasher until recently. It was purchased in December 2015. Lately as we start a load, it sounds like whirling vacuum sweeper. The repairman tells us it is due to a bushing that has leaked. After the machine warms up, the sound goes away yet the quiet nature of the washer was the very reason we went with KitchenAid. The repairman said we could solve this issue by replacing the motor for a $350 price tag. Has anyone else experienced this issue? We were told that no further damage would occur but the noise will get louder until the machine finally quits.

I purchased a top-of-the-line KitchenAid dishwasher in 03/2009. From day 1, I had to wash the dishes by hand before putting them in the dishwasher because it just didn't get the dishes clean. Fast forward to 02/2017 and I called KitchenAid to let them know this dishwasher is now full of rust, the cleaning elements are rusty, the racks are rusty and what would they do about a dishwasher less than 8 years old. I was told because it's so old they wouldn't do anything to help me. Hence, they said purchase another dishwasher. I had my last dishwasher for over 10 years and it worked like a dream. I will NEVER purchase another KitchenAid product again. They do NOT withstand the test of time and are poorly made.

Horrible manufacturing!!! KitchenAid dishwasher model KUDE20IXSS8. Motor only mounted with a very SMALL PLASTIC grommet. Further, from the motor is a rubber hose/gasket that is clamped with a one-time-use flimsy ring. This attaches to the plastic drain pipe. When the grommet failed (vibration, etc), the flimsy plastic ring could not hold the weight of the motor separating the motor with the rubber hose FROM the drain pipe. SEE where I'm going here, yes, catastrophic failure. Yup, water gushed out all over my kitchen floor. Under flooring, cabinets, under refrigerator. Water/moisture mitigation was encouraged by insurance company before repairs. Repairman also mentioned he has repaired this same problem 5 times. Shame on KitchenAid (made by Whirlpool), this should be recalled and at a minimum manufacturing resign is a must!

The sliding top shelf of my KitchenAid dishwasher is not sturdy. It requires a moderate amount of skill to use. The shelf must be gripped from below and after loading gently pushed back in an upward motion. When the shelf is pushed back, after loading, the shelf disengages from its roller bars and falls into the bottom shelf; this happens if the person loading forgets or jams the unit. It is difficult to reinstall. I have had to purchase an extended warranty from the distributor to enable normal usage. I purchased the unit and extended warranty from ABT Electronics, Glenview Illinois.

We had the worst experience with a Kitchenaid dishwasher. I made many attempts in calling them and nothing was ever done. All they did was they send me the same technician over and over. Today we had the technician come and he recommended to get a simple model and not to go with the KitchenAid brand. The sides of my kitchen where the steam vents are in the dishwasher, they are destroyed them completely.

KUDD03DTSS2 - I bought a KitchenAid DW in 2009 which was well outside of my budget but wanted it to last and felt comfortable that the company had a good record and would stand behind their product. Well, all of that was not true for me. The DW did good for about 3 years and then it started tearing up. The design of the unit is flawed and they will not admit it. There is a $1.47 plastic flange that connects to a plastic connector on the fan motor, and holds the filter in place within each drawer. The connectors which are made of plastic crumbles and the flange will not stay connected so the fan motor unit has to be completely replaced because of this problem.
With labor and parts costs it adds up to $300 and this is just one drawer. The flange itself cost $1.47 and the fan motor costs $85.81 and the labor and service call cost me $300 just for one drawer that has since tore up again along with the bottom one doing the same thing. Got in touch with KitchenAid and was told there isn't any recalls on the product so they offered me a warranty program that wouldn't go into effect until after the repair. You know where they can go. So going to buy a new one and guess what brand I won't be buying.

This model KUDC2OFVSSO - has been terrible since day one. The only way it gets dishes cleaned, is by washing the dishes prior to putting them into the dishwasher. It functions basically as a sterilizer, not a dishwasher. I would NOT recommend getting a KitchenAid! I'm not sure where to go from here, but I won't ever buy another one, as I don't have $500+ to throw away.

Purchased a higher end Kitchen Aid dishwasher model KUDE60FVSS3 in 2010. End of 2016 dishwasher was having issues with it not draining at the end of the cycle. Had a local repairman out twice. He replaced the drain pump and repositioned the drain line - didn't fix the issue. Contacted Whirlpool/KitchenAid customer service and set up an appointment with a factory authorized technician. Factory certified tech couldn't figure out what was wrong (test was not producing an error code). He suggested replacing the main board and drain valve sensor - ($400+). He couldn't guarantee that this would fix the problem since he couldn't get an error code. I understand that appliances break down, and I was prepared to have this one repaired, but when the fix is a trial and error throw money at it approach, this deems a product as disposable, since it's cheaper to buy something new.
Although the dishwasher is 6 years old, I estimate that it has run less than 1500 cycles (running it every 3-4 days over the 6 years). Also, in the 6 years I've had to replace the cutlery baskets twice - cheap plastic garbage. I sent a complaint letter to Whirlpool executives and their response, although quick, was one basically one of "We're not prepared to do much". KitchenAid use to have the reputation for quality and reliability. Now they have cheapened the design to where the higher end models are no different than a cheaper $300 disposable machine. There was nothing wrong with the quality of money I paid for this dishwasher, but certainly Whirlpool/Kitchen Aid quality and reliability leaves a lot to be desired. Will never buy another Whirlpool product, nor will I recommend.

Just purchased this dishwasher (KTA 44 dBA) mainly because it matched the refrigerator KRFF707ESS I wanted and am pleased with. However the top tier drawer of dishwasher is pretty much useless. I thought it was for stacking flatware but the prongs are so short, the flatware falls over. Wish I had bought a Miele which is more expensive but definitely superior. So now I'm not using the upper tier for flatware. Alternative is this enormous basket which takes up so much space. No one would ever have need for that much basket space... takes up the whole depth of bottom drawer, which by the way, slide out on their own volition often. Don't stay closed unless you forcefully push it into place. Not thrilled with this dishwasher. It is quiet and it does clean. That's it. Spend the money and get a Miele.

Dishwasher Model KUD535FXBL9. If I could give this dishwasher a zero I would. I have had this dishwasher about 2 years and 7 months. The motor and pump assembly are shot. Seriously. I live alone and do about 2 loads of dishes a week. Also mailed in the registration but never received notice about the top shelf recall. Between my KitchenAid gas range and the dishwasher I am absolutely disgusted.

KitchenAid dishwasher kud530fxss4 constant repair. Thermocouple went out, repairman replaced. 6 month later out again. Replaced with modification recommends by manufacturer. 7 months later out again. Replaced again. Now circuit board fried. Appliance is not worth the price. I have had dishwashers costing half as much last years. Will never buy KitchenAid again. Dishwasher is 4 years old and going to the trash bin.

Cleans well, looks good, moderator noise level, durable (I've had it for almost 14 years). My only criticism of this dishwasher is that it has leaked off and on over the years that I've had it. No one can figure out why that is. I've assumed that the leaking has to do with the way I load it but that theory has been debunked by running it with only a few dishes loaded exactly as they should be. Still a mystery. Looks good. Moderate noise. Has held up (and hope I am not jinxing myself by saying that now!).

ConsumerAffairs Research Team
The ConsumerAffairs Research Team believes everyone deserves to make smart decisions. We aim to provide readers with the most up-to-date information available about today's consumer products and services.
KitchenAid has been a household name since the release of its first stand mixer in 1919. The company has nearly 100 years of experience crafting kitchen appliances to an exacting standard.
Nine wash arms: Where other dishwashers make do with three washing arms, KitchenAid dishwashers use nine to ensure all dishes get clean, regardless of placement.
Window and lighted interior: Do you hear a banging or clanging during the wash cycle? There's no need to pause and open the dishwasher when you can look through the conveniently lighted window.
Unique clean-water wash filter: Water gets filtered while in use to remove food particles, and the filter is self-cleaning, so you don't waste any time cleaning it yourself.
Super quiet operation: With dishwashers as quiet as 39 decibels, the only problem with a KitchenAid dishwasher might be remembering whether you've already turned it on.
Pro scrub: While KitchenAid doesn't make a wide variety of models, the ones it does make come with features like pro scrub, which uses 40 jets to tackle the worst baked-on food messes.
Best for Families, homeowners and apartment renters
KitchenAid Dishwashers Company Profile
Company Name:

KitchenAid

Address:

P.O. Box 218

City:

St. Joseph

State/Province:

MI

Postal Code:

49085

Country:

United States

Website:

http://www.kitchenaid.com/