Consumer Complaints and Reviews

We bought our LG dishwasher just a year ago and of course right after the warranty is up the dishwasher fails. As a family of 5 we don't have the money to buy a new dishwasher again or fix. You would think after paying a large amount of money for a product it would last more than a year. Very displeased and unsatisfied. Will not buy LG again.

We purchased the LG Model # LDF7774WW just a few months ago and from the very first wash we noticed that it would not clean the dishes properly, even though I am in the habit of rinsing off the dishes under running water with a dish scrub brush before putting them in the dishwasher. Also, there is a setting for heated water on the panel. It clearly shows the temperature of 160 degrees. However, after suspecting this claim, I tested the water mid-wash with two distinctly different thermometers, one electronic, the other mechanical. Both thermometers showed readings of between 110 degrees and 109.4 degrees.
This washer is simply designed to be inferior. Our past GE dishwasher would superheat the water to the point where you could get a mild burn if you were not careful removing metal items from the washer at the end of the cycle. With LG, the dishes feel a little warmer than room temp at the end of the cycle. Avoid this brand and especially this model. It is garbage.

Dishwasher D1484CF is a good-looking machine and we have had it for a few years but for the majority of that time it has been broken and awaiting repairs. The problem is always the same, the ON and OFF switch fails and fails and fails. The switch has a sensor that means it doesn't actually need to be touched... just the sense of your finger seems to set the machine, but it fails and fails etc.

Just bought the LG LDT9965BD Dishwasher. It does not dry the dishes properly. I didn't realize that the dishwasher has what they call a "hybrid drying system". The dishwasher does not have a heating element, instead, it relies on the heat that is retained by the dishes. They recommend hotter water which is NOT a good idea if you have children. Also, rinse aid is REQUIRED to enhance the drying performance. They should really inform customers about this. Also, the inside of the door stays wet all the time unless you dry it after you wash your dishes.

I purchased brand new appliances in 2016 with them being delivered in spurts due to back orders. The dishwasher Model LDT9965bd was delivered on January 30, 2016 and not installed for a few weeks later. These are top of the line LG projects in black ice. I noticed the finish deterioration on the left side on 2/7/17 so I contacted ABC Warehouse on 2/7/17 and my salesman referred me to their LG customer service. I call the next morning and they refer me to LG directly because they say the warranty was up on January 30, 2017. I did not purchase an extended warranty on this item like I did my fridge and stove. Upon sending my photos she asks me how I clean it. I don't use product on the item and only wipe with a damp dish towel on top where the buttons are. To be honest the dishwasher does not need that much cleaning on the outside (sounds accusatory to me).
She proceeds to tell me to call service repair and provided me a local number that I have not called as it will be a cost to me for them to come out. The finish on my black ice dishwater is coming off around the handle on both sides and I have only had it installed since late February 2016. I told her to forget it that I would take this up with my sales rep. At this point I would not recommend LG products if this does not get addressed at no charge. THIS IS A MANUFACTURER DEFECT. I will not stop until this is fixed at their expense since I spent $1,000 on this item. I thought I was buying quality.
How do I know I can trust these reviews about LG TV?
739,412 reviews on ConsumerAffairs are verified.
We require contact information to ensure our reviewers are real.
We use intelligent software that helps us maintain the integrity of reviews.
Our moderators read all reviews to verify quality and helpfulness.
For more information about reviews on ConsumerAffairs.com please visit our FAQ.

Bought LG DISHWASHER LDT9965BD in Nov/2016. We have a laminate floor in our kitchen. Didn't realize the dishwasher was leaking until the Pergo floor panels started curling up at the seams in front of the washer. The service man said our sump assembly seal was leaking from inside the washer. The dripping was unnoticed because the water was flowing under the laminate panels and soaking into the padding underneath. I have had many less expensive dishwashers in my life and never had a leak not even a drip. This was the most expensive dishwasher LG had at the time of purchase. Waiting to see if LG backs up the damage that was caused.

I bought this LG dishwasher 2 years ago. The dishwasher never worked well. Dishes were not clean, racks collapsed, the cycles it offered were useless. The Smart Diagnosis does not function. The app is not yet set up. Within the first year the dishwasher completely broke down and I had to replace the motor. I asked for a new dishwasher but the company refused. I figured it was a lemon. Now a little past the second year the dishwasher is not draining. I took the dishwasher out of the space to make sure that the pipe was not kinked. I found a tissue stuffed in a spot where a screw should have been. The repair man probably put it there to prevent something from jiggling. How do I know he repaired it properly?
I spoke with customer service in the Philippines. The girl was cordial but explained that to fix the dishwasher it was going to cost me $400. I asked to speak to a supervisor. They transferred me to a girl in Alabama who was less than helpful. She was rude. She just talked and talked about how I should have bought an extended warranty and did not let me get a word in. Finally she ended up hanging up on me. It seems like highway robbery that I pay 899 for a dishwasher that breaks in the first year, then little into the second year they want me to pay another 400. I cannot afford to pay 440 dollars a year to have a dishwasher. I had a Maytag before this that lasted 20 years and I paid about $350 for it.

Purchased (4) LG appliances from Lowe's. The dishwasher, model LDF7774BD has poorly designed racks... glasses and dishes fall over or roll around when you open and close the unit when adding additional dishes until it is full enough to run. The rack design is the big negative, will not hold as many dishes as our old one. We really did read the owner's manual and watched the online videos which are not much help. Called LG customer "NO" Service and imagine they said they have never heard this complaint before... ha! DON'T BUY LG DISHWASHERS EVER!! We will be returning the dishwasher to Lowe's.

I am updating my review to state that I contacted LG by email thru their website, asking if there are any snap in times to utilize the bottom rack more efficiently and keep smaller items from falling through. I have not received any response from LG, and on reading similar reviews on the other brands I had contemplated, I would just be costing myself more money for the same issues, plus another installation fee since. At least I purchased this dishwasher on a good sale. Sadly I concede and no longer will enjoy the challenge of easily cramming three days of dishes and miscellaneous items into my dishwasher.
Original Review
I just bought an LG LDF-5545ST about two weeks ago and had it installed. It is very quiet and cleans just fine. Unfortunately this brand new LG has sticking soap dispenser as everyone else mentioned, and the top rack tines are soft and so oddly placed that I may go nuts. The bottom rack has maybe five wires across the bottom and huge dead space in the center if you aren't washing pots. I end up hand washing more than ever because this is the perfect dishwasher for rich people with no children, no pets, no plastic, and no odds and ends.
It is the perfect dishwasher for people who wash a matching service for 8 or 10 dinner party and then don't eat for a week. Small glassware of any kind can't be placed in the bottom dead space or they clink around or fall through the massive spaces. Lids don't sit right, and if your bowls are deep and you want to stand them up, again, dead space ruins everything. I am so missing my 22 year old Maytag that still worked, but had severe rack rust. I will be calling Lowe's to take this monstrosity back and get a dishwasher that is family friendly.

This is the worst dishwasher I have ever owned in the past 3 years. I have had to remove it and unclog the drain hose. I have called LG numerous times with no resolution. When I can afford a new one it will be replaced.

Worst. Dishwasher. Ever. The tines collapse. The tines are too short and spaced poorly so the plates flop over and don't get clean. Dishes chip. The dishwasher rack derails because the rack is a little too narrow and the rollers aren't wide enough to stay on the rail. It derails constantly. Then I have to try to lug a heavy rack back onto the rails and then it derails in the other direction. Detergent door doesn't click into place. Dishes often do not get clean. Purple plastic pieces holding the adjustable tines pop off and rows of tines fall into the dishwasher bottom. The pump has failed 4 or 5 times in 3 years, either blocked or defective.
I made repeated, polite complaints to the company when problems persisted past the warranty period. LG DOESN'T BACK THEIR PRODUCT! I paid $899 and I'm replacing it with a Bosch that costs half of that. I hate this dishwasher! No, I really hate this dishwasher! (It gets one star because I can't give it negative 5 stars.)

LG Dishwasher LDS4821 - We purchased our LG dishwasher in mid 2012. Our first bad experience was with the installation, as the legs supporting this monster are made of plastic and the installers completely broke the frame. (I found out when it starting tilting and had to call Home Depot, who replaced the dishwasher). These dishwashers are so flimsy, they never sit correctly between the cabinets and require occasional adjustments to keep the door from scraping the sides of the cabinets.
The next problem was a strange scraping noise that would occur during the wash cycle... Turned out to be the pump, which was also leaking, which rusted out the motor. Our repair guy replaced both. The next repair was with the bottom door seal, which was leaking water. Within months after the stated repairs, the "HE" heating element light started flashing and the dishwasher wouldn't complete the cycle. Once again, our repair guy came out, tested the heating element (which was working) and determined that the control panel was malfunctioning and needed replacement.
Now on to the minor issues: detergent door may or may not open during the wash cycle, bottom rack has a tendency to stick and requires being lifted and re-seated, dishwasher may or may not do a good job washing the dishes (depending on its mood that day). At the time of purchase, we were remodeling and bought all LG appliances. After the above experiences, I will never buy their appliances again.

Bought this with a stove and refrigerator. My biggest mistake was not returning it immediately. The third rack was a pain in the neck because you could not fit glasses in the middle rack, and when you try to adjust the rack it collapses and holds nothing in place. The collapsing racks are poorly designed - have proven to be a nightmare. They will not lock in and they keep collapsing when you load dishes and cups into the washer. The very top rack which was to hold the thin knives, and serving utensils will not stay connected to the side attachments and things you load here disconnect and fall into the main compartment to be fished out of the lowest rack. They have proven to be a great disappointment. Sometimes you have to fight the soap dispenser to get it to close. The whole design is an abomination and if I hadn't just purchased it a year ago I would throw it out. What were your thinking LG in the design of this monstrosity?

Rusted front panel replaced by retailer (Home Depot). LG said I cleaned it wrong. Rusted again. Doesn't clean dishes well, change soap, clean filters, change rinse agent, still worst dishwasher I have ever owned. Very disappointed.

Had my dishwasher delivered 25 August 2016. On Halloween it gave error code AE. LG customer service said not their problem it is an installation issue. HHGregg came out and said no it is defective the installation was correct. The machine then gave code LE so I called LG back. They had a repair shop call me and I explained the codes. The shop "ordered" the parts. After days of calling they finally answered and said LG had not given them a delivery time frame and to call LG. I called LG and they said not their problem and to call shop. I called LG back and complained. After days of arguing they assigned another company because the first became unresponsive. The second and third company never contacted me and LG would say nothing but "oh we are finding someone."
Then I was referred to the refund/replacement department who said I would get a call on the decision. No call came so I had to call back. I called back and they said "oh sorry we did not call you. It was rejected." I resubmitted because yet another repair shop was unresponsive. It is now 20 December and I may not get a decision until the 23rd. Then I get to wait 7-10 days for a refund or a new machine. LG is unwilling to accelerate the process or give me a supervisor who can make a decision. Every call I get a lecture about established procedures and timeframes that have to be followed. Reprinted receipt provided.

Read a review by Kathleen from Pa on her bad experience with a leaking dishwasher. We had the same experience. Repair staff made 2-3 trips to our home, replacing several items inside the door. The 3rd repairman finally determined that the dishwasher was not properly leveled. After he leveled the dishwasher, we no longer had the leak problem. Hope this helps some of the frustrated LG dishwasher owners with the same problem.

I really liked the looks of this dishwasher until I got it home. My biggest mistake was not returning it immediately. The third rack was a pain in the neck because you could not fit glasses in the middle rack. I removed it to solve that problem. The collapsing racks have proven to be a nightmare. They will not lock in and they keep collapsing when you load dishes and cups into the washer. They have proven to be a great disappointment. Sometimes you have to fight the soap dispenser to get it to close. Next time I am going back with Maytag.

My LG Dishwasher has provided me with very clean dishes and glassware. The cycle I run is very quiet and as a Quick Wash, it lasts for 78 minutes to wash and dry. Over the last 5 years, it has given me excellent service.

My dishwasher stopped working a few years ago. The dishwasher was only one year old. I had it repaired and I have never had a problem since then. I also learned to clean and maintain it myself. To have a happy dishwasher and a happy dishwasher owner, try to clean your dishwasher after each use. By the way, I only used hot water and degreaser in cleaning this and now it washes better than it ever has.

This LG dishwasher cleans the dishes very nicely. It's quiet, offers a variety of cycles, looks good, etc. Of the ten or so dishwashers I've owned over my lifetime, this one is my favorite. Things that I like about the LG dishwater: very quiet, thorough cleaning, looks attractive, lots of options inside for placement of dishes, drinkware and pots, and a pleasant little tune when each load is done.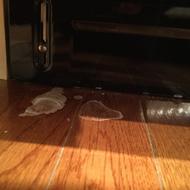 My new LG dishwasher is a leaker (model # LSDF9962ST). On October 11, 2016, we had our new LG top-of-the-line dishwasher installed. Within 7 days, we noticed a small puddle. We ran the dishwasher for another week to try to ascertain whether the problem was due to faulty installation or factory defect. Well, several days later, the installer arrived and said the leak had nothing to do with installation. He said the water was leaking from the machine at the bottom of the door. Then, our appliance store recommended calling the LG tech to pinpoint the problem. The tech arrived the very next day & was completely baffled by what he saw, so he called LG for help. After speaking to 2 LG reps, he told us that they (LG) told him that it was a "design flaw" on all of these dishwashers and could not be repaired. Needless to say, he was stunned and embarrassed...and very sorry for us. We would have to live with it or fight the company.
We felt ripped off. LG knew it was selling leaky dishwashers with a design defect & didn't seem to care. Apparently, the leak is coming from steam build up in the washer which needs to vent out somewhere, ergo the lower area of the front door is where it condenses out... Right onto the floor. Sadly, we have beautiful hardwood floors, and since the condensation is white, it leaves white puddles. We have since had our appliance store try to get the LG rep to convince the company to take the dishwasher back or compensate us for a new one of a different brand. All of this having happened within a 3 week period of installation, made us feel somewhat hopeful. No such luck! All of the inquiries have come to naught.
The company cares only about their monetary bottom line, not at all about consumers wasting their hard earned money on a known defective product. Shameful, indeed! Our only recourse now seems to be a Class Action Lawsuit. Yes, it may cost us money; however, they should not be allowed to get away with such shady practices. If this information helps a few consumers to avoid this horrible leaky product, it will have been worth it. I wish I had read the reviews in advance. Aggravated in Pa.

This is by far the worst dishwasher I've ever owned and was the most expensive one! The tines constantly collapse and allow the dishes to tip over. The soap dispenser door is tricky to get closed. Sometimes it won't dispense at all. If the door does come open usually only half the soap is dispensed. It doesn't clean anything. We practically wash every dish before loading, and when you go to unload, half are still dirty. The upper rack will not hold any sized glass or cup well. They constantly tip over. This dishwasher has broke more glassware than you can imagine. The lower rack doesn't want to roll in and out without coming off the track. I hate this dishwasher.

I bought all new appliances for my kitchen... all LG. Love everything but the dishwasher! I never thought I had to read the manual to run this... but one day realized that the filter was really greasy and there was water standing in the drain. Then I found a "quick guide" with my papers that actually said to clean this filter every time you wash! The water never drains out which creates moisture even if you put a paper towel in it each time you use it! Really... Does a manufacturer expect you to clean the filter each time? Plus we don't ever put "dirty dishes" in it to begin with! Pricey item And LG won't back this up because I am beyond my warranty. Who has time for this!? Forget this product.

LG Dishwasher Model ldf7561st - Wow, wish I read these reviews before purchasing. We upgraded our kitchen with new appliances, all LG. To be honest, the other appliances have been OK for their purchase price... This dishwasher, however, has broken down after 2 years of normal use. After calling their very friendly customer service phone bank (that has no actual power to do anything), I was informed that, lucky for me, in order to repair the dishwasher, I had two options: pay $400 for a "warranty" or only $265 for a repair! What a deal on their product that couldn't handle 2 years of operation! So ridiculous - I will not purchase another appliance from this company again.

We have had numerous dishwashers over the years but this LG Dishwasher Model LDF7551ST is the WORST dishwasher we have ever had. Both trays collapse when dishes are loaded, the drain line is insufficient so it periodically doesn't drain. This Thanksgiving dinner at 10:30 p.m. we had to empty the entire thing and wash dishes by hand because the dishwasher wouldn't drain. ABSOLUTELY DO NOT CONSIDER THIS DISHWASHER - warranty is dreadful - ours said we had a "lemon warranty" but despite calling a service man NUMEROUS times our lemon is still being squeezed! Don't know if the warranty issue is with Sears or LG.

I recently purchased all new LG appliances in the new black stainless. Love the door in door fridge, enjoy the stove/oven and microwave, but the dishwasher is impossible. The rack design for glasses will not hold any size glass. Glasses continually fall and turn over during cleaning. Often the very top "new utensil" basket gets caught on the glasses and the racks will not close without being pushed aggressively. The bottom rack has collapsible sections that fall down without force and plates become scattered and stuck together during the clean cycle. The overall cleaning, look and quietness of the dishwasher is good. BUT you will become easily frustrated with the basket configuration. Wish I could return this impossible appliance!!!

I bought a home with a brand new LG Dishwasher. The machine broke in less than a year and LG came out to fix it. The next year it broke again and LG charged me $180 to fix it. Now it's broken for a 3rd time in less than 3 years and LG will not stand by their machine. Now they are saying since I was not the original owner. They won't help even though the machine was never used prior to my purchase. Also their customer service people based in Alabama are extremely rude and unhelpful. I have asked for senior management calls three times and finally got an email. I was told LG would no longer assist me since I was not the original owner. The dishwasher is a lemon. Stay away from LG.

I had a kitchen aid dishwasher for 15 years with no problem. Updated my appliances and got a high end LG dishwasher. It is so disappointing. Bottom rack keeps falling off the track. Dishes don't get clean - have to prewash dishes. Silverware container keeps falling apart. Worst of all - after 1 /1/2 years it has stopped draining. $200 for a technician to come out. I feel violated. I thought I was buying a good brand and it is a piece of **.

Have an LG higher stainless dishwasher that has been determined needs to be replaced by tech. Was offered a white may tag and was told only option or 500 dollar cash. Have been trying to get thru to discuss this matter and cannot get thru after waiting hours for some one to answer the phone. No resolution or cannot talk to supervisor. Bad business on your part. No resolution as of yet.

We purchased these items less than 3yr. ago.1st issue with dishwasher, secured contact with LG, would only replace defective part. Customers responsible for repair, only can use their factory-installers. It was cheaper to just replace with new dishwasher. Now the refrigerator is not cooling. There has to be some sort of being held responsible to their customers. Will never deal with this product again.

ConsumerAffairs Research Team
The ConsumerAffairs Research Team believes everyone deserves to make smart decisions. We aim to provide readers with the most up-to-date information available about today's consumer products and services.
LG was founded as GoldStar in 1958 in Korea. It is one of the world's largest producers of consumer electronics and household appliances.
Moderate to luxury pricing: While LG doesn't offer discount models, it does have a range of pricing to fit most budgets and a variety choices in features.
Steam washers available: Hot steam can loosen even the toughest food debris, and many LG dishwasher models use its Truesteam Generator to maximize cleaning power.
Height-adjustable third rack: Rearrange the interior of the dishwasher to accommodate different loads as needed.
Half-wash mode: Get the convenience of a two-drawer dishwasher in on large tub using the half-wash mode, which allows you to only wash dishes in half of the dishwasher.
Large capacity: Wash up to 14 place settings at once. This feature makes holiday cleanup a breeze and is useful for smaller restaurants.
Best for Businesses, homeowners and families
LG Dishwasher Company Profile
Company Name:

LG TV

Year Founded:

1958

Country:

Korea Sout

Website:

http://www.lg.com/