Jandy Pool Products
Vista, CA
Consumer Complaints and Reviews

I had a Jandy LX pool heater that lasted 10 years which I was satisfied with. When it wore out I purchased a LXi 400P from Your Pool HQ in Nebraska on 1-28-16. It was installed by a licensed plumber and electrician and worked for 2 months. We had lots of rain this Spring and due to the design of the venting on top it filled with rainwater and stopped working. I took the cover off and had to drill a small hole to drain the water which I then resealed. I have paid for service calls and it does not work and needs to be replaced under the manufacturer's one year warranty. They tell me that I voided the warranty which I certainly did not. Please reply.

I contacted Jandy in the US with limited success but once they transferred the file to the Canadian manager, it appears to be in the process of being resolved to both our satisfaction. I will keep you posted on the final outcome as soon as we have confirmation that it has in effect been resolved. Thanks.
Original Review
Hi. Bought a new Jandy 175,000 BTU natural gas pool heater in 2013 and had a repair done, not under warranty, the first summer used and that was 2013. Had another repair in 2015 and now we again need another $600.00+ worth of repairs and that excludes the service call that was $90.00. I was in contact with Jandy and was told they would look at the units record and get back to me with a solution. I wrote to them on at least 3 more occasions but never got an answer or response from them.
We have an 18' round above ground pool and we were told that this unit would last many many years because the size means it would not work as hard as the smaller unit recommended for this size pool. Plus, we live in Quebec and the only Jandy service provider is over 25 miles from here and only visits the area once per week as they do not have enough repairmen. If you ever decide to purchase a Jandy product, please think twice and three times as the other persons who wrote here are not all crazy, stupid or asking for something that is impossible. Truth in advertising is not the norm for Jandy.

We had to replace our pool heater after Hurricane Sandy. We purchased the Jandy heater for the in-ground pool. $2400. Was installed in May, in which we had to hire an electrician to connect it, used it a few times over the summer only to turn it on the following May and had water running out of it. Couldn't run my pool filter because of it. Called Jandy and they said sorry only has a 1 year warranty. SERIOUSLY it wasn't even in use a full year. Pool store it was purchased from had closed and we had to have someone bypass the heater only to find out the replacement part needed for it was close to $1000. BUT was not available. Tried for entire summer to get the part. Had to replace the heater with a Raypak heater! I will never purchase from them again!!!

Very disappointed with the Jandy pool heater LXI 400,000 BTU. It was highly recommended but turned out to be one of the worst products on the market. At the two year mark, we needed to replace the blower, no help from Jandy. Now at the four year mark, the heater will not ignite and we had our pool repair guy go through the whole system and even working very closely with Jandy technical support. It has turned into just replacing parts, ignition control, transformer, etc and nothing works and nobody has the answer. Thanks Jandy, the product stinks!!!

Purchased a Jandy JXI400P spa heater for our hotel. Heat exchanger started leaking and failed after less than 6 months of use. Installer said likely due to lack of proper bonding or water quality issues. Installed 2nd like heater on May 5th 2016, confirmed proper bonding.... heat exchanger failed again on June 17th 2016! Even if the most horrendous water quality issues existed, and they don't, how could a heat exchanger fail again in such a short period of time? Just discovered this late on a Friday so I don't know yet what response will be from manufacturer. There seems to be something not right with this product.
How do I know I can trust these reviews about Jandy Pool Products?
697,568 reviews on ConsumerAffairs are verified.
We require contact information to ensure our reviewers are real.
We use intelligent software that helps us maintain the integrity of reviews.
Our moderators read all reviews to verify quality and helpfulness.
For more information about reviews on ConsumerAffairs.com please visit our FAQ.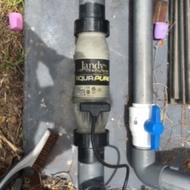 Very disappointed in the Jandy Aquapure PLC1400 Pro-Series salt cell. We constructed new pool in January 2015 and in April of 2016 the cell started giving a 123 error code which is low current caused by faulty electrical wire plug and of course, the warranty has lapsed. In less than 18 months the center wire connector of a 3 connector wiring system had totally corroded which was supposed to last 3-5 years. After replacing the wire the system now gives me a 125 and 194 error code which indicates cell needs to be cleaned, and 194 cell needs to be replaced. I cleaned the cell and it looks perfect inside, therefore I am left with replacing a cell that is less than 18 months old. From the research I have done it apparent that Jandy by Zodiac has had problems with their salt cell systems year after year, the product seems to be manufacture with more defects every time a new product is introduced lasting less than the previous.
I don't know if I going to change my salt system completely because when I chose to install a salt system I did it to save time and money and the headaches I have encountered the last few months are really more aggravating than adding chlorine once a week. Therefore I would not recommend this salt system product to anyone at this time until Zodiac make a cell that last the 3-5 years they claim.

Bought a Jandy LRZ 250 BTU LoxNox inground pool heater 2 years ago. This is third summer. And what do you think? Right. It doesn't work. $2,000 for a real piece of crap. Won't purchase their product ever again. What a rip-off.

Seems quality has gone to the lowest level imaginable. The model is 7441. Installed the 1st one in another pool 27 years ago just at the water line as recommended by the literature and the pool builder, and that unit is still working fine. Redid a pool in our new house about 17 years ago with all Jandy equipment including a Spa Side Remote, and that unit lasted about 10 years and then failed. The next unit lasted about 4 years and failed. From then on, each unit has lasted about 12-18 months at best. Seems the quality has really gone down hill. Everything else from Jandy has worked great with normal maintenance repairs. Now faced with upgrading the controller so we can use the Aqua link and get rid of the Spa Side Remote which cost about 4 times the cost of the switch.

Purchased pool 12 years ago. Jandy pump, Aqua Pure salt system and heater also purchased. Nothing but problems after year 2. Pump has been replaced. Aqua pure system required 3 (1 was warrantied) new cells over the course of 7 years!! At a cost of $500 each I gave up on that and now spend around $80 a season on chemicals. Heater has had so many parts replaced I don't have the time to list them all. Every season I dread the spring opening wondering what issue I will have to deal with this year. NEVER, NEVER buy Jandy products people!!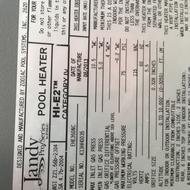 Wow. After reading Craig post and the rapid response that Jandy gave him I have decided to post in hopes that I could get a comparable response. I had a Jandy Hi-E2 heater for 7 years, worked great. When I replaced with a new model, ($6,000+) shipped directly from manufacturer, and manufactured in 8/2013, which was professional installed, it began to fail, (head leaking and corrosion) which we first noticed after 13 months. I am not told that it only had 1 year warranty, and I am out of luck. My pool company, Barrington Pools, said it has to be replaced. Another $6,000 after less than 2 years. Ouch!

Purchased a Jandy LXI 400,000 BTU Pool Heater 6 months ago and had it's professionally installed. Heater stopped igniting after about 15 uses. Contacted Zodiac and, after jumping through many hoops, was told that the warranty only included parts, if defective. They told me that I needed to find a technician and pay him to troubleshoot, and if there was a defective part then the tech needed to contact them and request that part. I called the seller, Pool Supply Unlimited, and they told me that they would talk to Jandy and get back to me within a day. This was almost a week ago and have not heard anything.

I must say that immediately after the post, someone from Jandy engineering and customer service contacted me to discuss the situation and agreed that the failure which the technician discovered was not expected. Jandy took care of the entire replacement including working with the dealer to ensure I was not further inconvenienced. The pump was replaced and the old pumped returned to the Jandy engineering group so they could try to find the cause of the failure and take corrective action if needed. Although the failure was aggravating, the ultimate response and speed of response by Jandy has restored some of my confidence in the brand and, as a result, I would consider purchasing another Jandy in the future if the need ever arose.
Original Review
At a cost of $1200 I purchased this pump expecting to save costs. After less than 4 years the pump suddenly stopped working. Jandy tech support would not help me since I was not a "certified Jandy Tech" so told me to have an authorized servicer come out at a cost of $100 only to be told that the Motor Drive or the Control Board is shot and to replace either is more expensive than buying a whole new pump at another $1200 plus $300 for installation. The dealer said that Jandy variable speed pump failures are common and it is cheaper to replace. In fact they had 4 reconditioned units on the floor in this same model. No offer by Jandy or the dealer to assist in this issue. Our previous pump last for 15 years. I would never recommend to anyone a Jandy product.

We had a swimming pool installed in 2008-2009 and only a few years after the Aqua-Pure system began to fail. Then about a year after that the pump failed, then shortly after the Lite 2 heater. I would think a quality system would last at least between 5-10 years. We will not purchase any Jandy/Zodiac product in the future.

I'm shocked to read others with the same issue. This will be my 4th year since we built our pool. Everything is great but the Jandy heater. I've had the unit replaced already once due to issues with the unit. Last year tech replaced the unit and this year our unit again has issues. The heat exchanger has a hole in it. They said at first it's water chemistry issue. Well our pool store sent in all our tests which shows everything is perfect. They won't budge and won't help us. I'm not letting this one go. They will be receiving a nice letter from our lawyer. I'm sure they are well aware their units are defective.

Decided to try a salt chlorinator (APURE35) by Jandy during a pool remodel. After one year the output of chlorine started dropping and error low salt/low temperature started to appear despite neither problem existing. The chlorinator was removed and cleaned in late fall and reconnected in early spring so it would not be damaged by accidental use in cold weather or a hard freeze. After two years the output of chlorine dropped further and the plates would clog with calcium after only two or three weeks. Finally in the third year (after contacting Jandy and was told the unit was probably bad) the unit was removed and the winter cover left on. While out of the country the O-Ring on the cover failed causing a major loss of water until my brother was able to repair the damage.
The next year with the unit still removed the plastic threads holding the winter cover on sheared off causing the pump to try to empty the pool while the auto fill desperately tried to fill the pool (in the middle of the current drought). Again my brother came to the rescue as I once again was out of the country. I don't know if other salt chlorinators are as problematic as this Jandy product was (now permanently removed) but it would behoove the prospective salt chlorinator purchaser to consider other brands as the Jandy product has proved quite problematic.

Our YMCA purchased two brand new heaters in 2014. Shortly after installation we had leaking issues and were informed the problem was with the heat exchanger (After several visits from the technician). They did replace the heat exchanger under warranty. However the second heater had the same issue shortly after. They are now blaming the problem of our environment, however this was never an issue during the time they were selling us the heaters and will not warranty the heater. We have also had other issues during the short life span of the heaters and I would not recommend a Jandy heater to anyone.

I bought my Jandy LRZ pool heater two summers ago and the unit stopped working. After only two years the unit looks like crap. It has rusted inside and out. The display was flashing ignition control fault. I called a technician and he replaced my heat sensor and realized with some investigation found the heat exchanger was leaking. Being brutally honest he told me to not spend any more money on him it would cost too much. Better to go with a new heater and NOT Jandy. $2300 and I only got two seasons out of the bloody thing. Don't waste your money on this company's crap. After reading other reports it looks like I'm not alone on this. I've tried contacting the company by email and phone and no such luck. 1 year warranty is **.

After hurricane sandy we had to replace the pool heater and filter due to it being submerged under 5 feet of salt water. We replaced it with the Jandy model # LRZ17520 for $2400. We used it "ONE" season in NY. That's about 4 months and probably only turned it on about 5 or 6 times. The following season it had water gushing out of the heater unit every time we turned the pool filter on. We had to close the pool early. This year we opened early to have time to get it fixed and from mid May till now June 12th the part (which costs $800.) is not available. I did contact the company when it first broke and they stated it's no longer under warranty and there was nothing they could do. The pool store I bought it from has gone out of business. I WILL NEVER PURCHASE ANOTHER PRODUCT FROM THEM!!! Do not waste your $$$. Buy another brand! My pool repair guy said they are the worst company. You can't get parts from them.

Jandy pool heater Model LRZ Electronic Natural Gas and LP - There is reason they only warranty for one year...you will get one year's use out of it before you need to start servicing it. At least this is what has happened in our experience. We have had problems at the start of every season with this heater and once again, this year, we have replaced 2 parts and it is still not working. It's too tiring to list the details of our experience but suffice it to say that I would strongly recommend that you DO NOT purchase this heater...EVER.

I have a Legacy LRZ 175K BTU EP pool heater. I purchased this heater to replace a Laars (taken over by Jandy) unit of same size/type on 6/2012. It has worked for about 12 hours since installation. The problem: the unit shuts down within 10 seconds of starting and indicates a "Control Ignition Fault." A Jandy authorized service rep checked the unit without success, notified Jandy of his observations, and Jandy immediately refused to warranty the unit because it was installed in a 225 sf pool mechanical room in conformance to Jandy's Installation and Operation Manual. The manufacturer's applied label inside the unit states the heater is certified for natural gas or LP indoor or outdoor use and Sections 1, 2 & 3 of the Installation Manual gives detailed instructions on how to install the heater INDOORS!
I have called Jandy numerous times and they refuse to help me with the problem. I finally (yesterday) got a supervisor to agree to have this service rep call me today -- nothing so far. I understand their concern for propane fumes and I have complied with all the installation requirements but the unit doesn't work -- THAT'S THE PROBLEM. HECK, it's not good to run your car in the garage but at least it starts and runs!! I want them to fix it or replace it. I'll pay the difference if the replacement costs more but they need to pick this inoperative unit up and make good on replacing/fixing it.

We recently bought the 2.0 HP VS FloPro pool pump and are happy with the over-al performance. Way better than the one we had before... I would recommend it to everyone...

Our pool maintenance company noticed that we had a problem with our Jandy pool heater and that it had an error code. This pool heater was about two years old. He suggested that his subtrade namely Mike ** Contracting of Brantford, Ontario have a look at our situation. He showed up early in the day on Monday July 21st and then called me to tell me that we needed to replace the pool heater because the liner was cracked and further we needed to replace our gas line because there was a problem with this line from the house to the pool heater. He stated that he already ordered us a new heater and expedited it due to our association with the pool company.
On Monday night, a personal friend of mine, namely Charles ** who is a master HVAC specialist of 40 years came out to look at this heater. He told me to have that new heater cancelled because he only needed a new fuse link part and the rest he could correct when the part came in. I called Mr ** and told him to cancel the new heater because I had a friend who was going to rectify the situation. He reiterated that he had many years of experience and was a bonafide rep for Jandy and he insisted that the heater needed to be replaced.
On Thursday July 24th Charles showed up with the part at 4:00 P.M. and replaced the fuse link and cleaned the burners. It not only didn't have a cracked liner, it didn't have a liner at all. The heat exchanger was fine. Within 30 minutes he had the heater up and running perfect. Charles also told me there was no problem with our gas line as well. This service cost me a coffee.
Mike ** wanted to replace the pool heater. He either doesn't know what he is doing or is a scam artist. But he represents himself as a Jandy expert! Pretty Scary!! Mike ** advertises under Jandy and this was a Jandy heater. Why was Charlie who is not a Jandy Heater man able to repair the situation very simply and with little cost? I am very suspicious!
It was just fortunate that my friend Charles was able to come out the same evening or I would have been scammed. I wonder how many other people have had Jandy heaters replaced when it was unnecessary? The above history was emailed to my pool maintenance company who forwarded it on to Mr **. Not surprisingly he has not contacted me. Buyer Beware re Mike ** and Jandy in Ontario Canada.

I have been trying to get the filter housing replaced for my 2-year-old pool and it is still not taken care of and it's now into the third year and the filter cartridge is getting torn from not being a proper fitting housing unit and this I found out from my pool service company, but the Jandy rep wouldn't meet us and the pool company at my house and was very rude and said that he would come back and never did!

I installed the Jandy check valve properly and within 3 months the spring corroded. Jandy refused to honor their warranty claiming my water chemistry was at fault. Not true!

New Jandy pool heater was stored for several months. It was installed in July 2013, began leaking end of August. New header gasket installed which did not help. The heat exchanger is leaking which is very expensive to change. Copper heat exchanger appears to be very inferior copper; maybe from China. This was evident when we removed the header for new gasket as the ends of the copper tubes were already worn very badly. Talking to Jandy is same as talking to the wall... May as well take your licks and forget it!

I ordered a Jandy Cartridge. It got to my home in a timely manner. I went to connect it. My pipe lined up perfectly. I'm one happy camper, for the moment. As I go to connect the nut to the bulkhead, the new one is much larger! Dam, now what do I do? Okay, let me exchange the old bulkhead with the new one. The back is too short to connect to the inside pipe! What gives? Needless to say, I'm in the process of plumbing a new connection! Thanks for nothing! P.S. As for your Customer Service, they suck!

I purchased a Jandy Lite 2 400,000 BTU heater in July 2006. I have had this heater for three seasons and have yet had full-season usage due to the heater's performance. This is an unacceptable situation for the expense of $2,600.00.
In fact, this year, I had to call Trent Land, who I believe is their representative for Charlotte, in order to get the heater fired up for the first time this year. The very next day it failed to fire up due to a switch malfunction which he replaced in time for my grandchildren's visit.
A few weeks later my daughter's friend was visiting. I tried heating the pool for them, but again it failed to fire up. I threw up my hands in frustration! I have since closed the pool for the winter.

This complaint is about an in ground swimming pool heater. We had a pool installed 2 years ago. (This is the second full year) ever since we had the heater installed we have had nothing but problems. It is a Jandy Heater - Serial # G05PF1901, model # LG325N. We have had service people out ever since it was installed. The problem is the heater will not kick on. The people who originally put the pool & heater in told us to buy a hood for the heater and see if that works. So we did.
Now after spending a total of almost $35,000.00 we had to fork out another $100.00 and it still does not work. This year when we opened the pool, again we could not get the heater working. We called the people who originally installed it & they gave us the name of a Jandy service center. When the guy came out he said, " This is one problem with Jandy heaters, the wiring" he then begins to hit the switches. He actually KICKED the HEATER! He switched out a couple of wires and it worked! He told us we should change all the wiring! I have sent several emails to Jandy's corporate offices. They keep telling me they are sending my emails to a Jandy service center. As of today I still have not heard from anyone. My first email to them was on May 18th.I do not know what to do. We spent so much money and every time we turn the heater on, we wonder if it is going to start or not.
After spending this type of money and the time trying to find someone to help me.... Im now at a loss. Can you please help me? All we want is a heater that works. Well now after fighting with this for 2 years, I am told it is out of warrenty and now we will have to pay for repairs! This is not fair. It never worked and we tried to get somoene to help us out.

I just purchased a Jandy Aqua Pure 1400 swimming pool chlorine salt generator.
The unit is supposed to give a salt content of the pool water. The unit is giving reading of 1.9 to 3.0 with no change to the pool water. Jandy's customer service had done nothing to solve the problem no parts, no service. They tell me to get another salt guage.
Jandy Pool Products Company Profile
Company Name:

Jandy Pool Products

Website:

http://www.jandypoolproducts.com/