Consumer Complaints and Reviews

So we bought a new Dyson V8 Absolute. Brought it home, registered it, and went to use it. After charging for 5 hours it was good to go. We uses it for a day and then I wrote a review on the Dyson Canada website. It was a negative review and I click "no" the would you recommend this product to a friend question. I listed what I felt was negative. Battery life for the price, poor documentation and a few other things. It was posted on the website for a day and then promptly removed the next. So in conclusion, just give Dyson a positive review or no review at all because if it is too negative they will just delete it.

I strongly recommend against buying a Dyson Vacuum because their accompanying literature does not explain that the brush feature on the head should not be used on a Berber carpeting. The vacuum destroyed a wall to wall carpet that was only 4 or 5 years by pulling up loops. When I spoke with their customer service department they referred to the statement in their literature that the brush should not be used on "delicate" carpets. A Berber carpet is used in commercial spaces and I certainly would not consider it to be a "delicate" carpet. This was their cop out on covering the damage.
Based on a cellphone picture of the bottom of the head, they supposedly were able to determine that the vacuum was in excellent condition. Really??? I used the vacuum for years on the carpet and then in one day it chewed it up. But according to them, it was a "coincidence". Additionally I constantly have a problem with the cover over the hose coming loose, which leaves the vacuum with no suction. Poorly engineered, overpriced product. Avoid like a plague.

After purchasing my Dyson V8 Animal I tried to register the machine for the warranty on-line. I got a screen that said that the machine's serial number that I bought at Bed Bath & Beyond was not valid. For one solid week Dyson through its on-line Contact Us link has been totally unresponsive. I will be filing numerous complaints against this firm for inter-state fraud (Marketing a product sold nationwide and telling people that they offer a warranty), unfair business practices and poor website. It should NEVER take the consumer this amount of time to register a product for its warranty. It's my opinion that the machine appears to be greatly engineered but the corporate resolve to be an honorable firm is truly lacking. Let's hope this machine lasts.

Dyson have appalling after sales service. You can never get through, they don't return emails and never get back to you. For a company that prides itself on product quality they are a joke. I would strongly recommend that you reconsider another product because they just don't care about customers AND they do fail.

Dyson was not willing to sell me a simple part needed to repair my Model DC25 vacuum cleaner. They recommended I buy a new one (with a 20% discount). My vacuum cleaner runs fine, but it does not stand up due to a broken piece of plastic that stabilizes the wheel stand. While the Dyson employee (Kendall) was very nice the Dyson company forbid her from selling the part I needed. This is poor customer service. I will never buy a Dyson product again. I contacted Dyson on 4/29/2017 at 3:35 PM with a 15-30 minute hold time. END.
How do I know I can trust these reviews about Dyson Vacuums?
766,190 reviews on ConsumerAffairs are verified.
We require contact information to ensure our reviewers are real.
We use intelligent software that helps us maintain the integrity of reviews.
Our moderators read all reviews to verify quality and helpfulness.
For more information about reviews on ConsumerAffairs.com please visit our FAQ.

I was excited to purchase my first Dyson. I have hardwood floors and one carpeted room, no pets. Previously, I was using a cheap $50 wand vacuum and thought it was time for a big girl vacuum. My experience with Dyson was very disappointing. The suction they talk about is not that great and gets worse over time. I rarely use the vacuum because the only room I have with carpet is my bedroom. I've already had to repair the vacuum 2 times in 2 years. Their design is beautiful, however it has okay suction, no better than my wand vacuum and it keeps breaking. I would never recommend anyone purchase a Dyson.

I purchased my Dyson Vacuum from the Home Shopping Channel here in Toronto Ontario. My main advice to others would be, do not get caught up with the hype surrounding a product. My Kenmore carpet sweeper was old and needed to be replaced, so I decided to pay the extra money and buy what is hyped as the best vacuum around. Big mistake. Not only is the Dyson no better than a vacuum that costs less than half of what the Dyson does, but it's awkward to empty, has too many valves and connectors and definitely does not pick up any better than a cheaper machine.
After this experience, I would never recommend buying a bagless vacuum. It's messier, more complicated and the canister gets jammed up with hair and debris. Much easier to simply change and dispose of a bag. Also the plastic parts of the Dyson appear cheap and flimsy, not at all what you'd expect from a $700 plus machine. After paying top dollar for this vacuum I will keep it, but my recommendation to someone who really wants good quality would be to spend just a little more and get central vac. The Dyson definitely does not live up to the hyperbole about it in my opinion.

My wife and I have owned our Dyson vacuum for 2 years and paid a BUTT LOAD of money for it. The vacuum worked great for about 1 1/2 years then it went to HELL!!! The cheap plastic release for the dust bin which is about as thin as a pencil lead broke. Then the Dyson vacuum would continuously lose suction, and dust went flying everywhere. The ball design was made by a bunch of overpaid ball heads!!! Won't even fit under my king bed, what a joke. Now the "GREAT DYSON VACUUM" is overheating after about 3 minutes of use. TO YOU ENGINEERS AT DYSON STOP TRYING TO MAKE IT LOOK COOL. By the way it doesn't anyway, and make your $900.00 dollar vacuum actually suck up dirt and dust!!!
I bought a Shark vacuum for $400.00 dollars less and have had it for 3 years now and no problems not one. I would recommend Dyson send your overpaid overdressed dumbass engineers to go to the Shark vacuum cleaner company and learn how to build a real vacuum!!! My daughter's $32.99 vacuum outperformed your $900.00 dollar pile of JUNK!! And yes I called customer service many times but with no success. They told me to check my wiring. What a crock of **! No problems with any other appliances plugged into that outlet. That includes a $500.00 radio, Shark vacuum, and 60" 1080 HAD PLASMA TV!! So to everyone shopping for a vacuum don't buy a GODDAMN DYSON VACUUM!! BUY A SHARK VACUUM PLZ. It's only common sense too. Trust me $1300.00 later. I ** know people!!!

Product lasted just a few months past warranty with periodic use. I have central vac for main vacuuming. Customer service rep. advised needed new battery at wall $145 and new battery for stick at additional $145 but they could give 20% discount if I buy a new one. They cannot be fixed. Not likely, might as well buy a less expensive product from a competitor and throw away when it breaks down. I bought 3 more for my kids and here is hoping they last a little longer. Also the customer service rep said she would send me the information on new batteries and a discount code. Nothing was sent to my email.

I have had 3 Dyson Vacuums in 9 years. Each one cost me over 469.00. I was in love with the first one, they are great at suction, but something always breaks after 2-2 1/2 years. I don't think I should have to spend 1500.00 in 9 years just to vacuum my carpets or floor. I gave the 3rd one I purchased less than 2 years a chance, No more. The money it cost to get them repaired I can purchase a cheap vacuum every year.

Considering it's supposed to be for houses with animals, it does a terrible job vacuuming up fur. I have to regularly (at least once per room) pick up the floor brush and pull the fur off the end. And the carpet cleaner pulls fur up along the outside and up the handle (guess there's some sort of magnetic charge). It is also hard to clean the canister -- the fur gets stuck all around the inner tube and you have to keep reaching in with your fingers to pull it out. Or grab a kitchen utensil to reach far up inside. Can't believe this in a Dyson. Oh, and the machine does not get back up when toppled.

At the recommendations from friends and strangers, I bought a Dyson DC 33 vacuum cleaner about a year ago. It was supposed to have unlimited time on suction quality. I'm afraid not. I have a $25.00 Bissell 3-in-1 sweeper that works better at picking up dust, dirt, and small debris on both hard surface and carpet surface. The Dyson strains my back when trying to use the very unwieldy attachment for hard to reach and above the floor areas. Very stiff and inflexible. The front of the vacuum is designed to push objects (large or small or tiny) like a snow plow and I end up having to use a broom and dustpan or the above mentioned Bissell.
The owner's manual is a joke at best. It reveals no information on what to do when a problem arises. The cost of sending the vacuum back to the manufacturer for repair or replacement just about covers the cost of many fine vacuums of other brands. I will NEVER buy another Dyson product again. I strongly urge anyone considering buying a Dyson to be mindful of the hype and pay a lot less for another brand that will probably satisfy one more than the Dyson brand.

Had a Miele vacuum. It was great. Had it stolen though to buy a Dyson which was also in the same price range. Used it 4 times. Worst garbage I have ever used. Better vacuums, Miele, FilterQueen, Kirby. Heck anything. Have no suction. After 4 uses. The change over from upright to hand uses a cheap flip seal system. Worst engineering ever. Why would a vacuum have so many seals. Too many moving parts that don't have to be moving. Work in R and D. Manufacturing. This vacuum is terrible. DC15 is a pile of junk.

The vacuum works OK, wish it had more power (DC14 Animal). My issue is the power cord gets very hot at the plug. The out I liked to is melted and blow the breaker, I replaced it. It fits tight in the other outlets but when I unplug it after vacuuming for less than 10 min. the plug on the end of the cord is hot and the metal prongs are too hot to touch. This seems like a good way to burn down my house. It cost me $500.00. Seems like for $500.00 it would not do that.

I purchased this Dyson Cinetic Big Ball from Dyson Canada online, back in December. When the vacuum arrived I was surprised at the flimsy quality, but was determined to give it a try. The idea of not having to replace bags was exciting, but in actual use it created more of a mess when trying to empty the collection bin. In addition, the bin emptying mechanism is so flimsy, I was scared I was going to break it each time I used it. And after only about half a dozen uses, one of the wheels broke off. The machine is definitely not worth the extra expense. I emailed Dyson and demanded a refund. They did send a return box fairly quickly, but the actual refund did take some time. I am now a proud owner of a Miele, which I find works better, and is better built as well.

My original service request was ignored. Four days later, I followed up and called to have them check to determine why nothing had been done to process my service request. It took her only a few minutes to contact UPS and schedule a pickup date for the following day, as I originally requested. The original representative had argued with me about the method of shipment regarding UPS picking it up at my door. When I explained I was elderly and could not manage carrying a heavy vacuum into the UPS store, plus dealing with severe weather/road conditions here, he agreed to process my request and told me Dyson would contact me shortly. I never heard from them, so had to contact them once again. I own 2 Dysons and the next vacuum I buy will NOT be a Dyson due to their poor quality of customer service.

I bought the Dyson DC65 about two years ago. It has been the worst vacuum I have ever owned especially since it cost $500.00. Dyson claims it never loses suction... What a blatant lie! This vacuum stays stopped up. We have cleaned it out many, many times over the years we have owned, cleaned the filters and have tried to never pick up anything with it that shouldn't be vacuumed up. The wand has worked less than 25% of the time I have owned it. Part of the reason I bought it was for the long hose and the wand.
The other issue is how is it hypo-allergenic when once you open it to dump out what you have vacuumed the dust and particles flies all over the house or in your face. I tried calling customer service once; I will not make that mistake again. They were no help at all. I'm not mailing this vacuum to you to fix; a $500.00 vacuum should work and not have these types of issues. Save your money and do your research. I should have!

I received a Dyson DC59 Cordless Animal Vac as a gift on Dec. 25, 2014. It had a 2 year warranty. In November 2016, I started having problems with it only running for about 2 minutes then stopping. I called Dyson & the lady told me that it will only run for 2 minutes if it's on Max & that if it is charged on Max, it drains the battery. I knew this was not true because I had run it on Max many times & it usually lasted 20-25 minutes. I also had charged it on Max before & the battery was not drained. I told her that I was pretty sure it needed a new battery. She told me that it was not a problem with the battery & I just needed to run it on Low. I told her fine BUT I wanted it on record that I had called about it before the warranty expired. She assured me that it was on record.
So in early January, it totally stopped working. I called again & this lady walked me through the process of checking my battery, which proved that it was dead. She said that she did see where I had called about it in November. She then told me that they could send me a new battery for $83.14 plus shipping. I was like, "NO WAY! I had a problem with it before this." She then informed me that yes, I did have a prior problem but if I had called in December, they would have covered it. Now, we are only 2 weeks past warranty with a previous problem.
I told her that I would like to speak with a supervisor. After several minutes on hold, she came back only to tell me that there was no one available but she would put in a request for someone to call me back in 5-8 business days. Well, this is March 8th & I still have never received that callback. I had also purchased 2 other Dyson cordless vacs for my daughters. I will say that Dyson will never see another penny from me! If you DO NOT have good customer service, your product isn't worth anything at all!!!

On 22 February 2017 I saw a Dyson advert on Google for a DC58 Animal cordless vacuum cleaner for $249. When I clicked on the link I was taken to the Dyson site where the price was now $349. After phoning and emailing Dyson, I was told that, even though the product was advertised at $249, they would not supply it for that price. That made me think... if they are not prepared to stand behind their advertised price, would they be prepared to stand behind the products that they sell? Sadly, after reading the reviews on this site, my conclusion is no, they probably would not. False advertising. How easy is it to trash a reputation!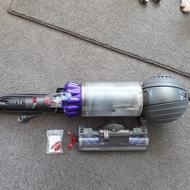 Initially, I was delighted with this wonderful product (DYSON DC65 ANIMAL UPRIGHT) with its amazing, well-designed, roller head that is an excellent animal hair remover -- seriously -- the best ever! BUT this great product is manufactured from brittle plastic that is extremely fragile. Complaints:
1. EXPENSIVE. When the life expectancy of this product is weighed up against its initial purchase price -- it's a rip-off. The market is beginning to open up to competition from more reliable brands.
2. FRAGILE. The swivel C-clip connector is made from brittle plastic; spring steel would be better. (They could plastic coat it to make it look pretty). The mechanism that opens and closes the perspex flap to empty waste should also be made of spring steel because it is frail and troublesome.
3. NOT TRUSTWORTHY. When standing upright, the upright handle sometimes flops back -- this has caused me to damage some interior walls.
4. FRUSTRATING TO USE. This model vacuum cleaner is almost impossible to use on stairs. Its limitations extend to the tight upholstery head that is difficult to manipulate when in use and difficult to put back correctly when not in use.
5. MEDIOCRE BACKUP. The backup service keeps you waiting for ages if you phone during lunch or tea-break hours. They don't like to hear complaints about their product. A new c-clip was sent out to me one week after I contacted them -- it arrived broken because it was poorly packaged and the product is brittle. No doubt I will have to wait another week for the next one to arrive. In the meanwhile, I have reverted to using my old vacuum cleaner, and have since found that I can get a roller head to fit it that works well.
6. SHORT LIFE EXPECTANCY. I am concerned that when my 2-year warranty expires, I might be left without any backup; nobody has come forward to tell me anything different.
7. I CANNOT RECOMMEND THIS PRODUCT to anyone who values their investments.

Dyson services suck. I have a Dyson vacuum cleaner that is under 5-year warranty, including on-site visit. They insisted that they can only attend to my request 3 weeks after I've called them something in January. After that, I could no longer contact them anymore. Nobody picks up the call on the service hotline. Finally I wrote to them and one of the most unhelpful staff in the world called me back and when I asked where is the technician, is he coming, why is it that nobody answers the calls (I tried calling from morning 9.00 a.m. to 4 p.m.), I heard another staff at the back coaching this staff to lie to me, saying that they are experiencing a high call vol. My gosh, for vacuum cleaners? You have high call vol and cannot answer calls for the whole day?
The vacuum cleaners actually broke down so often... Each time I called, I was on the line for up to 20 mins, and they cannot pick up my call??? Absolute rubbish, they were clearly lying and until now I have yet to get my vacuum cleaner. So much for a 5-year warranty when there is no one to service the warranty. On top of that, Dyson Singapore makes sure that nobody can get through the service hotline to file a complaint or to get their devices fixed.

Dyson adds to the throw-away society. I bought a Dyson battery vacuum cleaner £350 2 1/2 years ago. Within a year the motor stopped. Got a replacement from Dyson (2 year guarantee) and inserted it. Another 16 months down the line the motor stopped again. Now I'm out of guarantee and they want another £70 for a new motor assembly. I refuse as this would push the purchase price to £419 for a silly little hoover! Dyson refuse to budge (as is their right to) but I now have several kg. of plastic and electronics to go onto the heap! It's insane! I bought a VAX battery operated model at £119 instead - same (if not better suction), same battery power and if this goes within 2 years I haven't waste much! Needless to say I won't make that mistake again...

Multiple attachments come with each Dyson offering, & these are primarily redundant. However, no color coding labeling exist so that the user can differentiate which one of your telescoping goes to which unit. You see, there's about 1/16" size diff, meaning that they are NOT interchangeable. In addition, the "1st grade" Owner's Manual fails to adequately explain (pictorially, of course) anything beyond that which is obvious to someone WITHOUT an Owner's Manual. It seems like they "fixed" a product that "wasn't broken", in order to hype the "improvements" that are expected over time with ANY brand/product.
The effort to make it "new & improved" has resulted in "new, confusing, more fragile & heavier". Besides that, I've had to rent the house next door and hire someone to categorize/catalog the redundant attachments with the "oh, so subtle" variations in compatibility that necessitate (1) each for my four Dyson products. Having spent over $1,000 Dyson's way in the past four months, I'm shipping the two newest units back and powering up the Kirby.

After just three years of light use, the motor has failed in my Dyson cordless vacuum. To my amazement, Dyson inform me that the expected life of these motors, as determined by their own lab tests, is just two years! Who in their right mind would spend so much money on a product with a possible life expectancy of just two years?

Vacuum cleaner has excellent suction, good hose length. Vacuum cleaner burnt out at 11 months old and we don't even have pets to clean up after! Fluff continually blocked the lower end of hose and had to constantly manually remove built up lint that would get stuck on bristles then rattle and block hose. Power rug attachment very rough on floor carpets. It's under a 5 year warranty so I will be interested to see if Dyson repair or replace. My daughter has an Electrolux equivalent back home in Australia and loves it.

Dyson animal, very handy and worked well for a year and a half approx. It slowed down and suddenly just stopped working towards the end of the 2nd year. This was a gift. I received very poor response from Dyson Canada. I was hoping that it would be replaced and maybe I would have to pay a minimum. Very expensive and poor customer service. Very Disappointed!

I just saw a commercial on the NEW Dyson cordless vacuum with 40 minutes of battery life. This irritates the hell out of me as I bought the old model not even 6 mths ago. Now the model I own is maybe 10 mins of life! Not only that but I use this everyday and it has got worse and worse! Do NOT buy this product. You can find something much better for much less money. This is my 2nd Dyson. The 1st not cordless and they both suck! And not in the way they are supposed to! Way, way too expensive for what you get! A joke. I will NEVER buy from this company again! Customer service sucks as well! I repeat do your homework and DO NOT BUY A DYSON!!!

I have 2 Dyson products in my home and I like them very much. So I decided to send Dyson Cordless Vacuums to 2 people for gifts this past holiday. One of them went well - gift was ordered and delivered within 5 days. So far so good. When I tried to order the second one, things went wrong and continued to go wrong. The company website was down. It wouldn't accept my credit card. I called and waited more than 30 minutes. They took my credit card number and said it was fine - then I got an email saying the order was cancelled. I went on hold again for at least 30 minutes and was told it was my credit card that was the problem. So I used a different credit card. I was told that order had gone through. But it didn't. So I got back on the phone, again waiting for approximately 30 minutes. They advertise that they will call you back but both times I have used that feature, no one ever called back.
The gentleman who tried to help me was very nice and mentioned that the problem was with my credit card and suggested I call the credit card company, which I did. The credit card company informed me that there was no problem whatsoever with my card. So I spoke to the very nice man again and he tried but the card would not go through on his end - I used the card that day for other purchases and all were fine - so I used my husband's credit card. Then I got an email saying the order was cancelled.
We kept trying until finally, it went through. I made it very clear when I placed the order, on more than one occasion, that it was a gift and gave the address for delivery - I specifically stated that the shipping address was different from the billing address. All sounded good. So imagine my surprise when I get a knock on my door and it's Purolator, with a Dyson vacuum!!! I could not believe it. I told them to send it back and then emailed my friend at Dyson. He blamed Purolator. I wrote to service@dyson.ca who wrote back and said that the fault lay with Purolator. I wrote them again and asked for a manager so I could make a formal complaint. The response I got was that it was somehow Purolator's fault and that I was going to have to contact them.
After 4 or 5 emails I realized that DYSON DOESN'T CARE AT ALL ABOUT CUSTOMER SERVICE. NOT AT ALL. The vacuum is still not delivered and I really would love to complain to their head office, but judging from the complaints I see here, it's not a one off. THEY REALLY DON'T CARE. My advice would be if you are going to get a Dyson, get it from a reputable, local store that might give a rat's ass about customer service and if something goes wrong, you'll be in better shape. Whatever you do, DO NOT DEAL WITH THEIR ONLINE STORE.

Dyson DC25 - I was so excited to order the Dyson vacuum. Watching the advertisements... Looked like a great product. Shortly after a year the brush stopped spinning, we ordered a new motor, my husband put it in and I was glad it was working again. Not even a year later... That motor went again! I am so upset with this purchase. I had a Eureka, Hoover and so on, and NEVER had any issues like this. I just bought new ones for the sake of having newer models. I've had vacuums last 15+ years and a hell of a lot cheaper. For the price of these vacuums, it's such a disappointment. I would NOT recommend this product. Thanks a lot Dyson, now I have to buy another vacuum and this one is only 3 years old!!! And it won't be a Dyson.

The Dyson animal (model 492 CA A57891) is just that, the most poorly designed vac for the price, only pro is the bag system. The self-store hose is most annoying. As soon as you turn it on the vacuum is under your feet or making your shins bleed or lying on its side. Anything that is higher than the width of a hair will not be picked up, reminds you of the commercial where the operator tries 2 or 3 times to pick an item up and then bends over picks it up and feeds it into the vacuum. We had a 55 year old vacuum that works better and you are not tired after using it.
Another annoying thing is the cord, when doing carpets it is always under your feet so you use one hand to hold cord and the other on the vac and have to drop the cord to move items as you vac. It is amazing how many times you have to physically pick this heavy animal up to move it around, not any easy task for most women to handle. Parts keep fall off. We have had this item for little over a year thinking it would grow on us but each day we dislike it more. If we could get bags for the old SINGER VAC we would go back using it. I would say technology has not moved forward as ergonomics are concerned.
Dyson Vacuums Company Profile
Company Name:

Dyson Vacuums

Year Founded:

1979

Address:

600 W. Chicago Ave, Suite 275

City:

Chicago

State/Province:

IL

Postal Code:

60654

Country:

United States

Website:

http://www.dyson.com/