Provident Funding Associates
Consumer Complaints and Reviews

My insurance sent a lump sum payment for roof replacement and siding repairs in one check payable to Provident and myself. I am having the work done by different contractors but Provident will only reissue the full payment to a single contractor or send a partial payment to me which is not enough to pay the roofer. They refuse to make separate payments to the individual contractors. How stupid is that - you wouldn't have a painter roof your house, nor would you have a roofer paint your house.

Similar to the prior flood insurance post, Provident tried to rip me off for regular old house hazard insurance. I switched insurance companies on 6/26/17, notified Provident by phone of the change on the same day, and submitted the policy to Provident on the same day. My old insurance lapsed on 7/1/17 at 12:01 a.m. and my new insurance began at 12:01 a.m. on 7/1/17. In other words, there was no lapse in coverage and Provident had a copy of my policy in the file.
On 7/3/17, I received a letter from Provident advising that it had purchased insurance on my house in the amount of $2,530 for 90 days of coverage. The letter further advised that I was responsible for payment in full on my next bill. No call, no email, nothing. Just a giant bill that would be over $10,000 annually for my house insurance (I paid under $1,500 for 12 months of coverage). THERE WAS NO LAPSE IN COVERAGE AND THEY HAD A COPY OF THE NEW POLICY IN THEIR FILE. I'm ready to file a class action against this joke of a company for their loan servicing BS and for the RESPA and TILA issues that arose during my loan closing.
I called to discuss the matter and was told that a second letter would go out showing a 0 balance for additional insurance and that I would pay nothing. That is curious - your letter said that Provident HAD PURCHASED INSURANCE and that I was responsible for paying for Provident's purchase. Unbelievable misrepresentation.

These guys keep asking for more information. They couldn't make a decision based on the information presented. They think they are auditing the customer rather than make a judgement based on the documentation provided. If your Mortgage Loan Originator (MLO) says these guys are giving a good rate, think twice before you move forward with them. I believe it is not worth the trouble. Their service is awful!!!

This company held my home mortgage from 1999-2013. Sometime around 2008/09, the Federal Emergency Management Agency (FEMA) declared the area my home was in as a 100-year flood plain and I was required to have flood insurance. I found a low-cost policy and paid it for 2 years on my own. Finally around 2011, Provident Funding clued in and sent me a notice stating that I needed flood insurance. I showed them proof that I already had it and they INSISTED that it be put into my mortgage's escrow account. I reluctantly agreed. The following year, the insurance company sent me a late notice that it was unpaid. I called both Provident and the insurance company to confirm the correct address and the insurance company had it correct, but no payment from Provident was received. I called Provident again who assured me that everything was fine and not to worry about it, that it would get paid.
The next thing I got in the mail was a letter from Provident stating that they had put a "forced-place" flood insurance policy on my account and were billing me an exorbitant amount for it. Apparently, they never paid the premium and the insurance lapsed. They kept saying that the insurance company never billed them, and the insurance company insisted that they had billed them several times at the correct address. I thought it odd that the insurance company was always able to send me the bill on time and to the correct address, but after all the confirmations, couldn't get it to Provident--plus Provident assured me that it would be paid when I called them.
I believe Provident dropped the ball and didn't want to own up to it's responsibility. That result was that since my low-cost insurance had lapsed, I had to get a higher cost policy in place with the same insurance company, which was still cheaper than Provident's "force placed" insurance. It cost me about $300+ dollars to carry Provident's policy until I was able to get the 2nd policy in place. I told Provident to stay the hell out of it and that I would pay for it myself because they were too incompetent, and they allowed it. Fortunately, I moved out of the flood plain within the year and spent every cent of cash I had to buy the next house to avoid dealing with another mortgage company. I would not recommend anyone use this company, they are dishonest.

I recently worked with Provident on a home refinance. I used them for a previous loan and was satisfied, so I figured I would try again. Big mistake! This was the worst experience I have had in my life dealing with a lender. They paired me with a very young loan processor who seemed to be overwhelmed. On my Final Loan Disclosure the cash to close was wrong (meaning I was not bringing enough to payoff the loan we were refinancing). This was overlooked by my loan processor and I actually had to call him to let him know that this was wrong. Next, they forced me to close on a Thursday to ensure funding and processing, but my other lien holder was not even paid on Tuesday of the following week. Nothing was smooth in this transaction and I felt like I was working for them by the end of the effort and begging for services that they were charging me for (i.e. getting the settlement company that they use to payoff my other lender).
How do I know I can trust these reviews about Provident Funding Associates?
854,137 reviews on ConsumerAffairs are verified.
We require contact information to ensure our reviewers are real.
We use intelligent software that helps us maintain the integrity of reviews.
Our moderators read all reviews to verify quality and helpfulness.
For more information about reviews on ConsumerAffairs.com please visit our FAQ.

My loan approval process was so unbelievably simple! The rate on my loan, outstanding, no surprises. I thought it would be too good to be true but it was all as stated. Everything is on-line, which I find much easier. From loan app to funding, under 30 days! Best experience getting a home loan, ever!! I have had zero problems with making my online payments going on their site to do so. I read so many problems from others. Perhaps one of the competitive advantages to Provident is their preference for online? I've actually never had a problem making online payments to any mortgage holder.
I do not use my bank's "bill pay" because I don't trust that to be timely. Nor do I take the risk of checks in the mail and possibly being stolen along the way (my paranoia). Online payments with Provident are straightforward and simple, once correctly set up. I go on the lender's site and make my payments through there, for them to pull the money from my account. Provident posts my payment and pulls the money the day I make the payment. Easy, convenient. I am a very satisfied customer and recommend them!

Do Not do business with Provident Funding. They have our mortgage, I mailed the monthly payment and they hadn't received it after 20 days. I called to tell them I was going to do a stop payment on the lost check. I told the lady on the phone I would wait 2 more days then do the stop payment. I did. It cost me $43 for the late fee and then $33 for the stop payment on the missing check. Then I made the payment online for the amount plus late fee. The payment clears my bank and all should be fine right? Wrong!!! The missing check magically appears and they go to cash it but it comes back NSF and they charge me another $25 fee. I'm livid at this point, I call and they say I should have called to tell them I did the stop check. I said, I did!!! They say I was supposed to call them a second time to tell them.

I went online to make my house payment on the Lenders Site (Provident Funding) so that I would not have any late fees. This required me pulling funds from my Savings Account and putting it into my checking. I wanted to ensure any bills set up on automatic withdrawal would clear as well. I was waiting for my first check from Social Security as well as my short term disability and was running out of time so I choose to use Provident's portal. Using the number on my checks issued by America First I put in the routing number which results in the bank's name automatically populating and the account number listed on my check. The Portal auto populates with checking as the option for funding. Key Point Here. My back refuses to pay stating NSF because the request came through as a request to debit the savings account and my bank said they are bound by law to honor that request.
How did this go from a request to debt my checking account to now a request to debt my savings account after I moved the funds over to my checking to cover this request. My bank said they would refund my NSF fees for refusing the check 2 times. Provident on the other end refuses to refund any charges for NSF Fees, late fees, and a phone payment fee. Each person I have spoken with states it was my fault and therefore I should pay those fees. A representative from my back conducted a conference call to Provident, myself and the agent said they do not make any exceptions for any of their customers under any circumstances. The agent then proceeded once again to state that I had to change that request from checking to savings therefore I am responsible for the error.
What. Why would I bother transferring money when the payment would have bounced if I did nothing. I could have merely paid the $17.63 late fee and saved myself time and aggravation. I do not feel I was at fault in any way and should not be charged the $75.13 in fees for a computer error. My bank refunded my changes because I am a good customer and did the work in research to see that this was of no fault of mine. I have to wonder how many innocent people this company gets these fees from and then tells them you made the error you owe these fees. I carry a 777 credit score and I am proud of it. I have never not paid off any loan or bill that I have accrued.

I believe Provident put my ex-husband as the primary borrower only because HE is the man. I was the one who put the large down payment down, I was the one paying the mortgage in full by myself because he had no job. When we signed the mortgage, we were both the borrowers. Why in the world they would put him as the primary borrower is beyond me. This has caused me to lose my home to my greedy ex-husband even though I used 100,000 from my inheritance to buy it. I have to call every month to change the online password and login because they let him change it. WHY? Because he is the primary borrower. I would never recommend anyone to get a loan with them!

I am 70 years old not in the habit of complaining! However, I am so angry with my treatment by your Loan/Customer Service Department I decided to go directly to the top. I use checks to pay my bills - I usually post them to reach establishments well before due dates and this usually works. I mailed my December payment as usual. This reached your offices in Santa Rosa, CA on the 9th December. The payment was promptly returned to me with a letter informing me the check was refused and returned because it was "Post dated". The check was dated December 16th, 2016. I received the return documents on December 27, 2016.
I immediately called your customer service department spoke with an agent and also to supervisor (Derick) asking for a more complete explanation. I was given none. I then asked due to the circumstances and my excellent payment history since Provident had taken over my mortgage loan for the late fee to be waived? I was informed that as Provident Funding had not received a payment for December the account was late and in order to avoid being reported to the Credit Bureau as delinquent I would be required to make the payment, before December 31st, pay a late fee of $46.03 and $7.50 handling charges for paying over the phone.
I do believe this was shameful and mean spirited treatment. Funds were in my bank - the payment was received by Provident well within the courtesy period given. I have brought this to your attention personally because I do believe you should be made aware when customers are unhappy. I am certainly not of the generation to take a disagreement public but would like you to please see that I get a full refund of the late fee and the handling charges.

Provident Funding was horrible. My husband wanted to refinance our home because of the great rates. We've lived in this house for 30 years and had plenty of equity in it. Plus both of us have excellent credit (800+) and good jobs. We thought this would be easy... boy we were wrong. The scrutiny was over the top, but we turned in document after document and even turned in the same documents 2 or 3 times. We paid $800 for an appraisal fee and had to wait two weeks for them to call and just make the appointment. Then we had to wait another 3 weeks for the appraisal date. Time was not on our side for the lowest rate, so we had our mortgage company lock it in.
The mortgage company would email us every week saying everything is up to date just waiting on the appraisal. Finally the appraisal day arrives. We get a phone call 30 minutes after the appointment start time from the appraisal guy stating, "Sorry I'm not qualified to appraise your property because it's a dividable lot and I don't want to lose my job. You will have to reschedule another appraisal appointment." We paid $800 and he's not qualified to appraise our home! Now it gets more interesting...
Then within 5 days after that phone call with the appraiser we get a letter from Provident Funding that was backdated two days before the appraisal date stating, "Your mortgage loan has been closed. The decision to close your application was based on the credit application being incomplete. The items needed to make a credit decision were not provided." This letter was written two days before the appraisal was to happen and mailed out the day of the appraisal date. Sounds like someone is covering up for someone. Also, wouldn't the broker have informed us rather than Provident?

I just finished a refinance with this company. I would not use them again and would not recommend them. The approval took a long time. I had to threaten them to use another lender before they responded. I had to contact them every time for updates.

If I could give this company a zero or a negative number I would. In all the years I have obtain loans, this was absolutely the worst. We had great credit, plenty of cash and assets for what I thought was a relatively small loan. The steady stream of requests, inquiries, letters of explanations, repeated requests for the same information. It went on for weeks and weeks. It was literally a death by a thousand paper cuts. The underwriting went on so long, we went past our close date, and then a second extension. In the end we lost our earnest deposit. We had to sign an amended agreement and pay the sellers on a lease/purchase agreement to get our home. Finally after 45 days our loan was approved. If your broker recommends this company, find a new broker or have him give you an alternative loan company.

Refinanced my home. This company was the underwriter. They asked for more documents than you could imagine. Delay, delay, delay. Finally approved and financed my loan. I get a letter from them asking me if I want to opt out of them selling my information to anyone and everyone, I opted out. In the last week, I have received 4 letters from all pertaining to the same thing. I asked for none of this. I haven't even made my first payment to them. And now all of a sudden my spam filter is filling up with garbage. Where before I had 1-2 spam e-mails a day now I have 30, I don't think this is a coincidence. I'm praying that they sell my loan to another company, but I fear they will not.

Applying for a loan with Provident was a good experience. Like the use of online document uploads, and the online mortgage management and mobile app. After diligently paying down my mortgage over the years, I finally reached the point to pay off. With a remaining balance of ~$200, I sent the payment based on the payoff statement generator. Provident then took my check, cashed it and mailed a new check back to me with a notice stating that it was not accepted. This added two more weeks of interest charges, and required me to spend more money on wire transfer fees to meet Provident's ridiculous payoff terms. I don't plan to go with Provident for my next mortgage until they become more consumer friendly with payment terms or reimburse me for additional charges incurred for payoff of my loan. Lastly, this policy is stated in the payoff notice, but it makes no sense for such a small remaining payoff amount.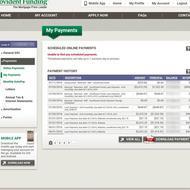 They encourage you to set up your mortgage payment as an auto-pay, so I've done that. That kicks in on the 5th, IF you haven't already paid the mortgage for the month. Usually I pay right around the 1st, and that's fine. This month, I paid on the 1st. They took payment on the 5th for July. And their auto-pay kicked in (for July). I emailed them, asking not to take a 2nd payment -- I don't have cash lying around for 2 mortgage payments a month. They respond, "You need to pay earlier", and set the request to resolved. I end up getting 2 NSF fees from my bank and a NSF from Provident. This doesn't give me warm fuzzies. They do have good rates, have adequate documentation, and are good unless there are any exceptions. I think in this case, it was the 4th of July that tripped them up, plus customer service that doesn't give a hoot.

I love this company and from my recent personal experience, am shocked by the number of one-star reviews. I just completed a cash-out refinance so that I can remodel my bathroom, and the entire process from the day I first contacted Provident until the money was in my account, was 24 days. I researched rates from all the main banks and many other companies, and Provident's rates were the lowest in addition to having no costs. I highly recommend Doug ** - he walked me through everything I didn't understand or had questions on with patience, understanding and kindness. I truly felt that he was looking out for my best interests.
My rate dropped by a few fractions of a percent during the process and he secured the lower rate without me even having to ask. They have a great "Rate Calculator" tool on their site that will give you quotes of rates and costs, that is easy to use - no logging in or other information required. The actual process is so easy - everything done online and then a notary comes to wherever you need. I really can't say enough great things about these guys and would recommend to anyone looking for the best rates AND the best service.

My experiences with Provident Funding were extremely bad. Please keep these in mind if you want to go with Provident Funding: Any numbers which could be the interest %, MI %, etc., what they tell over phone can never be taken on face value. Insist to get all these over mail, so that they cannot change their words. Expect a very high MI % compared to other lenders. A 50% more MI payment could be expected compared to other banks. They are full of surprises in terms of the closing costs, etc. The figures they tell one day can be completely different the other day. For example, on Friday one of the representative tell that the total money required at closing is X. And when you make arrangements for X, they will say, it needs to be more than X and most surprisingly they don't know what that increased amount is. And of course they have a lot of reasoning for those.
They are least bothered on how they treat the customers and seems to not care whether you take loan from them or not compared to other banks. They don't tell us upfront what the total money reserves we need to have, etc. Till you do the rate lock they may pretend to be good with you. So don't get deceived by that. :).
I can go on, but stopping now as I don't have the time and energy. :). So if rates are all you look at, you can still look Provident Funding, but be extra paranoid when you deal. I feel extremely disappointed with the service with Provident Funding, so be extra paranoid when you deal with them.

Provident recently informed me that they sold my loan to CENLAR. I've done business with Provident and never had a serious problem. As soon as I learned about the transfer, I paid down the loan by 50%. CENLAR customer service doesn't know its butt from a hole in the sand. After talking to three service reps and waiting for over 30 minutes for a technical rep (who never came to the phone) I finally talked to someone who had worked there long enough to know that transferred loans cannot be set up for automatic payments until after a certain date. CENLAR (ALLY Bank) is desperate to get the business but not smart enough to hand onto it. As far as Provident goes I will NEVER finance another loan with them. They still hold the loan on my rental and if they sell that loan then I will simply pay it off. What a hassle working with these idiots.

I have been a customer of Provident Funding for over 20 years. I have NEVER been late or missed a payment & always pay extra ($500 a $1000 over my payment). My last Feb. payment was received on the 17th due by the 15th. I checked with my bank & see it was received on the 12th. I received a letter from Provident with a threatening rude statement saying my credit was in default & it would be reflected on my credit report!!! When I called them they said yes they received my payment but the bank must have sent it late because of the holiday... I asked if the late charge could be waived & was RUDELY told "no". I will NEVER do business with Provident again & recommend strongly that no one else does either!!

Our mortgage broker found this lender and called them a "pain in the tush lender" but I didn't care because we are serious business minded people. We hold a lot of real estate and we have our act together. We meet quarterly with our CPA, because we run multiple businesses and we make 7 figures annually. Little did I know that this lender goes out of their way to stick it to you. Here are two examples: #1. When we started the process of refinancing this little property the lender and myself as the borrower locked in a low rate and we waited for the closing date. Soon after we locked the rate, the Fed announced they would be raising interest rates. (This was before the sub-prime melt-down in 2008).
So this lender Provident Funding started a shell game, by requesting documents we had already sent them. I thought they sure are disorganized. But their real intent was to slow down the closing process which unlocked our rate. Then after rates increased and our rate "unlocked" the lender found everything and were ready to close. But now at a higher rate. This bothered me, but I didn't really lose my temper until the second issue happened. Example #2: They lost one our payments in 2015 and placed a negative report on my personal credit.
I generally have excellent credit above an 800 beacon score. And for me, credit is especially important because I buy so much real estate using cultivated banking relationships. Now because of Provident's mistake, my credit dipped into the lower 700's. After a few calls into the bureaucratic nightmare of Provident Funding's "Help Desk" which I renamed the "Frustration Desk" I hired a credit repair attorney to dispute this negative report with this lender. After several months of the paper shuffle game with Provident Funding (where they required everything sent by my attorney to have my Notarized Signature, or they wouldn't even look at it) they still refused to remove the negative report which was their fault to begin with.
I strongly recommend that you don't do business with Provident Funding. They are a house of ill-repute! And I hope this review causes them to lose at least some business; as their lending practices have caused me at least some financial pain. Fortunately what they did won't hurt me too much. It's mostly an annoyance. But for many people this could be a real problem. And I recommend you find another banking partner to work with. Please don't help this company take advantage of others. Go elsewhere. They are repugnant.

We had water damage due to a broken toilet supply line and our insurance company sent us a check to cover the damages which also had Provident Funding's name on it. We had to mail them the check and the first one we got back after several phone calls. They sent us a second check to cover adjustments to their estimate and this time they kept it for several weeks. When I finally called them to find out where the check was they told me that they had just sent it back the day before because we did not include the itemized repair list for our claim. I called my insurance agent and he informed me that he had sent it to them 10 days earlier.
Now we have to send the check back with copies of documentation they already have. Huge waste of time and money (we paid extra to overnight it to them). They are playing games with our money. I will be re-financing my loan as soon as possible. I do not wish to do business with such unprofessional, incompetent people as this company apparently have working for them.

For seven (7) years I have paid ahead of time, on time and never been late. I have always sent my check by mail with the envelopes sent to me and the slip provided. I have always noticed that Provident Funding is very late, clearing the check going up to the wire in the grace period. Well this month, they waited too long and are now penalizing me for a late check. There are two weeks for the US mail to get my check from Michigan to California and for their mail room to get the check to those who need to process it.
So now I am hit with a late fee that they say the burden is all mine. I have never been treated so poorly on the dozens of accounts that I have. They clearly have a problem with their efficiency of handling mail and they are profiting from their own inefficiency with outrageous late fees. I would like the pubic to be aware so that when filing for a mortgage, unsuspecting customers can demand that their notes NOT be placed with Provident Funding.

When my loan was approved I had to pay PMI because I could only put 10% down. Fine. I love my house, the loan was approved, closing perfect, etc. Except I was told last year when I inquired, that PMI would AUTOMATICALLY be removed when my balance went below 80% of the original appraised value. Okay. I started paying extra principal so the balance would drop faster. When the PMI did not AUTOMATICALLY drop off I sent an email. They responded (first) by saying my original appraised value was $30,000 more than it is. So I rejected that answer and asked them to look at the original appraised value from last year. I stated again that my balance had dropped below 80% and to remove the PMI and reimburse me for the PMI paid that should not have been paid.
Now they want $150 to have someone come and look at the house to be sure it has not lost value. This is laughable. I just had it appraised to sell it and it has increased in value by nearly 100% due to home improvements and market value. However, they told me last year and this year that the PMI will automatically drop off in November because that's the point where it would have dropped below 80%... if I had NOT made extra principal payments. So for $150 I can get a refund of $300. Beware if you're making extra principal payments with PMI... I'm not going to continue the hassle of recovering a net of $150, selling the house, and will not be doing business with them again.

I applied for a loan online, got application approval. They said they deposited funds. I had to pull out and send via Walmart visa prepaid. Part of verification I did it twice the money was in there. They called my bank impersonating me, disputed my car payments. Credit was issued for them. That's how the money was put in, not deposited. I believed them. Said 15 min I'd have my 5 thousand dollars. Didn't. They said they would consolidate my c cards and didn't. They kept calling me demanding more and more money. Threatening me and my family with harm. After all they knew my address and everything. Because I withdrew monies and sent it to them by giving them visa numbers.
I now owe my bank tons of money. Couldn't do fraud. Also if they record their messages or conversations they would know it wasn't me by the voice comparison. I'm on disability. It's direct deposited and now I can't pay rent losing car since there was 8 disputes for car payments, insurance and more. I am so sad they did this. Now my daughter and I will be homeless with not even a car to sleep in. Nobody is doing anything to help. Don't know what to do. Why can't Walmart get me my money back considering I have cards and receipts? They should be considered stolen. Where's the protection. I can't even get an account now.
They stole my identity my money and so much more. His name was Erik **. Beware of provident funding. I received loan contract etc. I faxed them Id, ss number, DOB and mother's maiden name acct number and I was so stupid. Reported to police department, the FBI and identity theft services but haven't got any help for anything. All I can do is cry. Can't leave my room so discussed with myself and it.

My husband and I have a year to go on our 15 year mortgage (well, technically we have 3 more years to go, but we've made significant monthly payments of additional principal so we'll be paid off 2 years early). I made our August mortgage payment online through the Provident Funding website on August 13th. I received a confirmation notice that payment was made but didn't keep it (seriously, who does?). Apparently the payment didn't go through and now they want a $73 late fee, which they refuse to waive. According to these scammers, they have a "strict policy" of never waiving late fees. Never mind the fact that we've always paid on time and, in fact, have always paid additional principal ($50-250/month). They said that our account's payment history has nothing to do with additional fees they may charge us (I'll bet that isn't what they say when they want to impose more fees than they've already charged).
The first "customer service rep" I spoke with said that IF I had paid during the grace period they wouldn't have charged the late fee. When I asked why they didn't call to remind me during the grace period, she said "we can't call everyone". After I insisted on talking to a supervisor, I spoke with an equally unhelpful, patronizing supervisor named Daniel ** who changed their policy to "we never call people during the grace period." So which is it? Were they lying the first time or were they lying the second time. He parroted the "strict policy" BS, and said "there's nothing anybody can do" -- no, people can't do anything about terminal illness and death, but they can do something about late fees.
Every other bank/credit card company rewards good customers and prompt payers. Not Provident Funding. (And if Daniel ** said "I understand what you're saying" one more time, I would have screamed. Of course he understood what I was saying, we're both speaking English.) I asked to speak with HIS supervisor, but he refused. "All the managers are out of the office." Yeah, right. Daniel ** said the only way I could escalate the dispute was in writing. Fine, I said, "give me the email address." "Oh, no, we don't use email addresses, you have to send in a written dispute in the mail." What, in the 21st Century they don't use email? Can anyone say "let's make this a war of attrition and make complaints as difficult as possible so the customer will give up?"
Yes, I'll submit a written escalation, but after reading the other reviews on this site, I doubt if it will do me much. I can't wait to get this mortgage paid off, and I'm telling everyone I talk to that they should avoid Provident Funding Associates like the plague. Complaint address: Provident Funding Associates, POB 5914, Santa Rosa, CA 95402.

I started a loan with Provident Funding a few weeks ago based on a discount that they offered us through my company. I used to have a mortgage with them back in 05 on my old house, so decided to give them another try since we didn't have any issues with them back then- and they were now offering a discount to boot. I didn't have any issues with their service quality whenever I was working with them to get the loan, and for the short amount of time I've had with their Servicing department things have been pretty smooth too. They were pretty upfront with what I needed before starting the loan, and the officer was pretty prompt in getting back to me on my questions. Documents that they needed were pretty standard and sensible (based on my last loan experience through Amerisave). One condition about why side business caused some issues when it was being underwritten but I was kind of expecting that to come up anyways.
My loan was closed in about 25 days, and I got a very nice rate out of the deal. I hate sending checks anymore to companies, so I signed up for an auto withdrawal process that they offer. Less hassle to deal with and pretty convenient to manage. A majority of the application process was handled online and over the phone, no face to face work (if you want that option, consider a local or larger bank). For working online though, the website was pretty easy to navigate and they had useful features under my account that let me keep track of my loans progress. I could view the documents that they needed for it, received some system alerts during the process, could communicate with the loan officer, and also upload the documents that they needed. It was a lot less bare bones than when I first did my loan with them, so that was nice to see.
Now that the loans finished, there are other options under my account too (which I haven't looked through entirely yet). My take away after dealing with Provident Funding is that if you have your financials in order and your house value is good, then you shouldn't have a problem getting a loan. I haven't had enough of an experience yet with their Servicing department to comment on totally, but I haven't had a problem with them so far and they were fine to work with on my old loan. Overall, I enjoyed working with Provident (would probably do so again if rates are better than what I have) and I don't mind giving them a 5 star review for my experience with them.

We were late due to renters paying late. We received a booklet each time offering help to make payments on time. Interest rate we had was a little more than 7% while the current rate was in the 3% area. They refused to lower or refinance each time the package was sent out. Frustrating that they offer help on the face of it, but refuse when we try. Very frustrating, would never deal with them ever.

I was notified in October of 2013 that my mortgage payment was not received; I had paid by check. I made another payment to keep my account up to date and was charged a $213 late fee. On May 27, 2015 a check dated October 1, 2013 was cashed causing havoc with my checking account. Why did it take a year and a half to cash this check?? I looked at some of the other comments on this site and see that other people have had the same problem. I called their customer service department to see if they would credit me for the late fee and they refused. I sent in a written request to see if they would reconsider and will revise my comments if they do. They are not nice.

My home mortgage was with Provident funding in which I owed approx. $140,000.00 on a $325,000.00 home. Because of a new job we had to relocate from LA to AL. We had our home for sale in LA, found a home in AL to purchase. I consulted with the mortgage rep with Provident Funding and he said that if I mortgaged the full amount of the new home when I sold the home in LA I could apply the equity and have the PMI dropped. Well I applied that amount in 1/2015 and it's now going into June and they still have not canceled the PMI and just sent my check back for the appraisal with another ridiculous excuse why they can't drop it. Too many boxes checked on the cancellation form and said they have tried to contact me, I have phone records people they have not tried to call me. I need a good lawyer or better yet need to file small claims against these people. My advice get your mortgage somewhere else. These people are scammers.
Provident Funding Associates Company Profile
Company Name:

Provident Funding Associates

Website:

https://www.provident.com/