Consumer Complaints and Reviews

I'm gonna try to keep this short and to the point. This is probably the only review I've ever written and that speaks volumes about how bad my experience was with this organization. To start, I purchased a vip ticket for 125 dollars thinking it was for meet and greet with Korn. I have never used Ticketmaster before and their website is misleading in the product description. Upon calling the day of the concert to inquire about what I was entitled to, I was informed that I had VIP for early entry only. This was useless to me as I couldn't enter early as I had plans with other friends. I called Ticketmaster to try and switch my ticket, granted I had purchased the insurance for my ticket and thought this would be no big deal. I was wrong. I was transferred about 3 times from Ticketmaster to insurance and back. Insurance would take 10 days to get my money back and the regular pit tickets were sold out so I was basically told I was SOL.
The service representative was extremely rude and placed me on hold for 20 min for no reason just to come back on the phone and tell me her system was down, to which she transferred me back to the automated system. (She did all this after I asked for her employee ID and name.) So after being frustrated, I tried to look for the good. I had tickets and at least I would get a free t-shirt or so I thought. A t-shirt was a part of my package, but when I showed up at 8 for the concert, I found out the vendor had already packed up and left. I went ahead to enjoy the concert thinking that I could call and explain things to Ticketmaster and they would make things right. Wrong again. They were pretty much telling me that shirts are first come first serve (even though they are a part of my package) and gave me other numbers to call.
This ends my transactions with Ticketmaster. I have never been more frustrated with a business in my life. I will never use this service again and will make it my personal goal to make sure others don't get screwed over the way I did. I paid 125 dollars for the same thing my friends got at 60 a piece. Oh, and in case you're wondering, my t-shirt issue has still not been resolved.

I purchased in April fan presale tickets for the 10/5 Sigur Ros show in Brooklyn. Ticketmaster website announced those tickets had the best value and were the best available tickets. That statement convinced me to waste 30 minutes of my day refreshing my browser and identifying lakes and letters in ridiculous captchas and end up paying $724 for 2 tickets. 5 months later I visit Ticketmaster and I realized they were selling better seats than I bought, at half price. The pre-sale strategy was misleading and this is frustrating.

Way to crush dreams Ticketmaster. We bought what we thought was a platinum package which your website described as "meet and greet, lanyard, private song and cassette tapes with upper deck seating". We paid our $319 and thought that was that, back in June. We went to will call at #myrtlebeachouseofblues for the show yesterday to pick up our VIP passes with my vinyl in hand and a wedding card for some good friends whose friendship was founded on this band to be signed. Ready to meet Claudio Sanchez and the rest of the band after months of anticipation. I've been waiting for YEARS for this dream to come true. Listening to this band since 2005, dreaming of one day meeting them just to get told you sold us just "pew seating" platinum tickets. That we did not get the meet and greet, that we basically paid $319 for a bench seat... a bench seat? General admission was $60 for two.
When I called customer service understandably upset, I was talked to like a five year old by a rude man. He treated us like we made the mistake. This happened to 3 other groups in line with us, and later in the show met 4 more groups this happened to. How could this be "user error"? How can this mistake happen and ruin so many peoples' nights? After getting the run around I finally got a "manager" who would only give me the name "Joe" who said he would refund us our tickets but wouldn't give us a confirmation email or number, no proof he refunded these tickets and told me to wait for 7 to 10 days. With my previous experience with your company, you can understand my fear of not being refunded. This was the worst customer service experience I have ever had. We will never be going through Ticketmaster again, and will continue to tell people of our experience as I'm sure all the other couples you did this to will as well.

This is going to be long so bear with me. I went online at 10am to get 3 tickets for a pre sale. I tried 3 times to order them and every time I would try to process my order I would get an error message about not being able to contact the server. I tried to call but could not get a person to talk to due to high call volume. After 30 minutes of this ridiculousness, I broke down and used the automated ticket line and paid for tickets that were not as good as the ones I SHOULD have been able to buy on the website. I emailed them that night to tell them about my experience and was told I could exchange them if I found better ones when they went on sale to the general public.
Fast forward 2 days later, I go to the website at 10am for the general public sale and snag fifth row seats! Try to call to do the exchange but again high call volume and it just tells me to call back later. So I buy the tickets so I don't lose them. The next morning I finally get to talk to a real person and explain that I do not want the tickets. I had to get through the automated system and I would like those refunded. First was told no refunds and I should have called to see if better seats were available even though it was impossible to get a live person so I don't know how I would have done that. He finally says he will reach out to the venue and ask for my original tickets to be refunded and I would keep the fifth row.
I used a different payment method for each order because the Ticketmaster site would not accept my MasterCard stating there were not sufficient funds even though there was $5,000 available. So identifying which order needed refunded should have been easy and I verified it with the customer service rep twice. I check my credit card statement today and notice it has not been refunded. I call Ticketmaster again only to find out they refunded my debit card for my fifth row tickets that I wanted to keep and voided that order, leaving me with the original, not-as-desirable tickets.

In July I was on Ticketmaster pricing out tickets with the new vouchers I received from a previous settlement. 1st of all the so called voucher list of eligible events was not functioning. I figured like any other respectable online retailer they'd give you a cost or answer on if your code or voucher is redeemable at check out. So I select 2 tickets priced at $750 a piece ($1500) to see if the voucher would go through. The only prompt I was given before being charged that amount was the 1 to see if I was a real person or not. The next thing you know it directs me to a "thank you for your purchase" screen. I was charged $1500 for tickets I didn't even want to purchase!
I called customer service and I was hung up on twice and transferred to management multiple times never reaching a soul. My bank would not refund the purchase due to Ticketmaster's lower level customer service rep saying "We don't do refunds. Resell the tickets on our site. Ok bye sir." I was never contacted by management and the tickets never sold. Ticketmaster charges absurd amounts of money for services and fees regarding ticket sales. I've never had a distasteful experience this bad!
The website needs to restructure its checkout process and stop robbing people! This happened in June and I'm still upset that a company of its stature has no code of ethics! I've read comments and realize I'm not the only person that has had this same exact thing happen to them. It's not a coincidence. Something is seriously wrong and Ticketmaster bullies and ignores their customers. I don't want a voucher next time around... I want my money back every single penny of that $1500! I will never patronize them or any ticket selling affiliate after that experience. I'm definitely going to seek legal advice.
How do I know I can trust these reviews about Ticketmaster?
608,728 reviews on ConsumerAffairs are verified.
We require contact information to ensure our reviewers are real.
We use intelligent software that helps us maintain the integrity of reviews.
Our moderators read all reviews to verify quality and helpfulness.
For more information about reviews on ConsumerAffairs.com please visit our FAQ.

I paid over 1k to see 5 Seconds of Summer. They said that the tickets will be released 48 hours before the show. I logged into my account and the tickets are nowhere to be found. I bought platinum tickets. I called the platinum tickets department. A girl named Nicole answered. Apparently there is only 1 person working in that department because every single time I called back, she answered the call. I can't access my tickets so I ask her to email me the tickets. She said she emailed them. It's been 30 minutes and the tickets are not in my inbox. I paid so much money and the show is in 2 days and Ticketmaster won't lease my tickets to me.
SCAM SCAM SCAM! Do not ever use them. Not only did I pay a ** ton in fees, but I get a rude ** on the other end who won't help me get my tickets. If there was a Ticketmaster store nearby I would go and complain. But there is only 1 ** in the platinum department named "Nicole" who won't help me access your tickets.

I just got charged a $16.50 service fee, a $2.50 facility charge, and a $6.00 order processing fee, for a $40.00 ticket. That is 62.5% of the tickets original cost in additional fees. How is this not price gouging? This ** is straight up illegal, and Michael Rapino should be in jail for it.

I spent over $1000 for 6 tickets to see Bruce Springsteen at Gillette Stadium in Foxboro Mass. Due to badly needed surgery I cannot attend the concert. I explained them the situation and told them I live over 4 hours from the stadium and simply cannot physically make the trip. Ticketmaster won't refund my purchase price and they make it impossible to resell the tickets. They cannot be transferred through my account.
The only way they can be sold is if I e-mail or snail mail the PDF files which is a security / fraud issue for the potential buyer. To make matters worse they said they won't refund my purchase price because I could sell them on their other site, ticketsnow.com. They told me to go on ticketsnow.com and list the tickets. So I followed their advice, but when listing on ticketsnow.com you have to choose the performer from their drop-down menu and of course Bruce Springsteen is not listed on that menu. So the tickets cannot be sold on that site.
So now I am out over $1000 for tickets I cannot use and can't re-sell because they make it impossible to do so. I will never ever buy anything from Ticketmaster ever again even if it means not seeing another concert, show or game for the rest of my life. I hope you are proud of yourself Ticketmaster... Congratulations, you've suckered over $1000 from a disabled person in Vermont.

My daughter bought tickets to the Lady Antebellum concert in March of 2016 through Ticketmaster. We got to the event center and they told us there was no tickets in there for us. We bought 3 more tickets on my credit card thinking we could get it taken care of the next day and get our money refunded. Fast forward to September of 2016, we are still waiting for our refund. They say that they are not going to refund our money cause we were a no show. How can we be a no show when we bought 3 more tickets? I think 6 months of being patient is enough.

Ticketmaster is not the only one that is guilty of this but they all do the same thing. These past two days, I have purchased tickets for two concerts. I have purchased tickets for many years online. When I do the work to purchase them, what I don't understand is that for a $59 ticket purchased by the end of the whole 7 minute process another $16 has been tacked on to make this ticket now $75. For every show, sport, or concert there is a varying degree amount of fees tacked on to each ticket purchased... This is just plain old greed! When I go through the self check-out in the grocery store, I don't get charged extra fees to do the work.

I bought a ticket to the Janet Jackson concert last year when I moved to Washington. Of course when she announced that she was cancelling the rest of her tour, I contacted Ticketmaster for a refund. The problem is that since purchasing the ticket, I had closed my account with the bank that I used at the time of purchase. They told me that their policy is to refund to an account whether it's closed or still open and they have to receive the funds back from the institution in order for them to send me a check. On May 6, 2016, they said that they processed the refund. I've talked to the bank several times and they have stated that number 1 they have no way of tracking when funds are received for a closed account. If they receive funds and the account is closed they send them back. They have no way of holding on to funds that don't go into an account and they can't deposit into a closed account.
Also, they stated that they would never just mail the funds to the person because they have to verify that the person is still at the same address. If the account is closed they have no way of contacting the person. They're not going to do investigative work to find for an account that doesn't exist with them anymore. Ticketmaster keeps telling me that they can't help me and this is their policy. I even said at this point I'll just take a credit on my account that way it's not about them giving me cash back. I paid for a service I didn't get, so I want to at least be able to use the $89.09.

My Drake & Future ticket sold in July. It's August 25th, and I haven't got my money yet. I've been told various things to do by CS reps to NO avail. Really? Just mail my check. Each time I call it's something different. "Oh ignore the email that TM can't verify your account." "OK, so why did I receive it?" "Ugh, we don't know."

Purchase tickets for Guns & Roses final show at Qualcomm stadium in San Diego. Chose seats in Row A because front row seats are always best. Drove 2+ hours from LA to SD, get inside with no problem then get to usher for the section who says "I've worked here 20 yrs. There has never been Row A". Due to Guest Services office being closed nobody that worked for the venue knew what to do or offer any kind of help. We were told to sit in any open seat, only to be kicked out every few minutes when the actual ticket holder showed up. After about 1 hour of looking for help then musical chairs we had to find places to stand or miss the entire concert. By 11 pm we were simply exhausted from walking, carry our food and beverages, standing in walkways to catch bits of G n R.
On the way out my friend got angry at a event staff member who said this eticket says "Ticketmaster Guarantees entrance to this event (as if it's all general admission seating)". Literally could not imagine the night getting any worse when we left Qualcomm stadium early. However on the drive back to LA that is normally 2 hours the freeway was down to 1 lane for 30 miles. We didn't mind driving, don't blame anyone for the things outside the event but when you purchase your seats from Ticketmaster you expect someone to find you a seat if your ticketed one is not available.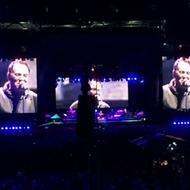 Honestly, if you are going to sell a seat to a concert for $120 for a Bruce concert at Met Life Stadium, it would be nice to know in advance that a huge speaker would be directly in front of your face thus obstructing the view of the stage. Every other venue ALWAYS tells me if there is any type of obstruction, but not Ticketmaster. DO NOT sit in section 128 anywhere above row 10, or you will be staring at a tower with a huge speaker on top.

I can't explain how disappointed I am with Ticketmaster. I bought some tickets for Julion Alvarez and the concert was cancelled. I drove 4 hours and rented a room just to find out concert had been canceled. Ticketmaster failed to notify me. I called ticketmaster and they said they had found out about the cancellation 2 days prior to the concert but failed to notify me. They made me waste time and money and now they just want to give me $50 in credit.

I purchased 5th row tickets via Ticketmaster.com and their site labeled those seats, and others in the same section, as "Meet and Greet VIP" and sold for a high price. It was 3 weeks later when I went on Ticketmaster.com for the same show to see what seats were available.... Ticketmaster had the same seats in the same section available that were previously marked as Meet and Greet VIP now as "Standard Ticket" and the price jumped again. When I got to the show there was no Meet and Greet with the Band at all. Ticketmaster are liars and just out to steal your money any way they can. They also sold VIP seats on stage for over 1500.00 each and each ticket was supposed to include a signed guitar and did not.

I bought tickets from a private seller for an outdoor concert that ended up being cancelled because of weather. Ticketmaster won't refund me the money for my tickets because they said they were originally bought online. I have the hard tickets in hand and they know they were never resold on their fan to fan platform. I've received nothing but nonsensical answers and two outright lies from them. They've told me that they advise not to buy tickets from sources other than them. However there is nothing on the ticket that states that or tells you in cancellation situation they will not refund money to the ticket holder. They also told me that they didn't have any way to refund the money. This is an outright lie. If I had bought the ticket from the concert venue they would have refunded the money at the venue.

Live Nation/TicketMaster rewards its regular customers who purchase "reserved seating" tickets in advance, by selling the same tickets, to last minute buyers, for half the price!! I bought tickets to Joan Jett, Heart, and Cheap Trick for $55.50 ea. I went back in to grab another ticket... and the seat directly beside me was available for $25 on 7/26/2016... Day of show $30.25!!! In fact, the seats available in a section better than mine were also highly discounted!!! They simply told me, "We reserve the right to change prices. Sorry you feel this way."
No upgraded seating offered, no negotiation, no partial refund... nothing!! They literally bend you over with no lube gauging ticket prices with service fees, and then screw the people who faithfully purchase tickets in advance if the venue doesn't sell out, by offering last minute customers a better price...just to fill the seats!! They do not offer repeat consumers ANY type of discounts!! They get away with too much! The last lawsuit gave me 4 free tickets... but, I had a ** selection, in which to use them! Someone needs to stop the Monopoly they have going on Concert tickets!!!

I purchased a ticket for San Diego charger and Arizona Cardinal on 8/19, $142. I called back for the cancellation and refund. They said I did not buy it from them. Then I called back, I went through the phone process, it found my ticket. This time they said my ticket is not refundable. On their website it says you can get refund before a week from the event. If there is no refund they should ask the purchaser to accept no refund before buying it. I will never buy ticket again from Ticketmaster. I select the purchase from going to nil.com from there I selected Tickets and I thought it is best way to through NFL.com to purchase tickets.

I purchased seats to the Coldplay concert at Soldier Field in the VIP section based on the original posted seating chart online. Our seats were in a small section between the main stage, catwalk and backstage so we could see the band from all directions. Pretty sweet tickets, so we thought. Three weeks before the concert our seats dramatically changed. The Ticketmaster site states venue layout can vary or change before a concert; however, Ticketmaster does not disclose that there is a high probability for seat layouts to significantly change; therefore, the original concert experience purchased may become null and void. I paid $495 per each ticket and because they were in the VIP section they could not be exchanged or re-sold. Some VIP treatment!
The venue removed the catwalk and stage and added a hundred plus seats creating a very cramped floor space. I called Ticketmaster three times before the concert to try and get another seating assignment as I saw that they were now selling better tickets next to the stage for the same price I paid months ago. No one ever followed up like they said they would. I spoke to a person at will call on the concert day, but they told me there weren't any other seats available. A Ticketmaster rep told me that some people completely lost their seats because of the stage change and would not get seat assignments until the day of the concert! As can be expected our concert experience did not work out as well as planned and I feel like we were scammed at the mercy of Ticketmaster due the popularity of Coldplay.

I wish I could give Ticketmaster a negative 100 score. I went to buy tickets and was forced into a voice automated system that consistently misheard my works. Spent SIXTEEN MINUTES before I was able to get to a live operator to take my order - and then got charged a service fee of $4 per ticket. Frigging Unbelievable.

Customer service at Ticketmaster is absolutely awful. If I could give it 0 stars, I would. I have been waiting to hear back from a supervisor for over a month now. At this point I would much rather purchase tickets at a higher price from Stubhub than having to deal with Ticketmaster's ineptitude. AWFUL.

When I ordered, your website for Paul McCartney said cheapest seats were $113. I bought 2 for $152 each plus a "SERVICE FEE" of $38 EACH and a "DELIVERY FEE" (e-tickets?!) of $7.50. Then the newspaper said the cheapest seats were $53 to $250. Our seats were at the opposite end of the arena so we couldn't see McCartney even with binoculars. Huge speakers were hanging from the ceiling and obstructed our view of the jumbo-trons so we couldn't even see THEM. Then people by us said they got their tickets for $65 each. Never again, Ticketmaster! Order number on tickets: **. Order # on email is: **. PIN IS **. WE WERE ROYALLY RIPPED OFF! We deserve a refund.

I used the ticketmaster mobile site to purchase tickets and attempted to add vouchers before finalizing the purchase. I have many vouchers/discounts from their class action settlement and so I added one of the codes and hit confirm. There was no notification regarding whether the discount was applicable or if it would be added. It was simply dismissed and I was charged the entire cost without any consideration of the voucher code. I tried to contact customer service who attempted to put the blame on me in multiple ways without looking into the veracity of my complaint.
They said "oh it doesn't apply to this event" - it does, it applies to EVERY event. (discount code) They said "oh but you had 3 pages to confirm" - wrong. The voucher input is on the last page and there was no option to 'check' if it would apply. They then said that there was NOTHING they could do because of the policy of the event holder. This is Ticketmaster for you, no accountability and no ethical guidelines.

Save yourself the hassle of using Ticketmaster and use other ticket provider websites. I have had multiple problems trying to use Ticketmaster. When you contact customer service they are very helpful but as soon as you hang up the phone nothing actually gets done. I have now called customer service three separate times and have been assured every time the problem has been fixed when in fact it has not. Anytime I use the website I have nothing but problems with it.

I realized upon printing my tickets for a show this weekend the service charges per ticket are outrageous! The charges are 42% of the cost of the ticket! I called and spoke to someone - I understand some charges - however not 42% for Lawn Seats and for nothing - I print them at home. The girl said "the charges covers them getting paid and so you don't have to drive somewhere to buy the tickets." Bad enough the cost of concert tickets, but to charge this much in service fees?
This is a joke - I will NEVER buy from Ticketmaster!

Ticketmaster claims that they will refund your ticket or provide credit if a show is cancelled or rescheduled, but they require that you wait four weeks and then deny your refund. This prevents you from disputing it on your credit card! Beware of Ticketmaster! All I wanted for Christmas was tickets to the Def Leppard concert in my area. I was so excited! Unfortunately, they cancelled the Friday night show. Months later they rescheduled and I held on to my present because my seats were great. Unfortunately, it was rescheduled for a Thursday night. The day before the show, my military husband was given orders to fix an aircraft. I called Ticketmaster several times throughout the day, but was unable to get through. Finally, I waited on hold for over an hour and explained my situation. The customer service rep said it didn't sound like a problem at all and I would receive information from customer service in about 4-6 weeks on the refund.
I didn't want to go to the show alone, I couldn't take the tickets to the show and sell them because they were dated for the original show. Ticketmaster does not provide new tickets when they reschedule. I hoped they would give me a credit. Six weeks later I receive notice that I had plenty of time to cancel my tickets. I am so disappointed in Ticketmaster! I will never buy from them again...

On 5/20/16, I purchased 5 tickets through Ticketmaster to see Garth Brooks in concert at Yankee Stadium. The final cost of the tickets is $404.40. I chose the "E-ticket" option at checkout with the understanding that I'd be able to print the tickets at home. Due to circumstances beyond my control, I'm unable to attend the show so I found two friends that wanted to purchase 2 of the 5 tickets from me at face value. I found difficulty transferring or printing the tickets so I called customer service who informed me that certain venues have agreements that E-tickets may not be printed, transferred or resold.
Ticketmaster refused to buy back the tickets even though it is an option for other concerts, sporting events and venues. The company has left me with a purchase that I have no control over and had there been an appropriate disclaimer at the point of sale, I would not have made this purchase. A dispute of purchase has already been made with my bank and credit card company. I am only looking for a refund. My right to sell an item that I have purchased has been taken away from me resulting in an unfair loss of over $400.

I have purchased several dozen tickets (conservatively) from Ticketmaster since 1999. I received an email that I would receive vouchers and/or discount codes from them, which they never produced. This is after years of being ripped off by them.

Ticket Vouchers Are Slap In The Face to Class Action Recipients - On 06/18/2016 I, like many others received 12 ticket vouchers good for 24 tickets to shows for Ticketmaster overcharging me for tickets purchased from 1999 to 2013. At first I thought, this is great, until I tried to redeem some of the vouchers. I am from the Boston area and was totally unable to redeem any of my vouchers for local area concerts at venues such as the Xfinity Center, DCU Center, Blue Hills Pavilion, or the Hampton Beach Casino Ballroom. This is a total outrage! Whomever agreed to these terms did the plaintiffs a great disservice. At this point, I would rather have had a cash settlement than these useless vouchers. The lawyers in this case were paid in cash, and so should the plaintiffs. Another fine example of our justice system in action - NOT!!

ConsumerAffairs Research Team
The ConsumerAffairs Research Team believes everyone deserves to make smart decisions. We aim to provide readers with the most up-to-date information available about today's consumer products and services.
Ticketmaster has been the go-to place to find great concert and event tickets for two decades now, and recently it joined with Live Nation to make the experience even better.
3-day returns: Send your tickets back within three days of purchase (at least a week before the show) and get a full refund.
Resell marketplace: If you're too late for a refund, sell your tickets in the Ticketmaster fan-to-fan marketplace.
Mixed listings: Search this website for music, sports, theater, family events and VIP events.
Ticket deals: Search through the Deals page to find great offers on featured events.
Credit card payment: Ticketmaster accepts Visa, Mastercard, Diner's Club, Discover and American Express.
Best for Ticketmaster is a great site that is best for concert-goers, gift-givers, sports enthusiasts and theater aficionados.
Ticketmaster Company Profile
Company Name:

Ticketmaster

Year Founded:

1976

Address:

9348 Civic Center Dr.

City:

Beverly Hills

State/Province:

CA

Postal Code:

90210

Country:

United States

Website:

http://www.ticketmaster.com/