Consumer Complaints & Reviews

I purchased 5th row tickets via Ticketmaster.com and their site labeled those seats, and others in the same section, as "Meet and Greet VIP" and sold for a high price. It was 3 weeks later when I went on Ticketmaster.com for the same show to see what seats were available.... Ticketmaster had the same seats in the same section available that were previously marked as Meet and Greet VIP now as "Standard Ticket" and the price jumped again. When I got to the show there was no Meet and Greet with the Band at all. Ticketmaster are liars and just out to steal your money any way they can. They also sold VIP seats on stage for over 1500.00 each and each ticket was supposed to include a signed guitar and did not.

I bought tickets from a private seller for an outdoor concert that ended up being cancelled because of weather. Ticketmaster won't refund me the money for my tickets because they said they were originally bought online. I have the hard tickets in hand and they know they were never resold on their fan to fan platform. I've received nothing but nonsensical answers and two outright lies from them. They've told me that they advise not to buy tickets from sources other than them. However there is nothing on the ticket that states that or tells you in cancellation situation they will not refund money to the ticket holder. They also told me that they didn't have any way to refund the money. This is an outright lie. If I had bought the ticket from the concert venue they would have refunded the money at the venue.

Live Nation/TicketMaster rewards its regular customers who purchase "reserved seating" tickets in advance, by selling the same tickets, to last minute buyers, for half the price!! I bought tickets to Joan Jett, Heart, and Cheap Trick for $55.50 ea. I went back in to grab another ticket... and the seat directly beside me was available for $25 on 7/26/2016... Day of show $30.25!!! In fact, the seats available in a section better than mine were also highly discounted!!! They simply told me, "We reserve the right to change prices. Sorry you feel this way."
No upgraded seating offered, no negotiation, no partial refund... nothing!! They literally bend you over with no lube gauging ticket prices with service fees, and then screw the people who faithfully purchase tickets in advance if the venue doesn't sell out, by offering last minute customers a better price...just to fill the seats!! They do not offer repeat consumers ANY type of discounts!! They get away with too much! The last lawsuit gave me 4 free tickets... but, I had a ** selection, in which to use them! Someone needs to stop the Monopoly they have going on Concert tickets!!!

I purchased a ticket for San Diego charger and Arizona Cardinal on 8/19, $142. I called back for the cancellation and refund. They said I did not buy it from them. Then I called back, I went through the phone process, it found my ticket. This time they said my ticket is not refundable. On their website it says you can get refund before a week from the event. If there is no refund they should ask the purchaser to accept no refund before buying it. I will never buy ticket again from Ticketmaster. I select the purchase from going to nil.com from there I selected Tickets and I thought it is best way to through NFL.com to purchase tickets.

I purchased seats to the Coldplay concert at Soldier Field in the VIP section based on the original posted seating chart online. Our seats were in a small section between the main stage, catwalk and backstage so we could see the band from all directions. Pretty sweet tickets, so we thought. Three weeks before the concert our seats dramatically changed. The Ticketmaster site states venue layout can vary or change before a concert; however, Ticketmaster does not disclose that there is a high probability for seat layouts to significantly change; therefore, the original concert experience purchased may become null and void. I paid $495 per each ticket and because they were in the VIP section they could not be exchanged or re-sold. Some VIP treatment!
The venue removed the catwalk and stage and added a hundred plus seats creating a very cramped floor space. I called Ticketmaster three times before the concert to try and get another seating assignment as I saw that they were now selling better tickets next to the stage for the same price I paid months ago. No one ever followed up like they said they would. I spoke to a person at will call on the concert day, but they told me there weren't any other seats available. A Ticketmaster rep told me that some people completely lost their seats because of the stage change and would not get seat assignments until the day of the concert! As can be expected our concert experience did not work out as well as planned and I feel like we were scammed at the mercy of Ticketmaster due the popularity of Coldplay.
How do I know I can trust these reviews about Ticketmaster?
572,721 reviews on ConsumerAffairs are verified.
We require contact information to ensure our reviewers are real.
We use intelligent software that helps us maintain the integrity of reviews.
Our moderators read all reviews to verify quality and helpfulness.
For more information about reviews on ConsumerAffairs.com please visit our FAQ.

I wish I could give Ticketmaster a negative 100 score. I went to buy tickets and was forced into a voice automated system that consistently misheard my works. Spent SIXTEEN MINUTES before I was able to get to a live operator to take my order - and then got charged a service fee of $4 per ticket. Frigging Unbelievable.

Customer service at Ticketmaster is absolutely awful. If I could give it 0 stars, I would. I have been waiting to hear back from a supervisor for over a month now. At this point I would much rather purchase tickets at a higher price from Stubhub than having to deal with Ticketmaster's ineptitude. AWFUL.

When I ordered, your website for Paul McCartney said cheapest seats were $113. I bought 2 for $152 each plus a "SERVICE FEE" of $38 EACH and a "DELIVERY FEE" (e-tickets?!) of $7.50. Then the newspaper said the cheapest seats were $53 to $250. Our seats were at the opposite end of the arena so we couldn't see McCartney even with binoculars. Huge speakers were hanging from the ceiling and obstructed our view of the jumbo-trons so we couldn't even see THEM. Then people by us said they got their tickets for $65 each. Never again, Ticketmaster! Order number on tickets: **. Order # on email is: **. PIN IS **. WE WERE ROYALLY RIPPED OFF! We deserve a refund.

I used the ticketmaster mobile site to purchase tickets and attempted to add vouchers before finalizing the purchase. I have many vouchers/discounts from their class action settlement and so I added one of the codes and hit confirm. There was no notification regarding whether the discount was applicable or if it would be added. It was simply dismissed and I was charged the entire cost without any consideration of the voucher code. I tried to contact customer service who attempted to put the blame on me in multiple ways without looking into the veracity of my complaint.
They said "oh it doesn't apply to this event" - it does, it applies to EVERY event. (discount code) They said "oh but you had 3 pages to confirm" - wrong. The voucher input is on the last page and there was no option to 'check' if it would apply. They then said that there was NOTHING they could do because of the policy of the event holder. This is Ticketmaster for you, no accountability and no ethical guidelines.

Save yourself the hassle of using Ticketmaster and use other ticket provider websites. I have had multiple problems trying to use Ticketmaster. When you contact customer service they are very helpful but as soon as you hang up the phone nothing actually gets done. I have now called customer service three separate times and have been assured every time the problem has been fixed when in fact it has not. Anytime I use the website I have nothing but problems with it.

I realized upon printing my tickets for a show this weekend the service charges per ticket are outrageous! The charges are 42% of the cost of the ticket! I called and spoke to someone - I understand some charges - however not 42% for Lawn Seats and for nothing - I print them at home. The girl said "the charges covers them getting paid and so you don't have to drive somewhere to buy the tickets." Bad enough the cost of concert tickets, but to charge this much in service fees?
This is a joke - I will NEVER buy from Ticketmaster!

Ticketmaster claims that they will refund your ticket or provide credit if a show is cancelled or rescheduled, but they require that you wait four weeks and then deny your refund. This prevents you from disputing it on your credit card! Beware of Ticketmaster! All I wanted for Christmas was tickets to the Def Leppard concert in my area. I was so excited! Unfortunately, they cancelled the Friday night show. Months later they rescheduled and I held on to my present because my seats were great. Unfortunately, it was rescheduled for a Thursday night. The day before the show, my military husband was given orders to fix an aircraft. I called Ticketmaster several times throughout the day, but was unable to get through. Finally, I waited on hold for over an hour and explained my situation. The customer service rep said it didn't sound like a problem at all and I would receive information from customer service in about 4-6 weeks on the refund.
I didn't want to go to the show alone, I couldn't take the tickets to the show and sell them because they were dated for the original show. Ticketmaster does not provide new tickets when they reschedule. I hoped they would give me a credit. Six weeks later I receive notice that I had plenty of time to cancel my tickets. I am so disappointed in Ticketmaster! I will never buy from them again...

On 5/20/16, I purchased 5 tickets through Ticketmaster to see Garth Brooks in concert at Yankee Stadium. The final cost of the tickets is $404.40. I chose the "E-ticket" option at checkout with the understanding that I'd be able to print the tickets at home. Due to circumstances beyond my control, I'm unable to attend the show so I found two friends that wanted to purchase 2 of the 5 tickets from me at face value. I found difficulty transferring or printing the tickets so I called customer service who informed me that certain venues have agreements that E-tickets may not be printed, transferred or resold.
Ticketmaster refused to buy back the tickets even though it is an option for other concerts, sporting events and venues. The company has left me with a purchase that I have no control over and had there been an appropriate disclaimer at the point of sale, I would not have made this purchase. A dispute of purchase has already been made with my bank and credit card company. I am only looking for a refund. My right to sell an item that I have purchased has been taken away from me resulting in an unfair loss of over $400.

I have purchased several dozen tickets (conservatively) from Ticketmaster since 1999. I received an email that I would receive vouchers and/or discount codes from them, which they never produced. This is after years of being ripped off by them.

Ticket Vouchers Are Slap In The Face to Class Action Recipients - On 06/18/2016 I, like many others received 12 ticket vouchers good for 24 tickets to shows for Ticketmaster overcharging me for tickets purchased from 1999 to 2013. At first I thought, this is great, until I tried to redeem some of the vouchers. I am from the Boston area and was totally unable to redeem any of my vouchers for local area concerts at venues such as the Xfinity Center, DCU Center, Blue Hills Pavilion, or the Hampton Beach Casino Ballroom. This is a total outrage! Whomever agreed to these terms did the plaintiffs a great disservice. At this point, I would rather have had a cash settlement than these useless vouchers. The lawyers in this case were paid in cash, and so should the plaintiffs. Another fine example of our justice system in action - NOT!!

Neither company is taking credit nor providing resolution for a purchase made on 5/11/16. I was assigned seats by TicketMaster on 6/4, and Groupon says they are my seats, however, TicketMaster says they show no such "purchase" nor "assignment". As of 6/17 my tickets were still showing as available on the TicketMaster site. Today (6/22) they are not. I fear my seats were double sold and I will show up to the circus with my young child and someone else will be in my seats. And with TicketMaster as the "official" ticket-seller, I'm sure the person holding the TicketMaster ticket vs. my "assigned seat print-out G-Pass", will hold more merit.
I can't get a straight answer from Groupon about what happened other than "we did experience a system problem, but it was resolved". At this point, I've spent hours and days (from 6/5 to 6/22) on the phone and email with both companies and their customer service departments with no resolve. I will never purchase from Groupon again and doubt TicketMaster will ever see my business. It is fraud to take someone's money and produce nothing.

I went online to purchase tickets for Hamilton which became available at 10:00 a.m. on June 21, 2016; I chose my seats and clicked on the icon to complete the purchase; a notice appeared that stated that there was unusual activity and that it would be 20 minutes for my order to be processed. Over the next 45 minutes the waiting time kept changing from 20 minutes to more than 45 minutes. Finally, after 45 minutes, the notice indicated that my order would be processed in less than 3 minutes. At this point, the screen disappeared and I lost my place. I tried several times to purchase tickets after this, with no success. For its HIGHLY OVERPRICED FEES, Ticketmaster should be able to provide better service. I only use Ticketmaster when there is absolutely no other alternative.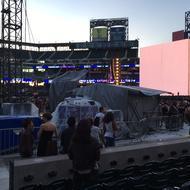 I purchased 4 tickets to Beyonce's concert at Citi Field on 6/7/16. I purchased American Express presale tickets for $200/ticket. At the time of check out, nowhere did it indicate that these tickets were limited/obstructed view. When I went to print them out, they were marked Limited View, and indeed the sound system completely blocked our view. A real disappointment considering I paid $800 for the concert.

Should be renamed to TicketTouter. Johnny on the spot for the alleged "Citi" presale for concert tix. Picked my seats from the seat map, then whamo, tickets get taken away and I'm redirected to their bogus "find best seats for me" mode, pretty sure know what's "best" for me. After all that baloney tix are now no longer available for the "Citi presale", period. Dropping Ticketmaster and Citi while I'm at it, last time TM will screw me over on tix. Ticket touting "should" be against the law. Touting is a ten dollar word for scalping, and scalping is illegal. They buy up premium seats then list them on their site at a highly inflated rate. Fact they are guilty of it, a very famous band whom I'll not mention has proven it in their country and is pushing for legislation to have it stopped. Shamefully US lawmakers could care less. Don't care what pay now, as long as TM doesn't get any of my money.

I just tried to buy tickets from the latest block of "Hamilton" tickets to be released. After trying several dates, I thought I hit the jackpot -- the site told me I had found two tickets (specifically, March 8, 2017, Row T, Seats 12-14). I started the check-out process, but when I clicked on "card info," a screen suddenly popped up saying, "Sorry, that request could not be processed." And that was it. There was no chance to recover those tickets without restarting the search process, and too much time had passed to find tickets to any other performance. (And I tried.) Thanks a lot, Ticketmaster.

How Ticketmaster scammed me for $1060.02. Beware when you purchase any ticket through these thieves. It all started when my wife wanted to see Andrea Bocelli on June 4th at the San Jose SAP center. So we asked our married children who live in the SF Bay Area if they wanted to attend with us. We live in San Diego and when heard back from our children and spouses that Sat June 4th would work I went ahead and went to the Ticketmaster site to buy 6 tickets together. It was my first time buying tickets from them and ran a search for 6 tickets together and I wanted them to be under $200 ea.
The search came up with 6 Tickets and I contracted, paid for and downloaded these tickets from Ticketmaster and when I printed them out they were marked as resale tickets. Ok, so I printed out the 4 pages of Ticketmaster terms and conditions from their site and had an understanding of the terms. I went ahead and made flight arrangements and my children and their spouses also calendar Sat June 4th for this wonderful event together. Last Friday at 8:15 PM I get an email from Ticketmaster that because the Sharks need the SAP Center for June 4th my Andrea Bocelli concert was cancelled and rescheduled for tonight Friday June 3rd. This cancellation and rescheduling made it impossible for any of the 6 in our party to make this event so I called Ticketmaster at 8:30 PM last Friday to request a refund of the cost of the 6 tickets at $1060.02.
Ticketmaster has refused to issue a refund and I gave called them at least 8 times since last Friday and have spoken to no less than 6 people who refuse to offer any customer service and deny their own listed terms and conditions. Their only response was to give the tickets away or list them on their site for resale but since Friday of last week 1000's of tickets were added to their inventory and they even released and lowered the prices of seats.
In no uncertain terms their policy clearly states that if an event is cancelled or rescheduled, then a fan to fan resale ticket is refundable to the buyer who's requesting that refund. Ticketmaster is a fraud and uses their rude and unprofessional customer service people to rip off and legally steal from consumers. I'm out $1060.02 because Ticketmaster will not live up to their own posted policies. There is more and I'm ready to share this travesty with the world and if Ticketmaster has done this to you also I'd like to know. BEWARE IN ANY DEALINGS WITH THIS SHADY COMPANY.

OK, this is really bugging me! Please share so more people can boycott or complain. Squeaky wheel gets grease! They need to be stopped! First of all, Ticketmaster, you are a piece of crap!! Secondly, here's yet another reason why! The way the Tragically Hip concerts in Canada were dealt with was criminal! At 10am you claim to be sold out??? How the hell does that even happen? Now I've discovered you are messing with ALL tickets and concerts! I am not even a Hip fan so I'm not whining for not getting tickets but some true fans will be left without.
Today, I went on your site to see if there were any "LAWNS" for Kenny Chesney this Thursday in Toronto. Posted ticket price is $33.75. OK, remember that price. I searched for lawns specifically and it came up as none found! That's weird cause I know it's not sold out by any means! So the site immediately sends me to their "resale" page where the price of that lawn ticket is now $75 bucks!!! How is this even possible? There were even a few selling for $3,097??? Why is it that I cannot purchase a lawn ticket at the advertised price of $33.75??? Oh ya, they have thousands of tickets left but only available on their "resale" page at an inflated cost but not for the advertised price??? Someone is making crazy amounts of money and to me it smells illegal!!! Ticketmaster, you have nerve! You are all unscrupulous bastards!
Oh ya, thirdly. You have a $25 service charge on your tickets!!! AND THAT INCLUDES YOUR "resale" tickets!!! So if someone buys them originally at face value, you charge them that outrageous charge and then when the reseller sells them, you charge that service charge AGAIN!!!??? You are in essence making more than the artist you are selling the tickets for??? For that reason, ** YOU!!! Why isn't someone doing something about this???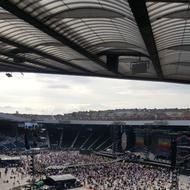 On the 27th of November I purchased 2 tickets from Ticketmaster to see Coldplay. I had to buy more expensive tickets than I wanted to as the cheaper ones were sold out. I paid 245 for two tickets which would guarantee good seats in the stadium. When I received the tickets I was furious to see 65 per ticket printed on them so I phoned up to query why they only had 65 on them and no mention of Ticketmaster platinum. I was told that all the tickets had 65 printed on them and I was assured we had premium seats, so I accepted this explanation.
When we arrived today, we are about 7 rows from the roof of the building and stuck in the corner! Hardly premium seats when you are not near the middle of the stage or nearer the ground. How come a company like Ticketmaster need to consider people out of double the ticket price and call it platinum when it quite clearly isn't? When I phoned up to complain I was told that was the seats I accepted now not a lot of people carry a seating plan of Hampden Park in their back pocket, it wouldn't have been a seat in would have choose had I been given a seating plan to pick from. I think it's very unfair of Ticketmaster to con people out of a lot of money like this, it's a lot of money for standard seats in my opinion.

Ticketmaster is the worst website for buying tickets. It gave me a hard time for buying one ticket. It was a very time-consuming process, not a user-friendly website, and difficult to navigate. I got my ticket for a cheaper price from another website! Ticketmaster is overrated for no good reason.

I entered what I thought was the Ticketmaster site and proceeded to purchase tickets for the Janet Jackson concert in PA. Unknown to me I was actually purchasing tickets from a third party site. Why would this happen? In any case, they refuse to credit me for the tickets I purchased even though Janet has cancelled her February date and now cancelled her late August date and may reschedule sometime in the future. This is unacceptable and something should be done about it. How can a company take advantage of this segment of the populous and get away with it. I will never purchase another ticket for either of these companies and I will recommend everyone I know to do the same. Channel 2 & 7 New will be doing an expose on this shortly.

It was more than three months trying to solve a problem. I made five calls during these three months. And in my last call I was waiting on the phone for more than five hours to speak to a manager and they ended up disconnecting my call. Today have not resolved my problem. Is the worst company that exists. I'm going to communicate with the Business Bureau service to settle a complaint. I can't believe that even looking for online can find the telephone number of HR. And the managers refuse to give it.

When people look up tickets and the prices what it suppose to be through Ticketmaster, you shouldn't have a third party and then turn around and say I didn't order my tickets through Ticketmaster and then act like it's funny. And say third party isn't through Ticketmaster. Ugh I called the site number. Guess I will know next time if I'm talking to a third party!!!

When I used a cell to purchase 4 tickets for the Lion King at Minskoff Theater 200 W 45 NYC, I was advised by telemarketing agent that my seats were in the orchestra seating but I was in the middle on the right side to get good seating with a good view, seat # j10,12,14,16 but that was MY MISTAKE, because I should have been to see in the website where the seats were to tell that the agent was lying. When I arrived at the theater the usher show me the seats. They were all the way to the right realizing that the agent misadvised or misinformed me truthfully with poor seating, which I called Ticketmaster, their customer service & BBB of California to no avail. I know there are recordings of conversations & followed up the agent that lied & misinformed me with the truth. Anyone out there please be careful about any agent (especially Ticketmaster) giving you seating & before purchasing. See the website.

If there is zero star I will rate it zero star. Horrible customer service. Waited 45 minutes online and no one can speak with. Re-sell my ticket and never received the fund. Worst experience ever.

Got on at noon and hoped to get seating to see Dolly Parton... They disabled the map feature as people were buying a lot of tickets. Tried calling them and got nowhere and had to deal with the computer voice and waiting on the phone. I would have gone VIP but the prices for that are shameful. After over an hour... I gave up. Other people have complained that seats they found were not very good. One person said that she went to a Ticketmaster location and was unable to find anything. Seems shady to me that other fans cannot get good seats after the pre sale ends. I am fed up and will never go to a show again... Ticketmaster is terrible.

ConsumerAffairs Research Team
The ConsumerAffairs Research Team believes everyone deserves to make smart decisions. We aim to provide readers with the most up-to-date information available about today's consumer products and services.
Ticketmaster has been the go-to place to find great concert and event tickets for two decades now, and recently it joined with Live Nation to make the experience even better.
3-day returns: Send your tickets back within three days of purchase (at least a week before the show) and get a full refund.
Resell marketplace: If you're too late for a refund, sell your tickets in the Ticketmaster fan-to-fan marketplace.
Mixed listings: Search this website for music, sports, theater, family events and VIP events.
Ticket deals: Search through the Deals page to find great offers on featured events.
Credit card payment: Ticketmaster accepts Visa, Mastercard, Diner's Club, Discover and American Express.
Best for Ticketmaster is a great site that is best for concert-goers, gift-givers, sports enthusiasts and theater aficionados.
Basic Information
Company Name:

Ticketmaster

Address

9348 Civic Center Dr.
Beverly Hills, CA 90210
United States

Year Founded:

1976

Website:

http://www.ticketmaster.com/