Consumer Reviews and Complaints

Ticketmaster seem completely incompetent. After erroneously purchasing tickets for a concert in Monterey, CA for this Friday as opposed to Saturday, I contacted Ticketmaster via its chat function to be informed that while it would be possible to exchange the tickets I could only do so by calling Ticketmaster on Monday. After being placed on hold for almost 40 minutes the following Monday, the agent first informed that it would not be possible to buy tickets for the Saturday. Upon my insistence to speak to a supervisor, the same agent came back after another 10 minutes to correct her earlier incorrect statement, and assured me the tickets were transferred to Saturday. She also assured me that the electronic tickets will be forwarded with 20 minutes.
More than 4 hours later, I still had not received the email and called again. Again I was put on hold for almost 20 minutes, upon which the agent told me that the problem has been fixed and that I will receive my tickets in 20 minutes by email. Yet again, this did not happen. This morning, I called again. After another long holding period the agent (Giselle) told me that the previous two agents made a mistake with some setting and that this has been fixed. Again I was assured that an email with my electronic tickets will be sent by email. Another 3 hours later, and the email has not yet arrived. I decided to now cancel the tickets and will request AMEX to put a fraudulent block on the charges. DO NOT USE Ticketmaster. I will definitely never do so again. If it was possible, I would rate the service in the negative!

How do you justify a 33% surcharge on tickets??! Sorry... That is flat out stealing!!! You are EVERYTHING that is wrong with the side of the music industry that relies on fans to keep things going! This will be reported to the FCC... I don't have time to screw around... I have very large manufacturing customers and this is laughable. Have fun on the news!!! Flat out LAUGHABLE!!!

My experience with their customer service call center was the most dissatisfying experience I've ever dealt with. The WORST ever! On June 2nd, I went on their website and bought tickets for my daughter as a birthday gift to see a comedy show. I made the mistake of typing my email incorrectly. For days, I kept checking my email and never received the tickets. I checked my credit card and there was a charge. So on June 8th, I called their contact number to find out what's going on with my tickets (this was around 3:30 pm). The lady I spoke to verified my email and I realized it was incorrect (which was my mistake). She fixed it and told me to wait 15-20 minutes to get the tickets through my email. I waited 30 minutes and no email. Called back, a different representative I spoke to verified my email and tried emailing me again. I still didn't get my tickets. I called again. This time we decided to try a different email. I still didn't get my tickets.
This went on few times. Every time I called, the representatives said they resolved the issue and I should get an email w/ my tickets. It got to the point where I was on my 5th call over a 3 hour time frame of trying to resolve the issue and waiting for the email, I requested to speak to a supervisor. The representative kept trying to resolve the issue instead of getting a supervisor to talk to me. Then, he puts me on hold for several minutes (5-10 min), came back on the phone just to tell me that he's still trying to get a supervisor, and while waiting for the supervisor, he's trying to figure out how to fix the problem. Again, he puts me on hold and we get disconnected. I called the 6th time, another representative kept finding excuses not to let me talk to a supervisor, said she fixed the problem and guarantees that I will get my tickets through my email in 5 minutes.
We disputed for few minutes about what guarantee she was going to guarantee me if I don't get the email. She just kept saying that she fixed the problem and that she guarantees it. She waited with me on the phone and after 5 minutes, no email/tickets, so I requested for a supervisor immediately. She puts me on hold and several minutes later got disconnected. By now I am extremely frustrated and furious. The 7th call I made, I got disconnected again while I was put on hold for a supervisor. The 8th call (around 8:45 pm), I demanded to speak to a supervisor and was put on hold. After 15 minutes on hold, someone from the escalate department picks up to tell me that they will mail my tickets free of charge through UPS.
I got off the phone at 9:05 pm...still very dissatisfied about how poorly the situation was dealt with, the amount of time that I spent dealing with this issue, how the representative guarantees me, and how complicated it is to talk to a supervisor (which I never got to talk to). In addition, every time I called, I had to go through a process of providing my information to an automated teller before speaking to a representative and every time was a different representative, which I had to repeat myself and explain the whole situation. This is the first time I had ever wanted to complain and write a review about a horrific experience.

I had gotten the pre-sale code from the artist's website so I purchased via their site to get to Ticketmaster. I was going for what I knew to be best as VIP. As I saw the VIP seats offered, I saw listed Platinum Seats for about 35% more, at least. As you know you have a timer going on your current seat offer. So, I went for the Platinum as these were Christmas gifts and I figured this would be like VIP + better seats.
A few days before the concert, my daughter asked what exactly she got for Platinum. I told her what I 'had thought' but yes, I had forgotten about verifying what perks she would get. So Google of course and it says that these are considered Best Seats in the House thus the higher cost. It listed no perks like shirts at discount, anything!! Something!! Marked it up to duh mom and lesson learned. When she got to the venue with her friend for the concert, they were asking her what were Platinum seats. She told them all we knew. The lady being very kind checked and nope she wasn't on a VIP list nor was I as the purchaser.
A couple of employees kept saying for sure you get something at that price. I tried to call TM in the meantime and it was Sunday evening. Of course nobody is working. Seriously, why would there be? So I told her just enjoy the seats and I was sorry. She had known prior that there were no perks, it was the venue employees that were determined she MUST get something. But no.
During the concert she and her friend chatted with some people in the seats in front of them. They were VIP seats and they had gotten something from the Band, a piece of art I believe she said. AND, the kicker, their tickets were substantially cheaper. But yet I had bought Best Seats in the House section. One row diff to see the band was nothing. I'm saying I paid, for 2 tickets over $120 more total than the folks in front and NO perks. Now, what's wrong with this picture.
Since then I have Googled again and saw people totally angry about their Platinum seats' costs with similar complaints. Many just said it was just a way for TM to get more money out of people. LIKE ME!! LOL. How is it feasible to sell Platinum for much more, seats in front of them cheaper? I don't know what I expect to happen here but it's just flat out a price hike that is seriously without any factual incentive to purchase them. Best seats imply at least from your row forward are the top of the line, cream of the crop. But nooo!!
It's very late and I can only hope I am making sense with little sleep last night. I think they should stop this ridiculous gouging of customers, or include VIP perks along with the Platinum price. Basically I feel Ticketmaster gouged us prob for seats that would have been VIP for less money but I fell for the Platinum which sounded like an UPGRADE! But ended up being an extra $120ish bucks more to them for nothing!
I thank you for at least letting me sound off. I do know my daughter loved the concert and her seats. She like me, feels badly I spent that much more for the seats. This is not something I would normally do, but yep, I did it this time. I hope you can make some sense out of all this dialogue. I can't tell a short story!!! It's embedded in my genes. I'm originally from the South!! :)

***
Note to approvers:
Review already posted on https://us.eventbu.com/oakland/roger-waters-live-in-oakland-ca/1620694.amp
***
First let me say I have been a Pink Floyd / Roger Waters Fan for 40+ years. Seen Floyd twice, Gilmore solo once, Roger five times. Tulsa show was great except, 1. bought VIP package, did not get any VIP at the arena. No Early entry. No swag that was promised. No Lanyards, ect.... To make things worse, I just got back home to Little Rock and found the T-shirt I bought during the stampede at the table was not the one I asked & paid for. I asked for the "US & THEM" shirt with the two outstretched hands but got some BS crap shirt that my four yr old could have copied and pasted. Wow. I know Roger can't oversee everything but, when you pay in advance for "VIP", Early Entry so you don't have to fight the crowd.... Maybe this mistake would not have happened. "Now What, Now What, Now What". I've already gone home & left the show. Have been taken, taken taken..... Or will someone from Rogers entourage reach out and make this right?
EMERALD PACKAGE
One Amazing Top Price Reserved Floor Ticket in the First Ten (10) Rows *
Limited Edition Set of Us + Them Tour Lithographs
Limited Edition Set of Tour Lithographs Designed Exclusively by Roger Waters
Each Special Set Hand Numbered & Comes with an Official Certificate of Authenticity
Exclusive On-Site VIP Perks (Diamond & Emerald Packages Only)
VIP Preferred Parking (One Parking Pass Per Order) **
Separate VIP Entrance **
The Roger Waters Time Capsule (Diamond & Emerald Packages Only)
Time Capsule Designed Exclusively for VIP Package Purchasers
Includes a Timeless Collection of Roger Waters VIP Themed Merchandise
Each Time Capsule Contains a Commemorative VIP Tour Laminate & Matching Lanyard.
Will Ticketmaster step up and contact me.
Why does this post keep diapering?
How do I know I can trust these reviews about Ticketmaster?
882,235 reviews on ConsumerAffairs are verified.
We require contact information to ensure our reviewers are real.
We use intelligent software that helps us maintain the integrity of reviews.
Our moderators read all reviews to verify quality and helpfulness.
For more information about reviews on ConsumerAffairs.com please visit our FAQ.

I purchased a $315.00 concert ticket and gave it to my son as a graduation present. My son lost his ticket. We tried to have it replaced. Ticketmaster would not do it. They also would not give me a refund or future credit. They kept my $315.00. Do not use them. They are thieves.

Adding my one-star rating to this embarrassingly long list of one-star reviews. I would have given zero if it was an option. If you need to contact customer service for any reason, be prepared to wait about three weeks for a response, regardless of how many times you email or how many times you call to sit on hold for hours. After 12 emails, 4 calls, and many headaches, I finally received a response apologizing for the extended wait time, but without even addressing my initial inquiry! Their customer support is an oxymoron and an absolute joke. Ticketmaster has zero regard or respect for their customers. I will avoid purchasing anything from them in the future as nothing is worth this stress and headache. They should be ashamed of themselves.

When ordering tickets for a concert yesterday, I selected my tickets and was taken through the usual ticketing and payment process, only to be told at the end that my tickets were no longer available. I was asked to then reselect my tickets, which I did, and this time the order went through. ONLY to find that the first order had indeed gone through and I had now been charged for 2 sets of tickets! I called them to get a refund for the tickets processed in error on their part, only to be told that there was nothing they could do and I had to resell the tickets!
When I spoke to JONATHON in the ESCALATIONS department, he admitted to me that their system is NOT WITHOUT ERRORS!! But still would not refund my $260!! I think that if they are aware that their system has errors, then they should have a refund process in place for tickets that are indeed issued in error. I am so cross and disgusted at their customer service and that how this has now become MY problem in trying to get some of my money back by selling them myself! People PLEASE read reviews on this ticketing site before ordering tickets through them, and heed the warnings!

Online purchased 2 tickets to any one day 1st weekend of NOLA Jazz Fest 2017. Stood 3rd and 4th persons in line of event on 1st day of event before gate opening (for the day). Upon ticket scans, we were told both tickets were prior scanned. Huh, how is that possible, we're the 3rd and 4th people trying to get in and this is the first day. They didn't have an answer at the event. They refused our entrance. Ticketmaster phone line was not answered for 2.5 days. There was no fixing the problem.
Upon Monday 9 am reach of Ticketmaster, we were declined refund with TM telling us because our tickets showed scanned and event had passed, they wouldn't do anything for us; in effect screwing us of $186.00. Ticketmaster refused under appeal to issue refunds... just cheerfully told us to rot in hell and be happy to purchase future event seats from them; the BALLS!!! DO NOT USE Ticketmaster. They take too much of your sale price and are unfair to buyers, literally cheating whomever they can wherever and whenever they can.

Purchasing Ed Sheeran tickets. Having prepared in advance for the commencement of pre sale tickets for a concert, and trying multiple times (probably in the hundreds!) to refresh and log on, and staying in my electronic queue I was still unsuccessful in securing ANY tickets for my 8 year old son!! So in turn I had to turn to another website (viagogo) to purchase and be only able to afford 2, instead three for well over inflated price of just under $1000...

Very, very unhappy with Ticketmaster. Let's start with fees, handling fee really, inconvenience fee even crazier than venue fees. Have you heard this 1 before? The promoters aren't allowing refunds. Or we can contact the venue but they're not guaranteeing refunds. But Ticketmaster is the 1 that sold you your tickets. The venue has no say. They're rude and such liars. They also own the "TicketsNow" site (I believe). Not positive but heard that. Which is a secondary market for their tickets to sell at a greater rate. They do (pre-sales) and only give the codes to ticket brokers who scoop up all the best seats and sell them on Ticketmaster site. I'm so sick of their rude, lying, fee grabbing practices. Anyone else having issues with them as well?

I had purchased two pairs (4 ticket total) for platinum seats for the weekend in Sunrise, FL. I paid a premium non-refundable ticket price which was OK considering I was sitting row 1. After an updated layout of the concert, there is a middle part of the stage where the artist walks down to perform. So this row 1 seat is now almost more like a row 40 and I will be looking at his back most of the show. They wouldn't exchange my seat or refund me or even provide me access to the VIP lounge with free drinks (which I could have purchased for half the price and a much better seat for the show). $2300 for "platinum" tickets that are not even close to the set...

Disclaimer - Jazzfest tickets: $70 online or $80 at the door. Reality - Jazzfest tickets: $94.20 online or $80 at the door. I purchased a ticket online at Ticketmaster.com for an event. I was unable to print the tickets. "You will not receive paper tickets for this event. Log in to our website or app on your smartphone to view your mobile ticket." I installed the app on my phone and logged in and noticed that the event was immediately listed under "Past Events". The ticket was "ANY ONE DAY" between Thu and Sun. This was Saturday morning. I noticed that I was indeed able to view tickets I have purchased of other upcoming events. But this particular ticket was inaccessible.
I went online twice to chat with representatives to resolve this. One told me, "The best I can do would be for me to set these for will call for you." I went to the event - went to Will Call. No tickets. I showed them my receipt and explained that I can't get to my tickets and they said that wasn't something that they can allow me entry with. So I purchased another ticket at the door for $80 (incidentally over $14 cheaper)!! I tried to dispute this with my Amex. Apparently they have an interesting relationship with Ticketmaster where you cannot easily file disputes with them. I don't have the exact message to copy/paste because I've been logged out since I attempted to dispute online, but it was something resembling, "Ticketmaster has very strenuous dispute regulations and you will need to reach out to Ticketmaster directly in order to resolve this."
I called Ticketmaster and spoke with someone and got a semi-unhelpful response of, "I'll submit this for you to see if they'll resolve it, but it may not be possible." I will update when the outcome has come to fruition. But even if they refund me 100%, this is still incredibly awful. How does this company get away with these illegal acts?

I went online 10 minutes before Pentatonix concert presale tickets were supposed to go on sale. I waited the countdown and selected tickets only to have the tickets I received not be the ones I selected. The tickets I received were in another section. When I tried to exchange them the section I selected was sold out and Ticketmaster wanted an extra $5 a ticket to exchange the seating. Ticketmaster already receives a convenience fee that is usually over $12 a seat.

My 15 yr old daughter will turn 16 in a few weeks. The ONLY thing she wanted was to go to a concert. We weren't keen on it but we knew someone (that we knew) was going with her. Fast forward to getting the tickets she had them in her cart at Ticketmaster and when my husband entered his credit card information the site crashed our browser and a message popped up saying that "ALL THE TICKETS FOR THIS VENUE HAVE BEEN SOLD OUT". My daughter freaked out and was hysterical (yes, she is a little dramatic).
Well she had been planning to go and was really excited so... my husband looked in his email and a message said that THE TICKETS WERE STILL IN HIS CART. Thinking that he DID NOT buy the tickets he went to another site and bought the tickets online. I checked our credit card and at that point NO CHARGES had been applied. He called Ticketmaster only for them to say "that this is out of their hands because they are just an intermediary and ONLY resell tickets and it wasn't their fault the site crashed... if we had done this on our their mobile phone they could track the crash but since we did it on the computer they had no way of tracking it". That was the first time we spoke to them.
And those notices about the tickets still being in your cart "will come even if you bought the tickets that message is always generated" though ODDLY WE DO NOT RECEIVE THOSE MESSAGES anymore after they said THEY WOULD NOT REFUND our $230 (which is now $460 because of buying the tickets from another site). They transferred my husband to another associate of TICKETMASTER who said she could file a complaint (yeah right). Our credit card company said we were welcome to file a complaint. "They COULD NOT stop a pending charge from occurring". The insult to injury part is where they added you can always "try to sell those tickets on OUR SITE though we do add a $17.16 upcharge per ticket which is a handling charge!!" WHY? why is Ticketmaster still in business?

I purchased six tickets to Joe Bonamassa at the MPAC today. When I reviewed my receipt I discovered that two of the six tickets were over twice the price of the others. When I contacted Ticketmaster about the confusion and asked if I could get six tickets together that were all the same price they said the two tickets were platinum and were not refundable. How can two tickets in the middle of six on the same row be special and why are they nonrefundable but the others are. This will be my last purchase from Ticketmaster.

Tickets go on sale on 4/21 at 10am! Yeah right. Watched the clock, refreshed at 10am on the dot, only tickets available were between $200-515. On the band's (Gorillaz) FB page, another fan wrote that he was able to get a ticket YESTERDAY with a presale code. What is the point of sending purchasers to your website on ticket sale day if you also send people there a day earlier with a presale code?? Why hasn't Ticketmaster been held accountable for these horrible practices?

5 months before the show I selected 5 upper cost tickets for a Saturday matinee Phantom of the Opera show in Birmingham, AL. When I printed my tickets & went to the event we couldn't enter because the tickets showed the 1st night of the show (Wed.) which had already past. There were also two other families I ran into at the ticket counter (I had to buy left over seats on Sat. for the grandkids & I to go to the show). While the show was still running I contacted Customer Support who assured me they would send my case to an appeals group & wait 10 days & call back.
Today I called back & customer support person said nothing was on my account about appealing case & show wasn't running anymore so couldn't help me. I'm just out $1,500! I think there is something wrong with your system. I asked just to be reimbursed for the ADDITIONAL tickets I had to buy. If I thought I'd bought tickets for a certain night, I certainly wouldn't miss the event after paying $1,444 for them. Please consider this request.

Finally, a company who cares about people. I called Ticketmaster to find out if my tickets would be eligible for an exchange because we recently learned that my 19-year-old daughter had a life-threatening heart situation that would require surgery this week. I was fully expecting Ticketmaster to tell me NO, that I could not get an exchange, because my tickets had been purchased more than the 72 hour exchange policy they post. To my great surprise, I was advised that due to my extenuating circumstances, I would certainly be able to exchange the tickets for a different date, and if I needed, they would refund. This was a great surprise to me, and I really appreciate the people who are operating Ticketmaster because they care about the customer more than their profit bottom line. This is a rarity that you see these days. Thank you Ticketmaster for having a moral compass!!!

Ticketmaster and Live Nation are scamming customers at check out. Hidden in the terms is an automatic opt in to subscribe to Rolling Stone. They know what they are doing. It's a scam. I now have two Rolling Stone subscriptions (two different credit cards on the account, so they use one scam per credit card, and I already cancelled one two years ago.) They didn't response to my last request to cancel and refund my money. I've also noticed they rotate and automatic opt in to "donate" $1 or a few dollars to a more than likely fraudulent organization that goes straight into these criminals' pockets.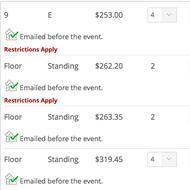 I would like to know how Ticketmaster are legally allowed to scalp their own tickets via their Resale site? Today I purchased tickets to a concert via a pre-sale code. I was lucky - but my friends were not. They missed out as the allocation was quickly used up. My complaint isn't there, it's that within three minutes of the tickets being available I found four up for sale on Ticketmaster Resale for approx 280% of retail value each. This is not what Ticketmaster advertise this site is for. It is proposed to be a legal place to sell your tickets if you can't make it etc. But it is clearly being used by scalpers to make cash. Would the same transaction outside the front of the venue be legal?

The nav bar of the website says, "Print ticket", "View ticket", "Sell ticket', but when you click on any of these, they take you to the same screen, with your ticket on it. What's the point of the nav bar? The website is awful. They don't tell you that they won't allow you to print your ticket (my ticket) without installing the mobile app. In other words, they are trying to force me to install their mobile app by holding my tickets hostage. Customer support agreed, only their whole mantra is, "You didn't read the fine print, so it's on you." I will not be forced to install an app to receive a thing that I purchased.

I registered for a pre-sale of tickets for a band I've been trying to see for 2 years. When the time came to get the tickets I took my presale code (which says good until 5 pm). I waited impatiently for the timer to hit 0 at 12 pm and immediately clicked for my tickets. The site gave me an error 5 times in a row before finally coming back with "No Tickets available". When I called to customer service, they bounced me around basically telling me that ticketmaster is not responsible for the errors on their own website, and that they will do nothing to help me get the tickets I was promised by them. To that, I take home that Ticketmaster does not care for their customers, and you're better off buying from someone else who will be responsible for their own site errors.

When I bought my ticket I clicked delivery route must be will call but when the ticket was delivered the email said the ticket would be mailed to my house 1000 miles away. I emailed Ticketmaster then called about 10 times while the phone service said it is open before getting through to a line then waited another 15 minutes before talking to a real person. He told me the ticket was at will call. Seems all the problems from poor technologies and almost no staff. Ticketmaster is the worst service on the planet.

Ticketmaster FORGET to tell me I was paying over 57% face value for these tickets because I was buying pre purchased tickets and "Oh yes! You get whatever seats the tickets are for." Ticketmaster said I didn't read the fine print so that's what I purchased. These tickets were 3rd balcony seats as far back as it gets! Not the first row 2nd balcony I thought I picked and so paid $71 and got $39.50 tickets. I learned my lesson, so REALLY check your ticket purchases. I won't be dealing with them again!!

I really wish I had read through these reviews before purchasing tickets. Ticketmaster is such a scam. I have never purchased tickets from there before but have learned a lesson the hard way. Bought tickets for Paw Patrol in NYC, thinking they were VIP. I clearly filtered my search first by checking the VIP option. The only tickets That came up said resale which I never thought twice about being a first-time buyer. I bought the tickets for a hefty price thinking I was getting to meet cast afterwards. Well, when I printed out tickets nothing said VIP so I called Ticketmaster and they said I was in VIP section but because tickets were purchased resale I was not entitled to any VIP amenities (meet and greet and after party).
Seriously, I could have gone away on a mini vacation with my family for the price I paid. I hope someone reads this first. Do not buy resale tickets for Paw Patrol in VIP section because you are only paying for seats and nothing extra! The person who I bought these tickets from should be ashamed of themselves too for ripping off someone! The gentleman at Ticketmaster told me it states that on website on bottom in fine print! Give me a break!

BEWARE TICKETMASTER SLIMY BUSINESS PRACTICES! So... We decide to go to a Tom Cochrane concert in Toronto on March 25th. My wife says let's do the VIP upgrade with the meet and greet! I get on TICKETMASTER and follow directions clicking along on tickets, VIP etc. $472.24. They say "you'll be emailed details of VIP times etc. before the concert." We wait... No email... I finally manage to get hold of TICKETMASTER and they look at my order number. They say "Sorry... bad news... You bought these from a reseller and although they were initially sold as VIP tickets the reseller just put the tickets back up for resale!" RESELLER? ON TICKETMASTER?
Obviously I missed some minuscule print somewhere but we feel absolutely screwed by TICKETMASTER! This is criminal! We clicked on everything pointing to the VIP and got two average tickets for almost $500.00? I will NEVER USE TICKETMASTER AGAIN! I will tell everyone about this TERRIBLE TICKETMASTER EXPERIENCE! I will repost this periodically just so I feel better! If this stops even one person from using this SLIMY TICKETMASTER SERVICE it'll be worth it!

I purchased tickets to a show several months prior. The week before the show I was sent the first notification that one of the seats had an "obstructed view." This was never mentioned at any point during the purchasing process. I emailed Ticketmaster upon receiving that email, but never heard anything back. They then contacted me several days after the event and apologized that there was nothing that they could do since the event had passed.
I was able to prove that I attempted to reach out as soon as I was notified about the obstructed view, which was a week before the event. They still said there was nothing that they could do. Not only could they not offer me any sort of discount or incentive to make up for any of the inconvenience, they offered no form of assistance whatsoever. Quite the opposite, actually. Every reply they came back with was that they had confirmed something that was, in fact, INCORRECT. I was able to prove differently, therefore their rebuttal was simply that there was nothing they could do. Very frustrating! Zero customer service!

I purchased tickets for a family event of 6! When I got to the venue and went through security to scan our tickets they told me that this was for night before. I went to the counter and told the women what happened. I explained that "Even though the tickets were not scanned/used you couldn't just put us in seats that were not taken yet." She rudely, said, "No, but I can sell you tickets." After discussing with the group we said we would just buy tickets. After wasting 2 hours of driving and the tickets to then be sold out, I had a rough ride home with very upset children. After waiting 3 days to hear back for customer service they said they couldn't do anything. I have had an account with them for over 3 years, and they couldn't even credit me, knowing that I use them to buy tickets at least 8 times a year. Never mind a refund. Never again will I use Ticketmaster.

Ticketmaster is horrible. They overcharge for tickets. Also the show I purchased a ticket for was cancelled. I phoned about a refund and the rep asked if I wanted a refund. Seems like a ridiculous question since the show was not being rescheduled. Of course I would want a refund. Also there are times when the fee they charge is more expensive than the actual ticket. I would not do business with Ticketmaster at all but sometimes there is no option. :( :( :(

ConsumerAffairs Research Team
The ConsumerAffairs Research Team believes everyone deserves to make smart decisions. We aim to provide readers with the most up-to-date information available about today's consumer products and services.
Ticketmaster has been the go-to place to find great concert and event tickets for two decades now, and recently it joined with Live Nation to make the experience even better.
3-day returns: Send your tickets back within three days of purchase (at least a week before the show) and get a full refund.
Resell marketplace: If you're too late for a refund, sell your tickets in the Ticketmaster fan-to-fan marketplace.
Mixed listings: Search this website for music, sports, theater, family events and VIP events.
Ticket deals: Search through the Deals page to find great offers on featured events.
Credit card payment: Ticketmaster accepts Visa, Mastercard, Diner's Club, Discover and American Express.
Best for Ticketmaster is a great site that is best for concert-goers, gift-givers, sports enthusiasts and theater aficionados.
Ticketmaster Company Profile
Company Name:

Ticketmaster

Year Founded:

1976

Address:

9348 Civic Center Dr.

City:

Beverly Hills

State/Province:

CA

Postal Code:

90210

Country:

United States

Website:

http://www.ticketmaster.com/