Consumer Complaints and Reviews

5 months before the show I selected 5 upper cost tickets for a Saturday matinee Phantom of the Opera show in Birmingham, AL. When I printed my tickets & went to the event we couldn't enter because the tickets showed the 1st night of the show (Wed.) which had already past. There were also two other families I ran into at the ticket counter (I had to buy left over seats on Sat. for the grandkids & I to go to the show). While the show was still running I contacted Customer Support who assured me they would send my case to an appeals group & wait 10 days & call back.
Today I called back & customer support person said nothing was on my account about appealing case & show wasn't running anymore so couldn't help me. I'm just out $1,500! I think there is something wrong with your system. I asked just to be reimbursed for the ADDITIONAL tickets I had to buy. If I thought I'd bought tickets for a certain night, I certainly wouldn't miss the event after paying $1,444 for them. Please consider this request.

Finally, a company who cares about people. I called Ticketmaster to find out if my tickets would be eligible for an exchange because we recently learned that my 19-year-old daughter had a life-threatening heart situation that would require surgery this week. I was fully expecting Ticketmaster to tell me NO, that I could not get an exchange, because my tickets had been purchased more than the 72 hour exchange policy they post. To my great surprise, I was advised that due to my extenuating circumstances, I would certainly be able to exchange the tickets for a different date, and if I needed, they would refund. This was a great surprise to me, and I really appreciate the people who are operating Ticketmaster because they care about the customer more than their profit bottom line. This is a rarity that you see these days. Thank you Ticketmaster for having a moral compass!!!

Ticketmaster and Live Nation are scamming customers at check out. Hidden in the terms is an automatic opt in to subscribe to Rolling Stone. They know what they are doing. It's a scam. I now have two Rolling Stone subscriptions (two different credit cards on the account, so they use one scam per credit card, and I already cancelled one two years ago.) They didn't response to my last request to cancel and refund my money. I've also noticed they rotate and automatic opt in to "donate" $1 or a few dollars to a more than likely fraudulent organization that goes straight into these criminals' pockets.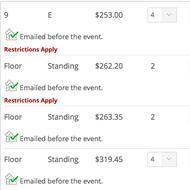 I would like to know how Ticketmaster are legally allowed to scalp their own tickets via their Resale site? Today I purchased tickets to a concert via a pre-sale code. I was lucky - but my friends were not. They missed out as the allocation was quickly used up. My complaint isn't there, it's that within three minutes of the tickets being available I found four up for sale on Ticketmaster Resale for approx 280% of retail value each. This is not what Ticketmaster advertise this site is for. It is proposed to be a legal place to sell your tickets if you can't make it etc. But it is clearly being used by scalpers to make cash. Would the same transaction outside the front of the venue be legal?

The nav bar of the website says, "Print ticket", "View ticket", "Sell ticket', but when you click on any of these, they take you to the same screen, with your ticket on it. What's the point of the nav bar? The website is awful. They don't tell you that they won't allow you to print your ticket (my ticket) without installing the mobile app. In other words, they are trying to force me to install their mobile app by holding my tickets hostage. Customer support agreed, only their whole mantra is, "You didn't read the fine print, so it's on you." I will not be forced to install an app to receive a thing that I purchased.
How do I know I can trust these reviews about Ticketmaster?
826,885 reviews on ConsumerAffairs are verified.
We require contact information to ensure our reviewers are real.
We use intelligent software that helps us maintain the integrity of reviews.
Our moderators read all reviews to verify quality and helpfulness.
For more information about reviews on ConsumerAffairs.com please visit our FAQ.

I registered for a pre-sale of tickets for a band I've been trying to see for 2 years. When the time came to get the tickets I took my presale code (which says good until 5 pm). I waited impatiently for the timer to hit 0 at 12 pm and immediately clicked for my tickets. The site gave me an error 5 times in a row before finally coming back with "No Tickets available". When I called to customer service, they bounced me around basically telling me that ticketmaster is not responsible for the errors on their own website, and that they will do nothing to help me get the tickets I was promised by them. To that, I take home that Ticketmaster does not care for their customers, and you're better off buying from someone else who will be responsible for their own site errors.

When I bought my ticket I clicked delivery route must be will call but when the ticket was delivered the email said the ticket would be mailed to my house 1000 miles away. I emailed Ticketmaster then called about 10 times while the phone service said it is open before getting through to a line then waited another 15 minutes before talking to a real person. He told me the ticket was at will call. Seems all the problems from poor technologies and almost no staff. Ticketmaster is the worst service on the planet.

Ticketmaster FORGET to tell me I was paying over 57% face value for these tickets because I was buying pre purchased tickets and "Oh yes! You get whatever seats the tickets are for." Ticketmaster said I didn't read the fine print so that's what I purchased. These tickets were 3rd balcony seats as far back as it gets! Not the first row 2nd balcony I thought I picked and so paid $71 and got $39.50 tickets. I learned my lesson, so REALLY check your ticket purchases. I won't be dealing with them again!!

I really wish I had read through these reviews before purchasing tickets. Ticketmaster is such a scam. I have never purchased tickets from there before but have learned a lesson the hard way. Bought tickets for Paw Patrol in NYC, thinking they were VIP. I clearly filtered my search first by checking the VIP option. The only tickets That came up said resale which I never thought twice about being a first-time buyer. I bought the tickets for a hefty price thinking I was getting to meet cast afterwards. Well, when I printed out tickets nothing said VIP so I called Ticketmaster and they said I was in VIP section but because tickets were purchased resale I was not entitled to any VIP amenities (meet and greet and after party).
Seriously, I could have gone away on a mini vacation with my family for the price I paid. I hope someone reads this first. Do not buy resale tickets for Paw Patrol in VIP section because you are only paying for seats and nothing extra! The person who I bought these tickets from should be ashamed of themselves too for ripping off someone! The gentleman at Ticketmaster told me it states that on website on bottom in fine print! Give me a break!

BEWARE TICKETMASTER SLIMY BUSINESS PRACTICES! So... We decide to go to a Tom Cochrane concert in Toronto on March 25th. My wife says let's do the VIP upgrade with the meet and greet! I get on TICKETMASTER and follow directions clicking along on tickets, VIP etc. $472.24. They say "you'll be emailed details of VIP times etc. before the concert." We wait... No email... I finally manage to get hold of TICKETMASTER and they look at my order number. They say "Sorry... bad news... You bought these from a reseller and although they were initially sold as VIP tickets the reseller just put the tickets back up for resale!" RESELLER? ON TICKETMASTER?
Obviously I missed some minuscule print somewhere but we feel absolutely screwed by TICKETMASTER! This is criminal! We clicked on everything pointing to the VIP and got two average tickets for almost $500.00? I will NEVER USE TICKETMASTER AGAIN! I will tell everyone about this TERRIBLE TICKETMASTER EXPERIENCE! I will repost this periodically just so I feel better! If this stops even one person from using this SLIMY TICKETMASTER SERVICE it'll be worth it!

I purchased tickets to a show several months prior. The week before the show I was sent the first notification that one of the seats had an "obstructed view." This was never mentioned at any point during the purchasing process. I emailed Ticketmaster upon receiving that email, but never heard anything back. They then contacted me several days after the event and apologized that there was nothing that they could do since the event had passed.
I was able to prove that I attempted to reach out as soon as I was notified about the obstructed view, which was a week before the event. They still said there was nothing that they could do. Not only could they not offer me any sort of discount or incentive to make up for any of the inconvenience, they offered no form of assistance whatsoever. Quite the opposite, actually. Every reply they came back with was that they had confirmed something that was, in fact, INCORRECT. I was able to prove differently, therefore their rebuttal was simply that there was nothing they could do. Very frustrating! Zero customer service!

I purchased tickets for a family event of 6! When I got to the venue and went through security to scan our tickets they told me that this was for night before. I went to the counter and told the women what happened. I explained that "Even though the tickets were not scanned/used you couldn't just put us in seats that were not taken yet." She rudely, said, "No, but I can sell you tickets." After discussing with the group we said we would just buy tickets. After wasting 2 hours of driving and the tickets to then be sold out, I had a rough ride home with very upset children. After waiting 3 days to hear back for customer service they said they couldn't do anything. I have had an account with them for over 3 years, and they couldn't even credit me, knowing that I use them to buy tickets at least 8 times a year. Never mind a refund. Never again will I use Ticketmaster.

Ticketmaster is horrible. They overcharge for tickets. Also the show I purchased a ticket for was cancelled. I phoned about a refund and the rep asked if I wanted a refund. Seems like a ridiculous question since the show was not being rescheduled. Of course I would want a refund. Also there are times when the fee they charge is more expensive than the actual ticket. I would not do business with Ticketmaster at all but sometimes there is no option. :( :( :(

I found a Live Nation pre-sale password for King Crimson at Massey Hall, Toronto and took the day off work to assure I'd get a decent pair of seats. Or so I thought. I Sat refreshing the screen for most of the day, watching each pair of prime, clicked-upon seats I reserved on the venue map disappear as the software refused to complete every transaction. (FYI: I have every combination of CAPTCHA verification images memorized now after viewing them multiple times throughout the day). Even "Find Seats for Me" without the map would not complete the requests.
By mid-afternoon I gave up refreshing and ordered by phone. Ticketmaster's voice recognition robot (not a human being as I'd hoped) offered me seats that were as far away from the band as you could get without actually standing outside the venue. Ticketmaster's antiquated software obviously can't handle the onslaught of scalper-bots for even an obscure, non-mainstream band like Crimson. "Limiting" tickets to 8 per buyer is a joke! The scalper-bots obviously scooped them up by the fistful and they started to appear online at StubHub within the first hour of sale for 2-5 times face value. I guess when you have a monopoly and a backroom deal with a resale service, you really don't have to give a damn. BUT: This has to stop.
Limit sales to pairs of seats, period. (At least it will make life difficult for professional resellers.) Update the pathetically inadequate, antiquated software to handle demand. Hire real human beings to answer the phone. Purchasers can only pick up tickets on the day of the event at the venue box office with ID proof that they are the purchaser. How difficult is that to allow true fans the opportunity to see their band or team at the fair retail price? Ticketmaster has successfully killed my desire to even attempt buying concert tickets again, and this is from someone who has been attending concerts since 1972. Nice job.

I had been looking forward to placing a presale order for Ed Sheeran tickets since last Wednesday (today is Monday). I signed on with my presale code and was all logged in a half hour prior to the event even starting, and I watched the timer clock countdown with bated breath. Finally it was time to purchase my tickets. I had resigned myself to buying the first set of tickets that came up, no matter where the seats were because I wanted to go that badly. I chose my section, input my credit card information, and waited for my confirmation page. The next screen was a blank white screen, save for the "By proceeding, you accept our terms and conditions" at the bottom of the page. There were, of course, no buttons to proceed, however the title of the page in the URL clearly said "Confirmation Page." I never received an email confirming my order, and it didn't show up in my account.
I tried just placing another order but, of course, now the pre-sale tickets were all sold out - in less than five minutes. I gave it a few minutes, figuring there might have been a delay, especially considering the craziness that probably accompanies an Ed Sheeran pre-sale, but after a half hour of double-checking, I decided to call. After over a half hour of waiting on hold, someone finally answered. She double-checked my credit card number that I used to place the order, the phone number I used for the order, and my email address. Nothing pulled up any orders of any sort. My card was never charged - there was never even an authorization submitted to request the charge from my credit card company.
And, on top of all of that, the customer service rep said that maybe it was my fault, that I had too many tabs open (four), that I input the card number wrong (nope), or that there were just too many people placing an order at the same time (shouldn't you be holding my seats and section for me specifically?). The best she could suggest was that I try again with the general public sale at the end of the week. Great. Crappier tickets for double the price. I had heard that Ticketmaster went down the toilet since that class-action lawsuit was won against them, but this just confirms it. This was supposed to be a gift for my birthday from my husband, and now all it is is a disappointment. Thanks for nothing, Ticketmaster.

Bought tickets through automated service and wanted them mailed to me. Never received them in mail, no notification from Ticketmaster. Finally phoned after sitting on hold for an hour. They said I should've received a call because the automated service didn't get my address right. Never did receive a call or email. Then told me they would be emailed to me 24 hours before the event. Never received an email with tickets. The day of event had to sit on hold for an hour and 20 minutes. Then finally got the email with tickets. There should not be this frustrating process over tickets. The system was more efficient in the 1980s!! Get it together!!

I am not referring to ripping off tickets from a roll like at a booking office, but the excess charges endorsed by Ticketmaster. In June, there is an event which I could book for two of us directly with a small charge (£45 plus £2.50 each) without touching Ticketmaster if we were to be in the crowds; but my partner being slightly disabled would require a seat and I have looked at purchasing a more expensive ticket but these tickets were only available via Ticketmaster. The extra charges endorsed by Ticketmaster are nothing short of greed. The ticket will cost £155 plus £15 booking fee. It doesn't cost £15 to process a ticket so as my partner won't be able to stand I am not paying this rip-off ticket handling charge (£30 for processing two tickets). Unfortunately I am going to have to disappoint my partner as she knows I will not be ripped off by greedy organizations, and Ticketmaster I want to avoid even if it means missing the event.

Ticketmaster is terrible. Tickets that are in high demand are often purchased in bulk by greedy people trying to make a quick buck only to resell them online for triple the price. It is beyond me to think that Ticketmaster doesn't protect consumer's best interest. Quite frankly I think it's suspicious that every time tickets go on sale, they sell out almost immediately, and are resold. This isn't fair to the artists who put tickets on sale at a set price, only for true fans to spend inordinate amounts of money to go see a show. I wish there was an alternative to Ticketmaster, unfortunately they have a monopoly.

Bought 2 "Platinum" tickets for Lukas Graham in NYC January 2017, $95/ticket. It said GA, had row# and seat#. GA tickets without row and seat# were offered at $35/ticket. When arriving at the concert, it turned out that there were no seats. Only standing on the floor. I showed the tickets with the seat# to the controllers, who said such seats were not there? The folks around us had paid $35 for their tickets. I emailed support/Help at once. No answer.
After the concert I've emailed back and forth with Customer support and Ticket exchange to try to get at least the $60/ticket reimbursed, as I didn't get any Platinum treatment. Their answer is "that's not our policy". I've also tried to get an explanation of what the "Platinum" buys? They haven't answered that. So I feel like I've been scammed for at least $ 120, which I paid more than the folks around me. I really don't get that you are allowed to sell seats that's actually not there??? And you as a Company (Ticketmaster) find that's ok??

Is scalping legal? Logged on for Metallica tickets February 17, 2017 at 10am for Nassau Coliseum (the exact time show went on sale). Clock indicates "wait for your seats, do not hit refresh etc..." Wait wait wait. Answer "Event sold out. Try again." Right after no tickets, event sold out. Try again at 4pm, resale tickets available from Live Nation. Plenty of them too at 3 to 4X the price.

I will rate Ticketmaster a zero. I purchased 2 Tony Bennett show tickets, and was unable to get a barcode on my E-ticket. Called Ticketmaster and waited 30 min before Anthony answered. Asked about the absence of barcode, Anthony said, "you are the few unlucky ones" that could not get the barcode. He confirmed every step I did was accurate and correct, but just "unlucky". For the 30 min. hold on the phone, Anthony said he will put my tickets at the box office for me to pickup. Waited another 17 mins for him to do just that. Asked about the 30+17 min hold, Anthony said, "it is the high volume" time. Ticketmaster had their employees trained to blame everything else rather than upgrading their system and training their employees to be more efficient. Will never deal with them again.

The past year I have attempted to purchase tickets through this website to no avail. No joke, for two of these concerts, we had three computers, and five cell phones going to try and get tickets... right at release time 0900 hours. Nothing. I either get stuck in refreshing limbo, or the message, "sorry, no tickets match your search." The website used to work. I know because I used it. It has gone downhill big time, to the point of being unusable. HMV has now into receivership so no Ticketmaster outlet available.

I logged on to purchase tickets to the Nickelback concert in Phoenix, AZ. I clicked on the "purchase by map" but I guess my finger accidentally hit the "resale" button which is literally right next to it. I simply clicked on 3 lawn tickets and hit buy. I ended up purchasing these tickets, not knowing they were resale (until after the fact) and were charged triple what the tickets normally sell for, and are still on sale for. I would like to call out Ticketmaster and Live Nation for not making it more clear about what is an official ticket and what is a "resale" ticket and not warning us that these were a resale product, and could be more than face value. Of course, none of their policies apply to resale tickets with Live Nation so we are out $40 bucks down the drain. Tried to get a refund as soon as I found out, but, they said "too bad". Will not purchase tickets through this company again if I can avoid it.

What am I missing? When did scalping become legal? I ordered and PAID Ticketmaster (Secure Tix) for tickets on November 7, 2016 for an event on 2/12/2017. I just received my tickets today (3 days before the event) and they were NOT the seats I ordered, they are on the side. I specifically wanted front facing seats. I called "customer service" and they told me that the seller could not fulfill the order so they "upgraded my tickets" to a closer location. I asked them why they didn't contact me to let me know that the seller could not fulfill my order so that I could cancel and buy different seats and they said "that is not our policy".
I paid $70.00 per ticket for $48.50 seats plus $40.60 service fee, and $14.95 for delivery to Secure Tix. So if they didn't pay the seller, they collected $83.60 plus $14.95 shipping from me on $48 tickets, what a scam. I paid almost $200 for $48 tickets. I would have been cool with that if I got what I paid for. From now on I will call the venue directly and purchase tickets or I will just not go. I used to use them all the time, what happened? No more Ticketmaster.

More evidence that Ticketmaster/Live Nation is involved in ticket scalping. My experience with the recent Seattle U2 Ticketmaster buying experience mirrors others on this website. Myself being online - at the open, registered, system ready to accept cookies, etc, etc. T/LN's system informs me no tickets available within minutes. Boatloads of resale tickets are available however, listed screen left, on the Ticketmaster website. I filed a complaint with the Washington State Attorney General's Office. I received standing. T/LN responded with the usual BS. Their response avoids the issue of scalping resales altogether.
What we need is a citizens' movement blocking public funding for the venues that these events are being held in. If the public is called upon to guarantee bonds, pay for the necessary infrastructure and finally suffer the traffic inconvenience that building or remodeling stadiums entails, then the people deserve an orderly and honest system of purchasing the tickets necessary for attendance. Further, the voting public is entitled to a political class that aggressively follows up on complaints of obvious end runs around anti-scalping laws.

This morning we logged on to purchase tickets to an event that went on sale at 9 am. 845 we sat at 2 different computers to ensure we'd get tickets. The screen refreshes at 9 am and immediately we're told no tickets are available. But aren't we "lucky" because Ticketmaster has an official partner called "Get Me In" which gave me the delight of being able to pay almost £300 for 2x £50 tickets. Not to mention the nearly £50 processing fee, and the £10 for delivery. Now, I realize I'm being ripped off at every step of this process, but £10 delivery for 2x tickets? That's a joke. I can ship an entire box of trinkets and gifts to family in the United States for around £15. I'm shocked and find this disgusting. Obviously, Ticketmaster gives a lump of its own tickets to its OWN site so it can overcharge us for these tickets.
I do not understand firstly how all the tickets are gone within literally a second, or how they're legally allowed to basically SCALP tickets to us from the same company. I am disgusted, can't believe the treatment. If they weren't the only way to get tickets, I'd love to get them elsewhere. Ticketmaster is disgusting. Deliberate rip-off. I don't understand how in 2017 companies can still get away with all this rip off rubbish. Shame on you, Ticketmaster.

My wife and I purchased tickets to the Journey concert in Tulsa, OK. We searched for our tickets and the resale list popped up more prominently than anything else on the page. We purchased these tickets, not knowing they were resale (until after the fact) and were charged double what the tickets normally sell for, and are still on sale for. I would like to call out Ticketmaster for not making it more clear about what is an official ticket and what is a "resale" ticket and not warning us that these were a resale product, and could be more than face value. Of course, none of their policies apply to resale tickets so we are out $45 bucks down the drain. Will not purchase tickets through this company again if I can avoid it.

What is the point of two different fees? The service fee and the processing fee. The service fee makes sense. We are paying for Ticketmaster's service but isn't processing the tickets part of that service? Or am I missing something here. In a few years from now are we going to have to pay an "ink fee" for tickets that are printed and mailed to us? I advise everyone to only use Ticketmaster if they absolutely have to. Until they remove this nonsensical imaginary fee, they are essentially robbing consumers.

I bought two tickets at the wrong venue in a different city. The venue had the exact same name as the venue in my city. I called Ticketmaster almost immediately and asked them to give me an even exchange for the two tickets for the same group at the wrong theater with the same group at my theater and Ticketmaster said no. Ticketmaster is a rip-off & I'll never use them again even if that means missing concerts. Ticketmaster makes millions, and wouldn't have lost one cent letting me have an even exchange. Their agents were rude and indifferent. Don't use Ticketmaster if you can help it, and if you do, don't buy insurance with Allianz because they are useless, and won't lift a finger to refund your money. Ticketmaster & Allianz are a team of crooks. Buyer beware!

Where to begin? I had the misfortune of using Ticketmaster to purchase U2 tickets, and I wish I would have read some of the reviews prior to doing so. Tickets went on sale at 10 am sharp and I found myself at my computer at exactly that time feverishly selecting sections on the arena map hoping to get a pair of tickets for this hyped show. As time passed Ticketmaster said that other fans had beat me to tickets in that section and I quickly moved on to the next section again searching for a pair of the "best available" seats in that section. That was a mistake. As it turns out when I finally did get seats, 3 instead of 2 as I had requested, they were over $500 a seat. With Ticketmaster's additional $84 fee per seat my bill was in excess of $1600. Wow.
Ticketmaster has a policy that they will refund your purchase price for your tickets within 72 hours of your initial purchase which I did try to do later that evening. After being on hold in excess of 30 minutes the rather rude person on the other end of the phone informed me that I had purchased "resale" tickets and that their refund policy did not apply to resale tickets. I asked him how it was possible to purchase resale tickets within the first ten minutes of ticket sales. Who could possibly buy tickets in the first 5 minutes and then put them back up for resale at double the price so some unsuspecting sucker (me) would purchase them. The whole thing smacks me in the face with an undercurrent of dishonesty and corruption. What a monopoly scam this company is.
Please be wary when purchasing anything from this company and most certainly never ever select "best available seat" when ordering tickets. In fact I have found resale tickets on this site at a fraction of the cost that I paid for my "best available seats" that I scooped up during the frenzy of my initial purchase. Can U2 and other artists seriously condone this kind of abhorrent behaviour? Ticketmaster you stink!

ConsumerAffairs Research Team
The ConsumerAffairs Research Team believes everyone deserves to make smart decisions. We aim to provide readers with the most up-to-date information available about today's consumer products and services.
Ticketmaster has been the go-to place to find great concert and event tickets for two decades now, and recently it joined with Live Nation to make the experience even better.
3-day returns: Send your tickets back within three days of purchase (at least a week before the show) and get a full refund.
Resell marketplace: If you're too late for a refund, sell your tickets in the Ticketmaster fan-to-fan marketplace.
Mixed listings: Search this website for music, sports, theater, family events and VIP events.
Ticket deals: Search through the Deals page to find great offers on featured events.
Credit card payment: Ticketmaster accepts Visa, Mastercard, Diner's Club, Discover and American Express.
Best for Ticketmaster is a great site that is best for concert-goers, gift-givers, sports enthusiasts and theater aficionados.
Ticketmaster Company Profile
Company Name:

Ticketmaster

Year Founded:

1976

Address:

9348 Civic Center Dr.

City:

Beverly Hills

State/Province:

CA

Postal Code:

90210

Country:

United States

Website:

http://www.ticketmaster.com/