Consumer Complaints and Reviews

My 2015 Ford Mustang is still under factory warranty. The paint on the hood start bubbling. The car will be on the body shop for 3 days so I called Ford because in my opinion they have to give a rental car and pay for that. Mr. Mario ** (Regional Customer Service Manager) called me today to let me know that they won't pay for the rental. My car is under warranty, is not my fault the paint failed!!! YOU ARE RESPONSIBLE FOR THAT!!! I will have to be without a vehicle for 3 days. That situation will affect my job and personal responsibilities. I currently own 2 Ford vehicles, but I feel that means nothing to them. I let him know how I feel it but he didn't care about that. Maybe is time to change the brand. Bye Ford.

I purchased a 2016 about 13 months ago. Paid a little over 17000 and now they offered me 9000 for trade in at the same location. Not to mention the car's stayed stalling out when you stop and the air is on. It's the worst car ever.

2014 Ford transit van - This car isn't even 2 years old and I noticed hundreds of small holes in the paint. Took it into the local Ford dealership to see if the warranty covers it and, WELL OF COURSE!! No, it isn't covered because it is supposedly due to "rock damage from the roads", that none of our other (more used) cars have. In addition, the dealership will not put this into writing so that I can complain to the "road people". Now, I read all over the internet where Ford simply has cheap and terrible paint for their vehicles. Will be the last one I buy.

My 2015 Ford Taurus Limited has left me stranded 4 times since I purchased the vehicle. The problem seems to be with the fuel pump module, which has now been replaced 3 times in less than 3 months. The reason I am complaining is because of Ford customer service. I reached out to them on 9/26/2016 at 10:33 AM, and I was told that a regional customer service manager would contact me in 1 day. It is currently 11:13 AM on 9/28, and I haven't heard from anyone.
First of all, I have been without a vehicle for 4 of the last 6 days which affects my job, family, income, and personal responsibilities. There seems to be no sense of urgency for Ford and its customer service department to help me. I currently own 3 Ford vehicles, but I feel as that means nothing to them, and they could care less that I am a loyal customer. I feel that Ford needs to step up and take some responsibility and do right to me by compensating me for the missed income and expenses that have occurred due to this faulty vehicle.
I have rented cars because of being stranded, and last week spent the night in a parking garage in downtown Chicago in my car with my family due to the failed vehicle. This is not right Ford! I shouldn't be the person that is paying for a troubled car that has only 26K miles. Sure the warranty is still in effect, but what do I do when stranded places? I doubt this will go anywhere but maybe someone from Ford reads this and steps up.

I purchased my Ford Edge in April at over 35,000 dollars. The car was back at the dealers for a leak on the passenger side the floor was wet. On August 5 the car stalled and the wrench light was on. It broke down and had to be towed. the dealer kept it until the 11 of August. It broke down the same day again. It was towed again - same thing wrench light. Kept until the 27 of August. Then I noticed my back-up camera was not working. Took it back it was fine they said. Ford Customer care does nothing to help. This is a brand new car, only had 10 miles on it. I am very disappointed with Ford and will keep fighting until a new car shows up at my door. I want this wrong corrected.
My Ford Edge has been back to the dealer a total of 4 times. I have filed a complaint with Ford 4 times. The is a major safety issue. But no one seems to understand it. And that people's lives are at danger. Write and call every aspect of Ford. I think a class action lawsuit needs to be filed. It is clear to me that this car left the Canada plant this way. This should have never happened. Also, the lemon law need to benefit the customer not corporate. I am going to change that in my state, too. Why should I be forced to pay for a car that is clearly a safety hazard? All because Ford Motor Company cannot admit they built a lemon. To my fellow consumers keep fighting.
How do I know I can trust these reviews about Ford?
609,317 reviews on ConsumerAffairs are verified.
We require contact information to ensure our reviewers are real.
We use intelligent software that helps us maintain the integrity of reviews.
Our moderators read all reviews to verify quality and helpfulness.
For more information about reviews on ConsumerAffairs.com please visit our FAQ.

After 16 yrs of almost impeccable service my wife's 2001 Mazda Tribute XL engine failed with 165k miles. We got a lot of enjoyment and an excellent quality vehicle. So we started a search for a new product Toyota Honda Pilot, Mazda CX-5 excellent engineering and very dynamic, Ford Explorer. Mist full size SUVs have 3 rows of seats and are too large to fit in out 3 car garage. I was never really impressed with the Ford Escape 2010 and earlier. Tested a 2012 with 80k miles and it ran well but the dealer price of 16k was too high. Found another 2012 with sunroof and 56k miles. Not bad but 5k. Finally we tested a Ford Escape XLT FWD 4 cyl with 25k miles in mint condition. Bought in the spot for 14k from a private party (Craigslist), added Ford bumper to bumper warranty 4 yr 36k miles additional for $2k.
This is an impressive high quality vehicle with good technology, excellent power, 32 miles highway 26 city. Since we bought in the past 3 months have not a single problem. Just delights & surprises. Kudos to Ford Motor Company for building such an outstanding well designed right sized product. Too bad the 2013 and on design new look like most oriental mini SUVs. I highly recommend this product to all my friends and foes.

Ford did a recall back in April. We had to wait 3 months for them to develop the "software fix" with no rental, no reimbursement, nothing. We been battling them all week. The fix did not work, and now they are putting it on the dealer. Left the dealership today as they have no idea what is wrong with the truck, how to fix it and we couldn't negotiate another deal. No one will take responsibility and the truck is not drivable. Ford Customer Service department are completely useless, they have nothing but "sorry, too bad." This is our 3rd Ford and our last. Unreal, that a company like that can issue a letter advising the vehicle is not safe to drive, and then do nothing about it.

I was hit with a 2015 Dodge journey on the passenger side. The speed I was hit it wasn't for that much damage, the truck couldn't take it as it should, it bent the frame. The truck was totalled, and the Dodge journey only had minor damage on the front corner driver side. The plastic cover and the hood bent on the corner and some plastic parts totally repairable. Definitely ford has to do a lot better and redo this whole truck that drives like a Japanese car. The vibration for any little pothole is another story, terrible.

Bad design putting the water pump inside the block of the motor. When the water pump breaks it takes the grease out of the bearings leaving the motor useless. Instead of $300 to replace water pump now I have to pay 7600 for a new motor. It makes no sense.

2010 Ford Fusion stalls out and the orange wrench light comes on. The vehicle will stay running while idling roughly. After shutting off the vehicle and restarting the car, it will drive like nothing is wrong with it and will randomly have the same problem the next time I drive it. I tested it and I received the code P2111 THROTTLE ACTUATOR CONTROL SYSTEM - STUCK OPEN. After finding out many people have had problems with the same part I contacted Ford - only to be told that since it isn't acting up for them, that Ford will not allow them to replace it. The vehicle is still at the dealership while they continue to test drive it and get it to stall out. This is a huge hazard! It is amazing that more people have not been killed or injured by an unresponsive car while crossing traffic. This part should have been an actual "recall". Way to drop the ball, Ford and consumer safety watchdogs!

ETA on repairing their FACTORY-WARRANTIED transmission is 2+ months. Why? Because the parts they need are backordered throughout the world. THAT'S how bad this problem is! The kicker? THEY REFUSE TO EVEN GIVE ME A LOANER. I have called every Ford number, every person, every dealer, complained (respectfully, never belligerent) as high as I can possibly go. They refuse to help. Zero. Nada. Nothing. What I have learned from all of this is that they (Ford) hate their customers.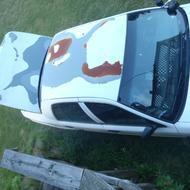 A few years ago, I purchased a 2004 White Police Interceptor Crown Victoria. Shortly after the purchase, I noticed that the paint was peeling and blowing away with the wind. This was not my first experience with this condition, so I knew immediately what was wrong. Incompatibility between the paint and primer used at the factory. At the start of flaking, I scraped away the loose paint on the edges of the patch, primered it with a spray can hoping to seal the edges and not allow the wind to lift more of the paint. Then I repainted the spots with a spray can of white paint. Sorry to report that this patch only lasted a matter of weeks before the wind got under the original paint once again and flaking continued.
I have a bunch of pictures showing this condition covering most of the roof and trunk lid as well spots on the rest of the car. I had thought of putting a sign on the car stating that this was an original Ford paint job that was flaking away, but I haven't done that yet. I had to at least prime the roof spots because rust was starting to show. I called Ford service only to find out the people who answered were not Ford employees, but a company hired as gatekeepers to fend off pesky complaints that they probably dumped in the trash at the end of each shift. Apparently Ford is not interested in owning up to their mistake with the paint job as they have ignored my request for a fix. As I said above, this is not my first experience with this issue.
I purchased a 1986 Ford F-150 that exhibited the exact same problem with the paint, and after much correspondence with Ford (at that time you could talk directly to a Ford rep.), they recalled the truck, stripped the paint completely and repainted the whole truck. I am very pleased with this car in every other way and would be forever grateful if someone out there could reach into Ford and bring this to their attention, and hopefully, a satisfactory resolution. Thanks.

Ford had a recall on their airbags & our vehicle had an accident. The airbag deployed. The body shop was told the part was on backorder and they have to wait for it to be released. We had our rental car covered by our insurance for 30 days. When that ran out I contacted Ford since the part was on backorder to cover the rental expense for the remaining days till the car is ready. Ford just called to inform me they cannot cover it!! I will never buy a Ford Vehicle again!!!

I actually brought my 2009 Ford Edge in today and they said that I need a new fuel tank. They called me and said "has your airbag light always been on," I said "no". They said it will be 120$ a hour to fix. "What the hell. No thanks" and then I got home later on on and without warning or light on the dash my coolant starts bubbling so hot the reservoir spews on my driveway... Second time it has done that almost and could easily start a fire, I'm wondering is that what the recall is for? And what else can I do about it. I'm pretty choked and think there should be more done about this? Anyways if anyone has any input or experience the same and has some experience to not happen again that be great. Thank you.

On July 19, 2016 I went to Crest Lincoln at 36200 Van Dyke, Sterling Heights, MI to purchase a vehicle. I worked with salesman name ** on a new 2016 MKX so he brought me one and I bought the SUV. So on July 21, 2016 which is two day later I found out it is damage and repaired horrible so it was damage. So I took the SUV back to the dealer and spoke to ** so I could exchange and ** told, "You purchased. It's over. There is nothing I or the dealer could do." I called Ford company and they offered to fix it but I don't want to fix. I want new one that is why I bought supposed to be new. So Ford refused to help. What a scam a $50,000 plus tax. I would never buy any domestic vehicles again. My friends and family we never buy Ford...

We purchased a new ford ranger and from the start gearbox trouble, peter warren warwick farm in Sydney were very very bad at any service and could not return phone calls. But when you want to buy different story, shocking company. 4 times gearbox trouble, bolts falling out. We don't go off road at all, just city use. Ford head office in Melbourne just the same weak as piss, all talk no action once they get your money. No more fords for me in my life again. Rubbish ute and even worse service and just lies from them. No wonder the Australian government has stopped giving the manager's more money for their pockets, taxpayers money!!!

Due to past help with constructing the PeaceNet a small International Network; that ultimately turned into the Internet, I can do things most people cannot. The e-mail explains the problems I am having with a Ford Escape. It is a new car with less than a thousand miles on it that is viewed as a deathtrap. Even more problems have come up by research that make the situation even worse. Every time the word Ford comes down the Internet, I am sent the e-mail address. Other words in the e-mail such as purchase can be used to define the list. I have amassed the e-mails of thousands of people that are considering purchasing something from Ford. The Ford resolution department has tried to solve the problem by giving me the X-Plan pricing.
The problem is that I would purchase a Ford Edge which is a much safer car and I can get my wife and family to ride in. I have not been able to make a deal on an Edge even though I have the reduced pricing on the Edge because I cannot get the zero percent 72 month financing like I have on the Escape. I am 75 years old, my wife and I live on Social Security and have a house that has expenses plus living expenses that happen even though the house is paid for. I have a credit rating of 815. I live as economically as possible; no extra anything and never go to restaurants or any kind of entertainment. However, a large car payment does not fit into the budget. 72 month or 84 month would be ideal. I have had the Escape repaired at the finest body shop around and carries a lifetime guarantee on the work.
Everybody at Ford Resolution is telling me I have to go to Ford Finance for the longer terms. I am going to lose money on the trade in even though it has only three digit miles on it. I have tried to get Ford to take the car back and they will not. Their resolution is that they give me a low price on the purchase, but the dealers will not give me the same finance arrangement. So I am appealing to Ford Finance. There are dealers in the far North area of Chicago that have longer Zero percent financing. I don't know if they use Ford Financing or not. Purchasing a car at a dealer 80 miles away makes no sense. If I cannot make a deal at a price and financing, then I must do my e-mail campaign.
I am ready to send thousands of e-mails everyday to people around the world telling them the five points that I have found, as an Engineer by trade, that makes this car dangerous and risky to drive. I go into great detail about this. I have nine grandchildren and one great granddaughter. I would not let one of them ride in the rear area of this Ford Escape. The way that glass rear window just exploded after the accident is real scary. Glass came up into the front area like it was a bullet. It is my duty as a responsible citizen to do this.

My daughter bought her very first car after college and entering in the real world as a teacher. She purchased a used 2013 Ford Escape. After only 10 months she was driving down the road and went to turn and the steering wheel would not turn. Thankfully she was not on a curve going 55 mph when this happen. She was driving at a slow speed since she was getting ready to turn. Then realized she couldn't turn continued straight until she could get off the road and call her dad. This happened on a Wednesday and she called the dealership and they said "bring the car in at 8:30 Thursday morning."
The car was taken to the Cloninger Ford of Hickory NC where she purchased the car and had the car serviced. She was pressured by the salesman to purchase an extended warranty (certified wrap covered warranty) 84 months or 100,000 miles that was to cover anything major. As he stated anything but belts and spark plugs those cheap replacement items would be covered. So we were sure that whatever was wrong would be covered with the warranty. The car only has 69,290 miles and is only 3 years old. After the car was checked out they came and told her it would be $2006.00 which she does not have. She was told it was not covered under the warranty. She was told the electric power steering had gone out and the gear assembly steering part #3504 needed to be replaced. I can't believe no recall on something this serious.
The worst part of all is they let my 25 year old daughter drive away knowing what was wrong with this vehicle. She could have been injured or killed or injured or killed someone else. They better be thankful that my daughter was not injured or killed or even in an accident - it would have cost them so much more than $2006.00. I would own that dealership!!!!! We will never own a Ford and we will make sure that everyone knows about our experience. Today at 5:30 she will be trading her Ford Escape for a Chevrolet due to the customer service with Ford 1-800 # being no help and telling us to contact the dealership Cloninger Ford which offered no assistance. We were told it was a policy that Ford Motor Company has. Bottom line don't learn the hard way like we did and lose approximately $6706.00, stay away from Ford vehicles. Plus my daughter could have lost her life which is not replaceable. Yes one upset but thankful parent.

In 2005 my husband I purchased a 2000 Ford Windstar with 95,000 miles on it. Keep good upkeep on it. Blew a head gasket, as did two friends who owned Windstars. Owned a 1989 Areostar, motor blew. Bought 1999 Aerostar, lots of issues. Bought a 2005 Ford Taurus this past Nov. Rear suspension problems, left rear body was rubbing the tire. Had the struts replaced on both rear, but the left is still rubbing the tire on even small bumps so, I guess we will be replacing the springs.
Any time I slow down on the highway, I can't get back to speed fast all all. It bogs down. If I press more on the gas it chugs like it going to die. Have to gradually pick up speed then I feel it kick in and go, then it's fine 'til I have to slow down again. In town it sputters and chugs, surges. I bought this car thinking it would be safer than the 99 Aerostar...but I am scared in both vehicles now. Throwing money into them left and right. I know old cars are gonna have problems but this is unreal. I am still paying the 05 Taurus off.
I keep saying each time we go get a new vehicle, I am not ever buying another Ford, I want a Chevy. But it is hard to find lower priced Chevys used because people seem to keep them forever. Fords are everywhere, so I keep buying other people's headaches. Now I must replace all the springs on the 05, in fear of killing my grandson that is only 4 years old. I have finally established credit with my bank on this one and as soon as it's paid off, I'm getting a loan for a Chevy that I know I can trust and getting rid of this headache. Never a Ford again! It's pretty sad that I have a 96 Old Cutlass that I hit a big pregnant black angus at night at 65 miles per hour and still runs and drives better than any of the others.

I have a 2013 Ford Edge limited with throttle body issues. There are pages and pages and pages of complaints online but ford will not recall the vehicle. The car loses power and will not allow you to press the gas, it basically just rolls until you roll to a safe or not so safe place to pull over. I had this issue within the first two years of the purchase. It was repaired about 8 months ago and now again. It having the same issue. The salesman knew there was an issue and even said that he just drove a brand new one off the lot that had the same issue. FORD EDGE THROTTLE BODY NEEDS TO BE RECALLED BEFORE SOMEONE DIES!!!

I own a 2012 Ford Edge with 40,000 miles on it. The leather seats are falling apart because of inferior quality leather. Ford will not take responsibility for their use of shoddy materials. Beware of Ford vehicles with leather because the leather is extremely low quality. My car with cloth seats is twice as old and shows no wear. My Ford Edge is a disgrace. And because of Ford Motor Company's lack of concern. No more Fords for me.

I recently purchased a 2016 Ford Expedition. This vehicle is extremely noisy and I am unable to get any contact from Ford Motor Company. I have a case number and a contact, Mark **, who does not call me back. I have left at least six messages on his voice mail. This is my 3rd Expedition, Ford replaced the V-8 Engine that was in my earlier models with a V-6, added a very noisy fan to cool the AC system without notification to the buyer.
My dealer has contacted Engineering and they say they do not have a problem and that the noise is Normal?? They do have a problem and need to provide a solution or terminate their engineers. The mechanics and Service manager and dealer at my dealership agree that the car is very noisy and believe Ford also went cheap on the AC system and that is why engineering put huge fan (noisy) in vehicle, to Cover their back end! I would not recommend the 2016 Expedition or the F-150 with the V-6 to anyone. Vehicle is not to Ford standards and neither is their Customer Care division.

Ford Motor Credit is attempting to charge me a $100 fee for a "speeding ticket" on my vehicle. Ford notified me of the ticket and I proceeded to immediately contest the ticket. About 30 days afterwards, I find the fee of $100 on my account. I called Ford and notified them that it was my intention to contest the ticket and that by them having paid it, they are precluding me from being able to continue with the contestment. After waiting for over 8 days for a supervisor to contact me, I just spoke to Miguel ** who was very disrespectful, called me a liar, and told me that he will not remove the fee. I told Mr. ** that I will use this to end my lease and proceed to file in small claims court and that I would be mentioning him by name and he stated "Go ahead and do it. I'm writing it down."
I have never been so disrespected when dealing with another company and I want the fee removed. I followed the instructions on the letter to call the jurisdiction to contest the ticket and Ford proceeded to pay the ticket and attempt to charge me for it. The letter contained a typo which confused me and even after having admitted to the mistake, Mr. ** refuses to eliminate the fee. I will not pay the ticket and I want it removed. I also want ** held accountable for his disrespect and actions.

Quality and customer service are they a dinosaur of the past? It seems so. We purchased a 2009 Ford Diesel truck in May of 2010 with the expectation that this truck with a diesel engine would last upwards in the 200,000-300,000 mileage range with proper maintenance and care, which is one of the major selling points of a diesel engine. The truck was paid off and in September of 2015 just one month out of warranty this truck had to have both turbochargers replaced at Henry Day Ford for a little over $5,000.00. The mileage was at 90,651. Just under the engine break in period as is normally advertised. We asked the service advisor at that time, what more can we do to prevent these costly repairs. The answer was nothing can be done, except regular oil changes at proper intervals. In May of this year we had what we thought to be the exact same problem and returned it to Henry Day Ford to get it repaired.
We were told that it would be over $21,000.00 to repair the truck as the engine was beyond repair, two cylinders had low compression. The original price on the truck was just under $35,000.00 and adding in the costly repair in September we are now at $40,000 for a truck with 100,499 miles on it, and it is not running. My first question; what has happened to quality in a product? I remember in the past one of Ford's main advertising statement was 'Quality is job one.' Apparently in Ford's case, quality is not a job at all. Do we as providers or manufacturers expect to deliver less than the best quality to our customers and consumers? Are we OK with the terrible quality of products and goods that we produce and pass along to the consumer or customer? The fact that we as providers do not put our foot down and say no, we will not sell an inferior product because we have to stand behind it. When it fails, and it will, we look bad too.
I know at Tingey Plumbing & Heating we make that choice all the time. There are products that we will not carry from certain manufacturers because of the quality. What would happen if more companies would take that stand? My second question; does customer service even exist anymore? My answer is simple when dealing with Henry Day Ford. Not only no, but absolutely, without question no. We received one phone call from the service advisor to tell us the engine was gone, and when dissatisfaction was expressed, it was implied that it happens frequently. I have made the balance of the phone calls to try to resolve this massive financial disaster to our company with the service manager and he has never attempted to call me back, or give me a realistic resolution to solve the problem. Their answer was bringing the bill down from $21,000.00 to $16,000.00.
In the meantime we had placed a call to Ford Motor Company to lodge a complaint and were given a confirmation number and were told someone from Ford Motor Company would call us back. We waited and waited and waited. Meanwhile we have a truck that is not on the road and a technician that does not have his truck to work out of. After a week we called Ford Motor Company back to be told we needed to call the service manager at Henry Day Ford. We took the truck to a different dealer to get a second opinion. We took it to Ken Garff (next door to Henry Day Ford), who has a Ford trained master mechanic that looked at the problem. At first inspection they thought it was a different problem and quoted us $6,300.00 dollars to repair it and when I asked if it was in fact the engine would they still charge us, I was told yes. This is where the huge difference in customer service comes in.
Their mechanic decided to use a borescope and look at the cylinders to make sure their diagnosis was correct and he found out the truck had indeed lost two cylinders. Ken Garff then quoted after several calls to us to try to resolve the problem $13,999.00 to replace the engine. Great customer service from Ken Garff. When I called the service manager at Henry Day Ford in an attempt to get help from Ford Motor Company or Henry Day Ford, I was told by the service manager they do not build the trucks so do not take it out on them. He told me that they were not making any money on the engine replacement and that the other dealer could not possibly replace the engine for that price. I asked him if he had even called Ford Motor Company to see if they would do anything and he said no. He expressed over and over again how it would not be fair to him for me to write any bad reviews as they do not build the vehicle.
I asked him to call Ford Motor Company and he said he could call the territorial manager and said he would get back to me... he never did. It's been over a week. It appears to me the customer service that Henry Day Ford gives, is to itself, they are more concerned about customers being fair to them than taking care of a serious defect in a diesel truck that is 6 years old with 100,499 miles on it. Yes Henry Day Ford, I know that you do not build the truck but you represent the company and honestly, I have had more customer service in the airport security line in LA, although the wait is about the same, deathly slow or non-existent. Which brings me to the question again, is customer service extinct? I know that in a majority of companies it is, but there are some that still believe that customer service is a top priority. I know that it makes a difference in our customers because they tell us that it does.
Why should they settle for mediocrity? Why should any of us? I know that I will never buy another Ford product again; I will never go to Henry Day Ford again. I will not give money to a company that demonstrates a severe lack of quality in addition to an incredible lack of customer service. Can we make a difference? Yes we can if enough people cry out. You either listen to them and respond or you ignore them and hope they go away before you do. Eventually they go away because customer service sets you apart from others who provide the same product.

I purchased my 2012 Ford Fiesta in September of 2015. When I test drove it, it ran great and was excellent on gas. I needed something since I commute an hour each way for work. About a month after I purchased it, I began to have issues with the transmission. It would shutter and stall when shifting gears when taking off, or would seem like it was skipping a gear when taking off. I went into the Ford dealer in Santa Fe where I work and they basically said that is the way the transmission is designed and wouldn't even look at it.
I proceeded to take it to a dealer in the town I lived in and they ended up replacing the clutch and reprogramming the TCM. This worked for a few months and now I have the same issue, on top of a engine light coming on and off, and a rattle when the car is turned off. I've taken it back to the dealer to be told it's not a transmission issue but engine codes and of course more money to be spent.
I've complained multiple times about these issues as I've done research and see that this is an all too common issue. Now I'm talking with a second customer service manager for Ford and hope to hear some good news about them either fixing the car or buying it back. Quite honestly the worst car and worst customer service experiences I've had with any car I've owned. I will never purchase a Ford again because of it.

My wife and I bought a 2012 Ford Flex limited with 42k miles in July of 2015 due to expecting twin babies. Well, it hasn't even been a full year and only 13k miles later and we are already having to spend $1100 on replacing the rack and pinion. I've owned a BUNCH of vehicles in my life so far with FAR more miles than this and never had to have anything major replaced like this. I am disgusted at the reliability of this vehicle especially on how much it cost in the first place. I will NEVER buy a Ford again. There are too many other options out there.

I'm having Ford Fiesta 2014 sE. DUE TO RECALL IN CLUTCH I HAVE SET AN APPOINTMENT FOR MY CLUTCH REPLACEMENT FOR TODAY, May 24, 2016 at Edmonton, AB at 91 STREET. But they have not received clutch from USA and asked me to go back for 3rd time. In past the service guys have done the same thing, they called me to service station and then asked me to go back. Do they do communication in between? Or at least notify your customer before they arrived. I have changed my working shift because of them for 3rd time and what I got at the end: nothing. Poor service. Very Upset with the customer service they are offering.

I just bought a 2016 Ford FX4 crew cab truck. I have been driving Ford vehicles all my life and thought I would never even consider another make. Well, that may change. This truck has been a big disappointment from day one. Following is my review... I switched from a 3.5 EcoBoost to a 2.7 EcoBoost in hopes that I would get better mileage. Not only is it worse than the 3.5, the economy readout on the dash is consistently 2.5-3.5 mpg less than the actual mileage. I have Checked every tank since I bought it.
The Ford SYNC is a joke. The most user unfriendly system I have encountered. And I leave my iPod connected all the time and never touch it. The radio recognizes it about 50% of the time. I have changed power cords twice thinking there may be a short. But no change. If it was a short it would also affect it while playing. But when it plays it works perfectly. The driver side window does what it wants to sometimes. It may go down when you want it up. Or vice versa.
The structural rigidity of this truck is nothing like my 2014. It jiggles and shakes like a 1981 Pontiac when on uneven pavement. The worst gas filler ever! Every time I lock the fuel nozzle on and wait for it to fill up, it clicks off the nozzle like it's supposed to, but you better not be standing behind it! Almost every fill up dumps a quart of gas all over the ground. The driver door speaker is already buzzing and vibrating. The coating in the bed is useless. It's like a sheet of greasy ice. Everything slides all over the bed, so I have to lock it down. I have yet to figure out how the trailer back up assist works. For the amount of money this truck costs, Ford really screwed up on this one. I will be looking elsewhere soon. I'd like to have my 2014 back.

I own a 2010 Ford Fusion. I paid off my car in Jan. 2016 and the warranty expired w/o the option to renew. Lo and behold my power steering started failing, so my husband researched the issue and found there is a pending class action against Ford Motor Co. for the exact same issue. I needed to get my car fixed because it was dangerous. The repairs cost over $1,600. I asked Ford Motor Co. to reimburse me for the repairs since it was discovered in the lawsuit that Ford knew of the defect prior to the 2010 Ford Fusion going into production. What was Ford's response, "Because your car is out of warranty and you agreed to pay for the repairs, the claim is denied." Ford is not a reputable company. They hid the issue and only issued a recall on later models. The cost of replacement has created a hardship on my family. Shame on you Ford for not standing behind your products. $1,600+ is a minimal amount to Ford. Why can't they step up?
Ford Cars and Trucks Company Profile
Company Name:

Ford

Website:

http://www.ford.com/