Consumer Reviews and Complaints

I love Ford vehicles. My first was an Explorer which I had for about 4-5 years but when both my dogs passed away, I needed to move on to help me forget but I sold it on my own and got a pretty penny for it. This was a rare occasion because I like to hold on to my vehicles. So I took the check I received for it and started my search for my next Ford. And of course there are the naysayers who will tell you that Ford stands for "found on road dead" But not in my case.
My next Ford was in 1996, the last year they made the Bronco. I bought it in Nov of 1995 and I drove it for 20 years with regular upkeep but not one problem along the way. One month short of 20 years it got tired and had to go to Bronco heaven. I had more people asking me if I would consider selling it because I take care of my cars and even after 20 years, there was not a speck of rust on it. I was stopped at a light one day and the guy behind me got out of his car and came to my window just to tell me what a nice truck it was.
Since then, I have been driving a non Ford car that I had in storage and I hate it. You can't see over other cars and trucks when you are stuck in traffic. But, never fear, the word is out that Ford will be bringing the Bronco back in 2018 and I will be the first in line. I just wish they would bring the little side windows back. They were awesome too.

After owning my 2015 Ford Fiesta for two years I got in my car and when I went to shut the door the entire plastic handle broke right off. They would have to replace the whole door for $498 without any labor. No kids, well kept etc. This piece is such junk, will never buy another Ford if this is how they design them.

The Ford Edge Limited was well made and the fit & finish is very good. The vehicle has over 20K miles and no problems. The ride is comfortable and road noise is very low. The cargo area is a good size and can be doubled by lowering the rear seats. I recommend getting the V6 engine.

I am extremely disappointed in (2016) Ford Explorer which has failed transmission at 40,000 miles only. Worst part is, Ford's so called power terrain warranty does not cover the repair and I was billed 6,000$ to repair the transmission. I wish I listened my friends and did not touch any Ford products...

I purchased a new 2015 Ford Fusion Hybrid through my shared employee plan through Harley Davidson and Ford Motor Company. The car currently has 25K miles on it and I have had nothing but issues with it. The transmission went out at 20K miles. The radiator cracked at 25K. There has been faulty wiring in the seats and door panels to name a few. I wrote a letter to Ford Motor Company and they called me back with a case number and opened an investigation on their end. They never called me back when I left messages and provided no information to me on the buyback program. I was just informed today (as my car is on day 26 of being in service at the dealership) that my car does not qualify for a buyback. When I questioned as to why, she said, "I don't know. I'm not an attorney. You'd have to hire one." I am so disappointed in Ford's product, and horrible customer service.
How do I know I can trust these reviews about Ford?
883,201 reviews on ConsumerAffairs are verified.
We require contact information to ensure our reviewers are real.
We use intelligent software that helps us maintain the integrity of reviews.
Our moderators read all reviews to verify quality and helpfulness.
For more information about reviews on ConsumerAffairs.com please visit our FAQ.

My mom bought a 2016 Explorer and the car was sold as new and no accidents. Well she washed the car last month and paint chipped off the front fender a big chunk of paint. My mom has had no accidents and keeps the car in the carport. She calls Ford and tries to use the warranty but Ford doesn't call her back for 3 days. She had to call them for them to tell her the car had been in a wreck previous. So she calls another number for corporate and the woman starts out with an attitude and implies she wrecked the car and is trying to get over on FORD. My mom don't have to get over on Ford. She just wants what she paid for when buying a new car. She bought the car in Florida where I was living at the time at BARTOW FORD.
The car was damaged during shipping and then was treated like she has to scam Ford to get her car fixed. My mom had the lady of the corporate office on speaker phone and the lady flat out told her it is her job to turn people down and not approve claims 'cause that cost Ford. Well I am the one that got my mom interested in Ford by me buying an Explorer and then I bought myself a 2015 Lariat and then my mom bought hers and was ripped off. Well my family has spent over a 100 thousand dollars and for the ignorance of that lady to tell us her job is to turn people down from their warranty. Well I'm here to tell people not to buy a Ford so people like her can't have a job. If enough people quit buying their product then they have to thin the ignorant people of Ford.
Needless to say my mom had to pay out of pocket to get her car fixed and they discovered that there was more damage done than what we was seeing and thanks to whoever covered this up it cost my family money and to be disrespected by a lady behind a desk that don't know ** about my mom and accuse her of trying to scam Ford. I did like your products. This was the first time we owned Ford. My family was always a Chevrolet family. Guess what? We will be getting rid of all of our Fords.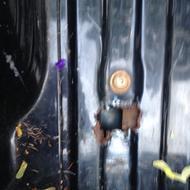 I am embarrassed to say that I have continued to purchase Ford products through the years even though they have proven to be poorly manufactured. Well I have finally learned my lesson. Never again will I purchase a Ford vehicle. Some examples, Explorer 30,000 miles cracked engine block, Excursion 52,000 miles transmission failure, Expedition tailgate paint bubbling off (they all do), Raptor 50,000 miles garage kept. A hole rusted through the bed (common).
Fords response to all of these defects "Drop Dead." If you wish to experience the absolute worst imaginable customer service call (800) 392-3673. I honestly felt as though they were mentally challenged so I escalated the case first to Matt ** never replied then Phill badge # ** big zero then Brian badge # ** bigger zero and finally the head supervisor Rose ** whom I would best describe her as robotic nit wit unable to respond beyond cookie cutter prepared answers.
As a small business owner I purchase multiple vehicles annually as well as personal vehicles so over the course of the last 35 years I have purchased more than 100 new vehicles. The majority of which were Fords. In 2017 alone F350 $50,000.00, A Expedition EL $70,000 and most recently a Raptor $70,000.00. So I hope Mr. Ford reads this and terminates each and every one of the inept, indifferent individuals at Ford who misrepresent themselves as a customer service department.

I was initially very excited about what appeared to be very positive changes at Ford, and purchased both an F150 FX4 pickup, and a Lincoln MKC SUV. Nice to feel good again about buying American vehicles. But I learned the hard way that Ford does a terrible job of standing behind their products. With the F150 truck, there was a brake booster recall that took months to resolve. And they will use any excuse to not honor warranties.
On the truck, bubbling rust started to appear on one of the running boards with less than 30,000 miles on the vehicle. When I initially went to the local dealer to have the truck washed and have this looked at, they told me to come back because the car wash wasn't working. I came back 2 weeks later (the dealer is not convenient to get to) and was told that even though the truck had less than 30,000 miles, it was now 11 days out of warranty and Ford might not cover the repair. The claim was submitted and Ford denied it. Yet clearly this rust problem did not just magically appear just after the warranty expired. Fords decision to not honor this minor claim shows how little they value their customers. And that they don't stand behind their products. As the saying goes - people vote with their feet. Thankfully there are many worthy competitors that prioritize customer service. I have learned a lesson and will never buy another Ford product.

The automobile is a 2001 Ford Crown Victoria Police Intercepter with a 4.6 liter engine with aluminum heads. While traveling down a very long hill at 60 mph, I heard an explosion and then a much louder engine noise. Upon investigation, found a spark plug sitting on top the engine and coil broken completely from the mounting screw. I began a massive rabbit trail into the cause of the failure and the various repair methods. It appears this is a universal failure due to a faulty engineering design that resulted in only a few aluminum threads holding in a steel spark plug. The aluminum is over stressed and fractures from the enormous repetitive shock on the scant threads that hold back all the pressure cycles. I believe that the cover up goes all the way back to the first year or two.
The dealership mechanics must be ordered to claim they have never heard of this problem, because all the non-dealer mechanics all know about it. Hundreds, if not thousands of victims to this dangerous design flaw are suddenly stranded or left in life threatening situations such as an engine on fire, stuck in the winter or desert heat. The factory requires a head replacement. There are cheap tap and "helo" type springs to make a temporary repair, but a kit such as Calvan 38900 or an ATD 5400 Triton kit for $250 can possibly make a semi permanent repair, if you have air tools, cylinder blow out and inspection tools, and know how to lower the cylinder and close the valves before the procedure.
So I got a chase tap, it cleaned the threads but the spark plugs still will not go into the engine head. Since this is an enormous problem for consumer and for Ford, a compromise should be for the Ford Manufacturing Company to at least pay for the job to remove all the plugs, install the ATD 5401's in each cylinder professionally, after first blowing all the shavings out of the cylinder after the drilling and tapping the new oversize threads.
I personally am older and in disability and am in a bad situation. Do I invest in the tools and kit ($800 or so) or do I just look for a Toyota or other quality car to replace the Ford junk? In any case, Ford Motor Company should recall all the aluminum blocks with this serious defect. They had full knowledge and could have recalled within a couple of years, but instead chose to cover it up. Now we the people are supposed to foot the bill? Replace my heads with ones that can't blow out spark plugs or replace the engine with steel heads.

The Power Transfer Unit (PTU) on my 2010 Ford Edge with only 36876 miles went out and the repair cost me $1900. Ford is aware of this issue but it has not escalated to being recalled. There is no preventative maintenance that can be performed on this part. It supposedly has lifetime oil. However, they do leak and there is no way of adding oil to prevent the part from complete failure. Ford is not addressing the problem and is not concerned with customer satisfaction.

I own a 2010 Ford Flex Limited. It has the EPAS steering system that has failed just like the 2011's that has the same part and has an active recall campaign to replace it. When I contacted the dealership, they pulled the part number up and confirmed the recall but, not on the 2010. The dealership then contacted Ford Corporate for financial assistance. Corporate asked the dealer for the parts and labor replacement estimate just to deny fixing my car. I have just spent over $3,500 replacing both turbos and now, Ford expects for me to pay another $2,000 to fix my car again! You would think that Ford would acknowledge a major safety issue like a steering failure!

I leased a 2015 Ford Fusion in the fall/winter of 2014 and have had it for 3 years and it gave me no problems the entire time. I took it on a few trips and it was great! I just traded it in thinking I would try a foreign car to take advantage of the mileage that they advertise so I traded it in for a 2017 Kia Optima. I've had this car for less than 2 months and it has given me nothing but trouble (electrical/engine related). It's been in the shop for 2 weeks now and I haven't heard any updates from the service manager as to when it'll be fixed, or what the problems are with it.
I've dealt with the roadside assistance, the service center, the corporate office and of course the dealership and I've been sorely disappointed with every aspect of Kia's customer service. I've been treated like a number and told that if I'm unsatisfied with the vehicle that I should "wrap it around a tree" and get something else. I'm never purchasing from Kia again... I miss my Ford sooo much!!!

I paid $3600 for the Premium Service package that is contracted in my payments each month. I can't get that money back. Fletcher Ford in MO said that my Ford has never had my Premium service done. Ford complaint center said it has. Fletcher Ford service center said that my rotors were ground down so bad that I need new rotors. Ford Complaint center claims that they were never touched by any service according to my service records. Ford tried to say that I ride the brakes too hard and that is why they are ground down so much. I had another Ford truck that I put over 400,000 miles on and never had to change the rotors. I don't ride on my brakes. I believe that there was some dishonesty along the way.
Ford has always serviced my Ford truck and they kept up the brakes. My brakes are right now 70% to the good so why would anyone grind down my rotors? The only thing I can think of, is so that I would get Ford service to replace them and that's how they make more money on your vehicle along the way. That's what the Premium service is all about to me, is to get more money out of you along the way by doing dishonest service to your vehicle, so it seems!

I own a Transit full-size van T350 built 5/2015 used for business. After 38000 miles the left rear axle seal failed and was replaced 11/30/16. One day later the hole axle seized after just 50 miles. After the warranty repair. It took to January 10/2017 to rebuild the rear axle (no parts available!!!) and to get the van back from the Dealer (Ford of Clermont, FL). Since then the van is creating a loud howling noise between 50 and 60 mph and a loud deep vibration noise over 70 mph. Four more attempts to repair/adjust. Did not fix the issue.
Since 12/1/2016 the van spent over 100 days in the workshop trying to fix the rear axle under warranty without success. Since 4 weeks my dealer tries to get in touch with a Ford engineer to assess the issue. Without success. In the meantime the right axle seal failed and spilled all the oil on the road. In addition to the incompetence of the dealership Ford Customer Service is at no service for a customer who has a more complex issue than an oil change. I called Ford customer service several times but all they do is to get you in touch with the dealer's management. Ford Customer Service is only set up to make you feel good and to mediate between dealer and customer. I feel that my only option now is to sue the dealer and Ford to get this faulty rear axle replaced.

After going to 6 dealerships must people with Ford transmission they offer us the X plan 400 off a new car. What a joke. I gave Ford 2 weeks to make it right. We out 2800 dollars and our balance of 8500 dollars what we owe on their junk. We have only one option now is to file bankruptcy due to Ford Motor Company. Thanks Ford for screwing up our credit. Ford don't care about their customers or the ones that drive their junk. We will have a long wait till we'll be able to buy another car. Thanks to Ford Motor Company. But in a few years there won't be a Ford in my yard and I'm going to get this in the news and buy a billboard and will leave bad marks on every Ford site I can.

I am in South Africa and bought 2016/2017 Ford Everest Limited and have had endless issues with it. The latest is the sensor on the steering rack failure which Ford now has to replace the whole steering rack for the second time. Once the sensor fails it disables all the driver assist features. I am concerned for my safety and do not know what the future will be with this car. I have done some research and have seen that Ford in the past had similar problems with steering rack failures. Can you help in any way please?

I bought my Ford F150 XLT brand new in 2010 and I have completely loved my truck! It has been great with no problems. So you can imagine how upset I am after only 93,000 miles my motor needs replaced because of how poorly the 4.6 engine was built. I would think the engine would last longer than that but I was wrong. My mechanic said that this has been the major problem with the 4.6 engine in these trucks so I am not sure why it never got recalled. Now I am out a pretty penny to get it fixed since it is my sole vehicle to get my family around in. I am not usually one to complain but this was defiantly an upset after spending $37,000 on the truck to begin with just to replace the engine 7 years later. Now that I will have a motor in it that was built right I should get a longer lifespan out of this truck!

I bought the car with 2,000 miles and they said is considered as new. I had the same problem as everyone here. During the past four years, I have taken it to the dealer 4 times for the transmission clutch. The last time they said there was another piece that needed to be replaced, so the transmission does not fail anymore but that piece was not cover by the warranty. I paid about $300. Looks like the warranty will be covered by piece. I don't understand. Right now is the fifth time my car is at the dealer and I hope they don't come with the same story. I hope our President Trump makes Ford Cars Great Again.

I purchased an F150 in Aug 2016, and my bank account was scammed in Feb 2017. In April 2017 Ford sent me a notice of default and right to cure. I discovered that Ford credit had not updated my personal information even though I had the car in service at the Ford dealer and gave my personal information on two separate occasions when I went to get the truck serviced. Ford credit stated they did not have my phone number so just put me on the bad credit list and threatened to repossess the truck even after I had placed $10,675 down to purchase the vehicle.
The dealership was given my new information in February when I needed an oil change, but they did not enter it into their system. This is a reflection of the shoddy, greedy and poor customer service of the Ford Dealer. I will never purchase another shoddy vehicle from Ford again. I have been a loyal customer for over 20+ years and realized that Ford could care less. I will NEVER again purchase a Ford and will discourage anyone else from considering a Ford EVER.

I bought a Fiesta at N1 City Ford in March 2016. I was happy with the vehicle up until December, when the aircon system of my car stopped working. It basically just started blowing off hot air instead of cold. I took it to the Ford in Claremont but was told that I have to come back in Jan 2017 because their workshop had closed of the December break. In Jan 2017 I then took it Ford Tygervalley which was the closest Dealership to where I lived. Basically, they couldn't help me either. They told me that they had to regas the aircon, (which they "did"). Strange how a brand new car less than a year would need this done, but anyway, I took the vehicle, but about a few weeks later, I noticed that the problem, was actually not fixed at all. I then decided to take it to N1 City Ford, since thats where I bought the vehicle.
The first time I was there, they basically told me that there was no problem with the aircon, and this was diagnosed by simply idling the car and then turning the aircon on. I came back to them a few days later and then the car was booked in to be checked. I was told that the aircon controller has to be replaced, which would cost the warranty about R13 000. This was then "DONE, I was given back the vehicle and told that all is sorted. After just a few days, I went back with the same problem. All that was done again on this day was to idle the car and turn the aircon on. I was told it works and made to feel the air coming out which was cold. I told the service consultant that the aircon is cold only when the car is idling and not when it's on the road. I then went back to them AGAIN WITH THE SAME PROBLEM, and this time, I insisted that they take the car for a drive, and feel it for themselves.
It was taken, driven around the block AND FINALLY AFTER MORE THAN 4 MONTHS, they admitted that the aircon does not work. Had to book the car in YET ANOTHER TIME. By this time, the date was 25 April 2017. Until today, the problem is not fixed, and I have a car sitting at the dealership, yet I am paying installments every single month without fail. The service has been anything but great for me. They insist I take the car back, up until the ordered parts are available. I have refused this, simply because the car is not fixed, and this is not what I contracted with Ford for. They don't want give me a car in the interim, AND I AM INCONVENIENCED.
I am extremely disappointed with Ford, and their lack of customer satisfaction. It has been OVER 4 months, and I have had to suffer through the whole of summer, and drive a car with no aircon. I have been more than patient with them, but still the problem is not solved. I don't have a car, yet I am paying for one, and I AM NOT SATISFIED AT ALL.

Car is cheap. I hit a bird. The car was damaged. It is so cheap. Ford and insurance won't do anything. I think the car is defective. It broke the grill and radiator panel. It also dented the bumper. I should have bought a different brand.

I have a 2011 Mercury Milan that has a power steering assist fault and has stopped working. It starting happening in the summer of 2016 and would reset after turning the car off and then back on. It now has a message on the dashboard and says "Power Steering Assist Fault" and "Advance Service Track." I researched and Ford has a recall on the same make, model and year but Ford says that my VIN number is not on the recall even my car is doing the same, exact thing and the power steering has failed. They are trying to charge me the diagnostic fee and refuse to fix my car even though there is a recall on this make, model and year. I need someone's assistance! This is a danger to me and my family while driving. I do not have the funds to fix the vehicle. The part alone is $1,200 plus the labor.
Ford Motor Company should be ashamed of themselves. Many other individuals have gotten in accidents because of this problem. They have totaled their vehicles and gotten hurt. Why can't Ford do the right thing and fix my vehicle? I am using all resources to announce this problem. I am so outraged and disappointed in Ford Motor Company. I am putting it out there to everyone not to ever buy a Ford and how they do not care about the lives and families who own their vehicle, and all of the recalls that they have on many different Ford vehicles. How can you have a recall on a vehicle and say that my VIN is not under the recall when it has the same, exact problem?? It is disgusting that this company can get away with this!!

Bought a brand new 2016 250 Ford Transit 250 van at 12000 miles. Had a howling noise when backing up. Told me my bearings in the rear end were shot. Rebuilt the rear end to no avail. Now at 35000 miles my back brakes are completely wore out. Had big old tires. Tell me it's as if I've been driving with my e brake on. Took it to ford. They cover their ass and tell me its wear and tear and that they're finding out with these vehicles the back brakes are wearing out quick. Oh did I mention my front brakes are like brand new. Bottom line this vehicle is a PIECE OF **.

I bought 2013 Vista car in Oct. 2015. 25,000 miles, it lasted 1 yr. One yr. later 10-20-2016 took Manteca Ford service, told me it needs a clutch. No car 6 days. Oct. 20 back in shop, Dec. 20, back in shop. March 16, back in shop. March 20 back in shop, they said throttle $100.00. March 22 back in the shop. March 28 back in the shop. Picked car up March 31 2017, told me needed a new battery. Didn't want them to put battery. This is the same problem, I had in Oct., Dec., March. Engine light came on while driving. Vehicle began making a thrashing type noise and losing speed. I had to drive home with my emergency lights on. Real slow. I will never buy a Ford car again. Service dept. don't know what they're doing. Car was towed 2 times.

Bought a new 2014 Ford Focus Titanium off the lot and within about 4 or 5 days my engine was already starting to shutter. I brought it back and they said that's just the way it is. I believed them sadly. Overtime it got a lot more aggressive, and finally they decided to look at my engine with only 20,000 miles. I had a recall and a few other things plus them looking at my transmission so they said they need to keep it a few days, and refused to give me a loaner car, or a rental.
They did not call me, so I decided to call and I could not get a hold of the service adviser for the life of me. I even asked for the service manager and left several voicemails and he hasn't called me back to this day. Finally called corporate and they got a hold of the service adviser the next day. I had multiple things wrong, included a new clutch, bearings, transmission fluid, a part for my transmission (they weren't very specific). Worst part is a check engine light never went on. He then said the parts will come in on Friday, so my car won't be ready until the following Tuesday, and yes... they still didn't want to give me a rental or a loaner. Well here comes Tuesday, and my car still isn't ready. This is about 13 days they have had my car. It is ridiculous, Ford will never own up to the problems people are having with their cars.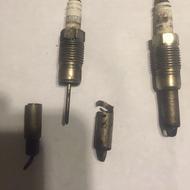 For the past few months I have had my 2006 Ford F-150 with the 5.4 Triton V8 3 valve in and out of the shop trying to rectify a rough engine idle when stopping. First I was told that it had to do with a clogged fuel filter which was changed at a charge of $214.00 but I still had the same problem. Next, I was told that the air filter intake hose was clogged with leaves which was another charge of $180.00. Well, the rough idle persisted. So, at 88,000 miles I decided to let my mechanic do a tuneup which I was told would be around $450 that's if he didn't break any spark plugs.
Well, day one I get a call and 3 spark plugs had broken off in the head. The next day I get a call and my mechanic was able to remove 2 of the broken off pieces but he couldn't get the third out. Day three I get a call and my mechanic explains to me that he tried to drill out the center of the stem and thread it so he could try and back it out. He got it to turn 4 times before it completely shredded and the piece fell into the #8 cylinder. So, he had to take off the head to get into the #8 cylinder to clean and remove all debris which he told me usually takes 21 hours.
So, a week later I get a call from my mechanic to tell me that my truck is finally ready. Yep, it was ready all right at a cost of $3900... quite a shock considering this all started out at around $450. Of course, I was pretty mad and my mechanic did take $600 off of the bill. But, he has lost my business and the Better Business Bureau will get a complaint on behalf of this fiasco. Ford has known about this problem for quite awhile now and from what I have learned may have rectified the problem by replacing the spark plugs of later models with a one piece plug instead of a 2 piece plug that when affected by carbon build up seizes in the cylinder.
Now, Ford states that the 5.4 Triton shouldn't have to have a tuneup until 100G miles. Yah, right!!! This is the second Ford product I have owned that has taken a good bit of my hard earned money. First was a failed transmission on a Mercury Villager that had only 62G on it. That fiasco cost me $2800. Now this total Charley Fox!!! Ford you have lost my business and will never get another dime out of me and yes I will be telling all of my friends to stay clear of Ford products.
I currently own 2 Toyota vehicles. One a 2006 Toyota Camry that has 120G miles on it and the only thing I have done to that car in 5 years is replace tires and regular oil changes. The second is a 1989 Toyota extended cab 4x4 pickup truck that has 178G on it and I have had to replace the starter, the radiator, the power steering pump and the alternator, which I repaired all on my own at a minimal cost. The engine is still as strong as it was when I bought the truck in 1990. Now, if that doesn't speak quality and reliability then I'm speechless. Guess who will be selling their F-150 and buying a Toyota Tundra. Ford get your act together!!! We are done!!

Despite everybody telling me not to buy a Ford, the 2016 Ford Explorer Sport fit my family's needs and we like the looks and performance of the vehicle so I bought one for my wife. On the way home from a day out celebrating Mother's Day with my family, the transmission went out on the freeway and we barely made it home. With only 4,000 miles on the vehicle, the transmission had to be replaced. In addition, the vehicle made a loud squeaking noise from the fans when you turn the car off, and the leather on the drivers seat is already starting to deform. The dealer fixed the transmission, but said there was nothing they could do about the seats or the fan squeak. They stated this was "normal." I have owned a lot of cars in my life, and in no way is this normal.
I then took the Explorer in for a routine oil change service, and the vehicle only had 5/32 left of tread on the tires. This seemed like very excessive wear for a brand new vehicle. A month or so later I took the vehicle back in to the dealer to have the tires looked at and they were down to 4/32. The dealer said that it was up to the tire manufacturer, and Hankook was only willing to prorate 25%. There is no way I should have to replace tires on a vehicle that is 1 year old with only 12K miles on it. Come to find out, Ford's New Vehicle Warranty is also supposed to warranty the tires and should cover 60% of the cost. I called Ford Customer Relations and what a disaster they are. I went back and forth for with them for a month. They never called me back as they promised, and some of the reps were extremely rude.
I finally get a supervisor who says that he worked it out with the dealership and that I will only need to pay $407.57 for new tires, and that Ford will take care of the rest. Not quite 60% but at this point, I just want to be done with this. I call the dealer and talk to the person I was told to ask for, and they know nothing about this. I have always tried to stay loyal to the domestic automakers, but I can see why people don't buy American cars. I understand stuff can happen to anything vehicle, but the service Ford has provided has been terrible. If they were great in handling these issues, I would be happy that at least the service was good and that they were taking care of their customer and standing behind their product. Clearly that is not the case and the stereotype about Ford poor quality and service is unfortunately true.

They added over 5,000 of optional fees onto my contract, changed the term on me, and lied about my apr saying it was 8 percent higher then it actually was to hide all these fees. The car rolls backwards, shakes, doesn't want to accelerate and more. Ford won't stand behind the customers because all they are focused on is capital. Eventually ford will end themselves with poor quality vehicles and exceptionally terrible service. Never in my life would I have thought a company would be capable of both. Get it together please. They will only let me get half my money back for a warranty I didn't ask for... This is a common thing for ford... I have over 15 people who I contacted that have had this exact incident happen to them.

I bought a new 2016 Ford Edge in April 2016. Something that should have been an exciting and happy experience has turned into nothing more than a nightmare. The very first day I got the car home, I was moving my stuff into the back and heard a popping noise. Upon further inspection I noticed that the back hatch wasn't properly aligned. I took the car back to AutoNation Ford (Mileage <100) the very next day only to be told that they could not provide me with a vehicle while they worked on this issue. I should have cancelled my contract with them that day! Instead, I have someone pick me up and leave my car with them for the day. When I went to pick up the vehicle they told me that they adjusted it and the popping stopped but it would NEVER be perfect. I was told that they would email me my paperwork, with this being the first occurrence I didn't think much of it.
In June, I emailed Ford Corporate office and begun dealing with them. They were able to get me a car and this time I took it to Hardy Family Ford (Mileage 5416). They attempted to adjust the gate again. Still not fixed. This time I noticed that the washer fluid isn't working. They talked about taking the hatch off and forcing it to line up properly but I felt uncomfortable with that as I didn't want the back to leak after being told it would NEVER be perfect. So I let that, gave up on the idea of having it fixed. FF one month to July and my check engine light comes on. Concerned I pull into an AutoZone and have them read the code. It comes back bad O2 Sensor. I take it back to Hardy Family Ford (Mileage 6450) and they replace the O2 sensor. When I picked the car up, I explained to the service advisor that I was very disappointed in the vehicle and how many little things were wrong with the car I have noticed in the little time of owning it.
His response to me was that it wasn't a Mercedes Benz. I was just shocked that he would make a comment like that considering it cost as much as some Mercedes Benz. In August I'm driving down the road and my car just shuts down on me. Luckily I was able to coast into a turn lane and get someone to meet me. After waiting on my ride I tried the car again, it started up and they followed me home. I took it back to Hardy Family Ford (Mileage 8495) and they had to replace the electronic throttle body. FF to December and I notice it was leaking some fluid in my garage. Back to Hardy Family Ford (Mileage 17755) they had to replace a line that had a pinpoint leak. FF to February and the check engine light comes back on. I take it to AutoZone and run the codes. O2 Sensor again, I take it to AutoNation Ford (Mileage 20451) this time as Hardy isn't open on Saturdays.
They keep my car for a week, and then call to tell me that the service adviser I was dealing with is no longer with them and they were trying to close up his service calls. (So I was forgotten.) They ordered the part and called me two days later. I go to pick up the car and I'm told that the person who inputs the invoices has been out, they will email me the invoice. I insisted on having my paperwork that day only to get an attitude and a comment that the diagnostic codes will be wrong. I get into my car and notice that they have put over 100 miles on my car test driving it.
They replaced the whole catalytic converter system. At this point, I'm very concerned with the reliability of this vehicle. I'm not sure if it qualifies for a lemon but I know I'm getting to the end of my grace period if it does. I do like my vehicle or I wouldn't have bought it. I unfortunately do not trust any of the Ford advisers. They are always being very shady when it comes to service and paperwork, and I fear that once my warranty is up this will be costly. I have all the service records described except the very first one where I learned to get my paperwork before I leave.

I purchased a 2011 Ford Edge Certified pre-owned with 26000 miles. This vehicle has been in for major repairs within the last two years. Vehicle has AWD. The power transfer unit failed at approximately 60000 miles. The backup camera does not work at all. Just a blank black screen. Several valves went bad. The car was at a Ford dealer for 12 days. The backup camera no longer works. It's just a black screen. The only thing to be done with is replace it at the tune of $866.00. I did not have the camera replaced due to the substantial cost. The latest problem is the catalytic converters. They went bad at 75000 miles. The service engine soon comes on and flashes and then goes off. Called dealer and took it in. This was in January 2017.
I was told both catalytic converters have to be replaced. The dealership told me they would have both converters by mid-February 2017. I called them at the end of the February and now they do not know when they will be getting the catalytic converters in. Really??? Note that I am still driving the vehicle and have not been offered a rental car as of yet. I was told not to take the vehicle on long trips because of the converters being bad. How long am I going to have to wait to have this fixed??? This will be the last thing that gets fixed on this car because if one more thing happens to it I will be getting rid of it. I am very disappointed in Ford and I have had several. Time to look at the foreign SUVs.
Compare Service Trucks and Truck Cranes
Ford Cars and Trucks Company Profile
Company Name:

Ford

Website:

http://www.ford.com/