Consumer Complaints and Reviews

I paid $3600 for the Premium Service package that is contracted in my payments each month. I can't get that money back. Fletcher Ford in MO said that my Ford has never had my Premium service done. Ford complaint center said it has. Fletcher Ford service center said that my rotors were ground down so bad that I need new rotors. Ford Complaint center claims that they were never touched by any service according to my service records. Ford tried to say that I ride the brakes too hard and that is why they are ground down so much. I had another Ford truck that I put over 400,000 miles on and never had to change the rotors. I don't ride on my brakes. I believe that there was some dishonesty along the way.
Ford has always serviced my Ford truck and they kept up the brakes. My brakes are right now 70% to the good so why would anyone grind down my rotors? The only thing I can think of, is so that I would get Ford service to replace them and that's how they make more money on your vehicle along the way. That's what the Premium service is all about to me, is to get more money out of you along the way by doing dishonest service to your vehicle, so it seems!

I own a Transit full-size van T350 built 5/2015 used for business. After 38000 miles the left rear axle seal failed and was replaced 11/30/16. One day later the hole axle seized after just 50 miles. After the warranty repair. It took to January 10/2017 to rebuild the rear axle (no parts available!!!) and to get the van back from the Dealer (Ford of Clermont, FL). Since then the van is creating a loud howling noise between 50 and 60 mph and a loud deep vibration noise over 70 mph. Four more attempts to repair/adjust. Did not fix the issue.
Since 12/1/2016 the van spent over 100 days in the workshop trying to fix the rear axle under warranty without success. Since 4 weeks my dealer tries to get in touch with a Ford engineer to assess the issue. Without success. In the meantime the right axle seal failed and spilled all the oil on the road. In addition to the incompetence of the dealership Ford Customer Service is at no service for a customer who has a more complex issue than an oil change. I called Ford customer service several times but all they do is to get you in touch with the dealer's management. Ford Customer Service is only set up to make you feel good and to mediate between dealer and customer. I feel that my only option now is to sue the dealer and Ford to get this faulty rear axle replaced.

After going to 6 dealerships must people with Ford transmission they offer us the X plan 400 off a new car. What a joke. I gave Ford 2 weeks to make it right. We out 2800 dollars and our balance of 8500 dollars what we owe on their junk. We have only one option now is to file bankruptcy due to Ford Motor Company. Thanks Ford for screwing up our credit. Ford don't care about their customers or the ones that drive their junk. We will have a long wait till we'll be able to buy another car. Thanks to Ford Motor Company. But in a few years there won't be a Ford in my yard and I'm going to get this in the news and buy a billboard and will leave bad marks on every Ford site I can.

I am in South Africa and bought 2016/2017 Ford Everest Limited and have had endless issues with it. The latest is the sensor on the steering rack failure which Ford now has to replace the whole steering rack for the second time. Once the sensor fails it disables all the driver assist features. I am concerned for my safety and do not know what the future will be with this car. I have done some research and have seen that Ford in the past had similar problems with steering rack failures. Can you help in any way please?

I bought my Ford F150 XLT brand new in 2010 and I have completely loved my truck! It has been great with no problems. So you can imagine how upset I am after only 93,000 miles my motor needs replaced because of how poorly the 4.6 engine was built. I would think the engine would last longer than that but I was wrong. My mechanic said that this has been the major problem with the 4.6 engine in these trucks so I am not sure why it never got recalled. Now I am out a pretty penny to get it fixed since it is my sole vehicle to get my family around in. I am not usually one to complain but this was defiantly an upset after spending $37,000 on the truck to begin with just to replace the engine 7 years later. Now that I will have a motor in it that was built right I should get a longer lifespan out of this truck!
How do I know I can trust these reviews about Ford?
792,868 reviews on ConsumerAffairs are verified.
We require contact information to ensure our reviewers are real.
We use intelligent software that helps us maintain the integrity of reviews.
Our moderators read all reviews to verify quality and helpfulness.
For more information about reviews on ConsumerAffairs.com please visit our FAQ.

I bought the car with 2,000 miles and they said is considered as new. I had the same problem as everyone here. During the past four years, I have taken it to the dealer 4 times for the transmission clutch. The last time they said there was another piece that needed to be replaced, so the transmission does not fail anymore but that piece was not cover by the warranty. I paid about $300. Looks like the warranty will be covered by piece. I don't understand. Right now is the fifth time my car is at the dealer and I hope they don't come with the same story. I hope our President Trump makes Ford Cars Great Again.

I purchased an F150 in Aug 2016, and my bank account was scammed in Feb 2017. In April 2017 Ford sent me a notice of default and right to cure. I discovered that Ford credit had not updated my personal information even though I had the car in service at the Ford dealer and gave my personal information on two separate occasions when I went to get the truck serviced. Ford credit stated they did not have my phone number so just put me on the bad credit list and threatened to repossess the truck even after I had placed $10,675 down to purchase the vehicle.
The dealership was given my new information in February when I needed an oil change, but they did not enter it into their system. This is a reflection of the shoddy, greedy and poor customer service of the Ford Dealer. I will never purchase another shoddy vehicle from Ford again. I have been a loyal customer for over 20+ years and realized that Ford could care less. I will NEVER again purchase a Ford and will discourage anyone else from considering a Ford EVER.

I bought a Fiesta at N1 City Ford in March 2016. I was happy with the vehicle up until December, when the aircon system of my car stopped working. It basically just started blowing off hot air instead of cold. I took it to the Ford in Claremont but was told that I have to come back in Jan 2017 because their workshop had closed of the December break. In Jan 2017 I then took it Ford Tygervalley which was the closest Dealership to where I lived. Basically, they couldn't help me either. They told me that they had to regas the aircon, (which they "did"). Strange how a brand new car less than a year would need this done, but anyway, I took the vehicle, but about a few weeks later, I noticed that the problem, was actually not fixed at all. I then decided to take it to N1 City Ford, since thats where I bought the vehicle.
The first time I was there, they basically told me that there was no problem with the aircon, and this was diagnosed by simply idling the car and then turning the aircon on. I came back to them a few days later and then the car was booked in to be checked. I was told that the aircon controller has to be replaced, which would cost the warranty about R13 000. This was then "DONE, I was given back the vehicle and told that all is sorted. After just a few days, I went back with the same problem. All that was done again on this day was to idle the car and turn the aircon on. I was told it works and made to feel the air coming out which was cold. I told the service consultant that the aircon is cold only when the car is idling and not when it's on the road. I then went back to them AGAIN WITH THE SAME PROBLEM, and this time, I insisted that they take the car for a drive, and feel it for themselves.
It was taken, driven around the block AND FINALLY AFTER MORE THAN 4 MONTHS, they admitted that the aircon does not work. Had to book the car in YET ANOTHER TIME. By this time, the date was 25 April 2017. Until today, the problem is not fixed, and I have a car sitting at the dealership, yet I am paying installments every single month without fail. The service has been anything but great for me. They insist I take the car back, up until the ordered parts are available. I have refused this, simply because the car is not fixed, and this is not what I contracted with Ford for. They don't want give me a car in the interim, AND I AM INCONVENIENCED.
I am extremely disappointed with Ford, and their lack of customer satisfaction. It has been OVER 4 months, and I have had to suffer through the whole of summer, and drive a car with no aircon. I have been more than patient with them, but still the problem is not solved. I don't have a car, yet I am paying for one, and I AM NOT SATISFIED AT ALL.

Car is cheap. I hit a bird. The car was damaged. It is so cheap. Ford and insurance won't do anything. I think the car is defective. It broke the grill and radiator panel. It also dented the bumper. I should have bought a different brand.

I have a 2011 Mercury Milan that has a power steering assist fault and has stopped working. It starting happening in the summer of 2016 and would reset after turning the car off and then back on. It now has a message on the dashboard and says "Power Steering Assist Fault" and "Advance Service Track." I researched and Ford has a recall on the same make, model and year but Ford says that my VIN number is not on the recall even my car is doing the same, exact thing and the power steering has failed. They are trying to charge me the diagnostic fee and refuse to fix my car even though there is a recall on this make, model and year. I need someone's assistance! This is a danger to me and my family while driving. I do not have the funds to fix the vehicle. The part alone is $1,200 plus the labor.
Ford Motor Company should be ashamed of themselves. Many other individuals have gotten in accidents because of this problem. They have totaled their vehicles and gotten hurt. Why can't Ford do the right thing and fix my vehicle? I am using all resources to announce this problem. I am so outraged and disappointed in Ford Motor Company. I am putting it out there to everyone not to ever buy a Ford and how they do not care about the lives and families who own their vehicle, and all of the recalls that they have on many different Ford vehicles. How can you have a recall on a vehicle and say that my VIN is not under the recall when it has the same, exact problem?? It is disgusting that this company can get away with this!!

Bought a brand new 2016 250 Ford Transit 250 van at 12000 miles. Had a howling noise when backing up. Told me my bearings in the rear end were shot. Rebuilt the rear end to no avail. Now at 35000 miles my back brakes are completely wore out. Had big old tires. Tell me it's as if I've been driving with my e brake on. Took it to ford. They cover their ass and tell me its wear and tear and that they're finding out with these vehicles the back brakes are wearing out quick. Oh did I mention my front brakes are like brand new. Bottom line this vehicle is a PIECE OF **.

I bought 2013 Vista car in Oct. 2015. 25,000 miles, it lasted 1 yr. One yr. later 10-20-2016 took Manteca Ford service, told me it needs a clutch. No car 6 days. Oct. 20 back in shop, Dec. 20, back in shop. March 16, back in shop. March 20 back in shop, they said throttle $100.00. March 22 back in the shop. March 28 back in the shop. Picked car up March 31 2017, told me needed a new battery. Didn't want them to put battery. This is the same problem, I had in Oct., Dec., March. Engine light came on while driving. Vehicle began making a thrashing type noise and losing speed. I had to drive home with my emergency lights on. Real slow. I will never buy a Ford car again. Service dept. don't know what they're doing. Car was towed 2 times.

Bought a new 2014 Ford Focus Titanium off the lot and within about 4 or 5 days my engine was already starting to shutter. I brought it back and they said that's just the way it is. I believed them sadly. Overtime it got a lot more aggressive, and finally they decided to look at my engine with only 20,000 miles. I had a recall and a few other things plus them looking at my transmission so they said they need to keep it a few days, and refused to give me a loaner car, or a rental.
They did not call me, so I decided to call and I could not get a hold of the service adviser for the life of me. I even asked for the service manager and left several voicemails and he hasn't called me back to this day. Finally called corporate and they got a hold of the service adviser the next day. I had multiple things wrong, included a new clutch, bearings, transmission fluid, a part for my transmission (they weren't very specific). Worst part is a check engine light never went on. He then said the parts will come in on Friday, so my car won't be ready until the following Tuesday, and yes... they still didn't want to give me a rental or a loaner. Well here comes Tuesday, and my car still isn't ready. This is about 13 days they have had my car. It is ridiculous, Ford will never own up to the problems people are having with their cars.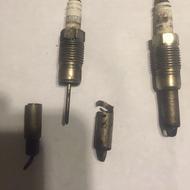 For the past few months I have had my 2006 Ford F-150 with the 5.4 Triton V8 3 valve in and out of the shop trying to rectify a rough engine idle when stopping. First I was told that it had to do with a clogged fuel filter which was changed at a charge of $214.00 but I still had the same problem. Next, I was told that the air filter intake hose was clogged with leaves which was another charge of $180.00. Well, the rough idle persisted. So, at 88,000 miles I decided to let my mechanic do a tuneup which I was told would be around $450 that's if he didn't break any spark plugs.
Well, day one I get a call and 3 spark plugs had broken off in the head. The next day I get a call and my mechanic was able to remove 2 of the broken off pieces but he couldn't get the third out. Day three I get a call and my mechanic explains to me that he tried to drill out the center of the stem and thread it so he could try and back it out. He got it to turn 4 times before it completely shredded and the piece fell into the #8 cylinder. So, he had to take off the head to get into the #8 cylinder to clean and remove all debris which he told me usually takes 21 hours.
So, a week later I get a call from my mechanic to tell me that my truck is finally ready. Yep, it was ready all right at a cost of $3900... quite a shock considering this all started out at around $450. Of course, I was pretty mad and my mechanic did take $600 off of the bill. But, he has lost my business and the Better Business Bureau will get a complaint on behalf of this fiasco. Ford has known about this problem for quite awhile now and from what I have learned may have rectified the problem by replacing the spark plugs of later models with a one piece plug instead of a 2 piece plug that when affected by carbon build up seizes in the cylinder.
Now, Ford states that the 5.4 Triton shouldn't have to have a tuneup until 100G miles. Yah, right!!! This is the second Ford product I have owned that has taken a good bit of my hard earned money. First was a failed transmission on a Mercury Villager that had only 62G on it. That fiasco cost me $2800. Now this total Charley Fox!!! Ford you have lost my business and will never get another dime out of me and yes I will be telling all of my friends to stay clear of Ford products.
I currently own 2 Toyota vehicles. One a 2006 Toyota Camry that has 120G miles on it and the only thing I have done to that car in 5 years is replace tires and regular oil changes. The second is a 1989 Toyota extended cab 4x4 pickup truck that has 178G on it and I have had to replace the starter, the radiator, the power steering pump and the alternator, which I repaired all on my own at a minimal cost. The engine is still as strong as it was when I bought the truck in 1990. Now, if that doesn't speak quality and reliability then I'm speechless. Guess who will be selling their F-150 and buying a Toyota Tundra. Ford get your act together!!! We are done!!

Despite everybody telling me not to buy a Ford, the 2016 Ford Explorer Sport fit my family's needs and we like the looks and performance of the vehicle so I bought one for my wife. On the way home from a day out celebrating Mother's Day with my family, the transmission went out on the freeway and we barely made it home. With only 4,000 miles on the vehicle, the transmission had to be replaced. In addition, the vehicle made a loud squeaking noise from the fans when you turn the car off, and the leather on the drivers seat is already starting to deform. The dealer fixed the transmission, but said there was nothing they could do about the seats or the fan squeak. They stated this was "normal." I have owned a lot of cars in my life, and in no way is this normal.
I then took the Explorer in for a routine oil change service, and the vehicle only had 5/32 left of tread on the tires. This seemed like very excessive wear for a brand new vehicle. A month or so later I took the vehicle back in to the dealer to have the tires looked at and they were down to 4/32. The dealer said that it was up to the tire manufacturer, and Hankook was only willing to prorate 25%. There is no way I should have to replace tires on a vehicle that is 1 year old with only 12K miles on it. Come to find out, Ford's New Vehicle Warranty is also supposed to warranty the tires and should cover 60% of the cost. I called Ford Customer Relations and what a disaster they are. I went back and forth for with them for a month. They never called me back as they promised, and some of the reps were extremely rude.
I finally get a supervisor who says that he worked it out with the dealership and that I will only need to pay $407.57 for new tires, and that Ford will take care of the rest. Not quite 60% but at this point, I just want to be done with this. I call the dealer and talk to the person I was told to ask for, and they know nothing about this. I have always tried to stay loyal to the domestic automakers, but I can see why people don't buy American cars. I understand stuff can happen to anything vehicle, but the service Ford has provided has been terrible. If they were great in handling these issues, I would be happy that at least the service was good and that they were taking care of their customer and standing behind their product. Clearly that is not the case and the stereotype about Ford poor quality and service is unfortunately true.

They added over 5,000 of optional fees onto my contract, changed the term on me, and lied about my apr saying it was 8 percent higher then it actually was to hide all these fees. The car rolls backwards, shakes, doesn't want to accelerate and more. Ford won't stand behind the customers because all they are focused on is capital. Eventually ford will end themselves with poor quality vehicles and exceptionally terrible service. Never in my life would I have thought a company would be capable of both. Get it together please. They will only let me get half my money back for a warranty I didn't ask for... This is a common thing for ford... I have over 15 people who I contacted that have had this exact incident happen to them.

I bought a new 2016 Ford Edge in April 2016. Something that should have been an exciting and happy experience has turned into nothing more than a nightmare. The very first day I got the car home, I was moving my stuff into the back and heard a popping noise. Upon further inspection I noticed that the back hatch wasn't properly aligned. I took the car back to AutoNation Ford (Mileage <100) the very next day only to be told that they could not provide me with a vehicle while they worked on this issue. I should have cancelled my contract with them that day! Instead, I have someone pick me up and leave my car with them for the day. When I went to pick up the vehicle they told me that they adjusted it and the popping stopped but it would NEVER be perfect. I was told that they would email me my paperwork, with this being the first occurrence I didn't think much of it.
In June, I emailed Ford Corporate office and begun dealing with them. They were able to get me a car and this time I took it to Hardy Family Ford (Mileage 5416). They attempted to adjust the gate again. Still not fixed. This time I noticed that the washer fluid isn't working. They talked about taking the hatch off and forcing it to line up properly but I felt uncomfortable with that as I didn't want the back to leak after being told it would NEVER be perfect. So I let that, gave up on the idea of having it fixed. FF one month to July and my check engine light comes on. Concerned I pull into an AutoZone and have them read the code. It comes back bad O2 Sensor. I take it back to Hardy Family Ford (Mileage 6450) and they replace the O2 sensor. When I picked the car up, I explained to the service advisor that I was very disappointed in the vehicle and how many little things were wrong with the car I have noticed in the little time of owning it.
His response to me was that it wasn't a Mercedes Benz. I was just shocked that he would make a comment like that considering it cost as much as some Mercedes Benz. In August I'm driving down the road and my car just shuts down on me. Luckily I was able to coast into a turn lane and get someone to meet me. After waiting on my ride I tried the car again, it started up and they followed me home. I took it back to Hardy Family Ford (Mileage 8495) and they had to replace the electronic throttle body. FF to December and I notice it was leaking some fluid in my garage. Back to Hardy Family Ford (Mileage 17755) they had to replace a line that had a pinpoint leak. FF to February and the check engine light comes back on. I take it to AutoZone and run the codes. O2 Sensor again, I take it to AutoNation Ford (Mileage 20451) this time as Hardy isn't open on Saturdays.
They keep my car for a week, and then call to tell me that the service adviser I was dealing with is no longer with them and they were trying to close up his service calls. (So I was forgotten.) They ordered the part and called me two days later. I go to pick up the car and I'm told that the person who inputs the invoices has been out, they will email me the invoice. I insisted on having my paperwork that day only to get an attitude and a comment that the diagnostic codes will be wrong. I get into my car and notice that they have put over 100 miles on my car test driving it.
They replaced the whole catalytic converter system. At this point, I'm very concerned with the reliability of this vehicle. I'm not sure if it qualifies for a lemon but I know I'm getting to the end of my grace period if it does. I do like my vehicle or I wouldn't have bought it. I unfortunately do not trust any of the Ford advisers. They are always being very shady when it comes to service and paperwork, and I fear that once my warranty is up this will be costly. I have all the service records described except the very first one where I learned to get my paperwork before I leave.

I purchased a 2011 Ford Edge Certified pre-owned with 26000 miles. This vehicle has been in for major repairs within the last two years. Vehicle has AWD. The power transfer unit failed at approximately 60000 miles. The backup camera does not work at all. Just a blank black screen. Several valves went bad. The car was at a Ford dealer for 12 days. The backup camera no longer works. It's just a black screen. The only thing to be done with is replace it at the tune of $866.00. I did not have the camera replaced due to the substantial cost. The latest problem is the catalytic converters. They went bad at 75000 miles. The service engine soon comes on and flashes and then goes off. Called dealer and took it in. This was in January 2017.
I was told both catalytic converters have to be replaced. The dealership told me they would have both converters by mid-February 2017. I called them at the end of the February and now they do not know when they will be getting the catalytic converters in. Really??? Note that I am still driving the vehicle and have not been offered a rental car as of yet. I was told not to take the vehicle on long trips because of the converters being bad. How long am I going to have to wait to have this fixed??? This will be the last thing that gets fixed on this car because if one more thing happens to it I will be getting rid of it. I am very disappointed in Ford and I have had several. Time to look at the foreign SUVs.

This is just a forewarning. Do not buy from Ford. They will sell you a bad car with a bad transmission. They will refuse the right to use your warranty that you paid for to fix it and then it will take you a week to get a hold of the customer service regional manager whom will respond back by email. Not even call you to tell you that they will not do anything to help resolve your issue! They don't care!!! They already got your money!!!

I own a 2011 Ford Edge with 60K miles. The entire SYNC system crashed, which has been an issue for FORD and this feature since they issued an extended warranty but not a recall. So therefore, since my warranty is outside about 2 months, I'm stuck with a repair bill of over $1000 to which FORD will not even try to offset AT ALL. Totally unacceptable on a vehicle with such low mileage! Never had such an issue with TOYOTA. Should've stuck with them! FORD wants consumers to purchase their products yet they won't even back them! It's a shame. They've lost this customer for life. NEVER AGAIN.

Bought a brand new 2016 Fusion. After 11,500k squeaking/creaking in front end. Took it to dealer, lubed and told me it's fine. Half an hour later I'm driving and hear horrible metal grinding sound. Took it back in gave me a loaner for couple of days, returned car to me. Now 10 days later squeaking/creaking is back! Called dealer said to bring it in again. This should not be occurring 10 days later! Feeling very ripped off.

I recently noticed that there was an area on my hood that was starting to rust. There was pitting starting on the hood. This morning I took the vehicle(2012 Ford Expedition) to a local Ford dealer. The body shop manager indicated that he would likely remove the hood and strip the paint. He stated that the hood is aluminum. He said that it would not be covered by warranty. I then contacted Ford Customer Care. I explained the problem and was told that it was not covered by warranty. When I asked about the Corrosion Warranty she replied that the corrosion must be all the way through. The only thing Ford offered was $300.00. The body shop said it would cost $900.00. I am thoroughly disgusted with Ford. It is the last Ford product that I will ever own. To make matters worse I read online that Ford has been experiencing similar problems with other aluminum hoods on other models.

On 02/08/2019 I simply rolled up my drivers side window, there was a loud pop and the window shattered into a million pieces. There was no apparent reason for this. No bumps or pot holes were driven over in the six miles I had traveled. It wasn't cold, was not running the AC, I had not touched the window in any way. Just simply rolled the window up. Oh, I should mention these are not electric windows, these are hand crank windows. I called my dealer Bill Currie Ford of Tampa, FL. I spoke with service department. They told me to bring it into the body shop and ask for Joe. I did what they told me. Spoke with Joe for less than 2 mins. Explained what has happened, showed him a picture that I had taken. We went back inside, Joe disappeared.
After a few mins. James ** handed me an estimate for the repair of the window at the cost of $369.29. I asked about warranty because it just shattered for no apparent reason to this he gave me no response. I explained I could not afford the cost. He said "I can maybe take off $50.00." I thanked him and departed. I then called Ford Customer Care, spoke with April whom was very helpful. Gave me a case number and told me to wait a few hours and call the service manager.
I did what I was instructed to do. I called Bill Currie Ford and asked to speak to the service manager, of course on got voice mail. I left a message with my case number and contact info. I called the next day, again getting only voice mail, again left the info. The service manager Mark has yet to respond to my calls. So now I have a car that cannot be secured. I am on the road all day and I am forced to park my car with the window wide open just asking for someone to take advantage of it.

I leased a 2017 Fusion Energi in late December. About three weeks ago, I found the battery completely dead. After jumping the vehicle, I took it to the dealership (521 miles on the vehicle). After numerous discussions with the dealership, as well as Ford Customer support, I have been told that the part is back ordered with no delivery date identified. In the meantime, I have to continue making the payments, etc. while I wait for a resolution. Ford has offered no options related to this situation other than to wait for the part which, as I state, has no delivery date associated with it. The customer service follow-through post purchase is nothing short of terrible. If you are considering purchasing a Ford product, I encourage you to reconsider. I know this is the last Ford product I will ever purchase.

I have a 2008 Ford Edge and have encountered the recording heating core failure problem. Ford has dealt with this issue with many customers but refuses to conduct a recall due to COST. I tried taking it for repair to Levittown Ford and Hempstead Ford with no luck. Shameful to not back their products.

Back in 2005 I purchased a brand new 2005 Ford Freestar, it had a faulty torque converter, and was replaced in 2013. Now then 1 year later I had the same problem (torque converter). I just got off the phone with a tech. at the Ford dealer and told him what happened... he said it's not covered "a recall is a 1 time fix", so even though they replaced my torque converter with another faulty 1 it's not their problem... I don't think that's fair, but then again what do I know, I'm just a consumer... What can a person do???

We have taken our 2008 Ford Edge into the dealer five times for this same issue over the course of five years. We had the extended warranty but that has run out and the fix is now $1600.00. It seems Ford had put faulty heater cores in the car and the solder inside the heater core is flaking off and plugging it up. Every time we returned the car to the dealer they flushed the system out and put a special coolant in that you cannot even buy in your local auto parts store. If you Google this issue with this vehicle there are hundreds of websites talking of this problem.
If Ford knew the issue was the heater core why would they not issue a recall for replacing them and not just flushing them? COST. Why should their customers be forced to foot the bill for their error? After bringing in a vehicle for the same problem five times you would think that would constitute replacing the heater core? If Ford was in fact about customer satisfaction like they claim. I guarantee this will be my last Ford product and I will sway family and friends from buying their products.

I have a 2012 Ford F350 with 59,300 miles on it. The first transmission service is due at 60,000 miles so I took it to Spradley Barr Ford in Colorado. They advised me that all I needed to do was flush the system and NOT drop the pan to change the filter, that is not needed until the next service at 120,000 miles according to them. I said I wanted the filter changed for an additional $ 120.00 or so. Good thing I did because they found a bunch of metal in the pan. They are covering it under warranty, however they have had my WORK truck for TWO MONTHS and four days now due to a back ordered part. They have told me THREE times that it will be in soon, what a bunch of crap. Ford has rebuilt transmissions in crates available but they just said "Too bad. So sad for you." You can wait. Ford is useless and has no customer service in mind.
Previously I had a 2002 Ford F350 diesel for fourteen years (2002-2016), I guess Ford loyalty is in the trash. The dealer even said Ford is not supporting the dealerships, WOW what a statement. If I EVER get my truck back it will be sold ASAP and off to Chevy I go. Furthermore I called their customer service line (a misnomer at best) and what does Ford do? They send you a questionnaire that asks if the call taker was polite, helpful etc... Nothing about what is going on, nor did I receive a call or Email about it - poof it's just gone. Ford has lost all concept of customer service. Good riddance Ford.

My husband & I were Ford truck "believers" for many years until 2016! From our past experience, we expected our 2008 F450 diesel (with the 6.4L engine), would take us into retirement and beyond until the engine blew up this year, with just over 100,000 miles! $18455.66 later, and a lousy 2 year warranty on the new (same, defective engine), we found out that this engine is "expected" to fail around 100,000 miles making it the worst engine in the Ford truck line. (Our 1999 F350 is still on the road at 250,000+ miles!)
I tried to contact Ford's Customer Service (which is really their Customer Dis-service as the one answering the phone only has a first name and no boss to appeal to). My expectation was to get a reasonable 10 year / 100,000 mile warranty on the new engine instead of a crappy 2 year warranty (which is equivalent to a 30,000 mile warranty). The mechanics told us they could bulletproof the replacement engine, after the 2 year warranty expired, for about $8000! My question is, why isn't the replacement engine "bulletproofed" already? What was once a great company with integrity has been replaced by fraud and failure. I am embarrassed to be driving a Ford after my humble retirement account has been robbed of $20,000.

Called Roadside Assistance on Christmas Day due to a flat (which of course is a big problem since you no longer have a spare and the inflation kit is worthless if you have any sidewall damage). Here is what transpired. I called and they confirmed a tow in about an hour. After an hour they called back to inform me that they cannot tow me to a dealership that is closed. On December 25th there are no dealerships open in the country!!! I asked if they could tow me home as courtesy especially since it was Christmas Day. They said, "No it is out of policy." FYI the Owner's Manual states that roadside assistance is available 24/7. PERIOD! No other rules or exceptions.
Bottom line they towed me 3 1/2 hours later to a tow lot in literally the worst part of the city from where I had to make home. Forget the fact that I spent 4 hours of Christmas stranded because of Ford's unstated policies, missed most of Christmas with my family and my newborn first grandchild. All Ford showed is that their custom care is a fiction (and possibly a violation of several consumer laws as they do not disclose this to their consumers). Bottom line if you need roadside assistance good luck if you need a tow outside of Dealer Hours. They simply don't care about their customers.

ConsumerAffairs Research Team
The ConsumerAffairs Research Team believes everyone deserves to make smart decisions. We aim to provide readers with the most up-to-date information available about today's consumer products and services.
One of the most well-known automobile companies in the world, the Ford Motor Company is a multinational automaker headquartered in Dearborn, Michigan. With a history stretching back to the beginning of the automobile industry, Ford first began manufacturing vehicles in 1903. Now, Ford builds many different types of cars, trucks, vans and more. Ford also sells service truck chassis and offers uplift service for trucks as well.
F-series chassis: Ford's F-series of service truck chassis are the F-350, F-450 and the F-550. Each of these chassis is capable of being fit for service trucks and each is available in regular and supercab models. You can make sure you find an F-series model to fit your needs by looking at the specs of each online and selecting your own configuration.
Super Duty trucks: Ford's Super Duty trucks are the toughest cabs and chassis the company has ever built. Super Duty trucks are made of high-strength aluminum alloy and come with strong frames and axles. They are ideal for use in rugged conditions in industries like construction, forestry and mining.
E-series chassis: Ford's E-series cutaway chassis are ideal for service van upfits. Their basic design is built for heavy-duty towing and cargo hauling. You can use Ford's online selection tool to find the right chassis to fit your needs.
Commercial Vehicle Centers: Ford's Commercial Vehicle Centers are specialty dealers uniquely qualified to meet commercial needs. If you're looking for an upfit body for your chassis, the Commercial Vehicle Center can provide you with valuable information about viable upfit options.
Upfit incentives: If you already have a truck that you want to use as a service truck, Ford offers upfit incentives for your chassis. Ford may provide cash assistance for upfitting your truck or van to a service vehicle. These incentives are subject to availability and may change, so contact your nearest Commercial Vehicle Center or check online to see current incentives.
Best for service truck fleets, people who need an upfit service and any other basic service truck needs.
Compare Service Trucks and Truck Cranes
Ford Cars and Trucks Company Profile
Company Name:

Ford

Website:

http://www.ford.com/