Consumer Complaints and Reviews

I bought a brand new Kia Soul. I was driving on the turnpike when I hear a noise coming from the right front of the car. I thought the right braked locked up but did not feel it driving. Turns out the inside part of the wheel well came loose and with the wind touched the front right tire causing the noise and bending it where it could not be bent back. I made an appointment to take the car into Rick Case Kia service. They asked me to later come into the shop area my car was up on a lift. They accused me of hitting something to cause this to happen. I said I have 1000 miles on the car. I am the only driver. I did not hit anything. Other than the scratch make of the tire on the part that bent back there is no evidence no sign of anything hitting the area.
I stated that it's been raining a lot and I have as everyone else driven at highway speeds through standing water. I think maybe the force of the water may have loosened the clamps causing this. They still claim I hit something so as to not cover it. I called Kia Customer Service and it's been a few days with no callback. I opened a case. If they do not cover this I no longer want the car. I have been reading all these accounts of horrible customer service. I purchased extra coverage where even oil changes are paid for.
This accusation does not sit well with me. If this is how it is with Kia I wish I had known previously they have a maybe fake award for the past two years with a major company. Don't know if it's legitimate now. If it's not covered I do not want to drive my car. Only had it over 30 days. Hope anyone looking to buy a Kia don't. Rick Case doubles the factory warranty from 10 years to 20 but then they blame the customer for the claim to disqualify the claim. Very underhanded and wrong. I fell for their tv commercials.

I had a 2009 Kia Rio. The engine blew in 3 years. Let's start at the beginning. Air conditioner went out and blew smoke instead. Back break disks lost a pin (explained no way anyone but a mechanic could do it.) Without it could have locked which could have killed me on freeway. Had an oil change at Kia and they never put the air filter back in. I drove over 32 hrs without it.
Now the worst!! Engine!! Car broke down. Had it towed to Kia. They told me I needed a new engine. It was going to cost me 4,000. It wasn't even close to what it was worth. I called around and finally found a place that had a used one. That had the same miles etc. Only 2,000. I had them install it. Then I had a light bulb. It was still under warranty. Wtf why didn't the dealership tell me that?? So I made them tow it back to their dealership, give me a rental and fix it. Well that was not even close to the end! They took over 2 months to even fix it. Over 1 month to pay me back. Last of it the car still had major issues!! I went to drive it and the odometer wouldn't work, pretty much it was trash! I went to turn it in as a trade and they pretty much made me pay them to take it! I will NEVER NEVER GO TO KIA AGAIN!!! Neither will anyone in my family!!!

We experienced our 2nd flat tire, seemingly on the same tire, but not sure. When we took the car in, with this flat tire, we were told they were unable to patch and patch and a new tire would be needed. Trouble is, all four tires were new and we had never changed any. The only tire ever attended to prior, was another flat tire we were told was also not repairable. So with 4 new tires, how could we have a patch? Apparently we were not sold a new tire the last time, and instead, replaced by a patched tire. Now they say they don't remember so it is our word against theirs. We are not happy about this.

I leased a brand new Kia Sportage 2017 in September of 2016 from a Kia dealership where I live. At first I was thrilled to have a brand new car and loved everything about it. Had my first issue back in September right after I got it. Took it in for service about 2 weeks after for an alignment because my car steering was pulling to the left. They told me there was damage under the car where it looks like I wrecked. I know for a fact I did not wreck or hit anything to need an alignment. I know that I purchased it like that. I was just too naive at the time to think anything was wrong with it so I paid the 100 bucks for the alignment and that was that.
June of this year 2017 I noticed some changes in the way my car was driving. When I would go to accelerate to any speed it seemed my car wasn't shifting properly. It was making a very loud noise when trying to shift and my rpms would just bounce around back and forth not making it into the right gears. Getting ready to take it on vacation for the first time I took it into my dealership, explained to them the noise it was making and what I felt while driving. I left it to them to fix it. They called me maybe an hour after I dropped it off and told me it was fine and I could pick it back up.
Next day I go down there, take my car off the lot and immediately can tell it was doing the same thing I brought it in for so I called and asked them what they had done. One service tech told me it was test driven and they heard nothing wrong. The other service tech told me it wasn't test driven and all they did was run a few diagnostic tests and it all checked out. I told the technician I wanted him to hear what I was talking about so I had driven it while he sat passenger to show him what I was experiencing while driving and he told me that the loud noise was just my car "breaking in" and because it was only a 4 cylinder that's what it sounds like.
Meanwhile my car had only about 5000 miles on it at this point and I know plenty of other people with 4 cylinder vehicles that don't make the same noise my car was making but I said fine. You know he assured me it was fine and that was that. I took it on vacation (a 6-hour trip from Pittsburgh to New Jersey). The whole way up my car made the ridiculously loud noise. I directed my husband who was driving to just be careful. On the way back from vacation it did the same. Was just loud and jumping gears and struggling to get to highway speeds. 3 hours into the trip back we break down, car engine is smoking, car overheats, car loses power. Luckily we made it to the side of the road.
So this is the first time this has ever happened to me so I use my UVO system that Kia wants to claim is so efficient. Talk to the first representative. They let me know that my tow will be covered to the closest Kia dealership and they dispatched them and they will be arriving within 78 minutes. So we wait... about an hour goes by and I receive a call from the tow company Kia linked me with and he tells me that he can't find us. So let me see. My car has GPS. Kia gave them my location. I told them what road I'm on, what road I'm looking at, what mile marker I'm sitting at and I even texted the man and dropped him my location from my iPhone. He tells me he needs to wait and hear from his boss to find out what to do. So I call roadside assistance again and they tell me it's gonna be another 78 minutes and they contacted another tow for me. So at this point I have to wait over 2 hours for a tow.
I then receive a call from the other tow company coming for me and they ask how many passengers I have because they can't take more than 1 person. I am traveling with my 5 year old and my husband so what did they expect me to do. Leave them on the side of the turnpike while I wait? I mean what kind of emergency assistance is this??? We are now waiting in the heat in an unsafe spot for over two hours and you're telling me now that you don't take passengers? So I call back AGAIN to my uvo roadside assistance, talk to another person and they apologize and tell me now I'm in danger, me and my family so they are going to now dispatch the authorities to come get us which I ask how much is that going to cost me and they claim nothing. Well after being on the side of the road for 3 hours a tow finally comes and picks us up which I paid 120 dollars out of pocket for since they were called by police.
We get towed to Harrisburg Kia dealership, have to then call an Uber to get to the airport to rent a car and get home from there. Cost me over 300 dollars to get myself and my family home. This all happened on a Saturday when the dealership would be closed until Monday. I called Kia roadside assistance and filed a complaint for having to wait so long to get a tow. I also had to get in contact with Kia customer affairs to get my money reimbursed due to their trip interruption policy and now have a case manager for that. I called Harrisburg Kia and come to find my car needed a new starter and my whole engine blew. A brand new car with 6000 miles on it that I lease. Now I am out of a car for at least two weeks they say and I have been getting the run around from every Kia customer assistance representative I talk to.
Both dealerships have yet to do ANYTHING for me as in it's been a week and I haven't even gotten a rental car yet so I'm missing work. I haven't been compensated for my time lost, money or anything and NOBODY can tell me how or why this happened to my car. Can't get a call back from my case manager or the sales manager at turner Kia Harrisburg. This is by far the worst customer service I have ever been dealt not to mention the time and stress I have dealt with in the past week and the money I have lost since I have no vehicle to get to work.
If anybody has any advice please contact me. I have called Attorney General's Office, Lemon Law, both Kia dealerships I'm dealing with, roadside assistance, and Consumer Affairs. No issues resolved as of now besides a new engine they supposedly ordered is covered under my warranty. I want out of this contract with Kia. I don't feel safe in the vehicle they sold me. I don't want to make my 325 dollar car payment for this month considering I won't have a vehicle probably all month.

I was given a gas consumption card for $400.00. When I went to go use the car I was told that the card had expired, so I went to the KIA dealership on Van Kirk in Brampton, ON, and explained the situation to him so he called head office and left a message for a manager there and got no response from him. I've been a customer of KIA with multiple cars for 22 years. I feel unappreciated and shocked at the customer service of KIA. It's been about 3 weeks now and no one has even called me back yet.
How do I know I can trust these reviews about Kia?
855,731 reviews on ConsumerAffairs are verified.
We require contact information to ensure our reviewers are real.
We use intelligent software that helps us maintain the integrity of reviews.
Our moderators read all reviews to verify quality and helpfulness.
For more information about reviews on ConsumerAffairs.com please visit our FAQ.

I took my 2015 Kia Rio into the dealership to have an electrical issue with my front passenger turn signal taken care of and was told that because the headlight assembly was cracked from the INSIDE, it was not covered under warranty. Now, I don't trust these weasels one iota, so I went in and look at this purported damage myself. What I found was a small crack in the plastic INSIDE of a capped off port, alongside a missing turn signal electrical contact.
They claim that this "damage" indicates user fault and isn't covered under warranty. They further explained that because the car has damage on the front bumper (which is actually a minuscule scratch on the right wheel well that doesn't even reach the headlight) this indicates that impact damage was the probable cause. Now tell me, even if I somehow managed to hit something and miraculously avoid any damage to my front bumper or headlight or grill or anything else in the vicinity of the headlight assembly save for the aforementioned tiny scratch, how in the hell would I then have impacted hard enough to crack a tiny piece of plastic nestled deep inside of an assembly?
No, the more logical conclusion is that this is a cheap piece of ** part on a cheap piece of ** car that this cheap piece of ** company will do anything to avoid having to own up to and pay for. I'd recommend coughing up for a more quality vehicle from a more reputable and consumer friendly automaker. As it has become clear to me, KIA is neither of those things.

I own a 2012 Kia Sportage. Engine seized one morning on a busy highway on the way to drop off kids ages 3 and 4 to preschool. Had car initially towed to a mechanic that said that there were metal shavings in the engine and that it would need to be replaced. Since I paid for the extended warranty, I had the car towed to Kia's service center. I couldn't show proof of regular oil changes, so they said they couldn't honor the warranty which cost 3k extra at time of purchase.
Fast forward several months, we hear that Kia is recalling our model/year, so we wait patiently expecting a recall notice in mail. Didn't receive any so I call Kia about it. They tell me that the recall was only for a GDI engine and not the DOHC engine that our car has. Same exact problem that everyone else is having with the worn connecting rod bearing but they claim that my model was made at a different manufacturing plant. Then why am I experiencing the same problem? All this BS is making me sick. I'll never buy a Kia again and will tell everyone I know the terrible experience we've had.

My Kia Optima 2012 just caught on fire! About a year ago, I received a letter from KIA that these cars might have issues with their engines. It was paid in full and under warranty. The engine caught on fire while running! I contacted KIA main office and the manager told me that warranty and insurance is the same thing and to deal with my insurance company! KIA did not offer anything for this accident but apology! Why do they even offer a warranty since they don't care about problems like these? Please be safe and stay away from KIA!

Bought a used 2013 Kia Optima Hybrid Ex in July of 2016. In June of 2017 my engine died 80,000+ mile on it while driving on the 10 freeway. Brought to Kia dealership and was told I needed a new engine. Been told not covered because of lack of maintenance because they found sludge in the engine. This is the same excuse I have read over and over that Kia is using for its customers so that they don't have to pay to repair something that they know has been going on for a long time. I am on SSI and don't have any expendable income to be paying for a new engine. Whether I am the 2nd owner or not, I believe Kia should stand behind their "fantastic warranty" claims.
I bought this car after saving and saving my money and put $5000 down to get it. I am in no way prepared to pay to have a new engine installed less than a year later. Kia has offered to pay for the parts if I pay for the labor. They have let me know that this is a generous offer and I should be grateful that they are making any offer at all. My feeling is that if they were truly reputable they would own up to the issues they are having and make good on their mistake. 1st, 2nd or 3rd owner, it doesn't matter and using the scapegoat response of "lack of maintenance" because of sludge in the engine due to their metal shavings is ridiculous. I will make sure to tell my family, friends and anyone else what kind of product they produce and how they deal with issues that are their fault. Meanwhile, I have gone over a month without a vehicle and see no choice but to pay for the labor but I am going to continue to pursue this with Kia corporate.

Our 2013 Kia Sorento w/ 46,963 miles had engine failure at 55 mph. Towed to a local mechanic who diagnosed oil pump failure. Had it towed to Austin dealership and researched Kia problems and discovered that Kia began a recall on 06/22/2017 on the Theta II GDI engine due to manufacturing errors that left metal shavings which occurred at the Montgomery, AL plant for MY 2012-2014 Kia Sorentos. Kia service manager in Austin says "ours is not part of the recall because ours has the Theta II MPI engine." Said "we could drop the oil pan to look for shavings ($195) and main & rod bearings to look for damage ($400) but we still wouldn't be eligible for repairs." $6800 to replace w/ another Kia engine? I think not. NHTSA has an open investigation on the "scope and timeliness" of the SC147 recall. There are also many complaints listed for engine failures.

I bought a 2011 Kia Optima. Loved my car. One day motor locked up. I took to a dealership because I had the recall letter on the motor. As I was dealing with Kia the dealership had car towed. I never received a letter and when I called to check on the car they told me it was towed but don't remember who towed the car. When I finally found my car it had done gained storage of 10,000.00. Are you ** serious? Now I am out a vehicle. Kia sucks and I swear I will never deal with them again and will talk anyone out of buying a vehicle from them.

I am a dissatisfied owner of a 2014 Kia Soul. July 4, 2015 I purchased a used 2014 Kia Soul with 4200 miles on it. June 2017 the engine blew up with 62261 miles on it. At this time I found out that there is NOT a 100000-mile powertrain warranty because I am the second owner. They don't tell you that when you buy it. I contacted Kia warranty service to submit my claim. Long story short, Kia not covering engine replacement because it is out of second owner power train warranty. I Had to pay to install a new long block engine into the Soul at the Kia dealership. $4322.00 for the engine and installation. Kia could not tell me what the mileage was when the Soul went into Service but only the date. According to Kia warranty, the second owner is 5 year 60,000 mile warranty from day and current mileage. So if my Soul had 2262 miles on it when it went into service, then my warranty would be to 62262 miles.
Kia did not want to even talk about this. Just basically said, "Sorry for your bad luck." Next I was told to file an complaint and I will be doing just that. It was determined at the dealership the failure was due to a blown head gasket which in turn allowed engine coolant to get into the #2 cylinder which caused the engine to lock up. Also the engine was free of any oil sludge and nothing was found to be neglected as far as maintenance. An engine head gasket should not blow on a well-maintained engine. Funny thing at the dealership when my engine arrived from their distribution center, I was told I was 4th in line to have an engine installed. Gee. Sounds like Kia has an engine failure problem. Guess they are not paying for anyone's repairs!!!
Poor customer satisfaction. Oh and Scott who I spoke with from Kia about the warranty, if you read this, this is not the way life is, consumers should not have to worry about their engine failing and be without a ride to work for 6 weeks and have to deal with arrogant warranty customer service person. My son has a Nissan with 145000 miles and it has only been to dealership for regular scheduled maintenance. Guess I will need to trade this Kia on a Nissan.

I am the owner of a 2011 KIA Optima. First I would like to say that up until now I have LOVED my Optima. I have bragged about this car to anyone who would listen, as it had exceeded all my expectations. I had planned to soon buy another KIA, up until now!!! At approximately 97,000 miles, as I was driving, just a few blocks from home, the oil light on my Optima began to flicker. As soon as I pulled in my drive, I went in and told my husband about it. He checked the oil and to our surprise, the oil wasn't even registering on the dip stick. He checked it 3 times just to be sure that this was the case. This was a total shock because the car had no signs of leakage and my husband does all of the oil changes so we knew that it had the required amount of oil in the engine when it was last changed. With the help of Google, we discovered that this is a common issue that appears usually just before engine failure due to a manufacturing defect.
I found documentation on the NHTSA website about a recall that would soon be issued for the said defect. The following week I took my car to the dealer for a separate recall. While there, I communicated the issue with my car burning oil and asked about the recall that had yet to be formally issued for the engine. The dealership was, at that time, unaware that this recall was coming. The dealership told me to bring it back after I receive the engine recall notice. When I received the notice, I did what the dealership directed me to do, I took it back in. The dealership tested my engine for the knocking sound, my car passed however because my car was burning so much oil (a quart per 1000 miles) the dealership told me to drive it and bring it back in 1000 miles and they would check to see how much oil it had burned and then they would go from there. At 900 miles, I checked and the oil was already at the L on the dip stick.
I called the dealership and they said to bring it in. After checking it, the dealership confirmed that the car was indeed burning oil and they had opened a tech line case on it. They put more oil in the car and said they would be in touch as soon as they had word from corporate on what the next steps would be.
A few days later I received a call from the dealership, they wanted to look at a few other things and needed me to bring my car back in. I dropped my car off with them yesterday. This morning I received a call from the dealership saying that corporate wants the dealership to investigate deeper into the engine however corporate will not pay for the work to investigate deeper. The work is $100/hour and they do not know how many hours it will take to find what they are looking for.
If I pay for the investigation hours and they deem that the engine is defective, they will reimburse me but if they do not find what they deem to be a manufacturing defect then I will be right back at square one and will also owe a repair bill. I do not understand the logic of KIA at this point. I am a consumer complaints manager for a very large corporation. I have extensive training and years of experience on how to handle consumer complaints. I thoroughly understand the importance of keeping the customer happy. A happy customer is a repeat customer and at the end of the day that is what keeps companies in business. Asking a customer to pay for a consumer complaint investigation is unheard of and I feel that is what KIA is currently asking me to do.
The oil burning issue began before the car was out of warranty, this was communicated with them before the car was out of warranty. I have done everything KIA directed me to do. It almost seems as though KIA is putting up just enough roadblocks to keep from having to fix an issue that they manufactured. This is not right, it's not good business, and it isn't how companies get repeat customers nor is it how companies stay in business long term!!! I would like for KIA to do the right thing and fix my Optima. The dealership that my car is with has been nothing but helpful and courteous, they are not the ones dropping the ball, KIA is!!! I am giving KIA the opportunity to do the right thing otherwise I will be forced to take further action.

My Kia Sorento was almost 5yrs. I did lots of highway run so it had miles beyond 100,000 thousand, but this vehicle was maintained as recommended and only by the dealer from which it was purchased. Driving along and without any warning it just blew up. Towed it to the dealer and of course they don't know what could have caused it. I Googled and found out that others have problems with these vehicles. I contacted Kia Motors and a lady by the name of Heather told me there's an investigation into these vehicles and my vehicle was one of them. She said not to worry I'll be given a loaner and my vehicle will be fixed and someone will get back to me.
To date no one from Kia Motors has gotten back to me. A message was left on my phone by Kevin, and I returned his call 4 times leaving messages twice to no avail. It was someone from my dealership called to say my vehicle was not included so Kia was not responsible. In trying to see if my insurance would cover this I paid said dealer to strip the engine and they said the third cylinder blew through the engine block. (approx. a $7,000 fix) The insurance personnel took a look and said it's a mechanical problem they will not cover.
GUESS WHO IS LEFT HOLDING THE BAG? Me the consumer! I will give a 2 star because I seem to have gotten way better service from the vehicle than most of the others that I have read, but I still think Kia is lacking towards their customers. It cannot be right for big companies to be getting away with doing things like this to poor consumers.

After purchasing 40k car, I did not receive customer service that I expected. My concerns (edge guards) were ignored by service three times, sales manager failed to make sure all my issues were settled. My new car experience was ruined, and I still feel unappreciated.

I was overjoyed when I first got my 2013 KIA Optima but in a matter of two years that joy turned into sorrow and regret. My first issue with my car was a problem with the steering column. I needed not to worry though because; the issue was covered by my warranty. I felt comfortable that if anything had happened to my car it would be covered. It was to my great misfortune the same thing did not apply when my check engine light came on and my car wasn't running the same. I quickly brought it back to the same shop that had serviced me before with my warranty. I thought the experience would be the same but it wasn't. I was informed that my car's engine cylinder had failed. I maintained my car as recommend with routine oil changes every three months.
The mechanic then told me that the car would need a new engine and, I wouldn't be covered under warranty. I felt so hurt and confused; I did my job as a good car owner and here I was with a dead car. Later that evening I found out online that I wasn't the only one with the same issue. I was in fact lucky to have not have had the engine quit on while I was driving. Many other owners had the same issue with their optimas but they were being serviced through their warranty and even notice of a RECALL. I NEVER GOT NOTIFIED, NEVER RECEIVED A LETTER OR PHONE CALL! My car sits in my yard like a blemish. When I tried to reach out to the dealership where my car came from they treated me as if I didn't matter. They wouldn't return my phones or give me any answers about the recall.
I felt stupid for trusting the KIA brand. It was the worst car mistake I have ever made. It's been two months and counting and I still can't get an answer on what they will do for me to fix my car. I have no car, no way of transporting myself and my children. To make matters worse, I am still making payments on my car. A car I can't drive or use because of the dealer and manufacturer's fault. My question is, what should I do now, and why aren't I being considered important like the rest of the KIA consumers who were noticed and had their cars repairs.
I question the way they conduct their business. My car came from KIA in PUERTO RICO, and I live and reside in St. Croix. KIA is treating me as worthless as my car is. Is this a matter of discrimination or what? I'm loyal a consumer who purchased a car from KIA and now the car is dead while I am still making payments. I am kindly requesting your office to intervene and help me solve this urgent matter. I hope that no one gets treated how I am being treated.

2011 KIA Optima GDI Engine - As I drove to Tallahassee on I-75 with my husband and 3 teenager getting ready to attend a Football Camp at FSU my car started to make engine noises and all of sudden just stopped. Thank God I pulled over to the emergency lane. We were stuck for 3 hour and I felt horrible knowing that these kids will not get a chance to go play. Anyhow, I had the car towed to the nearest place that can take a look at it on a Saturday in Lake City, Fl. They stated the computer tripped 7 times in regards of engine codes. That I had to take it to the Kia Dealership. I called the Kia Dealership in Lake City that Monday, and I stated that I would have my car towed there since they would be able to actually tell me what is wrong with the car.
On Thursday they tell me that I need a new engine because it blew. I told him that I just received a letter from Kia Corp. stating my call Vin# had a Safety recall if that is part of it. He stated yes, he put in for a new Engine and I was approved by the following Monday. I also got a rental from them that Kia is paying for a cheap ** Nissan Versa, that goes 0-60 in 5 min on the highway but at least it takes me from point A to B. I asked how long would it take for the engine to come in they stated the 2011 Kia Optima Engines are on back order. That they do not have a TBA on how long it will be. This was on Monday June 26th.
I call yesterday Tues, July 18th and they still don't have a TBA on when the engines are coming in. REALLY KIA, REALLY!!! I am paying on a loan for a car that is sitting in the dirt behind a Kia Dealership collecting dust. Why I have a car note to pay for. If you are giving me a new engine just give me a new car. It seem that I will never get my car back. By the way the service department is saying they don't know. They don't have an idea. KIA give me a new car for all the heartache and trouble I have gone through in regards of the vehicle. ***I just want to make one thing straight that this has nothing to do with Lake City Kia Dealership they've been very people and courteous, it's the Kia Corporation. *Has anyone with this recall has received their engine and car already?

I purchased a 2016 Kia Soul+ in October 2016. I loved my Soul... so much that I was recommending Kia to all of my family and friends. Well... while on vacation June 20, 2017, my Kia Soul+ seized on the freeway while going 65 mph!!! Lucky for me and my family, the freeway was fairly empty. Had it towed to a nearby Kia Dealer. They determined it was the same problem that all the cars on the recall list were having. So they gave me a rental and sent me on my way. It's been three weeks and still no answer as to when my car will be fixed. I live 600 miles away from where my car is at! I can't believe that in the past 6 years Kia hasn't resolved this issue with the engine!! I'll be trading in my Kia for something else! This is unacceptable!

I bought a 2012 Kia Optima hybrid, in May of 2016. In June of 2017 I'm told that I need a whole new engine for a car I still owe lot of money on and have only had for one year. I'm the second owner so the power train warranty doesn't apply. But the real problem is that Kia put out a recall on these year cars because of the same issue my car has but because mine is a hybrid I'm not being covered for my repairs.
Kia is a horrible corruption. Like come on. My car is only 5 years old I don't even think there is something that I could have done wrong to have metal shavings in an engine so young. They said that my car was made in a different country then the car's covered under the recall but said that they would try and see if I could get an engine at Kia cost no not pay for labor. And I'm just like fix that car. It's your people's ** up.

I had a (brand new) Kia Soul (2016). It shoot back out of the driveway without me. It nearly kills me if I had not jumped back in it, it would of. Anyway QBE would not send it back to Kia. They fixed it. Long story but it was written off in the end but I found out that that car that was never fixed. Was sold at an Auction for 10,000 as when it shot back out of driveway it had only done 11,000 Km so it looks good but the car is a killer. It will do the same to someone else. I told Kia but they did nothing. It will kill someone. This car was in park with the handbrake on!! Think car makers are as bad as car dealers. Just crap!! Kia knows this car yet has done nothing to help!

Leased a Kia Sorento early 2016 brand new. No problems that I noticed other than the engine oil got dirty and more dirty every time it was changed. Shortly after my oil was changed the last time, the engine started making a clicking noise then it all of a sudden blew. Dark smoke came out the exhaust. The car cut back on long enough to get home then it didn't cut back on. Had Kia tow it to get maintenance only to have the warranty company refused to pay for repairs. Was told that there was sludge in the engine and was asked to provide service receipts, which I did. I am not a rich person to just pull 5000 dollars out of my pocket and pay for a repair especially if I am not at fault. I told Kia to take the car as a voluntary repossession. No word since. I'm completely disgusted and now I'm sure my credit is screwed. Something needs to be done.

2013 Kia Optima Recall: My car was checked and determined to have the issue with metal shavings in the engine. They have arranged for an immediate loaner - even though they do not know when they will have an engine for me. I asked them what the new warranty will be for this new engine and I can't get a clear answer. Will it be the full 100,000 miles which only seems fair? They said they had heard that it might be and extra 20,000 to 50,000 on top of the original warranty. I would have thought that they would have had that detail worked out by now.

In October 2011, I purchased a new 2012 Kia Soul. Within the year, I began to hear a knocking sound in my engine. On each maintenance visit, I'd bring up this issue and was told they were unable to confirm the knocking sound. Fast forward to 06/24/2017, I get this loud noise on a cold start from my vehicle. Again, I take it to a Kia dealership. After years of trying to get someone to acknowledge the knocking sound, the dealership acknowledges it and states the noise is coming from the valve train and that I'll need a new engine. Dealership contacts Kia but Kia denies my warranty claim because the knocking sound isn't loud enough. I'm the original owner of the vehicle with 88,500 miles so I don't have much time left before I'm no longer eligible for the warranty.
The dealership tells me that I'll have to contact Kia's 800 number if I want to dispute the findings and obtain approval to proceed with the warranty work for the engine. My husband makes an initial call to the 800 number and after 30 minutes of arguing is told nothing can be done and that's the end of it. No case was opened or referred for further review. I then place my call. I am calm and collective and explain the issue I'm having and get referred to a case manager by the name of Hei. I, again, go through the pain of explaining my issue. Initially she states that Kia would not have denied the claim because it's covered under warranty. With this knowledge, I inquire to find out how we're able to forward the approval over to the dealership so that they can begin the repairs on my work and provide me with a rental. She then tells me that my car is not under any recalls.
Now I'm just dumbfounded because nowhere in our conversation did I ever state I was there for a recall. The case manager then proceeds to tell me that she has nothing on file regarding my issue and will need to contact the dealer and provides me with a 2-3 business day turnaround. I explain that this is an ongoing issue and I have a 10.5 hr trip coming up and I need this resolved sooner. She then tries to tell me that she has to contact the dealer because the dealer hasn't reached out to Kia.
This is when my frustration begins to set in. Now I've been going around in circles for about 30 minutes and she hasn't heard any of what my complaint is. I reiterate our conversation and then she becomes hostile. I'm frustrated and ask for a manager. I'm then told I can't speak to a manager! I said "Look, I'm not getting any form of resolution and this is what I was sent to you for. I'd like to speak to a manager". She then tells me "I don't know you! I need to talk to the dealer". I said "That's fine, what I don't understand is why they can't be contacted right now?"
After requesting to be conferenced in with the dealer, the case manager felt I was going around in circles and informs me she's going to disconnect me, and she did. My case manager hung up on me with no offer to resolve my issue or follow up. About 2 hours later, I contact the 800 number again. I explain my situation, again, and kindly request to speak to a manager at this point due to the conversations that took place earlier that morning. The rep tried to review my situation and then begins the same vicious cycle that took place earlier that morning. There's an obvious miscommunication issue and a lack of acknowledgement on Kia's side.
All I'm asking for is to speak to someone who can actually do something to get the authorization out to the dealership so they can begin the repairs. When we finally hit a stopping point, the rep finally gives in and provides me with the name and extension number for a manager who conveniently isn't available. I leave a message and request a call back because I've already spent over an hour and a half combined on these calls with Kia. It's been about 4 hours and I have not received a call back. Kia is avoiding the issue. It's been confirmed I need an engine replacement.
They want to wait until the engine basically explodes is what I'm gathering. When it does, there's a very good chance I'll be out of warranty. They don't care if my engine dies on my venture or if my family will be put at risk because my vehicle's been disabled and I'm literally stuck in the middle of the road, exposed to other drivers who may not be aware and smack right into us. Then what? It's ridiculous that I have to resort to this. I will file a suit in court if needed to get this issue resolved.

My 2.4 liter engine is part of a recall of over 1.5 Million cars. Well, my VIN number is not on this list!!! My engine blow for exactly what the recall is for... premature bearing wear causes the engine to throw a rod! Kia says it's not covered because I am the second owner, the car has 89,000 miles on it and would have been covered if I was the original owner! THAT'S NOT THE POINT. This engine was recalled for this problem. End of story! But, NO mine is a Hybrid and they aren't a MODEL that was under the recall! It's the same 2.4 liter engine!
I have talked to customer service, they sent me to the ESCALATION department. They said it's not on the recall list and isn't under warranty. So, now my car has been at Kemper Kia of Bridgewater New Jersey for 3 weeks. Have talked to a very reputable engine repair shop. They told me this is often how they let bad news out about recalls, a few models at a time. I can't wait for them to actually put my car on the list. This really sucks and so does KIA for not covering this AT ALL!!!!

Our 2015 Kia Sorento is sitting with a seized engine and Kia is NOT covering it (even with an extended warranty). They want to charge us between $7000 and $8000 to fix it! After doing lots of research we find out this is the exact same defect that exists in the 2014, 2013 and 2012 which were all recalled by the way! What will it take to recall this?

On 06/23/2014 I took my KIA Optima in for a regular oil change. While I was there I mention to the service tech Jacob ** that I had a recall letter. He told me that since I was having the oil changed I needed to go ahead and have the recall test. 15 minutes later he came back and told me that my car had failed the safety inspection. I was told that he would order the parts and contact later to come back in and at that time put me in a car. I explained to him that I was on my way out of town the next day and according to the letter at excess speed it was a possibility that the vehicle engine could stall and cause a crash. It didn't concern him of my safety but the other technician said they will repair it when their is a crash.
I took it upon myself to call KIA Consumer Affair (Terry). I explained to her exactly what happen and what I was told. She put me on hold and called the dealership, after 35 minutes she came back and told me that was not the protocol for the recall due to safety issue the car was not suppose to leave the lot until the car was fixed and considered safe to drive and I needed to be placed in a loaner car now. I returned to the dealership to get the loaner car and return my vehicle. Jacob ** approached me and said, "I just got my butt chewed out by my manager because you called KIA Consumer Affairs." I told him safety is my first priority. He went on to say, "I could lose my job." I told him he need to follow the KIA protocol from now on.
I was told that I would be picked up by Enterprise rental car for a car because there were none left on the lot due to this recall. At Enterprise most of their rentals were also gone due to this recall. I feel discriminated against because my safety was not important to this technician. I severity hope that this will not be the way customers be treated when coming in on this SC147 recall. KIA Consumer Affairs need to re-educate the service technician on the protocol when handling this situation... I am very disappointed in the treatment I received!!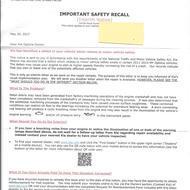 Kia finally accepts responsibility for their engine failures!!! Only took them a few years! Now all those owners who paid out of pocket can be reimbursed. All the owners who are paying for a car they can't drive because they couldn't afford the $8-10k cost can finally get their car fixed. Not everyone got lucky and was able to produce every oil change receipt and was covered under warranty as I was. Never mind putting millions of people's LIVES AT RISK due to sudden engine failures at high speeds. Never mind all the time and money lost to missing work, paying for rental cars, and NEVER MIND THE DIMINISHED VALUE OF THESE CARS!

We leased a 2014 Kia Forte. First I would like to say, it was complete JUNK! The rear suspension was clunking only after a few thousand miles. The brakes and tires went on it after 15 K. The gas gauge would all of a sudden drop to empty for a while despite being full. It was just a cheaply made piece of junk. That being said, we did not lease another vehicle and actually turned it in almost a month early. We were thousands of miles below our allotment. So because we didn't want to lease another pile of junk, what does Kia do? Scrutinize every little thing. Some scratches. It was dirty? They charged us $450 despite returning a vehicle early with low low miles and new parts that shouldn't have had to be replaced.
Funny how all of our other vehicles were returned in similar condition but since we leased another it was ok. I strongly feel like this was not "excessive damage". The car isn't worth what you want because people aren't buying them! The sales manager at the dealership admitted it. Who wants to pay for a pile of trash? Anything to make an extra buck. They are thieves and sell people garbage.

To start my fiance was driving her car and the motor seized on her on a major highway. Called the dealership. They told her the towing company they used was busy so she would have to sit on the side of the road in the summer in Mississippi for 3 hours. I got her car towed to our house from a friend of mine. We finally get Kia to tow the car to the dealership, come to find out there was a recall on the motors for this reason. Never once did we get anything in the mail for it.
We got it there Friday morning, here it is Monday afternoon and all they know is what I told them and that is that it needs a new motor. They told us it would be 3 days for the kia tech line to approve the motor. So we are gonna be without a car for 3 days if not longer. I called kia customer service they said the same. After asking for a supervisor they told me that it would take 24 to 48 hours for the supervisor to contact me back. Overall this will be the last kia I ever own. Just a bunch of crooks who messed up and now don't want to pay for it.

On June 14, 2017, I took our other car (a 2013 Kia Optima with 38K on the engine bought in April 2017 at a non-Kia dealer) for service of tires going out of balance after going over railroad tracks? I had my 19-year-old son follow me in our 2015 Kia Rio to the dealer. We drove for about 1.5 miles and we arrived at the dealer about 7:30 am. Upon pulling up to the Optima's dealer, the service manager was behind me and my son. I was asked if I owned the "the Kia Rio following you"? I said yes and I was told he was behind us for over 1 mile and noted the back brakes were smoking and there was a distinct burning smell of burned brakes.
I had the Rio towed by roadside assistance to our local Kia dealer. KIA OF DARTMOUTH, MASS. I went with the tow truck and got to the dealership and signed the car in. The Rio has 22,500 miles on it and we bought it new with 17 miles on it. In April 2015. The woman in the dealer said it "sounds like the EB cable might be stuck and it is under warranty. The dealer had the car all day. I called at 4 pm to get a status update.
The technician could not reproduce the smoke or burning smell but the back brakes "did show some wear and it could be burning". I agreed to let the service manager drive the Rio home for the night, about 10 miles, to see if the burning can be reproduced after a long drive. I called the dealer on the morning of June 15. I was told by the service manager that they could not find an issue causing smoking or burning. They did note the rear brake pads are in the slides. Recommended service for a rear brake job. This car has 21,500 miles on it and the BACK BRAKES are wearing quicker than the front. On a front wheel drive car, the wear patterns should be opposite. The cost of the brake job $299.00.
I asked about the warranty as the car is still in the 5 years, 60K warranty period. I was told that "the brake pads and rotors are a wear item so it is not a warranty issue". I broke down what was going on per the manager and my conversation that the brake pad slides malfunctioned, causing the brake pads to constantly rub against the rotor causing wear. If the slides had not malfunctioned, then there would not be any issues with the brakes. I was denied again. I called Kia customer service. Opened a claim with Kia corporate I called the dealer back to tell them of the claim. The service manager was not too happy about the claim being filed. "Brake pads and rotors are wear items and we have to send all warranty defective parts back to the warehouse and if there was no warranty in place, we do not get reimbursed".
I again explained the cascade of the issues. Slides--brake pads rubbing on rotor--brake pads and rotors wear out. I was then allowed to take the car home with possible overheating brakes in the back. The car is now parked in our driveway until we hear from Kia corporate. The Optima will soon go in for its recall so we will be left with no car. I am ready to pay the $299 and seek reimbursement through Kia. Just to relieve the stress of it all.
Company Name:

Kia

Website:

http://www.kia.com/us/en/home