Consumer Complaints and Reviews

My 2015 Kia Optima was towed on to the flat bed from the rear bumper on November 26, 2016 by Ken, tow driver from Garges Towing company, contracted by Kia's Roadside Assistance. I'm speaking on behalf of all other Kia's customers who have encounter unprofessional/unacceptable service from towing companies contracted by Kia like Garges Towing Services. It would be my assumption that Kia would contract towing services/operators that know how to conduct their service correctly. It is clear and makes complete common sense that my vehicle should have never been towed from the rear and because of this negligence/careless act my vehicle has damaged bumpers/panel.
The Kia's Optima manual states not to tow from rear regardless of it having flat tires, in my case, I had flat tires (all four) and tires have sport edition rims which should have been a big caution sign (visible) not to tow vehicle from the rear. I will be emailing other responsible individuals within Kia, BBB and other necessary parties. During my own investigation, I interviewed a tow driver who conducted service when talking to a Kia service department in Covina, he mentioned and described the appropriate method of towing my vehicle because of the flat tires and sport edition rims. He stated, that the flat tire on the driver side should have been replaced with the spare tire (easily accessed from the trunk).
After replacing the flat tire with the spare tire, my vehicle should have been towed from the front bumper on to the flat bed. It was obvious, that this method is commonly know by tow truck drivers and used to prevent damages on vehicles being serviced. It is unfortunate that in time of need, I utilized Kia's warranty service which is offered to its customers and highly advertised and in return an unprofessional tow truck driver was contracted and completely ignored the proper method and therefore damaged my vehicle. I with my own eyes saw when my vehicle was towed from the rear on to the flat and both bumpers were scraped from the bottom. The front bumper was pulled apart from the entire body in the way I could see it almost come apart. The cracks on the front bumper clearly illustrated on the photos and are the result of improper towing service.

2016 Kia Soul. 23500k miles on it... engine started making a noise while accelerating slowly. Checked the oil. It was low but in serviceable area of dipstick. Checked for leaks, including checking the filter. Took it to the dealer and the check engine light came on for the first time. Dealership is now saying that the oil filter was loose and all of the oil leaked out. The oil was not changed at the dealership so this is their tried and true way of denying the warranty. They used to void the warranty outright if the change was not at the deal but now they say the part failed.
This car has been to the dealer two times for oil related issues. The first time oil was leaking after they changed it and they blamed the drain plug failing. Before I took it in that time I checked and the plug was loose. Of course this was covered under warranty because they messed up but would not admit it. This time, they blame the filter and claim oil was all over the underside of the car. ODD!! I was under the car to check it 20 minutes before it was in the deal ship and there were no leaks found?? Now the outcome is a blown engine that Kia blames on faulty service. Don't touch them.

I leased a 2017 Kia Sportage SX Turbo GDI, Fully Loaded (it has everything you can think of except for driver memory seat). The car is very sporty and good looking, and that is all the good stuff I can say. I leased the vehicle April of 2016, the vehicle operated good 6 months and that is when the problems began. On September 14, 2016 I took the vehicle into the dealer because of a check engine light (only 1,682 miles driven). Spent about 2 hours of my day at the dealership to be told that the code was a turbo under boost and a misfire, they cleared the code and said not to worry and gave me my vehicle back. Also there was a recall for rear door latch replacement to be done on vehicle, I set appointment for the following week for that recall. On September 21, 2016 I took the vehicle in for the recall of the rear door latch assembly, another 2 hours of waiting at the dealer for repair.
On September 28, I had to have the vehicle towed by roadside assist to the dealer because when I started up the vehicle in the morning there was a strong fuel smell coming for the vehicle. I called roadside assist in the morning to pick up car from my driveway, was told, "The tow truck would be there in about an hour." Tow truck did not make it to my home until late evening to pick up vehicle. Got to dealer and was told that an animal got under my vehicle and chewed on my fuel line (this was not covered under my warranty as the part was not defective, I told the dealer that, "If the fuel line was not made of soy-based products the animal would not have chewed it thinking it is a food").
I have three other vehicles on that same driveway and none of them have ever had a fuel line or any other parts chewed by animals. I was told that I have to pay for that repair and also would have to pay for a rental while the order part and repair the vehicle. Which I believe I should not be responsible for (I ended up paying for that repair and a car rental). At time of repair the vehicle only had 1924 miles on it. On October 5 I take the vehicle to dealer for a check engine light again which was the same problem as original check engine light on September 14. Waiting again at the dealer. Another day wasted. They came back and told me that they had replace the 4 spark plugs as because they were bad, they even tried to tell me that, "The spark plugs ruined because of the chewed fuel line" (I told them that, "I am not that stupid to believe that, don't give me a flame shooter story"). The vehicle only had 1938 mile at that time.
On December 23 the vehicle broke down in the middle of the street in rush hour. I called roadside assist and was told they would have a tow truck there in 60-90 minutes. The police had to come and divert traffic while waiting, the officer came to my vehicle and asked if roadside assist was on their way, which I responded, "Yes." He asked me to call and find out how long before they get there. I called them back about 30 minutes after my original call to get ETA, and was told, "More than 2 hours." The officer told me that, "We cannot block the road for so long" and he would called a tow truck to take us to dealer, which I had to pay for. We get to dealer and I had to argue about getting a loaner vehicle. The dealer checks the car the next day and finds that it would not turn over.
A week later they tell me that my vehicle needs a new engine, (my vehicle only had 2538 mile on it at the time). They order the new engine to replace original one. All the time I am stuck with a rental which was not equal to what I leased and still paying my lease. Finally I received my vehicle back on Feb 1, 2017 hoping that this time it will be okay, still have not received the tow that I had to pay for on Dec. 23, 2016. I told the dealer, "The reason I buy/lease a new car is not to have mechanical problems to worry about" (they don't care once you buy the vehicle). I WILL NOT BUY/LEASE ANOTHER KIA.

I purchased a brand new Kia Sportage from Kia Swan Hill. I purchased the car 2 hours from where l lived as they had what l was after & the best deal at the time. A couple of months after l brought the car I received a recall letter in the post. I rang Kia in Bendigo as it was closer. They asked me to drop the car off & leave them with the spare key. I explained that l did not have a spare key. They explained that all new Kias come with a second key regardless of what Kia showroom you purchased it from & was told to contact Kia Swan Hill where l purchased the car from to enquire about the spare key that l never received, because if l accidently lock my key in the boot l would not be able to retrieve it as the car would lock. This news concerned me as l had no spare key.
I rang them & they said they would get the man who sold me the car to ring me back. A few weeks later l rang again & was informed that the seller has since resigned. They said they would email the manager & ask him to ring me. I waited another couple of weeks & ended up in Swan Hill for the day with work & called into Kia. I was in the work car & was informed Kia couldn't do the key without having the car there. I explained that l was only there for the day & that it was a 2-hour journey to bring the Kia back to them. So they said they would send the new Key in the post to Bendigo Kia for me to collect. I waited another few weeks & rang Kia Swan Hill to be told they had sent the Key to Kia Bendigo.
I rang Bendigo Kia & was informed no key was ever sent. I was not happy & rang Kia Head office. I explained the situation yet again & was informed a key would be sent out & to my delight a key arrived in the post & that it would need to be programmed before use. I booked the car in at Bendigo Kia & when l dropped the car off. They said they key needed to be cut first. I had to drive to into Bendigo lock Smith & pay $25.00 to have the key cut & when l returned with the key, Kia Bendigo said it would cost me $80 to have the key programmed.
I was disgusted that l had to pay & rang Kia Swan Hill & asked to be reimbursed the $105.00. They said that would not pay they money & that l needed to drive the Kia to Swan Hill to have the key done. I explained that l had already lost a day's work running around the car back & forth to Kia Bendigo & to the lock Smiths & for the recall. Explaining that the 4-hour return journey there & back to Swan Hill in time & petrol would cost me even more in the long run. So I had no choice but to pay the $105.00. I am appalled the amount of time, loss of earnings, the cost of petrol & phone calls l have had to put into the retrieval of a second key & of which l should of received on the day as l drove my new car out from the showroom.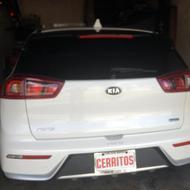 Leased the 2017 KIA Niro EX Hybrid car on Sunday and drove home 10+ miles. Odometer had 15 miles on it. Left the car in the garage for two days and attempted to drive it early Wednesday. Backing out of the garage and was steering onto the street when the power steering warning light came on and steering was very difficult and noisy (growling) - vibrating while turning the wheel itself. Pulled back into the garage and all warning lights came on. Shut the car off and retried several times. Waited with the car idling. Battery warning light came on. Let the car sit and looked in the manual for answers. Tried backing up again and all the warning lights came on again, and steering was again very difficult. Drove back into the garage.
Called the roadside assistance number and the flatbed truck took the 2017 KIA Niro EX back to the dealership. The tow driver had much trouble getting the car out of the garage and maneuvered onto the flatbed. This is a serious safety issue to us because the car could barely steer. Received call from service at KIA Cerritos saying power steering motor had to be replaced and that Korean engineers were flying out to look at the car personally. Still do not have a car, but we are in limbo now about the brand itself and are looking again at Toyota.
KIA of Cerritos - a very short description of our encounter before and after. Salesman said we could have leather seats in the base model, that it takes about an hour. When we went through the agreement, he instead was selling us a 35k vehicle. I asked, how did we go from 22.5k to 35k. He wouldn't show us the numbers through the whole process. We were very pressured to take this vehicle, and the salesman kept referring back to a 'pre-delivery' inspection, which seemed odd - like something was wrong. Keep in mind, this is the shortest version.
After the KIA Niro steering failure and the tow truck delivered the vehicle, I had to sit through several more interviews at the Cerritos dealership, being shuffled around from office to office all afternoon, much like the initial sales day. A Head of Sales man told me the General Manager said no to my request to return the car and unwind the deal of less than 72 hours. I was going to just leave, and then I went in to confront the supposed General Manager. He said, "No, I'm not the General Manager, I'm the Service Dept. Manager." Then he took me in to see Joe **, the real General Manager of KIA of Cerritos. The conversation with the Cerritos dealership General Manager, Joe **, was very short. He simply said he won't 'buy-back' because it's now a used car with 30 miles on it. He said he won't call back the DMV title in our name.
I left the dealership and the car, which I still hadn't driven myself, in the service dept. to be fixed. When I got home I called a 'lemon law' consultant. He was very knowledgeable and said the dealership wouldn't have filed with DMV yet as it's too early and that it's usually done weekly or monthly. Remember we had the car less than 72 hours. It was late Sunday when we drove the car into our garage, and the next day was a holiday, President's Day. So, that left Tuesday, and I attempted to drive the car Wednesday at 4am. I had also called Kia Motors Finance and they told me they couldn't find the VIN number - we had no account on file yet. In their opinion, there was no real reason for us not to be able to walk away and find another car. And of course after this, another dealership. We are still in limbo about our lease with KIA and the return of our brand new 2017 KIA Niro EX Hybrid.
How do I know I can trust these reviews about Kia?
721,363 reviews on ConsumerAffairs are verified.
We require contact information to ensure our reviewers are real.
We use intelligent software that helps us maintain the integrity of reviews.
Our moderators read all reviews to verify quality and helpfulness.
For more information about reviews on ConsumerAffairs.com please visit our FAQ.

KIA Picanto 2016 Don't trust KIA Motors! The first technical problem that occurred with the KIA was in August, the car was taken to the KIA service in order to fix the problem. I was told that the problem had been entirely fixed and would not happen again. However, after a month the exact same problem occurred. The car completely stopped in the middle of the road and the steering wheel locked making it impossible for me to move the car somewhere safe. I had two young children in the back and this situation could have easily caused an extremely serious accident with not just myself and my family but others on the road.
The car was taken to the KIA service in order to fix the same problem once again. This exact same problem has now occurred three times and each time it has caused me an overwhelming deal of stress, money and time. I am extremely frustrated and angry with this entire situation, the problem had supposedly been dealt with, I am not comfortable driving this car anymore as it is clearly not up to road safety standards and would never want to risk putting the life of my children or others on the road in any kind of danger.

Kia has very disappointing customer service. I bought my Kia back into 2012. It is a 2013 Kia Sorento Ex. I have approximately 89,000 miles on it. My oil check light started coming on and off (it would flicker). I brought it into Kia and they said that my oil pressure sending unit is failing and that is why the light was going on and off and it would need to be replaced.
They quoted me it would cost between $800-900 to fix. However, when I bought my Kia I got an extended all power train warranty good up to 200,000 miles. They said that it wasn't covered under the warranty though. Even though the actual part cost is $25 (where it's located in the engine is why the labor is so expensive), but if you read the reviews of Kias, this is a huge failing part of the car. Many people have issues with this and it's very common in kias. So why wouldn't they recall the part? They recalled them back on the 2011 models, but not the 2013. They are still a big problem. If this part fails, my engine would be destroyed. So then does Kia cover the cost under my power train warranty? It's a joke.
When I called Kia to complain of this issue, they couldn't give me an answer after I asked them this question. It failed on my car while it was parked in my garage. I woke up to find an extreme amount of oil on my garage floor under my car. Checked my oil and there was zero in it. I had to have a service come to my house since my car was unable to move without ruining the engine. After replacing the part and labor it costed me $502.00. I would never buy a Kia again.

I have a 2014 Kia Optima 4 door, 2.4 engine, 42,000 mile, paint and under coating is reacting. Paint has begun to come off. Paint has many places, that paint is wrinkled up on the car. Corp has denied any claim. Also headlight cover is losing coating. Kia will not replace. During cold weather, fogging took place. Kia after now 3 trips of 100 miles round trip repair leaking air conditioner metal line that was broken all the time. I would suggest a class action be filed by consumer protection in each state! KIA HAS NO REGARD FOR CUSTOMERS ANYWHERE.

I have had my car in the dealership on several occasion. I have a 2014 Kia Cadenza. A very elegant car but it is misfiring and it vibrates like crazy on a cold start and a hot start. The service advisor is always nice and polite. But the service on my vehicle is horrible. Kia knows my vehicle is misfiring and vibrating like crazy it's to the point where it I'm moving in the car too it vibrates so bad. I work for a Kia dealership and if Kia tech will do me like this they would do anyone like this. I would not recommend anyone to purchase a Kia Cadenza. They are garbage. They look good on the outside but rotten on the outside. And I know they are trying to wait until my warranty go out so I would have to face this problem myself.

I arrived to Kia at 8 am on Saturday 2-18/17 because my car was making noises when I pressed on the brakes. After 2 hours the rep came to the waiting room to speak to another customer and when finished he yelled across the room at me "ma'am your car probably needs brakes" then walked off...duh. I told them that when I got there. After another 30 min the same guy came to me stating my car needed brakes and they don't have them and it will be a few days before they can get them.
My options are 1. drive away and come back in a few days to have my brakes changed and try not to drive too much because if additional parts go bad I will have to pay a lot more and they may not have all the parts...they really told me that. 2. Pay for a rental car until the parts come in and they can get replaced. They refused to get me a liner at no fee. 3. They could order some brakes from the auto parts store nearby and use them, but they may be noisy and not last. Wtf. I drive a Kia Sorento 2014, I come to KIA to get KIA parts. This is the first and last time I come here. So horrible.

This has been the WORST experience I have EVER had. I went through USAA to buyout my Kia from a lease. Two months later I start getting collections calls saying I'm two months behind because Indiana is a dealer only state, and not only was I never informed, records indicate that Kia CASHED the check from USAA. They claim they issued a refund check to USAA but a week later, USAA still doesn't have it. Now I am paying two car loans, both of which are accruing interest. THIS IS ILLEGAL!

I live in France and am purchasing a Kia Sportage which is due to be delivered early March. In most european countries, a DAB radio is standard issuance. In France, however, the Paris office has said that my car will not be delivered with a DAB radio. The European Kia HQ headquarters have not even responded to my request made via their website. FM radios will be obsolete in less than 2 years. Why doesn't KIA apply some pressure on France to rectify this situation NOW? At least give clients an option? Will the 7-year warranty cover the change of all radios in KIA 2 years from now? I absolutely want to have a DAB radio in my brand new car. I am paying over Euros 40,000 for what will be, my first car in 18 years! Help! Action please.

I loved my vehicle when I bought her, she was pre-owned but very well looked after, one of the reasons why I bought her. A couple of months after buying the vehicle, one of my tenants, who I did not know worked for a Kia dealership, came over to me and asked if she could give me a piece of good advice. "Sure," I said, always open to good advice. Little did I know that the advice she gave me would turn out to be the best advice I never took. She told me to sell the Kia Sorento because it was going to give me endless trouble. Since she told me I have replaced a gear box oil seal, cylinder head gasket, radiator water bottle (took Kia month and a half to get me a replacement water bottle), 2 radiator water hoses, radiator, crankshaft pulley bolt, and most recently a thermostat, where again Kia took 6 weeks to find me a spare. Like I said, I love the vehicle, but I will never buy another Kia as long as I live.

I bought a Kia Sorento based on their claims of safety and all the airbags they have. In Dec I was in an unfortunate accident. Luckily my children were not in the vehicle. I was hit from all sides by multiple vehicles. NOT ONE AIR BAG deployed. The passenger side doors were on the seats and the frame between the front and back seats was split in half (right where there is an airbag). Kia said that in this situation the airbags are not designed to deploy when hit in that fashion. So they are claiming no fault. The vehicle was totaled. If Kia is so safe with all their airbags and I was T-boned and hit from all sides then what type of situation do you have to be hit in in order for them to deploy. DO NOT TRUST THEM.

I currently own a 2015 Kia Optima and days before New Years, my car started making funny noises and it stalled under a red light. The car was ultimately towed to the dealership where I was told it had engine failure and they performed a claim for a new engine which was luckily approved and covered under warranty. But the downside to it was that I was paying my car without a month paying it and when I got it back my bumper was cracked. I questioned the dealership and obviously they will brush it off... a week after my new engine... On a Saturday morning I went to drive my car and it would not start... again... The car was towed to the dealer and they now tell me it's the starter motor! Again no car... This is absolutely Ridiculous for a brand new vehicle and I am sick of owning a Kia! I strongly suggest you deviate from purchasing a Kia EVER!!!

The car was sitting in my daughter's driveway. When she went out to leave her house she got in and prior to starting the car she heard a large bang and then the left front tire went flat within seconds. AMA were called to attend and replace the tire with the spare. The AMA towing operator was unable to remove the tire as the exploded spring portion was embedded in the sidewall of the tire. The car was towed to Big O Tires in Westbank BC where they removed the tire and discovered the coil spring sticking through the tire. Thank God for BIG O as Kia would not do a thing.
The car is 2010 and was out of warranty and although the part failed in a very premature period the KIA people were impossible to deal with. They said I could send the car to them and they would replace the springs at a cost of approx $860.00. There is no way I could even consider sending the car to them as they were not even concerned about the potential for injury or death relating to an in motion failure of this nature. There is no way that this is the first failure of this kind for them and for me to allow them to replace the springs with a product that displayed this type of failure was not going to happen. Bottom line DON'T BUY A KIA. They are rude and don't care enough to address serious problems that could have cost my daughter her life. There will never be another KIA in our household and hope others will follow. My daughter had just moved to Kelowna to attend school and thankfully the spring did not fail while going through the mountains.

HAS ANYONE ELSE HAD THIS ISSUE???? I bought a 2015 Kia Forte in August 2015 from Brantmeier Ford/Kia in Sheboygan Wisconsin. Not 2 weeks later I had the car back to the dealership for issues. The BIGGEST issue is that the car is unsafe to drive on anything except dry roads. When there is snow, ice, or even heavy rain, the car will, out of nowhere leave its lane. This has happened multiple times. I'll be driving down the freeway at 65-70mph and out of nowhere the car will move into the lane to the right or onto the shoulder. You cannot anticipate when it will do it, and there is nothing you can do to stop it. When going over bumps in town the car shifts a lot, which feels like what it does on the freeway, only at a much slower speed.
We have had this car in and out of the dealership repair for over a year. Finally this year a technician from Kia came, felt what it did on the bumps and said it was normal for this model. I can assure you that it is NOT normal for ANY car to leave its lane while driving. This is a HUGE SAFETY ISSUE not only to the driver, but anyone else that is on the road when this happens! The dealership has replaced the rear struts, we've gotten new tires (which we paid for... the tires were worn so bad and in such an odd way in not even a year of owning the car), had alignments done, the list goes on... the repair department cannot find what is causing this.
From the very beginning the dealership was dishonest. 1st they offered a 0% deal (which is why we chose this car in the first place), when we were ready to sign the deal suddenly was not available. I could go on about the dishonesty we experience with this dealership, but my MAIN focus here is the SAFETY ISSUE of the vehicle leaving its lane while driving. If anyone else has experienced this PLEASE LET ME KNOW!!! I have contacted the State of Wisconsin on this matter and am in the process of filing a complaint with them and the BBB against both Kia and the dealership.

I own a 2013 Optima; the first foreign car I've purchased. This may well be the best vehicle that I have owned in my 75 years. Kia has been able to create a stunningly beautiful exterior with an equally beautiful interior. A word to your styling studio; don't screw up by attempting to create a totally different exterior. I am thinking about BMW, who has been able to improve their cars from year to year by gently improving a line here and another line there. It says "we have a great style" and will only improve the lines gently.

2015 Kia Optima. 37k miles or so on it... engine seized after oil change. Dealership is trying to weasel out of warranty because I don't have oil receipts. Magnuson-Moss warranty act of 1975 states the company must prove that the bearing failure was my fault before denying warranty (lack of receipts doesn't prove lack of maintenance). Also no manufacturer can require you to use their maintenance products unless they provide them free of charge. They had a class action suit last year over this very issue. Beware any company offering great warranties... they do whatever they can to get out of honoring them. Never buy Kia.

Do not ever buy a Kia. The customer service is a joke the car is a rip off! I am the only owner of this car. I bought it brand new and it had complete engine failure by the 4th month and again before it was a year old!I have been treated so poorly by the employees at the Riverside CA Kia Dealership that I purchased the car from and the Kingman, AZ Kia that did a number on my car repairing the blown defective recalled turbo engine leaving 2 bolts off causing a major oil leak! They refuse to service my car and replace the bolts (mounting brackets). Kia in Kingman forgot to install that is now causing me to have a severe oil leak so bad when the oil line gives that has been rubbing due to the unmounted free moving engine part I won't be able to catch it if I continue to drive it and engine will blow! This is a 32,000 dollar car that should have been replaced the second time the engine failed instead they do a half ass job and won't fix the mistake they made.
I also just had the car in because the steering wheel was loose, very unsafe. I researched the issue and sure enough it was not just me with the issue it was a recall. I never got anything notifying me of the recall. I also have a annoying piece of folded paper keeping my side mirrors button up from causing my side mirrors to click even when the car is off and this is not covered under warranty and will cost at least $400 for a simple button issue. The car isn't worth the price and Kia needs to be given the credit for the horrible service of not taking care of the problems that are obviously due to faulty parts in combination with poor customer service. It has cost me more than the cost of the car. It has cost me my son's birthday his football game and now I have to pay for a rental for because they will not even when the car was 4 months old provide a rental while my car was in shop for over a week!
Do not buy a Kia esp the Optima and never take it to Kingman Kia to be repaired (my only option being I moved from California to Arizona.). "They said how do we know it was us that left the mounting brackets off..." unbelievable! Maybe because when my brand new car needed a new engine because it was not repaired properly the first time at Kia of riverside so I had to take it to Kia in Kingman being I moved to AZ from Cali... a month after purchasing the car. Then your Kia in Kingman who had it for 2 weeks replacing the engine did not mount it so it's been sliding around rubbing the oil line!

It has been almost 5 years since the MPG lawsuit was filed. I was the proud owner of a new 2012 Sportage, and was sad to hear the mpg was not quite what the manufacture said it was. But they were suppose to give settlement in 2015 three years after it was filed. Now it is five years and still no settlement. I now have 81K miles on the Sportage, I have been faithful to maintain the maintenance on at our local dealership, but because of this lawsuit not being settled in a timely manner I probably, very probably will not buy another KIA.

My car is a 2013 Sportage where the turbo failed a year ago. Kia replaced it with resistance and I assumed the replacement went well. The 2nd turbo was a rebuild which failed quickly. The dealership in Merrillville, Indiana said it was bad gas but it was the 2nd turbo failing. They replaced the 2nd turbo but the damage was done. The coils were corroding badly enough to break off and destroy the engine.
I took the Sportage to Nielsen Kia in Michigan City, Indiana. They offered either a rebuilt engine for $4,700 or a new engine for $7,000. I opted for a rebuilt repair. The dealership said it would take one month. After a month, I called weekly and got lots of excuses. After 82 days, the engine arrived at the dealership. It wasn't a rebuilt engine. It was new and would cost $8,600. What's another $3,900? Regardless of that unethical move, the new engine was faulty. It couldn't hold compression. Kia technical services got involved and determined that the new engine had the wrong piston rings. The only solution was to order a 2nd engine to replace the 1st engine which I didn't agree to anyway.
The dealership said it would take a couple days because they already had a tracking number. After a week, I called and the dealership response was "Well the 1st one took 82 days so who knows?" At this point I called Kia Customer Service thinking they could get an answer on engine inventory and escalate the situation.
1st customer service agent was professional but offered no help and after 2 days she informed me that my case was being "escalated" to the "escalated department." Sounded like I was getting somewhere. I was naive. 3 days later, a nice sounding person named Darlene from Tuscon, AZ called to let me know she held my case and would be calling the dealership to find out when the engine will arrive. I asked her to clarify because the reason I even called the customer service line was because the dealership and no idea. All they had was a tracking # that was useless because presumably the engine never shipped. Darlene told me that THIS type of engine was on a big back order list.
I asked Darlene was is the wisdom in calling the dealership to ask when the dealership is more in the dark than anyone? She said she had their phone # and would call. I asked when she planned to call? She said in 2-3 days. So then I asked when she calls and finds out that indeed the dealership did place the order, what then? Then she said she'd have more information to share with me. I asked if the information would entail a delivery date? She said no, but she would have information. She raised her voice, talked over me and was quite fed up with my line of questions which were basically "Who can find out delivery dates?" and "When will we know this type of useful information?" I know, how rude am I?

I have Kia Forte 2011 engine problem. I found problem thru my local mechanic and he told me take Kia forte 2011 to Kia dealer in Riverside California as it would cover under warranty. I talk to Sal ** service consultant at ** and kept Kia on 1-4-2017. It has been 23 day, getting answer Kia has authorized engine problem and order parts and we are working but backed up. Meanwhile I am without car.. family is suffering. I would like you to look into matter and get me daily rental value for car compensation and family suffering settlement.

I have had my 2013 Kia Sorento for 2 years and I have never had an issue with the car up until this far. Recently my fuel pump went out and as inconvenient as it was Kia's customer service helped make the situation quick and cost free. Even though I was the second owner of the car, therefore voiding the Extended warranty, Kia still covered the repairs at no cost to me. Even though it was a holiday weekend they had me in a rental car the same day and even covered the entire cost for the week I had it. The customer service representatives were all extremely nice and very accommodating to our needs. I would recommend Kia to my friends and family and plan to get one for my fiancé in the future as well.

I own a 2010 Kia Optima with approximately 63,000 miles. I have had never ending brake problems. The rear brakes and rotors have been replaced 3 times (twice within 15 months). Of course, my extended warranty covers none of the repair costs. I am extremely disappointed with this vehicle and feel this is inexcusable. I am in the process of contacting Kia directly but am doubtful I will get anywhere. Going back to a Nissan or Toyota with next purchase!

We have a 2013 Kia Optima hybrid. For about a yr and a half, we have had "Hybrid System Failure Warning" to come up on the panel. You have to pull the car over as soon as you can off the highway as it will cut off after a few minutes! Very dangerous! It has been in service twice and going for the third time tomorrow! They claim they cannot duplicate the problem and therefore cannot fix it! If it is not fixed tomorrow, we plan to go for the NC Lemon Law!

Kia knows that 2012-2014 models have an engine problem that requires a whole new engine (connecting rods). They only cover this for 1st owners and will extend the coverage for 2.4L, 4 cylinder engines. So I'm basically screwed because mine is a V6 and I am a second owner (cost $7K). Even though it is the exact same problem with the engine. I bought my car at CarMax with only 11,000 miles on it. You shouldn't have to replace your whole engine at 65,000 miles!
I WILL NEVER BUY OR RECOMMEND A KIA TO ANYONE! I even asked one of the main Kia service managers in my area about this and he agreed that he wouldn't buy one. Gee, what does this say about the company. I have called customer service and they could care less. I would at least expect a massive deal on the service at least. What is also scary, is that I've been told and also seen reports that these Kia engines can just stop working while you are driving! The dealer here even told me it would be best not to drive it! Talk about being in a lurch-who can do that?? WARNING-DO NOT BUY A KIA!!!

Recent purchase of a second-hand Rondo in Canada. So far the experience has been terrific. Price was fair according to all the comparison websites, generous warranty means I still am covered. Car appears solidly built. Very low servicing costs. Decent if not fantastic mileage. Loaded with useful options and very well designed. Dealer has been very accommodating and so far the relationship has been excellent.

I was a Honda Lover and never thought I was going with a different Brand Until I traded my Honda Accord and purchase my 2012 Kia Optima SXL Turbo in 2012. My experience with the Optima so far has been good UNTIL I traded my Honda Odyssey for a 2014 Sorento SXL. Yes I had an Accord and a Odyssey and traded both for Kia's. IT HAS BEEN THE WORST MISTAKE EVER TO GO WITH THE SORENTO. Me and Family have not enjoy the car because of the following issues - transmission Issues, BATTERY/CAR WON'T START only if you JUMP IT. I have been at the Kia East in ORLANDO many, many times and getting no answers. Today 01-12-17 the car is in my driveway not able to start. I called and sent emails to the service Manager "G" and no answers.
The service has been ridiculous bad/ time responding bad/follow ups from Headquarters super bad not to mentioned many more. I won't say more, but to tell people that are reading this blog to simply STAY AWAY FROM GETTING ON A SORENTO!!! DO NOT BUY ONE!!! YOU WILL GET WHITE HAIRS!!! Definitely not a fan of Kia anymore!!! I am thinking of going back to HONDA.

So I had a great fully loaded Kia Sedona leather the works back in 2003. It ran great for a few years. KIA would send me an email if anything needed to be replaced or recalled. When my family traveled to Japan for a tour of duty with the Navy we were forced to put it into long term storage. When we came back after 4 years it has some oil stains in the front. No biggie. It was a holiday weekend (4th of July in Compton, CA). We get my whole family and baby loaded up with all of our suitcases for a long drive to DC over the next month supposedly. Lo and behold the engine stutters to 10-15 miles per hour on the freeway and will not accelerate. We get it towed in 100+ degree temp, while my family jumps in a taxi, me being the last person to not fit. I carry some luggage that doesn't fit in the taxi to a local rent a car facility. Where because it was a holiday (4th of July weekend) there was not a single car available in LA to rent.
My family ends up at Disneyland because they are the only places that has space available for the weekend. My car on the following Monday has so much rust in the tank and other misc problems that I did not trust it to make the drive to Washington, DC. We ended up trading it in with only 23,000 miles for next to nothing for the 2012 Kia Sedona fully loaded in 2011. My wife wanted to buy the Toyota van, and I am kicking myself for not listening to her. The 2012 Kia Sedona is a gigantic pile of **. The mirrors worked for the first 2 years then they go up, down or just down work. The driver side sliding door doesn't unlock, unless you do it manually. Sometimes it even refuses to open with the remote or automatic button on the roof console. The dealership claims that these are not covered by warranty. Tires had to be replaced at 25k and 50k miles, not the cheap kind.
Just recently a pin fell off after starting the car in the winter and broke a rod and two pistons in the engine that for 4 days the dealership couldn't figure out why it wouldn't start. Eventually a smart mechanic did find it, and was able to get it covered under warranty. But now it seems like everything on it is going down hill so quickly after it has been paid off that I just want to drive it off a cliff to put it out of its misery. Totally unhappy with this Kia Sedona.:( Buy a different make and model van. This one is not worth it even if it is a little cheaper than other vehicles with same amenities.
Company Name:

Kia

Website:

http://www.kia.com/us/en/home