Consumer Complaints and Reviews

I own a 2012 Kia Soul and as I've read previously in a Sorento post, my engine also went out. I was on the interstate with my grandson going about 75 mph when I heard a loud knock, my dashboard lights all flickered like Christmas lights, and my car stalled. Luckily, I was able to pull over from the fast lane to the side of the road. Kia has had my car for 3 weeks. The dealership and I have called headquarters multiple times with no response from my case manager. No one has provided me with a rental car. I have to pay for a rental out of my own pocket. I don't see my make or model on the recall list but I obviously have the same engine issue as the other Kias. My car barely has 100,000 on it. It just flipped like the week or 2 before the engine went out.

I just bought a 2017 Kia Optima Ex 3 weeks ago, and immediately I am having a problem with it. I was driving last night and the hood indicator kept going off. I checked it multiple times and the hood is secure, but the sensor is reading as if the hood is opened. I brought the car back home. Locked it. It is at this point that I notice that due to the flashing indicator, the brake lights stay on even after I lock the car. I called for roadside assistance due to the drain on the battery that the lights were causing. I was told that help would arrive at 9:15 PM. Help never arrived.
After holding for a billion years, I called and was told that the driver cancelled the call with Kia, but a "replacement" was never arranged. I arranged for the service to be rescheduled for the morning so that I could get some sleep. I was told that the tow truck would arrive between 7:30 - 8 AM. It is now after 3 PM and I've received nothing but meaningless calls and excuses. My time has been thoroughly wasted and my battery is dead, leaving me without a car for the weekend! As I mentioned, this car is only 3 weeks off of the lot, so you can imagine my extreme disappointment with the vehicle as well as the complete lack of professionalism and attentiveness from the company.

On May 2016 I bought my first new car, a Kia Sportage 2017 SX-Turbo. I was excited with all the features, the power and the looks of the vehicle. However, after the first 5,000km that I put on that car, the spark plug broke inside of the engine, damaging all the pistons. After that, it was deemed necessary to have an engine replacement done, which took about three weeks. After a lot of persistence and calling the dealer/Kia Canada to get updates (because they won't call you) I get my car back. When asking for some sort of compensation, they gave me none.
Just to put this into perspective, this car is $50,000 after taxes, the engine + service costs around $16,000. Kia has a strict policy when it comes to replacement, as they do not replace, they only repair. After frustrating conversations with them, I was finally convinced that I just had a bad apple and that I should move on. However, 25,000km later the same exact issue happens. Not only did I need a new engine, but I got the same quality of service. Unresponsive, not caring, and feeling like I was worth nothing to them.
Another $16,000 was put towards my engine, and another three weeks of patiently waiting. When asking for compensation once again they offered me $500. However, I counter offered for a set of tires and rims that I needed due to the commute I have. No surprise to me, I got denied. Then I went to speak to the manager, and she was very adamant that she was doing more than I should have gotten. And when I asked her: "Do you think this resolution is fair, due to the circumstances I was in?" she simply threatened me by saying: "I can always go back on to our policy and not give you anything."
The customer service representative I spoke to at Kia Canada was named Joseph. He can, with no shadow of a doubt, vouch that I have only been patient, understanding and I have compromised where I had to compromise. However, when you would expect a company to go out of their way to make you feel good about your purchase, they did the complete opposite. Not only will I never buy a Kia, I will never step in their dealership, and will never recommend. The "best" part of it all is that I not only am basically leaving empty handed out of all this, but I also lost money on my car. Because people will not value my car as much as they would anymore due to the engine having to be replaced twice already.
Kia simply does not care about its customers. It does not care about the quality of their service, and at the end of the day, they do not care if you are not pleased with their service. When matters of business, they are following all the rules that are given to them, because their rules state to not offer anything (LOL). In matters of morality, and maintaining a healthy business to customer relationship, there is zero effort. And if they tell you they do put in an effort, it is a negative effort to make you not enjoy the experience at all.
Bottom line is this: I had two engine replacements done to my car, amounting to $32,000. I stayed without my car for six weeks. I pay around $298 Bi weekly. The logical thing to do is at least give me around $900 which would be the amount I stayed without my vehicle. However, to Kia, not only did they offer only about half of what was logical, they also lost a customer, and potential many others as well. The best thing is that when you complain about the dealership, they say that the dealers are privately owned, but when you complain to the dealers they ask you to contact Kia Canada.
Just do not buy a Kia. Just do not do it. Because if you face a similar problem, you will not be treated well. And if even after this you still want to buy a Kia, I hope you do not get put through this experience. I have about 3-4hrs of call recording with Kia from just this past incident of me just trying to reason with them and me not getting the quality of service you would expect after getting a major issue.
I will leave you with an analogy to close up my thoughts. Imagine you buy your first house, you chose everything and it is your dream home. However, after the first few weeks you have no more electricity in the house. You call the building company and they come and fix it, but you have to move out of the house for a couple weeks because they have to break a few walls and rewire a few things. Not only do they fix everything, but they also give you credit on your mortgage equivalent to the amount that of the seriousness to the problem you had. Now imagine that happened a second time. Of course you would be frustrated about the problem repeating. However, because you know they handled the problem, the first time, properly, you do not worry. Kia does the opposite of this.

I bought a 2013 Kia Sportage brand new. I had no problems until this past Sunday. While I was driving I heard a clicking sound, then after that was jerk and then the whole car just shut down. I couldn't push the gas. The dash was light but the car would not start. Waited 3 hrs for a tow. They towed to the nearest Kia dealer. Finally after sitting there after the holiday, they call me to tell me that they need all of my oil change receipts. Which I have to hunt for them because I don't keep receipts like that. He never told me what was wrong with my car. He said he wouldn't be able to look at it until tomorrow afternoon. I know he has looked at it. I just read all of these stories. If I can't provide all of the receipts will they still cover whatever is wrong with my car?

My Kia Optima cut off in the middle of the road & would not start back up. Prior I had taken it to the dealership because my oil stick is never correct even after having a oil change. The stick will not register. I took it to the dealership after the oil & engine light popping on and was told that a head was gone in my motor but for some reason my warranty would not cover it. Also there is something going on with my breaks at times. The will go all the way to the floor like it something is not connecting to stop. I took it to the dealership and was told if it's not doing it while they are driving there is no way for them to know. Kia is a joke & the 2015 Optima definitely needs to be on the recall list. Now I am stuck without a car and they said they can't give me a loaner car. I'm sick of Kia. Worst car I ever bought.
How do I know I can trust these reviews about Kia?
791,307 reviews on ConsumerAffairs are verified.
We require contact information to ensure our reviewers are real.
We use intelligent software that helps us maintain the integrity of reviews.
Our moderators read all reviews to verify quality and helpfulness.
For more information about reviews on ConsumerAffairs.com please visit our FAQ.

As a summary - last year, my 3 year young Kia Soul, with less than 30,000 miles had a "check engine" issue. The "check engine" light would go on, and the car would not go more than 5 mph. It was brought to multiple dealerships, and engineers from Kia were brought in to assess the car - with no resolution. I was without a car, and not offered a rental car, for a total of one month. For one month, I had to find rides to and from my job, because of Kia's incompetency and clearly defective product. It was the most unprofessional experience I have ever had with such a young, low mileage car. It was a few days/few miles shy of falling under the NY State Lemon Law, so perhaps this horrific series of events will warn others against doing business this awful company.
Here's the Order of Absurd Events from Last Year: Sunday, May 17: I left my house and got about 1 block away. I stopped at a stop sign, and the "check engine" light came on. I then proceeded through the stop sign in order to pull over and realized that my car would not go more than 5 MPH. I turned around and (very slowly) made my way back home.
Monday, May 18: I called Kia to have my car towed to the dealership. The closest dealership to my house is Generation Kia located in Bohemia, N.Y. At about 10 a.m. the tow truck showed up and my husband and I drove to the dealership in order to fill out any necessary paperwork. We were told that we would receive a phone call with an update as soon as they looked at the car.
Wednesday, May 20: I received a phone call that the car was ready to be picked up. They had supposedly changed the "throttle body and gasket" and performed a "multipoint walk around inspection on vehicle." I drove the car home with no problems. When I got home, my father opened the hood to see that the engine was shaking and looked very old and dusty, and not how the engine of a three year old car should look after being brought in for service.
Friday, May 22: I went to leave my house at 8:30 a.m. to go to work and when I started my car, the "check engine" light was back on. The car was brought back to Generation Kia in Bohemia, N.Y. I was told I would receive a phone call once they figured out what was wrong with it. On Saturday morning, my husband called the dealership asking for an update – at which point the dealership confused him with a different customer. Once they figured out who he was, he was told that they had "no idea what was wrong with the car." He was also promised a rental car if they still couldn't figure it out by the next week. Monday, May 25 was a holiday and the dealership was closed.
Tuesday, May 26: After numerous phone calls to the dealership, we were finally told that they changed the electrical connectors and the check engine light was now off. They also told me that their mechanic was going to "take the car home tonight and drive it around to see if the check engine light comes back on." I found this to be extremely unprofessional and did not want a stranger taking my car home with them. I went and picked up the car after work. I received a survey from Kia regarding my experience with the Generation Kia dealership, and expressed how unsatisfactory their service was. I had to constantly call them for updates, after being promised that they would call me.
I was promised a rental car one day, and then a few days later was told that they "didn't have any loaner cars" and that they never promised one to me. In addition, the woman answering the phones at the dealership was rude, constantly sent our phone calls back to herself instead of to the mechanics, and told my husband that it was, "not her job" to see if the mechanic was available to take his call.
Monday, June 15: I drove my car to work without any issues. At 5:00 p.m. I went into the car, started it up, and the "check engine" light immediately came on. I drove the car around the parking lot and found that it, again, would not go more than 5 mph. My husband picked me up and I called Kia Consumer Affairs to see where I should go from here. I expressed the fact that I did not want to return to Generation Kia in Bohemia, N.Y. due to their unprofessional antics – and after learning that the Dealership was being sued for fraud. I asked if I could have the car towed to a different dealership.
I spoke with a gentleman who said that he completely understood, and mentioned that I could have the car towed to Smithtown Kia – which is where I actually purchased the car – even though it was a slightly further distance than the other dealership. He told me to, "get the car towed there as soon as possible," and that "Kia will probably have one of their engineers go look at the car since this is the third time it's being taken to the dealership." He confirmed – explicitly – that this was the third occurrence, and I confirmed that it was the third time in about 5 weeks that the same issue surfaced and was not resolved.
Tuesday, June 16: I had the car towed to Smithtown Kia. Wednesday, June 17: I called Kia Consumer Affairs to find out whether Smithtown Kia should be working on the vehicle, or if they should wait for Kia's "engineer" to visit and look at the vehicle. I spoke with a different gentleman who explained that he "could not tell me either way what to do." He mentioned that my case had been "escalated," and that I needed to speak with my "case analyst." He then asked if I received a call from the analyst, and I told him I had not. He told me that her name was Bernice **, and offered me her phone number.
I called Bernice at 11:51 a.m. and left a message on her voicemail. A few hours later, I called Bernice again and she answered the phone. She said she was waiting to receive the "vehicle repair history" that she requested from the dealership. I asked her when I can expect to hear back from her. She said "if she gets the repair history today, and speaks to the district representative, hopefully within the next two days, they will be able to look at the vehicle." Bernice called me at 4:12 p.m. and left a voicemail stating that she had contacted Generation Kia in Bohemia, N.Y., and they informed her that the vehicle was not there. I immediately e-mailed Bernice at the address that she left on my voicemail and told her that my Kia Soul was at Smithtown Kia in Saint James, N.Y.
Thursday, June 18: I called Bernice and left a message to let her know, again, that my Kia Soul was at Smithtown Kia in Saint James, N.Y. I mentioned in the e-mail that "My car has been sitting at Smithtown Kia for 3 days waiting for an Engineer from Kia Corporation to take a look at it." Bernice called me back at 11:37 a.m. and left a voicemail. She stated that she received my messages that the car was located at Smithtown Kia. She contacted them and spoke with Bill. She told them to do a "full diagnosis of the vehicle" and to open up a "tech hotline case" with their techs out in California for assistance if needed.
She said, "at that point, once we do have a full diagnosis and been assisted by 'tech line,' if your concerns are not resolved at that point, we will then dispatch a field technical rep to the dealership." She goes on to say that once a diagnosis is made and if the field technical rep is required, they can look into providing me with alternative transportation from their "district parts and services manager."
At 12:30 p.m. I contacted Smithtown Kia and spoke with Tom. He asked if Bill could call me back. At 1:15 p.m., Eric with Smithtown Kia called and said that Bernice did call them to tell them that they could begin working on the vehicle. He said as soon as his master mechanic can get to it, he will look at it. I asked him to please let me know once he looks at it. He said he absolutely will, and that he would be personally overseeing everything.
Friday, June 19: I spoke with Eric from Smithtown Kia. He said the vehicle is performing perfectly, but they realize there is still a problem. He said they were working with "tech line," as Bernice mentioned in her voicemail on June 18, and that they had been going back and forth with tech line all day long. He said they were taking the vehicle for a test drive to see if the "check engine" light would come on for them. After receiving no return phone calls or e-mails from Bernice, I e-mailed a summary of the situation to Amy **, Shamit **, Scott **, Karla ** and copied Bernice **, hoping that some of the people at Kia headquarters would be better able to assist. I received no response from anyone.
Saturday, June 20: I received a call from Eric with Smithtown Kia. He said that unfortunately he did not have an update for me. The car was still performing perfectly, he was working with tech line, but the issue was not yet resolved. Eric and Smithtown Kia were extremely patient and polite and were the only people that actually called me back throughout this month-long ordeal.
Tuesday, June 23: Bernice called me at 5:00 p.m. She said she spoke to the Smithtown Dealership and requested a field tech. He will "hopefully" be there in 2 days, on Thursday. She was unable to schedule the tech previously because their process is to have the dealership look at vehicle, work with tech, and then schedule a field tech rep. She did not ask dealership for rental car and put me on hold to find out if I was approved for one. She came back and said that I was FINALLY approved for a rental up to $40/day. I could get a car at any rental facility. Once repairs were completed, I would be reimbursed with a check from Kia. It would take 3 weeks to get reimbursed. I asked her when I can expect to hear back. She said if the field tech goes on Thursday, she will call and let me know. If he has to go later than Thursday she will call and let me know that as well.
Thursday, June 25: I received a phone call from Paul ** who said he was with Kia Motors American Corporation Headquarters located in Irvine, CA. He apologized that it took so long for them to approve me for a rental car. I mentioned that I was told I would be reimbursed for up to $40 per day, but that unfortunately, in New York, I could only find rental cars for about $55 per day after taxes and fees. He said $55 per day was reasonable and I could go ahead and get a rental car for that amount and still be reimbursed. He mentioned that the field technical representative was working on the car – that their field technicians are highly experienced and that my car was in good hands. He said to contact him with any questions or issues.
Friday, June 26: The Smithtown Kia Dealership called and said that the highly experienced field technical representative had been working on my car all day Thursday. Unfortunately, these highly experienced folks still could not find the problem, so they wanted to put a "flight recorder" into the vehicle, so that the next time my car breaks down (how reassuring), I would have to push a button and it would record the data so that they can HOPEFULLY see what's going wrong, and POSSIBLY fix it. Because, doesn't everyone want to drive an unreliable car that at any point will break down and leave you stranded?
THE END. I'm sorry to say that this issue was never resolved. I got rid of the clearly defective Kia Soul and purchased another vehicle - from another company. I will never purchase another product from Kia. They are unprofessional, they don't stand behind their products, and clearly do not care about their customers' safety or well-being.

We bought a Kia Sorento CX3 on 31.3.15 at a Kia franchise. It was about 4 years old. We were told it had never been in and accident and paid £18000 for it, which was the top end of suggested prices. From the beginning we had problems with the sunroof, which rattled. We took it to a local franchise dealer on a number of occasions to get it fixed. Parts of the sunroof had to be replaced.
About 17 months after we bought the car it started smelling of damp. My daughter discovered water in the passenger vanity light. When the car was checked by the local Kia dealer. They discovered the welding in the roof had been grounded. Which implies it has been in some sort of accident. We contacted the original Kia dealer and Kia's customer care service. They basically said "It's not covered by the warranty. We can do nothing for you," and said we could contact the omnison, which we are now doing. It cost £3400 to be fixed by the local Kia garage.
You buy from a franchise dealer, who is an ambassador for Kia, because you think you will have some protection. I don't think the garage knowingly sold us a damaged car but I feel Kia have let us down and questioned our integrity. As an ex nurse/midwife, I have spent my life caring for people and I think the way we have been treated is appalling. Buy your car from a company with more integrity and a customer care service that does care.

Went in for routine maintenance and came out with issues with my tires, when I did not ask them to touch the tires. Contacted Destination Kia and they were no help whatsoever. I called four times and I'm still waiting for their service manager to call me back (from March). I contacted Kia Corporate by letter. Received a call regarding my letter about 1-1/2 weeks after sending letter. I called the following week and had to leave a message. I've waited three weeks for a return call and nothing so I called back again. Person handling my case wasn't available so the woman who answered the phone said, "I see in the notes that Destination Kia offered you help." I said to her, "Ummm, no, they didn't." She said, "Well, it's here in the notes." So I said, "So that's it." Complete silence on her end.
So my complaint is that Destination Kia and their corporate office seem to have no regard for their customers' safety. I could have been in a very serious accident based on what they did to my car, and all they are concerned about is that they tried to help - WHEN THEY DIDN'T. My vehicle went in with no issues and came out messed up! I will not buy another Kia just based on the fact they don't care about their customers.

I purchased a 2017 Kia Sportage from Union County Kia in July 2016. This was my third Kia purchase and last. My air conditioner has not worked in over two months. I have taken it to two different Kia dealerships and contacted Kia customer service several times. My case is suppose to be in expedited status but I get very little response from customer service. All contact with them has been initiated by me sometimes with no response. Each time my vehicle is repaired it only lasts for a couple of days. After the time and number of calls I should not have to call them but today I was told by customer service that someone would contact me in a couple of days. Therefore I went ahead and contacted the dealership again myself. It is very frustrating to have a new vehicle that does not operate properly and yet I'm still forced to pay for it and drive it back and forth to dealerships to try to get this repaired. Kia has no customer service

I have a 2013 Kia optima. I purchased it September of 2016. November of 2017 I received a letter stating a recall due to the engine. I called cause that time I wasn't hearing the knocking noise. They said it wasn't applied to me. Well March of 2017 I heard the noise. Nothing on my dashboard lit up to tell me something was wrong. I called them back. I had to get it towed to my nearest Kia dealership which was dean McCray in Mobile AL. They had to run a diagnostic test and ask proof of my oil change. The next week I was in a rental. They had my car for 28 days due to the motor on back order.
When I received my car back I smelled oil. A.C. wasn't blowing out. I took my car back the same day. The manager said they didn't get all the oil from under my car due to the oil leak. On the 3rd day my car wouldn't start. Had to get a jump off. Took it back. He claim they put it on the machine and everything came back fine. But my car wasn't doing none of that before I took it there. I called corporate headquarters. They never call back. I have to keep calling. They acting real **. Kevin is my worker. He has a bad attitude with an IDGAF mind frame. I am a single mother with no transpo. I love my car. First time owning a lease and last time I will be riding or driving one. I'm tired of being friendly. It's time to get a lawyer and take further actions from here on out. I have lost wages and I have migraines due to stress. They have poor service and the cars or crappy.

I am seeking information from owners past and present of 2010 Souls in regards to pain and suffering in the lower back and legs. I currently own a 2010 KIA Soul. Around 2 years after purchase I started developing issues with my lower back and legs, pain, numbness on long drives of 2 hours or more. I researched everything in my life in the way of activities, job duty changes, etc. The only major change was my trading in of a 2005 Chevrolet Trailblazer for the KIA.
I wouldn't normally attribute back issues like this to a car seat until I talked with my daughter who at the same time owned an identical 2010 KIA Soul. Without prefacing my question I asked if she had experienced any back issues driving her Soul. She replied not really unless she drove more than 4 hours then she experienced pain and numbness in her lower back and legs. She has since traded up to a Sportage and her issues have subsided. Are there any recalls out on driver seats? Is there reason to pursue legal action?

After reading all the problems and issues everyone has faced with the Engines seizing in their Kia Sorentos, I was terrified that I would have the same issues. On April 20th, I was driving my 2012 Kia Sorento when without any warning my engine shut off, lost power steering, braking and everything. It was a pretty intense few seconds while I was sure I was going to get into a major head on collision. I managed to get to the side of the road. I tried restarting the engine - nothing, the dashboard lit up like a Christmas tree and then the inside of the car started filling up with smoke and the smoke started rolling out from under the hood. I got out of the car, grabbed the fire extinguisher I have in the back, lifted the hood and was prepared to see flames. Nothing but lots of smoke. The care was towed to the dealer and was told the engine had suffered a catastrophic failure and seized. That's when I started reading about all the issues everyone has been having.
Kia instructed the dealer for me to show proof of maintenance, I went to the mechanic that has done all my service and he gave me a printout of the services performed. Kia still was on the fence and had the dealer pull the cover and check for sludge. The engine was clean - no sludge whatsoever. I did some research and found out that there is a lawsuit in progress against Kia for this very issue, plus a recall notice. Long story short, document everything, keep your records, do some research and having everything with you when this happens to you. Kia is replacing my engine with a remanufactured long block and providing a rental car at their cost, all covered under the warranty. I had 85K on the car when the engine seized.

I bought a 2012 Kia Sportage in 2014. It had roughly 80k kms on it. Come November of 2016 I received a letter that there was a voluntary inspection notice and a warranty extension of up to 200k due to poor manufacturing and potential sludge buildup in the engine causing poor oil flow. December of 2016 my engine seized. No engine, no oil pressure light. Nothing. The vehicle was paid for so I had a non-dealer mechanic find and install a used engine for me. All said and done 8500 plus taxes, etc. etc. End result there was no oil showing on the dipstick. I had checked a week prior and it was fine. No visible leaks or pools on the ground.
I take a road trip to Colorado from Kitchener, Ontario, Canada. I had no more than 5500 kms on that engine and it seized. Again, no warning. This time the oil level is fine but my mechanic had no explanation as to the cause. Now with a mass recall coming out May 19th I ask kia if I will be reimbursed for my engine. Of course the result was no. The customer service rep claims it went right to the top of kia and that was their answer.
The company has admitted there is a major problem with the 2L turbo and the claim was because I didn't let them inspect the engine they can't do anything for me. They just finished telling me the month before I was over 200k and out of luck. On top of it now I'm also advised that if the current engine seizes I can call them to see if they can help me out at all but I'm not counting on it. So now I'm afraid to travel by car, can't sell this vehicle for more than what the scrap metal is worth and I'm out 8500 I didn't have to begin with. Thank you kia!!!

I am writing in reference to the safety of my children. I am a single mother of two (one having a disability). I have purchased my second Kia in the past three years. I love my Kia Soul. I have only had this car a year and five months. I am very saddened to know that my motor is causing my car to burn oil so frequent that I am having to add up to a quart a week to make sure that my engine does not lock up on me. I am so upset knowing that as a single mother, I just cannot afford to buy an engine, a motor, nor can I afford to get one fixed. I use my car on a daily basis to transport my children, and for my job. I am planning a move across the country in June and I just do not know what I am going to do.
Is there anyway someone from Consumer Affairs can help me get this fixed. My warranty is out because I am over 100,000 miles. I bought an extended warranty upon purchasing the used vehicle. I am aware there are recalls happening with Kia and would like to know if my car qualifies. I am taking a risk everyday on putting my children in that car. I was so upset when I spoke with someone in Consumer Affairs and the only response they gave me was that I better try and hire a lawyer! Please I am begging for someone to help me. After my family and I have been valued customers for years and have purchased a total of seven cars out of the East Tennessee lot, I know that there is something that you all can do. Please help!!!!

I purchased a KIA Sorento in 2013. It was brand new. In 2017 at about 30,000 miles, it started producing a lot of blue exhaust. It continued to produce the blue exhaust, so I took it into KIA Roseville to get it serviced. They changed the oil, did regular maintenance, and checked out the problem. When I went in to pick up my car, they said everything was fine, and there was some sludge, but it should work its way out. They also told me to call them if the problem persisted. The problem did persist, so I called KIA Roseville, and asked if I should bring the car back in. They said that the problem was probably caused by the sludge, and that I should just continue driving on it to work the sludge out. Well, I kept driving on it, and even drove from Sacramento to San Diego.
When I got back from my trip to San Diego, my car started making a strange noise. I called KIA, and made an appointment to get it checked out again. I took my car in, and this time they told me my engine was about to fail, and that we needed to replace it. They also said that KIA would probably not cover the warranty, because we were missing some of our maintenance-receipts. They told us that there was excessive sludge. What kind of car gets excessive sludge in the engine at 30,000 miles? Oh, and mind you, I never had one warning light go on in the car. Well, it turns out this problem with KIA Sorento's, and other models, is happening everywhere. I have found hundreds of views with the exact same problem.

Bought a used Kia Sorento 2014 from the dealership back on January 2016. Sometime in December 2016 started having problems with the doors not locking. Did not have chance to bring it to the dealer to check until February. Apparently, something is wrong with one of the Fuse and they need to replace the entire Junction box. I thought this would be a manufacturing problem and it will be covered by Kia. Unfortunately, it is not and the cost would be $875.00. Warranty is over 1 year so it will not be covered. On top of that, the dealer charged me an additional $120 because I also mentioned to check the rear view camera because it stopped working.
A word of advice, Kia will charge you an extra diagnostic fee for every problem you want them to check. Tell me if this is not a rip off. Unable to do the repairs because the cost is too high so my doors do not lock and my rear camera is not working. I would never purchase another Kia and would not recommend it to anyone.

Bought a 2012 KIA Sedona with 29K miles on it from LANDMARK DODGE, which I've then had a little over a year... When all of a sudden huge white plumes started to pour out from the exhaust at 56K miles. The culprit... Excessive SLUDGE! Despite regular maintenance and oil changes since owning it, being under the Kia 5 year/60 mile warranty and having purchased the extended warranty because we planned to keep it for a long term investment (for our family of 6)... KIA corporation, Landmark Dodge and the extended warranty all continue to play this game of hot potato. I continue to jump through hoop after hoop with not a single one standing by the POS product they sold us in exchange for our hard-earned money. Despite known sludge issues in other engines, and a pattern of dishonesty about their other products, this vehicle apparently doesn't have the same problems?
Not buying any more of that crap. For 6 months, countless phone calls made by me, my vehicle sits at their dealership, waiting for an $8200 engine transplant... Had I known a little over a year into owning this "good value" I'd have to pay that, I'd have bought a new car! I'm tired of playing the game. They have lost me as a customer... I will never buy from Kia or Landmark Dodge ever again!!! In fact, not only have they lost a customer, but have a gained an activist to share their TERRIBLE CUSTOMER SERVICE AND WARN POTENTIAL CUSTOMERS OF THEIR INFERIOR PRODUCTS!!! Bring back the lawsuit!!! This is not settled!!!

Bought new Kia Soul 2014. Very hard to see out of when I am changing lanes. The wide right rear panel block view. I have had starting problems since October 2015. I never go anywhere without my jumper cables. In November 2015 I had to leave the car at dealership for 3 days so they could try to figure out the problem. They decided I needed a new battery. I am still having starting problems. I brought the car in last month they said there is no problem. Yesterday had to have it jumped 3 times. I'm disgusted.

After driving Hondas for 18 years now, I decided to give Kia a try. I purchased a gently used 2013 Kia Optima SXL 2.4 turbo on 02/03/2017. Fast forward to 03/03/2017 while traveling to South Carolina to visit my mom, I exited the interstate and went to accelerate, the car wouldn't go over 30 MPH, being that it was late at night no repair shops were opened. Mind, February is a short month so at this time I had only had the car 28 days. I take it to my local repair shop 03/04/2017 the mechanics literally laughed and said "Ma'am we will look at your car, but 9.5 time out of 10 we are going to have to refer you to the dealer, in the last week alone we have had 3 of these cars and were unable to determine the issue."
I get a call from my local repair shop later that evening saying that they went to crank the car and it will not start. I get the car towed to Kia and was advised the engine had locked up, and that it is covered under warranty, that was 03/06/2017. Here is where my problem lies, the dealership in which my car is at, was unable to provide me with a loaner because I live out of state. I asked the young lady "Well my mom lives here, could you give her the loaner and I can just drive her car back?" We are listed on each other's insurance policies. I was advised no. Totally frustrated I just purchased a bus ticket back home. A 22 hour bus ride for a 7 hour car drive.
I called on 03/13/2017 to get an update and was advised that the engine was on back order and I would be looking a 10 days. So I called my local dealer. Spoke with the service manager. Explained everything to him, and he also advised that the engine was on back order with no ETA, however he had no problem with providing me a loaner if was able to get the car towed to their dealer. He also provided me with 1-800-333-4kia. I called and spoke with a gentleman who escalated my issue. I explained to the representative supervisor that this vehicle is my only form of transportation as I am a traveling home health aide. I need a vehicle to drive. Megan is her name. Said that she would call the dealer to verify what I was telling her.
On 03/24/2017 I get a call back from Megan advising me that she verified the information that I was given, and the only thing that she could do was offer me rental car reimbursement and that they would reimburse 20 a day for a non Kia, and 30 a day for a Kia and that does not include taxes and fees, I told her I can't afford that. She said "I'm sorry but that is all we can do." I go online to look at rental car rates at all the companies and I'm looking at 350 a week for an economy car not including fees. 3/27/2017 I speak back with Megan and advised of the rates and told her that is not feasible and that Kia needed to think outside the box on how to resolve my issue. I then propose to her that Kia arrange to have to vehicle towed from South Carolina to Florida where I live to my local dealership since I have to wait and at least I can be provided with a loaner.
I was advised the Kia Consumer Affairs with only pay for towing once the repairs are complete, and that my motor had already been ordered through Kia company and that I just have to wait! I then asked since we are on the topic of reimbursement as well, is Kia able to reimburse me for my bus ticket? She told me I can submit it for review along with my receipts from Uber. At this time I'm seeking a lawyer because this is totally unacceptable. How can a company that knew that had a particular issue with a certain engine not issue a recall, instead of "If it happens we will address it at that time." Not only that why isn't there a stockpile of engines somewhere due to Kia knowing that this issue is out there.
I will never recommend the purchase of a Kia to anyone. I won't buy another one myself. KIA does not care about consumers because if they did they would have other measures in place to aid in customer satisfaction being that people are already being inconvenience due their poorly manufactured vehicles. Here is issue number two I have with this vehicle. I also noticed while on this trip that while getting gas it leaks. When I called into Consumer Affairs I was advised of all these other campaigns opened on this vehicle. Sad part about issue number 2 is Kia is not willing to look at it until issue number 1 is remedied. I am the second owner of this vehicle and I feel like I purchased an underdeveloped lemon.

Worse car (Kia Rio) ever to buy. Anyone thinking of buying a Kia... DON'T. Worse customer service, cheap cars. Bought mine in 2003 after 120,000 kms needs a new Transmission. Door locks are faulty and should be recalled. I have had problems yearly with brakes. I wish there would be a lawyer doing a class action lawsuit against Kia for ripping off so many people.

We bought a 2008 Kia Rondo EX 2.4L brand new from the dealership and opted for the Kia Protect 5 Star plan extended warranty. Thankfully this covered repeated visits for struts and front end parts and included the premature timing chain (not belt) replacement at 140K. At 151K the engine throws a rod through the block. All oil changes performed and documented and reviewed and approved by Kia. However the Kia Protect warranty states two items:
1) Repair will be covered up to the wholesale value of the vehicle (originally I was told by Kia my wholesale value was $1500 but after a month Kia Protect reviewed and increased to $3500).
2) Warranty repairs 'may include new or reconditioned Kia parts' but also says 'at the discretion of the administrator '.
Response from the dealership: "I spoke with the extended warranty company this morning and they gave me a max value they will cover, they will cover to a max of $1479.00, and they will only install OEM Kia parts, which means you would have to cover the difference, and new parts and install you'll be looking upwards of 10,000.00 which would be a large difference to cover. Your other option is a used complete motor assembly that would be approx. 4700.00 plus taxes installed, but they will not cover any of it. Motor will take a few business days to get to us, then we would need a few days for install."
I argued with both the dealership and Kia that 'may include' does not mean 'must include'. However Kia Protect will only replace the engine with a new Kia engine and will not consider a used engine. Estimate from Kia Protect (LGM FINANCIAL SERVICES INC.) "The estimate is as follows: total estimate $9484.60. Kia protect: $3500 including taxes. Remaining balance to be paid by contract holder: $5984.60. There is a $500 difference in the amount if the head does not have be machined." Escalated issue from Kia Protect from adjuster, supervisor and manager to no avail. Will be looking for a new vehicle from someone more reliable that stands by their product.

My 2015 Kia Optima was towed on to the flat bed from the rear bumper on November 26, 2016 by Ken, tow driver from Garges Towing company, contracted by Kia's Roadside Assistance. I'm speaking on behalf of all other Kia's customers who have encounter unprofessional/unacceptable service from towing companies contracted by Kia like Garges Towing Services. It would be my assumption that Kia would contract towing services/operators that know how to conduct their service correctly. It is clear and makes complete common sense that my vehicle should have never been towed from the rear and because of this negligence/careless act my vehicle has damaged bumpers/panel.
The Kia's Optima manual states not to tow from rear regardless of it having flat tires, in my case, I had flat tires (all four) and tires have sport edition rims which should have been a big caution sign (visible) not to tow vehicle from the rear. I will be emailing other responsible individuals within Kia, BBB and other necessary parties. During my own investigation, I interviewed a tow driver who conducted service when talking to a Kia service department in Covina, he mentioned and described the appropriate method of towing my vehicle because of the flat tires and sport edition rims. He stated, that the flat tire on the driver side should have been replaced with the spare tire (easily accessed from the trunk).
After replacing the flat tire with the spare tire, my vehicle should have been towed from the front bumper on to the flat bed. It was obvious, that this method is commonly know by tow truck drivers and used to prevent damages on vehicles being serviced. It is unfortunate that in time of need, I utilized Kia's warranty service which is offered to its customers and highly advertised and in return an unprofessional tow truck driver was contracted and completely ignored the proper method and therefore damaged my vehicle. I with my own eyes saw when my vehicle was towed from the rear on to the flat and both bumpers were scraped from the bottom. The front bumper was pulled apart from the entire body in the way I could see it almost come apart. The cracks on the front bumper clearly illustrated on the photos and are the result of improper towing service.

2016 Kia Soul. 23500k miles on it... engine started making a noise while accelerating slowly. Checked the oil. It was low but in serviceable area of dipstick. Checked for leaks, including checking the filter. Took it to the dealer and the check engine light came on for the first time. Dealership is now saying that the oil filter was loose and all of the oil leaked out. The oil was not changed at the dealership so this is their tried and true way of denying the warranty. They used to void the warranty outright if the change was not at the deal but now they say the part failed.
This car has been to the dealer two times for oil related issues. The first time oil was leaking after they changed it and they blamed the drain plug failing. Before I took it in that time I checked and the plug was loose. Of course this was covered under warranty because they messed up but would not admit it. This time, they blame the filter and claim oil was all over the underside of the car. ODD!! I was under the car to check it 20 minutes before it was in the deal ship and there were no leaks found?? Now the outcome is a blown engine that Kia blames on faulty service. Don't touch them.

I leased a 2017 Kia Sportage SX Turbo GDI, Fully Loaded (it has everything you can think of except for driver memory seat). The car is very sporty and good looking, and that is all the good stuff I can say. I leased the vehicle April of 2016, the vehicle operated good 6 months and that is when the problems began. On September 14, 2016 I took the vehicle into the dealer because of a check engine light (only 1,682 miles driven). Spent about 2 hours of my day at the dealership to be told that the code was a turbo under boost and a misfire, they cleared the code and said not to worry and gave me my vehicle back. Also there was a recall for rear door latch replacement to be done on vehicle, I set appointment for the following week for that recall. On September 21, 2016 I took the vehicle in for the recall of the rear door latch assembly, another 2 hours of waiting at the dealer for repair.
On September 28, I had to have the vehicle towed by roadside assist to the dealer because when I started up the vehicle in the morning there was a strong fuel smell coming for the vehicle. I called roadside assist in the morning to pick up car from my driveway, was told, "The tow truck would be there in about an hour." Tow truck did not make it to my home until late evening to pick up vehicle. Got to dealer and was told that an animal got under my vehicle and chewed on my fuel line (this was not covered under my warranty as the part was not defective, I told the dealer that, "If the fuel line was not made of soy-based products the animal would not have chewed it thinking it is a food").
I have three other vehicles on that same driveway and none of them have ever had a fuel line or any other parts chewed by animals. I was told that I have to pay for that repair and also would have to pay for a rental while the order part and repair the vehicle. Which I believe I should not be responsible for (I ended up paying for that repair and a car rental). At time of repair the vehicle only had 1924 miles on it. On October 5 I take the vehicle to dealer for a check engine light again which was the same problem as original check engine light on September 14. Waiting again at the dealer. Another day wasted. They came back and told me that they had replace the 4 spark plugs as because they were bad, they even tried to tell me that, "The spark plugs ruined because of the chewed fuel line" (I told them that, "I am not that stupid to believe that, don't give me a flame shooter story"). The vehicle only had 1938 mile at that time.
On December 23 the vehicle broke down in the middle of the street in rush hour. I called roadside assist and was told they would have a tow truck there in 60-90 minutes. The police had to come and divert traffic while waiting, the officer came to my vehicle and asked if roadside assist was on their way, which I responded, "Yes." He asked me to call and find out how long before they get there. I called them back about 30 minutes after my original call to get ETA, and was told, "More than 2 hours." The officer told me that, "We cannot block the road for so long" and he would called a tow truck to take us to dealer, which I had to pay for. We get to dealer and I had to argue about getting a loaner vehicle. The dealer checks the car the next day and finds that it would not turn over.
A week later they tell me that my vehicle needs a new engine, (my vehicle only had 2538 mile on it at the time). They order the new engine to replace original one. All the time I am stuck with a rental which was not equal to what I leased and still paying my lease. Finally I received my vehicle back on Feb 1, 2017 hoping that this time it will be okay, still have not received the tow that I had to pay for on Dec. 23, 2016. I told the dealer, "The reason I buy/lease a new car is not to have mechanical problems to worry about" (they don't care once you buy the vehicle). I WILL NOT BUY/LEASE ANOTHER KIA.

I purchased a brand new Kia Sportage from Kia Swan Hill. I purchased the car 2 hours from where l lived as they had what l was after & the best deal at the time. A couple of months after l brought the car I received a recall letter in the post. I rang Kia in Bendigo as it was closer. They asked me to drop the car off & leave them with the spare key. I explained that l did not have a spare key. They explained that all new Kias come with a second key regardless of what Kia showroom you purchased it from & was told to contact Kia Swan Hill where l purchased the car from to enquire about the spare key that l never received, because if l accidently lock my key in the boot l would not be able to retrieve it as the car would lock. This news concerned me as l had no spare key.
I rang them & they said they would get the man who sold me the car to ring me back. A few weeks later l rang again & was informed that the seller has since resigned. They said they would email the manager & ask him to ring me. I waited another couple of weeks & ended up in Swan Hill for the day with work & called into Kia. I was in the work car & was informed Kia couldn't do the key without having the car there. I explained that l was only there for the day & that it was a 2-hour journey to bring the Kia back to them. So they said they would send the new Key in the post to Bendigo Kia for me to collect. I waited another few weeks & rang Kia Swan Hill to be told they had sent the Key to Kia Bendigo.
I rang Bendigo Kia & was informed no key was ever sent. I was not happy & rang Kia Head office. I explained the situation yet again & was informed a key would be sent out & to my delight a key arrived in the post & that it would need to be programmed before use. I booked the car in at Bendigo Kia & when l dropped the car off. They said they key needed to be cut first. I had to drive to into Bendigo lock Smith & pay $25.00 to have the key cut & when l returned with the key, Kia Bendigo said it would cost me $80 to have the key programmed.
I was disgusted that l had to pay & rang Kia Swan Hill & asked to be reimbursed the $105.00. They said that would not pay they money & that l needed to drive the Kia to Swan Hill to have the key done. I explained that l had already lost a day's work running around the car back & forth to Kia Bendigo & to the lock Smiths & for the recall. Explaining that the 4-hour return journey there & back to Swan Hill in time & petrol would cost me even more in the long run. So I had no choice but to pay the $105.00. I am appalled the amount of time, loss of earnings, the cost of petrol & phone calls l have had to put into the retrieval of a second key & of which l should of received on the day as l drove my new car out from the showroom.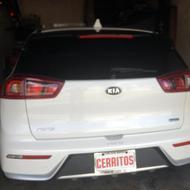 Leased the 2017 KIA Niro EX Hybrid car on Sunday and drove home 10+ miles. Odometer had 15 miles on it. Left the car in the garage for two days and attempted to drive it early Wednesday. Backing out of the garage and was steering onto the street when the power steering warning light came on and steering was very difficult and noisy (growling) - vibrating while turning the wheel itself. Pulled back into the garage and all warning lights came on. Shut the car off and retried several times. Waited with the car idling. Battery warning light came on. Let the car sit and looked in the manual for answers. Tried backing up again and all the warning lights came on again, and steering was again very difficult. Drove back into the garage.
Called the roadside assistance number and the flatbed truck took the 2017 KIA Niro EX back to the dealership. The tow driver had much trouble getting the car out of the garage and maneuvered onto the flatbed. This is a serious safety issue to us because the car could barely steer. Received call from service at KIA Cerritos saying power steering motor had to be replaced and that Korean engineers were flying out to look at the car personally. Still do not have a car, but we are in limbo now about the brand itself and are looking again at Toyota.
KIA of Cerritos - a very short description of our encounter before and after. Salesman said we could have leather seats in the base model, that it takes about an hour. When we went through the agreement, he instead was selling us a 35k vehicle. I asked, how did we go from 22.5k to 35k. He wouldn't show us the numbers through the whole process. We were very pressured to take this vehicle, and the salesman kept referring back to a 'pre-delivery' inspection, which seemed odd - like something was wrong. Keep in mind, this is the shortest version.
After the KIA Niro steering failure and the tow truck delivered the vehicle, I had to sit through several more interviews at the Cerritos dealership, being shuffled around from office to office all afternoon, much like the initial sales day. A Head of Sales man told me the General Manager said no to my request to return the car and unwind the deal of less than 72 hours. I was going to just leave, and then I went in to confront the supposed General Manager. He said, "No, I'm not the General Manager, I'm the Service Dept. Manager." Then he took me in to see Joe **, the real General Manager of KIA of Cerritos. The conversation with the Cerritos dealership General Manager, Joe **, was very short. He simply said he won't 'buy-back' because it's now a used car with 30 miles on it. He said he won't call back the DMV title in our name.
I left the dealership and the car, which I still hadn't driven myself, in the service dept. to be fixed. When I got home I called a 'lemon law' consultant. He was very knowledgeable and said the dealership wouldn't have filed with DMV yet as it's too early and that it's usually done weekly or monthly. Remember we had the car less than 72 hours. It was late Sunday when we drove the car into our garage, and the next day was a holiday, President's Day. So, that left Tuesday, and I attempted to drive the car Wednesday at 4am. I had also called Kia Motors Finance and they told me they couldn't find the VIN number - we had no account on file yet. In their opinion, there was no real reason for us not to be able to walk away and find another car. And of course after this, another dealership. We are still in limbo about our lease with KIA and the return of our brand new 2017 KIA Niro EX Hybrid.

KIA Picanto 2016 Don't trust KIA Motors! The first technical problem that occurred with the KIA was in August, the car was taken to the KIA service in order to fix the problem. I was told that the problem had been entirely fixed and would not happen again. However, after a month the exact same problem occurred. The car completely stopped in the middle of the road and the steering wheel locked making it impossible for me to move the car somewhere safe. I had two young children in the back and this situation could have easily caused an extremely serious accident with not just myself and my family but others on the road.
The car was taken to the KIA service in order to fix the same problem once again. This exact same problem has now occurred three times and each time it has caused me an overwhelming deal of stress, money and time. I am extremely frustrated and angry with this entire situation, the problem had supposedly been dealt with, I am not comfortable driving this car anymore as it is clearly not up to road safety standards and would never want to risk putting the life of my children or others on the road in any kind of danger.

Kia has very disappointing customer service. I bought my Kia back into 2012. It is a 2013 Kia Sorento Ex. I have approximately 89,000 miles on it. My oil check light started coming on and off (it would flicker). I brought it into Kia and they said that my oil pressure sending unit is failing and that is why the light was going on and off and it would need to be replaced.
They quoted me it would cost between $800-900 to fix. However, when I bought my Kia I got an extended all power train warranty good up to 200,000 miles. They said that it wasn't covered under the warranty though. Even though the actual part cost is $25 (where it's located in the engine is why the labor is so expensive), but if you read the reviews of Kias, this is a huge failing part of the car. Many people have issues with this and it's very common in kias. So why wouldn't they recall the part? They recalled them back on the 2011 models, but not the 2013. They are still a big problem. If this part fails, my engine would be destroyed. So then does Kia cover the cost under my power train warranty? It's a joke.
When I called Kia to complain of this issue, they couldn't give me an answer after I asked them this question. It failed on my car while it was parked in my garage. I woke up to find an extreme amount of oil on my garage floor under my car. Checked my oil and there was zero in it. I had to have a service come to my house since my car was unable to move without ruining the engine. After replacing the part and labor it costed me $502.00. I would never buy a Kia again.

I have a 2014 Kia Optima 4 door, 2.4 engine, 42,000 mile, paint and under coating is reacting. Paint has begun to come off. Paint has many places, that paint is wrinkled up on the car. Corp has denied any claim. Also headlight cover is losing coating. Kia will not replace. During cold weather, fogging took place. Kia after now 3 trips of 100 miles round trip repair leaking air conditioner metal line that was broken all the time. I would suggest a class action be filed by consumer protection in each state! KIA HAS NO REGARD FOR CUSTOMERS ANYWHERE.

I have had my car in the dealership on several occasion. I have a 2014 Kia Cadenza. A very elegant car but it is misfiring and it vibrates like crazy on a cold start and a hot start. The service advisor is always nice and polite. But the service on my vehicle is horrible. Kia knows my vehicle is misfiring and vibrating like crazy it's to the point where it I'm moving in the car too it vibrates so bad. I work for a Kia dealership and if Kia tech will do me like this they would do anyone like this. I would not recommend anyone to purchase a Kia Cadenza. They are garbage. They look good on the outside but rotten on the outside. And I know they are trying to wait until my warranty go out so I would have to face this problem myself.
Company Name:

Kia

Website:

http://www.kia.com/us/en/home