Consumer Complaints and Reviews

I recently bought a used truck from a reputable dealership in Orange California and have had all my services done through them. I am currently in the market to upgrade my truck and took it into Carmax for an appraisal. When they asked me if the truck has been in an accident I responded "no". When they (carmax) ran the vin through autocheck it came back with two minor accidents reported. I had to take my truck in to get serviced again because of an engine oil leak. I recommend when buying a car, especially first time buyers, DO NOT trust the carfax report. Carfax representative sent me an email stating they use databases that accidents may not be reported to. Autocheck is a database they should implement for better quality reports. I will never trust carfax again.

I'm looking for a car for my son. I purchased the "unlimited search" and quickly found out that unlimited vin search is 5 cars. The unlimited is for plates. At most dealers there isn't a plate and lots of online ads doesn't show you the plate but will list the vin or will gladly give it to you. I went ahead and tried the "unlimited search" using the plate on a pick up that I've owned over a year and a half.... no record. Carfax is a big car fraud!

Prospective private used car buyer paid for a Carfax report. They were given incorrect mileage for that vehicle. Carfax reported the vehicle had 200,000 miles. The exact reading as of this complaint is 101,869, a difference of 98,131. That significant misinformation is now causing problems selling a perfectly good vehicle.

I had a report on my car that was not accurate. Tried to have them fix the problem. The police officer checked the wrong box and said my airbag deployed. It never did. I asked for them to call insurance company and body shop to confirm it was not deployed. They refused. If police report can't change then it stands. They need to be more helpful. It will cost me thousands.

I've been shopping for a car over the internet so I've been regularly using free or inexpensive vehicle history services. I was surprised how thorough they were and their user-interfaces were simple but effective. Today I found a car I want to make an offer on. Because of all the potential pitfalls of buying a car sight-unseen I decided to order a Carfax report to be as thorough as possible, even after being shocked by the the thirty-nine dollar cost. I had expected it to be no more than nineteen dollars, and even then I thought it was too high.
The first problem arose when it rejected three of my credit cards for no reason. I've had this happen before and the problem was on their end each time. I finally was able to use PayPal successfully but when I tried to order the report I got a message that my Adblock was preventing the report from being downloaded. My Adblock is on my toolbar and I could see that it was off, but I just kept getting the same message. I'm definitely going to try to get my money back especially after I read that the Carfax report contains pretty much the same info as the cheap reports.
How do I know I can trust these reviews about Carfax?
638,664 reviews on ConsumerAffairs are verified.
We require contact information to ensure our reviewers are real.
We use intelligent software that helps us maintain the integrity of reviews.
Our moderators read all reviews to verify quality and helpfulness.
For more information about reviews on ConsumerAffairs.com please visit our FAQ.

Looking to sell a vehicle, I went to Carfax Canada to buy a one time report for $39.99. I followed all the prompts and clicked on the one time report for what I was led to believe 39.99 Canadian dollars. NOT SO! They sent me an instant receipt for $69.99. Immediately, I contacted "Customer Service" to express my dissatisfaction. I received a condescending reply from what I imagine is a "spin" professional (Someone who turns the truth into what they want you to believe without assuming any responsibility). Carfax offered the refund. I received my Credit Card statement, and to my total surprise, they charged me in US dollars, so my total was $93.21 Canadian. That is a far cry from the $39.99 I was led to believe.
Once again I contacted them. This time I received a reply stating that they have absolutely no obligation to reply to me, but they did regardless. They never addressed the fact of the money exchange, of course not, they are hiding Carfax Canada under their US Headquarters to justify the charges. Then I'm told to contact my bank to discuss the currency exchange. Be aware folks, be forewarned. You are dealing with an unscrupulous company. Also, check out the Market Place report on this company. The information you pay for is not always accurate or up to date. Proceed with CAUTION.

So I was looking for cars and wanna see cars' history with the VIN report from Carfax. At first, I spent 69.99 for the whole package that Carfax claimed to be "UNLIMITED", but later it turned out to be 5 checks with VIN number only. Later, I bought another "UNLIMTED" package (what other options do I have?). Then the funniest part comes, I could not log on to my account, it kept telling me wrong password. I reset the password... no luck... then it leads me to another page of buying the package. Are you ** kidding me? Carfax is the worst...

I purchased a VW Passat for my son in April, 2012. The Carfax report showed no accidents, no damage reported to Carfax. I do understand that Carfax is based upon people reporting to them. I went to sell the car yesterday, August 22, 2016 and when the dealership ran the Carfax it showed the car was a "Total Loss" back in 2009. How can Carfax suddenly have "found new info" on the car AFTER I bought, and before I sold it? Something is seriously wrong here. The dealership yesterday states that this is a serious problem with either Carfax or the dealer. I don't know which. But I just lost $5000 in value because of this problem. Buyer beware. Do NOT buy from small dealerships. Go with the big boys and pay a little more. It's worth it in the long run. Carfax will not help me at all.

I bought a car from a dealer and ran a report with Carfax, which showed a clear history. After six months when I went to sell the same car, it shows car accident record which happened two years back. The record says the accident happened two years back but they updated the record recently (after I bought the vehicle from the dealer). May be a Nexus between dealer and Carfax... and now the dealer blames the Carfax and Carfax -- oh you cannot even contact them... Just a fraud company due to whom I have now huge monetary loss when I sell the vehicle.

I have run the Carfax report prior to purchasing the vehicle on December 17, 2015. After I purchased and registered the vehicle on December 18, 2015 it turned out that the vehicle had Rebuilt status. My purchase decision was based on the report that I ran prior to purchasing the truck. Carfax report failed to show a Branded Title on December 17, 2015 when in fact it was in effect since March 14, 2014. Since then Carfax have been denying my complaint, saying that the status was salvage, but the title was not issued. My vehicle has received Salvage status in March 2014. DMV changed the vehicle title to Salvage.
In Alberta, Salvage vehicle cannot be registered. Any vehicle that is salvaged cannot be registered. I run a report on December 17, 2015. Carfax had plenty of time to report an updated status of the vehicle. Carfax is failing to stand by the guarantee. It is obvious that Carfax is coming up with excuses, in order not to stand by they guarantee. Basically, any consumer can end up in the same situation as I am and Carfax will say that it is not their fault, therefore denying the claim.

Carfax has flat out refused & ignored our repeated requests to obtain their legal department's mailing address and telephone number. Additionally, they do not provide the necessary steps, if any, on how to opt out of their report. Repeatedly, we have been met by this generic response by CARFAX: "We do not provide any personal information on the reports. Your name, mailing address or any personal information about yourself would not appear on the report. CARFAX Reports provide valuable information which helps used car buyers and sellers make better decisions and helps to keep safer cars on the public roadways."
Contrary to the above statement, CARFAX knowingly and actively solicits partnerships with agencies who link the CARFAX report to owner/registrant information. This backdoor linking with insurance companies, car dealerships, and service departments(...) trespasses on our right to privacy. CARFAX does this under the guise of protecting even allegorical buyers for vehicles that are not for sale. This practice should be illegal. CARFAX reports should be limited to owner/registrant requests. Let the buyer request the report and the owner choose to oblige or lose the sale. This says nothing of the billions lost due to incorrect or incomplete information garnered and published by CARFAX. Here even the buyer should beware. CARFAX is not a trusted source of complete vehicle disclosure. Let's find strength in numbers and fight CARFAX.

I ordered "unlimited" Carfax reports for $55. It was ONLY AFTER I ordered that it was revealed to me that I can only run five Carfax reports by VIN. Unlimited is only by plate number. Well that is silly because most cars for sale do not have a plate anymore. This is clearly a devious and misleading practice by Carfax to con people into buying the unlimited option, then only giving them five reports by VIN. So in reality this is an option for only five reports. Carfax is devious and misleading about what they sell and can't be recommended.

I went to Carfax.com, and tried to run a VIN check. It ran it... and then asked me to place an order for the product, to view the report. The order page had "Unlimited Carfax Reports" (in large, bold font) autoselected... and I ordered that... at which point, large bold words informed me I had unlimited LICENSE plate look-ups... but only FIVE VIN look-ups!! I went back to the original order page and there were a total of three options... 1 Carfax Report (large print, no explanation underneath); 5 Carfax Reports (large print); and the autoselected Unlimited Carfax Reports (large print)... with FINE print underneath, that said, "Unlimited Reports by U.S. License Plate Valid for 60 Days". I consider this EXTREMELY misleading... since the TITLE does not indicate that there is anything different from the other two options--which ARE for VIN look-ups only.
I asked for a refund, was offered 20 more VIN look-ups, instead of unlimited license plate look-ups--but was so unhappy with the misleading sales techniques, that I told them no, I just wanted a refund. I got it... although "it will take 3-5 business days for it to show up". :( I cannot comment on their product... since I will not be using their services now--but I did ask the rep to pass on my comments about how misleading that was. :/
I was also disappointed that there was no way I could speak with a live person--I found no phone numbers on their website. My options were an email request (which I submitted) and a live chat (which I used). I prefer to speak with someone on the phone when I have a problem with a purchase... but I will admit that the live chat gave me what I wanted (a refund) quickly, and without any hassle. My "medium" customer service ratings are because it was difficult finding how to contact someone... and I wound up in a loop, a couple of times.

I thought I was purchasing UNLIMITED Carfax for 60 days but after the fifth one I also realized that UNLIMITED applied to license plates NOT VIN number. I wouldn't have purchased it if I had realized that. Which dealer or car seller posts license plate number on internet so I can use it for history report?

I also thought I was purchasing UNLIMITED Carfax for 60 days but only after getting the second one I realized that UNLIMITED applied to license plates NOT VIN. Wouldn't have purchased it if I had realized that.

Purchased a used car from a dealer here Independence. He provided me a Carfax to verify the mileage of 96,000 and an owner history. A few months later I decided to sell the car and get something smaller. The lady that was going to buy the car ran an Autocheck and it showed that car as 122,000 3 years ago in 2013. I contacted the dealer that documented that car as 122,000 on their state inspection when they sold it. Now the dealer that sold me the car refuses to accept responsibility. Carfax did not have any of this information in their report.

We bought our car with a clean title and a clean "Auto Check." Now we can't sell our car because CARFAX is saying it was total loss in 2010 before we bought it. The state revenue department has verified that they have no record of this, and show a history of clean titles for our car. I can't get through to CARFAX to seek resolution on this matter. An auto dealership has turned us down on a trade in because of the erroneous information propagated by CARFAX. I'm seriously considering seeing a lawyer. Why aren't they held accountable for the accuracy of their information if their information can so severely impact consumers? If a bank was pulling crap like this, I'm pretty sure they'd have the Consumer Financial Protection Bureau all in their business!!!

Ran Carfax, paid $10 for information. Carfax showed this vehicle had been in no collisions. This vehicle has been hit, both front and back. When I contacted Carfax about the fraudulent information, I was told they hold no liability other than titles. This company should not report collision information since they don't care to check records and this practice should be outlawed.

Six weeks after that my Porsche was stolen, Carfax has yet to include this fact in its vehicle history report. A Carfax VIN search, therefore, will not protect a buyer from unknowingly acquiring a stolen car. In my case, I ended up paying Carfax $39.99 for incomplete information.

I purchased a used car (Carfax certified) based on Carfax report. After purchase I applied a loan in the bank. They confirmed that there is a structural damage was reported in Autocheck report. The same was not provided in CARFAX. The bank refused to provide the Loan due to structural damage and now I am facing financial issues. Can anybody suggest me how to proceed.

UNLIMITED is in big bold letters. The words "by US license plate" are in small letters, and it does not specify anywhere that running reports by vin# is indeed VERY LIMITED. When you click on the UNLIMITED option, it does not open a window for a more detailed description, so the above words are all you have to go on. Since I bought the unlimited package, I used it liberally, and it wasn't until after I had run my 3rd vehicle that I noticed the caveat that I only had 2 reports remaining. With so many vehicles available at dealerships, the license plate only option is very limited. Deceptive business practices burn bridges with me. I'll use my 2 remaining reports since I already paid for them, but I'm done with Carfax after that.

The unlimited reports package is a scam. You only get 5 checks by VIN. When buying a used car you will find that VIN is provided by sellers, not license plates. There is no unlimited VIN package offered. Stay away. Look into alternatives and competitors.

When my credit card company offered a free Carfax, I took advantage of it and ran it on my car (bought new with 7 miles on it). It claimed it had been in an accident, but had no other info. It hadn't. The paint was fading and my dad (owned a auto body shop) repainted it for me for Christmas. Carfax refused to correct their error.
Later on when I was replacing a car with high miles and went to Carmax for their quote, they claimed it was in several accidents and used that to justify a $750 offer on a car which was NADA guide priced at $2500-2900 trade in value. A nudge requiring NO REPAIRS should not be knocking the value down of a car several thousand dollars. I then paid for a Carfax report and found a bunch of inaccuracies on it. Carfax claimed two front end collisions (no repairs needed, however I did need to replace the license plate holder...), and a significant amount of maintenance at a dealership that I never went to. There needs to be some liability on their lack of accurate information, their refusal to correct any errors, and compensation to the consumers who lost money on the resale of good cars because of the erroneous reports. It would be interesting to have their reports audited for accuracy.

I sign up for Carfax, we bought a car based on the information provided. We then looked up our car and the information was over a year old on one car and over 2 years old on our other car. We had an accident on one car that didn't show up, new tires, an entertainment systems that was replace 3 times and it only showed up once. I emailed them and they suggest I call the dealer to update the information. I shouldn't have to do that, they said, "Some sources provide us with updates daily while others provide us with updates weekly, bi-weekly, monthly, bi-monthly, etc." My information is 1 and 2 years old. I will never use them to decide if I should buy a car. Outdated information is useless to me.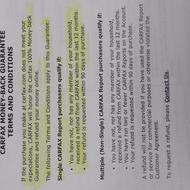 Bought a car from a used car dealer and I have had nothing but problems ever since. I got a Carfax sheet stating that "If you are not 100% satisfied, we will buy back the car." I sent them an email letting them know that I was not satisfied and got a reply of "Our policy on buyback is if the odometer has been tampered with." This is not what their website reads.

Beware. The unlimited is not unlimited reports by VIN, only by license plate. The ad is kind of misleading if you do not read the entire ad. I see other complaints about the same thing so it is just not me. It is deceptive! Wasted $55.

I signed up for the unlimited Carfax reports within 60 days. I did not notice that only 5 reports were obtainable through a car's VIN number. In shopping for my new car, I quickly used up the 5 reports and was then required to look up reports by license plate number. As all of the cars that I am looking at are through dealers, I don't have license plate numbers, so the service is worthless to me. I realize that I should have read more carefully, but I would like to make other buyers aware so that they don't get caught in this same trap.

Purchased used car in February 2016. It's been a month now and I still haven't been able to drive the car. No tail lights. White smoke pouring out of the back tailpipe pipe all the time. I mentioned the white smoke coming out of a tailpipe day one. Used car lot said that was typical, all cars smoke. Two days later check engine light, came on. Meanwhile, tail light driver side still out. Took it back to use car lot. They said they'd fix the light. They made three attempts and on those three attempts one of the guys at the used car lot was saying that he could fix everything for me, "baby just go out with me" and mentioned a lot of other sexual graphic things. I'm appalled. I'm pissed off and I still don't have a working vehicle and I lost a job over it because I miss so much time.
It was a used, as is, no warranty vehicle, cash only which I paid over 5000 cash for. It took it to 3 places, had it diagnosed O2 sensor and it needs valve guides intake manifold and that's just what they uncovered from the diagnostic. Used car place said "bring it back. I'll send it to my mechanic. Will get rid of the white smoke but you have to take care of the tail light. Will give you a loaner car for 2 days." I had originally said give me my money back. "I will give you your car back" they said. Here's the deal. You got an estimate for $2,500 + to fix the white smoke with check engine light O2 sensor. Those kind of places are all about money. He said "I don't trust them." Well the place I took it to was a certified Mini Cooper mechanic in business for 35 years. Sorry but I do trust them and not the used car place. Plus I really don't want to have to deal with all the sexual BS that I know that I'm going to come up against.
I tried to record him but my memory was full on my phone. I tell you this because just because you buy used car, as is, no warranty, used cars are not protected under the lemon law. There is still legal recourse. If they knowingly sold you a car that had problems, it's fraud and you can sue them for fraud. I've purchased all of the warranty problems with the car and these issues existed and previous owner declined to have work done and just sold it. Used car place picked it up, cleaned it up, and they just put in their lot. Of course they had a CARFAX report that they gave me when I got the used car. The Carfax report or worthless Carfax reports are only as good as what the dealer and the insurance companies report. To them if someone takes it to an individual mechanic they don't report all those issues. Therefore it doesn't go on the CARFAX report.
So CARFAX sucks and so does Mini Cooper S I and I have three different diagnosis on the vehicle. I've talked to so many certified Cooper mechanics in a dealer of many and they all say the same thing. White smoke coming out the back all the time. Get rid of it. These cars are very finicky and they are costly to fix. What a mess, what a big big mess. To be continued. I'm sure taking the car back to the used car place to let them attempt to fix the white smoke, that'll be a whole other story. I'm sure I'm contacting all the news media if they don't get it fixed. I don't trust them. They couldn't even fix a tail light, how the hell are they supposed to fix something major. But what choice do I have. I don't have any money left and I lost my job over all this mess and more sexual crap to endure.

I used Carfax many years ago when there were few competing options. They had a subscription that allowed for unlimited searches for 30 days. I was happy with it back then. Today, I started car shopping, so I went to the Carfax website and saw they offer only 5 VIN searches for $49.95. That seemed pretty limiting, so I jumped at their offer of UNLIMITED searches for only $5 more! I signed up for the $54.95 subscription. When I logged in to use my subscription for the first time, it said that I have only 5 VIN searches. I thought they made a mistake. It was then that I found that the UNLIMITED searches for using license plate numbers only. That doesn't work at dealers who usually don't have license plates on their cars.
It is my fault because I did not read the finest of the fine print. Buyer beware! They did their legal part to warn me. I accept my responsibility. However, the advertising and wording on the sales page is clearly meant to dupe the shopper into spending more money. It is misleading and unethical. I hope that extra $5 was worth it to them to lose me as a future user along with the fact that I will ACTIVELY try to lead other people away from using Carfax. NOT RECOMMENDED. Use a different service.

I went to DCH Honda in Paramus, NJ last week to buy a car. I was offered much less for my old car which I wanted to trade in ( less than even than the blue book value,) since they told me they could not verify my mileage. The dealer produced a Carfax that seemed to be saying that my auto mechanic fiddled with the mileage several times. I have been going to my mechanic for a long time and they were recommended to me. Not having confronted a report like this before, I went along and took the lower offering. The report, at the end of the chronological time it covered, did reflect the proper mileage in my car, but the dealer was unmoved.
Today I went to my mechanic to have the car inspected (I live in another state), and I brought the dealer's Carfax report showing the times the mileage seemed to be entered into the database incorrectly, as though they were trying to depress the mileage, and I asked about it. Here's what he said: that they have dealt with this a few times, and wished I called from the dealership when I was buying last week, that he could have faxed over the invoices showing correct mileage taken each time, that there is a LAWSUIT against Carfax by 120 dealers and car shops, because they accessed an area or region's auto association's data illegally, and that because it was not pulled properly the numbers came out incorrectly. So, I wonder if the dealership knew that the report was incorrect, and that gave them a bargaining tool. I'm copying the attorney general in NJ, with all the documentation, and asking them to take a look.
Company Name:

Carfax

Website:

http://www.carfax.com/