Infiniti maintenance: cost, plans and service schedule



Written by

Edited by
Find Extended Auto Warranties near you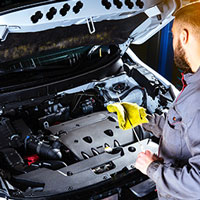 Car ownership comes with more expenses than just your vehicle's sticker price. Maintenance and repairs can add up — and they add up to more for some brands than others.
We looked into the cost of Infiniti ownership to help you decide whether owning one of its vehicles is right for you. Keep reading to see how much you can expect to spend on maintenance and repairs, what other brands cost on average and what you can do to save money on upkeep long-term.
---
Key insights
Infinitis have below-average upkeep costs, according to data from RepairPal.
Infiniti owners visit the mechanic more often than average but don't have to deal with severe repairs as frequently, which more or less evens out.
An extended warranty can help you avoid paying for repairs if your Infiniti does break down later in its life, though.
Are Infinitis expensive to maintain?
Infiniti is the luxury division of the Japanese automaker Nissan, and it's partially this luxury status that makes Infiniti upkeep more expensive than maintaining and repairing a Nissan. Within its class, however, Infiniti actually has pretty affordable maintenance and repair costs.
According to RepairPal, a site that processes a lot of car repair cost data, the average price of maintaining and repairing an Infiniti is $638 per year. (Compare that with the $652-per-year industry average across all brands.)
How Infiniti compares to other automakers
Infiniti placed right in the middle of RepairPal's reliability rankings at 16th out of 32 automakers. While Infiniti owners can expect to visit a repair shop more often than the average driver — 0.7 times per year, compared with the average of 0.4 – those repairs are "severe" less frequently than average.
| Make | Average maintenance and repair costs* |
| --- | --- |
| Infiniti | $638 per year |
| Honda | $428 per year |
| Toyota | $441 per year |
| Ford | $775 per year |
| BMW | $968 per year |
*According to RepairPal
It's worth noting that these figures cover each automaker's entire lineup, so your estimated costs may go up or down depending on the Infiniti model you purchase. We'll provide a more in-depth look at what you can expect with some of Infiniti's most popular models below.
Infiniti maintenance and repair costs by model
Infiti's G25, FX35 and QX80 models have different expected upkeep costs, but one thing holds true among them — they each rank high for reliability in their respective categories.
| Model | Average maintenance and repair costs* |
| --- | --- |
| Infiniti G25 | $533 per year |
| Infiniti FX35 | $617 per year |
| Infiniti QX80 | $718 per year |
*According to RepairPal
So far, RepairPal's average figures have provided a helpful overview, but they lump together the cost of repairs and maintenance, which are actually distinct services. Repairs typically fix things after they go wrong, while maintenance covers preventive services, like oil changes and tire rotations.
We'll break down these categories a bit more to help you understand how your budget may need to change for each.
Infiniti maintenance schedule
Following your Infiniti's maintenance schedule is key to maintaining its longevity and avoiding unnecessary repairs. Each Infiniti model's maintenance timeline will vary, so we suggest checking your owner's manual for the most accurate information.
Infiniti QX60 maintenance schedule
To give you an idea of likely maintenance milestones, we've included the schedule for the popular Infiniti QX60 below.
| Interval | Service |
| --- | --- |
| Every 5,000 miles | Synthetic motor oil replacement |
| Every 5,000 miles | Oil filter replacement |
| Every 5,000 miles | Tire rotation |
| Every 10,000 miles | Brake pads, rotors and transmission fluid inspection |
| Every 10,000 miles | Front drive shaft boots check |
| Every 10,000 miles | Windshield wiper replacement |
| Every 20,000 miles | Brake fluid replacement |
| Every 20,000 miles | Exhaust, steering and suspension inspection |
| Every 20,000 miles | Various fluid level checks |
| Every 30,000 miles | Engine air filter replacement |
| Every 30,000 miles | Infiniti Intelligent Key fob battery replacement |
| Every 40,000 miles | Drive belt inspection |
| Every 40,000 miles | EVAP vapor line and fuel line inspection |
*According to Infiniti of San Jose
Infiniti maintenance costs
"Infiniti's are known for having strong powertrain systems," said Amelia Nolan, a mechanic with experience working on Infiniti vehicles. "Since this is the case, you're unlikely to have major repairs and can expect the bulk of your repair costs to fund more general maintenance."
Maintenance costs are fairly easy to predict since you know what services your vehicle will need and when it will need them. Just talk to your local mechanic about what they charge for routine services and plan those costs out over the course of your recommended maintenance schedule.
Infiniti maintenance costs
We've included estimates for common maintenance services below to give you an idea of what maintenance may cost you. While something like a cabin air filter replacement can average as little as $93, a tire replacement is estimated to cost as much as $700. (Remember, these are average figures, so some cases may be more expensive.)
| Service | Cost* |
| --- | --- |
| Cabin air filter replacement | $126 to $144 |
| Oil change | $194 to $225 |
| Battery cable replacement | $281 to $336 |
| Brake pad replacement | $395 to $952 |
| Tire rotation | $88 to $113 |
*According to RepairPal for a 2019 Infiniti QX60 in the 78705 ZIP code
Since Infinitis require full synthetic oil, the bill for an oil change is generally going to be higher than the $40 to $60 drivers of other brands can expect to pay.
Infiniti repair costs
Though Infinitis have average reliability, owners still report a few common issues with their cars.
For example, the No. 1 malfunction listed on RepairPal is related to the crankshaft angle sensor, which can fail and cause a loss of engine power. Infiniti is aware of the problem and has issued a recall on certain models.
Another symptom that may develop is an abnormal noise from the timing chain area, which can be fixed by replacing the camshaft sprockets.
Other Infiniti owners reported dissatisfaction with how fast their vehicles burned through oil. Mikhail, a ConsumerAffairs reviewer from New York, reported that their 2018 QX60 "came defective; burning 1 quart of oil per 100 m. Local Infiniti dealer has stated that this car is already out of manufacturer warranty. I have tried to purchase an extended warranty and the same dealer refused to do this due to my car is red-flagged in an Infiniti database for engine service exception."
Infiniti QX60 repair costs
While repair estimates will change based on any vehicle's make and model, we collected estimates for some common services on an Infiniti QX60 below.
| Service | Cost* |
| --- | --- |
| Air conditioning refrigerant pressure sensor replacement | $241 to $266 |
| Oil pan gasket replacement | $395 to $4,052 |
| Wheel hub assembly replacement | $375 to $2,204 |
| Oxygen sensor replacement | $414 to $964 |
| Strut bearing replacement | $545 to $1,276 |
| Powertrain control module replacement | $1,400 to $1,571 |
| Air bag crash sensor replacement | $688 to $1,894 |
| Camshaft replacement | $3,487 to $4,855 |
*According to RepairPal for a 2019 Infiniti QX60 in the 78705 ZIP code
The good news is that Infiniti's factory warranties can protect you from some of these costs — at least while your vehicle is fairly new.
All Infiniti vehicles initially come with bumper-to-bumper coverage for their first four years or 60,000 miles and powertrain coverage for their first six years or 70,000 miles. These warranties cover the cost of repairing any manufacturing defects that may show themselves. However, you can't bank on your warranty to last forever, which is why you may want to look at other ways of saving money on Infiniti repairs.
» LEARN: What is a manufacturer's warranty?
How can an extended warranty or maintenance plan help?
You can potentially keep your car on the road longer and avoid repair bills by purchasing an extended warranty. These plans have their ups and downs, but they're worth considering if you expect to need an above-average amount of repairs down the road. Extended warranties are available from both dedicated car warranty companies and Infiniti itself.
If maintenance costs are more of an issue, Infiniti also offers two options for prepaid maintenance plans to help you keep your Infiniti running at peak performance. Its Basic Maintenance Plans include services like brake fluid and cabin air filter replacements. Meanwhile, the Basic+Plus plans cover the same services in addition to inspections and tire hazard protection, which gives you zero-deductible coverage for flat tire repairs.
While maintenance plans can be intimidating to invest in because you have to pay upfront, they may save you money in the long run as you avoid potential price increases and inflation.
» MORE: Car warranty vs. car insurance
---
Sources

ConsumerAffairs writers primarily rely on government data, industry experts and original research from other reputable publications to inform their work. Specific sources for this article include:
Did you find this article helpful?
|
You're signed up
We'll start sending you the news you need delivered straight to you. We value your privacy. Unsubscribe easily.