Consumer Complaints and Reviews

On this Sunday 9th of October 2016 we were invited to visit a new resort and for losing our morning with them. They offered some money to spend at Disney. Honestly we went there only for the extra bucks for our girls to spend at Disney stores, but when we got at the Bonnet Creek resort they said it was there since 2004! And that we were there to know about their vacation program. Even if we were not interest in it, they sold it as the most hidden wonder of the world and amazingly we felt like doing the best deal ever, paying a lot of money but slowly and having the most wonderful resorts available to us forever.
It was only in the afternoon that we realized it: something was really wrong, nothing could be that perfect. So we decided to do a quick search on Internet and wow!!! Sooo many complains!! We got desperate!!! Luckily we found in the contract the 10 days limit to cancel the deal, so on the next day, Monday 10th, we went to UPS and sent the letter with everything they required. Tuesday we went back to the bonnet creek to give back the book and tablet we received. It is Thursday 13th and we still didn't hear from them. We are started to talk with a lawyer just to be sure that everything done was correct and as per contract cancellation section.
We will update this as soon as we have any news. Don't get trapped by being innocent!!! Do a little research before!!! Don't fantasize in their stories!!! This is the real world, nothing comes that easy!! Just check the amount you spend on hotels and the "maintenance" fee you will pay forever. And you don't know the rate that the maintenance you raise...

During our vacation in Orlando we went to the Orlando Eye where this lady from Venezuela told us a way to get cheaper tickets to the parks... who wouldn't want to save some money right? All we needed to do is attend a 90 minute presentation where staff from Wyndham Hotel would show us all about the ownership program they have. It sounded like something we could do for 90 minutes, especially since we didn't want to spend that much on tickets.
So next day, we got up and went to the resort at 8 am... I did the math and we should have been done by 10 am tops! Of course that didn't happen... This guy "Pedrito" kept us until 3 pm and I gotta tell you, he does know how to be a salesperson. I will give him that. However I requested from the very beginning that we was honest with me and my husband. I didn't mind if the whole thing costs a billion dollars... as long as there weren't additional things nobody told you about and charged out of the blue to our credit card.
Long story short, we were just about to sign the contract when we found out that there were in fact some other stuff "Pedrito" forgot to mention we also needed to pay for. When we confronted him about this, he forgot to be nice and polite and instead started to ask all these questions about the things he did say. I told him that at the end it was my and my husbands decision not to buy the damn thing... believe it or not... he insisted!! And tried to explain for the million time how the points work, how much we are going to "save" and how much we have connected with him and his wife (he made all these stories up on things and stuff we have "in common" no need to share with you how pathetic that was... just to sell us a lie.)
At the end I was so upset I just wanted to leave. I asked them to destroy all the paperwork we have signed (thankfully we didn't get to sign the contract) and they had to cancel our down payment... This kind of business shouldn't exist! I still don't understand how the government and latinos can put a good word after Wyndham. It is just sad. If you are deciding whether to buy it or not, trust me on this. Your money is better off on your bank. Don't waste a penny on these people... not worth it at all!!

I have owned Wyndham points for a long time now and just two years ago I could get in Oregon and that is just a example. Now there is not one property that is not under the WorldMark trademark and unless you pay for that membership you can not trade into it. Also it cost you to trade into it. They have taking over half the inventory and put it into this club thing. We need to sue and get them back. It's getting to the point there is nowhere to go unless you belong to the club.

PART 1: While at the San Diego County Fair in June 2016, we (my fiance and myself) were offered a 2 night stay at Wyndham Resorts here in San Diego or Oceanside for "just a 120 minute timeshare presentation" on their newest resort and "just wanted our feedback." Well, after 120 minutes had passed the initial sales person had to "get approval" from her boss to get us our earned "gift" before we could go. The supervisor then proceeded to really put the pressure on to sell us a timeshare even saying to my fiance "What kind of man are you, doesn't your woman deserve better?" I was stunned at his words and the humiliation it caused my fiance, aside from being outrageously unprofessional.
The "abuse" did not stop there and when we were not budging the supervisor would lower the price then say he would give us some time alone. We firmly stated we were not interested and regardless of how much time he gave us we needed to get home as it was getting late (now around 8:00pm, started at 5pm) and we have animals that eat at 6pm and my fiance gets up at 3:30am. Well, he still proceeded to give us "think time" and after 20 minutes I went to the bathroom and passed a hallway where the staff break room was located. In there stood both the initial sales person and the supervisor just B.S.ing with each other. This happened a few times during what we called a "hostage situation".
When I returned from the bathroom and told my fiance what I had seen. He was livid and approached another sales person telling him we want our certificate and we were leaving. Well, he just went and retrieved our supervisor from the break room who proceeded to repeat the above situation. It was like living (and re-living) this nightmare that you just couldn't wake up from! After the supervisor realized we were not UNDER NO CIRCUMSTANCE going to buy one of their timeshares, he said he needed to go get the paperwork for the gift. Again, he left us for 20 minutes and again, I went down the hall to see if he was "kickin it" in the breakroom AND HE WAS!
So, this nightmare of a situation ended when I went back and told my fiance he was indeed in the breakroom B.S.ing (AGAIN) and I just left (we drove separate cars as I had come from work) as it was now past 9pm and my animals needed feeding and I was on the verge of losing my cool. My fiance did not wait for the supervisor's paperwork for the gift but instead left the "hostage room" and went directly to the window where the gift is given. Needless to say, he gave that poor female worker an ear full (and so much more) but did let her know he was not upset at her but unbelievable angry with the supervisor.
PART 2: So now we have our "gift" (certificate activated on 7/15/16) and when we call to book our 2 night stay we are told we had to wait until September. Well, that sucks but okay, we get that, they are waiting for all the tourists to go home and school to start. But, when we call in September they are all booked up for the rest of the year and only have a Monday/Tuesday in November. My fiance takes it because it's all they have available but doesn't realize I am not able to just take off a Monday/Tuesday as I work for the school district. So, he calls back to switch the time to a weekend in January but is then told (by a different person) that they have a weekend available in November. Is it a miracle? No, just complete B.S.! The end. Thank you for listening.

July 18, 2016 stayed at Thunder Bay, Ontario Days Inn. July 19, 2016 stayed at Fort Frances, On. We reentered USA July 26, 2016 and stayed at Minot, ND. The hotel tried to call and I tried to call about the $25 gift certificate. Wyndham phone line was closed. Since the Wyndham phone line was not available we were not able to give the codes. They could not apply the $25. I asked about the gift card before we even started and the one I talked to did not give hardly information nor any codes. Since he or she could barely speak English no wonder information not relayed to me. Best Western and others immediately send an email and give the information there $50. It was so convenient. I even asked about the gift card when I left Fort Frances.
I called today 9/12/2016 and bottom line they said, "We can't reimburse." You can only call when they are open. So the promotion is not very valid. I talked to someone from one in management at one of its hotels and said they make difficult so that you can't get the $25. I feel that should be able to automatically after the two stays automatically have the $25 in their system. They should also be open for those claiming the $25. I raised the question to the online manager after talking to someone who could barely speak English. She said that they are business and they can't stay open all the time. She said if you don't call when they are open and they don't give credit after the fact. I was infuriated. Of course they zapped my request to comment after the call. They should be able to make allowances for when they are at fault. Of course they feel they are not at fault.
As an added note the stay at Thunder Bay was the only bad stay on our 39 day vacation. They are one of two who charged an additional fee upfront to cover if I did anything wrong on charges. The other was not as nasty. They charged and I had to sign an added either $50 or $75 charge. I don't recall which value. They said they did not trust me so that why I had to pay more. I said if they don't trust then why should I should not trust them to return the money. When I checked out I asked for the corrected copy. When I left I got some flake. I asked why should I trust them. Note: The bed was too soft and not much amenities.
How do I know I can trust these reviews about Wyndham Vacation Resorts?
608,728 reviews on ConsumerAffairs are verified.
We require contact information to ensure our reviewers are real.
We use intelligent software that helps us maintain the integrity of reviews.
Our moderators read all reviews to verify quality and helpfulness.
For more information about reviews on ConsumerAffairs.com please visit our FAQ.

It is extremely difficult to obtain help with anyone at Wyndham. I've spent far too much time on hold to take care of issues. Additionally, I have had numerous difficulties booking reservations. They usually do not have units available where I want to go, even 2 or 3 months in advance. When I've been successful, the units have been usually nice, but be careful... Some have been very old and dated and are portrayed in a fashion that makes them look better than they are. I've even moved out of one and gone to another non-Wyndham resort due to the poor condition of the Wyndham resort I booked. I would not recommend Wyndham.

Poor service, no availability. Just another vacation scam. I have called 3 different times to book a reservation at least 3 months in advance and there never seems to be anything available for the weekends. My last call took them 25 minutes to answer before I actually got someone on the phone. I was told that I needed to book 10 months in advance. Price are lower and better rated hotels just by using Priceline or Expedia. Don't fall for this scam.

I will try to make this as short as I possibly can. Last year in December of 2015 I agreed to go to a presentation for Wyndham ownership with friends of mine who came to visit from Europe so they could get cheaper Disney tickets. None of us purchased ownership, BUT they got me to purchase a $99 special deal for 2 nights at one of the hotels listed in brochure. The deal sounded great, because they said when I check in at the hotel, I will receive a $100 Visa card. So they made it seem amazing, FREE hotel! How great, right? Well, not so much.
After I booked a hotel room for my family for a short getaway for our 9 year marriage anniversary, I received a confirmation email, that upon arriving to the hotel, we will have to attend a 120 minute presentation. Seriously?? 120 minute presentation to receive that promised $100 gift card! I was furious, but said to myself, "It's only 2 hours, let's get that out of the way and enjoy the rest of the 'vacation'."
We booked the hotel in Ft Lauderdale from Friday till Sunday. We got to the hotel at 3pm to check in and right before my check in I received the phone call about coming to the presentation the next day at 12.30. I asked if there is anything very early, so my whole day doesn't go to waste, because of the presentation. The earliest they had was 10.30 in the morning, which I thought was fine and we will be done by 12.30 and enjoy the rest of the day. We already didn't have much from Friday, the next day we got ready for presentation which was 30 mins away from hotel. We were assigned with Allen at Wyndham presentation, who was a nice guy, but the whole experience was horrid!! Let me just say the whole presentation lasted until 5pm!!! We were there with our two small children. (Thank God they are very well behaved and actually sat down for all those hours!!!)
We did not want to purchase the ownership at the moment, because we are buying a house at the beginning of next year and wanted to get that out of the way and maybe purchase ownership after we purchase the house. I was very disappointed as they clearly did not give (excuse my french) a ** about how we feel and did not respect the fact, that we want to buy the house before we buy anything else... Other 2 colleague came to talk to us and were SO pushy and trying hard for us to buy it. Even though we probably would if we have already purchased the house, but THANK GOD we didn't especially after reading all these reviews that are VERY TRUE!!! They just want to screw all these people over! They don't care about YOU, all they care about is their money! And even after explaining 10 times that we don't want to buy until we purchase our home, they were still so pushy and annoying!!
If you really look at it, those points don't even make sense!! They tried having us purchase 64,000 points a year and I asked Allen how many point it is to go to Puerto Rico for example, and he said 35,000 for 2 weeks. And on our way out we spoke to another person to buy this "trial" package which gives you 300,000 points for $3500 and you have 2 years to use them. So I asked him again how many points to go to PR and he said 145,000 points for a week in the slowest season! Already lies from the first salesman... So if you really do the math, it would cost $3500 for hotel only for 2 weeks in PR buying this trial package. When it would cost cheaper to just book a hotel on your own in PR! So frustrating dealing with these people!
They got us to sign a paper to only check if my husband qualifies for 0 down and no payments for 6 months, which we already knew he would be approved because he has a great credit, but the lady that came after Allen was so pushy and just wanted this paper signed without telling us how much monthly payments would be etc. And saying I don't know finances, when I clearly do, she just didn't want to give us any info on payments etc... She just wanted to get the papers signed... What a cheating company!!! Let me just end with our "family vacation" being ruined!!! Ruined because of this stupid Wyndham cheating company!! My poor kids didn't even get to enjoy anything!! They are careless and treat you bad if you don't fall into their trap and buy it!! I forgot to mention, that we didn't even want to go to presentation, but in my email it stated that there would be penalties if we don't attend!!! SMH. STAY AWAY FROM WYNDHAM!!!

This appears to me to be a case of misrepresentation: At a booth at the Texas State Fair in 2015, I purchased a "Vacation Getaway" for "3 days and 2 nights' accommodations at Wyndham San Antonio Riverwalk Hotel... or a comparable area hotel..." A few extras were included such as a dinner certificate and two river cruise tickets. At no time did the salesperson inform me that the package was contingent on attending a "120-minute CLUB WYNDHAM sales presentation" to try to sell me "a lifetime of quality and worry-free vacations..." The literature that I subsequently received in the mail contained that information. Bottom line, I am going to lose my $99, because I have no desire to take a trip during which I will be subjected to a sales pitch in which I have no interest and for which I have no time. Consumers need to be aware that full disclosure did not seem to apply here, at least in my experience.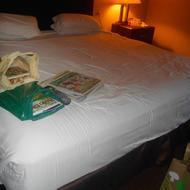 I am writing to compare our 2012 stay at this hotel with our 2016 stay at the same hotel. In July of 2012, we stayed here and enjoyed a totally wonderful free breakfast bar which included sausage, bacon, ham, biscuits, I think also biscuit gravy, and scrambled eggs, toast, cereal, and waffles. The facility was in good condition and we were very satisfied with the hotel and the services provided. I greatly enjoyed swimming every evening in the beautiful pool. Our only concern then was that the free computer provided in the Main Lobby for guest use was extremely slow. Otherwise, our experience of staying at this hotel in 2012 was very satisfactory.
Now, fast-forward to July of 2016: On July 17 thru 21, 2016, we stayed in the same hotel. What an unhappy difference four years made! The breakfast bar had shrunk to include only toast, waffles, and cereal. The sheets and blanket provided on the bed were much thinner than we had in 2012. The housekeeping service did not provide us with a full set of bath towels when cleaning our room. Several fixture screws in the bathroom were loose. I don't know if the same is true of all the rooms, but it was for Room #167, which we stayed in this year. ALL of the vending machines AND the washer and dryer in the Guests' Laundry Room were out of order. The Ice machine was completely out of ice throughout most of our stay this year.
The Wifi provided to our room kept cutting in and out, but I was able to get the amount of online time I wanted. I used our own iMac in our room, instead of the Guests' computer in the Main Lobby, which is even slower now than it was 4 years ago. I mean, that old Hotel computer barely functions at all. The exterior door at the South end of our hall near the Laundry Room did not close properly, causing potential lack of security not only to our room, but to the whole building. The swimming pool was still very nice to swim in, but by itself, that was not enough to redeem this hotel to what it was just 4 years ago.
To sum it all up, this hotel has sharply declined in the past four years in quality of service, and failed condition of the facility and vending machines, and the decreased quantity of choices offered at the daily Breakfast Bar. On our next visit to the Bloomington/Edina area, we will find a different hotel in the area to stay in. This Days Inn just doesn't satisfy in 2016 as it did in 2012.

Every other year my husband and I rent a cabin from Wyndham and this year was somewhat of a disaster. We rented the cabin A View to Remember (they should rename it A Flood to Remember). The first night we were there it rained and the roof started leaking everywhere. It leaked upstairs all the way to the basement. We called the office right away, they sent their maintenance guy out and we obviously couldn't stay there, they had us move to a different cabin. They told us they could only put us in a cabin the same price that we paid for. Okay I can understand that. But we find out once we get home that the cabin that they moved us to was cheaper than the original.
Needless to say we got no money back. Now on to the new cabin, Zombeaver. It was a beautiful cabin unfortunately it had no view other than other cabins and trees. No biggy, it sucks but I can deal. We stayed for 2 weeks; the first week in I had put the trash in the bear proof trash bin as instructed. Well the next day we go to leave and a bear had literally broke the bear proof bin plus we find out that the hot tub is leaking. So we go to the office and report what happened. When we left he was telling me what was said. He asked her if this kind of thing happens all the time, she said to him it only happens to people that don't read the rental agreement, you're suppose to put the trash out in the morning and someone comes by and pick it up. (We were there for 2 weeks and only saw the guy once.)
I had actually read the agreement prior to signing it. Nowhere in the agreement that I have did it say to do that. I even re-read it thinking that maybe I might have missed it. I definitely did not. The people that my husband had talked to were rude to him and made us feel invaluable as customers, who spent a fortune on a cabin. This was our way of celebrating me being cancer free and our honeymoon. It was a stressful situation and it dampened our trip. Needless to say we will take our business and money elsewhere. There are plenty of other cabin rental places that I'm sure would be happy to have us.

My husband and I decided to take our daughter to Disneyworld for her 5th birthday. Our trip was planned from Thursday May, 5 to Sunday May 8, 2016. Thursday was for the ride down to Orlando, Fl. We spent 13 hours in a car with our 5-year-old and our screaming 17-month-old. We were driving from Mobile, AL to Orlando and 2 of those hours were spent in Gainesville getting a flat tire repaired. We had reservations at the Clarion Inn in Beuna Vista, FL. The "resort" was not as I expected but we stayed all the same. Upon our arrival, we were instructed to stop by the tourists desk to see what they had to offer us. We spoke with a woman who said that we could get discounted tickets if we were to watch a "90-minute" presentation. I was fully aware of what a timeshare presentation was as I have attended one years before. I was given a sheet of paper with departure times for the shuttle that would take us to the presentation.
We chose the last time available which was the 12:30 shuttle for the presentation at 1 pm. We got in the lobby around noon to wait so that we would not miss it by any chance. We chose the last time available because of the "90 minute" presentation, we wanted to be leaving the presentation by 3 pm, so that we could meet up with some friends at Magic Kingdom and be able to catch the light show that night. The shuttle arrived around 12:45 pm and took us several miles to the resort where the presentation was to be held. We finally arrive and have to wait for almost an hour for our family to be called. We were assigned an agent and by this time I was already upset at all of the time that had already been wasted. He asks, "Did they tell you this was a 90-minute presentation?" I told him that they did tell me that is was a "90-minute" presentation but we have already spent those "90 minutes" getting here and waiting to be called.
He asked us if we wanted to leave like we were wasting HIS time. I told him no because I had already given the lady at our resort almost $200 for these discounted tickets and I wanted my tickets, so we stayed for the presentation. We had to watch videos (as expected), and listen to someone speak (also expected), then we took a tour of this vast property (not expected). We had to walk a half mile to get to the model condo that they wanted us to see. When this whole ordeal was over, we had to walk the half mile back to the presentation room where they had more people set up for us to purchase the timeshare. By this time I was angry because it was now almost 5 pm. We told them we were not interested, especially after they kept stressing over and over again a "90-minute" presentation and we were entering hour 4, including the waiting we had done. They finally let us go and sent us to the "gifting" room.
There was line out the door in this gifting room filled with people waiting for what they were promised. This took another hour to get to the front desk. We finally get to the front desk and I requested that the teller give me the tickets that I already paid for and I requested a refund. I told her that we were victims of this company's false advertisement and it had cost us a day at the park. She said she could not do as I requested so I then requested a manager. The manager could have not cared any less than she did about my daughter's birthday trip and the time that they had taken away from her. She said she could not do as I asked so I asked her to get someone who could. She didn't bother, and by this time I was full blown upset. I was crying and fussing because they did not care that they had ruined my daughter's birthday and were not willing to compensate my family for our lost day at the park.
They called security and I was asked to leave. I only wanted them to compensate us for the time they had robbed my daughter off at Magic Kingdom. We ended up only being able to attend one park that Saturday, instead of 2 before we had to make the long drive back to Mobile. I tried finding a customer service line or forum for Club Wyndham but I was unsuccessful. I know that others have experienced this treatment because there were others in the "gifting" line that were upset behind their "90 minute" presentation. I hope that this review keeps them from doing this to other families.

My husband and I just got off the phone with a Club Wyndham representative and then her supervisor. Due to circumstances that I will not explain here, our Club Discovery date ended and we had not used any points, etc. We contacted Club Wyndham to request an extension. We were denied. Period. And we were denied a refund of well more than $3,000. We inquired if there were other options for resolving the issue. The reply was "we understand, but no." I would like to hear from others who have experienced this. I know of no other label for this except robbery or theft. Class action anyone?

Beware of Worldmark by Wyndham. They sell points to use their resorts but then make it nearly impossible to do so. We recently stayed at the resort in Indio and it was so filthy that we could not even walk on the carpet in our bare feet. As compensation for the inconvenience, we received a 2 night certificate for another vacation. Unfortunately, the certificate had SO MANY restrictions that it was basically worthless!!! When I called the customer care center, they basically told me tough luck. Do Not spend your hard earned money with these people.

I chose to book a hotel through Hotwire because they offered a great price for a 3 1/2 star hotel for my family trip to Dallas, TX. The Wyndham Garden North Hotel looked decent from outside and the lobby, and the room looked basic. First night: I rammed my leg into the footboard of the bed. The footboard stuck out approx. 5" from the end of the mattress and the bedspread covered it therefore there was no one of knowing the danger it posed. Three weeks later and it's still tender to the touch. 2nd night: We left the hotel at approx. 10 a.m. and returned at 9:30 p.m. only to discover the room had not been touched by Housekeeping and there were no clean towels to take a shower. I called and complained. Management apologized and assured me that it would be cleaned the next day.
Third night: We left the hotel at approx. 1:30 p.m. I left a tip on the bathroom counter for the cleaning people. We returned at approx. 10 p.m. to discover the money gone and the room just as we left it. Outraged does not begin to describe how I felt. The manager Topher said he would review the room entry log and deal with the person who took the money. He later notified me that the person was reprimanded and they would no longer be assigned to our room. No offer to refund a night or even a complimentary breakfast... nothing!
Fourth night: My two year old stumbled, fell, and hit the corner of his eye on that same sharp-cornered, dangerous footboard. Blood gushed from his eye and we had to rush him to the Emergency Room. We filled out an incident report and two days later we still were not contacted. Then when we did speak to Topher, the manager, he said that the general manager would contact me and my husband on Monday.
That same night we returned to the room only to discover once again this had not been cleaned! If that wasn't enough my son thought he seen a roach in the room!!! Immediately we started packing things up. We called the manager and he came to our room with another man that did a quote-unquote inspection of the room for evidence of roaches. Ultimately our room was switched. The following Monday I discovered that Topher was the general manager all along and they weren't going to do anything to compensate for my son's injuries.

We purchased this service in Feb 2016. We paid $5000 for down payment out of $20,000. At that time, the sales manager described all good part of their service. They promise the service we purchased can support two weeks in most hotel. When I asked them what can I do if we don't want this service later, they told me we can sell it very easy. They have a department to help us. At that time, we googled and found this is a large company. So we trust all they told us and paid the $5000. NO ONE TOLD US WE CAN CANCEL CONTRACT WITH 10 DAYS FOR NO COST!!! (We are foreigners who can't read English contract in a short time!)
When we back, we found there were lots of complaint about this company, so I called them to cancel the contract. The 2nd time when I called them, one male representative said he met a lot of complaint like me, so he personal understand and very sorry about my bad experience. He told me there are two options, 1. I can give up $5000 and cancel the contract. 2. He can transfer me to another dept who help us resell. However there is a waiting list. I told him I will think about it then make decision.
However when we contact Wyndham again, all other representative denied that I can cancel this contract with my loss of $5000. (We NEVER use their service yet!!!) And sale dept said we HAVE TO pay $15000 of rest of our contract, then they can sell it for $2000-$3000! I can't believe what I heard! This is a business trick and cheating! I emailed back said I need stop payment and cancel my credit card due to this issue. And I need find a lawyer to sue Wyndham company. If anyone want to join me due to similar experience, please contact me. To other potential customer: PLEASE consider carefully before you sign the contract!

I will never stay at another Wyndham hotel ever. They took us for about $15,000. Instead of giving us a credit of $5,000 on a down payment timeshare they forged my wife's docusign signature. As a result we are stuck with a $6,000 PayPal bill. We have never used their timeshare and we don't want to. They LIED and CHEATED us. We are both professionals and would NEVER had agreed to do this. They totally took advantage of the situation. The people responsible for lying to us at the Wyndham Timeshare: Michelle **; Mary **.

Wyndham Vacations is the best experience my family and I have ever been on. We go to New York and California every year. The places are amazing. I'm looking to upgrade soon. If you love traveling, you're traveling with the best company who took care of my family. I don't know why so many bad reviews. I have been an owner for 7 years and I have never had an issue. Whatever I need I make sure to call them and they address it quick. Thank you Wyndham. I look forward to many great memories.

In March 2016 I was contacted by a fast talking sales representative of Wyndham Resorts and offered one of their 4 days, 3 nights deals for just $199.00. Now at this point, I didn't have a vacation location in mind. I was told that Wyndham has many, many properties that I can choose from. The sales rep then asked me to choose a location JUST FOR THE PURPOSE of generating the deal. I asked if I was locked into that location and she said "NO". This was just for the purpose of generating the paper work related to the package. "How about Orlando?" she suggested. I said "Ok". The package was generated and I received my package letter shortly after. About 4 months later, I called Wyndham Resorts to find out which locations are part of the package because I was now ready to select a location and book my family vacation. I was told by the customer service rep that there has been a change to the package.
The only location that is available to me is Orlando - the one that I chose initially. I explained to her that I was told by the sales rep who sold me the package that the choice was only for the purpose of the package. She said that the policy changed at the beginning of August and that my only option was the Orlando property. To say that I am angry, is an understatement. I am FURIOUS! INCENSED! And absolutely horrified at the blatant dishonesty of the company. I live in San Antonio, Texas and while I have plans to take a family vacation this year, I have no plans to travel to Orlando. The fact that my location options could be curtailed to ZERO was never, ever told to me. Prior to this, I would have said that Wyndham was a reputable company. Now, I am of the opinion that the company is totally dishonest.

We just got through a sales pitch in Destin FL. The guy that gave our tour was very nice. The guy that did the exit interview was extremely nasty. He clearly has some issue with women since he barely acknowledged me and addressed my husband the entire time. When we were answering his exit questions he started telling us how much money it costs to market and pay the electricity bill and the employees which was really awkward then as we were leaving I was talking to my husband and he interrupted and asked me "Is something wrong with you sweetie?" I don't know why this guy is their last ditch effort person, but he made me not ever want to sign up with them.

Sold timeshare experience to listen to sales pitch to purchase yet every date I tried to set they could not comply with dates requested. Want refund of $179. Stayed at Wyndham timeshare as a guest of a timeshare owner in Nov. 2015. Was contacted by vacations by Wyndham rep to purchase a 4-day stay at any of the locations to experience before purchase. I agreed selected destination of San Francisco. Was told I would receive packet material on contracts by mail. I never did. I immediately called to schedule the dates for a trip and none were available. I changed location to Nashville with new dates, not available. I tried Las Vegas with new dates, not available. I tried New Orleans with new dates, not available. I was never informed of the refund policy since I never received pkg information.
When booking a Disney trip I called the timeshare I stayed at to ask if I could use the stay I purchased. I was interested in purchasing the timeshare so they offered to give me rates on the purchase without having to sit in the seminar. At that time they also provided me with the sales package information by email since I never received on the 4day trip. I asked if I could get a refund on the trip of $179 if I moved forward with the purchase. They stated no. I asked if I could get a refund since no dates I am requesting were available. They said no. I was never informed of a 15 day cancellation by the sales rep over the phone or even the rep who was trying to help me with my Disney trip. I can't even rate them a one star because the lack of knowledge, communication, and lies they told.

We stayed in the Poconos. We left to go to a wedding. When we returned our apt. was robbed. The police came and also Wyndham police force. The screen was cut out and then a door was broken into. They stole my son's PlayStation, games and controllers. I was told the following day that their insurance would pay for our loss. The insurance Co. 3 weeks later said that Wyndham had told them they were not responsible, we were. Don't know how we were able to stop this or be responsible for a robbery. Their door lock was later found to be broken before we were checked in yet they still refused to pay for our loss. It was only about 700 dollars. They will never see another dime of my money and I have tried to let as many people know not to stay there. Good Luck if you book any rooms or timeshares with this dishonest Co.

We called to make a reservation at Caesars Palace in Vegas. They asked if we wanted to spend $50 to get $50 back plus $200 in chips for a 2 hour presentation. We did. They said we go to the presentation at anytime (LIE) and it would take 2 hours (LIE). At first a nice women set down to talk to us but was replaced with a VERY rude man who ask the same 100 questions that she had just asked. They wanted to know if we were "BUYING" today??? Had yet to hear a price or a product. Then another starts a rambling speech to the entire group (you go in as a group). After he finally shuts up you go in a different room.
At 1 hour and 40 min this guy says "Are you ready to go take a ride." I said - "you have 20 mins left we aren't going for a ride." He says "Oh no your two hours doesn't start until "rambling" guy shuts up." I said -- "No way we were told 2 hours. You got 20 mins." Then the manager comes over and says "WHAT ARE YOU BITCHING ABOUT". Seriously and you think I am buying so much as a glass of water from these people. He told us we had to sit there 20 mins until we get our promised gifts. I called the reservation number and started complaining, and soon we were told we could go get our "gifts". Talked to other people - they were there 3.5 or 4 hours. DO NOT WASTE YOUR TIME. NOT WORTH THE FREE GIFT. IF YOU DO GO - BE STRONG. GIVE THEM 2 HOURS BUT DON'T BUY.

On July 10, 2016, I stay in a hotel room at Wyndham Hotel. When I checked the room was unclean, items left on the floor from last customer, lining dirty and roaches was I all over the room. I called the front desk several times, with no response for hour. We finally got maintenance to come in and spray. Then we were invaded by roaches. I asked for a refund then I was told about a (10) ten minute policy to request my money back that was never mention before checking in. I wouldn't recommend anyone to stay at this hotel. I was very dissatisfied with the experience in the hotel!!!

Spent Thanksgiving at Wilderness in the Smokies for my daughter's birthday 2015. We checked in on the hotel side. The rep sent us to a lady at a desk by the stairs to get our coupon book full of savings. We walked over and started talking to her. She said it was her birthday too. Really? What a coincidence. She then said that we could get a free breakfast buffet and a week's free vacation to anywhere in the world we wanted to go for my husband and I and our two kids for free just for listening to a 60-minute presentation. Well who doesn't like a free breakfast and a free vacation? Especially when you have kids. The catch was we had to hold our spot for our free breakfast with a credit card charge of $20. Sounded fishy to me but she assured us we would get it back after the presentation.
So we scheduled the breakfast for the Friday after Thanksgiving. We show up at our assigned time of 8 am. We check in and wait for someone to come get us. A sweet lady named Karen comes and takes all 4 of us back to breakfast. The buffet consists of scrambled eggs and biscuits and bacon. So we get our food and cram ourselves on to the smallest table to eat. She is rushing us to eat saying another group is coming at 10 and we have to hurry. So she asks my kids if they like crafts and coloring. They say yes so she then asks us if she can take them to the coloring room. We say ok. It's only supposed to be for an hour anyway. She returns and begins her pitch. Asking about our vacation habits and spending and whatnot. She makes everything sound like we would have amazing vacations for the rest of our lives. She shows us the model condos, which are beautiful. She then brings some packages of points.
She tells us that since it is Black Friday they have great deals for anyone that signs up today. We end up buying the smallest amount of points we could afford. She threw in two "free" weeks of vacation and over 200,000 bonus points and VIP status for 2 years. We were excited since we were already planning to go to Disney World the next summer. She made it sound like we could do the hotel and tickets with nothing but points. Nope. We get home and forget about the points until January 2016. I start looking at places in Orlando to book our trip. Well turns out the free weeks have insane blackout dates and require $250 to use. Was able to book one of the nicer condos but it cost us all of our bonus points plus some of the regular. Tickets had to come out of pocket. No biggie.
Fast forward to the vacation time. June 2016. We arrive and check in. The check-in lady says that we, as VIP members, have been selected to attend a special presentation, only 1 hour of our vacation, and we get a free breakfast and a $100 Visa gift card. But it will require a $20 hold on our credit card. My husband, only seeing the $100 reward, signs us up. We pick a morning when it is supposed to rain. We show up for our free breakfast and VIP only meeting. What a joke. Breakfast was a muffin and watered down juice. They again took my kids to the daycare but left my nephew that was with us because he was 13 and too old for the daycare. We were assigned to Maria. A lady of Spanish descent which I think is because my husband, although is Filipino, is always mistaken for being Hispanic.
After the presentation, Maria takes us to her office. She says that she has looked over our contract and she can get us a better interest rate if we refinance today. So I am thinking, better interest rate means we will save money. "Ok," I say, "let's see what you can do." She leaves and returns with another sheet of paper. She says she can get us 200,000 more points for something like $690 a month. I say "no thank you, our budget is set in stone right now and we are not adjusting it." She looks at me like I was speaking a foreign language. She gets up and walks away. She returns a short time later with another offer. This one is $650 a month for 150,000 points. If we take this one we lose our 84,000 that we are paying $200 a month for. I again say "no thank you. Our budget is set. We cannot afford this payment." She has the nerve to ask why. She said we make enough money and should be able to pay it. I politely tell her that my income is not her business.
She gets up again and walks away only to return with yet another offer. This one is $500 something a month for points to only use every other year. I again tell her, more firmly this time, "no. We do not want to change our payments or points." She gets very angry with me and says that this is the best offer I will get and that "next time they will make you buy 400,000 points." I get just as angry and tell her "no one will ever MAKE me buy anything I do not want or cannot afford." She stares at me like I have just slapped her. I didn't but wanted to at this point. She gets up and walks away without so much as a "thank you for your time." About 5 min later another gentleman brings us our checkout paper and walks us to the door. We finished our vacation and when I returned home I wrote a complaint to Wyndham. All they did was tell me I was not required to attend the meetings.
So now it is almost August and we have 76,000 points to use or lose before March 2017. Because of our work schedules it is near impossible to take time off at Christmas or New Year's so we were trying to take a few days in September. How about everywhere I look is booked that weekend we want. And I do mean EVERYWHERE. I even tried a few random places. I tried Niagara Falls. Booked. Wisconsin. Booked. Any and every resort I looked at for the weekend in September is booked. I feel like maybe Maria flagged my account somehow to make it harder for me. Can't prove it but I would not put it past her. This company is crooked and I wish I had not fallen for their deception. If you are thinking of joining, don't. Just put aside $200-$300 a month for your vacations. It is so much easier.

I wanted to share our most recent experience with Club Wyndham with you. Background: We have been customers of the Wyndham timeshare family since 2005. During a member's update session in July 2014 (which really was a high pressure sales pitch to buy more points), they presented a 200,000 discovery package as an alternative to upgrade our membership so we could experience additional resorts and freeze the price on upgrading our existing timeshare in the future. When we said the additional points is a lot to use in a two year expiry period, in addition to the current points we own, the salesperson said it could be extended with no problem. So we bought the discovery package.
On June 21, 2016, I called the Member Services department and tried to book a reservation for the December time frame. I was told that our points were expiring in July and we would not be able to book the vacation. I requested an extension of our points so that we could use them in the December time frame. I spoke to Nadia and she told me that she would call me back to confirm the request.
No one from Wyndham ever called me back; I called again a several days later and spoke to someone else and they saw the notes from the previous call but did not have any answer for me but they promised they would get back to me. Again no one called me back. I also reached out to Claudia ** from the Bonnet Creek resort where we purchased the discovery package. I never received a response from her either. As of now, our points have expired and we lost 97,000 of the 200,000 points and our account is closed. Needless to say, we will not be upgrading our membership, buying any other packages, or attending any more "member update" sessions. I can't tell you the number of times that we've been disappointed with Wyndham: customer service, housekeeping fees, maintenance fee increases and spotty resort quality.

I am utterly disappointed with the service provided by Wyndham Australia in relation to a deal which they emailed to me. After purchasing the deal, I received a phone call from a representative who stated that "the dates which I wanted was NOT available". The deal I purchased was for 5 nights, 2 bedroom, 6 adults. The deal which was available was for 1 bedroom 3/2 nights, 2 adults. Clearly this is would cost us more! And even more clearly, one could see how Wyndham deals are made to entice consumers at the first place then mislead them to an expensive deal. This is false advertising.
I was informed by the consultant that the deals are specifically the promotional seminar and when I said that I wasn't interested in purchasing a timeshare with them, I was told that this deal won't apply to me. At no time did I say that I will not attend the seminar. But a restraint of trade was applied to me. Hello, this is Australia. And to top it, Wyndham did not have anyone from the resolutions team to chat with me. This is a joke. Moving forward, I will seek further legal avenues Wyndham's action. Although, I will never promote Wyndham to anyone, I strongly suggest people NOT to get caught in this trap as you will be very disappointed. I am going to lodge a complaint with ACCC, Fair Trading in regards to the false advertisement.

Myrtle Beach SC - Ocean Blue Condos. I am writing this email to express my disappointment with the rental property we occupied this past week. I was appalled at the fact this unit was advertised as a Luxury Condo. It cost us over 5k to rent for the week. While I expect that every Ocean front property has some defects, the amount of issues we found with this unit was totally unacceptable. I have traveled to the beach every year for the last 40+ years in just about every state on the east coast. I have been to Myrtle Beach several times over the past 10 years and experienced excellent accommodations until this year when I decided to use Wyndham.
I decided to share my MB experiences with some friends who had never been to South Carolina. I was not only disappointed, I was embarrassed and ashamed of my choice of accommodations. If I had to rate this 5 bedroom Condo on a scale of 1-10 (1 being the worst), I would give it a 1 only because of the awesome view off the deck. This place was not only a wreck, it was unsafe for all of our children. Although they did make an attempt to correct some of the issues, that attempt was not nearly enough. Below is list of all the deficiencies found. At least these are the ones we can remember. I took pictures of most of these issues and will sent them to no avail.
Upon arrival there was another car in our space in the garage. Several hours later it was removed. Plastic light fixture had burn hole from light bulb. It kept falling out and needed to be put back in place. Ceiling Water stain around bathroom light fixture. Garbage Disposal jammed a penny found inside which my wife removed. Three broken patio chairs that were extremely unsafe/dangerous. Hole in back of closet door. Dust on tables so thick you could draw in it. Stickers on table in living room. Lights out in 4 rooms. Door knobs missing on 2 closet doors with pointed screws sticking out. (Extremely unsafe). Several toilets clogged. Several drains clogged. Chair broken in living room. AC dirty filters removed and left in closet. Neither unit had any filters installed. Unit covered in dirt extremely unhealthy. Carpet extremely worn and carpet nails sticking up through carpet catching on people's feet.
All closets had mirrors laying on the floor and holes in wall where they had fallen off. Hall Closet full of broken items. Not one single TV remote worked. Some were missing batteries and others taped shut with Band-Aids. New remotes and batteries were delivered by maintenance and left for us to program. Really? Blower in one of the freezers hummed loudly all week. One of the ice makers in the fridge on the right side (facing/looking into kitchen) did not work. Spot lights from Garage shined in my guests room all week. Forcing them to cover windows with blankets and towels. They got little sleep all week. Overhead light in guest room was burnt out and full of bugs as our guests were forced to change their own light bulbs after maintenance dropped them off. Mold was present in the shower.
All beds were horrible to sleep in. Springs popping all night. You would literally roll off the bed if you were not in the middle. Bed was detached from head board. Coffee Pot had dried coffee grinds in the bottom of the pot. Guest bathroom had wallpaper ripped at closet opening. Air diffuser in hallway was hanging down and only held on by one screw. Air vent on clothes drier wasn't connected at all. Maintenance was able to fix on 2nd day.
As you can see, this did not make for a very pleasant vacation or first time experience for our friends. I highly suggested they make some of these repairs before someone gets badly injured. I also requested a full refund for cleaning. Their cleaning staff needs to be coached on the term clean. I highly recommended they replace the staff with some competent individuals.

On August 5, 2010 we were at the Bally's casino in Las Vegas. We were approached by a Wyndham representative offering us several freebies, such as show tickets and dining coupons, if we would attend a 90-minute presentation at their local resort. We agreed. We arrived at the location where there was a crowd of people all there for the same reason. We met with the representative, who asked us about our vacation and travel experiences. Since we had traveled quite a bit, she asked us how much we spent on our vacations. We estimated we spent about $3,000 to $5,000 per vacation, which we took every couple of years. The representative set about to convince us that we could get the same kind of vacations for less money through club Wyndham.
We were shown a huge catalog of resorts all around the world. All these would be available to us to use whenever we wanted. And that we would be able to use our points towards airfare as well. The representative explained their points system, and the cost. It seemed reasonable, so we bought the lowest amount of points. We figured we could pool them and take advantage of the fabulous resorts every couple of years. Upon agreeing to buy into the club, we were handed page upon page of information we were supposed to sign and initial. All their rules, exceptions, policies, etc. all of which we were to read, understand, and sign in less than two hours. It was overwhelming, to say the least. We didn't know enough to ask the right questions, let alone understand the documents we had before us. Truthfully, buying our house was less complicated.
Our first use of our points included bonus points we were awarded for buying into the program. So we were able to go to a very nice and new resort in National Harbor, MD. That's when sales a representative started pressuring us to buy more points so we could continue to use such lovely resorts as the one we were in. Reality hit us at that point. The number of points we bought, for a hefty price of $22,100, was not enough to go to many of those resorts. Buried in the mountain of paperwork we were rushed through to sign. When we signed up for the program in 2010, there was a provision that if we didn't use our points within our Usage Year, the points would expire. We found that out the hard way at the end of 2015 when Wyndham notified us we were about to lose our 2015 points. The only way we would not lose the points was to roll them over into their RCI affiliate.
We had intended to pool the points to use for a trip in 2016, when we'd have 110,000 points at our disposal. Not possible unless we used our 2017 points along with our 2016 points. Of course, should we not be able to travel 2016, we'd be out 110,000 points. This certainly rendered their promise of vacationing anywhere at any time untrue. Each time we used the benefits, we were pressured into buying more points so that we could travel every year, even though we don't want to be locked into their program, or to have to travel every year. We are not interested in buying more points, and we are very angry that Wyndham took 105,000 points away from us. Also, due to my newly diagnosed health issues, planning a trip a year ahead of time so that we can be sure to use the points and not lose them, is no longer an option.
Finally, the $230.68/month, ($2,768.16/year) plus the $57.22/month ($686.84/year) for maintenance we are paying for our 105,000 points is not a good value. We have researched travel agencies and discovered that we can get very good deals on both hotel and airfare for far less than $3454.00, and we can save what we are able to save and travel when we've saved enough money to travel. In summary, this program is a financial drain on us, forces us to plan too far ahead for trips we may not be able to take, takes back points we have paid for, and doesn't provide the value they claim.

My husband travels a lot for work. His employer gives him a max of $70 per night so he always bundles his flight and hotel for cheaper rates. Super 8 motel is generally the most common motel that pops up for him. He stayed last night at a Super 8 Motel in Camp Springs MD, Room 175. Last night he got bed bugs. I wish I could say this is the first time he has experienced this however, this will be the SECOND Super 8 motel he has stayed at that has given him BED BUGS!!!
I contacted the front desk to complain about this since I know my husband is trying to get his stuff cleaned and buy new clothes, etc all while trying to go to meetings with clients. The front desk guy was a jerk his name was GENE! He proceeded to tell me he wasn't management therefore couldn't do anything. I advised him that since he is front desk he should have better customer service and I was warning him that other guest may contract these disgusting bugs. He said to contact Wyndham hotels for all complaints. I told him I would but would appreciate something to be done about this immediately. He told me he was too busy and hung up on me.
After reading other reviews about this disgusting place I could see others did not have any better of an experience. I tried contacting Wyndham every number, every option leads you on a 20+ min hold or longer after 30 mins I would give up. You do however have an option to leave a voicemail. I never trust those messaging systems. Give me a live person. They need to do something about their business asap!
Wyndham Vacation Resorts Company Profile
Company Name:

Wyndham Vacation Resorts

Year Founded:

1966

Address:

6277 Sea Harbor Dr.

City:

Orlando

State/Province:

FL

Postal Code:

32821

Country:

United States

Website:

http://www.wyndhamvacationresorts.com/