Consumer Complaints and Reviews

My husband and I attended a timeshare program the morning of October 7, 2016. But before I go too far, I need to start with the previous day's events. I'm frustrated and completely disgusted by Wyndham and this timeshare event. Signing up to attend on Wednesday, October 6, 2016 the man at the counter quite confidently and without stuttering informed me and the surrounding individuals near me that "if you're a single ** woman from Washington (I'm from Seattle) who doesn't carry American Express you cannot attend."
We had a lady whom worked for Wyndham tell us to make the most of the event by going separately so we could each collect a $150 cash card. I was already anxious and excited to attend a timeshare. Incentives are nice but are not the reason we would attend. My husband and I had talked about it for months. He wasn't wanting to attend this one, so I was excited to go for the both of us. But, that wasn't about to happen. Because as the guy stated at the counter... I couldn't attend as a single ** woman from Seattle with no American Express card. Now, I'm not sure if the word ** came out by accident or if I just got to finally witness a racist comment aloud! I immediately looked at the man, waiting for him to laugh like it was a joke but it wasn't. I then slapped my hands on the counter and shared how sexist and racist that comment was. I couldn't stop talking about the disgust I felt.
Next, the lady that told us to go separately interrupted and said that "they are actually married." But since you needed proof of our marriage... we have different last names, the individual at Wyndham wasn't going to let me attend by myself. That's **. Not a problem if my husband came. What if I was the sole breadwinner of my family. I'm threatening to file sexist/racism charges. You showed me the world has not changed and I still am being judged by my sex. I'm ashamed, humiliated and disappointed. How do you teach your employees to degrade women and get away with it?
Not once did your employees ask me what was my income. Instead, I had to get my husband involved just to get me in and he wasn't as interested at the time... I manage our finances at home... not him! My husband did not want to attend the timeshare opportunity but because of Wyndham's sexist/racist policies, he had to attend! Not for you but for me. And for what... a $150 American Express card.
So on the day of the timeshare, Friday, October 7, 2016, we were told to be there at 9:30 and would be there for a two hours presentation... 5 hours later we were able to leave. That was way too long. So when we arrived about 9:15 am, we were the first to arrive and the very last to be escorted to breakfast and then we were escorted to the conference room after being grilled repeatedly about another individual with the same last name. Nothing like being grilled by 2 different individuals and then to eat breakfast late while the guy is talking. The boss, no idea what his name was told us we would be treated extra well at the end, to make up for that morning's errors. While others came and went we were still there. I appreciate the time and was really intrigued. I was immediately turned off by questions and being stared at like we were doing something wrong!
Wyndham questioned my ability to participate alone based in my gender and zip code, wasted 3 extra hours of our time and for what? I'm completely disgusted and we will have a hard time recommending Wyndham to family and friends. I look forward to my husband and I purchasing a timeshare... but not from you!
UPDATE: Wednesday, November 30, 2016. Phone call from Wyndham. Wanted to know what they could do to make it up to me. I said free hotel stay. I was told, he could not do that and asked if there was anything else he could do. I cannot promise I will be quiet on any social media sites. When asked if I'd like another $150 American Express Card, I said sure. But, I wasn't done... I think he thought we were. You cannot pay me $150 and think all is good. Never will I discuss business/complaint while at doctor's office.

Checked in. Found two Industrial Blowers running in the room. Smelled like wet dog or someone had thrown up. Management would not return 3 phone calls. Maintenance showed up and tried to mask the odor with spray so heavy it was hard to breathe. Poor Place to stay - overpriced, no parking, not customer friendly.

Dirty cabin, broken drawers in the refrigerator, beds coming apart, threshold at the back door is rotted, the cabinet in the kitchen fell and dishes came out and broke in pieces when no one was around which was a huge blessing. The pool area is musty/moldy smell! There are roaches all over!!! The arcade game didn't work. The list goes on! We found out from neighbors that the owner doesn't care and doesn't even want to know!

My husband and I just returned from Las Vegas where we had the unfortunate experience of attending one of these time share presentations. We had just checked into the hotel and were on our way to the elevator when a young man who we assumed was a hotel employee, chased us down, wanting to know if we had received our "welcome package". He then proceeded to take us to a desk where another young man, very personable and a fast talker, asked us what shows we wanted to see and what else did we want to do in Vegas. He invited us to breakfast the next morning to listen to a talk about a new resort that we might want to stay at another time.
At this point, I suspected it was a time share, having attended one in Mexico years ago. The young man overheard me say this to my husband and quickly assured me it was not. They only wanted us to listen to a 90 minute presentation and show us the resort. He then sweetened the pot with a couple of other "free" gifts. Total time was to be 2 hours. The next morning we were taken to another hotel to a back room where we were served cold eggs and greasy bacon on plastic plates with plastic cutlery. From there we were taken to another room to hear the presentation, but only after we used the restroom or got coffee as we were not allowed to leave the presentation.
Another fast talking man who was very slick went through the spiel about how we deserved a high end vacation, unlike the other poor slobs wandering the streets of Vegas, dragging their luggage behind them. He shared with us the fact that he had previously been a lawyer in New York, rather suspicious as to why he left that to hawk time shares. When he was finished, we were re-assigned to our person who sat with us at breakfast. This young man escorted us to the resort, which was quite lovely, and then back to the hotel for the hard sell.
Although we made it clear to him that we were not in a position to buy due to other commitments, he badgered and berated us until we said we were leaving as we had fulfilled our part of the bargain and then some by spending a entire morning there. His veneer of pleasantry disappeared and he became quite nasty. He then brought over a big fat Texan in a fake white buckskin jacket who had a new price list for us that was the cheapie version of what we'd been given earlier. At this point we were so disgusted that we stood up, said we were going and demanded our "gifts". We did get them and used every last one. But it was a high price to pay. Avoid these people. They are liars and scammers.

I'm shock to see all the bad reviews! I've been an owner for 5 years now and I've been pretty much all over the world with my family in spacious accommodations. It was definitely a long hard sales process but I have to admit it made financial sense when it comes to traveling esp abroad. The maintenance is billed to my credit card monthly. We are not rich but we work just like everyone else to provide the best for our 3 kids. They only have one childhood!
How do I know I can trust these reviews about Wyndham Vacation Resorts?
638,664 reviews on ConsumerAffairs are verified.
We require contact information to ensure our reviewers are real.
We use intelligent software that helps us maintain the integrity of reviews.
Our moderators read all reviews to verify quality and helpfulness.
For more information about reviews on ConsumerAffairs.com please visit our FAQ.

This has happened twice now. Wyndham hotels made duplicate reservations for the same dates. I canceled online but the hotel, itself, Ramada, did not cancel it. In fact, they had a hard time finding my reservation number based on the online confirmation number I was given. Their confirmation number is completely different than what I received via email. I was charged for one night for a reservation that I canceled but they say was not canceled.
The second time I made a reservation and canceled it, I decided to call the hotel directly after I canceled it online and the hotel clerk said that there was a duplicate reservation as well but that both had been canceled. I asked why there was a duplicate reservation and she said that it is due to the fact that Wyndham Hotels uses a different system for online bookings than what their subsidiary hotels use so at times the systems don't match up! Her suggestion was to call the hotel directly whenever making cancellations. Really? Well then that is something that the consumer should be made aware of. I wonder how many people have been charged for a one night penalty fee when they were told they didn't cancel their reservation when in fact they did? Seems like the makings of a class action suit.

My wife and I attended a presentation to join a membership type of affordable and cheap holiday accommodations that would save us a lot of money compared to our current situation based on their tailored holiday assessment they did on us. At NO point at the presentation we were told that we were signing a Financial Contract/Agreement/Mortgage, buying something or that we were obtaining any finance. We were tricked in believing we were joining a membership with great benefits which you can withdraw from if you change your mind as a common practice in Australia. They presented some figures showing us that financially we would save thousands of dollars by joining their club.
They also convinced us that should our lifestyle change we can easily withdraw from the membership by transferring it to another new or an existing member even with a profit as its value apparently constantly grows. Only at the very end they shocked us with a figure that this membership actually cost money and further convincing us not to worry. At this point hungry and exhausted we started to be nervous and suspicious but it was too late to leave as they wouldn't stop pressing. It seems that the whole purpose of this exhaustion was to have us our brains stop working.
We were running late after exhausting 6 hours everything was rushed as they wanted to get us signed as soon as possible. We told them we were in a hurry and we only had 10 min to spare as they promised it would not take long (to hook us up in this global scam schema that to this day we can't get rid of causing us further damages). We paid a deposit and were told we can paid the remainder in full or by installments. As we were running out of time we decided to sign in but cool-off in the next few days, which we did, or we believed we did.
After doing a quick research preceding our decision to exercise the cooling off right we learned that purchasing into the Wyndham Vacation Resorts Asia Pacific Pty Ltd membership is a Scam Schema, a believe I base on the following findings which match the Australian ASIC Scam guidelines: None of our requirements from their assessment were possible except going different places, an option which was only on our wish list and probably only possible when you retire and have no other things to worry or do in life. And even this was only possible if you were to book at least nine months in advance, based on a very limited availability (especially in a peak season) at a premium price allowing you to stay only few days which restricting you to one very expensive holiday in a year.
They have been offering false promises that we would save significant amounts of money compared to what we would otherwise paid holidaying on our own giving us some example of over $100K saving over 10 year period. After checking out some available locations we found they were ridiculous expensive - promised savings that would never eventuate. We found that the Vacation Credit's market value was 10 times lower than they have presented it to us and they are impossible to resell or to organise a membership transfer contrary to what they have been promising.
After doing some search enquiries we found that there are no rooms available on any location we would possibly be interested in the times we would like, few locations that we were interested in were not available in their catalogue and that there was absolutely nothing in Australia at all or Europe, our preferred destinations. We also found out that there is simply nothing available on their booking website, as any search we did was returning nothing available. On the Presentation when we asked them to show us how to make a booking they showed us some false figures but failed to login to their system due to some technical difficulties.
After reflecting how the presentation went we realised that: The membership application (agreement) was unjust, misleading and deceptive; The application (agreement) did not have provision nor was communicated to us whether we have received independent legal advice or other expert advice; The application (agreement) fine print details were not explained to us; Undue influence, unfair tactics and pressure were used on us; The credit/finance provider (Finance by Wyndham) did not take measures to make sure we understood the nature and implications of the transaction; The credit/finance provider (Finance by Wyndham) would have known and could have reasonably ascertained by reasonable inquiry at that time that we were not able to repay the loan, or could not pay it without substantial hardship.
Wyndham Vacation Resorts representatives and administrators behaviour at the presentation and when signing the application have been misleading, deceptive, ambiguous, confusing and false, at moments particularly harsh and oppressive being excessive and intense in nature, using unfair practices and harassment tactics that were intimidating and exhausting. We have been pressured to sign an application (agreement) on the spot without fully understanding or reading the documents presented to us, we have been misinformed presented with false information, and we have not been given the important (binding) information.
We thought we have exercised our right to change our mind by sending the cooling off notice to Wyndham Vacation Resorts Asia Pacific within the required 7 day period and by calling the Wyndham Representative and telling him we have changed our mind, we were not proceeding and we were cooling-off. The same has been expressed to Wyndham Customer Care representative. After more than 12 months we are still trying to recover our deposit, clear the defaulted/outstanding payment of $20K from our Credit Rating File (as thanks god we didn't make any further payments) and remove us from their mailing lists as they still refuse to acknowledge the cooling-off right.
Although we have not used or exercised any benefits, products or services or whatsoever, from Finance by Wyndham, Wyndham Vacation Resorts Asia Pacific Pty Ltd , WorldMark South Pacific Club, RCI or GrabIt by Wyndham, etc. to this day they still refuse to accept and honour our cooling-off right, still demanding to pay them their membership, refusing to return our deposit, and reporting a default payment on our credit file to VEDA a leading provider of credit information in Australia.
Their latest letter states that since we have not used our 8000 points (I believe we actually received 16000 on the presentation day plus some bonus (read worthless) cheap cruise tickets) in 12 months they had to sell them for 10 times less their original value and are still asking for the $20K difference to cover their loses?! If you are from Australia please report them to ASIC and ACCC to enlist them as a SCAM company. Very simple online forms. They need more complaints to be able to proceed.

About 20 years I was a member from FAIRSFIELD, then move to WYNDHAM. I owed a week vacation and paid off all 10 years ago. Did not owed anything, paid 50 maint fee on monthly basis. But after they offered me to add more rooms and added more fees, they confused me by offering me other unnecessary items, but make me pay double.
I discussed in a few years later about 3 years, they offered me a change and apparently I should be saving more in paying maintenance, but instead I started paying triple on everything. They don't explain the real thing, but push me on buying their products and even I explain I cannot afford. They make it possible for me to be accepted, but for my surprised after paying cash with a credit card and signed all their paperwork I found out later I owed like closed to 40,000 for 3 rooms and a week, and the maintenance is more than 200 per month how can? I have to pay almost 1300 every month for a timeshare?
Because they added another loan and they told me will be one, and I will be paying less in maintenance in comparison to my previous monthly fees, but that was a lie. I am doing my best in paying but is unfair why they lie to me and when I call to complain they keep transfer the call and they say will call me back, but never call me. They just ignored me, but as soon as I am late of days to make their payment they send me a threat later as COLLECTION not even a few days I received the threat.
It is almost a year, and still owed the same, why? Because they added without telling me about 19% interest on top of that, so that nothing will cost me over 100,000 in a few years. Please help me on this. I really feel this is a fraud! I am not alone. There is a company thank knows everything about his and I never call them and this company keeps calling me asking me to representing me and make them pay me back or cancel the agreement without me having any more to deal with them. They want to charged me 6,000 for that process. How can I do that is too much as well.
Please help me on this bad influence. WYNDHAM is not good. They promise good service and future accommodation but is not true. Whenever I want to use my points is never available the date I want but the date they want. Because they sell my timeshare rooms to external customers so they make more free money unbelievable. When I want to use points overseas I have to pay like 500 per that process and extra money to the hotels on fees. So I realized by saving $250 for maintenance, and $1300 monthly payments for 30 years I could just go to a luxury hotel and will be quickly available.
It is a rip off and they should be paying me back all the fees illegally they promise me wasn't true. Also, to convince me they offered me 2 weeks vacation wherever I want. They even write on the contract document, but when after months I called to book a place, they told me it doesn't exist because they should have give me a certificate with a number, but I never got that so was a lie again. When I called for the person who sold me all that deals, they are gone, either they no longer work or they moved to another state. So I just get upset, frustrated and feel they should pay back my frustration, my money back and they should be in audit asap before they get more victims. Thank you please help me.

First of all, money money money $$$. The asking price was $100,749.00 for so many points - outrageous at any cost. I was shocked at the audacity of anybody actually asking such an amount of money for buying air and time - they confuse and camouflage the reality using thousands for the point system so no one really knows/understands what they are paying for what. The promised 90 minutes can easily turn into hours more if you let it - a kind but firm no is all you need and maybe telling them to stop the **.
The agent I got immediately went into overdrive and called the hard sell guys when I first talked to him. I saw the paper with the cost and told them that they are crazy to present such a cost to buy timeshare - I already knew about the maintenance and housekeeping costs that are then added in to it all. This is definitely hard sell so if you make it a game and look at your watch and say ''Ok the 90 minutes are up, I'm done, give me the gift you promised for my 90 minutes," you can get out of there with the gift you earned.
Can't believe anybody actually falls for this scam of selling super expensive timeshare that also carried maintenance etc. We own a vacation club, Vacation Village Voyages, $189.00 a year for 6 weeks of resort vacation, no other fees except the confirmation cost. It's not bad and I have had 5 weeks so far this year. Last year I used a week in Costa Rica for $299.00 in a 3 br., 3 bath, 2 story, fully furnished condo with security and a cold pool right in the capital city. I used several weeks there. Timeshare is totally a RIP OFF. We had 6 weeks in years past but I just stopped paying and eventually they went away. It's not against the law not to pay your bill.

Review of Baymont Inn in Peoria, Illinois. The front desk personnel A-PLUS in customer service. Heather, Jennifer, Katie, Pretiae, Tierney & Greg are an ASSET to this motel. Maintenance Ramon & Allen tried to fix the phone in room, they both were courteous & prompt in resolving the issue of the phone. Housekeeping ---A-PLUS. The linens were spotless--no stains on sheets & towels. All the housekeeping staff were exceptionally courteous & efficient!!! Excellent breakfast. I rate this motel 5-Star.

I am a timeshare owner. I recently visited Palm Aire at Pompano Beach, FL and when I got there I got offers for discount attractions. I turned them down and I told them I was not interested. The lady at the counter kept insisting and asked me which ones I liked. She asked for my credit card for a deposit in case of any damages. She charges my credit card for 80 dollars (tickets for a restaurant). I told her that I did not wanted to go to the presentation, I will let her know if I was interested in a future sales presentation. She said I could cancel it.
I left the building and when I got to my room I noticed that it was non refundable. I go back the next day to talk to her. She was not there and I spoke with someone else about the incident. I told them that I was not interested in attending the meeting. I ended up going to the meeting due to my non refundable 80 dollars, they promise it was going to be a one hour presentation.
The presentation was 1 however, they assigned you an adviser which is an aggressive sales person. I told him that I did not have any questions, that I was happy with what I have and was. to interested in any offers. I also told him that I was tricked to assist the presentation. He was aggressive and not cooperative. He insisted for us to stay there so he could show us what he had to offer. We had schedule a tour with our family and we did not have the time he requested. We made him aware of our schedule tour and he did not cared. He told us to get rid of our watch and phone. He was very rude and unprofessional.
Be aware and DO NOT attend this presentations. It's an all day thing. They will not let you go until they meet their goals. The 60 or 90 min presentation it's a 6 hrs. BE AWARE. They want to sell you an expensive timeshare that comes with a 50dollars monthly fee. Not worth it. Very disappointed.

I told our story before. Original purchase was with another club that was bought out by Wyndham. Wyndham bought the properties. Not the member's contracts. Our original points with other club were never recognized by Wyndham and could not be used in combination with points we bought from them. Several years of meetings and attempts to fix things have been a waste of time. Heard from a number of people including a Wyndham employee (non sales) there is a program for people to sell out and cancel contract.
Looked forward to trip to Towers On The Grove in North Myrtle Beach. Wanted to do the sales meeting. Went to their "hospitality" office before they even had a chance to start hounding me. Told them what we wanted. Not to buy. Wanted out. Set up meeting. Returned later with the wife. Been there done that. Laughed at others in the waiting room. Obvious they had no idea what they were about to go through.
Here we go, Assembly line tactics. Sign in. One lady came over with clipboard and took our names. Gave us name tags. Clip board changed hands couple times before it was placed on counter. Person from back comes up and gets clipboard. Again we laughed. Knew it was our name because wife's name is hard to pronounce and they were clueless. Typical friendly banter we've heard countless times dealing with these people. Down hallway to room full of people. New twist. Not the bullpen full of tables but a small seminar type set up. Big screen TV and a lectern. Couple dozen victims already seated in rows of folding chairs... No No NOOOOO....
We turned around at the door and said no way. Told them we were there to get out of the club. Not to buy more... They rushed us back down the hall like building was on fire. New victims were hearing us... They held pow wow in corner of waiting room. They didn't know what to do. Finally said person we needed to talk to wasn't there yet. Asked if we'd come back later when that person showed up. You bet... Barely back in room before they called. They were ready. Back to waiting room. Assembly line people kept their distance from us. They did hand us list of free gifts to pick from.
Original clipboard placed back up on counter. Young guy in new suit walks out and gets it. More banter down the hall and into... The bullpen. Kid wasn't sure what to do and had us stand there and wait a few minutes. While standing there a guy walks by and through a door behind us. I turned while door was open. Didn't look right. Room was semi-dark. Lighting looked odd. Then noticed mirror by the door. Strange reflection. It was two-way and people were in the room watching the bullpen. I walked over to it and stuck my tongue out.
The boy comes back over and sits us down at nearby table. Close to the mirror. Laid clipboard down and he walked off again. I looked at papers on clipboard. Little if any information there other than our names. Seconds after sitting down the kid pulled out list of figures and saying "this is what you have now......" "You know. We've all heard the same pitch how many times?" I stopped him mid-sentence. Asked him if was selling. Look on his face said it all before he could respond.
Told him we were wanting out and wanted information about the program. He had only been with Wyndham for two weeks and didn't know anything about it. THIS was the guy that knew what we needed? We got up and headed to the door. Tossed the list of "gifts" on the table. Out through the waiting room. Told them in so many words (no profanity) they needed to lighten up on the sales pitch and listen to the members from time to time. Going out door I could hear them scrambling trying to explain things to the victims still in the room.
Back in room girl from sales called to see why we left. I explained what happened and in matter of seconds she caught herself in a lie. Surprise. She said it was mistake. The kid wasn't supposed to take us in and in next breath told me his job was to get our information for the other person. Phone rang every day all week. A card was slipped under the door asking us to call. Can't wait til next trip. I'll do same thing every trip until somebody at Wyndham talks to me.

We have been Fairfield/Wyndham owners for 30 years and have had many good family vacations. However this most recent sales presentation we had was the most stressful and pressured we have ever experienced as Wyndham members. The sales rep kept repeating the benefit of moving up to Gold Card status. Then the sales manager entered and we wanted to consider the offer and get back with them later in the day. The manager continued even though we had no intention of purchasing without considering the pros and cons of the offer. The supposedly 60 minute presentation lasted 4 and a half hours!
They let us go back to our condo for 2 hours and we decided to decline the offer. We were told we had to come back and sign off on the offer. This we did after another 45 minutes of high pressure sales. I finally had to irately say, "NO!" With all the costly maintenance fee increases, I would discourage anyone to buy timeshares! You would be much better off going to the vacation rental companies!

On this Sunday 9th of October 2016 we were invited to visit a new resort and for losing our morning with them. They offered some money to spend at Disney. Honestly we went there only for the extra bucks for our girls to spend at Disney stores, but when we got at the Bonnet Creek resort they said it was there since 2004! And that we were there to know about their vacation program. Even if we were not interest in it, they sold it as the most hidden wonder of the world and amazingly we felt like doing the best deal ever, paying a lot of money but slowly and having the most wonderful resorts available to us forever.
It was only in the afternoon that we realized it: something was really wrong, nothing could be that perfect. So we decided to do a quick search on Internet and wow!!! Sooo many complains!! We got desperate!!! Luckily we found in the contract the 10 days limit to cancel the deal, so on the next day, Monday 10th, we went to UPS and sent the letter with everything they required. Tuesday we went back to the bonnet creek to give back the book and tablet we received. It is Thursday 13th and we still didn't hear from them. We are started to talk with a lawyer just to be sure that everything done was correct and as per contract cancellation section.
We will update this as soon as we have any news. Don't get trapped by being innocent!!! Do a little research before!!! Don't fantasize in their stories!!! This is the real world, nothing comes that easy!! Just check the amount you spend on hotels and the "maintenance" fee you will pay forever. And you don't know the rate that the maintenance you raise...

During our vacation in Orlando we went to the Orlando Eye where this lady from Venezuela told us a way to get cheaper tickets to the parks... who wouldn't want to save some money right? All we needed to do is attend a 90 minute presentation where staff from Wyndham Hotel would show us all about the ownership program they have. It sounded like something we could do for 90 minutes, especially since we didn't want to spend that much on tickets.
So next day, we got up and went to the resort at 8 am... I did the math and we should have been done by 10 am tops! Of course that didn't happen... This guy "Pedrito" kept us until 3 pm and I gotta tell you, he does know how to be a salesperson. I will give him that. However I requested from the very beginning that we was honest with me and my husband. I didn't mind if the whole thing costs a billion dollars... as long as there weren't additional things nobody told you about and charged out of the blue to our credit card.
Long story short, we were just about to sign the contract when we found out that there were in fact some other stuff "Pedrito" forgot to mention we also needed to pay for. When we confronted him about this, he forgot to be nice and polite and instead started to ask all these questions about the things he did say. I told him that at the end it was my and my husbands decision not to buy the damn thing... believe it or not... he insisted!! And tried to explain for the million time how the points work, how much we are going to "save" and how much we have connected with him and his wife (he made all these stories up on things and stuff we have "in common" no need to share with you how pathetic that was... just to sell us a lie.)
At the end I was so upset I just wanted to leave. I asked them to destroy all the paperwork we have signed (thankfully we didn't get to sign the contract) and they had to cancel our down payment... This kind of business shouldn't exist! I still don't understand how the government and latinos can put a good word after Wyndham. It is just sad. If you are deciding whether to buy it or not, trust me on this. Your money is better off on your bank. Don't waste a penny on these people... not worth it at all!!

I have owned Wyndham points for a long time now and just two years ago I could get in Oregon and that is just a example. Now there is not one property that is not under the WorldMark trademark and unless you pay for that membership you can not trade into it. Also it cost you to trade into it. They have taking over half the inventory and put it into this club thing. We need to sue and get them back. It's getting to the point there is nowhere to go unless you belong to the club.

PART 1: While at the San Diego County Fair in June 2016, we (my fiance and myself) were offered a 2 night stay at Wyndham Resorts here in San Diego or Oceanside for "just a 120 minute timeshare presentation" on their newest resort and "just wanted our feedback." Well, after 120 minutes had passed the initial sales person had to "get approval" from her boss to get us our earned "gift" before we could go. The supervisor then proceeded to really put the pressure on to sell us a timeshare even saying to my fiance "What kind of man are you, doesn't your woman deserve better?" I was stunned at his words and the humiliation it caused my fiance, aside from being outrageously unprofessional.
The "abuse" did not stop there and when we were not budging the supervisor would lower the price then say he would give us some time alone. We firmly stated we were not interested and regardless of how much time he gave us we needed to get home as it was getting late (now around 8:00pm, started at 5pm) and we have animals that eat at 6pm and my fiance gets up at 3:30am. Well, he still proceeded to give us "think time" and after 20 minutes I went to the bathroom and passed a hallway where the staff break room was located. In there stood both the initial sales person and the supervisor just B.S.ing with each other. This happened a few times during what we called a "hostage situation".
When I returned from the bathroom and told my fiance what I had seen. He was livid and approached another sales person telling him we want our certificate and we were leaving. Well, he just went and retrieved our supervisor from the break room who proceeded to repeat the above situation. It was like living (and re-living) this nightmare that you just couldn't wake up from! After the supervisor realized we were not UNDER NO CIRCUMSTANCE going to buy one of their timeshares, he said he needed to go get the paperwork for the gift. Again, he left us for 20 minutes and again, I went down the hall to see if he was "kickin it" in the breakroom AND HE WAS!
So, this nightmare of a situation ended when I went back and told my fiance he was indeed in the breakroom B.S.ing (AGAIN) and I just left (we drove separate cars as I had come from work) as it was now past 9pm and my animals needed feeding and I was on the verge of losing my cool. My fiance did not wait for the supervisor's paperwork for the gift but instead left the "hostage room" and went directly to the window where the gift is given. Needless to say, he gave that poor female worker an ear full (and so much more) but did let her know he was not upset at her but unbelievable angry with the supervisor.
PART 2: So now we have our "gift" (certificate activated on 7/15/16) and when we call to book our 2 night stay we are told we had to wait until September. Well, that sucks but okay, we get that, they are waiting for all the tourists to go home and school to start. But, when we call in September they are all booked up for the rest of the year and only have a Monday/Tuesday in November. My fiance takes it because it's all they have available but doesn't realize I am not able to just take off a Monday/Tuesday as I work for the school district. So, he calls back to switch the time to a weekend in January but is then told (by a different person) that they have a weekend available in November. Is it a miracle? No, just complete B.S.! The end. Thank you for listening.

July 18, 2016 stayed at Thunder Bay, Ontario Days Inn. July 19, 2016 stayed at Fort Frances, On. We reentered USA July 26, 2016 and stayed at Minot, ND. The hotel tried to call and I tried to call about the $25 gift certificate. Wyndham phone line was closed. Since the Wyndham phone line was not available we were not able to give the codes. They could not apply the $25. I asked about the gift card before we even started and the one I talked to did not give hardly information nor any codes. Since he or she could barely speak English no wonder information not relayed to me. Best Western and others immediately send an email and give the information there $50. It was so convenient. I even asked about the gift card when I left Fort Frances.
I called today 9/12/2016 and bottom line they said, "We can't reimburse." You can only call when they are open. So the promotion is not very valid. I talked to someone from one in management at one of its hotels and said they make difficult so that you can't get the $25. I feel that should be able to automatically after the two stays automatically have the $25 in their system. They should also be open for those claiming the $25. I raised the question to the online manager after talking to someone who could barely speak English. She said that they are business and they can't stay open all the time. She said if you don't call when they are open and they don't give credit after the fact. I was infuriated. Of course they zapped my request to comment after the call. They should be able to make allowances for when they are at fault. Of course they feel they are not at fault.
As an added note the stay at Thunder Bay was the only bad stay on our 39 day vacation. They are one of two who charged an additional fee upfront to cover if I did anything wrong on charges. The other was not as nasty. They charged and I had to sign an added either $50 or $75 charge. I don't recall which value. They said they did not trust me so that why I had to pay more. I said if they don't trust then why should I should not trust them to return the money. When I checked out I asked for the corrected copy. When I left I got some flake. I asked why should I trust them. Note: The bed was too soft and not much amenities.

It is extremely difficult to obtain help with anyone at Wyndham. I've spent far too much time on hold to take care of issues. Additionally, I have had numerous difficulties booking reservations. They usually do not have units available where I want to go, even 2 or 3 months in advance. When I've been successful, the units have been usually nice, but be careful... Some have been very old and dated and are portrayed in a fashion that makes them look better than they are. I've even moved out of one and gone to another non-Wyndham resort due to the poor condition of the Wyndham resort I booked. I would not recommend Wyndham.

Poor service, no availability. Just another vacation scam. I have called 3 different times to book a reservation at least 3 months in advance and there never seems to be anything available for the weekends. My last call took them 25 minutes to answer before I actually got someone on the phone. I was told that I needed to book 10 months in advance. Price are lower and better rated hotels just by using Priceline or Expedia. Don't fall for this scam.

I will try to make this as short as I possibly can. Last year in December of 2015 I agreed to go to a presentation for Wyndham ownership with friends of mine who came to visit from Europe so they could get cheaper Disney tickets. None of us purchased ownership, BUT they got me to purchase a $99 special deal for 2 nights at one of the hotels listed in brochure. The deal sounded great, because they said when I check in at the hotel, I will receive a $100 Visa card. So they made it seem amazing, FREE hotel! How great, right? Well, not so much.
After I booked a hotel room for my family for a short getaway for our 9 year marriage anniversary, I received a confirmation email, that upon arriving to the hotel, we will have to attend a 120 minute presentation. Seriously?? 120 minute presentation to receive that promised $100 gift card! I was furious, but said to myself, "It's only 2 hours, let's get that out of the way and enjoy the rest of the 'vacation'."
We booked the hotel in Ft Lauderdale from Friday till Sunday. We got to the hotel at 3pm to check in and right before my check in I received the phone call about coming to the presentation the next day at 12.30. I asked if there is anything very early, so my whole day doesn't go to waste, because of the presentation. The earliest they had was 10.30 in the morning, which I thought was fine and we will be done by 12.30 and enjoy the rest of the day. We already didn't have much from Friday, the next day we got ready for presentation which was 30 mins away from hotel. We were assigned with Allen at Wyndham presentation, who was a nice guy, but the whole experience was horrid!! Let me just say the whole presentation lasted until 5pm!!! We were there with our two small children. (Thank God they are very well behaved and actually sat down for all those hours!!!)
We did not want to purchase the ownership at the moment, because we are buying a house at the beginning of next year and wanted to get that out of the way and maybe purchase ownership after we purchase the house. I was very disappointed as they clearly did not give (excuse my french) a ** about how we feel and did not respect the fact, that we want to buy the house before we buy anything else... Other 2 colleague came to talk to us and were SO pushy and trying hard for us to buy it. Even though we probably would if we have already purchased the house, but THANK GOD we didn't especially after reading all these reviews that are VERY TRUE!!! They just want to screw all these people over! They don't care about YOU, all they care about is their money! And even after explaining 10 times that we don't want to buy until we purchase our home, they were still so pushy and annoying!!
If you really look at it, those points don't even make sense!! They tried having us purchase 64,000 points a year and I asked Allen how many point it is to go to Puerto Rico for example, and he said 35,000 for 2 weeks. And on our way out we spoke to another person to buy this "trial" package which gives you 300,000 points for $3500 and you have 2 years to use them. So I asked him again how many points to go to PR and he said 145,000 points for a week in the slowest season! Already lies from the first salesman... So if you really do the math, it would cost $3500 for hotel only for 2 weeks in PR buying this trial package. When it would cost cheaper to just book a hotel on your own in PR! So frustrating dealing with these people!
They got us to sign a paper to only check if my husband qualifies for 0 down and no payments for 6 months, which we already knew he would be approved because he has a great credit, but the lady that came after Allen was so pushy and just wanted this paper signed without telling us how much monthly payments would be etc. And saying I don't know finances, when I clearly do, she just didn't want to give us any info on payments etc... She just wanted to get the papers signed... What a cheating company!!! Let me just end with our "family vacation" being ruined!!! Ruined because of this stupid Wyndham cheating company!! My poor kids didn't even get to enjoy anything!! They are careless and treat you bad if you don't fall into their trap and buy it!! I forgot to mention, that we didn't even want to go to presentation, but in my email it stated that there would be penalties if we don't attend!!! SMH. STAY AWAY FROM WYNDHAM!!!

This appears to me to be a case of misrepresentation: At a booth at the Texas State Fair in 2015, I purchased a "Vacation Getaway" for "3 days and 2 nights' accommodations at Wyndham San Antonio Riverwalk Hotel... or a comparable area hotel..." A few extras were included such as a dinner certificate and two river cruise tickets. At no time did the salesperson inform me that the package was contingent on attending a "120-minute CLUB WYNDHAM sales presentation" to try to sell me "a lifetime of quality and worry-free vacations..." The literature that I subsequently received in the mail contained that information. Bottom line, I am going to lose my $99, because I have no desire to take a trip during which I will be subjected to a sales pitch in which I have no interest and for which I have no time. Consumers need to be aware that full disclosure did not seem to apply here, at least in my experience.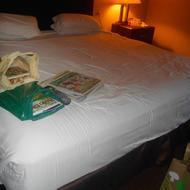 I am writing to compare our 2012 stay at this hotel with our 2016 stay at the same hotel. In July of 2012, we stayed here and enjoyed a totally wonderful free breakfast bar which included sausage, bacon, ham, biscuits, I think also biscuit gravy, and scrambled eggs, toast, cereal, and waffles. The facility was in good condition and we were very satisfied with the hotel and the services provided. I greatly enjoyed swimming every evening in the beautiful pool. Our only concern then was that the free computer provided in the Main Lobby for guest use was extremely slow. Otherwise, our experience of staying at this hotel in 2012 was very satisfactory.
Now, fast-forward to July of 2016: On July 17 thru 21, 2016, we stayed in the same hotel. What an unhappy difference four years made! The breakfast bar had shrunk to include only toast, waffles, and cereal. The sheets and blanket provided on the bed were much thinner than we had in 2012. The housekeeping service did not provide us with a full set of bath towels when cleaning our room. Several fixture screws in the bathroom were loose. I don't know if the same is true of all the rooms, but it was for Room #167, which we stayed in this year. ALL of the vending machines AND the washer and dryer in the Guests' Laundry Room were out of order. The Ice machine was completely out of ice throughout most of our stay this year.
The Wifi provided to our room kept cutting in and out, but I was able to get the amount of online time I wanted. I used our own iMac in our room, instead of the Guests' computer in the Main Lobby, which is even slower now than it was 4 years ago. I mean, that old Hotel computer barely functions at all. The exterior door at the South end of our hall near the Laundry Room did not close properly, causing potential lack of security not only to our room, but to the whole building. The swimming pool was still very nice to swim in, but by itself, that was not enough to redeem this hotel to what it was just 4 years ago.
To sum it all up, this hotel has sharply declined in the past four years in quality of service, and failed condition of the facility and vending machines, and the decreased quantity of choices offered at the daily Breakfast Bar. On our next visit to the Bloomington/Edina area, we will find a different hotel in the area to stay in. This Days Inn just doesn't satisfy in 2016 as it did in 2012.

Every other year my husband and I rent a cabin from Wyndham and this year was somewhat of a disaster. We rented the cabin A View to Remember (they should rename it A Flood to Remember). The first night we were there it rained and the roof started leaking everywhere. It leaked upstairs all the way to the basement. We called the office right away, they sent their maintenance guy out and we obviously couldn't stay there, they had us move to a different cabin. They told us they could only put us in a cabin the same price that we paid for. Okay I can understand that. But we find out once we get home that the cabin that they moved us to was cheaper than the original.
Needless to say we got no money back. Now on to the new cabin, Zombeaver. It was a beautiful cabin unfortunately it had no view other than other cabins and trees. No biggy, it sucks but I can deal. We stayed for 2 weeks; the first week in I had put the trash in the bear proof trash bin as instructed. Well the next day we go to leave and a bear had literally broke the bear proof bin plus we find out that the hot tub is leaking. So we go to the office and report what happened. When we left he was telling me what was said. He asked her if this kind of thing happens all the time, she said to him it only happens to people that don't read the rental agreement, you're suppose to put the trash out in the morning and someone comes by and pick it up. (We were there for 2 weeks and only saw the guy once.)
I had actually read the agreement prior to signing it. Nowhere in the agreement that I have did it say to do that. I even re-read it thinking that maybe I might have missed it. I definitely did not. The people that my husband had talked to were rude to him and made us feel invaluable as customers, who spent a fortune on a cabin. This was our way of celebrating me being cancer free and our honeymoon. It was a stressful situation and it dampened our trip. Needless to say we will take our business and money elsewhere. There are plenty of other cabin rental places that I'm sure would be happy to have us.

My husband and I decided to take our daughter to Disneyworld for her 5th birthday. Our trip was planned from Thursday May, 5 to Sunday May 8, 2016. Thursday was for the ride down to Orlando, Fl. We spent 13 hours in a car with our 5-year-old and our screaming 17-month-old. We were driving from Mobile, AL to Orlando and 2 of those hours were spent in Gainesville getting a flat tire repaired. We had reservations at the Clarion Inn in Beuna Vista, FL. The "resort" was not as I expected but we stayed all the same. Upon our arrival, we were instructed to stop by the tourists desk to see what they had to offer us. We spoke with a woman who said that we could get discounted tickets if we were to watch a "90-minute" presentation. I was fully aware of what a timeshare presentation was as I have attended one years before. I was given a sheet of paper with departure times for the shuttle that would take us to the presentation.
We chose the last time available which was the 12:30 shuttle for the presentation at 1 pm. We got in the lobby around noon to wait so that we would not miss it by any chance. We chose the last time available because of the "90 minute" presentation, we wanted to be leaving the presentation by 3 pm, so that we could meet up with some friends at Magic Kingdom and be able to catch the light show that night. The shuttle arrived around 12:45 pm and took us several miles to the resort where the presentation was to be held. We finally arrive and have to wait for almost an hour for our family to be called. We were assigned an agent and by this time I was already upset at all of the time that had already been wasted. He asks, "Did they tell you this was a 90-minute presentation?" I told him that they did tell me that is was a "90-minute" presentation but we have already spent those "90 minutes" getting here and waiting to be called.
He asked us if we wanted to leave like we were wasting HIS time. I told him no because I had already given the lady at our resort almost $200 for these discounted tickets and I wanted my tickets, so we stayed for the presentation. We had to watch videos (as expected), and listen to someone speak (also expected), then we took a tour of this vast property (not expected). We had to walk a half mile to get to the model condo that they wanted us to see. When this whole ordeal was over, we had to walk the half mile back to the presentation room where they had more people set up for us to purchase the timeshare. By this time I was angry because it was now almost 5 pm. We told them we were not interested, especially after they kept stressing over and over again a "90-minute" presentation and we were entering hour 4, including the waiting we had done. They finally let us go and sent us to the "gifting" room.
There was line out the door in this gifting room filled with people waiting for what they were promised. This took another hour to get to the front desk. We finally get to the front desk and I requested that the teller give me the tickets that I already paid for and I requested a refund. I told her that we were victims of this company's false advertisement and it had cost us a day at the park. She said she could not do as I requested so I then requested a manager. The manager could have not cared any less than she did about my daughter's birthday trip and the time that they had taken away from her. She said she could not do as I asked so I asked her to get someone who could. She didn't bother, and by this time I was full blown upset. I was crying and fussing because they did not care that they had ruined my daughter's birthday and were not willing to compensate my family for our lost day at the park.
They called security and I was asked to leave. I only wanted them to compensate us for the time they had robbed my daughter off at Magic Kingdom. We ended up only being able to attend one park that Saturday, instead of 2 before we had to make the long drive back to Mobile. I tried finding a customer service line or forum for Club Wyndham but I was unsuccessful. I know that others have experienced this treatment because there were others in the "gifting" line that were upset behind their "90 minute" presentation. I hope that this review keeps them from doing this to other families.

My husband and I just got off the phone with a Club Wyndham representative and then her supervisor. Due to circumstances that I will not explain here, our Club Discovery date ended and we had not used any points, etc. We contacted Club Wyndham to request an extension. We were denied. Period. And we were denied a refund of well more than $3,000. We inquired if there were other options for resolving the issue. The reply was "we understand, but no." I would like to hear from others who have experienced this. I know of no other label for this except robbery or theft. Class action anyone?

Beware of Worldmark by Wyndham. They sell points to use their resorts but then make it nearly impossible to do so. We recently stayed at the resort in Indio and it was so filthy that we could not even walk on the carpet in our bare feet. As compensation for the inconvenience, we received a 2 night certificate for another vacation. Unfortunately, the certificate had SO MANY restrictions that it was basically worthless!!! When I called the customer care center, they basically told me tough luck. Do Not spend your hard earned money with these people.

I chose to book a hotel through Hotwire because they offered a great price for a 3 1/2 star hotel for my family trip to Dallas, TX. The Wyndham Garden North Hotel looked decent from outside and the lobby, and the room looked basic. First night: I rammed my leg into the footboard of the bed. The footboard stuck out approx. 5" from the end of the mattress and the bedspread covered it therefore there was no one of knowing the danger it posed. Three weeks later and it's still tender to the touch. 2nd night: We left the hotel at approx. 10 a.m. and returned at 9:30 p.m. only to discover the room had not been touched by Housekeeping and there were no clean towels to take a shower. I called and complained. Management apologized and assured me that it would be cleaned the next day.
Third night: We left the hotel at approx. 1:30 p.m. I left a tip on the bathroom counter for the cleaning people. We returned at approx. 10 p.m. to discover the money gone and the room just as we left it. Outraged does not begin to describe how I felt. The manager Topher said he would review the room entry log and deal with the person who took the money. He later notified me that the person was reprimanded and they would no longer be assigned to our room. No offer to refund a night or even a complimentary breakfast... nothing!
Fourth night: My two year old stumbled, fell, and hit the corner of his eye on that same sharp-cornered, dangerous footboard. Blood gushed from his eye and we had to rush him to the Emergency Room. We filled out an incident report and two days later we still were not contacted. Then when we did speak to Topher, the manager, he said that the general manager would contact me and my husband on Monday.
That same night we returned to the room only to discover once again this had not been cleaned! If that wasn't enough my son thought he seen a roach in the room!!! Immediately we started packing things up. We called the manager and he came to our room with another man that did a quote-unquote inspection of the room for evidence of roaches. Ultimately our room was switched. The following Monday I discovered that Topher was the general manager all along and they weren't going to do anything to compensate for my son's injuries.

We purchased this service in Feb 2016. We paid $5000 for down payment out of $20,000. At that time, the sales manager described all good part of their service. They promise the service we purchased can support two weeks in most hotel. When I asked them what can I do if we don't want this service later, they told me we can sell it very easy. They have a department to help us. At that time, we googled and found this is a large company. So we trust all they told us and paid the $5000. NO ONE TOLD US WE CAN CANCEL CONTRACT WITH 10 DAYS FOR NO COST!!! (We are foreigners who can't read English contract in a short time!)
When we back, we found there were lots of complaint about this company, so I called them to cancel the contract. The 2nd time when I called them, one male representative said he met a lot of complaint like me, so he personal understand and very sorry about my bad experience. He told me there are two options, 1. I can give up $5000 and cancel the contract. 2. He can transfer me to another dept who help us resell. However there is a waiting list. I told him I will think about it then make decision.
However when we contact Wyndham again, all other representative denied that I can cancel this contract with my loss of $5000. (We NEVER use their service yet!!!) And sale dept said we HAVE TO pay $15000 of rest of our contract, then they can sell it for $2000-$3000! I can't believe what I heard! This is a business trick and cheating! I emailed back said I need stop payment and cancel my credit card due to this issue. And I need find a lawyer to sue Wyndham company. If anyone want to join me due to similar experience, please contact me. To other potential customer: PLEASE consider carefully before you sign the contract!

I will never stay at another Wyndham hotel ever. They took us for about $15,000. Instead of giving us a credit of $5,000 on a down payment timeshare they forged my wife's docusign signature. As a result we are stuck with a $6,000 PayPal bill. We have never used their timeshare and we don't want to. They LIED and CHEATED us. We are both professionals and would NEVER had agreed to do this. They totally took advantage of the situation. The people responsible for lying to us at the Wyndham Timeshare: Michelle **; Mary **.

ConsumerAffairs Research Team
The ConsumerAffairs Research Team believes everyone deserves to make smart decisions. We aim to provide readers with the most up-to-date information available about today's consumer products and services.
Wyndham Vacation Resorts is one of the world's most popular timeshare companies. The company is a member of the Wyndham Worldwide family of companies, and currently works with more than 900,000 owners.
Available Properties: Wyndham Vacation Resorts has a huge selection of vacation ownership units and resorts for potential buyers to choose from. The company also has more than 13,800 units and 80 resorts available to customers.
Worldwide: Customers who choose Wyndham Vacation Resorts have the ability to choose from hotels and properties across the world, from North America to the South Pacific.
Video Experience: The company has created several videos to help potential owners envision what the buying and owning experience will be like, helping make their decision easier and clearer.
Curated Excursions: The company can help customers plan specific or special getaways when they use their timeshare, including adventure excursions or entertainment events in big cities like New York.
Dedicated travel agents: The company can has dedicated travel agents that will discuss vacation schedules with timeshare guests, then help them plan their vacations and transportation by scheduling excursions, booking transportation to and from the airport, and arranging tickets to entertainment events.
Best for Large families, people who want a luxury vacation property, travelers with a favorite vacation destination and young professionals with some disposable income.
Wyndham Vacation Resorts Company Profile
Company Name:

Wyndham Vacation Resorts

Year Founded:

1966

Address:

6277 Sea Harbor Dr.

City:

Orlando

State/Province:

FL

Postal Code:

32821

Country:

United States

Website:

http://www.wyndhamvacationresorts.com/