Consumer Complaints and Reviews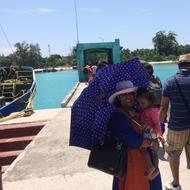 This is a completely fraud company having inhumans with no sense of manners and fully commercial porters of D grade qualities with no idea of the meaning 'guests' amongst them. I went with my one and half year kid along with my wife for this group tour and made a horrible, pathetic and disgraceful experience. Still having nightmares for being involved. They don't even care to give you a family seat row in flight even knowing you carrying an infant and you have to pursue the airlines for arranging this in proper rows.
They have porters rather than professionals to take care and these blunt-headed fools only know how to drag you and complete their syllabus within a stipulated time come over what may not at all bothered for individual families and treating in a commanding voice all through. No managers, only at the briefing time, you will be fortunate to see them once and for all and rest you have to be on your own. Like in Havelock, after such a hurricane tour my kid became sick and we have to catch an auto rickshaw by coordinating with the hotel's persons and rush to the hospital for a medical check-up and no trace of MMT guys were found.
Low-cost hotel accommodation in Port Blair even after paying 87000 inr for the trip and most of the beautiful locations remained unrevealed due to their suppressing, like RED SKIN ISLAND, JOLLY BUOY ISLAND, etc. They will also not divulge about the beautiful places like NATURAL BRIDGE AND GLASS BOAT RIDING AT NEIL ISLAND for fetching money and will take you to all the normal boring places like submarine where you can't see anything. Even they came to know you are carrying a sick child, no signs of humanity will come from these bunch of monkeys and you have to identify and carry your luggage all through in every coastal jetty. Overall, everybody should be made alert about this group who are only sitting and displaying with the media to fetch money from guests.

I have been a very loyal customer to Make My Trip and it was a big shock for me to see that they have changed my booking date. Now when I'm asking them to change my date cause it wasn't my mistake but system's mistake that it did show 7th Nov. 2016 to me and it booked 7th Dec. 2016. Now for date change they are asking me to pay around 2250 and 300 for convenience fee and air fare rates would be separate. Such a good way of taking money from people's pocket. A big round of applause for you guys who is not even ready to help inspite of calling so many times. I had booked round trip and they have goofed up by changing the month from 7th Nov. 2016 to 7th Dec. 2016. It is so not cool.
I WILL NEVER BOOK FROM MAKE MY TRIP EVER AGAIN IN FUTURE AND WOULD LET EVERYONE KNOW THAT THESE PEOPLE ARE A BIG FRAUD. It is completely your system's fault and I have read all the complaints above and others have faced same problem as I have so it clearly indicates that there is some problem with the system. Believe it or not but bad mouth will affect your business. Even when I'm calling them they are saying manager is not on the floor, call later, I mean should you not keep one manager on the floor in shifts. Why do you guys say then 24/7 service.

My booking ID for hotel East gate in Agra on 8/10/2016 **... I booked a 3 star room in hotel east gate and your policy states there's no need to confirm the booking with the hotelier or the website. And I trust you people and reach this hotel with 2 families and kids only to find out there's no room in the hotel for us at 11:30 pm in the night... And the hotelier had the audacity to take us and show some dingy room in an adjacent hotel. On much insistence I got rooms in a 2 star hotel, much substandard and not worth the money I paid for... The hotelier of east gate hotel says my deal was with MMT so go better ask MMT. They made me roam around agra for 1 hr to get a room and screwed up my holiday. MMT customer care said we'll be given complimentary breakfast (please check your voice record if you don't trust me).
Assured me of complimentary breakfast and made us look like fools when the new hotelier (Apollo) refused any talk with MMT whereas your customer care told me about a breakfast deal I didn't ask for it. Now you screwed up my holiday and all I want is refund back the money that I didn't get service for (a room a/c in apollo costs 965/- according to your website... by the way the a/c was non functional)... Kudos to the MMT for managing a show to cheat people of their money... You guys better be in good coordination with your hoteliers rather than suggesting to the customer that it's their fault as your other customer care rep did...

Dear #MakeMyTrip, #MakeMyTripCare. I booked my round trip air ticket from MakeMyTrip, from Bangkok to Indore and from Indore to Bangkok. After a few days I received an email from MakeMyTrip saying that the flight has been rescheduled and you can change your travel date free of charge, the email reads "NONEND/NONREF VALID ON AI REISSUE/DATE CHNGE FREE OF CHARGE/NOSHOW THB1500/ REFUND THB2000 DOMESTIC CHANGE-THB300"
When I called customer care of MakeMyTrip to change my travel date they charged me around 3700 INR, despite the fact that ticket cost of new dates of travel is less than ticket cost of old date of travel. Ideally they should have refunded me some amount (or charge a little amount) but instead they overcharged me. Saying that we cannot consider the email that we sent you because of some technical issues.
The customer care executive didn't know her stuff and wasted total 50 minutes of mine on an ISD call (they don't have toll free number for international calls). When I asked for the explanation about the overcharging she was saying that either pay the amount right now using the credit card or wait for a few days and someone from their backend team will get back to me. I couldn't wait for a few days as I have to fly in next 60 hours. So I ended up overpaying, she finally told me that someone will get back to me but no one called me. I booked from #MakeMyTrip thinking that I will have peace of mind because they are the player in Indian travel industry only to realize that I booked with this #LootMyTrip and ended up having pieces of mind. I want the charges to be recalculated, charge breakdown, and refund against the overpayment.

My experience with Bus booking with MakeMyTrip is very bad. I made booking for Mumbai to Mahabaleshwar and it was done fine, but when I did return booking from Mahabaleshwar to Mumbai twice I made the booking and made payment through net banking. First time it said, "your booking could not be made, but the payment got debited." I thought let's try for second time. Again it showed that my money is debited, but no confirm booking. I have already made payment twice and the amount comes to Rs. 3600. Without booking any bus seat, I have my money with MakeMyTrip. Though it is saying it will be credited, but kind of harassment, time, money and frustration that MakeMyTrip is giving is horrifying. Would request you all not to make payment online for bus booking with MakeMyTrip. Bad experience.
How do I know I can trust these reviews about MakeMyTrip.com?
609,317 reviews on ConsumerAffairs are verified.
We require contact information to ensure our reviewers are real.
We use intelligent software that helps us maintain the integrity of reviews.
Our moderators read all reviews to verify quality and helpfulness.
For more information about reviews on ConsumerAffairs.com please visit our FAQ.

We cannot suffer for mistakes MMT does. Issue: I booked 2 tickets through MMT for 28 October 16. I called indigo up for rescheduling it to 22 October 16. They asked me to call MMT for refund related queries to my bank account. I then called MMT to proceed refund of Rs. 1400 Approx. and Rs 6667 for both the tickets to my account. MMT executive asked me to cancel my 28 October 16 booking through the website. I asked "will it affect my 22 October 16 journey??" She said "when you are not travelling on that date it has nothing to do with your current booking." I followed the steps told by her. She asked me to cancel my 28 October 16 booking. I got the mail for 28 October flight cancellation as discussed with her. After 4 hours I got a message from them that my 22 October 16 booking stands cancelled.
Can Anyone tell me why the hell they have cancelled my 22 October 16 booking on their own when I have not ask for. Solutions by MMT: Their solutions since yesterday: Playing blame games with the customer. "Book another ticket for yourself." Wow. "We will be back in 24 hours." Its been more than that. No reply yet. Amazing. We did not get the update regarding rescheduling. I mean customers are fool asking you for rescheduling amount. Their executives do not find it important to check the reason behind any process. Telling us points which were not at all discussed on calls. These guys are filling their pockets making fool of customers by explaining them the PNR meanings, how re-scheduling actually works, coordination problem between them and indigo, explaining customers how things work.

Dear concern, this has reference to my international travel ticket booked via Makemytrip.com. I purchased flight tickets of Air India from Delhi to Singapore. Travel dates: 25.08.2016 (Delhi-Singapore) and 22.09.2016 (Singapore-Delhi) via Makemytrip.com. Due to some medical reasons in the family, I needed to extend my stay in Singapore and suddenly the battle began. I was shocked with the insight this whole thing has brought to light. Thinking all would go as planned, I got my Singapore Visa extended, which happened in less than a day's time. Post which I tried to change the flight ticket return date from 22.09.2016 to any date between 21.10.2016 to 24.10.2016.
Now my agony began. At the age of 65 years, I am being harassed to the core between Makemytrip.com and Air India. I was unable to proceed with the changes online and was asked to contact Makemytrip.com via an online message. So I called support number in Gurgaon, 0124-289 8747 and was on an IDD call for about 50 mins. from Singapore. The Singapore no. 800-101-3344 given on your website does not exist (wonder why it's still mentioned there).
The call was answered by executive Deepak, who after taking all details confirmed to me that the ticket change is possible and that I need to make a payment of Rs. 5411 as penalty charges for change in date (Rs. 2705 per passenger) and also that there is no difference in fares for the changed date. He confirmed twice that post making the payment. The return travel date would be changed to 21st Oct. 2016. So I went ahead and confirmed all details with him twice and post confirmation, made the payment of the said amount. You can cross check in accounts and also hear the recorded call.
Now, once everything was done, he suddenly tells me that since it took me some time to make the payment, the fare must have changed. Next, he tells me he is unable to get the fare from the airline and the fare must have changed and he will refund the amount I paid. I insisted that after confirming everything, how can he go back saying he will refund the amount of Rs. 5411, which I had anyways confirmed twice before making the payment.
After a lot of argument, he finally transferred the call to his floor supervisor Mr. Deepak **. Now this gentleman tells me a new thing that the validity of my ticket is only One Month as the fare was booked in the lower economy class. I was shocked to hear this now as at the time of booking it nowhere said any such validity of One month. Nor is the same mentioned in my ticket (please have a look at any of the tickets issued by Makemytrip.com). Now he says that if I need to change the dates I need to pay an amount of Rs. 30788 for two passengers (me and my husband for a one-way return date change) as the validity is of one month. If this was the case, why was I charged Rs. 5411 in the first place and confirmed twice that there is no extra charge towards the date change for that date and the revised ticket amount of Rs. 47395 sent to me via email.
I really don't understand where was it mentioned when I booked the ticket online that the validity of the ticket is of one month? If it was so, I would have given it a second thought before booking. No such choice is given at the time of booking. Makemytrip.com says it is one month and the same is fixed by Air India, so they can't do anything and you can speak to the airline directly. This is ridiculous. Why should I need to call them? I booked through Makemytrip.com and I was never informed about the validity of one month. If you are a medium through which we do the booking, it should be made clear to begin with. The site mentioned that it's a non-refundable ticket which I agree but there was no mention of any validity anywhere on the website nor on the ticket.
Just to check if Air India is able to help, I did call them up too, but they directed me to makemytrip.com as the booking was done through your website. So once again it left me with no choice but to write to senior officials so that something can be done in this regard. Please note I am very Senior Doctor (just retired from Maulana Azad Medical College) and really didn't want to waste so much time over this if it didn't concern me and I didn't feel cheated. My husband is also a very Senior Doctor and I would like to request Makemytrip.com to acknowledge the fact that we are senior citizens, stop harassing us and do the needful at the earliest.
Please honour what you commit and display on your website, or else we would be forced to approach the consumer court and Social Media and dissuade others from being a target for such kind of tactics employed by organizations like Makemytrip.com. My ticket details are: Booking ID: **. Current Date of Return Travel: 22.09.2016. Proposed date of Return Travel: 21.10.2016 (+ or 1 day). Please note I was confirmed that I need to only make a payment of Rs. 5411 towards the date change to 21.10.2016 and there are no other charges to be paid by me, post which I have made the payment which is reflecting in your system. I should not be expected to be penalised for a fault made by your agent. I am contactable on ** and my local contact no. here will be **. Hoping for a swift resolution to my grievance.

My name is sujith, and I have booked 2 tickets through makemytrip on Aug 31st... but the dates entered are mistaken and unfortunately I had done the payment to makemytrip. And when I realised my fault the same day itself without that much delay I contacted the airlines team (indigo airlines), and they helped me out in cancelling the tickets, and assured me on goodwill basis they will refund the whole amount without any deduction, and the same will be send to makemytrip team, as I had booked the tickets through their online portal. And also I was asked to call the makemytrip team to get the ticket cancelled from their side also.
I had done all the procedures as I was asked by the two concerned customer care team members of both INDIGO AND MAKEMYTRIP. And also I was told my makemytrip team that my refund is getting processed and it will reflect in my account within 05th of September... but they didn't kept the word, and again I was asked by makemytrip team to send them my bank statement for their clarification. I asked my bank and they provided the same, and I send it to them. Then they called me and told that the format in which I have send the bank statement is not understandable for them, and was asked to send it in pdf format. Again I called my bank and they send me another statement in pdf format after repeated request from my side. And I send the same in their attached pdf format. Again their other customer care staff called me and said that they haven't received the statement.
Now also before writing this complaint, I send the same to their concerned portal. I don't know, whether these people are making us fool or not. I can attach the mail and sms from their side saying that the amount will be refunded back... but they are not keeping the word. Each and every time they are bringing with a new story for not refunding the amount. The mistake happened from my side by booking the ticket through makemytrip. I don't think that the makemytrip will refund the amount as they promised to me. Even the associated airlines cancelled the tickets and they assured me the full amount refund as they understood the mistake I have made.

I have booked a package for Swiss Paris delight and at that time they take 20% price of package as a booking amount. Later on they told me regarding visa appointment and my visa was rejected. I asked them why my visa is rejected, they replied that they can't say anything and now my package is going to be cancelled and your booking amount will not be refunded. I said, "Why?" They replied, "That is our cancellation policy." I told them that these policy are one sided policy or disclaimers. This doesn't stand anywhere and if my visa was rejected and you are saying that this is not your fault, though even I'm saying the same that it is not my fault too, whatever the documents are required by you for visa I have sent you so why my visa is rejected that is your job. You are doing this for long time so you should know about the appropriate documents.
They have not listen to me, and stick to "it's policy", then I said, "Ok then give me another package and adjust my amount there." But they again refuse. After a long discussion, they agree to refund me 14000 thousand instead of 44000 thousand. They mail me that your 30000 thousand will not be refunded by vendors. I told, "Ok then give me the details or receipt of my bookings of hotels and flight." But they refuse because they can't give me the proof.
Secondly when I was booking my package they told me several times that please send a mail for GO AHEAD FOR THE PACKAGE only then we can go ahead, so why they have not asked me for a mail regarding CANCELLED MY PACKAGE, rather they are more interested to cancel my package and kept my money. This helps me to fight against their own cancellation policy where there is only if I cancel my package then it is applicable not they, and for cancellation I have not send any mail, and now I'm going to file a case in consumer forum for the same issue.

We had made a booking on 1st August 2016 for Rome and Paris honeymoon trip with a payment of RS.102,915. Monika ** is the point of contact person for this process. She promised us that 7 working days are sufficient to get visa and hence we opted to travel on 24th August 2016 and then we applied for visa on 10th August 2016 with the help of vfs. We were really worried about visa and we requested Monika if in case we are not getting the visa can we postpone the travel dates to next month. Monika agreed to this and informed us that she will get back to us on the same. But we are very disappointed to see an email from Gargi ** (another ** involved in cheating us) stating that booking has been cancelled without a prior intimation.
We were regularly in contact with Monika regarding our trip. She promised and convinced that the trip wouldn't be cancelled at any cost. I kept calling Monika and her only response was "tension math lo ho jayega, we are checking on other options for you guys". After marking n no. of emails and messages, Gargi and Monika called us on 23rd August. The way they responded was too disappointing. We made a call to VFS helpline on 29th August 2016 to check the status. The status still shows "Application has been forwarded to embassy". As per Monika, 7 working days would be more than enough to get a visa but now it's been more than 19 days and still we are at the same place. How can MakeMyTrip hire such illiterates for this position to deal with customers like us. Because of her misguidance we have lost our money of RS.102,915 and RS.13000 for Visa process. Is Monika going to refund or MakeMyTrip?
Almost every day I am trying to reach her, no response at all. Her mobile is switched off. The entire MakeMyTrip is still not providing any update on this issue in-spite of dropping 100 emails. I tried reaching helpdesk n no. of times, but they end up with "We will get back to you on this." 1 lakh is a big amount for us and it is hard earned money. I have all the phone conversation of Monika whatever she promised us.

I booked my return ticket from CHENNAI to NEW YORK on 2nd June, travel date 11th Aug and return on 30th Aug... MakeMyTrip issued E ticket, airline PNR **, E ticket No. **... The PNR no and E ticket no. are total fraud. Airlines informed me that my name, PNR, ticket no. are not in their list. But MakeMyTrip collected full amount of Rs. 64066. When contacted MakeMyTrip, they carelessly reply, "Your case is under consideration. Wait for 24 hours." Many many 24 hours had gone.
MakeMyTrip purposely cheated me.

MakeMyTrip customer support is very poor. I booked my ticket from India to go to US and back. I was given a customer support number in US. Now I want to change my date of return travel. When I contacted the customer support 1-800-4634210, the automated message says it only deal with MakeMyTrip ID starting with US whereas our ID is starting with IN. When I tried for chat mode I got the message that "You are first in the queue and average waiting time is 22 minutes. As I was desperate I waited for 22 minutes, but still the message said that "Searching for a customer support." After 5 minutes it says "No customer support available, try later!!!" This happened 3 times and am still trying to contact customer support. I made a mistake, never will go to this company for any booking.

Person booked my flight without updating my contact details of MakeMyTrip flight with SpiceJet. Person now telling me from SpiceJet that I need to speak with SpiceJet which is crazy for updating details and contact details before issuing tickets.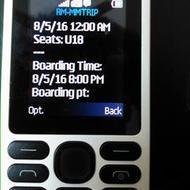 I booked one ticket from pune to Vijayawada (AP). MakeMyTrip sent an sms that its boarding time is 8:00 pm. I started from my home to pickup location but the bus was started 7:00 pm. I tried to reach makemytrip. They are responding properly. Their service too worst. I lost my money 1935 INR and I lost bus and money because of only MakeMyTrip. They did not inform me bus time was changed. They did not call me before I am call to them. I sent so many mails to them. They are saying everytime "sir please wait 24 hours. We will get back to you." Every day they are saying same. Even they did not call me to explain things.
And I sent an email with full details which means attachments of bus ticket timing and e ticket but here they are saying "please see the mistake is from your side. Youre not there at 7:00 pm." In e ticket they did not mentioned anywhere without information. How I can know. In sms also they didn't mention. Worst people and worst service. Worst employees. Do not book any ticket through makemytrip. That is very fake. ** they pulling money from unknown people. I fully angry on them feeling so sad. Please, please, please, please do not book through makemytrip.com. Please find I'll attach my info about tickets.

I made a flight booking thru MakeMyTrip.com in July 2016 for a trip to Singapore on JET Airways flight and paid full amount to makemytrip.com and received a confirmation of the amount received and the e-tickets will be emailed soon. I called Customer Service after one hour, the staff took the phone informed me that it will be issued in 4 hours time. I called again after 4 hours, the staff informed me that it will take 7 seven days to enquire and reply to this complain. I informed her the urgency of the matter and she advise she will take up the matter with the concerned department and get the ticket issued.
Again I called MakeMyTrip.com and enquired about the ticket, the staff again has the same answer, it will be enquired and will reply with 7 days. Then I asked the staff that I wanted to talk to a supervisor. After holding half an hour, one of the supervisor took all the details and informed me that he will take it as priority and will issue the ticket soon. The supervisor confirmed to me that for any reason, if the ticket is not issued, it will be the responsibility of MakeMyTrip.com to issue the ticket, even if the flight cost is increased, as I have fully paid the ticket cost. He confirmed that the ticket will be issued.
Next day, one of the staff called and informed that the ticket is not issued and the booking got cancelled. The reason for not issuing the ticket was "my name is too long". They cannot issue the ticket on that name. While booking the system accepted the name. So the ticket is not issued and the fare is increased. They told they can issue the ticket with a higher fare. I asked them to give refund of my money. They informed that I will get refund in 7 days time.
Finally, I booked and get the ticket issued thru another Agency, for the same day, same flight, same AIRLINES, with same name, only the fare increased. Due to negligence of MakeMyTrip.com, I had to pay additional cost to book my ticket. The customer service staff answering the calls, does not know/understand the priority and importance of the matter, for any complaint they will tell it will be answered in 48 hours time, even if it is for travel or hotel booking within 10 hours or so. Very much disappointed with the service.

My experience of booking international tickets Delhi to Boston was horrifying and rather eye opener the way customers are cheated. I find option of Delhi to Boston return tickets from 15-9-2016 to 5-10-16 for 58882 and I proceeded for booking and when I finally clicked for payment a message appeared at top of screen. Airline has revised fares for 23679. I again changed dates in same fare bracket and again this happened. Surprisingly after half an hour fare appearing was for 58780 and this was purely bluffing technique adopted by MakeMyTrip that when you finally click for payment fares are revised abruptly for higher amount.
More astonishing fact that when I left MakeMyTrip site and gone to Skyscanner I find fare more less for 57000 and when I opted for a flight for same dates opted in MakeMyTrip site, I was shifted to Delta Airline site who confirmed my tickets for around 58000 rupees in dollars which I immediately booked. Really disgusting and annoying...

This is the third time I am suffering from their fraud with me. When you need to change the date, they will send you to airline and airline sends back to MakeMyTrip saying, "you are not our direct customer," and "we don't take responsibility." So it's better to book directly with airline rather than booking through MakeMyTrip. Yes it takes little longer but at least they respond if any changes or cancellation. MakeMyTrip is the worst at customer service. I don't want to give them even 1 star but since selection is necessary - I gave them.

These people's fraud. I booked a hotel through them on 14th July and I paid through my credit card. Then using those card details they deducted money twice. Yesterday I got call from my credit card company by saying that if I made 2 similar payments to Makemytrip or not. I was amazed and denied for it. My bank department suggested me to talk with billing department of Makemytrip before filing dispute.
I did same and what these bastards gave me the reason that I booked 2 hotels at same day and same time. And as hotel booking dates has been gone so they can't refund my money. Now am in the process of filing dispute against this fraud with my credit card company and filing police complaint against this. Before making any transaction on Makemytrip please make sure that you won't get in the same situation like me. If you need evidence then contact me at: ** or E-Mail: **.

My flight booking from Pune to Bangalore for 6th of July 2016 failed. My hotel stay at two hotels in Dubai for 10th of July 2016 failed. They took the money from my bank account and then said booking failed. Still to get their refund. I had to shell out more money to re book my flight and hotel stay leave alone the nightmare. Just stay from these folks - you will never make your trip with these guys - end up in cardiac care at the nearest hospital if you still access their website MakeMyTrip.com.

I called up MakeMyTrip customer service after coming across an offer for flights tickets from Kolkata to Phuket at INR 150000 less it was perhaps an unpardonable mistake from my end. The representative who answered my call said he can only assist the existing customer and there was no other option on the IVR to assist the new customer. When I inquired if there is a number to call on to check about making a booking the representative said there is none. The office is currently under process to be moved and that there is no number to call and no one to reach in order to make a booking. "The employees who look after the new customer are here and there" was the agent's words. So what sort of a company only deals with existing customer?? Once all your already booked customer have boarded their flights are you planning to shut down??
Also he had no clue when would they be relocated and operations would resume. He also had no clue if the Kolkata to Phuket offer is still valid. Zero product knowledge and zero customer service. This was seriously some pathetic customer service I have come across in a long time. I would strongly recommend everyone not to enter business with MMT at any cost. Very disappointing.

This was my first and worst experience with MakeMyTrip, I was not able to book online, so I had to go for offline through Makemytrip-agent. I did not get any discount shown on website, in my Case Price shown on website for my package was 9K, for 3 persons it should be 27K plus 8K discount/offer for online. But offline I had to pay, 52K no discount, almost double of what I expected with promise that package has been upgraded to better service/hotels.
What I got for this high price was so bad service, first pickup-service, driver dropped us to wrong destination wrong hotel, after wasting 1.5 hours we reached correct hotel, which was actually very 3rd class hotel. (I don't know what do you provide for lower package.) Customer support was too poor. It took us almost 2 hours, to connect, explain and finally reach NO-CONCLUSION, they said we don't have choices, so we had to go ourselves out and book another hotel. It was another 3 star hotel, much better and with reasonable price, but our whole day was totally wasted, we could not go anywhere same day, it was already night and we were so tired. So we did practically nothing, just rest. Please stop selling packages if this is the level of service you provide. I tried to give my same honest feedback on their FB wall, but seems don't let it published. Sad.:)

Sub: Booking ID **. Please refer the above Booking ID, which we received on 7th July 2016 when we booked the ticket from Bangalore to Phuket on Sat 9, July 2016 and Phuket to Bangalore 15, July 2016 through MakeMyTrip India Pvt Ltd. Note: When we arrived at Kempegowda International Airport, Bangalore with the print out of Booking confirmation which we received from MakeMyTrip (MMT), we were totally shocked to hear that there is no reservation. As a responsible company MMT should have informed us of any problem in issuing the ticket. Immediately we contacted MMT, but unfortunately was no proper response from MMT and we have to return back home. Because of MMT mistake we had suffered huge loss in terms of financial as well as personal as we had family gathering for 1 week and we already had hotel booking in Phuket.
Now it is the duty of MMT to compensate the loss at least 70% of the booking amount. it was a total nightmare for my family. MMT should have made some other arrangements to accommodate 4 members. But nothing was done. Horrible experience with MMT. Irresponsible behavior regarding customer's concern. We had also received SMS alert for the payment received from MMT as soon as the payment transferred from my HDFC Credit Card account as soon as the payment was deducted from our Credit Card account. Also refer the discussion with Mr. Avik **, Ref No. **. Kindly arrange for the full refund of Booking amount Rs. 1,10,040.00 immediately. Hope MMT will understand our situation, and compensate the loss.

Misleading/incorrect information was provided by assistant sales manager of MMT, Mr. Ravi **, during booking of tours. We (two ladies) have booked a group tour to Sri Lanka in March of this year. On reaching there, there was no sign of a group tour. The only two members of the so-called group were two of us. There was no response to a number of e-mails sent in this regard until the matter was referred to higher authorities. However, no indication of apologies or accepting the error.
I made the mistake of booking another group tour for myself to Kashmir through Ravi **. I was told that there would be 30-40 persons in the group – travelling and sight seeing would be as a group and hotels would be different for different packages. When I reached Srinagar, I came to know that I was the only person for the package/itinerary given to me as a group tour. I was alone during the entire trip. Clarifications given by Ravi ** made no sense at all. I asked the management of MMT, "Does it make sense to leave a single lady alone for travelling and sightseeing in Kashmir." In my opinion, people should at least think twice before booking a tour with MMT. They are least bothered after receiving payment. Moreover, if a person holding managerial position has no knowledge about the trips, what we can expect from junior staff of MMT. I would want as many people as possible to learn from mistakes made by me.

We had travelled by MakeMyTrip to Leh on the 21st of May and returned by 29th May. It was one of the most horrible experiences we had. Ours was a flight only with a hotel at Delhi package which was booked under 2 booking ID's. One as a flight from Bangalore to Delhi return. The other was booked as a holiday package booked from Delhi to Leh and return on their chartered flight with one night stay in Delhi. The ordeal of booking was never ending with the bookings delayed so we could not get the hotels we wanted. A package that was promised and after payments were made, we were told that the hotels were no longer available so we will have to choose another one. Finally we reached Leh after making arrangements for stay on our own. The return flight from Delhi to Bangalore at 1:00 Pm was booked without baggage option and we were told we might have to pay per kg. So it was expected that we shell the amount.
How can anyone be so stupid to think that the luggage would be left behind during vacation and we will be travelling with only hand baggage. That was not the end. On reaching the airport we realized that the agent booked us on 1:00 am flight from Delhi to Bangalore when our chartered flight from Leh to Delhi was 9:00 am in the morning. We were expected to travel from DELHI TO BANGALORE EVEN WITHOUT THEIR CHARTERED REACHING Delhi. Our repeated calls were shuttled from one department to another saying they are not responsible for it. We were stranded for 6hrs at the airport facing lots of mental stress and trying to get the issue resolved.
Finally we did current booking paying an exorbitant amount from our pocket in spite of paying MakeMyTrip Lakhs of rupees for our holiday package and travelled home. We were told we would our money would be refunded once we provide the booking voucher and boarding cards. WE HAVE done the same but it's a month now that MakeMyTrip has not got back to us by mail or phone and neither refunded the money. The mental harassment and the torture have made our trip a nightmare. It should be called as MAKEMYTRIP A HELL AND NOT MAKEMYTRIP MEMORABLE.

I had booked ticket from Trivandrum to Dubai for my family. Make my trip web portal never asked addition charge for baggage and even not mentioned baggage allowance details in E-ticket from MakeMyTrip. I have cheated by MakeMyTrip and I paid 13500 INR for baggage. I had experienced very bad attitude from customer service. Without asking details those executives put call on hold and run away!

I have cancelled my 2 tickets out of 5 in MakeMyTrip... It's 1.5 months gone. They have not given any refund... Very very bad service... you have to literally beg for your money. I had at least 10 calls from MakeMyTrip customer support and every time they say "your refund have been initialized and will get in 72 hrs." But hearing this since 15 days... still not received. My booking was through MakeMyTrip Ahmedabad office. While time of booking you get a very good support but if you cancel your trip remember you are gone.

Regarding south package finalized, I have completed my trip and sharing the experience. Regarding cab driver timing: it was mentioned in itinerary provided by MMT that cab would be available from 6 am to 10 pm, but driver informed that their timings are 9 am to 6 pm. Why there is disconnect between itinerary provided to customer and agreement between MMT and Vision Holidays Coimbatore for arranging cab facility to customer? This has created dissatisfaction and there is no transparency regarding what has been informed for happen and actually what has happened? It is clear case of cheating.
Regarding resolution of customer queries during package trip: MMT has not provided dedicated number to us, and I have been trying from day 1 regarding cab facility dissatisfaction to MMT, and I have discussed my problem to 5-6 persons, but nobody has reverted to me for continuous 3 days. Person who is on trip and found such problems and even then takes 3 days for no resolution from MMT - think how this created dissatisfaction when we have paid all money and we are now helpless.
Regarding cab driver: Cab driver has not guided us properly and even then there has been difference between the itinerary list available with them and itinerary list provided to us. Why there is no transparency as we have paid INR 55000 to MMT for all the itinerary but many spots has not been covered because of the following: cab driver has not same itinerary spots to be covered as was provided to us - no transparency and cheating.
Cab driver has not guided us how much time to be spent at each place and we are under impression that all spots would be covered and due to this we are not able to cover below places: Namdroling Nyingmapa Monastery at Mysore, Avalanche Valley at Ooty, Mukerti National Park at Ooty, Bear Shola Falls at Kodaikanal, Kodaikanal Solar Observatory at Kodaikanal, Water Bird Sanctuary at Rameshwaram, Sea World Aquarium at Rameshwaram, Thirumalai Nayakar Mahal at Madurai, Koodal Azhagar Temple at Madurai, Thirupparamkunram Murugan Temple at Madurai.
Cab driver has not behaved properly and sometimes they indirectly showed money minded nature and which ultimately created hot talks with driver and interestingly MMT has not provided dedicated number for giving at once resolution. We are not bound to provide lunch / dinner to cab driver and when at two times we have paid for lunch & tea for driver as per our wish. Driver behaved properly but at 3rd time, we have not paid for driver lunch, then driver becomes rude & this affects the atmosphere. Due to this I have got changed cab driver from Mr ** to Mr ** on 15th June.
Regarding Hotels arrangement by MMT: Hotels arranged at Mysore, Ooty, Kodaikanal was very poor as there was foul smell, carpets / bed sheets / towels provided was very dirty, spiders coming in Ooty and in fact I had got changed the hotel in Ooty from La Flora Amberley Resort to Hotel Lake View on 14th June due to very bad experience after continuous phone chat with MMT for 89 minutes & 27 seconds from 10.16 pm to 11.46 pm on ** - think person going outside, how he felt when he is struggling for getting resolution in mid-night. I had to spend in Mysore due to MMT has not provided any resolution for continuous 3 days. In Kodaikanal, I have not been provided other hotel in-spite of discussion.
Why is this happening to customer who has paid all money in advance and now left at mercy of God? If MMT deals in tourism package services, then it has to provide good service. Otherwise, this may affect its image very badly in the customer minds in spite of taking all money in advance. MMT has not called us taking initiative that how customer feels during package - whether any problems is facing. In fact MMT should call customer in advance and ask whether any problem is facing and should provide dedicated number for immediate resolution.

My family faced the worst nightmare ever. My parents had booked the package NORTH EAST DELIGHT WITH LACHUNG-SUMMER SPECIAL (PREMIUM PACKAGE)-INDIA this tour cover Gangtok, Darjeeling and Lachung. First of all, the air tickets were mailed at the last moment. Though it was a premium package, the car hired for us was Trax i.e. the goods carrier vehicle. In spite of reminding the MakeMyTrip concerned person (no names) that amongst the travellers were parents aged 60 and also a 6 months old baby girl, he shouldn't have sent such a bad conditioned vehicle.
Travelling from Gangtok to Lachung, the travel permit was not given to my parents which is risky. On the way the roads were blocked to landslides and my parents had to spent 14 hours in the vehicle with some unknown passengers. Whole night they spent in the car itself with no food and water supply. The baby was having breathing problems in the car, there was no medical facility available. Parents having blood pressure problems were not able to sleep due this critical condition. Everyone tried to reach MakeMyTrip team, but not a single person responded. My father had been hospitalised after the trip for 2 weeks. All the tourist attraction spots were boring and other spots covered by other travel agents were missed in our itinerary. I do not recommend this trip to anybody nor do I suggest to go through MakeMyTrip.
We are still trying to lodge a customer complaint on their portal but no one taking any action and all the employees are just beating around the bush. Not a single person is concerned from their side, unlike the times they call you hundred times for the payment. Readers, please note there could have been a loss of life in this situation. Be careful and don't ever rely on MakeMyTrip.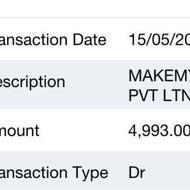 I visited Chail and booked Hotel Grand Sunset through MakeMyTrip App. I booked a total of 4 rooms however on reaching Chail after driving for about 7 hours all the way from Delhi, we were told by hotel that they had only 3 rooms left and they cannot do anything about the booking. I at that moment itself called customer care of MakeMyTrip and they assured to help me. Then I was placed on numerous calls with hotel owner who stays in Delhi and manages his hotel in Chail and finally after a lot of discussion and request from MakemyTrip and Hotel owner we agreed to manage in 3 rooms. We were told that the rest amount for one room will be refunded to us within 7 days. That wasn't enough, now the true story starts regarding refund.
I called the customer care after 10 days and asked for my refund. They told me that 2030 is the amount for which they have initiated for refund and same would be credited to my account in 3 working days as there is TAT that they follow. After another 7 days, I called and I was told that the refund is still not approved by the finance department and they have escalated the issue and soon I would get my refund.
After another 7 days, I called in to check the status of my claim and this time I make sure I message them on Facebook as well and after that within a day I got Rs101 as my claim settlement amount. I was so shocked to see Rs101 instead of that fact that I booked 4 Rooms for a total amount of 8800 and what they refund me for one room is Rs101. Worst experience and worst customer service. They have eat your money and won't give you room or flight as you booked and you will regret later. If you don't believe me go ahead and experience yourself.

I just booked a 7 days and 6 Nights Package of Northeast with MakeMyTrip for 2 pax. They charged me 79K and promised to give a 3-star property. Everything was smooth till the money got credited to their account. Later I received confirmation mail and hotel confirmations. Return Flight that they provided was 1.25 pm from Bagdogra and we reached Mumbai by 8.30 pm in between a layover of 3 hrs at Delhi Airport which was waste of time. They didn't mentioned the same while booking, Temporary Itinerary showed a flight from Bagdogra to Mumbai. 3 nights were spent in Gangtok and they gave me Central Ninamma which is again one of the worst property with no proper food. I would say tasteless food.
After repeated calls to MMT from Gangtok they just managed to change the room with somewhat better view and better space. But still with tasteless food and limited quantity (for calling themselves providing a Buffet dinner). So overall please don't book through MakeMyTrip. It's just waste of money for what they are committing.
MakeMyTrip.com Company Profile
Company Name:

MakeMyTrip.com

Website:

https://www.makemytrip.com/