Consumer Complaints and Reviews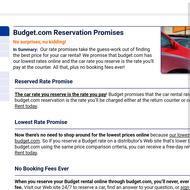 I rented a car from Budget via Hotwire and got a lower price. Budget states that they promise to match 3rd party sites yet are refusing to match my price. I have complained and asked to speak to a Cust Service Manager and they refuse to provide me with a name, an email or a phone number. The only thing they are willing to do is suggest that I call or email their generic call center number, which I have and has accomplished nothing. I have spoken with a dozen people who barely speak English and they have also refused to provide me with a corporate number to call. All they do is take your complaint and file it in the garbage. They are a garbage company which doesn't care about its customers. Shame on them.

We rented a car through Budget for our recent Christmas trip to the Island of Hawaii (Kona Int'l Airport). We booked in June which I highly recommend -- as you approach the holidays, prices skyrocket. Upon picking up our jeep, we were greeted and cared for via a great representative. It was rather quick and out we went. But not for long, unfortunately. At our first right turn, we realized the blinker light was out. Nothing major, so we turned around and they swapped our car out with another Jeep and off we were. Both Jeeps were rather dirty, inside and out. We take exceptional care of our own cars so this was a slight disappointment, fortunately the car wash wasn't too far away. Less than 24 hours later, we soon realized that our replacement Jeep was infested with ants. Hundreds of them. I took the Jeep back and explained that it was infested. The agent this time wasn't quite as friendly.
Apparently they did not properly check-in this Jeep as he claimed we drove 400 miles in the mere 18 or so hours that we had that car. While possible, it was definitely not from our driving as we only went to the grocery story and Costco that day. Aside from that, he swapped us Jeeps once again, this time we were reunited with our first Jeep (blinker fixed) and we were happy. Drop off was quick and painless. Although we had a few glitches, I would certainly rent through Budget in Kona again.

I rented a car to drive home in (7 hour drive). I told the company rep that I would return the car in the evening at my destination. He said "no problem, you have until the next morning." I returned the car as I said I would in the evening. BUDGET charged me a $75 fee for returning the car early! It was when I said I would return it! NEVER USE BUDGET!!!

I rented a car at the Raleigh-Durham Airport. When we got to the rental agency, there was only one person working and a fairly long line. I have Budget Fastbreak so had picked my car, etc before I got there. There was no indication that I should go in a different line. After waiting 15 minutes someone came in and mentioned fast break (my fault for not asking) and sure enough a separate line. So I was able to get out of line and get my keys and rental agreement and leave.
We got to the car and it was filthy! The seats were disgusting (I took pictures) but I wasn't going back in so we just left. Upon returning the car, there was no one to check us out. We had to go inside and give our keys at which that time, the rude person behind the counter said "did you get your mileage." Well, no we didn't. So we went back out got the mileage, came in and he said "well, now I have to go check it."
Ok really? Why didn't you just come out in the first place. This person was far more interested in watching the football game on TV than helping anyone. Now to add insult to injury - I just got a bill for Tolls (which I thought was included in the car rental). The tolls amounted to 4.65 then they charged me a 15.80 convenience fee!!! I would never ever ever rent from this company again!

I booked a car and paid for it online a month before vacation. A couple of days before leaving I wanted to add an extra day due to weather conditions. I clicked from my reservation confirmation to modify the rental. It was going to cost $380.00 for 1 additional day. This couldn't be right $380.00 for 1 day. I called the number on my confirmation, it was no longer in service. I went to their website, called two additional numbers that were out of service. Called the 800 number, the system was down so they couldn't help or provide any other options.
Finally found a location number in service who gave correct number for my pickup location. They couldn't help because I pre-paid and yes it would be an additional $380.00 for 1 day. My whole week trip was $260.00, so I was going to have to pay over $600.00 if I wanted an additional day. I wrote customer service an email because a supervisor, or service representative was not available and no one knew how to contact anyone to make a complaint. I received a form letter back stating prices change due to time and days etc. I will never use Budget again.
How do I know I can trust these reviews about Budget Rent-A-Car?
671,681 reviews on ConsumerAffairs are verified.
We require contact information to ensure our reviewers are real.
We use intelligent software that helps us maintain the integrity of reviews.
Our moderators read all reviews to verify quality and helpfulness.
For more information about reviews on ConsumerAffairs.com please visit our FAQ.

I rented from this company in Oakland, CA and the first two cars we got in STANK like ** and/or cigarettes. They said they would apply a coupon for the next rental and never did. The next rental was given to me with an empty tank of gas despite the contract saying that it was full. I have rented cars for ten years and have never been given a car with an empty tank, thus I didn't even realize until I was on the CA I-5 in the middle of nowhere. I am a female and it was dark. This was not only unprofessional, misleading, and untruthful, but very dangerous.
When I called to ask why the coupon from the first car was not applied they said that it was not their problem. I spoke with a sassy supervisor that was unwilling to help and basically told me to "** off". Main complaints: Providing unclean cars with fetid odor, supplying false information on their contracts, potentially endangering customers' lives, refusal to compensate customer for unprofessional practices, absolute and disgraceful professionalism when speaking with a supervisor, Alona.

NEVER again will I go to Budget Rental car. The car was $37 a day. I was an hour and a half late, and they charge $25 an HOUR. Other places I've been charge $8-12 an hour over. For another $25, I may as well keep it for another day. So I did. They take $200 off of your card, not just hold it... But take it off and it then takes 7 to 10 business days to receive the refunded amount. If they can take it off immediately, why can't you put it back on immediately? Smh... Never again will they receive my business!! Budget is definitely not for anyone on a budget!!

I rented a car for a road trip from 12/26-1/2. When I arrived in Denver to pick up the car at the airport, the representative insisted that I upgrade to an AWD/4WD vehicle since Colorado had traction laws that go into effect during the winter that require either chains which they do not allow on their cars, or an AWD/4WD vehicle. I had prepaid, but I agreed to upgrade for an additional $220 since the representative essentially told me I needed to if I were to be driving through the mountains.
I was given the car and realized a couple of days later that the car was not an AWD/4WD vehicle. I called Budget to see if they could swap out for a new car in Las Vegas and they refused. One customer service rep told me I needed to call Avis and that they could transfer their contract to Budget. This was wildly inaccurate and Avis shut me down. Budget also told me that I would be charged $200 for dropping off this car in Las Vegas instead of Denver. I argued that the only reason I had upgraded in the first place was because their rep told me I needed an AWD/4WD vehicle and then they gave me a car that was not either of those things. No one was willing to help me because apparently "They can not guarantee anything and as long as you sign their contract, you agree to whatever they want to throw in there". This is ridiculous.
Budget lied to me, screwed me over by charging me for an upgrade that wasn't given to me and then offered absolutely no help in getting me an AWD/4WD vehicle that was promised to me. Also when I finally got the receipt, it was the wrong car listed, wrong mileage, wrong rental dates, and wrong everything. I understand that Budget has policy to follow, but offer some damn customer service to the customers you screwed over. I am now risking my life and a large fine by crossing through the CO mountains without an AWD vehicle thanks to Budget. NEVER RENT FROM HERE.

Arranged for a one-way rental. When I spoke with the rep, they told me that I would have to return the car to the airport because the return point near me would be closed Sunday night when I would be returning the car. So I went 60 miles out of my way (30 miles one way) to drop at the airport just to find that there was no one at the airport either. I had to use the key drop-box. Budget claimed that I returned the car the following day and billed me more than double the agreed-to rate. They said I had no paperwork to show that I returned the car when I claimed, and they refused to review the video from the many cameras they had at the return site that would prove my case. I contacted them multiple times and disputed it through my credit card company, but Budget refuses to adjust the bill to the amount that we agreed to. Total scam. I will never use them again.

I will try to give you all the short version: the truck broke down in front of our new home in the driveway. We are miles away from our vehicles. We were stuck for over 3 hours awaiting for roadside assistance to come. Customer service and reservations are a joke. They are rude, do not know their jobs, and cold transfer you to other departments who are closed. They speak to you as they are doing us a favor by offering 15% reimbursement on a truck that is broke down, and it was leaking inside the truck when it started to rain, and wet our king-sized mattress up totally, and ruin my brand new towels. The CEO needs to read these reviews and change these practices with how customer service treats the customers. I will NEVER USE THEM AGAIN!!!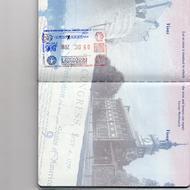 I rented a car on 12/08/16 for one day and returned the car at 3:30 AM on 12-09-16 the following day in order to catch a 6 AM flight to Bogota, Colombia. As Budget does not operate a 24 hour service, I was instructed to return the car to Avis which is locate in the same area as the Budget return area. I did so as instructed. The attendant had a problem printing a receipt so I had to go to the Avis counter inside. My contract was for $70.08 but I was billed $447.00 because Budget said the car was not turned in until 9:30 PM on 12/12/16. I have file with my credit card company for a credit of the difference in the billing. Do not rent from Budget. Especially if you are returning a car after hours.

Brownsville, TX. 12/25/16. Reserved an economy car on 11/14/16 online through USAA Explore service. Arrived at Brownsville airport to discover the business was closed for the holiday. Left us stranded until a family member could leave the rest of our family in Texas to come pick us up. Every other rental agency was open, mind you, but without any available rentals. We spoke with the national Budget customer service line and, although sympathetic, they could offer us no solution because of the holiday. We asked if they could contact any manager or employee of the local office to find a solution and they would not. We weren't getting the car that day, period.
In any case, we needed the car for the rest of our trip, so we then made a new reservation for the following day with another agent at Budget's call center (I cancelled our Dec. 25th reservation out of frustration after being shut down by the first service agent) and the next morning, I called the local office. She practically anticipated my call and within seconds accused me of ignoring their previous voicemails earlier in the month to request that we make alternative arrangements. I asked her for the dates and times of the supposed calls and told her I'd call back after checking my phone records and voicemails. When I called back explaining I had no record of any calls or voicemails from that number or any unknown numbers from that area code, she then claimed she wasn't able to get through to the number they had on file whatsoever, which we then confirmed to be correct.
So the story had changed dramatically and I understood I was being lied to. After that, I decided I couldn't win this one and made arrangements to pick up our car later that afternoon. When I arrived, everything went smoothly, though I certainly wasn't in good spirits and the attendant expressed no sympathy. Car was fine, exactly as expected. Honestly have never experienced worse service but did appreciate the great gas mileage. I will never use Budget again and will tell anyone who will listen about my experience, starting here.

I recently reserved a minivan from this Budget location on 11/24/16 for pickup on 12/9/15 at 8 a.m. Me, my mom, daughter, sister and my grandkids were making the drive to Nashville for my niece's wedding that my granddaughters were in. When I arrived at the location at 8 a.m. on 12/9/16 to pick up the mini van, I was told that they did not have one. I asked the gentleman at the counter why they didn't have it and he responded with a shrug. He asked me if I just reserved it the night before?? I said, "No, I reserved at least 10 days ago, on 11/24." I then said, "What am I supposed to do? I have to get my family to Nashville by 3:00 p.m." Mar, the attendant, proceeds to tell me, "Don't be getting no attitude. An attitude will get you nowhere here!" I ended up having to take a 15-passenger van because I HAD to have my family in Nashville by 3 p.m.; which I have NEVER driven one.
The attendant then, with attitude takes me out to do the "walk around" on the bus/van that I would be driving. He told me to start it up, which I did, and I mentioned that the tire pressure light was on and without even checking he said, "It is supposed to be that way due to the cold weather." Halfway through the trip I stopped at a truck stop and a total stranger checked the tires and said they had far less than HALF the air they should have in them and aired up the tires for me. Having to drive this van/bus made for an awful and stressful trip. It was very hard for my mother to enter and exit the van, which we had to do a lot. The seats were extremely uncomfortable for everyone and I was a nervous wreck every time I had to park the van or back up, and basically stressed every time I had to drive it. When We finally got to Nashville I called the Budget district manager and all he said was, "I'm sorry we were not able to locate a minivan for you."
Really??? I reserved it 2 weeks earlier. Someone just DID NOT do their job. I asked if they were going to do anything to make up for their screw up and said they would make the difference in gas, and they did, HA HA! They credited me a big whopping $0.48!!! I honestly think that for all the stress and hassle they put me and my family through, AND for the rudeness of the counter attendant at Sears Budget/AVIS counter, they should have refunded my rental altogether or gave me a free week's rental or something. I HIGHLY RECOMMEND THAT YOU DO NOT RENT FROM THIS BUDGET LOCATION! I was treated very wrong by the person there.

Policy, policy, policy to the absurd! I prepaid for a car rental from Budget from Christmas Day until January 2 at Ohare in Chicago. I drove the car to Traverse City, MI on Christmas Day. I then wanted to return the car on 12/26 in TC as my son decided he could take us back to Chicago. Since I had prepaid a contract, there would be no refund for an early drop off. Oh, and there would be a $300 charge to drop the car off in Traverse City. Gotta love the car rental business!

The tellers where I rented were rude and tried to provide me with a car with an indicator light for low tire pressure on. When I let them know about this issue they told me they were sure it was fine and that it was likely an indicator issue not a low tire pressure issue. After determining that they were just guessing at that, I asked for a car without any indicator lights on since I am paying to rent a functioning car. After much attitude I was provided with one. A few weeks later I get my second toll charge on my credit card so I call to confirm the charges and figure out how much more there will be as this was a work rental and I had already submitted my forms for reimbursement.
The first gentleman at customer service told me I had not been charged for tolls though I have charges from Budget Rent a Car on my credit card. He then hung up on me. The second gentleman again told me there were not charges on my card from Budget though I very clearly have charges from Budget on my credit card. I insisted on speaking with a manager who was able to look up and confirm the toll charges. Why other representatives were not able to do so is beyond me. Apparently the original rental tellers entered my first name as my last name and my last name as my first name, flummoxing the customer service folks until the manager.
Again, yet another problem with Budget services. Then the manager I was speaking with kept telling me everyone would be 'severely reprimanded'. I was so thrown off by her repeated use of that phrase, issues should be addressed but not necessarily through severely reprimanding employees. I am unclear on whether or not this was lip service for what they had deemed an 'angry customer' or whether this is how Budget treats company issues and employees. Either way I've seen enough to never use budget again and to recommend strongly against them for anyone asking. Horrible, horrible experience from beginning to end in so many ways. Stay away from Budget.

December 20, 2016. The car we got from Budget here in Florida is registered in NY (has NY plates). The registration sticker on the window is in complaint, the vehicle inspection sticker was expired in May of 2016. We found this out in NY when a meter maid point it out and wanted to give us a ticket. The wiper blades are worn to the metal. It rained on the way back to Florida we had to parked the car because we could not see out the wind screen. We expected to rent a car that is road worthy and this was not. When we return the car we explained to the counter person the issues with the car his response to us is "take it up with corporate" because he is responsible for inspections or vehicle safety. OK Budget please train your staff and have your vehicles road safe. Thanks.

Stay away from Budget. This slimy company charged me a bogus $25 fee because their SunPass was broken. I called them to tell them not to charge me for this, and I would send in a check for the toll. The customer support person said that it was OK and there was no charge. A month later, they charge me $25 anyways even though on the phone the support person said they would take care of it.

We arrived in Orlando on November 4th after more than 12 hours flying with a baby. My husband went to pick up the car and the attendant asked if he wanted insurance. My husband said that he didn't want any other expense and the attendant told him that he should get. So, my husband asked a simple one and the man showed him that it was just 34 dollars. So my husband signed, but when we returned the car, on November 10th, it was 34 dollars PER DAY, which means that we spent MORE in insurance than in the rental price! The attendant was speaking in Spanish and maybe he got mistaken.
I called Budget to complain about it, but they didn't care. They said that once my husband signed the paper, there was nothing to do. But before signing the paper my husband and the attendant had a VERBAL AGREEMENT, and the attendant didn't write what he said! My husband was really tired and didn't understand that on the paper was not written what the attendant said. I am REALLY disappointed because I always use AVIS that is the owner of Budget, but now I cannot trust both of them anymore! I would really appreciate to get my money back! The total amount was USD 294,90.

Recently I rented a car from Budget. I asked if I could pay cash to avoid attracting huge fees the bank imposes when I use my Credit Card OS. I was told that is not a problem and I subsequently rented the car. However, when it came time to pay I was told they don't accept cash and I had to use my credit card. It didn't matter how many times I explained the situation Budget just didn't listen... First, they try to blame me for using my credit card... then they tried sending me to the bank because it was a bank fee and then to add insult they tried blaming me for not understanding the exchange rate between the two countries.
As frustrating as it is to pay for Budget's error. I have the added problem of them not taking the time to listen and understand what I'm saying... All I get (9 responses) is, "we apologise and we are sorry for your misunderstanding" followed by a "it's a matter for you to take up with your bank... or the exchange rate is the same regardless if you use your credit card or cash"..."or you chose to use your credit card therefore it has nothing to do with Budget..."

Car rental was in July, they apparently had a difficult time "capturing" the card. Which in their terms means they didn't accept the payment for some reason. I used that card the entire time I was camping which wasn't a lot. All of a sudden in October we are trying to get billed from Budget- 3 months later. Our bill doesn't even have the rental date on it... we deny it with American Express because it looks like FRAUD!
Anyone you try and call on any one of these numbers they put on their forms doesn't answer the phone. All they say is "we are going to have to agree to disagree" and they hang up on you or they transfer you 10 times or they disconnect you. What a terrible service. I will never EVER rent a car from Budget EVER again. Answer your ** phones so I can give you your $200 you lame a$$ pieces. I have called 5 times today and NOBODY is available to help. They can't even take the $$$. It's a department that's closed today! WTF!!!

We recently rented a car at the airport in Bloomington-Normal IL. We picked the car up at 6:55 p.m. When we went out to the lot and transferred some stuff to the Volkswagen Passat, we noticed the low tire light was on. We immediately found a parking place and returned to the desk to find the representative had already left. I had forgotten my cell phone but we called the number on the contract when we got to where our phone was. I explained the situation to the lady and she said she would have to send out roadside service. Since technically the car was not service ready when we picked it up, I never expected to be charged for someone fixing their lack of service. When the guy showed up, he measured the air in the tires. Two of them were over 35 pounds of air, the other two were over 45 pounds, and the spare had over 55 pounds. With all the tires over-inflated, this car was a hazard on the highway.
The guy from the road service asked who we rented it from and I told him Budget. His comment was "You get what you pay for." He let the air out of 4 of the tires and the spare. We spent the week on vacation wondering if the tires were low. When we returned the car to the Avis/Budget counter at the airport, I explained how unhappy we were with the car and rental experience. He was very apologetic. Imagine my surprise when we got the bill for the entire service call. When I called Budget, the individual was rude and very caustic. He said that because we had decline road service, we would have to pay for it. I told him we expected the car to be in top service when we rented it. Guess that is not an expectation Budget lives up to.

I have NEVER had to give my SS number or pull my credit when renting a car. Budget would not give my wife a car until she gave her SS#. Now 3 weeks later, we are getting charges on our bank card in cities we've never been to, including Budget rental in NY. It's some kind of SCAM. My bank returned the charges and I am reporting this. I will never use Budget/Avis again.

I rented a car on Nov. 15 & returned it on Nov. 22, 2016 at 9:10 am. Now I'm thinking everything is ok until I gets a call from my credit card company saying budget trying to take $500 so I'm like "For what? My car has been returned back." So I called corporate yesterday to talk to them. They said they will refund my money so I'm like ok cool no problem. So today when I gets home from work my credit card company called again saying they are trying to take more money. So I just called them 20mins ago saying "why are y'all trying to take money from my card?"
So comes to find out my contract is still open, but they rented the car out already but I still haves a damn contract open under that car which I returned 16 days ago. See I'm not gonna play with them. They told me 48 hrs I will haves my money. It's been 24hrs and like I told the supervisor if I don't haves my money I work hard for I'm coming for their heads. I'm getting a lawyer asap. Hhummb they playing with the right one. Don't let my money be on my card and I hope they reads this cause now I'm gonna blast them on twitter facebook instagram and all so everybody will knows too. Check your credit card.

On October 4, 2016 I made reservations for a car rental with Budget through American Express. On October 5, I printed out this reservation on Budget's website (confirmation #**). Received confirmation from Budget, the vehicle was to be picked up on Dec 5, 2016 at your Sheraton location in Santa Clara, Panama. When I arrived at the Sheraton on Dec 5 to pick up this car, I was informed the office had closed. No one at Budget had the courtesy to inform me of this change. As a result of this gross negligence, me and my family have been caused a great deal emotional grief, not to mention an additional expenditure of $500.00 for local transportation costs. Is this the way you treat a loyal Budget customer of 6+ years (I normally rent a car from Budget for at least 3 months every year when we visit Panama.)? Your company has ruined the start of our vacation and I would never recommend Budget to anyone, ever again.

Got rental car at Portland, OR airport. Was handed the keys and told what parking spot to get the car. There was no attendant around to walk to vehicle for damage and as we drove away we noticed a crack in the windshield. We assumed they knew about this. Upon return of the car, there was an attendant who pointed out that we cracked the windshield. My husband explained that it was there when we picked up the car and filled out a form to state that. We then received a bill saying that we were responsible for $184 to replace the windshield. I disputed and they said that since I didn't purchase additional insurance I would have to pay. I told them that additional insurance shouldn't be the issue since it was there when we picked up the car. They charged $184 to my credit card. I am currently disputing the charge. I won't use Budget again.

I reserved a car through Kayak for my visit to Seattle. I selected Budget Rental Car. I prepaid it. When I got there, they did not have the car available, but did not tell me they were switching the car OR charging me for an upgrade. In addition, they added collision insurance. They did not have the first two cars they assigned to me, and finally found me a car. No mention was made to me of the additional charges, and the service agent even told me I was personally liable for any damage to the car as I was leaving. When I received my credit card statement a month later, I found an additional charge for the upgrades and the insurance.
After three complaints to Budget Rental's consumer service department, they credited the upgrade charge and half of the insurance charge. Their rationale was that I benefited from the insurance. That has nothing to do with the point - my reservation online stated no insurance, and a specific car rate. Saying I benefited has nothing to do with the authorization of the charges. I have now sent a complaint to the Consumer Protection Agency of the Washington Attorney General's Office. How many people have to go through this before someone acts?

I rented a pickup for 2 days and was quoted a certain price. When I returned in, the guy at the counter said just drop off the keys as it is prepaid. When I got my credit card statement, it was 80.00 more. I called the customer service number and they said I was an hour late in dropping it off and was charged for an extra day. I was way early. The guy just waited to check in the pickup to get that extra money. Customer Service said nothing they could do because of their policy. What ripoff!!!

I rented a Kia Rio at the Sarasota airport. I agreed to take possession of a car with a full tank of gas and return the car with a full tank of gas. Since the car has multiple scratches I was busy cataloging them with the aid of the rental car Rep. So when I finally drove off I did not notice that the car did not have a full tank of gas. I finally took notice when the gas gauge moved to 3/4 after driving 24.9 miles. During my rental period I filled up the tank and I drove 89.1 miles before the Gauge moved to 3/4. A car which is rated 27/36 MPG was far from having a full tank of gas when I drove off. I don't think it was an oversight on the part of Budget Car Rental. I believe that it is called Budget because the company meets its budget by shortchanging their clients.

None of the negative experiences on this page even compare to what I have been through and am still going through with Budget Rent a Car. 4 days ago I went outside to get into my rental car and it was dead. I could not get into the car. Since I am a corporate member who has used Budget nearly every week for the past 2 years I was not concerned. Surely they would take care of me. WRONG. The nightmare began; and I am not exaggerating. I have never been treated so badly in my life. After calling Budget probably 30 times, transferred around, hung up on, two auto service people showing up who could not take care of the car for one reason another, the car was finally retrieved by Budget on Friday night. I called again today (Sunday) because I have not received an email that the rental had been closed out.
After again being on hold, speaking to customer service people who barely speak English in India and Mexico, transferred twice and hung up on; I finally learned that Budget holds the rental open (yes as if I still have the car) until they decide if I am responsible. Which I clearly am not. I called my credit card and cancelled the card to prevent any future charges by Budget. I will dispute whatever they have charged me so far. There is no such thing as Customer Service people at Budget. I was told by the last person I spoke to on the phone that the rental counter where they took the car, 60 miles away from where I rented the car, needs to "close out" contract. But that they (Customer Service) could not talk to the counter.
When I call the counter, no one answers. I am still without a car. The snotty customer service manager used that against me saying "well you said you didn't want a car". YES I said that because to get the replacement car I was told that I would have to go to Savannah where they were towing the old car; again 60 miles away, at 9 PM on Friday night. Plus, being that I was in the middle of a nightmare, my main focus was on getting them to get the car; thinking that I would deal with getting another car once this problem was resolved. But instead the rudeness and snottiness continues and the problem goes on. No one at Budget cares to take care of anything. They don't care about anything. You would think that someone would take care of this problem, call me, get me a car and fall all over themselves apologizing. NO. They are rude thieves who will steal you blind. Stay clear of these monsters.

I rented a Car in Fort Lauderdale on 11/27/16 for the amount of $228.00 but my CC was Charged $454. When I called to ask why it was over the quoted amount they said it was for the additional insurance that I declined and then they said I kept the car for an extra day which I did not. The Customer service people were rude and would not help me. I have to fight this by disputing it with AMEX. Budget Rental Car is a total SCAM and would not recommend them to anyone.

Lauren FixAutomotive Contributing Editor
Lauren Fix is an automotive expert who earned the title of The Car Coach, and is recognized throughout all forms of media as a woman with in-depth knowledge on vehicles, technology, automotive finance, repair and trends. Founder of Automotive Aspects, Inc., her understanding of automobiles has made her the "go to" person on TV, radio, print and the internet. She writes a column for multiple outlets including Parade Magazine, NewsMax and Car Coach Reports. She is a regular guest on all the major news and morning shows discussing the latest updates on cars that will help drivers of all ages learn to about cars and make smart decisions. More about Lauren→

Founded in 1958 to appeal to the cost-conscious consumer, Budget is one of the most popular car rental brands. It serves renters in over 120 countries from its more than 3,000 locations. Budget is owned by Avis Rental Car.
Business-friendly rates: Business customers can save up to 30 percent on car rentals with a BudgetBusinessProgram account.
Prepay and save: For customers who book and pay in advance, the Pay Now rate saves up to 35 percent on the cost.
Inexpensive no-show fee: At Budget, the fee for a no-show is only $50 on a missed pickup; everything else is refunded.
Discounts: Active duty, retired military and their families can all save up to 25 percent on rentals. AARP members can enjoy savings of up to 30 percent off Budget base rates when renting a vehicle from a participating location in the contiguous U.S. and Canada. Rent a car for up to four consecutive days, including a Saturday night, and save $20.
Fast reservations: Budget advertises a 60-second reservation process, letting travelers reserve the vehicle of their choice on the go and in just a minute.
Truck rental: Budget features a reliable, diverse commercial truck fleet, nearly 1,900 convenient U.S. locations, daily, weekly, monthly, local and one-way rentals for business or moving.
Best for Military individuals and families, vacationers, business travelers, those with cars in repair and temporary workers looking for a discounted rate.
Budget Rent-A-Car Company Profile
Company Name:

Budget Rent-A-Car

Year Founded:

1958

Address:

6 Sylvan Way

City:

Parsippany

State/Province:

NJ

Postal Code:

07054

Country:

United States

Website:

http://www.budget.com/