Consumer Complaints and Reviews

Rented a vehicle on 07/03/17 & vehicle had mechanical problems. Exchanged vehicle for a different one also with mechanical problems. The third vehicle the representative of the agency asked me to or requested me to cancel my contract not knowing my needs for the car rental. Representative not only wasn't aware of the service he was providing asking for help from Avis car rental representative. Not only was given defective vehicles but wrong vehicles according to my reservations!! Places like this ** be shut down if they offering services with bad vehicles & bad customer service!!!

I had planned for the 9 days east coast trip from New Jersey. I had rented car from South Amboy, NJ 08879. So, I picked up the car from this rental location, and they have given only one option for the car which was Toyota Camry, and when I asked for the options, the lady sitting on the counter rudely mentioned "only this car is available. if you want or not tell me." So, then I took this rental car. The car was rented for 9 days for the NJ trip. But, we got the flat tire (left rear tire) on second day at evening around 7:00 PM. And so we immediately changed tire and put spare wheel ourselves, which was our courtesy and then we drove to home which was just 5 miles away. And, then next morning I called at this rental center and mentioned about the flat tire and then they asked me to go to the location "Matawan, NJ 07747," some Avis/Budget service center. And so I drive 22 miles and went to this location.
They took the car in their garage and then I was waiting for them. After waiting out approx 40mins, the guy came to me and mentioned the car is fixed. And, this guy didn't even mentioned what he did and what fixed. After they fixed the car, I left from the location and then reached back to home. It seemed the guy had changed the tire, also not sure why he didn't fix the origin tire as well as how was the changed tire. Now, after above first flat tire, next day we went to the Washington on 4th July which was already delayed due to the flat tire problem. And on 4th July while we were coming back late night around 11:00 PM from Washington to King of Prussia, near Baltimore city, Left Rear tire got again flat tire at late night 12:15 AM on freeway.
And we were with my whole family, and this second flat tire is the tire which was changed on previous day from this Budget/Avis Auto Repair shop as mentioned above. This time we're really in big trouble since it was already 12:15 AM and we didn't find any nearby Budget shop. Only nearby shop was 40 miles away and it was closed. Now, again we changed the tire with spare wheel at 12:30 AM which took approx 30 min. So, Around 1 AM we again started driving towards King of Prussia which was 100 miles away from our location and we were on flat tire. So, we driven car very slowly. Approx 40mph on freeway and then we arrived at home at 4:00 AM in the morning which was really felt like big relieve from possible accidental life threaten.
Now, again on next day morning, I found some nearby Budget Rental at "1160 1st Ave, King of Prussia, PA 19406." So, I went to this location and then mentioned the details on flat tire and requested for the different car. Now, this guy has given some small intermediate car which was so compact and didn't have enough space in trunk, while my reservation is for full size car. Still we took this car since this guy was refusing to give any other car. Now, we left from the place after getting this car and then we didn't face any issue until our trip was finished on July 7th.
On next day 8th July, I had to return the rental car. So I went to this rental location in "South Amboy, NJ 08879." to return the car. So, here the lady was ready with billing charges for all these 2 times flat tire, their own replacement tire. When I try to ask questions and then she was not even listening to me and without getting any signature of authority for the charges, she charged $512 on my credit card for all these tire expenses which is totally against. She doesn't even listen what problems I have faced because of their given bad car & tires. It has already spoiled our trip due to these 2 times flat tires and fixing spare wheel and other issues as well.
Also, tried to call this office in NJ as well as Budget customer service center after coming back to my hometown, but they don't listen to your problem and also refusing to create your customer complaint/case on this. I'm totally disappointed with the Budget rental and I would never rent from Budget in future as well as would recommend not to rent from Budget rental. They really don't care about customers and charging unnecessary overamount.

We rented from Budget on a weekend trip to Vegas. When we arrived they required a social security number and put that in their system (I didn't feel comfortable with this). They require a $100 deposit on your card. The car was dirty when we picked it up. Upon return the gas gauge didn't show that it was completely full (we did fill it completely) it was slightly under the full line. They made us wait for a manager and then get back in a long line to have the manager sign off. This delay made us extremely late for our plane departure. We rented from Alamo the week before in Vegas and that experience was flawless!!

We waited in line for 2.5 hours at the Orlando airport to get our rental car keys. The people in line in front of us had been there 3 hours. The employees were very unprofessional and completely unable to handle the tasks at hand. A poor family in front of me reserved a minivan weeks earlier for use with their elderly parents and children. Big surprise... No minivan available once they finally got to the front of the line. This was the story time and again in this never-ending line. It was just awful. When I finally received my car (after a good 3 hours from start to finish), it was smelly and unclean. I returned it on-time at the airport. I just received my credit card bill today and it appears I was randomly charged an additional $80 on top of the rental fee. I returned it full of gas, clean, and with no damage. I will be calling to refute this... Nevertheless, I will never, ever use this company again. It was an awful experience from beginning to end.

We walked up to the Budget rental counter at MCI airport and asked how much it would cost to rent a car for our dates. I gave him the full week that we would need it. He said the amount was 415. I agreed and he asked if I would like to prepay for the fuel. I said yes. So I asked him the total amount and HE SAID 445. It was reasonable so I agreed. First of all the car they assigned us was not cleaned out. It had two bags of garbage with food still in it. Gross, it stunk.
So they reassigned another car. Great we were happy. Until we turned in the vehicle on time a week later and got a bill for 616 for the week. I asked the workers why such a difference and they couldn't explain. I saw the same guy (the sleazy one) and asked him and he acted like a 200 dollar increase was not a big deal and he did nothing wrong by telling me his rate was 415 and then charging me 616. Never will I rent from these scammers again. An honest company with integrity gives you upfront all the costs. Why would you want to treat your customers like that?
How do I know I can trust these reviews about Budget Rent-A-Car?
825,614 reviews on ConsumerAffairs are verified.
We require contact information to ensure our reviewers are real.
We use intelligent software that helps us maintain the integrity of reviews.
Our moderators read all reviews to verify quality and helpfulness.
For more information about reviews on ConsumerAffairs.com please visit our FAQ.

At the end of June I had to return to my home town of Calgary to remove some items from a storage locker. I decided to use my Air Miles to book a car as I didn't have the funds to fly in. I was going to select a minivan so that I could bring back as much as possible. At the last moment, literally as I was about to click the confirm button, I noticed in the fine print that only 800km was included in the price. Everything over that is charged on a km basis. I did the math and determined this was too expensive. I went to Budget's website to see if they had any method of upgrading to unlimited kms, but they didn't specify anything on their rentals, so I figured that it must vary depending on time of year and availability. I decided that I would instead use my Air Miles to rent the largest car I could that had unlimited kms, and that I would ask at the rental office counter about upgrades and unlimited kms when I went to pick up my rental.
When I arrived at the rental counter I asked about getting an upgrade. The clerk, Jason ** at the Vancouver Airport Budget location, went and checked to see what was available. He came back with a key for a Ford Explorer. I asked if he had any minivans and told him I wanted to bring back some boxes. He came back with a key for a Ford Flex. I didn't know what that was, but figured it was closer to a minivan that the Explorer that had been offered. I then asked what the price was. He told me that the discounted Air Miles rate would be $129. I was surprised as my previous trip a few weeks earlier I also asked for an upgrade from a sub-compact and got a Dodge Caravan G minivan for $30 a day from National Car Rental. I said "Per Day?!" Jason replied to me "No, for all three days." This brought the price down to within the range that I could afford.
I then remembered about the kms problem and asked "Does this have unlimited kms?" I knew that I could not afford a per km charge and wanted to be sure I wasn't making a mistake. Jason told me "Yes, but only in BC and Alberta. You cannot go to the States." I told him that's fine, I'm going to Calgary to visit my mother. Under these terms I took the upgrade. Jason printed out a receipt and asked me to initial and sign. I read over the conditions in the body of the contract and initialed and signed.
After arriving in Calgary the next day I checked online to see if my budgeting was going alright. When I checked my credit card there was a pre-authorization for $1150!!! I was shocked. There was no way that this could be a correct charge. I called Budget's customer service centre to get this fixed, but the only thing they would say was that I signed the agreement. They said that the unlimited kms which was so important to my decision wasn't for BC and Alberta, but for BC and Washington! They ignored that I had been given false information which I then used to make my decision. They were not interested in the fact that the terms of the contract for the upgrade changed between the offer and acceptance and the printing of the receipt.
This incident consumed me for the next few days and I went over and over what had been said and how it changed from offer to printing of the receipt. There were other mistake on the contract. I was never told of an out of province charge of $20 per day. And the car insurance, which I had purchased through Air Miles was several times more expensive and charged per day as well. Budget had taken me to the cleaners.
My trip continued to go badly and I ended up needing to call road side assistance. To my surprise Budget's assistance service is only available between 6 am and 10 pm! It was 10:30 when I called. The folded brochure that I had been given had other numbers. I called a number and got the corporate road side assistance and learned that in BC Budget is owned by a licensee. They would help me but needed the RA number of the condition report I received when I took the car. But it was written so badly as to be illegible. I spent over 2 hours on the phone as different agents tried different solutions to help me with my problem. At the end it was past midnight and I had already missed the return time of 11 pm. I could have had the car towed back at my own expense, but decided to wait until morning.
What should have been a $150 to $200 rental turned into a $1391 rental. Since I can't pay this I'm stuck either trying to convince Budget to accept responsibility for their employee's gross errors or go to court. The only thing Budget's staff have been interested in doing is quoting the terms on the receipt. You might say that I should have read the contract, but in my defense I did read the parts I was initialing as it was new information. But I had just asked about rates and kms etc. Jason gave me very confident, clear answers. There was no hesitation or anything else which suggested he didn't know what he was saying. I had literally just asked him! I would like to think this is just one person making a mistake, but I can't help but wonder after seeing the other reviews that Budget might be looking the other way to reap the rewards of selling more upgrades. They can't have gotten much from my Air Miles rental.

I made a reservation through Expedia to pick up a Compact car in Phoenix. The reservation and car were both satisfactory. The following two weeks have been horrible. The car was not checked in properly in El Paso after a one way trip. It was checked out and driven to Pasco WA. I was charged for both trips. I called the location where I turned it in and they confirmed they checked it in. Then I was given the number of the manager at the airport where the car was transferred after I dropped it off. That manager also confirmed having checked the car in. Budgets claim department however cannot find any information and has continued to keep over a thousand dollars more than I should have been charged. Having completed their investigation I will have to resort to legal action over clear incompetence on their behalf. Worst customer experience I have ever encountered.

Reserved a truck a month ahead of time. Scheduled labor to help load, and got a call 3 pm on Friday saying no truck for Monday's move. Not going to belabor the point, just to say never, never again will I do business with Budget.

I reserved a Expedition for a family trip where I needed a larger vehicle for all of our children. I thought I found a great deal at Budget at the Springfield, Mo airport. Hrs before picking up our expedition ("or similar") budget acts like it's no big deal and tells us that the expedition is not available and that we needed to choose between two crappy minivans. When I pointed out what their website stated "similar" vehicles would be I was told that their website didn't say that. They did absolutely nothing to try and correct their screw up except tell us that we could rent from someone else.
I am very upset with the lack of professionalism the two budget employees had and their inability to even perform the only requirement that their job requires and that is renting you the car you reserved!!! How in the world can a minivan be a similar vehicle when you rented a full sized SUV??? But don't ask because they don't give a rat's ** about your rental and you will not get anywhere with the idiots that work at budget!!! Do yourself a favor and rent your vehicles from a different rental company, one who prides their customer service and helps correct their mistakes - instead of covering the up. Maybe these employees would be better at a online job so they don't have to deal face to face with customers!!! Idiots!!!

Yes, I am a smoker but when I rent a car I understand that other renters may not like the smell of smoke. I have an 8 yr old son who's always with me and suffers with asthma and who is in the car(s) with me. I wouldn't put his health at risk nor would I be a disrespectful renter by breaking an agreement that's going to cost me more than the rental itself. I will not even smoke around him in my own home. I go outside to smoke, so that it doesn't trigger his asthma. I was very hurt and disappointed when I got a charge of $250 on my bill for smoking because the manager claimed he saw ashes, when in fact it was sea salt, dust and sand from when we went to the beach. I want to know how someone claimed that ashes were in the rear of the back window, cup holder and on the floor, and no ashes were in the front driver side at all.
Accused of smoking in the vehicle has now got me paranoid to even get in a rental from Budget. Someone that that does smoke wouldn't be afraid to get in the vehicle. They wouldn't care. I'm so afraid to go to the store and have the windows down because people walk smoking and I'm so frighten the smell will get in the car. Here is the kicker; I have rented cars from Budget that was not cleaned from a prior renter. No gas in the vehicle and I didn't complain because the place is normally good to the long time customers. But seeing that's it's all about the money with them, a long time customer will not recommend renting from Budget ever. Now I'm afraid to even get into the vehicle that I have now because of the accusations. Because I smoke doesn't mean I do it everywhere.
Residual smell from smoking doesn't mean a person smoked in a car. And because a person claim to have smelled smoke doesn't mean the current renter smoked in the rental. I'm so disgusted and paranoid that I don't and will not ever rent from BUDGET AGAIN. I'm at a point I don't trust them at all, after being a loyal customer and a contract abiding renter. I also understand that others may/do not abide by the contracts, as I for one can not afford to pay extra money for something I did not do and will not do. If I had known I was going to be charged that fee, then, I would have smoked in the car and accepted the fee for breaking the contract. The same morning of the rental I took the car to the carwash because it had so much bird crap on it that I was too embarrassed to ride in a car like that.
While at the at wash, I advised them not to clean the inside or spray because if you spray or have the inside of the vehicle cleaned they assume you smoked in the vehicle. Anyone who smoked in a rental would have had the car vacuumed and wiped the car down BEFORE the return date not on the morning of a rental, go figure. After I snapped a couple of photos the agent claimed, since I'm such a loyal customer, they will remove $200 but charge me $50 when in fact the whole amount should have been removed. I only accepted that because this rental place is normally excellent. But now I see that I must take extra measures to prove that no one and I say absolutely no one smoked in the vehicles ever. DON'T RENT FROM BUDGET!!!

"Just because you are military, it does not entitle you to a fee adjustment or special treatment, regardless of your circumstances." Gee...thanks, Carlos, Budget employee, and representatives. As military members we don't ask for much in return --- but a little respect would be appreciated. We had an unfortunate circumstance and had to extend our rental ONE day, but Budget would be charging us for 2 additional days. A rental that started out as $197 total, ended up costing $736. I was on hold for a manager for 30 min and counting. Did not matter who I spoke with, their math was the same. Next time you want to diss military service members, please feel free to take our place in any war or hostile territory.

At 9:48 am on the morning of Wednesday, June 28, 2017, I called the Budget Rent-A-Car at the Boise, Idaho Airport. I was asking about rates. A woman named "Dani" told me the rate for a GPS would be $15/day. I responded by asking her if she was aware that other places were only charging $5/day. She responded by smugly saying "I don't care." This is extremely rude. I decided to go elsewhere with my business of renting a car for four days. Good job, Dani, you just lost business for your employers. But judging by your attitude, you are probably a spoiled, entitled millennial and don't care about that, either. I hope your boss sees this and humbles you by firing your worthless **!

To start off I rented a car March 30th 2017. I was in a accident April 3, 2017. They sent a tow truck, picked car up. June 1, 2017 they debit my account $151.97 for a car they already paid for plus the insurance is covering. I did not give them permission to go in my account. They been giving me the runaround and each person I talk to tell me a different lie. I need for Budget to put my money back. Budget only suppose to debit my card for $200 March 30th to April 6th. I didn't have the car for the whole rental time because of the hit and run accident. Then they gave my insurance and I to where the car was towed to. Then send me a bill for $12,300 dollars which the car was not that much damage. The fender a tire side of hood a little head light. Two months after you decide to go in my account then with lies.
One lie was the insurance took it. I call the insurance person they didn't know what I was talking about and told me Budget had no business going in my account cause the insurance is handle it. Please watch your account. Budget had did this twice before then when I call and ask why before I can get off the phone the money would be back in my account. That's just stealing. Also I had made reservations back on February for May to go out of town for graduation. My whole trip was messed up. They changed my pick up date which was the 17th, they changed it to 18th, the price was changed from $199 to $269. And it was for a SUV 7 passenger to a car. How 4 adults, 1 kid, a baby in a car seat gonna fit in a car plus a small child.
Then they didn't take debit card. So I use my credit card but still wanted to give me a car so the reservations had put me in the SUV that I had reserve then they wanted a extra $100 dollars to hold but what you holding for. I drove my own car and everyone didn't get to go who had packed and reserve their rooms and everything. It was a very sad headache moment. We spent 4 hours at the airport to end up leaving late and to leave half family at home. We had to push for time to make it there. Budget lost a good customer. I will never rent from them again. I am still in process of getting my money back. Please be aware they are scammers.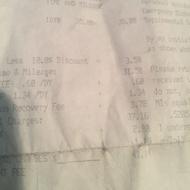 They charged over $400 because their Filipino employee by the initials of RC in their SFO location logged the return of the vehicle a day + after we returned it. How & why, I don't know & then trying to correct it is a long story. After a Steve advised he was returning the money & sent an email confirming they are only charging me for $41.14 + $17 for insurance. Nevermind, I told him I rejected the insurance at the time of my contract & he said he was returning everything. Budget did not return the right amount. I'm still $247.29 short.
I'm taking to social media to expose their incompetent employees & their unfair practices. I sent an email in response to the email confirmation from Steve with still the wrong amount of $58.14. They responded with a receipt of more than a couple of hundreds of charges. Somebody needs to start a campaign to lodge a class action lawsuit against Budget because it's obvious from complaints online that the problem is widespread with this company. They will only look into it when their pockets are touched. I'm still waiting for them to correct or I will have to sue them to pay for all the expenses I incur if I go that route.
UPDATE on 07/08/2017: After many calls and emails, I got everything but $17 which Budget illegally added for insurance even though I rejected it on my contract. I will continue to follow up but I'm seeing many complaints about the same issue. This has to be illegal, a company forcing a product which a customer rejects. Why make it an option on the contract when Budget ends up forcing it in anyways? I'm keeping my contact & would love to cooperate on a class action against Budget for unfair/illegal business practices. I will forward to the appropriate government agencies & customer advocate groups to look at this. Other customers should do the same.

Made a pre-paid reservation; received confirmation from Budget; day before pickup received another confirmation. When I arrived at the location they did not have any cars available. I called the corporate office; they stated that no cars were available in the entire Chicago area for the price I paid and wanted me to pay $150 more to change the same reservation. No ethics (Budget does not stand behind their commitment) and have horrible customer service.

I booked my rental through Costco Travel, for pick up at Rochester Int'l Airport, Rochester NY. Pick up service seemed fine, although I was never offered advance fuel purchase (I only heard of this when I had a complaint regarding credit card charges and called customer service about the steep charge). I returned the rental prior to the opening of business - as instructed on the rental jacket, I noted the fuel level I returned it at (1/4 tank) so I wouldn't be charged a full tank, dropping the keys wrapped in the jacket at the key drop.
For the 13 gallons it would take to fill it back up, I was expecting to pay about $65, but the charge was over $9. - that was my fault for not asking, their fault for not offering the fuel fill-up advance purchase. BUT, instead of the $127 plus tax and the appx $100 fuel charge, my credit card was charged $328 - nearly $70 over what it should have been. AND my card was also charged an additional $128 in a separate charge in Virginia (where I definitely was not).
When I called Rochester, I was directed to offshore customer service, the offshore cs rep had no idea what I was asking. I called back a second time to the Rochester counter, that rep insisted there was nobody else who could assist me. I called the offshore cs again, they were again no help. I had to request a receipt be sent to me, since they are apparently not automatically sent post-rental. I used the only recourse available to me and have disputed the charges with my credit card company. What a huge bother. Enterprise it is from now on. I will NEVER use Budget or Avis again.

I AM YELLING, DON'T RENT FROM BUDGET!!!! We went over a railroad track and the windshield broke. We brought it to the reps attention, so he could have it repaired. If it cracked that easy it was cracked before. I received a collection notice for 221.02 for the windshield. Budget did not call us or send us a bill for this amount, just a collection notice. With Every bone in my body I will tell everyone not to rent from this company. We can't get anyone to help us, and everyone is rude. Beware.

Rented a car through Rentalcars.com, making sure I got only the insurance I needed, LDW and SLI. At the Budget counter at O'Hare, Chicago, I told the agent I didn't want anything that wasn't on the prepaid contract. Nevertheless I had to go through screen after screen declining other insurances that had magically been added. Then I was told the on-screen contract signing didn't work, so I would have to sign the contract on paper. Printed in gray on white, it was hard to read with my tired eyes. The agent told me it was what I had prepaid for, and pointed with her finger where I had to sign. She probably covered the estimated total with her hand. Little did I know Personal Accident and Effects insurance had been added, and so had Emergency Sickness Plan. WATCH OUT FOR THESE TRICKS OF THE TRADE!

I am a smoker. I do not smoke in my home or car. I rented a car at the San Luis Obispo airport. After drop off 1 day later checked my credit card, charged 250.00 over the quoted price of 205.00. Called was told I smoked in the car. No, I did not smoke in the car. Not only do I respect that my granddaughter was in the car every time I was, I also understand the contract. Because of the RESIDUAL smell I was charged. My understanding is NO SMOKING IN THE CAR. Just a warning people.

Let me begin by saying that I have never written a review, positive or otherwise but feel compelled to do so based on my experience with this horrendous company. On April 19th I spoke with a representative and explained that I was looking for a car to pick up at the Logan Airport and needed a car large enough for 6 adults and a toddler. I asked about the seating capacity of the intermediate vs. standard SUV and was told that the only way to guarantee a car that size was to select a full size as it had 3 row seating.
The only intermediate size that had this was a Santa Fe but there wasn't any way of ensuring this is the car I'd receive. Based on this information, I opted for the full size SUV. I also chose to pick the car up at the airport since I was traveling with my 3 year old daughter and while Budget wasn't the cheapest option, I thought it was worthwhile to pay a slight premium over a location off-site. The rep told me if I made the reservation online I could prepay to give me a slight discount to the counter pricing which I did.
When I made the reservation, I selected Boston Logan pick-up. My trip is in 3 days and I now have a confirmation that my pick-up location isn't actually at the airport but in Boston's North End which is 10 miles away and completely defeats the purpose of me paying more to get the car on-site. When I called to see what had happened I was told that Budget can change the location of where the car is picked up because I opted for to prepay (which gave them my money for 2 months) and my options were to either pay more money to pay to pick up the car at the airport, where I had actually made the reservation or get it in the North End. It also came to light that the car I had rented, which was supposed to have 3 row seating, is a Ford Escape, which seats 5, so I paid more money for the standard vs. intermediate size suv (which also sits 5 people) at a location I never requested. I will never use this company again.

2 hours later and I am still trying to connect with a Budget rental agent at the Toronto YYZ international airport to simply change the drop off location of a car rental and change the date of drop off. I phoned the Toronto YYZ Budget location and when I pressed the option to direct myself to the existing reservation team, I provided all of the required information to the agent to change the drop off location and change the date. However the agent told me that he could not make the change since he was unable to provide a quote prior to finalizing the change on his end. He told me to call the Toronto YYZ budget location directly - apparently the Toronto location number on the Budget site sends me to the U.S.. He told me to call and not press any option as that will direct me to an on-site agent.
I called as directed, and after being on hold for 1 hour and 50 minutes I hung up. I called the Budget Canada customer care phone number and after providing all of the information, again I was told that he could not make the changes. When I asked to speak to a manager then he told me that he would present my very frustrating issue to a manager himself. The manager confirmed that nothing could be done unless I spoke to a YYZ on-site agent. The customer service agent provided me with an "alternate number" which is what I am on hold with again now for 23 minutes.
I also attempted to access the reservation on the Budget website however since I was a walk-in then apparently I cannot access my reservation online. This is absolutely the worst system that I have ever encountered in my 5 years of renting cars. National is fantastic and I will definitely be booking all future reservations with them. I hope a Budget agent reviews these and makes changes. This is absolutely unacceptable as Toronto is a main hub airport for Canada.

Online gave me the price and paid for a week. Went to pick up the car and they ran my card and told me I can't rent the car. Ask why they told my credit was bad and now have to wait 3 to 5 days to get my money back. They could have said it before I rented the car first! ** them and don't rent from them never again.

I rented a car from Budget, Charlotte, NC - left from the rental location and arrived at my home probably less than 5 miles away and had a flat tire... I called the Budget location, from where I obtained the rental and advised the representative of my dilemma, and she advised that I call Roadside Assistance, since I was covered. I asked if there would be a charge and she stated no. Roadside Assistance came out, changed the tire... All good, I rented the car May 23, 2017, however on June 15, 2017, there is a withdrawal from checking account in the amount of 159.67. I called the company and I was told that I was liable for the tire... even though this location doesn't check the cars, nor wash or clean them out before you take it... Which is not bad if it is not too dirty. But I am having to replace a tire that may have been damaged, once I drove off the lot.. who knows? I do know I want my money back. Any suggestions?

I rented a truck coming from George to Florida; more specifically to Bradenton. I was ask to put a deposit down and was told that I would get this back. Once I arrive at the Bradenton office to drop the truck off to my amazement the office was closed at 1:00 pm in the day during the time my contract stated that I should drop it off. Well I dropped it off anyway there and place the key on the counter where someone should have been standing however, no one was there. The next day I decided to come in to talk to the manager about receiving my deposit. Do you know he talked his way into not giving it back to me. Well! For one thing I'm was a single mother at the time with my grand kids of 1 years at the time, the other 9 and the last 16. I had already run out of gas on the way and had to borrow money to complete the trip. In fact this thing made me homeless for 3 days until a friend took me in.
While I was there in the office with this guy I sense that this man was a crook and I decided to check my credit card following departing there and to my amazement the charges did not stop. This person charged my card for an additional 3 days in the amount of $300. Needless to say I made my way back down and he could not explain but still was adamant about not returning my money back on my card. I made over a dozen calls trying to settle this matter. It was not until I began with the bad reviews corporate contacted me personally to refund me after several weeks had passed. More recently I had been needing to rent a truck and like a fool I went back to the same people but this time I used cash. What could he do about that??? Well the same dude gave me a truck with no ramp after I expressed to him prior to renting that I would be moving heavy appliances on my own.
I brought the truck back to exchange it. Unfortunately it was high noon and sooo so very hot. I completed this trip in less than 6 hours and driven less than 5 miles. This guy tried to charge me for over 10 miles and several extra charges that I didn't incur. When I calmly confronted him in the office there were several folks looking on. He could not justify the charges and became embarrassed and angry at me. He promptly retreated to the back of the store then swiftly came back out with some cash in hand. He handed it to me as if I was a charity case as he began peering at the other customers as if I were in need of something free from him.
Well I decided to get on my cellphone and start telling my story about my last trip where all could witness my talk. When I was done telling what he did I proceeded to grab my money out of his hand and walk out. They have been warned! I said to myself and that is all I can do for him. This one guy that runs this store on his own is not only an ** but he ought be put out of business. My personal ratings for the one man show of the Bradenton office, in the mall of the back of the Sears building department store off of Cortez Blvd is a no star. This office and this one man show sucksss.

Do not rent internationally from Budget. Their Bonaire "Desk" did not confirm my attempt at a reservation, billed me for the reservation, and then refused to cancel the reservation. Budget Customer Care in US agreed that what Bonaire Budget did was wrong and that I should be able to cancel the reservation - and told me that there was nothing they could do about it. They sell their name to operations that they have no control over - and can't even communicate with. The name "Budget Rent a Car" means nothing in terms of your expectations for dealing with a brand name. Budget in US can't even look at the reservation because the outfit in Bonaire doesn't use their number system.

Quoted one price when booking online and then charged another higher amount. I refilled the vehicle just before returning and then get charged a fuel fee the equivalent of 100km of driving. Very dodgy!

I rented a car from Budget car rental on the 7th of June. The station is located at 619 Sligo Ave. Md. I told the lady on the counter that I will return the car on the 9th of June. She said to return the car not let than 4pm. I then went at 3 pm on Saturday. To my surprise the office is closed. Called their head office. A supervisor by the name Marie who gave me her I'd number told me to keep the car until Monday. But, "We have to charge you for the two extra days." For no fault of mine, why would I be charged. She said, "Yes it's not your fault but the system don't allow me to do otherwise but to charge you but you can explain to the office Mgr."
I tried to explain to the office Mgr, he was very unprofessional the way he talked to me. He said, "Yes you have to pay the full amount that is over $500." And, he walked away. I called again their head office, the person was polite but after hearing my complaints he said he will reduce the amount I pay to $405. I will never again rent from budget. And I still demand my extra charge refunded.

I rented a car from Budget Avis rentals in Miami on the 25th of May through the 29th. On the 26th of May I start having mechanical issues with the car and I was charged almost $300 for the entire weekend for a car that has issues. So I had to interrupt my vacation in order to take care of the car and its issues. The staff was horrible. They acted nonchalant as if they did not care and were not concerned with my issue. No one on the staff apologize or empathize with my current situation. After talking with several managers and multiple staff members finally someone gave me a discount and switched out my car rental. The original price that was quoted when I return the vehicle was double the original amount. The very rude staff informed me that there were additional fees that were added on.
After I completed my survey from Budget I correspond with one of their customer agents about my experience. She was apologetic. However two weeks after the 29th of May 2017 there were additional fees coming out of my account from Budget. There was a toll fee which I found was odd because I didn't go through any tolls while I was out of town using the rental car. I woke up on the 9th of June where there was an additional fee taken out of my account. I am still resolving this matter with Budget today and I don't feel that this company is credible or worth the trouble and agony that I am currently under with dealing with this company.
If I were you I would not use Budget. They are a horrible company with very rude staff. They add on additional fees that originally was not quoted and if you do decide to use Budget I would use it on a prepaid card only because I'm still dealing with fees that are coming out of my bank account that they are taking and can't explain. This is a horrible company. Save your time and your energy and your money and just over or use a different company. I would never recommend this company to anyone. My experience is horrible and my current experience is continuing to be horrible as they are stealing money from my account. DO NOT USE THIS COMPANY!

I rented a specific type of car, which they had on their lot when I arrived. I looked the car over and was satisfied. When I went to fill out the paperwork, I was asked if I wanted to rent the car that I booked with a "special rate", a difference of $10. I asked if it was $10 cheaper. No. $10 more per day... for the car that I had already prepaid for! I then stated, and showed the email that I received from Budget, the exact car (even the same color) was what I had rented (and again, already PREPAID for). I was told it is a different model, and therefore $10 more per day.
They instead gave me a car with worse gas mileage, no backup cameras (standard on the car that I had paid to RENT), and a totally different brand. Two completely different cars. The only similarities are they both have 4 doors and 4 wheels. I would love nothing more than to go to a car dealership, pay for one car, then insist the more expensive car is "same full sized model, therefore same car" and see what the reaction would be.

Please watch your credit cards closely! I made the mistake of giving Budget two different credit card numbers. My rental fees were to be $2,200.00. Budget charged my cards some $4,000.00. Their customer service department was no help at all. They charged my cards in excess of $300.00 for tolls. An agent on duty revealed to me the enormous number of complaints about insubstantial charges to credit cards. PLEASE WATCH YOUR CREDIT CARD CHARGES WITH A FINE TOOTHED COMB. They don't have documentation to substantiate charges and will not provide any. Without those in many cases, it's hard to recover any money due as overcharging. If an attorney is interested I have composed a timeline and detailed contacts, authorized charges, spreadsheet detailing unauthorized and duplicated charges.

Lauren FixAuto & Finance Contributing Editor
Lauren Fix, also called The Car Coach, is an automotive and auto finance expert. Her understanding of vehicles has made her the "go to" person on TV, radio, print media and the Internet. She has authored multiple books and writes a column for several outlets, including Parade Magazine, NewsMax and Car Coach Reports. She is a regular guest on major news and morning shows, discussing the latest updates on cars and car financing that will help drivers make smart decisions when buying, maintaining and financing cars. More about Lauren→

Founded in 1958 to appeal to the cost-conscious consumer, Budget is one of the most popular car rental brands. It serves renters in over 120 countries from its more than 3,000 locations. Budget is owned by Avis Rental Car.
Business-friendly rates: Business customers can save up to 30 percent on car rentals with a BudgetBusinessProgram account.
Prepay and save: For customers who book and pay in advance, the Pay Now rate saves up to 35 percent on the cost.
Inexpensive no-show fee: At Budget, the fee for a no-show is only $50 on a missed pickup; everything else is refunded.
Discounts: Active duty, retired military and their families can all save up to 25 percent on rentals. AARP members can enjoy savings of up to 30 percent off Budget base rates when renting a vehicle from a participating location in the contiguous U.S. and Canada. Rent a car for up to four consecutive days, including a Saturday night, and save $20.
Fast reservations: Budget advertises a 60-second reservation process, letting travelers reserve the vehicle of their choice on the go and in just a minute.
Truck rental: Budget features a reliable, diverse commercial truck fleet, nearly 1,900 convenient U.S. locations, daily, weekly, monthly, local and one-way rentals for business or moving.
Best for Military individuals and families, vacationers, business travelers, those with cars in repair and temporary workers looking for a discounted rate.
Budget Rent-A-Car Company Profile
Company Name:

Budget Rent-A-Car

Year Founded:

1958

Address:

6 Sylvan Way

City:

Parsippany

State/Province:

NJ

Postal Code:

07054

Country:

United States

Website:

http://www.budget.com/