Consumer Complaints and Reviews

DON'T RENT FROM ADVANTAGE! If you dare, check off every paint chip, scratch, dent, and scuff throughout the inside and outside of the car. Literally, pull on all sides of the front and back bumpers to see if they remain attached. I rented a car for less than 19 hours and they claim scratches on the front bumper cost over $700 to repair with service fee and have filed a claim against me through a third party company. I literally drove the car to an airport hotel, then to Lackland Air Force Base the next day, to a restaurant for lunch heading back to the rental car place and then back to the rental car place... less than 65 miles. What a crock of crap!

We were really disappointed with our recent car hire with Advantage, booked through Economy Bookings. We have three complaints about the service. 1. The car hire was hard to find at the airport. When we arrived at the airport, tired after a long flight, we followed the instructions on the email which said to look for the Europcar stand at Orlando airport. This turned out to be non-existent and after wandering around for some time, and having to ask a number of other car hire companies if they knew where we would find Europcar, we eventually were pointed in the direction of Advantage, who confirmed that our booking was with them. Nowhere in the emails we were sent were we told to look for Advantage and we found it a stressful start to our holiday, worried that our car booking didn't exist.
2. The salesman was pushy, and tried to sell us services that we had already paid for. When we finally found our booking with Advantage, the salesman was extremely pushy, and tried to sell us several different packages, including a car upgrade for $12 a day, suggesting that the car we had hired wouldn't be big enough (it was plenty big enough), and then told us we ought to book insurance with them. At this point, we were very confused, as we had amended our booking several weeks before to include full insurance. The salesman didn't appear to have this on record, and would only believe us when we produced the documentation. Again, this was a stressful experience, and it came across as very unprofessional.
3. The salesman was misleading and manipulated us into purchasing an unnecessary toll pass, for $9 per day. Again, the salesman was pushy and said we should purchase a toll pass, at a cost of $9 per day. We felt that he shamefully misrepresented our need for the pass and exploited the fact that we didn't know the area.
We explained that we would be staying in central Orlando and just visiting the Disney and Universal parks, not going further afield and we asked if we would pass through a lot of tolls. As visitors to the area, we trusted him when he told us that there were tolls everywhere and that we would certainly pass through a lot. A few days into the trip, we realised that he had grossly misrepresented the situation. We went through two tolls the entire trip (on our journeys to and from the airport, on our first and last day). Each of these two tolls cost around $6, well under the $9 daily fee we were charged. So, due to misrepresentation from the salesman at Advantage, we have ended up being charged around $117 for $12 worth of tolls.
We contacted Advantage (initially by phone, where we were directed to an email address by an automated message) during our trip to explain the situation and ask that we would not be charged, but received no reply and the amount was subsequently taken from my card, with no explanation or reply to my email. We complained to Economy Bookings, and were told that as we couldn't prove what had happened, we weren't entitled to a refund for the toll pass.

We reserved a car at Advantage rental cars in JFK Airport in Queens, N.Y. And had instant problems from the start. They kept questioning my reservation claiming my ID was unacceptable, then it was my credit card, but both were ok. I was made to feel like I was a thief. Next they needed to see my itinerary so they can see when we were going home, I guess the dates we gave them for our reservation weren't good enough. When I asked them why they needed to see my airline information I was told it's always been their policy. I told them that is not true because I rented from them many times before and never once did they need that. I also told them that the person they helped just before me didn't have to show their itinerary.
Eventually after probably 45 minutes to get our rental we were off. Our return was even worse than the start. After the gentleman checked the car to make sure the gas tank was full and that there was no scratches, dents or mess we just had to have the people at the desk give us our receipt when the guy behind the counter asked if we needed a printed receipt. I said no. I didn't need one that my credit card company will send me my receipt. I never expected the nasty comment from the guy behind the counter, as he was mimicking me saying in a disparaging tone, no, I didn't need a receipt. And that was the beginning of our disrespectful counter person's remarks.
The next was him running out to our car telling us we were not allowed to have a dog in the car. When I told him he is a service dog and he has full access to everywhere. He told me he was not allowed in the car. I then told him he was breaking the law by saying the dog is not allowed in the car. He then said the dog left hair in the car. We told him he didn't, (Because we use a seat cover to cover the seat so there is no hair). My husband then took pictures to prove there was no hair. We rent a car at least once a month, and we have never experienced anything like this. All of this occurred on May 20, 2017 through May 23, 2017.

Extremely disappointed with the service offered by Advantage. Firstly the car we booked was taken on the day of our rent. So we end up taking a unserviced car. The car was in such a bad shape and we were lucky just to reach Orlando, Florida safely to change the car. The process to change the car was so lengthy it wasted 4 hours of our time at the airport just to change it and we had to scrap our plans because of it. Then after returning the car in DC and sign the release form, your company charged me twice to my credit card, without giving any reasons. I wrote an email to you DCA@advantage.com and it bounces back. I cc the Orlando Airport Head, Mr ** and I am praying for his response. As outgoing call to US is very expensive. Seriously worst car rental EVER!!!

The guy at the counter told that the total for renting a car is just $468 and $129 for insurance. But at the end, they charged us $900. If we call the customer care and talk about this issue they are saying that they cannot do anything and they can't help. We have the agreement of the rental $600 dollars which they initially told. Can I sue the company with that rental document?
How do I know I can trust these reviews about Advantage Rent-A-Car?
790,221 reviews on ConsumerAffairs are verified.
We require contact information to ensure our reviewers are real.
We use intelligent software that helps us maintain the integrity of reviews.
Our moderators read all reviews to verify quality and helpfulness.
For more information about reviews on ConsumerAffairs.com please visit our FAQ.

We rented a car from Advantage (also known as E-Z Rent-A-Car) in Kahului, Hawaii on Feb 16, 2017. It was around 11:30 pm and the lot was poorly lit and when we self checked the car we could only see a couple of minor scratches and dents. Ten minutes into our drive to South Kehei the car started to make funny suspension noises but the car was operating OK and since we were very tired from our travel we decided to return the car the next day. When we returned the car and told them about the noise they did not come out to look at the car and just gave us a replacement car.
On Feb 26, 2017 when we returned this car the extra $200 holding charge was put back onto our credit card and we were told we were good to go. On March 3, 2017 we received a letter from PurCo stating that damage had been reported on the car. On March 20, 2017 we received a letter with supporting picture etc. stating that there was major damage to a control arm and we were to pay them $5,537.62 USD for the repair, loss of use, etc.
The incident report stated that we possibly hit something or a curb. Our dispute letter stated that we had simply drove from the rental lot to our condo and then straight back to the lot the next day and did not hit, run over or strike anything with the car and my wife verified that she was in the car with me whenever it was driven. The pictures that were sent to us clearly show no damage to the front right tire or the rim. Also the pictures from ground level show no damage to the car and the only time you can see damage is when the picture was taken from below when the car is up on a hoist. I pointed out in my dispute letter that the only way I would have been able to see this damage which must have been done in a prior rental was if I was to get on my back and crawl under the car.
A confirmation of receipt of the dispute letter was received April 4, 2017 then today May 30, 2017 I received a letter from PurCo stating that "after careful consideration, we believe the claim is valid and will continue to pursue full payment of the claim". Any reasonable person looking at the pictures can see that we had no way of seeing this prior damage. Not only are they basically telling my wife and I that we are liars but they rented us a car that was unsafe to be driving. This could happen to anybody renting a car since I am sure they don't inspect the undercarriage before they put it out for rental again.
My private insurance will cover this minus my $500.00 cdn deductible but I refuse to pay for something I did not do. Since I have canceled the credit card that was used for this rental I guess they will have to take me to court to recover the cost. I will look forward to having a judge look at the pictures and listening to our statement of what occurred. I should be suing them for the stress this has cause us and the fact that they rented a car that was unsafe to drive. I will never rent from Advantage Discount Car Rentals or E-Z Rent-A-Car again.

First time renting from these guys last week. When renting the car I lost half an hour because they said, "If there is any damage, just come back in." The car had huge scrapes, front bumper damage, and numerous spots around the complete exterior. I did the fuel purchase option, only to find 3/4 of a tank before I left the lot. When I dropped the car off the line was backed up to the entrance of the drop off lot area. The woman came to the car and said, "Just leave it running", and when I stepped out she jumped in. I said, "But I need my stuff." She popped the trunk and I grabbed my bag. I asked for the receipt. She said, "You will get it emailed, or you can ask at the counter inside." Stood in line for 35 minutes watching the attendants tell the people in front of me that they would have to wait an hour for cars, even though they had reservations.
While checking in for the flight, I realized my jacket was still in the back seat of the car. I called the number on the rental agreement and got... You guessed it... A person in God knows where that would be willing to process a claim. I asked, "Can we just call them now?" "No. We need to process a claim, and "IF" they find anything." Of course, when I called four days later, after waiting on the phone a 10 minutes, I got "No, they didn't find anything." I said, "No, that's not right, because I know it was there." Reply??? "Would you like to speak to the people at that location?" "Yes." "OK... click!"
Summation: Car was beat up. Assume if I didn't say anything they would have charged me for the damage. How many other people have paid for the same damage??? Problems on return because yeah, parking cars is so technical. BS about the fuel purchase option. No receipt. Reservations... that didn't make a difference. Personal property??? It's all theirs. Before you rent from these people, think about how desperate you really are.

I booked a car through Advantage at Orlando International Airport. I was allocated a Chevy Cruze with only 6500 miles on the clock but badly scratched so took a while to note all of them on the check-in/check out form before I set off. Discussed with representative and agreed to bring the car back full of petrol, however, my credit card statement showed a charge of $42.92 for fuel as they had sneaked in a FPO [Fuel Purchase Option] that I initialled so I could have brought back the car with an empty tank.
Nice one Advantage, I will not be using you again. I should have been warned by other reviews how bad the company was but thought I had covered all the bases and did not expect this underhand deceit. Also be careful to hand back the lock/start remote control as they charge $400 if you accidentally walk away with it, surely that could not be the reason they ask you to leave the engine running when you return the car though I cannot imagine any other reason for such a request!!!

I rented a car at Denver airport from Advantage. They did not have the car I reserved - a 4 wheel drive Rav4. I did finally get a similar size 4 wheel drive vehicle at my reserved rate after haggling for 10 minutes as they tried to up-sale. While renting, no mention of toll roads was made, no notice at counter, no info provided, no comments regarding unpaid toll fees. A month after returning home, Advantage charged my credit card with $42.80 "unpaid toll violation". I knew it was trouble when I called Advantage customer service and heard the main menu option of "press 4 for toll violations".
E-470 reports that the toll amount was: ExpressToll Costs: $8.60 or License Plate Toll Costs: $10.80. (If Express Toll charge is not paid in advance, then License Plate Toll cost is billed based on photo of license plate taken on toll road). Advantage charged an additional $30. I have contacted Advantage Customer service and spoken to multiple representatives. All have refused to help, reduce the fee or take responsibility for this hidden and exorbitant additional charge.

Recently rented a car from Advantage in DEN. Upon returning, I found that the airport gas station could not accept credit cards due to a computer problem. Thus, I returned the car with a half tank of gas. I was charged $70 for the 5 gallons that they had to put in. This is not a mere mark up, it is outright robbery! Never again Advantage!

All LAX car rentals are off-site from the LAX airport so you have to catch a bus to get to the rental office. After waiting for the bus, there is a 20 minute drive to the Advantage rental office. Once at the Advantage Rental office, I waited in line for 1.5 hours just to get attended to at the counter, because it took so long for the counter attendant to get the car to each customer. I waited another 20 minutes to receive my actual car and finally drive off. This LAX office is totally understaffed and no fun at all. The LAX office needs to hire more staff to serve at the counters and get the cars ready outside to get them to the customers quicker. We dropped off our car at John Wayne Airport and this is a much better office.
I suggest that you do not use Advantage Rental Car ever and I will not use them again due to all the negative reviews. Also try and find a better car rental company when flying into LAX, and rather pay a little bit more for better service. Better still, don't fly into LAX and try and use another airport in Los Angeles with better car rental service.

I have had one of the worst consumer experiences of my life dealing with Advantage. What started out on a good note, ended terribly after having to deal with being charge for extra days that were not actually used. After calling the corporate level, I was hung up on TWICE. I was told I would receive a call from a supervisor at the corporate level - that also did not happen. I finally called back and was directed to call the branch level, where the associate told me he would have his manager call me - again this did not happen. I am out about $100 (conversion to Canadian dollars) for a rental day that I never used. The organization is unprofessional, inconsiderate, and mismanaged. I would never, ever, use this company again, and I would suggest going any other rental company. So incredibly disappointed in what happened.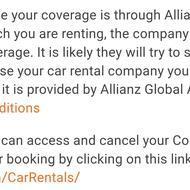 It is NYS law to accept my insurance ID card to rent a car. We even purchased additional rental insurance which specifically states the insurance purchased is sufficient and not to purchase anymore. The man at the counter insisted I needed to show him my policy and didn't even offer to purchase. I have rented cars countless times and never had this problem. This company is a complete scam.

After 24 hours car rental and no issue with the car return, this Company kept my deposit for two weeks. After two months of this experience they charged me $30.00 dollars "ADMINISTRATION FEE" on the top of a toll value (toll cost 0.79 cents). Who says all the thieves are in jail?

My mom passed. We were having funeral in Jacksonville Fl. when called and made reservations. We needed 3 minivans under one name. Got it all set up. No problem. Till we got to Jacksonville. They did not have three vans and could care less about our reservations and we realize one person cannot drive three vans at one time. We needed under one name so one person was paying for it all. Reservation people said no problem till we got to Jacksonville. I had to ask other family members to put up their money to pay for the other minivan and one suv and when the idiot said he did not have three vans he just sat there did not say "let's see if we can fix this" or "we don't have three minivans but we have some subs." We will not use this company again.

I had to travel quickly for my grandfather's funeral, and my 2-year old daughter came with me. After a long day of travel, I just wanted to pick up the car that I had pre-paid for online. I was asked about insurance and I said I had my own insurance. The desk clerk said "So, just the basic insurance." At this point, my daughter was crying that she was hungry and tired. I said yes. He directed me to initial a bunch of lines on this barely readable screen, telling me to initial and then move the arrow down to read the rest. He notified me that there would be a $200 hold placed on my credit card - okay fine. Never once was I told about additional charges, and I was so exhausted and grief-stricken that I didn't bother to read through each line of the contract.
About 5 miles after leaving the airport, the "Maintenance Required" light came on. The mileage corresponded to needing an oil change, so I just left it. I had the car a few days as I drove to my grandfather's funeral and spent time with family. Upon returning the car, I was notified that I would be charged more than double the rate expected because of PAYING for THEIR basic insurance. I asked the guy that I returned the car to, and he said it wasn't his thing. He also completely blew off the maintenance light. I contacted customer service and they were no help. "You initialed on the contract". I replied back with a full explanation and mentioned how I felt completely swindled. No response AT ALL. I will NEVER do business with Advantage Rent-A-Car again, and you should think twice before you do.

This was such a bad experience for so many different reasons: The agent at the desk lied to us about tolls. He told us that there was no way to pay a toll other than through Advantage and gave us a choice of paying Advantage $25 each time we went through a toll or an extra $10 per day for a smart tag. There IS a way to pay a toll online within 5 days with no penalty so the smart tag is unnecessary. They gave us a car with a slow leak in the tire. After filling it up several times the first day, we became concerned and called in. They said that if the tire became flat, we would be responsible for repairing it (no roadside assistance!) so we should bring it back to them right away if we wanted to avoid a flat. We did that - drove straight out to LAX to drop it off and get a new car.
When we got there they charged us the gas premium for not filling the tank before we turned the car in! You would think they would waive that since they told us to come straight back in order to avoid a flat! When we asked to talk to a manager a very snarky guy came out -- was extremely rude and basically said he didn't care if we were happy with Advantage or not. They lied to us about insurance. Said we had to pay it through them even though we had already bought a policy through Alliance. Total amount of L.A. rental through Hotwire with all the charges they added on was DOUBLE the advertised price.

Rented a car in Phoenix. Got a great rate. No complaints there. When I showed up at the rental counter to pick up my car I had to wait over an hour. At least 30 people waiting in line with very few company representatives checking people in. Charge a couple dollars more for your car rental and hire some more people. This is not rocket science.

Never having rented from Advantage before I was impressed with their low price for a mid sized SUV at Houston's IAH location. My good impressions basically stopped there. I was asked where I was traveling to and I stated "Galveston". Not being familiar with the Texas Highway/Interstate system I had no idea which roads required tolls. I was told by the salesperson at the counter that I'd encounter "numerous tolls" throughout the week in that area. So I reluctantly agreed to the $9.99/week toll pass. It wasn't needed once!!! Next I was told that my NY insurance and/or credit card insurance wasn't accepted in Texas. I was told that I had to purchase the minimum insurance program at $13.99 per day. Again, I feel this was a flat out lie after doing further research. But at 10 PM on a Saturday I didn't have the time or patience to google for answers.
Also, they wanted to charge another $13.99 to add my wife as a driver. Since she was at baggage claim I said, "She can go without driving this week." I then went to find the vehicle which was a Jeep Compass. No disrespect to Compass owners but this vehicle couldn't get out of its own way. Terrible acceleration and a very suspect transmission. To top it off (Literally) the next day as Gulf salt water spray hit the windshield I found out the wiper fluid was empty! That's basic maintenance Advantage! I had to purchase some fluid at the nearest gas station in order to see clearly through the windshield. So, if you want to be lied to, drive a sub par vehicle without basic maintenance go ahead and rent from them!

So, on my trip to celebrate a family event, I selected Advantage through carrental.com to reserve a vehicle for a trip to Vegas. I paid the one week rate of 120.02 based on a $17.99 daily fee and taxes. When I arrived to pick up the car, they did not have the vehicle I selected and offered me a larger vehicle at the same price. I repeated, "At the same price of $17.99 per day." When I checked out and received my contract provided digitally without a hard copy to review, I was charged an additional $15.00 a day for upgrade fee and for full insurance coverage instead of what was required to cover the vehicle. Disappointed, I wanted the contract changed to remove optional insurances and the upgrade fee.
Long story short, I was told they could not make changes to the contract and I had to return the vehicle before initiating another contract the following day when I returned to have corrections made. I was charged $149.00 and not credited my original $120.02 for 1 day car rental. WTH! I would never go to Advantage again. I filed a claim with my credit card and charges were reversed immediately. Have you checked billing for services paid for via registration and balanced them against the final billing? I would consider it to make sure the business is not taking advantage of you.

We rented a car through Hotwire in Orlando for March 21-28. The reservation ended up being through Advantage. We had never rented through them before and definitely won't again! Don't ever use these people. The guy in Orlando named Jose was such a jerk. He got all bent out of shape because we didn't do any of his high pressure sales gimmicks with the car rental. He tried to sell us a "toll pass" for $9.99 a day and said we would need it for our trip to the Atlantic coast. We weren't sure if we would need it because we were vacationing but declined it just based on the price and were we ever glad. What he was going to charge us $80.00 for cost us $4.00 for the week.
He continued repeating that we needed to purchase the insurance to cover us if we had an accident and we said we had insurance and he tried scare tactics to get us to purchase additional insurance. I could go on and on about how bad this person was that provided our service on Tuesday, March 21st in Orlando but the most important thing to know is that you should never rent a car from these crooks! They are unbelievable with how they treat their customers; especially the ones who are smarter than they hope and they can't rip them off! Stay away from Advantage!

I do not mind the long wait, the lousy car, the slow service. But NO SERVICE on a price I paid extra for - totally unacceptable! I originally booked online but when I picked up the minivan I rented last Dec 27, 2016, my husband and I opted pay "additional" $304.22 for insurance with roadside assistance. Fine, it's the price I'm willing to pay for peace of mind and to make sure my family will be safe on a very long journey. But renting with them proved to be a disaster! We had a tire blow up in the middle of the freezing night on a freeway. I called the 24 hr roadside assistance number on my rental agreement and since it was 2 a.m., they told me to call 911!
I then called Advantage "Customer Service" to try to get some help. Customer service then told me to get the spare tire and fix it myself! Yes, customer service told me to let all the passengers out of the van in the pitch black-freezing-out of nowhere place since spare tire is under the passenger chairs. But I told them I was travelling with my 2 children and my elderly mom on a wheelchair. They told me that's all they can do for me - to point out the location of the spare tire and do it myself! Thanks to my brother who drove all the way to help us out. Upon opening the huge doors of the van to get all our passengers out, the strong freezing wind blew up everything inside including our toll ticket! We had to pay higher toll than the normal.
Then, when we finally changed the tire, everyone was coughing their lungs out! We even bought a brand new tire since the old tire was no longer serviceable. We had no choice since we had a long way to go. Good thing the owner of the shop who fixed our tire and where we bought the new tire was very kind enough to accommodate us even if his shop was still closed. I e-mailed and wrote on their web complain section several times... Although one guy called on January 10th and he did apologise but I had to cut the call short and told him to call again since I was inside the airplane for a return flight and had to turn my mobile off... Never did I hear from him or anybody ever since! I tried to e-mail them several times but nothing - not even a computer generated answer. And to think I rented and paid almost $1,000 to a supposedly reputable company - what a waste! An Advantage turned DIS-advantage renting here. Total disaster!

I returned my car at MIAMI International Airport. Forgot my phone inside. As soon as I realize I tried to call their office in the airport. THEY NEVER PICK UP THE PHONE. No one on customer service CAN'T also reach them. Customer Service is located in GUATEMALA, as said by the supervisor. Also he told me he couldn't do anything because he was in another country. TERRIBLE CUSTOMER SERVICE. TERRIBLE!!!

Please double check any minor car damages in both the body and the windshield when using these guys and mark it on your inspection report. In fact I would take 15 minutes or more and mark ever tiny microscopic imperfection on the checkout report, even if it holds up the checkout line. They take advantage (no pun intended) of a dark rental garage to anticipate that you will miss something, which will allow them to charge you for repairs. Advantage charged us for a small gravel pit on the windshield when we returned the car. We had to do a double take for them to point this out, which was difficult to see among the other dozens or more of sand and gravel pits in this windshield.
As far as I am concerned they picked out one, which had an extremely small minor star pit and said "This is yours"! I guess it was about time for them to get a new windshield for the sand and gravel environment of Phoenix and I happened to be the lucky guy they picked for this job. I have rented all over the world and have never run into this type of situation. One star is too much for the underhanded treatment these guys give customers.

On March 13 we rented a car from Advantage Rent A Car at the Denver International Airport, reservations made per options available on the American Express travel website. Van/ground transportation service from the Airport was very prompt and that is where the "good" ended. Upon entering the rental facilities the zig-zag line was wrapped around to the door entrance. After a 1 hour 25 minute wait we were finally seen by an Advantage associate. Our assigned rental car was filthy, front to back, top to bottom with road spray from prior rentals. I have rented hundreds cars from Japan to Europe and the U.S. and have never had such deplorable service, both in customer wait times and quality and cleanliness of the rental. If I could give them a negative 5 stars I would!

I rented a vehicle in Houston TX while on business. Everything went smoothly until I got home and got the bill and received a phone call. They made a false damage claim that I broke the car handle but can't provide any evidence. Then I checked my credit card statement and they charged me an extra $50 for refueling. Best part about this was they gave me 3/4 of a tank and I returned the car with a full tank. As all this controversy began I came to realize that they never did a walk around during pick up or drop off. Avoid this company and pay the extra money for a reputable brand.

Was online well over two hours. Even though I had a contract they charged me almost double. I couldn't get through to the "parent company" third party biller but the person that took the message there said I was correct. Everyone was having the same problem thus the very long lines. The absolute worst.

First, I was given a car to drive for 10 days that had a maintenance required light on it. When I go to check out before leaving the rental car building the inspecting agent even told me to turn around and get another car. When I turned around to get a new car, Alexander at the Sky Harbor Airport, was very nasty and told me "to just drive it lady, it is fine!" I don't drive my personal car with any dashboard lights on so why would I pay a daily rate to drive a car with a dashboard light on. I requested a discount and Alexander said he would give me one. So when I returned the car, you guessed it, there was no discount on the car. I questioned Alexander about it and he became very hostile and was yelling at me. This was horrible customer service.
So when I arrived home I contacted the customer service and the first gentleman I spoke with was only authorized to give me a small discount ($84 for a $640 bill) and said it was a 20% discount. Ha... Far from 20% on the entire bill. I then asked to speak with his manager and I was told he would have to call me back within 24-48 hours. Well Curtis did call me back and offered another $40 but said the car was fine and didn't understand why I was upset. I explained to him I was driving in the mountains and I wasn't comfortable with any dashboard lights on. Again, he talk down to me and didn't admit any wrong. In the end, he didn't even give me the additional $40 off that he had offered. I have rented from lots of different car rental companies and had very good service from them. I will NEVER rent again from Advantage!!!

I reserved an Advantage Car using the Orbitz website. Price was good. When I arrived at the airport to get the car, I was told that the policy for local renters was different. There was to be a very large hold put on my debit card, I needed to have a copy of my insurance card, and I was limited to driving 150 miles per day. Yes, I have a local address, but I am currently caring for my parents out of state and I have to fly to Dallas from time to time to check on things at home. I had a round trip ticket from Portland to DFW. I also am fully ensured by no longer carry a paper, I used my smartphone to access my policy/numbers when needed.
Let me state that I believe that companies have the right to set their own policies however in this situation I have two major concerns: #1, These additional "rules" were not presented when I reserved the car on Orbitz. The agent said that Advantage has nothing to do with what is on the Orbitz site and that they were not responsible for that. I disagree. If they are allowing their product to be "sold" via a third agent, Advantage SHOULD make sure that the info is accurate on the site. My second major concern is the discriminatory nature of treating "local" residents differently than non-local residents - essentially putting an additional financial burden on someone because of their zip code. Sounds like discrimination to me.
I asked the agent why the policy was different for local residents. "Don't know, company policy." At that point, since I had not paid for the reservation, much to the shock of the agent, I said, "Alright, thank you very much, please give me my debit card and license back." I do carry a credit card but was not asked for that. I promptly took my business to another company in the rental complex and gladly gave them my business. At the other business, Budget, I was treated as I am treated anywhere in the country.
Companies are responsible for how they are represented, even by third parties - they can blame the "bait and switch" on the third party but because they played this game with me, they lost almost $400 in rental fees for a car that will be driven 40 miles over 5 days. Additionally, I will not rent from Advantage, ever again. This is the FIRST complaint letter I have ever written to a third party site.

I went online and did a search for a car rental. I put in the dates and times I need to pick up the car and return the car and got a price. Went to pick up the car and confirmed the times needed the car for and they confirmed the price. I told them I did not want to give them an email address. The email address that printed out on my ticket was not my email address as I didn't give them one. When we returned the car an hour earlier than the time I told them it would be returned, we waited for the lady to check us out so she could give us a receipt. When she printed out our receipt, what we were being charged was twice what we agreed to based on the times I told them I needed the car.
We went into the counter in the airport and had to wait quite a long time to speak to a manager, knowing we had a flight to catch. Come to find out they were charging us X number of dollars per hour after the 24 hours we had the car. Even though I was very clear when I needed the car and received a quote for that time period. They ended up refunding us the difference they had charged, but between the lack of service on the back end and them not being straight up front, we will never use this car rental service again. Stick with what you know and the service you know you will get with it...don't use Advantage.
Advantage Rent-A-Car Company Profile
Company Name:

Advantage Rent-A-Car

Website:

https://www.advantage.com/