Consumer Complaints and Reviews

A rental car company with this many complaints pretty much daily should not be allowed to stay in business. Daily or hourly they are taking advantage of innocent consumers expecting to get a good rental car experience. We rented from them in Maui Kahului and like other complaints I have read rented a vehicle with damage on it. They claimed to have documented the damage and when we returned it they didn't say a thing. You would think they would have used the damage sheet when the car was rented and verified then there was no new damage. They didn't say a thing. But then yesterday we get a letter from a 3rd party claims company that there was damage to the vehicle that wasn't on it when rented. This company has a nice scam going, they have probably made claims on the same car over and over again. There was no additional damage to the car at all.
Then if you try to call the corp office no one answers!!! OMG a nationwide company that no one to answer phones??? SCAM SCAM SCAM. When is the attorney general going to get involved and shut this company down??? A company that has over 400 complaints in such a short time should be drawing the attention of the government offices that are suppose to protect consumers. I know I will be making an effort to get them shut down and the Consumer Financial Protection Bureau finds out about this companies practices and treatment of consumers.

Rented a car from Advantage 5 weeks ago. Arrive on February 6th at the Phoenix Airport, wait in line for 1 1/2 hours at Advantage to get my car. Finally receive a Jeep rather than a Nissan or equivalent as contract stated. This gas hog Jeep just really sucked up gas. Called to exchange car, finally after many attempts get a hold of Alex who said he would call back with a different car. He never calls. Can't get anyone today. NEVER NEVER RENT FROM THIS COMPANY. Had I rented from Avis I would have had a car within 10 minutes of my arrival.

Ref. car rental (22 Dec 2016 - 5 Jan 2017) DULLES AIRPORT Va. After 18 hours travelling arrived at Dulles airport with a contract from ADVANTAGE on hand stating: FULL COVERAGE (insurance) and all my cost would be set from start. The Advantage agent at the pick up desk told me that I was not sufficient covered even for the minimum and whatever would happen I would be responsible 100%. FOUND OUT LATER: TOTALLY FALSE. Actually I was forced to buy extra insurance with extra cost USD 363.86.
After my return to my home base and requested explanation regarding the full insurance on the contract I have in writing from: CUSTOMER CARE SPECIALIST Natalie (6 Feb 2017) Booking Group. That the extra insurance was not necessary. You have my email my name and all needed info to contact me. Spend 363.86 USD for no reason. AWAITING A REIMBURSEMENT. This behaviour makes the reputation of your company TOO SHAMEFUL.

This car rental company advertises very low per-day rental rates however, when you go to pick up your reserved rental car, a great deal of up-selling pressure is placed on customers. They literally insist you take not just a higher cost vehicle, but many of the accessories they have available. During drop-off, the lines are usually very long as they often have only 1 or 2 customer service representatives to assist with both new rental customers and drop-off customers so if you have a flight to catch, make sure you give yourself lots of time so you don't miss your flight.

I rented a car through Advantage at Rentalcars.com. They quoted me a price that INCLUDED taxes and fees and I brought the confirmation to the desk at Advantage. The total was $316.77. The clerk told me that they would be placing a $200 "hold" on my credit card as a deposit until I returned the car. This was not a problem as I have had the deposit held at nearly all rental companies in the past.
When I returned the car, I was told my receipt would be emailed to me. Upon arriving home, I read the receipt and they had "charged" my card $516.77. My receipt showed an $79.00 charge for tolls plus taxes and fees and a refund for only $95 as opposed to the $200. I have discussed with customer service at both Advantage and Rentalcars.com. I was forced to place a dispute with my bank as Advantage refused to credit me and rentalcars.com needs a week to look into it.
BUYER BEWARE. This looks like a class action lawsuit waiting to happen.
How do I know I can trust these reviews about Advantage Rent-A-Car?
697,993 reviews on ConsumerAffairs are verified.
We require contact information to ensure our reviewers are real.
We use intelligent software that helps us maintain the integrity of reviews.
Our moderators read all reviews to verify quality and helpfulness.
For more information about reviews on ConsumerAffairs.com please visit our FAQ.

Renter beware! I am a person who does a lot of due diligence whenever I do anything. Accordingly I made inquiries of the rental company BEFORE I booked the car. Specifically I asked if they accepted debit cards & what was the amount that would be held on the car; as is the usual practice in the industry. I was informed, on 2 different calls w/ one of their agents (one of which was a conference call with my traveling companion) that an amount between $150-$200 would be held in addition to the actual cost of the car. As you know there are many people who are traveling to training on EXTREMELY tight & exact budgets. We are among those people. We made sure that the card that we were using had the amount for the card + an extra $200 for the hold.
When we went to pick up the car we were then informed that $150-$200 was the hold placed on credit cards. For debit cards they hold $350! (Sidebar: we had a previous, similar bad experience w/ Advantage Rental Cars & vowed never to use them again. So we were horrified when we found out that EZ Rental Cars was actually Advantage!) We asked for a manager who apologized but said there was nothing that he could do. He told us that that was "building policy", meaning that all the rental agencies had the same policy. He suggested that we use Uber. We explained that we were there for a convention and had to get back and forth from the hotel to the arena on a daily basis, so that was not feasible. He told us that the only other company there that accepted rentals was Payless. But, again, they would say the same thing.
We had to be at an orientation meeting by 1:00 on Thursday. We landed @11:54. So, as you can well imagine, this whole ordeal was making us very frustrated & very late. We took a chance and went to Payless who promptly gave us a car @the same rate & without any other complications. We told them what happened & they told us that they were constantly remedying renters' issues that had initially booked with Advantage. So I will rate my car rental experience with Payless Rental Cars as A+, stellar, fantastic, awesome, will use them from now on & recommend them to any & everyone. As for Advantage/EZ you should NEVER use them. They give bad/incorrect information when asked & then do nothing on the day to assist the renter in remedying the situation.

I had a very poor experience with this agency in charges for rental car. I rented a car at the Sacramento Airport & all the car agencies at airport already charge many extra fees, which is bad enough, but they try & add any extra charge they can think of. I reserved a standard SUV online & they showed a picture of a Toyota RAV 4 so I finished my reservation. Went to Advantage at airport. Customer service person sets up contract. It says "standard SUV" so I take keys & go to vehicle, this SUV had a license plate in window so I go back to Customer Service. Told them I didn't want a vehicle with license plate in back window, so they give me a Toyota RAV 4.
I leave with vehicle & then when time to return they changed the paperwork to read "intermediate SUV" & tell me there has been an upgraded charge. I tell them, "That not right." Online it says Toyota RAV 4 is standard. The customer service rep just argues with me back & forth then tells me that there is an upgrade charge because people like to rent them. She wouldn't adjust price, so I call manager. They agree with customer service rep without really hearing my side. So I call Corporate, explain situation to them & they tell me that because the SUV was standard when I rented it & it changed later they would refund the upgrade charge of 120. A few months go by. I don't hear anything. Then I call & they said refund was issued & they gave me a date. Another month goes by then I call & they said they decided not to give me the refund because they said I was aware of the upgrade charge, which is completely false.

I rented in San Diego and two weeks later was to drop off at San Francisco Airport. The drop off was an abandoned building with the parking lot roped off to prevent entry, but a large neon sign that read Advantage! I called the customer assistance lines three times and spent a total of fifty-five minutes on hold! I then went to the airport terminal to discover that there is no Advantage outlet there! Next I went online and texted with Phil, who had no telephone available to talk with me, or to phone the Advantage line and find that it was no longer in service. All Phil could do was to give me the same useless information that I had online!
At this point I decided to dump the rental at the advertised abandoned address and take a cab back to my hotel and wait for someone to call looking for the vehicle. Upon arriving at the abandoned Advantage outlet a young man asked me if I was looking for the company. He gave me an address and as a last shot I followed his instructions and found an Advantage location!! No one has ever responded to my calls or emails! How can they manage to be in business treating people like this!! I have to give them one star because this site will not accept a zero or negative response!! The low price is not worth the aggravation of dealing with this company!!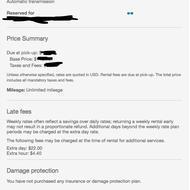 This car rental company is a total ripoff! I booked through Expedia and was told the mileage was UNLIMITED, when I got there she said "oh no, for local residents it is not" (then pulls out a book with some word that was clearly not on the website when I booked it). Then she said "these is an additional charge you if you don't have a car with full coverage that you can prove, we need to see the insurance policy of your car" (WHAT/!) (had to call my own insurance company and spending about 30 min on the phone trying to get them to fax or send her my Dec Page to my policy). I asked her why that was not included in the info when I booked. She said "that is a new policy." This company really nickel and dime you. I ended up going to Enterprise and was in and out hassle free!! Never again!

I had a good experience at this rental agency. The agent, Miss Angie (**) was specially helpful. She not only helped me with selecting the options, but also let me me pick the color of the car! Overall I have nothing negative to write in my review. Thanks, Angie!

I wish I had checked these reviews before I rented because they are spot on. Car was dirty, there were TONS of extra expenses when I picked up the car (three times what I had paid at time of reservation, which at that point was non-refundable), it has been 10 days and I still have not received the refund for my deposit. This is a sketchy business. AVOID!

I signed up for a 50 dollar discount by giving them my email. I only got "an upgrade" when I tried to use it by renting a mini then trying to upgrade to a compact car the computer booked me in for a mini at zero dollars, when attempting a call to discuss this further I was put on hold for over a hour, transferred 4 times then got hung up on. AMAZINGLY AWFUL EXPERIENCE. I won't rent from them EVER.

My rental experience with Advantage rental car in Honolulu is horrible. There was no car available when I arrived. Half a dozen other people were also waiting for cars which were not available at the reserved time. Another couple we were travelling with also waited almost 2 hours. We were told that since we had gone through a "third party" we were lower priority and if we didn't like it we should just go rent somewhere else. After over an hour wait the counter person was rude and confrontational. She threatened to cancel my reservation because my driver's license says "William" and the name on my credit card is "Bill." Thankfully another counter person told her not to do that. The car itself is dirty and has significant damage. I have rented from Advantage in Honolulu for YEARS but their operation has gone way downhill. If the price is anywhere close I will definitely take my business elsewhere.

The service in Atlanta was far from acceptable. We waited an hour for a car and did not receive car expected due to engine lite on, had to start over and get a second car. Attendant was rude and had no interest in answering any of our questions, and NO consideration for our inconvenience at any point. When we drove the car to destination 2 hours south of airport we recognized the car had 4 bald tires. We drove very reluctantly and did not go on major highways, we were appalled a car like this would be put on the road to rent. Lucky for us our family had a car and we could park this piece of junk.
When we returned to the airport we notified attendant of tires and asked what could be done for our inconvenience and safety concern. She stated rudely of course "call number on rental slip. Talk to corporate." Never even looked at tires, never with this company did we every get a response like, "we are sorry for that occurrence!"
I returned home, called corporate number, waited on hold over 40 minutes, called back twice. No surprise was not greeted nicely. Told I should have driven back to airport 2 hours to tell them about bald tires. No consideration at all for our safety concerns and inconvenience, gave us 18.00 off bill. When asked to speak to manager told to call back. Saw a previous comment would not even rate this a ONE star. Don't fall for cheap rates and cheap customer service.

Don't don't don't EVER rent a car from ADVANTAGE CAR RENTAL. I did and when I got there they were closed with a sign that said, "Go to E-Z Car Rental." That's it!! No directions, no phone, no nothing. So I walked around and couldn't find it. I asked another car rental agency and they told me where to look. I walked up to the front desk and handed the lady my driver's license and credit card and she asked if I was familiar with their policies. I was a little taken back by that question so I said "I guess not. I rent vehicles quite regularly from other agencies and have never been asked that question". That's when she told me that there was a 150 mile limit on all vehicles and additional miles were 0.55 cents/mile.
I asked the lady to cancel the reservation for me and she said she would. I prepaid for my reservation online before I got there and was never told that. Long story short, they got me for $37.00. There is NO refund because their refund policy is that they will refund anything over $50.00. So I consider this a very cheap lesson concerning Advantage Car Rental. I hope this helps you before you too lose your $37.00. Any company that has policies like theirs needs to be made public so spread the word and let's keep each other from making that same mistake. I WILL NEVER DO IT AGAIN HERE!!!

As a previous customer stated I'm only giving this one star because it's not possible to give it zero. Let me start with the fact that our family used Advantage in the past and had an awful experience concerning the type of car we reserved & the car they tried forcing us to take. It was one problem after another at the reservation desk & the rudest employees we'd ever dealt with. My husband swore he'd never use the company again. Unfortunately, I was taking our five children to Florida alone a couple weeks ago and handled all the transportation arrangements myself - trying to save my husband the hassle. I didn't remember the name of the company he didn't like and forgot to ask him. When he found out he couldn't believe I actually reserved a car with them. After realizing what I did I tried to be optimistic thinking maybe this time would be better. WAS I WRONG!!!
My awful experience started the second I walked up to the rental counter. I intentionally reserved and paid for a large SUV. The employee taking care of me told me that it was a busy season & he didn't have an SUV, he had a minivan. I politely argued saying I didn't want a minivan, I reserved an SUV. He then sarcastically told me when you make a reservation you aren't guaranteed what you reserve, you are guaranteed a vehicle with 4 wheels. I asked how long of a wait it would be until an SUV was available. He stated he might have one in 4 or 5 hours but I couldn't count on it.
With 5 children staring at me ready to start their vacation I couldn't exactly wait so I took the mini van. Fine - not what I wanted - but fine, I could deal with it. To be honest I was more angry and upset with how I was spoke to and the rudeness of the employee than the vehicle I'd be driving. Had that been the only problem I probably wouldn't take the time out to write to the BBB. I would've just warned friends and family about the scam they run and NEVER use them again. Thankfully the van did not give us any problems during the week.
The biggest problem came on the very last day when it was time to return it. Now let me back up & tell you I picked up the van in Miami, the return location was to be West Palm Beach airport all of which is in the agreement that's documented on all my paperwork. I plan our departure morning with what I thought was plenty of time to get to the airport, return the rental, take the shuttle & check all our bags. We look up the Advantage car rental airport address, type it in our GPS, and half an hour later we arrive at an address that doesn't even somewhat resemble a car rental business.
I attempt to call the 1-800 number to speak to someone & wait on hold while one of my daughters tries to look up any information she can to get us where we need to be. She finds another address she thinks will work. We have no choice but to try it so off we go. The next place we pull in to is at least closer to the airport but again not a return location. At this point I'm still on hold and getting upset and nervous not knowing what I'm supposed to do and knowing I've wasted a lot of time I didn't plan on. I decide to drive to the airport to look for any signs that say Advantage.
After circling the airport several times and not seeing any signs I pull in to an Avis to ask if they know where Advantage is. The security guard gives me directions to the Hilton where she says they are located. We then head to the Hilton. I run inside to ask where I should leave my vehicle and they tell me Advantage hasn't used their location for a long time. By now I'm nearly in tears - I have 5 kids in the car, our flight leaves in less than an hour, and a mini van that I can't drop off.
Within the hour and a half we've wasted I've tried every phone number and address possible and cannot get ahold of anybody to help me. As a last resort I drive back to Avis & beg some of the workers to help me. I explain my situation and ask if I can please leave the van there so we don't miss our flight. The manager agrees so I promise to contact Advantage as soon as possible to get someone to pick up the van. My children and I had to run through the airport to make our flight. To say my morning was stressful is a gross understatement. Not only did we almost miss our flight, I had the worry of leaving the rental.
As soon as our plane landed I called the Advantage 1-800 number again. I waited on hold for over 40 minutes before finally getting to speak to someone. Once I explained what happened she told me she'd have to have a 'consultant specialist' call me back. I was barely able to get my name & phone number out before she hung up on me. It's 24 hours later and I still haven't heard from anyone. I've sent two emails, left a voicemail and called multiple times trying every extension possible to talk to someone. No one ever answers the phone. Meanwhile the van I rented is sitting at the airport. Never use this company! I've never come across so many incompetent individuals! I honestly don't understand how they are allowed to remain in business!

I requested a car online and when I showed up to the location at Denver International Airport I was informed that I couldn't rent a car because I had outstanding toll charges from the previous year on my account. This was after waiting in line for 30 min in the middle of the night. They had all my contact information and no one ever contacted me about this nor was I notified when I rented the car online. Beyond that, I looked at my planner and I knew for sure I was not in the state of Colorado at the time they were claiming I used the toll roads and I could prove it.
The gentleman behind the counter was very nice and informative and tried everything in his power to help me or get someone but Advantage does not give him the tools or support he needs in the middle of the night. I decided I would just pay the fees, take the car, and deal with it the next day because I was exhausted and the poor people in the huge line behind me were waiting even longer. He then warned me that if I signed and paid I was admitting fault. I tried to wake some friends up in the middle of the night but no one answered. I decided to pay and never rent from them again because that was better than sitting there until morning.
The next day corporate apologized and sent me a 2 day free voucher and 20% off. I just tried to use that voucher and the same nice gentleman was there at 2 am when I arrived. He told me he's not allowed to honor the voucher, management has to do it. He asked me if I could bring the car back before midnight on the day of return and present it then. I had a friend bring me back on day 2 at 8 pm. The girl at the counter gave me attitude. She called a guy over who called the manager who was supposed to help me.
The manager said over the phone I have to rent the car for longer than 2 days to use. It does not say that anywhere on the voucher and the goal should be to make up for my horrible experience and keep my business, not try to get more money out of me. He then said I was returning the car early!! Um yes, because I was asked to in order for you to be here and why do they care if they get the car back at 8 pm, in time to rent it out again the night instead of 2am?? It's only 6 hrs early! So then they took my voucher and the manager said he would take care of it in the morning. He never came out to help me!
It's now 6 days later and nothing has been done. I called and they told me corporate has to handle this and they are gone so someone will call me. Nothing. I filled out a complaint and asked to be contacted. Nothing. I called and sat on hold for 1:15 (all this while on my vacation) and then their system hung up on me so I had to email again.

If I could give this company a negative rating, I would do so. They discriminate against local renters by limiting the mileage which was hidden in the fine print of a generic website that listed many companies. A friend said I better check on the mileage issue since they had a problem with Advantage. When I called the rude representative at Advantage, they confirmed that they did in fact discriminate against local renters by limiting daily mileage. When I cancelled the reservation, I was billed a $50 cancellation fee which should be illegal. They are charging for a service never received. Many other companies do not limit mileage for locals such as Alamo. So take my advice and NEVER use this company. I see a lot of other bad reviews here so obviously they don't care; they know they won't get repeat business so they have to stick it to the customer at first opportunity.

This is the absolute worst experience I have ever had with a so-called business. I rented a car through CARRENTALS.COM and was given a confirmation number and a local car rental agency's (ADVANTAGE CAR RENTAL) phone number and address to pick up the car. So I went to the address but there was another business there. I tried to call the phone number but the number was disconnected. OK, so I looked up their main number and called it and they told me that the location I was given has been closed for a while and I would have to pick up the car at the airport.
OK, I got to the airport and no one's there but there is a note telling you to call this number if you want service, so I call that number and someone told me that they would be there in a while. OK, fifteen minutes goes by and I am still waiting so I called again, but this time the young man rudely tells me that he is on his break and that I would have to wait. I was sympathetic to an employee working alone and having to go on a break.
So he shows up with an attitude and I told him I have a reservation for a car. He takes my identification and tells me that because I was a local resident I had to have full coverage insurance to rent a car because locals usually damage cars more than tourists. OK, IS THAT SO, HAH. FINE, but at no point when I was making the reservation was there any information about policies concerning locals. Trying to get a refund is an even bigger headache. I have, frankly, had better service in third world countries. Renters beware.

(Renting a car from MSP) The van that I rented for my family was not clean and the interior smelled like POT smoke! I informed the garage agent of these things. He said if I wanted another car I would need to go back to the airport to redo my paperwork to get another car (I was traveling with my 4 kids under 10). Then I asked if I was supposed to fill out a form for any damages I found before I took the car. Then he said "we are only worried about major damage to the vehicle". I insisted that I needed a form anyway. He then, begrudgingly handed me a small form to fill out and quickly took it from me. I will never return to Advantage Rent-A-Car.

This company does not deserve 1 star. If I could give them a 0 I would. I requested a car through Priceline.com. The rental indicated unlimited mileage and the car was to be picked up from CTL Airport on Friday and returned on Tuesday. Total cost $205. My daughter and her husband get there well before the 12:30 pm pickup time. Then that's when everything went bad. They told my daughter that since she had NC driver license they would not get the unlimited mileage and would only receive 150 miles per day. After over an hour going back and forth with the agent about the additional .55 cents per mile. I contacted Priceline and the initial customer service rep advised they would pay the difference. I just needed to fax in my receipts.
Advantage then told my daughter that Priceline was not going to pay us back. (As if to say, they have encountered this before?) Which was none of her business. My daughter and her husband advised they would go ahead and rent the car. The agent stepped away from the counter and when they returned, began to explain all of the additional fees. $200 deposit plus another $150 "NC Car Rental Deposit". Grant you, I had already paid for the additional rental insurance. I've rented cars before from other reputable companies in NC for out of state travel and have never paid a "NC Car rental Deposit". On top of just the normal deposit.
We were unable to be together for Christmas so everyone was meeting at my house New Year's Eve to exchange gifts and have a "second Christmas". So even with the absurd fees, my daughter and her husband needed the rental car and this was 1 day before New Year's Eve and they were bringing my mother with them to visit me in Georgia and we had not made any other arrangements. We agreed to pay the deposits, with the understanding that the deposits would be refunded when the car was returned. This is now 1 1/2 hours later, but still prior to the 12:30 pm pickup. The agent all of a sudden says "I'm sorry we no longer have your car available." We were furious. How is that when my daughter never left the airport, vehicle was never cancelled and it was still well before the 12:30 pm pickup? Agent looks again and states, "oh we were able to switch the other customer out"...
So now we think they could finally get the rental and be on their way. The agent proceeds to take my son-in-law to the SUV we reserved on Priceline and while they are looking over the vehicle, a supervisor comes out and says, "I'm sorry but we don't rent SUVs to local NC residence?" What? Are you kidding? I'm on the phone and my daughter and her husband are just beside ourselves. They have now been there for 2 hrs and now you are telling us you won't even rent them the car? My daughter asked if they could rent a minivan, initially the answer was yes, but then once back inside, the agent literally was telling them they needed to go to another rental company and began looking up rates for other companies?
By this time, we are furious and exhausted from being given the runaround and the Advantage customer service number was absolutely no help. One just kept blaming the other and the 800 rep was limited in what they could do??? We eventually found, no thanks to Advantage, another rental company that had an SUV available and were able to go to use that rental company with absolutely no problems and no "NC Rental deposit" and my family arrived safely to Georgia. Even though we ended up paying twice the amount that was quoted on Priceline, in the end, I am absolutely sure we saved ourselves even more headaches and frustration, had we actually rented a car from Advantage.
I have expressed my concerns with Priceline and their business ethics, to falsely advertise unlimited mileage for a company that may have stipulations. This is truly a "bait and switch" relationship. After further discussing with Priceline, the second and third associate I spoke with at Priceline proceeded to tell me that Advantage's contract with them does indicate that they "may" have stipulations on the mileage. My discussion with Priceline was, as a consumer, using their Priceline product, my reservation says unlimited mileage and regardless of what their agreement is with Advantage, I have detrimentally relied on the information they provided me on their Priceline website and my contract is with Priceline.
There should be visible notification to the consumer to call or check rates/mileage, instead of advertising and making reservations with no restrictions and providing confirmation indicating "unlimited mileage". I will have second thoughts before I book through Priceline. I would never recommend Advantage Rental to anyone. They are unreliable and are not trustworthy.

It's their advantage for sure. I was charged for insurance that I plainly and explicitly said that I did not want or need. Called customer service and was told no way I was getting a refund. NEVER USE ADVANTAGE!!!

When arriving two hours later than expected due to a plane delay the customer service was awful at Advantage Car Rental. After being greeted without a hello the person left me standing at the counter to help another agent. Upon returning to help me I was told I could upgrade my vehicle for an additional $115.00. When I said no thank you and paid with a debit card, an additional $200.00 was added to my bill and I was told they would do a credit check on me. Unfortunately, I had no choice but to comply since I was standing there with four pieces of luggage and no transportation to go to another car rental company. I will never use Advantage Car Rental again and would like my additional $200 refund immediately.

Let us review what happened: Our daughter and her family arrive at the airport around 6:10 pm and get on the shuttle to go to Terminal A. They call us at 6:27 pm and tell us they are on the shuttle. LGA is under construction and you have to go to Terminal A to get to the rental car shuttles. The shuttle takes about an hour and barely moves. She and her husband travel a lot, so they call and tell 800-777-5500 Advantage that they are on their way, but their flight was delayed and they are now sitting on the shuttle to nowhere. They are told their car has been canceled. They say it can't be so, even they can't cancel their reservation. It is prepaid and should be held for them up to 1 am. The Advantage 800# tells them that the local LGA rental center has canceled it. Our daughter and her husband and toddler tell them they need a car.
They then transfer them to the LGA car center and someone does pick up. They are told that their car was canceled since they didn't pick it up past one hour from their noon pickup time. Our daughter told them that they can't cancel her reservation and she can see on their website they are open until 1 am and she is on her way and to find her a car. She is then told that they have no other cars and they are closing at 8:30 pm and to not come. This is the night before Thanksgiving. No way they are closing at 8:30 pm. They are told with how slow the shuttle is they will not get there and they will be closed and have no cars. They have luggage, a car seat, a toddler and they have to yet get to the Hampton's. They are hysterical, as you can imagine. We, as her parents call the 800# on their confirmation for Advantage.
Paul is told their car was cancelled because they did not pick it up at their pickup time and there are no other cars and we have to email support@carrentals.com. He asks for a telephone number and they say they have no way to call Car Rentals. That they (Car Rentals) are our contact and they are only a subcontractor to Car Rentals and any complaints need to go to Car Rentals. We ask, how do they get us another car if we can't even call them? Paul asks them to transfer him to the local rental at LGA and he lets it ring for over twenty rings until it just stops. I then call the 800 # and ask how can they possibly cancel the car and I am told it was cancelled by accident. I then tell them that the car rental station that our daughter was transferred to said they closed at 8:30 pm and they had no more cars. Advantage tells me that the station cancelled the car. That they (the Advantage 800 #) can't cancel a car.
I ask to speak to a supervisor and I am told no one can do anything else for me. That even a supervisor has no way to cancel a car or to reach Car Rentals. That we need to email support@carrentals.com and they will give us a refund, but they have no way to get us another car. I tell them we don't want a refund. We want a car so they can drive to the Hampton's. We are told that they cannot help us. I can tell the person in the Call Center wants to tell me more, but stays quiet. I am sure it is hard to hear a mother cry because you have left her children stranded at LGA.
I again call back. I am on the house phone now where we are staying. The person I am talking to tells me that I am correct, that the reservation was cancelled in error, but they (the Advantage Call Center) can't fix it. They say that the station at LGA is open until 1 am. I ask, again, to be transferred there and I let the phone ring for an eternity. No one picks up the phone. We then call our daughter and she and her family get off the shuttle bus at Terminal A and they call for an Uber. They get on the Uber. They are quoted a rate of $400. Once on the freeway they notice the driver is driving erratically and the car smells. He is swerving around and driving past the speed limit. They ask him to slow down. Finally, they call Uber and they are told to ask the driver to stop the car and pull over at the next exit. They then have to get out of the car, wait with the toddler, luggage and car seat and wait for another Uber to pick them up.
They wait on the curb to flag down the new car. It is dark, cold and raining. They get to the Hampton's around 11 pm at night. Uber did not charge them for the first portion of the ride due to safety issues with the driver. They then had to use taxis in the Hampton's as our car would not fit the car seat and two other people. We then had to order a car to take them back to LGA because our car would not fit all of us. If my husband did the drive he would have given up five hours from the last day of our trip. We did not leave until 8:30 pm. They left at 8 am in the morning to get there for a noon flight. The car was $250.
Now, Advantage says Car Rentals is our contact. Car Rentals is blaming Advantage saying WE as their Client, need to supply Car Rentals with all this information with documentation. I kept telling them Advantage made the mistake and they needed to fix it while the family was still on the shuttle. All we heard was email support@carrentals.com. They knew immediately right away that the LGA station cancelled the car by mistake. Now they want me and my family to dig up all of this additional information to make their case with Advantage.
I don't have time for this **, but I sure as hell am not going to let a company that made such a unimaginable mistake not own up to it. We have had to supply Car Rentals with Uber receipts, car service receipts and now our phone records to show we actually called the 800 # and at what time. Obviously, since I took the time and came up with everything they asked of me, I am not lying. I am a super busy person, but Advantage messed up and they messed up with the wrong family.

We rented a car from Advantage through Expedia at the airport in Orlando and mentioned that we arrive at 7pm. We got a confirmation with pick-up time 10:30 am, thinking that this is correct because we pay for the whole day. When we arrived the person from Advantage just told us that our car was cancelled because we did not pick it up within 2 hours after pick-up time. In the confirmation was nothing written from this 2 hours limit and also not on the homepage from Advantage. We were left without car and had to get a car from an other company and that in the evening at Thanksgiving for a much higher price.
When I called later the customer service they just told me that it was my fault and hung up. I cannot recommend Advantage because of the lack of information for the car rental, also through a third party, and the very unfriendly customer service. People at the front desk and customer service were very unfriendly and not willing to help.

I rented a vehicle from the JFK location in New York and requested a car seat. The cost was $70 for a week. My primary complaint, aside from the poor and disorganized service at most of their locations, is that the car seat was stored in an old metal shed adjacent to the location where they clean out the cars. This particular area was a real mess due to the nature of the work being done there. There were garbage cans overflowing at each car service area (4 in total I believe) and with this mess comes not just paper but food and soft drink spillage. As mentioned earlier the 'storage' shed for the car seats is adjacent to this area. It struck me that the shed, with all of its various car seats simply thrown in there was a prime location for vermin to frequent. The seat we received did have food remnants on it.
Additionally, the car seat was in such poor condition that we almost refused it but did not want to endanger our child even on what could have been a short trip to a retail store to purchase a new one. It took us 20 minutes to clean and unravel the belts and seat cover - no one there offered to help. We had to 'rig' the belts to fasten them so the seat would not tip forward in a sudden stop. Unacceptable conditions for something the public relies upon for their children. First, there should be a law and policing for the proper condition of child seats provided by any rental agency and second, there should be some oversight by the health department as to the storage and cleanliness of child seats. Shame on you Advantage and shame on you New York State - the fees and taxes you charge should guarantee cleanliness and safety.

As a matter of fact I knew of bad reputation of Advantage Rent a Car and I reserved a car in Fort Lauderdale airport with Europcar: for my surprise the rental agency turned out to be Advantage. It took over 2 hours to complain with all absurd requests (including a copy of my private car insurance faxed to him) of the agent Mr. **, uncooperative and tricky.
Tired from a 20 hours fly, I finally accepted to change all conditions of the reservation: limited mileage where the reservation specify unlimited mileage. Agreed and signed for 200 Dollars rental deposit and I found he charged another 150 for eventual road violations!! To be refund in 21 days after rental end. He put time to return earlier than the time of rental and finally the car had virtually no rubber left on the tires making it extremely dangerous to drive. As a good note must say that the Advantage agent in the parking lot promptly and kindly change the car with a better one, dirty but in good conditions.

I rented a vehicle in Boston Massachusetts Logan airport. On my way the airport to return the vehicle I used my Apple iPad as my GPS to take me to their location. As I was in a rush I left the iPad in the vehicle on the passenger side on the floor. For those who do not know this Airport, You have to catch a shuttle bus to drop you at the terminals, which is 3 to 5 minutes depends. As I was reaching the TSA I proceeded to removed my electronics, I realized that the iPad was left in the vehicle. I immediately called the ADVANTAGE RENT A CAR. No one pick up the phone. I immediately downloaded an app on my phone using Boston phone number, they picked the phone. Once I attempted to inform them that I left my iPad in the vehicle the call dropped. I called them back more than 25 times. They never pick up the phone.
Two days after trying over and over to get hold on them, a local agent in Orlando answered the phone. She stated that she will contact the Logan airport and she would call me back. They call 5 hours later to inform me that my iPad was not found. However I handed the car key to one of their employee who I believe removed my iPad. It is lamentable to see that I have filed a police report. This person who have my property will be prosecuted should my property be found.

Do not, I repeat DO NOT rent from this Advantage. First of all, when we got our rental car that day, the whole inside was soaking wet because they left the windows down during a thunderstorm. When we went back to request a new dry vehicle, we were told that this was the only one available and that it would "eventually dry out for us". NO apology. NOT GREAT CUSTOMER SERVICE. Secondly, they tack on a bunch of additional charges and refuse to explain them to you in detail initially when you rent the car.
I rented in Denver, and I really was not familiar with the area, with toll areas, etc. The employee helping me stated that I shouldn't run into tolls around where I was planning to drive, so I did not add the toll service coverage. Fast forward 5 months later (I rented a car in June, and it is now November) I noticed additional charges on my checking account from advantage in Denver. I called Advantage to speak with a representative regarding these charges, and the answer I received was "it appears that you went through a toll area and you did not have toll coverage".
I explained that the representative that set me up with the rental car in June had stated that I did not need toll coverage since I was staying in the Denver area. The representative on the phone stated that he was sorry that this occurred, but I should have inquired specifically where the toll areas were to begin with. I guess I should have asked for a road map of tolls??? I also was upset because this charge should have been added months ago, especially when I rented the car in June!!! Terrible company. Terrible customer service. Terrible contracts. Terrible cars. Advantage really DOES take FULL advantage of their customers. I will never rent from this company again. Beware!!!

Booked a car through Priceline from Advantage Rent-A-Car. When I went to the airport to pick up the car they told me that I had to have my own car insurance, from my own car. If I had a car I wouldn't be renting one. They did not let me get the car, I could not travel and take care of a very important situation that I had to deal with. Awful, amateurs, unprofessional and unreasonable. IF YOU DON'T WANT TO HAVE ANY PROBLEMS, STAY AWAY FROM ADVANTAGE RENT A CAR!
Advantage Rent-A-Car Company Profile
Company Name:

Advantage Rent-A-Car

Website:

https://www.advantage.com/