Consumer Complaints and Reviews

Please double check any minor car damages in both the body and the windshield when using these guys and mark it on your inspection report. In fact I would take 15 minutes or more and mark ever tiny microscopic imperfection on the checkout report, even if it holds up the checkout line. They take advantage (no pun intended) of a dark rental garage to anticipate that you will miss something, which will allow them to charge you for repairs. Advantage charged us for a small gravel pit on the windshield when we returned the car. We had to do a double take for them to point this out, which was difficult to see among the other dozens or more of sand and gravel pits in this windshield.
As far as I am concerned they picked out one, which had an extremely small minor star pit and said "This is yours"! I guess it was about time for them to get a new windshield for the sand and gravel environment of Phoenix and I happened to be the lucky guy they picked for this job. I have rented all over the world and have never run into this type of situation. One star is too much for the underhanded treatment these guys give customers.

On March 13 we rented a car from Advantage Rent A Car at the Denver International Airport, reservations made per options available on the American Express travel website. Van/ground transportation service from the Airport was very prompt and that is where the "good" ended. Upon entering the rental facilities the zig-zag line was wrapped around to the door entrance. After a 1 hour 25 minute wait we were finally seen by an Advantage associate. Our assigned rental car was filthy, front to back, top to bottom with road spray from prior rentals. I have rented hundreds cars from Japan to Europe and the U.S. and have never had such deplorable service, both in customer wait times and quality and cleanliness of the rental. If I could give them a negative 5 stars I would!

I rented a vehicle in Houston TX while on business. Everything went smoothly until I got home and got the bill and received a phone call. They made a false damage claim that I broke the car handle but can't provide any evidence. Then I checked my credit card statement and they charged me an extra $50 for refueling. Best part about this was they gave me 3/4 of a tank and I returned the car with a full tank. As all this controversy began I came to realize that they never did a walk around during pick up or drop off. Avoid this company and pay the extra money for a reputable brand.

Was online well over two hours. Even though I had a contract they charged me almost double. I couldn't get through to the "parent company" third party biller but the person that took the message there said I was correct. Everyone was having the same problem thus the very long lines. The absolute worst.

First, I was given a car to drive for 10 days that had a maintenance required light on it. When I go to check out before leaving the rental car building the inspecting agent even told me to turn around and get another car. When I turned around to get a new car, Alexander at the Sky Harbor Airport, was very nasty and told me "to just drive it lady, it is fine!" I don't drive my personal car with any dashboard lights on so why would I pay a daily rate to drive a car with a dashboard light on. I requested a discount and Alexander said he would give me one. So when I returned the car, you guessed it, there was no discount on the car. I questioned Alexander about it and he became very hostile and was yelling at me. This was horrible customer service.
So when I arrived home I contacted the customer service and the first gentleman I spoke with was only authorized to give me a small discount ($84 for a $640 bill) and said it was a 20% discount. Ha... Far from 20% on the entire bill. I then asked to speak with his manager and I was told he would have to call me back within 24-48 hours. Well Curtis did call me back and offered another $40 but said the car was fine and didn't understand why I was upset. I explained to him I was driving in the mountains and I wasn't comfortable with any dashboard lights on. Again, he talk down to me and didn't admit any wrong. In the end, he didn't even give me the additional $40 off that he had offered. I have rented from lots of different car rental companies and had very good service from them. I will NEVER rent again from Advantage!!!
How do I know I can trust these reviews about Advantage Rent-A-Car?
720,415 reviews on ConsumerAffairs are verified.
We require contact information to ensure our reviewers are real.
We use intelligent software that helps us maintain the integrity of reviews.
Our moderators read all reviews to verify quality and helpfulness.
For more information about reviews on ConsumerAffairs.com please visit our FAQ.

I reserved an Advantage Car using the Orbitz website. Price was good. When I arrived at the airport to get the car, I was told that the policy for local renters was different. There was to be a very large hold put on my debit card, I needed to have a copy of my insurance card, and I was limited to driving 150 miles per day. Yes, I have a local address, but I am currently caring for my parents out of state and I have to fly to Dallas from time to time to check on things at home. I had a round trip ticket from Portland to DFW. I also am fully ensured by no longer carry a paper, I used my smartphone to access my policy/numbers when needed.
Let me state that I believe that companies have the right to set their own policies however in this situation I have two major concerns: #1, These additional "rules" were not presented when I reserved the car on Orbitz. The agent said that Advantage has nothing to do with what is on the Orbitz site and that they were not responsible for that. I disagree. If they are allowing their product to be "sold" via a third agent, Advantage SHOULD make sure that the info is accurate on the site. My second major concern is the discriminatory nature of treating "local" residents differently than non-local residents - essentially putting an additional financial burden on someone because of their zip code. Sounds like discrimination to me.
I asked the agent why the policy was different for local residents. "Don't know, company policy." At that point, since I had not paid for the reservation, much to the shock of the agent, I said, "Alright, thank you very much, please give me my debit card and license back." I do carry a credit card but was not asked for that. I promptly took my business to another company in the rental complex and gladly gave them my business. At the other business, Budget, I was treated as I am treated anywhere in the country.
Companies are responsible for how they are represented, even by third parties - they can blame the "bait and switch" on the third party but because they played this game with me, they lost almost $400 in rental fees for a car that will be driven 40 miles over 5 days. Additionally, I will not rent from Advantage, ever again. This is the FIRST complaint letter I have ever written to a third party site.

I went online and did a search for a car rental. I put in the dates and times I need to pick up the car and return the car and got a price. Went to pick up the car and confirmed the times needed the car for and they confirmed the price. I told them I did not want to give them an email address. The email address that printed out on my ticket was not my email address as I didn't give them one. When we returned the car an hour earlier than the time I told them it would be returned, we waited for the lady to check us out so she could give us a receipt. When she printed out our receipt, what we were being charged was twice what we agreed to based on the times I told them I needed the car.
We went into the counter in the airport and had to wait quite a long time to speak to a manager, knowing we had a flight to catch. Come to find out they were charging us X number of dollars per hour after the 24 hours we had the car. Even though I was very clear when I needed the car and received a quote for that time period. They ended up refunding us the difference they had charged, but between the lack of service on the back end and them not being straight up front, we will never use this car rental service again. Stick with what you know and the service you know you will get with it...don't use Advantage.

Rented car at Ft. Lauderdale Airport. 2015 VW Passat. Alignment our tires way out of balance. Drove to Keys & stopped part way down. Car would NOT start. Spent 10 minutes & finally started by fiddling with shifter. Drove to Marathon destination. Later tried to start car. Would NOT start. Called number listed on contract NO Answer. Called Roadside Assistance NO ANSWER or voice mail. Wasted 3 days with no car. Finally had it use Chat online to have Miami office call. 1st person treated me like an idiot & told me I didn't know how to drive a VW & probably drove with handbrake on. Another call from Miami & he actually had car replaced next day. Charged for whole week for most of time with car that wouldn't start. No response from customer service surveys. DO NOT RECOMMEND.

At all cost, stay away from rental. They made you believe they gave you free upgrade then stick with you with upgrade charge. They sent a bill charging me $2565 for a three day rental. When I called their customer service I had to wait 40mn and someone in the Philippines just played game with me. Not help resolve wrong billing. Never again!!!

Advantage quoted one price and slipped in a number of charges AFTER I received the "final" receipt. I called their customer service number and spoke to an individual who was totally unprofessional, I could tell that they were not listening to me (I could hear other people chatting and giggling in the background) and I had to repeat my information a number of times before they simply sent me to another number. I have been on hold for an hour and there is no sign that it's going to end but I'm leaving the call going on principle.
This is clearly a scam: They advertise low prices and then smack you with a series of fees as well as simply and blatantly charging more than what is reflected in the receipt. Then they have a customer service that only deals with calls from people who want new reservations and not from customers that they've ripped off. DO NOT RENT FROM THIS COMPANY. I urge those in a position to investigate this company to do so. It may be employees exploiting ways to overcharge or it could be higher up in the company, but they are stealing from their customers.

I rented a car from Advantage online through Hotwire.com. When I went to the agency they changed the contract and was charging way more than the contract stated. Trying to sell me other products which I did not need. I did not rent the car. Was told to call Hotwire back for a refund. When I called Hotwire, they attempted to refund me. Called Advantage and they told Hotwire that I never came to pick the car up, therefore I did not receive a refund. Not only did they change the contract, but lied. I did not receive a refund of my money. I only lost $63.00 but it's the principle. Contract was changed and I didn't agree with it. So I had a right not to rent the car. Now I know why I was the only one at the counter when I came to get the car.

I rented a car, purchased the insurance and was overcharged on the insurance and have tried for a month and a half to speak to someone who can help. Even called the home office and can't get a single person to help or return a call. They charged more than I pay in six months on insurance. This company is a scam.

My complaint is about an unreasonable upcharge for a "better" car. $40 a day extra was supposed to be 80% off which means the car would cost $200 per day which isn't possible. I stood in line for more than 45 minutes to rent a car and was met with ambivalence at return. The first guy said "hey, this price is reasonable, a lot of other companies charge more." The manager on duty today said, "nothing I can do - you initiated the fee." I would not recommend this firm and I will definitely never use them again. And I will continue to tell my friends to not use their service.

Never Again! Had booked a car through Hotwire for pick-up at the San Antonio Airport (February 2017), We arrived after a long day and were tired. The agent at the Front Counter was unfriendly and not helpful. She took forever to process our rental. She tried to sell us everything involved with extra insurance but didn't have the right personality to do this. She was actually quite surly. We did not need or require extra insurance as we had it. She seemed to not understand this.
On our return the shuttle bus driver was the worst of the worst. He never assisted with the luggage and never left his seat. He drove like a maniac to the Airport and when asked where a certain Airline was all he could say was "back". We did not know and were not informed that there was just one central drop off point. I have rented cars all over the USA for many years and this experience with Advantage was the worst. I will NEVER rent from them again and neither should you. Sometimes you think that you are saving a few bucks but really you are not.

Horrible. We rent a car in Ft Lauderdale, Florida. The first car was dirty with urine inside. We got another one. The day after, we saw that the tires were totally broken. We tried to call the company for a lot of times but did only got the answer "The mailbox is full, please try later." We tried to call the Emergency number - no answer. (Safe to know?!) We went to the airport and got our third car. It was dirty but worked basically. When we came home, we were charged for a lot of extra tolls and taxes, never told us. We complained but did not got any response. In total, with all extra charges, we paid a lot more for our car than our friends did, rented from another bug famous company. DO NEVER EVER RENT A CAR FROM ADVANTAGE RENT-A-CAR!

A rental car company with this many complaints pretty much daily should not be allowed to stay in business. Daily or hourly they are taking advantage of innocent consumers expecting to get a good rental car experience. We rented from them in Maui Kahului and like other complaints I have read rented a vehicle with damage on it. They claimed to have documented the damage and when we returned it they didn't say a thing. You would think they would have used the damage sheet when the car was rented and verified then there was no new damage. They didn't say a thing. But then yesterday we get a letter from a 3rd party claims company that there was damage to the vehicle that wasn't on it when rented. This company has a nice scam going, they have probably made claims on the same car over and over again. There was no additional damage to the car at all.
Then if you try to call the corp office no one answers!!! OMG a nationwide company that no one to answer phones??? SCAM SCAM SCAM. When is the attorney general going to get involved and shut this company down??? A company that has over 400 complaints in such a short time should be drawing the attention of the government offices that are suppose to protect consumers. I know I will be making an effort to get them shut down and the Consumer Financial Protection Bureau finds out about this companies practices and treatment of consumers.

Rented a car from Advantage 5 weeks ago. Arrive on February 6th at the Phoenix Airport, wait in line for 1 1/2 hours at Advantage to get my car. Finally receive a Jeep rather than a Nissan or equivalent as contract stated. This gas hog Jeep just really sucked up gas. Called to exchange car, finally after many attempts get a hold of Alex who said he would call back with a different car. He never calls. Can't get anyone today. NEVER NEVER RENT FROM THIS COMPANY. Had I rented from Avis I would have had a car within 10 minutes of my arrival.

Ref. car rental (22 Dec 2016 - 5 Jan 2017) DULLES AIRPORT Va. After 18 hours travelling arrived at Dulles airport with a contract from ADVANTAGE on hand stating: FULL COVERAGE (insurance) and all my cost would be set from start. The Advantage agent at the pick up desk told me that I was not sufficient covered even for the minimum and whatever would happen I would be responsible 100%. FOUND OUT LATER: TOTALLY FALSE. Actually I was forced to buy extra insurance with extra cost USD 363.86.
After my return to my home base and requested explanation regarding the full insurance on the contract I have in writing from: CUSTOMER CARE SPECIALIST Natalie (6 Feb 2017) Booking Group. That the extra insurance was not necessary. You have my email my name and all needed info to contact me. Spend 363.86 USD for no reason. AWAITING A REIMBURSEMENT. This behaviour makes the reputation of your company TOO SHAMEFUL.

This car rental company advertises very low per-day rental rates however, when you go to pick up your reserved rental car, a great deal of up-selling pressure is placed on customers. They literally insist you take not just a higher cost vehicle, but many of the accessories they have available. During drop-off, the lines are usually very long as they often have only 1 or 2 customer service representatives to assist with both new rental customers and drop-off customers so if you have a flight to catch, make sure you give yourself lots of time so you don't miss your flight.

I rented a car through Advantage at Rentalcars.com. They quoted me a price that INCLUDED taxes and fees and I brought the confirmation to the desk at Advantage. The total was $316.77. The clerk told me that they would be placing a $200 "hold" on my credit card as a deposit until I returned the car. This was not a problem as I have had the deposit held at nearly all rental companies in the past.
When I returned the car, I was told my receipt would be emailed to me. Upon arriving home, I read the receipt and they had "charged" my card $516.77. My receipt showed an $79.00 charge for tolls plus taxes and fees and a refund for only $95 as opposed to the $200. I have discussed with customer service at both Advantage and Rentalcars.com. I was forced to place a dispute with my bank as Advantage refused to credit me and rentalcars.com needs a week to look into it.
BUYER BEWARE. This looks like a class action lawsuit waiting to happen.

Renter beware! I am a person who does a lot of due diligence whenever I do anything. Accordingly I made inquiries of the rental company BEFORE I booked the car. Specifically I asked if they accepted debit cards & what was the amount that would be held on the car; as is the usual practice in the industry. I was informed, on 2 different calls w/ one of their agents (one of which was a conference call with my traveling companion) that an amount between $150-$200 would be held in addition to the actual cost of the car. As you know there are many people who are traveling to training on EXTREMELY tight & exact budgets. We are among those people. We made sure that the card that we were using had the amount for the card + an extra $200 for the hold.
When we went to pick up the car we were then informed that $150-$200 was the hold placed on credit cards. For debit cards they hold $350! (Sidebar: we had a previous, similar bad experience w/ Advantage Rental Cars & vowed never to use them again. So we were horrified when we found out that EZ Rental Cars was actually Advantage!) We asked for a manager who apologized but said there was nothing that he could do. He told us that that was "building policy", meaning that all the rental agencies had the same policy. He suggested that we use Uber. We explained that we were there for a convention and had to get back and forth from the hotel to the arena on a daily basis, so that was not feasible. He told us that the only other company there that accepted rentals was Payless. But, again, they would say the same thing.
We had to be at an orientation meeting by 1:00 on Thursday. We landed @11:54. So, as you can well imagine, this whole ordeal was making us very frustrated & very late. We took a chance and went to Payless who promptly gave us a car @the same rate & without any other complications. We told them what happened & they told us that they were constantly remedying renters' issues that had initially booked with Advantage. So I will rate my car rental experience with Payless Rental Cars as A+, stellar, fantastic, awesome, will use them from now on & recommend them to any & everyone. As for Advantage/EZ you should NEVER use them. They give bad/incorrect information when asked & then do nothing on the day to assist the renter in remedying the situation.

I had a very poor experience with this agency in charges for rental car. I rented a car at the Sacramento Airport & all the car agencies at airport already charge many extra fees, which is bad enough, but they try & add any extra charge they can think of. I reserved a standard SUV online & they showed a picture of a Toyota RAV 4 so I finished my reservation. Went to Advantage at airport. Customer service person sets up contract. It says "standard SUV" so I take keys & go to vehicle, this SUV had a license plate in window so I go back to Customer Service. Told them I didn't want a vehicle with license plate in back window, so they give me a Toyota RAV 4.
I leave with vehicle & then when time to return they changed the paperwork to read "intermediate SUV" & tell me there has been an upgraded charge. I tell them, "That not right." Online it says Toyota RAV 4 is standard. The customer service rep just argues with me back & forth then tells me that there is an upgrade charge because people like to rent them. She wouldn't adjust price, so I call manager. They agree with customer service rep without really hearing my side. So I call Corporate, explain situation to them & they tell me that because the SUV was standard when I rented it & it changed later they would refund the upgrade charge of 120. A few months go by. I don't hear anything. Then I call & they said refund was issued & they gave me a date. Another month goes by then I call & they said they decided not to give me the refund because they said I was aware of the upgrade charge, which is completely false.

I rented in San Diego and two weeks later was to drop off at San Francisco Airport. The drop off was an abandoned building with the parking lot roped off to prevent entry, but a large neon sign that read Advantage! I called the customer assistance lines three times and spent a total of fifty-five minutes on hold! I then went to the airport terminal to discover that there is no Advantage outlet there! Next I went online and texted with Phil, who had no telephone available to talk with me, or to phone the Advantage line and find that it was no longer in service. All Phil could do was to give me the same useless information that I had online!
At this point I decided to dump the rental at the advertised abandoned address and take a cab back to my hotel and wait for someone to call looking for the vehicle. Upon arriving at the abandoned Advantage outlet a young man asked me if I was looking for the company. He gave me an address and as a last shot I followed his instructions and found an Advantage location!! No one has ever responded to my calls or emails! How can they manage to be in business treating people like this!! I have to give them one star because this site will not accept a zero or negative response!! The low price is not worth the aggravation of dealing with this company!!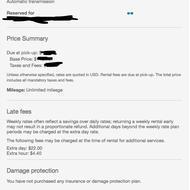 This car rental company is a total ripoff! I booked through Expedia and was told the mileage was UNLIMITED, when I got there she said "oh no, for local residents it is not" (then pulls out a book with some word that was clearly not on the website when I booked it). Then she said "these is an additional charge you if you don't have a car with full coverage that you can prove, we need to see the insurance policy of your car" (WHAT/!) (had to call my own insurance company and spending about 30 min on the phone trying to get them to fax or send her my Dec Page to my policy). I asked her why that was not included in the info when I booked. She said "that is a new policy." This company really nickel and dime you. I ended up going to Enterprise and was in and out hassle free!! Never again!

I had a good experience at this rental agency. The agent, Miss Angie (**) was specially helpful. She not only helped me with selecting the options, but also let me me pick the color of the car! Overall I have nothing negative to write in my review. Thanks, Angie!

I wish I had checked these reviews before I rented because they are spot on. Car was dirty, there were TONS of extra expenses when I picked up the car (three times what I had paid at time of reservation, which at that point was non-refundable), it has been 10 days and I still have not received the refund for my deposit. This is a sketchy business. AVOID!

I signed up for a 50 dollar discount by giving them my email. I only got "an upgrade" when I tried to use it by renting a mini then trying to upgrade to a compact car the computer booked me in for a mini at zero dollars, when attempting a call to discuss this further I was put on hold for over a hour, transferred 4 times then got hung up on. AMAZINGLY AWFUL EXPERIENCE. I won't rent from them EVER.

My rental experience with Advantage rental car in Honolulu is horrible. There was no car available when I arrived. Half a dozen other people were also waiting for cars which were not available at the reserved time. Another couple we were travelling with also waited almost 2 hours. We were told that since we had gone through a "third party" we were lower priority and if we didn't like it we should just go rent somewhere else. After over an hour wait the counter person was rude and confrontational. She threatened to cancel my reservation because my driver's license says "William" and the name on my credit card is "Bill." Thankfully another counter person told her not to do that. The car itself is dirty and has significant damage. I have rented from Advantage in Honolulu for YEARS but their operation has gone way downhill. If the price is anywhere close I will definitely take my business elsewhere.

The service in Atlanta was far from acceptable. We waited an hour for a car and did not receive car expected due to engine lite on, had to start over and get a second car. Attendant was rude and had no interest in answering any of our questions, and NO consideration for our inconvenience at any point. When we drove the car to destination 2 hours south of airport we recognized the car had 4 bald tires. We drove very reluctantly and did not go on major highways, we were appalled a car like this would be put on the road to rent. Lucky for us our family had a car and we could park this piece of junk.
When we returned to the airport we notified attendant of tires and asked what could be done for our inconvenience and safety concern. She stated rudely of course "call number on rental slip. Talk to corporate." Never even looked at tires, never with this company did we every get a response like, "we are sorry for that occurrence!"
I returned home, called corporate number, waited on hold over 40 minutes, called back twice. No surprise was not greeted nicely. Told I should have driven back to airport 2 hours to tell them about bald tires. No consideration at all for our safety concerns and inconvenience, gave us 18.00 off bill. When asked to speak to manager told to call back. Saw a previous comment would not even rate this a ONE star. Don't fall for cheap rates and cheap customer service.

Don't don't don't EVER rent a car from ADVANTAGE CAR RENTAL. I did and when I got there they were closed with a sign that said, "Go to E-Z Car Rental." That's it!! No directions, no phone, no nothing. So I walked around and couldn't find it. I asked another car rental agency and they told me where to look. I walked up to the front desk and handed the lady my driver's license and credit card and she asked if I was familiar with their policies. I was a little taken back by that question so I said "I guess not. I rent vehicles quite regularly from other agencies and have never been asked that question". That's when she told me that there was a 150 mile limit on all vehicles and additional miles were 0.55 cents/mile.
I asked the lady to cancel the reservation for me and she said she would. I prepaid for my reservation online before I got there and was never told that. Long story short, they got me for $37.00. There is NO refund because their refund policy is that they will refund anything over $50.00. So I consider this a very cheap lesson concerning Advantage Car Rental. I hope this helps you before you too lose your $37.00. Any company that has policies like theirs needs to be made public so spread the word and let's keep each other from making that same mistake. I WILL NEVER DO IT AGAIN HERE!!!
Advantage Rent-A-Car Company Profile
Company Name:

Advantage Rent-A-Car

Website:

https://www.advantage.com/