Consumer Complaints and Reviews

I have been getting prescriptions through CVS Caremark and Caremark mail order for many years. The run-of-the-mill prescriptions or generics are not a problem and arrive quickly. The problem is brand prescriptions especially if it happens to be a controlled substance. We have been receiving such a prescription every three months for 20+ years. Each and every time there is a problem and usually it is different excuses each time. Right now we have been waiting for this prescription for over two weeks. I have been on the phone with Caremark and our health plan each blaming the other for this situation. My question: Is there a legal avenue for justice? If so, what is it? Where can you turn to for help? And has anyone tried?

In October, I went to the benefits fair for work to choose insurance plan. I went to the CVS booth and asked them if my meds would be covered. I asked if they would still accept my co-pay assistance plan from Biogen. My meds per month are $7,000. The lady said that CVS would honor the assistance. I filled my first med and $2,025 went to the out of pocket for the year. Second time I filled my med the price was $1400 toward my out of pocket. Two days later CVS backed it out toward my out of pocket. I called and they said that I should have gotten a letter in January telling me that they are no longer accepting any co-pay assistance cards toward the max out of pocket from 3rd party payers. I was not prepared for this at all. My meds require blood work every 3 months and MRI once a year. I am not sure if Biogen will cut off assistance.
I am at the end of my rope with CVS. CVS is just targeted drug assistance for specific diseases. This is discrimination at it's best! I have been getting assistance for 4 years and just can't understand why CVS cares who pays for the meds. I did not choose to have MS and there is not many drugs out there that have generics. I gave them no stars on anything because their service sucks so bad.

Caremark CVS keeps changing my settings to automatic refill. I go on the site and change them to NO auto refill. They go back to auto refill. I call to tell them to take it off. It goes back on. I'm sick of getting a stockpile of medication that I don't need AND spending money that I don't need to. I just called and again the woman assured me that it's off auto refill. I asked for a refund for the latest one that was sent. They are sending a way to send it back for a refund. She said this will only happen one time. This is a dishonest business just trying to get more money out of me. I would not recommend them.

I recently went to refill my prescription and it was denied. The reason was because it was not a 90 day refill. I called Caremark otherwise known as care LESS, and was informed that because of their RULES they could not refill unless it was s 90 day amount. I tried to explain that the Dr only wants monthly due to dosing adjustment but of course their rules are more important than the real world. I can pay $84 dollars and not go through Caremark. We pay exorbitant healthcare rates to be treated like an annoying gnat. By the way I spoke with three different representatives none of which any help at all. A total waste of my time to reason with a worthless soulless conglomerate.

It feels like half the time I deal with this company, there is a complication. Two weeks ago, I called to get a vacation override on a medication and was told how to do it. Today, when I called to implement those instructions, I learned the original information was "incorrect". I've now spent approximately 2-1/2 hours on the phone dealing with this.
My sincere belief is that CVS WANTS to make us jump through hoops so that we'll get tired and give up. That strategy worked today. I finally stopped fighting, threw my hands up in disgust, and will pay 15 bucks out of pocket for 10 pills that CVS should have paid for. I'll try to attach a photo of the receipt after I pick up the prescription tomorrow. To CVS: What is your advertising budget? Consider about $10,000 of it evaporated because of the bad PR I'll be spreading to my family and friends. Your "rules and regulations" line your CEO's pockets while your customers have little but complaints to show for them.
How do I know I can trust these reviews about Caremark RX Inc?
763,773 reviews on ConsumerAffairs are verified.
We require contact information to ensure our reviewers are real.
We use intelligent software that helps us maintain the integrity of reviews.
Our moderators read all reviews to verify quality and helpfulness.
For more information about reviews on ConsumerAffairs.com please visit our FAQ.

Caremark has always been third rate in every aspect of their service. It has come down to a point now that when you try to get through the jungle of prescriptions expired or not by removing an expired prescription that they are all cancelled. When you finally figure this out, the site tells you to just re-enable the prescription in the details. Well folks, when you finally find the details option, there is nowhere to re-enable the refills. Now I have less than a week of a critical medication and I can't find a way to get it from them. I guess I'll have to pay full price at the local pharmacy again.

Every month I order my son's growth hormones we encounter an issue. They will refill a prescription over the phone and then the medication will arrive when it was supposed to. I call and I am told there was one of many numerous problems with the order, the prescription needs Dr. authorization, the address needs to be reconfirmed, there is an outstanding balance... etc. Never is this relayed where I initially call to get the refill and they also never call to say there is a problem. It takes me calling once the medication hasn't arrived. At that point, we are dangerously low on his medication or completely out. Then they have to send it overnight. I am very lucky this isn't a life-saving medication. Even so, missing dosages is not good. I hate to think about people using this pharmacy that could die without their medicine. I feel like a class action lawsuit is needed against them.

This year we were forced to change to Health Net and have mandatory use of CVS or CVS Mail Order for pharmacy use in order to receive 3 month fill/refill of medications. This discriminatory practice of mandating patients to use the pharmacy required and not their own pharmacy and pharmacist is deplorable. The last 3 1/2 months since 2017 began, attempting to get medications in order has been a complete nightmare, impelling one to just give up. As a health care provider myself, I find their practices to indeed be malpractice. Due to my complicated medical status I am required to use 2 separate sites to refill my medications. There has been every excuse under the sun for not filling and actually allowing me to run out of medications due to their inability to properly fill medications. This is the problem removing the pharmacist from being a member of a patient's health care team!
The incompetence shown on uncountable phone calls is only described as incompetent! At this point I'm still not sure if all my medicines are en route or not. In emergency medicine we are not allow to make mistakes, we do not accept incompetence in the ED and neither should it be allow in a most important aspect of patient care as Medication. Both Health Net and CVS is competent of both - malpractice and incompetence. They have removed the pharmacist, physician and patient relationship into just pill counters! Who cannot count. The only aspect they are proficient at is apologizing and transferring one to another incompetent individual apologizing more.

Website is sometimes confusing. Once I find what I'm looking for (e.g., automatic refill), it's fine. I go back and forth between the drop down menu and other tabs before finding what I am looking for.

I have been using CVS Caremark for many years. Until the start of 2017 everything was fairly good. Starting January 1, 2017 CVS Caremark has decided that any copay assistance from a manufacturer will NOT go towards deductible or out of pocket accumulation. My 1 life saving drug is $2727.96 per month x 12 months = $32,735.52. I receive $6500/ year copay assistance from the manufacturer. Now here it us March and CVS Caremark has burned thru all of my assistance and my copay that I have to pay is $1795 for 1 month. Next month, April, my copay will be $2727.96 since my deductible isn't met.
I don't go to the doctor usually because I don't get sick. Therefore, I won't meet my deductible unless I pay for meds out of my pocket, which is my entire month income. Who or what agency would be on my side to fight against CVS Caremark? It's past practice that they applied towards my deductible so I would think that would be a start. Any recommendations are appreciated.

Locally we use Giant Pharmacy mainly for convenience, especially for rx's we need immediately. For mail away we use Caremark, and as long as you remember your sign in, they are great. The turn around time is very little as long as there are refills available. They will contact your doctor if there isn't any refills left.

Unfortunately, I have had to deal with CVS Caremarks mail order prescription services for many many years. Horrible service every single time! Every time I have to call in, they mess up my order and it takes hours to rectify. My daughter has Type 1 diabetes so this is an ongoing frustration. A few examples: One of her prescriptions was out of refills. I requested our Dr. send in refill prescriptions for all of her prescriptions as well as mine. (Some of mine for allergies/asthma, I refill 1/x per year) A week later every single prescription was delivered to my house with co-pays over $1000, without any verification or authorization and they billed my personal credit card (not Benefits CC). I requested to have most of this shipment returned which at first they claimed they could not. Then they said they could and would credit my CC when it was received. It took 6-8 phone calls and almost 2 months to get this refunded after items were shipped back.
We moved to a different state and 5 yrs later, one of her auto shipments was sent to the old address which required almost 3 hrs drive to pick up. They assured me that they would note not to use this address again but could not removed it from their system. 9 years later, auto shipment was randomly delivered to old address and once again entailed 3 hr drive to pick it up.
Trying to get her glucose test strips filled: They said they didn't have the prescription, Dr.'s office resent it, then Caremark said insurance only covers generic brand. To get these specific testing strips that would Bluetooth to her insulin pump & be covered by insurance, would require Dr. note stating it was medically necessary. Dr.'s office FAX this in. A week later they randomly sent me syringes and infusion sets instead (which I had previously requested a permanent hold on as I was getting sets directly from pump manufacturer and she hasn't used syringes in years) Not only was there no apology but they now said they had no record of this prescription on record at all!!! 5-6 hours and multiple phone calls with condescending personal putting me on hold for 10+ mins at a time.
Call in to have prescription refilled, usually takes 4-5 phone calls. I can and request, they then call and ask how it should be billed (the same way as always and note is on record). Then a week later, call to verify that it is ok to charge the card on file. I could share many more stories like this but overall the personnel they have handling the calls seem untrained. Can never locate previous phone call records in the system, their escalation team is even more unhelpful/talks over you/down to you/wants to argue the facts, and there is never any accountability of their mistakes or changes to the same issues that happen over and over again.

Something has changed at Caremark. I have never in all the years using them had as much trouble as I have had with my last 2 prescriptions. There is no reason it takes 5+ days to process a new prescription. When I could fill it locally I would have within hours. Even more disturbing is when I called the first time I was assured my Rx would ship on Thursday, Mar 16 to arrive by Friday, Mar 17. When I called to confirm on Thursday I was told there was a problem with the Rx and they had left several messages with my Dr. I called my Dr and he had received no messages from Caremark. When my Dr office called to see what the problem was they were told there was no problem, it was just going thru the review process.
Last night I was sent a waybill number saying my Rx shipped yesterday for delivery today but UPS has no record of it. Someone is creating waybills but not actually shipping the product. They have charged me for overnight shipping and I won't receive it until Monday, hopefully. No one knows what is going on at this company. This is unacceptable, unprofessional behavior. It seems I will now be without my medicine even longer due to your lack of customer care.

Caremark defaults to automatically refill older prescriptions without realizing same doctor changed the dosage (and they just filled that script). Very frustrating as their system seems to do this at least 3-4 times a year to me and costing me well over $100 a year for these mistakes. I have to continually monitor my account to ensure I am receiving the latest and proper dose of medicines. I hate the mail order for this reason as my local pharmacist would be conscientious enough to look at my pharmaceutical history and ask questions before assuming incorrectly.

They lie and every time tell me something different about my prescription transfer from another pharmacy. They don't know what to ask and what information they need. They just wasted my time and cost me a high copay. It's the worst insurance and the worst pharmacy.

CVS Caremark conducts its administration of several prescription drug plans throughout the U.S. It has been proven that CVS Caremark discriminates against certain classes of clients. When CVS Caremark records are queried by customer service, their records are skewed as to support CVS Caremark's position and the records are not the true and correct accounting of all the facts, medical evidence and submissions.
In the matter of testosterone replacement therapy for men CVS Caremark attempts to prevent the authorization and filling of the prescription by instituting medically unnecessary and overly cumbersome requirements, (I.E. Medical evidence beyond the normal and customary medical submissions) on the provide and male patient with almost always results in a 1st level denial.
Yet in the case of a transgender teenage woman that desires to become a man and requests the same testosterone therapy, (and is not a medical necessity as cited from the above case of a male) she needs none of the above described medical documentation or proof of medical necessity, (I.E. Blood tests showing low t as in a man who needs this t replacement therapy). This proves that CVS Caremark discriminates against certain classes of clients, yet serves another class of client without the same internal requirements for filling a prescription.

I take branded ** - have for years, it works for me and with my manufacturer's discount, I pay $3 for 90 day supply... Or I did until our "new" Caremark service got involved. After calling my local CVS to refill my **, I was told I wasn't allowed to have branded and that if an exception were to be made, my doctor would have to appeal to Caremark. Excuse me? Beyond the medication decision being between me and my doctor, if Caremark doesn't pay for it as it's not in their "formulary", fine - I'll pay for it myself. What right does Caremark have to decide for me what I can or can't have??
It gets better - apparently Caremark mail order decided to take my request for my Crestor refill from my local CVS, fill it with generic and charged my HSA $58.94 without clearing it with me. I've sent a message to their customer service - I'd like to return the generic and have my money refunded, but we know that won't happen. To ensure they can't fill any more scripts and charge me, I've removed my HSA and credit card info. I will also be moving all my scripts to a local CVS and/or pay for my medication myself.
[Updated 3/23/2017] As a follow up to my experience attempting refill my long-standing script for ** - I spent several hours yesterday being shunted from customer (no) service to pharmacy tech to pharmacist dealing with the issue of my taking brand rather than generic. Ultimately I was told that my $58 charge would be refunded and they would note my file to contact me if any order for ** or the generic equivalent was sent in for mail order fill. No refund as yet.
This morning I got a call from my doctor's office. Caremark has since contacted them and suggested three other ** I could take (on their formulary) in lieu of ** or its generic (gives me hives) and wants to know what ** I've used in the past. With a family history of elevated lipids, I've used a ** for well over 20 years. Over that time period my doctors have determined that ** works best for me. So excuse me if I go with my doctor's decision rather than a customer service rep who may or may not have a medical background!

CVS/Caremark is a new mail over Pharmacy for my insurance Blue Shield. I recently ordered test strips for my Touch One Glucose monitor that my Blue Cross Primary Doctor recommended. A representative from CVS/Caremark contacted me to verify the One Touch supplies I needed. The delivery came and it was for a completely different monitor Accu-Chek. When I read the documentation enclosed it said they contacted my Doctor and he changed the prescription. When I called my doctor's office they said that was not true. When I called CVS/Caremark they just put me on hold. When called Blue Shield they said there was nothing they could do about it. Run. Do not walk, but run from these people. You would be better off just flushing your money down the toilet.

I have had prescription written for 30 pills for my morning sickness. They will only cover 12 pills in 15 days. Now my doctor is trying to get them to cover more, but while I am waiting I literally can't keep down water. So I am waiting for either the insurance company to approve something more or for me to be dehydrated enough to warrant a trip to the ER.

My doctor prescribed a new medicine that I needed to start ASAP. I called Caremark as the Rx was electronically sent to them. I told them I needed the Rx ASAP and they said I could pay for 2 day shipping $17 dollars and I specifically asked them the shipper and they told me UPS. I have had absolutely no problems with UPS (I have had many problems with USPS with the shipment of meds) so I again specifically asked them "was the shipper UPS". They said "yes". I ok'd the extra charge and this morning I went on my computer and they sent it via USPS parcel select lightweight which shows a 2 to 9 delivery day span. Why would I pay extra when I would have received the meds via normal mail in that time. Why are they lying to their customers?

I visited my Doctor on Jan 3, 2017 and was given a prescription for medication for my knee that is a specialty medication. When I handed the prescription to the pharmacist I also handed him my prescription card from TMESYS/Helios which is the medication provider for Xerox' workman's comp provider Sedgwick. It is now almost 2 months later and I still do not have the medication. I have been told repeatedly that there would be a co pay because for almost 6 weeks they attempted to put it through BCBS.
By the time I finally got it thru to them that it should not go thru BCBS the script had run out. Now they had to get another from the Dr. I cannot adequately express my utter frustration. I have made multiple phones calls sometimes in the same day and talked to a multitude of CVS employees, provided the correct information on TMESYS/Helios and contacts at Sedgwick several times to no avail. CVS is one of the recommended pharmacies used by TMESYS/Helios and I will go elsewhere when this med is needed again.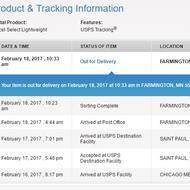 I have two addresses, a winter one in Arizona, and a summer one in Minnesota. On my latest prescription I called and was assured that it would be sent to my Arizona address. Wrong! They sent it to my Minnesota address. This morning, they blamed the post office, saying that CVS had addressed it to my Arizona address. How stupid do they think I am? How would the Post Office even know my other address? I'm out of the pills, since they won't refill until the very last minute, so they said to get some from a local CVS Pharmacy. I informed the representative that I had called two CVS stores and they don't have the pills on hand. The rep asked if there was a Walgreen nearby. Well, yes there is, but I asked her just how I was supposed to get these pills from their competition without a prescription?
I really wonder if anyone at this company really has a clue as to how inept they are? In the meantime, since I am a diabetic, and these pills are necessary to control my blood sugar levels, I wonder if they even care that I might go into diabetic shock. Since they won't send even a few pills out via Fed Ex, but said I would have to wait for another prescription via mail, and even that would take a couple of days to process, they show that they could care less about my life, or health! In the meantime, the prescription that they assured me would be, and "was" sent to Arizona is "out for delivery" to my Minnesota mail box!

New insurance this year and I have to use CVS Caremark for a specialty drug. I started the process of getting this two weeks ago! After calling several different numbers, having my doctor fax to several different numbers, they finally have my script now need to verify my insurance (which BCBS says they have access to instantaneously) and it will be sometime next week before I even can set up shipment on a drug that I NEED and am OUT OF! Their customer service stinks! No one wants to help! No one can find any answers! I'm ready to pay full price and go elsewhere just so I don't have to deal with them!!!

SilverScript CVS Caremark Part D is rip off scam! Thyroid med, 10 bucks cash price for 90 day supply. If I use insurance 40 bucks for 90 day supply for same exact generic medication! Joined because according to website ** insulin is on The formulary. When I went to fill it, said it was not on formulary and was given 30 day supply and told I needed to apply for an exception! Insulin syringe... Cash price 75 bucks! If I use insurance, 150 bucks!! So shopping drugs stores for best price is no longer relevant! They charge you according to tier regardless of cost of drug.
So I also pay 35 a month for the insurance that saves me no money that I'm not using because cost more to use insurance than paying just cash! So called and found out if I drop the insurance that when I sign up for new plan next year, I will be charged a penalty fee for not having the drug coverage! So now I'm in a waiting game to find out if I can change plans due to my complaint of a "poor performance" drug plan. It does not get any more stupid than this! Stay far away from SilverScript CVS Caremark prescription plan!

My prescriptions are written for 3 months and on auto fill. They never ship until I call and beg them for my order. Case in point - my last order was sent October 30, 2016 for 90 pills. Here is Feb 1 and I have spent hours on the phone and talked to five different people who told me different stories. One promised my medication would be sent overnight (their cost) on January 31. I called when I did not receive it and was told it was shipping today - Feb. 1. Today there is a tracking number that says it is waiting to be sent to USPS, and it could take 10 days. I will be out of medication by that time and have to go to my doctor and get a sample until I get it. If there is any other company you can use, do it and do not get involved with this one.

Every experience with this company is filled with mistakes, rudeness, ineptitude & misery. Every order has errors, every call takes 45 minutes & every employee you talk to gives you a different falsehood. I have no choice in what company I am forced to get my medication from as I am unlucky enough to work for the State of Kansas which contracts with this massive joke of a company which I think is criminal as they are our insurance provider & the company we are forced to buy from... monopoly???
If you are not forced to deal with them do yourself a favor & don't! They are unfamiliar with the contract with the state & no one will give me a straight answer. My calls have been disconnected when I questioned billing & customer service call notes "disappear". The specialty pharmacy ordering agent actually told me "customer service doesn't know anything". I was told two weeks ago that I have reached my out of pocket max for the year & the rest of the year I will not be billed but after I place my next order I was told I owed 4800.00. No one could find the customer service call center notes or could explain the difference. They promised to get answers & call me the next day but no call was received. Their website for the specialty pharmacy offers no information that is helpful & the parent company CVS Caremark's website is yet again different information. Having my health in their uncaring hands is horrible.

We recently signed my husband up for mail order drug service with Caremark. The very first medication they sent for his blood thinners was something we had never heard of. I had to call the doctor's office to find out what it was. I was told it was a blood thinner, just a different manufacturer. I then received a letter from Caremark stating that the drug was not covered under his plan and to call his healthcare provider for approval. I got someone on the line and they in turn got Caremark on the line. I asked how his meds got changed to a different one without approval. Caremark said it was something I needed to take up with our healthcare provider and the healthcare provider vice versa. A pharmacist was added to the conversation until 4 people were on the line and no one could answer a damn thing.
Bottom line Caremark changed the doctor's prescription to a generic of the generic my husband was already taking and it was covered as a tier one even though not in my formulary book. I asked Caremark why I was even sent the letter and why we were wasting everyone's time. She said she was sorry (didn't sound a bit like she was) and said if I didn't have anymore questions that she had other people to help. Maybe if they hadn't sent the letter in the first place we wouldn't have had to have this conversation! So far we are not impressed!

150% Price increase on a generic drug. I've been taking ** for over 5 years for chronic joint pain and depression. Been paying $75 for a three month supply of (** 120 mg daily) the generic of ** for a year or more now. Imagine my surprise when I was told by a CVS rep this morning that my co-pay for this prescription will now be $200. If this wasn't already a shock to my system the rep stating that it can be $173 if I ordered it today but it will go up. CVS has used this type of tactic in the past with me, (the price varies from month to month they say) and I don't buy into it. I asked them to put a hold on any further prescriptions. I don't believe they don't know the price of the drugs they buy in great quantities wholesale and sell retail at an exorbitant profit. Someone has to stop these type of pharmacies and the only way to do it is to stop purchasing their goods, which I plan to do.

I have fault with them off and on for years over illegal charges to my bank account that they then finally reverse. The latest issue was my Dr sent a prescription with a quantity that did not match the directions. Well they feel that they have the right to correct this based on the directions never considering the Dr might have messed up the directions and sent me my 90 day supply that would actually on last me 30 days. Without informing anyone! Well if they had informed me to the DR we would have realized the issue addressed the problem. Instead I go 20-25 days and I'm almost out and go to get more not realizing what happened. They do the same thing 3 more times me insisting each time they are wrong then they explained that the actual physical prescription sent from the DR said ** which only gave me the 30 days but the quantity the DR ordered was 45 which would have given me my 90 days. So now I know what happened.
I reach out to the DR Office who got on the phone with CVS Caremark to solve the problem. Then my prescription sat for three days saying "being processed", so I call and find out no reason just stopped. Then they cancel and resubmit the prescription they worked out with my DR. A day after I'm out of medicine. Now I'm being told I need a new prescription is needed which magical came in while on the phone with the Executive recovery team. No 2 weeks and they say they have no idea when I can have my medicine that I have been without for 2 days already.

I have been dealing with CVS Caremark for 4 days now. My son has a serious infection, for which antibiotics were prescribed. When I went to the pharmacy to get his prescription, I was told he didn't have prescription coverage. After trying every insurance possible (I have United healthcare for medical & CVS Caremark for prescription) I was told he was still NOT covered. I contacted CVS Caremark and they confirmed that he was not covered for the last 15 months. I asked why not and they blamed my employers benefits department. I was told to contact my HR department or United healthcare. I contacted United healthcare (my HR department was already closed) and they told me it was CVS Caremark I needed to speak to.
I called my HR department the next morning and they said they didn't show a lapse in coverage. That they would resend eligibility paperwork to CVS Caremark and that it would take 24-48 hours but that they would escalate it. I tried to pick up my son's prescription the next day and still a NO. I called CVS Caremark and again they blamed my HR Department, so I called HR. They said it was a priority and again, they didn't see a lapse in coverage, to contact CVS Caremark. I called CVS Caremark AGAIN, and they told me they had my spouse as my child, and my child had no coverage. I asked how this could happen if I've been getting insurance deductions from every paycheck (I told my HR Department the same thing) and they said they didn't know but admitted their mistake.
So I keep calling CVS Caremark for 4 days now (HR for 3 days) multiple times and all they do is apologize and say they understand, meanwhile my child is sick without any medication. So I finally get a call saying it's been resolved, go to the pharmacy and still CANNOT get my son's medication. I called both departments back and they're saying it's gonna take another 2 days! If I've been paying to have coverage, why are they taking their time to fix their mistake? Both departments have admitted mistakes on their ends but keep pointing the finger at each other as well (every time I speak to a new representative, I get a different story). Finally, Caremark stated my son has not had coverage since December 31st 2014, THAT'S TWO YEARS!! Why pay for insurance if they can cut you off whenever they choose to?
Caremark - RX Inc Company Profile
Company Name:

Caremark RX Inc

Website:

https://www.caremark.com/wps/portal