Consumer Complaints and Reviews

I was feeling rather funny as if I was in an airplane making its final descent. I could feel the pressure in my head and thought I had better get my blood pressure checked. I wanted to have it checked right away and thought I could go to the ER or to Walmart. It was a "no brainer" and off to Wal-Mart I went. They have a wonderful free blood pressure machine that does lots of other things as well. Thank you Wal-Mart, I got my answer. I returned to the same machine several days in a row. I felt like I had a friend and health partner provided by the good folks at Wal-Mart. Of course, I purchased something every day. Who wouldn't?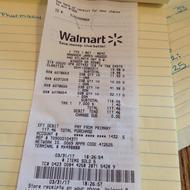 This is the fourth month in a row that I've requested prescription to be filled, given a pickup date, call to verify status of prescription and pickup date, when I arrived prescription has to be ordered, I can make up to 3 trips a month just trying to get one prescription filled. This happens repeatedly for months. My meds are supposed to be continuous or go back thru the whole plan. I contact the doctor if the pharmacy has a problem with prescription. Doctor decided to have all prescription filled for 3 months, go back again to Pharmacy and pick up all except for the one in question that I'm now completely out of, suppose to pick up today, but when I call to verify today I was told that they have no record of prescriptions.
Granted I picked up all but the original prescription that I wanted and am now out of. It is the weekend I can not contact doctor to get another prescription. When I picked up prescriptions that were ready but not needed yet price quoted $100.42. Rang up now the price is $117.24. Insurance card given price is now $98.02. I am on a fixed income and I budget every cent. Prices should not change 3 times in the course of the time to ring order up.

The round ** that Walmart always seems to give me work very little or not at all. The last batch seemed toxic, offered no relief, and made me feel more ill. Their computer says, and I have reminded them many times, that I want oval ** which work fine, relieves stress, and no side effects. The round .5 ** seem filled with junk that does nothing for you. Too bad not returnable! A lab should check what's in this junk. They conveniently almost always only have the round, so take it or wait for delivery.

Went to Walmart Pharmacy to buy **. Girl told me ** was its generic. I was not allowed to see the box. Got in the car and it said on the box it was ** which is more likely to make you drowsy which is the reason I wanted ** instead. Of course it is non-refundable which I totally understand. I never had an opportunity to see the box. The box was hidden from me until it was paid for. I asked her twice if it was ** and she assured me it was. I was really an inconvenience to her because she did not want to have to wait in customers. I called the store when I got home and realized that ** tends to cause more drowsiness which I am sensitive to. The pharmacy just said, "Too bad." I am out $16.98 with meds I can't take and nothing to take. No one at the store really cares either. Very frustrated.

I had my 2nd negative experience at Walmart Pharmacy today! I have been on a maintenance medication for 4 yrs now, I am stable and I work for a drug and alcohol crs program, which I am a supervisor at that! When I tried to have my script filled I was called by the pharmacy 25 mins later and they told me to pick up my prescription, and THEY WERE NOT COMFORTABLE FILLING IT, and I had it filled by them the previous month.
The pharmacist was so rude to me, and treated me as if I was standing there with a needle sticking in my arm. She treated me like a drug addict which I am not! I have never been reminded so blatantly of how rude they are. They even called my doctor and questioned his treatment in regard to my dose! I may even take this as far as suing them for defamation of character! I'm pissed off because the way Walmart treated me and many other people seeking help! If I weren't stable, this type of situation could've triggered a major relapse! Walmart Pharmacy sucks!
How do I know I can trust these reviews about Walmart?
740,446 reviews on ConsumerAffairs are verified.
We require contact information to ensure our reviewers are real.
We use intelligent software that helps us maintain the integrity of reviews.
Our moderators read all reviews to verify quality and helpfulness.
For more information about reviews on ConsumerAffairs.com please visit our FAQ.

As long as your medication is covered by insurance Walmart is like any other one - except for customer service and courtesy. However, if your insurance is not covering the medication then you know what a highway rubber it is, 2 examples: ** - a pre-surgery medication for people on ** is $465 (it's $72.19 in Costco). Is there any regulation to stop these from stealing? ** 30 pc $89 (it's $23 in Costco and $27 in Sam's).
I called my insurance company and they told me, "We do cover the medication (a pre-surgery medication)." I called back Walmart (but did not mentioned about my conversation with insurance co). They repeat the same pricing ($450) and your insurance doesn't cover it. When I told them what insurance told me ($72), the pharmacist started ranting nonsense. I told him, "If I would have come and pay $450 for that medication would you refund me the difference?" If I would have find out later. Was told, "It's depend on situation." It looks that they charge patient full price on medication that is urgent need. Scums.

Walmart Pharmacy is extremely frustrating. Time after time, again and again they can't seem to package my medicine in the bottles instead of those cardboard pill boxes. I am sorry to say, I cannot open those boxes and have to cut them with scissors. There is a note in my file but they do not care to even check their work. I sincerely hope they aren't mixing up the medicines for people on a regular basis as they mix up how to dispense them to their customers. I am done with them! Don't use them unless you have to.

I have had a cold for a couple of days now. My husband was going to our local WalMart (which is about 20 minutes away in Decatur, IN) for some other things. I asked him to get me some **. He went to the pharmacy window and asked to purchase some **. He was asked if the medicine was for him and he responded "no, it is for my wife who is back home sick." They then proceeded to tell him that the medicine could only be purchased by the person who needs it. Which is a crock. Indiana state law states that the person purchasing it can be questioned by the pharmacist about why it is being purchased, who is it for, etc. The pharmacist then denied the sale of the medicine.
My husband is in his mid 50's, gray hair, well kept. He does not look anything like a ** head. My husband then proceeded to go to a CVS store in our small town and was able to purchase the medicine per state law guidelines without any hassle. I called the pharmacy manager today to inquire why my husband was denied the purchase of the medicine. He said it is a judgment call. He then proceeded to tell me that my husband could have just lied and told the pharmacy staff the medicine was for him. I responded "my husband is not a liar." I told him that my husband went to the local CVS and purchased the medicine without difficulty.

Polite, competent staff when I pick up at the store, But... 5 STARS! This is what put them over the top. I have never in my lifetime had a real person call me up to tell me my prescription would be ready in 2 days. Not a automated machine. Keep up the great customer service Burnsville.

Verbally attacked and attempting to physically attack - I was at Wal-Mart last Friday to pick up medications due to having surgery last Monday. I was given misinformation in regards to my medications and was frustrated. The pharmacy manager didn't like what I said which was not threatening of any form, although Brittany ** attempted to physically fight me as I was sitting on bench while telling me I was ignorant. Also telling me that I would brain surgery although I had the other surgery Monday. She called security which I don't know why because I had surgery and was in no shape to even defend myself physically. I told them that I would leave once I got her name to call and file a complaint.
I'm still awaiting a call from the Districts manager whom I hope had time to review the tape to verify my complaint. She told me was a doctor but I have never seen a doctor act in such an unprofessional way as she did. If she that to me, it makes me think what else will she do. As she also refused to further assist me. I was emotional enough from emergency surgery but this incident added more stress on me as well.

Was told on February 2, 2017 that ** 25mg for my mother in law would be in on the 3rd. The next day we arrived to pick it up to be told they don't know who spoke with me but deliveries come on Tuesday. Presented today February 6, 2017 to pick up med. This time I am told that I will get a partial fill (3 pills) as the remainder won't be in until Thursday February 8, 2017. I give up! Taking all meds and transferring to Walgreens. ** is a med that must be continued. Being told three different things is really not acceptable.

Tonight was the last straw after two days and I don't know how many phone calls and trips to the store and still no prescription. EJ the pharmacist is rude, incompetent, and could care less about the customers. I will never step foot in another Walmart as long as I live. They left me with no medication for the night all the while whining about needing to get home, no one seems to know what the heck is going on or did anything to help. If Walmart was smart they would fire the whole unprofessional staff and start over!

I've never had a problem with this pharmacy. The pharmacist caught an error when one of my doctors prescribed a ** medication for me and I'm allergic to **. They contacted the doctor's office and got a new script for me (without **) and this was late on a Friday afternoon. The wait time isn't bad, but I'm impatient and it seems to take about 4-5 minutes to complete each person's transactions, including mine. They do not have a reward program that I am aware of.

My main reason for using Walmart pharmacy is that the store sells many other things. However, you do have to wait about 1/2 hour if dropping off a new prescription when they're busy, but at least at Walmart you can get other shopping accomplished or find interesting things to look at while you wait. Once, I phoned in a refill and it was not ready when I arrived the next day. Also, once when I picked up prescriptions, one was not in the bag and I had to drive back to town and wait for it to be filled. Usually things go smoothly though and prices are good.

Overall they were good in all categories. I don't have much experience or more like ailments to need to fill prescriptions from the pharmacy. However, I find the pharmacy in my local Walmart good on providing me with the information I need and a price better than any other local pharmacies.

The Wal-Mart pharmacy I use has no reward program but I have never had any trouble. If they cannot get it where you can afford it with discount Rx cards, they will tell you which pharmacy will be able to.

Been using the Walmart Pharmacy on Route 7 in Norwalk for the last three years and the experience has always been pleasant with the exception of the costs related to the prescribed drugs. Having said that, they are still the cheapest and better than most by comparison to any Walgreens, Rite-Aid, etc.. They're also convenient to me travel wise, and they're accommodating and knowledgeable. They are the 'go-to' pharmacy in this area of Fairfield county.

A lot of the time they don't have what you need and they offer a couple of days to get you through. They are very slow, not very friendly and don't always get Rx right too many times. Left to another pharmacy.

Hours are not bad but not a 24 hour pharmacy. The pharmacist don't seem to be any worse or better than any place else. The wait time is terrible. Often the phone system will say it will be ready in a few hours then I go there and find out they don't even have it and it's not ready for several days. They don't call you to tell you it's not in. They make you go there, wait in line only to find out that you wasted your time. But they have lower prices.

I go to a neighborhood market so it's smaller. Small town feel, pharmacist's get to know you on a personal basis and most of the people at the pharmacy know my name so I love it. There's no reward program but great prices as always!

I'm pleased with the services Walmart provides. Compared to other pharmaceutical companies or drugstores Walmart is the one I choose to shop with. The pharmacists are caring and understanding about any questions you might have about the medication and I wouldn't go anywhere else because of their courtesy.

Oct. 2, 2016 I went online for my medication refills. I picked them up Oct. 4. The next day when I started my refill of ** I noticed it looked very different. I call the pharmacy but was told sometimes they get their meds from different companies therefore they may look different. I started the medication. After taking it one morning and try to drive I had to pull over and call someone to pick me up. A couple of days later I had to go to the E.R. but didn't take my meds with me. After almost two weeks of taking this I was retaining so much fluid I became short of breath just walking across the room. I went to my primary care doctor this time taking my meds. I wasn't taking **. I was taking ** a narcotic. I went to the pharmacy manager who laughed and said "I bet you were sleeping a lot." He went on to say they had not carried them by that company for sometime but I was promised answers. He never called me and refused to take my call.
I tried the store manager but was told he was busy. I ask for the name and number of the regional mgr. He never returned my call. The 800 WalMart number was a waste of time. After three months I phoned corporate office in Arkansas and ask for an appt. with someone in charge, they will not do that. Finally a Mr. ** who claimed to be a regional mgr. called telling me they had not carried that company since 2002. I went on to tell him that I wanted answers that it wasn't the only mistake on my refills that day. That left off one refill but gave me two bottles of another refill. Yesterday I call a call from another man who claimed to be the regional mgr. who claims someone came into my house, took my ** and replaced it with a narcotic. I finally hung up on him. Strange that both men who claim to be the regional mgr. says they did nothing wrong yet both ask how they could make it up to me. I want answers. They gave a 63 year old with heart failure a narcotic.

I've never had to wait more than 10 minutes to pick up the prescription and if they don't have what I need in stock they will order it and I will normally have it within 24 to 36 hours. Also, the pharmacist is knowledgeable and the counter staff is friendly and helpful.

They are always there ready to help with any questions or problems that I may be having with a doctors offices. They not only help with prescriptions but also with over the counter products. And they can tell me when its time to maybe see a doctor.

Walmart is convenient for everyone. If you need it, they got it. Having other stores to franchise with is a way to do business. Walmart service me like no other. There were time when I ordered prescriptions. They were prompt when telling me that they didn't have it. They called around to find out who does. If possible, they placed orders to have prescriptions sent to the patient's address. Walmart is my number one department store. In choosing Walmart, they are the most effective and efficient way to buy prescriptions.

I am satisfied with service. The people are great, always smiling and ready to serve you. They will answer any question you might have regarding your prescriptions and will even call the doctor's office if something isn't right. I have never had a bad experience and actually love the professionalism from all the staff. I would recommend Walmart pharmacy to all my friends. The experience is well worth it and so are the prices. Plus you can shop while you wait or just browse. My favorite place is the craft section. Always love to see what they have. Who could ask for better a place where you can get all your needs.

The people are always friendly and professional. They are awesome, but the wait times are sometimes excessive. When a doctor prescribes medications that may have a problem with others, the pharmacist is quick to advise...

I go to Kroger pharmacy because the store I was getting my supplies closed and some of the employees from that store went to Kroger's and so did I. They're well stocked, quite knowledgeable, friendly and have a convenient location.

The past 2 times I've tried to get my medication filled the people at the drop off counter have had to see my ID. They take it and write all over my script. Maybe there are new FDA rules? But explain what you are doing please? That wouldn't be an issue if they didn't then tell me it could take hours OR DAYS to have this med authorized by the pharmacist. NOT my insurance... a person who decides if it's ok to fill a medicine. A preauth is PERFECTLY FINE... that I understand because the meds are expensive.
I'm also treated poorly because I'm in need of the medication. The woman I dealt with today was snide and rolled her eyes at me. Then she decided to inform me that IF they can fill it, IF the pharmacist APPROVES IT, I may wait an hour or I may wait DAYS. The med isn't something I CAN wait for! It's something I can't skip or just not take. BELIEVE ME, IF I DIDN'T HAVE TO BE MADE TO FEEL LIKE LESS THAN HUMAN EVERY TIME I DROP IT OFF I WOULDN'T. I called my doctor, the insurance company... ALL to be assured it'd go through. I've been here OVER two hours. I'll be late to work... because I need an ID to pick the med up! The last lady I spoke too is very pleasant but was tasked with telling me it'll be a few more minutes... AGAIN. I work today. I can't wait all day to be treated like I'm a FELON every time I come here! I pay the copays, I do MY side to be sure I'm not wasting my time AND theirs.

They have always did a great job. From day 1 when I went into Wal-Mart they've always helped me and they have good personalities. The pharmacist is very helpful describing your prescription and how to use them. They give you a smile, your prescription and tells you to have a good day.

ConsumerAffairs Research Team
The ConsumerAffairs Research Team believes everyone deserves to make smart decisions. We aim to provide readers with the most up-to-date information available about today's consumer products and services.
Walmart operates in-store and online pharmacies in most of its supercenter stores. Its pharmacies provide customers with discount brand name and generic prescriptions for consumers or their pets. Prescription refills are easy and they offer home delivery for medications, including pet medicine.
Prescription refills: Customers can refill prescriptions with Walmart's online pharmacy by either logging into their online account or by checking out as a guest. Guest checkout involves entering a date of birth and the prescription number located on the label. Seven prescriptions can be refilled at once. Walmart also has a $4 generic prescription list available for online ordering.
Home delivery: Walmart provides online pricing, ordering and delivery on 90-day prescriptions. Consumers can call a toll-free number to place an order for delivery or log in to their online account. Delivery is free for standard five- to seven-day shipping, $8 for second-day delivery and $15 for overnight delivery. Payments must be made by credit card.
Mobile pharmacy app: Consumers can download the Walmart app to manage their prescription orders, transfer prescriptions, see the $4 prescription list and place guest refills from the app 24/7. The app is available for Apple and Android devices.
Pet medications: Customers with veterinary-prescribed medications can get them filled at Walmart in-store or online. Consumers can use the mobile app for a quick and easy way to fill pet prescriptions.
Specialty pharmacy: Walmart's specialty pharmacy consists of a team of pharmacists, nurses and insurance experts to help consumers with special treatment plans achieve their treatment goals. It helps treat numerous diseases such as cancer, anemia, HIV/AIDS and cystic fibrosis. The specialty pharmacy offers online ordering, free temperature-controlled overnight shipping and reimbursement insurance claim assistance.
Accreditation: Walmart Pharmacy is accredited by the URAC for its specialty pharmacy services and also holds accreditation by VIPPS for general pharmacy practices.
Best for consumers needing specialty pharmacy services and a wide range of discounted prescription medications.
Compare Online Pharmacies
Wal-Mart Pharmacy Company Profile
Company Name:

Walmart

Website:

http://www.walmart.com/