Consumer Complaints and Reviews

I am reporting a pharmacy employee named Chris, and the pharmacist who was on duty and in charge at the time, Doug. First let me say that I have reported Chris before to the store managers at least twice, and nothing gets done about him. He is consistently rude to me and my husband when we come in, and has a very cocky attitude.
Tonight, 5/5/17 @ around 8 pm, I asked my husband to drop off my script for me. I am disabled with knee issues; my legs hurt so I waited in the car for him. We were on our cellphones to each other while he dropped the script off, so that I could hear how much it would cost. When my husband asked Chris to give him the amount, he spoke to him very rudely. Now, we have no problem obeying rules, and completely understand the 'privacy issue', but what we DO have a problem with is, HOW WE ARE BEING ASKED TO DO SOMETHING. What Chris SHOULD'VE said was, "Sir, I'm sorry, but I have to ask you to not be on your phone because of privacy issues, then I'd be happy to help you." But he didn't. What he said was, "You gotta get off your phone or I can't talk to you." My husband took the script and left.
I went in, alone, and asked Edgar at the register if HE could help me, and when he began, Chris flew over by us and immediately started harassing me. He looked at me, started laughing and said to Edgar, "She brought it back in!" I said,"Excuse me, brought it back in? And why are you laughing?" He said, "Your husband just came in here." That is when I said, "Yes I know, and you spoke to him very rudely." At that point Chris yanked down a laminated sign that was hanging from the counter. He held it in front of my face, raised his voice and cockily said, "You see this sign! You see this sign!" He spoke to me in such a disrespectful manner, I went over to the register and saw that Doug was standing in near proximity to the whole thing. He could hear how his employee was talking to me, and he most likely saw how he yanked the sign down and waved it in front of my face.
HE DID NOTHING TO DE-ESCALATE the problem, or to even HANDLE THE PROBLEM! He just let Chris continue to speak to me that way. They both treated me terribly. I asked Doug, "Are you going to let him continue to speak to me that way?" He responded with, "Have someone else help you." He didn't even attempt to move from his spot at his computer. I told him that EDGAR was helping me, and that Chris had no business in any of this. I went back over to Edgar where Chris continued laughing and talking crap about me under his breath to Edgar and another male employee that was there. I finally lost my cool and called Chris a little jerk, which he seemed delightedly about, because he laughed even louder and continued to run his mouth about the sign. I again went over to seek Doug's help, but again, he continued to do nothing.
An Assistant Manager, Terry showed up and I explained the whole thing to him. Upon doing so, Chris then loudly said to me, "HE (Terry) can't to anything to me, because he's not my boss and he's not with pharmacy." He continued talking and laughing looking at me and then whispering to Edgar. I pointed out to Terry his laughing; he blatantly saw it and did nothing, and said nothing to this employee. I asked him if he thought the laughing was right, in which he said no. I said that Chris was instigating and that he should NOT BE WORKING WITH THE PUBLIC. He told me HE could do nothing because it was 'pharmacy'. WHO IS GOING TO DEAL WITH THIS EMPLOYEE? Don't you see that he is literally shaming the face of Walmart? Is THIS the kind of person you want representing your company? HOW IS THIS BEHAVIOR ETHICAL? Doesn't Walmart have a responsibility and obligation to treat its customers with respect?
Every time I come in when Chris is there, he treats me rudely. He is sexist, and I would say Doug is a sexist as well. I mean, would he have done nothing if Chris did all this to a MAN? Or is Chris just racist because I'm ** and he is not? I never see or hear him talk to other races in this manner? Or could it be that he is prejudice because I am disabled?
This guy has the attitude of a spoiled child that gets away with murder because his superiors are not disciplining his actions. Is it because he is not **, and they are afraid of stepping on his toes? Or is it because he is not ** AND on a work/education visa, or scholarship, that he is not being reprimanded? Whatever the case, he is this cocky and unafraid because he is being allowed to crap all over those who CHOOSE Walmart pharmacy to fill their medication needs. Everyone else in that pharmacy is wonderful, we are always treated very nice. Chris is the only bad apple in the crew.

I am on several medications, and have been on some of them for many years. I had to get an exception for one, so I could get my full order of 90 tablets for a 30 day supply. This is one that if I miss a dose, I go through withdrawals. Well, when I got my refill the pharmacist called me, she said she didn't have the full amount. I needed some to get me through until their order came in, she said she can do that. I just called to tell them I would be there tomorrow to pick up the rest, only to be told I have to get a new prescription. She said, "When you accepted a lesser amount you're accepting as if that is what the doctor wrote for." Well, I was never told that, I would never have accepted that.
I am disabled and alone, I now have to go through withdrawals and, I will be in no shape in 10 days to call my refill in and catch the bus to go pick it up. I hope that I will be able to take my other meds. I have had nothing but problems with Walmart and Walmart.com for the last few months. I am done with them, my business is going elsewhere.

Called in prescription, went to pick it up. They said somehow the phone did not pick it up. I asked if I could come back later that evening to get it and she said fine. When I can be back they only had 8 pills. I usually get 3 months at a time because I take care of a bedridden patient. So... A few days later I have to go back to get the rest of that prescription only to find out they have changed hours without telling me (or anyone). I guess they do not think prescriptions for people are all that important?? So I am going back for my 4th time tomorrow to get one prescription. They could care less about people. They have the worse pharmacy hours of anyone already and they have some nerve to cut another hour off their already horrible hours. I am saying bye to this irritating group of people who could care less about their customers... They are just too big and powerful to give a rip!

Discharged from hospital, counselor cited hospital pharm price of $12 for generic, but suggested Wal-Mart as low-cost supplier with $4 program and sole source for affordable diabetic supplies. Discharged four hours after estimated time, little window for wife to collect generics and test supplies. Pharmacist told her about seven day return policy. Filled generic ** and ** (each $12 at hospital) for $90 each. Pharmacist refused return of unopened bag next morning. Explained price even higher than on-line since no coupon was presented. Oh, yes. The glucose meter had a dead betters and reports 50% errors in testing. Replacement FreeStyle Lite more sensitive with 95 percent read.

Very Rude Pharmacy Manager Derek. Wal-Mart Pharmacy did not have one of my prescriptions ready although they'd had plenty of time to fill. So I drove forty minutes back home then came back, stood in line 15 minutes and was told it still wasn't ready, told to come back in 20 minutes, returned again and told it still wasn't ready. Finally after sometime I was paged by the pharmacy manager, as I was walking up to rx desk I said, "It's a miracle!" The rx manager took offense to this and said "Do you want to take your business elsewhere?" I said, "I'll think about that." The rx manager said "Are you going to stop being condescending and treat us respectfully?" I then said, "Condescending? Respectfully?" He then tried his best at being sarcastic ie, explaining their meaning.
This young man should not be within 50 ft of a customer. He continued to push his rank trying to force me to give him respect? Respect is earned, which he obviously doesn't get. The younger generation think it is acceptable to be rude and hateful to their customers! What they don't care to understand is without customers they have no jobs!
How do I know I can trust these reviews about Walmart?
765,036 reviews on ConsumerAffairs are verified.
We require contact information to ensure our reviewers are real.
We use intelligent software that helps us maintain the integrity of reviews.
Our moderators read all reviews to verify quality and helpfulness.
For more information about reviews on ConsumerAffairs.com please visit our FAQ.

I was feeling rather funny as if I was in an airplane making its final descent. I could feel the pressure in my head and thought I had better get my blood pressure checked. I wanted to have it checked right away and thought I could go to the ER or to Walmart. It was a "no brainer" and off to Wal-Mart I went. They have a wonderful free blood pressure machine that does lots of other things as well. Thank you Wal-Mart, I got my answer. I returned to the same machine several days in a row. I felt like I had a friend and health partner provided by the good folks at Wal-Mart. Of course, I purchased something every day. Who wouldn't?

I've never had any issues with Walmart Pharmacy. The employees there have always been knowledgeable and quick. Pharmacist always gets to know the customers and makes us feel important. Good team.

I have no problems with my Walmart. The pharm people are excellent and knowledgeable. They have enough people to kick out the prescriptions. And so there's hardly any wait time -- my Walmart pharmacy is in Dallas on Montfort and Arapaho road.

Wal-Mart is a no nonsense place to get your prescriptions at a reasonable price. They have a 90 day supply offer that can't be beat by any of the competitors out there.

Wal-Mart handles a lot of prescriptions, probably more than any other facility. However the waiting lines are always long, snake around & move slowly. The good news is you can check out with your other merchandise if you have a relative small amount of items. The bad news is the pharmacist is not willing to give you advice now regarding which OTC items may work better and in 20 years I have been given the wrong RX twice. I get the feeling you're only a number.

Great personalized advice and instruction from the pharmacist. Quick to resolve problems. I don't hesitate to ask locations for products from the clerks.

Great people who are concerned about their consumers. Go out of their way to help. I cannot say enough "kind" words about the staff at this Wal-Mart.

The pharmacy has in several instances not filled the prescriptions until I'm physically in the store, even tho I've called ahead and been told they are ready or working on it, leaving me with a wait time of 15-30 minutes. I've stood in line waiting for help without an acknowledgement even when the staff don't seem to be busy. They do not call and tell you if the prescription cannot be filled and are not too reliable on letting you know when prescriptions are ready. On the plus side they are generally pleasant enough to deal with.

The people are very helpful. I think the wait time is to make you shop during this time. Usually from 30 min up to 2 hrs. I can't believe that a pharmacy this large would have to order main brand medications.

I feel that the price of their prescriptions is fair where a lot of others are way too high. There are many of the Wal-Mart store around the area and are easy to get to.

Wal-Mart Pharmacy opens too late in the morning. They have limited staff and most act like they would rather be somewhere else. The lines are horrible. For a store that operates 24/7, I feel the pharmacy should be available 24 hours.

For the most part this pharmacy does a good job. There are times when the waiting line gets backed up. The people are friendly and helpful. I can shop while I am waiting.

Products are not in stock and have to come back 2 days later. Wait time is 15-30 minutes. I had one clerk yell at me because I didn't tell them it was through GoodRx even though all my other prescriptions were through GoodRx.

I only have my prescription at this time. When my doctor called it in it was ready when I got there. In the past I used chain stores and the waiting was extensive.

This is the Wal-Mart located in Uniondale NY. The head pharmacist is extremely knowledgeable and they are great when dealing with doctors and ins. companies.

I feel that all the time and experience with this pharmacy and the staff I deal with no matter if it's in the daytime or evenings. I have always been happy with the helpful and very nice customer service received by either telephone or at the counter.

The wait time is outright disrespect to the customers, the staff shows a lack of understanding of the word "customer service". For example one day one of my family member witness a fight between two customers sick and ill, standing for a long period was due to the long wait time.

It's Walmart so a person comes to not expect much but the staff is prompt and courteous. The pharmacist needs a bit better of personal skills but they get the job done and it always seems to be right.

Gulf Shores Wal-Mart Pharmacy has trouble filling my prescriptions... my doctor even suggested I change pharmacies for this reason. I switched to the Foley Walmart.

The wait is sometime long but I understand that. But when you get up to the corner and right away you sense a bad vibe like no smiling, quick answers and tapping on counter with finger I feel sometimes they don't know how long of a day I had to then come to their serve and feel like I'm blower off or I was a bother. I decide me change to another store.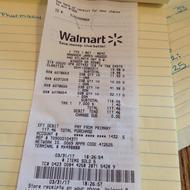 This is the fourth month in a row that I've requested prescription to be filled, given a pickup date, call to verify status of prescription and pickup date, when I arrived prescription has to be ordered, I can make up to 3 trips a month just trying to get one prescription filled. This happens repeatedly for months. My meds are supposed to be continuous or go back thru the whole plan. I contact the doctor if the pharmacy has a problem with prescription. Doctor decided to have all prescription filled for 3 months, go back again to Pharmacy and pick up all except for the one in question that I'm now completely out of, suppose to pick up today, but when I call to verify today I was told that they have no record of prescriptions.
Granted I picked up all but the original prescription that I wanted and am now out of. It is the weekend I can not contact doctor to get another prescription. When I picked up prescriptions that were ready but not needed yet price quoted $100.42. Rang up now the price is $117.24. Insurance card given price is now $98.02. I am on a fixed income and I budget every cent. Prices should not change 3 times in the course of the time to ring order up.

Every time I go to the pharmacy at Wal-Mart on Deans Bridge rd in Augusta, GA I have had excellent service. I would recommend going through Wal-Mart to fill all your prescription needs.

The name of my store is Fred Meyer. The wait time is usually long. Sometimes, they will have a prescription ready and I will have to wait for another. Moreover, the pharmacy will call or text to let me know my prescriptions are ready, when only a couple really are. That gets frustrating. Despite this, they are a really good pharmacy.

More seating could be added, more courtesy, more registers open, longer hours, more discounts available to seniors, more things at a lower cost, wider aisles.

The service is great and the pharmacists and assistants work hard to assist and give good service. They provide printed materials which give the names of generic medicines and information about cost savings including discounts.
Compare Online Pharmacies
Wal-Mart Pharmacy Company Profile
Company Name:

Walmart

Website:

http://www.walmart.com/