Consumer Complaints and Reviews

So, I saw these bad reviews online before I purchased something online and I was like nothing bad ever happens to me when I purchase things online, boy was I wrong. Saks Off Fifth is the WORST store I have ever purchased from. I ordered a Valentino bag. I looked up reviews a few hours later after I purchased it online and found out it was not the real Valentino bag! It was a knockoff! I CANNOT BELIEVE THEY WOULD SELL KNOCKOFFS. I called customer service immediately and they told me they couldn't cancel the order even though it was literally just ordered. Now I have to wait for the bag to be shipped to me in a few weeks THEN PAY to return it! Shipping costs $70 to ship it back!

I spoke to a higher official in Saks yesterday and she resolved my matter.
Original Review
Attention: If you are **, please boycott Saks altogether. I am a law abiding citizen and I was a victim of racial profiling at one of the Saks stores. About a month ago, I was browsing in the shoe section and I was wearing a pair of Michael Kors flats that I purchased in 2012 (They were mine and I wore those to the store). As I was trying on a beautiful pair of heels, I took off my right MK flat and tried on the heel. My behavior was not suspicious. I was just trying on a pair of cute heels.
As I was trying on my very first pair in the store, a sales associate approached towards me very aggressively. After she approached towards me in the most aggressive manner ever, she asked me " Did you previously had these shoes" pointing towards MY Michael Kors flats. I was shocked and confused and for a second I thought, well maybe she is asking because she likes them and maybe wants to know where I got them from. I then said, "What do you mean", the racist sales associate then replied," Did you had these shoes before you walked in the store" I replied "Yes" and then she walked away. I was so humiliated by that. I went to my friend who was shoe shopping in another section and told her about this altercation.
Meanwhile the racist SA walked over and I said to her "You thought I stole the shoes?" She said "No No, I had a missing shoe thats why I asked." That was a lie and that statement was a cover up. I felt that she advanced towards me trying to accuse me because I was a **. My behavior was NOT even 0.1% suspicious. I started getting sick because it was the first time someone ever tried to accuse me of stealing. I then told the store manager about the altercation, she was understanding but not helpful. I then took this matter all the way to the DM. The DM replied back after 10 days and said that those events were unfortunate but there was no racial profiling. I asked him what promoted the racist SA to ask me that question. He then replied that this matter is now closed. Please avoid Saks if you are **.

I placed the order at Saks Fifth Avenue online. But half month passed and I still didn't receive the package then I decided to cancel the order. I called but was told I can't cancel because they had been shipped. Only thing I can do was to wait to receive and return it. Return by mail, which cost you money, and to store. After I received the package I even didn't open it and brought it to store to return it. But what was more terrible is there was still one lip didn't ship to me! What the sucks! I need to wait to get it and return to store again. But half months passed, no package anymore!
I had to call Saks again. And was told to wait 7 to 14 business day to get the investigation results! The representative was arrogant and not helpful! I won't buy anything at saks. Never! I once bought eye cream at Saks, but there was no problem at that time. This time, some problem happened, but they are not willing to help you, just make you troublesome and wait! It is easy to buy on saks but if you want to return something, Horrible! Stay away from Saks!

My husband bought me earrings for my birthday ahead of time (of course). You usually buy gifts ahead of the date. When I went to return/exchange the earrings, they told me I was over the 30 days (by 5 days) and they would not allow me to even get a store credit. That is unheard of in this day and age. There is way too much competition out there for stores to be making up such ridiculous policies. I will never shop there again and have instructed my husband not to ever set foot in the store again. The earrings were of poor quality for the price. At the very least, the quality should be good but they can't even provide good quality. Never again Saks 5th. Your management is living in the past. You should be going to other stores to see how easy it is to return or exchange things after 30 days.

I returned four items in the same box to Off 5th. I was only refunded for 3. I was given the run-around for over a month, while I was told by one CS agent after another that a video review would be conducted. I continued to contact CS by phone and email and got nothing but BS. I finally contacted the BBB and with no reference to any videos or proof, they simply responded that I did not return the item. I had purchased close to $1000 of merchandise in the past month, which I did not return and they are accusing me of trying to rip them off?
I want a copy of this video that probably never existed to begin with. In that case, with no definitive proof, any other reputable store, would have issued a refund. The item was a bracelet and was probably stolen in the warehouse. I had even gone so far as to describe the fact that the item was probably missed because it wasn't mailed back in original packaging and gave a detailed description of what I did mail it back in. This company has no morals and, based on the other complaints I've seen, should be shut down!
How do I know I can trust these reviews about Saks Fifth Avenue?
633,951 reviews on ConsumerAffairs are verified.
We require contact information to ensure our reviewers are real.
We use intelligent software that helps us maintain the integrity of reviews.
Our moderators read all reviews to verify quality and helpfulness.
For more information about reviews on ConsumerAffairs.com please visit our FAQ.

This has got to be the worst customer service out of all the stores. I shop at Bloomingdale's, especially Nordstrom, Lord & Taylor and Neiman Marcus and this is the worst customer service for the online store!!! The only way you get good customer service is if you go into the very high end Saks Fifth Avenue store on Greenwich Avenue in Greenwich CT. They don't carry everything online and usually have the most high end merchandise so you will get assistance in the store but if you are shopping online the customer service is notorious! It seems as if the online part of Saks is running itself. There is not corporation that is connected to their customer care. It just does whatever it wants in regards to the customers. Stay away!

I really like to shop on SAKS FIFTH AVENUE. Good quality, friendly service and the most important great promotion events. But all these didn't happen on my recent order purchased experience. SAKS really need to upgrade their system and service. I had a hard time to dealing with SAKS regard to my order. On my original order that I have purchased online which is successful also received my order # via email.
After a week since the order has been placed I received nothing (no confirmation, no notice, said something wrong) and I called the customer service and had been told by a SAKS sales associate who works at SAKS customer service, that there is a web error occur and has to be replaced. So a SAKS sales associate help me replaced my order by phone. I thought this time I finally can get what I purchased. Unfortunately, after 10 days something happened again. And this time is more complicated. Through all this, I don't feel like I have been treated as a valued customer. Finally, I canceled my order today.

Disgusting how such a company will make $10 dollar ** in low quality apparel. Price it $200 and then show how many times they have reduced so then you think oh... it's an amazing deal. I would guess that apparel sold at Walmart has more quality. Horrible and shame how Versace and Cavalli will play with their names. Cheapest materials you can imagine are used in their apparel.

Now that Saks and Neiman's are owned by Cap1, service is horrible. Well at least Saks. Neiman Marcus seems to be still providing high class service. I ordered a shirt from Saks OFF Fifth's website back in August. I wanted to wear it for a special event. I chose next or two day delivery and the shirt along with a pair of boots that I didn't order showed a week later. I was charged $7.99 for shipping - now mind you I am an account holder. I've never been charged for shipping as an account holder. I returned the shirt and the boots that didn't belong to me and was charged $9 for using the label provided in the box for returns. When I reviewed my statement I saw that I was only credited $6.38 because they had only given me back the cost of the sale item.
I called and the first time the lady just explained $6.38. I called back and a nicer (she even asked my name as the first representative did not) to ask why I was charged $24 but only got back $6. She explained and then suggested I ask for the shipping costs back. I got another representative who was bored with my problem but said they would reimburse the $9 return fee. I will not be ordering anything online from Saks again. Thank goodness we have both stores (Saks and Off Fifth) in my area. NM will get my online business from now on.

The website for this store is now run by Capital One. They are incompetent and dishonest. My account was hacked several times and merchandise was ordered. Someone downloaded my points and brought the print-out to a Saks store where they used them. They could not have provided ID. I became so frustrated with these people that I cancelled my account. I had a credit remaining of $519.40 plus points in the amount of about $150-$250. I was promised that they'd send me a check within 5 days, but while they sent me a letter acknowledging the closure there was no check. Today I got a phone call from an employee of Capital One's fraud department. His name is Wade and his employee number is **. He is a condescending ** who called me a number of times before assuring me that my account was safe. But it's apparently not safe from Capital One employees.
Here's the scam: My account password was changed so many times, according to CO I don't have the right one anymore. I have all the other information, AND WADE CALLED ME THIS MORNING, but I can't get information about the check because I don't have the account number according to them. I can provide a driver's license number and the answer to all four of the security questions they set up in case I lost the account number. But it's not enough. Yet they gave away my points without asking for any ID at all.
The thing is, every time you call them, you have to wait for at least 30 minutes to talk to someone. At this point, if I don't receive a check in the full amount within a week, I will walk down to the Courthouse, which is about 1 mile from my house. and I will file a suit in Small Claims Court. I am a lawyer and my husband is a law professor. As long as it may take, I will pursue my claim against Saks, Capital One, and Wade.

On March 28, 2013 I received my online order. I opened the box and realized they sent me the wrong shoes! I contacted customer service, I was told to email photos of the shoes. I received a reply email from Robin **, a Sacks Associate. On the email she said "our distribution center checked the shoes in their location and are stating that they are correct. However, they did not explain how you may have received the item with the incorrect heel width. As you received the item incorrectly, we can request a pickup". I sent the shoes back. I few days later I received a shipment from Saks. I couldn't wait to try on my new shoes!
I opened the box. On top of the shoebox there was NOTE. A hand written note on a postit stating the shoes I sent back were FAKE and could not process the exchange since I may have purchased the fakes on eBay! My goodness I was devastated. I did not know what to do. Does this really happen?! This was a mistake! I don't buy FAKE crap! An investigation was opened on April 24th by Kevin, an associate. Unfortunately I did not get his last name. The "investigation" didn't go anywhere. I was stuck with fake Christian Louboutin's. My husband took over. He dealt with Eliot **, Saks Direct Team Manager. After endless phone calls and emails, the issue got resolved on May 15, 2013. Eliot ** made it seem as he was doing us a favor! Total jerk. I will NEVER purchase from Saks.

I went to look a designer bag but the customer service are terrible! I personally went to Louis Vuitton and Prada. When I got in my first store (Louis Vuitton) they DO NOT greet or ask about what I was looking for!!! I had to ask a question in order to make them speak up!!! Same happened when I got in my second store (Prada). I waited around half an hour to get help and never gave me any recommendation and if I wouldn't ask them the sales doesn't even speak up!!! Anyway I finished the purchase in Prada spending over $1000. I was in a hurry. If not I wouldn't recommend ANYONE buying ANYTHING in that place. Even normal retail stores are wayyy nicer. What a terrible customer service!!!

Very upset about their fine print in return policies. I bought two of the same exact dress for my daughter's wedding for $405.00 each and returned one past 30 days. One I bought in April size 14 and the other in May size 16. I returned the April purchase within the same season 45-60 days tops and they give you back about 1/4 of the price? Other high end department store like Nordstrom does not have such stipulations. There was absolutely nothing wrong with the dress and I returned it in June well before the season was over. They took over 3 weeks to credit my account.

The original 5 pictures posted on GILT website, I carefully zoom in every single picture until see nothing major damage to place an order. However when I received the actual merchandise, what a disappointing! The below pictures shown the front corner leather broken, the back left and right corner edge also broken, as well as the from cover right upper area seeing the scratch the skin is peeling.
I know this is an used merchandise, but according to the details description on the website, it's indicated an excellent condition like a brand new, I did not see any damages like those described above. Is this a SCAM? CRAFTY DECEIVE? Where are those damages hiding? This Name brand purse is not $34, not $340, it's $3,400! I believe no one will like to be full like this. I urge for the return with FULL REFUND. How it was paid, how it should be returned in the same way. I trusted the GILT name is the same as the SAKS FIFTH AVE, the business should be respectful and thankful.

The store sold me some designer shoes that were very narrow, also defective (they squeak a very loud noise). I wish I can attach video but I probably will attach on Instagram. The shoes were a very expensive brand 1000 k. After several attempts nothing is happening. Well it looks like I might be taking them to small claim if I don't get this resolve!

I paid $40.68 for defective shoes. For having to return them because the strap on one of the shoes is defective it cost me $17.49 for shipping costs ($7.99 for the original shipping and another $9.50 to return a defective product!). Do not purchase from this company unless you want to risk paying double shipping and be left with no product. If the company is selling a defective product they should be refunding the whole amount! I am sure they will turn around and sell my returned item to another person. I am sorry I did not come across all these complaints before my original purchase.

Just like J.S., I too had an appalling experience with customer service of Saks' online store. I attempted to purchase an item on 23 July 2013. During the online purchase process, I was asked to select a method of payment. I selected PayPal (which has been my preferred choice of payment method for the last 10 years). Once my PayPal payment had been approved/authorized in favor of Saks i.e. monies (equivalent to the purchase price) from my PayPal account had been reserved for Saks, I was then directed to another page to finalize the purchase. This is where the problem commenced. Upon confirming the order, an "error" message came up (I think that this was due to a technical glitch in their system) and my purchase did not go through. I was not given an order number, nor did I receive any form or correspondence from Saks acknowledging my order.
However, upon accessing my PayPal account, I saw that monies were still reserved in favor of Saks. Therefore, I sent an email to customer service. To cut a long story short, I was told to place a new order (with further payment) in that my other order did not go through. As for monies already reserved for Saks via PayPal, I would have to wait 10-14 days for the reservation on the same to be lifted (depending on my bank). Given that the order never completed i.e. I never received an order number or order confirmation so normal terms and conditions of sale do not apply as there is no contract, Saks had a duty to immediately access their PayPal account (which, by the way, a lady at customer service said they do not have!), click on my PayPal transaction and cancel the same.
In this manner, the hold placed on monies would have been lifted and I would have been free to use such monies again. I tried to explain to customer service that in this instance (i.e. Saks being at fault), their normal 10-14 days wait does not apply and that a purchase made with PayPal as a method of payment is not the same as making a purchase with a credit card but my explanations fell on deaf ears. I was even told that I must contact PayPal to have reservation/hold on monies in favor of Saks lifted! Saks has a serious problem if this is what they have trained their staff to say. I suggest that they send their customer service staff on a PayPal course on how to deal with PayPal payments. Bottom line, what Saks has done is bordering on theft.

I have made purchases on this website before which it's fine. Last Saturday I ordered two pairs of shoes and applied two promo codes. Thought I would save some money. I got the confirmation email right away and put the whole thing behind me. After 6 days I thought their shipping was a little slow so I logged into my account only to find out my order is cancelled, for absolutely no reason. I haven't got any emails about the cancellation. The items I ordered are still in stock. I just don't understand why they are doing this.

I am a frequent shopper of higher end store like Saks and was appalled at their complete lack of customer service today. I purchased several dresses totaling over $1,000 and needed to return them (the day after they were delivered) as they did not work. Long story short the included return label could not be used as it had been damaged somehow. So, I contacted Saks to get a new label - knowing the label had never been used therefore Saks had never been charged I assumed it wasn't a big deal to get a reprint. I was told rather rudely that they do not provide new labels even if the one they sent was unusable OR one was never included. It was on me pay/send the item back myself.
Am I seriously supposed to believe Saks has no ability to reprint a label? One that was NEVER used so it's not like anyone is out money? Then to top it off she rudely told me that Saks DOES NOT OFFER FREE REFUNDS like every other store. I realize that I should have known that but I swear they didn't used to charge. Plus every other store (included competitors like Neimans) allows for free returns. I was shocked at both how rude the service rep was as well as how customer UNFRIENDLY their policies are. I will stick with Neiman Marcus, Nordstrom, Barneys, etc from now on...
Also, be aware that Saks now has a ton of "final sale" items on their website (also super unusual for a dept. store...). This is new so I'm sure people might not realize and be stuck with items assuming they can at least exchange them. I assume Saks must be hitting hard times financially if they have to start instituting these crazy policies...

I ordered a belt outside the Amazon matrix about a month and a half ago. This was a rarity for me. I ordered a simple Hickey Freeman belt from Off Saks and it arrived after about a week. I'm used to a couple of days. After waiting for that length of time, it was the wrong belt. They completely failed on the order. I immediately started the refund process. I held for almost 25 minutes the first time and then was transferred and asked to call again.
Finally got instructions the second time and then started a laborious process of trying to get credited again. It has now been well over two weeks and still no credit. I am able to track my Amex on an app. I have spent about 2 hours on the phone and all for a ridiculous $62 refund. My time is worth infinitely more than that, but it is now the principle of the matter. I am amazed. Truly amazed. I have been told it would be credited back several times and still no action. Each time they tell me they are still backed up.
Look, this is really pretty simple. The retail market is reeling with Amazon. I understand that. But, if places want to compete (Walmart, Target, Off Saks, etc..) in the game, this is a joke. Amazon has my undying love. By the way, I ordered a belt for $14 through Amazon which would have rivaled the belt I was to receive from Off Saks, and it came in two days. As always.

Purchased a pair of jeans for US$79 on 7th July and received a confirmation email shortly after. By the 13th of July I'd received no further contact to advise of shipping and my visa had been billed. As I live outside the US on the other side of the world I decided to avoid an international phone call and use the customer service chat on saksfifthavenue.com. The customer service agent informed me the order had failed, this is despite the confirmation email advising me the order had been processed and my Visa billed six days later.
I have to wonder if the error would have been discovered and my Visa charge reversed without me making contact? And re: the refund, was advised this would take 7-14 days, I'm assuming this is 7-14 days since I made them aware of this issue. Not good enough from a modern online shopping brand, especially when there are other companies like ASOS.com who can turn an order around and ship it within 24 hours and I can receive the order in New Zealand within 5 days of clicking "purchase". This was my first order from a Saks site and a subsequent order (made within 24 hours of the first) failed at an earlier stage. I won't be shopping there again.

I place an order on July 6th using my ShopRunner account to receive 2-day shipping. The order shipped July 7th, but was sent ordinary ground shipping, and arrived too late. The only reason I used Saks.com instead of Sephora was for the expedited shipping. Customer service was only willing to "put a note on my account" to give me free overnight shipping on my next order. There will certainly never be a next order. I suggesting avoiding saks.com under any and all circumstances.

When you buy a Versace purse, you'd think it would come timely, and non damaged. Well I was wrong to assume that. My bag was damaged. I returned it online with a fedex pick-up they scheduled. First, they said "oh we can't find your tracking", so I provided it to them. Then it was "oh you have to wait 14 business days for a refund." Then it was "call by Friday and we will refund you." Then it's "call by Monday." Well I have no time for that. Again, if I wanted crappy service I'd go to Walmart, so shocking when this is supposed to be an upscale store. I had to file a charge back. How pathetic. Lost another high spending customer. I'll be going to Neiman Marcus or Nordstrom. Saks stinks! Never again. FYI they own lord & Taylor so don't shop there either.

I ordered three pair of underwear off the website 18.00 each. When they arrived, they were 3 for 45.00. I called customer service and gal said "your tough luck, suck it up or return them" then cleared her throat and said, "when you buy online it's a gamble and you have to pay whatever is charged." Yes, from a Saks customer service rep. They really need to have a class action lawsuit filed against them. I see others who have been exposed to their ripoff pricing. You can NOT charge more than the price and get away with it time after time. If they wish to charge more, then they need to remove the lower price point!

Whenever I go into a Saks Fifth Avenue store, the service reps seem "too busy" to notice and some even walk right by without even a smile. I seldom go there because the shopping experience is not pleasant and it looks EMPTY all the time... I almost thought it was closed when I went in because NO ONE was around, no customer, no staff... then I hunted someone down for a question and she told me "she's not in that department" so I just left... what is wrong with these people!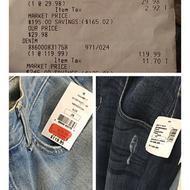 Is this even LEGAL or RIGHT to treat customers this way??? I believed this particular Saks Fifth Off store violated Consumer's Right. I went to Northbrook location Saks Off 5th on Sat 5/21/16 to shopping for pre-Memorial Day's week sale. I was going to purchase 6 pairs of jeans from the same racks & they're all same price, but there were 2 pairs of jeans price tags was $29.99. But when the saleslady scanned the price it was $119 & $69, so she took off the sales sticker right away in front of me and said can't give me that price. Then I stopped her from ripping off the sticker of the second pair jeans & I said I need to take a picture to show the store manager. This lady claimed she is the store manager. Then I asked to speak to her supervisor, she said the supervisor is on PTO. I told her as the consumer's right, even if this tag was by mistake she should of give customers the sale tag price because first of all this is not my mistake.
I spent a lot of times & $ shopping at this store. However this lady took off the both red stickers & said can't give me the sale price because of her store policy, but then she charged me for $119. The jeans I never purchase. This is so wrong. Not giving customer price adjustment even though this is obviously the store mistake & wrongfully charged the jeans I didn't purchase. I asked her for her supervisor's contact information. Then later I found out she gave me her card instead of her supervisor cause when I called it was the same lady answered the phone.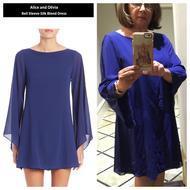 I ordered a $400 Alice + Olivia silk dress online. The dress that came in the mail was nothing close to the picture. The actual dress I received was AWFUL. It was horribly wrinkled, a different color and different design than what the picture showed. The sleeves are not sheer like the picture and the material is such poor quality there is no way it's silk like the description claims. I am so disappointed and disgusted.

Ordered a gift for my out of state daughter. Wrong item was sent. Called customer service and I was told they needed a picture to verify that it was indeed a mistake. I obliged but was annoyed at this request since they should just trust (like Nordstrom does). So the customer service rep promised to call me back, promised to have correct item re-sent. Following day, after not hearing back from them I called and their mistake was verified and they said they would send correct item but would be charging my credit card for this "2nd purchase". I objected to that as I know Nordstrom has amended their mistakes by overnighting the correct item at no additional charge and they will give you 30 days to return item before they charge you for 2nd item. I figured Saks would do the same considering they are a high end retailer. I assumed customer service was a priority. Boy was I wrong.
After the item was returned, I had to wait 14 days for the credit to appear on my credit card statement minus the $15.00 shipping and processing... for their mistake. Oh and by the way, the replacement item still was not sent. I called and was told they did not sent the replacement. No explanation was given. According to their website it was very much in stock and ready to be mailed. I requested they waive the additional $15.00 I was being charged for their mistake. Begrudgingly, they agreed but said I would have to wait 14 days for this transaction to go through. I am in shock at this entire shady operation. I never raised my voice over the phone with anyone. I only asked that this mistake be corrected... Not only did they fail to correct it, but they are charging me extra for their mistake. I will never do business with them again. Nordstrom, Bloomingdale's, Neiman all show me they value my business. Saks is a disgrace.

I ordered an expensive pair of shoes for a friend's wedding. They shipped me the wrong color. And when I attempted to exchange it the color I needed was sold out. I asked for help locating the item in a store and the lady said "sorry, I'm not able to do that". I know that is not true. I expressed surprise at her answer and said I expected more assistance in rectifying their mistake. She snapped and loudly told me "I apologized what else do you WANT?". I escalated my phone call to her supervisor who was apologetic and offered me a 50$ gift card or 10% off. I took 10% off, however was unable to apply it to any of the brands I was shopping for. They conveniently omitted the part about how it doesn't cover ANY designer brands. For the amount of money I spent here I expected way better and more professional customer service. Get people who understand the meaning of "SERVICE". The ones working there now just know "ATTITUDE".

Just had a poor online shopping experience with Saks. I bought something online last week and got my orders - cancelled yesterday without any compensation. The email said no reason for this cancelling. When I called back the representative was extremely rude and yelled at me. So I had to change to another representative. They said the item was out of stock. But right now I could check online that it is in-stock. So what if somebody else bought it online right now? Are they going to receive that item while I got my order cancelled?
Saks said they may have some problems with their database system but they didn't try to offer me any compensation for my loss. That item was a gift to my girlfriend. We spent a long time shopping and the item was so important to us. Saks just brought me a lot of troubles and wasted my time, and now it even wants to let the customer face the problems themselves. That is totally unfair for us. It is Sak's problem with its online system. I have never met this kind of problems or solutions before (indeed, no solution offered to me). We are very disappointed about this experience with Saks, and we never know that Saks trains its representative to be that rude.
Saks Fifth Avenue Company Profile
Company Name:

Saks Fifth Avenue

Website:

www.saksfifthavenue.com