Consumer Complaints and Reviews

I placed an order to purchase the Apple Watch Series 2 on Monday night (April 24, 2017). Right away my order was cancelled and advised to call into Kohl's customer care. I called right away and the rep I spoke with advised that the purchase was larger than I normally make online so it was cancelled. She asked if I approved the purchase and then said that she would have the rep that cancelled the purchase push it through. That was LIE #1.
The next morning (Tuesday, April 25, 2017) I still had not received an email confirming the purchase. I again called and spoke with a different rep that was very helpful but it took over 30 minutes to get the order pushed through. She thought it was weird that I was told someone else was going to push it through when it sounded like that rep should have done it herself. She offered to give me a discount due to the troubles and then said that I was not able to get the discount due to the product. She then advised that she would have it shipped and delivered to me by today (Wednesday, April 26, 2017). She advised this several times. That was LIE #2. I thanked her for the kind gesture, especially since I was not expecting any compensation. All day today I have been telling everyone how a negative experience was turned into such a positive experience and that when I get home today I should have my new Apple watch.
I get home from work today to find the shipping information and it will not be getting delivered today. Why lie and why make promises that are not intended to be kept. Honesty is the best way to handle things. I will be writing negative reviews everywhere that I am able to and filing a complaint with the BBB and the Attorney General.

Placed an online order with pickup at the store in the amount of $59.42. Was then notified that one item was not available. New charge will be $46.18. Checked my bank account and see I was charged $59.42 twice! I called their customer service and was told this is their policy and when I pick up the order, which I did on the same day, the new charge of $46.18 will then be charged to my bank. This didn't happen. So the $59.42 x2 is still pending and holding my available funds for 72 hours. Kohl's is holding my bank account hostage for double charges that aren't even for the correct amount. Will never shop at Kohl's again. Their customer service wasn't helpful as usual as this has happened to me twice. BE AWARE of Kohl's policy to charge twice and then hold for 72 hours.

I am creating this complaint so the public is aware of the awful experience I have had attempting to resolve an issues with the Kohl's company. In February of 2015 I was notified by my credit report that I had an unpaid late charge on my Kohl's account. I had purchased some items from Kohl's during a tumultuous time in my life. We were moving, we were getting ready for our first child, and my grandfather had just passed. Usually if I have items that are unpaid, I would get an invoice, a phone call, letter, something to let me know I had unpaid items. I received absolutely nothing. The only notification I received was from Equifax months later telling me I was charged 30 days late on my Kohl's. I have never been late with any payment in my life. I was complete shocked, and called Kohl's immediate to pay off the entire amount. I couldn't believe that there was no notification from Kohl's about this charge.
My wife and I are attempting to purchase a home, but this negative mark has stopped us from getting a rate that we can afford. This will ultimately stop our chances from getting our home. I have never had a late payment with Kohl's other than this one (or any other company I've dealt with). This occurred during a very stressful time in my life, but regardless of this one time mistake, the Kohl's company has not been accommodating. Everyone makes mistakes, and I could completely understand if I was a repeat offender, but I am not. It was an honest and simple one time mistake.
I have asked Kohl's for forgiveness, but they are not interested in excusing a long time, loyal customer. I find this very odd since all other companies are aware mistakes can happen, and are usually open to working with the client to forgive a one time event like this. I find it selfish and greedy that there is no way to come to an agreement. This is why I am starting a universal ban on Kohl's stores, asking everyone out on all social media sites to join me.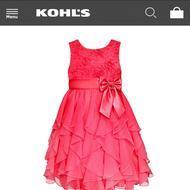 I decided to buy my daughter's Easter dress offline because I couldn't find anything in the stores. I ordered a pretty coral color dress. I placed my order on Thursday night April 6 and didn't receive the item until April 14 which was the schedule delivery date two days before Easter. When I got home from work I knew the dress should be at my house. Got home and my daughter was so happy to finally get her dress. When I picked up the bag I knew it felt too light but I just let that pass and figured they had it wrap tight. When I opened the package it was a man's shirt, nothing I ordered.
I called Customer Service and the woman said to send it back and they will get the dress out to me. How? I told her, "I don't want the dress anymore." I needed the dress for Easter in two days. They can keep the dress so I asked, "How do I send the item back so I can get my money back?" She asked if there was a store I could go to. I told her, "No, there is no store near me." (Kohl's is about 30 minutes away from my house. I not driving to that far in traffic, wasting gas, and they're not going to reimburse me for my gas).
So she said I could ship it back FedEx or DHL. So I asked, "If I ship it back will I have to pay for shipping?" She didn't sound too sure but just said I would get my money back for the dress and shipping and handling. (No miss I'm not paying for any shipment when this was my mistake.) I'm send the dress back tomorrow and I'll see if they try to charge. But what I don't understand is that I order a child's dress. How did you get a man's shirt out of that? Not only that if you go any department store men clothes is not near girl clothes. So disappointed and will not buy another thing from their store again online or in-store.

I ordered four items with Kohl's. The first item was a Rumba Vacuum, next was a balance ball chair, next was with a humidifier, and last a gift wrap holder. The two orders I had problems with was the humidifier and chair. I ordered the humidifier February 20 and it was supposed to arrive February 24-27, it never showed up. I called Kohl's twice and paid March 8, for shipping price of the Balance Ball Chair (paid item through Kohl's Cash), and paid for the humidifier. Suddenly out of the blue the humidifier came March 20, in a nice not weather damaged box. Then I called Kohl's and let them know my order has arrived. Then they charged me twice, for the same item. I paid it and asked Wells Fargo to dispute one of the charges. They charged me again on Thursday April 6, via an email with a $25.00 credit check fee. I paid it and immediately closed my Kohl's account.
I called Kohls.com at the store and they said I owe over $400 with several transactions saying all have been declined. Wells Fargo has record of all transactions except for Thursday. I submitted my receipts to my mother Marilyn **, her email address is **, she has a printer at home and to my caseworker Karen **, at ** at AccessAbility Incorporated. I also submitted my receipts to the MN Attorney General's Office.
How do I know I can trust these reviews about Kohl's?
762,878 reviews on ConsumerAffairs are verified.
We require contact information to ensure our reviewers are real.
We use intelligent software that helps us maintain the integrity of reviews.
Our moderators read all reviews to verify quality and helpfulness.
For more information about reviews on ConsumerAffairs.com please visit our FAQ.

I just received an email that my Kohl's account information was updated and that an order to the tune of $119.82 was going out to my new address in Tarbo, NC. Funny. I do not remember moving to NC. So I called the number, gave them the account and all the info, but because the card was in my wife's name, they needed to talk to her. OMG - they don't care that my card was compromised at their store. They want to talk to my wife. I told the lady my wife was working but she did not care. She would not do anything until speaking to my wife. GREAT CUSTOMER service Kohl's and so much for your customer's fraud protection. Mark your name up with the other's that have had their systems hacked.

I went on the website to chat with someone from Kohl's regarding a price adjustment. I have done this in the past and had no problems. In fact it was a pleasant experience before anyway. I purchased a crib and a mattress, a present for our new grandchild, our first grandchild to be exact. I set it up to be delivered to our daughter whom lives in another state. This is one of the reasons I purchased online so that I would not have to worry about sending a gift to her.
In the past I have had wonderful experience purchasing online and reliable delivery of what was purchased. Anyway on to my disappointing experience with Kohl's. The two items I purchased went on sale the next day so I went on the website to talk to someone about getting an adjustment. I was informed that because the item I ordered was exclusive item, it was not eligible for price matching - this is actually what was said to me from Tim at Kohl's whom lied to me about his supervisor, told me it was a male and then gave me the name of a woman.
For those of you unfamiliar with Kohl's the reward points offered are equivalent to $5.00. That is what my loyalty is worth to Kohl's. I am so disappointed in Kohl's and I will no longer shop online with them and at this time I am not sure I will shop or do as much shopping as I have in the past. This is sad because as I have stated I am a new grandparent and it would have been so nice to be able to purchase items and ship them to the new baby.

I ordered some items in November 2016 for Christmas. The total cost was $61.61. I watched for the bill, but never received one. Looked at the receipt with items, and it looked like I had paid for it when ordered, which is what I usually do, so didn't think anything of it. I then left on vacation on 1/16/2017, returned home on 3/5/2017 to 3 phone messages on my landline which I couldn't understand. So called Kohl's and they said I never paid??? So why did you wait so long to call me, and why no bills. They say I never changed my address or phone number when I moved 3 years ago. I say I did. Now they want about $200. Finally after speaking with Gabby and supervisor Carlos, which I could not understand what he said. I finally had to pay $134 dollars to stop collection. I had this account for at least 20 years, never paid late, yet had to pay over double the amount. Too rude people. No less. Will never shop with Kohl's again.

Customer service was the worst. Could barely understand them. Explained I ordered 2 day shipping for 11 items. When I checked the status of my order it only had one item for 2 day and everything else was standard. So I paid $17 shipping for a pair of $20 shorts instead of the whole $268 order I placed. I needed these items for my kids for vacation. They offered no solution to fix other than when the clothes come which will be while I'm on vacation to send them back. They have put me in a bind because I'm out the money on the clothes until the items are returned money that I could have used on my vacation. I'm literally in tears. I was told 3 different things by 3 different customer service reps.

There was a problem with my online account, and they misunderstood my instructions. They closed my credit card account. I asked for them to reopen it, but they said they would have to listen to the recording of my call to Customer Service. They did not reopen the account. I do not believe they listened to my call. I had to call Customer Service back several times before I could get someone to help me, and then they never did what they said. I had to apply for a new card. My advice is to never call Customer Service for help, and to just close your account and start a new one.

I ordered 2 KitchenAid Stand Mixers at $350 each for Christmas. Kohl's advertised on-line & in the newspaper that with the purchase of this Mixer there was a $50 mail-in VISA Rebate. I mailed in the Rebate Forms for each mixer. KitchenAid said I was limited to one rebate per address. This was not disclosed except in VERY TINY print on the bottom of the rebate form. Kohl's Customer Service said it wasn't noted any place in their ads or online either. KitchenAid refuses to give me the $50 for the second mixer. If I would have put my daughter's address on the second rebate, she would have gotten it. This is deceiving the public and I'm not happy. I would return it but I would also lose some Kohl's cash. So BEWARE!

I have just placed a second order with kohls.com, which was rejected. The reason? My billing address is my home, but the shipping address is my job. Why is this an issue in the 21st century? To their credit, the two reps I spoke with in Customer Service and Fraud Protection did their best to rectify the situation. However, for the second time in less than one month, this led me to not place my order again because the main item I wanted sold out (within not even 8 hours), and their antiquated internal system could not tell them or me when (or if) it would return. The only way they or I would be able to confirm is to keep checking kohls.com, which is highly inefficient. I had the same experience with another order last month.
It is a shame that in this day and age, their online vs brick-and-mortar experience is highly disjointed. The fact that a Fraud Protection rep had to have a conference call with the Customer Service rep and me to document in my account the reason for two different addresses is unacceptable. Their website has a clearly-marked option to use if your shipping address is different from billing, but the execution of said option apparently does not translate to the back end. They did offer me a 20% discount on a future order, which I indicated would be highly unlikely to occur. Even utilizing this will be difficult - to use it in store, the cashier has to call a special number and speak to an online Customer Service Manager to activate the discount.
My local stores always have horrendous queues, whether with a regular cashier or with Customer Service; what should be a simple activation of a discount from their own corporate office opens up the possibility of creating a negative impact to any customers who are unfortunate enough to be waiting in line behind me. If you've made it this far in my review, I'm sure you're wondering why I just don't shop exclusively in store. This is because their stock of plus-size (a term that I think should be eliminated) items are well-made and the selection is more robust online; they do have good prices when they have sales. However, I've tried numerous times to see if an item online was available in store, but they are often not (not even within a 100+ mile radius). Once (or in this case, twice) bitten, twice shy. I no longer am looking forward to utilizing their website, and will shift my money and focus to stores where I can pick up items in person.

I received a late fee payment on my bill. I have good credit and always pay my bills on time. I called to try to get this late fee taken off. The representative I spoke with in India would take the late fee off if I paid the balance with a debit card only. I had to give my card number over the phone. I did not like to do this. I feel uneasy I did this. The representative had animated skills, very fast speaking. I wish Kohl's and other companies would not do this for customer service problems. It's very impersonal, annoying, and leaves the customer with the general feeling of getting their ID accounts spread all over the world.

Placed an order online and got 80 in Kohl's cash but I used it. I returned the item so I could exchange it. When I returned the item, they did not refund the whole thing because I had used the Kohl's cash. On the "exchanged" order I received a Kohl's cash again. I called so they could remove the second Kohl's cash and refund me the whole amount from the first order. They said they couldn't do that so now I am forced to spend the Kohl's cash or lose the 80 dollars that they stole from me.

Was told I could get a custom bra at store. Wrong. Was told I had to order it over the internet. Spelled address 4 times only to have it sent to the wrong address because the cust service spelled it wrong. I am a disabled and have been waiting for over a month for my money to be returned to my account. They promised it would be returned by the 22 of February 2017. Still not here. This company really suck. I will make it my mission to tell people what a rip off this company is.

On 2-20-17 at around 10:30 PM I ordered a stick blender using a guy named "Peter". He acted suspicious & took very long time to place my order, as if he was shopping. It turns out he was shopping, and he placed an illegal order USING MY GIFT CARD BALANCE! I had to get two supervisors involved to get my money back. This guy "Peter" used $42.45 to buy his wife some sexy pink lingerie: and used his wife's email address & street address. I never bought these two items & my account showed I would never receive them (no order number of info on my logged in kohls.com account). They told me that they are investigating & seemed they agreed this was retail theft & will fire this employee. Unbelievable. You can't even trust a Kohl's employee these days.

I bought a diffuser from Kohl's that leaked on my brand new table, ruining the finish. I sent Kohl's photos of the damage and receipts for the table and diffuser. Customer service responded twice and then asked me to confirm that my table was damaged. I never heard another word. I contacted the BBB who told me to contact the Bureau of Consumer Protection/Division of Trade and Consumer Protection in Wisconsin. I sent them the information and they contacted Kohl's and the Attorney General.
Again, I didn't hear from Kohl's so I sent emails to Department heads. Someone called and left a message saying they would forward my complaint to the manufacturer. IN CHINA. Never heard anything further so I sent two more emails and have gotten no response. Kohl's sold me the diffuser and Kohl's needs to pay for the table. If they want to, they can go after the manufacturer. The price of the table is only $77.00. It's not going to break the bank for them.

I recently moved to GA and now I'm close to a Kohl's department store so I've tried it out three times and now will never go back due to poor customer service. 1st time I went in was to buy a belt for my husband. As I was looking for the right size a 49+ year old worker excused herself as she started throwing belts on the floor to organize and add more. I then moved to the other side to see the selection there but she followed and pulled those belts as well. Never asked if I needed help. I assumed it was a one time Incident and left. Gave it another shot... This time was looking in the Nike section for outfits for my daughter... Same thing!!! Moved racks around while I was looking. At least she was polite and said, "Excuse me but I have to get these moved." I couldn't believe it happened a second time.
One last try!!! Hesitated going in... So to be honest was probably looking for something to go wrong. As always clerks asking if in need help as they are moving by at the sound of light, or clearly busy pointing, "Over there ma'am..." As they stock it push carts. I needed shoes and thought this has to be an easy purchase. Sizes and styles were all messed up... Walked all over to find out if someone could see if the shoes I wanted were in stock... Found someone who said it was not their department. Asked another clerk and they said, "Just go online and order..." Omg!!! Never again will I go into a Kohl's! Especially in Acworth Ga!

I tried to use a $12 REWARD card yesterday and it was turned down at the register. I tried several times, then left the merchandise there. When I got home I called the number again and it said I had $12 on the card. I went back to the store today to use it, and it said there was $0.00 on the card, so I left the merchandise again. I called several numbers, listened to computer generated voices, then finally got a human. They gave me the OTHER number. I called them, and it said I had to call the first number! I was back and forth with calls, but no help. I talked to several workers and they said the card was used at a boutique in CA. I looked up their website and it was for young teens. I am senior citizen. I did not use it.
I thought someone could just re-issue the $12, but no one would do that. I tried the lost or stolen site and it didn't take my information. I have spent 2 full days, 2 trips to town to the Kohls, and numerous hours on the phone with NO help. Everyone keeps passing me to other numbers, but no help. I'm just going to give up, which is what Kohls probably wanted in the first place since they now have my $12 and didn't have to give me my merchandise.

I absolutely cannot believe how long it has taken me to return two pieces of defective wall art to Kohl's. Just got off the phone with my leasing office for the ninth time because UPS won't pick up the packages because Kohls.com hasn't sent the shipping label. This is after two months worth of phone calls to Kohl's requesting the labels, every single time they tell me that the labels have been sent to UPS. If I ship them back another way, they will charge me. I cannot believe the lack of brain cells that the Kohl's employees I have spoken with have.
I wanted ONE piece of wall art -- it came broken. I ordered it in late December. I attempted to ship it back and it's STILL sitting in my leasing office. The replacement I ordered came broken in the EXACT same way. Now that one, as well, is just sitting there, waiting to be picked up. What do I do? Ship it myself and pay? Yeah right. Call Kohls.com and ask them to create the UPS return label? I'VE DONE THAT 13 YES 13 TIMES!!! Holy **. I cannot believe how ludicrous this is... DO NOT ORDER FROM KOHLS.COM.

I have had two problems recently. Just like a previous reviewer, I had an extremely aggressive sales clerk who did not even ask if I wanted a credit card. After he rang me up, he shoved the application and pen at me. I asked if it was a credit card application and he said yes. I told him I did not want that. He said to go ahead and get the credit card, and just pay it off all at once. I couldn't believe it.
My second problem is that this week I had two different reps at their call center tell me two completely different things about the status of my online order. My order status said the package could not be delivered. So the first rep said she had it "intercepted" and it would be redelivered. She confirmed that it was definitely NOT going back to Kohl's, and I would get the order. When nothing changed on the status, the next day I called and the 2nd rep said it WAS going back to Kohl's. What's worse, she said there was no record of what the previous rep said about intercepting the order, and all that showed on my order was a "note" saying that I had called about it.

I just spent an hour on the phone with Kohl's. There was a charge on my card that I never made. I was transferred a number of times, repeating the same info all the way, hung up on due to bad connections, constantly asked to repeat my account number, only to be placed on hold so as to repeat my account number for the next gal -- who I couldn't understand. I was given another number to call whereupon I had to answer survey ?'s -- tons of them, before I could speak to a real person. This, compounded by their horrific online return policy, is why my Kohl's card lies in a heap of cut up slices. You do not deserve my business any longer. Goodbye Kohl's.

Fraudulent use of Kohl's Cash - I placed an order using $15 Kohl's cash on 1/22. I was informed an hour later that my item was sold out and the order was canceled. I was issued a new $15 Kohl's cash, but when I checked the value on the 29th, it was 0. I did an online chat and they say it was used. I had no record of using it, so made a complaint to Kohl's and they say it was used at their North Chesterfield store. I have never been there, I am in California and I think that store must be in Virginia.

I ordered a memorial necklace for my daughter-in-law as a Christmas gift, because her mother had just died. It was supposed to arrive three days before Christmas, and it never did. I called Kohls.com customer service so many times I lost track. I could barely understand their service representatives (with their heavy accents) and they all told me, "Don't worry - it'll probably show up eventually". I didn't have any gift to give my daughter-in-law for Christmas, which was humiliating. After Christmas I spoke to someone at Kohls.com who promised me a refund. I'm still waiting on that refund. I will never buy anything from Kohl's again.

Over 1 1/2 years ago, I ordered a dress from Kohl's online and to date they are still harassing me for to pay for an item I returned. I would recommend no one do business with Kohl's since their bookkeeping and return business is very poor. Clearly Kohl's is not customer service oriented.

I used the Kohl's online bill pay to pay off the Kohl's charge on time and in full. Got a confirmation screen. Nothing ever got submitted to my bank. Got stuck with a late fee and interest. Kohl's customer service will only try to get you to pay the bill, no help. Beware, their site doesn't work and they hope you won't catch their mistake in time so that you get extra fees tacked on. Pay only in person in a store where you get a physical receipt, and avoid shopping at Kohl's. Their sale prices aren't really a sale price when you consider the hidden fees and possible ding on your credit score.

October 11th 2016 I placed an order with Kohl's over the phone with a "sugar sweet" agent using my Kohl's cash. After a few minutes I received an email saying it was cancelled. I called their 800 number again and placed the same order again with another "honey sweet" agent. While trying to place the second order the agent told me she cannot use the Kohl's cash I used for the previous order which was immediately cancelled as it has not been returned back and it may take up to 48 hours for it to be returned. I could use only $112 out of the $900 I had in Kohl's cash. The second order went thru shipped and delivered but from that day till today my Kohl's cash of $787 was never returned to me.
I kept calling Kohl's 800 number but every time I was told that this is not the right concerned department and I was transferred to all kinds of departments among which none had the authority to issue my credit back to me. I was asked to file a complaint online which I did and after a few refuels I got an email saying "The credit is approved and has been mailed out to you" and I will receive it within 30 days. Nothing ever arrived. In one email they are saying the credit will be issued in email and other email saying credit will be sent in mail. I really don't want to think this way but it is forcing me to think that it was a corporate level fraud, they try not to send customer's credits. Please also note here that according to the emails Kohl's team has completed their investigation and approved my credit.
Here are some reference numbers I want to provide which are of the conversations I had with various customer service associates at different times who kept rolling me to other departments and finally after 3-4 hours of staying on the phone with them the line gets disconnected. ** 3rd November 2016 **. From October till January (3 months) I kept emailing and calling Kohl's asking about my money but every agent had his own story. I had no choice but to believe each of them, spent hours each time without any result. I felt like begging for my own money from a bunch of frauds. Among the many conversations I had with their 800 number team one of the incident happened on 9th January 2017 the agent told me that since we are 2 days short of the 30 day time period I should have received my credit so if I call in 2 days he will be able to issue me credit over the phone.
Again I had no choice but to believe him and after more than 2 days when I called Kohl's 800 number the agent I was transferred to told me that this previous agent didn't know anything about the system and there is no way I can be issued credit over the phone and now the new story is blah blah blah. I spent a few hours again being thrown to one department and the other and finally I had to hang up as I had other things to do too. NO SOLUTION STILL. 16th January 2017 I gathered some courage and called again and this time employee # ** (later I was told by another agent that this number is not correct) told me he can help me place an order over the phone with the $787 and this way we will get rid of this problem and I will get some stuff from my long lost credit. I cannot describe the level of my happiness here. Together we placed order # **.
Additionally he told me he is making sure everything is ok and there is no chance anything wrong happens to this order, it will go thru etc etc. Also I asked him to add a note to my case that in case this order fails Kohl's still owes me $787 and the incident I have filed should not be considered closed. He read the note to me and I thought finally I found my angel now. Reference # **. After a few hours I received an email saying "SORRY WE COULDN'T COMPLETE ORDER". There were tears in my eyes now.
Although things seemed very dark I still gathered some more courage and called Kohl's after one day 18th January. With all sorts of apologies this agent said, "I can help you reorder," and we did it and this time he said, "I have contacted the fraud department and blah department and blah department and everything is clear so no worries, it will go thru." Reference # ** order # ** was placed and immediately got an email "SORRY WE COULDN'T COMPLETE ORDER". I was baffled, still didn't give up. Called again and was sent to fraud department, they clearly told me that even if they will try placing an order worth $1 it will be cancelled, they didn't tell me the reason why. Upon my begging and inquiring the lady agent transferred me to another department without any reason (probably just to get me off her head) and then from this department to that department.
I had to explain my story at least 15 times to all sorts of people till I was handed over to a lady in front of whom I started crying like a baby. Probably she got sympathetic and connected me to her supervisor who instantly gave me his name and personal extension number and told me he is connecting me to the "RELEVANT" department who will definitely take care of me and meanwhile if I ever have any problems I can use any Kohl's 800 or non 800 numbers and request for this extension to talk to him. The name he told me was Reed and extension **. I was then rolled to another department who again asked me all my information, incident story, apologized and put me on hold to investigate the already investigated incident. Anyways, as I said before, did I have another choice?? No.
Now there was another twist in the story, the lady associate said, "Since this is a lot of money we are doubting if how you earned this much Kohl's cash." I must provide the receipt of the items I bought which made me earn this money. I was totally disgusted, instead of easing a customer whom your company has been torturing for months you guys are suspecting as fraud and making me do another exercise to prove I did not forge this Kohl's cash??? Again had I any choice? No. I started looking all over my house for those receipts which sadly I couldn't find. Meanwhile she decided she was not the "RELEVANT" department and now she had to roll me to corporate which according to her was the supreme authority to issue my million dollars credit. I said, "Ok."
I don't know what was that relevant department as I was rolled to a computer machine saying press 1 if you want to speak to an operator (after I pressed 1 several times the same recording continued) enter the extension if you have (when I entered the extension of Mr Reed the machine said it is incorrect!!!). After about 10 minutes of this pressing game I had no choice but to hang up and try my luck from all over again. I went online and figured out the phone number of their corporate department and called them. Tried to put Mr Reed's extension but no luck, eventually ended up with the most ill-informed lady agent I have had encountered. After asking my information for the 20th time this one day 18th January, she went thru my case and somehow found a note saying the decision has been made today at 2:39 pm by Anthony ** and my credit has been mailed to me.
Now this seemed to be a big joke. If the decision was made at 2:39 why none of the agents saw it in notes whom I spoke to after 2:39 pm. How would I have trusted this. And even if I had trusted her what is the guarantee the money will actually be received? As this promise and decision was made earlier in November too. I asked her to give me something at least to keep a record of this decision. She said she has no authority to send me any email but she will ask the department who made his decision to send me an email (No email was ever received). Name of this lady was Martika **. This conversation ended 5:27 pm. As I insisted I want some evidence right now she decided to throw me off her head and transferred me to the "RELEVANT" Department.
This department asked me my information for 22nd time and started their investigation, meanwhile after about half hour of this the call went to another agent by itself who could not hear me and kept saying if he does not hear me in the next 30 seconds he has to drop the call. Drop the call, drop the call and it was hung up. By this time it was evening and I had to feed dinner to my kids and I had to give a pause to this calling game. Can I get some actual help? Can someone be fair to me and give my money back to me?? Awaiting easy justice.

It was very disappointing when I went to return Haggar pants without receipt and people told that this is not from their store. When I showed similar pants twice to them they refused again to return it. It was horrible experience because I am literally drained out just to return Haggar pants which I bought for my father. What a waste of time, money and energy.

Within the last 4 or 5 years I've had two negative hits from Kohl's in my credit score. They keep switching my account from paper to paperless when I only spend 2 months of the year in land. The people taking care of my bills don't see a bill so they do not pay it. The last time a couple of months ago I answered my phone and they told me I was late. I went to explain them AGAIN what happened and I was told not to worry if I pay right then. I did and 2 months later they hit on my score again. All I want is for them to play the recorded conversation and listen. 20 years of perfect credit ruined for $15. Look at my account. It's always pay in full as soon as I get the bill. Beware shoppers. I cancelled my account and I'm not stepping there again ever.

On October 23rd of 2016, I placed an order of 3 sandals and 3 toothbrushes using the gift card plus a 40% off coupon I got through email. My order was canceled the next day without refund. I called the customer service and was told to be refunded via mail within two weeks. After two weeks there was nothing in my mailbox so I called the customer again. Customer service told me he/she requested another gift card through mail. Similar story happened at least eight times. Until January of 2017, I called the customer service and this time the agent on the other side talked to the verification department for a while and told me your case was resolved, credit will be reversed to me.
The next day I found my gift card was canceled with the remaining balance cleared, with the total amount nearly 500 dollars. I called the customer service Andy. This time I was "fortunate" enough to be able to talk to someone in the fraud department. He told me placing an order with three gift cards of 3 sandals and 3 toothbrushes is very dubious so the fraud department thought it was a fraud transaction, so they decide to cancel my gift card. Why those hypocrites did not tell me at the very beginning to explain their decisions? Staples, Best Buy, Office Depot, Target, Walmart, Amazon never did that to their customers. I am quite sure even though merchants reserve the right to clear all member points that was considered against the rule, but I have never heard of any merchant cancel customer's gift cards.
Kohl's will make lots of money by merely cancel their customers' gift cards without any explanation. Once you are "fortunate" and "honorable" enough to be offered a chance talking to one of those bastards in so called fraud department you will be given an explanation. Do not make any online orders, be aware that your gift cards might be canceled to enrich their pockets.
Company Name:

Kohl's

Website:

http://www.kohls.com/