Consumer Complaints and Reviews

Always having paid my bill on time. I recently overlooked my emailed bill and owed $11.73. Because of this they sent me a letter suspending my account from the collection agency. I called them very upset and said why didn't they mail me a letter before suspending an account. They said they had to email everything. I said, "So why didn't you email this letter." Since they did mail me this letter it would have been better customer service to mail me a letter saying if this is not paid by a certain date they would suspend my account. I was livid that they would go so overboard by suspending my account through collections over $11. I talked to customer service and a manager and they both acted like they didn't care. Kohl's must be hard up for money if they have to be this difficult about $11. They handle customers and their accounts very poorly.

I interacted with a Kohl's customer service agent over online chat - found on the Kohl's website. I must say, this was the easiest and most pleasant conversation I've ever had with a customer service representative! They accommodated my request with in a polite and speedy manner. My husband and I use the charge card and we had some difficulty with the card. The representative was very understanding of our plight and negotiated a reasonable outcome to the issue we presented her with. She even consulted a supervisor so that we could get the best service possible. Thank you Kohl's - you're doing a great job taking care of your customers!

When I first purchased a credit card through Kohl's it was brought to my understanding that I would not be charged interest so I have paid faithfully on my payments until each purchase was paid off in full with them. So I buy a coffee pot for 129. On my credit card and on my statement I notice they charge me interest so I called the manager up to find out why that is and I was told that I signed an agreement and that they charge interest no matter what and less you can pay the merchandise off in full all at once. I said to her well what is the reason for getting a credit card then if I could pay for the merchandise off all at once? It doesn't make sense at all. So I closed out my credit card with them and I will not reopen it. I have good credit and have been faithful in my payments. I don't understand why companies can't be more faithful in how they deal with the customer in what they say to them to try to get them to open up a credit card.
Also there should be a understanding of some sort where if you are late on a payment then charge interest or give a 6 month interest free on credit card until the merchandise is paid off in full by making monthly payments. The manager was not very understanding of the situation. Tried to over talk me several times to prove her point. Tried to tell me that all credit cards charge interest in all companies no matter what they tell you. I really didn't appreciate the overall talk that I had with her. I wasn't even given credit for being on time with my payments much less alone given credit for making my payments with this store. I am done with this store.

I have been having trouble getting my account 'up to date' even though I pay CONSTANTLY, serious every two weeks. Well, I got a collection call from Kohl's just now, and they wanted 3 times the normal payment because of no payments for 2 months. I asked why, my bank account showed the payments clearing. They said I'd have to talk to my bank about that because a bank I NEVER HEARD OF put a stop payment on those payments I scheduled, and they never were credited. I asked why my statements showed them crediting, and they said they didn't know. I was talking to collections, and only customer service could help me with that.
So I asked to be transferred to customer service, needless to say, after holding, giving my info, and waiting again, I was told only collections could answer my question. Only a collections supervisor, specifically. So I asked to be transferred to one. I was, gave my info AGAIN and waited and was told she would look into it. And I was disconnected.
So, some bank I never heard of is 'stop paymenting' on payments that MY BANK and the KOHL'S STATEMENT shows as cleared. But, I am 3 months late, and owe payments and penalties on the late balance. What? Of course, I had told the supervisor who disconnected me that I wanted to close my account. That's probably why she disconnected me. I wonder if when I go to the store, they'll tell me they cannot close my account. They have been willing to do NOTHING at the store about this, said I have to call myself. Terrible customer service and what's with a bank I never heard of having power to 'stop payment' on my scheduled payments? I don't believe it. They're just funneling it into some other account and this is the cover story. Awful.

I purchased 2 Fitbits in November not giving a thought to being able to return one or both since they brag all the time about being able to return anything, anytime for any reason. I purchased them because the one I had broke and I purchased two with the intent of having my daughter help me decide which would be best for me. In the meantime my kids told me I should call Fitbit regarding my broken one which I FINALLY did! By that time it was past their one year warranty but THEIR customer service was exceptional and they sent me a new one therefore I no longer needed the two I purchased from Kohl's.
I had my receipts and the items which had never been opened and went to the store to return them. I was informed that they were premium electronics and only had a 30 day return policy. I ordered them online and never saw anything that indicated that. Once again I was thinking about this fantastic return policy they have anything, anytime for any reason. The gals in the store were nice enough and they even told me it was a new policy initiated during the holiday season but there was no way for them to override the return and suggested I try calling Kohl's.com.
I proceeded to do that and was given the same story. Who knows if the policy was even in place when I purchased my items. I am very frustrated because I have been a very good Kohl's customer for a very long time and I'm sorry but I'm SURE there's some way to override the issue. They don't even have to credit my card. A store credit would be just fine and then they are assured of getting their money back. This left a very bad taste in my mouth and I will tell everyone who will listen. I've already told 3 people and I've only been home a short time and no one is even here!!
How do I know I can trust these reviews about Kohl's?
825,614 reviews on ConsumerAffairs are verified.
We require contact information to ensure our reviewers are real.
We use intelligent software that helps us maintain the integrity of reviews.
Our moderators read all reviews to verify quality and helpfulness.
For more information about reviews on ConsumerAffairs.com please visit our FAQ.

I ordered a portable carpet cleaner online to pick up in the store to save time. It took 3 employees multiple tries to pull up my order. When I brought the item home and opened the box, I saw that it was used! This was not a clearance item. I never buy returned items and they should not fill online orders with used products. Buying online took longer than if I had just gone to the store from the beginning, I would have spent less time and purchased a NEW product. I also didn't receive my Kohl's cash.

I placed an order on March 10th for 20 towels on Kohls.com for $75.43 to be picked up in store in West Melbourne FL. I received a notification that only 18 were available and my new total was $66.69. Due to some reason I was not able to pick up the order. Ideally order would expire in 7 days however I got an email on the 14th day. Till date I haven't received a refund. I called the customer service number and kept getting bounced between credit and kohls.com and finally was told to call the store directly. The store refused to believe my card had already been charged as they said it should be only when I pick up which was not the case. They advised me that I should come to the store and they would call customer service. I am no longer in the area living 500 miles away so that is extremely impractical esp for the amount. Terrible!!!

Went to purchase luggage, store associate helped us and said rebate is good for 100.00 off luggage if they total 300 or more before sale price or using our Kohl's cash. We talked to the store manager at cash register and she confirmed. They had accidentally left all the luggage in one of the bags we were purchasing. There was still a tag that said, "Sales associate please remove luggage inside." She had seen the tag then took stuff out. We asked her about rebate she said item has to total over 300 before sale price. So she said we were going to get rebate. Waited for months still no rebate, then we searched email and seen decline. No one wanted to help us after waiting on phone and Chat line.

On my previous order, Kohl's not only sent me the wrong bra, but it had been USED & smelled of smoke & detergent. And again they sent the wrong item. I called customer service in Nicaragua twice and the call center in Mexico the 3rd time. Still could not get the issue resolved. They want me to drive half an hour to the nearest Kohl's or wait for UPS to pick up. They promised UPS would call me first, that did not happen. If you message them on FB, you get a BOT. Not only have they lost a customer, I'm returning the entire order. Kohl's could not survive without their promos & rewards programs. That's a sign of a very poorly run business. I'll stick with Old Navy, Zappos & Amazon.

I placed an order for a dress on Thursday for a wedding on Saturday so I paid almost as much for next day shipping as I did for the dress. I check my email and it said my full order had been shipped. I tracked it and it said estimated delivery for Monday. I called Kohl's, the guy (can't even begin to try to spell it) said NOTHING about that it had not been shipped. Just credited me the shipping charge and said I needed to call FedEx because it was their fault.
I called Fed Ex and they explained that the label had been created but they never got the package. I called Kohl's back (again spoke to someone that I could barely understand and wouldn't dare try to spell the name). He acted like he didn't know his head from his **. Well, so I will be cutting up my card and they will be lucky to get the balance I owe on that card (which isn't much but I will not be paying it). I have all of the documentation printed and will be handing it over to my attorney if they try anything stupid about my balance. THIS WAS VERY IMPORTANT TO ME.

I bought a product at Kohls.com. After 45 minutes I've noticed that my delivery address corresponded to a previous one. I could not cancel this order because the time frame to cancel was 30 minutes! This order is going to Illinois and I live in S. Carolina. They didn't provide any solution only that I will need to locate the delivery provider, which they didn't know! Terrible policy!

I bought a pair of maternity pants from Kohl's that were $40. I never wore them and they had the tags on them still but I did not have a receipt because it has been almost 9 months since I bought the jeans. I went to the store to return them and the cashier proceeded to tell me that all of their maternity clothes are on sale because they will no longer be carrying maternity clothes in store and then she told me I could get $4 in store credit. I am absolutely disgusted that my $40 pants could only be returned for $4. I will never be returning to Kohl's. How would anyone want to shop at a store knowing they will not get 90% of their money back if they want to return an item! Absolutely outrageous!

I bought a Playstation 4 game system. Within 4 months the system completely shut down. I tried to return it but I was given the runaround. I wasted 350.00 for a defected system. I contacted customer service I was told I had a 30-day warranty. That's CRAP! I will NEVER SHOP AT KOHL'S IN THE FUTURE, BUYERS BEWARE. SAVE YOUR MONEY AND HEARTACHE.

Kohl's does not take discounts off of the majority of the products they carry... but I can earn Kohl's cash paying full price... I can get same products elsewhere and use discounts and it is much cheaper. Their products are 3 times price as everywhere else and their products are cheaply made, clothes do not last at all. Just like Junky Jeweler. Also they claim they price match. Well that is an outright lie. You are better off shopping at any department store. Even the higher end stores because it will be much cheaper in the long run!!!

I shopped yesterday, Friday, May 19 - went to check out and realized the $15 off of $50 coupon wasn't good until Saturday, May 20. The clerk at the register told me to just take all my items to Customer Service and they will hold them for me for 24 hours. At Customer Service the clerk put the items in a clear bag and had me write my name on a piece of paper. She wrote on the same piece of paper to hold until May 20. I went to Kohl's at 9 AM on the 20th to discover they could not find the bag at Customer Service. Of course all the items I had gathered were no longer found in the store. Only some children's pajamas were on clearance; the other items were just on sale that started Friday at 3 PM. It is such a shame employees cannot do the right thing! The store manager could have cared less!

I never received an e-statement at the email address provided so would go online and view my account and make a payment based on the on-line statement. The statement cycle ended on the 16th and I paid on the 17th (2 weeks early because it wasn't due until the 1st of the next month). The on-line payment would cycle before statement ending and it would count it as late every month even though it was clearly paid early and consistently. I received a late fee every month for $27 and they would only reverse one of the fees because their policy is to only allow one even though they were clearly inaccurate and online doesn't match payment revenue cycle process. I closed my account and plan to be sure it is not on my credit report and dispute it. This is crazy unfair and someone needs to pay attention to the way consumers are being nickeled and dimed like this. I refuse to shop at Kohl's any longer!

On October 1, 2016 I, Tina ** ordered merchandise totaling $162.12 from Kohl's.com official site for online order. I called Kohl's.com and talked with Scott and gave my change of new address and received an email verifying they received confirmation of new address. On that same evening, I called them due to having an issue with Kohl's previously with shipping to correct address. I checked my order confirmation to see where the address was shipping to. Once again the order was being shipped to South Carolina instead of Florida.
When I called, Kohl's sent a new order that same evening with a new order to be sent to my correct address in Florida, On October 1, I also manually changed it on my laptop as well~ just to be sure my shipment arrived. In addition, the people we sold the house to knew us as well, and knew our address as well, as well as the post office forwarding all mail. Due to error on part of Kohl's, all packages ended up in South Carolina instead of Florida. Boy, what a mess! I received shipments from old address that Janice our postal lady charged us $3.00 to $7.75 for postage on two packages. After that I asked Janice my mail carrier I wasn't accepting any more packages from Kohl's with postage when Kohl's knows where I live now. However, I had sent (2) packages of shipments back that actually went back to the corporate office with Janice my mail carrier.
Moreover, the bath rug set never arrived on one shipment. During which time I spoke with Mike, Scott about changing address @ Kohl's, supervisors from Kohl's that I spoke with are: Sherri, Edward, Kay~ representative not claiming to be a supervisor. Staff claiming they're going to be expediting the $162.12 quickly back to me are: Rose, Monica, Mike John, Kay again, and Octbio. Before speaking with Octbio in April, I went to the Lady Lake store in Florida by my hometown where I shop in store and explained briefly the situation to a supervisor named Kathy **. She went beyond customer service and called Kohl's.com and spoke with many representative.
Finally speak with a supervisor named John which I have spoken with previously. Everyone promised me expediting priority but nothing. Although, John gave me a case #. Since back in March, nothing! The last I heard from Octbio, it was 4-21-2017. This has been going on (8) months since October 13, 2017 and still no money back! The total amount owed to me is for all the towel (blue, green, orange, & brown), the seaside towels were only shipped on one order, therefore no money due, and the rug bath set only one set was delivered as well~ for a grand total of $131.98. I can't understand why I as a customer have to work many hours to research the incompetence of a large retail department store such as Kohl's when I am handicapped person with severe medical conditions not needing all the aggravation of being taking advantage of. A concerned customer.

Matter was resolved. $22.63 was credited to my account. I am removing previous complaint. Was a matter of misunderstanding.
Original Review
Had large online order. Was sent in 3 packages. Did not receive one. Called and was credited amt. then re-ordered and charged for those items same as credited amount. So far ok. When received bill the amount was still included in large order listing and also charged as separate charge. When I called to have double charge removed was told was taken off. When I explained it was still on original charge was told it was taken off. I asked them to total remaining items and they would see it hadn't been.
Talked to 8 different people and was on phone for 2 1/2 hours. No one was able/willing to check wrong amount. One said calculator was not working. Then was told trying to get items for free. Not true. Paid 2 times for them. I have been a loyal customer of Kohl's for years. I will no longer recommend them to friends and family. I have posted this to social media sites to warn others. Not only did I lose money but was treated very badly. Terrible online customer service!!

I purchased a Roomba for $512.99 and it wasn't working out of the box so I returned it for an exchange and they told me that this Roomba is not available and then told me to get a refund but it has to be done through Corporate Headquarters because of the amount and I said Ok. 3 weeks later I received a check for about half the amount $282.00 so I contacted Kohl's for the remaining balance and they told me that is what I'm getting so I ask for the item back and the CEO secretary said that I won't get the product back either because the product was already returned to the manufacturer. I asked to speak with a higher up or a manager and she stated that she is the higher up. There's no one else higher but the CEO and he won't speak to me. Everything goes through her.
This person needs to be demoted and or the CEO to step down and get someone with experience. I then told her that I will contact the Board of Directors and she said that the president of the board of directors is also the CEO. Never seen such a scam run by a business trying to control everything like a dictator from another country.

I'm actually surprised at how horrible Kohl's is, at least placing an order from their website. It has all turned out to be a very frustrating experience. Placed an order for an item on a wedding registry. Just before finalizing the order I wanted to make sure it was being shipping to the wedding couple and not me. I clicked on the shipping tab for the order and it showed... their name and info. I then tried to go back to finishing the order and I couldn't. I had to start over. Entered all the info again. It asked me to provide an email address. I did and it said I had an account and needed to log in. I logged in and of course had to go thru the entire order process for the third time. Took me 30 to 40 mins to order an item but I got it ordered.
Next day received an email showing that it was being shipped to my house and not the wedding couple. Went to the website and did the 'chat'. After talking to the person at least 15 mins he confirmed that it had been shipped to the wrong address but said there was nothing he could do and I'd need to call the customer service dept. I called and evidently they have outsourced it to India. Could hear what sounded like hundred of people talking in the background. Also every time I spoke I heard my echo... really bad. The lady told me a mistake had been made and that it was too late to cancel it and I asked if I could just reorder it and return the first one when it came to my house. She said she didn't have the address in the wedding registry and had no way to get it. She also said I couldn't reorder it from the registry since it was now showing as purchased. She gave me no option to solve anything.
Afterwards went to Kohl's website to complain about the entire thing... could not find a link. Finally found a link and on the page it sent you to it asked what the problem was about and wanted you to enter your name and email address. I did all that and clicked on the 'Go' button and it would just take me back to this same page asking me to enter my name, email address etc. It was just a loop. Horrible, horrible. Surprisingly horrible and I have to think experiencing this that this company is on the way down and probably out if they can't fix this mess. Horrible website and then incompetence. I will definitely stay away from this place in the future.

I placed an order to purchase the Apple Watch Series 2 on Monday night (April 24, 2017). Right away my order was cancelled and advised to call into Kohl's customer care. I called right away and the rep I spoke with advised that the purchase was larger than I normally make online so it was cancelled. She asked if I approved the purchase and then said that she would have the rep that cancelled the purchase push it through. That was LIE #1.
The next morning (Tuesday, April 25, 2017) I still had not received an email confirming the purchase. I again called and spoke with a different rep that was very helpful but it took over 30 minutes to get the order pushed through. She thought it was weird that I was told someone else was going to push it through when it sounded like that rep should have done it herself. She offered to give me a discount due to the troubles and then said that I was not able to get the discount due to the product. She then advised that she would have it shipped and delivered to me by today (Wednesday, April 26, 2017). She advised this several times. That was LIE #2. I thanked her for the kind gesture, especially since I was not expecting any compensation. All day today I have been telling everyone how a negative experience was turned into such a positive experience and that when I get home today I should have my new Apple watch.
I get home from work today to find the shipping information and it will not be getting delivered today. Why lie and why make promises that are not intended to be kept. Honesty is the best way to handle things. I will be writing negative reviews everywhere that I am able to and filing a complaint with the BBB and the Attorney General.

Placed an online order with pickup at the store in the amount of $59.42. Was then notified that one item was not available. New charge will be $46.18. Checked my bank account and see I was charged $59.42 twice! I called their customer service and was told this is their policy and when I pick up the order, which I did on the same day, the new charge of $46.18 will then be charged to my bank. This didn't happen. So the $59.42 x2 is still pending and holding my available funds for 72 hours. Kohl's is holding my bank account hostage for double charges that aren't even for the correct amount. Will never shop at Kohl's again. Their customer service wasn't helpful as usual as this has happened to me twice. BE AWARE of Kohl's policy to charge twice and then hold for 72 hours.

I am creating this complaint so the public is aware of the awful experience I have had attempting to resolve an issues with the Kohl's company. In February of 2015 I was notified by my credit report that I had an unpaid late charge on my Kohl's account. I had purchased some items from Kohl's during a tumultuous time in my life. We were moving, we were getting ready for our first child, and my grandfather had just passed. Usually if I have items that are unpaid, I would get an invoice, a phone call, letter, something to let me know I had unpaid items. I received absolutely nothing. The only notification I received was from Equifax months later telling me I was charged 30 days late on my Kohl's. I have never been late with any payment in my life. I was complete shocked, and called Kohl's immediate to pay off the entire amount. I couldn't believe that there was no notification from Kohl's about this charge.
My wife and I are attempting to purchase a home, but this negative mark has stopped us from getting a rate that we can afford. This will ultimately stop our chances from getting our home. I have never had a late payment with Kohl's other than this one (or any other company I've dealt with). This occurred during a very stressful time in my life, but regardless of this one time mistake, the Kohl's company has not been accommodating. Everyone makes mistakes, and I could completely understand if I was a repeat offender, but I am not. It was an honest and simple one time mistake.
I have asked Kohl's for forgiveness, but they are not interested in excusing a long time, loyal customer. I find this very odd since all other companies are aware mistakes can happen, and are usually open to working with the client to forgive a one time event like this. I find it selfish and greedy that there is no way to come to an agreement. This is why I am starting a universal ban on Kohl's stores, asking everyone out on all social media sites to join me.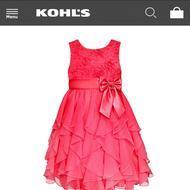 I decided to buy my daughter's Easter dress offline because I couldn't find anything in the stores. I ordered a pretty coral color dress. I placed my order on Thursday night April 6 and didn't receive the item until April 14 which was the schedule delivery date two days before Easter. When I got home from work I knew the dress should be at my house. Got home and my daughter was so happy to finally get her dress. When I picked up the bag I knew it felt too light but I just let that pass and figured they had it wrap tight. When I opened the package it was a man's shirt, nothing I ordered.
I called Customer Service and the woman said to send it back and they will get the dress out to me. How? I told her, "I don't want the dress anymore." I needed the dress for Easter in two days. They can keep the dress so I asked, "How do I send the item back so I can get my money back?" She asked if there was a store I could go to. I told her, "No, there is no store near me." (Kohl's is about 30 minutes away from my house. I not driving to that far in traffic, wasting gas, and they're not going to reimburse me for my gas).
So she said I could ship it back FedEx or DHL. So I asked, "If I ship it back will I have to pay for shipping?" She didn't sound too sure but just said I would get my money back for the dress and shipping and handling. (No miss I'm not paying for any shipment when this was my mistake.) I'm send the dress back tomorrow and I'll see if they try to charge. But what I don't understand is that I order a child's dress. How did you get a man's shirt out of that? Not only that if you go any department store men clothes is not near girl clothes. So disappointed and will not buy another thing from their store again online or in-store.

I ordered four items with Kohl's. The first item was a Rumba Vacuum, next was a balance ball chair, next was with a humidifier, and last a gift wrap holder. The two orders I had problems with was the humidifier and chair. I ordered the humidifier February 20 and it was supposed to arrive February 24-27, it never showed up. I called Kohl's twice and paid March 8, for shipping price of the Balance Ball Chair (paid item through Kohl's Cash), and paid for the humidifier. Suddenly out of the blue the humidifier came March 20, in a nice not weather damaged box. Then I called Kohl's and let them know my order has arrived. Then they charged me twice, for the same item. I paid it and asked Wells Fargo to dispute one of the charges. They charged me again on Thursday April 6, via an email with a $25.00 credit check fee. I paid it and immediately closed my Kohl's account.
I called Kohls.com at the store and they said I owe over $400 with several transactions saying all have been declined. Wells Fargo has record of all transactions except for Thursday. I submitted my receipts to my mother Marilyn **, her email address is **, she has a printer at home and to my caseworker Karen **, at ** at AccessAbility Incorporated. I also submitted my receipts to the MN Attorney General's Office.

I just received an email that my Kohl's account information was updated and that an order to the tune of $119.82 was going out to my new address in Tarbo, NC. Funny. I do not remember moving to NC. So I called the number, gave them the account and all the info, but because the card was in my wife's name, they needed to talk to her. OMG - they don't care that my card was compromised at their store. They want to talk to my wife. I told the lady my wife was working but she did not care. She would not do anything until speaking to my wife. GREAT CUSTOMER service Kohl's and so much for your customer's fraud protection. Mark your name up with the other's that have had their systems hacked.

I went on the website to chat with someone from Kohl's regarding a price adjustment. I have done this in the past and had no problems. In fact it was a pleasant experience before anyway. I purchased a crib and a mattress, a present for our new grandchild, our first grandchild to be exact. I set it up to be delivered to our daughter whom lives in another state. This is one of the reasons I purchased online so that I would not have to worry about sending a gift to her.
In the past I have had wonderful experience purchasing online and reliable delivery of what was purchased. Anyway on to my disappointing experience with Kohl's. The two items I purchased went on sale the next day so I went on the website to talk to someone about getting an adjustment. I was informed that because the item I ordered was exclusive item, it was not eligible for price matching - this is actually what was said to me from Tim at Kohl's whom lied to me about his supervisor, told me it was a male and then gave me the name of a woman.
For those of you unfamiliar with Kohl's the reward points offered are equivalent to $5.00. That is what my loyalty is worth to Kohl's. I am so disappointed in Kohl's and I will no longer shop online with them and at this time I am not sure I will shop or do as much shopping as I have in the past. This is sad because as I have stated I am a new grandparent and it would have been so nice to be able to purchase items and ship them to the new baby.

I ordered some items in November 2016 for Christmas. The total cost was $61.61. I watched for the bill, but never received one. Looked at the receipt with items, and it looked like I had paid for it when ordered, which is what I usually do, so didn't think anything of it. I then left on vacation on 1/16/2017, returned home on 3/5/2017 to 3 phone messages on my landline which I couldn't understand. So called Kohl's and they said I never paid??? So why did you wait so long to call me, and why no bills. They say I never changed my address or phone number when I moved 3 years ago. I say I did. Now they want about $200. Finally after speaking with Gabby and supervisor Carlos, which I could not understand what he said. I finally had to pay $134 dollars to stop collection. I had this account for at least 20 years, never paid late, yet had to pay over double the amount. Too rude people. No less. Will never shop with Kohl's again.

Customer service was the worst. Could barely understand them. Explained I ordered 2 day shipping for 11 items. When I checked the status of my order it only had one item for 2 day and everything else was standard. So I paid $17 shipping for a pair of $20 shorts instead of the whole $268 order I placed. I needed these items for my kids for vacation. They offered no solution to fix other than when the clothes come which will be while I'm on vacation to send them back. They have put me in a bind because I'm out the money on the clothes until the items are returned money that I could have used on my vacation. I'm literally in tears. I was told 3 different things by 3 different customer service reps.

There was a problem with my online account, and they misunderstood my instructions. They closed my credit card account. I asked for them to reopen it, but they said they would have to listen to the recording of my call to Customer Service. They did not reopen the account. I do not believe they listened to my call. I had to call Customer Service back several times before I could get someone to help me, and then they never did what they said. I had to apply for a new card. My advice is to never call Customer Service for help, and to just close your account and start a new one.
Company Name:

Kohl's

Website:

http://www.kohls.com/