Consumer Complaints and Reviews

I called to let someone know I placed an order and it always gives me an option to have shipped to store. This time it went from order to check out. No option. I'm not paying 8.95 for delivery on an item that was 29.00 dollars. The woman said I must of done something wrong. It couldn't of been their website. I order through JCPenney all the time. I ordered twice the week before. Why didn't it do it then. Basically she told me I was wrong. Very rude no customer skills. Very bad for business. If she worked for me she would of been out of a job. Now I have to argue with someone when I return. I want my 8.95 shipping back. And I'll never place another order with JCPenney again. No wonder it looks like they're going out of business with employees like that. Watch out on their website it does mess up. My son's a computer programmer said it definitely can happen. Ohio has some real classy people. Not.

My husband and I scheduled an appointment for someone to come out and show us some samples and guide us in some window treatments. We were looking for blinds & curtains. This was all done in the beginning of October 2016. We placed our order and was told we should be seeing our order before Thanksgiving. Well that didn't happen! We were told it was on backorder. The order finally arrived in the middle of Jan 2017 & when it arrived the curtains were too short, the valances for the blinds were not measured correctly and one blind didn't fit correctly. They told us it would be corrected. We are still waiting for the corrected curtain. It's now the beginning of May 2017. It's been almost 7 months! They offered nothing for the inconvenience. I would never recommend them to anyone. The communication is very poor. You can never reach anybody and it takes forever before anyone returns your calls. Very disappointed!!!

When trying to make an online purchase, none of the items matched the coupons available. There is always exceptions to every coupon and it's so frustrating!!! It says 20% off when using JCP card. Not always true. Your items must "qualify". Shopping at JCP never used to be this way. I will now shop at Kohls or other retailers that make the shopping experience much more enjoyable.

1st order a couple of days ago went fine online. 2nd order today was a nightmare. They offered a 30% off discount. Picked out the items I wanted, tried to get the total amount. Could not do that until I committed to the order. When I did the discount wasn't there. I immediately contacted customer service. They wouldn't give me the discount or let me cancel the order. These are my choices. I have to contact them 5/2 (today is 4/29) to give them my order number, to ask for my 30% off. I can't cancel the order or adjust it, because it went to shipping as soon as I placed it. I'll have to wait until the order arrives, get in my car and drive across town to return it. If I knew that after the 1st order all subsequent orders would be set up like a trap, it never would have happened. This store was part of my childhood. I am truly disappointed. I have been purchasing and selling online for 10+ years.

I called to make an appointment for a trim for my teenage daughter. I told the girl on the phone that she had long layered hair and liked the ends to be razored rather than blunt. I asked the girl how much to send, and she told me that the price for an express cut (no wash, no style) was $22.00. I sent my daughter with $40.00, and they took all of it. I called the salon. They charged her $10.00 surcharge for having hair longer than shoulder length and kept the rest as a tip.
I asked why I hadn't been told about the surcharge when I asked about the price. They couldn't answer and brushed off my complaints. I went to the website. The choices for customer service are chat, tweet, or call. I chatted with a rep that said he couldn't do anything, that customer service was for online orders, and to call the store manager. I called for the store manager, but she wasn't available. I spoke to the shift manager, who agreed that I shouldn't have been charged more than the quoted price, but also couldn't do anything.
Both the customer service rep I chatted with and the shift manager said that they'd have the store manager contact me, but she never did. This haircut is not worth the $22.00 I was quoted, much less the $40.00 they took. My daughter went in to have the dead ends cut off her hair. However, it looks like the stylist just sawed at it with dull scissors. It looks worse than it did before, and now I'm going to have to pay someone to fix it. The fact that they use Twitter as one of their customer service options makes me think that no one at JCPenney seems to care if you are unhappy unless you call them out on social media. Horrible, horrible customer service, and quoted prices are changed after services are rendered.
How do I know I can trust these reviews about JCPenney?
762,878 reviews on ConsumerAffairs are verified.
We require contact information to ensure our reviewers are real.
We use intelligent software that helps us maintain the integrity of reviews.
Our moderators read all reviews to verify quality and helpfulness.
For more information about reviews on ConsumerAffairs.com please visit our FAQ.

I'm receiving emails from J.C. Penney that I didn't request, which is ok but receiving 2-3 daily emails is excessive. I want them to limit these to one per month or one per week. Tried looking at the Customer service site and there is nothing about email there. Tried their Chat option, that wasn't working. Tried calling was on hold for too long. I had to unsubscribe. I've noticed that when I do shop at their Wareham store they never have many employees working there so finding help is hard and I'm not going to the checkout to wait in line to ask a question.
This past Christmas I was shopped there. After waiting 10 minutes in line to check out I finally left and purchased none of the items I had spent time look for (a total waste of my time). They had 4 cashiers on, however, due to the red tape with coupons everyone was held up. Coupons need to be straightforward. Customer shouldn't need a magnifying glass to get through all of the exceptions on coupon.
Here's a crazy idea. How about getting rid of coupons altogether, get rid of the constant 20%-50% off deals "THAT AREN'T DEALS AT ALL". I'm now looking for an appliance. My usual go-to store is in certain danger to closing so I won't be going there. I'm certainly not going to buy one here either, with nothing but 1 Star ratings and complaints about "appliance services". J.C. Penney like other stores that are going under need to start asking and I mean "ASKING" customers what they want not calling with a survey that has nothing to do with what the customers really wants.

I ordered one blind, it was in stock and I was told 1 week it would be delivered to Eastwood Mall store (Niles Ohio). Email stated 4 to 7 business days blind will be shipped. Received this 04/16/2017. Called customer service 800 #. Waited 7 minutes then was disconnected. So I called store and talked to SARAH, SHE WAS RUDE, she said there was no way to know when item was coming or even IF it was coming. Just wait a few more days and if it did not show up then I could just reorder it. SO JUST TO BE CLEAR A STORE THAT DOES NOT KNOW WHEN OR IF YOUR ITEM IS COMING, WILL BE GLAD TO HAVE YOU DO IT AGAIN.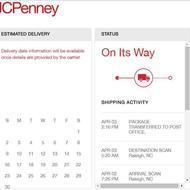 I placed an online order which I have never received. The tracking shows the order arrived at the Post Office 3 weeks ago and that it is still there. I've received a bill for the items and JCPenney says I'm responsible for the payment since the items were delivered to the Post Office and that I need to contact the post office myself to try to resolve the issue and then I can return the items for a refund. I feel that the company should track the package and be responsible for it until it shows it is delivered to my home. Now I'm stuck with a $150 bill for clothing I never received. More than dissatisfied.

JCPenney's return policy is terrible. I am upset because I bought some items less than 100.00 bucks and returned them using my debit card. My total was 37.00. I was told I have to wait 3 till 5 business day? That is crazy talk especially for such a small amount.

My mom made a purchase to you all in February. The sales associate Joey was very helpful and polite. However the day of my installation not only was I installed the wrong items but which is my microwave the three gentlemen didn't install my dishwasher leaving it in my den. I am very displeased. I am angry. I am unsatisfied with my services and I'd wish I had went somewhere else for my Appliances. It seems that you all do not have great communication with one another and you are blaming GE and GE is blaming you. Poor poor poor customer service. I will never shop here again. Over $2.000.00.

Three out of three of my wife's past three online orders had inaccuracies. The amount charged on the order was more than the amount shown on the receipt printed at the store. In addition there were multiple, questionable charges billed to the credit card.

I have had many perms in my lifetime, and this is the first time that I had experienced burns on my neck and extreme breakage. And to top it off the perm didn't even hold. When I went in to complain about the breakage and see if they would do a deep condition, I was informed that they only have a seven day policy. I didn't request my money back or a re-perm just a simple deep conditioning. As I stated before, I have gotten many perms from other salons and have always been informed if the perm doesn't hold, I was always welcomed back and they would fix it. JCPenney has been the first place to not stand behind their services. Never will I go back.

I purchased a recliner chair in June of 2015 to the tune of $900. At first, I liked it but then I noticed the reclining gear kept slipping and could not be tightened any longer. Finally 2 months ago (Feb. 2017) the right side of the chair broke completely. Their customer service is laughable. When I called to complain, I was told there was only a 1 year warranty on the product & sorry about my bad luck. They suggested that I contact the company who built the chair. So far, I've called 4 times and they keep telling me that someone will call me back but no one has yet. I am extremely frustrated & dissatisfied with this purchase. Any piece of furniture that cost this much should last longer than 1 1/2 years.
I tried to write a review and JCPenney pulled it saying it did not conform to their review standards. So I re-wrote the review carefully and once again, it was deemed unpublishable. Interesting thing though - the chair is no longer for sale anywhere on their website. Now, I am out $900 and have no recourse whatsoever. I will NOT shop at JCPenney's ever again.

I purchased a glass curio cabinet with glass shelves in early part of February, 2017. Took almost a month to get it delivered. When I received it it looked nothing like photo & I wanted to return it. Contacted JCP on 3/2/17. They IMMEDIATELY charged my debit card $125.00 for "restocking" fee and promised to make arrangements with delivery company to pick up item. Said it would take about 7 days.
After 12 days I contacted them again because I heard nothing from delivery company. This customer service rep told me previous rep had not even contacted delivery company. She then proceeded to tell me that she would arrange for UPS pickup and I should leave it outside my door! I repeated to her "IT'S A GLASS CURIO CABINET WITH SHELVES AND WEIGHS ABOUT 100 LBS!" She then said she would contact delivery company. Next day I find a UPS sticker on my door. I call again. No instructions on file to contact delivery company.
Now I move on to supervisor level. First supervisor promised to make things right and even said would try to get restocking fee refunded. More days go by... nothing. Call again. Supervisor 2 - same promises and once again NOTHING. Today I call and get "Manager" who said she talked to me before and that I should calm down because being belligerent wasn't helping. I guess she doesn't understand that right now I'm out almost $600 and almost a month has passed. I guess I should sound like Mary Sunshine? Darn right I'm belligerent and mad! 6+ phone calls, $600 and STILL NO DATE to pick up and return the item. DO NOT BUY ANYTHING FROM JC PENNEY. I will never buy another item from them... Don't care if it's buy one get two free! They lost a lifetime customer for life! I have a brand new home with 10 windows and a door that need window treatments. GUESS WHO IS NOT GETTING THE BUSINESS!

I was looking for an electric can opener. Purchased the wrong one. So figured it was only like 5 minutes ago I will cancel that order and purchase the right one. They have absolutely no way to cancel the order or edit it. Unfortunately I seen thousands of complaints from customers too late. It was like 2 a.m. so I went to sleep and called them in the morning when they start the day. She said it's already in the warehouse can't do anything about it. I got mad and said "give me a break, you can't cancel it? Then I'm going to stop payment from my bank." She says "then you will be in trouble for theft???" Then she disconnects the call. Now stuck with the responsibility of returning it to the store or paying for shipping and handling to send it back. This business shouldn't be in business anymore. If you are looking to get something on the internet you should never go through them.

I went to purchase a pair of workout capris. The only ones they had on sale were buy one, get another half off and I only wanted one pair, so I looked on the clearance rack. I found a pair of size XL but they had no sale or clearance sticker and the regular price was $29. I then found a pair of the exact same ones in a size Med. that had a clearance price for $12.xx, AND a 1X for $7.xx. I took all 3 to the checkout and was told I would have to pay the full price if I wanted the XL because everything is priced according to the size and not the item!

JCPenney decided to change my regular JCPenney card to a JCPenney card with a chip and MasterCard logo. I tried to order a pair of boots online and use a coupon. The coupon said 20% if I use my JCPenney card. But it was only giving me 15%. I called and the customer service line, they said because it's a MasterCard and I can use anywhere, it no longer is considered a JCPenney card. I was told this by 2 different people. I called again a week later to find out how to get my original JCPenney account back, with no MasterCard. I was told I would have to reapply, which I did, and I was told I already have an existing account. I wrote to the customer service email twice for assistance and never received acknowledgment or response.

I am disappointed with the customer service. I bought a washer and dryer via jcpenney.com. I was emailed a delivery date of 3/13/17 between 11-1. I waited for the delivery however, the delivery never arrived. I called JCPenney customer services line and was told that the delivery company GE reschedule my appointment. I was never notified. However, I was told that my appointment was rescheduled to Monday 3/20/17. However, they are not able to give me an expected time of delivery. This is unacceptable. I have to work. I can't take off another day to sit at home.
They are very nonchalant about the ordeal. There is no consideration given to me as the consumer. I was just told that sometimes the delivery company does that. They were not willing to make an arrangement to give me the items I have purchased. JCPenney does not care about the consumer. I was forced to cancel my order and wait up to 14 days to receive a full refund. Ideally, I would like the items I purchased to be delivered to me by this weekend.

I placed an order from JCPenney on 2/28 and have not to date received my item. It was suppose to be at the store for p/u on 3/8. I have called the JCPenney.com, with no positive results. I asked for a refund. I was told "we cannot give you a refund, you will have to go to the store, when the items arrive", and when it is this suppose to happen? I am done with JCPENNEY'S. I had to call my bank, to investigate, and recover my money.

I am completely horrified by how JCPenney handles their issues. I was basically told that it's my bank's issue not theirs. I ordered a ship to store purchase on March 3rd. I picked it up the same day, realized they didn't fit and returned it the next day. I saw that the pending payment on my account was gone and thought that was the end of it, it wasn't. I was charged for the purchase today (a week later). Since I thought everything was squared away I didn't feel the need to keep almost $50.00 in my bank account. Since they charged me a week later I was over drafted. Now I have basically paid $70.00 for something I don't own. Once I spoke with them about this problem they said it was the bank's issue to deal with. I will not be stepping foot into a JCPenney again. I hope everyone who can reads this and is warned to stay very far away. This is a horrible company that is consumed with getting their money no matter how it affects other people.

The experience has been so bad that you've burned me once, shame on you, but you won't burn me again! I bought several items and played the game, 2 rebates per item, and carefully sent them in, keeping copies. You got your originals and I got the copies. I got damaged boxes and no original receipts. Now you've invalidated them because I didn't send them in the mail with a postmark within 33 days (never did find that rule or directed by the CHAT person as to where it could be found) told "The system will not validate submission that have more than 33 days from the postmark date." "But we do have to follow the guidelines of the promotion." One item he said wasn't up for the promotion. That's funny because the sign sure said it was and I pulled the rebate form off the computer.
Consumer beware. Walk the other direction!!! Don't be tempted. I'll consider your store only as only a pathway into the mall. Their resolution - They were really sorry. They would validate the December 28th postmark (seeing is believing) but none from the January 12th. These were Black Fridays specials or maybe not a good special after all.

After being transferred 2-3 times and over 52 minutes on the phone, finally getting to a supervisor (AMY) I had to repeat myself, 2-3 times prior of my situation. I have been a PLATINUM member with JCP for over 4 years. In the past, never a problem, always resolved. Amy continued to ask questions that are never asked. I tried to explain to her, my reasons of questioning her, which I did, because she brought up different scenarios. I even apologized to her on 1 occasion and then mentioned to her I was wrong. Did I get a Thank you at all. NO. I then explained to her being in customer service for 23 years I have never continue to push buttons when still not getting the answers of the questions provided.
Here is my story. On Feb 18, 2017 I ordered, well I thought I ordered 4 sets of Queen sheets through a employee at the JCP store. I was advised that my order should arrive within 5 business days to my home. I was away on business, as I explained to (AMY) No emails, no phone contacts of why my order has not arrive. Now over 3 weeks. So I called JCP.com. My 1st point of contact was 3/4/17. I was told my order was cancelled. I asked why. They said I need to speak to someone in a different department (supervisor) not on duty until 730am Eastern time. I then called back on 3/5/17 and was transferred 2-3 times and continued to answer all their questions they asked me, but no one could answer my questions, or give me an explanation of why my order was cancelled.
Until I asked for a Supervisor. That's when I got (AMY). I had asked her if she knew what was going on because I had already repeated my situation 2 times prior. She did not. She then started asking me all these questions about me. Which when I call in from my listed number in the system they know who I am. I explained my situation. I asked (AMY) why my order was cancelled. I wanted a reason. She then explained. The order was put in wrong by the agent in my local store. She never put my email address or phone number in, and the quantity was wrong. Then I questioned, this could not be.
My bill came in adding up to what I purchased, that's when I told (AMY) I have not received any of my order. I then explained 3 weeks have went by. Can I order a different item at a discount price of $10. off each item due to a 3 week delay error of the agent who incorrectly made my order. She then explained to me, "it is already on sale. We cannot give any other discounts".
I explained to (AMY) 3 weeks is a long time not to receive a order or have any phone contact or explanation. She (Amy) continued to say "do want to re-order the items you originally ordered". 1st (AMY) continued to say "I can get these cheaper for you". I knew something was wrong because my credit card bill still owed was over 200. and her bill added up only to 139. She did not listen to me. I even said to (AMY) "aren't you listening", (Amy) then said, "sir, do you want to re-order these items". I then said to her. "(AMY ) Haven't you hear a word I'm trying to explain to you". She did not want to hear anything I had to say. I told her in 4 years I haven't EVER been treated as RUDE on the phone as she was. She became silent...
I then said Hello, several times before she replied back. So 1 more time I said to her, for my 3 week order error could I get an additional $10. discount off each item, she continued to say "no. I can't". Then (Amy) said again "do you want to order these or not". I said no I do not, as well as told her to remember my words, that I was going to write this about her terrible customer service attitude. I enjoy shopping at JCP, and JCP.com but after this experience from the supervisor (AMY) Who did not care or want to listen, I will now take all my business elsewhere. She needs a lot of customer service training, or needs to be demoted.

All I can say is I will never shop there again. There was a sale online so I ordered online but decided to pick up in store. I ordered 4 things on 2/13, the items finally all were available to pick up on 2/22. I go to the store to pick them up and all of the items were there so I thought everything was fine. First on the Discovery toys microphone I bought, the demo button did not work and when I took it apart it had drained batteries inside (even though it said batteries not included). Was it a floor model? Was it a return? Who knows. Then upon closer examination of a necklace that I purchased in the same order. I realized it was a different theme than what I had ordered (I ordered Shopkins but it was "Pets").
I called to ask what they can do for me because I'm attending a birthday party in 3 days. I'm told that they don't even sell the original necklace I ordered anymore and I have to either go to the store 30 mins away for a refund or send it back with a return label they send me and wait up to 3 weeks for my refund. Regardless I can't get the item they promised. They actually could see from their end that it was a Pets necklace and not a Shopkins that was sent in my pick up package but they still made me feel like I was trying to pull one over on them.

I tried to make a purchase on-line. After one hour I finally ended up calling in to place my order. 2 sales associates outright lied because they could not figure out why I could not access my rewards points. When I made my purchase on a purse the sales associate said, "Oh, you get 40% off. Do you want another one". 40% off did sound like a good bargain so I got another purse. I also bought an egg cooker thinking that this too was 40% off as the ad said. I was told that my rewards were used on the purchase too. I made my purchase and hung up after giving the sales lady an excellent review. I thought about the cost which didn't sound that much like a sale, and checked the prices online. There was nothing taken off the price of the purses and nothing off the egg cooker.
I called back and was told the 40% did not apply to the purses and I did get $10 off the egg cooker. No rewards were used on the purchase. Then to add insult to injury I was told I could not cancel the order. I would have to return it after I get it. So I have lost another hour and it will probably take another hour to get the merchandise returned and ensure my card is credited. I can't go to the store as I am not able to walk or drive. I wonder how many times I have been lied to in the past and just didn't catch it.

I submitted the $10.00 rebate paperwork for the Cooks crockpot that was offered Black Friday 2016. I read prior to purchasing that the rebate system was a joke at JCP which I didn't want to believe. Well, now I do! Paperwork submitted, no rebate. After tracking and contacting them they said I didn't provide UPC. I have since read other complaints on the same product. I would have NEVER bought that crockpot without rebate. I have better things to do than argue over $10.00, but JCP, I guarantee you will not get my business again! You should follow through with your rebates! Is it really worth losing a customer over $10.00? Should have gone to Amazon... And I will next time!

I went to JC Penney on 2/18/2017 for the first time in nearly a year. The cashier asked if I was a rewards member. I gave her my phone number and she confirmed it. The total purchase was $38.89. Then this lady asked me if I wanted to apply for a JC Penney credit card. Seemly to her surprise I already had one. I gave her the card then she asked for my I.D. I've shopped at JC Penney for years and I have never been asked for an I.D. and especially for such a small off named brand purchase! Beforehand I stood in line waiting to be served and she never asked any of the prior customers for their I.D. I confronted her and asked her why she asked for my I.D. She claimed it was for my protection. lol... Bull! If my friend didn't need the blouse for church I would had thrown it back in her face and gone to Belk or one of the other 15 stores where I have credit cards for.

I purchased 3 items online 01/30/2017 and 2 of them came within the 3-5 days promised but the Steam Cleaner that we really need since we have 3 pets didn't come. I called on 02/06/2017 and was told my item was leaving the warehouse and that if it didn't come Friday or Monday to call back. Needless to say my steam cleaner didn't come Monday so I called back and apparently my item was still sitting in the warehouse (they overlooked it somehow) and that they would put a 2 day express shipping on it.
I called Thursday to find out when my package would be delivered only to find out the item was canceled and not being delivered! I didn't even get a phone call or email to me! The woman told me she wasn't sure why that happened since they have the item in stock but I could repurchase it and it would get to me by 02/22/2017. I'm very upset that this item is in and my order was canceled. I'm upset if I would have repurchased it, it would have taken 5 days to get to me. So now I have to purchase this item somewhere else because I can't wait another 5 days and who know if it would come then. I'm disappointed and will not shop on JCP.com anymore.

I purchased 5 items during thanksgiving sale on 11/24/2016 and sent the rebate for, a copy of receipt and bar codes to the rebate address. I didn't hear anything so, I called them after 4 weeks and they said they have not received my envelope with those stuffs. They wanted me take picture of everything and upload, I did and now they are saying they can't see the date on the receipt. Of course because the receipt is too long and it cuts either the top or bottom. I near in the core of my heart that this is fake & scam that JCPenney wanted to give rebate. I send so many cards & letters, never get lost. I had the tracking & USPS says it was delivered to their PO Box. JCPenney is cheater & a thug store, It should be closed out from business for making customers foolish. Who will take actions against those? I am sick & tired with them & hate to my death.

Back in November we ordered a dishwasher and it was installed in December. While we could install it ourselves, we decided since it was a free installation promo, we'd take them up on that. Horrible decision. The person who did our installation completed flooded our kitchen and basement. He repeatedly told my husband the water didn't need shut off, just under the sink. My husband argued with him, but finally backed off. Bad decision. When I started getting out towels to mop up the mess in the kitchen and my husband grabbed towels to mop up the mess that was flooding into our basement he kept telling us he'd clean it up after he was finished. I kept telling him that, "No, this couldn't wait. Our basement, where all of our Christmas gifts were being kept as well as our computer, had water gushing down into it. We needed to take care of this mess NOW."
Once he finally finished the installation he quickly took off. No offer to continue to help us clean up, not even an "I'm sorry". He clearly wanted out of there ASAP. Unacceptable. We spent that entire afternoon and evening using a wet vac, fan, and towels to clean up the mess. Not to mention constant laundry since we kept running out of towels. I called JCPenney that day to complain and we were put in touch with the department who handles claims. In a few weeks they sent someone out to access the damage. He said it was clear they owe us money to replace the ceiling in our basement and possibly the sub floor in our kitchen. He didn't want to pull up any flooring himself to check. He said a second person would have to come out to find out how much they would owe us for damages.
It's not February and we haven't even been contacted to set up an appointment. I have been on the phone non stop today to try to get a hold of someone. I have been transferred seven times. The phone quality gets worse with each transfer. The last person gave me a new number to call and it ended up being for Home Depot who was very confused why I called them. Why would they transfer me and give me the number to Home Depot?
When I called the last number I was given prior to that one I said I was sick of being given the runaround. I want to speak to the person who can get me set up with an appointment to see what we are owed in damages and if this isn't taken care of I will file a complaint with the BBB and also seek not just payment for damages, but a full refund on the dishwasher. This is unacceptable. JCPenney needs to find another company to handle installation if they don't even show remorse for their damages and then won't follow through on phone calls to let people know what they're doing for their claims. Will not purchase from JCPenney again because of this experience.

My husband purchased this ring in December 2012. I lost a diamond within 2 months. Since then I have lost about 10 stones, some of which are the same ones. I did purchase the lifetime warranty, thank goodness. I have had the ring in for repairs 8 times. They just keep replacing stones, which would be fine if they used the same quality stones as when we purchased it. I just picked up ring this week and I was in my office, which is very bright. I looked down at my ring and the stones that were replaced, (there were 4) are very dark in color. I almost thought the stones had fell out again, but after looking closer, I see they are just a darker color.
I have been OK with them just replacing the stones, but I am NOT OK with using stones of poor quality. I purchased the warranty for a reason. I have asked the last several times to for them to just buy it back. They always tell me that if it can be repaired that is what they will do. I'm unhappy with my ring now. I am thinking of purchasing a new one, but it will most definitely not be from JCPenney's.
Company Name:

JCPenney

Website:

http://www.jcpenney.com/