Consumer Complaints and Reviews

I ordered a Larchmont Dining table with a self-storing butterfly leaf from jcp.com in May 2017 and the table was delivered a few weeks later and it was the wrong table. I called the furniture line and was told that JCP has no control over what's sent when you place an order, well after some conversation another table was ordered and again the wrong table was delivered. I called the furniture line again and was told that the warehouse was making the mistake and a handpick order needed to be placed. I didn't hear anything from JCP confirming that the order had been placed so I decided to check the delivery companies website and sure enough a order had been placed but it was NOT for a table. They ordered a bench without even speaking to me about it. So I called the furniture line again after waiting at least 2 hrs total time for this ordeal I was finally told that they don't even carry the table anymore!!!
Needless to say by this time I'm furious so I asked how I would be compensated for this inconvenience and I was then told that they didn't want to insult me with an offer and I could now return the table. Returning the table would then leave me without a table and when I asked to speak to a manager all of a sudden there was silence and nothing. This is the worst customer service I have ever experienced and the longest wait time for someone to answer, I think they are hoping you hang up and just go away, well I'm not the one, I'm gonna be like a boil on their behind. PLEASE DON'T ORDER FROM JCP.COM FOR FURNITURE IF YOU READ THIS FIRST!!!

I purchased a Samsung refrigerator from JCPenney, they then ran a sale on the exact refrigerator that I purchased. I called within my 14 day window and was told that I would see the $400.00 refund on my credit card. It never was posted so I called back and was told to give it another couple days due to the 4th of July holiday. I called today 7-07-17 and now I am told that I am out of my 14 day refund window. How convenient. I then told them to return my refrigerator since I am within my 30 day return window and they want me to pay another 300 dollars for the return...
I told them I already paid for the refrigerator and to keep it out of that... The manager then stated that JCPenney would have to eat the whole cost of the appliance... SSSSSSOOOOO... Not my problem. He then stated I need to pay the return fee. I asked him how he became a manager since he is to stupid to take it out of my refund. DO NOT PURCHASE ANY APPLIANCE FROM JCPENNEY. IT IS A TOTALLY SEPARATE CUSTOMER SERVICE DEPARTMENT AND THEY ARE ALL IDIOTS. I spoke with three individuals including the manager and they are all INCOMPETENT IDIOTS.

Similar to a previous reviewer, I was also FORCED to make a purchase on June 22, 2017. While browsing the JcP App on my iPhone, I received a call. Upon ending the call, I see a "Thanks For Your Order". Huh? I should've known better than to even be in the app because the same thing had happened to me while shopping in the app a month earlier, on May 12, 2017, but I thought it was just a fluke. Thankfully that time I had entered the coupon first and was almost ready to make my purchase. I did try to contact Customer Service right after because I felt "forced" but was informed an expected 18 minute wait. No thanks. I guess I'll just have to return the few items I wasn't sure about that may not work.
On June 22, 2017, an order was placed (again!) not by me, this time when I refused a phone call while browsing in the app. Sometimes I comparison shop, sometimes I figure out my budget, and sometimes I put stuff in my cart for my other life. I DID NOT WANT TO PURCHASE ANYTHING THAT DAY.
I IMMEDIATELY called customer service and held for 35 MINS to speak with a representative. She reassured me that my order had been canceled. When I questioned was she sure she had a "tone" with me and said it hadn't even processed yet so nothing to worry about. Okay. Good. I never received an order confirmation email from JcP so I mistakenly assumed the issue has been resolved.
I go away on vacation 4 days later and when I get back after 5 days, sitting on my front door stoop for who knows how long, there's a large package from JcP and a $432.50 charge on my cc. UGGGGHHH!!! So I call and after holding for 30 MINUTES, I start dealing with KORA. She can't seem to make heads or tails out of the situation so after listening to her huff and puff (seriously!) and struggle for 40 MINUTES, I insist on a supervisor because I'm getting upset with her disgruntled attitude and ineptness. This wasn't my fault, why the attitude?
I was then put on hold for 13 MINUTES for TRISH, a very mean and rotten woman. She proceeds to accuse me of lying about everything. The date of the order. My invoice says June 24 she says "Well it says here you placed the order June 22." Whatever. She says "what was the coupon that day?" I have no idea, it was like 15 days ago, it's usually 30%, she can figure it out can't she? She says "Well it was 65% off regular priced items and most customers that ask for a discount know what it is" SORRY! I'm not asking for more money back than what I paid, I just don't want to be charged full price and interest on items I wasn't even supposed to be getting, remember I didn't even place the order and it was supposed to be CANCELED!?!
She then tried pressuring me which items I want to keep and which I wanted to return, why I wanted to return them, asked me who I spoke with when I called to cancel. She said she couldn't see who I had talked to that had canceled 3 of the items and not the entire order as I had been assured was done, umm yeah right the computer doesn't say who it was. And on, and on, and on. IT WAS AWFUL.
Let me be clear. I wanted a price adjustment (apply coupon code) for everything I was forced to purchase that day and a UPS return label for all of the things I didn't want to keep, and while they were at it, I wanted a return label for 4 of the items in my $300 May 12 order I had decided I didn't want either (my first forced app purchase). I'm a platinum card holder, I've literally spent thousands at JcP.com, I am certainly not being unreasonable based on the situation at this point. I've now spent 2 HOURS of my life on the phone with the nonexistent shockingly rude customer service. Still nowhere.
I ask TRISH if she likes to be robbed? She says "no", I say "me neither". Finally she says she's not a manager and can't price adjust any of the items and I have to call back again for that once I decide what I'm returning. That makes no sense. WHY AM I EVEN TALKING TO HER??? Now I am IRATE. GET ME THE MANAGER. Without an excuse me, just a switch to hold music, I wait another 14 MINUTES. CARISSA - a manager who never apologized, was not nice, tries to condescendingly tell me I should delete my card info from the app because internet thieves (I'm a 38 y/o woman, please spare me, and don't worry I've already deleted the app and will never shop at JcP again), and later threatened to hang up on me for using the 's' word after bull... eye roll here.
Anyways, she says she's going to price adjust the order. I'm FORCED to wait for another 20 MINUTES because she "has to figure each item out one by one" but she can't do the labels or have someone else work on the return labels at the same time. I patiently wait while listening to her laugh with coworkers in the background because I think I'm actually finally being helped somewhat. All of a sudden the JcP survey interrupts and ENDS THE 2 HOURS AND 30 MINS PHONE CALL BY HANGING UP ON ME!!! BTW, I'm using speakerphone so yeah it's bad but I'm still doing stuff around the house so can't get rid of me that easy! Now it's comical.
I call back customer service haha and HOLD ANOTHER 35 MINUTES for a rep to answer. I immediately request CARISSA. After offering up some sympathetic huns, the nice rep Tammi, tries to redirect my call by saying they have different call centers and I've reached the Columbus, OH one blah blah. Yeah well TRISH the genius mentioned earlier that's where she was. GET THE MANAGER CARISSA ON THE PHONE. She has to instant message CARISSA 4X because it's just too difficult to walk over to her cubicle.
Eventually, I've lost track of time at this point since I'm understandably slightly delirious with anger, CARISSA gets on the phone and insinuates I'm an idiot. She says "Everything is all set" as if I knew. I had to ask her the amount adjusted, how many labels, how would I get them, when should I put out the packages? She says UPS will call me using the number from my order. Oh you mean my cell when I'm at work an hour away from home? Great! It was so sweet of her to NOT CALL ME BACK herself at that number on the FORCED ORDER (which again, was not placed by me, had been canceled by me, had been dealt with for the past 3 HOURS by morons) just to settle up our conversation and offer an apology for disconnecting the call. When I mention that, she says she gets busy with other calls and I can choose to shop wherever I want. Sure thing.
After I copy and paste this review at JcP.com to every single item I was forced to purchase, I'll never deal with JcP again. Apparently JcP is going out of business. Not surprising. The one in my mall Providence Place closed. I know they won't be getting another dime or minute more of my time. I really hope no-one else has an experience like mine or reads this review beforehand and decides to shop elsewhere. I can totally relate to the numerous other negative reviews and feel better for sharing. HMPH. Let's all end wasting our hard earned money on ~~~HORRIFIC AND ABUSIVE CUSTOMER SERVICE~~~

I ordered 10 bottles of Matrix shampoo and conditioner. When the box arrived, it was completely soaked and falling apart. Everything inside was covered with shampoo and conditioner. None of the bottles had been sealed or taped and they were not inside plastic bags so the package was completely destroyed. They have no way to reach them by email so I chatted with a customer service agent who told me to put the box in a plastic bag and she would have UPS pick the package up. UPS did pick up the package and apparently discarded it and notified JCPenney. I disputed the charge with my credit card company after waiting 30 days for a refund. JCPenney has refused to refund my money and now after 3 months of this, my credit card company says that I have to try to file a claim with UPS.
Only an idiot would ship a package filled with unsealed liquids. JCPenney makes it almost impossible to contact them and then they expect UPS to pay for their moronic mistake. Obviously I will NEVER buy anything from JCPenney online or in a store again. It is no wonder that they are about to go out of business. I certainly won't cry for them when they do.

I'm writing to complain of JCP furniture customer service. I placed a order of a queen bedroom set and a sofa on June 3rd. On the same night I received an email saying my order was cancelled. So I called in the second morning, and they re-ordered it for me. There was a mistake on the phone number when I first placed the order, and I asked the customer service to change it for me. He said it was changed in the system before delivery. They would call me on the right number. But when I check back, the number was still the same and the nightmare just began.
For every few days, JCP would put a new pending for the same amount for the order, before June 10th, there was already 2 pendings for payment charged by JCP on my credit card, and on June 10th, when JCP wants to put the 3rd pending charge on my credit card, my credit limit would not allow it. So I received an email on June 10th, saying the payment cannot be processed and my order will be cancelled if I don't contact them in 3 days. I called right away. I explained the situation to the customer service and she assured me that the order is ok and they would stop putting pending charges on my credit card.
On June 14th, I received an email from JCP saying my order was cancelled again. By then I was really tired calling JCP furniture since every time I called, I had to spend 20 mins waiting. But I wanted to make sure, so I called, in my mind for the last time, to confirm the order was cancelled and all those pending charges could be cancelled. They confirmed it but says the pending could take a few more days. I thought my nightmare could be over soon, I was just too naive. On June 27th, a delivery came to my back door. The delivery company brought the entire order. But I already got the bedroom set from a different store, and I told the delivery guy that JCP had cancelled my order. He confirmed with JCP on the phone and asked me to sign a "refuse of delivery" notice so that they can shipped the whole thing back, and I did it.
On June 28th I received an email from JCP saying my order was shipped. I thought how hilarious, they are always one step "ahead". Since I already signed the refusal, I ignored the email. But guess what, my credit card was charged, not pending for charge, but actually charged by JCP for the full amount on June 30th!
I just want to ask, does JCP hire enough customer service representative to handle client enquiries? Why do I have to wait 10 to 20 mins every time I called?
Does JCP hire the qualified people for the job? Why I was not provided the correct information? Do people work in different department at JCP communicate and coordinate with each other to get the job done? Because not only me, the delivery guy was really pissed as well, and he said, they are just toying us around.
If all other customer service are working on Saturdays and Sundays for a longer hour, why doesn't furniture service? Especially when they are so lame at doing their job, they should be assigned with more training. Why there is no link for complaints on JCP website? There should be a clear mark of the channel that we can communicate our problems with someone. I did like to shop at J.C. Penney before, in the store, but this is definitely the last time I'm shopping at JCP online, and maybe at the store as well.
How do I know I can trust these reviews about JCPenney?
823,111 reviews on ConsumerAffairs are verified.
We require contact information to ensure our reviewers are real.
We use intelligent software that helps us maintain the integrity of reviews.
Our moderators read all reviews to verify quality and helpfulness.
For more information about reviews on ConsumerAffairs.com please visit our FAQ.

I had to give at least 1 star, but I would prefer to give none. I ordered a bedroom suite on 5/24/17. I called two days later to change the address on the order as my daughter was moving and had found housing. Customer service took my info and said no problem. After calling numerous times to find out where the furniture was, I located the same in the southern part of MY state, not where my daughter lives. I was on the phone every other day with the "furniture dept." and had to wait anywhere from 15 min. to 35 min. to even have my call answered each time. Every time I was told something different from they couldn't locate the furniture to they knew where it was and didn't know why it was there and couldn't tell me how long it would be before they could get it to one state over to where my daughter is living. I was told on numerous occasions that it was the trucking company's fault and that Penney's had nothing to do with it.
I was able to finally have someone give me the names of the trucking companies involved. I got my satisfaction there. They told me that Penney's NEVER authorized them to transport it to my daughter and they were waiting for authority from Penney's to move the furniture. I kid you not, I was on the phone with Penney's every three days. Each time on the phone for 1 1/2 hours with no satisfaction. Finally, a wonderful man at the trucking company was able to contact Penney's and get authority from them (mind you they said this was NEVER their fault) and he shipped the furniture and it arrived in my daughter's state 2 days later. The trucking company then handling the furniture called me to set up delivery, however, noting that two of the pieces were missing. I immediately called Penney's.
Sat on hold for 25 minutes before I got a person to be put on hold 4 times in the course of that conversation while they "tried" to reach the trucking companies involved. They said they couldn't reach anyone. Meanwhile, while I am sitting on hold waiting for them to "get results" I called the trucking company and immediately got someone on the line. They told me the remedy and I then conveyed that to Penney's. Penney's then tells me it will take 5-7 business days to track down the two pieces and what happened to them. Meanwhile, the trucking company tells me 24 hours and they should have an answer. All the while, my daughter is sleeping on the floor while starting a job fresh out of college. Can you imagine my disgust and how I felt not being able to provide my daughter with a bedroom suite when I initially was told the furniture would arrive in less than 2 weeks.
The furniture was delivered to the loading dock in MY state 6 days after I placed the order. My order sat on a loading dock from May 31 - June 21 when it was finally moved to my daughter's state where it now sits because all of the pieces aren't there. Customer Service representatives were never of any help whatsoever. I finally requested and got through to a "higher up" customer service manager and she told me she couldn't do anything for me as far as compensating me for my aggravation, etc. until I received the furniture.
Meanwhile, I still have no idea when I will receive this furniture. I have shopped at Penney's all my life and to be perfectly honest with you, once the furniture is received and the issue of compensating me has come to a close, I will NEVER deal with Penney's again. They can kiss my account goodbye. Truly the WORST customer service and resolution I have ever in my life experienced, and it's still not resolved.

I wanted to get a new washer and dryer. I figured I could not go wrong with a big name place like Penney's and find that I was mistaken. The order was received and my old washer and dryer were hauled away. The new washer and dryer were not installed because they did not have the needed items to do so. I spent over 3 hours on the phone between the installing company and Penney's CS. The following Monday I was on the phone again with Penney's being told that the situation was taken care of. I was told that I had to wait another week because the machines sent were the wrong ones. In the mean time I had no washer and dryer because they hauled them away. I was informed that if I used the machines I would have to pay a fee for restocking so I had to travel 10 miles one way to get any wash done.
That was one week with nothing but headaches. I then got a phone call from the shipping company saying that they were coming on the 26th. Luckily I called them to let them know I was told that the shipment was for the Sat. the 24th. This is when I was told that the shipping company only had a pickup order and no washer and dryer replacement. I was told I had to 'reach out to Penney's because all they would do is the pickup. I was frantic because this was going to make a much longer wait without clean clothes. Another 2 hours on the phone with Penney's and it seemed like all was set to go for the 24th. They had to call the company to have the items shipped to the installation co. I asked specifically about the installation since the first time they couldn't do anything because they were not 'official' installers. Then the new washer and dryer were delivered. Again they were missing parts to set it up.
Another 2 hours on the phone with CS and I find out that even though it is marked to install them the pedestals are sold separate. I do not know why they even had it on the list when purchasing. I checked it off expecting it was part of the washer and dryer combination set. They also did not include a reinforced dryer hose so the dryer could not be set up. Now I have to wait 'another week' to get the system installed. The least they could have done was to throw in the pedestals for all the inconvenience and emotional distress this transaction has caused. I will never shop at Penney's again and I am thinking of contacting a lawyer because I am an emotional mess. Every time I was held I the phone I ended up with a two day migraine.
If you have nothing better to do but get frayed nerves and a migraine buy on, otherwise stay away from this store when you are going to purchase high end items. I am still waiting for what I hope is the final time they come and I can finally have a level and working washer and dryer. This mess all started on June 5th... It will be nearly a month to get. That is assuming I don't end up on the phone again.

Purchased custom blinds and when they were delivered and installed they did not fit the windows as expected. Gaps on each side of blinds. Upon contacting the decorator and getting a run around, the thought from her was to make the blind fit by adding valances to it. It was explained to her that this wasn't what was wanted. Said she would get back with us and never did. Contacted store headquarters and main headquarters customer service and got more run around from one person (manager) another. Always taking us back to the root cause, the decorator. No one wanted to help us (they had gotten paid).
Finally they sent a person to measure the windows again (decorator had measured twice already). He stated that there were some mis-measurements that should be re done. Decorator claims that's not the info she received and wanted to measure again (wow). I believe they don't want to hold to the truth to replace our blinds. I WILL NEVER SHOP JCPENNEY AGAIN, FOR ANYTHING. They do not seek to correct that which they know is wrong. All we ask is they correct the windows that is obviously wrong, and they can excuse themselves from our lives. CUSTOMER SERVICE IS BAD. TERRIBLE. All of them back each other with lies to justify their mistakes. They also lied to the BBB about what actually happened. But God takes care of his own as I am. Pictures and receipts have already been supplied regarding this and I know that JCPenney probably control this site and it may not be heard.

I received an email coupon stating 65% off orders over $100, I clicked the terms and exclusions knowing they can make it not worthwhile to waste your time, it did not bring me to any terms and exclusions. It brought me to the website to shop. I closed it and went to my app because it has all my rewards saved, and began to browse and add things to my cart. When I removed a couple items the app gave me error messages and they pop up right over the place order button, so when I clicked the close button on the error it placed an order! I hadn't chosen a payment method, added any coupons, I wasn't even sure of what was in my cart!
I called immediately and it's 10:43 pm! I had an estimated wait time of 10 minutes which ended up being more than that, then when I explained what happened I was told there was nothing they could do. There is only a five minute window to cancel the order. I protested, "How can you put me on hold for 10 minutes and then say I called too late! I didn't even place this order. Your app did it!" She said, "Sorry. Nothing we can do. You can refuse shipment and it will be credited back to your account after processing." I said, "No way. I want to speak to a supervisor." A minute later I was disconnected.
I then went back to see if there was any other contact method and there was a chat feature. Can't be any worse than the hold time so I opened it and explained the situation and got the same info. You can't cancel your order. It doesn't matter if you didn't really order it. He at least asked why I wanted to cancel and I explained I hadn't add the 65% off coupon and $30 in rewards. He kindly offered to apply the coupon and then said I would see a credit for the discount when my order shipped and told me to have a good night.
I asked what my credit amount would be, I mean I would never place an order without knowing the total and this ridiculous order came to $195.97 which was well over double what I had planned to spend for a few tops. He told me the total after credit would be $102.97 and the credit amount would be $93 to my card. I was so confused. I asked, "How in the world is 65% off of $195.97 $102.97??? That's not even half off and 65% is more than 50% correct?" He said, "I have applied your coupon. Thank you and have a nice night." No way! I asked for a breakdown of the items after the coupon was applied and received the following: Pink shirt $20.99. Blue shirt $20.99. Robe $17.50. Dress $21.00. Sandals $22.49.
Ok here's the problem, the original prices: Pink shirt $27.99 65% off would make it $9.80. Blue shirt $27.99 65% off would make it $9.80. Robe $50.00 65% off would make it $17.50. Dress $60.00 65% off would make it $21.00. Sandals $29.99 65% off would make it $10.50. Notice the problem? The only items they gave me 65% off was the ridiculously priced spring dress and bathrobe which was not some luxurious spa robe. It was a cotton short robe! I was dying! The agent told me that some items were excluded and I told him then in that case he needed to cancel my order because I was only going to order because of that coupon if it was a good deal and none of those were good deals. I also asked about my rewards and he stated they couldn't be applied to an already placed order.
I told him that the only way I would have submitted an order is if the total was under $50 and now they have charged $195 to my card and weren't honoring their coupon on any of my items except the marked up ones! The agent said I could have a full refund on all my items and have a nice night, I was so confused, I asked, "So you are cancelling my order?" He said, "No ma'am. You can refuse shipment or return once the items arrive." NO I told him I was filing a complaint to the federal trade commission and seeing if there a way to file a civil suit for them fraudulently charging my card without my permission and then not honoring any means or rectifying without using deceptive advertising practices.
He then said he would take an additional $30 off my order. I said, "No. Don't touch my rewards because I'm returning all the items and I won't get my rewards back." He said he was not taking my rewards, he was applying an additional $30 discount. I told him not to bother because I was returning everything. The conversation ended and I went into my JCP app to see if I could remove the payment method so this can't happen. It will require an entry and much to my surprise guess what was in my cart still? My entire order. I took screenshots to prove there is something wrong with the app, and also went to the wallet are to find my $30 in rewards are now gone.
I'm filing a complaint and I hope everyone else being ripped off and treated like dirt do too because they should get shut down with this deception. Do not order from the app. It will do whatever it wants without you clicking anywhere! And customer service could care less about helping in any way. I have screenshots of my entire chat, the shopping cart still having the order is supposedly placed at the same time as ongoing chat both timestamped and the call I made immediately when it said order placed.

I ordered a fathers day present 6/14/2017. My order should had arrived today 6/22/2017. Online it kept saying pending shipment. I call 1800 number they said it's suppose to arrive today that online when it sends to store. It says that for me to check with store. 1st Lady very nice, 2nd person rude she said "Yes".. I replied "Good afternoon". She said "Huh uh.." I'm like "Yes". She replied "I'm waiting on your phone number". I responded "You never asked for it!" I call store they said "maybe get it tomorrow or til next week!" Like dont put 4 to 7 days delivery and not follow through if item would of been available in store. I would of drove there to get. How inconvenient!

I recommend that no one ever purchase a mattress from JCPenney online. I had purchased several items online from JCPenney's. Everything came in one shipment minus the mattress. The receipt stated that I would be receiving the mattress in a later shipment. I called them to enquire about my mattress and was told that the mattress was coming from the manufacturer and that they really couldn't locate it but that she thought I would receive it by June 1st. June 20... still no mattress, no number to call, no tracking number. So I called the help number on my receipt for JCPenney again. I was on hold for 28 minutes with the recording saying over and over again how important I was to them... I finally hung up. Then I called the local JC Penney and spoke to an employee who at first wasn't going to help me either. I wasn't hanging up so she finally took my number and said she would see what was going on. I didn't think she would call back. She did.
She gave me the number of the mysterious trucking company and told me that they told her that they have been trying to contact me for weeks. I told her they were lying and she said she didn't know about that. Since they used my phone number to locate my order... I am thinking they have been using my mattress as a comfortable break area. Long story short... had I not been a pest or had a very bad memory, I seriously doubt I would ever have received the mattress. DON'T do it. JCPenney should keep track of what they sell until the customer receives the item. It is a helpless feeling to have paid hundreds of dollars for an item and being told the store has no way of locating it. I don't think I should have had to be pushy and rude for someone to help me. P.S. I still don't have the mattress but at least know where it has been sitting for weeks. Exactly four miles from my house.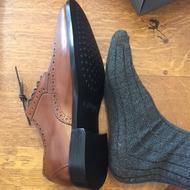 I purchased a pair of shoes online for my Husband (for our Wedding). We originally purchased a size 8.5 (his usual size) and the shoes were almost two sizes too big! We are on a time crunch, so I immediately ordered a 7.5 and an 8, so we could insure the perfect size. (I just spent $170 on the shoes, and $25 for all shipping costs). The photo clearly shows how horrible their shoe size description is (not our fault)!
When I called Customer Service, I waited on the phone line for 22 minutes. Finally someone answered and I explained our situation about the shoes being way too big and we ordered more but I will need to return the two that don't fit. I asked for them to supply a shipping label (after all, we did just spent $200 at your store and I was more than happy to pay for Express shipping BOTH TIMES). The Woman on the phone was VERY RUDE and raised her voice multiple times at me. When I asked to speak with her Manager, she snapped back saying "I am the Manager and you aren't getting nobody else on this phone line." I cannot believe J.C. Penney would not send me a return label (probably would have cost them $10), after they let me sit on hold for over 20 minutes and spend over $200 at their store. I WAS CONSIDERING HAVING A WEDDING REGISTRY HERE AND NOW I WILL ABSOLUTELY NOT!!!

My experience has not been a pleasant one at all. The order was suppose to ship to my home but went to the store instead. Well half of the order did. I never received an email just a recorded phone call telling me it was there and would be returned if not picked up in 3 days. The other order the day after I placed it I received an email saying it was back ordered no way for me to cancel.
I have been on phone with JCP.com for 45 min. Waiting to speak to customer service I gave up and contacted store. When I called the store they have a ext. number for JCP.com but no one was there to answer. The associate who answered the phone said they are working shorthanded and there is no one for that position. The associate was the same person who I picked the first order up from yesterday. I asked yesterday about the other order. I asked if I could cancel since it was back ordered. She said no but that it would be returned if I did not pick it up when it arrived. When I spoke to her today she had to call and verify from someone else the package was not there. My card has been charged for both orders. This is my first and last purchase from JCP.com.

Ditto to all you who have written a negative post of jcp.com. Customer service is rude and will do NOTHING to help you with a problem. I've shopped at JCPenney all my life but will never again. I needed to change an order one hour after I placed it and they wouldn't do it. I wanted to change the shipping to the store to avoid the $9 shipping charge and they refused to do it. I also wanted to change an order two minutes after I placed it and was told it was already in processing. The service reps were rude and openly hostile. JCP, you can't survive without good customer service. There are too many other merchants who want my business.

We recently purchased a refrigerator from the local Penney store. They were happy to price match and offered all the perks that the other stores offered including 18 months free financing. We were told that we would need to call each month to determine what we needed to pay. I told them that was a deal breaker because I have more to do than go through the agony of trying to contact someone in customer service each month. If you have ever tried it, you know what I mean.
The manager of the appliance department assured me that I would need to call only the first month and after that I would pay the set amount. I could live with that. This is the first month and after several calls trying to get through to customer service and an hour on the phone hoping to talk to a real person, we have been told that we do indeed need to call every month. Obviously that is the last appliance I will ever buy there and I seriously doubt that I will shop there at all unless I have a great coupon. We have shopped at Penney's for over fifty years and I am very disappointed in this turn of events. I will be warning everyone I know to avoid the so called free financing at Penney's. Be forewarned.

I went to Fair Oaks Mall store to purchase curtains for my window. I saw one that I like and it was on sale. 9.99 each. When I came to pay for it the cashier told $130 for four of them. I said that's not what the sale price says. Finally I spoke to store general manager Philmcna ** and told her about the misleading ad, you not gonna believe the way she replied that, "Kohl's does it and so do we". I don't see anything wrong with it. Please be careful for this company's mislead advertisements.

I placed an order about 30 mins ago. I changed my JCP credit card address, I recently moved to a new location. When I clicked on "place order" I realized that the "ship to address" was an old address, so I tried to get a hold of customer service first by chat (that was a joke, it was "busy" for 15 mins) so I called 800 number. Well after being on hold for 15 mins, a real nice lady got on the phone (so no fault to her). She explained to me that "After you place the order there is nothing we can do." No canceling or no altering the shipping information. She suggested that I wait for the tracking number and call UPS to change the Ship to address.
This is such a bad way to do business. I have never heard of companies saying "oh sorry we can't cancel an order that was placed 30 mins ago"?? Really?? What a scam! Now it's starting to make sense why their satisfaction is going down, and nobody wants to shop at JCP any longer... This makes me sad because I've had an account with them for almost 20 years. Well I will close my account after this. To me this shows how little JCP cares about their customers.

Placed an order online for an air conditioner on 6/2 to be shipped to my local store. According to the follow-up message, my order would be ready for pickup in 4-7 business days. This is now the afternoon of 6/12 and my order status is "Pending shipment". I called this AM to ask if anyone could tell me WHEN it would be available for pickup. The CS system informed me that my call "will be answered in approximately 33 minutes". Gee... I should have waited. This is the 21st century. How long should it take for a major retailer to pull something from inventory and ship it? Would not be as much of a problem if it wasn't 95 degrees outside.

Ordered refrigerator and was told in email it would be delivered on Saturday. Monday was told it would be Tuesday. DO NOT ORDER ANYTHING from JCPenney. Cannot depend on JCPENNEY! Never again. Will tell everyone I know not to order from them! Pitiful!

Today I received my worst customer service treatment ever. The associate named Tyler (#**) who so rude and uncaring that he absolutely had no sense of the fact that he was in a retail business. I and my partner wanted to make three separate transactions (we customers do this for a variety of reasons). Before he completed the second transaction, he told us in a very coarse voice that we needed to go back to end of the line for our third transaction. I said this was the first time I was being told to do this and whether JCPenney changed its policy on customer services and his response was "no".
But more important than this was the fact that he was absolutely uncaring to me as a customer. He treated me like a beggar waiting for a handout. I felt so humiliated in shopping at that store. I never expected to be treated by an associate like this ever and if I receive one more treatment like this, I will never want to go back to this store (#1982-8).

First of all, the customer service staff (I spoke with two) were very friendly and accommodating. It's the policy that I have a problem with! The reason for my complaint is it took me 45 minutes to get a single window curtain panel replaced without my paying for the shipping! I ordered 4 panels online. I have done this before with no problem. However, this time one of the panels was not in its original packaging. I didn't really mind. I opened it up, and it was stained! I put up the three others and packaged up the damaged item for exchange.
I called, on hold forever! Then, spoke with someone who told me the shipping cost was my responsibility! She said so easily, "You can just take it to the closest JCPenney for exchange." I said I shouldn't have to! I immediately asked for a manager. She said sure and placed me on a very brief hold. The next person I spoke with told me she was making an exception for me. Why would I place an order online if I can easily go to a JCPenney? I explained my situation. She placed me on hold again. All told this was ridiculous!
THEN she had to make a credit to my card and then a new order! I asked her to just exchange it for a new one. She said she couldn't! The order summary states "EXCHANGES & REFUNDS". I am not happy to say the least and will not ever purchase anything from JCPenney.com ever again! The sad thing is, I placed 3 more orders after I originally ordered these curtains. I would never have thought such a long standing company would have such a ridiculous policy. Please get up to date with the times JCPenney!

I ordered 5 wood blinds online from JCPenney. They sent me a confirmation email that the items had shipped and there would be multiple deliveries. I ordered on May 18, 2017. On May 22, 2017 I was in possession of 2 of the blinds. I called JCPenney 3 times wherein one customer service employee said she would look the matter up and call me back. I then called on another day to speak with Carmalita with whom (for some odd reason) I was disconnected. I called again and spoke with a supervisor who was very nice and said she would find out what happened with my order. To make a long story short, the blinds had never been "out for delivery." I was waiting for 3 additional blinds that would never be delivered.
JCPenney's solution was to refund my money for the 3 blinds that were never delivered. Really, so what am I supposed to do with 2 blinds that was coordinated with the other 3 blinds. They said it could possibly take 10 days for them to mail me a check for the refund of the 3 blinds. I inquired if I could return the other blinds and I did not get a response. However, I am going to return them because I can't use them. I am so disappointed with this transaction that I will never order anything from JCPenney again.

I was looking for coupons on a vacuum cleaner and your system suddenly placed an order for one at $324.74. I never selected a billing or shipping address and never placed an order. I spent 1 hour on the phone trying to get this cancelled and they told me it is now my responsibility and they can't reverse the order. This is not my responsibility. Your system screwed up. I am not paying for this. If it is delivered, not even be at the address where it defaulted to ship, I won't have access to email to look for the shipping information and reverse the shipment. I explained all this. I am not paying for this product.
Can't believe they actually said this is my responsibility when I did not place the order. I called them within one minute of getting the confirmation email. They made me wait on the phone for 6 minutes and then told me the order had been fulfilled and there was absolutely no way to cancel it. Told me I had to be the one to find out if it was shipped and then reverse the shipping address. Told me as soon as it arrives on my doorstep, I am responsible. Customer service was rude, horrible and unable to help even though email said to contact them if I needed assistance with the order. Tried to issue complaint on their website and after typing everything in, it said their system was down. UNBELIEVABLE. No wonder your stock is crashing.

I just got the run-around for two days speaking with JCP Customer Care Service & their warranty company. I purchased a reclining sofa & matching recliner just over a year ago. The right-side of the Sofa Reclining mechanism broke. My furniture is not abused as I have no young children in my home. When furniture was purchased February 2016, the salesperson did not offer me an extended warranty nor did she sign the folder that all the papers came in that the warranty was declined. When the furniture was delivered, there were hang tags attached to the furniture. It states that the consumer has "LEGAL RIGHTS" and the mechanism is covered for a period of 5 years! As this sofa was supposedly made in China, this would be the Manufacturer's Warranty.
Speaking with several of JCP Customer Care Associates none of them knew what to do or how to handle this problem. One person did say that I could get the furniture fixed & gave me the number for Classic Furniture Repair or that I could order a new piece of furniture and when it came in then I could call JCP and they would pick up the defective product & I would get credited for the amount that I spent. When I called Classic Furniture they were asking me for a Work order number which I never did get from JCP. It has been "One Big Run-Around" from JCP Customer Care Center. They did tell me to call a Furniture Repair Company & I did. Guardsman. They will fix my sofa for $150. You mean JCP will not accommodate me for $150 & looe a life-long customer.
I'm not a happy customer so I will have to choose somewhere else to purchase good quality furniture. My husband & I have been a JCP Customer for 40 years & we opened a credit card with them that many years old. I hope Marvin Ellison, CEO of JCP gets to see this. Thank you. We will both take into considerable consideration when purchasing another piece of merchandise from JCP. What happened to JCP? Why do people still shop there? I think I'd rather spend my hard-working $$ somewhere else.

My order was cancel for no reason. Called their customer service number and gave her my order number. Shipping address, billing address and then SHE WANTED FULL CREDIT CARD NUMBER with exp date and security code just to "SEE" why it was cancel. It wasn't even to reinstate the order. I told her I don't feel comfortable giving her that info and she said she can't help me with that info. Oh well. Goodbye then. I'll just take my business elsewhere.

Exactly as I was reading from another complaint, no option to request to have delivery to store. I called within 10 minutes of placing the order to see if they could help me, she said it had already shipped. I wanted to cancel the order but was told as soon as I hit the order button I was responsible for that $9.75 shipping fee. Customer service tried to tell me it's because I had set a default for home delivery. I NEVER ask for home delivery. Not only was it $8.95 for delivery but also 80¢ for tax on that delivery charge. I used to love to go into the store and order online but I'm done. JCP must be desperate to get a few more dollars. Customer service was very rude. I'm done with that store.

I placed a simple order for a jacket and pants on JCPenney's website and paid extra for quick shipping. What I received was a variety of undergarments and a copy of my order (The copy correctly stated my order). I called and talk to a customer service rep who said I had to either return the incorrectly shipped items to a JCPenney's store or purchase an envelope to send the items back to them. This was the first time I had ordered from JCPenney and it will definitely be the last time.

I lost my original gold diamond wedding ring 3 years into my marriage. I then bought a beautiful one of a kind silver 3 black diamond promise ring that was on sale from $509.99 to $275.00 with lifetime warranty of $54.99 totaling $313.90 back in 12-31-11 at JCPenney. I made this purchase to make a promise to my wife that we would be having a family soon and we would be 3 soon in our family and I would take great care of our new son and that as a promise I would never lose this ring and would hang on to it through thick and thin. I held on carefully and safety to my ring taking great care of it. I had it resized and polished almost 2 years later on 1-25-14.
Then a little over 3 years later on 4-20-17 one of the black diamonds falls off, I soon noticed in morning one of my diamonds was missing. Very saddened I took to JCPenney to show them my lifetime warranty and my ring with a missing diamond and they assured me it would be all taken care of including a good cleaning and polishing once I received it back. So I waited and told my wife everything would be ok not to worry or stress out. Well almost 1 month later I get call saying that I needed to come in to discuss matters of the ring and options I had regarding it, so I go in 2 day later and the employee hands me a buyout credit slip of $234.99 and I tell him, "What is this?" He says, "Sorry we could not fix it so we bought it out!" I said to him, "You did not have my authorization or approval to buy it out anything without my full consent as owner of my own ring, what are you talking about?"
He then remembered and says to me, "You know what? I'm sorry I think I made a mistake. I think I must have forgotten to explain to you all of this and I processed a buyout by accident." So I tell him, "This is why I have lifetime warranty. To get it fixed. But if you can't fix it give it back. I'll take my promise ring somewhere else." He says, "I can't promise you anything!" What!!! I never approved none of this!! He says to me, "Please just give me a day. I'll see what I can do for you." So I leave feeling like I'm going​ to head to the ER, but saying to myself to relax and just give him one day maybe he will find it.
Got no sleep for 24 hours. Well next day I get no call and decide to call and talk to a main manager about it, she also agrees they made a big mistake and wants to replace it with a similar one or give me credit. I then explain to her, "That's a very important valuable sentimental promise ring and if it can't be fixed then return it asap," and that it's the only thing I have right now that I'm holding on to as a promise to myself my wife and family. She says, "I'm sorry. I completely understand where you're coming from. I have 3 girls and a family also and a promise ring to my family would means the earth to me also, so I'm going to have you talk to the district manager." So I get in contact with district manager and she also fully apologizes for their mistake and says she would be doing everything to get my ring back and would be calling me every day in till she found it.
Well long story short she calls me the next day saying she could not find it yet. Then yesterday she never called me. I called her 3 times got no answer, then today I called all day and got no answer or call from her as I was promised so 2 days passed by and I was completely forgotten. So I contact my attorney, and decide to call Police today. I'm willing to get the local news involved also very soon. This is extremely troubling to me. I'm having hard time understanding why JCPenney could do such a thing. I'm extremely upset and saddened about to go see a doctor soon because I haven't been able to sleep and thinking why JCPenney would do this. As for when it fits you feel it, well now I don't have my ring and I can't feel it and everyday matters! How so? And new look new day well for me it's sad worried look with horrible days.

I went to return a few items I had bought and I didn't have the receipt. I was told by LP I was a liar and I didn't buy the things at the store. I said how I used to work for this company and never in my life have I ever heard of someone being treated this way because I didn't have a receipt and the other store where I got it at says the items I was trying to returning WAS NOT BOUGHT THERE IN PAST 30 DAYS. Well I am getting older I may be wrong on the dates but I know where I bought it from. I was totally shocked by how LP treated a senior citizen. I don't return things. I am not a criminal. I don't even have a parking ticket in the past 25 years. Now it's not about money. It's about how I was treated. That man needs to apologize to me.

I placed 2 separate orders with JCpenney.com within a 2 day period (multiple items per order) and I paid extra for expedited shipping so I would receive my orders quickly before I left for a trip. When I never received any email for confirmation of shipment I decided to go to JCPenney.com and check the status on my own only to see that they added 2-3 WEEKS just for the items to ship!! I called customer service and after waiting on hold for over 45 minutes the rep hung up on me! I called back, waited another 30 minutes on hold & asked to speak to a manager.
I explained to the manager that I specifically paid for expedited shipping & they NEVER mentioned a 3 WEEK window just to ship the item when I ordered so they cannot do this! What is the point of paying extra for expedited shipping if you will take 3 weeks just to ship?! The manager refused to help, she refused to cancel the order, would not credit me for the extra shipping charges nor would she change the shipping speed!
Then she mentioned that some of the items I ordered & paid for were in fact out of stock and I would not be receiving them at all! The worst part is since those 2 items were out of stock & they would be canceling those items, my order now did meet the criteria to use the coupon I used and I would be charged more for the items that they are shipping & still was not allowed to cancel the entire order because it "goes to the shipping department right away" even though that department said they would not actually ship anything for WEEKS!!!
When I asked how a company can make all these changes WITHOUT even notifying the customer after they already paid, she explained that JCPenney sees nothing wrong with that & they do this all the time!! This is a disgusting and disgraceful company that does not deserve anyone's business until they learn how to treat customers!! On another note, I am fairly certain they sell customers information to marketers around the globe because I've had my email address for over 10 years but after placing the first order with JCPenney I started to receive spam mail!! Do not trust this company!! I honestly hope they go out of business soon!

ConsumerAffairs Research Team
The ConsumerAffairs Research Team believes everyone deserves to make smart decisions. We aim to provide readers with the most up-to-date information available about today's consumer products and services.
JCPenny was founded in 1902 and now operates more than 1000 stores in the United States. The company launched its online store, jcp.com, in 1994. Consumers can find a large selection of items, including shoes, on the website.
Store locations: Shoes bought online at jcp.com can be shipped to the store for free on orders of at least $25. Some items are available for pickup on the same day as purchase.
Online exclusives: jcp.com sells many styles and sizes not available in the chain's department stores.
Sales: JCPenny has sales frequently, and those sales are valid on the company's website. Consumers can take advantage of special prices and deals during these events.
Selection: Consumers can find a variety of styles and sizes on jcp.com. Women's sizes are available from 4 to 13.
Returns: Customers can take returns to their local JCPenny store and return them for free. This option makes returns fast and convenient for busy individuals.
Best for jcp.com carries adults' and children's shoes and is best for bargain hunters and busy adults.
Company Name:

JCPenney

Website:

http://www.jcpenney.com/