Consumer Complaints and Reviews

I made a purchase today at Forever 21 and realized at the end right after I entered my PIN that there was writing on the back of the jacket I bought. Yes...my bad, but even though it had been 30 seconds since my purchase I could only get store credit!! I lost it, not cool, I will admit, but come on!! I tried to regain my sanity and find another jacket without writing and could not. I left the store and found a nicer jacket from a store that will actually refund your money, if you need to return it. What a concept!! I then thought I will go back and return the jacket to Forever 21 and use the credit to buy gift cards for my 2 teenage nieces. I found out YOU CAN'T USE STORE CREDIT TO BUY GIFT CARDS!! That makes no sense!! WTF??? The gift cards will be used at the store so they are getting their money. I was even planning to spend more than the credit. This is a poor excuse for a business as clearly they had to screw the consumer with their refund policy.

We placed an order with forever21 on-line. It was declined. We contacted them via live chat to see why. They said it was the credit card company. We tried again and again. It was declined. I called the credit card company and they said the order never came through. Forever21 never even ran the card. The credit card had no record of them ever trying. We tried a different card and same thing, declined. We did the live chat every time and all we ever got was the generated robotic answers that don't answer anything at all.
The customer service wasn't helpful at all. I guess they can't be. They are just paid to take care of angry customers but have no way of resolving anything. I was told my billing was wrong but we triple checked it every time. I know it wasn't wrong. None of the information was wrong. I would never have a typo three times. Needless to say we are not happy with forever21. Used to be big fans of their clothes and jewelry but there is no way for us to continue shopping there as we are too far from a store and they absolutely won't accept my credit cards even though they can't explain why. There is no reason they shouldn't. I would not recommend forever21 to anyone having to shop on-line with them.

Oh. No wonder your customer service reviews are rated the worst ever. Even so your fashion is awesome. Your company will crash with such a careless way of dealing with things. People move every year and don't have to change their billing addresses. Your loss and in this economy I bet you will entirely shut your doors by 2018.
What a shame for the distributors to trust you selling their product with the extremely poor service. I will do whatever I can to let them know and all friends I have not to buy from. You have no return policy, no exchange policy for online purchased (we gave no store where I am from), you send 2 broken bags twice and wanted me to pay shipping back... to exchange it... which is ridiculous. Another 2 times sent stained items which never cleaned out. Another 4 times you cancel order for no reason and only when promotion code was applied, never ever offer a discount code back or card as other companies does. I called many times and the customer service representative was rude and when I asked for customer service hang up on me. How is it possible you hire and allow employee to deal with us that way??

Order placed 6 weeks ago and online tracking shows delivery 6 days after placing order; however, product was never received. Phone call made mid-October to Forever 21 customer service (overseas). They told me they would start an investigation with FedEx, and to call back in 15 business days. I called back November 1. Was told they made an error in the details and the claim to FedEx did not go through. They "rectified the error on their previous request" to FedEx and told me to call back on November 15. I called back on November 15 and was told they are waiting for an update from FedEx. I called FedEx who told me they are waiting on a claim form from Forever 21, and that Forever 21 could easily refund my money or send another order without the update from FedEx.
FedEx told me to have Forever 21 call them and they could easily provide details on what they need. I called Forever 21 back who stated they did send the information to FedEx and are waiting for FedEx to send them the results. They told me to call back in 5 business days. Extremely poor customer service. Difficult to understand customer service reps. I am very dissatisfied with Forever 21 and their customer service. Highly unlikely that I would ever order from them again.

I am 20 years old and my favorite place to shop has always been Forever 21. I enjoy the variety of fashion and sizes Forever offers. I recently purchased my sister an E-Gift card online. I was hesitant to order an "e-gift card" at first because I have never done it before. Nevertheless the gift card was never sent to my sister's email. Forever 21 website states the gift card will be delivered no more than 48 hours. My delivery took longer than that before I received an confirmation email stating my gift card $ has been shipped. My sister checked her inbox and spam folder very carefully.
After about a week of my sister not receiving the gift card money, which was $50.00 in total, I called Forever 21 customer service. I have called customer service now more than 4 times and I am tempted to call once more due to my wishful thinking. I had the gift card number and pin given to me over the phone. Thinking this would resolve my issue, I have the info to my sister. I was told it could be used in store or online. My sister went to a Forever 21 and the cashier said the account could not be found. We tried different birth dates and zip codes; IT DIDN'T WORK!
I called customer service once again and they read the gift card numbers off to me again, all the numbers matched. I was told a manager was going to give me a call back. I have yet to receive a call. I am upset Forever 21 took my money and I can't even get a refund and my sister's gift was taken from her. It has been 3 weeks now since I have ordered my gift card and getting nothing in return.
How do I know I can trust these reviews about Forever 21?
634,392 reviews on ConsumerAffairs are verified.
We require contact information to ensure our reviewers are real.
We use intelligent software that helps us maintain the integrity of reviews.
Our moderators read all reviews to verify quality and helpfulness.
For more information about reviews on ConsumerAffairs.com please visit our FAQ.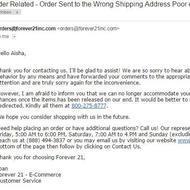 I am truly upset to have to write a complaint about Forever 21. I was a huge fan of this brand. I purchase items in store and online in the past and never had a problem. I loved the brand. However, a recent experience has really made me abandon my love for the brand. On 11/5/16 at about 10:15pm (PST) I placed an order for 5 items (almost $86.00) via the Forever 21 Website. Upon checking out and paying for my items I updated both my billing and shipping information. I did this before! I placed an order!
I received an order confirmation within seconds of my purchase. The order confirmation included the full details of my purchase order, but the shipping details section was left blank. I did not think this was an issue. I received a shipping notification via email the next day. The email showed that the items that I paid for are being shipped to my old address in Florida. I now live in LA.
I immediately reached out to Forever 21 customer support via chat. The chat agent Paul crudely advised that there was nothing he could do because, "You received an email before and after the purchase of the items". I advised Paul that he was not helpful and I would like to speak to a supervisor. Paul then advised that at this point there was nothing that a supervisor could help you with. I ended the chat with Paul and called in to speak with a representative via telephone. The telephone agent was kind but advised that I should call Fed Ex within the next 48 hours to try and have the address amended. The agent advised that I will still be charged for the items even though they are going to the wrong address and I will not be receiving them. I advised the agent of Paul's poor customer service approach and the frustration of dealing with this issue. I also advised that the policy that she shared with me was a poor policy.
I hung up with the agent and called Fed Ex just to ensure that I was given the correct directives to amend the errors and receive the items that I rightfully paid for. Upon calling Fed Ex I was advised that Forever 21's telephone agent provided the incorrect information and that I will not be able to call in to update the order because Fed Ex will be sending the package to the local post office in Fort Lauderdale, FL. The Fed Ex Agent advised that I could receive the items once the package has been returned back to the company. Or that the Forever 21 company would have to re-send the items that I ordered to my correct address. Again my time was wasted for the second time.
I filed an email complaint via Forever 21's "contact us" form online. I got a directive from Joan to contact USPS. I contacted USPS and they were told that Fed Ex still had my package so they could not assist. I responded to Joan's email and advised of Fed Ex and USPS stating that they could not help. I received a response from another Forever 21 Customer Service Rep which totallly ignored the content of my email as well as my request to have this matter escalated to a manager. Instead, I received a stock response with a statement telling me how to make a new order. I called Fed Ex back a 2nd time and I was advised that my package was a "SmartPOS" and that there was nothing that could be done by Fed Ex or USPS to change the address at this point. The items that I paid for would be sent to strangers at an old address where I no longer resided.
I removed my old address. I updated my payment method. I did what I was supposed to do on my end. However, this company made an error, took my money, and sent me on a wild goose chase. They not only stole my money. They stole my time. They will not be in business in another 10 years if this is their standards for valuing their customers!
To reiterate, I removed my old address prior to placing the order in question. I correctly updated my address in the Forever 21 online system. This means that I removed the old address so nothing should be shipped to my old address. I also added a new payment method at the time of placing the order in question. I should not have be penalized for these items going out to an old address when I took the time to remove my old address. The order confirmation that went out to me upon my initial purchase had a blank shipping address. I was not able to catch the wrong address being added to my order prior to the items being shipped because the shipping details were left blank in the order confirmation that was sent to me the night of 10/5/16. I was only made aware of this issue via the shipping confirmation sent 10/6/16. I attempted to make sure that this problem was avoided but I was met with dismissive attitudes.
I feel overlooked as a customer. I also feel cheated. I feel as though their staff did not try to assist me in finding a positive resolution to this problem. And clearly from these reviews I am not the only one who feels slighted. Large corporations should not be ripping people off like this! They are taking countless people's money and they are getting away with it. They make millions of dollars through merchandising but they are making even more money by keeping patrons money in the face of their own internal system errors.

I bought something online and it didn't fit. NBD, I would just go and exchange it. They didn't have it in the store so I just accepted the store credit and repurchased it online with a few other things I wanted. Total came up to almost $200. About $25 of that was spent as the store credit for the different size of the same dress I had returned. I knew their policy was to only give credit at the store and it's a stupid policy but I knew that going in so whatever.
When my new order came in I decided to return about $75 worth of stuff (not including the dress I exchanged for, which I kept). To my surprise the return shipping address was labelled as my nearest store, not the company headquarters like it used to be. So now I'm really wondering why I should pay to ship it back to this store in order to get my cash back when I could drive it over there and not waste so much money or time. Why would they make that the return point to get cash but going in person only gives you store credit? It's already shady. They're just discouraging you from returning anything.
So I pay about $8 to return the stuff via USPS. It arrives to them the very next day, but I don't hear form them for a week. So I went to chat with their online help and ask where my refund is. They tell me it's processing, and they will be returning $25 to my gift card and the rest to my credit card. I'm pretty shocked to be honest, considering I KEPT the item that I exchanged the store credit for. Not to mention I spent nearly $200 and only 15% or so of my order was made with store credit, so why would they refund my store credit AGAIN? I wanted my cash back.
Argued with them for a while and they just said that they only return as original payment method. I used two payment methods so why wouldn't you refund the one that was used for MAJORITY of the purchase? Not to mention that I had to pay to ship it back to my local store for the sole purpose of getting my cash back when I could have easily taken it there in person FOR FREE. Yet you're still giving me the store credit. I would've just gone to the store for that! Makes 0 sense.
They finally tell me that there was an error processing the refund. Basically if I hadn't asked they weren't going to give me my refund at all. The person refuses to let me speak with a supervisor and I ask them to please send me our chat history so I can take it up with a supervisor later since no one was available now (sure they weren't). Well they never sent it to me. And what's more, I got an email from them 12 hours later letting me know that this was my gift card number that was refunded, and they were repossessing my credit card refund. I checked and the balance on the gift card was 0. So no cash refund and no gift card either. Fantastic.
I talk to them again the next day explaining all this bull, and they just tell me the same thing and they'll try to reprocess. Get another email 2 days later asking me to call in cause they can't process the refund for some reason. I tell them that this is ridiculous, I'm going to take up this issue with my bank as this is fraudulent considering I returned items as specified and I wanted 100% of my cash back for the items I returned. Still never got to speak to a supervisor.
So I called my bank and opened a claim. My bank asked me to wait for a few more days to hear from F21 about the refund and after X date they would contact them if I had not received a refund. I let F21 know via email AND chat that I opened a claim with my bank and after X date they would be contacting them. The next day I received my full refund of ~$75 to my credit card; no further emails from F21 or any kind of apology for all the nonsense. I guess they realized what they were doing was illegal. Imagine that.

For how cheap this retailer is; they win the award for THE WORST return policy known to the universe! I bought a Longline Cable Knit Sweater online for $24.90. Thought for the price and how cute it looked I would purchase it. That was a mistake! When I received the package, I immediately took the tag off and wore it without really looking at the sweater because I knew I would keep it (didn't think there would be any damages/defect). Well... come to find out after wearing it for less than an hour I noticed a snag on the side, then another, and another so I immediately called Forever 21 to complain.
I spoke with the customer service rep and he told me to take photos of the damaged item included with the tags not attached and invoice and wait for a response w/in 24 hours. I waited and received a response saying that my item was non-returnable and/or non-exchangeable because the tag was detached. I was upset hearing this because all I wanted was an even exchange for the same sweater in GOOD CONDITION (how it should be bought and shipped).
They transferred me to a Supervisor (Ricky) and he was no help either. He basically told me that he couldn't do anything because the tags were detached and asked if there is anything else he could help me with. I simply told him that I would never shop at Forever 21 ever again and they have just lost a customer over a $24.90 order. Wow! They need to come up with better customer service and if the problem is their fault (ex. a merchandise defect regardless of tag on or off) they should find a better way to get it resolved and taken care of for the customer. Deuces Forever 21!

I bought two gifts for my boyfriend 15 days ago. Because of the delay in the shipping, I call them and they ask me to wait more days. I call after 2/3 days and after 30 minutes between wait and talk, they finally told me the truth, that somebody called them from another state (Illinois) saying that receives the wrong package and it was my package. I live in San Diego, Ca. So I am talking to them for 5 days now and they don't want to solve this, reship my clothes or give me the refund. It is absolutely nonsense at all. I really don't know what to do at this point.

So I went online and tried to order stuff right. Everything is going fine but then I try to check out. It says processing and does absolutely nothing. I went online to look for answers and now apparently people are having the same problem, but they just don't get their clothes and it charges their card. My card hasn't been charged yet, but my order certainly hasn't gone through. I tried to check out multiple times on different days and everything, nothing has happened. I won't be shopping online with them ever again.

I purchased clothes two different ways, at the store and online. I purchased a bralette and three dresses online. I purchased a jacket at the store. I went to the store to return and first, the bralette is a lingerie so no return is accepted. It was brand new and too small for my daughter and asked if I could at least exchange for a different size and the manager said "NO, no returns for lingerie items" and showed me where it said it on the receipt. The online order of dresses cannot be refunded, only store credit which I read on the receipt earlier. Ok so I thought I should be able to get my money back for the in-store purchase but NO, no refund, only exchange or store credit. This is the first time I have experienced such ridiculous store policy EVER.
They are basically saying once the sale is done, you will NEVER get your money back and I mean NEVER. What I realize is that from now on I will try my hardest to shop at other stores until I get desperate enough to step into their store only because I have looked everywhere and nowhere else to look except Forever 21, the last store on earth that I will buy from. Also, I have learned that if I do shop there, I will never purchase an item if I have any doubt about not liking it even if I have 1% doubt because I know that I will not be able to get my money back EVER. Because of my teenage daughter I have been consistently shopping there but no more will I give them my business Their business ethic is questionable and I am deeply disturbed by this company.

I purchased a digital gift card for my 14 year old son! He purchased some items with Forever 21 using a digital gift card! All of that went smoothly. However, when we got the package it was missing several items he ordered and paid for. I contacted them as soon as we noticed the problem! I was told that I had to fill out an affidavit and send it to them. I waited two days for the affidavit via email. I immediately responded with everything they asked. I got an email stating it would take a FULL billing cycle before my son would get credit back. I sent a response email asking for the details of how he would get credit on a digital gift card! I waited FIVE days with no response. I called via phone to find out! I was put on hold for 47 minutes to only get disconnected on!!!
I finally went online and talked to someone over the Chat option. It was like pulling a kids teeth to get an answer!!! It took me over an hour to find out... it could take up to 30 days before receiving a refund! I kept asking HOW do they refund a Digital Gift Card!!! After several minutes she told me I SHOULD get an email THEN I have to CALL them to get a number and pin!!! I asked HOW... I was told I would possible get an email or I should call to get a number and pin to get a refund! I asked for a link to show their return policy, Gift card policy, missing merchandise, etc! At this point, I JUST wanted something I could read to get an idea of how this company works! I was given a link to purchase a Gift Card but NOTHING that gives you their policies!
I then went to their small print privacy policy, other terms, and etc! It tells you NOTHING about their return policy with GIFT CARDS!!! Long story short!!! DO NOT purchase from this company UNLESS you use a Credit Card that will protect you from companies like this!!! I am now in a major hole due to Forever 21! I feel like my 14 year old and I are being punished for their company NOT sending items we purchased!!! $200.00 (Gift Card), merchandise missing (around $70.00), I had to purchase products from another store ($150.00 better quality and stated Gift Card policy) and I am still waiting to see if I will get another gift card after 30 Days!!! Stress, Frustration, Hours on the phone, email, and chat with Forever 21 trying to find out their policy!!! Please, learn from my mistakes and STAY away from Forever 21!!!

I placed a Forever21 order on September 29th for the ship to store option (this was my first time selecting this shipping option). Forever21 says that in "5-7 business days" I should get a confirmation email for pick up. The pick up was for 10 S State St. store in Chicago. The 5-7 business days passed and I had no email, so I decided to contact them. I received some automated, "we will look into it and contact our management team" and that was it. No update and still no email. It's been exactly 17 days (or 11 business days since it was shipped) and I still have no idea what happened with my order or where it is or if I'll ever receive the order or my money. I honestly hate Forever21 at this point and will just spend my money at H&M. Be cautious of ordering the ship to store option in Chicago as you might never receive your order or your money back.

Much like the hundreds of complaints online about Forever 21 customer service, I too was cheated out a refund. The shoes I returned in the mail missed their month deadline by 2 days and rather than give me a credit for the $30 sandals, they send an email that I would have to pay return shipping for them to send back or they would "discard" them.
I guess it makes sense that a company that values their customers so little would rather trash new shoes than give a refund or credit. When I called customer service in their Philippines calling center, "Jay" put me on hold for 30 minutes only to report that the supervisor was busy, that he couldn't share the supervisor's name because it was "confidential" nor their title (equally top secret information) or give me any contact information. Will not be ever shopping at this company again. Would be very interested in joining any class action efforts with other similarly cheated customers.

We were in Forever 21 at Baybrook Mall on Sunday and around 11:50 people were gathering at the mall entrance. There was a lady waiting to be let in so a young hispanic guy was trying to open the gate and could not get his key to work. So finally he turns to the crowd and says "I can't let you out I can only let her in". Then a lady inside said "I just need to go to Motherhood Maternity" and he says "sure no problem". So I asked "why can she leave but we can't?" He says "ok" then tells the lady she can't leave either. She says she works over there and he says that is why she can leave. Right after he just said she couldn't leave either.
He kept emphasizing it's the rules etc. so we walk around to the mall thru the outside entrance since he is still trying unsuccessfully to open the gate. (Seems like a safety hazard as it is at this point). As we entered the mall which is near the door we were initially waiting at the gate is open and everyone is leaving!! So suddenly there were no rules any more. I guess he picks and chooses who he will let out and when. Also the door has a "this door must remain unlocked when building is occupied". I am confused as to why it was locked and it was occupied. I feel this may be a code violation which I am looking into also. I don't plan on going back there.

I send them my order back on August 2nd (same day as I received it) and I'm still waiting for the refund (August 16). And now I'm really pissed! I received the last mail from them on September 2nd and it said that I'll receive an update in 24-48 hours. And you know what? NO UPDATE! So, for 14 days I'm running after my money calling and texting the customer service and all I ever hear is this stupid sentence: PLEASE WAIT 24-48 HOURS FOR AN UPDATE! And you can guess 2 times now, if I ever received an update! No, no I didn't. So I call again and text again and get the same stupid answers all over again. What kind of customer service is that? "The representative hasn't heard back from the warehouse. Sorry for the inconvenience."
I never, ever had a problem with a customer service or getting my money back before. If I texted H&M, that something is missing, guess what, I got my money back. Same with Asos. Why is that not working with F21? To be honest it's getting ridiculous. For 12 day I just hear "please wait for an update for 24-48 hours" and I'll never hear back from them. I don't get any mail and just promises, that I will hear back from them and nothing! I need that money! I send everything back with the return label that was in the package. It is really not my problem what they are doing there and what went wrong.
They got every single information from me. I had: Order Number, Tracking Number, Numbers of the Items I sent back, and yes, I used the return label that was in the package! What more do they need? You ever heard of the phrase: Customer is king? BUT NOT WITH FOREVER21. I feel like I'm last in line waiting for my welcome money after the Berlin Wall fell! Sure, I get that it can happen, that something goes missing, especially with a huge company and online shopping service like Forever21. And I'm not mad about that, I'm mad about the fact that it seems like customers doesn't matter to Forever21 at all! It is probably not the fault of the guys having to read my messages or taking my calls, but it is sure as hell NOT MY FAULT that someone wasn't able to scan the returned items properly!
But it's so weird that I have to pay for that person's mistake! It really should be the other way around, don't you think? And I really can't stretch enough, that I leave the country in 2 weeks for good! So, first of all, I really need that money and 2nd I need the refund so I can finally close my bank account! With all the back and forth they made sure, that I will never buy at forever21 again. Not in stores, not online! I never met a ** service for customers. I hope to hear the answers from them soon: "Ms. **, we just refunded your money back on your bank account!"

I paid for overnight shipping 19.95, and got the product 5 days later. It was a boy's bathing suit. It looked very provocative and arrived after his pool party. When I tried to return it they would not let me, and would not refund my overnight shipping cost. I called service line two different days and was told both the days, there was no supervisor available to speak to me. I was out of $36.70 for a product I couldn't use.

I ordered a bunch of items online from FOREVER21 in Aug2016 and decided I didn't like some things so I returned them. I lived in NYC and the address for delivery is literally 15 mins from my home. I had to pay over $8 for shipping and I got a tracking number. The package arrived the NEXT DAY but every time I speak to a representative about my refund and when will I get it they state they don't have the package yet, or it's being sorted out, or they'll let me know when they get it and when I will be getting my refund. It is going on 3 weeks and I haven't been refunded yet. I live in ** NYC. Oh and forget about contacting them via EMAIL. They NEVER respond back to the CUSTOMER SERVICE EMAIL. Chat customer service also sucks. They are super rude. The Better Business Bureau will be hearing from me soon if I don't have my money in a month and the New York NEWS STATION.

Firstly I love Forever 21 and I always shop there. But recently Forever 21 is the most unorganized shopping place I know. I came in the store at approximately 8:00. The store closes at 9:30 (I was offer no help). I finished up my shopping at 9:15. I walked to the register when someone said "sorry we shut down the cash register." I said "well how was I suppose to know that." The manager was like "well I yelled through the store that we closing up." Then I told her "well I was on the second floor" and she told me she came up there. I told her "yes you DID come up. You were not yelling."
She saw me walking around with my clothes in hand. She said "well I'm sorry. I can hold them for you in my office" and she said "you can come back tomorrow or another and pick them up because we cannot open the register." I said "okay" and walked out. The only good part about it was the fact that the fitting room lady was really nice and a guy tried to help me find my jeans.

Went shopping with my daughter at the Forever 21 in Syracuse. Found her a top and I saw a dress on display. I've previously purchased from them and have bought small. I asked the sales associate for the dress because it was a small. She was very confused and said if she took it down I would have to buy it. That was my intention. I should have just left it be but I purchased it and left. Went home and apparently my arms are too fat to fit into a small (I'm 4'11 and maybe 110).
I waited a day to return it. Brought it back and was shocked that there is no card or cash returns only store credit. I shop here maybe once every 3 years or so. I took the gift card and left. Either way they already got their money and I'm left very disappointed. The store is very disorganized and is frustrating to dig through racks of clothes that look like they were just shoved there. I will continue to shop with Charlotte Russe they have always given great customer service and tried to make things right with returns.

I purchased a sweater at Forever 21 at one of the outlets, The Crossings Premium Outlet in Tannersville PA. I have no issue with it being a last and final sale i.e. no refunds - it was heavily discounted out of season and I accepted that those are the terms of the sale. But when I came home I noted that the knitting around the neckline on the back had unraveled some, and I couldn't possibly wear it. I returned it to a nearest Forever 21 store at Quakerbridge Mall NJ and the manager cited the return policy which is that it was outside of the refund and exchange period and therefore, no remediation could be provided. Let me get this right, the policy and sales terms do not apply if the merchandise I bought was faulty to begin with.
When I made the purchase the company is warranted to sell me a good piece of merchandise. As Forever 21 did not live up to their side of the contract, the policy does not stand. I should therefore, be fully refunded for my purchase. It is amazing how a well known brand like Forever 21 could get away with this kind of shoddy and manipulative sales tactics. It's about time Consumer Affairs go after these guys given the number of complaints they receive. My daughters love this store and I must have spent thousand of dollars over the years. But I'm happy to say they just lost our business.

So I order online a lot as I feel shopping in stores can sometimes be a bit overwhelming. Anyway, so I intentionally looked into ordering from Forever 21, and being that I lost a lot of weight I am not sure of my size, so before ordering I made sure to look into their return policy. Their return policy stated in BOLD that "Online purchases made through FOREVER21.COM are valid for exchange, credit, or refund within 30 days from the ship date." Seeing this I decided I would place my order, and just be sure to return what I didn't want before it was too late. When I went to the store to return what I didn't want, however, I was unpleasantly surprised to learn that you can only return for STORE CREDIT in store, but I can send it back for a refund. This was after waiting in line for about 20 minutes.
After this, I looked it up online and only realized then, that further in the paragraph (unbolded) it stated this. It was my mistake, but even still, I was annoyed that they were so unaccommodating. I decided that even the items I was going to keep I didn't want at this point, because I didn't want a store like this to have my business as there are plenty of other, and might I add cheaper, places to shop. I sent back most of my order, including jewelry that I had purchased and that was still in the original packaging. I then received my refund, but with a follow-up email that jewelry is non-refundable but if I want to PAY for shipping, they will send it back to me. Keep in mind, I already had to pay over $10 to ship their poor-quality ** back. I will NEVER shop at this store again, and I truly wish the worst for them.
In this time period there are an abundance of stores to shop at with competitive prices, and there is no reason any shopper should have to deal with this crap and frustration. I will tell anyone who will listen about the poor customer service provided by this company. I would also like to point out that not only do they treat their customers like **, but I had a couple friends in high school that worked for them, and from what I was told THEY ALSO TREAT THEIR EMPLOYEES LIKE **.

I wished that I had read the reviews of Forever21. First the sizes are way smaller than represented for plus size women. How can 2 different sizes feel the same? Anyway, in reading the packing slip, I noticed that the items I want to return indicates that items are final sales. When I placed the order and received my email confirmation, it DID NOT say FINAL sale. It appear that this company does a bait and switch on its customers. I tried to resolved this issue more than once and continued to get the runaround. it is the worst customer service I have ever encountered. No wonder they don't allow you to place feedback on their web-site. I also paid extra to have these items expedited and to return the items, those that can be returned, I have to pay an additional fee. Really... Never again. Fool me once shame on you, fool me twice, shame on me.

So, I never actually write reviews for any companies because, tbh, most of them actually listen to customers and find the problem. Forever 21, however, is the worst I have ever come across. I always order online and shop in store, and to an extent, their products are alright. However, I was told by an associate that if I signed up for their email promotions, I would receive 10% off my order, naturally I was like "Okay!" Now, when I placed my very first order, I created an account and was never sent a discount code (that's why I wasn't aware of it), so I decided to just register with my second email and place a huge order for back to school. Once I signed up for the emails, I was sent an email with a coupon code, which I entered at checkout. The code did not work. I tried a few times, no luck.
I decided to message the live chat. The first associate I spoke to disappeared with the code and had me waiting over half an hour with no response at all. I closed the window and opened another one with another associate named Andrian. Easily one of the rudest, most unprofessional person I have ever talked to in sales. He/She assumed I was lying about the code, insisting the code did not exist and kept saying "Anything else I can help with?", like the one problem was solved for them to help me with anything else. I still cannot believe how a company like Forever 21 would hire such a classless, and cheap person to work with.
Normally I would just disregard the "discount" code and move on, however, I had to let the head office know because it wasn't just about money any more. I sent an email to their head office with screenshots of the conversation and the email I had received with the code. As expected, no reply, because the email probably went to the same people I had the utmost pleasure of talking to. Forever 21, with all the money you guys make, you need to hire people who can match up to the company's profits. ** idiots.

The outlet store in the Philadelphia Mills is huge, but the store is a hot mess. I have never felt so confused as I did while walking through this store. The racks make no sense to me and everything is disorganized. Long shirts, mixed with blouses, mixed with short tops all on one rack. What?! I was looking for dresses, and for the life of me couldn't find one section for dresses. It was ridiculous!

I recently placed my first and last order with Forever 21 online. The size of my item was greatly misrepresented. There was return information included in the package, so after paying over 10.00 to return the item, the Co. sent me an email saying it was not returnable and would charge me again to return it to me or give the item to charity. I placed a call to the Co. and the representative, although trying to be helpful, said they would not refund my 10.00 plus and would also not refund the credit card I used to purchase the item. She said they have a policy to donate to charity items that are returned rather than credit customers back for their returns. This is not a good company to deal with and I will also never again shop in any of their stores and advise others to be leery to deal with them also. They need to be more customer service helpful with issues such as these.

Sadly, I have had a similar experience with F21's customer service. I had a problem with my order that the representative was unable to solve. The supervisor was "the only one on and not taking any calls" thus refused to take my call, call me back or even suggest a better time to call. The representative gave me absolutely no recourse, no suggestions, no help. Oddly, in spite of the supervisor's very busy day, I could hear representatives laughing and chatting in the background. Regardless, it is very clear from my experience and from that of other customers that Forever21 has no effective customer service and has no intention of ever having one. There are plenty of other clothing companies that offer similar products. I do not recommend EVER using F21.

I do not understand that after all of these reviews, no one has taken it upon themselves to investigate this scamming company. I have had many issues with this company but this last one was one that I will not let go of! I never write reviews for ANYTHING, but this must be done! I placed an order on June 7 and paid the extra money to have the order sent to me in 2-3 business days. Now, in reality, that means I should have received my package no later than Friday, June 10. Granted. I checked the status of my order the next day and it said it was scheduled to be delivered on June 10. June 10 came, I checked the status of my order and it was changed to Monday, June 13th!
Mind you, I was going on vacation that Saturday Morning, June 11th. I was pissed and immediately called UPS thinking it was their fault, but the customer service rep at UPS let me know, "Ma'am, I am going to be honest with you, the company held your package a whole day and didn't ship this package out until the 9th!" My package was still in California! I live in New York and would not have these items for my vacation. I called Forever 21 immediately and the rep there named Marjorie, told me that there was nothing she could do and she cannot refund me my extra money I paid to have my shipping delivered early! Really?! I couldn't believe that she was lying to me, telling me that they didn't hold my package when it was clear as day how long my package was in their warehouse on the UPS tracking site!
As soon as I came back from vacation, I opened the package, took the receipt out to indicate my reason for return, and did not open one item! For what! I didn't need it now and I will be damned if I let them have my money! Shipped the entire shipment back! Would you believe, that's not all! It was taking some time and I was wondering why I never received the credit from them yet. I checked the tracking of the return item and they have had my package since June 27! and I still do not have my money back almost a whole month later! I am extremely pissed with this company and everyone telling me that it is still in their warehouse and hasn't been scanned yet! ARE YOU KIDDING!
I know they are reading whatever someone put on my file and they are upset and are doing this on purpose because with my package I wrote a letter being very frank about why I was returning the items, and how I would not shop there ever again. Regardless, you have unopened items and you still are holding my money! Give it back! I have spoken to 4 reps, 1 manager, and 1 rep from the "escalation team." yea ** right! All I know is that this is not a large amount of money but, their lack of care for customers and their ** service is what is making me the most upset! I will be contacting the CEO, Do Won Chang, and making a big stink about this as much as I can because reading all of these issues that so many people are having with this company, makes no sense whatsoever! Forever 21, you STINK!

I would like to share my experience with F21 so that other people won't become a victim of what I have experienced. I purchased few items worth $100 in May-16 and received the items sometime in June. When I looked at the items, only 2 out of 11 items were as per my expectations. So I started looking at the return documents and procedures. I thought that it would be easier for my wife to go to the store and return it rather than sending it through mail as I was occupied with my office work and didn't want to miss the return date. She went to the nearest F21 spending $10 amount worth of gas. At the store counter the manager told her that these items can't be accepted at stores as these were the final sale items. He also said that try sending it through mail. It looked fishy in the beginning so I started looking into it and found that the return form says that the final sale items may not be accepted.
As the term says "may not be returned", I thought to spend $15 and return it through USPS as per the recommendation by the store manager. I haven't heard back from F21 since I shipped the package so emailed them in July to follow up. They wrote me back saying that they cannot accept the return (My comments: If they cannot accept the return, WHY ARE THEY PROVIDING US THE RETURN FORM WITH DETAILS PREFILLED ABOUT THE FINAL SALE ITEM). So I argued about the situation that I spent $100 already + $10 in gas + $15 in shipping to return it back so far. The person replied back to me with the sentence "Thank you for contacting us! We are glad to assist you today!" however saying rudely that these items cannot be accepted and "If you wish to reship the order you will be required to pay $6.95 for standard shipping."
Guys this is my hard earned money that I just flushed in the toilet. If I need the 9 returned items, I will end up paying $100+$10+$15+$7 = $132 of which only 2 dresses are the only ones I needed. Then I started looking on F21 website to see if they clearly mention about final sale item returns on any of the sale item (No they don't say it unless you go to their return policy page). After learning my lesson hard way, I thought not to get the remaining 9 items and told F21 to discard it as my rage towards not liking their customer service. (THIS IS MY HARD EARNED MONEY. DONT MAKE FOOL OUT OF US). I will never ever buy any items from F21 and will keep sharing my story to avoid other people falling into the trap.

I was so excited to get this dress when I placed my order. I paid MORE for this dress to be overnighted (because I am going away this weekend and bought this specifically to wear while away) to me than the actual dress itself. Got the dress over night only to find out that they did not send me the dress. They sent me a SHIRT that looking nothing like the dress I ordered. Completely different color, different pattern, AND it's not a dress. When I called to express my anger and hopefully get them to over night the actual product that I ordered, I was told they will not overnight me the correct product until I returned and they received the product that THEY sent me. RIDICULOUS. I told them I wanted all my money back and that they need to learn how to send people the correct item, especially if they pay to have it overnighted since they need it ASAP. People want what they order, COMMON SENSE.
Forever 21 Company Profile
Company Name:

Forever 21

Website:

http://www.forever21.com/