Consumer Complaints and Reviews

Where do I start. First I ordered my daughter an outfit for a concert she is going to. The outfit was supposed to arrive 2/9/2017, the day before the concert (cool that's perfect right). Well, Thursday evening I receive an email from USPS stating that my package delivery date was pushed back to Saturday 2/11/2017 (that sucks, because the concert is Friday 2/9/2017). So, after I receive the email Thursday my daughter starts freaking out. So, I take her into the store to buy a new outfit, because the concert is the next day (not too bad). The next day (today Friday 2/10/2016) the outfit was delivered even though they said it wouldn't come until the next day (no big deal I will just take the outfit back, and get my money back).
I go into the store (the store has 8 registers, but only 2 open) there are about 12-15 customers in line, keep in mind they have about 6 other associates in the store standing around doing nothing. I couldn't figure out why the lines were moving so slow until I got further up in the line with like 5 people in front of me. I see the cashiers writing things down on paper, and using calculators. So, finally when I get to the cashier, I explain to her that I have a return that I bought last night with cash, and I have my receipt. She tells me "our systems are down, so we cannot process any returns". And also, they are not taking any cash only cards. She said that they are using paper and calculators to write down and add people's purchases. They cannot print or give out receipts. Yes people you've heard me right they are using paper and calculators to add up people's orders, because their system is down.
This is the most craziest thing I have ever seen or heard in my life. I don't know who owns F21 or who is responsible for the decision making, but this is terrible business. I was so appalled that they are so greedy for money, that they would have their cashiers use paper and calculators to add up purchases, and not be able to give customers receipts. Why not just close for the day, until you can get your systems back up. Also, let the customers in line know what is going on, don't wait until a customer has stood in line for 25 mins (yes I said 25 mins). To tell them it's nothing you can do for them. I am so done with Forever 21. I have seen so much foolishness in my life, but this right here is a level of foolishness that I never intend on dealing with again. Shame on you F21. So so so not cool, not cool at all.

I ordered something on Forever 21 on Jan 1 of 2017 and they lost my ordered or gave it to someone else. They sent me a form that I had to fill by hand and scan it and send it. After that I had to wait for 10 business days. After waiting I didn't received an email or notification. Nothing. I try to contact them via email after 3 emails. They responded me that I had to give them more time than expected. After that I contacted via live chat and they also stated the same. This is the worst customer service that I've seen.

Forever 21 has THE WORST ship to store online order process. I ordered some items on Jan. 8 and decided to opt for your ship to store option thinking that I would receive my packages way faster than if I shipped it to my home. I thought, maybe they already have some of these items in store and only have to set them aside for me OR they ship faster to the store. My order left Forever 21 on Jan 12. I like to check order status, as anyone does, so I go to my order email from you and click check order status button, which basically sends me to no man's land on your web site.
Apparently, during one of the MANY conversations I have had with your on-site staff as well as customer service phone calls, I am notified that my order does not actually become an ORDER whose information is reflected on your site until it actually reaches its store destination. So why do I have the option to check status at this point when it provides me with no link to my order. Then I am told that for any ship to home order, Fedex or UPS is happily used so that my order could be tracked BUT any loyal customer who ships to store has their order shipped by Forever 21 mail. Whatever that means. I asked what that meant. Is that regular mail because I have sent plenty of things through the regular mail and people have received it in way less time than all the time I have been waiting for my shipment.
So now, Jan 25, I talked yet again to customer service. By the way, Via was very nice and well trained. She notified me that my package was said to be delivered on Jan. 23 but there has been no notification of said package being delivered. I checked back on Feb 1 and they said yet again that they don't know where my package is, there is "no way to track it" based on the shipping method they use, whatever that is, even though it was shipped out on Jan. 12. I asked if they could send the same items directly to my home, talk to someone else about this. "They are not allowed to" they said. I asked if they could find out where the package is, and they don't know. THE WORST company and I won't shop here again.

This was by far the worst customer service experience ever. I never got my order and I did not receive from F21 the exact address my items was shipped. The original carrier was UPS then they handed over the package to USPS who did not state the address the items was dropped off, only the state... I called them and they required me to download the return policy, fill it out (total waste of paper) and email it back to them. I only stated the billing address because the billing address and shipping address was the same. I never got back my money. I never got USPS to get on the phone to verify where the package was actually delivered to.

I used to really like F21. They have a great selection at good-moderate prices. My issue is their HORRIBLE customer service. I am never going to shop there again after this last experience which is still ongoing. I never received my package. It was supposed to be delivered on the 12th of January. I think it was a mistake by FedEx. Fine, I call F21 customer service. It is outsourced to the Philippines mind you. They say "Ok, we'll open up a claim." I called that very day, the 12th, but for some reason the claim wasn't opened until the 15th. Until around the 20th I had been in contact with the person handling my case through FedEx. By then they had told me they were going to close the case and suggest F21 issue me a refund or a replacement. Well, I ordered $148 worth of clothes, so at this point I don't even want the clothes anymore.
I wait until the 23rd to call back F21 to make sure everything has been updated with my claim status. The lady proceeds to tell me they're still waiting on FedEx to close the case. By this time, I'm irate. It has now been 11 days, no clothes, no refund. She says I have to wait 8-10 business days since the claim was opened (the 15th). She says wait until Monday (the 30th). Excuse me, 8-10 business days from the 15th is not Monday! It'd be Friday. Now it is Thursday (the 26th). I'm forced to wait until Monday to call back and they better have this claim closed and have my money refunded.
Yes, I've already called my credit card company, but they're not much help. FedEx did their job and closed the claim in 5 days. But F21 continues to lag. Their customer service is horrible and of course there's no US number I can call. This headache is not worth the cute clothes and prices. I even thought to contact their customer service through Facebook. That was a joke. Took them 2 days to send 2 messages. I am LUCKY if I ever see my money or a credit back. Like I said, I will never buy from them again!
How do I know I can trust these reviews about Forever 21?
693,146 reviews on ConsumerAffairs are verified.
We require contact information to ensure our reviewers are real.
We use intelligent software that helps us maintain the integrity of reviews.
Our moderators read all reviews to verify quality and helpfulness.
For more information about reviews on ConsumerAffairs.com please visit our FAQ.

I always purchase items through Forever 21 online. I placed an order on January 17, 2017 and paid with credit card online. The amount paid showed up on my credit card immediately. Three days later, they charged me again. I called them twice and each time they said to hold and they would transfer me but all they did was press hold and let me sit there for 45 minutes like an idiot. Horrible customer service and fraudulently double charging customers and not quickly correcting it is disgusting. I will not shop there ever again.

Forever 21 has the worst customer service EVER! Their workers are highly disrespectful and unhelpful. I called because I had an issue with my order and the customer service rep Del ** disregarded everything I had to say. They do not help you at all with your issues. They refused to put me on the phone with the supervisor multiple times. I was hung up on four times during the call process. I feel so disrespected since I am such a loyal customer to them. The guy who gave me a hard time on the phone name was Del **. The guy I spoke to before him was ever more disrespectful, he ended our call while I was still expressing what my issue was. They act like they are oblivious to the fact you have an issue with your order and do not want to help. Shopping at Forever 21 is becoming a bad experience every time I order something.

I will never order from this company again as long as I am breathing. I returned some items back in November in which I got a refund a few weeks later for all but one item. I called to find out why I did not get my full refund yet and they told me it would take up to 3 weeks which did not make sense because I sent all the items back in the same bag. They apologized and said that the warehouse received the item and just have not scanned it yet. I called once a week for the next 2 months and kept getting the same story, that they will forward my complaint to warehouse and someone will follow up with an email. Still never got an email from anyone.
Last time I called I asked for a supervisor, they said they were on the other line and were unavailable. I said that's ok I will wait since I have been calling for 2 months and nobody has helped me and just brushes my complaint under the rug. She then placed me on hold again and came back with the same story. Supervisor is unavailable but will take my number and call me back. I hung up on her, I am done. I'm out $20. It's not worth the aggravation. Just makes you wonder how many other people they scammed.

Read the fine print when you purchase something from F21. You are unable to return an item (even if it's defective, damaged, or dingy yellow when it's supposed to be white) if the tags are not ATTACHED. Not even if you have the tags and the receipt!!! I had a supervisor argue with me that if I reattached the tags then that would be considered "altering the garment" and I still would not be able to return the item just after she slipped and said it would be ok if I reattached the tags in exactly the same way they were attached when I received them. She then states "I noted in the computer that you already removed the tags so you can't return them anyway now" in her broken non-English call center in a foreign country accent (No offense to anyone who actually lives here in America who works in a call center in America who has an accent).
Also, you can only return an item to receive a refund if you purchased online and return it by mail and pay for the return postage, but watch out if those tags aren't attached. They will mail the package back to you and charge your credit card a shipping fee for mailing it back. If you purchased in store you can not mail the item back to receive a refund (only if it's damaged and with the tags ATTACHED), but you can return the item for an exchange or store credit (If the tags are ATTACHED) to the store. The policy says "Items must be unwashed, unworn, undamaged, and with tags ATTACHED". Well, 9/10 times the item I've purchased has already been worn by someone trying them on. So, it's ok for me to purchase said item that has already been worn, but I can't return it? 1/2 of the items I received had poor threading and one was extremely discolored so they were already sent to me "damaged".
With that being said, I bought these as a gift for my daughter who wanted them for Christmas and I ordered them online. Yes, like a normal person would, I took off the ** tags off and wrapped them as a gift. I kept the tags and receipt just in case they didn't fit so I could return them. You know, like a normal store would honor. I could see if this was a high-end department store like BEBE or SAKS, but it's not. They're cheap clothes made in China or Vietnam and meant to be thrown away after you have worn them a time or 2 and the threading starts to come apart. But, as the Supervisor said, "Our warehouse has a strict policy and the tags have to be attached regardless. So, I am unable to do anything for you." Really???
What happened to customer service? Where the person on the other line says "I'm sorry the clothes didn't fit right or I'm sorry you received damaged items or an item that is clearly not white. I would be happy to fix that for you." I'm just wondering how much money F21 rakes in from people not being able to return their items because a tag was not ATTACHED. The 4 items in question may have only totaled just over $30, but how many "just over $30" returns do they deny because the tags aren't ATTACHED!! Just an FYI... You can purchase the gun to re-attach tags on eBay for about $6. So, make sure you save the tags and receipt and re-attach those tags just how they had them when you purchased the cheap ass item from F21. :-)

I placed an online order for jewelry on 11/28/16. Two out of the four items were damaged. One of missing the gems in the statement necklace and the other looked like the gold chain was about to tear. I sent in both necklaces on 12/6/16 for either an exchange (if it was still in stock) or a return with a copy of my USPS shipping receipt since their policy states that they will reimburse my shipping if the item is damaged.
I waited 3 weeks to see if I will receive a replacement or a refund. I contacted Customer Service on 12/28/16 regarding the status of it and finally received a credit but they did not reimburse me for my return shipping cost. I contacted Customer Service again twice and both representative said they would put in an inquiry on why my shipping isn't being reimbursed, and I still haven't heard from Forever 21 as of yet. I will never shop at this company again and would rather take my business elsewhere. They do not oblige to their own policies.

I wish I had read the reviews on here before I ordered from Forever 21. I placed an order on 12/12 and never received it. I was told it was "on its way." I was then told they couldn't find it. It's been 20 days and they keep telling me I will receive a refund and have yet to receive one. I've tried asking for a supervisor and they keep telling me the supervisor is on another line and won't transfer me. They put me on hold so eventually I will give up. Please think twice before ordering from Forever 21. If you are going to buy their cheap products at least do so in the store but don't think about returning anything. They won't accept it.

Please be aware of this Forever 21 scam. I placed an order online. The items were received no problem. A few days later an almost duplicate order was received. My credit card was charged for this second order. According to their return policy the only way to receive a refund is to return the items by shipping them back via mail for which there is a charge. When I called to tell them their mistake they basically told me I was lying when I said I didn't place this second order. They said because the items were shipped a few days apart, I must have ordered these items and now I had to pay to ship them back. I insisted on speaking with a supervisor. The customer service rep kept ignoring me and just repeated the same thing over and over.
After getting nowhere for days, I finally spoke to someone who said they would send a postage paid label. It never came. When I called a few days later they said they never told me I would receive a postage paid shipping label and basically accused me of lying again. The rep on the phone said the conversations are recorded to which I responded "GREAT, please go back and listen to my call." Thanks to my cell phone, I had the exact time and date I placed the call. After I stated that I would be happy to have him listen to the recording the rep agreed to send a label as a courtesy. Needless to say, it was never received. I will never purchase from Forever 21 online again. I believe they are running this scam when original orders are shipped free.

I give them 1/2 star not full. I place an order on 12/20 before 2pm and was told it'll get delivered before Christmas. I was sent a USPS tracking number which keeps saying, "The package is awaiting pick up by carrier" for 3 days. I call the customer service numerous times and ask for them to look into it for me. All 4 reps are clueless have no answer for me as to where the package is but insist it was shipped. Not!!! It wasn't ship. It's still at the warehouse because if it was shipped USPS would have it and I would be able to track it. There is no movement of the package whatsoever! Forever 21 please get your act together! This is not good customer service at all! Very pissed off customer right now. All the items were on my niece's wish list for Christmas. Now what???

Forever 21 customer service fails yet AGAIN! I ordered two gift cards to be sent to a different address than the billing address. They are now on their way to the billing address and Forever 21 customer service says this is my problem and they cannot do a thing about it. They were rude both in the online chat and again on the phone. These gift cards were supposed to be Christmas gifts for my children and now I have to scramble to get them something else. DO NOT ORDER OR SHOP AT THIS STORE... THEY DO NOT CARE. I will NEVER shop at this store again and I will tell everyone to do the same.

I ordered two items online. They sent the items twice. I called to let them know, they accidentally sent two shipments and I would return the second package, thinking I was doing the honest thing. Then I found out they charged my credit card for both orders. Now they want me to pay for their mistake by paying shipping to send the clothes back. I asked the woman, Sophie, if I could speak to a manager, and she said, "Okay, thank you." Then hung up on me.

This is my first time ever writing a review about a business but I was so dissatisfied with Forever21 customer service I had to. About 3 weeks ago I ordered an item online. Originally the delivery date said one week from the date I ordered. When that date passed and I never received the item I checked the tracking system to find that they pushed the date back another week. Then that date passed and still no package. Upon tracking the package I found that UPS was transferring the package to USPS and it was in my city.
So I waited 5 more days and still no package. I called the UPS and USPS and both of them have no idea where the package is. When I called Forever21 again they told me the item was likely lost and I should fill out an affidavit, but it could be up to a month for me to see any kind of refund. Not to mention the fact I still want the item! THEN the representative from Forever21 hung up on me while I was explaining my issue. Completely unprofessional and makes me never want to shop there again. I'm even more upset because I ordered some Christmas gifts from there before I ran into this late delivery issue and I did it under the ship to store option. I never received an email that it was shipped and haven't heard anything since. How can a company as widely popular as Forever21 possibly get away with this kind of service?

I just purchased a bomber jacket and in my first wash the seams became undone. They will not replace or exchange product because their policy states it has to be unworn and with tags. They sell very poor quality and their Customer Service is useless!

I have been trying to return my order that was sent 2x since I was told the first one was going to cancelled due to warehouse issues. I was told to replace the order, which I did. Now I have two of the same orders. I was told I was going to receive a return label so I can return one entire order and get a full refund. It has been a week, have not received anything. When calling Forever21 you are on hold forever, when they answer no help. Apparently there is never a manager around to speak with. One of the representatives just left me on hold until the phone disconnected. Customer service is extremely rude. I'm so annoyed. I been shopping with this company for years and this experience will make me never shop with them again. It is the holiday season and I'm dealing with this headache. It is the absolute worst!!! I would of gave ZERO stars but it makes you click at least one.

I bought a couple of items at the Forever 21 online store and after almost three weeks after I placed the order, when I track it, it showed Fedex had handle the package to USPS but after that nothing, no updates and that was almost a week ago. Then I called Forever 21 customer service and the rep told me that the package was lost and she couldn't do anything. I asked her if they could contact USPS since they are the sender and check if they could find the package, she said 'no'. I asked if they could send another package and I would refuse the first one in case it's delivered she said 'no', then I asked for my money back and she said that I have to wait for the package to be declared officially lost 10 days and then they could process the refund, which takes 4 to 10 business days to be completed. So actually I should wait for almost a month to get my money back .
When I asked for a supervisor she said that her supervisor was not taking calls and that if I want my money back I should call my bank and dispute the charge, which I did since I suspected that it was going to be very hard to get a refund from them. I felt so mistreated, so disrespected as a customer and as a person. I obviously won't buy anything from them again and I'm going to tell everyone I know about my experience. They really have the worst customer service ever.

I returned four items to Forever 21 via the mail. All the items were in excellent unused condition, no tags removed, no deodorant stains etc. I also returned them within a day. They only accepted two items and not two others. I was told they were worn. This is an outright lie. They are lying and cheating people out of returns. I ordered these items for my daughter. I can well afford the cheap clothes this company sells but what they are doing is wrong. I will not pay for their deceptive practices.

Forever 21 online shopping is literally a hit and miss. What I don't like is that I never received my tracking information! I never received an email and I was not able to track my order on my "order history". SO I attempted 4 TIMES to contact chat service. First 3 times, no one was available. NOW, I contacted them at 7pm PACIFIC TIME. They don't close until 8 pm pacific time. So I don't understand why it takes 4 attempts to get a hold of someone. Either someone at their call center is not doing their damn job or they don't care for their customers. Horrible servicing.
So on my last try, I continued to IM them saying that I'm contacting them an hour before closing... on my 4th attempt... It shouldn't have been a problem. FINALLY someone contacted me back. Marianne was the chat person that assisted me. I honestly just got my tracking information and exit out of the chat... I did not care to say thank you or anything. The customer servicing was very dissatisfying and disappointing.

I bought a 75$ E-gift card FROM Forever 21's online site for my daughter who is in college in NYC... a little happy to brighten her day. The site asked for the recipients email and then a shipping address. Confusing, because it was to go directly to her email but it wouldn't let me complete without it. Then the confirmation was vague. It kept saying it would "ship" to the address in 24-48 hours. When I called customer service # on their site and waited for a representative, the recording said "sorry, our customer service is now closed on Sundays". It was FRIDAY.
Finally, on the afternoon of the 2nd day, my daughter received the Ecard and went shopping at the lower Manhattan Forever 21. When she got to the register with her selections, the cashier told her that the location does not accept Forever 21 cards. She really needed a little happy and that was so disappointing. I understand not accepting an e card from just any online site but this was Forever 21's online shopping site for all items including gift cards. I am very unhappy with this level of service and will take my business to H&M from now on.

I went to Forever 21 and went to try on some clothes. The man whom was to open the door told me that I would have to leave my handbag outside. I was like "what do you mean?" He said "you can't take your handbag in the dressing room because people steal." Well I'm sure they do but I wasn't going to leave my handbag outside on the wall, who's to say when he went to open a dressing room door someone wouldn't grab my purse and run. So I had my husband come in the store and hold it for me. I can understand theft but there has to be a better way maybe a policy where you check the handbags after they try on clothes, or count the items like most stores do. And the size of the clothes I believe they are made in China because they are so small a med person would have to purchase a XL for fit in them. Don't intend on shopping this store again. Terrible!!!

So, I ordered when the pre-Black Friday sales appeared, which was the 19th-20th. Anyway, when I ordered, I was prompted that my delivery would arrive on the 26th the same exact day. I thought that was fine because Thanksgiving was on the 24th... no big deal. But when the 26th came around... no package. I went on their website, as well as USPS to track shipping, only to see that the date changed to the 29th. Like I wouldn't see or notice. Worst part is, I didn't even get an email stating an issue in shipment. I would have been okay had they said something. But instead of 3-5 days, it is now 9 and I dislike this. Funny thing is, I live in Maryland and the shipment is from New Jersey.

I made a purchase today at Forever 21 and realized at the end right after I entered my PIN that there was writing on the back of the jacket I bought. Yes...my bad, but even though it had been 30 seconds since my purchase I could only get store credit!! I lost it, not cool, I will admit, but come on!! I tried to regain my sanity and find another jacket without writing and could not. I left the store and found a nicer jacket from a store that will actually refund your money, if you need to return it. What a concept!! I then thought I will go back and return the jacket to Forever 21 and use the credit to buy gift cards for my 2 teenage nieces. I found out YOU CAN'T USE STORE CREDIT TO BUY GIFT CARDS!! That makes no sense!! WTF??? The gift cards will be used at the store so they are getting their money. I was even planning to spend more than the credit. This is a poor excuse for a business as clearly they had to screw the consumer with their refund policy.

We placed an order with forever21 on-line. It was declined. We contacted them via live chat to see why. They said it was the credit card company. We tried again and again. It was declined. I called the credit card company and they said the order never came through. Forever21 never even ran the card. The credit card had no record of them ever trying. We tried a different card and same thing, declined. We did the live chat every time and all we ever got was the generated robotic answers that don't answer anything at all.
The customer service wasn't helpful at all. I guess they can't be. They are just paid to take care of angry customers but have no way of resolving anything. I was told my billing was wrong but we triple checked it every time. I know it wasn't wrong. None of the information was wrong. I would never have a typo three times. Needless to say we are not happy with forever21. Used to be big fans of their clothes and jewelry but there is no way for us to continue shopping there as we are too far from a store and they absolutely won't accept my credit cards even though they can't explain why. There is no reason they shouldn't. I would not recommend forever21 to anyone having to shop on-line with them.

Oh. No wonder your customer service reviews are rated the worst ever. Even so your fashion is awesome. Your company will crash with such a careless way of dealing with things. People move every year and don't have to change their billing addresses. Your loss and in this economy I bet you will entirely shut your doors by 2018.
What a shame for the distributors to trust you selling their product with the extremely poor service. I will do whatever I can to let them know and all friends I have not to buy from. You have no return policy, no exchange policy for online purchased (we gave no store where I am from), you send 2 broken bags twice and wanted me to pay shipping back... to exchange it... which is ridiculous. Another 2 times sent stained items which never cleaned out. Another 4 times you cancel order for no reason and only when promotion code was applied, never ever offer a discount code back or card as other companies does. I called many times and the customer service representative was rude and when I asked for customer service hang up on me. How is it possible you hire and allow employee to deal with us that way??

Order placed 6 weeks ago and online tracking shows delivery 6 days after placing order; however, product was never received. Phone call made mid-October to Forever 21 customer service (overseas). They told me they would start an investigation with FedEx, and to call back in 15 business days. I called back November 1. Was told they made an error in the details and the claim to FedEx did not go through. They "rectified the error on their previous request" to FedEx and told me to call back on November 15. I called back on November 15 and was told they are waiting for an update from FedEx. I called FedEx who told me they are waiting on a claim form from Forever 21, and that Forever 21 could easily refund my money or send another order without the update from FedEx.
FedEx told me to have Forever 21 call them and they could easily provide details on what they need. I called Forever 21 back who stated they did send the information to FedEx and are waiting for FedEx to send them the results. They told me to call back in 5 business days. Extremely poor customer service. Difficult to understand customer service reps. I am very dissatisfied with Forever 21 and their customer service. Highly unlikely that I would ever order from them again.

I am 20 years old and my favorite place to shop has always been Forever 21. I enjoy the variety of fashion and sizes Forever offers. I recently purchased my sister an E-Gift card online. I was hesitant to order an "e-gift card" at first because I have never done it before. Nevertheless the gift card was never sent to my sister's email. Forever 21 website states the gift card will be delivered no more than 48 hours. My delivery took longer than that before I received an confirmation email stating my gift card $ has been shipped. My sister checked her inbox and spam folder very carefully.
After about a week of my sister not receiving the gift card money, which was $50.00 in total, I called Forever 21 customer service. I have called customer service now more than 4 times and I am tempted to call once more due to my wishful thinking. I had the gift card number and pin given to me over the phone. Thinking this would resolve my issue, I have the info to my sister. I was told it could be used in store or online. My sister went to a Forever 21 and the cashier said the account could not be found. We tried different birth dates and zip codes; IT DIDN'T WORK!
I called customer service once again and they read the gift card numbers off to me again, all the numbers matched. I was told a manager was going to give me a call back. I have yet to receive a call. I am upset Forever 21 took my money and I can't even get a refund and my sister's gift was taken from her. It has been 3 weeks now since I have ordered my gift card and getting nothing in return.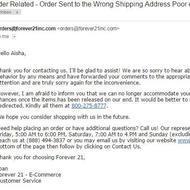 I am truly upset to have to write a complaint about Forever 21. I was a huge fan of this brand. I purchase items in store and online in the past and never had a problem. I loved the brand. However, a recent experience has really made me abandon my love for the brand. On 11/5/16 at about 10:15pm (PST) I placed an order for 5 items (almost $86.00) via the Forever 21 Website. Upon checking out and paying for my items I updated both my billing and shipping information. I did this before! I placed an order!
I received an order confirmation within seconds of my purchase. The order confirmation included the full details of my purchase order, but the shipping details section was left blank. I did not think this was an issue. I received a shipping notification via email the next day. The email showed that the items that I paid for are being shipped to my old address in Florida. I now live in LA.
I immediately reached out to Forever 21 customer support via chat. The chat agent Paul crudely advised that there was nothing he could do because, "You received an email before and after the purchase of the items". I advised Paul that he was not helpful and I would like to speak to a supervisor. Paul then advised that at this point there was nothing that a supervisor could help you with. I ended the chat with Paul and called in to speak with a representative via telephone. The telephone agent was kind but advised that I should call Fed Ex within the next 48 hours to try and have the address amended. The agent advised that I will still be charged for the items even though they are going to the wrong address and I will not be receiving them. I advised the agent of Paul's poor customer service approach and the frustration of dealing with this issue. I also advised that the policy that she shared with me was a poor policy.
I hung up with the agent and called Fed Ex just to ensure that I was given the correct directives to amend the errors and receive the items that I rightfully paid for. Upon calling Fed Ex I was advised that Forever 21's telephone agent provided the incorrect information and that I will not be able to call in to update the order because Fed Ex will be sending the package to the local post office in Fort Lauderdale, FL. The Fed Ex Agent advised that I could receive the items once the package has been returned back to the company. Or that the Forever 21 company would have to re-send the items that I ordered to my correct address. Again my time was wasted for the second time.
I filed an email complaint via Forever 21's "contact us" form online. I got a directive from Joan to contact USPS. I contacted USPS and they were told that Fed Ex still had my package so they could not assist. I responded to Joan's email and advised of Fed Ex and USPS stating that they could not help. I received a response from another Forever 21 Customer Service Rep which totallly ignored the content of my email as well as my request to have this matter escalated to a manager. Instead, I received a stock response with a statement telling me how to make a new order. I called Fed Ex back a 2nd time and I was advised that my package was a "SmartPOS" and that there was nothing that could be done by Fed Ex or USPS to change the address at this point. The items that I paid for would be sent to strangers at an old address where I no longer resided.
I removed my old address. I updated my payment method. I did what I was supposed to do on my end. However, this company made an error, took my money, and sent me on a wild goose chase. They not only stole my money. They stole my time. They will not be in business in another 10 years if this is their standards for valuing their customers!
To reiterate, I removed my old address prior to placing the order in question. I correctly updated my address in the Forever 21 online system. This means that I removed the old address so nothing should be shipped to my old address. I also added a new payment method at the time of placing the order in question. I should not have be penalized for these items going out to an old address when I took the time to remove my old address. The order confirmation that went out to me upon my initial purchase had a blank shipping address. I was not able to catch the wrong address being added to my order prior to the items being shipped because the shipping details were left blank in the order confirmation that was sent to me the night of 10/5/16. I was only made aware of this issue via the shipping confirmation sent 10/6/16. I attempted to make sure that this problem was avoided but I was met with dismissive attitudes.
I feel overlooked as a customer. I also feel cheated. I feel as though their staff did not try to assist me in finding a positive resolution to this problem. And clearly from these reviews I am not the only one who feels slighted. Large corporations should not be ripping people off like this! They are taking countless people's money and they are getting away with it. They make millions of dollars through merchandising but they are making even more money by keeping patrons money in the face of their own internal system errors.
Forever 21 Company Profile
Company Name:

Forever 21

Website:

http://www.forever21.com/