Consumer Complaints and Reviews

I went into the Dollar General today to grab a few things for my son to go to camp. I noticed I picked up something I had at home. I told my 11 yr old to take it back and put it on the shelf. When he took it back. He set it in the wrong spot and the employee that was standing there looked at him and said "Really **." Smh at the fact a grown man would talk to my son this way. I'm so lost for words that he would be treated this way.

3 different items rang up higher than the price on the shelf stated at the local store I shopped at yesterday. I asked the cashier about this and her only replies were "I'm sorry", "do you still want the items" and "like I said, I'm sorry". No attempt was made by her or the other employee standing next to her. No solution was offered. I was completely blown off. I don't think I will be returning to this store anytime soon!! They acted very bothered by me being there. Weights and measures needs to check these stores out!

I drove to the store to get something very specific, a quick trip to run in and run out. I was surprised to find the store 14858 on West Fuqua in Houston Tx closed, with the employee/night mgr Standing inside mouthing that they were closed. He had indicated that he was closed already to another would be patron who was there before me who was looking confused as to why the store was closed early. The employee was motioning to me, mouthing the words, "We're closed." There was approximately 10 min left before the store's closing hours. This is a neighborhood store where people do run in at the last minute. Such is the nature of discount retail in this area. I would hope that this is an isolated incident and not the way the store will continue to be managed. Many people value having Dollar General in the area. It's a fine store. Please don't continue to close the store earlier than the posted hours.

ECoupons not working several times. I have done ECoupons for a while now. I know to make sure I have the ECoupons in advance so that I receive the savings but this time I didn't receive them when I signed in. I told the cashier about the problem and she said there was nothing she could do to fix the problem. She also claimed ECoupons hadn't been working earlier this day. I would have saved over $8.00 off my purchase on ECoupon being $5.00 off a purchase of $25.00 or more. My total was over $60.00. This is not the first time I had problems with ECoupons but it is definitely the last time I shop at Dollar General stores ever!!! I didn't want to even give them one star rating. I also email Dollar General corporation and got no response. Walmart will be seeing more of me!!

I need to file a complaint with your corporate office. I hate to tell the story on social media for all to see before I first speak with someone in the corporate office, but I've already called the 800 number and given my story to a young lady that promised I would receive a call back. I have not gotten a call. I also went online looking for an email address that I could send this to, but then it said that if I wanted to reach corporate I would need to do that through one of your social media accounts.
Today I visited store #06894 at 7415 Tazewell Pike Corryton, Tn. When I entered the store I didn't spend any time shopping or browsing. I went directly to the checkout counter. I asked the young man if I could please give him $140 cash and he place that cash onto a Kaiku prepaid debit card that I own. He told me he didn't know but that he would try. The transaction didn't work and the young man gave me my $140+ fee back and told me he was sorry. That's when an older man, about 45 or 50 yrs old, walked up and told me to wait a second. I did. He tore the receipt from the register and read it aloud. He read "Transaction declined. Customer is entitled to immediate refund of $143.95." The young man again told me he was sorry so I said thank you and walked out to my car.
After starting my car the older man, **, ran up to my window and knocked on it. I rolled the window down and he yelled "You need to come back in... now". I told him "Okay" and I turn to grab my purse so that I could get out of my car. He yelled again "Get out of the car now. That money's on that card." I told him that I didn't have a problem going back in but that he needed to take his hands off of my door so that I could roll up my window and lock my car before I go inside. He yelled "No, I'll call the cops. You're not taking off on me. You're not driving out of here." Again, I told ** to please take his hands off the window so that I can roll it up and I would get out of the car. I told him that there were things in my car and I wanted to just roll up the window. I assured him again that I didn't have a problem going back inside.
I reached for my keys to turn off my car and to take them out of the ignition but I believe he thought I was trying to start the car because he blocked my hand from being able to grab the keys. I believe he didn't realize my car had already been started. That's when I asked him to step back so that I could get out and that's when he opened my car door for me. I had to leave my purse in the car, and the window down and my engine running while I walked back in because every move I made he would start yelling at me and threatening to call the police. By this time I was shaking pretty bad and crying. I had no idea what had happened. Even if the transaction had gone through and the money was in fact on my card, I had only left the inside of the store because ** and the younger man told me the transaction had been declined and that they couldn't help me.
So I make it back into the store and I asked ** why he would treat me this way and what I did wrong. There were customers inside the store staring at me, at this point. ** said, "You've got to understand that we have thefts every day." I told ** I didn't steal anything and that the only reason I left the inside of the store is because he told me the transaction had been cancelled. I kept saying I couldn't believe what was happening and I have never, in my life, been treated so poorly in any store.
Then ** says "You have to sign this." I look down to read the receipt I'm signing and the receipt says "AMT DUE TO CUSTOMER $143.95." After I signed it I looked up waiting for ** to tell me I must give him the money back, but he didn't. He told me that receipt was my copy. I was completely confused at this point and I started to walk out of the store without saying anything at all to anyone and when I get to the door ** yells "You have a nice day too." I believe when we got back into the store ** realized that no money had made it onto the card and I believe that the reason he kept saying "You've got to understand we have thefts every day" rather than saying he was sorry is because he had treated me so poorly in front of the store full of customers and he didn't want those other customers to know he was wrong. He would rather let them go on thinking I had actually tried to steal from the store.
I was mortified when this was happening. I was scared and had no idea what I had done wrong. When I say that I've never been treated so poorly ever in my life while out shopping that is the truth. I still have not received a call from your corporate office. I did end up calling the district manager on her cell phone, but she didn't answer and I could leave a message b/c her inbox was full. I want this man to be fired. He has no business at all interacting with the public if he thinks this behavior is okay. He had no right to keep me from being able to lock up my car or roll up my window. He had no right to block my hand from reaching for my car keys as I was sitting in my car. If you let this go and do nothing about it, and you choose not to call me back I promise you I will go ahead and retain attorney Tuesday afternoon and then just let the attorney handle it from there.
How do I know I can trust these reviews about Dollar General?
791,967 reviews on ConsumerAffairs are verified.
We require contact information to ensure our reviewers are real.
We use intelligent software that helps us maintain the integrity of reviews.
Our moderators read all reviews to verify quality and helpfulness.
For more information about reviews on ConsumerAffairs.com please visit our FAQ.

My neighborhood Dollar General Is the best. Cashiers are extremely polite and helpful. The manager is constantly going out of her way to help customers. Store is very clean and tidy, it's always a pleasure to shop. I am happy that Dollar General is in my neighborhood.

I recently shopped at the Dollar General Store in Warsaw Ky. The store is a total mess, carts of stock are all over the aisles. Every aisle was full of stock carts. My husband and I could not even shop in the store. The store had no Manager and if you could get in the aisle the shelf was empty. I live in Warsaw and would love to see this store succeed but with this mess I will spend our money elsewhere. When I ask the employee at the register why the store was this way and why stock was not put out little by little his reply was really stupid. He said because all the shelf were empty they needed to leave the stock carts to put stuff out in the aisles. As a previous retail manager this makes no sense. Especially since there were no employees there to put product out. I will also state this store is always a mess and I wish the higher up would fix it.

I recently completed a survey using the information on a former receipt. This was for $3 off $15. I purchased $20 worth of merchandise, and presented the coupon. The clerk [Julie] said that the discount had been applied but neither she, nor I could find where it indicated this on the current receipt. After I added up all the purchases I made at the list price, it noted that I had purchased $20+ and then after each and every item there was a pennies deduction which brought the total to $17+.
#1 I think this is a terrible way to show the customer that the discount was taken. It should have been subtotaled at $20 then shown the entire $3 discount. Julie was at all times gracious and helpful in spite of the fact that this was a busy time of the day and she was working alone trying to stock shelves and attend to customers.
#2 When I tried to go online and submit my comments via the survey I was told I wasn't allowed to do that since I had used the discounts previously. I can appreciate that you don't want the same person completing a survey again and again, but I was given no other option to get this comment to you without having to search through the many listings on the internet.
If you want to help your customers, I would suggest you simplify the procedures. Both when presenting a coupon for discount and for comments other than a survey. Perhaps you could add an option when you refuse to let a customer take the survey. Since you give a coupon at the end of the receipt anyway. Why don't you simply offer a discount coupon even if you DON'T want them to complete the survey. It makes me feel that I just won't bother in the future to let you know how my experience was, be it good or bad. It is a good thing to have Dollar General in our locality. But since the recent change in employment management, it appears that you neither care about your customers by not having staff on hand to help them, and you'll be lucky to keep the few good people you now have.

I had gone to Dollar General today to purchase cereal. They have cereal on sale. Three boxes for six dollars. I got 24 boxes which is it two dollars each a box. I also had three digital coupons. One is for a dollar off the General Mills which I bought. Two of the rest of them at the two coupons were five Kellogg's Special K cereal. Two coupons three dollars off of five Special K cereals which I got 10. In the bottom of the coupons it does say you can use them as long as you weren't using four of them at per transaction. I was only using two of them so altogether I should've had seven dollars taken off of my bill. The cereal itself should've been $24 -7 dollars = $17.00. I was being charged $23.
The gentleman he was trying to check me out, went and got the manager. This manager is one of the not the best managers of our town. If you ever read the yellow pages app then you would read the reviews about this lady. She has a very bad reputation. I try to explain to her I had three digital coupons. She getting her up to me telling me that you didn't download it, you didn't download it. As a yes I did I have it on my phone. It's a green circle with a check mark means it's downloaded. I try to explain to her the sale price of the cereal it's in the paper three times. She just can't argue with me back-and-forth.
Meanwhile there is a line of customers behind me. The gentleman was too scared to even try to assist a customer on the other register because he realize he did something wrong. They didn't understand what you did wrong and the manager just wasn't educating him on what he did wrong eventually. I ended the conversation by, "I don't want this. I'm walking away."
She makes a big stink like, "You're not going to get this?" I told her, "No I don't have to buy it if I don't want to buy it. I'll buy it for $17. That's the sale price of the cereal and my coupons and not for $23." I am a professional customer service agent from home. I know my rights and on the side of the size. Been a customer service agent. I'm also a blogger and I said, "Now you put the cereal back and you look. You be thinking about what you did wrong and why you added. Check the Sarah out there. Some cereal that is opened back there you may want to take off the shelf before the Health department comes!"
I called corporate to let them know what was going on and I gave them my home phone number to see if I hear anything about it but after reading the reviews from the Yellow Pages app I don't know if I will hear anything because only negative review that this particular store has is this lady which is quite sad because I was just one customer. I had two transactions to do. One was for my cereal and the other was for my next-door neighbor. She want me to get her some pop. I would have went next-door to save a lot however went to many people like myself who refuses to take the crap of people who don't pay no attention to what their sales ad say or what the coupons are and want to argue with the customers. Eventually the stores were either a layoff people or worse they shut them down.

If there was a chance to give this less than one star I would! Below is the message I sent to them privately on their Facebook Page: "Please call me. I purchased a 3 into 1 wall adapter last night from your military road location in Niagara Falls last night. And as soon as I plugged it into the wall, there was sparks coming out and it blew the fuses in my basement. I am having to call an electrician in! It could have killed me, you need to recall these products before somebody gets hurt. Please call me."
I received a message back fairly quickly saying "Thank you for bringing this to our attention, Jackie. We apologize for the inconvenience. Please visit our Customer Service link to issue formal feedback for follow-up: **." And that is exactly what I did! And I got totally ignored. Do not buy anything electrical in this store, not only is it dangerous but if you try to bring it to anyone's attention you get ignored! They will end up with a heavy lawsuit in their hands!

This Dollar General (Store #12451) on Lady's Island in Beaufort, SC is disgusting!!! I drove past the brick structure that conceals the dumpster... Both doors of the brick structure were open and this is what I saw. There is no reason for this at all. If the employees are too lazy to put the trash into the dumpster, and leave it looking like this... then I would hate to see what their stockroom looks like inside. This is disgusting and severely pathetic. The trash is easily, easily 2 feet thick behind the dumpster!!! Seriously!!! Corporate had better do something and soon!!!

I went to Dollar General Sunday the 16th to purchase items for a new kitten. I got food, toys, a cat box, and a small bed. When I got checked out the cashier asked if I'd like the bed in a bag, and I said no. Then I realized that there were still two items in the basket that needed to be paid for. I paid for them quickly because I was holding up the line. I got kind of flustered and grabbed my bags and left.
When I got home I realized that I had left the kitten bed on top of the bag carousel. I went back on Monday and spoke to an assistant manager and she said if the cashier remembered it, they would give it to me. When she asked the cashier he lied and said he saw me take it. If he had said he didn't remember, I would have understood. It was my fault I left it. But he deliberately lied about it and I'm very angry about that. This was the store at Admiral and Memorial in Tulsa. I will not go back to that store and I will advise everyone I know not to until that cashier is gone.

Store# 03457. Was trying to exchange a charger for the same product with receipt. Was told that I needed to speak with a manger the next day. Went to speak with manager. The manager said that she would be able to exchange. I did not want any money back just the same product. I asked what the policy was and the manager proceed to give me her personal version. When I was looking at the refund and exchange policy. When I told her that there was a sign behind her she begin to read it. And I was right but she said that she didn't want to exchange it for the same product. Due to the fact that she could not resell it.
I won't be there if it was working and proceed to gather other employees to say they were the ones who were working. One of the employees said twice that she was not there. And the manager kept yelling and talking in a downward matter of the issue. HER CUSTOMER SERVICE AND SUPPORT NEEDS TO BE ADDRESSED AND SHE NEEDS TO BE BROUGHT UP ON THE POLICIES.

Thought I bought a Eckrich Ham & Cheese on sale for $2.00 yesterday 4/13/2017 since the red and yellow sales promo label clearly stated it was on sale for $2.00 but after visualizing what I purchased a day later it seemed to me I was overcharged slightly on the several items I acquired. Went to trash bin and found the receipt in the yellow Dollar General sack and sure enough I was charged regular price of $3.25. Since I was headed the several miles back to the town I purchased at today for other business, I decided to call them and notify them about this. They said, "Sure come on in and we will see what we can do."
Big mistake calling ahead I think. Gave them warning to no doubt go to refrigerated case and remove red and yellow promo sales sticker, since when I arrived to store and marched back to the display case the ham and cheese now counted 12 packages and sticker had been removed. Somebody had re-stocked since I took the last package yesterday. From now on, do not call ahead since this gives the manager warning to go remove a sticker that probably should have been removed weeks ago when the sale expired. Did not argue long when their eyes were averting mine trying to reason with them. I know what I saw yesterday as far as a sales price since I won't give $3.25 for any kind of lunch meat. Less business for Dollar General coming out of my pocketbook. That's all.

This store has never been up to par when comparing it to other stores in our area. The manager is not very professional. The items carried in this store are minimal compared to other DG locations. We only have this store and one other in our town to shop. I feel that because we are a small town that the customers don't matter. Fifteen miles south of us is Benton LA and that store is run so well and fully stocked. We need that courtesy here in Plain Dealing. A lot of money could be spent there but not as it is now. Please let me know you've received this complaint.

Mr Freddy ** should not be a manager! Any grown man who represents your store should not be bad mouthing employees in front of a store customers! It's very sad that you hired him and promoted him. If you ever heard him talk about Dollar General and its employees you would fire him on the spot. Thank you Mr Freddy. I will never be shopping in that store (number 1391) again.

On April 1, 2017 my two daughters and I walked into the Dollar General store on Georgesville rd (43228) as we were looking at the clothes we overheard the manager say to a Somalian customer to hurry she didn't have time, that he needed to hurry and then made his child tell him the dad thanks for getting her something. In shock we still stood looking at her. I said "Wow I am calling corporate on her" and she looks at me and asks her other employee Marium why people are staring at her and that it's OK for her to treat people like that because she's the manager. We go on about our shopping as she is still standing behind the register screaming for Makinsey until she has to go get her and then approaches me accusing me of putting ** in my purse. For one it wasn't even my purse it was my daughters. But she said I had to show her the inside because she just seen me so my daughter came and opened her purse against my approval.
Words were passed and I told her I was calling corporate. When she seen she approached the wrong person she ran in the office and wouldn't come out. They said she was calling corporate. I demanded the police to be called but they wouldn't. Oh and yes when she was running her mouth about us looking at her when she was ignorantly treating the Somali customer I turned on my record button on my cell phone and capture this ignorant manager acting in an unprofessional manner. We then asked the cashier Marium for Corporate number and she gave us one number and the general dollar on Demorest rd and asked the manager there for corporate and he then gave us another number. I think they need to take a different approach for their training before they get a law suit filed against them.

You advertised Barq's root beer, Fanta orange, Mello Yello 3 for eight dollars. I went to every Dollar General closest to me which is three and neither one of them had this. So I had to go to Wal-Mart and ad match. That's why Wal-Mart has more customers, but you also had Pepsi and Mountain Dew and Diet Pepsi for 3 for 10.00 dollars but had it displayed in front of store and didn't even display the other because you didn't even have Barq's root beer. You had A&W root beer and would not substitute and Wal-Mart will. So I will not be shopping at Dollar General again and I will tell all my friends the same thing and that's why you don't have a whole lot of business. Well just letting you know I'm very angry.

I purchased clover valley hamburger buns at the Dollar General for dinner tonight. I get home make my sandwich, started eating and a few bites in, I noticed a funny taste. I look at the bottom of my sandwich and it's completely ate up with MOLD. I instantly threw up and looked at the rest and they are ALL molded. I just bought these buns! I feel nauseous and I can't even eat!

This is the first time being in this store. I was curious because it was I guess considered a super store of Dollar General. I was very impressed with the store. It was clean and well stocked and the shelves were fronted and very nice. The store had a larger amount of products. Then I unfortunately had to go to the restroom. I walked in the restroom and it was filthy. The first stall had a toilet seat that did not fit the elongated toilet. The second stall was filthier than the first. I can honestly say that there was not one thing in that restroom that was clean. Like I said I had no choice but to use the restroom and I felt like I needed to go home and take a shower.
This was store #09822 4491 Lebanon Rd. Hermitage, Tn 37076-1311. If you are going to spend the effort in making the front of the store look so pristine then maybe you should make an effort to have the restroom look the same for your paying customers. I worked most of my life working retail or the restaurant business and believe me if your restroom is clean it makes quite an impression. I was not in the least impressed with this one. Please go visit this store and I will guarantee you would not want to sit on those toilets or touch anything in there.

Went to store. Bought 10 bottles of Pepsi which on shelf said 1.00. Instead was charged 1.25 but was originally charged 4.00 each. I asked to have them void the whole order. They wouldn't instead wounded the 9 hellmann's mayos and charged me ten Pepsi. The bill was 66. Should have been 16.00.

For the first time ever, I went to Dollar General on Oxford Avenue. What a dump! There was as much merchandise on the floor as there was on the shelves. Walking through the aisles, I had to step over products which were scattered on the floor as if an earthquake had just rattled the building. After getting through the obstacle then got what I wanted and went to the cash register. There was no one around. No one behind the register. No one that I saw in an aisle, so I just left my intended purchase on the counter and walked out. No wonder the guy who stormed past me as I was on my way in was so irate. Nothing like going to a store strewn with merchandise on the floor and not having anyone available to service you. I'll never go there again.

I purchased a cell phone for my grandson, it was the wrong phone, so within 30 minutes I took the phone back it had not been opened. Wanted a refund I so I could purchase the right phone for him. I needed a ATT GoPhone. She told me that I couldn't get my money back... That is suppose to be your policy exchange only. If you don't have the phone I need why not give me my money back. She yelled at me in front of other customers and I yelled back at her silly unprofessional self. Told me to get out of the store and she wasn't going to exchange the phone... I do a lot of shopping at Dollar General stores but after today I will never spend a penny at your store.
If a person can't return a phone and get their money back there needs to be a sign posted by the phones notifying customers that you can't get your money back after purchasing a phone. I had to go to Walmart and purchase the phone I needed and now I'm stuck with a phone that I don't even need... Your policy sucks and is a rip off... I will never shop at your store again... I will travel to Elgin 16 miles from my house to Family Dollar to shop. I don't spend my money where I can't get a refund.

I was standing in line listening to the cashier and how she talked to the customers. She was very rude and you could tell she wasn't going to do anything unless it was absolutely necessary. When it was my turn it got worse. My daughter wanted these little round chocolates. I guess she couldn't scan them. She informed my daughter to find her one in the box that she could scan or she wouldn't be able to sell it. First of all she could have searched for one better than my 7 year old who didn't understand.
Second of all she could have typed in the numbers, I used to work at a different location years ago and know that it can be done. We finally get through the scanning part, and go to pay. I have never been more embarrassed. Their machine cancel and denies 2 of my credit cards and my debit card, all of which have money on them. I inform the girl after it cancels my debit card that there is something wrong with the machine. She then states in front of the line with attitude "Nope. It's your card. It does that when there isn't enough money." I informed her that I had money on them, its her machine. She continued to argue back to me.
Right after this, using my debit card, the machine asks me if I wanted cashback and I said no. Well, it cancelled my transaction again. She informs me with attitude in front of everyone that I keep cancelling my transaction and its me doing it. After about ten tries it goes through. If it was my cards "fault" for not having money on it, why would it suddenly go through? I asked for her manager and she pointed to the back and told me she was back there. Like I know what she looks like! At this point I had enough. I told her to get her manager because that was her job. She stood there and yelled for her manager! I waited for ten minutes for the manager to appear.
When she did I told her I wanted to complain about the cashier's attitude and how she treated their customers. I proceeded to tell her what happened at the register, in which case, the cashier snidely handed her the pile of receipts from the register and the manager lets me know she can't force the register to take the card. She totally missed the part about how her cashier talked to their customers.
At this point I am seeing red and she is defensive. She proceeds to tell me she isn't getting on her employee in front of me when she isn't doing anything wrong. I never asked her to chew out the cashier in front of me, and of course her cashier isn't talking to me the way she was before in front of her manager. I had enough and decided to leave. On the way out I told her I would contact corporate for the treatment I received. I was told it wouldn't matter. As I go through the door the manager yells "Have a nice day and go contact someone" for anyone in the parking lot to hear. I called corporate and filed a complaint. I have no hopes it will be resolved. By the way all of this was in front of my 7 year old.

There was a deal that said save $5 instantly when you spend $15 on select cleaning supplies. I bought 2 jugs of 121 oz. Clorox bleach which was $4 each and 1 pkg Clorox disinfecting wipes which was $7.50. When I inquired at the register if my $5 was taken off they didn't know what I was talking about, so I took the Manager that was there that night 2/20/17 and showed her the sign by the products. She ripped the signs down and said she didn't do that because it is too complicated. I told her the special was in their sale paper too and she said she knew that but she didn't do that. Isn't that against the law?

Dollar General often gives $5/25 in store coupons on your register receipt and texts them to you on your phone. They have recently changed the method by which they take these coupons. They now will apply the DG coupon after all manufacture coupons. And therefore you must make a $25 purchase after all your mfg coupons are applied. Nowhere on the coupon does it state this. On the coupon which I will include it. States only that the $25 or more requirement will be calculated after all other Dollar General discounts.
This is deceptive trade practice or Fraudulent trade practice. Also nowhere in their coupon policy does it state this. This policy has just been implement since the first of the year. I shop a lot at DG but not anymore. This is also a sneaky way to try to sell more merchandise. I coupon extensively and this policy is in no way competitive with other major stores. It was always my understanding that a merchant has to honor what's written in their brochures, coupons, etc. I won't be shopping at Dollar General any further.

While checking out in the Granville, IL Dollar General, the sales clerk said my check was no good even though I had $2000.00 in my checking account!!! The manager then came over and looked everything over and had my drivers license and said I was declined. I then ran home and grabbed my debit card and drew $100.00 from the ATM at the bank. I went back to the store and used my debit card for my purchases which they told me that was no good. All the while rolling their eyes at me like I was a criminal and being sarcastic. I then paid with cash only because I need the things I bought. I have spent several hundred dollars in the store, but I WILL NEVER GO INTO ANOTHER DOLLAR GENERAL STORE. They must have faulty checkout computers and they have terrible employees.

I went to the Lonoke Arkansas Store on 8 Feb 17 to purchase a bag of dog food. On the bag was a coupon for 4 trays of Cesar dog food. I took the coupon off the bag, grabbed 4 trays of Cesar dog food and went to check out. I was told that the coupon couldn't be used because of 1 cent, then 10 cent...never got a straight answer. I ended up paying full price for the 4 trays of Cesar food also. The manager even told me that I should call corporate, maybe they could tell me why the coupons can't be used. I did the store survey and let them know the issue I had, but no one has bothered to respond.
Fast forward to today's visit 11 Feb. I just needed one jar of garlic, and picked up a ball for my dog that was marked down. I waited in line for over 20 minutes for them to ring up well over 20 coupons for the lady in front of me!!! I got tired of waiting and just left my things on the counter and went to walk out the door, and the cashier said in a very snotty voice "have a nice day ma'am". I walked out, and I will not shop there again. They are rude, inconsiderate and not helpful at all.

Went shopping 2/4/2017, over here in Mangum, Oklahoma. Had a very nice experience... Store clerk was nice and efficient. No problems! Just want to give my opinion of the nice store in Mangum! Keep up the good work!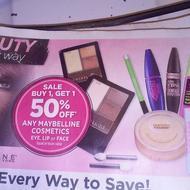 Sunday January 29th, looked at DG flyer, my makeup was buy one get one half off. I had some coupons. Drove to the store and bought four items. I was looking at my receipt and went back in with the flyer, she looked at the sign by the makeup. A 2x3 tiny sign and said no one ever reads. In small tiny letters there was something about using coupons, and since I used coupons I did not get the sale price. I told her I read the flyer! And it said nothing about coupons. I told her it's not her fault, I will call corporate. She said it won't do any good, and she's right because never got ahold of anyone. I was shocked that a store that big would be so petty about coupons. I learned a big lesson. Will never go back.
Dollar General Company Profile
Company Name:

Dollar General

Website:

http://www.dollargeneral.com/home/index.jsp