Consumer Complaints and Reviews

I ordered a mirror over a month ago and have never received it. First delivery was on Aug 4th, no call and no delivery. Next scheduled delivery was Aug 9th, no call and no delivery. I called on Aug 9th to find out what was going on and no one came to the phone after I was put on hold. I will never order another thing from this company. I spent two days waiting and did not even get the courtesy of a phone call. I no longer want the mirror and I want a refund. I am going to contact the Better Business Bureau and complain and also going to find out if I can take some legal action if I don't get a refund. I have had enough.

We were shopping for college dorm room supplies. Several staff members asked if we needed help and offered assistance. We were also told how to get coupons for our shopping trip. Amber (cashier) and Edward (manager) were especially outstanding in their customer support! Will continue to shop at this store and recommend to others.

I ordered a bed from this company and was told it would be delivered in twelve days. Two months later I still did not have my bed. I was lied to so many times. They even felt that it was my responsibility to find out information from their shipping company. It was the most frustrating experience I have ever had when ordering an item. I highly recommend you do not use this company. They are trained to lie to you and do not care about their customers experience with them.

I recently purchased a duvet cover for my bed. After waiting longer than the delivery date, I checked the tracking number and saw the indication "Delivered"... I did not receive the package. Actually the package was delivered to the wrong address. I tried to convey this to the customer service of BBB, and their answer was: "whe show that the package was delivered on such and such date". That's it. I have sent them to date three complaints regarding the same event and each time, they respond that they have a record showing that the package was delivered. YES, it was delivered but to the WRONG ADDRESS.
They then have the audacity to tell me that they don't know what my real address is. In fact, it is on my order, and on the three complaints I have sent. I even sent them the address to where the package was delivered. To date, I have not receive any explanation or an apology or anything else but the robotic answer that their record shows "delivered". So in other words, even if the package is delivered to the wrong address, and the carrier note says "delivered" that is good enough for you. Their customer service SUCKS big time. Their products are nice, and good quality, but the service is horrendous. Anyway, I found the same item for $60.00 cheaper at Overstock.com... but that's another issue. Thanks for listening.

Today I got in to the store with my one backpack, one lunch pack and 2 plastic bags holding by my hand. Everything was ok, until the manager came to me and she asked my very rude way a question; "Are you ok? Are you ok?" I just observed and I answered: "no I am ok, thanks." But she insisted again the arrogance and unpolite way again she told me with a voice increasing the tone: "put your bags in the front". She looks creepy way with this eyes and the voice tone, and she was unfriendly because she never said "good evening," or "hello," or "how are you," as a manager she should at least be more polite the way she express. I noticed she was extremely stressed.
So, I told her "no, thank you I am going out of the store." I told her nicely, but she just was following me, and she said again "that is the door" pointing with her fingers again. She just said "I am the manager of the store, go away." She is so rude. I have no idea why she acted like that. I just student full time at the university, I just want to buy another accessory for my home, I do have bags and back packs because I am bodybuilding lady, moreover she didn't explain to me that I cannot go in the store with back pack. Actually there are not announced any message from the entrance store. I believe that manager got really bad bad day today. She looked tired.
How do I know I can trust these reviews about Bed Bath & Beyond?
851,205 reviews on ConsumerAffairs are verified.
We require contact information to ensure our reviewers are real.
We use intelligent software that helps us maintain the integrity of reviews.
Our moderators read all reviews to verify quality and helpfulness.
For more information about reviews on ConsumerAffairs.com please visit our FAQ.

I returned to BB&B after not shopping there for a while and was impressed how selection and customer service improved. A year ago the store carried some basic linens, curious kitchen tools and some expensive items to buy with their 20% discount. Now, the store carries lots of upscale items, iRobot, Dyson, Wamsutta, Frette, fine china. I go there to learn new trends, and saw customers swapping coffee pods. There are no dead inventory lying on the shelves being unwanted. Their purchasing department stock shelves with top rated products. Their customers are smart shoppers looking for the best cost/value products. I have had good time there, asked for help while shopping and got lots of assistance. She walked me showing every each their luxury bedding, discussed colors choices, reviews and products maintenance. Very nice people work in Studio City BB&B, they want to make you happy there.

I could not be more frustrated with this company. I purchased a curtain rod at the beginning of May, and, while installing it, one of the mounts broke. The mount was cheap and made from plastic, which is ridiculous for an $80 curtain rod. So, I called customer service, and the first person I spoke with said he would send me a replacement mount. After three weeks, I called back, and the second person I spoke with said that there were no notes in the system from my first call, but that he would send me the replacement mount. After that call, I received screws and drywall anchors in the mail, not the wall mount that the curtain rod rests in like I had specified.
So, I called in a third time, emailed them a picture of the wall mount I needed, and I received the wrong wall mount in the mail. I will, of course, never spend another dollar at Bed Bath & Beyond, and I hope that some of you will consider taking your business elsewhere if you are on the fence about where to do your home decor shopping. Target and Amazon are much better options.

The supervisor Donald is rude and should not be working in customer service. I had purchased over 500 dollars at his store and came back for a price adjustment with coupons and he would not accept my coupons that I got from the internet which were unexpired. I had driven over 45 miles to go to the same store that the previous employee had informed me to bring in my coupons and get an adjustment. Very bad service. I lost out on 30 dollars for no reason but mere stupidity of a supervisor unwilling to use my coupons for adjustment.

So disappointed in the customer service at Bed Bath and Beyond. I spent over 28 minutes on the phone arguing with the customer service person who did not believe me that I had reached out twice to them regarding a package that had not shipped after placing an order 20 days earlier. The item was only $16.99 and it was for Mother's Day. I ordered it on April 20th and it shipped today (May 10th) and will not arrive until Tuesday, May 16th. They would not refund me the money. The lady on the phone had clearly never attended a customer service training in her life. #1 Don't argue with a reasonable customer.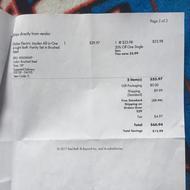 On March 21, 2017 I decided to order a Globe Electric Jayden all in one 4 light bath vanity set in steel light set for my bathroom. I had been looking at it for several days online. Before I bought it I called the company and asked to make sure the price was correct and if everything in the picture was included. I did this because there was another set with less lights that cost more. They said it did. So I went to the store in person and asked again just to make sure. The employee told me maybe it was on clearance. So I ordered it. After it finally arrived I noticed it was missing the lamp Shades. I called the company and the person helping me looked up the product and it now had a different image without the shades. I explained to him that I had a picture of what the ad looked like when I bought it. So I sent in the Picture showing it. He saw that I was right and called a manager. Who told me they would have to get in contact the vendor.
After waiting a week and a half for a response, they told me to keep waiting. By April 20 I called again. I spoke to a supervisor and she told me that the vendor said that the Shades were not included. After waiting all this time I was very disappointed that this was the response. Especially seeing how this was the fault of the vendor, note that the title of the product says all in one. I expressed my discontent with the employee, she then offered me 20% off. I told her that's not what I want and that discount is the same you get from coupons in flyers. So she then offered me 30%. Highly upset at how they dealt with this.

Bed Bath and Beyond offers a one time 20% off coupon for new subscribers to their advertising. By providing your email or mobile phone number you will receive a 20% off coupon on one item. We received the coupon as promised, however, there was a lengthy list of items you cannot purchase using the coupon. This is "bait and switch" and fraud. Nowhere on the sign up information does it state there are exclusions from items you can purchase... And, the exclusion list includes most of everything they carry. So, they have our personal contact info, and we have 20% off of nothing. What a total rip off!! I have contacted their customer service, however, they have not even bothered to respond. They will never get my business again.

Customer service at local store in Matthews, NC is horrible. Outside vendor sent the wrong item and when I attempted to return it to the store, (per Bed Bath & Beyond's return policy) the Manager could have cared less about my situation and even walked off and left me standing at the counter for 10 minutes. Upon his return he did take the item. New order arrived and was damaged. I don't have the time or energy to fight another return. Emails to customer service have been directed up the chain of command with the canned response "Someone will be in touch within 24-48 hours". Needless to say I will never shop at Bed Bath & Beyond and will let all my family and friends know of my experience. I only gave this one star because I had to rate it in order to submit my review otherwise I would have given it a big fat zero.

Beware of the 20% discount if you are using it multiple times. We purchased one chair to see if we liked it. We did so I was going to order another and in the week it took for the chair to ship the price had increased by 20%!!! The funny thing is - I took my laptop & went to a coffee shop & when I checked it there, the price had dropped back to the original price - on the same day! They obviously track what you surf for/buy by your IP address & change prices on you. Beware & be smart - 20% off is not a good deal when they increase the prices by 20%!

These dinosaurs pretend to participate in online shopping. DON'T BE FOOLED!!! I'm still waiting for an order I place 9 DAYS AGO. Looking at other reviews now, this is what we are all subjected to. They should take that 20% voucher and fly to the moon on it. There is nothing that will bring me back. When stores like Macy's and Penny's are struggling, how do these mopes survive? It must be a money laundering scheme since the junk they have is usually available elsewhere for less and.... wait for it.... delivered in a reasonable time!
BB&B prefers the donkey walk. Don't buy from them!!! Reduce the landfills when 60 million weekly circulars are sent to unsuspecting fools like me. But now I've learned and want to spare the rest of America from dealing with these thieves. I'll get a my "whatever" shoulder shrugs elsewhere from now on. Hope they rot in useless merchant hell. 1 star is 1 too many for this outfit!!! My true rating is minus 100 stars.

Purchased an OttLite replacement lightbulb from store in Alameda. Not in stock in store, delivery to home or store same price, chose home, quoted 3-5 days delivery. 28 days later, product not delivered, attempted to send an email to the customer support address on the order document. The email address given on the order document was incorrect. Deduced the correct address, resent. Received a cheap and cheerful response which said, in essence: "we've ignored your message, please send again via this Web address". To do so, had to (a) re-enter the whole of the original message, and (b) enter a lot of personal information which had nothing to do with the complaint but which will enable BB&B to bundle it up and resell it to whomever they choose. BB&B in-store experiences are usually pleasant, but they have a lot of work to do on customer service by electronic message.

I ordered something online through Bed, Bath & Beyond. It came defective with parts missing. I called their customer service and was told to go to Fedex and send it back and when they received it they would send me my item. I explained that due to illness I ordered it online instead of going to their store which is 5 miles away and paid double due to shipping so if I had to go to Fedex and wait for fedex and wait for them to receive it and then wait again for me to receive it, I would just go to the store. Customer service said that was fine. I reminded them they would be reimbursing me for shipping since she didn't offer. She agreed they would refund me shipping and applicable taxes. I went to the store, the people there were great and exchanged my item, no problem.
Bed, Bath & Beyond sent me an email that they had sent a refund but didn't say how much. I emailed them back with the amount I owed and the amount they owed. They emailed me back that Yes, this was the amount they refunded. When the refund was received it was less than what they owed. I'm still trying to get them to pay the balance of what they owe. Their incompetency astounds me!!! This was my first time ever having an issue with something ordered online. This was my first and last time ordering through Bed, Bath & Beyond online. When they make a mistake they will not accommodate the customer and getting a refund is like pulling teeth! Save yourself a huge pain in the butt and don't order from them. I will NOT make that mistake again! I have no issues with the stores.

This review is on BBB! They suck. Never order from them. They are incompetent! So, first, they send me the wrong bike. So, I got to BBB in Somerville, Ma and explain the problem. They order a new bike, but can't promise me that I will get the red spin bike, that is pictured on my order because the gray, stationary bike I received the same SKU as the red spin bike. So, I called customer service, so they can inform the vendor to send the right bike; it turned out everyone and their mothers had the same problem. So, I am excited to receive my spin bike when FedEx sends me a text that it has been delivered. Guess what!?! Bed, Bath & Beyond sent the wrong bike again! So, I ordered this bike on March 1 and today is March 23. Still no flipping bike! So, I have to take this heavy bike back to FEDEX. Get it together Bed, Bath & Beyond! I should have ordered from Amazon~!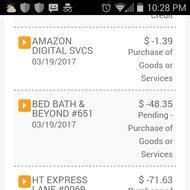 I made a requested for my order to be cancelled due to how long it was taking to process. After an unresponsive email, two phone calls, a representative hanging up on me, two request to speak to a supervisor, and speaking to a supervisor whom didn't care, my order wasn't canceled as the email had stated. I was charge an additional amount, and the order was shipped. This is very disappointing. DO NOT ORDER ONLINE!

Bed Bath & Beyond customer service is an absolute joke. I ordered two items online from them and only received one. The tracking information states that my entire order was coming in one shipment. I have emailed them everyday for two weeks and they've ignored every single one.

I ordered a garbage can because it wasn't available at the store near me. A week later they had not shipped my order yet. I saw the same garbage can was now in stock at the store near my house. I called to cancel my unshipped order so I could get the same one faster. The company would not cancel my order, so I had to wait THREE more days for it to even ship. I haven't even received my order and it has been over two weeks. Their tracking is horrible and order processing is terribly outdated. Every big box store fills orders the same or following business day. Avoid using bedbathandbeyond.com at all costs.

The tablecloth description said 100% cotton, but when it arrived it was 42% polyester. I had NO use for that and it was THEIR fault, so I asked them to refund my entire cost, including shipping both ways. First they said no--shipping is not refundable. I explained that it was mis-advertised on the website so I should not be liable for shipping. They agreed and claimed they had made a note that I should get a full refund. I enclosed and highlighted that email from them with my returned order, but they STILL deducted shipping from my refund! I am still arguing with them. I will NEVER buy from BB&B again. Terrible customer service and their promises cannot be trusted.

This is the worst customer service I have received in my life. When I was building out my business most of the furnishings I purchased through Bed Bath & Beyond. I had bought some curtains for my business which had to be bought online but at the store and an employee had helped me. When I received them and it was time to put them up I noticed that they did not fall to the ground so I went ahead and went to the store with the curtain and the receipt. That same night I had purchased other items for my business and then when he was checking me out he scanned the receipt and told me the money would go back on my card. No problem. He gave me back the receipt and I left with my new purchases.
Fast forward two weeks I still hadn't received a refund so I go back into the store. Their response to me was that they couldn't look up the refund which makes no sense to me. They looked at the receipt which had the employees initials and circled for the return and told me that most likely the bank had put a hold on the refund and it would take time to get it. I call the bank who tell me they see nothing on their end and then frustrated I call the customer service number for bed bath and beyond who once again tell me that they can't do anything and that since I returned it in stores that the store would have to deal with it. The store once again was no help. She didn't even "try" to look in her computer so at that point I called the bank back and filed a complaint to get my eighty something dollars back. They asked me questions and they filed the complaint and issued a temporary credit.
NOW months later I get a paper in the mail saying that bed bath and beyond refuse to take responsibility for the matter and their proof was that the item was received at my house and they sent me the shipping and that it had been delivered. I don't know what kind of ** they're talking about because my dispute was not that I HADN'T received the item but was that I returned the item and never got my money back. I am at wit's end. Last night I tried to email them 1 last time because you want to believe that a corporation as large as BBB would stand behind their customers but in my case they have royally failed me. They too said they never received the returned item. So I guess it's my fault and I'm not saying they did this purposely but I believe this employee was not trained on returns and something and now I am left months later without my money. I vow to never make a single purchase from bed bath and beyond ever again.

I just wanted to "shout" out a compliment not only to your store but your customer service. All employees are pleasant and helpful. I also love the coupons. I'm a snowbird and right now I'm in Florida for a couple of months. Yesterday I shopped at Lakeland, Florida and had a very pleasant shopping experience.

On my way home I stopped in the 420 E Round Grove Rd, Lewisville, TX store. Before I walked into the store, I checked my purse for my 20% off coupon, oops left it at home. So, I immediately sign up on the web via my phone, only to receive an email that it would be 24 hours before I would receive my coupon. I decided to make a go for it and explain the situation to the cashier, boy was that a mistake.
I went ahead and located the $29.99 products I needed. Brought it to the counter, and began to explain my dilemma. The cashier looked at me rather puzzled and said she didn't have one to give, and then began to advise me to purchase the item and come back when I located my coupon. That's when I flashed the "you've gotta be kidding me"! My time, my gas for 20% off. Apparently, they were not capable of keying in the 20% off either. So, I asked for the Manager - thinking maybe the cashier was new.
As I waited for the Manager, I allowed the person behind me to proceed to check out her items, mind you she paid using a 20% off coupon. When the Manager came up, she asked the cashier what was wrong and the response was "she doesn't have a coupon" (sigh). The Manager then proceeding to tell me the same thing "I don't have one to give", "wait you do because the lady who just checked out used one." I then ask "would you rather lose a $29.99 sale versus doing the right thing" and she shrugged her shoulders.
I explained that I signed up for offers on their website but need to wait 24 hours. She looks at me and say, "Yeah they use to give it right away, but I don't know why they don't do that anymore." Okay that's really not an answer I was seeking. At this point I'm thinking to myself, "Really I cannot believe this is happening." She proceeds to walk away and then I said thank you for the customer service and that I would be contacting their Corporate office. Needless to say, I left the store empty handed.
As soon as I reached my vehicle, I immediately googled the phone # to corporate. After a brief hold I finally spoke with a gentleman and explained the situation, he seemed rather puzzled as to why they wouldn't provide the 20%. He took my contact information and stated someone would call me. However, after reading the comments on this site with respect to Bed Bath and Beyond that most likely won't happen. I advised the Customer Service Rep that the Manager stated, "Lots of folks ask for coupons," so how many other sales has that store lost due to this store's policy.
After hanging up with the Customer Service Rep, I went to a competitor (no name mentioned) and purchased a similar product for $10 less... So, thank you Bed Bath and Beyond for allowing me to locate something cheaper! You guessed it, that was my last visit to this store. I sure hope someone from Corporate reads this note and they change their policy, otherwise they'll be another store closing its doors. What happened with Customers First. Companies cannot afford to have ANY sales walk out the door. Shame on your Company and double shame on your poorly trained employees.

Worst customer service - Schaumburg Illinois Store. Yesterday, I went to a Deer Park BBB to buy a little floor vacuum. They did not have it in stock but said, after checking another store in Schaumburg, that they would hold a vacuum there for me till closing today under my name. I sent my husband there to pick it after his long day (and mine), and they neither had the vacuum, nothing waiting for pick-up, nor could they even tell me where the "held" items were "held". Just a waste of time for both of us. I have seen this store since its opening day, and I am a true multi-level shopper... This store's service HAS GONE DOWN. It's very disappointing. I will buy this online or Walmart for the same price... Despite their omnipresent coupons. It used to be THE place, but bad service has turned it into a large, not-well-run-understocked warehouse. I am sorry to have to tell the truth about this.

Ordered a Aerogarden from Bed Bath & Beyond. The pump was not working, so I put it back in the box. Put the return FedEx sticker on it, and the return paper inside. Took it to a Staples and dropped it off. Now it's been over a month, and no one knows where it went? I've called and emailed. I got a hold of Staples. They Got right on it for me. They looked at the store video and mentioned that FedEx had picked up their packages at 1:45 pm. From FEDEX and BED BATH & BEYOND my package got lost. Neither of them will help me!!! I called FedEx and they say Bed Bath & Beyond should have the tracking number. Bed Bath & Beyond keep asking me for the tracking number. There's no tracking number!!! Don't know what to do? I want my expensive product, that I bought. PLEASE!!! It's a lot of money. :(

There is sooo much CRAP in the aisle I could hardly get my cart down them. Every aisle had something in the middle of it with product on all sides. It WAS NOT a nice shopping experience at all!!! I will not be back.

My buddy, a 61 year old man left by himself to the store, he paid for his pans and knives. But when he put the cart back into the aisle his wallet was gone. He chef everywhere in the store and they even got his number. When he came back I drove back up there and asked for a manager. They came pretty quick and asked me what was wrong. I told them the story and they went to go review the tapes. When they came back about thirty minutes later they said their cameras were too blurry to even see the cashier! My buddy, my responsibility is in the line of fire because his ID, social security card and license were all in there. If a premises says it has video monitors on sight, shouldn't though monitors pick up the Cashiers and least at the minimum. How do I not know foul play was involved. Extremely disappointed in this service.

I contacted this company in November by email and immediately got a response email stating someone would contact me within 24-48 hours... 2 months pass and still nobody!!! I called and quoted my incident number from the phone call in November, spoke with a man that couldn't answer my question, waited 20 minutes to finally speak to another lady that said she need to speak with her supervisor before contacting me back later that day or the next day... that was 2 weeks ago! Still no response! I'm very disappointed with their customer service, obviously customers do NOT come first with this company! Incident # **.

Bed Bath & Beyond customer service is an absolute and total joke. We ordered a dining room table in November which originally arrived damaged. It took us a month for customer service to have a replacement table shipped, which turned out to be damaged as well! I highly recommend NEVER purchasing anything online from them. We are still waiting for our THIRD replacement table. We have spoken to several supervisors, and no one can seem to help us or return any of our calls. I'm not sure how these people even have jobs. Absolute joke. Never shopping at Bed Bath & Beyond again and I will never recommend them to ANYONE. If I could give this joke of an establishment a negative amount of stars, I would.
Bed Bath & Beyond Company Profile
Company Name:

Bed Bath & Beyond

Website:

http://www.bedbathandbeyond.com/