Nutro Dog Food
The Nutro Company has been committed to creating natural and delicious dog food since 1926. As pioneers in the natural pet food industry, each ingredient is carefully chosen with a purpose, to provide the best nutrients for man's best friend.
We know your dog's health is important to you, and it's our promise to deliver quality dog food at a price that won't break the bank. You can trust that our ingredients and processes are carefully monitored so you can focus on enjoying time with your best friend. Read what our customers have to say and then check us out for yourself!
Consumer Reviews and Complaints

I like the whole and natural ingredients that are included in the Nutro Dog Food Original Formula. I also like the kibble size and the flavor involved for her to enjoy. The kibble gives her the crunch that she enjoys as well as the care to keep her teeth and gums healthy as well as bone health, a shiny coat and her digestive system running smoothly. The vitamins instilled in the formula gives her a healthy start to enjoy life. It provides a good energy level so she can run and play to keep her moving and enjoying life. I would like larger package sizes though as well as more flavors introduced so she has a variety and will not tire of her food. More natural ingredients should be introduced into the food so that it is more closer to nature. More digestive additives as well as gum health, tooth care for cleaning, vitamins for a shiny coat as well as hip and joint and muscle strength. Eye health is needed too for aging bodies.

I had seen it advertised, and then again at the pet store. There was a special offer on it, so I thought I would give it a try. It's reasonably priced and available at all my favorite pet stores. My dog loves the flavor, and we feel the grain free is a better option for her. Our dog burps less too! We also tried a couple of the wet, fillet-style cups, which she REALLY liked! We may try the high protein grain free to give her a change. The food is of an okay size for her, but she is accustomed to bigger sized pieces, so perhaps this is one thing that could be improved.

My dog likes Nutro Grain Free. It is healthy and organic and I feel good about feeding him nutritious food for a long healthy life. My dog owner friends recommend it. It is affordable and easy to find in the pet store. I like the packaging and it seemed like a good quality product. They could improve on more variety and sizes. I always end up getting the big bag. Also, they could add tips for improving pet owner behavior or doggie etiquette and add more options for different dietary needs depending on the age. And they could use environmentally friendly packaging and find ways to make the product less expensive. Other than that, my expectations have been met and everyone is happy with this choice.

Original Formula - My dog has refused other brands and sizes. But the representatives from Nutro are sometimes available in the pet store to advise dog owners on choice of food. The small bites is correct for a miniature Schnauzer. My dog prefers it slightly moist and mixed with wet food. It is easy to store and measure for the correct amount per meal and can also be used as treats. However, the large bag is very difficult to open and the new package does not contain the twenty percent extra. The price is increased regularly and the package sizes are reduced.

I had a coupon to try Nutro. One of my dogs has lymphoma so I was looking for healthier alternatives, and Nutro was recommended for my dog's health issues. High Endurance seems to contain less fillers than most brands of other brands of dog food. It appears to be healthier for them. However, the price of the dog food is very expensive. I am not 100% convinced it is really healthier as I seem to recall there was a recall on that brand.
How do I know I can trust these reviews about NUTRO Pet Foods?
823,111 reviews on ConsumerAffairs are verified.
We require contact information to ensure our reviewers are real.
We use intelligent software that helps us maintain the integrity of reviews.
Our moderators read all reviews to verify quality and helpfulness.
For more information about reviews on ConsumerAffairs.com please visit our FAQ.

I read good reviews for this dog food so I decided to give it a try. I also had a coupon for it and I took the chance my dog would like it. I like that it's an all natural and grain free dog food. My dog is very picky and it's hard for me to get healthy food that he likes and will eat. It's a healthy product, plus my dog likes it so I'm happy about it.

Trainer recommended Nutro Dog Food to me. It exceeded my expectations and I'm a happy and loyal customer for many years now. We have 3 senior Boston Terriers and one year old French Bulldog and they love the taste of Nutro Senior and Puppy Dog Food. We have fostered many dogs the last 7 years and never had any issues with the Nutro brand foods. We switched a few times to other brands but always went back to Nutro brand for our pet needs. I like that Nutro has good selection of foods, quality ingredients, and no byproducts. It is good for sensitive tummy. The food has a very fair price as well. But I wish they made bigger bags of dry food. We buy the largest size bag ever 2 weeks.

I like that Nutro Dog Food is healthy, high in protein, and is grain free. It contains natural ingredients and a healthy formulation. I chose Nutro on this occasion because I had not tried it before, and my dog has some itching issues which could be grain related. The product met my expectations and minimized the itching. My dog liked it, and that is most important. However, I would like to see more variety in the flavor options and variations in texture on the kibble and pieces. I would also like to see a resealable package.

I first was given a sample bag of this dog food to try. I gave it to my dog and she loved it so I returned to the store and bought a couple different blends of the Nutro dog food. It is grain free. It also has a wide selection of different food available in the stores in my area where I live. I like how Nutro does not use any fillers in any of their dog food.

Nutro Grain Free is good for my dog. It's also really affordable and was recommended when I first started to buy dog food. My dog seems to agree and loves it. I've recommended it to friends who have dogs and found out that their dogs also love it. There's something about it that satisfy me as well. If my dog is happy with the food I feel like a proud owner and I've done something good.

My dogs like Nutro Original Formula Dog Food. It's one of their favorite food. But the dog food cost too much. It needs to be cheaper so I can buy more bags and the dogs can get full. I would also recommend more in the bag for the big dogs so they won't get more hungry again fast.

I purchased the High Endurance because it was recommended to me by a friend so I tried it and was very pleased with the nutrition. I like that it is grain free and I like the high protein content. It is not too expensive for a high-quality dog food and is very good for my dog. Overall I am satisfied with it. I am so happy to see that dog likes it very much.

Nutro Dog Food is on the expensive side and coupons are hard to find. But I had several that made the price better and there was a special. Also, the fact that my dog liked the food and it was a good brand made the purchase better. My picky dog enjoyed the food and did not leave it sitting in her bowl. The scent of the food was not bad and the size was good for her smaller mouth but the size of the kibble could have been smaller. I was never able to find a smaller morsel size.

I like trying new products and I got a recommendation from a friend. When my dog tried Nutro Dog Food, he liked it very much. Wild Frontier's natural, organic, has real ingredients and good protein. They also have a good variety of flavors and meats, chicken, beef, fish, no byproducts. I'm pretty happy with Nutro Dog Food, though they're a little pricey. They could improve on lower prices, more deals, discounts, etc.

I was recommended Nutro Dog Food for my dog for its quality. After researching it myself, it seemed to be a good fit for my dog so I gave it a shot. It is grain free, has a lot of high quality protein and the nutrients my dog needs to stay healthy. However, it is not as easily accessible as some other dog foods I can buy, so it is a bit more of a burden to get. The price is up there too, but overall it's a fair value for what I get and the amount of nutrition and quality that is there. Also, it meets my expectations and my dog likes it compared to some other brands, so that is what matters most.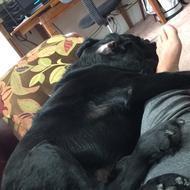 Gastritis, bloody vomit, lethargy and a very sad, sick Lab...Not to mention VET BILLS! I didn't realize I'd been slowly poisoning my 8 year old Lab with Nutro. She's had increasingly severe symptoms and for the last 6 months has had intermittent bloody vomiting, lethargy, gastritis and has been very very sad. The staining on my carpet from the bloody vomit is minor compared to the expenses and worry I've gone through. My Lab's been on lots of meds and had been on the bland diet so many times that I buy rice & chicken in BULK now.
Yesterday was yet another visit (3rd one) to the Vet for a full exam and bloodwork. New Vet mentioned changing food, which drove me to check reviews online to see if anyone else was having similar issues. After reading the reviews, I looked back and realized that every time I withheld the Nutro, she improved. I'm 3 weeks into a new 30# bag of food, and she's been getting worse and worse since we got it. It's now going straight into the trash (along with the container it's kept in just in case whatever it is has contaminated the container). I'm going to tell every dog owner I know of my experience. Coincidentally, my neighbor's dog recently started having similar symptoms and they had JUST switched to Nutro.
Thanks for reaching out, Kelly. We're so sorry to hear this. We would like the opportunity to speak with you and learn more about what happened. Please give us a call at 800-833-5330.

Nutro Original High Protein Dog Food: Its brand name and product was satisfactory for my dog's needs. My dog enjoyed eating this brand of dog food very much. However, I did not like the price and quantity: I wish Nutro Dog Food was more lower priced to make it more affordable so it can fit my dog food budget better. Other than that, I purchased this dog food to see if my dog would enjoy the brand and it has met my initial expectations.

I figure that we like to have different types of food and not the same meal day after day so why wouldn't your pets. And I want to make sure that I am feeding my pets the best food that I can so they stay healthy. Sometimes my budget gives me a little more room to try a different food and sometimes I hear about another food that might be better than what I am feeding them. Nutro Grain Free looked pretty much like every other brand, but it smelled a little better to me and the dogs seemed to be interested right away. The pieces were about the right size for most dogs to eat.
The price is very high and very hard on the budget. I would like it a lot more if the price was a lot lower. You never know if your pet will like it or even if they will be able to eat a new food, so spending a lot of money on it is tuff. I wish you could get smaller bags of these food so you could try them out to see if your animals will like them and can eat them before you buy the bigger bags.

Nutro Original Formula Dog Food was recommended by other pet owners and the price is reasonable. I have been using Nutro for all my dogs since they were puppies. It has no corn gluten, no artificial colors, flavors or preservatives, has a variety of flavors such as lamb and chicken and the colorful outside of the bag is great. But the bag is hard to open. It would also be convenient if the outside description would include if the pebbles are large, small or medium.

High Endurance helps my dog stay active and healthy. He loves going on walks, he runs around after me and my kids and he seems very healthy and happy. However, the dog food could have more vitamins in it and come in more flavors. Nutro could also have a buy 1 get one sale so everyone could try it and want to buy it for their dogs to keep them healthy and energetic.

I like the way my dog enjoys Nutro High Protein-Grain Free Dog Food over any other that he tries, whether dry or wet. He eats it all in one go around which is amazing. But if the portion sizes included a little more amount of food for the price paid, it is much better. My friend initially recommended the Nutro high protein brand from her own dog and told me it is healthy and dogs love it very much. It has met all my expectations and more.

I listened to a person working in a pet store that worked for Nutro. He was very informative, and said that a dog stomach is like a newborn baby stomach. After hearing about it and reading up on Nutro, I knew it was what my dog needed. I wish they had some for medium size dogs. The small dog formula is too small for my dog, she chokes on it sometimes. The large breed seems like it's too big and she thinks she is getting cheated, 'cause her dish doesn't look right. However, I like that Max is all natural and it doesn't have corn or beet juice. My dog has a great coat because of it and the vet says she is healthy. My dog is a picky eater and she loves the chicken and rice. We sometimes switch off to beef.

My dog really enjoys Nutro dog food. It's crunchy and tasty. I feed this to Sugar all the time. As long as she likes it, I'm happy. I have read reviews and done research on this brand and they have specific foods for different ages and maturity and it meets the needs of my dog and that's why I buy this brand. At times I have several brands I switch between and this is 1 of them. My dog is happy and healthy and I take her to the vet once a year so the food must be doing good for Sugar. Nutro is a very popular brand to consumers and I haven't read very many negative reviews for the Nutro brand of dog food so it must be doing a lot of things right. My expectations was high for this brand of dog food and Nutro met each and every one of expectations. My dog loves eating Nutro High Protein-Grain Free and she's a picky eater and she looks good and has a healthy looking coat on her.

I initially bought Nutro High Protein-Grain Free dog food because I had a coupon and the store had a sale so I got it at that time for a fairly good deal. It had far exceeded my expectations as I did not think my dogs would like it and they did. The ingredients are good, but most important is my dogs like and enjoy it. My dogs are very picky and will not eat if they do not get something they like.

My dog was currently eating Nutro Grain Free when I adopted her. I like the brand, I like that the Nutro dog food is a good quality food, my dog seems to enjoy it. It's moderately priced and is available nearby. However, I wish the price was a little lower, I tend to buy a grain free food with a smaller price point lately at Tractor Supply. If there were more coupons or sales available I might purchase Nutro dog food more often.

I had a coupon at the time of purchase that made it almost as cheap as the brand I was currently using. Would not have bought without the coupon because it is more expensive than what I previously and now currently use. Nevertheless, Nutro is one of the few brands that has natural ingredients that I can feel good about giving to my dog. It was an overall all good experience, dog liked it and had no ill effects.

Nutro Grain Free has good ingredients, availability and price. My dog likes it and it agrees with him really well and it seems to be healthy because it does not have corn or wheat or other grains that sometimes negatively impact dog. It is a great dog food for him to eat and I like it just how it is.

Over twenty years ago I worked at a pet store that sold all kinds of premium foods. I took courses to become a nutrition expert and still remember it to this day. Nutro is at the top of the premium foods and I prefer feeding Original Formula to my guys. No by-products are in the food. The first ingredient is chicken or lamb depending on which one you buy. There is less waste, so less clean up in the yard and the poop is smaller. But the high price makes it difficult for seniors like myself, on a fixed income, to feed our dogs a high-quality food that they deserve.

Nutro High Endurance is a very good dog brand because it has been recommended to me by a lot of other people such as family & friends. It has met my initial expectations because my dog loves the food very much. Nutro dog food also travels fast, last long, large variety to choose from, offers a complete diet and comes ready to eat. But it should not contain processed elements, fillers & preservatives. There should also be a little travel sized bag for when you are on a quick move.

Nutro Dog Food High Protein-Grain Free has provided my dog with good health and nutrition for the time that I have been feeding him it. I picked it over other dog food brands by looking at the packaging and ingredient list on each bag. It was the best brand for my dog. I enjoy feeding him Nutro and hope to continue in the future.
Nutro Dog Food Company Profile
Company Name:

NUTRO Pet Foods

Website:

http://www.nutro.com/