Consumer Complaints and Reviews

Puppy has been on this food for 6 months. Adult German Shepherd on Taste of the Wild lamb. We just got a new bag a couple weeks ago of the puppy food. Pup hasn't emptied bowl except once (odd). He has thrown up a few times now and you can hear his stomach gurgling. His stool is softer also. Concerned! Giving chicken and rice.

Bad batch of food. My 4 year old beagle/dachshund mix had been eating TOTW for the past 4 months. On 2/26 she ate her morning meal with no problem. When we got home from church she was very lethargic. She did not eat the evening of the 26th or at all on 2/27. She started throwing up on the evening of the 27th, mostly liquids and very dehydrated. Took her to my vet on the 28th and they started treating her and diagnosed her with pancreatitis. After spending the day at my vet, they recommended that she go the 24 hour emergency vet for the next 2 days for around the clock care. I was able to take her home on 3/2 because her blood levels were all normal.
On Friday 3/3 she became lethargic in the afternoon and began to breathe heavier. I took her back to the 24 hour clinic and within 1.5 hours she was gone. They ran blood work before I had to put her down and the vet said she was in complete organ shutdown. Some levels were off the charts. I'm writing this because the other reviews are extremely similar to my dog's condition at the time of her passing. I believe that something in this batch of food caused my dog's health to decline and eventually caused her death. The total of the vet bills was $3000.00. I will be contacting TOTW with my concerns. Anyone wishing to discuss this I can be reached at: **.

Thank goodness for this website and its information and experience from other pet owners who used Taste of the Wild. My Great Dane who is 4 years old just experienced a bad reaction to this product. On the 3rd night of eating TOTW, she too had vomited up all her food, lost control of her bowels and became extremely shaky and lethargic. I thought she was having a seizure. We bought this product from a local Pet Supplies store because we ran out of her regular food Fromm Gold and our supplier was closed on Sunday. The pet store highly recommended this so we thought it would be okay. We were mistaken. Trying to keep water in her and Feeding her a bland diet and will start her back on Fromm depending on her appetite and condition. I DO NOT RECOMMEND THIS PRODUCT. IT IS EXTREMELY DANGEROUS TO PETS.

Last week I bought a bag of TOTW for my cat and it is making her sick. I have been feeding her this brand for a year and she loves it, but she refused to eat from this bag. When she finally did, she barely ate any and got real sick. Seeing the other reviews from this time frame, makes me think they have a serious quality control problem, and their claims of a healthy product are a sham. I hope my cat gets better.

I had the same experience as many other reviewers had. My dog had been on the Bison & Venison Taste of the Wild dog food for many years. One day he became very sick! He would vomit after ever feeding. He was sad and just not acting like himself. I took him to the vet and they did an exam and blood work and couldn't find anything wrong with him. That cost me $250. They gave me some wet dog food and medication to stop him from vomiting. He still vomited for a couple days but stopped on the 33rd day on wet food. When I ran out of wet dog food and her had not been vomiting for several days I started him back on his Taste of the Wild dog food. He vomited again that night.
Then I googled recalls of the food and found this page. A lot of the reviews were the same thing that was happening to my dog. I was so upset. The food that I was choosing to give my dog was making him sick! I did write the company an email and they did respond right away. They just said, "I'm sorry your dog is going through this and there are no recalls at this time". I took him off Taste of the Wild and switched him to a different food and he is all better now. No more vomiting and he is back to his old self. I have worked professionally with dogs for 15 years and have referred 100s of my clients to Taste of the Wild which makes me mad to think about! I will no longer be using Taste of the Wild and will not suggest it to anyone!!
How do I know I can trust these reviews about Taste of the Wild?
722,349 reviews on ConsumerAffairs are verified.
We require contact information to ensure our reviewers are real.
We use intelligent software that helps us maintain the integrity of reviews.
Our moderators read all reviews to verify quality and helpfulness.
For more information about reviews on ConsumerAffairs.com please visit our FAQ.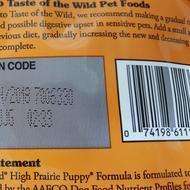 On Jan 31 I went to my local tractor supply store and bought a 15 pound bag of Taste of the Wild High Prairie Puppy Formula... which came highly recommended to me by a cashier for my 2 dogs. They had been eating Science Diet but an employee who is no longer with the company informed me that Science Diet is full of grain and bad for my dogs and that I should go on a grain free food. TOTW was the recommendation so I went with it. They had been eating it already for about a month with no issues. The next day my dachshund stopped eating, was extremely lethargic and had tiny tarry stools if anything at all.
After 3 days of this I took her to the vet and they ran multiple tests to rule out poison, pancreatitis, etc. There was decreased liver function and a high level of infection present so she was placed on antibiotics at that time and baby food for several days. She began to recover and so we put her back on the dog food about a week later. She relapsed almost immediately so we took her back off the food and back onto a bland food diet thinking her stomach just couldn't handle the food at the time. In the meantime our other dog was eating the food, but sparingly... showing preference for the doxies leftover bland diet instead. I did not put 2 and 2 together at that time, thinking there was an intestinal issue present and nothing more.
I bought a new bag of the same food on Feb 21st and at the same time put the almost fully recovered doxie back on the food. She ate 2 bites and refused to eat anymore no matter if I soaked it in gravy or otherwise. Those 2 bites were enough to slam her right back into being terribly ill and by Feb 26th she was in full organ failure. According to the emergency vet x-rays showed a large mass on her liver that was not present on the xrays at the beginning of the month. Blood work showed liver and kidney failure, and so much infection the vet was convinced the mass had ruptured. She was completely inoperable. The insides of her intestines were nothing but blood and mucus at the end of her life.
My bigger dog was also refusing to eat the food and is currently showing the same early symptoms that my doxie did with elevated liver enzymes and infection present as well. She is currently being treated by her vet with antibiotics and a bland diet. The only thing the two dogs have in common is the dog food they were fed as one dog is outdoors full time and one was indoor full time. Our poor lovely 11 year old Daschund Siousxie had to be put to sleep on Feb 27, 2017 due to complications of her condition. Eventually my other dog Missy will be following her as the liver damage is irreversible but how long she has with us is indeterminate. I am currently looking for an independent lab to test this dog food as I remain convinced that this batch of dog food is contaminated with either bacteria or mycotoxins.
If anyone has a recommendation for this please contact me at **. I find it highly suspect that others suddenly have dogs coming down sick from this same food over the past few weeks. I am positive the food is the direct cause of the death of my one dog and the illness of the other. My next steps are to contact the dog food company and the FDA and anyone else who will listen. No one should have to go through what we have the past month...and my dog did not deserve to die like that.

Over the two years with my aussie I have fed her Taste Of The Wild, and never had a problem till this last batch. It's been strange. She was on the puppy food when she was little, never had a issue. Then switched her to lamb and she was fine. I always changed the flavor every month and never had a issue. Then a few weeks ago I got a new bag of lamb and gave her that. Over the night she threw up all her food. Could not keep any water down, had super bad bathroom issues... etc. She was sick for 3 days.
Then she got better and so I gave her the food again thinking it was something she got into outside. That night same thing. Took her off the food and gave her some rice and chicken. Few days later she was fine. I then started to put two and two together. Could it be the food? Might be? I am not sure, but to be safe I took her off the food and put her on Canidae and have not had a issue yet. So my guess is. It was the food, and here I loved the food. It was a good price and I could get it at all most every store I needed to go for horse feed or dog food. Please TOTW. Get your act together and figure out what's wrong.

We have had our hound mix on the bison TOTW for about 4 yrs, thought it was good food until now. Dog has had call consistent diarrhea for 3 days now and we are starting to think it is the food. We found a strange piece of string (garden twine) baked into the kibble in the last batch we opened as well. We are now feeding him chicken and rice and looking into other brands for our kibble.

My dogs have been on TOTW for years. I have been troubleshooting why they have been throwing up and pretty bad diarrhea and narrowed it down to their kibble. I was doing internet search to see if it had been recalled and saw at least three other recent similar cases on Consumer Affairs. I got the bison formula through Amazon.com and noticed that it is currently out of stock, I have never seen it out of stock on there before! I'm wondering if the maker is trying to avoid a recall at the expense of allowing dogs to get sick on this current batch. I've heard really bad things about Diamond so I think it's time to switch to Earthborn Holistic.

I have a 6 yr old Black Lab and we recently moved from Austin to Houston. The dog food Welcome Home! is not sold in Houston. Went to a local pet store and they recommended TOTW. At first she had no concerns or issues. I started to notice that she had itchy ears, loose stools, and a rash on her inner thighs. She will NOT be eating TOTW (Wild Boar) anymore and will have Welcome Home! deliver to the house.

I am a regular customer of Taste of the Wild, specifically the bison formula for dogs. After reading the reviews of this product of late I am suspecting it is the cause of my dogs emergency trip to the vet and his continuing care. Three days ago I opened a fresh bag and fed my dog his meal, within an hour he was very ill, vomiting and shaky, very lethargic. I am now making him rice and chicken and he is improving, although slowly. I have contacted the company and they did take a report.

It's the duck. If it walks like one and squawks like one... I have a 17 year old dog and a 3 year old dog and I bought a bag of Wetlands formula Taste of the Wild which I did not know was made by Diamond... I've heard great things and ugly things about the company and I honestly wanted to try something junk, and my current brand (Nutro) didn't have a satisfactory formula in my opinion. My dogs have not eaten junk in a LONG time. My collie was fed junk when I was a kid but my pit bull has had GREAT food for her last 2 years since I adopted her (she was a stray before, no telling then). I work for a vet. We did countless fecals on my collie and it has always been negative. They're indoor dogs and they get regular prevention.
My collie started with diarrhea the day I began feeding Diamond. My pit bull has started near the bottom of the bag now... We are on a gastrointestinal canned prescription food until it improves but it's awful. It smells like death. I haven't had the issues with vomiting that I can pinpoint to the food... Though my collie did puke for the first time EVER in his VERY long life shortly after I started the diamond... Vet says probably not related though and we did just recently notice some odd levels with kidneys (crf can include vomiting and of course diamond is too high in protein for a dog's kidney so that's changed anyway). Curious is all I'm saying.

I changed from grain dog food to TOTW. It has transformed my Pit and Coonhound/American bull mix. Easy (pit) is now 11 years old. Fiz (mix) is 7. They have been on Taste of the Wild for 6 yrs. They are very healthy, their coats shine, mess much less, and are happy to eat this food. I love it.

I have a 3 year old female shepherd. I was feeding her the Bison Taste of the Wild. She became very ill with a high fever, lethargic and diarrhea. After thousands of dollars I changed food and she is better. This is bad food!

A few years back my dog was having some negative reactions to dry dog food (itchy skin, unhealthy stools), nothing super serious but enough that my vet put him on a hypo diet. The hypo food did not do well for my guy, so I started researching heavily. After much research I settled on Taste of the Wild Prairie formula, high quality meat, that wasn't chicken or beef, and a high level of standards on other parts of the food. My dog loved/loves it!
This past weekend, I bought a new bag, of the same food we've been buying now for years, the next day my dog started acting weird, as if very uncomfortable. A few hours later he was having severe diarrhea, getting up multiple times in the night, and very low energy throughout the day. I assumed he had just gotten a bit of a bug, switched him to rice and pumpkin, he was drinking water, and all seemed to go back to normal within a day. I then started introducing the taste of the wild dry kibble back to his diet, and the diarrhea started back up almost immediately. Back to rice and pumpkin, all back to normal, then intro dry kibble again and once again the diarrhea came back. At this point, I have put it together that it must be the kibble. I cut the kibble from his food, and his stools and energy return to normal.
I want to thank the individual who posted their review on here on Jan 8th 2017, your experience was exactly what happened to my dog, and confirmed my assumptions that it was his food. I've contact the company and also let my local pet store know. Truly unfortunate, as we have nothing but great experiences up until now. Production code: TDH0901A2U EMJ. Best By Sept 4 2017. 6248 330 17:13

After feeding my dog Taste of the Wild for 2 years with no problems, we had bought her a new bag last Friday at star nursery, nonstop diarrhea with vomiting. I will be making her rice and chicken starting tomorrow, then switching her to something besides Taste of the Wild! There seems to be a pattern with dogs getting sick off of this lately.

I had been feeding Taste of the Wild lamb and then bison to my 3.5 yr old white German shepherd for over two years when all of a sudden he got very sick. He had eaten about 7/8 of the 33-lb bag when he suddenly was vomiting bile and water, not eating, not drinking, having diarrhea, losing weight and acting very lethargic. Multiple visits to the vet included a fecal test for bacteria and parasites (all negative/normal), four different blood tests (all normal), and two X-rays (both normal). He lost 8 lb in two weeks and was down from 83 to 75 lb.
I thought it couldn't be the food since he had eaten most of the bag with no problems. However, every time he got better and showed an interest in eating (boiled rice and chicken), I fed him 1/4 cup of this food and he immediately got worse again. When I entirely stopped feeding him this food, specifically the High Prairie, he improved and after about 4 weeks, he is back to his normal self. I switched to Fromm Adult Gold but the grain (oatmeal, barley) is giving him skin problems. Will be switching to grain-free Fromm and transitioning to Grandma Lucy's raw freeze-dried food.
Be VERY CAREFUL if you are feeding this food. It made my dog incredibly sick and cost me $1,000 in vet bills. I suspect that there was a type of mold (mycotoxin) in the food - I always keep the bag upright and closed and stored at room temperature. I'm considering sending a sample to be tested by an independent lab. No response from the company although I have reported the issue. If I do not hear from them within a reasonable time, I will up the ante as I continue to demand that they be held accountable. This company is owned, and its food is manufactured, by Diamond Pet Food. Please be careful. Some dogs have died or had organ failure that led to their deaths.

My cats developed severe diarrhea after eating TOTW wet food. I switched to home cooked meat with rice and their stool improved immediately. I realized my cat that developed IBD was on dry kibble TOTW previously. Reading all the comments about recalls I am now pretty sure that there is something wrong with the label that makes cats sick. Diamond company is reported to have a pretty bad record and I am not going to pay a higher price for food that cannot guarantee my pets' health but the exact opposite makes them very sick.

Just lost our first dog at 14 years to natural causes. Never a sick day, always energetic and playful. We still have a litter mate going strong now and almost 15 years old. The value is in the health of the animal. Some may consider it a bit pricey, but the value is in the healthful longevity of our dogs and the savings come from not paying the vet other than for yearly checkups.

We gave our 2.5 year old Goldendoodle The Taste of the Wild Sierra Mountain dry food for four weeks. She was lethargic and started losing all of her beautiful undercoat. In the final week she started throwing up after eating her breakfast and dinner. We took her off of it and gave her Royal Canin with some pumpkin puree and she is back to her energetic self. Not sure if she is allergic to something in The Taste of the Wild or what but when we called they said Sierra Mountain is actually the one they recommend for sensitive stomachs. I wouldn't buy it again, as it was a little expensive and gave some pretty unfortunate results.

We have 2 Labs, 7 yr old female and 2 yr old male, both are eating this food. My 2yr old when we adopted him at 10 months old was on another brand we slowly and properly converted him over to TOTW. Each dog has their own eating habits, the 7 yr old self regulated her eating when she was a very young puppy, the 2yr old male inhales his food and always has, we even got him a crazy bowl to slow him down. Neither have any food aggression issues as someone else posted about this food. Their food dishes are right next to each other and neither tries to eat the other's food.
I like this product and the fact that it's grain free, however I do wish they had a senior variant of the brand for my 7yr old. The kibble is small in size so it makes for a great training treat. My 7 yr old was a couch potato until we added the 2 yr old a year and a half ago to the family now you'd never guess she was 7 except for the gray, she keeps right up with her brother in running and speed. I order from chewy.com and use the auto ship so I always have a fresh supply in the house without having to run to the store last minute and hope they have the flavor in stock that my dogs prefer.

We have given our beagle/lab a mixture of dry and canned TOTW for a number of years. At 9 she's frisky, always ready to play or go for a walk. Her coat is glossy. I would have no problem recommending TOTW to any family with a dog. The ingredient list looks healthy and our Vet Tech daughter agrees it provides a well balanced diet.

We switched our gsd/husky mix to Taste of the Wild a month ago because he tried it at my mother in law's house and seemed very interested in eating it. Less than a week after switching, he developed diarrhea. We took him to the vet and he was given medication. They also did a fecal test, which came back negative. Our dog's behavior also changed dramatically after eating that food. He developed food aggression out of the blue and was very lethargic and moody all of the time.
We switched him back to eating the lamb based Beyond food and he quickly started showing improvement. He's the happy, sweet boy he was before. No more lethargic behavior, the food aggression is going away, and he's not grumpy. I read reviews after the switch back to his old food that Taste of the Wild can cause aggression due to its high amounts of protein. I wish I had known that before and we never would've purchased it. In my opinion, it should be removed from shelves so no one can purchase it again.

I mixed a few pieces of this food with my dog's regular food. The next day she had non-stop (and I mean non-stop) diarrhea. She had diarrhea more than 40 times in less than 15 hours. I had to take her to the Vet because I thought she was going to die from dehydration. I tried that ** they sell at the pet store and it would not stop. I'm thankful her Vet was able to work her in. Prior to that, she was completely fine, and had been Vet checked a few weeks earlier and was 100% healthy. She is up to date on vaccines. I spent over $200 at the Vet, and have another appointment scheduled. She is on IV fluids, **, and a diarrhea kit from the Vet. I also did a parvo test (came back negative) and fecal sample to make sure she didn't have parasites. This food literally almost killed my dog.

I have German Shepherd Dogs (GSDs). Have had them for more than 45 years. My dogs are active in many events, including conformation, herding, obedience and rally venues. Obviously, over the years I've fed a number of different dog foods. When I was unhappy with the changes in my dog food of choice several years ago, I spoke with many of my GSD friends to learn what they were feeding. Ultimately I went with TOTW. I have never been sorry. My dogs prefer the Bison formula -- High Prairie, yellow bag. I wanted to use the Pacific Stream but they didn't care for it. I can and do add salmon oil from time to time for certain dogs, mostly for coat. I hope that TOTW never changes their formula. As long as they keep their current formula and high standards, I will never change.

My rat terrier has been on the lamb and rice Taste of the Wild food for two years and in that time there have been bags that look very visibly different than others. In late November I purchase a 10lb bag and my dog has now become very ill. My very potty trained 10 year old dog is having diarrhea accidents all over the house panicking to get to the door. I pulled him off this food and gave him tuna and white rice. We saw instant improvement. He has a food allergy to chicken and corn. I'm wondering if the wrong food was bagged or this brand is not truthful about its ingredients. Do not buy Taste of the Wild... Diamond Pet Food products are awful. Had I known this was a Diamond product I would have never purchased it.

I have been feeding my dog Taste of The Wild since April of this year. My dog liked it and no problems, until this last bag. At first I was not sure what was going on. She seemed lethargic and had loose stools. I did not feed her that night and just gave her a small treat and the next morning she seemed a little better. After she ate more of it she was sick again but I still did not put 2 and 2 together until the next day. I wondered if it was the dog food, so I took her off of it for a week and during that time she got better.
The following week, I gave her a small amount and the same thing, just not as bad. So I know you are suppose to slowly introduce a new food, so I did not panic yet. The next day I gave her a small amount again, and she was sicker and vomited it up. Ok, so it is the food. I did some research on the company and did not know it was Diamond. I think it stinks that they seem to purposefully omit that with this brand. Diamond has had some issues in the past with a recall re: Salmonella. But, the recall was for a couple of years ago. So, I altered my search in Google for 2015 only and found this site where a LOT of other people are having the same problem right now. Also stinks that Diamond seems to be aware but is not responding. I left a review about it on Amazon, where I have been purchasing, to possibly warn others.

My dog is 14 and a year ago developed allergies. After $$$ tests, it is from chicken, poultry products found in his dog food. I researched a dog food that contained no chicken, poultry fat, poultry products and found Taste of the Wild Pacific stream Canine. He loves it and his skin has cleared up!

We feed our two border collie mix dogs once per day with Taste of the Wild. Their favorite is High Prairie. We feel good about this quality dog food - it meets our dogs nutritional needs.

This dog food has been great for my dogs. I was using Science Diet then Core, now this one. It's high protein, my dogs love it and the cost is less than Blue. My dogs are healthy and are 12 years old now

Dr. Ken Tudor Pet Food Contributing Editor
A recognized expert and leader in pet nutrition, Dr. Ken Tudor has written over 200 articles on the subject. He also has a featured weekly blog on petMD, is published in major veterinary journals and is a frequent internet media guest expert. He is the founder of Hearthstone Homemade, a recipe and supplement program for pet parents wishing to feed nutritious homemade dog food. More about Dr. Ken Tudor→

Taste of the Wild makes pet food for cats and dogs. All of its pet food products are grain free, and include a range of ingredients, including meats, fruits, vegetables, antioxidants, chelated minerals and probiotics. Taste of the Wild focuses on producing nutritionally balanced pet food products that help support and enhance pet health.
Focus on nutrition: Taste of the Wild enlists the help of veterinarians and other pet care professionals in developing nutritionally sound pet food products.
Guaranteed probiotics: Every pet food formula contains guaranteed probiotics intended to aid digestion and support a healthy immune system.
Real meats: Many Taste of the Wild pet food formulas contain real meats and fish, such as lamb, venison, bison, trout and salmon.
Purified water: All of Taste of the Wild's dry pet foods are made using water purified using reverse osmosis in order to remove pathogens and potentially harmful chemicals.
Ancestral-style diet: The company produces pet foods similar to the diet cats' and dogs' ancestors once ate, giving each pet formula a blend of tastes and varied nutritional profiles.
Best for Healthy active dogs, puppies and dogs that need to eat healthy.
Taste of the Wild Company Profile
Company Name:

Taste of the Wild

Year Founded:

2009

Website:

http://www.tasteofthewildpetfood.com/