Consumer Reviews and Complaints

How very disturbing it is to read all of these reviews. I am seeing so many similarities in the experience I have been having with my 2 dogs. An 8 yr old shepherd mix and a 6 yr old shi-tzu. They have been on TOTW for 6 yrs now, with no issues. But over the past month or so, it has been a see-saw of upset stomachs and diarrhea between the two. It started with my shi-tzu, but my first thought was his heartworm medicine, since it was a possible side effect. But after a day or two, he seems to only want to lay around and is using the bathroom much more than normal.
And last night was the peak, my shepherd woke me up 4 times through the night to go out. Something that she never does. Her stools were runny and dark. And now she is itching and biting at her feet. I just spoke to my vet, and they recommended they stop eating their food, but would not go as far to say that there was a problem with the food. And I am embarrassed to say that I did not know until the vet told me, that TOTW is produced by Diamond. I wish I would have done my research ahead of buying this food. The last brand of dog food that my shepherd ate was Diamond, and she had all kinds of issues. Allergies, hair loss and digestive issues. Never again will I be so casual with choosing a new dog food for my babies. Going to follow my vet's recommendation.

I have been feeding TOTW Pacific Stream for nearly a year. It has worked well for my Doberman who has terrible allergies. I chose the brand because of the reviews and felt it wouldn't break the bank. I even transitioned my JRT over to it to make life a bit easier. Well, all was well until I purchased my recent 30 lb. bag from TSC. I began feeding it a couple days ago and it has been a nightmare. The Doberman started with diarrhea so bad he woke me up last evening which he has never done and today, while out hiking, he had diarrhea with quite a large amount of blood.
I am completely stressed out and will be making a decision today to switch dog foods. I have spoken to the vet and I will fast him until this evening and then feeding white rice and boiled ground beef (he is allergic to chicken). We have changed NOTHING in his environment to cause any stress nor anything in his diet other than a new bag of food. Time to go off the TOTW and that makes me upset, but my dog's health is more important!

I have 3 dogs, all have been eating TOTW for the past 3 years. They have always been good on this food. About a month ago they stopped wanting to eat their food. They literally would walk up to it and turn and walk away so I would add some water to give it a little gravy to try and get them to eat it. Then they would frequently vomit and seemed to have a loss of energy.
So I walked into Pet Value and explained my situation and asked for help in picking out a new food and that's when she said to me that I wasn't the first one to say this to them. In fact a lot of people are switching their food from TOTW because either their dogs wouldn't eat it anymore or they were becoming sick. I am disgusted that my fur babies were eating something toxic. Our dogs trust us to take care of them and we trust the food manufacturer to deliver the best and healthiest food possible.

I have ordered from zooplus.uk plenty of tins, my dogs, - cane corso italiano and mix have diarrhea after eating. Both of them. They were on Josera Optima, dry food earlier and everything was ok, I wanted to give them some wet food, so I ordered from you, disaster... I am not happy, I will never order the Taste of the Wild and I tell my dog owners friends not to do this mistake, as I did. Shame, not food, they are two different dogs, one is from perfect pedigree- cane corso and the other is just adopted in February (homeless). They have reacted in the same way....

My dog is the most picky eater you'll ever meet. Even 90% of dog treats he won't eat. He's 8 years old and to this day I never found a dry dog food that he'll eat. I always had to get ground turkey and boneless chicken and mix it with his Hill's Prescription Diet food to get him to eat. It's a lot of work and it's draining. I finally took a chance and bought Taste of the Wild. The Venison and Bison one. I got it from chewy.com. I didn't even slowly mix it from one dog food to the other, I just immediately started giving them The Taste of the Wild. He literally sits and waits for me to put it in the bowl and he eats it right up. I just can't believe what I'm seeing for the past 3 days how much my dog actually enjoys eating this dry dog food. I've been reading all these complaints and I am completely baffled by it.
Only the first day when I did the immediate switch from his old dog food to the new one he had one time he had a wet stool. Besides that his poop has been much better and he is totally enjoying his new Taste of the Wild dog food. I highly recommend it to anyone that has a dog that is a picky eater. I've never seen my dog enjoy a dry dog food the way he has been doing so far the past 3 days.
How do I know I can trust these reviews about Taste of the Wild?
884,041 reviews on ConsumerAffairs are verified.
We require contact information to ensure our reviewers are real.
We use intelligent software that helps us maintain the integrity of reviews.
Our moderators read all reviews to verify quality and helpfulness.
For more information about reviews on ConsumerAffairs.com please visit our FAQ.

Taste of the Wild was the preferred brand from the breeder and I was suggested to use it. On August 2nd I bought a bag of the Prairie Canine Formula with roasted bison & roasted venison from a local feed store. Within two days of feeding it to a 2 & a Half month old puppy, the pup became extremely lethargic, sleeping all day long and was consistently throwing up whenever he was awake. Constantly urinating even though the water intake was minimal. His health went downhill fast losing a significant amount of weight. He was brought to the vet and his bloodwork and urinalysis showed that his kidneys were failing.
The dog has never eaten or gotten a hold of anything poisonous and there is no history of any kidney or liver problems in his lines. Luckily since he was sick he did not have an appetite to eat any more dog food. Through lots of IV fluids and medicines he slowly started to recover and was able to eat some home cooked meals. We won't know the extent of the damage to his kidneys for about a month. This was the only food this dog was eating and it only took 2 days to do the damage.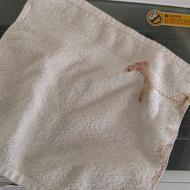 We have been feeding our Goldendoodles TOTW for three years with no problems, a week ago both my dogs (5 years old and 1 year old) began vomiting excessively. My eldest dog has been eating grass every chance she can get, obsessively sniffing, and last night my youngest vomited all over my bed and there was blood in her vomit. I am attaching a photo of the washcloth used to clean her vomit that shows the blood.
Both dogs only eat dog food, so I know exactly where this problem is coming from. I Googled the issue and came to this page. I contacted TOTW and they are refunding my money, but we won't be using their product again. I can't risk having my dogs, who are my world, getting sick from food I am providing for them. I am sorry to all the dog owners going through this with their pets.

I've been feeding TOTW Pacific Stream for over 8 years. My last Catahoula had allergies and did well on it, so I continued with the new boy. He's been eating it all his life (he'll be four next week). A month ago, he got itchy enough to draw blood. I thought seasonal allergies - so I didn't allow him in the fields. Then I thought he was eating the chicken feed - so I made sure the food was only used in areas he couldn't access. After about a week, his hair started falling out in patches. Was he so compromised that he got mange? No fleas, but I treat with dips and baths without much improvement. Eight days ago, I changed his food. He's doing much better. His hair has filled in and he's only worrying at his feet a bit. Something is up with TOTW.

We have been feeding our almost 2 year old golden shepherd mix TOTW dog food since she was a puppy and it has always been great. Our dog likes the taste and it has great ingredients for a fair price. However, we recently purchased our usual bag and she is having a terrible reaction to it. She woke us up in the middle of the night vomiting and soon after started having diarrhea. We thought maybe she had just gotten into something as we often take her out hiking. But the diarrhea continued over the next 36 hours so we decided to switch her to chicken and rice. Everything seemed to return to normal with and relatively solid poops and a great appetite.
Yesterday, we tried to introduce some TOTW back into the food and within a short amount of time, she began having diarrhea again. She's back on the chicken and rice again and will be going to the vet this weekend if things don't go back to normal. I will not be purchasing my dependable TOTW until I hear that they have done something about this issue. It seems to be a very common topic within the past month but when we called the customer service line today, they told us they didn't know of any problems. This seriously worries me. And I also buy this food for my cats. Truly disappointed that I have to find different food for all my pets.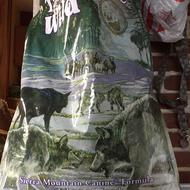 Wow, when my sister suggested I research my dogs food for recalls, I never imagined so many pet parents with the SAME experience! My 8 year old Mastiff, Terrier mix has been eating TOTW roasted lamb dry food, twice a day, for about four years. He's been perfectly healthy, happy and normal. August 20th, I opened a new 30 pound bag and fed him as usual, 1 1/2 cups in the a.m. And again in p.m. August 21st I noticed him eating grass every chance he got, vomiting bile, and he began having frequent, loose/watery stools. He was going uncontrollably and appeared to be losing weight.
My veterinarian found nothing wrong to explain it. So I began to get suspicious of his diet. Thank goodness I did!!! He has been getting only a homemade mix of lean ground turkey, brown rice and sweet potatoes for a couple of days now, and he is better already. My sister had started recently, (at my suggestion!!) mixing the same food into her dogs canned food. She had also noticed changes in her dogs appetite and behavior. We have both packaged what is left of it and are going to return where we purchased from. I'm very saddened by the fact that pets have been sickened and even died. I will be contacting TOTW, and hoping this stuff is pulled immediately and pet parents notified. Hopefully the word will get out before anyone else goes through this.

So thankful for this website. After spending hundreds of dollars at the vet and switching my dog's diet he got better. Decided to take him on my 20 day road trip to the mountains which made me happy. Decided we didn't have enough dog food so about another large bag of TOTW salmon variety. Same food he's been on for 4 years. Part way through the trip my spirit was crushed as I see my first bad bowel movement in 12 days. Same dark black mucousy problem he had before. Also started throwing up again foamy liquid. Upon reading these reviews my spirits came back up. I switched his food and he instantly got better and made it just fine the rest of the way. Not going back to TOTW especially after hearing how poorly they are handling the situation. If they were truly in it for the right reasons they wouldn't care how much money they lost or if they went out of business.

My Pug has been on Taste of the Wild, bison (yellow bag) for her 71/2 years. Have never had any health problems. She was a perfectly healthy dog. When I was running low last week, the local pet food store had none of the bison so I got their Wild Boar and mixed it with the left over bison TOTW and her usual low salt turkey. That night she vomited and seemed lethargic. I put her on boiled rice and she ate more and more reluctantly. One day later I took her to the vet and he diagnosed her with pancreatitis. Her white blood count was very high and keeps on escalating, she drools and regurgitates frothy liquid. She has had a sonogram, exploratory surgery, been in intensive care and the prognosis after 5 days at the vets is guarded. She weighs only 15 pounds and is horribly ill. Her condition is critical. My bill is $4,000 so far and will be more. She may not live.
I have read about the many sick and dying dogs on this website and want to warn others to not use this food. I will join a class action suit if there is one. I am truly heartbroken, I threw out the new bag and did not save the lot number. But it was a brand new bag which had just come from the distributor. The earlier bag was from mid-May. And she was fine. Therefore, the damage came from the new, just purchased bag of dry TOTW. At all costs, avoid this food!

I will start by explaining that I was looking up the nutritional content of TOTW food due my dogs current kidney disease. I was thinking of trying to get him to start eating it again. During my search I came across this website and once I read the reviews it became obvious that I had to include a review. Our dogs have eaten TOTW (Salmon kibble) for a number of years with no issues. They get no human food, limited treats and overall are very healthy. Prior to reading these reviews we had not considered the dog food as the source of our dogs issue. He is a 14.5 year old mixed breed and weighed 60lbs prior to health issues. He has never had any health issues and I can guarantee he did not get into anything that would have caused his health issues.
In June he started experiencing a variety of issues that the vets were not sure of the cause. He was lethargic, very weak, lack of appetite and showed signs of an oral infection along with swelling in his front legs. During this time we tried feeding him a variety of food and he wouldn't eat much of anything except treats and some chicken and rice. He went through multiple rounds of antibiotics and then developed bloody stool which we assumed may be due to ** use for his arthritis. This required a week in the hospital and 2 blood transfusions. During this evaluation he was diagnosed with stage 3 kidney failure and pancreatitis.
The hospital explained they had done all they could to help and it was only a matter of time until he would pass away. We brought him home to spend time with him until he passed away. While at the hospital he wouldn't eat anything. We stayed home with him for 5 days and tried our best to get him to eat and drink. He ate very little until we tried dehydrated liver treats which he quickly ate. We tried dehydrated raw dog food which he loved and wouldn't stop eating. It has been 3 weeks since leaving the hospital and his appetite has returned (depends on the food), his strength has returned, his kidney disease is improving and he is acting more and more like his normal 14.5 year old self. It appears that he is well on his way to recovery.
I can't absolutely blame the food but considering everything he experienced, the timing and the volume of similar reviews during the same time frame it is logical that there may have been a connection to the food. To be on the safe side I will never purchase this brand of food again. Of note I wish I could list the batch number but discarded the bag a long time ago. I would hate for any other pet to have to go through what he has been through. If the manufacturer was a caring/responsible company they should acknowledge all of this complaints and conduct an investigation.

This afternoon, I was looking for information regarding the shelf life for TOTW dog food. During that search, I stumbled across the sick dog reviews posted online. Our dog too was sick some time in July... vomiting and loss of appetite. Then, most recently she broke out in unexplainable hives and has had some hair loss. I feel that it is hard to believe this isn't related.

I know there are so many already posting but feel I need to share so as people will know the problem is still occurring! I have 2 dogs... the large breed dog seems unaffected by symptoms other than eating grass a great deal and he sleeps most of the day. However, my 4 yr old lab mix is another story. I began noticing a problem when my boy turned away from his food (TOTW Pacific Stream), began eating grass, and became lethargic. Three days ago he vomited... I thought it was something he ate from my son's plate but it didn't stop... everything got worse, his tail between his legs and a full day of no eating and vomiting... then he ate a little the next day but then turned away from food and took a turn downhill. Took him to the vet, so many issues. Licking his paws to the point of sores, vomiting, not eating or drinking, and on the way home from the vet horrific smelling bloody bowel movements, yes, in the truck.
My poor boy is cowering so bad, he comes from an abusive place, but it so hurts my heart that he is so scared. I can't say it is the food but I can say that he is on 3 medications trying to get him feeling better. Looking at reviews again, I thought previously that they were all from July but see it is all still a problem. Going to buy new food tomorrow, returning the one unopened bag. TOTW this is STILL A PROBLEM AND OUR DOGS ARE SICK!!! DO SOMETHING, ANYTHING, NOW!!!

Our 8-yr old Husky had been eating TOTW for about 2 years, then the last bag we bought, she didn't really want it anymore but I wanted to finish out the huge bag we had. Then she got sick a few times, throwing up, urgent bathroom needs, which was unusual for her, a vet check up (only limited blood work) didn't reveal much. We took her home, and then she got very sick. On her second trip to the vet more extensive blood work revealed severe kidney damage. The vet put her on a 48-hour treatment plan to help her, but it would probably only give her 4 or 5 more months. Instead it got worse and the next morning we helped her cross the rainbow bridge.
We and the vet were baffled. He could only conclude that she had ingested something toxic. We had no idea what it could have been. (Indoor dog, fenced yard, and basically with us 24/7). Now that I read this - I know what happened! Now I know why she didn't want to eat the food - it wasn't because she was sick - it was because the food was making her sick. We have been heartbroken from losing her. We bought TOTW food from Tractor Supply Store.

After reading reviews and calling customer service and being called a liar I will go to the Better Business Bureau to protect my dog and to get a refund for the bag of poison that my dog ingested from Taste of the Wild. There was a point when our dog's feet were bleeding so bad with pus pockets in between his toes every step that he took we could see a blood trail. After taking him to the vet we finally realized with the reviews on this website that I was indeed feeding our dog poison.
Now that we have an unbelievable amount of vet bills and medications that our dog is still on like antibiotics, steroids, and pain relievers I will go above anybody's head to make this right. I cannot believe that this company is going to stand by and defend their product even after all of these negative things have happened to all of our dogs. I can keep going on about my American Bulldog throwing up, breaking out, bleeding, scratching, but I believe you're going to read that in all the reviews. This product is poison and my dog is doing much better now thanks to this website!!!

My 2 year old male golden retriever has been using Taste of the Wild dry food since he was a puppy. Then 3 weeks ago, he started vomiting, had diarrhea, stopped eating (I normally put water in his food to slow him down from eating too fast!), was lethargic and had pale gums. $1000 in vet bills (X-rays, blood tests, multiple examinations) and no answers. His symptoms disappeared when we switched him to special canned food from our vet. I gradually started introducing Taste of the Wild food with the canned food a couple days ago, and what do you know?? My dog woke me up at 2:30 am last with explosive diarrhea.
I started searching this morning if there was a recall, only to (gratefully!) see all these comment posted on Consume Affairs. I have contacted Taste of the Wild via email this morning (it's Sunday). I will call them again tomorrow. I also contacted Pet Supplies Plus (Glen Ellyn, IL) where I purchased the product. I spoke to the store manager. He said he had been seeing this/reading online complaints but that he can't pull the product off the shelves until they officially recall the product or Taste of the Wild/Diamond will "Sue the crap out of them." I am seeking refund of my 2 bags purchased and reimbursement of my vet bill. This is gross negligence, folks. If they do not comply, I will start a class action... Unless one has already been started. I read the other comments and wept. Dogs dying, liver damage... This is totally unacceptable!! I will keep you all informed as to the company's response. I am disgusted.

My dog has been eating TOTW for the past 3 years. We have never had a problem, and I have recommended TOTW to everyone I know. For the past 2 weeks she has been not wanting to eat at all. Which is strange, because she usually has a ravenous appetite. Her gums have been pale to a light pink. She has been dry heaving frequently, and hacking occasionally. She has had loose stool, and occasionally bile vomit, along with some regurgitation. The last 3 days she has had vomit and horrible watery diarrhea in her cage. She has been extremely lethargic, and depressed. Needless to say after feeding this food for 3 years. I will be moving in to find another food, and also spreading the word about this food.

Repeat story. Excellent for 3 years, then 3 months ago my 50lb pit began drooling, severe diarrhea, vomiting, eating grass for 45 minutes at a time. Chewy refunded me and I continued on. Then I got a Facebook posting about this problem just as my dog began showing the same problems as before. The next day Taste of the Wild made a statement in Facebook saying all is good. There are just way too many people experiencing the same problems. One after another after another is not normal. I read the reviews here looking for a timeline when people started complaining. It clearly begins in October, 2016 and slowly builds up to a volcano of problems in the spring.
I called my nephew in Arizona who is a vet. He said he has not noticed a rise in clients with TOTW problems, saying the Blue Buffalo brand is the one to definitely stay away from. He also said in reality, all the brands have issues at one time or another simply because it's dog food, but some are minor and some are major. But he does not recommend TOTW to clients because the owners, Diamond, has a history of recalls.
I decided I did not want to play Russian roulette with bags of dog food, especially because I have been paying top dollar. I've switched to another brand and my dog is doing fine. My son and best friend have jumped ship too. Thanks to those who have posted, I made my decision and felt I needed to take the time and share with others so they could make an informed decision. Best source of info is to call your vet and get their opinion.

I have had the same experience with Taste of the Wild (Sierra Mountain Canine® Formula with Roasted Lamb). Won't eat, tired all the time and their stools have gotten loose and dark. I purchased a bag from Chewy.com on June 6th, the dogs wouldn't eat. They would just lay next to their bowl. I used the bag for about 2 weeks and was tired of begging them to eat. I just figured that it was old or something so I went the the local PetLand and bought another 30lb bag and they did the same thing. I tried the new bag for 2 weeks and it hasn't got any better.
I have Boston Terriers and you never have to beg them to eat but this has been a real ordeal. Today I decided to search online and found that it is apparently a problem. I immediately went and bought another brand and they ate it fine. I went online and did a chat session with chewy.com and they immediately gave me refund. I have to take the old food to PetLand and they will refund me also. I am glad for this site. I probably should have listened to my pets when they wouldn't eat the first time.

Our dog has been on Taste of the Wild for almost a year now, and has been fine. However, within the past few weeks/months she has been getting sicker and sicker. We took her to her Vet and her liver enzymes had skyrocketed (8x what it should have been). She almost died due to liver failure, after 2 rounds/months of liver meds, her levels had returned to somewhat of a normal level (2x what it should be). After reading these reviews we have taken her off of TOTW. Now, she is more like a 2.5 year old dog should be. We are currently awaiting her latest blood test. I'm sure they have improved based off of her energy levels, less diarrhea, more energy, etc. This company needs to at the very least make pet owners aware that there is an issue. We will never ever give Hazel this food again. Please if you are reading this and your pet is currently on this food GET THEM OFF!

It's 3 am already. Been up and out with dogs because of mushy runny stools, male dog was pulling to get out. He has been feeding on TOTW for 5 years never any issues, like everyone else. We bought a bag in late July. Our male BT has been dealing with runny stools, started with explosive diarrhea, took him off all food went to white rice, chicken and a little sweet potato. Over the course of 4 days he started getting better, firming up nicely, yesterday afternoon started giving him his dried food back and here I am posting at 3 am.
Dog food pulled up. Heading to PSP today to return. Like others I understand things happen, but take care of your customers as they support your company. Now you've lost business and bad news travels faster than good news, so watch your precious pets, monitor their habits. And if you need prescription medication don't forget, most outside retailers fill dog perceptions and they are about 1/3 of the price of the vet's office.

Better ingredients than Blue Buffalo, and at a MUCH better price. My 5 dogs LOVE Taste of the Wild! Available at local tractor supply, but I get mine through Chewy.com... AWESOME place!

We have 4 dogs. Cheeta, Ruby, Gretel and Penny. Fortunately, we were slowly changing the food for our chihuahua, Cheeta, from Taste of the Wild to EVO but she did vomit all her food. Our larger 40 lb. sighthound mix, Ruby, (larger appetite) was eating all Taste of the Wild Southwest Canyon and 4 days after opening our late July Chewy order Ruby suddenly got very lethargic, appeared dehydrated (light/pale) gums, loose stool changing to diarrhea and vomiting (her last meal) and continuing to vomit now clear liquid. Doesn't appear she is holding down the water she is trying to drink.
We hadn't thought much about our German shepherd/Chow mix, Gretel, vomiting clear fluid yesterday but as we were cleaning up after our Ruby today, Gretel started vomiting again clear fluid. That's 3 dogs now not doing well with Ruby the worst being our biggest eater. We have another smaller sighthound mix, Penny, but she eats like a bird which is probably a blessing. Too late tonight for a vet but have a morning appointment tomorrow. Although my dogs are worth their weight in gold this will be, I fear, lotsa $$$$.
We have called Taste of the Wild corporate and while they were very understanding, reassuring and aware of the recent complaints they said they were "looking into it." If you have any Taste of the Wild since June I would discard it. Needless to say I will not be purchasing more. We have already changed our Chewy order and Chewy was nice enough to credit us for the last bag of Taste of the Wild. Please, watch your dogs and look for signs if this is what you feed your dogs.

I started feeding my 14-week old GSD (Bella) Taste of the Wild High Prairie Puppy Formula on August 4th 2017. Everything was fine at first. Then a couple of days in she had loose stool. I thought nothing of it. She's a puppy. About four days in she threw up her morning food. Again I said she must have ate something in the grass outside. The next episode came on Aug. 10th when she threw up her morning and lunch food. She then walked into her crate and curled up in a ball. We knew something was wrong then so we took her to our local vet. She did xrays and thought we should bring her to Tufts University in Grafton, MA.
We rushed her there. Had numerous tests done only to have her die two days later. I want people to know the production code # May 2018 #7146330 (THP0505D1M LTW0519). We contacted the company we bought it from but they said all dog food will have contamination from time to time. We can't bring Bella back but we are going to pursue it as far as we can. It will be hard for us to pay this $5000.00 vet bill.

I've been feeding my Native American Indian Dog (NAID) TOTW for about a year. It was the Sierra Mt, Roasted Lamb, I had no problems until July. My dog who weighs about 70 lbs, started with diarrhea, and very lethargic. The Best by date was 27 Jun 18, the batch # is TDS0609 R8F 1421 337. I got some probiotic and switched food today. I thought I was giving her the best! I think I'll not rely on pet food manufacturers any more. Thank you.

I purchased TOTW puppy and mixed with my puppies food. Her stool has been loose a few times which I expected with the change. I'm just in the beginning of switching. I have not had that bad experience I am reading in reviews or as my daughter has experienced. I am now concerned after reading the reviews. My daughter has a golden retriever puppy which she tried to switch over. Her puppy experienced full blown diarrhea and vomiting which lasted over 12 hrs. 150.00 later switched back fully to her original food mixed with rice. She was better. I really want to provide the best food to my puppy for her growth and health and now I don't know what I should do. My little girl is adopted Australian cattle/lab mix and is on Puppy Chow Complete. I'm at a loss as what I should feed her.

Taste of the Wild was fine for a while. My dog stopped eating, had diarrhea with mucus, was suddenly lethargic and weak. Drooling so much, would only get up to go outside to pee. Lost muscle and weight. She stopped grooming herself. We thought she was going to die. In the vets every week, nothing could be found. Her muscles then got stiff, looked like arthritis. I started making her dog food, took her off Taste of the Wild. She has improved so much since taking her off the food. She's eating fine now, gaining weight and muscle back. Able to go for walks again, she pulls on the leash to go faster again. Her back leg stiffness keeps getting better as she builds muscle back. Taste of the Wild is poison and almost killed my dog.

I am a pet parent to 6 dogs. Five of them were on Taste of the Wild:Wetlands Formula with Roasted Fowl. They were on it for over a year. For the past month, I noticed they were becoming more lethargic. They started losing weight. My 15 pound dog dropped to 12 pounds in less than a month. They were losing hair. The picture of my dog shows where he lost some hair. He got the brunt of it. I know it's not winter coat because they lost that in May and June. They started chewing and licking frequently. Then I came across this website and read the reviews. I thought I could hold off for a week to change the food, but then they started getting diarrhea. So I immediately fed them a bag of Nutro Max that I had in case of emergency. Now, I have them on Canidae Elements. They love it and seem to be doing better.
I know it's the food and not environment. My 4 month old puppy is on Wholehearted brand dry puppy food and Merrick canned food. He has a beautiful coat, doesn't chew, and is FULL of energy (more than my other dogs at his age). I can't believe TOTW has denied these allegations and claimed the complaints as false. I have filed a report with the FDA. Y'all might want to as well. You file 1 report per dog. I'm working on the other reports now. I don't know if it will help, but maybe enough will cause an inspection. Here's where you report: https://www.safetyreporting.hhs.gov

Dr. Ken Tudor Pet Food Contributing Editor
A recognized expert and leader in pet nutrition, Dr. Ken Tudor has written over 200 articles on the subject. He also has a featured weekly blog on petMD, is published in major veterinary journals and is a frequent internet media guest expert. He is the founder of Hearthstone Homemade, a recipe and supplement program for pet parents wishing to feed nutritious homemade dog food. More about Dr. Ken Tudor→

Taste of the Wild makes pet food for cats and dogs. All of its pet food products are grain free, and include a range of ingredients, including meats, fruits, vegetables, antioxidants, chelated minerals and probiotics. Taste of the Wild focuses on producing nutritionally balanced pet food products that help support and enhance pet health.
Focus on nutrition: Taste of the Wild enlists the help of veterinarians and other pet care professionals in developing nutritionally sound pet food products.
Guaranteed probiotics: Every pet food formula contains guaranteed probiotics intended to aid digestion and support a healthy immune system.
Real meats: Many Taste of the Wild pet food formulas contain real meats and fish, such as lamb, venison, bison, trout and salmon.
Purified water: All of Taste of the Wild's dry pet foods are made using water purified using reverse osmosis in order to remove pathogens and potentially harmful chemicals.
Ancestral-style diet: The company produces pet foods similar to the diet cats' and dogs' ancestors once ate, giving each pet formula a blend of tastes and varied nutritional profiles.
Best for Healthy active dogs, puppies and dogs that need to eat healthy.
Taste of the Wild Company Profile
Company Name:

Taste of the Wild

Year Founded:

2009

Website:

http://www.tasteofthewildpetfood.com/