Consumer Complaints and Reviews

Taste of the Wild Fowl dog food has made my dog sick!! Something is wrong with this dog food! I believe that this food will kill my dog if he continues to eat it. I am throwing it away! Please beware of this brand of dog food. I purchased this bag April 25, 2017 on Amazon.

I have been feeding Maya TOTW (Sierra Mountain wet food) for a couple of years now, with no incident. Recently (within the last month or so) her liver enzymes have been high. I am starting to wonder if it's the food, reading some of the reviews here. I have switched her to another wet food brand and will see if they go back down. I will update this review in a month. I do not want to do an expensive ultrasound or invasive biopsy. Ordered through Chewy. Will report it there as well.

I have fed my dog Taste of the Wild for 6+ years. I love this brand. However this seems to be a new issue popping up in the last few month. Suddenly with this new bag of food (15# Wetlands), after about 10 days he's not feeling well. Throwing up, diarrhea, pale stools. Switched his food to Fromm yesterday. He is at the vet now getting a full work up. I called Taste of the Wild to report this issue. They said they are not having any issues that they are aware of. Please call this number to report it to Diamond, the company who makes TOTW: 1-800-977-8797 so that they can investigate further. You will need the information (lot number) listed on the back of the bag.

I've been feeding my lab puppy TOTW puppy since I brought her home 7 weeks ago. She LOVED it! Never hesitated to eat it. I had read some of the complaints but still ordered the second bag from Chewy. We opened it yesterday. Breakfast was the last of the first bag and she ate that right up. Lunch & dinner were a different story. She wanted nothing much to do with it. I set it down and she didn't dive in like normal. She laid by the bowl and barked at it. I will admit the second bag didn't smell as good as the first, I mean as good as dog food can smell.
Last night she was frantically eating grass and ended up with up with diarrhea. It has to have been the food. She didn't get into anything and I've never seen her hesitate to eat anything. I'm worried that the complaints I've read have some merit so I'm not feeding her anymore. I'd rather be safe than sorry. We are doing the boiled chicken and rice today. So far she seems fine & is acting like herself. Thankfully she only had 2 cups of the TOTW.
I called Chewy and they refunded my money. They have excellent customer service! I've ordered a small bag of the precise large breed puppy to try now. I know others that use it and their dogs love it. Plus no recalls. I'm really bummed out that this happened. The ingredients were everything I wanted and I had stressed about what to feed her. Her coat is soft and shiny & she really really liked the first bag. I'll be reaching out to the company as well. Our second bag had a best by May 2018 date.

My dog has always been on Taste of the Wild kibble, but recently has become very ill. He has sickness, bloody stools, lethargy and a very noisy tummy. We have been giving him a bland diet of chicken and rice and things improved. We returned him to Taste of the Wild and he became very poorly again. I've seen several reviews and complaints about dogs becoming sick recently, and I'm struggling to understand why a recall hasn't been sent out.
How do I know I can trust these reviews about Taste of the Wild?
790,852 reviews on ConsumerAffairs are verified.
We require contact information to ensure our reviewers are real.
We use intelligent software that helps us maintain the integrity of reviews.
Our moderators read all reviews to verify quality and helpfulness.
For more information about reviews on ConsumerAffairs.com please visit our FAQ.


I changed my GSD Ford to Taste of the Wild about 6 months ago. Because it rated higher than Blue Buffalo. She loved it at first, but the last two bags of High Prairie Canine Roasted Bison and Roasted Venison (bought from Chewy's 4/15/2017. Bags says best by 4/2018). She refuses to eat it unless she is starving. She is losing weight, I have appt with the vet tomorrow. Chewy's has notified Taste of the Wild. Chewy's did not offer refund or exchange.

I have two wonderful service dogs. They are sheltie collie mixes. I have been feeding them TOTW for years with great results UNTIL recently Spring of 2017. In April 2017 our one dog went to the vet with elevated liver enzymes 500; a follow-up appointment after medication showed 900. After two ultrasounds, blood tests etc. Last night I fed our dogs TOTW and Alpo canned; fifteen to twenty minutes later they were both vomiting like crazy. I started researching this on my own looking for possible pet food recalls - I did not find any, and then I found this site. While it was a comfort to know that I am not alone; I was alarmed at the numerous amounts of pet families who are going through the same issues and all have one thing in common; TOTW.
I had recently purchased TOTW High Prairie Puppy Formula with Roasted Bison & Roasted Venison, because the pieces are smaller as one of our dogs recently had some dental work done. I also noticed the lighter color and the food had a different smell to it. Every time I fed it they did not devour it like normal, sometimes they would let it stand for a day before eating it. I have decided to making my pet food after doing research on how to do that. As a pet parent I am concerned, TOTW used to be a good food; what happened? Most important there is a phone number for TOTW 1-800-342-4808. I hope that you will call them and share your concerns as I have. I have stopped feeding TOTW. I made them some homemade dog food of which they ate up all of it, surprise - no vomiting.

After seeing a comment on FB I did a quick search and found this site. I was curious because my Duck Toller, who has been on TOTW Pacific Stream for probably 8 years now, suddenly has elevated liver enzymes. Usually I buy her food in BC but her last couple of bags came from WA. Any other time she had blood work done it's been pristine, the last being a year ago. Coincidental?

Have been feeding Taste Of The Wild Sierra Mountain (dry and canned) to both my black shepherds for years. Routine vet checks gave my boys healthy results. One month after a healthy vet check, one boy died at nine years. I blamed clumping kitty litter. Now I wonder. Recently purchased a pure breed German Shepherd to fill the emptiness of loss. Feeding 4-month-old puppy TOTW puppy dry Pacific Stream/Sierra Mountain (canned). Small portions of both with canned bits cut in half for assimilation.
The 10 years old German gets canned/dry sierra mountain. Their poo has been wretched for nearly three weeks. One thing in common, canned Sierra Mountain... Lamb. Lethargy in 10 year and an uncomfortable puppy. Little girl was whimpering for about 1/2 before the indescribable stench came out. At first I thought the food was too rich for her, even in small amounts. The distinct odor in poo and mushy consistency from both dogs eating the same food is without question the reason. Will not be a returning customer. Diamond doesn't want the bad publicity on their top tier food... Oh well. Someone needs to look in this. Lot number 59XMM2 - H 1129 and 59XMM2 - H 1130 CANNED SIERRA MOUNT.

I have been giving my fur baby TOTW for over 7 yrs. That ended this week but should have been sooner. After a month of running to the vet for testing and such it was the food. It affected his liver as many others have stated. He also would vomit and had diarrhea. He would let the food sit longer than previously. Sadly I have referred this food to countless fur parents over the years. Obviously TOTW is knowingly selling food that is harmful. Somewhere in production they have changed. I hope a Chemist or Physicist does a break down on one of the kernels to see what it is consisting of. TOTW needs to be forced to eat this toxic food they are selling and doing harm to animals.

Just purchased a bag of Taste of the Wild Salmon in May 2017 from same local food store been buying it from for 4 yrs. My Labrador became ill immediately upon first feeding. He could not defecate, straining and either nothing came out or just slimy bits. He did not defecate for 36-48 hours, very odd as he usually goes 3-4 times in that timeframe. I fed him rice instead for 2 days and he is now defecating again. Stool is a very pale color. Liver problem/damage??? Kidneys too?! THANKFULLY I READ THIS REPORT BY CONSUMERS before feeding him TOTW again! Taste of the Wild needs to be RECALLED ASAP! It is causing great harm to our pets!!! The food is going back to the store ASAP and I will file a complaint to Taste of the Wild ASAP!

I am writing this review because my dog stopped eating her Taste of the Wild dog food and was drinking about 4x the amount of water she usually drinks. I am not sure whether to attribute the slight loss of energy to age or something else. I took her to the vet this week where they did blood work. It came back with slightly elevated liver enzymes. An ultrasound revealed liver necrosis. I am trying not to jump the gun and blame the food but after reading all of this I am highly suspicious that it is the food. I give her Taste of the Wild and switch back and forth from the venison to salmon. The most recent batch I got was the salmon. Another person mentioned they were getting the dog food tested? Any results? I put in an inquiry to TOTW. I am so sorry for anyone out there who has been through this heartache of their loved ones being sick and even passing.

Pup has been on food for 6+ months, recently in May his liver enzymes have skyrocketed. We are unsure the cause. However we changed his food and will be retesting. Vet has confirmed it has to be from something he's been consistently ingesting.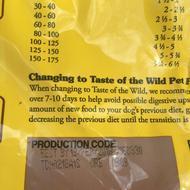 My dog since she was a puppy has been on TOTW. Never has she been a picky eater. She looks forward to her food. A few months ago I started the transition between puppy to adult. Followed what the vet said. She seemed uninterested in her food. She would eat a little and leave it. Her belly started to make awful noises. She seemed tired. When it was time for the adult food she wouldn't touch it. We cooked some veggies and chicken to incorporate into her food. It was as if we were forcing her to eat. Then the vomiting started. Her belly sounded worse. We took her off her dog food and put her on a bland diet. She seemed ok. We started to give her the food again. Again she lost interest and this time it was vomiting and diarrhea. It was horrible.
Woke up to a puddle of vomit and she had an accident in the house. Which she has never had any accidents. This accident was very dark in color. Looked like mud. My dog didn't even want to move. Rushed her to the vet where there was more vomiting. She has gone through several test. Vet said gastrointestinal maybe colitis at this point. My dog hasn't experienced anything unhealthy. Always very well taken care of. I called Chewy and they refunded me my money. Not what I'm interested in. I want to know what is this company hiding. If there is something with their food they should pull it. My dog isn't better. Vet bills getting higher and higher. My puppy went from being a high energy dog to a lethargic, unhappy dog.
I still have the food. I want to test it. I called Taste of the Wild but they said they have no complaints. Which I know it's a lie. My dog used to eat Prairie puppy and went to adult Prairie. I'm inserting pic of the bags that were used. I also have an opened bag which I will be returning. If anyone has any suggestions. Please do not hesitate.

She acts normal and doesn't seem sick. But she been having diarrhea on this currently bag. I thought it was the wet food so I stopped feeding it to her and switch to boiled chicken. The common denominator was the dry food. Guess I'll be throwing the bag out. It was the Taste of the Wild Bison.

My Klee Kai has been eating Taste of the Wild Salmon version for almost 8 years. I bought a fresh bag yesterday and she was all excited to get it put in her food ball (she eats from a ball that she has to roll around to dispense her food). I put it down on the floor as she anxiously awaited... only she sniffed it and walked away and hasn't touched it for almost 36 hours. I did notice when I opened the bag that the food was much darker than usual but didn't think anything of it until she wouldn't eat it. She certainly still has her appetite and will eat treats, steak, pretty much anything you put in front of her. Except her food... calling the company tomorrow and going to try and return it to tractor supply if I can find my receipt. At $47 I don't plan on just throwing it away. Based on the number of recent complaint I'm looking for another food I guess.

We have been feeding our dog TOTW since we adopted her around 9 months ago. It has always been a highly rated grain-free food and she has done very well on it. Recently, however, she has fallen quite ill - loss of appetite, vomiting, not able to keep food down, lethargic, etc. and when we took her to the vet, they found that her liver enzyme levels have skyrocketed, meaning that her liver is damaged enough to be leaking a significant amount of enzymes. Her ALP level, which should be in the 10 to 150 range is over 1500. Her eyes, gums, and skin have yellowed (jaundiced) because of this and she is now at the vet on an IV for the next several days, trying to flush her liver and prevent permanent damage to her organs. We have done test after test trying to figure out what could have been the cause for her sudden illness.
After considering several possibilities, we decided to look online to see if there had been a recall of a recent batch of her food since we had recently opened a new 30 lb bag. Although we could not find a recall, we found dozens and dozens of recent reviews (within the past 3 months) from owners of dogs who had been on TOTW for several years or months falling seriously ill shortly after opening a new batch of the food and sometimes experiencing organ failure and in a few cases, death.
It seems that there is a very bad batch of TOTW food in stores at the moment and even if you haven't noticed any symptoms in your dog, please please please stop feeding it to your pet immediately as a precaution - at least until everything is cleared up. It does not seem limited to a specific flavor of food and people have shared about both the wet & dry variety. Better to be safe than sorry and incur thousands of dollars in vet bills or potentially lose your pet. If your dog has become sick after opening a new bag of TOTW, please call this number to report it to Diamond, the company who makes TOTW: 1-800-977-8797 so that they can investigate further. You will need the batch number listed on the back of the bag. If you are like us and threw the bag away, they will claim that there is nothing they can do. :(

Thank you to the people who have posted. I did not find this site until after I found an unknown soft silver material embedded in a chunk from Taste of the Wild High Prairie Roasted Bison and Roasted Venison. If anyone knows of a reputable lab to test this food please post it for the rest of us looking for answer to question of in my case WTH is this unknown material and are these bags tainted? I have no clue if this will help push an examination of Taste of the Wild but I hope it will.
I sent this email to-AskCVM@fda.hhs.gov: "Hello I am not sure who to contact. I have not contacted the company because in my experience they only offer to refund your money and only if you have the receipt. I hope you can pull some bags of various Taste of the Wild products to have the Taste of the Wild products in question examined and if you find problems with the food issue a recall so no one else pets gets sick or dies. The photo of the dog food with something embedded into it is from the last bag I recently purchased and since I did not expect anything to be wrong with my pets food I tossed the bag. This is from Taste of the Wild High Prairie Roasted Bison and Roasted Venison. After I found this in my pets food I did some research here is the link I used. https://www.consumeraffairs.com/pets/taste-of-the-wild.html
"Unfortunately I did not find this suspicious material in my dogs food until AFTER my oldest dog died. She was 14. I thought it was natural causes and old age until I read others posts. Now I am just sick that the dog food I choose to help improve my dogs health may have killed one of them. I had switched a few months ago to Taste of the Wild after researching dog foods to hopefully help eliminate some allergy issues.
"I had no problems with the food and the dogs loved it UNTIL the new bag I purchased. I have to get my head around the possibility Taste of the Wild dog food may have killed my dog, my other dog started vomiting and diarrhea so I have thrown out Taste of the Wild (keeping a couple pieces with the unknown material) and went back to a home made dog food for now but I do strongly feel an examination of this brand is needed to find out what the unknown material is in the food besides dog food and rule out if the food maybe responsible for causing deaths in pets."

I'm unsure what everyone else is talking about, but Taste of the Wild Stream with Salmon is great. Both of my dogs' coats are shinier and they have tons of energy. I will say that the person who talked about the questionable boar (red bag) is spot on. We went to that bag to switch it up and our lab had runny ** and was extremely gassy. The only bag that seems to work is the blue bag which is the stream salmon, which we've given them for over 2 years now.

Just opened a new bag of Taste of the Wild - Bison. The color of it was lighter than usual and my dog did not eat it the day I put it out. She ate it this morning and seemed a bit sick all day. After eating 1/2 cup for dinner she threw it all up. She has been on this food for 8 years and is healthy. The food did not appear the same (as I mentioned the color was lighter than usual). I am throwing it out and changing to another brand. It seems other people are reporting problems this month with the food. My husband threw out the bag so I don't have any info. We just bought it and the store we buy from is usually out of TOTW and they get shipments every week so I am assuming it is a fresh batch. BEWARE... don't continue to fed your dog if you experience any issues!

I have used the product since adopting my dog 2 months ago. I have not had any problems, and have purchased only the 5 lb bags so far. I wanted to get a 15 lb bag, but am reluctant to do so due to the concerning reviews posted. If you've experienced a problem - PLEASE contact the company (I've called them and they said there haven't been many reported complaints) and PLEASE post the lot and date numbers of the bags in question (so that it can be determined if a specific lot is involved or if the problem is more widespread).. Thanks!

I am in the process of trying to get Diamond to address the issue of all of these sick dogs. My GSD Sadie was very ill last week and is now refusing to touch her Taste of The Wild Fowl flavor. After sharing this with my GSD FB group there are hundreds more with the same story. My dog had really severe stomach issues, lethargic and was dehydrated. This started with the last bag we purchased a little over a week ago, Chewy refunded us today and now is pushing my complaint higher up.

My GSD has been on Taste of the Wild since I brought him home as a puppy. With a new bag he suddenly developed digestion problems, allergy problems, skin problems. Many trips to the vet and several tried medications. It wasn't until I took him off TOTW dog food that anything helped. They have changed SOMETHING and it is dangerous. Facebook is full of similar reviews.

Recently switched both my German shepherd and blue heeler to the High Prairie Venison one in February. They seemed to really enjoy it and their coats ears and poops all looked good. Two weeks ago beginning in April we opened a new bag with a batch date of February 20th, 2018, of the Wetlands bag and they have both been reluctant to eat it and we've been forcing them to eat it. Recently our heeler started puking, exhibiting signs of not feeling well and flat out refusing to eat at all. Was able to see many similar stories on Facebook all around the same batch date of other people's dogs having the same or similar issues. Contacted our food carrier and switching the food immediately after some had signs of organ failure.

My West Highland Terrier was recently fed Taste of the Wild dog food. He got very sick with diarrhea and had strong urine, which I suspect was kidney distress. This lasted 2 weeks and then he lost half his hair due to chewing and hot spots. He also stopped eating for 4 days. He is just now getting better and is back eating his raw diet. I'm giving him Wild Alaskan fish oil and bathing him in Neem oil shampoo. He has developed Demodex mange because Taste of the Wild compromised his immune system and almost killed him. His skin is turning black in spots so I'm going to start giving him oregano oil capsules. Taste of the Wild should have issued a recall by now. What's wrong with these people! My Westie was fed the venison/bison blend. I tried to get my local pet store to take it off their shelves but they were not interested until a recall is issued. I will call the company directly tomorrow.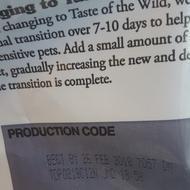 ATTN TASTE OF THE WILD USERS!!! I don't know how many saw my post about my Chief developing acute pancreatitis but I'M HERE TO WARN YOU!!! He came off of his prescription food a few days ago and I slowly switched him back to TOTW - the mucus is BACK AND I AM FURIOUS!!! Look at the VERY RECENT REVIEWS from others OF THE SAME THING HAPPENING TO THEIR BABIES!!! IF you've had problems PLEASE, PLEASE call 1-800-977-8797!! Calling this number is the only way they will investigate!!! I'm DONE with this food and will NEVER purchase it again!!!

I've been feeding my 2 dogs TOTW (various flavors) for 4 years and it has been great. However, the last batch has been iffy. Both my dogs have been throwing up and did repeatedly over a period of 2 weeks. I finally decided that it could be due to the food and switched them to a different bag. No throw-ups in last 2 days. If anything changes, I will come back and change this review. But I think there are quality issues with recent batches of TOTW adult dog food. The flavor in question (in my case) is Wild Boar.

I don't know if my dog's death was a result of him eating TOTW but all the symptoms are very similar to the posts on this site recently. My dog became sick on Thursday. He was lethargic, wasn't eating all of his food, and had a good amount of eye mucus. He also coughed as if he needed to vomit but never actually did. Friday he was worse, he slept almost the entire day (which he never did). I was unsure of what was wrong but assumed it was a sickness and he would get better. On Saturday he seemed better but didn't eat any of his food. He passed away lying next to me on the couch without any signs of struggling. He was around 11 years old so he was getting to the end of his life but there were no warning signs before the signs of sickness Thursday and his death on Saturday. I haven't contacted the company yet but I will be doing so tomorrow!

We have been giving our pet TOTW for a while but recently, well last two days he has been almost lethargic and foul diarrhea, looks very skinny and has become weak. Took him to the vet and blood results show elevated liver enzymes, nothing has changed in diet. We were told maybe it can be his food.

Dr. Ken Tudor Pet Food Contributing Editor
A recognized expert and leader in pet nutrition, Dr. Ken Tudor has written over 200 articles on the subject. He also has a featured weekly blog on petMD, is published in major veterinary journals and is a frequent internet media guest expert. He is the founder of Hearthstone Homemade, a recipe and supplement program for pet parents wishing to feed nutritious homemade dog food. More about Dr. Ken Tudor→

Taste of the Wild makes pet food for cats and dogs. All of its pet food products are grain free, and include a range of ingredients, including meats, fruits, vegetables, antioxidants, chelated minerals and probiotics. Taste of the Wild focuses on producing nutritionally balanced pet food products that help support and enhance pet health.
Focus on nutrition: Taste of the Wild enlists the help of veterinarians and other pet care professionals in developing nutritionally sound pet food products.
Guaranteed probiotics: Every pet food formula contains guaranteed probiotics intended to aid digestion and support a healthy immune system.
Real meats: Many Taste of the Wild pet food formulas contain real meats and fish, such as lamb, venison, bison, trout and salmon.
Purified water: All of Taste of the Wild's dry pet foods are made using water purified using reverse osmosis in order to remove pathogens and potentially harmful chemicals.
Ancestral-style diet: The company produces pet foods similar to the diet cats' and dogs' ancestors once ate, giving each pet formula a blend of tastes and varied nutritional profiles.
Best for Healthy active dogs, puppies and dogs that need to eat healthy.
Taste of the Wild Company Profile
Company Name:

Taste of the Wild

Year Founded:

2009

Website:

http://www.tasteofthewildpetfood.com/