Consumer Complaints and Reviews

Bought Puppy Call of the Wild (16 week old dog). Same day vomiting and diarrhea. Sublimit with human food often. But call of the Wild at least once every 2 days. Diarrhea intermediately. Had been eliminating human food. Now will stop "Call of the Wild" and see if problem goes away.

I am so glad I checked the reviews. Something is wrong and needs to be addressed. Have used Taste of the Wild for 1 year for my two small breed dogs. After my last purchase 14 Lb bag / end of May order, I noticed the dogs lost interest in their food and only ate when hungry. For the last three weeks my dogs have been suffering with diarrhea, anal gland blockages and hard stools. Just back from the vet for the second time in two weeks and she had me research the food. Clearly there is something wrong with the latest batch. I have auto ship purchase on Amazon and just canceled, will also post a review for others. Seems suspicious we are all experiencing the same symptoms.

Since I bought this 3wks ago, BISON flavor on sale at PET CLUB, my pup has had all the symptoms consistent with the complaints: 1) Loud noises in her stomach, more than the normal ones - during and after eating. 2) Nausea (convulses like she's going to throw up) - during and after eating. 3) Thrown up - during and after eating (tricky cuzcoz it can be mild at times and they swallow it). 4) Eaten grass - after eating (to relieve her nausea, possibly help digestion). 3) Licked her front paws a whole lot - after eating. 4) Scratched a lot - after eating. 5) Has appetite (tested by offering her Brothers + rice), but won't eat this until starving. 6) ADDED symptom -- this one CREEPED ME OUT the most. Pup kept licking herself (clarification: licking her LIPS!!) NON-STOP. It's what caused me to panic and search for any other complaints.
I wasn't sure if she was having a seizure because she wouldn't stop licking FAST for a LONG time (maybe 10-30 mins at a time, happened like 5x), even though she appeared conscious and I fed her water (through a syringe) in case she was dehydrated. This really scared me. She may've had a seizure and I didn't even know it. She wouldn't stop when I spoke to her. By the way, I didn't pay attention to her stools because I let her go out and come back when she's done. But the times I did take her for a walk, she seemed constipated because she didn't seem to go #2 as much. At first, I kept thinking she must've got this for other reasons, so I didn't want to post. But her symptoms have been consistent enough and happen shortly after she eats. Now I don't know what to get her, I'm so afraid to trust any brand now. Are these expired? Is the Bison prepared in a sanitary way? Are they adding strange meats? Artificial things?

I had been feeding my 3 dogs TOTW Pacific Stream for over 5 years. Starting about two months ago, my dogs started acting differently. Their stomachs seemed to be upset a lot and they were eating grass. Then, about a month ago, the vomiting started. They were vomiting up the food they ate, sometimes hours later. I never thought it could be the dog food, I had always considered it a high quality food. I spent almost $1,000 at the vet, and started feeding a bland diet. My dog even had to get anti-nausea meds and have fluids injected. Things continued to go downhill, and my vet finally suggested trying a different food. I have been switching them over to Canidae Pure Sea, and was doing it slowly as to not cause any additional discomfort, but after reading all these negative reviews and the company not wanting to do anything about it, I will be throwing what I have left away immediately. Shame on them!

I have a 3 year old Siberian Husky weighing in at a health 84-lbs. Big boy and has always been very healthy. When he was a pup, we started him out on Organix puppy food and then after hearing nothing but good about the Taste of The Wild, moved over to the 30-lb bags. About 1-1/2 months ago he got really sick. All the symptoms, including bloody diarrhea, lack of appetite, unusually frequently full anal glands, chewing and licking raw spots on his paws, itching his ears to the point that they had raw spots inside & out etc. I thought that he had eaten something off the ground when I wasn't looking. Never in a million years did I suspect that it could be a change in the manufacturer's recipe. Then my wife found an article on Facebook that mentioned a recent number of complaints concerning Taste of The Wild.
It just so happened that we had run out of his old food and were ready to buy more. After looking into these complaints further and finding all of these comments, we've gone back to the Organix brand and he loves it. Just thinking about the worry and vet expenses etc. that this little episode has caused us. What a crappy thing for what was thought to be reputable company to do. I can only hope that the exposure to whatever Taste of The Wild has changed in their food, hasn't caused his liver or any other organs lasting damage.
As this situation develops, if it's found out to be a reckless disregard by the manufacturers for the well being of animals that consume their product, I sincerely hope that legal action is taken to dissuade both this company and other manufacturer from doing the same. I will call Taste of The Wild in the morning to register my complaint with them as well. I've already cautioned my local pet store and directed them to this website. Thank you for your comments.
How do I know I can trust these reviews about Taste of the Wild?
825,614 reviews on ConsumerAffairs are verified.
We require contact information to ensure our reviewers are real.
We use intelligent software that helps us maintain the integrity of reviews.
Our moderators read all reviews to verify quality and helpfulness.
For more information about reviews on ConsumerAffairs.com please visit our FAQ.

I had my puppy on Taste of the Wild for a couple months now and he loved the crap out of it and grew 18lbs in that period. Just bought the new bag last week and on the first feeding itself he threw up all the food he ate. So had to feed him prepped chicken and rice. We tried again next day and same result. This batch needs to be recalled entirely as something is terribly wrong with it.

My English Bulldog has been on TOTW for the last year and a half. It was great, but the last bag has made him very sick. I remember him not wanting to eat it when I bought the last bag. I should've tossed it. He has had a bad skin reaction and has two growths in his face. One on his eyelid and another on his cheek. We have not been able to control his skin problem. He uses the Pacific Stream variety. I am switching him off this food immediately and I am calling the company in the morning. We are definitely switching to raw. My vet bills are through the roof.

I've seen some recent bad reviews concerning this dog food and would like to say that we have not had any problems with this brand. I have a very healthy 10-month-old German Shepherd, who was raised on the bison puppy formula until he was ~6 months in age and has been fed every flavor of the adult food since (Wetlands is his favorite). Shepherds are notorious for sensitive tummies, but he has been able to cycle through the formulae without any problems. No loose stools, hesitation of eating, he sheds less than most dogs (or cats) I've been around, and has a ton of energy. We're about to get a female sheppy (because sheppies are like M&Ms, one is never enough) and plan to feed her TOFT as well. He has done so well on it that I switched my cats' food to the Rocky Mountain formula.
They have done very well too and I have 2 that are approaching 20 years of age. The other 2 are 4 and 3 years old. All of my animals have beautiful coats and are, with the exception of the older two being a little overweight, very healthy and happy, to the point of being ornery. I never buy their food from an online retailer, but exclusively from a local animal feed and supply store, who makes sure the manufacture and expiration dates for each bag are clearly marked on the bag if the manufacturer doesn't put it on the package themselves. It always concerns me to see complaints from people who would buy food from an online retailer, rather than a reputable, locally owned and operated animal supply.

I have struggled with which brand of dry dog food to feed my dog, and I must confess to being fairly new to dog ownership. We rescued Ranger Jim from AK after he had been emancipated by a Sheriff's Deputy there and treated for heartworms in KY. He was one day from being put down before he was rescued by a group in KY. We found him online, fell in love instantly, and had him transported to ME, he now resides with our family in NH, is the best natured dog and needed very little training. Having never owned a pet, I didn't know what to feed him, how much to feed him or what brand I should choose.
With research and study, we settled on TOW and vary the variety each time we purchase it in 30 lb. bags. I feed him one cup twice daily with some unsalted canned vegetables so that he obtains vitamins and minerals that are not contained in the dry food and to fill him up with few calories. I occasionally add a little extra virgin olive oil which seems to help his coat. My wife and I rarely give him treats, but I have four children, and he tends to follow them into the kitchen for some reason though we have discouraged them from feeding him "people food".
Ranger Jim seems to love the food, and his health has been exceptional according to our vet. He is quite healthy, active, inquisitive and receives high marks on his veterinarian visits. After starting a bit overweight, he is holding steady at 70 lbs. After reading the reviews of TOW, I am quite concerned but haven't experienced any of the problems that others seem to detail in this string. We have been pleased with the quality of the food and how our dog seems to respond to it. I try to be frugal with our expenditures but want to purchase a high quality food for our dog. TOW seems to strike a nice balance between the two for our family, and Ranger Jim approves!

My four Malamutes were raised on TOTW and it's always been a wonderful food but something has changed. I am not going to talk bad about this company but something is wrong. It needs to be addressed. All four of my Malamutes became lethargic and mildly ill. My female had hair loss to her back left thigh at the same time as the fatigue and sickness started and I can't say for sure it's attributes but I need to put this in here.
As the symptoms began, they also began refusing to eat. We would drop an egg in the food, they'd lick it off and spit out the morsels. We added chicken, same thing. We actually had a pet store manager tell us about a brand customers had been buying like crazy and we switched foods to get them to eat and guess what? After we switched foods within THREE days they had nearly returned to normal behavior. By the weekend they were as they were before they got sick. Was it the food? I can't say that it was but I can say my dogs got sick, stopped eating and then began eating a new food and IMMEDIATELY got better. This is a good company so I hope they can figure out what changed. Was it the processing plant being shared? A change in meat processing? What? But seeing all these other issues I need to let them know that I feel we we're affected as well.

We have a two year old Amstaff that we feed only TOTW High Prairie formula. She never eats table scraps. We have a locking garbage can lid and she is never outside off-leash. Over the period of a couple of days she started vomiting and having diarrhea then stopped eating and drinking and progressed to vomiting up foul smelling blood clots and having bloody diarrhea. We took her to the emergency vet in the middle of the night and she had to be hospitalized with acute pancreatitis. She is still in the hospital receiving fluids but appears to be recovering.
My wife and I have been racking our brains trying to think of what (if anything) could have triggered this. When we ran across similar reports from people all around the country having the same issues, all of whose dogs eat Taste Of The Wild. I will be switching foods and filing a complaint with the company. I simply cannot take chances and I feel very strongly that TOTW could be to blame here. I still have some of the food left and am considering having it evaluated by a lab to see if that could be the cause. I just wanted to add my voice to the list of those whose dogs were similarly sickened.

We have used TOTW for years. We have a 4.5 year old Irish setter that was just diagnosed with pancreatitis. I bought a new bag of food in June and after a week he started to vomit a lot and had diarrhea. So I took him to the vet and they did a blood panel. His pancreatic levels were extremely high. We only feed our dogs dog food, not table scraps because we also raise dogs for the blind and they are on a strict diet as well. I am very concerned for the health of my Setter now. I hope he fully recovers from this. He is young for this problem.

We have had our puppy for 9 months all the while on TOTW puppy formula. She loved every morsel until two weeks ago. Her stools became very loose - even liquid at times. She began skipping meals only seeming to eat when she had no other option. We tried to correct it with the hamburger and rice remedy but it was only a temporary band aid - when we put her back on TOTW she began her erratic bowel movements again. In short after reading the other consumer reports we will be contacting our vet and switch our 11 month old pup to a new dog food in the morning.

My dog has begun refusing to eat her TOTW Wetlands dog food! She has always loved her food but the past three days she has been a little slower than usual and refusing to eat. She acts like she wants to eat so we give her other options (not TOTW) and she eats but then next mealtime try to reintroduce TOTW and she walks away and refuses or lays down and sighs! She has now started with diarrhea. This food is making her ill! Thankfully I found this site with similar complaints! I will stop the food immediately and be calling both Chewy and TOTW directly ASAP! If this is not enough and I have to take her to the vet I will post with an update!

I have never written a review before, but felt it was necessary to let other pet owners know to not feed their dog this food. I have fed my dog Taste of the Wild for over 5 years with no problems. I bought a new bag about 3 weeks ago. The second I put it down my dog walked away from the bowl which is very rare. The first thing I said to my husband was that's weird. I hope it's not a new formula or a bad batch. I didn't think much of it. I took my dog to the vet a couple of weeks ago because he looked uncomfortable and wasn't acting like himself. He was also holding his tail strange I thought maybe his anal glands. The vet said they were full and expressed them but I thought it was strange as he never had an issue with them. He continued to eat his food now and then but was not scarfing it down like normal.
A week ago I brought him back to the vet because he just seemed "off" still. He didn't want his food but had an appetite for anything else including shredded chicken. My pup never threw up but seemed down. The vet suggested we take a standard blood test that would check his red and white counts including liver enzymes (specifically ALT and ALP). Both of them had skyrocketed from a year ago when we took his blood before a dental cleaning. The ALT doubled from 75 to 162. And the ALP, or AP, went from 120 to over 600.
I just got this news yesterday. I don't know what made me think to google Taste of the Wild but all of a sudden today I thought maybe it could be the food. Sure enough I google and find multiple websites about dogs who had eaten this food for years that were recently sickened by it when their owners purchased a new bag. This is very scary. I threw the food away and stopped feeding immediately. Like I said before? I never write posts but my dog is my first child and I know how much people love their pets. They rely on us to take care of them and if I can help one pup by taking the time to write this review it's worth it.

I have fed my 5 1/2 month old German Shepherd TOTW Puppy and had no issues. We received a new bag on Saturday and she became very lethargic and began vomiting and drinking A LOT more water than normal. I began feeding her rice and chicken and she acted 10X better, then started adding back in here TOTW and it happened again. I took her to the vet and he stated it was her food causing this! I contacted TOTW and they said they have no current recalls, but I think they need to reinvestigate! SO glad we caught it before it could cause more damage, will no longer use TOTW products.

I own 5 dogs and frequently foster for a pure breed rescue. Despite the fact that Taste of the Wild has NEVER been rescue friendly and not interested in helping the rescue community, I have been a loyal customer for 10 years, frequently buying up to 4 30 pound bags a month. My philosophy, if it works, don't mess with it... I've been very satisfied with this food until recently.
My dogs are all very robust eaters except for the last 2 weeks. I noticed disinterest initially then the watery foul smelling diarrhea started with intermittent vomiting. My 2 senior dachshunds displayed symptoms first, followed shortly thereafter by my 21 month old bulldog and then 10 year old bulldog. Both Dachshunds had pancreatitis, enteritis and elevated liver enzymes. When the other 2 began to display the same symptoms my vet said we should assume ALL 4 had the same problem and treat aggressively. The smallest (12 pounds) was affected most severely requiring subq fluids, steroid shot, ** and **, along with a bland diet.
For 5 days I have been cleaning up vomits and bloody diarrhea while those poor babies were suffering with abdominal pain. That POISON is no longer in my home and because of TOTW's casual attitude regarding MULTIPLE complaints, it never will be again. TOTW denies that they are getting multiple complaints but their Facebook page would prove otherwise. They also report that they have analyzed the food and there is no problem. How could so many pet owners who clearly love their pets and are willing to spend $50 on a bag of quality dog food be sooo wrong???

We decided to shop local and switched both our house cats and barn cats to Taste of the Wild Cat Food from Cat Chow... Within a week our house cats experienced severe diarrhea and lethargy. I assumed it was due to the change alone, and kept feeding it. Our cats are quite large and hairy, so I did not notice the dramatic weight loss right away. Several members of the family normally keep their food bowl topped off, so as their consumption decreased, we did not pick up on it right away. I thought my daughter was feeding them, she thought I was, etc.
Next thing we know, the cats are jumping on the table while we are eating and are aggressively trying to steal food off our plates! I started to become more concerned and as I handled them found they had gotten so skinny their back and hip bones could be felt easily under their hair coats... All the while their food bowl sat full. They were WILLING TO STARVE THEMSELVES RATHER THAN EAT TOTW cat food! I have switched them back to Cat Chow without illness or incident and they have gained back all their weight, thank goodness!
I immediately turned my attention to our barn cats, and asked that nobody refill their feed bowl until I could determine exactly how much they were consuming. Since they relieve themselves in the bush, I was unable to determine if they experienced diarrhea. Since they are only fed cat food once a week, they are also skilled at supplementing their diet with hunting. Therefore, they did not have the same dramatic weight loss the house cats did. Still, they were losing weight. I tossed their TOTW feed out onto the grass and refilled their bowl with Cat Chow. In 3 days, it is empty... While the TOTW (out in the elements where the cats, birds, dogs, goat, pig, and peacock could access it) still sits untouched!!! DO NOT RECOMMEND: Taste of the Wild Cat Food.

I've fed TOTW for years with excellent results. However, my dog who eats anything has not really wanted this most recent bag. In fact, she had to have anti-nausea meds and subcu fluids last week. Now she's back to TOTW and she's sick again... loud gut noises, lethargic, eating a ton of grass, and fearful. I've since heard very similar reports from others. This bag is TDHD505D3S. JMD 22:37. No more TOTW for her. I've contacted TOTW, FDA, and the seller, Chewy. Peace...

I've been feeding TOTW dry dog food to my two German Shepherds for many years. No problems until about a month ago. Both dogs are having repeated bouts of diarrhea. After a few days on chicken & rice they are fine. When I put them back on TOTW, the diarrhea returns. I have sent a complaint email to the manufacturer expressing my concerns for the health of my dogs. I currently have SEVEN bags on hand!!! I hope I can return them.

I have to say, I'm pretty heartbroken to be joining in on this one, because I've been feeding TOTW to our family dogs for nearly ten years and have had nothing but wonderful things to say about it. I've also convinced several friends to add this line into their food rotation. It was, hands down, the best, most trusted brand on the market, thanks to the amazing combination of price point, quality, named/novelty protein, and allergy-friendliness. This latest experience has, unfortunately, badly marred my opinion of the brand, though.
Two weeks ago, after he'd finished a bag of the High Prairie Puppy formula, I decided to transition him to the adult version of the same flavor instead of buying more puppy. A few days in, I noticed that he'd developed these weird red bumps all over his belly. It's brutal during the Florida summer, so I figured maybe he'd been laying in the wet grass and had gotten bit up by bugs. Then I noticed he was chewing his paws constantly, and had started to shed like mad (Bostons are typically very low shed). After meals, the area under his nose - his lips? - also seemed to get really red and swollen. It occurred to me that I hadn't checked the ingredients list (figuring the adult version was similar to the puppy), and lo and behold... the adult High Prairie also has chicken in the listed ingredients.
Feeling like a heel for feeding my baby something I knew he was sensitive to, I threw out that bag and rushed out to buy a bag of the TOTW Pacific Stream Adult, which does not have chicken in it. Meal one, he absolutely turned his nose up. He'd gone through a few small bags of the Pacific Stream Puppy, plus I often give him organic salmon treats, so I knew he was normally fine with the flavor. But no, he wasn't interested in eating. Instead of his normal 1.5 or 2 cups of food daily, he was down to moping through maybe half a cup a day. His lips were still swelling up after meals and the bumps on his belly seemed to be getting worse. By day three, he started getting the bumps up his sides and along his back too. He went from mopey to straight up lethargic (again, he's a one year old puppy - boundless balls of energy).
I started scouring the internet for an answer and finally checked Dog Food Advisor and Amazon late last night, was redirected to this site, and got to see just how many people were experiencing the same thing we're going through. I'm appalled that the company has yet to do more than state "there's nothing wrong," when there is clearly something very, very wrong with these latest lots of food. I can't say what lot our first bag (High Prairie Adult) was from, since we threw it out right away, but this latest bag of Pacific Stream says "Best by May 4, 2018." I've included two snapshots of the lot info, just in case that helps anyone. Will share the same with TOTW tomorrow when I'm able to call.
I ran out before work this morning and grabbed a bag of Canidae Pure Sea... very, very similar ingredients, similar smell (and I'm guessing, flavor). I put it in his bowl, he took a sniff, and actually ate several bites of the kibble before eventually moping away. And he's made his way through about a full cup today (compared to not quite a half cup yesterday). He's still lethargic and ridiculously itchy, but he has had NO noticeable swelling of his lips. ** (per our vet) and Zymox shampoo/creme rinse seem to be calming him a bit as well. I'm sure it'll take several days for most of the symptoms to start clearing up. For what it's worth, Amazon has officially marked this brand of dog food as "currently unavailable."

I have been feeding my dogs Taste of the Wild Salmon Flavor kibble for several years, and they had been thriving on it all the time. But - in the past few weeks, my finicky MaltiPoo female rescue dog began refusing to eat at all. Walks away from her bowl. Now starting to vomit several times today. Just brought a MaltiPoo male rescue dog into the family a couple of months ago and started him on the same food. He has been vomiting weekly and licking a sore on his front paw (checked it - no stickers or obvious injuries). Threw out the rest of the 30 lb bag - got it on Amazon June 6, 2017 (within the past month). No apparent illness in my older miniature schnauzer boy rescue dog, but not wanting to take any chances. Trying a different brand of dog food next.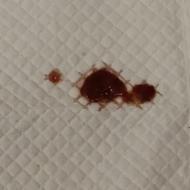 I am very concerned about my 3 Chihuahuas. My oldest is 13yrs, youngest is 5yrs. I have been feeding them Taste of the Wire for 9+ years. I started them on a new bag 3 days ago of Taste of the Wild Sierra Mountain Grain-Free Roasted Lamb. All three of them are in a fence kennel on linoleum with potty pads. All 3 of them have bad smelling diarrhea with blood and slime. I gave them plain cooked rice. I called the company after reading similar stories and was told there are no recalls or complaints. Social media is full of complaints of sickness and death. Why is there not a recall!!!

We have been buying TOTW for 3+ years and with the last few bags my dog has been vomiting and has runny stools. He was recently diagnosed with Lyme disease but these symptoms started before that. I'm not feeding him this morning and tossing the TOTW food. I can't trust this company. Please do not feed your dog this brand!!! My beloved dog is not well.

Bought TOTW Fowl for my 2yr old rescued GSD/hound mix. She started to develop what seemed to be seasonal allergies. Reverse sneezing for hours every night, and shedding like crazy... not a normal amount of hair. Then the diarrhea started. It lasted for about 3 weeks. She started eating grass to make herself throw up. She just recently had the worst mucus/sinus infection I have ever seen in a dog. I did some research, thinking she had chicken/potato/etc. allergies and found this website. Took her off immediately and after 12 hours of feeding her a raw diet, the sneezing is gone, the mucus is gone and she is almost back to 100%. I can't believe it! Please stop feeding TOTW immediately!!

We've been feeding our little girl Taste of the Wild for over 4 years now. We purchase it from Pet Supermarket. I cannot believe the reviews and similar symptoms I am reading. Our girl is 8 and has allergies which is why we chose Pacific Stream. The past two days we began to notice with the bag we purchased most recently, she is sleeping all of the time. She doesn't finish the usual amount which is not her style, she's normally a gobbler and a snorter, lol. She will regretfully eat the rest throughout the day... Not tonight! I made her a sweet potato. I'm wondering if we'll see a repeat of, Schell & Kampeter, Inc.'s, settlement in 2012 for a salmonella. Perhaps they aren't paying attention to the levels of protein in the finished product which is why we've read so many reviews about increased liver enzymes... I'm sure we'll hear more soon. Good luck with your furrbabies and furrever friends.

We've been feeding our furbaby TOTW since we brought her home 3 years ago. Did a lot of research and decided this was the best food for her. Never had a problem until earlier this month. We're about 4 days into the bag and she got really sick. Diarrhea everywhere. Tried some at home remedies (**, steamed chicken and rice, etc.) but after 2 days and no progress, brought her to the vet. Turns out she had incredibly high pancreas enzymes and needed to take some serious meds.
We can't be sure it was 100% the food, but not taking any chances. Will be throwing the rest of the bag away. Called TOTW today with production info and was told I'd receive a call back from their veterinary team tomorrow. No offer of reimbursement or replacement. They did say that they have not received many calls to this so please CALL THEM and report. They won't investigate or recall without this info!

I used TOTW for a couple years, but discontinued it in 2015 when my dog refused to eat it. I thought I'd try again last month. Again, she refused to eat it until she became too hungry. But, when she ate it, she had extreme heartburn and other strange behaviors. I stopped forcing the TOTW and put her on chicken and rice. Her heartburn, seizures, diarrhea stopped. Not going to buy this brand again. I tried to put a review on Amazon, where I bought it, but they refused to post it--strange!

I switched from Orijen to TOTW because it was recommended and reasonably priced compared to Orijen. I have a standard poodle who is a little picky but has never turned his nose to TOTW. I read so many bad reviews and the single thing in common with all the bad reviews is that they were all "prairie dog/bison" and most were purchased from Amazon. I have always bought from my local store or Chewy.com and have always fed pacific Stream and have never had a problem.
Two months ago I thought changing protein would be a good thing. I ordered bison and come to find out that it was a bad decision as my poodle turned his nose up and would not eat his food. Initially I thought it was a transitional thing and he will get used to it however after half the bag was gone and he was not getting used to eating it we got rid of it and went back to Pacific Stream which she started to eat normally and with pleasure. After reading so many bad reviews it makes me leery of Taste of the Wild. However I think I will continue to use it and continue to buy it from a local store and not change protein Which appears to be the issue.

I've been feeding my dogs TOTW for over 7 yrs and never had a problem and the dogs loved it. Alternated the different formulas from time to time to give the dogs a change in taste. But then last month each of my dogs developed runny stools but then it stopped but noticed one of my dogs was drinking and urinating a lot. Thought it might've just been due to needing a change in formula so when that bag was finished I changed to the lamb formula last week.
Now after starting the lamb formula that same dog is really drinking to excess and urinating to excess and his gums are pale and will be taking him to the vet's! I searched all over the internet for symptom checkers and found nothing until I came across this site and I am totally in shock since my dogs did extremely well on it all this time, until last month. Needless to say it has gone into the trash! We all need to phone the Better Business Bureau to see if TOTW is on their list and also ConsumerAffairs to lodge formal complaints!
Taste of the Wild Company Profile
Company Name:

Taste of the Wild

Year Founded:

2009

Website:

http://www.tasteofthewildpetfood.com/