Consumer Reviews and Complaints

I had originally ordered a medication for my Pug Daisy. It stated that it was a chewable in the description. When I received the meds my Pug would not take them. I called to see what my options were and the person I talked to was SO HELPFUL!!! I didn't have to return the item and they gave me a full refund and also sent me another package with no shipping charge!!! The person I talked to said it would take possibly 5 days to get my refund. It only took one and he said that I should receive my package within 3 to 4 days and I have already received that also!!! I will definitely refer them to anybody that I know that's looking to order any kind of pet supplies in the future and I will definitely shop there again!!! Thank you for the great customer service!!!

The service is super convenient and very efficient but a little pricey compared to less convenient ways to shop. This service is great for an older person like me or someone with a disability because someone else does all the heavy lifting and you don't have to drive anywhere.

I always get what I order in a timely manner. They're also good at letting me know if something is on backorder and when it should arrive. If you have pets, you will love Chewy.com. Their customer service is excellent. They have a huge selection of products, and it always arrives in a very timely manner on my doorstep!

Chewy.com has been sending food and treats for our three dogs, for almost a year. Pricing is ok. I have never been disappointed. Food is always fresh and on time. They keep it straight. Each dog is on a different diet. Important when you have hungry hounds.

Not only do they offer great products at competitive pricing, their customer service goes well above and beyond my expectations! When my 14-year-old Rocky died, the rep assisted me with stopping my auto ship program, credited me for the product not used, and advised me to donate any unused product to a local shelter... BUT she sincerely was more concerned with how I and my family were doing with the loss! I have only purchased three times with this company and received more compassion than ever expected. Just today, I received a handwritten sympathy card. In comparison, I never heard back from my vet of 10 years, after we picked up his ashes. Way to go Chewy!!
How do I know I can trust these reviews about Chewy.com?
668,037 reviews on ConsumerAffairs are verified.
We require contact information to ensure our reviewers are real.
We use intelligent software that helps us maintain the integrity of reviews.
Our moderators read all reviews to verify quality and helpfulness.
For more information about reviews on ConsumerAffairs.com please visit our FAQ.

Chewy.com is the quickest, easiest, least expensive way for me to buy our pet supplies. I get three varieties (for the individual needs of my six dogs) of dry dog food there. These purchases are at the best price I can find, plus my aquarium supplies, dog toys, and anything else that might come up.

Since they have had a lot of growth, their customer service and cs knowledge has fallen down. I am not interested in what they are told to sell, rather than get accurate information on ingredients. Our vet is not a help because they are only interested in selling what they have at the clinic. Ordering dog food has become so confusing. There are too many brands on the market. It is difficult to go to one vendor or site to compare ingredients.

Fantastic service. They are so courteous and thoughtful. I can't say enough good things about them!!! If I buy something that is too big or not what I thought it would be they remove my charge and have me donate the item to a rescue. I think this is so wonderful! I just donated several items last weekend to the foster "Mom" of our dog we adopted 1 year ago.

I've dealt with them for years and have always had quality experiences. Customer service told me where to get a product, they were out of, that I needed right away. They have been always pleasant, and helpful, such as deciding what products had no chicken by-products in them. She had the correct answers, and my dogs allergies are almost gone. I will shop at Chewy always. They also have free 2-day shipping.

CHEWY gives the best service and the best for your buck! CHEWY is the only pet store that I will purchase my dog food, cat food toys etc., anything else for my guys! Their customer service is the best. They treat you with respect and go out of their way to help. Delivery is fantastic--most of the time. I get my purchases the next day after I placed my order! Food is fresh. Prices easier on my pocketbook than the others. As long as I receive these services, I will be a CHEWY CUSTOMER FOR LIFE!

Good prices on cat and prescription dog food. Fast delivery. Pleasant customer service. No hassles. Door to door service. Excellent company carries a zillion brands of food, treats and everything my cats and dogs need. Plus nowhere in my area carries the cat food my cats love. The price of the prescription dog food and biscuits is much cheaper than the vet's office. Love this company!

Someone is always there to answer questions or deal with issues I may have 24/7 and it never takes me more than 1 call to get anything answered or resolved. Their prices are the best around and the shipping is very fast and free with orders over $49.00.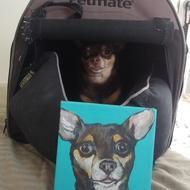 I have never experienced the kind of customer service that I have with Chewy! Every time that I bought anything from them and didn't like it, I was either compensated or told to keep the product and pay the difference of another product. They sent me a card welcoming us and Christmas cards as well. When I sent them a picture of my pet in her new little home that I purchased, weeks later they surprised me with a small handmade painting that was a perfect image of her! I now buy all my pet needs from Chewy and couldn't be happier!!!

I first purchased from this business in 2014. Excellent customer service, as advertised delivery on time. Last year they switched from ups to fed ex. Well first of all fed ex failed to put my purchase on the porch, I was spoiled by ups. It ended up by the trash can by the basement door. It did rain on one occasion and Chewy did replace the item. Now Chewy takes longer to get my orders out on time. I can expect at least a 3 day delivery estimate so far this year. Oh don't even try getting prescription food. So sad this company is failing to rise to better customer service. Must have changed company policies? Management?

Awful customer service through chat. I had asked if they can place an order for me on chat and they said sure. Asked many questions to then tell me that I will need to call. I called, spoke to a manager there to tell them they have to train their reps better and she said YEP. She then decided to tell me she can't place my order because my card is linked to another account? Makes no sense why if I am buying something they won't take my order because I have two accounts. One is for me and one is for my sister. She simply stated since I already had an account I can't open up a different account because they will watch out for my order and cancel it. Nowhere on their site does it say you cannot have multiple accounts. How dare they refuse my purchase.

The customer service is great. My pet is new so I have to call all of the time and ask for suggestions on different things for my dogs. They are great and I thank them for their time. Most of the people here know what they are doing because most of them are pet owners themselves. Their isn't any degree or major knowledge in a book about pets so I think these people do a great job with what they are given.

Chewy.com customer service is great. Always a pleasure to deal with them. Their staff are so knowledgeable, friendly and polite. Chewy.com product quality is always top notch. Fresh food, good quality products. Always use them for my pet food and supply needs, repeat customer here. Has the best prices, and excellent sales. New customers always get a good introductory deal as well. Never a bad deal with chewy.com. Hands down. Chewy.com knows pets and pet supplies and always seems to,know their stock and customers. Always have the answers, which is so nice. Thanks, Chewy.com!

They were extremely helpful showing us what all they have to offer and what would benefit our pets the best! We would highly recommend shopping with them! They offer so many products for so many animals. You can tell right off the bat that their products are high quality as soon as you open their products! Our pets love it and we wouldn't buy any other products now! The value for the price is definitely worth buying it!! It is extremely good food and the other products!! Love how good it all is!! They definitely know what they are going! If they didn't our animals wouldn't love it as much as they do! It is so different than any other pet products!!

I can't speak as to customer service, but it was very easy to use the website! I have heard good things from other people though. I hear that if there is a problem it is usually taken care of very quickly. I went to the site looking for an obscure cat food as my cat has very bad allergies, and can eat very few brands, but I found it at Chewy.com, and it arrived in great condition. Great prices, often costs less than Amazon, even with Amazon's free shipping, especially now that they have raised the ceiling from $35 to $49. Easy to read the descriptions on the site and compare foods, good use of photos of the packages. Would definitely recommend for research.

I had no direct contact with their customer service department. That was a good thing as my products arrived on time and in great shape. They have a wide selection of the top brands of dog foods and they are in stock. They had the food I wanted and got it to me faster than if I had special ordered it through a local store. The large bag of dog food I ordered was $10 less than if I special ordered through local store. Plus it arrived in 2 days with free shipping. They have a wide range of products and can offer recommendations of items that would meet your needs. Good recommendations.

I was asked if I needed help, I told them what I specifically wanted, they then gave me multiple choices with varying prices, but also gave me a brief pro & con of each. I loved the personal help. The low price of the product plus the low shipping rate really made it a deal which is definitely worth getting here, rather than elsewhere. The variety of products with very detailed descriptions and coupled with customer reviews, provide more than enough information of products.

It has really fast service. Unlike most sites, it has live help. One of the best services I've ever used. They are always willing to help whenever I have a problem with the site or my order. Really good quality site. The site was well very well made compared to other websites. Everything functions properly and everything is easy to find. It's really good. It is really helpful. Everything is cheap. Shipping is cheap too. I would use this site all the time when buying pet food. They know what they're doing. They are very knowledgeable when it comes to selling pet food. They are really smart. One of the smartest sites.

Efficient, courteous, knowledge, overall satisfied. The sales person was very nice explaining the different foods for my pet, between the dinner variety and the great selection I was able to choose good quality items... Also I was able to choose different toys for my dog, which he loved very much. I choose different toys for my dog and cat, balls, stuff animals, teeth cleaning, chewy treats, different treats for in between dinner. Great tasty snacks. The value overall is fair and I will shop again. It is important for me to choose a company that my pets like not only for toys but also for food. They are knowledgeable, always researching what is the best for our pets, not only for activities but also for their diet. I will shop again and try their different items.

No issues with their customer service. Was extremely easy to use as well as contact and track orders. Great service, fast delivery. Products arrive intact, undamaged, and very protected from elements and physical damage. Products are all high quality and affordable as well as great sizes. Great value, especially in comparison to specialty pet stores and big box companies. This site has everything I looked for and the prices are amazing in relation to the amount you get. Associates are extremely knowledgeable about their products. They are always willing to help and assist with any questions or concerns customers may have. Customer service is amazing with this company.

I have never had a need to contact their customer service. They have a great site that works fine. I am happy that I have never had to engage their customer service as I have never encountered any problems. They have a great selection of high quality name brand products to choose from. The large assortment makes it easy to choose the quality of product that you are looking for. They have great prices on the products that they sell. Having such great prices on the high quality products that they sell makes the entire process a good value. They really get me as a pet owner. The amount of information that they provide on the products they sell lets me know that they really know what they are doing.

They offer great service and I would use them again and again. I think they are a great company. It's a good product to use and I would tell everyone about their products and tell them they should give them a try. Very good value and I think it's very fair priced and I would tell everyone the deal I think I got. I like their products. They could answer my questions with the response I need and was able to do it in a timely manner and I really like the way they work.
Chewy.com Company Profile
Company Name:

Chewy.com

Website:

https://www.chewy.com/