Consumer Reviews and Complaints

I've been shopping at Chewy and receiving monthly autoship orders for over two years. THEY HAVE THE BEST CUSTOMER SERVICE I HAVE EVER RECEIVED. Whenever I have received an order with any kind of problem they take care of the problem immediately and with a smile in their voice. (I believe FedEx to be the culprit 95% of the time when any damage to a shipment is involved). They offer a wonderful selection of all pet foods, treats, toys and anything else you might need for your pet. Their service is so good I would never think of shopping anywhere else for pet products.

I have had nothing but wonderful experiences with Chewy.com. Products shipped and delivered intact, super quick, and without issues, except for FedEx (see below). The customer service is extremely polite and understanding with returns due to unsatisfactory products or sending the wrong item. They usually won't require me to return the items and tell me to please donate them to an animal shelter. Honorable and generous to say the least. It's a wash for them to save on return shipping and just telling this customer to donate the item(s), but a better policy to donate to shelters.
I don't understand some of the negative, 1 star reviews for this company. It seems as though a lot of the complaints are attributed to bad shipping from FedEx, which I completely understand as FedEx has messed up some of my deliveries as well, and I wish Chewy would switch to UPS. FedEx left 2 heavy "cat tree" boxes outside our gate in the driveway. They were instructed to deliver all packages to the back porch only. I had to lug these huge, heavy boxes to my porch which caused a terrible back strain. But this is not Chewy's problem. It's the shipper, as the driver simply was too lazy to open the gate, carry the boxes 20 feet and leave on the porch. No. They left them outside on an overcast day with rain forecast and left the heavy lifting to the customer. A+ to Chewy. F- to FedEx.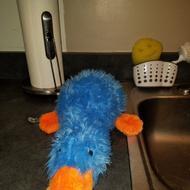 I ordered the other day for my first experience with this company the yellow 13 inch duck. When it arrived at my apartment building it was blue so I picked up the phone and called customer service. The lady was so sweet, was as confused as I was considering they don't provide a blue duck with their company only yellow and then without me even asking ordered me a new one (no cost). Then when I asked if she wanted me to return the Blue Duck she said no she just wanted me to donate it to the closest dog shelter. How could I have asked for a better answer than that. This is a company that truly cares about satisfying your pet not money. My new yellow duck will be arriving Saturday. Couldn't be happier. I will continue my business with Chewy. Good job guys.

I have liked the customer service and quick delivery but when my cat passed away I discovered what truly amazing customer service Chewy.com has. I called because I had received my auto ship order of the prescription cat food after my cat passed away. I thought I would have to pay a shipping fee but at least the food wouldn't be wasted. She was so kind and refunded me for the amount of the food and said I didn't need to ship it back. She suggested donating it to a shelter instead. I was very impressed! I will continue to order my pet supplies from Chewy!

I had to send an email to Chewy to advise them that I could not pay for my shipment on auto ship and wasn't sure when I could. I have four little rescue dogs that I love to pieces. I am partially disabled but I've looking for employment. I got a call from Rachel at Chewy the next morning. She told me that she had read my email and felt such compassion that she told her supervisor and they determined, for this month (Sept) they were waiving the charge for my order. She said that they were sending the whole order, not just the canned food but the treats also. I cannot tell you the impact that it had on me, and most of all, my dogs! To Rachel, her supervisor and the whole Chewy staff... God bless you all! When I get back on my feet, I will continue my orders with Chewy and will order EVERYTHING from them!
How do I know I can trust these reviews about Chewy.com?
884,041 reviews on ConsumerAffairs are verified.
We require contact information to ensure our reviewers are real.
We use intelligent software that helps us maintain the integrity of reviews.
Our moderators read all reviews to verify quality and helpfulness.
For more information about reviews on ConsumerAffairs.com please visit our FAQ.

They were so kind over the phone and when I asked how to send back the item that I had been exchanging, she said that she would like me to donate it to an animal shelter. I thought it was so thoughtful. Probably the best customer service I've ever experienced.

Chewy.com have my pet's food at a lower price than any other place. And the delivery is very quick! I started ordering my pet's food thru this company. It's easy and the prices are great! I once received a bag of dry kitty food, and the bag happened to be open and spilled into the box. I emailed them to mention what had happened, not expecting them to send me another bag. But they DID! Great company!!!

I've been a Chewy.com customer for several years, and am incredibly impressed with them. This is what an online merchant should be. They have very competitive prices, and their customer service (all English-speaking!) is second to none. They're available 24/7, there's never a wait time and they're all anxious to please, friendly, helpful, courteous and (most importantly) competent. Over the years there have been the occasional problem with breakage, or I've made a mistake when ordering something. The company is always willing - even delighted - to help rectify things. The company could easily serve as a role model for any online merchant. I use them not only for my own pet supplies, but keep my friends stocked up. The company gets a 5-star rating from me, and hopefully they'll continue to do well in the age of Amazon.com.

Every order we have had there has been an issue with the billing. They attempted to bill a card they had on file that I had removed from the account each time. By the time I realize that they are not shipping our order we then have to buy food to supplement until it arrives. Then it says it is shipping and customer service says they don't ship on that day and that it is only being prepared to ship. Customer service was rude and blamed me for their mistake for their issue with the wrong billing and that their system says it is shipping. Called two separate representatives and neither took the time to resolve the issue. Canceled account and we will be using Amazon or another service.

Delivery is quick and packed well. However, today when my husband went to lift the bag out of the box, the bag of kibble literally ripped in half and all the kibble ended up on the garage floor. I contacted Chewy and they are replacing the bag free of charge. Amazing!!! I cannot say enough good things about this company. I have 2 large German Shepherds and buying their food has always been something I dreaded. No more running around town looking for their brand of pet food. No more lifting 30lb. bags from pet store to car to home! My deliveries come right on time and the prices are good. I easily make the minimum for free delivery feeding 2 dogs and a cat. I LOVE CHEWY and highly recommend them to all you fur moms & dads. One less thing to stress about!

I decided to give Chewy.com a try after receiving a $15 off coupon in the mail. I read several reviews on this site and everybody had good stuff to say so far. I placed my order on the internet to have a lot of cat and dog supplies sent to my house. I chose to take advantage of the discount to set up auto ship every month but I wanted it to ship on a specific date and that was not an option on the website so I called the number on the website. A very nice representative was on the line and was able to change the auto ship to a specific date and was very friendly and told me a little bit about the company and even told me about her animals and we talked a little bit about our pets. She also informed me when my items will arrive. Because of the holiday weekend it'll take an extra day. Great experience so far and very convenient to know that the items will arrive at my house and I don't have to go to the store. Give them a try.

Chewy.com is far above any other I've used, now I won't use any other for pet needs. I find everything I could possibly want at Chewy.com & for a much better price. If the staff doesn't know about something, they will at least tell you they don't know & try to find an answer. Most companies won't admit they don't know & will give you an incorrect response.
What tipped the scale for me already being fully stocked & honest was compassion for their customers. I had to call in asking about a refund since I lost my rabbit shortly after receiving my order. I explained to the rep that I already donated his treats because I knew they couldn't be returned since I opened the bags & put them in his treat containers. She was SO beyond kind & concerned for my loss, she made sure I got a refund for anything I ordered for my rabbit & told me I didn't have to return any of it. THAT is Way more than I ever expected & now I can donate the rest to someone else in need who may have just rescued a rabbit like I did mine 8 years ago. Thank you Chewy.com!

When I first joined Chewy I was highly impressed with the great prices, fast shipping and personalized care. Chewy sent us a Christmas card and handwritten (yes, handwritten and signed notes) with our dog's name on special occasions. Later on, I had an issue with my order being delivered when I moved and the carrier had lost the package and would not do anything to resolve the issue. Chewy was fantastic and replaced the order immediately. This not only saved me a headache of back and forth emails/phone calls but ensured that my pet was taken care of! Thank you so much Chewy! I would definitely recommend to other pet owners.

My fiancé and I have been using Chewy.com to order dog food for about a year now. We would order the food, 2 days later it would be at our doorstep, no problems. Recently, for the first time, we had a shipment problem; not only did we receive our food 3 days late, it was a completely different product than we had ordered. I called Chewy the next day and spoke to Collette. She had great customer service skills, she listened to my complaint and in addition the complaint that due to the delay in puppy food, our puppy had to eat the other adult dogs food, making us have to replace the adult dogs food sooner now. Colette not only replaced the missing puppy food but sent an additional bag of adult dog food for the inconvenience! We were amazed! Great customer service Chewy! Thank you.

Chewy has great prices and convenience. They have a great selection and I'm able to get everything I need from them. You can set up auto repeat purchases. Recently I had to put my dog to sleep. I contacted Chewy about returning an order that I had not used. They sent me a sympathy message for my loss. That was very personal and I appreciated it very much. I will be getting another dog and will continue to use Chewy!

I've never been one to write reviews but in this case I must!! Chewy.com is the only place to order pet supplies from!! They have awesome products at great prices and I received my order the day after it was placed without an outrages delivery fee!! Thank you Chewy!! You rock!

I stupidly ordered the wrong size bag of cat food. I was surprised when a such a huge bag arrived. I contacted Chewy.com, and they refunded the larger size, said to give it to a local shelter or vet office, and gave me free shipping on the proper size cat food bag. What a fantastic company! I will definitely keep using them for all my pet needs, especially since they also carry the water filters for the cat's water dish.

First, my crate shipped very quickly. When it arrived, I realized what I had ordered was WAY too big. I called the customer service number, and the rep was VERY nice and easy to talk to. I let her know that I would need to order a new crate and she said my refund would be processed within the week. Here's the best part - When I asked how I could return the "too big" one to them, she said it isn't necessary and just to donate it to a shelter or a rescue or someone else who needs one. How awesome is that?!?

I'm very happy with Chewy.com when I order from them. They offer a very nice selection and good prices. I love that I get my order quickly. I have only contacted their customer service once and it was about the company that they used for their delivery service. They took care of the issue and gave me a discount which was wonderful considering it wasn't directly their fault. I recommend Chewy.com to my co-workers.

I was first drawn to Chewy because the litter I buy is cheaper than PetSmart. I have come to love this company. I put some items on auto renew and realized it was too much trying to hit the minimum and have it delivered monthly. I was happy that they sent me an email saying my order was about to ship rather than telling me after they already shipped it so I was able to cancel it when I realized I had enough food and litter. The main reason I am writing this review is because I was amazed with how caring they are. My cat was diagnosed with diabetes so I called to return the food I just bought. She was very friendly and ask me about my cat, what his name was as such. What pet parent doesn't love talking about their animal haha. They told me they would refund me and to donate the food to a shelter. I looked it up to see if this is normal behavior for them and it is plus more. I feel they truly care about their customers.

I have nothing but GOOD experiences with this company! I often send pet supplies to my favorite cat shelter thru direct shipment and Chewy.com has never failed to deliver. Well-operated company! Chewy's customer service is many "cuts-above" - the array of products they always offer, is outstanding! Even the cat shelter I send pet supplies to, thru Chewy, gave them a "shout-out" more than once!

Our cat needs special food due to him being blocked twice in two years. We have had no incidences since switching full time to a specific type of wet food. We always ordered from Pet Food Direct and never had issues for three years. We went to the website to reorder the food but it automatically brought Chewy.com up. I found out later they "partnered" with Chewy, which means they were bought out. We ordered on there, same price and everything, and then we went on our way.
Hours later our vet calls, who we don't visit anymore due to the stress our cat endured while going there and in turn what caused him to be blocked, and said that Chewy called them for a prescription for the food. A prescription? We never needed a prescription before, why now? Our vet wouldn't sign off on the food until we came in. Of course we weren't doing that. We called Chewy up and they said they will not ship that specific wet food out without a prescription from our vet. We asked why they are doing this and if the vet gets a kickback now if they prescribe it, the lady on the phone was silent.
What an annoying policy. Our female cat that has never had health issues also eats this "only prescribed" food and has been fine for years. Our vet in NYC told us it was fine if she ate it. So why is this now all of a sudden a prescribed food? Of course Chewy lost our business. Now we order on Amazon for a few dollars more per order. I'd rather pay the few dollars more than taking my cat to the vet, stress him out, and then pay thousands for another procedure. If I can get the food elsewhere without that hassle, why would I not go that route? Bye bye, Chewy.

I am physically handicapped. Chewy is a blessing because all the products come to me at exactly the same price as pet stores. I can have a family member bring the cat products in for me. I do not have to depend on a family member to take me to the store. The automatic shipping is a great plus since I forget to order things.

On multiple occasions I have received 5 star customer service. This site gives Amazon a run for their money. What really made me want to write a review for them is that if something is broken or arrives missing pieces (which happens!) they will replace it no questions asked. Absolutely no hassle with their customer service. Never change, Chewy. You rock!

I have been using Chewy for a few years now. I am a dog owner who thinks my dogs are family. They are a very good reliable company that delivers the food and also I can buy toys and other items if needed. I have 3 rotties and if I have any complaints about food or toys they take care of any issue without question. I highly recommend them. But to top it all off I received flowers today from Chewy to Thank me for my Business. I prefer to give my guys table food because I want them to have good quality food but I mix it with commercial dog food and Chewy is fantastic! A great Company that cares about their clients! Love them!!

Last weekend my 18 month old French Bulldog choked on a edible bone that I had ordered from Chewy.com. I put a review about the item on Chewy.com and I got a call from a customer representative at Chewy. She was very concerned for Charlie. I wanted to make sure he was okay. They refunded me my money for all of the edible treats that I had purchased from them on my last order. Gave me some recommendations on some other items that they would send to me if I wanted to try them. And then a couple days later I got some beautiful flowers from them hoping that Charlie was doing well and that hopefully the flowers would ease my anxiety. That was one of the nicest things that anybody is done for me in a while.

I never write reviews but feel compelled to do so after my experiences with Chewy.com. I have been on the phone with several employees, several times regarding dog food for my sweet Ellie Bean. Every time I have had an interaction with an employee they have been helpful, courteous and gracious for my business. I appreciate you all so much... You have won over this customer for life!!! Thanks Amanda ** for your help this morning!!!

I had some issues with FedEx delivering my package to the front door. It was left downstairs in the rain. I am a senior and can't carry a 56 pound box upstairs. I notified Chewy and they promptly rectified the situation. They replaced the items at no cost and were extremely helpful. Awesome company. Will keep ordering again.

I have spent thousands and thousands of dollars with Chewy.com for the past few years. I buy half dozen cases of wet cat and dog food virtually every other month and I have had it with their crushed and severely dented cans. When I called CS they told me their warehouse packs the cases and I told them that their warehouse staff should be fired for selling customers cases that have unusable food cans. They offered to give me some freebies and I declined. Don't trust them anymore. They are selling inferior product and clearly NO quality control at their warehouses. Buyer beware.

I would highly recommend Chewy.com to anyone with a pet. They definitely go above and beyond. We recently had a beloved cat pass away. I contacted Chewy about returning 2 unopened cases, plus 2 opened cases, short 3 cans. They kindly expressed their condolences and promptly refunded us for 4 complete cases. They also said that we didn't need to return the food, but instead donate it. This really is great customer service! More companies should be like Chewy.com.
Also, I hardly ever write reviews, but I felt like this time, I had to. :)
Chewy.com Company Profile
Company Name:

Chewy.com

Website:

https://www.chewy.com/