Consumer Complaints & Reviews

Purchased new bag of Blue Buffalo Small Breed Adult dog food. I clean out my Yorkshire Terrier's bowl every morning before feeding. Opened new bag and put the normal two each of 1/4 cups of food in her bowl. She will only eat while I watch her. Luckily, this one time she is this spoiled. As I was watching her I glanced down and saw a piece of glass in her food. I immediately contacted Blue Buffalo with the info. He offered to send me treats for my dog for the problems. I refused because I am very particular as to what I feed my girl. They wanted me to send them the glass. I again refused this request but sent pictures of the glass. I have heard nothing from the company and now realize it all has to do about revenue and not about the health of all animals nationwide. After reading some of the reviews listed on this report I feel as though a class action lawsuit is in order. These animals are our family and not something for this company to experiment with.
I, for one will not stand back and allow Blue Buffalo to kill my dog by not being concerned about glass being in their food. My dog has also experienced the issues of vomiting, loose stools and mucus in stools. I have also been told she has pancreatic issues. People, are we going to waste our time on here griping about our animals dying or do something about this cut rate expensive dog food company. I for one am taking action. They will NOT kill my dog. If you would like to join a class action suit, contact me at: **. They will not stop until we, the people stop them.

We got our 2 chihuahuas 5 months ago (they are almost 7 months) and they had lived for the first 2 months on Royal Canin, but we thought we knew better when they came to live with us. We switched to BB chicken and rice life protection small breed puppy a few days after we brought the first one home. She loved it, ate it happily and we noticed her urine was bright yellow and her stools had mucous but still hard. When we brought the boy home, he loved it too, ate it with vigor. It wasn't until we took them to get groomed that we heard about the past recalls. We switched them after more research but they didn't like the food we put them on so back to BB as that was better than nothing because they refused to eat.
A few weeks ago our girl started dry heaving, liquid poop with mucous, and she wasn't our vivacious girl. We took her to the vet and he thought it was pancreatitis or an infection. She had to stay overnight to get iv liquids, came home with Anti-nausea meds, antibiotics, heartburn medication and was told to either feed her vet wet food or plain boiled chicken and rice with the probiotics sprinkled in. We believed it was an infection until we switched both to the wet and dry vet food. Normally we would transition but we took them off BB immediately. Not only is our girl vivacious again, their urine is a nice pale yellow, and our boy's poop's been solid. They haven't played this hard since they fought for dominance.
Please get your fur babies off this food before they get sick or worse die. We talked to a rep of another dog food company and they told us that yes BB has chicken as the first ingredient but they usually use wet chicken which weighs more. Blue Buffalo was also sued awhile back for not using the ingredients they promised. We thought we were giving our babies the best and we almost killed them.

Bought this food thinking it would improve my puppy's coat and because I bought into the hype... but my healthy puppy began throwing up and had diarrhea. Took her to the vet, then the ER... and 700 later, it was antibiotics, a water pack under the skin, probiotics and anti-nausea meds, boiled chicken, and white rice for 7 days. Then back to the same dog food and now she's vomiting again. Vet says discontinue food immediately. Never buying this again.

The Blue Buffalo Wilderness Chicken is the only dog food brand that we have used for our dogs (2 mini Australian Shepherds aged 2 and 3). They both seem to have reoccurring loose stools and diarrhea. The 3 year old seems to suffer from these more frequently and has also been experiencing constipation issues as of late of which I am very concerned. We have tried abstaining them from the natural biscuit treats we use (different brand) but the above mentioned problems have persisted. I can only assume that it is the food that is the problem.
I cannot pinpoint what the exact problem with Blue Buffalo would be - potential problems could be: overseas suppliers, contamination, mold, quality of ingredients etc. Additionally, I have read similar reviews from users of the Blue Buffalo brand and their dogs have also experienced diarrhea, vomiting, and other negative symptoms, including death. This is too scary of a risk for me to take with my dogs which I value above everything else.
With that being said, I am seeking to discontinue use of this product immediately. Furthermore, about 1 year ago our 3 year old had experienced blood in loose stool. Our veterinarian prescribed a probiotic along with an antibiotic; thankfully, the issue cleared up in regards to the blood anyway. I chalked this up to him having a "sensitive stomach" or IBS. But after further research, I am almost certain that he does not even have a "sensitive stomach." It is the Blue Buffalo food we are feeding him that is causing all of these problems.
This food should be taken off the market immediately. It has been sensationalized so heavily in the media and other places that people fell into the trap of believing it to be the best dog food on the market which it is most certainly not, I am disgusted that I happened to be one of the people fooled. DO NOT feed your pets this brand of food/treats/anything they produce. While your dog may initially seem to thrive on the food - each new batch is different and carries a risk of causing serious health problems.

I have 2 dogs – a 6 year old German Shepherd / Border Collie mix (Sadie), and a 4 month old Goldendoodle (Sydney). Both LOVE their Blue Buffalo! Sadie was a rescue at 2 years old, and has flourished with BB Wilderness Salmon or Duck. Her coat is soft and shiny, beautiful teeth, and no internal issues at all. Syd kept trying to eat her food all the time so we ended up switching her to BB Wilderness puppy food – and she loves it :) Just remember – different dogs have reactions to different foods. Tried my oldest on Natural Balance, Orijin, etc, and she had issues, even though it is a high quality food. You might have to try a few different foods to get the right one for your furbaby. I highly recommend it to anyone.
How do I know I can trust these reviews about Blue Buffalo Pet Foods?
592,862 reviews on ConsumerAffairs are verified.
We require contact information to ensure our reviewers are real.
We use intelligent software that helps us maintain the integrity of reviews.
Our moderators read all reviews to verify quality and helpfulness.
For more information about reviews on ConsumerAffairs.com please visit our FAQ.

I started feeding my Schnauzer Blue brand food after he tired of the other brands. Within a few weeks, he beard started to turn really dark as well as his paws. Now after about 5 months, he got really sick with pancreatitis and colitis. I never feed him table scraps of any kind. Vet said she has been hearing bad things about Blue. I should have listened to the pet store owner as she said not to feed any animal Blue. Well, now after $1600 in vet bills, I am nursing him back to health. Blue is bad food to give to your pets. Our vet agrees that with his history it had to be the Blue products. Never again. I make my own now!!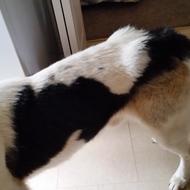 I have a purpose breed border collie and his son Shepherd border collie. About 6 months ago I switched our babies to blue menu and it's been horrible ever since... hair loss... smelly ears diarrhea and 27 pounds lost. My Shepherd has been affected a lot. The vet bills and food are horrible and agree a class action suit should be done. If these were humans getting sick something should be done. My poor dog is now on hamburg rice and carrots for last 3 months. Anyone know how expensive hamburg is omg. But we love our babies and will do all we have to but all these poor fur babies and owners should be compensated. WE TRUSTED YOU AS A PET FOOD COMPANY AND YOU ARE KILLING OUR ANIMALS A SLOW AND TORTUROUS DEATH. As you can see by photo his bones are still sticking out. Thanks to my vet she has him on a GI dog food.

I had a 12 lb yorkie that got very sick. I was told he had pancreatitis. When I look up pancreatitis it stated they can get this for being overweight, bad diet, and feeding your pet off the table. My dog was not over weight, did not eat people food only ate Blue Buffalo food. Then I decided to go on consumer affairs and that's when I notice other people with yorkies had the same issue. I'm not saying it was Blue Buffalo Dog Food. Just keep watch over your dog.

Recently I purchased several cans of BB Wilderness cat food. Upon opening one, the odor was horrible and there were maggots. I opened can 2...same thing. I took pic of the maggots LIVE and of the lot # and use by date. Then I notified BB and was told, it must be a storage issue which they could not control after leaving processing. I explained this was CANNED containers not dented or opened. I again sent them all picks. Received an email apologising and would send my cats some treats! Really? Today I receive one packet of treats worth $2 retail. I paid more for my 5 cans which I threw out. Terrible. Will not be purchasing their products again.

My two young shelties are healthy dogs. Virtually never thrown up. After feeding them Blue Buffalo Health Bars they both began vomiting yellow foam the next day. My male dog also began having soft stools. Not sure about what made them sick, I kept giving them the biscuits. The vomiting continued. The flavors I fed them were banana/yogurt and apple/yogurt. Both dogs are fine but need to be monitored.

I also have a Yorkie that has been periodically having mucus stools and skipping meals. Most recently started 'prayer position' and foamy vomiting. After blood work and X-rays to rule out bowel obstruction, she's diagnosed with pancreatitis. I don't know if it's the food that caused this, but after their history, and BB causing diarrhea in my uncle's dog, and other questionable suspected problems I find online, I'm done with any BB product.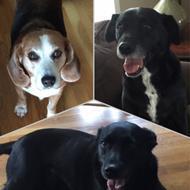 I've been reading all of the negative reviews about Blue Buffalo dog food and felt the need to relate our very positive review. We have two mixed black labs that we've had since they were puppies; they are now 7 years old and have been eating Blue since not long after we got them. They were originally on another dog food and one of our girls started losing hair and scratching herself all the time.
Blue was recommended to us by a friend and within 2 weeks the puppy that was scratching and losing hair was like a new dog. Both of their black coats became very shiny and they've been healthy ever since. We recently tried switching to a less expensive dog food only to see our girl's coats become dull and their skin flakey, not to mention them having diarrhea. We quickly switched back to Blue and once again the girls are doing great! We also have a 12 year old Beagle who has now been eating Blue since we inherited her 4 years ago and she, also, is going great on Blue.
It saddens me to hear others talk about how bad Blue has been for their pets. Perhaps the food is to blame but there are others of us who like how it keeps our pets healthy. I guess every dog/cat is different and each has their own needs. Fortunately, our girls need and like Blue... it's just our bank account that suffers from feeding them Blue because it is not cheap!

I have been using Blue Buffalo for my two boxers their entire lives. One is 6 yrs old and the other 1. They love it and have had zero health issues related to diet. I recognize the ingredients and feel that is the best place to start!

I am not a review writer. That being said I change to Blue Buffalo thinking it would be healthy for my cat. Within 2 weeks my very healthy cat that in 6 years has had only one ear infection for any kind of illness started throwing up and not eating, drinking or going to the bathroom. They have ran every single test on her and have done x-rays to make sure there's no blockages. There is nothing wrong with this cat except like my vet said most likely the food that I switched her to. Please, please, please it hasn't even been 2 weeks and this is what happened to my cat. I couldn't even imagine if she was on it for a prolonged period! I don't understand how they are still selling the crap except money can do a lot of things. I truly believe this food is killing family pets.

We switched our 4 month old German shepherd husky to the BB life protection plan dog food, and the first 2 bags were fine, but when we fed him the third bag of dog food, he was vomiting, and had severe diarrhea several times a day. We fed him rice and mixed in a new brand and his stool started to firm up again. Don't fall for their stupid commercials like me and probably some other people!

My dog just turned 1 year old in July and has been back and forth to the veterinarian with overnight stays for the past month. Diarrhea, throwing up, scratching, skin rash on her tummy, ears and between her toes, disoriented and hiding in corners. After over $2,000 in vet bills, I now know the problem from reading this website and Dog Food Advisor website.
Every time I took her to the vet and she was put on a special diet food, fluid drips for dehydration, med drips and many different oral meds, she would get better. Then I would give her the BB when she was well and what do you know, sick, sick, sick and back to the vet. I never imagined it was the food I was feeding her. I feel so bad for her and hope she makes a full recovery after our trip to the vet again this past week. What a relief to finally know what was causing all of this. I would like to file a claim for reimbursement from the BB company for her vet bills. Can anyone give me direction on how to do this?

Because of all these commercials that "prove" Blue Buffalo Pet Food is superior, I purchased a bag... and within days, my dog threw up yellow (condition of pancreatitis) and had diarrhea for several more days. I think I'll have to go back to my other food.

Wish I had read these reviews a few months ago. Due to mild digestive upset, I switched to this and it was a tragic fail. Urinary blockage, expensive Emergency Animal Clinic, multiple catheterizations and suffering on the part of our family pet. The only difference in their routines was the Blue Buffalo product the past two months. Big mistake and we almost lost him. Will never feed our male cat this food again. If it was $500 a bag, it would have been less expensive than this past weekend.

My 11 year old pug with no history of bladder issues developed oxalate stones after we switched him to Blue Buffalo Senior Food. When he was diagnosed, the vet told us she'd seen a huge increase in bladder stones over the past few years and 9 out of 10 were on the Blue Buffalo food. Since his diagnosis I've found countless stories online under the same circumstances - pets on this brand developing stones or sometimes worse health conditions. A friend of mines dog was diagnosed today with stones. She had just switched him off BB because of my experience. It's disgusting that so many pets are developing health problems on this food. It should be banned.

Bought one small bag and my yorkie loved it. After second bag begun to turn away. Became nauseated, lethargic and very sick. Took to vet and has pancreatitis. Vet said he had other dogs that had problems with Blue Buffalo Dog food. Don't feed to your dog especially small dogs. He is getting better. I was shocked how many bad reviews this food had with same symptoms as my dog.

My 125lb pure bred Chocolate Lab, Torque, has been on BB since I got him at 8 weeks old. Never had a problem with him getting sick or runny poop (sans a bout of Giardia). He love his BBC. Only time he has ever turned away from his food is when I didn't give him his 'gravy' (hot water) on his food.

I had 2 gray male cats with white markings. The 1st one Smokey had urinary track problems with this food. I had to change to prescription urinary food. He was very sick while on the food. Then Boots who I have now, after becoming 5 yrs. old we adopted him from the Humane Society. No record of health problems. We had him 4 months and he came down with bad urinary problems. We had put him on the same Blue Buffalo food. He ended up in the hospital for 2 days. We ended up paying over 700.00 for the stay and new prescription urinary food. I would think this Blue Buffalo food is suppose to be so good, that the ash would be very low in it. I could not believe the same thing happened twice. Very disappointed in this food, and this company.

My pet after a week in it very bad diarrhea. Drinks lots of water that remained normal but color changed. Poor pup pee stayed dark. Switch after 2 weeks to another brand. Things cleared with doing that and aid of med along with being told to not go back to this product. Also we had to give pup **.

I fed my baby boy the blue buffalo wilderness cat food for indoor cats. Now I do not have my baby because he is passed away from urinary complications!!! He was not quite 3 years old! How could my cat get that sick... blue buffalo! That's what my vet said. She had to euthanize several cats and dogs because of same reason! I will never buy this product ever ever again! It is crappy food and they should be held accountable for my baby's death!

My dachshund first got sick in February 2016 suffering from severe vomiting and diarrhea with blood in his stool. Vet visit and testing showed that his intestines were just torn up so we started antibiotics and special medical food. Symptoms went away and he started doing better but still would shy away from his food and was disinterested. His food was BLUE BUFFALO WILDERNESS. 3 months go by and during this time he would have firm stool or soft... very soft stool. By mid-May he was lethargic, very sad eyes and was never excited to eat... It was starting again. By June 1st he was vomiting, having lots of mucus and blood in his stool and a fever. Back to the Vet. Another $250 later and the same treatment as February but this time the Vet tells me I got him there just in time and that his intestines are all torn up but we're didn't understand why. But we're now considering that the food he has been eating is a possible problem.
He started feeling better after a week and we returned to feeding him his food BLUE BUFFALO WILDERNESS... A very expensive food. On June 28th I found vomit with grass and bloody mucus in it and he walked away from his food that morning... Sad eyes and ears hanging low... He didn't feel good again. Four hours later when I return home, I found 3 room in my house having piles of RED bloody diarrhea that had the foulest odor. This blood was straight blood in areas so we rushed him to the emergency vet clinic and after another $300 and the same treatment the emergency room vet asked me what food I was feeding him and I told him the Blue Buffalo Wilderness and he immediately said "Throw it out. It is junk and making him sick." He also told me that he had been seeing more and more of these cases lately.
I almost lost my beautiful sweet dog but he is starting to look better today so I am hopeful he will make a full recovery but the vets are concerned about the damage to the pancreas. We are still on medical food but I have done a tremendous amount of research and I will be feeding him Wellness Core from now on. I emailed the company but have not received a response yet... How do we get a class action suit gong against the makers of Blue Buffalo? As you can read all of these horror stories, something needs to happen to this company.
People are out a lot of money. The health of all of our precious friends had been unnecessarily compromised and yet worse, some have lost the dear pets. We need to get the word out or stand in front of pet stores with signs against Blue Buffalo food and possibly attract the media by doing so. This company had just settled their first class action suit and now this is happening to our pets due to their product. We need to stop them from doing business so I hope there is someone reading this who knows how to get it going. Tell everyone you can: DO NOT FEED YOUR DOG BLUE BUFFALO.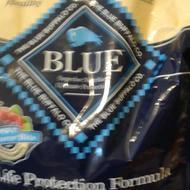 I have an 8 yr old Pom who's been on Blue Buffalo Life Protection for about a year now. About 3 mo ago I changed it to the Senior Chicken and brown rice formula and she was loving it and fine. I bought a new bag about 2 weeks ago and gave it to her. For some odd reason she doesn't want to eat and when she does she has loose stools and vomits. I saw there is a recall for the fish but not for chicken. I'm worried and would like to know if there is a problem with the chicken dog food too that they're not aware about.

Blue Buffalo puppy food for large breeds began making my 5 month old puppy sick end of last month (May 2016). He had been eating it with no issue for 2+ months and suddenly had serious bouts of diarrhea, disinterest in eating the food, and periods of lethargy. After several visits to our vet, on and off chicken and rice diet, a lot of $$ for the vet visits and prescribed medications, we tried a switch in food. Picked up a bag of Eukanuba brand puppy food Monday and we have definitely found the root of the problem to be the Blue Buffalo. He is now very excited about his food again, has more energy, and he's no longer having bowel issues. I will never purchase BB again and have warned two other new puppy owners to avoid it.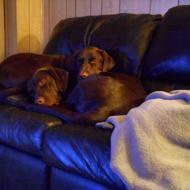 I have 2 chocolate Labs. About 2 years ago we noticed the dogs seemed bored with their food and weren't eating as much as they should have been. At first we started mixing pouched chicken in their food to entice them. That worked but then they wanted the chicken all the time. (spoiled dogs). We decided to try changing dog food. Started them on Blue Buffalo. Worst thing we could have done. The female had the runs and the male lost nearly all his fur within 3 weeks and had a rash on his underbelly. We could not figure out what was wrong at first.
Took the 2 of them to the vet. He told us he thought it was an allergic reaction and asked if we changed anything in their diet. The male lost approximately 60-70% of his fur. We put them back on Fromm and within a few weeks his fur was coming back and the rash was gone. Blue Buffalo is junk. Started reading complaints online and there are a ton of them. I can see why. Both Labs now have gorgeous coats and people always comment on how good their fur looks. DON'T BUY BLUE BUFFALO! You may regret it forever when you lose your best friend.

My cat, for approximately 3-4 months has been having trouble throwing up after eating. I was thinking that since he was a medium haired cat that perhaps it was due to shedding his winter coat and hairballs. I have been feeding him Blue Wilderness dry & canned cat food since I got him 7 years ago. I never had a problem until about 3-4 months ago. Specifically this week, every time he ate the Blue Wilderness Salmon Recipe canned food he would get sick afterward. After several times of this happening, he didn't want to eat it anymore.
I opened a different can, and he was o.k. Then had him try the salmon one more time, and a few minutes after eating he got sick again. His stools for about a month now have been loose on and off. After reading the other reviews, I think I will be taking him off of Blue altogether. He has lost a lot of weight in the last 4 months, and I just wasn't connecting to his food until now. I am praying he will be alright. Am going to make his food fresh, at least until he starts feeling better, and ask my vet for advice.