Consumer Complaints and Reviews

Started feeding get my Shi Tzu Blue Buffalo because of food allergies. After a few weeks he was throwing up, extreme diarrhea with blood, not eating or drinking and lethargic. Took him to the vet and he stayed 7 days out of 2 weeks on IV fluids, antibiotics and nausea meds. Had to take him 2 states over to a internal medicine vet. He had x-rays, blood work and an ultra sound. I've spent $1,050 trying to get him better. They put him on different food and he's slowly getting better. This dog food is poison! Do not feed this to your dog!!

I have been feeding my dogs (Shetland sheepdogs) Blue Buffalo life protection formula for about a year. The last bag that I bought, chicken and brown rice, my dogs do not want to eat it. I have noticed that they have gas that is very foul smelling. I wonder if others are having any issues with their lots? My lot # is AH 2 D 0106 expiry Apr 16 18. I am almost afraid to keep them on it. They are only eating the soft food that I add to the hard blue buffalo kibble.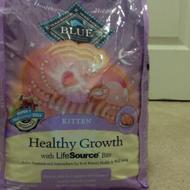 This so-called "premium" holistic pet food has a Class Action Lawsuit against them that very few Pals Members, PetSmart and Petco reward consumers knew about. Https://www.petfoodsettlement.com. I was one of all three of the above groups and was never notified. The only way I found out about it was through a relative, who only purchased a few bags of the food. Obviously, I wasn't notified because I had a greater stake in the claim process.
That being said, I didn't piece the entire scenario together that this food caused Hyperthyroidism, Liver Cancer and Asthma in 3 of my cats. ** It's a shame that greedy, self indulgent individuals not only get to hide behind a Class Action Lawsuit and conduct business as usual, but to use household pets who are family members to most of us to make money and kill innocent animals who don't have a voice or a choice of what they are given to eat.

We have 3 dogs. One was having a food allergy issue with our old dog food. So, we heard the commercials claiming how healthy Blue Buffalo was for your dogs and we switched even though it cost close to 3x the amount of the old dog food. We figured if it worked then the money was worth it. Within 3 bags we realized that the one dog that was already having issues had gotten so much worse, he developed severe hot spots on his chest, feet and face. He was lethargic and anti-social. He also seemed to avoid eating. The other dog that was previously not having any problems became lethargic, developed a hot spot and was always itchy. He also, this is what really scared me, was having trouble peeing. The third dog looked marvelous but we realized she was putting on too much weight too quickly.
Finally frustrated and scared I did some research on Blue Buffalo. All three dogs exhibited different reactions but those reactions can be found among the reports listed. We immediately took all the dogs off of the dog food and started giving them people food. Within 3 days there was a HUGE difference in all 3 dogs. No more lethargy, hair is growing back on the hot spots, and no trouble using the bathroom. Please do not even consider purchasing this poison! I will be filing complaints with the BBB, my politicians, and the FDA or whoever handles these things. I can't believe I was paying 65 dollars a bag for POISON!!! Buyer beware!

My dogs seem much more satisfied Basic Grain Free Buffalo and they love it and they seem much happier and they do not shed like they were before on other brands... They do need their nails clipped more often. Great nutrition. I pay around $45.00 for a 40lb bag, but can get the chicken flavor for $29.. The buffalo flavor is much more satisfying.. I just wished it was not so expensive as it is much better for my dogs' digestive system. I have two 80lb each Hound Dogs I rescued and they love this food. Can't we find an alternative to prices, these babies are so special to us, yet good food for them is not affordable.
How do I know I can trust these reviews about Blue Buffalo Pet Foods?
692,550 reviews on ConsumerAffairs are verified.
We require contact information to ensure our reviewers are real.
We use intelligent software that helps us maintain the integrity of reviews.
Our moderators read all reviews to verify quality and helpfulness.
For more information about reviews on ConsumerAffairs.com please visit our FAQ.

Hire young kids with a great pitch to hand out little samples of this poison food... I never had a problem with my doberman until now. I hope the executives are happy ripping off consumers with their bogus dog food... I just hope I can switch back to my original dog food with more problems. Anyone who uses this stuff be prepared to stay up nights taking dog out, missing days of work taking dog out and paying a carpet cleaner to clean the feces out of your carpet and also cleaning the watery feces from under his tail... EVIL HOW LOW PEOPLE WILL GO TO MAKE A DOLLAR IN THE USA.

I switched my Bichon Frise to Blue Buffalo small breed food because he lost interest in the food he had been eating. For months, he would have on and off diarrhea and would not eat. I would put him on a bland diet and he would bounce back. Then, he had diarrhea with throwing up. He had to be hospitalized and the vet could not diagnose his problem. My daughter did research and found MANY similar circumstances associated with dogs eating Blue Buffalo dog food. After moving to a dog food that research said would not pose risks to him, he has not been ill since.

I purchased "Blue Buffalo Wilderness Red meat Healthy weight" 4lb 2 days ago. My 3 dogs are picky so I have to try small bag first and slowly switch another brand all the time. I have been feeding "Rachael Ray" dog food which my dogs love it. But I change every 6 month different brand and I fed them Wilderness before so OK! Let's try "Healthy Weight". I always always check smell first so after open, I put my face into the bag... I saw bugs inside!! So I went back to Petsmart then I grabbed another bag then opened at the cashier. It was more bugs inside. OMG! I never seen bugs in dog food in 7 years. And it's expensive one. I paid $23 for "4lb". I want everybody check carefully when you opened. Never open dark place. You may not see it.

Just switched my dog from Pro Plan to Blue Buffalo and he loves it. I like that the senior food includes glucosamine which my vet recommended. My dog has been eating the dry Blue Buffalo & leaving his can good.

Have to order online due to not available locally unless you have military access. Feed them to my eight Shih Tzus. They like to eat the dry dog food which is not grain free mixed with wet canned dog food. Currently feeding them the fish with sweet potato or the hearty beef stew wet canned dog food with the chicken and brown rice dry dog food as a repeat delivery every two weeks. Their bowel movements are log like and the smell isn't as strong compared to other types of dry and wet dog food that was given in the past such as Purina brand dry or wet dog food. They would gag after ingesting what was eaten. Their fur grows quickly as well as their nails which prompts them grooming services about every month and a half.

Had a very healthy Yorkie 10 years. Just left vet with full healthy dog. Only suggestion was to switch him to soft food cause of his teeth. Bought Blue cause it was most expensive. Thought it was the best. Did not do my research. Dog was in excellent health till about 2 weeks on Blue. Within one week after he lost over half his weight and passed away. I know he was not a puppy but he had the energy of one prior to Blue dog food. I highly recommend that all review this garbage before you give it to your pet. I absolutely do not believe in my dog getting sick and passing over short period of time.

When I transitioned my pet over to Blue he wouldn't eat it. It took over a week before he finished his serving. It's better now. He prefers it softer so we add a little warm wet food to enhance the flavor.

I have 2 dogs, a 13 yr old and a 3 yr old... They both love the Blue Buffalo food. They both benefit from the vitamins and antioxidants. Their coats are shinier and softer. They love the taste and it is good for them. It is the best food. No grains, real meat, high protein. And vitamins/antioxidants. Who could ask for more?

Switching Blue Buffalo was the best thing that I ever did for my guys! Their coat is in better shape --- soft, not dry and very healthy looking. It is much healthier for them and very nutritious. Everything my dogs eat is from Blue! It is a pricey, but my kids are worth it!

When we got Luke, I researched what food is best for him. The ingredients are the most important. They seem to use good ingredients without having a lot of useless fillers. I also looked at reviews from many websites. Even though Blue Buffalo had a few recalls, I felt they met most of what I felt was the best food on the market. Luke seems to like it, and I am happy with their product.

I have two female wolves and a large breed Alaskan malamute, all of them like Blue Buffalo. I started buying this brand six yrs ago when I got the wolfs, I was told by the vet not to give them dog food with soy in it. I never noticed before, my malamute seems to like it best also.

Really thought I was doing a good job feeding my dog strictly Blue Buffalo chicken. He has been on it for 8 months when Nov 2016 he started having trouble peeing. Thought it was a urinary tract infection but soon discovered he had a large stone in his bladder. Currently this stone is in testing so we can find out what cause this. 2,000.00 dollars on vet bills and dog will be on CD formula from Science Diet. BUYER BEWARE. FOOD SHOULD BE TAKEN OFF THE MARKET.

Upon deciding to change our Golden Retriever's dog food, we selected Blue Buffalo Freedom Beef dog food. We started with a very small amount mixed in with his regular dog food. That night our dog became extremely agitated and started pacing the room with very foul smelling gas. We could hear his stomach gurgling and churning and he started making a strange noise from his mouth. We immediately went outside with him, and he began to vomit. During the night he again became sick and had diarrhea all over our house. We found him under the Christmas tree - hiding and ashamed. We immediately started him on a rice and chicken diet for the next two days and he returned to good health. We thought it might be the new food, but couldn't believe such a small amount could make him so sick. On the third day we tried 1/8 cup with 1 cup of his regular food.
We began to smell the foul smelling gas, heard the rumbling and grumbling in his stomach and immediately took him outside, where again he had loose diarrhea. We returned to the rice and chicken diet for the next day and started him back on his old dog food the second day. He seems to be feeling much better and I type this review. Lesson learned - NEVER again will we buy this brand of dog food! We have a wonderful program here in our city where the Meals on Wheels delivers food to the housebound Senior Citizens and also delivers dog food to the house if the housebound senior has a dog. It is a wonderful organization and is entirely funded by dog food donations. Many housebound seniors have dogs who are their only companions. I will not even donate this full 30 lb bag of dog food to this wonderful organization. Shame on you Blue Buffalo.

A couple of years ago I was looking for a different cat food to feed my 3 cats as the one I was using was being discontinued. I decided to try Blue Menu based on their TV ads. It sounded like the perfect food. Well, two of my cats didn't like it but the third loved it and couldn't seem to get enough of it. I kept a separate dish of food for the other two hoping I could convince them to eat Blue Menu eventually too. Mocha, the cat that loved it, within a short period of time, about 3 weeks, started having health issues. He became lethargic, his coat became dry and lackluster and his eyes dull, he started losing weight and then he started to have seizures. A visit to the vet and blood tests showed nothing abnormal and the vet told me to keep a journal and closely monitor him.
I then began to realize that this all started when I changed his food to Blue Menu so I immediately stopped feeding it just in case. It was the only thing I could think of that was different for him. Once I stopped the food he stopped throwing up and did not have any more seizures. It was a long slow haul, in fact it took months, but he gradually gained back his weight, got the shine back in his coat and a brighter look in his eye. I firmly believe that had I continued on with that food he would have been dead within two weeks. He was 15 at the time and is 17 now and a healthy boy. I was fortunate at the time that my other two refused to eat the food. I have read that the Blue Buffalo company doesn't even test their products. It infuriates me when I see their ads on TV and consumers are bombarded with them. Please do not feed your animals any of their products. It may not affect them the way it did mine but it isn't worth the risk.

I have been feeding my dog Blue Buffalo for the last 5 years. We switched our dog to the senior food about 1 year ago and never had any problems. The last bag I purchased (about 2 weeks ago) from PetSmart have cause our dog some issues. She has repeatedly vomited after eating. This has never happened before. We have stopped giving her snacks and treats since she got sick to try and figure out what is going on with her and we have concluded that it is the dog food. We have been limiting her food to watch when she eats. She is not eating much because she knows what will happen...absolutely heartbreaking to watch her. We will no longer purchase Blue Buffalo and will make sure everyone we know will know why!

This food was all my dog's littermate ate. He's obese which is sad because they are a little over a year old. Since Blue Buffalo was on sale and my dog is a picky eater I figured she would like it because her brother just chows it down. She actually did like it BUT after a few days there was a smell in my house. I thought my dog had pooped in the house. It turned out that she was passing gas that smelled horrible. I asked my buddy about her brother and he said he changed food because of it. I thought maybe this will pass. I was wrong. My dog's stools began to get looser to the point I started to get really worried. Then she had a bout of diarrhea. She also started scratching herself silly, something she never did before eating Blue Buffalo.
I took the food back to the pet store, switched her back to her previous food and no problems. With all of the advertising that Blue Buffalo does you think they could make decent food. I do not consider a dog food that causes a dog to pass gas and has poop so loose that you can't pick it up to be acceptable. Plus the large volume of her stools suggested LOTS of fillers. For a expensive dog food I find this totally unacceptable. BTW her previous and everyday food is not related to Purina in any way so that debunks that conspiracy. She is back to her normal self, I received a full refund from the pet store so I am not out anything. The only thing that bothers me is I put my dog through a rough time feeding an overhyped and overadvertised food. Whenever I see the Blue commercials I think "feed your dog the OTHER food". You will avoid problems.

I read several reviews before writing this COMPLAINT. My lab became very ill several weeks ago - chronic diarrhea, lethargic, weight loss, dehydrated and the list goes on. Spent close to $2,000 in vet bills for tests, X-rays, ultrasound, hospital stay and medicine. Would not eat. The ultrasound revealed that his intestines were inflamed and his blood proteins were very low. Tried plain boiled chicken and rice. Realized after he ate the Blue Buffalo Senior Chicken and Brown Rice he immediately went outside and was horribly sick. Spoke with vet and immediately stopped feeding the dog food; however, I was still giving him Blue Wilderness treats.
I had to go out of town and paid for someone at my vet's office to stay with my animals. He immediately made the connection with the treats making him sick. Bear was scheduled for a $4,000 surgery to biopsy his intestines this week. Thankfully I received my Christmas wish/miracle and he is now doing much better on prescription Purina dog food (yep the brand that Blue says is so horrible in their commercials). I beg you to stop feeding Blue to your fur children!!!

First time to purchase Blue Buffalo. Very upset that after giving my 4 yr old Maltese only one of the weight appropriate dental bones she became near lethargic. She barely walked... walked as if drunk. Completely not herself! I will be returning the product and never purchasing from this company again! Please take this as a warning on this product!

My cat started scratching as if allergic when started on Blue. She got diarrhea and she then refused to use the litter box for bowel movements. Was put on 10 day regimen of ** and on day 8 got better. But she now acts leery of me due to thinking I am bringing more med and she clearly has been traumatized. She is petite but has good appetite even now but my vet said "No more Blue Buffalo". A lot of his patients have been ill. Don't have to tell me twice. She is still not quite herself but I am feeding Nutrisca chicken formula by Catswell available at Chewy.com but my grocery store carries it too. I have 4 cats.

My little Maxwell, well he is 15 pounds of love, had such a hard time enjoying his food. I even went to the vet to get him a bag of food they recommended. I then decided to get a bag of Blue Buffalo for cats and he LOVES his food. I literally have to get him to slow down and he runs to the bowl when I fill it for him. I have read the reviews and do not understand where all this is coming from UNTIL I read a competitor is suing them; now it makes sense... When you start reading the reviews they all sound the same... Will I stop buying Maxwell his food? No way and I'm sure he would drive himself, if he could, just to pick up a bag.

A friend recently commented that I was feeding my dog an "extremely terrible" product. I did some research and have been on many different sites. There appears to be a broad spectrum of comments but on this site the majority are negative. I couldn't be happier with Blue Buffalo. Our dog is healthy, energetic and silky soft. My daughter and dad also feed Blue Buffalo. Both of their dogs are doing great and look amazing. Just wanted to offer a positive review.

My 11 year old papillon has been suffering from chronic diarrhea and vomiting from eating moist food for the last three years. I decided to switch her over to a dry formula. I was given some samples at a pet store for Blue Wilderness. At first she wouldn't eat it. However, I was determined and she started eating Blue Wilderness, chicken recipe, slowly but surely. Lately, I've been seeing that she becomes lethargic after eating and starts biting herself (she has no fleas). During the night I placed my hand on her side and felt small tremors. She did not have these prior to eating this food. Could this food be causing the tremors? I'm afraid that if I continue on this food, that the tremors will get worse and become seizures. Has anyone had this same issue? I switched her over to another brand of dry dog food this morning. I am very concerned about all these side effects that I am reading about-- from eating any Blue Buffalo, Blue Wilderness products!

My Great Pyreneese is a 3-year old rescue and very undernourished when we got him. Blue Buffalo is always my food of choice. Blue Buffalo Basic, Lamb and Potato, for large dogs. All the necessary vitamins, minerals needed. Was not long and you could see the difference---his eyes were brighter, his coat soft and healthy and so much energy! I've been using Blue Buffalo for a long time and all my pets are healthy and beautiful! They have a variety of choices. It is a little pricey, but my guys are worth it and I know what they are eating is good for them!

I have been using BB for years without issue, however, I recently attempted to change my 11 year old Ridgeback's BB to the BB Blue Senior Dog Chicken & Brown Rice. Initially, she did not want to eat it, which is not her normal behavior. She then ate it, after eating for several days (each day her being hesitant to eat the food) she started vomiting excessively. I pulled her off the food, but retained it, just in case it was something else causing the issue. I changed her over to BB Grain free Lamb and her vomiting stopped. I ran out last night of her good food, so tested a theory (don't judge me please) and gave her half a cup of the Senior BB Chicken & Brown Rice... She vomited that up. So never again for that type of BB, but I have been hearing so many bad things about BB in general of late, I am no longer going to be a customer of BB. Need to do my research to find a good grain free, not garbage food.

I recently switched (and yes I did it slowly over the course of a couple of weeks) my month old rottie to large breed chicken and rice... He started getting diarrhea almost immediately but we continued thinking it would eventually go away... Yesterday I completely stopped feeding him the blue and his stools started to harden up... Today they are 100 times better. Can't believe a food of this quality could do this to a dog. What is really in that food???
Blue Buffalo Pet Foods Company Profile
Company Name:

Blue Buffalo Pet Foods

Website:

http://bluebuffalo.com/