Consumer Complaints and Reviews

We rescued two puppies from Spain and switched them to Blue Buffalo because we felt it was a better quality and got swindled by the review sites more than likely being paid to review them so well. Please, choose a better food. Soon after our second puppy arrived is when we switched their food and then got blood work done about a week later. The doctor said his kidneys were failing and that we needed to switch him to a food with less protein. It may have just been that he has health issues, but then 3 days ago our first puppy got terribly sick. She was hardly drinking, felt incredibly hot, wouldn't eat, completely lethargic. So we waited till morning and took her to the vet. They gave her antibiotics and she seemed to be getting better. Then we fed her the BB and she went right back into being sick only worse this time with a fever of 105.4. For those who don't know, 106 is when permanent organ damage can be done (assuming they live).
So she has been at the vet hooked up to an IV and luckily we got the call that her fever is subsiding and hopefully we can pick her up tomorrow. But I cannot stress enough how scared we were that she might pass. After reading (actual) horrible reviews, I am completely disgusted BB could get away with still pushing their product. Of course it will not affect every dog adversely, but if you love your best friend and want to avoid terribly heartbreaking vet visits please consider a different brand.

I switched to the Blue Buffalo cat litter after receiving a coupon to try it. I use probably half of the kitty litter I was using before I switched and there is no longer any litter box smell in my home. As a cat owner, you get used to the smell, but I hate that visitors would notice it. After the switch, visitors don't even know I have a cat until they see her. So much more than what I thought cat litter could be.

One month ago I fed my service dog Blue Buffalo dog food. She had seizures, vomiting, panting, and more. By the end of the night she had died. I feel the manner of the way my service dog died was horrible, and not acceptable. If I would of known there was even a slight chance of her ever being sick or dying from this dog food, I would of never taken the chance. This makes me so upset and confused. I need my service dog, and now I have also lost my best friend. I'm lost and my pain deepens each day. : (

WOW! What a horrible experience my two dogs death was. Both my two dogs just died after eating Blue Buffalo Dry Dog Food. We spent so much money trying to save them, but they passed away. My dogs death was painful for them to say the least, as well as painful for myself and my wife. What my dogs went through after eating Blue Buffalo Dry Dog food, were massive seizures. They lost all mobility, and panting, vomiting, severe stomach pain and more.
What we are going through doesn't compare what the two girls went through. But, I cry all the time and my wife cant quit crying. These two dogs were our life, and the way and manner of which they died is unacceptable. I have read so many reviews and talked to so many people in the last weeks of many dogs sicken or dying after eating Blue Buffalo Dry Dog Food. I would of never fed this dog food to my dog if I had even known there was a possibility of any type of sicken or death. We now are not celebrating the holidays for there is nothing to celebrate! This is so horrible and should be considered a crime!

We didn't realize, we'd accidentally switched from our regular Blue Buffalo cat food to the company's indoor cat formula. Suddenly, our three year old cat started acting funny. He was short tempered for a few weeks, but nothing totally out of character. We began to suspect he had urinary crystals and went to town to purchase new food. Shortly after we came home, we realized he was completely blocked, panting, yowling in pain. I wish I'd checked the reviews before. They aren't good. They're known liars and what's in the label isn't what's in the bag. He was so young and seemed perfectly healthy and very strong, not overweight. There was no loss or change of appetite, no movement or posture changes, no trouble with the stairs or jumping up into my bed. He just kept going in the box on Sunday, and he clearly couldn't go. Now, he's gone.
How do I know I can trust these reviews about Blue Buffalo Pet Foods?
639,780 reviews on ConsumerAffairs are verified.
We require contact information to ensure our reviewers are real.
We use intelligent software that helps us maintain the integrity of reviews.
Our moderators read all reviews to verify quality and helpfulness.
For more information about reviews on ConsumerAffairs.com please visit our FAQ.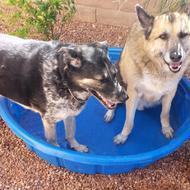 We had our dogs on a very expensive dog food from a pet specialty store and our dogs developed diarrhea. We switched recommended by a friend to Blue Buffalo and their poops were perfect. So happy we switched despite the negative reviews. Always remember every dog is different. Thank you Blue Buffalo!

My 4 yr old cat had good teeth and gums. I started feeding him Blue Buffalo Freedom grain free food about 8 or 9 months ago. He loved it. However a few days ago he stopped eating altogether. I took him to the Vet. He has severe gingivitis and a sore cheek. Needed antibiotics and pain relief. I am wondering if this could be caused by the BB Freedom dry food. Has anyone else registered a similar complaint? After a hefty Vet bill he is now scheduled for a $650 teeth cleaning. I live on Soc Sec and I am very unhappy about this. I also just received my mail order of two large bags of Freedom. I would appreciate any feedback on this.

We have a 11 1/2 yr old Britney and lost our 15 yr old Britney two months ago. So we got our 8 week old Australian Shepherd 10 days ago from a great breeder. The breeder's daughter who is a vet tech, gave us puppy food they used and when we ran out I went to Fleet Farm but they did not have the puppy from that brand so I bought the regular adult food since our adult dog was running out of her food which was BB. This is actually important. So since we had used BB before for our adult dogs without any issues, I got the puppy food. Like the other comments below I'm beside myself for anger because my puppy is now in the pet hospital fighting for her little 9 week old life and I'm convinced it was the BB puppy food. It was exactly like what the lady with the cats said.
Our puppy didn't want to eat the food and I thought it was because she was so busy trying to get to our older dog's bowl - but she never refused to eat the other food. So I put a little flavoring on the food (beef gravy I made from a roast - very little). She ate a couple bites and wanted out of her area. I thought - again, being a puppy and wanting to play. She finally ate it and after three meals of that food she vomited, drooling from the mouth and I rushed her to our vet. The vet said she must have eaten something rotten. I had her on a leash and never saw her eat anything but she did have leaves in her month so I thought we missed something.
Now after reading the comments - all the people who had puppies we had EXACTLY the same experience! I'm so mad at myself because we thought BB was good and we read a lot of reviews before we ever gave our dogs the food. However, we lost our male Britney on October 5, 2016 and his last day was EXACTLY like one comment about the dog looking dizzy, vomiting, and diarrhea. We just assumed it was his time because he did have congested heart issues, but two weeks prior to his death, he was really in good health the dr said, even with the heart issues, but we had just gotten a bag of BB dry food two weeks prior.
Our female Britney was showing some signs too with recent vomiting, but we finally ran out of BB adult food. We actually have her on the original brand (Natures something - it has a barn on the front - NOT Science Diet) that was given to us by the puppies breeder and she seems like she back to normal. As for the puppy, we find out today if she is going to be OK. My husband finally found that BB is LYING about its ingredients and their whole brand is created and FAKE and owned by Wall Street conglomerate and created by a successful Wall Street ad man! Isn't there a lawyer out here who loves dogs will sue the crap out of BB? I know Purina sued them but I don't trust Purina either.

Our dog, Archie, began to get bad diarrhea immediately after starting him on Blue Buffalo Life Protection Formula. Took him off the BB and began to feed him chicken, brown rice and vegetables with a supplement. Archie is doing so much better off the Blue Buffalo. The chicken, rice and vegetable diet is not only healthier for our dog, but also less expensive than the BB. I am so thankful that Archie did not develop worse health issues, and I will NEVER use Blue Buffalo products again.

My Siamese - female, spayed, 2 years old was recently switched from Science Diet wet food to Blue Buffalo wet food (honestly because the store was out of SD). She has consistently thrown up her wet food for a week now... Her younger brother - a 6 month old Siamese eats it just fine. Doesn't matter if it's the kitten formula or the adult formula - both end up in vomit for her. Interestingly - she does not vomit her science diet dry food - nor the recently purchased Blue Wilderness dry food. Of course I will be calling my vet to make sure it's not something else - anyone else have the same experience?

I adopted a female Havanese in 2011. I started feeding her Blue Buffalo as a pup due to the positive advertising campaigns. She always took a few hours to eat her food but occasionally would vomit after eating. I mentioned it to her vet and he suggested changing her food. I switched to Wysong Performance. She now eats the entire bowl in 2 minutes and never gets sick.

I bought BB HW Chicken and Brown Rice for my 3 dogs on November 1st. On the 7th of November my 6-year old dachshund started vomiting and having diarrhea which ended with taking her to the emergency vet at 11:30p. At first I wasn't sure it was the food so I kept feeding it to my other two. Yesterday my 11 year old dachshund had diarrhea all over my house after feeding her.
So far the food hasn't affected my 5 year old beagle but I stopped feeding it to her last night after my 11 year old got sick. Looking at the ingredients of what I used to feed them the only difference is the powdered cellulose in the BB HW Chicken and Brown Rice. According to what I read it is wood pulp and natural preservative. Has anyone else experienced this?

I've seen a lot of really bad reviews claiming Blue Buffalo food made their animals sick. I find it funny that most of these bad reviews popped up after Purina started a lawsuit against them. I've been feed my cat Blue Buffalo brand food for since I got him at 4 months old. He's now 3 years old, still eating BB Indoor formula and perfectly healthy. I also feed my 7 month old corgi and 1 month old kitten rescue Blue Buffalo puppy and kitten brand food respectively. Neither of them have fallen ill at all either. In fact the kitten is more healthy than when I got her.
BB's wet food is the only kind my older cat will eat (wet food is very important for a cat's diet). He will literally starve before eating any other brand of wet food. In short, I recommend BB brand food to everyone I know with pets and will feed my animals nothing else. My roommates feed their cats a different brand of food and their cats try to eat my cats food before even going near theirs and they eat far more food than mine do (I suspect because the brand they use is less filling). Even when their cats have gotten to my cat's food, they have been fine, not show any adverse symptoms from eating this food that others are claiming.

My 1 year old Golden Retriever just experienced the exact same symptoms as everyone else. Randomly got the runs, went on a boiled chicken diet and medicine, stomach got better, went back to blue buffalo and I am back at square one. After a $400 vet bill I am incredibly frustrated. Has anyone tried to get compensation from Blue Buffalo?

My dog has been on Blue Buffalo Wilderness since I got him at 8 weeks old. He has flourished into a healthy, happy, energetic dog with beautiful fur and teeth. I also only buy Blue Buffalo grain free treats and Flash gobbles everything up and doesn't get sick. I would recommend Blue Buffalo Wilderness to anyone. Don't let one obviously biased article sway your weak mind. You can see all the "news" article only cite that one biased article with swear words in it. Clearly fine journalism. I will keep my puppy on Blue Buffalo and switch to the adult bites in a few months when he turns a year old.

My 7 yr. old Dachshund has been eating Blue Buffalo for 3 years and suddenly began suffering with nausea, vomiting, and diarrhea intermittently. Each visit to veterinarian did not yield a cause and he treated her symptoms... Then, after googling this issue, this website came up and I am astounded at all the people and their fur babies that have experienced this same problem. So, I purchased a bag of Science Diet ID until she can get over this misery and will go to another food (or continue with Science Diet). No more Blue Buffalo for my baby!!!

My friend Lucy (12 y.o.) has eaten blue for a few years. From time to time she has had a small amount of diarrhea AND none for about 4 months... lasting 2 MAYBE 3 days. So far this week Lucy has been sick 6 days. Lucy hasn't been eating for 4 days. 2 days ago she started passing blood. I took her to the vet. My vet said food poisoning AND gave me a sack of bland food and 2 types of antibiotics... while I got her home she passed so much mucus and blood. I was freaking out. I drove from gainesville back to ocala where she is in the hospital. The vet is administering the meds from their kennel and caring for my friend SO as I was speaking with the tech and telling then her food, I was told to check out the recalls and comments about BLUE BUFFALO. I'll be crazy to ever buy from them again. I purchased this food at pet supermarket 2339 nw 13 st, gainesville fl 32609.

Two weeks ago, my formerly very healthy, extremely active dog (80-lb Shepherd/Retriever mix) became seriously ill -- he had trouble standing, eyes were glassy, drank ridiculous amounts of water, and quit eating. Took him to the vet, had X-rays and blood tests. X-rays looked ok, but blood tests indicated what looked like advanced liver disease and kidney disease. I told the vet, "Two days ago, he was on a 4-mi run with me! He was fine." She asked about food and I said I feed him Merrick and have never had a problem. (More on that shortly.) She said to start him on a bland diet (chicken & rice) and get him to the emergency vet the next day for an ultrasound. Things didn't look good, though.
There was an issue at the emergency vet & it turned out they couldn't do an ultrasound until two days later. For two days, he just ate chicken. At the Emergency vet, they did the ultrasound (looked good) and re-checked his blood -- his liver function had almost returned to normal! I was given a prescription for a liver protectant and told to keep him on a bland diet for a couple more days. She said he must have eaten something toxic -- maybe a mushroom in the yard.
I could not believe how quickly he returned to normal after being convinced he wouldn't make it through the weekend. He was his usual goofy, rambunctious self. After a week of the bland diet, I started mixing in dry food again. After two days, he started showing the same symptoms -- lethargy, excessive drinking, no appetite, and then he peed in the house. He hasn't done that for nine years! (He's 9 1/2.)
I thought, "I wonder if Merrick had a bad batch. I'll check which flavor and Google it." When I checked the bag, I noticed I'd accidentally purchased a bag of Blue Buffalo. I think it must have been right next to Merrick on the shelf and I didn't notice. This is just too much of a coincidence. Also, I understand that sudden switching of foods can be hard on a dog, but it should cause near liver failure! I understand gas, upset stomach, but my dog almost died. I'm hoping he rebounds as quickly after this second exposure as he did the first time. Something is really wrong with at least some bags of this brand of food.

We switched from Iams to Blue Buffalo because we thought we would be better off feeding a high quality diet to our 10 week old puppy. He constantly had diarrhea on this food. We did the bland diet and once he was better tried to reintroduce the food and he got sick again. Finally, we switched him off and he hasn't had any issues since. I reached out to customer service to tell them and they were extremely unhelpful stating that based on their feeding chart I was feeding my dog too much and that was causing his issues. I let her know that I was feeding the amount recommended by my vet and that was the end of it. No offer to help or compensate. Luckily, Tractor Supply Co. let me return the opened bag for a full refund.

My 5 month old female kitten started urinating outside the litter box and frequently. I noticed that it was pink tinged, so I suspected at UTI, so I took her to the vet right away. The vet asked if I was feeding her Blue Buffalo, and I am! I have had her on Blue Buffalo kitten food ever since I got her at 8 weeks of age. The vet said they have seen lots of crystal formations in the urine and UTIs in kittens on Blue Buffalo, which is strange, because these issues are not supposed to happen in a cat so young.
So now after the emergency visit with antibiotics $150, and now doing a renal and bladder sonogram to see if crystals have formed or worse, kidney stones, which will require surgery, I'm out $800 and she may need surgery after that! I think Blue Buffalo should pay for this medical incident, since it was caused by the food. Now she will be on a special kidney diet for life, and I don't know if she can get out of the habit of urinating a little bit at a time, all over. This company should pay its customers for the damage it's caused and then shut down.

Blue Buffalo small breed puppy. My dog started vomiting and pooping blood relentlessly. We took him to the vet the same day. He had mucus in his rectum and was completely lethargic. He wound up staying overnight for iv fluids, antibiotics, and anti nausea meds. We took him home the next day. He was keeping food and water down. We fed him chicken and rice for two days. He was back to his old self. The next day, we mixed some kibble in with his chicken and rice and he was completely lethargic the next day. He didn't eat for a day and seemed better the day after. We fed him only chicken and rice for a day and mixed kibble in the next day. He's back to throwing up, and being lethargic. It just dawned on me that it could be the dog food. Why aren't they recalling this food?

Please do not buy this poison for your pets. This dog food has been raved about and unfortunately we did not read reviews before purchasing. Our dog has been sick for days throwing up, diarrhea, dehydrated, peeing a lot, bloated... I can go on and on. Our poor husky is miserable and I feel terrible for giving it to our puppy. Fortunately PetSmart allowed us to return the product for a full refund.

I bought Blue when I picked up my 8 week old puppy. I switched food over right away combining the nutra source (breeder started with that) and Blue for three days then complete Blue after that. At 10 weeks I had my puppy in the vet. Lethargic... Overactive peeing and constant pooping... Excessive thirst... Started peeing in kennel and pooping on the floor which he never did. Constant whining to go outside... Was diagnosed with urinary track infection and colitis. Had blood in stool and mucus. Vet said it was the ph level in the Blue that caused his problems. I thought I was buying the best dog food for my puppy but I was told that most of the puppies that come in with this problem has Blue in common. I lost my Labradoodle two months ago to cancer. I bought this puppy to help it has the grieving process. I swear if I lose my dog there will be a lawsuit. I would like my vet bill paid. I will be calling their customer service tomorrow.

We added to our family a beautiful 8 week old blue heeler. My husband and I decided to splurge and buy premium puppy food for our fur baby. This was the worst decision I made. She started to vomit and soft stools. On Mother's Day a week after we got her we took her to the ER where she was suffering from an infection. Took her to the vet the next day and they recommended adding pumpkin to her diet. We added the pumpkin. Still loose stools and vomiting. After 2 weeks of this hassle we took her back to the vet and she had elevated levels of renal failure. The vet prescribed a different diet and her levels went down. In July instead of having her on the bland diet the vet prescribed I gave her some of my older dog's food. She is now a happy healthy puppy with lower levels. Buying premium doesn't mean it is good for your fur baby.

We have a rescue Shepard/Husky mix who has eaten this food for her entire life and not only is extremely healthy and no vet visits but doesn't inhale her food and will graze all day which means she is never starving or under fed. We give her two bowls a day and her dish always has some left between feedings. I really recommend this product for anyone who is interested in giving their animal a special diet without all of the bad fillers they put in animals foods these days!

My cat ate Blue Buffalo cat food and develop urinary crystals and a severe blockage and had to be put to sleep and I attribute the cause due to the Blue Buffalo food.

My Pomeranians had diarrhea after switching to the dry Kibble, so I went back to Science Diet. Thinking nothing in particular of it months later I bought canned Wilderness puppy food (Supposedly their "best"). Soon after one of my puppies had a seizure, threw it up, & went hypoglycemic. Thank GOD MY VET IS AMAZING and fit me right in!!! I went back to Royal Canin puppy starter and everything was fine!! A new pet parent adopts one of my babies, feeds her canned Blue Buffalo and later on that day, a seizure and hypoglycemia! All my puppies are robust & healthy & come from strong lines, have been kept up with vaccines & dewormed properly.
THE ONLY THING IN COMMON IS THE CANNED BLUE BUFFALO FOOD!!!??? Royal Canin & Science Diet & Wellness TruFold have consistently been great foods and will ALWAYS receive my recommendations and my money. I work for a pet store and will see to it that every bag gets dusty??? If I lose a puppy because of toxins in your food you will be SUED!

Purchased new bag of Blue Buffalo Small Breed Adult dog food. I clean out my Yorkshire Terrier's bowl every morning before feeding. Opened new bag and put the normal two each of 1/4 cups of food in her bowl. She will only eat while I watch her. Luckily, this one time she is this spoiled. As I was watching her I glanced down and saw a piece of glass in her food. I immediately contacted Blue Buffalo with the info. He offered to send me treats for my dog for the problems. I refused because I am very particular as to what I feed my girl. They wanted me to send them the glass. I again refused this request but sent pictures of the glass. I have heard nothing from the company and now realize it all has to do about revenue and not about the health of all animals nationwide. After reading some of the reviews listed on this report I feel as though a class action lawsuit is in order. These animals are our family and not something for this company to experiment with.
I, for one will not stand back and allow Blue Buffalo to kill my dog by not being concerned about glass being in their food. My dog has also experienced the issues of vomiting, loose stools and mucus in stools. I have also been told she has pancreatic issues. People, are we going to waste our time on here griping about our animals dying or do something about this cut rate expensive dog food company. I for one am taking action. They will NOT kill my dog. If you would like to join a class action suit, contact me at: **. They will not stop until we, the people stop them.

We got our 2 chihuahuas 5 months ago (they are almost 7 months) and they had lived for the first 2 months on Royal Canin, but we thought we knew better when they came to live with us. We switched to BB chicken and rice life protection small breed puppy a few days after we brought the first one home. She loved it, ate it happily and we noticed her urine was bright yellow and her stools had mucous but still hard. When we brought the boy home, he loved it too, ate it with vigor. It wasn't until we took them to get groomed that we heard about the past recalls. We switched them after more research but they didn't like the food we put them on so back to BB as that was better than nothing because they refused to eat.
A few weeks ago our girl started dry heaving, liquid poop with mucous, and she wasn't our vivacious girl. We took her to the vet and he thought it was pancreatitis or an infection. She had to stay overnight to get iv liquids, came home with Anti-nausea meds, antibiotics, heartburn medication and was told to either feed her vet wet food or plain boiled chicken and rice with the probiotics sprinkled in. We believed it was an infection until we switched both to the wet and dry vet food. Normally we would transition but we took them off BB immediately. Not only is our girl vivacious again, their urine is a nice pale yellow, and our boy's poop's been solid. They haven't played this hard since they fought for dominance.
Please get your fur babies off this food before they get sick or worse die. We talked to a rep of another dog food company and they told us that yes BB has chicken as the first ingredient but they usually use wet chicken which weighs more. Blue Buffalo was also sued awhile back for not using the ingredients they promised. We thought we were giving our babies the best and we almost killed them.

Bought this food thinking it would improve my puppy's coat and because I bought into the hype... but my healthy puppy began throwing up and had diarrhea. Took her to the vet, then the ER... and 700 later, it was antibiotics, a water pack under the skin, probiotics and anti-nausea meds, boiled chicken, and white rice for 7 days. Then back to the same dog food and now she's vomiting again. Vet says discontinue food immediately. Never buying this again.
Blue Buffalo Pet Foods Company Profile
Company Name:

Blue Buffalo Pet Foods

Website:

http://bluebuffalo.com/