Consumer Reviews and Complaints

My dog had been feeling sick the last few days. Had a fever, wouldn't eat and no energy. Tonight I looked in his food bowl and saw 3 live worms crawling around. Then I looked in his dog food and saw multiple live worms crawling around in there. This is appalling. We trust you with the health of our animals and you bag up dog food full of worms.

We were an excellent customer of Blue Buffalo for several years. All of the sudden our black lab started to be constantly thirsty and drinking tons of water. She had several accidents on the carpet and basically ruined it. I coincidentally read about a recall of BB (Red Meat) dog food and the symptoms that it was causing. This is what my dog was eating and the symptoms she experienced. I only asked Blue Buffalo to reimburse me for the cost of cleaning the carpet. We did not submit vet bills or anything - just receipts for cleaning. They wrote back with a refusal to pay anything because they could not be "sure" that their food caused the problem. Of course I am disappointed with a response and have decided to never, ever subject my dog to such a lame company's product again.

My dog has been eating this food for close to two years now and never had a problem. She never cared for it much, but that's likely because she prefers MY food, and would pick at her bowl and eat it once she was sure she wasn't getting anything else. I dogsit for a friend and he mistakenly bought a bag of Blue Buffalo Wilderness Small Breed last week. Within two feedings, my dog had diarrhea and vomiting. I started feeding her rice and hamburger and then my friend's dog got diarrhea too! Thinking since the Wilderness was grain-free it may be too rich for them, I went and got a new bag of the regular BB Small Breed and threw out the Wilderness yesterday. I just arrived home to my dog in distress and vomiting. $60 for two bags of food down the drain! Not only is my dog sick, but now I get to make dinner for two dogs -- peas, hamburger and rice. Thanks, Blue Buffalo. I'm done.

If you read BB's ingredients, they offer the SAME first five ingredients of other top-selling, top-rated brands. Since dogs are domesticated, they NO LONGER have the digestion of a wolf, which is based on the Wilderness line of BB. This is why most breeds get sick off it; they can't digest raw meat, which is a component of Wilderness.
I have four Australian Shepherds. Two will eat ANYthing BUT their dog food. (They want OUR food!), the other two will eat anything put in front of them, AND they want our food. Aussies are called "Velcro Dogs," because they are VERY attached to their humans and want what we have. Despite this, they CAN'T eat anything they want, because it makes them sick: flour (gluten), dairy, raw meats, tomatoes. My two dogs won't eat BB, either. I now make their food, and use supplements recommended by the vet. It's better for them, less expensive and they EAT.

I switched to Blue Buffalo because of a recommendation from a friend. We were using Nutro before and now I have gone back to using Nutro. After using Blue Buffalo for senior small dogs; my dogs started pooping black tar like poop. I was worried about their health but simply switching back to Nutro Ultra the black poop went away. My dogs are shelter dogs and I am not sure of their age, I think they are at least 12 years old. I would recommend that if you want a good dog food use Nutro and skip the Blue Buffalo.
How do I know I can trust these reviews about Blue Buffalo Pet Foods?
881,173 reviews on ConsumerAffairs are verified.
We require contact information to ensure our reviewers are real.
We use intelligent software that helps us maintain the integrity of reviews.
Our moderators read all reviews to verify quality and helpfulness.
For more information about reviews on ConsumerAffairs.com please visit our FAQ.

We moved back from Florida, and while looking for a new home to purchase we stayed with our son. Our son has a boxer and we have boxer/terrier that we rescued. We were giving our dog Purina pro plan since we rescued her, she was given that at the shelter. Once our son put his dog food down our little girl ran to the bowl and ate the entire bowl. I asked my son what the name brand of food it was. He said it Blue Buffalo turkey and rice blend. Needless to say I had a full bag of Purina pro plan that our no longer wanted to eat.

If I could give a negative rating I would. I have 3 dachshunds that have been on Blue Buffalo for a while. All of them developed health issues shortly after starting the food. ALL of them lost fur and had balding spots on them. My smallest of the three lost a lot of weight (12lbs down to 8 lbs). She had the million dollar work up with no answers. The last bag of food I bought did not look right - it was very dry and flaky. ALL 3 of them ended up with bloody diarrhea and vomiting. All 3 of them had to go on antibiotics and I had to cook them ground hamburger and rice while they were recovering.
It took about 2 weeks for them to recover fully. I have switched them to Nutro dog food. ALL 3 of them have their fur growing back in, they have more energy, their coats are shiny, and the best is my little sickly one has gained her weight back! She is like a new dog playing again and wagging her tail. I just wish we picked up on the fact that it was the food that was making them ill for so long. I would not recommend this food to any pet parents - a fellow concerned pet mom and nurse.

Opened a new bag of Blue Buffalo dry dog food tonight and saw something in the food that looked like dried maggots and some fuzzy lint-like material and then on closer examination saw live maggots! The inside of the bag was covered with the cob webby, fuzzy lint-like substance. This experience has really turned me off of commercial dog food and will not be buying Blue Buffalo for my two dogs ever again.

It's healthy dog food and all three of my dogs like. It's natural no added anything that is very important to me. Also helps with their digestive system. They are vibrant dogs all three of them. Their ages are as follows Oscar 13, Toby 3 and Mowgli is 1. All are chihuahuas and have a lot of energy and I attribute that to the dog food.

I don't understand why people give this food a bad review. I have a 9 yr American bull dog/pit, 4yr German shepherd, 12yr min pin/chi mix, 13 yr cat, 5yr cat, 4yr cat, and a 4month kitten. Each of my dogs and cats have been through multiple food that has either made them sick, diarrhea, vomit, or didn't want to eat, even skin allergic reactions. It's not really so much the food that makes dogs sick it's what's in them that triggered our dog to get sick. It takes time for that Ingredient to build up in the dog's system before you see the reaction to it. So anyways Purina gave my shepherd hives and my pit gained too much and was losing fur on his tail, tried multiple Purina nothing worked. Switched to Nature's Recipe decent food however each of my dogs have a special diet they need to be on and grain free is the main thing.
Switched to Merrick by my sister's recommendation and this made all 3 of my dogs have severe diarrhea, vomit, and refusal to eat. Took one whole bag to see that effect. So we switched to Blue Buffalo. Pit is on healthy weight chicken grain free, shepherd is on large breed salmon, min pin on toy breed chicken formula, older cats are on hairball and weight control, kitten is on the kitten food. I never seen my dogs and cats enjoy their food so much. Each food it's tailored for each situation in my house. I even bought the salmon grain free wet food to mix as treats for dogs and wet food for cats. I see nothing but good outcome with my animals and we are about through our first batch. You really need to find out what your pet is allergic to before leaving poor rating for a dog food assuming it's a mistake they made. Or just feed your dogs raw diet which is costly but way better than dog food. If I could afford it I would.

Big price/Big problems: We adopted a one year old Weimaraner a month ago from the SPCA. Even on the Pedigree dog food they had her eating, she seemed fine. Poops were normal, and she had plenty of energy! I gradually switched her to Blue Buffalo Life Protection. For the last several days, she has had terrible gas and loose stools, lays around more, and has had several pee accidents. I am definitely going to buy her something else. Wish I had read these reviews before buying.

In my experience my decision to feed my dogs Blue was after reading so much and understanding of ingredients and standards in pet food. I read many reviews stating that it made their dogs sick and I really think that I would love to know what ingredient or recipe was the issue. If a dog has allergies it's not the food's fault. It's not the lobster's fault my husband can't eat it. Honestly there is nothing in Blue that has made my dogs sick, in fact quite the opposite. I have never heard a vet that wasn't owned by a pet food company say that Blue was toxic and would love someone to explain with actual factual data to support that.
There are many different dogs and formulas of foods. By-products and corn would concern me. Animal or meat ingredients listed in general would also concern me. While there are some ingredients I can do without such as coloring and carrageenan, there are no other ingredients in Blue that give me any idea of what the issue is. In reading the labels of at least 30 brands I can't come close to understanding why people believe it was Blue over all instead of something that didn't work for their dogs? Blue is a quality company with quality food in my experience. My dogs' bloods and labs are great. Perhaps someone can explain this to me.

I have just returned from the vet after taking my 8 year old chi after she vomited and began pooping blood early this morning. She had been eating this food for the past 4 days. She has no other history of any gi issues and doesn't have access to eating anything weird nor does she ever do that. When the vet was told her diet she advised against feeding Blue Buffalo food in any form and stated she had heard of many bad experiences with the brand. After spending over 650 dollars and seeing my poor pup wearing a doggie diaper because she couldn't control her bowels, I will certainly never buy that brand again. I am a RN, and I know that every dog is different but if even one dog experiences this it is one dog too many!!! My pup changed from being a happy healthy girl to being incapacitated over 24 hours. She lost so much blood that the vet was thinking she needed hospitalization.

Decided to upgrade my cat's food and bought Blue Buffalo. Within a few months he lost so much weight and started staggering so I took him to the vet and his blood work came out normal so I switched him back to his old food and he recovered.

I have a 12 year old Bernese Mountain Dog that has been on Blue Buffalo for many years. He is fit as a fiddle. Has great energy for his age and a beautiful coat. Not every dog food works for every dog. It's the pet owners responsibility to find out what will work. My boy Max ends up licking his bowl when it's all gone. No problems in the potty department or otherwise. My boy loves it!

I have a wonderful 10 year old Golden Retriever with skin allergies and when I went to the pet store last week to buy her food, a Blue Buffalo rep was there and convinced me to switch to their Basics, limited ingredient turkey and potato food, stating it would be a much better food. Well! It was THE WORST!!! My dog's skin broke out severely and became infected after eating it for just one week. Costing me hundreds of dollars at the vet!!! The last 2 days my dog even didn't want to eat it, and she loves all food! My vet said Blue Buffalo dog food is HORRIBLE!!! And the rep said it was it was high quality! DO NOT BUY THIS BRAND IF YOU LOVE YOUR PET!!!

I had recently decided to"upgrade" my dog food to Blue Buffalo believing that it was the gold standard of dog foods. I have 3 small dogs and I'm halfway through my 2nd 30lb bag and I had to throw away the last half because it was making my dogs so sick. A 30lb bag lasts me about a month with all 3 dogs eating. There are 3 reasons that lead me to believe that this sickness was caused by this dog food. About 2 months ago, one of my dogs started getting sick and throwing up, at first I didn't think much of it thinking he just ate something that didn't agree with him. Two of my 3 dogs have huge appetites and even after a month of being on Blue Buffalo, none of my dogs seemed to have the same appetite. One dog wouldn't even go near the food and often times I could come back after feeding them breakfast or dinner only to find all three bowls still had food in them - which is not normal for my dogs!
And lastly number 3. Yesterday, I accidentally fed them dinner twice and I didn't realize it till after I fed them. Thinking that it would be fine and they all just got lucky I didn't think anything about it. When I woke up this morning, I woke up to literally throw up and diarrhea ALL over my house. I am positive it was more than one dog that got sick because of the amount of throwup and poop, but I don't know if it was all of them for sure. Anyway, I started doing research and I'm so happy I found this page. I am going to report to Amazon and to Blue Buffalo because I am unsure if it is just the product in general or if I got a bad batch that should recalled. I hate to write a bad review but I'm worried about the quality of this food.

I have two dogs both are severely ill from the food. Symptoms lethargic, bloody diarrhea, vomiting. I called the pet store they had no idea of any recalls. Blue Buffalo needs to communicate recalls to the stores so they pull the product (Blue Buffalo Wilderness and Blue Basic soft food). Stores. This is issue has caused high veterinary bills to stabilize my two dogs' health. One of my dogs is still passing blood every couple hours. Clearly there is an issue with the product.

I have a 9 year old Aussie/Retriever that suffered from allergies. His ears stunk and were very hard to keep from getting infected. He chewed on his feet incessantly, and had small sores all over his body that drove him crazy. I switched to BB (Life Protection Formula Adult Chicken & Brown Rice) about 3 weeks ago and he is already 95% better. I don't doubt that BB has caused problems with some dogs, but read reviews about any brand and you will see the same theme; my dog was perfectly healthy despite being 100 years old, and all he did was smell (insert any brand) and he died immediately.
One person said, "I fed my dog BB for 2 weeks and he died after a week". Come on people! If you're going to write a review, leave out the hyperbole and state facts. As a responsible pet owner, I will closely monitor my dog's health and act accordingly. I got so freaked out by some of the reviews of several brands of dog food that I got analysis paralysis. There are way too many sponsors and ads on any site you find to trust them. YMMV.

I came across Blue Buffalo chicken and rice formula (blue bag) for my senior Maltese around November '16 upon recommendations. My maltese was a perfectly healthy dog who had no issues transitioning to any food... My beloved 13lb boy started throwing up with diarrhea, refusing to eat anything drinking tons of water... His stomach symptoms worsened despite throwing away the food immediately and taking him to the vet. High liver levels, rapid weight loss, vomiting, trembling, unexplained seizures that would come at night (died out after the food was completely out of the system). He was so emaciated we could not do any invasive testing and had to rely on medication based on an educated guess of what was going on.
The doctors could not make out what made him so sick, since ultrasound, x-ray, all came normal and it only could be guessed as a severe inflammation of small intestines. I had to put him down 3 weeks ago on May 19th. He was a perfectly healthy dog with NO HEALTH ISSUES. Not even teeth, skin, nothing. I was told by the blue buffalo rep that they make their foods with all natural, high quality ingredients and I came across with all these posts with dedicated owners losing their beloved pets due to this piece of crap. I hope this company shuts down. Terrible!

I have 3 dogs 2 bullies and a pit/lab mix. My lab/pit is 8 1/2 years old and has the beginning stages of arthritis... I started giving her something for it as well as multivitamins, brushing bones for her teeth and fresh breath tablets. While on my monthly trip to Petco on Friday June 2nd for these things I asked a woman a question about salmon versus omega-3 pills. She told me if I fed them Blue Buffalo I wouldn't need to buy all those things because it has it in there already so it would save me money. She was very persistent on selling the food. I said I would try a small bag (at $33) first to see if they liked it. She came with the 22 lb bag (at $58). I said "maybe I should wait" but she insisted I try it now stating "try it for a couple days, if your dogs absolutely do not like it you can bring it back".
Well that night my husband and I decided to try it. We did as she explained 75% old food to 25% Blue Buffalo. My dogs' bedtime is around 9/9:30. I let them out in the backyard and immediately noticed all 3 had a loose stool. The next morning again they had a loose stool. Cleo which is the 8 1/2 year old started vomiting her food up from the night before. She would not eat her breakfast which is not unusual for her as she come down to eat after the other 2 are finished... She thinks she's a diva. That afternoon I notice she still hadn't eaten. This is just 1 day after introducing them to this. Since then she hasn't eaten anything. The only way she gets water is because I shot it in her mouth with a syringe. She's been urinating all over the house (rare for her) just sleeps, barely able to walk and has a green discharge coming from her eyes.
Yesterday my husband suggested we research Blue Buffalo and I came across this website. I was at work when I read some of these stories and symptoms the other dogs were having which sound a lot like my Cleo. I cried my eyes out thinking "Oh God is my dog dying". Got home Sunday morning to no change in her. We did everything... The bland diet, eye wash, giving her water through a syringe so she would stay hydrated. We're taking her to the Vet today as soon as I get home... I just pray it's not too late.
By the way my other 2 Blanco 2 and Shadoe 4 still had diarrhea when we stopped it. There has to be something that can be done, how can this company be allowed to sell food that they know poisons animals. And for that matter the stores that sell it knowing it has caused damage to animals. I will sue Petco as well for selling a product knowing damn well what it's doing. My Cleo has seen me through kidney failure, dialysis (6 years), my continuing battle with Lupus, as well as kidney transplant. My dogs helped me heal after my transplant when I was confined to my room for the first 2 months after the transplant. Cleo would get on the bed with me after dialysis when I was sick and would not get up until I did, I'm praying she'll be ok.

We have two 16 month old litter mate, golden retrievers and a pomeranian. We opened a new bag of Blue Buffalo Kibble (that they have been on for months), then all three had loose stools, and some bloating with lethargy. This went on for a month, with us eliminating whatever we could to diagnose the problem. Then the kibble was almost gone, and we thought it might be their food. We purchased a new bag, and the loose stool problem went away in 48 hours with all three at the same time, with no other changes in their diet.
I had heard that this company had some contaminated food/or adding something into the foods that had made dogs ill with gastrointestinal ailments. I do believe our dogs were reacting to something in that bag of food, and we will not support this company and will change to another brand for our beloved pups. I feel so sad for some of you that have lost your sweet pets, or struggled with illnesses from this brand of pet food. There should be a level of integrity and accountability to these large companies that feel they are untouchable. Thanks for reading.

I just had to put my beloved 8.5 year old male cat down because he had a complete urinary tract block from cystitis and became septic. He has been eating Blue Buffalo since I adopted him as a 5 week old kitten. He also got a daily can of wet cat food. I am devastated and have been trying to learn everything I can about feline urinary tract infections only to learn that the expensive cat food I have been feeding him KILLED him! I spent the first couple days grieving and now I am so angry. Had I not given him Blue Buffalo I may still have my little fur buddy. UGH!! I will never use this product again if and when I decide to adopt another cat.

I'm happy found this page. I have a 10 y/o Boxer and a 3 y/o Chihuahua mix. The Boxer suffers from arthritis and I need to watch her weight. I went to PetSmart and they recommended Blue Buffalo Healthy weight Adult chicken & Brown Rice Recipe. The boxer is losing weight very quickly, simply because she refuses to eat it and rather goes hungry than even give it a chance. The chihuahua will eat it after he realizes there is not more choices.

Nature's Evolutionary Diet adult Dry Dog Food 100% Grain Free - My Dog absolutely loves this dog food. But she hates the "LifeSource Bits". She spits them out and I'm constantly sweeping them up. I went to the pet store to find another dog food and the employee there told me she's had several customers complain of the same thing. So I am only finding another brand because there are little pellets all over my floor.

My dog has been on this dry food for several years. Bought a new bag yesterday and within an hour of eating the first meal from it became severely ill. Diarrhea and severe vomiting and crying as she vomited. I liken it to a bad case of food poisoning. Will return the bag today and switch her to something else. She was not ill or had any symptoms prior to eating. I will report to Blue Buffalo. Either a tainted batch or possible change in recipe?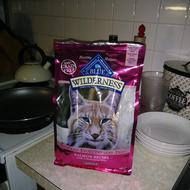 I decided to give this food a try. My car has a gluten allergy, so we decided to go grain free at the advice of out vet. Well, my cat vomited. I thought maybe it was a one time thing. Today she vomited all over the house. She has also been seeing all over. I found this site when do research on Blue Buffalo. Thank goodness. This site may have very well saved my cat's life.

Both of my dogs have been on Blue Buffalo dog food for a week, they only get it at night because during the day they go to the farm and have breakfast there. Both of them have uncontrollable diarrhea all night. One of my dogs has also been very lethargic and not wanting to play with is very much unlike him, he is constantly on the go. That haven't been on it long at all and they are already miserable. I'm never buying this food again.

Blue Buffalo KILLED MY DOG at the ripe old age of 1 year old. The vet told me he sees many dogs in his office sick and dying because of this dog food. My aunt has 2 Yorkies that have developed chronic colitis which is incurable. Blood in stools, vomiting, loss of appetite. I also have clients who have told me their cats and dogs have developed bloody stools because of this dog food. Not to mention this dog food has had several RECALLS. I hate that Blue Buffalo has those people in the pet stores trying to sell you their dog food. If it was so good then you wouldn't need someone trying to sell you it! PLEASE. I beg you never ever buy this dog food.

I would like to warn all dog owners. After changing from regular Blue Buffalo Chicken and Rice to Freedom Grain Free Chicken and brown rice. My dog ate approx. 1 cup when I noticed she stopped eating anything. The vet put her on a bland diet and she seemed to improve, but when the BB food was added to her bland diet she again stopped eating. The vets blood panel showed her kidneys were shutting down. The numbers were so high the vet said she wouldn't survive, he described it as a major toxic event. The dog lost 7 lbs. In 9 to 10 days with oral tube feeding of beef & rice, her normal weight being 23 lbs. The nausea meds did not help her keep food down. I had her put down on May 09 '17 because she refused to eat and couldn't hold down food also she started to have blood in her urine on the evening of May 08 '17. Now I see all Blue Buffalo food is on sale with free shipping! How can they sleep at night?
Blue Buffalo Pet Foods Company Profile
Company Name:

Blue Buffalo Pet Foods

Website:

http://bluebuffalo.com/