Consumer Complaints & Reviews

My 11 year old pug with no history of bladder issues developed oxalate stones after we switched him to Blue Buffalo Senior Food. When he was diagnosed, the vet told us she'd seen a huge increase in bladder stones over the past few years and 9 out of 10 were on the Blue Buffalo food. Since his diagnosis I've found countless stories online under the same circumstances - pets on this brand developing stones or sometimes worse health conditions. A friend of mines dog was diagnosed today with stones. She had just switched him off BB because of my experience. It's disgusting that so many pets are developing health problems on this food. It should be banned.

Bought one small bag and my yorkie loved it. After second bag begun to turn away. Became nauseated, lethargic and very sick. Took to vet and has pancreatitis. Vet said he had other dogs that had problems with Blue Buffalo Dog food. Don't feed to your dog especially small dogs. He is getting better. I was shocked how many bad reviews this food had with same symptoms as my dog.

My 125lb pure bred Chocolate Lab, Torque, has been on BB since I got him at 8 weeks old. Never had a problem with him getting sick or runny poop (sans a bout of Giardia). He love his BBC. Only time he has ever turned away from his food is when I didn't give him his 'gravy' (hot water) on his food.

I had 2 gray male cats with white markings. The 1st one Smokey had urinary track problems with this food. I had to change to prescription urinary food. He was very sick while on the food. Then Boots who I have now, after becoming 5 yrs. old we adopted him from the Humane Society. No record of health problems. We had him 4 months and he came down with bad urinary problems. We had put him on the same Blue Buffalo food. He ended up in the hospital for 2 days. We ended up paying over 700.00 for the stay and new prescription urinary food. I would think this Blue Buffalo food is suppose to be so good, that the ash would be very low in it. I could not believe the same thing happened twice. Very disappointed in this food, and this company.

My pet after a week in it very bad diarrhea. Drinks lots of water that remained normal but color changed. Poor pup pee stayed dark. Switch after 2 weeks to another brand. Things cleared with doing that and aid of med along with being told to not go back to this product. Also we had to give pup **.
How do I know I can trust these reviews about Blue Buffalo Pet Foods?
552,954 reviews on ConsumerAffairs are verified.
We require contact information to ensure our reviewers are real.
We use intelligent software that helps us maintain the integrity of reviews.
Our moderators read all reviews to verify quality and helpfulness.
For more information about reviews on ConsumerAffairs.com please visit our FAQ.

I fed my baby boy the blue buffalo wilderness cat food for indoor cats. Now I do not have my baby because he is passed away from urinary complications!!! He was not quite 3 years old! How could my cat get that sick... blue buffalo! That's what my vet said. She had to euthanize several cats and dogs because of same reason! I will never buy this product ever ever again! It is crappy food and they should be held accountable for my baby's death!

My dachshund first got sick in February 2016 suffering from severe vomiting and diarrhea with blood in his stool. Vet visit and testing showed that his intestines were just torn up so we started antibiotics and special medical food. Symptoms went away and he started doing better but still would shy away from his food and was disinterested. His food was BLUE BUFFALO WILDERNESS. 3 months go by and during this time he would have firm stool or soft... very soft stool. By mid-May he was lethargic, very sad eyes and was never excited to eat... It was starting again. By June 1st he was vomiting, having lots of mucus and blood in his stool and a fever. Back to the Vet. Another $250 later and the same treatment as February but this time the Vet tells me I got him there just in time and that his intestines are all torn up but we're didn't understand why. But we're now considering that the food he has been eating is a possible problem.
He started feeling better after a week and we returned to feeding him his food BLUE BUFFALO WILDERNESS... A very expensive food. On June 28th I found vomit with grass and bloody mucus in it and he walked away from his food that morning... Sad eyes and ears hanging low... He didn't feel good again. Four hours later when I return home, I found 3 room in my house having piles of RED bloody diarrhea that had the foulest odor. This blood was straight blood in areas so we rushed him to the emergency vet clinic and after another $300 and the same treatment the emergency room vet asked me what food I was feeding him and I told him the Blue Buffalo Wilderness and he immediately said "Throw it out. It is junk and making him sick." He also told me that he had been seeing more and more of these cases lately.
I almost lost my beautiful sweet dog but he is starting to look better today so I am hopeful he will make a full recovery but the vets are concerned about the damage to the pancreas. We are still on medical food but I have done a tremendous amount of research and I will be feeding him Wellness Core from now on. I emailed the company but have not received a response yet... How do we get a class action suit gong against the makers of Blue Buffalo? As you can read all of these horror stories, something needs to happen to this company.
People are out a lot of money. The health of all of our precious friends had been unnecessarily compromised and yet worse, some have lost the dear pets. We need to get the word out or stand in front of pet stores with signs against Blue Buffalo food and possibly attract the media by doing so. This company had just settled their first class action suit and now this is happening to our pets due to their product. We need to stop them from doing business so I hope there is someone reading this who knows how to get it going. Tell everyone you can: DO NOT FEED YOUR DOG BLUE BUFFALO.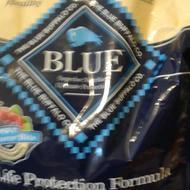 I have an 8 yr old Pom who's been on Blue Buffalo Life Protection for about a year now. About 3 mo ago I changed it to the Senior Chicken and brown rice formula and she was loving it and fine. I bought a new bag about 2 weeks ago and gave it to her. For some odd reason she doesn't want to eat and when she does she has loose stools and vomits. I saw there is a recall for the fish but not for chicken. I'm worried and would like to know if there is a problem with the chicken dog food too that they're not aware about.

Blue Buffalo puppy food for large breeds began making my 5 month old puppy sick end of last month (May 2016). He had been eating it with no issue for 2+ months and suddenly had serious bouts of diarrhea, disinterest in eating the food, and periods of lethargy. After several visits to our vet, on and off chicken and rice diet, a lot of $$ for the vet visits and prescribed medications, we tried a switch in food. Picked up a bag of Eukanuba brand puppy food Monday and we have definitely found the root of the problem to be the Blue Buffalo. He is now very excited about his food again, has more energy, and he's no longer having bowel issues. I will never purchase BB again and have warned two other new puppy owners to avoid it.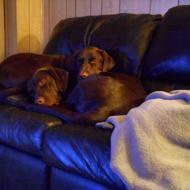 I have 2 chocolate Labs. About 2 years ago we noticed the dogs seemed bored with their food and weren't eating as much as they should have been. At first we started mixing pouched chicken in their food to entice them. That worked but then they wanted the chicken all the time. (spoiled dogs). We decided to try changing dog food. Started them on Blue Buffalo. Worst thing we could have done. The female had the runs and the male lost nearly all his fur within 3 weeks and had a rash on his underbelly. We could not figure out what was wrong at first.
Took the 2 of them to the vet. He told us he thought it was an allergic reaction and asked if we changed anything in their diet. The male lost approximately 60-70% of his fur. We put them back on Fromm and within a few weeks his fur was coming back and the rash was gone. Blue Buffalo is junk. Started reading complaints online and there are a ton of them. I can see why. Both Labs now have gorgeous coats and people always comment on how good their fur looks. DON'T BUY BLUE BUFFALO! You may regret it forever when you lose your best friend.

My cat, for approximately 3-4 months has been having trouble throwing up after eating. I was thinking that since he was a medium haired cat that perhaps it was due to shedding his winter coat and hairballs. I have been feeding him Blue Wilderness dry & canned cat food since I got him 7 years ago. I never had a problem until about 3-4 months ago. Specifically this week, every time he ate the Blue Wilderness Salmon Recipe canned food he would get sick afterward. After several times of this happening, he didn't want to eat it anymore.
I opened a different can, and he was o.k. Then had him try the salmon one more time, and a few minutes after eating he got sick again. His stools for about a month now have been loose on and off. After reading the other reviews, I think I will be taking him off of Blue altogether. He has lost a lot of weight in the last 4 months, and I just wasn't connecting to his food until now. I am praying he will be alright. Am going to make his food fresh, at least until he starts feeling better, and ask my vet for advice.

I had my Blue Heeler/Australia Shepherd puppy on Blue Buffalo Grain-free Puppy Wilderness edition a week after I got her. The breeder had her on Royal Canin puppy edition, I did not like the ingredients on the back, chicken by-product, blah blah. After the switch, everything was still well, I just did not support the previous brand and believe there were plenty of higher quality options in the market.
My dog was on BB for a few months now, no problems. I stumbled upon ConsumerAffairs.com and found out Blue Buffalo only had 1.8 stars/based on 288 ratings - I was shocked that Blue Buffalo had such a low rating! I have sat for a couple hours on this site and have gone through a good amount of reviews good and bad. I was ashamed and embarrassed that BB has had so many recalls, their history in 2015 and in addition, the fact that they are Purina. But my trust was not lost, no harm was ever done to my dog so I will not resent them simply because others do. I was just extremely shocked from a customer to manufacturer stand point of view.
So I made the switch to a 5 star company, Orijen. I made the switch smoothly, no amateur hour process here. Transitioned within about 9-14 days, slowly tapering old brand out and tapering new brand into her meal. I have not seen my dog diarrhea so much, my dog is a Heeler/Shepherd. They are smart, I am not saying I have the best dog in the world. I am not a crazy pet person, but I do believe she is family. She knows 'outside', she knows 'pee', she has had three accidental incidents of diarrhea back to back nights in my bedroom. I'm letting her out at midnight, at 3:30am and waking up at 6am with an [expected] surprise before our morning exercise.
She doesn't need the kennel, and I did not yell at her at all, I fully understood from my dog's view why it's happening. It's definitely the diet. I am not giving Orijen a negative review, I know they are top-notch but they are also extremely rich. From 490 kcal/meal to my BB 419 kcal/meal. It is for SOME maybe MOST dogs, but NOT for ALL dogs. Just like how Blue Buffalo is for SOME dogs, but not for ALL dogs.
My dog did absolutely fine with Blue Buffalo before I switched to Orijen, her diet wasn't "broken" but I gave her something better and it didn't work out. My dog enjoys Blue Buffalo, she is an extremely energetic well socialized puppy. She enjoys Blue Buffalo Puppy Wilderness edition. So I am one of the few that are rating this product 5 stars despite a large majority disagreeing. Gently test the water with new food, I did. Went from a 1.8 star to a 5 star, so I doubled the quality you could say and it didn't work out for us. I hope my review sheds some light on those interested in BB. Lesson learned, if's not broken, don't fix it.

I am the owner of 2 full blooded wolves. One is an arctic the other is a timber. We imprinted and raised them indoors until 6mos then I built a half acre kennel. I have never had such affectionate animals. We have been using Blue Buffalo which is the same as Blue Diamond for a few years without trouble. Last week my black timber wolf became too lethargic to stand. We took her to the vets. Blow work was off Hgb was 9, WBC was 20, neutrophils were elevated, Creatine was twice normal. They kept her for 2 days. No change. I brought her home to be with her mate. Today is day 2. No change. I expect she will die within the next few days.
They are in a 1/2 acre fenced in kennel, well loved and cared for. I blame the dog food especially after reading these accounts. They don't go out unless we harness them and take them for a walk. I wish that those of us who lost our loved ones because of this food should file a class action lawsuit. My breeder who breed for wildlife centers and zoos already sued another of different dog food brands and won 50,000.00. He is providing me with a list of food that is good. This is very very sad, very tragic.

My Shih Tzu Midnight has been eating Blue Buffalo for 2 years. Within the last 2 weeks she has experienced soft stool and diarrhea. She didn't even want to drink or walk. At first I didn't think it was the food. I stopped the food and gave her chicken breast and rice. I gradually mixed the dog food back in and she had diarrhea. I thought this food would be gentle on her stomach. I thought I was buying quality dog food. She experienced this with Beneful too but that was a cheap product. After researching the best dog food for my dog breed, I just purchased Wellness Core. I read reviews about Blue Buffalo and it was not good as it was 2 years ago. No more Blue for my Boo. Prayerfully, my doggie will be ok.

My dog has been on Blue Buffalo dry and canned food since we adopted him at 9 months old. He is now 7 years old. Never had a problem until 2015 on and off soft/diarrhea stools and at end of 2015 into April 2016 non stop diarrhea. All of a sudden he got diarrhea and could not hold his stools and would go in the house which he never did... Thinking maybe he got into something... we put him on boiled chicken and rice. Once his stool returned to normal, we put him back on Blue food and diarrhea started again. Vet thought he may be becoming sensitive to certain foods or treats. We eliminated all his treats and still he had diarrhea. After a 2nd trip back to the vet he was put on Hill's prescription food... No problems after he was put on the food along with medicine. He now has no problems with any treats...
It was Blue Buffalo food that made him sick. He is now on science diet and has no issues and is vibrant, full of energy, his eyes appeared to be somewhat red while on Blue food now his eyes are very bright and white. Never again will I buy Blue food. I thought I was giving my dog the best organic food... I was fooled... I'll be fighting with Blue to reimburse my vet bills.

Don't buy them... and the company does not back up their products. Blue Buffalo products will seriously make your dog ILL. Don't buy it!!! All 4 of our dogs were seriously ILL. They never even requested the bag of food back. It was contaminated... had a strange smell as well.

I just received notice that BLUE BUFFALO Life Protection Formula was BAD--TOO MUCH Moisture MOLD!! And guess who makes Blue Buffalo--PURINA does! They have it set to look like Blue Buffalo is an entirely different company. In my opinion this is nothing more then SCAM by PURINA to overcharge customers and make it appear that PURINA is fighting against a separate company called Blue Buffalo. Well how can PURINA fight against itself? I will never BUY Blue Buffalo and in my OPINION neither should you!!

My pit mix Layla had been on Blue Buffalo for quite a few years, when she is now getting sick. I'd say this really started Mar 2016 with somewhat loose stools. Not really diarrhea, but not a healthy bowel movement either. By Apr she's gotten worse, now having constant, bloody diarrhea, she can't hold it and if she has to go, she goes, doesn't matter where. She has accidents all over the house and she's always been house broken since we adopted her 6 yrs ago. We've taken her to the vet twice, she's been on medications but they don't seem to be working. She also has had some on/off vomiting. We are switching her meds soon to something else we hope will work. We can't think of anything that could have caused this aside from food she eats, which was Blue Buffalo basics.
I'm really hoping this new medication works, I'm really afraid that she's got a permanent issue, and even more afraid that it's killing her. She's only 7 and has lost quite a bit of weight lately. We don't give her people food treats or anything like that so the only place I can look to blame right now is her dog food which was Blue Buffalo. I really don't have any proof, aside from reading other reviews here, but in my heart of hearts I really think it was them, they somehow changed the formula or started using a lesser quality product. I hope my baby girl recovers.

I also just had my 6 year old boxer at the vet for throwing up blood and bloody diarrhea and severely dehydrated. She spent 24 hours at the Vet with a IV drip. Also on antibiotics and other meds. She is just now starting to feel better a week later and on prescription food. She was on science diet for sensitive stomach and we decided to switch her two BB because it is supposed to be better for her. I was wrong. Do not buy this food.

Hello friends. I have read so many of the reviews on this site for BB and sadly most of them are negative. I'm not here to say it wasn't the food that hurt the animals. We as the owners of our precious pets must find the food the works best for your pets' personal needs. BB may not be the food for every cat or dog. But so many of them claim it was the food that hurt or killed their pet when a number of things can harm our pets. Anything from being exposed to the outdoors to biting on a infected mouse. It is a little unfair to Blame BB 100%. Sometimes no matter how careful we are, things still happen.
We adopted 6-wk kitten weighing only 1 1/2 lbs. Miss Honey from a shelter and they fed their animals science diet. She was skinny, and fur was rough. After 2 weeks on BB kitten formula she became a different kitten. In fact the prettiest cat I've ever had. And full of health and energy. After a year I moved her up to the adult chicken recipe. Still doing great. No vet bills. No illness. No vomiting. No frequent litter visits. Just a perfect healthy kitty cat. See before and after pictures.
Miss Honey and parents love Blue Buffalo. And we won't take a risk to switching to anything else. I noticed from most of the reviews they did a switch in food brands. Which can be risky to their little systems. God bless.

I have fed my 7-year-old Cavalier Ming Charles Spaniel BLUE BUFFALO for 5 years and never a problem. First I fed grain free kibble but switched to canned homestyle versions when I noticed he was swallowing kibble whole and was pooping kibble. He loves the canned food and has really thrived on it. His stools are firm and small, easily picked up. Other brands of canned foods gave him diarrhea or large supersoft feces. He has never been sick with Blue Buffalo. Just like people, dogs all have different systems and ingredient allergies. My main complaint for other brands is my dog is sensitive to many of the cheap protein ingredients like corn gluten, soy, and wheat. People are too quick blame the food. Vets will always blame Blue Buffalo because they sell Science Diet which they receive commission on sales. I haven't found a Science diet that my dog tolerates,.
If Blue BUFFALO bothers your pet, try other brands. Dogs and cats have become quite allergic over the years to ingredients found in Purina and other cheaper brands. And, you should NEVER feed your cat dry kibble. One well-known vet says she would rather cats be fed cheap canned Friskies or other brands over dry kibble. Cats have low thirst response so they rarely drink enough water so dry food causes lots of health problems. (bladder stones in particular). I found the WILDERNESS brands too fatty for my dog. So slowly experiment with small changes in food ingredients over time. The ingredients most likely to cause digestive and allergy problems are Corn, Wheat, and Soy. Stay away from these cheap fillers and sources of protein. Particularly cats. They are obligate carnivores and need high meat content. Grains cannot be digested by cats.

As unbelievable as it may sound, I have 13 dogs. I recently purchased a bag of 36 Blue Buffalo Dental Bones because I thought they'd all enjoy a long-lasting chew treat and these seemed big enough and hard enough to give them something to work on. I read the warning not to give to dogs under 5 lbs or puppies (does not apply to my brood). It said they were easily digestible, all natural, made with the finest ingredients etc. My Pomeranian threw up and then began to twitch, couldn't sit up, couldn't stand up - we raced her to our vet. Bloodwork all came back normal, vitals normal but she appeared to be having a neurological problem, similar to ingesting some type of toxin.
By the time we got to the vet and preliminary tests done, my husband and I both watched as our little girl seemed to be drifting away. The vet also looked at us as if to say, don't get your hopes up and immediately hooked her up to an IV to flush out her system. The other dogs didn't have as serious a reaction, though they did have diarrhea. Her reaction remained a mystery and we didn't connect the dental bones, until yesterday. I gave them all a dental bone and the diarrhea began in 8 of the dogs, vomiting in 4 of them and my Pomeranian, who I only gave 1/2 to vomit again. After looking at the ingredients and seeing the sunflower oil, Flaxseed and rosemary oil, I'm inclined to think that's the cause of the loose stools. However, there is one ingredient or more that had a toxic effect on my Pomeranian. The bag is going in the garbage and after reading the reviews of the dog food, I'm going to make a change there too.
12 of my 13 dogs eat Blue Buffalo canned food and they consume 5 cans a day - but not anymore! This particular bag has a sell by date of Dec. 16, 2016 and I've read about the salmonella in some of their other products last year. I don't know if there is a connection but I also buy some of my pet food at Pet Smart and they should have alerted customers. I am constantly worrying that I might purchase tainted dog food and what the consequences would be for us with 13 dogs!

My 2 year old fur baby Gracie has always been a finicky eater. I have tried her on other foods with no ill effects. Nothing ever quite worked to keep her attention very long. I saw Blue Buffalo and was told it was a good product and if she didn't like it I could return it. At first she ate about 1/4 cup. From then on for a week she would only eat very small amounts just as she had with the other foods. Anyway, on Thursday, (6 days after I first fed it to her) she started to dry heave and finally did throw up some fluid. She was not acting strange other than that. I left her on Friday evening to go out of town. My husband took care of her but mentioned that on Monday morning she had not urinated or had a bowel movement. He found her curled up in the chair under her blanket where she and I Sat. She was dead. Just turned 2 in April. My heart is absolutely broken. I can't prove it but in my heart I know it is because of the Blue Buffalo.

I recently switched my 3 dogs to Blue Buffalo (poison). I thought I was doing something good by buying this "high quality" food. 1 dog wouldn't even eat it. My female ate it and after a week started throwing up blood and pooping blood. After a vet visit and meds she is on the mend. Now my male dog who was on a different bag of food is throwing up everywhere and pooping blood. He can't even keep water down. He is going to the vet shortly to get looked at. Buying Blue Buffalo was a HUGE mistake! I wish I would have seen all these negative reviews before purchasing this garbage! This company sucks and they need to get in trouble for all the issues they are cashing. I am filling out a claim form for my vet fees and I won't stop until they pay them.

I have a four-month-old beagle. My husband and I bought Blue Buffalo chicken flavor for my dog three weeks ago because my sister-in-law recommend to us. After one week, my dog started scratching everywhere on her body, and kept shaking her head like something was in her ears, and then I found some rash on the skin above her belly. We took her to the vet, he said my dog was allergic to this dog food. She stopped scratching her neck as soon as we stopped feeding her this dog food, but I'm so worried because the rash has not disappeared till now.

My pug needed a food that would help her maintain a healthy diet. After feeding her Blue Mountain Chicken and Brown Rice formula I noticed a considerable weight gain. I googled this product and found that Blue Mountain admitted to lying about Chicken by-products! There isn't any statement by BB to the public as to whether the formula has been changed by BB. I will now discontinue usage. This company needs to be accountable to the public which has used this product for their pets.

My rescue kitten underwent a full body exam when we adopted her and everything was great. We started her on Blue Buffalo. We noticed she craved food - kind of like an addiction. Today (she's 1.5 yrs old). She underwent surgery for a bladder stone. The doctor said he has never seen something like this especially for a kitten. He also said it was caused by her diet. We mentioned to him that she was on BB and he politely said that BB is not a good option. She is 1.5 yr and in so much pain. As I read these reviews I do not understand why BB would continue to sell food that harms pets. From the time of her ultrasound to her surgery, 2 weeks, her stone nearly doubled in size. We tried to avoid surgery by switching her diet but her bleeding and pain continued. Please stay away from BB.

Two stories: First, my son gave his kitty BB food, and within two hours she started projectile vomiting and was left so weak that she couldn't stand for two days. She did recover when she finally started eating other food after a couple of days. He thought BB just didn't agree with his cat and has only recently found it has been a problem with many, many pets.
Second story. My kitty (11 years old) had a complete checkup (including all labs) beginning of January, 2016 and was found to be in excellent health. At the beginning of February, Royal Canin discontinued making the line of food he had eaten for years, and BB was recommended by the pet store. We started mixing in the BB with the remaining RC food until it was just the BB, and he liked it OK. After about a week to ten days, it appeared to me he was starting to gain weight, so we cut back just a bit, but he still looked like he was gaining weight. On March 8, I took him to the vet's office for pre-dental lab work, and everything came back normal, although it was noted he had gained weight. So that day, I also bought the BB Weight Control formula and started mixing that in with the regular BB. The dental on the 11th went fine.
On the 21st, I called the vet because it appeared to me the kitty was constipated, and I noted that he was having problems completing routine jumps. Turned out the "weight" was fluid that was collecting in his abdomen. In two weeks his red blood count had dropped to half of normal (almost "transfusion level" according to the vet). To summarize the hell of the next week, we spent over $3,000 trying to save our kitty. He had one night in the hospital on IVs, the fluid removed, three complete blood tests, ultrasounds, X-rays, medications, two runs to the ER, etc. Between two vet clinics and two pathologist reports, they speculated it could be cancer or FIP or an injury, but they found no cancerous cells in any of the tests including a needle biopsy, that he was missing specific markers for FIP (plus it is extremely unlikely for an older indoor cat with no other cat contacts to get it), and no evidence of an injury.
The only thing all knew for sure was that some duct from his stomach was no longer working. I wondered to the vet if it could be the BB and she said that she had only heard reports of the extreme vomiting. But what if it didn't cause vomiting and instead stayed down and just did damage? In the end, we decided putting the kitty to sleep was the most merciful path to take. I am heartbroken. Perhaps it's just a coincidence that he started going downhill quickly after going on BB, and I'll probably never know the answer for sure. But I have all the labs and documentation to show that his decline started right after we switched to BB. If I had discovered this site earlier, I would have avoided BB like the plague.

I'm not sure how all these dogs get sick. But I have a 10 year old dachshund female, and she has been on this brand for a couple of years now. She's happy and healthy dog. I'm not disappointed at all from the brand, and always recommend it.

I have 3 cats. We decided to switch food because one of them seemed to have sensitive stomach and threw up too often. We switched to Blue Buffalo Mature Grain-Free Turkey and Potato Recipe because turkey is best for digestion from what we read. All the cats seemed to like it. It did help with the throw up issues for the most part. After about 2 months my 20 year old cat just took a turn that was so fast and so unexpected. She was a very healthy girl. I had to have her put down she was hurting herself from being disoriented and almost disintegrating.
I understand she's old etc...but...one week after that my 19 year old cat (also female) died of virtually the same symptoms. Was it old age or the food? I don't know for sure but they were both very healthy for their age. Considering we switched food fairly recently it is a serious thought and feeling of guilt on my mind. My 12 yr old male seems fine. Because of the age of my girls I can't be sure but I do want people to be aware. My cats were fine before the food and now they are gone. I would recommend not using it because I have a very strong feeling it was the food.