Wayfair
Wayfair makes finding the perfect furniture and home décor at a price you can afford easier than ever. With over seven million products from more than 7,000 suppliers, we have one of the largest online furniture and home goods selections available.
Founded in 2002 on a shoestring budget by two Cornell University engineering students, Steve Conine and Niraj Shah turned a market opportunity into an innovative home ecommerce site that exceeded $2.25 billion in revenue in 2015.
Along with the rapid growth, Wayfair has remained committed to superior customer service ensuring your online shopping experience exceeds expectations.
Wayfair, a zillion things home.
Consumer Reviews and Complaints

I have ordered a pool table which was supposed to arrive 1 1/2 months ago. Paid for it but still no delivery. They keep inventing excuses even saying I had asked for a delay delivery. Crap customer services. Not serious!

Ordered platform bed in black, daughter wanted ivory. Fifteen minutes after original order called and canceled black bed and ordered the ivory bed. Representative said no problem. Cancellation, for original order, would arrive by email. Cancellation came but it was rejected. Was charged for both beds - Called, emailed company - no response. Only received an email describing how to return the item. The only problem is that the item is extremely heavy and they require me to pay for shipping. Since I canceled the order I asked them if they would pay for shipping. No reply and charge is still on my card for two beds. Contacted them several times - no response - not one.

I ordered a swing set for my grandson. I ordered it six weeks before his second birthday in an effort to ensure he would have it by his birthday. Since I ordered it so far in advance, I was diligent about checking the website to ensure an on-time delivery. Of course, the manufacturer announced a delay. I contacted Wayfair and explained the dilemma. I requested a conversation with a supervisor, and to my surprise, I got to speak to a supervisor. The supervisor, Brittany, was responsible and consistent. When she told me she would check on something and that she would call me back, she always did. She gave me her direct contact information so I did not have to contact customer service in the hopes that they would give her the message.
When it appeared that we would not receive the swing set at the designated time, she offered a generous discount. In the end, due to Brittany's intervention, the swing set made it into the area in time. Based on my experience, Brittany and Wayfair are rock stars! I have already ordered more products from them. I cannot thank them enough.

I spent a long period of time choosing a chest of drawers and nightstand for my dad for his assisted living. The representative finally found me one that could be delivered on or before his moving day. This was more important than the type, cost, etc. I tracked the order each day and it was on time until two days before and then all of a sudden it was a week late. I called and they said it was at local delivery but they did not have the number to call them and would call me back by the end of the day.
No call so I called again and they gave me the number which I did in the morning but they told me it was not there. Called Wayfair again and they finally (after three phone calls) found it in Orlando but said that it had to be delivered to Tampa first. I live equal distance from both cities. Bottom line was that my dad had to move in with nowhere to put his clothes. After moving him in I received a call from Orlando that it would be delivered in two days and the tracking said it had been there since July 6th... 6 days ago. I will never order from them again.

Place online order for bed and 2 dressers, got deal for last to dressers; Deverel 8 Drawer Dresser with Mirror. But at the end got 1 dresser in cart and had called customer rep and she said it's only a mirror, what? I had added one thing in cart and got something else. Customer rep was rude, aggressive and she refuse to help me and I had canceled my complete order.
How do I know I can trust these reviews about Wayfair?
824,696 reviews on ConsumerAffairs are verified.
We require contact information to ensure our reviewers are real.
We use intelligent software that helps us maintain the integrity of reviews.
Our moderators read all reviews to verify quality and helpfulness.
For more information about reviews on ConsumerAffairs.com please visit our FAQ.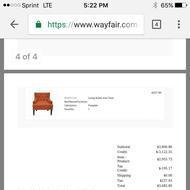 I ordered furniture for our new home just before we moved in. The few items showed they would be delivered before I took possession of the new house so I called Wayfair to explain my situation and ask them to delay the delivery or I could cancel the order until I took possession of the house. They assured me they would delay the delivery. Many items were delivered and left by the garage before I took possession. We had to just Leave the stuff since it was a foreclosure and we couldn't get permission to put the items inside. The coffee table was warped from the rain. They refunded that item.
My purchase was for $4044.79, they voided the payment. I then was requested to use a different method of payment so I used a different card. I was charged $3195.85 TWICE and $848.94. I was then refunded $2955.73. My account was then sent to collections for $2955.73. They said that if I paid the $2955.73 they would remove the account from the collection company. I again paid $1900.00 on one card and the rest on another just to stop it from appearing on my credit. After I paid I was told my account would be reviewed by accounting and if applicable reimbursed for overpayment. I was also told the account would be removed from collections within 24 hours.
I ended up providing proof the account was paid to the collection agency to have the case closed. I had to find out who the chief financial officer of Wayfair was and calling him to get my money refunded back. All of this has taken ONE ENTIRE YEAR to resolve and I'm still not sure how much I actually ended up paying just to make it go away.

We ordered both a desk chair and a writing desk from Wayfair on two different occasions. The chair arrived in a timely fashion but unfortunately was missing the majority of the parts. They refunded the cost but we had to repackage the chair and wait for pickup of the chair for two weeks which never ended up happening. Eventually the said to just throw it out!
The writing desk we ordered never arrived even though shipping tracking showed that it was to arrive on specific dates. I contacted Wayfair regarding the missing desk and their tracking had it delivered in Cincinnati, we live in Canada! They are now reshipping the writing desk to us. Unfortunately I have taken time off work for both the chair to be picked up and the desk to be delivered and it is costing us money every time they say there is a pick or delivery.

Wayfair is the most corrupt company out there... They post items on their website, you purchase and they send you junk!!! The last 2 months, I have never been so upset, aggravated in all my life... First item was damaged, etc... What I paid for is not what I got. Lesson learned... I warn everyone, don't buy their junk products from China, or better yet other countries... They make me sick!!! I thought since I paid with my Paypal account, they would make it right, but since I can't lift over 100lbs and stuff the mattress in a tiny box, because mattress comes compressed... I'm screwed! Never again... BUYER BEWARE!!!

This is the worst ever online buying experience I had. We ordered a dining room table and 8 chairs on May 29, 2017. The standard delivery date was around 6/27 or so. Although, almost a month to just deliver a dining set was too much but we decided to wait for it. Today is July 6, 2017 and there is no information when it will deliver to us.
My wife start calling them starting from July 1st but it seems that they do not know where the furniture is at right now. All they said that "it is in transition and we will call you tomorrow." Tomorrow never comes in Wayfair world and no one ever called. Today my wife called again and they were very rude on phone. Stating that you have to sit tight as it will deliver eventually but we do not have any way to confirm from our freight agent. It is up to them to call you. Wow! This is a company who does not know where their shipment is and how to track it. Look like a ripoff to me. Please think twice before making any purchase with them.

When ordering a product, Wayfair says "Ships by [2 days from now]!" implying the item would be arrive 2 days from now. Only after purchasing the product did they inform me the item would be delivered 4 weeks from now. When I cancelled online, they sent me a message 4 hours later saying, "Sorry, we cannot cancel this because it already shipped!" Absolutely terrible and deceptive business practice.

I ordered some bathroom tiles from Wayfair that advertised that it was from Daltile and it was polished. When I received the shipment, the tiles were not polished. I called Wayfair with the deliveryman standing right next to me and told them tiles were chipped and not polished. The representative told me that once I clean the tile, the shine will appear and I get 10% for chipped tiles... Now shame on me, I never dealt with that kind of tile so I said, "OK, we could use the chipped tiles for the edges or corners."
Later, when the contractors came to install the tile, he said the tile didn't look polish so I called Wayfair again. A representative told me again, "Once you clean the tile, you will see a polish. Try using the sealer with polish. That will bring it out." I said OK. Once all the tile was installed and we clean the tile still there was no shine so I called the manufacturer and they told me that wasn't polished tile. I called Wayfair, they apologized and refunded me back the money for the tile but would not refund me the money back that I had to pay the contractors to install the tile that I didn't want.
I paid for a polished tile. I spoke to the manager and he said he would change the description of the tile but he could not refund me my money that I paid the contractors to install the tile. I will have to take legal action against them. I have to pay the contractors again for demolition and put up the polished tiles that I want. Buyers beware of Wayfair, you don't always get what you see!

I ordered from Wayfair based on a recommendation from someone, now I regret it. I ordered a ton of new stuff for my apartment and the couch was my favorite piece! I went to put it together today and I'm missing both arm pieces! Two, three feet pieces are missing in order to put together this couch, do you understand how annoyed I am?! I call to get a replacement and they tell it will be here on the 12th of July!!! What type of nonsense is this?! I have to wait 12 more days because you messed up to get the rest of my couch?! All I was told in return is "We're sorry, I've already ordered your piece", **. They didn't offer half my money back, a coupon, nothing just a damn "sorry". They could rush this order if they wanted and have opted not to, this is the last time I shop with this company.

Wayfair is the worst company I have ever dealt with when it comes to honesty and scruples; they have NONE. Once the deferred time was exhausted, WayUnfair charged my husband and I double in interest. Buyers BEWARE. We paid more than our monthly charges, yet that was not accounted towards our deferred payments. WayUnfair's excuse was that the interest charges were calculated daily and that the extra was routed toward the daily interest and not the deferred. How stupid can this be??? WayUnfair will never get another dime from this household.

I ordered patio chairs from Wayfair with delivery estimated 1 week. No chairs ever came. I called and found out they were out of stock and on backorder. Was told I should have received notice, but didn't. Frustrating, but promised delivery in 3 more weeks. That seems a bit long, but I waited. Guess what? No chairs in 3 weeks. I call AGAIN. The rep tells me she has to call the warehouse to check as to why this has not been shipped. Gets back on the phone and says the warehouse is not answering their phone and she will have to email them and get back with me. Will take another day just to get a status. Seriously? I can't get information on whether I will ever receive this purchase. Interestingly, after my online chat I received a Wayfair survey - which I promptly filled out to tell them how unsatisfied I was - and the survey would not go through - a system error! Perfect set up so you don't receive feedback.

I bought 4 small pictures from Wayfair weight 22 pounds. Wayfair packed these pictures in a very large over-sized box and said it had to be shipped through a freight company because it was too large for UPS. The pictures were not what I expected. I called to return the pictures and was told I would not be refunded the $160.00 freight charges. So basically I paid $160 for nothing. I asked if I could repack the pictures in a smaller box and send UPS. They responded no. I will never shop Wayfair or Josh & Main again. What terrible customer service and deceptive practices.

We were told that the bunk bed was ready to be delivered at a nearby warehouse. It was promised today, two weeks later, that but it hasn't arrived. I have received nothing from them explaining the late delivery. I reminded them of it just now by email and wonder when we will see it. I kind of wish l hadn't ordered it now. I grade it a failure because we don't know what to do about this. I have read other reviews that make our problem seem mild. I have to wonder if all the hype contains falsehoods all the way through... More to come.

This is by far the worst furniture experience I've ever had. I bought a couch, desk and recliner. It took a week to get the desk, a month to get the couch and two months for the chair desk you assemble. Couch was delivered not as described. Was subpages to be velvet instead it was a crushed denim. False advertising. Each item was delivered by separate companies. The couch came. It was wrapped tight. Those delivery people were great when we opened it it had a huge tear in the back.
Wayfair made it right but they dumped the couch on us and we had to pay someone to remove it. Last but worse the chair was delivered today. Received no call, no email of delivery. I have video on my property. Delivery company opened the back door and kicked out the Chair which was in a huge box. They dumped it right in front of my driveway gates. I am home alone and now stuck in my home because I can't move the chair by myself. Had to go to next door neighbors to borrow a tarp. The ground is soaked and so is the box. Who knows what the chair will be when opened. I ran out to get the drivers to move the chair and they saw me and kept driving. WTF... Don't buy here. It's a nightmare, crap shot on your experience, SHAMEFUL.

I bought a living room suite and a coffee table. I was under the impression that it would be all shipped together as I ordered it all at once. I paid extra to have them bring the items in the house and put them together. At no time was I informed that the coffee table would arrive separately and in pieces. I wouldn't have purchased it had I known. At no time was I informed that I'd have to put the table together myself. So that was a waste of money. The coffee table (over $400) arrived separately alone, and the delivery person wouldn't put it together. It's still sitting in its box in my kitchen. I spoke online with a rep who disconnected on me, after telling me they wouldn't put it together.
The living room suite was over $3000. It arrived today at a warehouse 30 mins from my house. It will sit in that warehouse for another 2 weeks because the delivery company isn't coming out my direction til then. I have a feeling that if it is the same quality as the coffee table, it too will be a piece of crap. I won't know until... and if... it arrives. I wrote to the Wayfair company who responded pretty promptly with 'too bad, so sad'. They won't put the coffee table together and I'll just have to wait another 2 weeks for the furniture. When you spend $5000 for a coffee table, 2 chairs and a couch, you assume you're getting quality and expect some customer service. I assumed wrong. My mistake. I'll never do this again.

I recently bought a product from Wayfair. I just received a call from them asking if I was satisfied with the product. I was, so I said "yes". I was only then told that I would receive $10 (coupon) for reviewing the product. By asking how I felt before advising of the $10 promotion, they are essentially stacking the deck in favor of positive reviews. No doubt that if I was dissatisfied, they would not have encouraged me to share that fact via a review. Adding insult to injury, when I then went to write a review sharing this experience and what I think of it, Wayfair deleted the negative review.
Neither my comment nor my "could improve" star rating show on the product I bought. I am also prevented from attempting to re-review the product to share my opinion. I was satisfied with Wayfair until they tried to use me to cook the books. And now that they have further hidden my criticism from others, they have actually turned a friend into a foe. Stupid and, frankly, fraudulent in my view.

I ordered a sofa from Wayfair on May 5 and was expected to get it by May 30. It was being shipped from California on freight. The sofa never came on the expected date. I called and they said it should be there by June 7th. Still no sofa by that date, so I called again. They told me they were investigating my order. After many calls to Wayfair they told me that my sofa "got lost in transit". They went on to tell me that they could reorder it and have it shipped out a month a later and then get by middle of August! What a waste of time! There was no transparency in the order and I personally had to call them many times to get an update. You would think I would get emails or a call if something changed. The way they handled the order was a real letdown and made me distrust the company from then on.

Very busy with work leaving me with the convenience of shopping online. I purchased a bean bag Big Joe chair style for 63.56$. They said it will take up to 4 week shipping thinking to myself that's very long I went along with it and waited. Finally arrived after 4 weeks. Opened the box and discovered a pink chair. I obviously have ordered a black one since I'm a 21 year old man. By then you can see how disappointed I would be but what can you do. This kind of stuff happened so I called them and they said they'll send a black one. All good. Two days later I'm sitting on the chair and noticed the tag with a price of 29.98. I didn't know what to make of this. I thought it was a joke. A prank by my roommates or something. When I go online and see every website selling it for $25-$30 (chutzpah mamesh).
I immediately picked up the phone and gave them a second call. I explained the situation to the customer service representative. She sounded very confused and put me on hold for around 20 minutes. Basically all they can do to help me out and make me a happy customer is refund my money and have me return the product to them. This was the most inconvenient unprofessional experience I've ever had with a business before. I hope they come through to make things right.

If you want to return the product because you don't like it, you have to pay the freight to return. Which happens to be half of what my product is worth so I have to keep it and try to sell it on my own to get my money back. Purchasing online has always made me nervous and this is why. You don't get to see and feel the product. They should give a guarantee that you will like their product and if not they will send it back. I will never buy from Wayfair again because of that. If you purchase from here, MAKE SURE YOU LOVE THE PRODUCT!!!

We ordered a bedroom set for $1000s. A major piece of the bed frame showed up damaged. The headboard has split wood from where a nail was nailed in. They sent a replacement for the bed frame that showed up even more damaged. Thing is, they used FedEx. It's a very large box and somewhat heavy. One lady FedEx driver was in charge of delivering it. Not that a lady can't deliver a large box but this is at least a 2 person job, maybe even 3 if you're trying to prevent damage. She rolled the box end over end up my 4 front steps to get the box in. I helped but she insisted on that method. Of Course it's going to be damaged. I can't believe they sent the replacement in such a manner. After doing research, I see that 1000s, including folks in my owner family, have had equal terrible experiences. My dad ordered a table that showed up in pieces a few months ago.

Wayfair should change their name to WayUnfair. Their prices are not the best. Price matching does not seem to be an option. Customer service is not a priority. Changing your mind about an order does not go well. Forty-five minutes after placing an order on Thursday that showed a shipping date for Friday, I cancelled it. Online information indicated that an order could be cancelled as long as the order had not been shipped.
Upon cancellation of the order, a notation from Wayfair indicated that I would be notified within one business day as to whether or not the cancellation would be permitted. I was floored!! That one day delay guaranteed that the order was shipped out and that the cancellation was not "allowed." Now if I want to return the item when I receive it, I will have to pay the shipping cost. This was my first interaction with Wayfair and I doubt I will either order again or recommend them to others. In fact, I already shared this experience with other shoppers and as a result, their comments in general suggested that Wayfair was a company they would avoid.

Although I've ordered (and received) many products from both Amazon and eBay, I had never before ordered from Wayfair. I thought ordering something I needed but that wasn't too expensive would be a good way to test Wayfair. After all the shipping is free, right? They say as much in their jingle... Wrong. The item I ordered was 14$ and the shipping over (standard delivery) was 12$ (for a single cookie sheet). Accordingly, I left the SS cookie sheet in the basket without purchasing for a few days since I didn't really want to pay twice the listed price, but they hounded me about the item in my cart so often I decided to buy it just to stop the constant emails.
A week later I received an email indicating that the package had arrived. I'm furnishing a new home, repairing an older car and building my workshop. As a result I have ordered well over two hundred items from Amazon and eBay over the past few months and I do not leave things on my porch very long. I immediately went out to retrieve the package, but none was to be found. I notified Wayfair and was sent an email that the item was delivered. Perhaps it was, although not to me. When I finally was able to receive anything but a form response, they apologized and supposedly sent a replacement. That also never arrived. Again, I was home and as soon as their "Yahoo, your item has been delivered" message was sent, I went out to look... Nothing. Of course I sent another email indicating that nothing arrived and again checked the accuracy of my address they had on file. The address was correct.
Here's the thing. As stated over the past few months I've ordered and received many items via the post office, UPS and FedEx. Often I receive 4-5 packages from all three services almost daily. They know where I live and I know about what time they will drop off. UPS even knocks on the door when they leave a package. I'm retired and am home most of the time, often in my garage workshop and I can usually determine when deliveries have come just by the sound of their trucks. I mention this because nothing stays on my porch for long and of the hundreds of items delivered NONE have been missing from Amazon and only one from eBay which they quickly reimbursed me for.
The point is that local delivery trucks know my house and aren't likely to miss deliver anything, especially the same item twice. I've neither received a refund or the item I paid 28$ for from Wayfair. From my perspective this is the best commercialized con game going. Quality commercials but EXTREMELY POOR service and miserable customer service. If you need to purchase online, do yourself a favor and use Amazon. eBay is also trustworthy and I'm sure most of the online business are as well. Unfortunately the Wayfair commercials showing happy people ordering product from Wayfair is just marketing and nothing more.

I made my first purchase and my last purchase with Wayfair on May 6th. I purchased a couch for a summer home which I needed for company arriving on June 10th. When purchasing the couch it had in small print 3-4 weeks delivery which was one of the reasons I purchased the couch. I was hesitate on buying a couch from Wayfair but since HGTV promotes Wayfair and I love HGTV and the style of the couch I thought I would have a good experience. My original delivery day was June 5, then it changed to June 27th, July 7, July 10th and now I find out, 6 weeks after purchasing the couch that the frame is on backorder and the new delivery date is July 14th. So for 6 weeks my order sat idle.
No one contacted me to tell me this would be a custom order and if you look at their website it states, "6 in stock, buy now". So the content is inaccurate as this couch is not in stock. I would recommend if you plan on buying a large item like a couch that you get all the facts when you purchase it. Wayfair has sent me a 10% voucher for my next purchase. Do they really think I would purchase anything from them again after this experience? I generally do not post complaints but I am very unhappy and frustrated and I don't want other Wayfair customers to experience what I am experiencing.

I placed an order for bunk beds over the phone. My reason for ordering over the phone vs online was to confirm that the $89 delivery fee also included assembly. I was assured the beds would be assembled. When my order was delivered, the crew brought the boxes up to the bedroom, took everything out, brought the boxes to their truck and then told me that the bed would take over an hour to assemble and since they didn't have enough time another crew would be sent out that day to put the beds together. I then received a call from their shipping department telling me there was some confusion and Wayfair does NOT assemble bunk beds. I informed her that the only reason that I purchased this bed from Wayfair was because I was promised that it would be assembled. She said she would try and have someone in my area to put it together by the weekend and that I would hear back from someone that day to confirm.
Well I never heard back from anyone, so I emailed customer service the next day to follow up since I had A LOT of parts to a bunk bed scattered all over the place and a 7 year with no bed to sleep in. And again I did not receive a response. So two days later I called their customer service department, they apologized again and said they would attempt to find someone to assemble it. Since I now have zero faith in Wayfair, I told them I would just assemble it myself. I am so disgusted by all of this. I was given incorrect information just so I would make the purchase. I will never do business with Wayfair again and I will be sure to let everyone know about my experience.

Wayfair presents itself as very customer friendly. But they try to trick you into purchasing their credit card by minimizing how much you have to purchase to get the promised benefits; also, they force you to sign into their systems in order to complete a purchase, unlike other vendors that allow you to leave as a guest without broader involvement. I think they are manipulative. Very disappointing.

I ordered 3 massage beds, parts of it were damaged. I did not call to complain however someone from the department called me to check in. He was very good and understand he even offered to send me 3 new beds once I email him some photos. After sending me the photos he called again to confirm that he received it and that he will be sending another delivery. It's almost a year and I still did not receive anything. Tried emailing 4 times and I got no reply.

Ordered a tank for my son and he loved it and rode it every day since his birthday for almost a year until it broke. We had the warranty so they were going to send us a new one. Well then we found out it was sold out and on backorder for a month or so. Then it was that we would get it in another month on or before 6/5. We were told we would get emailed shipment information. 6/5 came and went and we received no information, so I had to email a person to find out that they had no information. Then I got another email that we wouldn't get it until August. Who knows if that was the truth! My son has been waiting for his tank that he rode every day and we keep telling him it's coming but that is a lie. They have made us disappoint our son by giving guaranteed dates. We finally just had to cancel it and get our money back so we could order it through someone else. What a waste of our time in the first place, poor kid.
Company Name:

Wayfair

Formerly Named:

Wayfair

Address:

4 Copley Place, 7th Floor

City:

Boston

State/Province:

MA

Postal Code:

02116

Country:

United States

Website:

http://www.wayfair.com/