Consumer Complaints and Reviews

Buyers Beware! Overstock does NOT honor their new email sign up 10% off coupon as it is written. It claims it is not eligible on "Special Sale" items, but makes no disclaimer for exclusion with regular sale items. As Overstock explained the differences, "Special Sale" items are items available on sale for a limited time, whereas "Sale" items are those items priced at rock bottom price all the time. They will not honor their 10% off coupon against "Sale" items OR "Special Sale" items so don't let them sucker you into "You're approved for an Overstock Credit Card to receive 10% off this order!" scam that they put into a popup in place of the supposed 10% off coupon.

Ordered 2 rugs. Both had to be the same due to them both being in same room. When I ordered it said "2 left". When it showed there was only one even though online it said all was shipped. I entered the chat line at night. Do not go there. First Shaleen gave me the runaround. I told her and everyone else that I had to have 2 or none. Several times she said, "Do you feel I have answered all your questions." I kept saying no. Finally around midnight I got frustrated and asked for a phone number to call someone in the morning. She would not give me one. Finally I ended up with the Supervisor Cody **. I asked the same thing and he refused.
The next morning when I checked my Email Cody ** had written me and said I had 3 choices. Refund 1 carpet, they order me the other again or send the one I got back. I was told I had 24 hours to respond. I said, "Order me the carpet." No response from Mr. Cody **. Finally got a reasonable man on the phone named Clyde. He told me that the rug was out of stock. Imagine that, the other 2 would not tell me that. Now the other carpet is sitting in front of my house waiting for pick up by UPS. Over $900 and I can not get that back till 5 to 7 business days after the rug return. Do what you want with this information but Overstock is off my list. Never had trouble with Wayfair so heading there now.

My Overstock account was frozen because they assumed fraud was happening on my account because there are two of us who used only one Overstock.com site to shop and paid with two different Overstock cards. After speaking with the Overstock fraud dept they actually treated me like I was the bad guy and REFUSED to unfreeze my Overstock web page. Not only were they rude, but they actually hung up on me! I was VERY nice to them and they treated ME like I was the bad guy.
I sent them ALL the info they asked for (Driver license, SELFIE!) and our accounts are in excellent standing with plenty of available credit, not to mention I have an almost $30 credit to my Overstock account and they won't even let me use it. Amazon gets ALL our business from now on! STAY AWAY FROM OVERSTOCK!! HORRIBLE CUSTOMER SERVICE AND PRICES TOO HIGH!

Last time I'm ordering from them. I ordered the Republic Design House Queen Cambridge Ivory Headboard storage bed and it showed in the picture the frame and the headboard, then I receive a package with only a headboard and it was not even the same headboard. When I called them they said it was probably a mistake and now I have to take this heavy box to a UPS store to return.

We purchase from Overstock the Samsung Washer Dryer (Gas Dryer). After 2 weeks was deliver all wrapped so you cannot see what inside. The driver refused to wait to open and inspect. He told us the package not damage. Very little English speaking driver. So we open and recognize it is the totally different items what Overstock show in his website on the pictures. We called Customer service. The agent also recognize the differences. Also the pedestal's was missing. She told us need to transfer us to the Electrical department. She get back on the phone and told us someone will call us back after 3-5 Business days. We receive the phone call and the gentleman recognize the differences. He ask to send the pictures from the delivered items. He told us he will call on Monday - nobody called.
We saw on the website the RA # initiated and the re-deliver start to process- but after 1 days the re-deliver was cancelled and when we called was told us it is out of stock no info when going to have this style again. So I here with no Washer Dryer. I paid for the scheduled installation and take 2 days off from work to wait for the deliver and the next day installations. It is totally unacceptable. We understand mistakes but should find the solutions but do not want to try anything. I do not recommend to buy anything from Overstock.
How do I know I can trust these reviews about Overstock.com?
761,264 reviews on ConsumerAffairs are verified.
We require contact information to ensure our reviewers are real.
We use intelligent software that helps us maintain the integrity of reviews.
Our moderators read all reviews to verify quality and helpfulness.
For more information about reviews on ConsumerAffairs.com please visit our FAQ.

I placed an order for 2 sets of 2 counter height bar stools. 2 days later I was informed by email that the warehouse informed them that my stools did not come in a set of 2, they only came individually and it asked what I would like to do- order 2 more stools or cancel the order. I called customer service and was amazed at the woman's response- she was going to get me the 4 stools since that what was advertised on their site. She had to do some paperwork but she was going to get me the stools. I knew it was too good to be true. 2 days later I received another email from the original customer service rep stating that she needed to hear from me to decide what to do about the order. I was confused since I spoke to someone at customer service the day I got the original email. I called again and was not really given any information, but she confirmed that I wanted 4 stools for my original price, which I did.
4 days after that I received another email stating that I could not get my 4 stools for the original price. I would have to purchase 2 more if I wanted the 4. I called again and asked to speak to a supervisor who stated there was nothing he could do- even though their website "made a mistake" they could not get me the 4 stools. I am beyond frustrated at this "mistake" (actually a misrepresentation of information) and their inability to correct this error and honor the price of the order that I ordered. So, 3 phone calls, 2 emails and a verified order confirmation and I have no stools and no confidence in their website.

I ordered a king bedroom suite but needed to cancel the order because the shipping was going to take too long. I looked up the information and my order still showed as processing. Based on their written policies I should be able to cancel the order - WRONG. They said the order had already shipped but the system still shows as processing. They then send me an email stating they cannot cancel the order and if I refuse I will have to pay the return shipping.

My mother ordered a bedroom set, visually satisfactory. However shortly after delivery noted a foul odor had become prominent in her bedroom. The odor most likely formaldehyde, used obviously as a treatment for pressboard used in furniture. When contacted regarding the concerns the customer service team was pleasant and understanding. However do the outgassing of the furniture. My mother has basically lost use of her bedroom at this point. Arranged through Overstock for pick up of the furniture, waited 4 hours past estimated time, only to have pick up team come upstairs and refuse pick as bed had not been disassembled. Now disassembly had been discussed with Overstock and approved. So basically waited five hours for the pick up team to say "hi and no."

I ordered a dining room set which was named Gracy Transitional Medium Brown Ladder Back 5-piece Dining Set and listed at $877.49. This is a very small table with 4 chairs. I was expecting decent quality both from the description on Overstock and the price. However what arrived was a total piece of junk. My husband spent a lot of time putting it together and each of the chairs wobbles by at least 2 inches. The quality is super cheap. I went on Overstock to see if there were any reviews and it stated that the product was out of stock and there were no reviews. I looked at the box that the table and chairs had arrived in and googled that. What came up was a Shasta dining set from Coaster Furniture. Indeed it was the exact same photo that was used to advertise this Gracy Transitional set on Overstock. The kicker this Shasta set was selling everywhere else for less than 1/2 what I paid. In fact I found it for as little $319 elsewhere.
I called Overstock irate and told them I would be returning the table and to refund my credit card. They told me I had to disassemble the table and get it back in the boxes. Hell no we just spent hours putting together this piece of crap that you falsely advertised. I have been calling them daily for almost a week now and getting a total runaround. Their customer service beyond sucks and they told me that it is an issue between me and the oversize delivery company. What? The oversized delivery company did not change the name on a product and more than double the price. The oversized delivery company did not sell me chairs that are super flimsy and wobble all over the place. Buyer beware. Never order furniture from Overstock.

I placed an order for two rugs on Monday. I put my name and billing address, but somehow it used my boyfriend's credit card number, which was on file. I assumed that the order wouldn't go through but called within the hour just to be safe. I explained to the lady that I need to cancel the order because it somehow used my name and his number. I told her that I was going to reorder with the correct credit card information. I then looked online and saw both orders so I chatted and the lady explained that it would be taken care of. Today (two days later), they email me to inform me that they shipped both orders. They shipped an order in my name with my boyfriend's credit card number after being canceled twice. This is unacceptable. I will never shop with this company again.

After numerous emails and dealing with several different Customer service reps this has finally been resolved. Overstock did pick up the furniture and returned all of my money. I give them 3 stars for resolving it but they would have more if they had resolved it before I had to make formal complaints
Original Review
I spent over $1000 for 4 patio chairs in December 2016. We had our first 90 degree day about 2 weeks ago and the cushions on the chairs are literally melting. Now grant it it's 90 degrees but that a cool day here in Phoenix our temps hit 118 degrees. They say they are melting due to a window nearby causing the heat to be more intense. I have the previous set that was there 3 years on another patio and there is no damage. How can they sell outdoor furniture to Arizona when any kind of heat will melt the fabric? There is nothing in the description that states the fabric can't stand up to Arizona heat. The manufacturer states warranty is voided because of the window. Really? Even if they replaced the cushions the same thing will happen again. The customer service rep offered me a 15% discount coupon to order new cushions. Really? They want me to buy something else from them. Stay away from Overstock!

I placed an order over 1 month ago and still have yet to receive the package. They're giving me the run around about they can't find the correct tracking number and if they are unable to locate it then they will give me a refund. Shortly after contacting support they sent an email with instructions on how to return the package that I have to pay for. How can I return something I never got and is still in transit? This has been the worst experience and I will never shop with them again!

I ordered Flower jelly lipsticks on Jan 23rd. It is now March 22nd and I still have not received my order. No responses from anyone. Not even a tracking number or an apology nor will anyone tell me when my order will ship. Waste of $40.

Customer care is terrible. I ordered a runner rug. I was sent a HUGE 10x15 rug and another 6x8 rug of same design (looked nothing like the colors on the site) and never a runner. I spent HOURS on chat with three different people. They said they'd pick it up, that it was an order for someone else. I ordered other things so I have no idea if they charged me. Neither did they. They had no record even of my runner rug. I also tried to return a bracelet, they had no record of the bracelet. And they refuse a return without an order number. They had no order numbers on file. Impossible to successfully return anything. So far I've found the products to be from mediocre to nice so I was encouraged. But the money and time loss of dealing with them is NOT WORTH THE AGGRAVATION.

We bought a hot tub and when completing the purchase, were ASSURED that there would be a team to unload and carry it around to our back patio. They sent a delivery crew of ONE, and not sure what they were thinking. The hot tub weighs 600+ pounds, and they send ONE delivery person. We refused the shipment, and my wife was told we'd have to pay a return fee. SERIOUSLY? You sold "full delivery", and when that didn't happen, and the customer then refused the shipment, you charge the CUSTOMER for a return? False advertising, fraudulent execution of a transaction. We won't buy ANYTHING from Overstock ever again.

I purchased a skinmedica TNS cream from Overstock and what I got was a cream that was unsealed from some guy in Florida. I looked up the return address and it was a ** apartment complex in FL. The box contained an OS invoice in it as well. OS gave this strange man my personal address information and he shipped me a God knows what is that cream product. I contacted OS and told them. The first guy was super nice and seemed shocked and would reship another cream. Then 15 minutes later I thought no, I better not do that one again. I called back, told my story to the next rep and he was rude and said "well it says on the site OS does that". I'm sorry WHERE ON THE SITE does it say they give your personal address to some sketchy man in a ** address.
This guy has my personal information WTF? I got my refund but that's it. I even gave my review of what happen on the site. The review was on for 1 hour and pulled this product has 5 stars from other consumers but not the entire truth. OS is a sketchy company that buys from sellers probably off ebay or something. NEVER BUY OVERSTOCK. It's scary to know my address was given out this way.

Don't honor what site says. I made a purchase over 500 dollars. It was supposed to be interest-free 12 months. They have been charging me interest and I always get the run around on phone and never anybody that knows. The more I see their site the prices I check are higher than other sites.

I recently purchased curtains from them and when I got it I didn't like how the silky fabric had scratches on them. I called Overstock saying I will return it because of this damage. They said I have to pay for return fee because my reason was that I didn't like the product. I said after they inspect it they can see that there are scratches on them and if they don't I will pay the fee. They still charged me return fee. Apparently they didn't see the scratches. So now they will resell these damage curtains. I don't even think they inspected because there are clear damages on one of the curtains. So now I am sure they will resell these and someone will end up with damage curtains again. I am not pleased with Overstock. Will not buy anything anymore on their website.

I ordered a sofa from them online since it had high ratings. However, when I received it, it was used and damaged in the corners most likely from transit since they did not package it well. I contacted them on Friday and they did not respond until Monday. They have tried to offer money to keep the damaged item rather than immediately get me a return label and a UPS pickup for this package. Then they said that the carrier will be contacting me within 10 days like I have time to wait around and have $700 sitting there charged and have yet to get me a label to return this damaged/defective product. So I am out $700 while they ** around with the carrier. This whole experience has left me with a bad taste in my mouth and I never want to order here again. If they do not get me a label and pickup soon I am going to have to file a charge back.

Does this company respond to these complaints? I seriously doubt it! I have been ripped off, and have three bad experiences with overstock. Ordered a memory foam mattress topper... Some piece of crap arrived (not even close to what I ordered) with grease all over both sides. They did refund my money on that after a couple weeks of hassle.
Ordered dining room chairs... Was never told that the two others are needed would never be available because they were permanently out of stock. Ordered a $300.00 area rug... It arrived and is all bunched up in about 20 places throughout the rug... cannot be straightened! Had to pay my handyman $75.00 to put it in the room (bring in box, move furniture, etc.) and now have to pay him again to take it out of the room, roll it up for shipment back. I called c/s, and was told "That's too bad!... It's not OUR problem if you pay a handyman!" UNBELIEVABLE!
3 weeks later, after many, many calls, and never being able to get through to the c/s rep I talked to last, (and being told their warehouse would look at the next rug before sending it out), a c/s rep called me today to tell me that the warehouse is too busy, and can't check merchandise before it goes out! I WILL NEVER EVER EVER ORDER FROM THESE RIP OFF ARTISTS AGAIN. OVERSTOCK STINKS!!!

Least helpful company I have ever had the displeasure of dealing. I have been trying to purchase a networking tool from them all day. I am a new customer and applied for their store credit. I was approved for a certain amount and the tool is $265 above the amount. I tried to pay with the store card and the remainder with my credit card. I was told I couldn't do that because the company has no way of splitting payments.
Then, I tried applying a 10% coupon that was emailed to me for being a new customer. When you click the link, it takes you to the store site, tells you the coupon has been applied, but the amount never changed. When I inquired about that, I was told it doesn't apply to electronics. What I am buying is technically a tool. It is a device that tests wireless networks. Regardless, I think it's pretty crappy to offer new customers a 10% discount but then have tons of limitations on what it can be used for (you should see the fine print. Almost everything is excluded). So then I am told that the best way to do this is purchase gift cards, apply the gift cards to the purchase, that would bring the balance to an amount lower than the credit limit, and at that point I can make my purchase.
So, I purchase 2 $200 e-gift cards that are delivered via e-mail. Well, wouldn't you know it that it became a problem as well. I am now told it can take up to 2 business days to receive an emailed gift card. Are you kidding me? These people are tragic! No wonder Amazon kills them in sales. I have purchased tons of Amazon cards and have had them delivered within the hour. What are these people doing? It's an ecard!!! Needless to say, after this I will NEVER shop with them again.

We live in the US Virgin Islands, which are part of the United States. Many companies do not ship here so the custom is to have items shipped to a shipping company in the mainland and have the company ship them to our island. So, I spent over 10 hours choosing over 3k worth of items in Overstock. I spent considerable time carefully preparing my order. When I placed it, a message showed up stating that my order was international and could not be shipped. Clearly, this is not the case. The items are supposed to be shipped to Florida!!!
The credit card has a US Virgin Islands address but the shipping address is in the Mainland. I consider this policy discriminatory against the territories. Simply bc the credit card's billing address is in the Virgin Islands (NOT an international location), the company should not exclude shipping items to the Mainland. This policy also applies to Puerto Rico based credit cards, an island of over 3 million people of Puerto Rican nationality. I hope your lawyers consider suing this company and many others who have similar policies. Thank you.

I ordered a BLACKHEAD ELIMINATOR (50% OFF 2017 SPECIAL) about 2 months ago. As I live in the U.K. I'm aware it would take some time to be delivered but never have I ever waited this long for a order online. I would never recommend this website to any of my friends or family as I've emailed them twice and have had no response back which I'm very shocked at, terrible service and would never order something from there again.

I ordered an item described as "100 percent dupioni silk panels," (notice the plural), the picture of which showed two panels on a window. Overstock sells many other products listed in the singular as 'panel,' so I figured they couldn't possibly be both misdescribing the item and incorrectly picturing it. I ordered several of these 'panels' and each package contained a single panel. Overstock would not admit false advertising or agree to change the listing after I confronted them via customer service. Neither would they make the transaction conform to what they had advertised by sending me the other panels. It appears that they know they can make much more money by relying on the customer not having the patience to return falsely advertised items.

I ordered a bed a month ago for $638.00 that was never delivered or refunded. I was given delivery dates/times twice that were totally bogus. Never received item, phone calls, emails or a refund. I am just out $638.00. They are crooks, thieves who stole my money and gave me nothing in return!!! I am devastated!!!

I made a large purchase for my home recently. However, before I made it, I spoke with a Supervisor, to ensure that if I had to return the items because they weren't as described (colors, quality, etc.). He wrote instructions to whomever was providing a refund, (in the event that I had to return the items), that I was to be reimbursed 100% of the totals sale. I made sure I set this up in advance with someone with the authority to do it because I had discovered that a lot of these online cos. have a very unfair, (to their customers), catch-all reason for return called 'BUYER'S REMORSE'. They don't inform their customers of this policy unless asked. This 'BUYER'S REMORSE' reason for return allows them to arbitrarily keep as much of their customer's money as they want to on returns. They check this reason for almost all returns. It's vague & allows them to keep 50%.
Returns that are labeled 'Buyers Remorse' include if the color doesn't resemble the pictures on their website, description & or quality of an item. Their customer service people tried to refund me about $50% of my $470. purchase even with the notes telling C.S. to refund 100% of my purchase, regardless of why I returned them. I returned them because the quality was awful & the colors didn't resemble the pictures on their site. I had to call & email them several times to find out why the reimbursement hadn't been made & then why the credit wasn't 100%. Every C.S person I spoke to lied to me about the amount of the refund. They all told me that they had issued a full refund when they had not.
It took 10 days for me to be reimbursed the full amt. I will never purchase from them again. Based on my own recent experience, as well as hundreds of bad reviews I've seen on this & other sites, I would suggest anyone considering shopping to find another more reputable, (if possible) site. Almost all online sites use this "Buyer's Remorse" policy. BEWARE. & stay away from the polite, professional sounding liars at overstock.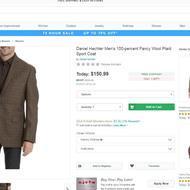 This is the second time this has occurred with Overstock. Ordered sport coat 'on sale'. 7 days later still in processing mode. No communication from them. Spoke with them and someone was to call me within 2 days. Didn't happen. Looking at their website I see same jacket now $250 on sale for $150.99. It occurs to me that they might have marked coat wrong and now don't want to fulfill my order. I purchased for $86. Phoned again and rep said they didn't have in stock... were trying to get it, etc. I said "but website would have let me purchase jacket again in same size." The short of it is that Overstock is an unscrupulous low rent operation. Customer Service is a mere suggestion to them. They take your money and then do not contact you. It's all on you to make contact and resolve the issue. STAY AWAY FROM THESE FRAUDS.

I ordered a sofa and a chair through Overstock.com. The process was great, and I was excited about my purchases. They shipped them via UPS - fine, initially. Delivery date was supposed to be 1/11, but only one package was delivered. UPS cited "truck issues" as the reason that the other one was not. The first package, the sofa, was not delivered to my front door as promised, but I had hired people to help me move it in, so it was inconvenient but we made it happen. However, I contacted both Overstock AND UPS telling them that because UPS misdelivered my chair, they needed to follow through on the directions to bring it to my front door, as I could not rehire people for the next day. UPS said that they would, and yet I got home today and they had not only NOT delivered it to my front door, they left it at a random gate in my condo complex far from my unit.
I called Overstock to tell them this and they had no answers for me, and basically said that it was my problem. The customer service agent connected me with UPS, but a three-way call became a two-way call when he hung up (which he was not supposed to do). Overstock should not ship furniture via UPS if UPS refuses to deliver it to the exact location that the shipment says. I live alone and am unable to lift furniture up 1.5 flights of stairs; UPS is able to do that, and yet they refused for some unknown reason. Overstock needs to figure out how to ship furniture in a way that it will actually get delivered to the right door. I will not be buying anything from them again, ever.

I received a gift for Christmas from participation in a gift exchange. I received two, from two different people, both from Overstock. One item was correct, the other was not: comforter set vs duvet set. Without trying to be rude to the gift giver, I want to exchange the one that I did not need but Overstock's policy does not allow this without informing the buyer. Not only is this inconvenient but this isn't something a gift receiver should have to go through. I am more than willing to return in Overstock box with original labels. Knowing this is their policy, this is the last time I purchase anything from them. I will be sharing with other family members who have also been loyal customers. This is just not right on Overstock's part.

We ordered a product that was advertised as a box of 8 (SAMPLE). We needed 5 boxes of 8 tiles, so we ordered 5. What we got in the mail was 5 individual tiles, for the exorbitant price of $25 plus $5 for shipping. We tried dealing with this company and telling them that if a sample was only one tile, they should have indicated in their ad (SAMPLE OF 1 TILE). The price of these five tiles was 3 times the retail price. We can not get any satisfaction from this company, even though they offer a money back guarantee. They still want to charge us the original $5 shipping plus $12 to return the 5 crappy tiles. I would never do business with this horrible group again.
Overstock.com Company Profile
Company Name:

Overstock.com

Website:

http://www.overstock.com/