Consumer Complaints and Reviews

Well, to start with, some background. I am my mother's sole caregiver and she had some serious health issues over the past four months. It is just now that we are trying to get back to some "normalcy". It is at this point that my very distasteful interaction with Overstock and their returns department occurred. I had purchased dishes in July. When they arrived, they were inferior to the picture and description listed on Overstock's site so, I called, explained the problem, and was sent a return label. Before I even received the label in the mail - broken printer - all hell broke loose and dishes were the least of my concerns.
So, I finally had a minute today to turn my mind to returning these dishes. Well, Overstock's return department informed me that they were past due, no one in the company had the power to override the time frame and still allow me to return these dishes for a full refund. In fact, they told me, in this blessed and charitable time of year, that even if I did pick up the $23.00 postage, I would still only receive 20% back from the $130.00 cost of these dishes!
Therefore, I told the young lady whom I'd dealt with - who was kind, patient, and even sympathetic - that it was not her fault, but that Overstock and their policy makers should be very proud of themselves at this "giving" time of year and that I was sure they would have very clear consciences and very blessed holidays. I am livid at Overstock's lack of humanity and understanding for their customers! And all I have to say is, "Amazon, Amazon, Amazon!" And, "Wayfair, Wayfair, Wayfair!" Two sites that have always treated me more than kindly and fairly.

I ordered my 1000 dollar iPad Pro on Thanksgiving expedited, told that it would show up on Tuesday. However, Tuesday rolls around, no iPad. I call customer support and they say that it will now arrive Wednesday but they can't be sure because they don't speak to the warehouse and they can't tell when it's being shipped out. What are they there for??? I asked the same question. They asked me if I wanted a credit I said no I want my iPad. So they credit me the expedited shipping. So now, today is Wednesday, no iPad, no answers and lo and behold full credit in my account. What a waste of time and effort. I will never and make sure none of my family never shops on janky Overstock.com

Own a small business and ordered two pallets of ice melt. Called to inquire about shipping date. Was told I would receive a phone call in 10 days to set up shipping. Today I received an email telling me my order was canceled and refunded. Went to the website and the items are now listed at a significantly higher price. To be exact $1,293.50 more than what I had paid. Never shopping on this website again. Deleting account. They can take their $5.00. We're sorry and shove it.

The item was described as a Velour leisure suit but it was not Valour! It was a cheesy thin cotton material with poor construction. I returned it due to the horrible quality and they deducted shipping costs of $9 for a $36 item!!! Never do business with them again.

I was granted credit, $4,000 to be exact. I used only $800 and it was Christmas presents for my grand kids, and I was happy I found what they wanted so I ordered, then I get an e-mail saying it was all cancelled! I contacted Overstock and they tell me "loss prevention" does not have all the info they need from me to complete my purchase. I've never in life had a problem with credit or paying my bills. Loss prevention can go suck an egg! I'll happily take my business and excellent credit elsewhere.
How do I know I can trust these reviews about Overstock.com?
635,598 reviews on ConsumerAffairs are verified.
We require contact information to ensure our reviewers are real.
We use intelligent software that helps us maintain the integrity of reviews.
Our moderators read all reviews to verify quality and helpfulness.
For more information about reviews on ConsumerAffairs.com please visit our FAQ.

I ordered two items from Overstock. One was a transition coat for the fall and the other was a 3-in-1 coat. Let's start with the transition coat. What I saw online was a chic, stylish belted transition jacket for a very good price. I was so excited to receive the package. All of my excitement quickly disappeared when I opened the package and was greeted by some of the lowest quality material I have ever seen used for outerwear. Additionally, the collar (which appeared stylishly large online) were about the length of a suit jacket. Finally, there are no pockets. No pockets on a fall jacket.
The second item was a 3-in-1 coat. I wish I could share more about this item, but I never received it. I did receive an email stating it had been delivered. Given that the first item (which had been purchased at the same time as the first) arrived at my house, I am not sure why the second item was sent to a FedEx pickup location. A location with an address I never received, so I have no clue where it is. Yea. Overstock will never get my money again. Shopper beware!

I just purchased drapes from Overstock.com and received them as expected. What I didn't expect is that one of their employees stole my credit card information and attempted two purchases immediately thereafter. I notice by this site that the very last review was for the very same reason. Again, it must be a practice of their because that person has almost the same amount stolen. Good thing is that I have an amazing credit card company that picked this up immediately and stopped the purchases. I am going to blast this every place that I can possibly run across that this company employs thieves or perhaps that is their business model where they make the most money. I am disgusted and will pursue if there is anything further that I can do to make sure this doesn't happen to others. I may not be able... but I can sure make others are aware. Shame on you Overstock.com... THIEVES!!!

The boots I ordered came in and from the outside it looked great, but it barely had a insole. It came detached from the sole. I had to put it in to cover the plasticky heel's hole. It was not comfortable when I tried it on. I thought for the price of $48 these would be a decent investment, but get this - I get the worse quality shoes and I have to pay $11 for shipping. I somehow, didn't pay for shipping when they try to sell it to me. But, for returns they either deduct it from your return or you have to pay when you ship it back. This was such a waste of time. Oh did I mention, the day I bought something on this website 3 hours later, my visa card was compromised. I had my physical card, but somebody had accessed my account (debit) from somewhere and spend $200. I am gonna make sure this gets to people.

My girlfriend ordered a memory foam topper from Overstock.com that was advertised as a 2 inch, queen-size, 3 lb. foam topper. When it arrived I suspected immediately that there was something wrong because the box was much lighter than it should have been. A memory foam topper of this size and density should weigh around 16 pounds, but when we weighed the box it was just over 11 pounds. After doing the calculations we determined this topper was made with 2 lb. foam, not the 3 lb. that was advertised. Lighter density foam has a completely different feel and doesn't last as long as foam that is more dense.
Without opening the box, my girlfriend called Overstock to complain. The customer service agent said she'd send a return label and would have them send the correct topper, so we thought the problem was resolved. We sent the topper back and waited for the new one to arrive. After waiting a week with no shipping notification or any other contact at all, my girlfriend called again to find out what was happening. The agent checked and said they had plenty of those 3 lb. toppers in stock so it should be sent out in a day or two. So we waited. Then a day or two later my girlfriend was notified by e-mail that they were out of stock on the 3 lb. memory foam toppers and were cancelling her order and refunding her money.
My belief is that they are cheating people by promising one thing and sending another, knowing that most people would never realize they were being cheated. But they knew we were going to weigh anything they sent us so they canceled the order. What else could explain them doing that when they had plenty of these in stock, or could have? Overstock.com has just lost two customers - FOREVER. The reason we knew to weigh the box was because of a previous experience with Overstock. I had ordered a 4 lb. memory foam topper a few years ago for myself, but when it arrived I suspected it was not 4 lb. foam because I had another 4 lb. topper and knew what that density felt like. I kept it anyway, but it always bothered me. After this experience, I went home and weighed that topper and discovered it was just under 3 lbs. density.
To see if you are getting screwed on memory foam, do the math. If it is advertised as 3 lb. foam, that means each cubic foot of the foam should weigh 3 lbs. So you figure out how many cubic feet of foam your topper consists of, multiply that by whatever density they advertise it as, and that's what the entire topper should weigh. Example: A 2 inch queen topper has 2x60x80 inches of volume, which works out to 9,600 cubic inches. To find out how many cubic feet that is, divide it by the number of cubic inches in one cubic foot (12x12x12 = 1,728) So 9,600/1,728 = 5.55 cubic feet. A 3 lb. density topper of this size should weigh 3 x 5.55 = 16.66 pounds.
Note that sometimes they sell toppers that are a couple of inches shorter in length and width than the standard sizes for king, queen or whatever. The rationale they use is that it makes it easier to get sheets on that way. Conveniently, it also means they get to use less foam in making that topper but still sell it as a queen, king or whatever size it's meant to fit. But that's ok, as long as they tell you that upfront and you can decide to accept it or not. If this is the case be sure to use those shorter dimensions in your calculations.

I purchased a 7 piece dining set and after 2 weeks of waiting for this to be delivered it arrived on a Monday with damage to the table. I called Overstock within an hour after delivery and was told they will get in touch with the dept that handles the large freight pickups and someone would contact me within a day to arrange pickup. I called again on Wednesday only to be told the same thing and that it takes 5 days to arrange pickup. I called again on Saturday and spoke to a gentleman who said his name was Johannas. He informed me that there was no notation that anyone has been contacted as if yet and that he wishes I would have called sooner!!!
I advised him this is the THIRD time I have called, that I want this damaged furniture picked up ASAP that is taking up my garage space and I want my 900.00 refunded! He said that "there is nobody in that department today, but will have it addressed Monday morning." I am livid at this point. I will be calling first thing Monday morning and if needed will contact the freight company that delivered it to me in the first place! NEVER AGAIN WILL I BUY FROM OVERSTOCK.COM.

My order never shipped. No response to my many emails to customer service. The worst company I have ever bought anything from. Be advised!

I ordered a very expensive vinyl record for my husband's birthday. When it arrived it was some random DVD. I contacted their "award winning customers service" and instead of explaining what went wrong they just initiated the return process. I told them I didn't want a return - I wanted my item I ordered. They told me that item is not available and to return the incorrect item they sent, and I would get my money back. No apology, nothing! Then to top it off, they said if I don't send the item back in the timeframe they gave me I would be held responsible for the item and I would have to pay for it!!! I send the item back, and track it. It says they received the item the next day. A week goes by and still my money has not been returned. So, I contact them again. They tell me I should see my money within 2 days... Well here we are 3 days later and still I have not received my money. This website is a total scam!

I shopped for months for a replacement wedding ring when mine was lost - decided on a white gold and sapphire ring and what arrived was Rose Gold and Sapphire - my heart sank. As I checked my receipt to confirm my choices somehow when doing the drop down menu I had errantly selected Rose Gold. I immediately called Overstock.com returns but due to the high value of the item it had to go to a special team for return processing, this was 4 pm on a Friday and that team, of course, was out of the office till Monday.
I was a little frustrated and disappointed. The rep was very understanding. I told him I was sure I had selected the white gold and was really confused about how it all got mixed up. He gave me a $50 store credit for the trouble I was experiencing. Over the weekend I looked around online to check out reviews on returns and this site had me very concerned at the negative experiences everyone had posted in dealing with returns/exchanges with O.com. Additionally the cost of my ring had gone up $600 since the labor day sales were over so my fear was they either would make it such a hassle to return or charge me the difference and not honor the return since I had somehow mistakenly selected Rose Gold.
My experience couldn't have been better. The rep who called me first thing Monday morning discussed the whole process, I was responsible for shipping the ring back for the exchange. I paid for overnight shipping to try to expedite the processing as we were leaving town and I wanted my new ring for an event. The rep gave me her work email so I could send her the tracking number so she could keep an eye on when it was checked in to the return dock and try to facilitate a quicker check in process for the returned ring. She called me to let me know they had it, then called me again when the exchanged ring shipped and they arranged expediting shipping for no extra cost to me. I had very low expectations based on some of the reviews but I have to say their customer service on this experience was way beyond what I would have expected. I will gladly continue to do business with Overstock.com.

After reading through the reviews of Overstock on ConsumerAffairs... it looks like I am not the only one having the same, exact problem. I ordered 20 cases of tile for my new home. Lined up workers to install the tile based on the shipping estimates I received both when ordering and on the tracking information provided. The tile was ordered on September 1st in the AM. Every single day the next week I contacted the "award winning customer support" of Overstock as it looks like it was delayed on the tracking website. At first, I was told I would still arrive within the 3-6 business day shipping window. On Friday, however, I was told it was delayed and would show up within 1-4 weeks (!!).
I emailed again (third time) and was told I would receive a callback within 24 hours (again from the award winning Overstock customer support). Never heard. Reached out again today and was told 1-4 weeks again, and that I would be contacted by a manager within 24 hours (I've been told this four times now). Meanwhile my workers are standing by being paid by me, my foyer's old tile has been ripped up and we are schedule to move in this Friday. At this rate, I cannot imagine that happening. No idea when my tile is showing up. I get a different answer every time I reach out to customer support. I've now taken my business elsewhere for my other home purchases (5 orders last week alone).

If you are trying to buy furniture... Don't come to this store. They will rip you off. I went to buy a bedrooms set for my daughter. I made the purchase. Everything was ok... till time to pick up my stuff. They told me I could pick it up the following weekend. All that was fine. My nightmare start when I called them to let them know I was on my way to pick up. They told me items were not at store... That sucks cause I lost 8 hours of work... So I was so piss off and tried to cancel my order so they said it would be 30% charge for return... My purchase was almost $900 dollars. It's like giving away $270. For nothing. Now I am fighting with my bank to get this ** right.

Ordering ceramic wall tiles from Overstock.com has been the most frustrating, infuriating and nerve-wracking shopping experiences I've had to endure in recent years. I placed an order for 9 boxes of ceramic tiles on Overstock.com on 8/10/16 and as I write this, 28 days later, I still haven't received my shipment. Overstock is unable to locate my shipment, give me an estimate of arrival, and will not allow me to cancel the order. I am stuck in Overstock hell. I have two top complaints:
1) The shipping information listed on Overstock's product page is deceptive and misleads customers into believing they can get their order of tiles within 6 business days. Overstock over-promises delivery timeframes that they are unable to honor. 2) Overstock.com and MXD Group (Overstock's freight carrier of choice) are unable to accurately locate my shipment or provide me an accurate estimate for delivery of the tiles. I would add that MXD Group is likely the most incompetent, unreliable and all around useless delivery company I have ever encountered. No one at MXD Group is able to tell me where their truck is. Every call to MXD customer service seems to get a different answer. My most recent call got the unhelpful explanation that "the shipment is somewhere between Illinois and Los Angeles".
The details: In total, I purchased 9 cases of 25 tiles each. I placed the order on 8/10/16 trusting that it would be delivered within 6 business days according to the delivery estimate provided by Overstock.com at checkout. Overstock's product page offers four shipping options ranging from free Standard Shipping with delivery within 6 business days, to Express Shipping (for $49.59) with delivery within 1-3 business days. I chose the free Standard Shipping option.
The fine print, conveniently hidden under a "show more" button at the bottom of the page, warned that orders over 300 lbs would ship via freight carrier with longer shipping timeframes. I needed the order by the end of August and was determined to avoid risking slower freight shipping. So, I researched the product online and confirmed that each case of 25 tiles weighs 28.6 lbs (258 lbs for an order of 9 small boxes). I was confident that since the weight was below the 300 lbs limit set by Overstock for freight shipping, it would not be shipped by freight and I'd receive the tiles within a week or so.
However, in spite of my order being below 300 lbs, Overstock shipped it by freight anyway, breaking their own policy as stated online. As I write this review, 28 days after placing the order, I have still not received the tiles. Worse yet, no one can tell me with any degree of certainty the exact location of my shipment or when it will be delivered. Overstock.com says that's "how it goes" with freight shipments.
Both Overstock.com and their hopeless shipping partner MXD Group are unable to track the shipment or provide me with an estimate of arrival. It is an absolute disaster and I regret having ordered from Overstock. This holdup has cost me several hundred dollars in contractor fees and related expenses due to the delay and the need to reschedule the work, much more than the few dollars I looked to save by ordering from Overstock.com. Finally, I would like to cancel the order and place it with another online retailer. But Overstock will not allow me to cancel it since it's shipped. I am stuck in Overstock hell. A word of advice: stay away from Overstock.com. Consider other online options like Wayfair and Amazon Prime.

I purchased a shade sail for 80.00. I bought one that was too big. I returned at UPS. Overstock received it. I tracked it. I call for my refund. No one answers the online chat. Nor do they answer the phone. This is my 3rd attempt at chat. Starting to piss me off. I will NEVER buy from them again.

I had ordered few pieces of quite expensive jewelry that I wanted to give to my daughter's birthday. I ordered two pieces under the same order and two in different orders. When I started to initiated returns for the pieces I did not like (given that we cannot see the items in person, I wanted to make sure I will like at least one item from the ones I ordered), I came to learn that not only the returns are not free, but I have to ship every item in separate shipping with corresponding insurance. Of course, it was my mistake of not checking out their returning policy but honest to God, I wasn't even thinking that a company like Overstock.com will be asking consumers to pay for returns.
Lesson learn and I thought I will be more careful in the future. So I initiated returns but oh boy, it takes such a long time for them to approve your return. They sent million questions before finally sending the needed RMA number without which you cannot send the item back. I also called few times, as soon as the representative get to know that you are returning expensive jewelry, she speaks to you like you are a criminal. I initiated return on August 26, 2016, today is September 1, 2016 and I am still waiting for that RMA# -meanwhile, they charged me of course. So, never ever again, I will be ordering again from Overstock.com and advise all consumers to think twice before you place an order from them.

Upon ordering the wrong size, I attempted to cancel within 1 hr. There really is no customer service except for Apu or Raji or whatever the non-American non-English speaking person is who answers by chat via the Overstock.com site. I'm really disappointed that cancellations are almost impossible and that I will have to ship items back for refund instead of just simply cancelling an order.

I ordered a headboard from Overstock.com. The product delivered was not the product advertised. It has been an absolute nightmare trying to get the item returned. I will NEVER use Overstock.com again!!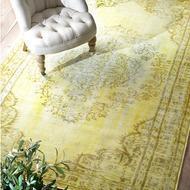 I ordered a 8x10 yellow over-dyed wool rug for $390. Received a 11x7 bleached jute rug that looks and smells like hay. Called customer service. They apologized and instructed me to schedule a return pickup with UPS. Called UPS. They do not schedule pick ups. (They make 3 unscheduled attempts.) No Saturday pick ups. I am unable to take a day off work to schedule a rug return. I can't leave the rug outside, I live in the Bronx. Called Overstock, and they suggested that I take the rug on the subway (about 8 miles away) to bring it to UPS for return shipping. An 11 foot rug on the subway? Overstock said there is nothing they can do. So now I am stuck with an ugly hay rug and out $390. This company is awful.

In the past month, I had to return 4 sewing machines because they were defective. I purchased 2 years ago a brand new sewing machine, so it said, but when I turned it upside down I saw the label manufacturer refurbished. The customer service is polite, but adheres to the lack of honest business.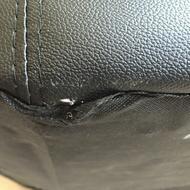 I ordered a couch from Overstock. It took several weeks to ship it to Las Vegas, where I live, and once it arrived the shipping company dropped it off with Capitol North America for final delivery. I called Capitol and left voicemails for "Tracy" on multiple occasions; she finally called me back several days later. The purpose of Capitol's involvement, according to Overstock, is to inspect the product, but given the fact my couch contained tears and stains, it clearly didn't occur. The delivery was supposed to take place between 12 p.m. and 4 p.m., and I was to be contacted 30 minutes in advance so I could leave work; the drivers showed up unannounced at 11 a.m. They eventually returned at 12 p.m. and dumped my couch in the lobby of my condo building and left.
Apparently Overstock believes delivering a product like a couch to your front door (or even inside your home) warrants an additional charge. It's bad enough their shipping company doesn't deliver on weekends; indeed, they don't really deliver at all unless you pay them extra. The assembly instructions were for a different product, and the screws provided to assemble the legs were cheap and frequently broke. I finally had to call a handyman with some advanced power tools to install the legs. There is a tear in the leather on the bottom and a stain on one of the cushions; I notified Overstock of these problems, and they are completely indifferent.

As have others, I opened up an Overstock.com credit card. First order: Denied. Simply cancelled. Calling to inquire why, I was subjected to a host of questions, none of which were pertinent to an order. I was told the order would ship. It did, then was hijacked in transit by Overstock recalling the package. Repeatedly calling their "overzealous" loss prevention department, could not rectify the order. I gave up and cancelled. Also cancelled the credit card as well.
Weeks later I receive a $20 gift card for their website and figure I will buy something innocuous just to use the card up. Well, scama-lama-ding-dong, they refuse ANY orders from me. I'm like WTF? So I ask for them to just refund me the gift card - as they absorb the card as "store credit" when you enter it. Overstock refuses to refund or return that $20 gift card. Unbelievable. Do yourself a favor: Stay way, way away from Overstock.com

I bought a recliner from overstock.com. The product is so cheap and weak, my mom could not use it. It is made for a child. My mother is in a care facility and because they did not keep the box, it is impossible to return. Nobody makes boxes big enough. They even sent me to the UPS store and they could not make it.
Overstock.com will take no responsibility for it. Mike, one of the managers over the phone at Overstock, says it is not their problem if I did not keep the box and I cannot return it. Overstock.com has no boxes and WILL NOT help in any way. Knowing my mother is in a care facility and giving absolutely no true guidance shows what type of company it is. NEVER AGAIN will I but anything from them..

I ordered a Prada bag and as soon as I received I know is not the one I want so I called and they said it should have a security tag (which mine did not have) for return. I talked to few people but they were not helpful. All I want to return this bag and get my money back. Please help me.

On July 2 I ordered a couch. On July 11 the freight company Ceva Logistics, called me to schedule delivery. On July 15, I waited around for 4 hours only to have them not show up. Rebound two begins with a delivery of a damaged couch - the front of the frame literally broke in two pieces. It takes weeks to arrange a pick up of the broken couch and finally, the day comes. They send ONE guy who tells me he can't take the broken couch by himself. Aaaauurgh! I'm never getting rid of this monster!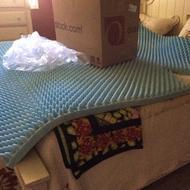 Recently purchased a memory gel foam mattress topper for our king size bed. Saw a topper in the category I was interested in for a reduced price stating sold as is, no refunds/returns. I should have followed my instinct and not went with it, but thought if is had a tear in the cover or maybe had been used a few nights by someone else who returned it, it wouldn't be a big deal. Topper came two days after order and I was appalled at it. It was advertised with poly silk cover which was NOT included, but the worst of it was, the mattress had a huge tear drop hole (1 1/2' x 2 1/2') upper right side 1/3 the way down! OMG! I felt this order was completely unusable for our king bed, who wants to lay in a hole? They should have listed the damages, and/or picture. It could be cut down to a full size bed or twin, but it is NOT usable for our king bed.
I called customer service to only have them read their disclaimer notice of possible problems/damages to "as is" products and to say they were unwilling to do anything about this mattress topper even though it was completely unusable. Customer service referred me to a website to send my complaint and picture, I am doubtful after reading all the reviews here that they will make any kind of refund or discount. I do not have money to throw away, but that is what I have just done. If they were to actually put a picture on website of the "as is" merchandise, they probably wouldn't have too many takers. This is deceitful and I will not buy from them again and that is why I sharing my experience to warn everyone else.

Poor return policy. Items purchased through 3rd party which wasn't helpful. I purchased a gas fire pit. I was unable to ignite the first time, then difficult again second time. By third time I realized it was a defective item. It was 40 days after purchase and I had no container to return it in. I was finally given a shipping label and money back if I could package it. Somehow we got it to UPS and money ultimately returned but will never deal with Overstock again. Nor should anyone!!

I used this website many times without any problem, UNTIL I made a return. I ordered a marble tray several weeks ago and mistakenly got a big ugly wall mounted rack. I contacted the customer service immediately and they emailed me a UPS return label. I put this all behind me thinking I would get a refund in no time. BIG MISTAKE. Today, I checked the UPS status, I got this message "The receiver does not want the product and refused the delivery." It was their mistake in the first place and now they are refusing the return??? This makes no sense at all. I contacted customer service again and the rep say they would forward this issue to the return department. I wonder what their solution could be? Wait until the package shipped back to me and offer me another return label? I am just glad it's only $35 at stake here, I would never ever purchase from this company again.
Overstock.com Company Profile
Company Name:

Overstock.com

Website:

http://www.overstock.com/