Consumer Complaints and Reviews

I ordered Flower jelly lipsticks on Jan 23rd. It is now March 22nd and I still have not received my order. No responses from anyone. Not even a tracking number or an apology nor will anyone tell me when my order will ship. Waste of $40.

Customer care is terrible. I ordered a runner rug. I was sent a HUGE 10x15 rug and another 6x8 rug of same design (looked nothing like the colors on the site) and never a runner. I spent HOURS on chat with three different people. They said they'd pick it up, that it was an order for someone else. I ordered other things so I have no idea if they charged me. Neither did they. They had no record even of my runner rug. I also tried to return a bracelet, they had no record of the bracelet. And they refuse a return without an order number. They had no order numbers on file. Impossible to successfully return anything. So far I've found the products to be from mediocre to nice so I was encouraged. But the money and time loss of dealing with them is NOT WORTH THE AGGRAVATION.

We bought a hot tub and when completing the purchase, were ASSURED that there would be a team to unload and carry it around to our back patio. They sent a delivery crew of ONE, and not sure what they were thinking. The hot tub weighs 600+ pounds, and they send ONE delivery person. We refused the shipment, and my wife was told we'd have to pay a return fee. SERIOUSLY? You sold "full delivery", and when that didn't happen, and the customer then refused the shipment, you charge the CUSTOMER for a return? False advertising, fraudulent execution of a transaction. We won't buy ANYTHING from Overstock ever again.

I purchased a skinmedica TNS cream from Overstock and what I got was a cream that was unsealed from some guy in Florida. I looked up the return address and it was a ** apartment complex in FL. The box contained an OS invoice in it as well. OS gave this strange man my personal address information and he shipped me a God knows what is that cream product. I contacted OS and told them. The first guy was super nice and seemed shocked and would reship another cream. Then 15 minutes later I thought no, I better not do that one again. I called back, told my story to the next rep and he was rude and said "well it says on the site OS does that". I'm sorry WHERE ON THE SITE does it say they give your personal address to some sketchy man in a ** address.
This guy has my personal information WTF? I got my refund but that's it. I even gave my review of what happen on the site. The review was on for 1 hour and pulled this product has 5 stars from other consumers but not the entire truth. OS is a sketchy company that buys from sellers probably off ebay or something. NEVER BUY OVERSTOCK. It's scary to know my address was given out this way.

Don't honor what site says. I made a purchase over 500 dollars. It was supposed to be interest-free 12 months. They have been charging me interest and I always get the run around on phone and never anybody that knows. The more I see their site the prices I check are higher than other sites.
How do I know I can trust these reviews about Overstock.com?
721,363 reviews on ConsumerAffairs are verified.
We require contact information to ensure our reviewers are real.
We use intelligent software that helps us maintain the integrity of reviews.
Our moderators read all reviews to verify quality and helpfulness.
For more information about reviews on ConsumerAffairs.com please visit our FAQ.

I recently purchased curtains from them and when I got it I didn't like how the silky fabric had scratches on them. I called Overstock saying I will return it because of this damage. They said I have to pay for return fee because my reason was that I didn't like the product. I said after they inspect it they can see that there are scratches on them and if they don't I will pay the fee. They still charged me return fee. Apparently they didn't see the scratches. So now they will resell these damage curtains. I don't even think they inspected because there are clear damages on one of the curtains. So now I am sure they will resell these and someone will end up with damage curtains again. I am not pleased with Overstock. Will not buy anything anymore on their website.

I ordered a sofa from them online since it had high ratings. However, when I received it, it was used and damaged in the corners most likely from transit since they did not package it well. I contacted them on Friday and they did not respond until Monday. They have tried to offer money to keep the damaged item rather than immediately get me a return label and a UPS pickup for this package. Then they said that the carrier will be contacting me within 10 days like I have time to wait around and have $700 sitting there charged and have yet to get me a label to return this damaged/defective product. So I am out $700 while they ** around with the carrier. This whole experience has left me with a bad taste in my mouth and I never want to order here again. If they do not get me a label and pickup soon I am going to have to file a charge back.

Does this company respond to these complaints? I seriously doubt it! I have been ripped off, and have three bad experiences with overstock. Ordered a memory foam mattress topper... Some piece of crap arrived (not even close to what I ordered) with grease all over both sides. They did refund my money on that after a couple weeks of hassle.
Ordered dining room chairs... Was never told that the two others are needed would never be available because they were permanently out of stock. Ordered a $300.00 area rug... It arrived and is all bunched up in about 20 places throughout the rug... cannot be straightened! Had to pay my handyman $75.00 to put it in the room (bring in box, move furniture, etc.) and now have to pay him again to take it out of the room, roll it up for shipment back. I called c/s, and was told "That's too bad!... It's not OUR problem if you pay a handyman!" UNBELIEVABLE!
3 weeks later, after many, many calls, and never being able to get through to the c/s rep I talked to last, (and being told their warehouse would look at the next rug before sending it out), a c/s rep called me today to tell me that the warehouse is too busy, and can't check merchandise before it goes out! I WILL NEVER EVER EVER ORDER FROM THESE RIP OFF ARTISTS AGAIN. OVERSTOCK STINKS!!!

Least helpful company I have ever had the displeasure of dealing. I have been trying to purchase a networking tool from them all day. I am a new customer and applied for their store credit. I was approved for a certain amount and the tool is $265 above the amount. I tried to pay with the store card and the remainder with my credit card. I was told I couldn't do that because the company has no way of splitting payments.
Then, I tried applying a 10% coupon that was emailed to me for being a new customer. When you click the link, it takes you to the store site, tells you the coupon has been applied, but the amount never changed. When I inquired about that, I was told it doesn't apply to electronics. What I am buying is technically a tool. It is a device that tests wireless networks. Regardless, I think it's pretty crappy to offer new customers a 10% discount but then have tons of limitations on what it can be used for (you should see the fine print. Almost everything is excluded). So then I am told that the best way to do this is purchase gift cards, apply the gift cards to the purchase, that would bring the balance to an amount lower than the credit limit, and at that point I can make my purchase.
So, I purchase 2 $200 e-gift cards that are delivered via e-mail. Well, wouldn't you know it that it became a problem as well. I am now told it can take up to 2 business days to receive an emailed gift card. Are you kidding me? These people are tragic! No wonder Amazon kills them in sales. I have purchased tons of Amazon cards and have had them delivered within the hour. What are these people doing? It's an ecard!!! Needless to say, after this I will NEVER shop with them again.

We live in the US Virgin Islands, which are part of the United States. Many companies do not ship here so the custom is to have items shipped to a shipping company in the mainland and have the company ship them to our island. So, I spent over 10 hours choosing over 3k worth of items in Overstock. I spent considerable time carefully preparing my order. When I placed it, a message showed up stating that my order was international and could not be shipped. Clearly, this is not the case. The items are supposed to be shipped to Florida!!!
The credit card has a US Virgin Islands address but the shipping address is in the Mainland. I consider this policy discriminatory against the territories. Simply bc the credit card's billing address is in the Virgin Islands (NOT an international location), the company should not exclude shipping items to the Mainland. This policy also applies to Puerto Rico based credit cards, an island of over 3 million people of Puerto Rican nationality. I hope your lawyers consider suing this company and many others who have similar policies. Thank you.

I ordered a BLACKHEAD ELIMINATOR (50% OFF 2017 SPECIAL) about 2 months ago. As I live in the U.K. I'm aware it would take some time to be delivered but never have I ever waited this long for a order online. I would never recommend this website to any of my friends or family as I've emailed them twice and have had no response back which I'm very shocked at, terrible service and would never order something from there again.

I ordered an item described as "100 percent dupioni silk panels," (notice the plural), the picture of which showed two panels on a window. Overstock sells many other products listed in the singular as 'panel,' so I figured they couldn't possibly be both misdescribing the item and incorrectly picturing it. I ordered several of these 'panels' and each package contained a single panel. Overstock would not admit false advertising or agree to change the listing after I confronted them via customer service. Neither would they make the transaction conform to what they had advertised by sending me the other panels. It appears that they know they can make much more money by relying on the customer not having the patience to return falsely advertised items.

I ordered a bed a month ago for $638.00 that was never delivered or refunded. I was given delivery dates/times twice that were totally bogus. Never received item, phone calls, emails or a refund. I am just out $638.00. They are crooks, thieves who stole my money and gave me nothing in return!!! I am devastated!!!

I made a large purchase for my home recently. However, before I made it, I spoke with a Supervisor, to ensure that if I had to return the items because they weren't as described (colors, quality, etc.). He wrote instructions to whomever was providing a refund, (in the event that I had to return the items), that I was to be reimbursed 100% of the totals sale. I made sure I set this up in advance with someone with the authority to do it because I had discovered that a lot of these online cos. have a very unfair, (to their customers), catch-all reason for return called 'BUYER'S REMORSE'. They don't inform their customers of this policy unless asked. This 'BUYER'S REMORSE' reason for return allows them to arbitrarily keep as much of their customer's money as they want to on returns. They check this reason for almost all returns. It's vague & allows them to keep 50%.
Returns that are labeled 'Buyers Remorse' include if the color doesn't resemble the pictures on their website, description & or quality of an item. Their customer service people tried to refund me about $50% of my $470. purchase even with the notes telling C.S. to refund 100% of my purchase, regardless of why I returned them. I returned them because the quality was awful & the colors didn't resemble the pictures on their site. I had to call & email them several times to find out why the reimbursement hadn't been made & then why the credit wasn't 100%. Every C.S person I spoke to lied to me about the amount of the refund. They all told me that they had issued a full refund when they had not.
It took 10 days for me to be reimbursed the full amt. I will never purchase from them again. Based on my own recent experience, as well as hundreds of bad reviews I've seen on this & other sites, I would suggest anyone considering shopping to find another more reputable, (if possible) site. Almost all online sites use this "Buyer's Remorse" policy. BEWARE. & stay away from the polite, professional sounding liars at overstock.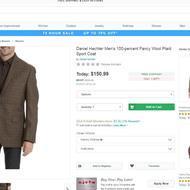 This is the second time this has occurred with Overstock. Ordered sport coat 'on sale'. 7 days later still in processing mode. No communication from them. Spoke with them and someone was to call me within 2 days. Didn't happen. Looking at their website I see same jacket now $250 on sale for $150.99. It occurs to me that they might have marked coat wrong and now don't want to fulfill my order. I purchased for $86. Phoned again and rep said they didn't have in stock... were trying to get it, etc. I said "but website would have let me purchase jacket again in same size." The short of it is that Overstock is an unscrupulous low rent operation. Customer Service is a mere suggestion to them. They take your money and then do not contact you. It's all on you to make contact and resolve the issue. STAY AWAY FROM THESE FRAUDS.

I ordered a sofa and a chair through Overstock.com. The process was great, and I was excited about my purchases. They shipped them via UPS - fine, initially. Delivery date was supposed to be 1/11, but only one package was delivered. UPS cited "truck issues" as the reason that the other one was not. The first package, the sofa, was not delivered to my front door as promised, but I had hired people to help me move it in, so it was inconvenient but we made it happen. However, I contacted both Overstock AND UPS telling them that because UPS misdelivered my chair, they needed to follow through on the directions to bring it to my front door, as I could not rehire people for the next day. UPS said that they would, and yet I got home today and they had not only NOT delivered it to my front door, they left it at a random gate in my condo complex far from my unit.
I called Overstock to tell them this and they had no answers for me, and basically said that it was my problem. The customer service agent connected me with UPS, but a three-way call became a two-way call when he hung up (which he was not supposed to do). Overstock should not ship furniture via UPS if UPS refuses to deliver it to the exact location that the shipment says. I live alone and am unable to lift furniture up 1.5 flights of stairs; UPS is able to do that, and yet they refused for some unknown reason. Overstock needs to figure out how to ship furniture in a way that it will actually get delivered to the right door. I will not be buying anything from them again, ever.

I received a gift for Christmas from participation in a gift exchange. I received two, from two different people, both from Overstock. One item was correct, the other was not: comforter set vs duvet set. Without trying to be rude to the gift giver, I want to exchange the one that I did not need but Overstock's policy does not allow this without informing the buyer. Not only is this inconvenient but this isn't something a gift receiver should have to go through. I am more than willing to return in Overstock box with original labels. Knowing this is their policy, this is the last time I purchase anything from them. I will be sharing with other family members who have also been loyal customers. This is just not right on Overstock's part.

We ordered a product that was advertised as a box of 8 (SAMPLE). We needed 5 boxes of 8 tiles, so we ordered 5. What we got in the mail was 5 individual tiles, for the exorbitant price of $25 plus $5 for shipping. We tried dealing with this company and telling them that if a sample was only one tile, they should have indicated in their ad (SAMPLE OF 1 TILE). The price of these five tiles was 3 times the retail price. We can not get any satisfaction from this company, even though they offer a money back guarantee. They still want to charge us the original $5 shipping plus $12 to return the 5 crappy tiles. I would never do business with this horrible group again.

I ordered a piece of jewelry back on Dec 18th for my daughter's Christmas present with an estimated delivery date of Dec 23rd. Order did not get processed until two days later and the initial delivery date was pushed back to Dec 28th. When I called DHL, they told me they hadn't received the item from Overstock and when I called Overstock, they told me the opposite. Bottom line at this point neither parties seemed to know where the item I had already been charged for was.
I was told by the Overstock rep that DHL did a bad job at updating their status and that the item would most likely arrive that day regardless what DHL had mentioned. The item never came. When I logged in the following day, the date was now pushed back to the 2nd of Jan and didn't arrive until the 3rd only to find out that the item was THE WRONG ONE!!! When I called back on the 3rd, Overstock placed a replacement order and said I would receive in 3 to 6 business days. I looked at the status on Jan 6th and not only was my replacement order cancelled but it is NOW OUT OF STOCK!!! Overstock has to be the most careless company I've ever dealt with. Just cancelled my 3K credit card and will never order from them again.

I order a refurbished HP Elite 8100 Desktop computer from Overstock & their partner Advanced Skyline Technology. $335. NEVER AGAIN. The computer arrived via UPS ground on time, but when I opened the box I was appalled at how poorly the computer had been packed. There was very little styrofoam around the computer. Mostly its sides were against the side of the box & there was room for it to flop around in the box. I decided not to keep the computer; even if it worked, I was sure the components had been compromised in shipping. I did not remove the plastic sealed covering around the computer. The ensuing fiasco of trying to return the item convinced me that both companies were doing everything possible to get me to "go away".
I could go into detail about how they do this, but basically, they drag their feet and do everything possible to get you to go away, including always saying that you need to contact "the other" party. AST does not answer their "customer service" phone. Overstock will routinely tell you that someone will contact you in 1-2 days (they don't). I finally got a return reference number from AST via email, followed the directions on Overstock's website and returned the computer via UPS, with tracking and insurance... to their Buffalo location. AST then told me that they had sent me via email a return shipping label (that I never got) and if didn't use it, I wouldn't get a refund for the shipping ($85).
When the computer arrived in Buffalo, I began contacting Overstock and asking when I would get my refund. Time after time I was blown off; until finally I got very angry and finally they said I would have my refund to me by the end of the day (it took two days). So, from the time I got the computer, it took 3 weeks to get the refund of $335 to show up on my credit card, but no shipping refund.
Sadly, I am convinced that this whole setup is a bit of a scam. For one thing, I found out that ADVANCED SKYLINE TECHNOLOGY (in Canada) pretty much just sells used company leased computers, and though they can legally call themselves a "Microsoft Refurbisher", this only means they have the right to re-image a computer with Microsoft Windows Operating Systems; it has nothing to do with the quality of the repair work or their service. By the end of the process, they made me feel like I was the one who did something wrong, but THEY were the ones who screwed me over & they don't even care. The way this computer was packed for shipping was a joke.

I purchased an upholstered headboard online with no problems. After receiving the item, I just needed to exchange it from a King to a Queen. However, they were out and told me they did not do exchanges. I would have to return to bed, wait for my credit and reorder another bed costing me a $35.00 shipping fee. The young lady was nasty and did not offer to assist me with finding another headboard or even apologize for being sold out. I ask to speak with her manager and she processed my return and she hung up the phone in my face. I then called back, had to give all of my information to the next customer service agent before they would allow me to speak with the manager. I will never order from them again. Wayfair.com, here I come.

I ordered an item from Overstock a week before Christmas (12/16...finally found an item my wife was wanting). The price was right, but for some reason, the item didn't even show shipped for 5 days after the purchase (12/21). I know the weekend probably got in the way, but the item should have been shipped Monday, not Wed. Now, it has no delivery date, and according to the tracking number given, it's not even picked up, yet. So much for any chance of having it for Christmas. I'll likely never do business with them again, and won't recommend them to anyone.

After being a loyal customer for over ten years, it will be a cold day in Haiti before I shop or recommend Overstock to anyone. I placed an order on December 16th for a pair of Men's Classic Mini Deco Ugg boots. They were a Christmas present, so I wanted to allow plenty of time for the package to arrive. On December 19th, I received an email notifying me that the boots had shipped. The email not only confirmed the order number, but also my correct shipping address.
On December 21st, I received another email notifying me that the boots had been delivered to my shipping address. When I arrived at my office there was no package. I immediately went online to check the tracking number. I had received an email confirmation saying the boots were delivered to my business address, I was confused as to why nothing was there. The tracking number showed they were actually delivered to an address in San Jose, California on 12/21/16 instead of my shipping address as indicated in the email.
I immediately called Overstock and spoke to Parker who said the tracking number was most likely mixed up, and associated with another package. He then said he would put trace on my package, and if it didn't show up the next day, they would refund my money and ship out a replacement pair of boots. Great, but I still would not have my Christmas gift in time.
UPS confirmed Overstock gave me an incorrect tracking number, and the other package that went to California had the correct person's name and address. They also had no information, tracking number, or any record of my package. I then called Overstock back and shared this information. They finally admitted that they had no tracking information either, and had no clue where my package was. At this point I'm beyond upset.
And to add insult to injury, Overstock refused to overnight the replacement boots to me as a courtesy. NOPE!! And I had to call back to get the new tracking number and be told the new boots wouldn't be delivered until January 3, 2017. Another slap in the face. Now I'm having to wait 4 weeks to receive my present. It would have been nice to get a new email with the new order and tracking numbers. I received nothing. Thanks for ruining my Christmas Overstock with your poor customer service and business practices. I will NEVER order from Overstock again. The poor customer service and nonchalant attitudes from customer service reps is unacceptable. It is my mission to share this review on Yelp, Better Business Bureau, Consumer Affairs, social media, etc.

I am very disappointed in the product I received. I was looking to get new dog's beds for my bulldogs for Christmas. I found Overstock through Google. After reviewing the site I thought wow how great. These beds look nice and it's a great deal. I purchased an extra large dog bed. When I opened my package a few days later it was beyond small. My 45 lb. bulldog could not comfortably fit in the "extra large" dog bed. Not only was I ripped off by the size it was extremely overpriced for what I got. I would not recommend Overstock to anyone!

Postal delivery is terrible. I order the dog bed almost 3 weeks ago and I paid for shipping. It's still not here. And the company is advertising order now and it will be there by Christmas. That's a joke! Can't get no one to answer my questions.

I am trying to return some used/not worn earring to Overstock and they are dragging their feet. The earring were $800 and when I received them I took them to my Jeweler for inspection. He found a chip on the stone and many of the diamond not even. He called the earrings low quality. I immediately tried to return them with all original packing. They have stopped the return process and are dragging their feet. It seems like they don't want me to return them. I was very careful to read the return policy and have done everything within that policy, but they still will not send me a return label and refund my money.

I ordered 2 pairs of curtains from OS.com online. In less than an hour, I called to cancel the order - I realized that the color was going to be off - not matching the paint and decor of my bedroom. I was told it was too late, that it was already in the system. I told them I would have to refuse delivery from UPS which I did - I marked the unopened box Return To Sender - Refuse Deliver. The very next day it was delivered back to me by UPS with a message that Overstock.com refused to accept it. How can they do that if I have refused deliver and sent back an unopened box?

Purchased a 3 piece duvet cover along with sheets to match duvet. I received the duvet cover first which they sent me the wrong color. I called & they apologized & they sent me the return label to send it back. The woman told me I would receive the correct color as quickly as I received the first 1 which was about 3 days. It took a few days for me to get the email that the package had been shipped. It shipped on 11/30. Tracked the package, estimated delivery was 12/7. It is now 12/12 & no package. When I track it through UPS, it shows the label has been generated but that's it. I contacted customer service through chat since it was after hours for phone & they said some other department will be contacting me within 1-2 business days & if they can't locate the package, a replacement will be sent.
So I need a replacement for my replacement? I'm going to contact customer service by phone tomorrow. I wish I would have read the reviews before ordering with this company. I really hope when I update my review it will be with good news. This was my first time ordering with Overstock and will probably be the last. Oh, I did receive the sheets. If I do not receive this duvet, I'm going to be even more furious, 'cause like I said, I ordered this color to match the duvet. I do not want to go through more hassle returning the sheets with this company.

After making one of several purchases I was promoted that I earned $10 cash back. I read term and conditions TWICE and could ascertain there was a catch but couldn't find the fees involved. I called and was told a monthly fee of $12.97 would be billed to my credit card. I'm sure it's illegal to NOT disclose the fees involved.

I ordered a refurbished Kitchen Aid mixer on black Friday. I paid for my item and for almost 2 weeks I kept getting the run around about how my item was out of stock but they expected to get some in within the month. I spoke (via chat) to SEVERAL of their customer service reps and got the same answer every time. "Rest assured you will get your item." Then I got a couple of emails stating they were not going to be getting any more in stock and my item would be cancelled. I was furious! This was a gift from my husband and now he doesn't know what he's going to do. They thought they could pity me by giving me a free O membership for a year and $20 in O cash.
This was my first order from Overstock and this happens. I had resolved that I would never order from them again but decided I would use their cash they gave me and be done. Guess what? The order is STILL processing. This company is the very worst company I have ever dealt with in regards to online ordering. I will never use it again and will discourage anyone from ever buying from there again.
Overstock.com Company Profile
Company Name:

Overstock.com

Website:

http://www.overstock.com/