Consumer Complaints and Reviews

Absolute garbage of a company, sadly I ordered my part and then read the reviews, mistake. After taking my wheel bearing off and trying to put the new one on I realized they sent me the wrong one, of course when I removed the old one I damaged it so I had to leave my ONLY car parked until I received it from another website. After talking to a representative and confirming they sent me the wrong part they said I'd still have to pay for shipping and handling ($30). Horrible company and hope they go bankrupt and have to close down. DO NOT ORDER FROM THIS WEBSITE.

I ordered a part from them, was charged for my part, but hadn't received any updates. I then contacted them to check on it. When I check on it they tell me the order was canceled without notification. When I ask them why they just say there was a glitch in the system. They then proceed to tell me if I still want to order this part to reorder it with a secure payment like PayPal. So I take it my original payment on my credit card was not secure. The charge is still showing on my account as well.

Ordered brakes for a 2002 4Runner. They sent me parts that were defective. The brake pads were totally gone after 10 miles. Demanded refund, CarParts.com told me they couldn't issue one due to the parts being drop shipped and that I had to call Power Stop. I called Power Stop, who told me I ordered the wrong parts and that CarParts.com would have to fix the issue. Called CarParts.com back, said they don't want to issue a refund because they can't confirm or deny any type of quality control for the parts they sell. Essentially told me that they don't care if they sell a customer junk parts.

I read other reviews and seen where others had complaints about Carpart.com. But I also noticed that their complaints are invalid because they're directing their complaints in the wrong direction. It's the same as blaming the waitress and not tipping her because your steak isn't cooked right. When the blame should go to the cook.
So with that said. I have ordered from this company 2 times in the last few weeks. Shipping costs we're very comparable to other sites that sell products. Shipping is extremely fast both times. 1 item I ordered on Thursday evening, it arrived Saturday. The 2nd order I placed Sunday evening, Monday was a holiday and it arrived Tuesday. There is absolutely no room for complaints there!!! I highly recommend Carparts and beings we have a couple Jeeps that we enjoy trail riding and mudding in I can assure you without a doubt that we will be doing business with this company again in the future.

Don't trust the parts description on their website at all, there are huge blunders. I got a wrong part because they described it fits my car but when I got it was not made for my car type. I spent hours in a live chat sessions with an agent named Bryan, and it was a nightmare experience, he did not take any responsibility of their mistake.
How do I know I can trust these reviews about Carparts.com?
739,412 reviews on ConsumerAffairs are verified.
We require contact information to ensure our reviewers are real.
We use intelligent software that helps us maintain the integrity of reviews.
Our moderators read all reviews to verify quality and helpfulness.
For more information about reviews on ConsumerAffairs.com please visit our FAQ.

I purchased a catalytic converter for my jeep compass. I ordered it over the phone because needed urgently to get faster shipping and come to find out I never received the part. Tracking said "delivered" but item was never found. Very dissatisfied.

I ordered a wheel hub from this company. I paid $100 labor to have it repaired on my car. A week later the car wouldn't come to a complete stop, I had to jam on the brake pedal. The part sent to me was defective. I called and they replaced it but I had to pay a "refundable" shipping fee for a new part. The new part came and I went back to the mechanic and got my wheel hub replaced. They informed me the new part was defective but they put it on because it was in better condition than the original part ordered. So I paid another $100 in labor.
I called carparts.com for a refund and they wanted to send me a new part. I felt I should've been compensated $100 being it was their repeated defective part that caused me to return to the mechanic and I will have to go back a 3rd time for the same part. The rep kept telling me I am only receiving $36 back that I paid for the part. I had to repeatedly explain to her that I also paid $25 shipping originally + tax and an additional shipping fee for the new replacement. Finally I was processed for the right amount in a refund but I had to send the old part back first then get the refund. And I am stuck with the second defective wheel hub until I get the funds to get a new part and pay for labor. I will never use this company again. They take your money and don't care about how you feel or that you are losing money because of them.

I read many reviews prior to placing my order online. Most of the reviews had to do with customers received wrong items and the shipping cost for the returns. I ended up falling in the same trap... Only that in my case their customer service actually listened to me and realized it was their fault sending the wrong item. They eventually sent me the correct item and I did not have to mail back the wrong merchandise which would have been too costly. In my case, they came through by correcting their error. Double check with a live agent over the phone before placing an order with Carparts.

I ordered a 2009 Nissan Maxima rear Bumper. They sent me a 2014 Nissan Altima rear bumper. I asked "Could you send me what I ordered." I was told no and that I had to resend the bumper and pay for the shipping. Their mistake, True ripoff. Filing a complaint with the BBB ASAP.

Their website makes it sound like it's all good to return parts if you are not satisfied or if they are incorrect. WRONG. They made me wait on the phone, answer 21 questions regarding the part that was clearly wrong when I opened the box, made it sound like it was my fault because the picture of the part has 3 holes and the part I needed has two. Never mind the fact that I put in my car make year and exact model and specs. When I finally proved that it was their "catalog error", and mailed the part back, they tried to give me half the cost as my refund.
I called them back again this morning after I found out they gave me a full refund minus the shipping and handling which I was fine with after spending so much time and hassle over the phone. One month ordeal over 40 bucks that the company tries to keep. The representative was nice, but clearly a tool for a company that does everything they can to keep you out of your money and hopes that you do not check your bank statement. RIDICULOUS.

Ordered a replacement mirror on November 30. Despite a promise of shipping in two days, with an email notice of estimated arrival date, I heard nothing. Called on December 6; was told the delay was inexplicable, but the part was being mailed that day. Promised an email confirmation and estimated arrival. Decided to order the part from Amazon Prime. Amazon order received in twenty-four hours; installed one hour later. STILL have not heard from Carparts, much less received my order. NEVER AGAIN.

I ordered a Dashtop dash cover for my truck. The product I received had a crack dead center and what appeared to be a mark (dot) at that spot as though to identify the defect. When I contacted Carparts.com I was told I could pay to ship the product back to them and they would refund my money. I was also told it is not possible to replace the Dashtop dash cover as they no longer have the item in stock, though it is still showing as in stock and available for purchase on their website. Dashtop does have a limited lifetime warranty and I will attempt to contact the manufacturer next, though I'm not sure they will honor it for a product that arrived damaged from the supplier and it seems a bit unfair that I have to waste my one-time warranty replacement on a product that was noted as damaged before it ever shipped to me.
Additionally I received a customer service survey from Carparts.com, but the link gives the following error message, even when pasted into the address bar: The system cannot find the path specified. I would imagine they rather not have me complete a survey at this stage. The best I can say is that the product would be great if it were not damaged. As for Carparts.com I would say buyer beware. I either choose to keep a damaged dash cover for $138.83 or I pay shipping (probably much more than the $20.03 they charged as it is definitely an oversized box) to return a product that should have never been sent out to begin with for which I would receive a $118.78 refund. Not a satisfied customer, certainly not a repeat customer.

Purchased a replacement catalytic converter for my vehicle in August which the weld broke in November after putting less than 2000 miles on the car. Stock converter had over 75k miles before breaking. Called company and advised them of the issue and that I currently have it supported with coat hangers so that I can use the car to get to work and get my son to school. They advised that they would replace it under warranty however I need to either: A) send it back at my cost (which would leave me without my car for at least a week where I would not be able to get to work or get my son to school), or B) purchase a new one (which is approx. $350), and they would refund me once I returned the broken one.
I asked why they couldn't ship out the new one with a return slip for me to send back the broken converter and they said that is not how they work, and my options are my options. It is a few weeks before Christmas so shelling out money for a new one and waiting for them to refund me is not an option, and being without my car is not an option either unless they were going to pick up my expenses for a rental. I was treated so rudely on the phone by both Leo and Mike the manager that I would NEVER recommend anyone doing business with this company. I am stuck and will now have to attempt to waste vacation time to be off work or spend money on a rental car so that I can send the converter back and then wait for them to send a replacement.
This is upsetting because you expect a product to perform as expected and not fail so quickly. I live in a rural area so a car is necessary to go about my day to day life. I even told them they have my credit card info. If I don't send the broken converter back then charge me the cost of a new one. A broken one is of no use to anyone. They even had me send them pictures of the broken weld which I sent pictures and video to show that it is broken so they fully are aware that it is broken.

Yep, their prices are nice. But don't expect to get it anytime this century. For a company based in Cali, I was quite irritated that they shipped a few days after I ordered, instead of the Monday at opening like most good car parts stores to (example, Jegs and Summit). On top of it all, they didn't ship it from California, they shipped it from across the country. I ordered from them because of their location, expecting quick delivery because of the proximity to Utah, and then they didn't process my order quickly, nor did they ship it quickly, nor from where they're based, nor have I even received it yet, so I'm still out of a vehicle a week later for a repair that could have been done in an hour if I'd gone with literally any other company that actually tries to serve their customers. I won't be ordering from them again.

Ordered the wrong part and paid 35.00 including shipping. Never used the part, opened and realized it was wrong. Returned to them and they refunded me 5.00! 30.00 paid for nothing. This company is horrible. You get what you pay for. Total rip offs.

I placed an order for an 02 Honda Civic left tail light replacement and saved $6 or so, as I saw it was cheaper than 1Aauto.com. Stupidly, as soon as I placed my order I became aware of how terrible the reviews for Carparts.com were. I immediately was skeptical of my order because I had not received a confirmation email in a timely manner. I went onto their website and contacted a representative through their online chat, and he kindly suggested that I check my spam inbox (which is where the email was).
I then very easily continued to track my order through FedEx over the next few days. The package came a day early, and my item was correct, unbroken, and properly boxed/protected. As a whole I am very satisfied with my order through Carparts.com, although I may have just gotten lucky (perhaps they are improving their business relations after all these bad reviews on here?).
My advice would be to not purchase an item that is overly expensive on here, as honestly I am still a bit skeptical about their mishandling of materials and how inconvenient it is to resend/cancel/exchange items. Takeaways: *Customer service rep was kind and professional (over chat). *Item was delivered a day earlier than expected. *The correct item arrived, unbroken and well packaged.

This company charged my debit card for shipping a part, then sent 25 emails stating the part was out of stock and to call customer service. I called customer service to get refunded the shipping they had charged my debit card for shipping and told me they could not refund the shipping because the FedEx label was already printed. I asked them why they would pay for a shipping label of a part they are out of stock on. They said that was how their process worked.

I ordered a replacement A/C blower motor and received a coolant reservoir (!). Contacting Customer Service (in the Philippines), working first with the customer service rep, then his supervisor, I was informed CarParts.com's policy is that replacement parts are not shipped until the (wrong) part received is accepted back to the warehouse. And that expedited shipment of the new part would be at my expense. Poor policy leads to poor customer support. And my mistake? I didn't check this website, where a review of this company would have revealed a one-star rating. Shame on me. CarParts.com - in my experience (and many others, apparently), an inferior company to do business with.

ON THE WEBSITE IN BIG LETTERS: TWO DAY DELIVERY (deal from USPS for like $3). AFTER YOU SUBMIT PAYMENT in small letters: We're definitely not going to ship today, because it's past 10AM! Call to customer service goes to an off-shore agent who can only see the same information in the confirmation email.
Request for a call-back with a physical update goes unanswered. Automated tracking number proves that part doesn't reach the carrier until the third business day, effectively doubling the delivery time. Customer service seems to think this is acceptable performance. We think it's a wholly unsatisfactory arrangement for providing automotive parts where transportation and livelihoods are at stake. Deceptive Presentation of Terms, Slow Delivery, & Excuses...

DO NOT do business with these idiots. Their foreign call center help screwed up my order so bad it was pathetic. As of this writing my car distributor is still out of the car waiting for these morons to get it right. If I knew how to find them I would sue em. Whatever you do... DON'T BUY ANYTHING FROM THESE INCOMPETENT FOOLS.

This is a Horrible, Horrible company to deal with. I ordered a fuel tank. It got shipped to a town an hour away from me! After I called them they told me to coordinate with the person that got shipped to. Are you serious! So via email I found out the guy who received it sent it back to FedEx and it was returned to Carparts.com. Called again to get credit which was no problem the lady told me. Guess what - I never got that either. This company's call center is in India. Good luck getting someone that knows a little English. STAY AWAY FROM THIS COMPANY!

I ordered car parts from Parts Geek and Car Parts within minutes of each other on a Friday. I got confirmation that my order was processed and shipped by Parts Geek on Friday. I got the parts from Parts Geek on Monday. I just checked and I will not receive my parts from this lame company until next Tuesday. 8 days after I got the parts from Parts Geek. I buy many parts from Rock Auto also and they are excellent at processing and shipping. Do not do business with these clowns. They should not be in business. Check out all their negative reviews online. They are a disaster area.

I wanted 2 seats & a console for my Jeep. I used their online chat, so I would make sure to order what I needed to. The guy I was connected with online sent me the webpages to order from, so I did. When I received the order, the seats were a different color from the console. When I called to tell them the order was wrong, they wanted to charge me $200.00 to return to seats even though I told them I was ordering using the information they provided. Not only that, with the order I got 2 headlights that I didn't even order. After some arguing they sent me a return authorization & would charge me less for the return. What they didn't tell me is that I would not get full amount they billed my credit card returned. I will never ever order from carparts.com again.

My car was in need of a mass airflow sensor: a simple repair I needed it in my car as soon as possible so I gave in to their enormous overnight charge and they shipped it. It was within the proper FedEx center within the following day however they could not deliver it to me because they did not have my apartment number. I knew I had updated my Google forms to include it that day and double checked that my apartment number was included.
When I contacted them on this issue I was greeted with someone who clearly was from a calling center in India and could barely speak English. After explaining more than 3 times my predicament the woman simply responded ''why can't you go and pick it up then.'' My response "WITH WHAT CAR?" Their customer service is abysmal and their system is clearly flawed and they do not care if they have cheated someone. I can only hope the Carparts is adequate: don't use these losers they are overpriced cheap skates as their cumulative score already shows.

They sent me the wrong part for my 04 Sunfire. I went on their website and put in the exact car information in and it gave me a part for auto trans shift cable and I assumed it was correct because I didn't have the original out. I still needed to drive my car so I had to leave the part in for now. Well when I get the part I saw that it didn't match the original so I went back to their website and put the exact same car info in and it gives me a totally different cable that cost more and the pic matched the original. Like what the heck? This is ridiculous. So I went to fill out an RMA form and it kept error out. So I had to have someone in a chat session to do it for me because their piece of crap website doesn't work right and their part database is junk.
Then come to find out I have to pay shipping back and not even get reimbursed for the shipping I paid for in the first place. So I am out about $15 in shipping cost. I will sure let it be known about this company. Facebook or whatever I can do to bash this company to the ground. I have to wait 7-10 business days to get my refund back.

Cancelled order within 2 hours on a Saturday. Part was wrong for my car. Received cancellation email, part shows up today, had to get PayPal involved. They shorted me on the return, not allowing freight, they paid no attention to the fact the order was cancelled. DO NOT BUY FROM THIS COMPANY.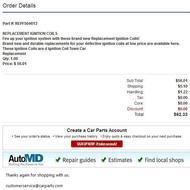 I'm not sure why there's so many negative reviews, but I have had the exact opposite experience from this company from the start, so I thought I'd share my thoughts. I needed coils, which run me $55 EACH at AutoZone and O'Reilly. I needed 8 of them (55 x 8 = 440 not including tax). I purchased all 8 from Carparts.com for $62 total. TOTAL! They fit perfectly, were in perfect shape, my car is driving good as new now. I also ordered an intake manifold, usually $350-$500, but I was able to buy it from them for $160 (including tax and shipping.) Both parts arrived 3 business days later.
Fortunately for me, I didn't need the intake anymore because my problem was the spark plugs and coils, so I returned it. When I called, customer service was nice and fast. They got me my emails for my Return # within 5 minutes, and I got the part on its way. It arrived at their warehouse today, and I called customer service again, they sent my tracking info to accounting and said I should be receiving an email for my refund within 24-48 hours. Easy, fast, cheap - I'd definitely give them my business again.

I ordered a headlight assembly from Car Parts for my 2007 Chevy Impala. The price was lower than most companies I have dealt with. That should have been the clue - "you get what you pay for". They emailed me 7 hours after order and stated they could not ship to P.O. box. Well I am in the military and that's all that I have. They stated if I did not get back with them they would cancel. I immediately called them and some "Bubble gum" chewing girl on the line who could not spell or comprehend two words at a time. After jumping through hoops and loops. Finally got it correct. Then she asked if she could call my Credit Card company to verify payment, even though payment had already been taken out of my account and validated. I just got feed up and stated to her "Just cancel the order." She said she needed a reason. I stated "Bad Customer service" and she hung up on me. Needless to say I will never buy anything from this company again.

Ordered a part through their website for 2008 Volvo S80 T6. Got the part. Doesn't fit. Called them, spent a bunch of time on hold while they tried to figure out what the issue was because the website shows they have the part. I'd done everything right on my end. Turns out they only have the part for the S80 with the V8, not the T6 engine. The website is wrong. So I return the part for a "refund". Two weeks later I get my refund notice and they charged me a $9 restocking fee for sending back a part they screwed up on. Nice. That is cheap, petty, dishonest and rather pathetic. Won't do business with them again and won't recommend them.

Trying to return a product was like pulling teeth. After I shipped back the product, they dragged their feet in giving me a refund and insisted that not all the parts were in the container.

ConsumerAffairs Research Team
The ConsumerAffairs Research Team believes everyone deserves to make smart decisions. We aim to provide readers with the most up-to-date information available about today's consumer products and services.
CarParts.com is an online automotive supply store featuring auto body parts, mirrors, engine and drivetrain parts, headlights, lighting, brakes, suspension and steering. They offer parts and accessories for a large range of truck and automobile makes and models.
Large inventory: CarParts.com has over a million distinct products available for sale on its website, making it a one-stop shop for auto accessories and parts. The parts are located in warehouses across the United States, so your order will ship from the closest one to expedite shipment.
Low price guarantee: This company offers a low price guarantee to ensure that you get the best deal on your purchase. If you find a lower competitor price on the exact same product, CarParts.com will match or beat the price.
Customer service: This company offers customer service 24 hours a day, seven days a week. You can call the toll-free number or chat with a representative online, and they can help with product selection, payment, returns processing and more.
Payment options: CarParts.com offers a variety of payment options on its website, including all major credit cards, money order, check, wire transfer, PayPal, Visa Checkout and Amazon Payments. They also offer an eBay store that accepts PayPal payments.
Limited warranty: While most products sold by CarParts.com are covered by manufacturers' warranties, those that are not are covered by CarParts.com with a limited 90-day warranty. If a product is defective in workmanship or materials, customers can return it for a refund or exchange.
Best for experienced buyers and those who want many options.
Compare Auto and Truck Accessories
Carparts.com Company Profile
Company Name:

Carparts.com

Website:

http://www.carparts.com/