Consumer Complaints and Reviews

This company charged my debit card for shipping a part, then sent 25 emails stating the part was out of stock and to call customer service. I called customer service to get refunded the shipping they had charged my debit card for shipping and told me they could not refund the shipping because the FedEx label was already printed. I asked them why they would pay for a shipping label of a part they are out of stock on. They said that was how their process worked.

I ordered a replacement A/C blower motor and received a coolant reservoir (!). Contacting Customer Service (in the Philippines), working first with the customer service rep, then his supervisor, I was informed CarParts.com's policy is that replacement parts are not shipped until the (wrong) part received is accepted back to the warehouse. And that expedited shipment of the new part would be at my expense. Poor policy leads to poor customer support. And my mistake? I didn't check this website, where a review of this company would have revealed a one-star rating. Shame on me. CarParts.com - in my experience (and many others, apparently), an inferior company to do business with.

ON THE WEBSITE IN BIG LETTERS: TWO DAY DELIVERY (deal from USPS for like $3). AFTER YOU SUBMIT PAYMENT in small letters: We're definitely not going to ship today, because it's past 10AM! Call to customer service goes to an off-shore agent who can only see the same information in the confirmation email.
Request for a call-back with a physical update goes unanswered. Automated tracking number proves that part doesn't reach the carrier until the third business day, effectively doubling the delivery time. Customer service seems to think this is acceptable performance. We think it's a wholly unsatisfactory arrangement for providing automotive parts where transportation and livelihoods are at stake. Deceptive Presentation of Terms, Slow Delivery, & Excuses...

DO NOT do business with these idiots. Their foreign call center help screwed up my order so bad it was pathetic. As of this writing my car distributor is still out of the car waiting for these morons to get it right. If I knew how to find them I would sue em. Whatever you do... DON'T BUY ANYTHING FROM THESE INCOMPETENT FOOLS.

This is a Horrible, Horrible company to deal with. I ordered a fuel tank. It got shipped to a town an hour away from me! After I called them they told me to coordinate with the person that got shipped to. Are you serious! So via email I found out the guy who received it sent it back to FedEx and it was returned to Carparts.com. Called again to get credit which was no problem the lady told me. Guess what - I never got that either. This company's call center is in India. Good luck getting someone that knows a little English. STAY AWAY FROM THIS COMPANY!
How do I know I can trust these reviews about Carparts.com?
611,656 reviews on ConsumerAffairs are verified.
We require contact information to ensure our reviewers are real.
We use intelligent software that helps us maintain the integrity of reviews.
Our moderators read all reviews to verify quality and helpfulness.
For more information about reviews on ConsumerAffairs.com please visit our FAQ.

I ordered car parts from Parts Geek and Car Parts within minutes of each other on a Friday. I got confirmation that my order was processed and shipped by Parts Geek on Friday. I got the parts from Parts Geek on Monday. I just checked and I will not receive my parts from this lame company until next Tuesday. 8 days after I got the parts from Parts Geek. I buy many parts from Rock Auto also and they are excellent at processing and shipping. Do not do business with these clowns. They should not be in business. Check out all their negative reviews online. They are a disaster area.

I wanted 2 seats & a console for my Jeep. I used their online chat, so I would make sure to order what I needed to. The guy I was connected with online sent me the webpages to order from, so I did. When I received the order, the seats were a different color from the console. When I called to tell them the order was wrong, they wanted to charge me $200.00 to return to seats even though I told them I was ordering using the information they provided. Not only that, with the order I got 2 headlights that I didn't even order. After some arguing they sent me a return authorization & would charge me less for the return. What they didn't tell me is that I would not get full amount they billed my credit card returned. I will never ever order from carparts.com again.

My car was in need of a mass airflow sensor: a simple repair I needed it in my car as soon as possible so I gave in to their enormous overnight charge and they shipped it. It was within the proper FedEx center within the following day however they could not deliver it to me because they did not have my apartment number. I knew I had updated my Google forms to include it that day and double checked that my apartment number was included.
When I contacted them on this issue I was greeted with someone who clearly was from a calling center in India and could barely speak English. After explaining more than 3 times my predicament the woman simply responded ''why can't you go and pick it up then.'' My response "WITH WHAT CAR?" Their customer service is abysmal and their system is clearly flawed and they do not care if they have cheated someone. I can only hope the Carparts is adequate: don't use these losers they are overpriced cheap skates as their cumulative score already shows.

They sent me the wrong part for my 04 Sunfire. I went on their website and put in the exact car information in and it gave me a part for auto trans shift cable and I assumed it was correct because I didn't have the original out. I still needed to drive my car so I had to leave the part in for now. Well when I get the part I saw that it didn't match the original so I went back to their website and put the exact same car info in and it gives me a totally different cable that cost more and the pic matched the original. Like what the heck? This is ridiculous. So I went to fill out an RMA form and it kept error out. So I had to have someone in a chat session to do it for me because their piece of crap website doesn't work right and their part database is junk.
Then come to find out I have to pay shipping back and not even get reimbursed for the shipping I paid for in the first place. So I am out about $15 in shipping cost. I will sure let it be known about this company. Facebook or whatever I can do to bash this company to the ground. I have to wait 7-10 business days to get my refund back.

Cancelled order within 2 hours on a Saturday. Part was wrong for my car. Received cancellation email, part shows up today, had to get PayPal involved. They shorted me on the return, not allowing freight, they paid no attention to the fact the order was cancelled. DO NOT BUY FROM THIS COMPANY.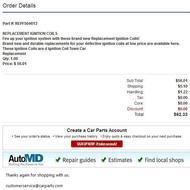 I'm not sure why there's so many negative reviews, but I have had the exact opposite experience from this company from the start, so I thought I'd share my thoughts. I needed coils, which run me $55 EACH at AutoZone and O'Reilly. I needed 8 of them (55 x 8 = 440 not including tax). I purchased all 8 from Carparts.com for $62 total. TOTAL! They fit perfectly, were in perfect shape, my car is driving good as new now. I also ordered an intake manifold, usually $350-$500, but I was able to buy it from them for $160 (including tax and shipping.) Both parts arrived 3 business days later.
Fortunately for me, I didn't need the intake anymore because my problem was the spark plugs and coils, so I returned it. When I called, customer service was nice and fast. They got me my emails for my Return # within 5 minutes, and I got the part on its way. It arrived at their warehouse today, and I called customer service again, they sent my tracking info to accounting and said I should be receiving an email for my refund within 24-48 hours. Easy, fast, cheap - I'd definitely give them my business again.

I ordered a headlight assembly from Car Parts for my 2007 Chevy Impala. The price was lower than most companies I have dealt with. That should have been the clue - "you get what you pay for". They emailed me 7 hours after order and stated they could not ship to P.O. box. Well I am in the military and that's all that I have. They stated if I did not get back with them they would cancel. I immediately called them and some "Bubble gum" chewing girl on the line who could not spell or comprehend two words at a time. After jumping through hoops and loops. Finally got it correct. Then she asked if she could call my Credit Card company to verify payment, even though payment had already been taken out of my account and validated. I just got feed up and stated to her "Just cancel the order." She said she needed a reason. I stated "Bad Customer service" and she hung up on me. Needless to say I will never buy anything from this company again.

Ordered a part through their website for 2008 Volvo S80 T6. Got the part. Doesn't fit. Called them, spent a bunch of time on hold while they tried to figure out what the issue was because the website shows they have the part. I'd done everything right on my end. Turns out they only have the part for the S80 with the V8, not the T6 engine. The website is wrong. So I return the part for a "refund". Two weeks later I get my refund notice and they charged me a $9 restocking fee for sending back a part they screwed up on. Nice. That is cheap, petty, dishonest and rather pathetic. Won't do business with them again and won't recommend them.

Trying to return a product was like pulling teeth. After I shipped back the product, they dragged their feet in giving me a refund and insisted that not all the parts were in the container.

The website glitched when purchasing a car part. When I clicked to place my order, the website was redirected to the home page and I did not receive any confirmation that my information had been processed. Hours later, I received a confirmation email. I quickly called customer service to cancel my order and spoke with a representative who ensured me the order had been canceled and I would be refunded within a few business days. I already ordered the part from another website and you can imagine my surprise when 2 parts showed up. I did not get a refund and was still sent the part. I had to take time out my busy schedule to return the part back to the warehouse and wait for it to arrive for my refund. BEYOND DISSATISFIED and have never dealt with a more disorganized and unprofessional company.

I ordered a part for my truck through CarParts.com. Shipping seemed a little on the high side but still the overall price was "acceptable" . When I received a confirmation email, it listed the price of the part, the shipping charge PLUS an additional "handling" charge for the 2.8lb item. Tracking from FedEx showed "by end of day Thurs 5/26" ... Well, ok. I could have paid significantly more for 2 day air if I wanted it faster but then I'd be paying retail price for the Nissan part.
Today when checking the shipper's tracking info, I see that the part has wandered all over western US and bypassed my city in Eastern Washington State to end up on the west side of the state in a "south of Seattle" city where it is now in the possession of our fine postal service for final delivery "by the end of Friday 5/27"... Yeah, we'll see. I learned my lesson with this offshore website company that has NOTHING in its physical possession but brokers items for companies and has them ship them. It's all about MONEY, MONEY, MONEY!!! I am praying that my wait will not be in vain as I've read other reviews which are mostly negative about receiving the wrong items. "Don't have it? Heck, just send them something else, we'll have our non English speaking Asians on the phone deny or confuse them to the point of them letting us keep their money!"

I received the wrong part. Called customer service. They verified they sent wrong part. Wanted me to pay return shipping, no reasoning with them. I will buy parts elsewhere. Would be nice to talk to someone who you can understand.

Placed an order with CarParts.com. Ordered 2 fenders for my car. With online orders I use prepaid cards due to the high rate of theft. Week and a half later still no fenders. Call them up they tell me since I used a prepaid card I can't verify my address and for security reasons they cannot send me the fenders. NEVER EVER DO BUSINESS WITH THIS PLACE EVER!!!

I had placed an order 8:00 AM ET. I had order incorrect part. When I called to cancel the order I got the message that they are on Pacific time, so I called back at 11:15 ET and talked to someone. He told me the part has been marked to ship in one of his warehouses in East Coast. It was very obvious that he was lying and he did not want to cancel the order. Part was not shipped yet and if he wanted he could have cancelled the order. By the way their shipping rates are horrible. This place did not save me money at all.

Don't waste your time with these people. Their call center is dreadful; they don't speak English; their technical knowledge is appalling; and they get your details wrong repeatedly. It took me an hour just to place an order for two simple parts, then 2 days later they said they were out of stock. So I reordered another part which they assured me was in stock, and 2 days later (I called them) they said it too was out of stock.

I ordered 2 parts from them. The first one I could tell it was wrong right away. It was claiming to be the exact fit for a 1999 jeep grand Cherokee tie rod suspended kit. It wasn't even close. So after 2 hours on the phone trying to make the person understand that they are selling the wrong part when they don't have any other part for it was ridiculous. Plus took over 3 weeks to get the money back on my card. I also bought a brake booster and looked at it and it seemed correct so I didn't bother it. Well after I got the money back from the 1st part I decided to put everything back on and take out the old brake booster and it was also the wrong part claiming to fit my jeep. So called them up and they said they won't take it back because it was over 30 days. Worst business I have ever dealt with.

Just RUN! This website is a scam. Their "specialists" know nothing and will make you order the wrong parts. Most of their parts are defective and cheap. The return policy is bull, it was their representative who told me to purchase the Spyder Halo lights and informed me it was compatible with my car but of course they weren't. I was then told I had to pay shipping to return all the WRONG parts when it wasn't even my fault! The radiator they sold me was crappy and I might have to return that too. Out of all the parts I ordered, they only got the A/C condenser right and it's working for NOW. I spent like $500 with them. Never again!

A full refund was given back after finally finding the first helpful customer service representative via e-mail response.
Original Review
Return policy is absolutely ridiculous. I ordered a window regulator for my 2000 Jeep Grand Cherokee manufactured in April of that year. The website says this part will fit 2000-2004 Cherokees with a fit note saying "From 3/9/00" so I took that to surely mean it would fit mine. "From" would mean from March forward, right? Wrong! Customer service said they did not carry the part that fit my car (even though the website clearly said the part I ordered would fit). I was not only not refunded what I paid originally to have it shipped, they took out another $8 out of my refund for shipping it back. I shop online quite frequently and this is the most backwards return policy I've ever encountered, especially considering this was their mistake- not mine! Never again would I ever do business with this company- you get what you pay for!

I googled dash cover for 2001 Dodge RAM several sites were displayed. I chose their site or a site that ultimately got me to their site. I looked up part putting my vehicle's info in, the site displayed my part giving description of part and what it fit. I placed it in basket and proceeded to check out where I paid with credit card. I received a cover for 68 Galaxy they will refund part but not pay for return shipping. I now will have $70.00 in shipping cost for a $118.00 part. When I asked for manager they would not send me to a manager. I will be 1.5 months to get my part if they are as slow as they were to send me the wrong part that was supposedly in stock! Very unhappy with no satisfaction from company. If you order make sure you talk to sales rep as the one I finally talked to order part sounded very competent unlike returns and service people who could barely understand english.

Lots of negative reviews read online about this site, which made me apprehensive about ordering. But the price was right, so I ordered a window regulator with motor on a Friday. It was delivered the following Wednesday. Perfect fit. The motor sounds different, but that's all. We'll see how long it lasts. No need to contact a customer service representative, so I can't speak on that. But based on my experience, I would order again.

Ordered a dash pad for my 97 Trans Am, the part was listed as IN STOCK with a est ship date of 3-4 days. After a week of no updates from their website I called them to get a update and now they tell me it will ship in 8 more days. That's a total of 14 days just to put the part. They said was in stock into a box and send it out. Also after talking to them they told me that the part that is list in clear English on their website as being IN STOCK is actually a part that is made to order by a third party that they have no control over.

I ordered my product. It took like 3 days to ship it. I made a mistake and put the wrong zip code on it. So I called FedEx to try and fix the issue. I received my package finally and the box had been broke open and taped back together. When I opened the box I was missing parts. I called carparts.com to tell them about the problem. They try and make it seem like it is my fault. They are now suppose to send me the missing parts but they do not email and let you know what is going on. So I sit with my parts that I cannot use and do not know whether I will ever be able too.

Ordered an antenna for my VW and it didn't work. Called to return it and the return department is in another country and could not understand the rep. They apparently have a script they keep repeating. Finally hung up because I was getting nowhere. Was able to do an online chat and email number was done and Federal Express label was emailed to me. That was on Feb 16. It is March 5 and still no refund. I have sent repeated emails and they never really reply to what I have written to they go round and round. If I had read the reviews would never have bought from them.

Bought fuel pump from them & it doesn't work properly. Vehicle still doesn't start right & now the fuel gauge is stuck on full of which that problem I didn't have before so it's actually made things worse than before I bought the part from them. I contacted them repeatedly about the problem & they just kept sending me bogus replies back & each time from a different representative. Then they finally told me to contact the warranty dept. Why should I have to contact the warranty dept if the part didn't work right from day one of receiving it?
Anyway, I contacted the warranty dept of which the rep couldn't understand English or speak it really either. Couldn't make heads or tails of the conversation & wound up getting even more aggravated & after getting nowhere hanging up. Not one of any of the reps via email or call said they would refund me & they just kept dragging it out.
So now I am not only having to buy the part & pay for installation all over again but I am out the money I paid them & the previous paid for installation. As it turns out I could have had the dealership put it in cheaper than this is costing me & I would have actually had a real warranty on it. Their receipt says if parts been installed it can't be returned. How do you know the part works or doesn't work unless you install it. They are an automotive parts co. so that's just flat out ridiculous & a way to get out of EVER paying anyone back for their faulty junk parts & they don't tell you this until after you've paid for the part. They call themselves Carparts.com but receipt from PayPal says they are (Auto Parts accounting@usautoparts.com).

Ordered a fuel sending unit for the gas tank. Carparts sent the wrong part, but I had to pay postage both ways even though it was their fault. I won't order from them again!
Carparts.com Company Profile
Company Name:

Carparts.com

Website:

http://www.carparts.com/