Consumer Complaints and Reviews

All I can say is wow. Bought brake pads for my car and they wore out. Bought another set from Advance and when I brought in old ones I was denied a refund because the parts had worn out. When I asked so what is the limited lifetime warranty, they replied it was for manufacturing defects. Parts that wear out are not covered by warranty. Hate to tell you but that why I am there... to replace a part that has worn out! Now what you're also telling me is that if the part I buy wears out, even if sold with the warranty, I am still out of luck. Whether that's a blower motor, engine mount, tie rod end, or brake pads. I for one will need to rethink my loyalty to Advance Auto Parts. Oh, and I did check with Auto Zone, Napa, and O'reillys... they all told me if I had the original receipt and the replacement receipt, I would immediately get a refund.

Advance Auto Parts is a good quality store with knowledgeable employees that are always willing to help, but will also allow you to shop if you are interested in looking on your own. The radiator in my van was leaking coolant but it was too late to find a mechanic. I stopped in and asked some questions and got some help finding the coolant I needed as well as some advice on where and how to fix the broken radiator. I like Advance Auto Parts a lot and shop there often. I have never noticed anything I don't like and have always been able to find what I'm looking for quickly and for a decent price. I can't think of anything that needs improvement.

I love that if I have a problem I can go there, service my car and get the auto parts I need under one roof. I love they have the detector to check your car. But maybe they should have a better sitting area while waiting for your car, I rather wait for my car unless I have something better to do. They need to have something edible like vending machines. I always purchase it in store because they are conveniently located close to where I live. They do price comparisons and stick to my budget. I also like that they have a wide inventory and have household needs that I might need.

I bought two oil changes because they offered a $5 rebate (gift card) for each. The rebate form wouldn't print for the cashier so she told me to call their rebate number and they could do it for me. After calling one number, I was told to call a different number (which only works during the week). They took all my information and told me it would be sent out in around 10 days. Now I get an email saying it doesn't qualify, even though it was the one in the ad!! To make matters worse, I bought another item that was in the ad with a manufacturer's rebate. After taking it home and using it I found the date on the rebate had expired!!! I told the lady on the phone and she couldn't wait to get me off the phone!!! Next time I will go somewhere that wants my business!!!

My overall experience was okay. There are batteries and quality parts that I need for my vehicle and Advance Auto Parts selection was very good and sell a wide variety of products. They sell pumps, fix starters, alternators, tires in different sizes, batteries, windshield wipers, Rain-X, starters, alternators fuel pumps, filters and lots of other products. They also sell various types of car wax, radiator caps, and lots of small parts that you can look at on the shelf. Their location is nearby. The salespeople are helpful most of the time. The prices are decent. Customer service has been okay. They could be more friendly or more helpful. I think more women should be hired at all locations, they could organize the product a little bit better so that everything is easier to find. They should give discount and coupons to returning customers. They should offer videos that show customers how to do repair work on their vehicles and they should sell those in the store.
How do I know I can trust these reviews about Advance Auto Parts?
766,665 reviews on ConsumerAffairs are verified.
We require contact information to ensure our reviewers are real.
We use intelligent software that helps us maintain the integrity of reviews.
Our moderators read all reviews to verify quality and helpfulness.
For more information about reviews on ConsumerAffairs.com please visit our FAQ.

Availability was the main factor for my first trip to Advance Auto Parts. In both states I've lived in, we've had one Advance Auto Parts near us so it made buying parts easy. I initially wanted to replace my windshield wiper blades myself, and they were so helpful in making it a success that I came back for multiple DIY car projects. I've always had pleasant experiences in Advanced Auto Parts when I go inside the store or order online. Everything was handled very professionally. I found the staff helpful but not overly so which was nice. They let me have space to think about my choices and always answered my questions fully. I also find their prices to be fair for most things I've purchased.

I went into the Advance Auto Parts store to buy new brake pads I needed to fix the brakes, so I asked the employee how to fix them and he knew it all. Their employees were willing to assist if you had any questions or trouble, and actually cared about you instead of selling everything they could. They were intelligent in anything you needed help with. The employee knew exactly what parts I would need and tools. The products needed were already in stock so there was no need to order online. They were all right in the store and nothing was hard to find. All in all the employees were great to talk to and had a lot of knowledge on the subject on everything relating to cars and other motor vehicles. The experience was very enjoyable. There was not really much you could improve on in that store, as everything seemed to be in order.

Advance Auto Parts is great. The product selection and customer service were both top notch. I did not have to order the part because it was already in the store. Their employees were very helpful in helping me find what I was searching for when I went in after my headlight stopped working. It did not take very long at all and I was out of there very quick. Their attitudes were also very good, in that they were cheerful and hospitable and were not condescending to the young woman who did not know anything about vehicle parts. What I don't Iike was the store I went to was very small and a little cramped. There could be some better organization. But other than that there is nothing I would change about it.

Customer rewards benefits help! Better fit on generic parts, less chance of failure, overall better compatibility with most of my vehicles, wider range of generic brands available with a wider range of prices available per parts. I dislike the higher prices, and sometimes having to wait days for delivery of parts, sometimes only name brands having the proper fit. I hope that they have easy return policies, and knowledgeable staff also helps when you are at a loss for what you need or what can work. I purchased online thru phone app, pick up at store, or locally shopping at my local store. It is easy to browse site, app and store helps in finding what's needed at any given time.

I like the access to plenty of items in store, as well as shipping in about 2 days. The manuals located by all of the different parts and accessories are also helpful, as my car is somewhat rare to find things for. Many of the workers seem incompetent about cars and car parts. Some are very rude and I have had many bad experiences with the workers there ordering wrong parts or pricing things wrong, etc. So product selection is very good but customer service is absolutely terrible. Except for a few employees who really do care about your money and your time, most employees are not good with people.

Advance Auto Parts has very experienced and helpful workers. They are very fair, professional and will try to answer every question you have. They have great products and warranty on their parts and you can find just about any part for your car. I have never had a problem with any of the customer service reps plus the prices and return policies are very good. There is not much I would change with this company. One thing that they could have is a price comparison to other parts companies and more hands-on help in their parking lot.

Went into Advance Auto Parts Oshkosh, WI to order a part for my truck. I called it the wrong thing and the guy ordering it went out of his way to make sure I, and everyone else in the store knew that I had called it the wrong part. I picked up my order the next day, and tried to put it my truck, and it didn't fit in my truck! He ordered the wrong thing! Thinking maybe I didn't know how to put it in correctly, I took it to my mechanic, and he couldn't fit the part either. So this guy behind the counter belittles me, and he doesn't even know what the hell he's doing. I wouldn't even buy a stick of gum from this place again.

Advance Auto Parts always had good prices, a lot of items on sale and usually had what I needed in stock or could get by the next day and didn't charge an extra fee. They always had good customer service and was very helpful and understood my needs. They would compare prices and tell me if it was better deal and if the product was as good as higher priced product. The only thing I disliked about Advance Auto Parts is the location. At the time the nearest store was about 30 miles away from where I lived but since put a store in my hometown.

Advance Auto Parts offer Labor reimbursement on repairs. I purchased hub bearings 11/2017, had hub bearings replaced. I took vehicle to GMC Superior Dealership because my ABS control module warning light was on. Replaces ABS, then mechanic told me my hub bearing need to be replaced. I took hub bearing back to Advance Auto Parts for replacement, dealership installed new hub bearing. Two weeks later my ABS control module warning lights turns on. I took vehicle back to GMC Superior Dealership. The diagnostic showed defective hub bearing. I took again defective part to Advance Auto to get new part, dealership installed new part. I paid roughly $380 for hub bearing, over $300 in labor cost to replace defective hub bearing.
I was advised to file for a Labor claim for reimbursement of dealership labor. About a month later 04/2017 I spoke with store manager to see what was going on with my claim. I was told that my claim was denied because I had my vehicle repaired at two different facilities, which doesn't make sense, because rather it was just at the dealership I still would've been responsible for the same labor costs.

I purchased a battery for my Honda Odyssey van that I was gonna start using for work so I wanted to make sure everything would run smoothly. My battery and tune up was overdue but my van was in great condition. Shortly after my purchase I started having real problems with things popping up on my dashboard saying check battery system VGA or VSA? And I began to need hot shots. I took my van to the Honda dealership for diagnosing & was told my battery has a bad cell. So I thought not a problem. I have warranty so I'll return...
But very upset that when I carried the heavy battery into Advance for them to test it and they charged it to tell me it's fine and I cannot get a refund or replacement. I had someone put the battery back in again and once again I needed a hot shot (jump) to have it start again. I called corporate office, spoke with a Jerry and was to speak with a Marry Ann within 24 hours but I missed the call after waiting two days. I parked my van and drove my other car but continued to try to get the matter resolved April 12th-21st still not!! So I went in to Advance to speak with manager Howard here in MD/ Joppa Rd and Manager Dave was there instead and basically told me to go take the battery off again bring it in to have it tested.
Bottom line is I don't trust what you guys are testing is correct and I want my full or partial refund so that I can go purchase a battery elsewhere!! That's the only way I'm carrying that battery back into this place. And they're telling me I can only deal with gnus location because it's where I made the purchase. Thank God I wasn't stranded on the other side of town. This is too much work for me the customer to deal with! If I have a warranty for two years I should be able to return to any of your stores with receipts. It's only been 5 months! Since the purchase with all of these problems... It's bogus because Honda & AutoZone gave me similar reading for diagnostic but for some reason Advance is different to their own benefit. I Will not recommend anyone buying from this merchant at all!

Do not buy without a guaranteed labor reimbursement. Bought an alternator for my BMW X5 from AAP online. When the alternator arrived I gave it to a reputable shop in my area to replace for me. Because of the alternator position in the car, the frame must be dropped in order get to the alternator and bracket. Once installed, it was clear to the shop the alternator I purchased from AAP was faulty. The alternator began to smoke shortly after the car was started and never made it out of the bay. The shop had to drop the frame AGAIN to remove the bad part and get another. In all, it was an additional $160 labor to remove and replace after getting another from a better, more reliable company.
AAP refunded me for the bad part but will not reimburse for the additional labor it took to remove and replace their bad product. I spoke to the manager who all but tried to say that I must have damaged it or the shop must have installed it incorrectly. $160 lesson to never buy from these folks again. I would rather pay more and know that if I buy something from someone they will stand behind it and not accuse others of incompetence. They obviously know nothing of taking care of their customers and have lost me forever after several years.

I purchased a new car battery. The shelves that hold batteries are made improperly. Battery needs to tip over almost all the way on its side to take off shelf. Batteries will not last too long or at all after being tipped over. I spoke with the battery retrieving salesman about this, in so many words he refused to change my battery. Unfortunately I was broke down in their parking lot, had to buy the battery.

Powersport battery. Lasted 2 months before it went bad. When I returned it to store in Manchester they checked it. Said it was good and wouldn't exchange it. I brought it home. Charged it and tried it in my gold wing bike and another quad would not work. Took it to London store and same thing. I got very mad and came home and contacted their home office in Virginia, and was informed they didn't care about losing a customer either. What has the world came to???

Advance auto parts... Does all they cannot honor Lifetime warranty. They do their best to get out of lifetime warranties. They lie about the lifetime policy that you paid extra for. I paid extra for lifetime replacement which is clearly printed on my receipt lifetime replacement, which means that the brake shoe will last the lifetime of the car not matter how many miles or years you keep it. I do have a copy of receipt if needed.

Bought an alternator January of 2016 to replace my factory original in my 2002 F350 truck. Original lasted 14.5 years. Also new batteries the same week. A few weeks ago, I take a road trip across the country with my wife and kids. We were literally in the middle of nowhere... no phone service. No radio stations. No passing cars. No houses. No towns. The middle of nowhere. The last town I passed through was about 80 miles back and it had maybe 10 houses and a couple small businesses. No phone service here and my next town I would be passing was about 60 miles away. So we are just driving along and my battery light comes on. I knew it was the alternator the second the light came on but I got out of the truck, popped the hood and did a test anyway... Yup the alternator was fried. What to do, what to do...
Middle of nowhere. 1 am passing through an unfamiliar state. No alternator so I knew the batteries would dies shortly. I did the only thing I could do... I kept driving trying to get as close to anything I could find. Zero passing cars hours. Zero phone service. Zero signal on CB radio. Had to try to get as close as I could and hope to get cell service... Well I made it about 10 miles before the truck shut off. 27 degrees out. No heat. Minimal clothing. We were traveling across the country and didn't even make it 300 miles. We were on the side of the road from around 1 am until after 7 am. A sheriff just so happened to be passing and seen us and had a tow truck there around 7:15 am. Our tow was 50 miles to the nearest location... $320. Then I had to buy a new alternator and 2 new batteries. Another $550. (O'Reilly was close. Advance was 100 plus miles away).
$870 later, we were back on the road and I was friggin pissed that my 1 year old alternator left my family in below freezing temperatures all night. I will be reaching out to corporate store and attempt to recoup some of my loss in this adventure. I've also been very loyal to Advance stores all over. I owned a business and owned a minimum of a dozen trucks at any given time and spent tens of thousands a year in parts. Very unhappy with the quality of parts that are sold today. If this isn't rectified, I will take my business to a different store and never shop in Advance again.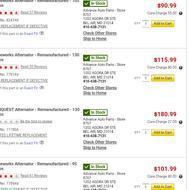 Today is now the 2nd time I have went online on Advanced Auto Parts Web page to make sure they had a part in stock. It said my part was in stock at several locations. I went to the store to pick up my part & for the 2nd time in the last 6 months they didn't have it in the store, or any other store around my area! Why have a Web page with false information? I desperately needed the part today! Thankfully another company had my part & IN STOCK! I paid more but I was able to get the part I needed.

Purchased new Gold rated auto battery, online, after discounts and core refund came to $97.36, 3 year warranty, is supposed to be free exchange. 3 1/2 months later battery goes dead, I bring to store. Store wants to try a 35 minute charge and retest, fine. I come back and there's a printout, battery defective. NOW they say since I bought battery online originally they can only refund my original purchase and I would have to buy a new battery at the store price AND since they are giving me a refund on the original battery I would not get a $22 core charge back on a NEW battery??? Finally after 45 minutes online chat and another 20 or 30 minutes on phone with customer service they are refunding my difference. About $35. Should not have had to go through all that but they finally come through!

Advance buys PMD with lifetime warranty from Dorman, then sells it with one year warranty. They get it replaced for free, then sell the next one to you again, and again, and again, etc. They never pay for replacement part from Dorman. They just lost my business. O'Reilly's has same part from Dorman with lifetime warranty. I'm not going back to Advance again.

They know nothing about automobiles. Wrong parts again. I will never purchase anything there. Again be smart, go back to Napa. These jokers can't even punch order in computer right. It's a wonder they can spell their names. Or can they? Very dissatisfied.

Do not buy anything from this company. Purchased HD Solenoid with lifetime warranty in 2015. Solenoid burned out and they do not honor their warranty. So go to O'Reilly and get your parts, lifetime warranty on most parts with No Hassle warranty. Do not go to AutoZone either. You have to get stupid with these folks. O'REILLY WILL GET MY BUSINESS!!!

I have just found out that my lower headlight died. The one I bought from Advance Auto in Sept. I did not have the receipt. I tried to exchange it after uninstalling it. The desk guy said that he needed a receipt. I went back home to grab the receipt and came back with the box that carried the part. Another sales guy told me that they do not sell that part here. That was in spite of the fact that I provided the receipt and box and another part that bought but was not able to install myself. Their return policy is 1 year with receipt which I did provide. Still the sales guy denied the receipt claiming that the part is not Advance Auto part.
I did install that part myself in their parking lot and they are the only one I buy small parts like this because it is very close and conveniently close to my house.
Anyhow, most of their electrical and probably nonelectrical parts dies quickly, and the bigger problem is that they deny the return even with the receipt. Very bad experience and my mechanic told me "Do not buy from there anything." Always you learn the hard way.

Manager at store in Georgetown, TX. Store #6255. What a deal. Bought an in-tank fuel pump for my Chevy truck over 3 yrs ago, closer to 4 or 5; he stood by it. I was in G-town on business then, home now in Houston: had 2 horrible experiences over it with 2 store managers here, even got Corporate involved (that sure fixed my problem. Great job!). One manager here said "I don't know you even bought that item from us, you could have bought it anywhere else and are just trying to get over on me..." That, and the store in G-Town can vouch for me (store #6255).
The other manager at another store here, #6548, (the first one refused me service EVEN after Corporate got involved... Who's in charge over there?) told me he had no way of knowing how many times I had already requested a warranty return! The nerve, the gall, and the audacity of these guys, TO SAY NOTHING OF THEIR STUPIDITY... Duh! Check my phone number please! Then he "dressed me down" by stipulating it was a "limited warranty" at best good only for 2 or 3 returns; since this was my first I assumed I would have 2 more opportunities... Wrong, he said "Only 1." (I left it at that for now, I needed my fuel pump real bad). Anyway, I digress, so Corporate carried some weight with the #2 guy, he did accept my warranty claim.
Back to the original manager where I made the initial purchase, herein is his official response when thanking him for intervening with Manager #2 about my problem (Auto-Advance deletes their info every 3 years, warranty or not and their stores do not integrate) and I am keeping his texts on my phone forever: "You are quite welcome Sir. I take our job very seriously. And in the end it is our job to take care of our customers, end of story. Some GM's get too lost in the details trying to enforce every little piece of whatever code or regulation or rule, I forget, in the end we should error in favor of the customer if we are going to error at all. It is never too much of a problem for me to take the time of day to make sure my customers, and our customers as a company, are taken care of right away and feel confident and comfortable in doing business with Advance Auto Parts."
I tell you, this guy needs to be promoted to Corporate Manager Trainer. Phew, AAP almost lost another customer completely (read their complaints board). I will purchase at the G-town store, but not at the 2 Houston ones. My 99 Chevy truck is running smoothly, daresay even much better than before it went out. Like I said, What a Deal!

I have spent 1000's of dollars here and one new guy that does not know what he is doing gave me the wrong part. When I went back he said it was my fault. If you're in Adrian MI and a Walter ** tries helping you turn around and go to another part store and save yourself a headache.

When Carquest took over API the incorrect balances started going askew. Then when Advance Auto parts took over Carquest it got from bad to worse, from interchanging accounts, & bringing in old accounts they totally screwed up! My wife (former bookkeeper) spent weeks going thru their mistakes & we were owed us a small amount of $, showed it to Dave, the rep. He agreed & came back a few weeks later saying it will be straighten out, just check the email. He also mentioned we were not the only companies that got screwed with wrong #'s, & others much worse. Needless to say all I received was a call from collections stating we owe advance over $1,000. When I told this jerk they owed us money, he said, "See you in court." I talked to Dave & because of this any other mistakes by these companies, for two years he quit. I would appreciate anyone else who has been screwed too, maybe there should be a class action suit!

Bought PEAK antifreeze with a posted 10 dollar rebate gift card. Well come to find out it only can be used at Advanced Auto. Never said this prior to getting the card. Take it however you want but this was totally a shame job.

ConsumerAffairs Research Team
The ConsumerAffairs Research Team believes everyone deserves to make smart decisions. We aim to provide readers with the most up-to-date information available about today's consumer products and services.
Founded in 1932, Advance Auto Parts is North America's largest aftermarket automotive parts and accessories provider. It has over 5,200 retail locations throughout the United States, Puerto Rico, the U.S. Virgin Islands and Canada. It also offers an online store featuring a large selection of products including air, exhaust, navigation, engine parts, drivetrain, tools, fluids and much more.
Reliable selection: Advance Auto Parts specializes in all the parts and accessories you need to maintain your vehicle's appearance and performance. It carries all the basics for general vehicle owners at reasonable prices.
Convenient website: Advance Auto Parts allows users to customize their online shopping experience by creating an account and saving up to nine vehicles to the account. That means you can store the make, model and year of all your vehicles and receive product recommendations that will work for you.
In-store services: Advance Auto Parts offers customers free oil and battery recycling, electrical testing, windshield wiper installation with purchase and loaner tools. These services can be especially helpful for those who might need a bit of guidance with vehicle care.
Convenient retail locations: With over 5,200 retail locations, Advance Auto Parts likely has a store near you. You can use the online store location finder to find a convenient location, find out whether your product is available in store, then order and pay online.
Earn rewards: Advance Auto Parts' rewards programs can help save you money on your auto purchases. You can refer a friend and receive a $10 coupon after their first order (your friend will receive $30). You can also join the Speed Perks program to earn points for your purchases, which can be redeemed for dollars off future purchases.
Best for those who want reliable basic parts and accessories and assistance with selection or installation.
Compare Auto and Truck Accessories
Advance Auto Parts Company Profile
Company Name:

Advance Auto Parts

Website:

http://shop.advanceautoparts.com/home