Consumer Complaints and Reviews

I purchased a new car battery. The shelves that hold batteries are made improperly. Battery needs to tip over almost all the way on its side to take off shelf. Batteries will not last too long or at all after being tipped over. I spoke with the battery retrieving salesman about this, in so many words he refused to change my battery. Unfortunately I was broke down in their parking lot, had to buy the battery.

Powersport battery. Lasted 2 months before it went bad. When I returned it to store in Manchester they checked it. Said it was good and wouldn't exchange it. I brought it home. Charged it and tried it in my gold wing bike and another quad would not work. Took it to London store and same thing. I got very mad and came home and contacted their home office in Virginia, and was informed they didn't care about losing a customer either. What has the world came to???

Advance auto parts... Does all they cannot honor Lifetime warranty. They do their best to get out of lifetime warranties. They lie about the lifetime policy that you paid extra for. I paid extra for lifetime replacement which is clearly printed on my receipt lifetime replacement, which means that the brake shoe will last the lifetime of the car not matter how many miles or years you keep it. I do have a copy of receipt if needed.

Bought an alternator January of 2016 to replace my factory original in my 2002 F350 truck. Original lasted 14.5 years. Also new batteries the same week. A few weeks ago, I take a road trip across the country with my wife and kids. We were literally in the middle of nowhere... no phone service. No radio stations. No passing cars. No houses. No towns. The middle of nowhere. The last town I passed through was about 80 miles back and it had maybe 10 houses and a couple small businesses. No phone service here and my next town I would be passing was about 60 miles away. So we are just driving along and my battery light comes on. I knew it was the alternator the second the light came on but I got out of the truck, popped the hood and did a test anyway... Yup the alternator was fried. What to do, what to do...
Middle of nowhere. 1 am passing through an unfamiliar state. No alternator so I knew the batteries would dies shortly. I did the only thing I could do... I kept driving trying to get as close to anything I could find. Zero passing cars hours. Zero phone service. Zero signal on CB radio. Had to try to get as close as I could and hope to get cell service... Well I made it about 10 miles before the truck shut off. 27 degrees out. No heat. Minimal clothing. We were traveling across the country and didn't even make it 300 miles. We were on the side of the road from around 1 am until after 7 am. A sheriff just so happened to be passing and seen us and had a tow truck there around 7:15 am. Our tow was 50 miles to the nearest location... $320. Then I had to buy a new alternator and 2 new batteries. Another $550. (O'Reilly was close. Advance was 100 plus miles away).
$870 later, we were back on the road and I was friggin pissed that my 1 year old alternator left my family in below freezing temperatures all night. I will be reaching out to corporate store and attempt to recoup some of my loss in this adventure. I've also been very loyal to Advance stores all over. I owned a business and owned a minimum of a dozen trucks at any given time and spent tens of thousands a year in parts. Very unhappy with the quality of parts that are sold today. If this isn't rectified, I will take my business to a different store and never shop in Advance again.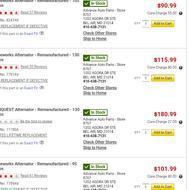 Today is now the 2nd time I have went online on Advanced Auto Parts Web page to make sure they had a part in stock. It said my part was in stock at several locations. I went to the store to pick up my part & for the 2nd time in the last 6 months they didn't have it in the store, or any other store around my area! Why have a Web page with false information? I desperately needed the part today! Thankfully another company had my part & IN STOCK! I paid more but I was able to get the part I needed.
How do I know I can trust these reviews about Advance Auto Parts?
741,284 reviews on ConsumerAffairs are verified.
We require contact information to ensure our reviewers are real.
We use intelligent software that helps us maintain the integrity of reviews.
Our moderators read all reviews to verify quality and helpfulness.
For more information about reviews on ConsumerAffairs.com please visit our FAQ.

Purchased new Gold rated auto battery, online, after discounts and core refund came to $97.36, 3 year warranty, is supposed to be free exchange. 3 1/2 months later battery goes dead, I bring to store. Store wants to try a 35 minute charge and retest, fine. I come back and there's a printout, battery defective. NOW they say since I bought battery online originally they can only refund my original purchase and I would have to buy a new battery at the store price AND since they are giving me a refund on the original battery I would not get a $22 core charge back on a NEW battery??? Finally after 45 minutes online chat and another 20 or 30 minutes on phone with customer service they are refunding my difference. About $35. Should not have had to go through all that but they finally come through!

Advance buys PMD with lifetime warranty from Dorman, then sells it with one year warranty. They get it replaced for free, then sell the next one to you again, and again, and again, etc. They never pay for replacement part from Dorman. They just lost my business. O'Reilly's has same part from Dorman with lifetime warranty. I'm not going back to Advance again.

They know nothing about automobiles. Wrong parts again. I will never purchase anything there. Again be smart, go back to Napa. These jokers can't even punch order in computer right. It's a wonder they can spell their names. Or can they? Very dissatisfied.

Do not buy anything from this company. Purchased HD Solenoid with lifetime warranty in 2015. Solenoid burned out and they do not honor their warranty. So go to O'Reilly and get your parts, lifetime warranty on most parts with No Hassle warranty. Do not go to AutoZone either. You have to get stupid with these folks. O'REILLY WILL GET MY BUSINESS!!!

I have just found out that my lower headlight died. The one I bought from Advance Auto in Sept. I did not have the receipt. I tried to exchange it after uninstalling it. The desk guy said that he needed a receipt. I went back home to grab the receipt and came back with the box that carried the part. Another sales guy told me that they do not sell that part here. That was in spite of the fact that I provided the receipt and box and another part that bought but was not able to install myself. Their return policy is 1 year with receipt which I did provide. Still the sales guy denied the receipt claiming that the part is not Advance Auto part.
I did install that part myself in their parking lot and they are the only one I buy small parts like this because it is very close and conveniently close to my house.
Anyhow, most of their electrical and probably nonelectrical parts dies quickly, and the bigger problem is that they deny the return even with the receipt. Very bad experience and my mechanic told me "Do not buy from there anything." Always you learn the hard way.

Manager at store in Georgetown, TX. Store #6255. What a deal. Bought an in-tank fuel pump for my Chevy truck over 3 yrs ago, closer to 4 or 5; he stood by it. I was in G-town on business then, home now in Houston: had 2 horrible experiences over it with 2 store managers here, even got Corporate involved (that sure fixed my problem. Great job!). One manager here said "I don't know you even bought that item from us, you could have bought it anywhere else and are just trying to get over on me..." That, and the store in G-Town can vouch for me (store #6255).
The other manager at another store here, #6548, (the first one refused me service EVEN after Corporate got involved... Who's in charge over there?) told me he had no way of knowing how many times I had already requested a warranty return! The nerve, the gall, and the audacity of these guys, TO SAY NOTHING OF THEIR STUPIDITY... Duh! Check my phone number please! Then he "dressed me down" by stipulating it was a "limited warranty" at best good only for 2 or 3 returns; since this was my first I assumed I would have 2 more opportunities... Wrong, he said "Only 1." (I left it at that for now, I needed my fuel pump real bad). Anyway, I digress, so Corporate carried some weight with the #2 guy, he did accept my warranty claim.
Back to the original manager where I made the initial purchase, herein is his official response when thanking him for intervening with Manager #2 about my problem (Auto-Advance deletes their info every 3 years, warranty or not and their stores do not integrate) and I am keeping his texts on my phone forever: "You are quite welcome Sir. I take our job very seriously. And in the end it is our job to take care of our customers, end of story. Some GM's get too lost in the details trying to enforce every little piece of whatever code or regulation or rule, I forget, in the end we should error in favor of the customer if we are going to error at all. It is never too much of a problem for me to take the time of day to make sure my customers, and our customers as a company, are taken care of right away and feel confident and comfortable in doing business with Advance Auto Parts."
I tell you, this guy needs to be promoted to Corporate Manager Trainer. Phew, AAP almost lost another customer completely (read their complaints board). I will purchase at the G-town store, but not at the 2 Houston ones. My 99 Chevy truck is running smoothly, daresay even much better than before it went out. Like I said, What a Deal!

I have spent 1000's of dollars here and one new guy that does not know what he is doing gave me the wrong part. When I went back he said it was my fault. If you're in Adrian MI and a Walter ** tries helping you turn around and go to another part store and save yourself a headache.

When Carquest took over API the incorrect balances started going askew. Then when Advance Auto parts took over Carquest it got from bad to worse, from interchanging accounts, & bringing in old accounts they totally screwed up! My wife (former bookkeeper) spent weeks going thru their mistakes & we were owed us a small amount of $, showed it to Dave, the rep. He agreed & came back a few weeks later saying it will be straighten out, just check the email. He also mentioned we were not the only companies that got screwed with wrong #'s, & others much worse. Needless to say all I received was a call from collections stating we owe advance over $1,000. When I told this jerk they owed us money, he said, "See you in court." I talked to Dave & because of this any other mistakes by these companies, for two years he quit. I would appreciate anyone else who has been screwed too, maybe there should be a class action suit!

Bought PEAK antifreeze with a posted 10 dollar rebate gift card. Well come to find out it only can be used at Advanced Auto. Never said this prior to getting the card. Take it however you want but this was totally a shame job.

I purchased a car battery online from Advance Auto Parts in March 2013. The battery came with a 5 year warranty and 3 year free replacement. By purchasing online, I got a $40 discount. The battery failed 2 days ago, with approximately 16 months of the original 5 years remaining. I contacted the store from which I picked up the battery and was told that they no longer provide a 5 year warranty on batteries and that it would take a long time and great effort, including multiple telephone calls to their "home office" to calculate the prorata amount I should receive as credit toward a new battery. Clearly, they wanted me to abandon any warranty benefit I was due - and they didn't know how to calculate the prorata amount or to read their own website that describes in detail how to make the calculation.
I called the company's Customer Service number, 877-238-2623 (877-ADV-ANCE) and spent approximately 1/2 hour with them on the telephone and thought we had the issue resolved such that they would honor the warranty appropriately. I called the store back and the personnel there could not fathom anything I was told by the Customer Service agent. I called the Customer Service department back and spent over an hour on the phone with them, discussing the issue to iron out all the questions and waiting on hold while they contacted the store either 2 or 3 different times. Finally, the customer service agent came back and told me the store had agreed to an "out the door" price, all taxes and fees included.
I called the store back and advised the manager that I would be in that evening to get the battery. When I showed up a few hours later, no one that was there when I dealt with the matter earlier was in the store. The on duty clerk did not dispute that I had the conversation and was given the price I was given. However, she spent nearly an hour trying to calculate the prorata amount of my warranty return. She finally called the clerk that worked with the manager to determine the total price and he told her to just make it a price adjustment rather than a warranty return and exchange.
During all her time making calculations, I tried to help her identify the proper calculations per the company's website. She wasn't interested. I explained to her that I am a CPA and calculations such as this are things I do all the time and could easily help her with it, though I knew that the store personnel had not used the actual prorating formula described on their website and told her so. So, I had to stand there for her to frustrate herself and me to satisfy her curiosity. It was highly disrespectful of her to treat me that way and the company in general looks bad because they clearly haven't trained their personnel properly.
I did finally get my battery and all seems well now. This particular store, located at 10777 Spring Cypress Road, Spring, TX 77379, previously had an extremely helpful and knowledgeable manager, a woman who actually surprised me with her technical expertise and customer oriented attitude. I don't remember her name, but they drove her away by promoting everyone around her and keeping her down. It was a sad day for me when I learned she had left and a couple employees there gave me the basic info about why she left. Advance Auto Parts needs to do a MUCH better job of hiring, training, and keeping quality employees. Customers depend on it, which eventually means the business depends on it.

On July 31, 2015 I purchased 2 Marine batteries for my boat to replace 2 batteries that lasted 6 seasons (not from Advance Auto). The batteries are in the boat June, July and August. After that, the boat gets winterized and the batteries are removed and stored in a dry place on my workbench. They get fully charged prior to storage. In 2015 the 2 new batteries were in my boat 1 month (August) before winterization.
In 2016 they were in my boat June, July and August. I got a total of 4 months usage from these 2 batteries. These 2 batteries will not charge. I have 2 chargers and also purchased a new one. All 3 will not charge these batteries while saying the batteries are bad. I spent a little under $300 for them and Advance Auto will not stand behind their poor product. I have never dealt with a company so poor with customer satisfaction in my life. The workers at the store are no help at all. I will never shop at another Advance Auto again. Their quality in parts and support are as poor as it gets.

Would not installed purchased battery. Computer said more than 30 minutes. Took 6 minutes to remove existing. 2012 Ford E350. Gimmick to overcharge for battery, and not verify charging system or replacement of battery.

I am a loyal customer of above business for over 15 years. Recently I ordered a battery for my 2003 Hyundai Elantra from 9272 Old Keene Mill Road Va. Per their advertisement in the store for "Free battery replacement" I asked the store to replace my old battery with newly purchased battery, but the store representative refused to do so. I am a 31 years veteran of DoD and a senior citizen of this country. After repeated request to store manager also the store refused to install my battery and I have to look for an alternative to get it installed. Hence I urge to all senior citizen to boycott this store. I will never purchase anything from this store. I urge this business to correct this practice by implementing adequate disciplinary action to the manager of this store for violating their management policy.

I agree with posts about specific individuals at Advance Auto stores having difficult personalities; that happens in any business. However, generally service depends on training for the employees and the actual head count at a store. The corporate management at Advance Auto is abysmal. They cut employees hours if a store is doing well. First of all Advance Auto does not pay a living wage. They consider labor to be a commodity so they go with "what the market will bear." They get away with it because there is very little competition for labor so the wages are driven down. Even with the low wages the corporate management cuts hours making it even farther from a subsistence wage. This damages the morale of the employees which results in those employees not being incentivized to work hard.
Even if they work hard, and most do despite the incompetent and callous corporate management, the stores are hopelessly understaffed resulting in overall customer dissatisfaction. The good will between the name brand and the consumer is radically diminished because of corporate policy. Add to all of this, it is not even a safe place to work. There are no cameras for the employees' safety. Those cameras would deter robbers and shoplifters. Discourage would be thieves who would break into the employees' cars. There is no safety gear for handling leaking batteries and other hazardous materials.
The company forces the employees to purchase their own uniforms which don't last long because of things like battery acid, grime from being under the hood of dirty cars. Soaked from having to change batteries and windshield wipers in the rain, and etcetera. No back braces are provided for lifting heavy objects like brake rotors. Some days a single employee will stock as many as 100 heavy rotors. They can be written up if the management doesn't think that they are moving fast enough. There are no breaks. Scheduled lunches are scheduled but because of the under-staffing the employee does not get an uninterrupted lunch.
About returns. An employee might not be trained properly to process returns because there is no structured training. The employees are expected to learn it on the fly on a system that is frequently inconsistent. The employee is expected to multitask all over the place so never has the opportunity to learn even one thing thoroughly. All of this abuse where the average wage of their 77,000 employees is less than $9.00/hr. No benefits. No performance compensation. No vacation. Nadda...
The corporate office does not care if a customer has bad experiences in the store because as long as it is profitable today, they don't care about tomorrow. Yes, they do bait and switch. Yes, they are disingenuous in their returns policy. Their system doesn't work but they don't care. Sorry folks but you get to eat the cost of that which had a warranty on quite often. Basically, corporate management at Advance Auto is a cheap racket run by a corn chip vendor so what do you expect. But please don't take it out on the employees. They are the face of the company. The front line. They make it work. But they are ABUSED by THE VERY COMPANY THEY WORK FOR.

We purchased a starter last year. After about a month it started acting up. Being a Snowbird I was unable to replace starter at that time. We called Advance Auto to let them know there was an issue and they told us it was under warranty. Today I removed the starter and returned it to my nearest Advance Auto with the receipt. They informed me that since the phone number on the receipt was different they would not honor the warranty. They gladly checked the starter and informed me it was fine. I reinstalled it with same results! Removed it again and brought it to Auto Zone, and replaced it. New starter works fine. I guess I won't go to Advance Auto again.

Very dishonest & rude people. They sold me a part for my pickup truck that failed less than a year after installation. When I walked into the store in question that I purchased the part from they denied me the District Manager's name and contact info. They also denied me a printout of the original purchase as well as the person that they spoke to from corporate. So I called another store local and got the district manager's name & number and called him. It took 3 weeks for him to call me back and I got nothing but the runaround from him. I next called the manufacturer of the part that damaged my truck's engine & they told me I had to go thru Advance. Now by this time I was 2 months in the dm, never filed my claim and I called corporate again. They filed the claim and ran me all over the place. In the meantime someone ordered my purchase history be deleted and the part's order history was deleted too to cover up & avoid a payout.
Now many representatives later this arrogant guy in the warranty department told me that there was no way for anyone to delete the stores records of my purchase/order. That was a lie as per my brother-in law who is an IT guy for a local computer repair firm. So almost 7 months later they were tired of my calls & they paid me for part of "the engine that I had to purchase" following the DM's departure from the company. But when I asked about being compensated for all the inconvenience that I was caused. And they didn't even pay me the full amount of the replacement engine.
So not only am I paying $100 out of my pocket for the engine they are expecting me to pay $1,300 to have the engine put in!!! "STAY AWAY. THEY ARE DISHONEST, RUDE & ARROGANT PEOPLE." "YOU MAY BE THEIR NEXT VICTIM." I'm a young father with a family to provide for, with 1 vehicle in the household and they took that from me. I need my truck for work and now I'm in debt because of this company. I'll never shop there again.

They always give hard time to refund even they said that product is to let me rent only. I deposit money to use and then bring that product, return them so I can get the refund. That is a great lie. I think most people have been cheated like me. The rental product is a set to check leaking with $270 deposit. Stay away from this place.

Went to return some stuff with a valid receipt, but did not have the same credit card. Mac ** who claims to be the manager refused the return or even giving me an exchange or store credit. Why are businesses with this real bad customer service stay in business? Store number 9019.

I am a frequent customer of the Advance Auto Parts, 447 Station Ave, Yarmouth MA. On no less than three occasions in July 2016 I walked into the store for parts. I waited patiently at the counter for 3 to 5 minutes for help as the counter help stood two counters down ignoring me. There was no one else in the store. The order was placed through the online website. When I finally spoke up for help the employee, ** rudely, reluctantly said, "What do you want". This was the time I finally asked for the manager. ** was very helpful and told me this kind of treatment was unacceptable and he would deal with it. He also said there would be so new openings for help and if I would want part time work. I accepted the offer and started three weeks later.
I was doing well at the job and enjoying it until I walked in one morning to find ** the employee I reported no my supervisor. In less than 5 minutes he had belittled, demeaned and hurt me so bad with his dead eyes and evil spirit to the point I left the job. Advance Auto has a real problem with this employee. He has gotten away with abusing me as a loyal customer and now an employee. No one at Advance Auto ever called me back. I am considering legal litigation for unacceptable abuse from this worker.


This evening, at exactly 8:12 P.M., after working tirelessly on my wife's rear brakes after a long, hot day at work, I ended up having to take a drive to my local AAP store at 447 Station Ave, South Yarmouth for a new brake caliper. I knew exactly what I needed, walking into the store with the core in my hand. The only clerk, ** was behind the counter, stared at me without greeting me as a valued customer, and continued shuffling around paperwork for another 20 seconds until finally recognizing me, saying "What do you need?" - as if I was bothering him. I told him the part I needed, and he demanded a few more facts about the car, which I gave him. He was very short with me, holding absolutely no conversation and asking no questions as to what I was doing or if I needed advice.
THIS WAS BY FAR, THE WORST CUSTOMER SERVICE I HAVE EVER RECEIVED. This particular AAP store is the only one in my town and I rely on this for all my car needs. After this in-store experience, I am seriously considering never entering this store again, and instead driving to the Auto Zone in the next town over for my auto needs from here out. Something MUST be done to improve the way this particular employee treats your customers. I have dealt with several other employees who work at the same location and have received nothing but amazing customer service, but the 2-3 times I have had to deal with **. I have been severely mistreated.

My car did not have any break lights so I stopped at Advance Auto Parts to get the bulbs to replace. I was told by the attendant that it could be the light bulbs or the break switch. I asked how long it would take for an attendant to change the bulbs for me and he stated that they no longer offer that service. He informed me that I could go to another auto parts store if I wanted them put in! I informed him that I did not have any break lights so how was I supposed to be driving around looking for another store. He was in a hurry because it was his break so he left. I called my son to have him assist me and when he arrived he saw that the item the attendant had given me was the wrong item. I had to go in and was greeted by a female attendant who checked and gave me the correct item.
As my son and I were trying to put in the bulbs another attendant was assisting another customer outside and was helping them replace their battery. Advance Auto Parts has signs posted on their windows that they service customers with changing out their batteries, windshield wipers and such but no one could help me with two bulbs so I had to call my son and have him leave work to assist me. At one point I had to go back into the store and ask if they had any spare tools and was greeted by the first attendant who asked if I needed any help?? I told him that he waited on me an hour ago and I was still trying to get the bulbs replaced. It was obvious to my son and I that the four attendants in the store saw we were having difficulty but no one bothered to help us. They completely ignored us like we were not even there. I have done business with Advance Auto Parts but after this episode I will NEVER go there again or to any of their stores.
Once the bulbs were in I noticed that my brake lights were still not working so again I entered the store and was told by the female attendant that it could be the break switch so I purchased the item but at this point I was so frustrated because I know that if ONE attendant had bothered to assist us we would not have had to go through this ordeal.

I got an email from Advance Auto reminding me my Speed Perks discount was about to expire. $5 off $20 so I stopped by the local Advance Auto to use the coupon. Mind you, Speed Perks "coupons" are earned when you buy something else. So it's a promised discount for a future purchase, or so I thought. Put a 5 qt jug of oil on the counter and my Speed Perks "coupon", which doesn't expire for another week. Clerk scans it, says, "oh, this is no good. The oil is on sale." So what if it is oil, and so what if it is on sale??? I purchased an item previously with the PROMISE of a $5 off coupon. Only on full price items. Not even as good as coupons WITHOUT a purchase.
Advance Auto is overpriced (shop around, you'll see) and the ONLY thing that made them competitive were the 30 and 40% off coupons (sometimes even higher).
Speed Perks $5 off $20 translates to a crummy 25% off coupon ONLY GOOD on full priced stuff. Add to that your purchases to "earn" Speed Perks and it's much lower. I've easily spent thousands at Advance Auto over the years. No more. Your dumb policy on your crummy $5 Speed Perks coupon just cost you a long time customer. Off to Walmart and Rock Auto. NEVER doing business with cheap dishonest fine print weasels at Advance. Maybe some sharp lawyer can do a class action on "pay for" discounts that are no good.

In Greensboro North Carolina store Advance Auto on West Market Jennifer and Kevin was really rude. I thought they was racist. When I walked in the door was supposed to treat me as a customer and not a crook like I had stole something. Was just trying to return an oil filter without the oil filter box. Don't never returned nothing without the box there. They should remove them rude employee from the store. I wouldn't want nobody working like that for me if I had a business to run. Kevin wants to butt in my conversation. Stay in your lane Kev.

I placed and order online (#**) because they offer a 20% of discount. That's no true. When I went to the store to pick up item (a battery for my car) I realized that they didn't apply the discount. The worker at the store tell me that I have to call customer services (18772382623). Guess what... fraud!!! They said (we can apply the code to that order because is already placed). Even more, they don't install the battery because was already 06:05 pm and they do not allow his workers install nothing outside the store after 06:00 pm. I was there 05:35 but the guy who take care of me was in the bathroom. Never I will buy nothing in Advance Auto Parts again... THIS IS SUCK!!! I WISH TO PUT A (-STAR) BUT THE WEBSITE DON'T HAVE THAT OPTION, THAT'S WHY I PUT 1 STAR.

ConsumerAffairs Research Team
The ConsumerAffairs Research Team believes everyone deserves to make smart decisions. We aim to provide readers with the most up-to-date information available about today's consumer products and services.
Founded in 1932, Advance Auto Parts is North America's largest aftermarket automotive parts and accessories provider. It has over 5,200 retail locations throughout the United States, Puerto Rico, the U.S. Virgin Islands and Canada. It also offers an online store featuring a large selection of products including air, exhaust, navigation, engine parts, drivetrain, tools, fluids and much more.
Reliable selection: Advance Auto Parts specializes in all the parts and accessories you need to maintain your vehicle's appearance and performance. It carries all the basics for general vehicle owners at reasonable prices.
Convenient website: Advance Auto Parts allows users to customize their online shopping experience by creating an account and saving up to nine vehicles to the account. That means you can store the make, model and year of all your vehicles and receive product recommendations that will work for you.
In-store services: Advance Auto Parts offers customers free oil and battery recycling, electrical testing, windshield wiper installation with purchase and loaner tools. These services can be especially helpful for those who might need a bit of guidance with vehicle care.
Convenient retail locations: With over 5,200 retail locations, Advance Auto Parts likely has a store near you. You can use the online store location finder to find a convenient location, find out whether your product is available in store, then order and pay online.
Earn rewards: Advance Auto Parts' rewards programs can help save you money on your auto purchases. You can refer a friend and receive a $10 coupon after their first order (your friend will receive $30). You can also join the Speed Perks program to earn points for your purchases, which can be redeemed for dollars off future purchases.
Best for those who want reliable basic parts and accessories and assistance with selection or installation.
Compare Auto and Truck Accessories
Advance Auto Parts Company Profile
Company Name:

Advance Auto Parts

Website:

http://shop.advanceautoparts.com/home