What is it with
Samsung flat-screen TVs
? Since late last year, ConsumerAffairs.com has been flooded with complaints from consumers who say their Samsung HD TVs overheat, refuse to turn on, power themselves off or simply fizzle off into oblivion. To make matters worse, in most cases, this happens after the one-year warranty has expired.
Samsung isn't saying much about the problem. After repeated inquiries, a company spokeswoman could do no better than this rather tepid response:
"As a first step, we encourage customers who experience any issues with our TVs to call 1-800-SAMSUNG. Our customer service team will fully investigate and discuss each customers specific experience so that we can help identify the best resolution to fit each case. Customers experiences with our products and service teams are of the utmost importance to us. When we see a problem frequently reoccur, Samsung takes the necessary steps to correct the issue."
Some more helpful guidance comes from the guys who work on dead Samsungs every day. At A+ TV Repair in Southern California, a technician named Phil who asked that his last name not be used said he thinks the Samsung line has been deliberately under-engineered.
The problem, which is not unique to Samsung, comes from the installation of lesser quality capacitors, Phil said. He explains that the televisions circuits generate around 12 or 13 volts, which overheat the 10-volt capacitors that are pre-installed. The 16-volt capacitors that Phil uses to repair this problem have a higher heat tolerance and thus a much longer lifespan.
Phil adds that he hasnt yet seen any complaints with newer Samsung television models but says he doesn't know if Samsung has taken the time to correct the apparent flaw or if their TVs remain ticking time bombs.
Before purchasing her new LCD television, ConsumerAffairs.com reader Patricia Gearity contacted Samsung regarding the unusually high number of published complaints dealing with inadequate capacitors. When asked about this part specifically, Samsung stated that their capacitors meet the specifications to operate the TV reliably.
That wasn't enough to satisfy Ms. Gearity, who insists that a TV should last at least ten years rather than just two, a belief reflected in her decision to buy a Sony television.
See the pink dots? They're the first sign of impending doom, technicians warn.
Wilshire Home Entertainment, Thousand Oaks, Calif., sells Samsung televisions as part of their entertainment package. They say they maintain their faith in the companys LCD televisions, emphasizing Samsungs vibrant display and explaining that problems reported back to them are not concentrated on a single product line. Samsung receives no more complaints than any other brand, a company spokesman told us.
The Thousand Oaks Best Buy also denies any abnormal level of dissatisfaction regarding their Samsung lines. Best Buys Geek Squad insists that though they do get a significant level of complaints regarding Samsung TVs, it is because they sell many of their products.
DIY remedy
Kevin Fickers Samsung LCD TV had the exact same capacitor failures as reported by many ConsumerAffairs.com users, he said. Samsung's refusal to fix his defective television led Ficker to attempt his own self-repair following a YouTube video. It turned out to be a very easy repair, only taking about 2 hours, Ficker said, And the television has been working perfectly ever since.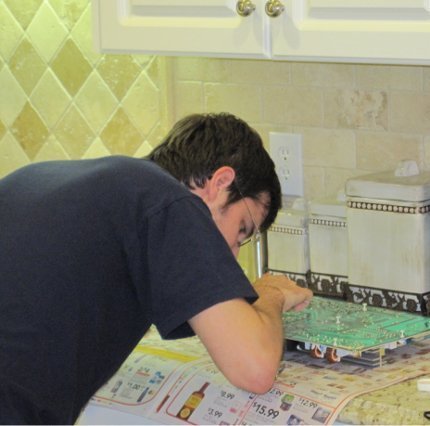 Kevin Ficker takes matters into his own hands.
Electronic Systems Solutions, a Samsung-certified electronics repair company in Agoura Hills, Calif., admits that the Samsung televisions they work on mainly have problems with their power supply. The companys representative explained how the LCD HD TVs feature an engineering flaw that causes the TV to go defective.
He attributes the overheating to filter components on the secondary side, but said he has only seen this problem on older models. Electronic System Solutions maintains that the problem is an isolated issue and highly recommends Samsung products. The representative dismissed the problem as a side effect resulting from the change of technology, mentioning the recent antenna complaints in the iPhone 4 as an analogy.
ConsumerAffairs.com reader Pat Carey, meanwhile, bought a 32-inch Samsung LCD TV over two years ago that recently began having the same power cycle problems. After multiple complaints to both Samsung and the shop where he purchased the TV, Mr. Carey was able to get Samsung to agree to repair his product free of cost. He recommends that Samsung owners who are experiencing these problems to keep at the shop and Samsung until you get a satisfactory outcome.
The professor explains
The cheapest and most educational way to deal with the problem is to do a little research, then fix it yourself.
So what's a consumer to do if they don't feel like getting their hands dirty? You get different advice depending on who you talk to.
"Consumers should buy the cheapest set they can find, pay cash for it and assume it won't last more than a year or two," said one of ConsumerAffairs.com's more digitally inclined editors. "With the constant evolution of products, anything you buy today is going to be obsolete in a few years anyway so there's no need to spend huge bucks."
What's a consumer to avoid? Asking around the ConsumerAffairs.com office will get you one unanimous opinion: don't waste money on an extended warranty. It's probably not worth the money and it probably won't do what you expect it to do when things go wrong.
"Hey, it's only a television. It doesn't have to cover the whole wall of your house. You want a big picture, sit closer. You want to see something beautiful, look at your kids, your spouse or whatever's outside your window," snapped Truman Lewis.