Consumer Complaints and Reviews

Samsung held a promotion with DirecTV and AT&T that would provide a free Samsung Smart TV once you add services with AT&T, purchase a new S7 Edge phone and start qualifying service with DirecTV. I purchased a new home in April of 2016 and signed up for Internet & DirecTV through AT&T. While on the phone with them, I was asked if I was interested in taking part in the promotion. I was with Sprint at the time and the switch to AT&T increased my monthly bill but I agreed to take part in the promotion for the free television. After a few months, I received an email from Samsung Promotion Support stating that I did not qualify for the television due to them not being able to confirm that I had the proper service in place with AT&T. I contacted AT&T and they let me know that I did in fact have the proper qualifications to receive the free television from Samsung.
When I reached back out to Samsung, they escalated it to their Tier II department in Promotion Support. After about a month, I was contacted again by Tier II (samsunghelpdesk@prizelogic.com), and advised that they had resolved the issue. A month later, I received another email from them stating that I did not qualify. But this time, they stated that I didn't have the proper DirecTV services in place. I asked that they reach out to DirecTV again while I was on the phone with them and they said that they didn't have the capability to do so. I decided to take control of the situation by contacting DirecTV myself and then had the representative agree to go on a conference call with me to speak with the Samsung Promotion Support Tier II team.
Once they were on the call, I explained that I had a representative from DirecTV and he spoke with them. He gave them his Employee ID number and then went on to confirm that I did, in fact, have the proper services with DirecTV to qualify for the free Samsung Smart TV and that there was no issues on the part of DirecTV as Samsung tried to imply. The representative from Samsung Promotion Support Tier II said that he understood the situation and that he would mark the ticket ** stating that the DirecTV representative confirmed the qualifying services were in place and that I went on to say that I should be receiving the television within a few months.
Fast forward to October of 2016, six months after I first purchased the products and was told by the AT&T representative that I had purchased all of the required services and should be receiving my Samsung Smart TV "soon". I get an email from samsunghelpdesk@prizelogic.com: "Thank you for your patience, we can confirm that your submission has been rejected by AT&T. This determination is final and cannot be changed. We do apologize for any inconvenience. If you have further questions please reach out to AT&T."
This was after receiving this in July of 2016: "Thanks for the inquiry. Everything on the Samsung receipt side is good. We are waiting on Directv to approve your account now. Once they send us approval your shipment will be processed. https://promos.samsungpromotions.com/atttvoffer/en-us/Rules. If you have any questions please let us know." Then this in August of 2017: "Thanks for the inquiry. We're showing Directv has rejected you due to Ineligible contract. You will need to contact them about this matter as we here at Samsung do not have access to your account with them."
So, as you can see, this seems to be a scam that is being used by Samsung to have people purchase their products under the false pretense that they would receive a free Samsung Smart Television. After purchasing a Samsung S7 Edge smartphone for $794.99 on April 18th of 2016. They never had any intention of sending me the free Samsung Smart TV. My original submission number for the promotion was **. I would hope that no one else would be deceived or defrauded the way that I was.
I ended up with an expensive new phone that I didn't need the expense of, new phone service that I paid more for on a monthly basis and new satellite cable service that I could have paid less for elsewhere all due to Samsung refusing to agree to their contractual obligations and knowing that most consumers don't have the means to take them to court. If anyone else has gone through the same thing and would like to be part of a class action suit against Samsung, please feel free to reach out to me directly. Thank you.

My 4-5 years old Samsung Smart TV ue46d6500 TV suddenly had mirror problem. Left side have very bad view. Right side is ok. Due to the end of guarantee private service check it with resulting panel problem. Requesting service from Samsung official service who are informed by private service, but they said TV have panel problem which has same price with new TV. So no need to repair it. So I bought this TV for 4-5 years usage. I wish Samsung company should stand behind of their product. Just offered buying new TV. If I knew I will face such problem I would never buy this TV.

Terrible customer care. Bought an expensive Samsung smart tv. Almost immediately it began playing up. Got the repair guys in and immediately they saw there was slight screen damage from something else and walked straight out saying, "Too bad so sad. We don't have to cover the warranty now." Samsung never again!

Ordered and paid for a TV from Samsung.com on 11/28/16 and they shipped it out on 11/30/16. Numerous calls between 12/14/16 and 1/6/17 looking for my TV finally resulted in admittance that the TV was lost from the shipping company's warehouse and reported back to Samsung as lost on 1/6/17. Samsung told me on 1/6/17 that I would need to wait 15-30 days for my refund while an investigation was conducted. Today is 2/9/17 and in yet another call to Samsung I was told that I need to wait even longer. Never received product. Still waiting for refund. Samsung's Customer Service is horrible.

I have purchased a washer and dryer, microwave, refrigerator, television and smartphone and have had major issues with EVERY ONE of them. This review is about my Smart TV UN55D6005. The television is just two years old and used very infrequently. One day it just stopped turning on. I called Samsung and basically they said "It's out of warranty, sorry for your luck." My last television lasted 10 years with NO issues, I only replaced it to upgrade to new technology. BUYER BEWARE, pick another brand!!!! This company uses cheap parts, does a poor job testing, and does not stand by their products.
How do I know I can trust these reviews about Samsung Computers and Monitors?
699,348 reviews on ConsumerAffairs are verified.
We require contact information to ensure our reviewers are real.
We use intelligent software that helps us maintain the integrity of reviews.
Our moderators read all reviews to verify quality and helpfulness.
For more information about reviews on ConsumerAffairs.com please visit our FAQ.

I purchased a 55" Curved 4K TV model UN55KU6500FXZA... I had it 40 days then it died. Will not turn on etc. Contacted Samsung numerous times and the customer service is awful! I still have no TV that works and they keep telling me someone will be in touch in 1-2 days... They tell me this every time I call to complain or want action. I just want my money back. At this point they couldn't GIVE me another Samsung after having to deal with a customer service department that does absolutely nothing! Buyer Beware! Do not buy Samsung!

Purchased my Samsung Smart TV in 2013. Intermittent problems with using the Smart Hub features within a year. In December, they discontinued SKYPE app. Now unable to connect to network. Purchased new router, added power extender, reset DNS, did factory reset. Have reviewed hundreds of complaints about this condition with their Smart TVs mostly purchased since 2012.
The suggested fixes by Samsung Support are "Band-Aid." The cause is, without a doubt, the Wifi LAN adapter card inside the TV. I have talked with their customer care management and they will do nothing beyond warranty. The part cost on their website is $79... less on Amazon. It is not the cost, it is the principle and fact that they have a faulty part in their TV, hundreds of complaints and frustrated owners. They are a South Korean company that started out as an inferior, entry-level electronics company called GoldStar. Many of their products are very good, but those that are bad... are really bad, i.e. recent smart phones, washing machines, and a simple internal WiFi adapter in TVs costing over $1000.

I have Samsung LED tv [MODEL: 40EH5000] since Oct 2012. From last 6 months the screen gets divided into two different shades. An engineer came on complaint and he said "The problem is because of dust inside" and said it will cost Rs 18000 to fix it. First I am not satisfied with the reason and second I can't ask for further engineer visit as you have to pay Rs1000 for every visit. This is not acceptable from a giant company like yours. Customer help is not as effective as it should be. And about durability... Better not said... I WON'T REFER ANYONE TO BUY PRODUCT. They just sell and don't care about the further problems.

I purchased this TV in mid-Nov. 2016. Since then I have called Samsung six times because the Netflix and Youtube apps constantly freeze. Samsung technicians reset the "smart hub", deleted and reinstalled the apps, but the problem continues. The last tech I talked to indicated there is almost positively a problem with the unit and escalated the problem. Each call to Samsung ran between 45 and 60 minutes. The Samsung people finally agreed to have a technician visit my home, and even provided a confirmation number. Less than ten minutes afterwards, Samsung sent me an email cancelling the service call, blaming the apps for the problem. Of course, these same apps work on another brand intelligent TV we own. While the picture on the tv is magnificent, the aggravation is not worth the purchase. Suggest considering other brand alternatives before purchasing a Samsung TV product.

I purchased a Samsung UN48H6400 48-Inch 1080p 120Hz 3D Smart LED TV from Amazon. After about a year only audio is working there was no picture. I called Samsung after the warranty expired and then listen to my complaint but done nothing to help the issue. They finally gave the Samsung company repaired TVs in my area giving me the impression that they would help with the issue. I took the TV to repair service center to know the problem with the TV spending $50. After two days the service center person called back and said It's completely manufacture defect and can't fix it any more just trash it. I have spent almost $890 hard earned money am feeling so bad now.
This my personal experience and I request everyone not to waste your money on samsung product. This not only my experience but found issues with many of them and going to update in all the websites and Friends to create awareness about the Samsung products. Major part is bad experience with Samsung Customer care. They do not provide proper information about products and no support from them. This was truly a waste of a lot of money and I will never buy any Samsung products.

We purchased an LCD Samsung TV from Costco at the beginning of November. We have logged over 5 hours of phone calls between Samsung and HBO to get the 5 months free HBO NOW promotion to work. Each company gives you just enough lip service to get you off the phone and point their fingers at each other why this is a problem. At 10:00 am this morning the problem is being returned back to Costco. Do not buy anything from Samsung that offers this promotion. It does not work.

I recently purchased a new 55" UNH9000 TV from ABE's of Maine. When I turned on the TV for the first time, there were vertical line on the right side of the screen. The TV had a crack in the screen. Samsung won't replace the unit or pay for a service call, they say it's my fault. I did not damage the set in any way. I'm still trying to get Abe's, or UPS, who delivered the set, to refund my money, so far, zip. After reading hundreds of complaints about Samsung TVs, I know this is not a new issue with them. Their service department is worthless, if you can get a person who understands English. I will not buy another Samsung product.

I purchased 2x Samsung Smart TVs from AO.com on 1st October 2015. Mid 2016 one of these started to display an intermittent fault stating that there was weak signal strength, as a result connecting to Sky was not always possible. There was no such problem on the other 3 TVs in my property connected to Sky via the multi room system. This continued for a few months then the TV would show nothing on the screen at all but the sound was ok. I called out the engineer who fitted the TVs. He diagnosed that there was a problem with the TV main board back light system. I contacted AO on 2 occasions via their customer service email address -no reply so clearly AO do not do customer service just sell on line, buyer beware!
I then telephoned Samsung. They told me to take the TV to a repair shop in Bradford. I called them, they wanted £30 to look at it and said they did not know when they could, this was early December. I found a repair shop locally and took it to them. They diagnosed the fault to be the main board and provided an estimate. I telephoned Samsung. The lady spoke with a supervisor who authorised the repair and provided a reference number for me to give to the repair shop. The repair shop then had to ring Samsung for authorisation. They rung Samsung twice quoting the reference but there was no one available to authorise. I rung Samsung quoting the reference but there was no one with any knowledge.They asked me to send proof of purchase which I did. I heard no more.
I then emailed Samsung advising the situation. I received an email confirmation saying that someone would be in touch within 5 days-no one got in touch. I authorised the repair shop to complete the repair which they did, I paid them, the fault is rectified. I emailed Samsung again and attached the repair invoice asking for a reimbursement. The email was acknowledged and said someone would be in touch within 5 days. No one got in touch. I then telephoned Samsung.
The advisor acknowledged receipt of the emails, the proof of purchase and invoice but said he was not authorised to resolve the issue. This had to come from the email department. He said they would be in touch. Guess what, correct, no one has been in touch. I then went on the Samsung UK website. It said if you had concerns over customer service email directly the CEO. I did twice, guess what, correct, no reply. During this fiasco I received a customer service telecall, automated. 3 questions. I gave 0 on each question. Did it provoke a response, guess what - correct, NO! I THINK IT IS FAIR TO SAY THAT THIS COMPANY IS DYSFUNCTIONAL AND SHOULD BE AVOIDED.

Purchased a UN50H6203AFXZA model Samsung LED Smart TV (50") in October 2014. Today it went thru a slow burn picture to complete low glow black screen. Called and inquired about this model and its service record with the local Authorized Service Center only to find out that the repairs definitely outweigh the value of the TV. The question here is the true quality of a 2+ year old unit. If you think that these TVs are a two year consumable item then I suggest that you come on here and give Samsung a glowing review that your TV lasted two years and you were so happy to go out buy another Samsung. I for one now see that with this company's recent issues with their Phones and Washing Machines and now my first hand experience with their TV's will never purchase another Samsung product.

UN65JU7100 One Connect Mini connection - My set is just over 1 year old (now out of warranty) and the One Connect Mini which takes all my HDMI inputs connection is no longer working. The input on the TV that accepts the connection seems to be broke and the TV went black; no picture whatsoever. Customer support says I need to have the TV serviced. I called the repair company and they said I would probably need the motherboard replaced which would cost $580. I spent $2,500 for the TV that is just a year old only to have to spend another $580 to get it working again? Can I expect to pay $580 roughly every year? I don't understand why Samsung would make a product and not stand behind it. It was only 1 YEAR OLD! My only option now is to try and sell the TV for parts and recoup some of my money. Shame on you Samsung!

When the TV (un48ju6500) is turned on it shuts off after a few seconds. This happens intermittently. Notified Samsung in October. Three months later there is no resolution. Samsung customer service is deplorable.

I contacted Samsung regarding my UN60ES7500. After updating my unit with Samsung's update, my unit lost its ability to see wireless connections. In contacting Samsung, the representative walked me through a number of steps that had me on the line for over an hour, and resulted in the rep telling me that no one else is shown in their system as having this problem, suggesting that I pay to get the unit fixed because the suggested steps were not working. My unit saw the wireless connections with NO PROBLEMS just prior to my downloading the Samsung update for the unit. Once the update finished, the unit rebooted, then no longer saw the wireless connections. I went through calling my ISP and they informed me that it is an issue with the Samsung update... However, Samsung will not admit this.
The unit's ability to connect wirelessly is a feature that consumer are purchasing these units for, and I paid almost $4000 for this unit. All of my devices are Samsung, so I am/was a HUGE fan of Samsung. I plan to purchase another unit, it just won't be a Samsung because I see that there are a number of issues being reported to Samsung that they are not able to fix, redirecting their customers to repair companies at the customer's expense. You are advised to view the Samsung Community comments on Samsung products prior to purchasing... Not unless you wish to end up spending money on repairs down the line. Hope this is helpful to prevent someone from spending the kind of $ I did for a unit that no longer works with no support from the maker.

I own at least 5 different Samsung products, including 2 large tvs, a dishwasher, a tablet and a galaxy note 4. Of all these items, just the 55'' LCD tv never caused any problems, probably because use is minimal. All the other items have had problems anywhere between 1-2 years of use. Each time I have called customer support, they have been quick to remind me that I recently ran out of warranty. And much as everyone knows that Samsung products, especially tvs have great appeal when sitting next to their competitors in the store, this has been my red flag to start transitioning to a new brand(s), carefully researched into longevity.

I purchased a Samsung 55" Curved UHD TV when they first came out in the fall of 2014. The TV had a great picture and worked well. It was only used a few hours each night. Last week while watching tv it suddenly blacked out but I could still hear sound. I tried everything to get the picture back to no avail so I called BrandsMart where I purchased it and asked that a technician be sent out. They informed me my extended warranty was up last month and the call would cost 69.95 and of course whatever parts and labor were needed to fix it. The technician arrived a week later and immediately told me the screen blew and would have to be replaced. This would cost more than I paid for the TV new! It's disappointing to spend so much money on a product and its life expectancy is only 2 years, and it was hardly ever used. Samsung in my opinion does not make quality products and I will never buy anything from them again!

Bought tv from Currys. After 6 months the tv picture is not good with horizontal lines across the picture. Also blurred in picture. Went to Currys. They said it is in the hands of Samsung direct. Gave us a number to ring so rang it and what a terrible service you get at the other end. They don't understand English for a start off on telephone everyday. This last week was told to take a photo of the tv with the picture on phone. How ridiculous is that. Send it to them with reference code and guess what. Beyond a joke. They said it was blurred. What a laugh to take other pictures again so again we did. Never got back to us so again rang them to speak to a supervisor. They said it takes 48 hours to sort the email out. What a excuse. All this to go through before they send out an engineer. So again the supervisor said he would get back in touch today and guess what. No telephone call. What a surprise. PLEASE DON'T BUY A SAMSUNG TV.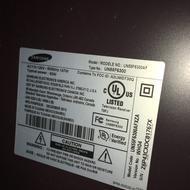 Bought this smart tv 55" for $1209 something in February 2014 (the model and serial no is on the picture). Yeah... I was hoping it will last at least 5yrs like my other cheap tv (other brand was last more than 7yrs). Just last week it's suddenly turned off by itself and can never turned back on. I had to get the repairer came and diagnosed what the problem after I tried to call CS. Some part inside was either blow out or need a replacement which is cost me $300. I hate it when you have to pay so much for the repair cost for this expensive TV. We don't even watch tv so much. Definitely it's bad manufacture of this model. Some part was not last as it should be.

I purchased a 55 inch Samsung TV back in 2013 model #UN55F6300AFXA from Best Buy. I also purchased an 2 year extended warranty with it. After about a year the TV back light would not come on sometimes when the TV was turned on. I call Samsung customer service and was told that it was a software update issue. I went through the steps that I was instructed to do over the phone by customer service only to find out that I was only resetting the TV. The TV worked for about another year or so. After the 2 year warranty expired the TV started to have sound and no picture more often than usual.
I called Samsung after the warranty expired and then listen to my complaint but done nothing to help the issue. They finally gave the a company that repaired TVs in my area giving me the impression that they would help with the issue. I called the repair person only for him to inform me that this was a problem that Samsung was very aware of but has done nothing to fix the issue. He suggested that I buy a 5 year warranty if I was to purchase another Samsung TV. I think that's a sign for me to never buy another Samsung TV again and to tell all my friends not to waste money on a product that will not last. This was truly a waste of a lot of money and time and a lesson well learned.

So here's the deal. Bought a 60" Samsung ultra-thin smart TV Dec. of 2013. TV work perfectly... no real issues or problems with it. Suddenly one day of 2015, there was a loud pop and TV went black, never to come on again. Called Samsung because I heard about a lawsuit about such issues and that they had agreed in the lawsuit to fix all broken TVs of course. They POSTED a date that this would stop and my TV of course even though it's the same problem or something similar, they refused to fix it for free.
TV wasn't even two years old. Paid $2500 for it. I was told they would send someone to repair it. YET when they called to set an appointment, I'm told I would have to pay $150 just for the tech to come out. Plus labor and parts. So I'm out 150 just for you to show up that doesn't even count labor and parts. Are you serious? SO I told them no, that the person I talk to at Samsung implied it would be fixed for free. Not to HAPPEN I was told soon as I worked things out with Samsung. Give them a call back of course. Suddenly I have no warranty on it the Sat, and I would have to pay to get it fixed even though there was a lawsuit against them behind such issues with their TVs.
So me being the repairman I am as I'm a contractor that does handy repairs for customers as well as the regular construction and remodeling, I researched and found the capacitors were known to blow. SOUNDS like my pop so I open the TV no longer worried about a warranty as trying to get it fixed. I got the runaround until the warranty was dead so they could say they no longer had an obligation to fix it. Upon opening my no longer warrantied TV, inspection revealed no blown capacitors. Scratching my head I tested half a day. SUDDENLY I found my issue or so I thought -- not a blown capacitor but a blown component. I search trying to find a replacement only to be told that was not to be found by itself, that I would have to replace the whole power board. Searching for one they ranged from $300 plus bucks. Mind you this is a TV I was charged $2500 bucks for.
As a contractor I'm gone most of the day, home late at night. At the time I lived alone meaning the TV might see at the most 4 hrs of use if that a day. Football on the weekend and maybe some gaming depending on mood if my team one good if not bad TV goes off. NOT big on TV shows but will watch a movie with no commercials. BUT N E ways. I finally found a used power board for 100 bucks. So I ordered it. Now I'm 2600 in... not bad I felt at the time. This shouldn't be happening but things happen. No big deal. Company doesn't want to stand behind their product... fine. I'll fix it myself. Only costing me 100 bucks. I win. Lol, not to be.
Part comes. I put it on and nothing. I can hear it now. There's a hum where there wasn't but TV still will not power on. NOW I seen the component I know it had blown so that had to be the problem. SO now I'm back to my multi-meter and testing. WATCHED a video that told me to disconnect things one at a time to see if I got a response. ONCE I disconnected the main board from the power board my backlight suddenly pops on but that's it. I plug it back in. It goes back off. So I call the local repair shop and am told, "You probably need to change the main board out too. It's grounding out somewhere."
Mind you this TV had a short life from the factory it was built in to the store. Still in the box when I bought it. IT was my birthday/Christmas present to myself in Dec. 2013. Here 2016 I'm fighting to get a 2500 TV working because again this company refuses to stand behind their product. I heard several people say some of these companies build their products to fail after a certain period of time so you have to go and buy another in a few years which is why they don't stand behind their products. Some bozo's trying to get his numbers up and if he has to worry with you it counts against him so he blows you off. You get the runaround, etc.
BUT back to my TV. Here it is 2017. Me and my now girlfriend are living together and end up in a fight tonight. We only have the one TV still as my Samsung is still not fixed partly because I haven't had time. So we argue over the TV. I still don't watch much but when I do she complains because she don't like what I like and I don't care for Lifetime, etc. This TV is a Insignia. I had it before the Samsung. I'd say it's about 6-7 years old maybe older. This TV is on round the clock, 24/7 and still going. For the past 2 years at least, it's been like that and not a problem.
I've seen thousands of complaints about Samsung yet they seem not to care. "Some fool will buy one tomorrow," they say, "so who care if you no longer by from us?" Samsung is not the only one doing this. BUT I'm here because of them. I don't know if another main board will fix this problem. What I do know is I shouldn't be having this problem with a TV that wasn't even two years old and I paid 2500 for. BUYER beware. Customer satisfaction is no longer a priority with most companies nowadays!

On Nov 27 I ordered a 50 inch Samsung tv as a Christmas gift. It was to be arrive between Dec 23 and Jan 3. It had not been shipped by Jan 5. I called customer service to find someone who was not great at English. After 45 min on the line with him he said I needed to cancel my order and order again before he would let me speak to sales. When I stated that I wanted to make sure there was something comparable he insisted that I could not speak to sales before cancelling my order. When I eventually spoke with sales, they told me I should not have cancelled my order and there was nothing comparable. For the same price, I could get a Vizio tv vs Samsung.
Sales eventually advised me that there was another sale in two days... and that he would be sending me a specific email with all the information including his information so that I would get an additional credit to purchase the new tv. This did not happen. Even though I confirmed several times that with him on the phone. They still have my money... there was no call or email. There was no sale. I wasted an additional 1.5 hours on the trying to take care of this. I was very surprised that they didn't tell the truth on multiple occasions. Now I hope that they recredit my money so I do not have to go through this again.

Over the course of 15 months we purchased a 65" 4K tv, washer, dryer, refrigerator, microwave, range, dishwasher and a washer and dryer for our small business. At 12.5 months the tv had a pixel burn the screen and leave a white dot. Samsung says, warranty only 12 months. At 2 months the dryer in the small bus ceased working, Samsung says no warranty because it is a commercial establishment. The dishwasher has never dried the dishes, still trying to resolve. Samsung makes junk then refuses to stand behind their products! DO NO BUY SAMSUNG!! Spend your hard earned dollars on brands that will back their products.

The tv actually went bad 9 months after I purchased it and it took me a month of procrastination to call them, this is why. I have dealt with Samsung before and they do everything on the phone that they can to stop you from a repair and every time it takes hours. I spent 3 weeks of back and forth with them between receipt proof, photos, and following step by step the procedure (did that one 3 times with them on the phone). So I had about 5 days left on the warranty before I finally got them to agree. Now they wanted me to pay to ship it across country and supply a shipping container. Well another 3 hours and I got them to pay for shipping. It took me about 3 weeks to acquire a box to properly ship the tv and guess what? Samsung gives you 14 days to ship or they stop the process.
So here I go again, that only took 30 minutes. Ok so the next communication I get from them is they want 150 to repair the tv because it out of warranty. So, 1/2 hour later they agree to it. Now I get this special one time accommodation from them stating that they will do it this time, so next time what??? This is the most ridiculous company on the planet. I am going to go out of my way to not buy anymore Samsung products.

I purchased a 75-inch tv on November 28th, 2016. I got a shipping confirmation on December 7th. By December 28th, I realized something was wrong because I never received the tv. I contacted Samsung and they said they needed 15 to 30 day to do an investigation. 15 days later I got a notice that they issued a refund. First of all, I didn't request a refund. I bought a TV at a discounted price and I wanted the TV. This is a Cyber Monday scam. Second I can't wait for a new shipment because I bought the tv for my dad that lives overseas and I am leaving in two weeks, there is no way for me to send the tv. On top of that Samsung support answer to my complaint was that I was one of thousand complaining and that they could not help me.

I purchased the Samsung TV UN65F6300 new from Best Buy in Nov 2013. Following a year of limited use, the tv kept cycling off and on. Samsung said the TV was out of warranty and would not fix it. Numerous web threads state the power supply issue has continued beyond their class action suit. I purchased a power supply unit from EBay which fixed the issue for about 6 months. The TV has started the power supply cycling again over and over. It is not attributed to how long the tv is on. Samsung electronics are the worst... I spent 1800 dollars on this piece of junk.

Samsung 55"LED 2160 4K UHD TV, #UN55KU6300FXZA - Purchased this set on 11/24 for pickup at Best-buy on next day. From the start the set was unable to show full screen on certain channels. This even so other Samsung sets in the home were able to show the same channel full screen. Availed myself of their remote help which was unable to provide any resolution to the problem. All they could suggest was it must be my antenna, even though the other Samsung sets are all connected to the same antenna. Spent hours on the phone with them, and although they were patient to a degree, they were unable to offer any resolution to the problem. Now we are stuck with a 55" TV set that is missing 5" top & bottom on various channels. Out $638.99. Really not able also to recommend the "Smart Remote" which is pitiable. Stay away from this set.

Purchased 3 40 Inch Smart TVs 3 Years ago this xmas. I just had to buy a new TV today - back light failure from the one least used. Never will I buy Samsung again and I will advise anyone I know to do the same. I visited Currys today to look at TV Prices and deterred 3 people looking at Samsung TVs so that good... I'm 65 Pensioner and the Television was not used to excess - in fact only Evening usage to be honest. £1500 spent on Samsung Products... Never again. Built to last the warranty period. RUBBISH.
Samsung TV Company Profile
Company Name:

Samsung Computers and Monitors

Year Founded:

1938

Country:

Korea Sout

Website:

http://www.samsung.com/