Consumer Complaints and Reviews

My 32' flat screen TV was bought last year at Wal-Mart. The computer inside the TV went out in June of 2016 and was repaired under the warranty. In Nov 16 2016 I had the same issue with the screen turning gray and I called Samsung service dept to see if I could get it fixed. They said the warranty ran out in July of 2016, but because I was having the same issue they would extend the warranty. They gave me a reference # to give to the service technician so he could get a ticket # to get it fixed. He called the TKT team twice and they told him it was not under a warranty. I have called several times and talked to several different Samsung agents and they all told me that the warranty was extended and to give the serviceman the reference #. I told them he did and they keep denying it... I asked if I could talk to the TKT people and they said no, only the serviceman could.
I keep getting the runaround. Finally a Samsung representative called me and said they could not extend the warranty, after 5 different people said they would extend it. She told me her department did not have the power to extend the warranty that it was up to the TKT team and to call and ask them. I called them and they keep telling me they cannot speak to me, only the service tech. and keep referring me back to Samsung customer service. After calling the TKT team several times they finally told me to as to talk to ECR when I call customer service again, after being put on hold for over half an hour I finally got a hold of an agent who took my information (for the 6th time) and told me a ECR agent would contact me within 5 business days. While I was on the phone with her, a Samsung agent called me on my home phone and asked how I like the service of the agents and how I would rate my service.
I began to tell him (politely) how unsatisfied I was and what they have been doing to me, and he hung up on me. I was not rude in any way, but he hung up on me. I will never buy another Samsung product again, and I will tell all my thousands of friend on Facebook not to buy your product. Your service to your customers is deplorable, and your products are made very poorly. As I said my 32' flat screen Samsung TV's screen went out twice in less than 2 years, and they are now refusing to accept the responsibility even though it was a manufacturer defect. And your service technicians obviously do not know what they are doing. I have been on the phone four 4 days and being put on hold for several hours cumulative. And have gotten different answers from each person.
I am now going to wait on ECR (whoever that is) to call me within 5 business days, and explain to them as I have already explained to 10 different Samsung reps, my issue with this TV. I am extremely exasperated at this point. Samsung product quality and customer service quality has gone downhill over the years and is getting worse. Never, never again Samsung will I buy any of your products. If you want to keep customers happy and your company in business, I suggest you do some major improvements in all aspects of your company, starting with training your customer service people better and making your products last longer than a year. You are a disgrace.

As I have been in retail sales for over 20 years, and this Facebook site is mostly made up of very close friends, family, former customers and those I attend church with, please listen to what I am typing very carefully. I have just recently found out that both Samsung Electronics (TV division) and Electronics Express (located in mall in Decatur, Al.) are complete frauds. The store in question sold me a defective TV that when I noticed something wasn't right, contacted tech support (yes, SAMSUNG tech support) who "attempted" to help me finalize the setup of my new beautiful TV.
At that point, his advice led to a small chunk of the TV to fall out. He then told me to take it back to the store the next day, where they pretty much laughed at me and said the foil that I was trying to remove was actually the screen. They gave no help at all and when I contacted Samsung I have a list of 9 service texts who confirmed that I did everything correct as per the user manual and instruction guide. I contacted them every other day for over a month until a "Senior Customer Service Resolution specialist" finally called me and said that since I physically damaged the TV I was stuck with a $1500 piece of junk. I only removed the film in the first place because it was coming off exactly like every piece of film I have ever removed off of a TV.
And the topping on the cake is that I purchased the curved edition of this model, which Electronic Express did not have on display and I was given no advice to look for something that may be defective, as from the research that I have done, many of these same models have the same flaws. I am through rambling now, as I could go for hours on this horrible case of customer service, as I never got to even turn my new TV on. Just please, at ALL costs, stay AWAY from Electronic Express and ALL Samsung products. (Like they need any more negative publicity after the Note 7 disaster.)

Once again (fairly constant over 2 years of owning this TV), Smart Hub not working and getting repeated "SmartHub is being updated. Try again later". This has gone on for hours this time. Did everything on online forums that was suggested as a fix. There is nothing on Samsung's site to help. This evidently goes on every year around the holidays, yet Samsung does nothing. Tried to call Samsung, but "call volume heavy" and no one answered. Tried to get the offered Customer Service chat online, but got message that no one was able to take call (Monday, 6pm, well within their stated hours).
This TV has been far more trouble than it was worth despite being a gift and I would NEVER recommend it to anyone. This has been my experience trying to deal with Samsung for years about both this TV and a refrigerator that failed almost immediately - and then there was no one in the area who fixed them. Also, although I used my account email and the site verified that the email was in use, I cannot reset my password as never receive the password change link despite several tries. If you want a horrible product that you won't be able to get any help with no matter how much time you put in, this is your TV.

I have purchased Samsung HDTV 46inch for 450 dollars and I have used it for 9 months only. Last 2 or 3 months my TV power light is blinking and TV is not on. When I called the support number, I was told that my standard warranty had expired and they suggested do some steps and also update the software. I did the same. Even though power light blinking issue not resolved. When I researched this item, it was clear that this is a known issue for the Samsung brand. There are pages of pages of the same complaints. I would have hoped that Samsung would have figured a way to cover these known issues. This is the last Samsung product I will ever buy.

I bought a brand new 70" Class KU6300 4K UHD TV from buydig.com. The TV arrived with damaged with black screen and broken lines. It is either defective TV or damaged in the shipping. I contacted Samsung for fixing or replacing the TV. Samsung sent a authorized local technician to look at the TV and he told me that the TV was defective and promised and scheduled to replace the panel. On the next visit, the same Samsung technician came and said the TV was not defective and refused to fix or replace the TV. The buydig.com attempted to refuse take back the TV and blamed on Samsung for defective TV. Samsung blamed on buydig for damaged in shipping.
This is the HORRIBLE experience ever dealing with Samsung customer service and buydig, I lost too many hours to contact Samsung and buydig for this worst experience. The Big Junk Samsung TV is still sitting in the big box. I can't believe how bad the Samsung customer service and Samsung technician are. Worst experience buying Samsung TV. I would never buy any item made by or from Samsung again. They DO NOT stand behind their product and make things right!
How do I know I can trust these reviews about Samsung Computers and Monitors?
634,392 reviews on ConsumerAffairs are verified.
We require contact information to ensure our reviewers are real.
We use intelligent software that helps us maintain the integrity of reviews.
Our moderators read all reviews to verify quality and helpfulness.
For more information about reviews on ConsumerAffairs.com please visit our FAQ.

Bought a TV from Best buy in August for my house under construction. When moving in this past weekend and mounting my TV, discovered when turning on TV there appeared to be a crack in the left bottom corner. Only showed when TV is on. No damage to box or exterior TV. When trying to return to best buy they informed us that we only had 15 days to return TV. Went to Samsung for product warranty and when they came to look said the the warranty didn't cover physical damage. Now what does that mean. I just opened the box and there is no box or exterior TV damage. Obviously it is a problem within the TV. Do not buy a Samsung at Best Buy. Neither back the product they sell.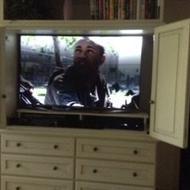 Purchased a UN55H7150 in June 2014 for $1494.99. One month after the purchase, we unplugged the tv and left for a job in another state. Returned home, used the tv from August 2015 until November 2015 and again for a month in the fall of 2016. Therefore, we used the tv for less than six months and currently, we have a horizontal shadow across the middle third of the picture. I understand that the warranty is over but seriously, Samsung should stand behind a product that costs almost 1500 dollars and has not lasted more than six months. We purchased the tv at hhgregg. Their answer to the problem is that we should have purchased the extended warranty. Really??? 1500 dollars and we can't get a tv that works for more than 6 months...

My 3 year old Samsung smart TV will shut off one time during the first 30 minutes of use on a regular basis. It has been doing this for about a year. It would come back on after about 15 seconds on its own. Now it stopped coming back on. Now the remote stopped working for mute, changing channels, and volume. There is a trick to getting the remote to work or the TV to come back on instantly. Just push the source button, have it on TV, and hit select. DON'T KNOW WHY THIS WORKS?

I bought a Samsung TV for $1500 on August 20, 2016. A few weeks in, I notice a scratch on the TV. Now, I want to make it very clear that I never touch the TV except to clean it with a microfiber cloth every now and then. So this wasn't a scratch I put on there. But anyways, I call Samsung and their technician comes over and looks at it. He confirms what I've just said. That the scratch wasn't put on there by consumer use. Probably was done during shipping.
Before the technician came over, I was assured that if it can be confirmed that the scratch was not put in by normal use, I would receive aid. It was also said that the tech would have final say in whether I would receive aid. Of course, when it actually came time to help me, both of these just went right out the window. The technician had no power over the final decision and the fact that they were going back on their own word regarding what they said about normal use didn't seem to bother them at all.
You know who does that? Shady businesses that try to milk you for your money and then disappear. Well, I feel so stupid right now that I thought Samsung was above all that. I've been calling them a lot ever since they rejected me and I'll give you guys a general idea of what's being said to me. "Yeah, we sold you a faulty television. Nothing you can do about it so go ** yourself."
I'm sorry for the language, but I'm a college student with not much money around. I expect what I pay for to have value. It pisses me off pretty bad that Samsung treats me like this. It's not like their tech confirmed that it wasn't caused by me, right? It's not like they promised to replace it if he confirmed that I didn't damage the TV, right? It's not like they record phone conversations and there's proof out there for everything I just said, right? Anyways, my ticket number is **. Have another ticket number because Samsung asked me send pics of the TV scratch twice because they were not competent enough to keep track of all the information I sent them that they asked for. I'd be embarrassed if I was in charge here.

I bought a Samsung UHD 4K LED TV, UA40HU7000 in November 2015, through online Amazon.in. For 8 months everything was OK, but since 2 months I am observing greenish yellow shades at the darker side or when screen is dark, and deterioration of picture quality, smoky patches on screen. After repeated follow up with customer care one Engineer visited after one month. He checked and informed T con Card to be replaced. He visited again after one month with the spare (that too after repeated follow ups). After replacement of card there is no change in picture quality. I have raised the complaint again. I am really not happy with after sales service of Samsung. I don't know when the my tv will get rectified. I paid 75000 Rs, less than a year, I hope it doesn't go into the drain.

My Samsung television began power cycling today (turning on and off by itself). When I called the support number, I was told that my standard warranty had expired. I only had the item for about a year and a half. I was told that I was on my own for any repairs. When I researched this item, it was clear that this is a known issue for the Samsung brand. There are pages and pages of the same complaints. I would have hoped that Samsung would have figured a way to cover these known issues. This is the last Samsung product I will ever buy.

I bought this tv: SAMSUNG UN55F7100AFXZA LED 1080P 240HZ from best buy in may 2013. My tv stopped working from september 2016 onwards. I am hesitant to buy any tv since I lost lots of money investing on this tv for which I paid total of 2800 including accessories.

I am not a person to write one of these reviews, but I am currently out of options with Samsung Customer service Canada. I bought a curved TV and it had worked perfectly until August 2016. The TV developed some screen issues that began to spread across the TV. Samsung repaired the TV and sent me an extended warranty on the work. The TV was repaired near the end of August and the issue seemed to be gone.
A month later the left side of the TV has now developed a red/pink haze on the TV. I called the Samsung repair company that did the original repair. The TV technician was in my area that day and stopped by the house to take a look at the TV. Immediately the technician stated my panel was faulty and my pixels in the panel were stuck on red/pink. The technician advised me to contact Samsung and a new ticket would be issued for a replacement, as the replacement part was still under extended warranty from the recent repair.
I called Samsung and sent them the required pictures. Samsung customer service stated they would get back to me in 24 hours. A week later I heard nothing. I sent multiple emails to the customer service agent who I was dealing with. They eventually emailed me back saying they received the email with no photo attachments; I then forwarded them the original email, which shown pictures were indeed attached. The customer service agent replied the pictures were on the forwarded email and the case was escalated to high management to be processed. Another week goes by and no phone call was received. During this week of hearing nothing back I sent the customer service agent two emails wondering when I would receive a phone call.
The customer service agent then replies three days later saying the ticket was cancelled due to the TV operating as it is designed to; now keep in mind the Samsung repair technician as already stated the picture was faulty and needed repair. I called Samsung customer service and gave them the ticket number I was issued. The customer service agent stated that the previous agent had attempted to contact me multiple times, but were unable to contact me so the ticket was cancelled.
I told the current customer service rep I was speaking to that I had multiple emails sent to the previous agent asking about my status with no luck of a response until a week later. The new agent then transferred me to another customer service agent who asked for all my information and opened a new ticket. Once they were done taking my information the agent then transferred me to another customer service agent to review my previous information; not sure why I had to be transferred for this, but I was.
Now speaking with the new agent the first thing the agent said to me is that my TV is out of warranty. I mention to the agent that I have paperwork showing my extended warranty and I could email it to them. The agent agrees and I email them the paperwork. The agent then proceeds to give me attitude, places me on mute, not sure why, then states they need to put me on hold to review my previous tickets. I am then placed on hold for approx. 15 minutes and then was hung up on. I sent the agent an email asking if they have a direct number to call back so I can finish the ticket, but no response back.
I apologize for the long review, but this is something I am at a complete loss at. TV was repaired, new panel was faulty, confirmed by Samsung repair technician due to the red haze on the left side, but customer service states this red haze is part of the normal operation of the TV? I am just at a loss, it's warrantied, deemed faulty, but a person in the office and saying it is operating normal? Samsung has been nothing but a nightmare. I will never buy a TV from this company again.

I bought a Samsung LED TV 32 inches in 2013 and in two years found wide vertical white lines on the screen. Contacted the customer service. The service guys charged around 700 Rs (already informed before attending) which didn't added any value for the money. They guy who came couldn't make out anything more than what we explained. He returned back and later on called and informed that it's the problem with panel and the repairing cost will be around 17,000 Rs. Then I asked it's better to buy anew one instead of repairing this. The service guy's answer was so irritating that "That could be the wise decision". Definitely in my life span I will not opt for a Samsung product - a manufacturer who builds unreliable products.

I bought Samsung Smart TV un46d6420uf in January 2012. I had extended warranty with Future Shop for 4 years, that is expired recently. 2 weeks ago, something went wrong with the screen. Now it is gone. Is it a common problem with Samsung? Why should buy tomorrow Samsung? I think, this is my last time I bought Samsung TV. Is there any single reason to buy Samsung TV again?? No Samsung anymore. Samsung=Trash.

Buy one on your anniversary for a painful reminder year after year! Purchased UHD55HU9000 in May 2014 for top price during the height of the curved craze. In Sept 2015 the screen went dark. Red light would come on, but no sound or screen. Purchased the extended warranty and repair tech fixed it by swapping the smart tv box. That tacked on several hundred dollars to an already bloated initial cost. Funky after 1 year, but simple enough.
Skip to Sept 2016 and suddenly the screen goes dark again without any notice. Thankfully still barely under extended warranty, but the tv has been sitting on my floor for 3 weeks. The repair tech did not have the smart tv box so it had to be ordered. The tv still did not work after the smart tv box was replaced so they're on to the next possibility. They'll be opening the back of the tv tomorrow and hopefully will get it resolved. Will tell the tv tech "see you next year" when he's done.

Purchased 2 Samsung items, flat screen LED TV and a Blu-Ray sound system - both the Smart versions. Issues: TV failed at 6 months, motherboard replaced under warranty, Sound System failed a few months later, device remote control receiving board kept turning the volume down - fixed under warranty, DVD player on sound system no longer works (I must have played no more than 5 DVDs with this in total) - not fixed no longer in warranty. Apart from a high failure rate (2 out of 2) mine have functionality issues that just don't work. There is a function called Audio Return Channel (ARC) - this functions but loses audio sync on a regular basis, every 30 or so seconds. I have contacted Samsung support and got the usual response. "It's your cable etc - reload new firmware etc."
In googling this fault I find it is an issue across a large range on Samsung TVs. It seems not to be a hardware problem - more of a code issue. Other Samsung models the issue has been fixed with new software but my model they have yet to release a fix for. How does Samsung manage to release a product that has not had all of its functionality tested, and if tested why release products that don't work?

I purchased a Samsung 40" 3D LED TV and a horizontal line recently appeared on the top screen, which indicates a defective screen. Samsung's customer service response stated I was responsible for all the replacement parts and repair costs. I mentioned to their customer service that there are multiple forums and complaints against their TVs on the internet and the representative stated the forums and complaints were not reliable or confirmed, sweeping the issue with my TV under the carpet. Samsung TVs are low quality, short-lived, overrated and overpriced. Their customer service is one of the worst in the industry. There are many other brands that are much cheaper and of higher quality. I would not recommend a Samsung product to no one.

LED TV32H 5500 ARMXL Display(black lines) issue. We purchased TV on 23-10-2014 and I was told by the dealer (DEVI INTERNATIONAL, JAYANAGAR) that warranty period is 2 years and bill itself is warranty but now the dealer is refusing. And Samsung customer care claims that it's only one year warranty, am pissed off with the money wasted and response which am receiving!!

I am waiting for reply. More than fifteen times called Samsung customer care no proper information given to me. So I am not happy by the servicing of Samsung. Its servicing was very bad. I bought a Samsung LED tv and their engineer take 8 days for fitting the tv in wall. Whose model no - UA23HU003ARLXL, SN - H00M3PAHU04655 and reference no - **. After 1 month later LED tv don't show the picture then I complain to customers care and again it take too much time to visit tv. It take 6 days to only visit the tv and said display was not work properly. I was complain on 30 September but till now (18th October) my tv display was not changed. The daily said display were changed on next day but till display were not changed. It take too much time and tv engineer ask for money in comparison to give quick servicing. l call to customer care but they also not give correct information about expanding too much time.

Samsung has reported problems with their top load wash machines serial number Y69Q5AUDA03111R. Ours has already began to make very loud clonking noise like the drum is completely of balance with certain loads. I did not purchase a wash machine to wash everything on gentle cycle as they said to do and put the extra work on my dryer try to do it with a bed spread. Now I am scared to leave my house with washer on. When are they going to do something? I purchased a full service machine not a gentle cycle that the drum might explode at any time. I want this thing out of my house. Please are you enforcing any action on this matter? Thanking you in advance.

Whatever you do DON'T buy a Samsung TV! We have been ripped of for $3000 by Samsung. We bought a 60" Samsuck Smart TV approx 3 years ago. Model UA60ES8000. We paid $3000 on special from an online appliance store in Australia. We've never owned a big new TV & we had saved our hard earned $ for 2 years. We were initially thrilled with our purchase as Harvey N had the same TV for $5000. I feel sorry for all those who paid full price for this crap TV!
The TV worked great for the first 2 years, the only issue we had was bad sound due to small, tiny speakers at the back of the unit so we ended up having to fork out for a soundbar. More $$$. The issues started approx 5 months ago. 2 year warranty has run out of course. Suddenly, for no apparent reason the TV won't connect to our WiFi network & we can no longer use any of the smart features like apps and streaming services. We can't update the TV either because there is now no internet connection.
Frustrated we went online only to find 100's of other people trying to get help for error & for the same issues. We tried all the suggested online fixes, nothing worked. We emailed Samsung Customer Service & we were told it was our router/modem. It's not, every other device in our house connects just fine but we followed Samsung instructions and reset everything. Nothing worked.
So next we tried calling Samsuck by phone. After being on hold for nearly an hour customer service said we needed to update the TV. We can't, the TV won't connect to internet! They tell us to download the latest update from their website & install it to the TV via a USB stick. Apparently this would definitely fix it. Nope... Nothing changed after we applied the update via USB, in fact things just seemed to get worse! TV still won't connect to network or internet & now it can't even find our WiFi Network at all.
Smart hub apps have been wiped, in fact Smart Hub is now completely useless without internet. All it does is give us a ''cant connect to network'' pop up.
Back to customer service who said to connect TV to router via Ethernet cable. We had already explained 3 times we can't connect via Ethernet, the TV is upstairs, the router is downstairs. One of the main reasons we bought the TV because we need WiFi!
We were then told to take it to a shop for repair. It would cost us more $$$. At this point we gave up on Samsung NON customer service. We decided to cut our losses on the so called Smart Hub & everything related to the so called smartness on the TV & we went out and bought a chrome-cast streaming stick but more $$$, at least we can now stream Netflix, Stan & YouTube, in fact the streaming works better with chrome cast that the stupid TV ever did when it actually worked!
But now other problems are appearing. We have to keep pressing the power button several times to turn the TV on and off & half the time changing channels is slow and laggy beyond belief. We tried changing batteries in remote Samsung. It's not the batteries or even the remote, it's the bloody TV!!! Then a couple of weeks ago the TV suddenly started turning itself on, by itself, in the middle of the night while we are all in bed asleep. It also randomly turns itself off when we are watching it. This random turning itself on and off random issue is seriously creepy. Is the TV possessed FFS!
Their customer service is non existent, they couldn't care less about their customers, they treat you like you're an idiot! They expect you to pay big $$$ to fix THEIR faults in THEIR products or they just don't bother to follow up on your calls for help. They have our $3000, now we can just piss off. They don't care if unless you pay!
After reading all of the other horror stories here and online regarding Samsung TV's & other Samsung products, the latest being their phones and washing machines bursting into flames, we can only hope our Samsuck TV doesn't decide to blow up & burn our house down while we sleep! How much longer can Samsung be allowed to rip so many people off with their faulty products? It's outright theft.
How much longer can Samsuck risk peoples lives with products that catch on fire and blow up? Something really needs to be done. We will be voting with our wallets & our feet and never EVER purchase another Samsung product again. I wish everyone else would do the same. Do yourself a favour people... Do NOT buy any product with the Samsung logo on it! You will regret it!

Had this TV since Dec 2016 and it's broken down on me twice. This time Samsung isn't doing anything about it even though I see hundreds and hundreds of people with the same issue. TCON AND POWER SUPPLY FAILURES due to faulty components.

We purchased Samsung appliances from Best Buy and within 6-7 months, the dishwasher stopped functioning. A repairman serviced the dishwasher and said, the computer board was dysfunctional and best course would be to buy another dishwasher. Samsung stonewalled our calls and emails. Best Buy said, after 90 days Samsung has no warranty. We purchased a KitchenAid and will NEVER purchase another Samsung product or buy anything from Best Buy.

Would you ever hand a business a blank check for services provided? Well, that's pretty much what Samsung has been telling me to do for the last week. Bought a 60" 4K Smart LED 6 months ago and a single horizontal white line has suddenly appeared. I started the claim process which had been a COMPLETE JOKE. Over the last week and 8-10 phone calls, each employee provided different directions and requested the same exact info continuously: Serial number, picture of receipt, picture of failed picture test, etc... They failed to update my trouble ticket every single time which ultimately resulted in prolonged service calls that went nowhere. After requesting to speak with a manager/supervisor I was informed that they do not have managers/supervisors.
After following Samsung's troubleshooting process 4 times and reviewing pictures of my television, Samsung informed me that the tech agent would be sent out and that if the television doesn't need technical repair or replacement, I will be charged for services provided. Samsung then failed to provide a price quote & the service number provided reaches a voicemail box that is full. I refuse to obligate myself to pay for a service that does not publish prices.

BELOW IS CUSTOMER SERVICE COMMUNICATION & REPEATED LIES BY SAMSUNG: Ticket Number **. Please be advised that I have made numerous calls pertaining to service. Initially on Sunday, Oct 9th I was promised an in home in warranty service to included labor as well as parts. I have made numerous calls to Samsung's authorized service center and they have stated no record of. Earlier today someone in the executive division promised the same (in warranty repair).
However, the service request generated clearly states "out of warranty". I really do not enjoy the constant lies. Please help me resolve this matter at your earliest convenience. Thank you! IF YOU WANT PRODUCT SATISFACTION DO NOT BUY SAMSUNG.

Samsung TV - 2 years old. Recently completed warranty. As of today I have a 50in screen TV with no picture video, only sound. I wish I had researched before purchasing a Samsung TV. I was just about to purchase a Samsung Refrigerator – I have no faith in their products or their customer service. Stay away from Samsung products.

I purchased a Samsung TV, model UN55KU6290FXZA. The TV was a gift and was NOT set up in our house until after Best Buy's 15 day Return Policy had passed. I set up the TV on September 17, 2016. On September 25th, after only watching the TV for a total of 10 hours, we lost the picture. Still had audio. Monday, September 26th, I called Samsung, reported the problem, they set up a ticket - ** and about a half hour after I hung up the local authorized Samsung Service Center called to set up an appointment to repair the TV.
Repair Tech came out Thursday, September 29th. Serhiy replaced the TV screen, picture was back and he left the TV on, as I wanted to calibrate the TV settings after he left. I realized I did not the time to make the changes immediately, so turned off the TV and planned to work on it later. I tried the TV 2 hours later - no picture. I called Samsung and asked that the ticket be re-opened. Also, repairman had left his card and I tried to reach him. Calls went to voicemail and left a message. Called Samsung back and they suggested I call the Service Repair Center back at a different phone number. I tried and got voicemail again. Called Samsung a third time and demanded they call in Repair ticket. After 5 o'clock, so they said they could not call.
I called Repair Center the next morning and left another voicemail. Contacted Samsung and asked them to call technicians. Repair was finally scheduled for Wednesday, October 5th. Same Technician showed up and this time, he replaced the TV's power supply. Result - no picture. Defective power supply. He then replaced the screen again. No picture. He had a second power supply available, tried that and still no picture, only sound. Over the 2 visits, the Tech had essentially re-built a second and a third TV. None of which worked.
Between 2 o'clock Wednesday afternoon, October 5th and today, October 11th @ 12:25 pm, I have placed 18 calls to Samsung and have been told I would receive a callback from the Escalation Center, who is the only group that can handle this matter. I do not want the TV repaired. I have been told I would receive a call within the next 24 to 48 hours. Never happened. I have been told the department is very busy because of Samsung's phone issue. I don't care. A new Escalation ticket was created - **. Never received a callback within the 2 hours guaranteed on 3 different occasions. I have spoken with 9 different supervisors, who can't help me. Two of them guaranteed they personally would call me back the next day at 9:00 am. Never received a call.
I currently have another Escalated Ticket written - ** with a guaranteed callback. Time runs out in 30 minutes. This Customer Service is unacceptable. I have received 2 surveys from Samsung asking how my Customer Service experience has been and if my problem has been resolved. I have not responded positively.

After 2 years of research and saving my nickels and dimes I purchased this $2000 boat anchor of a TV from Sears in Fairview Heights IL in early 2014. I really wanted a Panasonic but they announced they were leaving the market and all of their remaining stock was quickly bought up before I could make a move. So I went with the "next best" thing. And it was awesome for a short while.
But 2 1/2 years later (and conveniently 1 1/2 years past the warranty) the power supply pops out on me in dramatic fashion after acting strange now and again. After contacting Samsung customer service to no avail the recommended Samsung certified repairman (who charged me $412.00 parts and labor) told me next time it begins to act funny to pull the power supply and resolder the PCB connections on the capacitors, otherwise the transistors will eventually fry and fail catastrophically again. One would think that Samsung could at least re-engineer a replacement power supply that is worthy of the costs involved. Couple all of the woeful tales on this board with the Galaxy 7 debacle plus the exploding washing machines and it's OVER for SAMSUNG. Based on my experience I will never buy from them again.

This is Sumeet **. My 32" LED TV SMPS is damaged. Complaint Date: 30/09/2016, Service request number: **. Cuttack Service Centre is not cooperating to resolve the issue. They are saying when they will receive the parts then they can help. Please don't buy Samsung product as their customer service is very poor.

ConsumerAffairs Research Team
The ConsumerAffairs Research Team believes everyone deserves to make smart decisions. We aim to provide readers with the most up-to-date information available about today's consumer products and services.
Founded in 1938, Samsung is a market leader offering LED LCD TVs at virtually every price point and size. Samsung TVs are available at national and regional retailers and online.
Curved TV: Make any seat the best seat in the house. Samsung combines a curved screen with its Auto Depth Enhancer, an innovative design that creates a greater sense of contrast and depth.
4K UHD Upscaling: Even if you're watching non-4K content, Samsung's upscaling technology automatically improves the picture quality and enhances details.
One connect box: Samsung allows you to streamline your audio and video connections by de-cluttering the connections that go from your components to your TV.
UHD Video Pack: It comes pre-loaded with 4K UHD movies, documentaries and more to get your collection off to a great start.
True colors: With wide color enhancer technology, brights are brighter, blacks blacker and whites are whiter, so you see pictures the way the director wanted you to see them.
Best for Home-theater enthusiasts and movie and TV connoisseurs.
Samsung TV Company Profile
Company Name:

Samsung Computers and Monitors

Year Founded:

1938

Country:

Korea Sout

Website:

http://www.samsung.com/