Consumer Reviews and Complaints

WARNING WARNING!!!!! Please do not buy any Samsung Smart TVs. They are no good. The representatives are no help. They are useless. I recently purchase my Samsung TV from Walmart. It worked fine in the beginning. Until it updated and wiped out all the apps that I had downloaded, except the apps that originally came with the TV. The main apps that concerned me was the Spectrum app and the HBO GO app. I tried repeatedly to reinstall these apps without any success. I tried downloading random apps without success. It would only say download, but it does not actually download. I finally decide to call Samsung electronics for their help. What a JOKE that was. I was first told it was my cable company fault.
Called my cable company Spectrum, again I was told it's Samsung's fault. Called Samsung again, was told that HBO GO and Spectrum app was not compatible to the Smart TV. Again what a joke. Then I was told that it was the router blocking the download, however it's not blocking access to the already accessible apps that came with the TV. Consumers consumers!!! You have been warned, do not buy any TV from Samsung electronics. Their products are no good and their customer service are useless. I only wish I could give them no star, because that's what this coming and their representatives are worth. CLASS ACTION HERE WE GO!!!

I've just read many negative reviews regarding the same 60" LED SMART T.V that I have. This T.V. is now 5yrs old. Approximately 18 months ago the T.V would randomly completely go black screen, then the SMART T.V logo appears, the T.V. then "blinks" and the image comes back on... Sometimes with audio and other times without. When the picture comes back without audio, I have to shut the T.V down and restart. The situation has gotten progressively worse. I have contacted SAMSUNG and they refuse to acknowledge the problem. I am used to T.V's lasting many years and have always thought of SAMSUNG as the "TOP OF THE LINE." Needless to say, I no longer feel the same way about SAMSUNG and will no longer purchase nor recommend their products.

Bought a 48" Samsung TV from Costco on Feb 1, 2017. That TV arrived with a broken screen, and they promptly sent out a replacement. Kudos Costco on that. The replacement lasted until June. We'd watched it earlier in evening, then returned home from being out and it did not have a picture - only sound. I contacted Costco, and then they contacted Samsung. That started a long drawn out process that is still not resolved! Samsung didn't have anyone in my area to repair the TV. I've been trying to get a refund since June, and as of September 5 do not have this resolved. Samsung has constantly had something else they needed to know, do, etc. before a refund.
I've complained to Costco, but they really haven't done anything except contact Samsung and repeat what they say. NEVER again will I buy any Samsung product - and I've bought 4 TVs, and a refrigerator. Used to recommend the products - but not anymore, and will not ever. You do not want to deal with Samsung 'customer service'. The absolute worst 'customer service' I've ever dealt with on anything!

Two 60" Samsungs 1080p LED purchased from Sam's Club on Oct 2016; both installed Jan 2017 in new home. One gave black screen of death w/o audio in April, just 4 months after install; tried ten Youtube fixes, no luck. Second TV just gave up the ghost in Oct, it worked great for all of ten months! These are junk and when you go to the Samsung support site you learn it is COMMON and years ago they settled a class action lawsuit but now say they don't use those defective diodes anymore - right! Never again.

I purchased a TV back in March from a major big-box store. The big-box store is fantastic! Samsung is piss poor & that's being "Overly Kind". I forgot my password so that I could install an app on my TV. I tried to reset it but wasn't able to. Tried to click on the section to reset my password but received an error message instead. I called Samsung & that's when it went immediately to Hell on the Autobahn. I believe it's their mission to Royally Infuriate the consumer.
How do I know I can trust these reviews about Samsung Computers and Monitors?
882,235 reviews on ConsumerAffairs are verified.
We require contact information to ensure our reviewers are real.
We use intelligent software that helps us maintain the integrity of reviews.
Our moderators read all reviews to verify quality and helpfulness.
For more information about reviews on ConsumerAffairs.com please visit our FAQ.

We purchased a 60 inch smart TV 3 years back. The TV keeps coming on and off. Samsung customer support is the worst support. They asked me to change the power cord and I did. It did not help. They gave number of a local support that never picks the phone. The motherboard seems to have a issue. We paid 1300 dollars for the TV and it did not last even 3 years.

I purchased three 60" plasma televisions from hhgregg in Ocoee, FL August of 2015. In August of 2017 the first one of the three began displaying a vertical line down the right side of the screen. After speaking with tech support at Samsung I knew I was in trouble. They were unable to connect me to anyone in the United States, they were in the Philippines and difficult to understand, they read all their material out of manuals and refused to connect me to any other branch of Samsung. What they did suggest is that I have the television looked at by a certified Samsung technician and informed me that any and all cost were my responsibility.
The company they referred me to in Kissimmee, FL rudely answered the phone and hung up on me after informing me that the person I needed to speak to was at lunch. After speaking with several local technicians and having this same issue on a different brand TV several year ago I knew the display was in need of being replaced. Samsung's representative Caleb, supervisor of tech support in the Philippines, was less than helpful and only repeated himself regarding the warranty expiration, having someone look at it and refusing to connect me to other branches of Samsung. As far as all the other numbers you can find on the internet regarding Samsung they are either out of order or lead you back to the same automated system. I currently have five Samsung TVs in my home and will never purchase another item from them!

I bought a 55' Samsung Smart TV from Leon's stores in July 2017. The TV came with a manufacturer's 12 month warranty. After a month of purchase, screen turned black with no pictures and a white line. Complained to Leon's who gave me the phone number of Samsung. I contacted Samsung who referred me to their 3rd party technician, UNITECH services. The technician spoke to Samsung and got back to me after one week. They said Samsung will not cover the cost of repair because it's damaged and their warranty does not cover any damage. The only option is to spend almost the same amount of money that I bought the TV to repair it or throw it away and buy a new TV. I contacted Samsung directly who insisted that the TV is damaged and the warranty do not cover it. Went to Leon's who also said that I should rather buy another TV. The whole experience seems to be a "BIG SCAM". That's unfortunate anyways.

Zero stars is the real rating!! Have to share my disappointment with this 7 series Samsung 3D TV, it has had a number of problems which sadly started after the warranty expired. We bought it in late 2012 to be installed in a new home after relocating in 2013. So it's been in use less four and a half years and about eight months before the warranty expired. Even in the first year after what seemed like endless software updates it slowed down and the remote control became very fussy at best, despite seeing the light on the frame twitch when the remote buttons are pressed the reaction time seem to get longer and more delayed. Then the TV started to turn itself off then on again within the first minutes after being turned on, this still happens today every time my Wife or I watch TV. You almost have to plan your viewing around it or you could missing something important on your shows. Thankfully the new cable boxes can be paused.
The app option are very limited and the Netflix app itself has been a problem which has required a number of calls and wasted time to Samsung. It's strange that it doesn't offer the same Netflixs features I have on our Sony Brava smart TV which I find much easier to use. In addition the volume has to be turned to twice the volume required for TV, you quickly learn to not just exit Netflixs without turning it back down or you will wake the neighbors. Strangely it's the same when I use my Samsung BluRay player but not on the Sony Brava, where the volume is about the same as it should.
Now just last week the wifi stopped working, the setup screen would just close or not complete the setup, this is after working the days previously and for the last few years. Calls to Samsung resulted in a list of repair shops that we could take it to at our expense. Plugging in a cat5 cable doesn't even work, according the tech department it all runs through the wifi module. I wanted a good TV with a high refresh rate for action and sports and spent nearly twice what other TVs in the 46" size cost to get something we would enjoy for years. Sadly that is not what we got from Samsung, what we did get was headache after headache. I encourage everyone I can to avoid this brand. I read Samsung has lost a case action suits against them for their poor products, hopefully you will not make the mistake I made!!

Samsung TV UN55H6203AF - DONT BUY THIS TV! TV was bad as soon as we got it. It goes to a black screen and then freezes, and shuts off, three years and SAMSUNG gave us a tv store to look at; "THE PANELS WERE BAD ON THIS MODEL. DON'T BOTHER FIXING. YOU WILL WASTE YOUR MONEY"

Spend $2900 for Samsung HD Smart TV about 5 years ago and the screen keeps turning off and on by itself without anyone touches it. Samsung Technical support could not solve the problem. They tell you the same thing that the internet provide for troubleshooting. When you call their support they will have you contact Home Service Network to come and provide service to your house. This Home Service Network have already bad review that they take picture of your TV and they don't even show up. I will never buy Samsung product from now on.

MY COMPLAINT: Samsung (The Answer Technician) wants a $33 payment to POSSIBLY answer a question regarding my 31 1/2", Samsung/SMART TV (Series 5) bad performance. The TV cuts out often, since I purchased it, 13 months ago - sometimes it completely goes to black screen; must be turned off and begin again. From the reviews I have seen/read that Samsung techs are not answering some complaints, whatsoever. Sorry, I did not open or see Samsung's Pearl's online RESPONSE TO MY QUESTION, thru ANSWER TECH... therefore, I will NOT pay for The "Answer Tech."
DO NOT BILL ME (you have Visa information). I did NOT choose to read it. I deleted it WITHOUT OPENING PAGE. (It would be ridiculous to pay in advance, in any amount for an incomplete answer or if the answer is NOT to my satisfaction). I am very disappointed in the way Samsung is handling their customers' complaints and I must say this has been a bad experience with them. Please, Respond, ASAP. I surmise my complaint will not make it to Samsung's "Reviews."

We purchased this Samsung 50 inch TV (Model UN50J6200AF) from Best Buy in California Maryland on 01/17/2016. We had the set in our main living room up on a wall mount. We haven't used the set more than 20 hours total. On July 2nd as we waited for company to show up, my husband noticed a growing "spot" in the left lower corner. He immediately got up to investigate and the spot was hot to touch. He unplugged the TV. Best Buy was no help. We have been dealing with Samsung in SC for the last 3 weeks. They have done nothing but lied to us about covering the repairs, approving the claim, sending parts overnight, now it's a new repair place... A new ticket order... We finally just went out and purchased a new TV from LG. We will never shop at Best Buy again, nor waste our hard earned money on another Samsung product.

In February I purchased a Samsung 4k TV (55 in ks8000 series) from Samsung.com. I bought it based on hours of research and the fact that it met just about every requirement I needed (Quantum dot display, input lag, & rich vivid colors). For added peace of mind I also bought the 3 yr warranty for 179.99. Well a couple of months later I noticed 3 areas with dead pixels as well as color separation that occurred at random times. I called Samsung's customer service line and was instructed to do several tests to determine if the issue warranted a repairman coming out. I was told it did and that they would authorize someone to come do the repairs. A couple of days later I heard from the authorized repairman who requested some photos of the issues. Which I sent.
Exactly one week after being told I was getting the repair done, I get an e-mail from Samsung saying they had canceled the repair job. This was done without provided information on why. I called back and after I discussing the issue all over again they put in the request for repair again. Two days later I get an e-mail from Samsung stating it was again canceled. I called again just to be told that now they can't find anyone in my area. I'm told that they need to look into my issues and that I will be contacted later with a solution.
At this point I'm skeptical given that I've noticed inaccuracies in what each customer service rep had told me. So I choice to switch to Twitter and voice my concerns. A different team of customer service representatives took over and I was told that a department at Samsung was still looking into finding someone to repair my TV but that if they failed to find someone that I would receive a replacement. A few days later I received another e-mail saying that an exchange request had been submitted and approved. It also said to contact the exchange department to get thing rolling. When I called they tried to offer me a refurbished curved model, which I said no to. I stated that the reps from Samsung's Twitter page told me it would be a new model since mine was not very old at all. I also explained that had I wanted a curved TV I would have bought one and that the ks8000 model was what I wanted. Due to all the research I did on my TV.
After several placements on hold while he looked for one in the warehouse he came back and said he found a new model for me. He said that I'd be hearing from a shipping company in about 2 weeks. 2 weeks later I get an e-mail saying that the exchange had been allocated. No delivery date given so I messaged the customer service reps again through Twitter to ask about an ETA on delivery and to verify the model again. They couldn't give me a date but they did give me a model... It was now an MU8000 unit. Not my Ks8000. I had to go and research this new model which I did. I spent a large amount of time looking and comparing specifications.
What I found out was that it is the 2017 model, mine was the 2016 model. By all means not bad. My TV (ks8000) has quantum dot. The replacement does not (Mu8000). This is a huge issue for me. The cost of the TV also stood out. The Ks8000 was 1799.99 while the Mu8000 is only 1499.99. Basically my TV was a flagship model while the Mu8000 is closer to an upper mid-range TV.
After a handful of messages back and forth with Samsung, I was told that I needed to contact the exchange department again as they are now the only ones who can do anything for me. I did and was passed to a manager who insisted that the Mu8000 is a comparable model. Which to a degree it is but mostly fails compared to the Ks8000. It fails in brightness, it lacks Quantum dot which is a main and very important feature. There are dozens of reputable sites that go into further details on the Mu8000 and Ks8000 that can substantiate my claim.
After explaining my findings to the manager and also informing her that the original warehouse rep never specified that it was a Mu8000 model she told me that she would try to stop the delivery but that refusing the replacement meant that they would not offer another television. I was told then that a refund might be an option but that they might try and have it repaired again... yes that's right, after a month or so they want to restart the whole ordeal over again. At this point she said I'd be contacted after more research.
A little more than a week later I get a call from a shipping company, the Mu8000 unit is ready to be delivered... it's here in my town. I explained the situation and they said they would return it. Now I'm a little angry again and confused so I call Samsung since at this point the customer service managers from Samsung's Twitter account are no longer helping me. I'm transferred to a manager who tells me that I need to contact the exchange department again... but it's after hours. When I finally attempt I'm on hold for 1 hour and 10 minutes before the prompt starts saying transferring please hold. It keeps failing when I call again. It's now closed.
I believe they bumped my call and simply left without dealing with customers. I placed another series of calls to the service line before finally getting in touch with a more sympathetic manager who could not help me but did say they put in a request to examine my situation and get it resolved. I have yet to hear from anyone. At this point it's been well over a month and I've spoken to dozens of service reps and managers. I've been told one thing while Samsung does a completely different thing. I've never seen such poor customer service.

I purchased a Samsung Smart TV in November 2016. A few months after purchasing pixels started to go out - slowly growing into a black line down the side. Lived with it a couple of months until I found my warranty info. After speaking with many, many people who offer the exact same advice they said to send it in because it was still under warranty. Now I'm being told that the warranty is is no longer valid because the LCD is cracked. Nobody has touched it since it came out of the box other than to clean around it. If it was broken - how!?
If it was broken when I received it how was I to know that months later it would start dying? Nobody knows. They say it's not my fault but they want me to pay to get it repaired even though it is under warranty. I am a teacher - I don't have a ton of cash. I can't afford to pay again for something that is under warranty. I will no longer recommend Samsung to anyone.

Snow and blank screens appear often on this 2 1/2 year old UN55H6300. For the longest time I thought it was a Comcast problem (there were lots of Comcast problems). Now the Costco warranty is expired. A YouTube video describes the problem as bad solder joints. I think Samsung knows what is happening.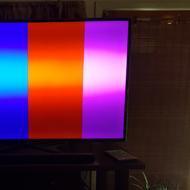 At 3 months our Samsung 6350AF 65 inch tv started turning off and on by itself. It also kept disconnecting from the Internet. We bought our tv and extended warranty from Costco so they are who we dealt with. Because of they size, they sent a repairman to the house. He replaced the control panel. After having the tv for a year the top 5 inches looked like they were darker than the rest of the screen. No one else noticed so I didn't call Costco. A couple of months later the bottom 1/3 also became darker. We had a 5 inch strip that is normal. The repairman took or tv for a week. No problem. They kept in touch with me. They had to replace all the bulbs. Now the tv is a little over 2 years old. I'm glad I bought the extended warranty.
It is doing the dark problem again. I am now dealing with the warranty people. They had me email pictures so they could see what is going on. I waited on a return email for 2 weeks. I ended up calling them. They said they did send me an email telling me they had approved a new TV. I checked all my boxes. No email. The man stayed in the line until I received a new email. They gave me 3 tv to choose from. I was taking a while to look up the reviews. By the time I made. My decision the tv I had to choose from were gone. Then I had a totally different one on the list. I'm glad I took so long to choose. I really didn't want a Samsung again. The tv I will be getting is an LG with 4.9 stars out of 5. My brother in law bought the exact same Samsung tv from Costco the day before we did. We is now having the bulb problem but he didn't buy the warranty. Make sure to always spend extra time and money to check reviews and buy the extended warranty.

I purchased a 40 inch TV in December 2016. A month ago it started flashing all of the sudden. Mind you, I barely use this TV. Maybe 5 hours total since purchased. I called customer service who told me I needed to bring it to a nearby repair facility. Then told me this repair facility is in New York. 4 hours from me. I told her there has to be somewhere closer. She told me I would hear from someone within 48 hours with what to do next. No phone calls. Life has been busy so I just called back 3 days ago. I was told by a rep that I need to mail this TV in, he would send me a shipping label within 24 hours and I would hear from facility to confirm they will be ready to accept my TV. Nothing. No email no phone call.
Currently on the phone with human relations supposedly after speaking to a rep who put me on hold for 17 minutes and never came back, a rep who says because I refuse to drop the TV to the nearby facility (New York, 4 hrs away) that he doesn't know what he can do for me. He then transferred me to a supervisor and now customer relations and I am being told I need to mail it in because it is under 45 inches and at this point I don't trust them to not lose my TV. I have been on this call 2 minutes and counting. I'm fairly certain this service center is bouncing me to different reps saying they are of higher management and they are not because nobody can help me. I am tired of this. I will never buy another Samsung TV again.

Approximately month ago I got a Samsung Ultra HD 40 in TV. It was very nice & was very happy. One day I went to turn it on it made a small popping sound on the screen had lines up and down with bottom of screen blurred. I called Samsung & they immediately warned me if there was physical damage to it it would not be covered... This should have been a bell going off that I would not be given fair customer service as I had not even told them the problem yet! Samsung wrote a repair ticket and I would have a call by next week of a repair shop. When I called Samsung back to ask the repair be done in another city then they had set up it was not a problem and would cancel the current repair ticket & would order a new one. They gave me a name of a new place to take it & that day I drove the TV over to the repair shop. 3 days passed & the repair guy called saying that he still had not received a repair ticket.
I called Samsung back & the rep pretty much blamed me left & right for multiple things. He said that I wasn't suppose to drive the TV anywhere that the repair man was suppose to come to me. I said the why didnt the rep I talked to 3 days ago tell me that? Then he said that there needed to be more diagnostic (over the phone) test done before the repair was done. I said the rep did test with me... Reply was that they rep didnt do all of them. My come back was I did everything the Samsung asked me to do & that this is not my problem when I followed Samsung's directions. Then he tried saying that because I did take it in with out proper testing (again I did every step Samsung said to do) that they could not do a repair ticket. I said but a repair order was already written! After 45 min of back & forth he wrote a new repair ticket.
Another 2 or 3 days the repair man calls & says Samsung will not repair because of a point of impact damage was done to TV. The repair man had warned me that Samsung's customer service had went downhill the last few years & dont be surprised that they wont cover repair & if I repaired TV it would cost more that buying a new TV. So when he called to tell me this I wasnt surprised at the denial but the reason was a surprise because my TV is up on the wall high & nothing is around it.
So I called & talked to a supervisor & he of course wouldnt anything to help. I even asked to have another evaluation be done (because they only evaluate TV via pictures the repair person takes... Not off the opinion of the repair man who said there was no damage to the TV). So... here I am writing a review of a TV that only worked a month & am very disappointed in it & Samsung. I, also, found that others had same problem with TV & Samsung! It seems that Samsung has generic answers to get out of paying for repairs on there defective TVs. Hope you find this info helpful on what not to buy!

Bought Samsung 75 in TV (model: UN75F6300) from Costco. The TV goes into on/off infinite cycle with clicking sound. Past the warranty duration. I have called Samsung services quite a few times and they are useless. Since they have not heard complaints for this TV, therefore, they will not fix it.

Had a Samsung smart 55 in TV Warranty 4 years... TV went out exactly in 5 years of purchase. When installing the new Samsung smart TV 55 inch... it was realized that there is no audio output. The only thing available is to use fiber optic sound output to an audio converter. The last TV, you could plug in the 3.5 audio out to go to the wireless earphones. The sound would stay on the main screen... and the phones would work. You could turn down the main speakers and just listen to the earphones. This way... I had better hearing with earphones and the wife could just use the regular sound output. Later, I could watch a movie with the main sound down and just use the earphones so not to disturb her in next room.
Now, the choices are... use only bluetooth headphones and no in-room audio... Use only in-room audio... no earphones. Any bluetooth on... shuts off room audio. The other problem is the average engineer would make an earphone jack and plugging in the earphone would shut off the room sound. Having hard time understanding why Samsung and other TV engineers are not listening to and paying attention to the real needs of the public. Now that you have created a mess... make something that will help correct the problem.
As it is today... bluetooth is terrible for sound... Plus you are making it an add-on expense. You now give us no choice for selecting audio. In a standard living room there is actually no reason to have to purchase an extra external speaker system or even a sound bar... especially a bluetooth sound bar. USA has an aging population, and there are lot with hearing problems... This faux pas... with the output selection is not appreciated and needs to be addressed promptly and solved.

We had purchased a Samsung Series 6200 40 inch TV. We purchased it on July 20, 2015 from Best Buy. Last week the picture went black. We had sound but no picture. We are unhappy about this because it is only 23 months old. We went to the Best Buy where we bought it and inquired about what's going on. The TV is less than two years old. Needless to say, it is not them but Samsung.
They offered to have it repaired but because it was 40 inches it had to be sent out. So we went with it. It was shipped out 6/8/17. Today we get a call stating that the main assembly was bad. It would cost $429.00 to repair. So, the question is, do we pay $429.00 for repairs for a TV we paid $429.00 for. Unfortunately I'm not an idiot. We told them not to repair it. I was going to write a letter to the CEO of Samsung but apparently he is having some kind of problems. The question is, would I buy another Samsung that may last only a couple of years. What do you think?

I bought the Samsung SUHD TV, 9 Series, Quantum Dot Display, 138 cms on the 10th of May 2017, Delivered= 11th of May, Installed 13th of May. Almost within 2-3 weeks i.e 29th of May 2017 the TV Screen started displaying a purple line complaining about which on the 1st of June I was informed that it is a Panel Problem. Thereby concluding for a Replacement. After days i.e on 7th of June the TV Service Provider come and take the old one delivering a replacement. After that the Installation guys do not turn up until 4 days even after persistent reminders calling and complaining.
On the 10th of June when they do come. The hole in the TV which is used for a wall mount is CROOKED thereby unable to fix the screw saying that it is a manufacturing defect and delayed the situation again. We have been told again the TV will be replaced but not given a proper time frame nor a proper explanation.
First of all you do not expect a defunct tv within the two weeks of its installation. EVEN so the replacement, installation and a crooked TV is all the more dissatisfying. I expect a solution ASAP or a refund of the amount paid for the TV. I Do Not purchase almost a 2.5L TV to run behind the service providers for their service and efficiency. In conclusion the Product is a failure and the service received so far has been pathetic, I expect a reply at the earliest with a valid explanation and compensation for the due waste of my time and efforts.

I bought a 32 inch tv 3 years ago and just bought a 42 inch tv last week. I think the product is excellent and I love the smart tv aspect. I am more than satisfied with Samsung and I would only buy a Samsung.

Have a 2 yrs old 55 inch Led Samsung smart tv. Love it. The only things I do not like are the optional keyboard, cannot figure it out and secondly no commercial volume control. The smaller cheaper samsung smart tv 42inch has it, go figure.

It has been an average TV. Hubby needed a larger one each time we have purchased a new one... lol. It is now in the bedroom but we don't use the smart part. I guess you have to now be smarter than your tv.

I had a 65" curve TV for 6 months. On one day it quit working I took it to Best Buy. First they inspect the TV and they find a very tiny line. The screen was crack. Well they exchanged for me. Two months later is happen the same thing but this time they saying that it is a physical damage and they can't do anything for me not even the extended guaranty. So be careful. I will never buy anything from Samsung not even from Best Buy. If anyone know a way to sue let me know. Has to be a way to do something. It is a lot of bad reviews online for Samsung. Thanks.

I really like my Samsung TV and it has survived a house full of kids. It's about 6 years old and it's a good tv. It is made very well. It has had remotes hit the screen and has not broken. It's been hit by toddlers and still works.

My Samsung delivers all the requirements of a TV that I want. On receiving my Samsung HDTV as a fabulous gift, it took a little while to figure out what's what. But the on-TV, online instructions and customer support assistance was great! There are so many aspects to this TV, that even after almost a year, I'm discovering new functions and capabilities it has - It's a computer as well! The basics all deliver, i.e., sleek looks, color, picture, sound, etc. And having been introduced to DVR has me watching far more TV than I should be doing! I highly recommend the Samsung brand.

Samsung has been my electronic vendor-of-choice for a number of years. I can count on dependability as well as excellent quality of video and audio! Whether it's an iPad or television, I feel I can depend on Samsung.

ConsumerAffairs Research Team
The ConsumerAffairs Research Team believes everyone deserves to make smart decisions. We aim to provide readers with the most up-to-date information available about today's consumer products and services.
Founded in 1938, Samsung is a market leader offering LED LCD TVs at virtually every price point and size. Samsung TVs are available at national and regional retailers and online.
Curved TV: Make any seat the best seat in the house. Samsung combines a curved screen with its Auto Depth Enhancer, an innovative design that creates a greater sense of contrast and depth.
4K UHD Upscaling: Even if you're watching non-4K content, Samsung's upscaling technology automatically improves the picture quality and enhances details.
One connect box: Samsung allows you to streamline your audio and video connections by de-cluttering the connections that go from your components to your TV.
UHD Video Pack: It comes pre-loaded with 4K UHD movies, documentaries and more to get your collection off to a great start.
True colors: With wide color enhancer technology, brights are brighter, blacks blacker and whites are whiter, so you see pictures the way the director wanted you to see them.
Best for Home-theater enthusiasts and movie and TV connoisseurs.
Samsung TV Company Profile
Company Name:

Samsung Computers and Monitors

Year Founded:

1938

Country:

Korea Sout

Website:

http://www.samsung.com/