Consumer Complaints and Reviews

So here's the deal. Bought a 60" Samsung ultra-thin smart TV Dec. of 2013. TV work perfectly... no real issues or problems with it. Suddenly one day of 2015, there was a loud pop and TV went black, never to come on again. Called Samsung because I heard about a lawsuit about such issues and that they had agreed in the lawsuit to fix all broken TVs of course. They POSTED a date that this would stop and my TV of course even though it's the same problem or something similar, they refused to fix it for free.
TV wasn't even two years old. Paid $2500 for it. I was told they would send someone to repair it. YET when they called to set an appointment, I'm told I would have to pay $150 just for the tech to come out. Plus labor and parts. So I'm out 150 just for you to show up that doesn't even count labor and parts. Are you serious? SO I told them no, that the person I talk to at Samsung implied it would be fixed for free. Not to HAPPEN I was told soon as I worked things out with Samsung. Give them a call back of course. Suddenly I have no warranty on it the Sat, and I would have to pay to get it fixed even though there was a lawsuit against them behind such issues with their TVs.
So me being the repairman I am as I'm a contractor that does handy repairs for customers as well as the regular construction and remodeling, I researched and found the capacitors were known to blow. SOUNDS like my pop so I open the TV no longer worried about a warranty as trying to get it fixed. I got the runaround until the warranty was dead so they could say they no longer had an obligation to fix it. Upon opening my no longer warrantied TV, inspection revealed no blown capacitors. Scratching my head I tested half a day. SUDDENLY I found my issue or so I thought -- not a blown capacitor but a blown component. I search trying to find a replacement only to be told that was not to be found by itself, that I would have to replace the whole power board. Searching for one they ranged from $300 plus bucks. Mind you this is a TV I was charged $2500 bucks for.
As a contractor I'm gone most of the day, home late at night. At the time I lived alone meaning the TV might see at the most 4 hrs of use if that a day. Football on the weekend and maybe some gaming depending on mood if my team one good if not bad TV goes off. NOT big on TV shows but will watch a movie with no commercials. BUT N E ways. I finally found a used power board for 100 bucks. So I ordered it. Now I'm 2600 in... not bad I felt at the time. This shouldn't be happening but things happen. No big deal. Company doesn't want to stand behind their product... fine. I'll fix it myself. Only costing me 100 bucks. I win. Lol, not to be.
Part comes. I put it on and nothing. I can hear it now. There's a hum where there wasn't but TV still will not power on. NOW I seen the component I know it had blown so that had to be the problem. SO now I'm back to my multi-meter and testing. WATCHED a video that told me to disconnect things one at a time to see if I got a response. ONCE I disconnected the main board from the power board my backlight suddenly pops on but that's it. I plug it back in. It goes back off. So I call the local repair shop and am told, "You probably need to change the main board out too. It's grounding out somewhere."
Mind you this TV had a short life from the factory it was built in to the store. Still in the box when I bought it. IT was my birthday/Christmas present to myself in Dec. 2013. Here 2016 I'm fighting to get a 2500 TV working because again this company refuses to stand behind their product. I heard several people say some of these companies build their products to fail after a certain period of time so you have to go and buy another in a few years which is why they don't stand behind their products. Some bozo's trying to get his numbers up and if he has to worry with you it counts against him so he blows you off. You get the runaround, etc.
BUT back to my TV. Here it is 2017. Me and my now girlfriend are living together and end up in a fight tonight. We only have the one TV still as my Samsung is still not fixed partly because I haven't had time. So we argue over the TV. I still don't watch much but when I do she complains because she don't like what I like and I don't care for Lifetime, etc. This TV is a Insignia. I had it before the Samsung. I'd say it's about 6-7 years old maybe older. This TV is on round the clock, 24/7 and still going. For the past 2 years at least, it's been like that and not a problem.
I've seen thousands of complaints about Samsung yet they seem not to care. "Some fool will buy one tomorrow," they say, "so who care if you no longer by from us?" Samsung is not the only one doing this. BUT I'm here because of them. I don't know if another main board will fix this problem. What I do know is I shouldn't be having this problem with a TV that wasn't even two years old and I paid 2500 for. BUYER beware. Customer satisfaction is no longer a priority with most companies nowadays!

On Nov 27 I ordered a 50 inch Samsung tv as a Christmas gift. It was to be arrive between Dec 23 and Jan 3. It had not been shipped by Jan 5. I called customer service to find someone who was not great at English. After 45 min on the line with him he said I needed to cancel my order and order again before he would let me speak to sales. When I stated that I wanted to make sure there was something comparable he insisted that I could not speak to sales before cancelling my order. When I eventually spoke with sales, they told me I should not have cancelled my order and there was nothing comparable. For the same price, I could get a Vizio tv vs Samsung.
Sales eventually advised me that there was another sale in two days... and that he would be sending me a specific email with all the information including his information so that I would get an additional credit to purchase the new tv. This did not happen. Even though I confirmed several times that with him on the phone. They still have my money... there was no call or email. There was no sale. I wasted an additional 1.5 hours on the trying to take care of this. I was very surprised that they didn't tell the truth on multiple occasions. Now I hope that they recredit my money so I do not have to go through this again.

Over the course of 15 months we purchased a 65" 4K tv, washer, dryer, refrigerator, microwave, range, dishwasher and a washer and dryer for our small business. At 12.5 months the tv had a pixel burn the screen and leave a white dot. Samsung says, warranty only 12 months. At 2 months the dryer in the small bus ceased working, Samsung says no warranty because it is a commercial establishment. The dishwasher has never dried the dishes, still trying to resolve. Samsung makes junk then refuses to stand behind their products! DO NO BUY SAMSUNG!! Spend your hard earned dollars on brands that will back their products.

The tv actually went bad 9 months after I purchased it and it took me a month of procrastination to call them, this is why. I have dealt with Samsung before and they do everything on the phone that they can to stop you from a repair and every time it takes hours. I spent 3 weeks of back and forth with them between receipt proof, photos, and following step by step the procedure (did that one 3 times with them on the phone). So I had about 5 days left on the warranty before I finally got them to agree. Now they wanted me to pay to ship it across country and supply a shipping container. Well another 3 hours and I got them to pay for shipping. It took me about 3 weeks to acquire a box to properly ship the tv and guess what? Samsung gives you 14 days to ship or they stop the process.
So here I go again, that only took 30 minutes. Ok so the next communication I get from them is they want 150 to repair the tv because it out of warranty. So, 1/2 hour later they agree to it. Now I get this special one time accommodation from them stating that they will do it this time, so next time what??? This is the most ridiculous company on the planet. I am going to go out of my way to not buy anymore Samsung products.

I purchased a 75-inch tv on November 28th, 2016. I got a shipping confirmation on December 7th. By December 28th, I realized something was wrong because I never received the tv. I contacted Samsung and they said they needed 15 to 30 day to do an investigation. 15 days later I got a notice that they issued a refund. First of all, I didn't request a refund. I bought a TV at a discounted price and I wanted the TV. This is a Cyber Monday scam. Second I can't wait for a new shipment because I bought the tv for my dad that lives overseas and I am leaving in two weeks, there is no way for me to send the tv. On top of that Samsung support answer to my complaint was that I was one of thousand complaining and that they could not help me.
How do I know I can trust these reviews about Samsung Computers and Monitors?
667,311 reviews on ConsumerAffairs are verified.
We require contact information to ensure our reviewers are real.
We use intelligent software that helps us maintain the integrity of reviews.
Our moderators read all reviews to verify quality and helpfulness.
For more information about reviews on ConsumerAffairs.com please visit our FAQ.

I purchased the Samsung TV UN65F6300 new from Best Buy in Nov 2013. Following a year of limited use, the tv kept cycling off and on. Samsung said the TV was out of warranty and would not fix it. Numerous web threads state the power supply issue has continued beyond their class action suit. I purchased a power supply unit from EBay which fixed the issue for about 6 months. The TV has started the power supply cycling again over and over. It is not attributed to how long the tv is on. Samsung electronics are the worst... I spent 1800 dollars on this piece of junk.

Samsung 55"LED 2160 4K UHD TV, #UN55KU6300FXZA - Purchased this set on 11/24 for pickup at Best-buy on next day. From the start the set was unable to show full screen on certain channels. This even so other Samsung sets in the home were able to show the same channel full screen. Availed myself of their remote help which was unable to provide any resolution to the problem. All they could suggest was it must be my antenna, even though the other Samsung sets are all connected to the same antenna. Spent hours on the phone with them, and although they were patient to a degree, they were unable to offer any resolution to the problem. Now we are stuck with a 55" TV set that is missing 5" top & bottom on various channels. Out $638.99. Really not able also to recommend the "Smart Remote" which is pitiable. Stay away from this set.

Purchased 3 40 Inch Smart TVs 3 Years ago this xmas. I just had to buy a new TV today - back light failure from the one least used. Never will I buy Samsung again and I will advise anyone I know to do the same. I visited Currys today to look at TV Prices and deterred 3 people looking at Samsung TVs so that good... I'm 65 Pensioner and the Television was not used to excess - in fact only Evening usage to be honest. £1500 spent on Samsung Products... Never again. Built to last the warranty period. RUBBISH.

The television is six years old but I now find out it is not HDCP (High bandwidth Digital Content Protection) compliant and there is no way I can use the television with a modern Blu Ray player. The Samsung support department could only suggest that I change the television. How can manufacturers get away with such blatant designed product obsolescence?

This is the 2nd time I'm facing same trouble while purchasing a Samsung TV. But surprisingly this time it's from the very own manufacturer's website, samsung.com. So, here it goes. I ordered a 55 inch curved SUHD TV (UN55KS8500) on samsung.com on 20/Dec/16 and I got a mail saying my Order is confirmed and will receive the shipping Info once the TV is shipped. So, I called customer service after 3 days, i.e on 23/Dec/16, since I didn't receive any shipping details on the purchase I made. They promised me that I will receive shipping details on or before 26/Dec/16.
Since, I didn't receive any mail even on 26th Dec, I called the customer service again and I'm now being told that they don't have a TV in their inventory and my order will get delayed, or might even get cancelled. To know the result I have to wait till 5/Jan/16. So, I was really angry about this and asked them what are my other options to cancel my order, so that I can book it somewhere else. They were clear in accepting that mistake was from their end and I would be compensated for this and would also receive the complete refund.
So, I asked them to send me a mail on the same stating that my order has been canceled and that I would be compensated for the same. They were rude about this and were like it's system generated mail and can't forward it to me. How can I believe that my order cancellation request had been raised if I have not received a mail on this. They were adamant and their reply to everything was same, that I have to wait another 2 business day to receive a mail on the cancellation. I would never trust this site and would never book anything from them again. Thanks to Sam's Club earlier for ruining my Thanksgiving and now same to samsung.com for ruining Christmas. Very bad experience for a first timer in US to do online shopping. Trust - 0% on these online websites.

Black Friday 2016 I attempted to buy a 50" Samsung tv. The price was a great deal and advertised 3-5 day shipping. Received a confirmation email that the order was processed and that a shipping confirmation email would be sent out next. 2 weeks later I had not heard anything. Called customer service (about 20 minutes before getting ahold of someone) and they informed me the item was back ordered with no real anticipation of when it would be back. Offered to cancel, but there would be no more sale prices. Another week passes and receive shipping confirmation (12/08/16).
It is now 12/26/16 and there has been no delivery nor communication. Called today and was told I had a bad phone number?! Funny that they confirmed the number I was calling them on was the number they had on record. Amazed that there was no other attempt to arrange delivery; I guess it's normal practice to let an item sit?!
Overall this has been the poorest shopping experience I've ever encountered. First, they should have informed me the product was back ordered at the time the order was placed, not when I follow up after 2 weeks. Secondly, they shouldn't be advertising 3-5 day shipping at all. Thirdly, there should be some communication between them and their chosen shipping carrier so customers aren't just waiting for something that the shipping carrier isn't going to deliver. I held off cancelling the product because of the sale price but at this point I'm seriously considering cancelling. The entire process has been nothing but inefficient and a waste of time. The worst part is they advertised 3-5 days shipping, on Black Friday, and this product was meant to be a Christmas present; I could have gone with any other company, received a great discount AND received the product in time. Now I'm out both. Absolute terrible experience.

Purchased tv from Costco November 2014. Tv has always just turned off by itself randomly. I thought someone pushed the timer. But with me being the only one in the house I realized it was the tv just shutting off randomly. Then just recently we have started experiencing the picture starting clear and then turning to red. We called customer service with Costco and they told us to contact Samsung. Representative female from Samsung, said "sorry, it is past warranty and there is nothing we can do." Not helpful or sympathetic to the matter. The tv is two years old. I will never purchase Samsung again. Samsung obviously does not care about the type of faulty products they produce. It all about making money and pissing people off and not standing behind their faulty products. Thanks Samsung for having awful customer service and crappy products.

They shipped my product weeks late and gave me tracking information that got me nowhere. I sent multiple emails and got a response 4 weeks later with a simple sorry. I called them to see where my TV was and had to wait for hours and even had someone hang up on me when I asked for a manager. I rarely write reviews but I will write as many as I can to make a statement.

We purchased a 65" Samsung 'Smart' TV in Oct 2015. About 1 week ago the bottom half of the screen developed a dark shadow - picture was barely visible and made it difficult to read chyrons on the bottom of the screen. I began researching this issue online using 'shadow on bottom half of flat screen TV a' as my search term. I was surprised to see this complaint listed numerous times and almost always specifying Samsung. The consensus seems to be that fixing this back light problem is expensive and because we don't want to throw good money after bad we are just going to replace TV. We have had great success with Sony flat screens and plan to buy another. Very disappointed that such a highly touted TV as Samsung lasted only 14 months and cost us $1000 dollars.

Samsung UN40H5201AFXZA. I got this supposedly "SMART" Samsung TV and I have decided I will never buy another Samsung TV in my life. I was a SONY TV owner throughout my life for the last 30 years and this Samsung TV will be my first and last. I had 2 problems from day 1: a) After I switch on the TV, I get this message "Preparing TV. Please try again later..." for 2 -3 minutes and I can't start any smart hub apps until then. b) Finally after 3 minutes of waiting I start the Youtube app, and the video gets hung every 3 - 5 minutes and then either I have to restart the video, or it automatically skips to next video if I wait for 5-10 minutes. If I am watching a movie on Netflix, every movie hangs 20 times before I complete the movie.
And I called up Samsung service center to report this issue at the below toll free number, and I spoke to several service representatives, and they did reset of my TV's smart hub, they changed the DNS settings multiple times and they did complete reset of my TV several times (10+times) and nothing fixed the issue. They asked me to check my internet connection, which I did. It was showing 22 MBPS and they asked me to check my router and I had no issues with that router using my laptops, computer or mobile devices at home. And they wasted my several days blaming every other thing, rather than accepting the issue was with the TV.
And finally they want me to go to service center in California which is located 50+ miles away from me, and they said they would charge me $85 for investigating the issue and additional charges for repairs!! So I have basically decide to DONATE this TV and buy a new SONY or LG TV. Below are the customer service representatives I spoke to and the service request numbers they gave me every time I called them! Samsung service centre: 1800-726-7864. Kurt - SR# **, Humaya - SR# **, Ronnie SR# **, Fransis - SR# **, Derry - SR# **. Bottom line: NEVER BUY SAMSUNG TV and I WILL NEVER BUY ANY SAMSUNG DEVICES.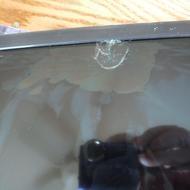 Bought a 32" TV, arrived in an undamaged box, not a mark on that, but the screen severely damaged, looks like impact damage. No instruction manual included. Feet missing. Called the number given, (A) negotiated the phone tree (or phone maze) to reach an agent who took details Order number, serial number, model number etc. and after five minutes decided that he was merely tech support and said he would transfer me to "E-commerce", put me on hold and there I was back at (A) again. Reached another agent, repeated the whole rigmarole; result I am back at (A) again. Third try as soon as I reached an agent insisted on speaking to a supervisor, long wait on hold, told I was going to be transferred to the mythical "E-Commerce", told that there would be up to half hour on hold, but was cut off after about a minute.
Next try got me three agents in succession whose English was, even worse than the first three, and to make it worse spoke so quietly that what they said was often inaudible. Finally was told that I had to e-mail both serial number AGAIN, and photo of the damage, this was done, no response received. Next day e-mailed the same address telling them that having unpacked the DVD player purchased on the same order # only to find it was dead, plug in does not work, not even the eject button, no response when remote control tried. Next day repeated the e-mail and the next day and the next, no response.
Posted four or five times on Samsung's website finally to be answered telling me that: A) They don't do replacements. B) That I should send them the serial numbers and photographs again. C) I will have to ship the units back to Samsung, not clear if they expect me to pay for that, but if they do they are in for a rude shock. If you actually are foolish enough to purchase a Samsung after reading the multiple horror stories on this site (wish I had found it last week), be sure to buy from someone other than Samsung itself.

Bought a Samsung 55 inch tv, 8000 series in June of 2016, after about 6 months in December the Tv turns off and just flickers on and off. Called Samsung, btw their call center is in Philippines and they said someone will contact me 24 to 48 hours to schedule a repair. Next day someone from the service team called, told him what the issue was. He said he will order the parts and that take up to 10 business days, he diagnosed it over the phone.
Now with the holidays I will be out of a Tv for almost a month. So I decided to do some research online and found that this is a ongoing issue going back 10 years and it happens again and again after it's fixed - it's on YouTube. Called Samsung to buy Tv back but they said I'm stuck with it. What happens 6 months from now when I'm out off warranty, if it's the same issue. Guess I'm out $1500.

We purchased a brand new 65" Samsung curved 4K UHD TV just 3 months ago in September. Ever since we purchased it in September, we have had intermittent issues with the TV not wanting to power off. It would respond to literally every single button on the smart remote, except for the power button. This was an intermittent issue that occurred maybe once or twice a week and it even caused us to have to leave the TV on overnight a few times because it absolutely refused to power off until the following morning.
Yesterday afternoon, we were sitting in our living room watching TV, when the picture suddenly started to fade and then went completely out. We tried to get it to turn back on, but it would not. We then unplugged everything and let it sit for about 20 minutes or so and then plugged just the TV back in to see if we could get it to turn on. It would not come on and we noticed what looked like a spiderweb crack in the lower left hand corner of the screen when the screen would briefly light up as if it were going to come on.
There is absolutely NO physical crack on the screen itself and you only can see it when you try to turn the TV back on and the screen briefly lights up as if it's going to come on. There has been absolutely NO physical damage to this TV whatsoever. It has not even been touched since we set it up 3 months ago. After doing an extensive amount of research, we learned that this is most likely an internal thermal crack caused by a failure of internal parts in our TV set.
I called and spoke with Samsung's so-called "technical support," who was completely useless and said they would send someone out to see if it could be repaired (which we still have not been contacted about). I'm sorry, but that is not acceptable to us. We just paid a significant amount of money for this TV ($1500 to be exact) only 3 MONTHS ago. My husband and I have been very loyal Samsung customers for many, many years. All of our TVs and all but one of our kitchen appliances are made by Samsung and we thought that we could trust our hard-earned money to this brand. We want this TV replaced IMMEDIATELY.
I filed a complaint with the Better Business Bureau last night and received a phone call this evening from a woman in Samsung's executive office, who gave me the absolute snottiest, defensive attitude ever. The minute I mentioned this crack, she immediately said, "Well, cracks do not just appear out of nowhere, so you or someone else in your home obviously somehow caused physical damage to it." I'm sorry, but is that any way to speak to one of your extremely loyal consumers who has spent literally thousands of dollars on your products over the years??? I explained to her that there had been absolutely NO physical damage to this TV and that it was very likely a thermal crack. I also explained that there are NO physical cracks on the screen at all, that you only see the crack when you try to turn it on and the screen briefly lights up as if it's going to come on. This woman's attitude towards me then became even worse.
I know that Samsung has been dealing with a lot of people like us this past year between their explosive washing machines and flame-thrower Galaxy Note phones, but the way that this woman spoke to me this evening is COMPLETELY inexcusable and I will not stand for it, not for one minute. Believe me, I will make sure that EVERYONE knows about this.
Bottom line: If we do not receive a replacement TV, or at least an agreement to replace it by this coming Friday, December 16th, I will be filing a formal complaint against Samsung with the Attorney General and will be taking our story to the news media. I don't think they want that given their already severely tarnished reputation this year. Samsung, the ball is now in your court to make this right. If you fail to do so, we WILL be taking legal action.

Great info for ALL consumers who have any issues with goods and need the Manufacturer to assist when they are being reluctant. I have bought, and still own, many, MANY SAMSUNG products from TVs to mobiles/tablets, Laptops and home appliances like Fridges and Washing Machines etc over the last 12 years approx. I have always found the Customer Care excellent.
I recently had two TVs develop a very similar fault within 3 weeks of each other and as they were bought at the same time as part of a bulk purchase of goods, to help in my bargaining for the best deal. This meant they were the same age. They were over 12 months and (in theory) outside the stated 1-year warranty, but only by a couple of months and importantly LESS than 24months old. (HINT: Join with Friends and Family to upgrade items together and pay by Credit Card for extra protection and lots of goods gets better discount.)
HOWEVER... Good News. The faults were uncannily similar and was a type of screen pixel failure seen on Plasma Tv products. Not that unusual, but the first time I ever had an issue. The cause still remains unknown. The good thing is that SAMSUNG honoured a "little known EU Directive" which states that "All goods purchased in the EU, regardless of origin, must have a 2-year period of warranty honoured by the manufacturer," in simpler terms. Of course any item that is faulty under 6 months is the responsibility of the Retailer to resolve, ALWAYS, (at no cost to the buyer) and then from 6months + 1 day up until 12 months it is the Manufacturer's responsibility to solve problems again, at no cost to the buyer.
AFTER 1 YEAR UNTIL 12 YEARS IS WHERE THIS EU DIRECTIVE COMES INTO PLAY. Importantly, of course, SAMSUNG honoured it for me. (Once I had sent them a copy to read as they were unaware of it). It may help that I took my Law Degree just 10 years ago... But the EU Directive is not dependent on that. It is VERY CLEAR on the rules.
I had no difficulties with Samsung and I now have two fab Brand New TVs to replace the faulty ones, delivered and fully installed at no cost to me. The EU Directive is VERY easy to read and understand and covers all goods... Though of course large size/Flat Screen and /or Smart/4K TV's are very much worth the time investment to get a resolution compared to say, a kettle, or a Toaster... The EU Directive can be downloaded online from FREE online EU Resources. Just a simple web search will find it with the Reference Number below. The ref no. is: 1999-44-EC. I hope this helps ALL persons on this website, not just Samsung Buyers, but NOT LEAST this experience has shown how helpful SAMSUNG are if they know the rules and they will do all they can to help solve issues for their Customers.

Do not buy Samsung TV especially this model UN50H6201AF. I bought this TV two years ago which is Smart TV. I can tell you I rarely watch this TV, if you look at the TV or remote control it is like brand new, it is unbelievable it is not working now. We used to have Grundig TV for more than 20 years with no single problem at all. This TVs are made IN CHINA and assembled in MEXICO, what do you want to expect. DO NOT BUY AND WASTE YOUR MONEY FOR THIS PRODUCT.

Have owned 2 Samsung phones and 1 Samsung TV. Have only contacted customer support via telephone once. Have contacted them once with online chat. Both experiences were unsatisfactory. Samsung may make good products, but their customer service needs improvement!! Some simple things they can do:
1. Have Customer Service Reps who have ENGLISH as his/her first language (rep has to repeat).
2. Spend more money on office space so that their call center is NOT so noisy. I could hear and sometimes distinguish what the rep next to mine was saying to her customer! By being so cheap on office space and acoustics, Samsung is decreasing customer satisfaction and increasing amount of time on each call (rep has to repeat)!
3. Have instructions THOROUGHLY tell how to install a TV. 5 parts came with mine, which had NO instructions for. 4 of them were included in the parts list but not identified as to purpose. The 5th part wasn't even shown with Samsung's documentation. None of these parts were described in the e-manual or hard copy manual, which came with the tv. The representative told me they were for wall mounts but had no documentation to send. She will try to get some.

I have purchased 8 Samsung TV's of various sizes over the past 3 years, 6 on one order for a new home and gifts. They were all smart versions and range in size from 32" to 60". My first failure was in June 2016 on a 32" smart tv. Without any prior problems or any type of damage, it came on with audio only. When I tried to reconnect/reboot it went totally out and would only "click" when powered up. After much troubleshooting I finally decided that it was a total power supply failure and the set needed to be replaced. As this tv was 3 months short of 3 years old I assumed that I would not get any warrant support from Samsung and just chalked it up to a failed tv and replaced it with another Smart Samsung, same size.
Since June I have had 2 additional Samsung tv's fail in the exact same way in 2 different homes and had another of those to failed to power up last week. After resetting it it did power up but I am paranoid that it too will fail in the near future. I contacted Samsung after the second failure and when they finally replied it was to tell me that they would not provide any assistance for replacement of any of the tv's although one of the sets that failed was only 14 months old. There is obviously a design flaw/substandard quality with their power supplies. Although I have purchased many Samsung products over the past 10 years, I will not ever purchase another Samsung product. I had excellent results with Sony products before switching to Samsung when I saw and liked the picture quality of a relatives TV. I have switched back to Sony.

My 32' flat screen TV was bought last year at Wal-Mart. The computer inside the TV went out in June of 2016 and was repaired under the warranty. In Nov 16 2016 I had the same issue with the screen turning gray and I called Samsung service dept to see if I could get it fixed. They said the warranty ran out in July of 2016, but because I was having the same issue they would extend the warranty. They gave me a reference # to give to the service technician so he could get a ticket # to get it fixed. He called the TKT team twice and they told him it was not under a warranty. I have called several times and talked to several different Samsung agents and they all told me that the warranty was extended and to give the serviceman the reference #. I told them he did and they keep denying it... I asked if I could talk to the TKT people and they said no, only the serviceman could.
I keep getting the runaround. Finally a Samsung representative called me and said they could not extend the warranty, after 5 different people said they would extend it. She told me her department did not have the power to extend the warranty that it was up to the TKT team and to call and ask them. I called them and they keep telling me they cannot speak to me, only the service tech. and keep referring me back to Samsung customer service. After calling the TKT team several times they finally told me to as to talk to ECR when I call customer service again, after being put on hold for over half an hour I finally got a hold of an agent who took my information (for the 6th time) and told me a ECR agent would contact me within 5 business days. While I was on the phone with her, a Samsung agent called me on my home phone and asked how I like the service of the agents and how I would rate my service.
I began to tell him (politely) how unsatisfied I was and what they have been doing to me, and he hung up on me. I was not rude in any way, but he hung up on me. I will never buy another Samsung product again, and I will tell all my thousands of friend on Facebook not to buy your product. Your service to your customers is deplorable, and your products are made very poorly. As I said my 32' flat screen Samsung TV's screen went out twice in less than 2 years, and they are now refusing to accept the responsibility even though it was a manufacturer defect. And your service technicians obviously do not know what they are doing. I have been on the phone four 4 days and being put on hold for several hours cumulative. And have gotten different answers from each person.
I am now going to wait on ECR (whoever that is) to call me within 5 business days, and explain to them as I have already explained to 10 different Samsung reps, my issue with this TV. I am extremely exasperated at this point. Samsung product quality and customer service quality has gone downhill over the years and is getting worse. Never, never again Samsung will I buy any of your products. If you want to keep customers happy and your company in business, I suggest you do some major improvements in all aspects of your company, starting with training your customer service people better and making your products last longer than a year. You are a disgrace.

As I have been in retail sales for over 20 years, and this Facebook site is mostly made up of very close friends, family, former customers and those I attend church with, please listen to what I am typing very carefully. I have just recently found out that both Samsung Electronics (TV division) and Electronics Express (located in mall in Decatur, Al.) are complete frauds. The store in question sold me a defective TV that when I noticed something wasn't right, contacted tech support (yes, SAMSUNG tech support) who "attempted" to help me finalize the setup of my new beautiful TV.
At that point, his advice led to a small chunk of the TV to fall out. He then told me to take it back to the store the next day, where they pretty much laughed at me and said the foil that I was trying to remove was actually the screen. They gave no help at all and when I contacted Samsung I have a list of 9 service texts who confirmed that I did everything correct as per the user manual and instruction guide. I contacted them every other day for over a month until a "Senior Customer Service Resolution specialist" finally called me and said that since I physically damaged the TV I was stuck with a $1500 piece of junk. I only removed the film in the first place because it was coming off exactly like every piece of film I have ever removed off of a TV.
And the topping on the cake is that I purchased the curved edition of this model, which Electronic Express did not have on display and I was given no advice to look for something that may be defective, as from the research that I have done, many of these same models have the same flaws. I am through rambling now, as I could go for hours on this horrible case of customer service, as I never got to even turn my new TV on. Just please, at ALL costs, stay AWAY from Electronic Express and ALL Samsung products. (Like they need any more negative publicity after the Note 7 disaster.)

Once again (fairly constant over 2 years of owning this TV), Smart Hub not working and getting repeated "SmartHub is being updated. Try again later". This has gone on for hours this time. Did everything on online forums that was suggested as a fix. There is nothing on Samsung's site to help. This evidently goes on every year around the holidays, yet Samsung does nothing. Tried to call Samsung, but "call volume heavy" and no one answered. Tried to get the offered Customer Service chat online, but got message that no one was able to take call (Monday, 6pm, well within their stated hours).
This TV has been far more trouble than it was worth despite being a gift and I would NEVER recommend it to anyone. This has been my experience trying to deal with Samsung for years about both this TV and a refrigerator that failed almost immediately - and then there was no one in the area who fixed them. Also, although I used my account email and the site verified that the email was in use, I cannot reset my password as never receive the password change link despite several tries. If you want a horrible product that you won't be able to get any help with no matter how much time you put in, this is your TV.

I have purchased Samsung HDTV 46inch for 450 dollars and I have used it for 9 months only. Last 2 or 3 months my TV power light is blinking and TV is not on. When I called the support number, I was told that my standard warranty had expired and they suggested do some steps and also update the software. I did the same. Even though power light blinking issue not resolved. When I researched this item, it was clear that this is a known issue for the Samsung brand. There are pages of pages of the same complaints. I would have hoped that Samsung would have figured a way to cover these known issues. This is the last Samsung product I will ever buy.

I bought a brand new 70" Class KU6300 4K UHD TV from buydig.com. The TV arrived with damaged with black screen and broken lines. It is either defective TV or damaged in the shipping. I contacted Samsung for fixing or replacing the TV. Samsung sent a authorized local technician to look at the TV and he told me that the TV was defective and promised and scheduled to replace the panel. On the next visit, the same Samsung technician came and said the TV was not defective and refused to fix or replace the TV. The buydig.com attempted to refuse take back the TV and blamed on Samsung for defective TV. Samsung blamed on buydig for damaged in shipping.
This is the HORRIBLE experience ever dealing with Samsung customer service and buydig, I lost too many hours to contact Samsung and buydig for this worst experience. The Big Junk Samsung TV is still sitting in the big box. I can't believe how bad the Samsung customer service and Samsung technician are. Worst experience buying Samsung TV. I would never buy any item made by or from Samsung again. They DO NOT stand behind their product and make things right!

Bought a TV from Best buy in August for my house under construction. When moving in this past weekend and mounting my TV, discovered when turning on TV there appeared to be a crack in the left bottom corner. Only showed when TV is on. No damage to box or exterior TV. When trying to return to best buy they informed us that we only had 15 days to return TV. Went to Samsung for product warranty and when they came to look said the the warranty didn't cover physical damage. Now what does that mean. I just opened the box and there is no box or exterior TV damage. Obviously it is a problem within the TV. Do not buy a Samsung at Best Buy. Neither back the product they sell.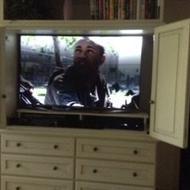 Purchased a UN55H7150 in June 2014 for $1494.99. One month after the purchase, we unplugged the tv and left for a job in another state. Returned home, used the tv from August 2015 until November 2015 and again for a month in the fall of 2016. Therefore, we used the tv for less than six months and currently, we have a horizontal shadow across the middle third of the picture. I understand that the warranty is over but seriously, Samsung should stand behind a product that costs almost 1500 dollars and has not lasted more than six months. We purchased the tv at hhgregg. Their answer to the problem is that we should have purchased the extended warranty. Really??? 1500 dollars and we can't get a tv that works for more than 6 months...

My 3 year old Samsung smart TV will shut off one time during the first 30 minutes of use on a regular basis. It has been doing this for about a year. It would come back on after about 15 seconds on its own. Now it stopped coming back on. Now the remote stopped working for mute, changing channels, and volume. There is a trick to getting the remote to work or the TV to come back on instantly. Just push the source button, have it on TV, and hit select. DON'T KNOW WHY THIS WORKS?
Samsung TV Company Profile
Company Name:

Samsung Computers and Monitors

Year Founded:

1938

Country:

Korea Sout

Website:

http://www.samsung.com/