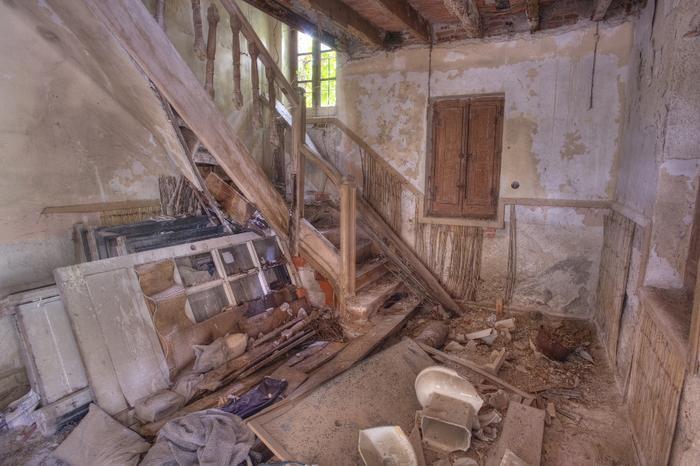 On television and in the movies, when the undead rise up and go on a rampage, it isn't good for anyone. The same is true when a house in foreclosure becomes a zombie.
A foreclosure becomes a zombie during that in-between time; the owner has moved out but the lender has yet to repossess. So the house sits, unoccupied, with grass growing unmowed and with no sign of life.
What happens next is fairly predictable. Vandals break in and do their thing. Thieves take anything of value, including the copper pipes and fixtures. If you live next door or across the street, it's not very pleasant.
Drawn-out process
Zombie foreclosures are usually the result of lengthy foreclosure timelines and changing state foreclosure laws. Many of these properties are not only likely to be eyesores but may also drive down the values of surrounding homes and erode local government tax revenue.
Distressed homeowners, once they realize they are going to lose the property, often don't hang around. They may not realize, however, they are still responsible for and owe property taxes on the zombie foreclosure.
As a result, tax revenue goes unpaid to the local government taxing entity. RealtyTrac, a foreclosure marketing compay, estimates that more than $400 million in property tax revenue nationwide is likely delinquent because of these zombie foreclosures.
The homeowner who has just lost their home now faces a mounting tax bill. The legal website Nolo.com advises that homeowners facing foreclosure should not abandon their homes until they are forced to. Otherwise, they could be on the hook for taxes, HOA dues and even some maintenance costs.
With a slowdown in foreclosures nationwide, there has been a reduction in zombie foreclosures. But there are still more than a healthy real estate market can easily absorb.
20% are zombies
RealtyTrac recently analyzed zombie foreclosures for the second quarter of 2014 — properties that have started the foreclosure process but never been foreclosed and the homeowner has vacated the property. It found that 1 in 5 foreclosures – 20% – are zombie foreclosures.
Nationwide, the trend is on the decline. Zombie foreclosures were down 7% from the first quarter of 2014 and down 16% from the same period a year ago. However, 24 states and the District of Columbia saw an increase from the previous quarter.
Ten states and the District of Columbia saw an increase from a year ago, with New Jersey up 58% and New York up 38%. The problem is especially bad in Florida, which accounted for more than a third of all zombie foreclosures.
Daren Blomquist, vice president at RealtyTrac, says most of these states have something in common; while foreclosures nationally are on the decline, they have increased dramatically in those states.
"For example, New Jersey foreclosure activity year-to-date is up 57% from a year ago, Maryland up 23%, Delaware up 16%, Maine up 12%, Wyoming up 27%, and Iowa up 6%," Blomquist said. "These states are bucking the national trend, where foreclosure activity is down 23% compared to a year ago. New York is about flat in terms of foreclosure activity year-to-date, but it's coming off a long string of increases that ended in March this year. Prior to March, foreclosure activity in New York had increased on a year-over-year basis for 23 consecutive months."
Some states have taken action to reduce the number of foreclosed left abandoned by both their former owners and lenders. Florida and Illinois have passed foreclosure "fast track" laws to move these properties through the system more quickly.
Blomquist says New York is considering legislation that goes a step further, making lenders responsible for the upkeep of vacant homes during the foreclosure process.
What to do
Absent changes in the law, neighbors can apply pressure on lenders to maintain a vacant property. Calling a Realtor to learn which bank owns the property is a first step.
Next, an organized phone call, letter-writing and email campaign by neighbors on the street may yield some results.
Neighbors, after all, have the most at stake. A foreclosure on the block will reduce the value of other nearby homes. A zombie foreclosure will reduce property values even more and make it difficult to sell a nearby home.