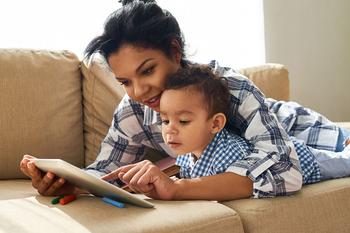 YouTube has revamped its YouTube Kids app to include enhanced parental controls and age-tailored kid profiles, among other features. 
These changes encourage thoughtful parental involvement, as a recent U.K. study showed kids under the age of 5 spend an average of eight hours and 18 minutes a week online, and more than a third of preschoolers (37 percent) regularly watch YouTube videos. 
Parents can now use the app to control the amount of time their kids spend on a device and monitor the content they watch. Additionally, parents can set up a profile for their child, which will work across different devices. 
The more detailed setup process allows parents to offer more information about the type of content they do or don't want their child accessing, so they can select the right content for their kids. 
Adapts to child's age 
After entering the child's date of birth, the app's interface will take on a look that suits the child's age. Previously, the app's look and feel was designed to cater to preschoolers.
Now, the app can be customized to fit interactive needs/styles of school-age children, allowing the app to mature with its users as they get older–in particular the app's earliest group of users. 
"Younger kids will get less text, while older kids will get more content on the home screen," the company said. A future update will include an option for parents to add more content geared toward older kids, as well as a tab for Gaming. 
Moreover, kids now have the option of using a passcode to separate their content and profiles from their siblings' -- but this won't prevent parents from keeping tabs on what their children are watching. Parents can still control what kids watch and block specific channels or videos. 
The ability to create individual profiles for children may be especially helpful for households with children of different ages, since each child's profile gives video recommendations based on the user's age. 
Addresses past complaints
The app previously received criticism for being unable to fully shield children from inappropriate content within the platform. YouTube addressed parents' complaints by allowing them to customize the app's search settings and choose their own passwords. 
By adding the ability to create accounts for kids through a parent's Google account, YouTube aims to give parents control over the customization of their secondary accounts. 
"We're looking at ways to build an even better experience for families. Coming soon, we'll give parents the option to have more content available in the app experience for their child. Our team is working to identify the most relevant content categories for tweens to make the app even more awesome," the company said.
YouTube says its kid-friendly video app has garnered more than 70 billion views since it was first launched in 2015. It boasts 11 million weekly active viewers and has a total of 800 million learning video views per day.
The app is now available in 37 countries