---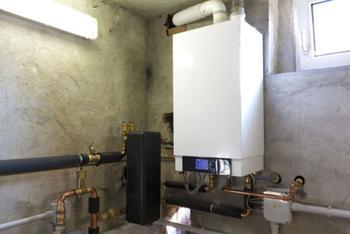 Fall and winter can be taxing times for furnaces. That's why, even if your furnace seems to be working fine, experts recommend getting it professionally inspected at the beginning of fall.
During the summer, dirt is likely to find its way to your furnace's internal parts. Dirt build up can cause furnaces to run inefficiently, which may cause your energy bills to skyrocket.
Yearly furnace maintenance can help lower your energy bills, as well as reduce the chances of a costly or untimely breakdown. Having your furnace maintained will also keep its manufacturer's warranty in tact.  
Preventing future problems
"Proper maintenance extends the life of your furnace or boiler and saves you money," says Energy.gov. "To maintain your heating system's efficiency and ensure healthy indoor air quality, it's critical to maintain the unit and its venting mechanism."
Fall is the ideal time to have your heating system checked by a qualified contractor. In addition to doing a visual inspection of all vents, heat exchangers, and motors, your contractor should check the following furnace components:
Thermostat settings. Heating and cooling systems should do their job of keeping you cool during the summer and warm during the winter. They should also save energy while you're away.
Electrical connections. A professional can tighten all electrical connections and measure voltage and current on motors. Regularly verifying that all electrical connections are sound can extend the life of several major parts of your furnace.
The pilot light. If your furnace has one, it should be checked.
Moving parts. Blower bearings and moving parts should be lubricated to prevent friction in motors and regulate the amount of electricity you use.
The condensate drain. A plugged drain in your furnace can cause water damage in your house and even affect indoor humidity levels.
System controls. To make sure the system is fully operational, contractors should check the starting cycle of the equipment to see if the system starts, runs, and shuts off properly.
What you can do yourself
For homeowners who aren't afraid to get their hands dirty, there is a furnace maintenance task that can be taken care of without professional help.
Once a month, homeowners can inspect, clean, or change air filters in their central air conditioner or furnace. If you don't already know how to do this, your contractor can show you how.
It's important to make sure dirty air filters don't stay in your appliance for too long, as they can lead to increased energy costs, equipment damage, and even early failure.
---