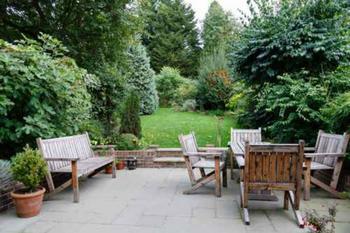 The sights, smells, and sounds of summer are perhaps best enjoyed on a patio or deck. But if your outdoor space is looking lackluster, it may be time to spruce it up.
A comfortable, contemporary looking deck is the perfect complement to a summer sunset or cook-out. And giving your outdoor living space a more updated look can often be as simple as swapping out a few key pieces.  
Considering giving your deck a makeover but aren't sure what's in vogue? Zillow Digs' top outdoor living trends for 2016 may just inspire you.
Clean lines and bright colors
To come up with its Home Trend Forecast, Zillow Digs analyzed popular photos and tapped into the wisdom of interior design experts.
The report predicts that three trends -- concrete accents, teak furniture, and vibrant, aquamarine colors -- will be crowdpleasers this summer, sure to delight those who enjoy modern simplicity.
"Clean, simple and contemporary is the vibe for outdoor living in 2016," Kerrie Kelly, Zillow Digs home design expert said in a statement. "Anything high-maintenance, intricate or over-styled will be replaced with materials that can both withstand the elements and transition beautifully between seasons."
Steel and concrete accents
Natural wood and teak outdoor furniture will take on a more modernized look thanks to the incorporation of concrete or stainless steel accent materials.
Kelly says we'll see this trend everywhere, from chair legs and coffee table tops to stamped concrete patio floors. Designers say this surprising new trend gives materials a sleek vibe that is capable of withstanding any weather.
Speaking of bold accents, the color aquamarine is expected to make a splash as summer 2016's statement color. We'll see the ocean-inspired tone everywhere from throw pillows to umbrellas, experts say. Its versatility lends itself to natural wood textures and helps add warmth and interest to outdoor living spaces.
Three trends to ditch
As new trends surface, they inevitably leave a few in their wake. Here are a few of 2015's outgoing trends:
Wrought iron furniture. Homeowners are gravitating toward comfort and clean lines; two qualities that usually aren't found in wrought iron patio sets.
High maintenance lawns. Lawns and landscaping that demands year-round maintenance is out, experts say. Instead, 2016 will see a focus on outdoor living spaces that feel like an extension of one's home.
Floral patterns. Bright colors may be in -- but not if they're on a floral print pillow or chair cushion. Zillow Digs says intricate floral patterns have been overdone and will make an exit in 2016.