Photo (c) Bill Hinton - Getty Images
You're browsing different websites when suddenly a pop-up window declares, "Your computer was locked" and tells you to call "Windows engineering" at a toll-free number for help. The error message further states that if you shut down your computer you won't be able to start it.
Scary stuff, but none of it is true. There is nothing wrong with your computer and "Windows Engineer" has nothing to do with Microsoft, which makes the operating system. It's one of the latest incarnations of the "tech support scam" and law enforcement officials say it is showing up with increasing frequency.
If you call the toll-free number any number of bad things could happen. You could be persuaded to allow the fake tech support guy to take control of your PC, allegedly to remove the malware but in reality to steal personal information, including financial accounts.
The scammer might convince you to pay top dollar for virus-removal software, which doesn't work. In one case we reported in 2021, the victim of a similar tech support scam bought and turned over $20,000 in gift cards.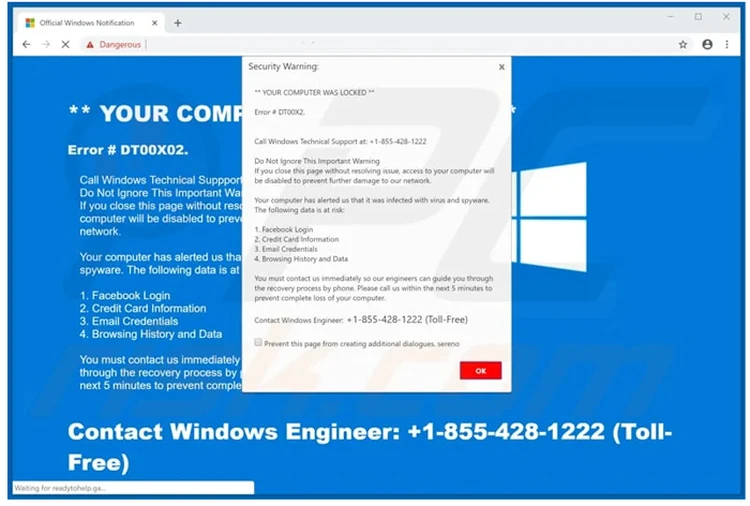 In the "Your computer was locked" scam, the popup is bright blue with Error # DTOOXO2 in bold type. There is a white "Security Warning" box that overlays the popup with the stern warning, "Do not ignore this important warning. If you close this window without resolving (sic) issue, access to your computer will be disabled to prevent damage to our network."
None of that makes sense because what is on a single individual PC can in no way affect the "Windows network," whatever that is. But the scammer is counting on the victim being upset and worried about losing access to their computer.
What do do
The best course of action is to immediately close the website. It might be necessary to use Task Manager, which is opened by pressing Control-Alt-Delete simultaneously, and shut down whatever browser you are using.
Restarting the computer may also be a prudent step, but just make sure you don't restore the previously closed/terminated session. After restarting your computer you should also run an anti-virus scan to make sure there isn't malware on the device. You may have unintentionally downloaded something that created the popup.
Tech experts say most people who see this popup have installed a sinister app without knowing it. Clicking on links in ads is a common way this scam spreads since these ads can execute dangerous scripts without the user's knowledge.