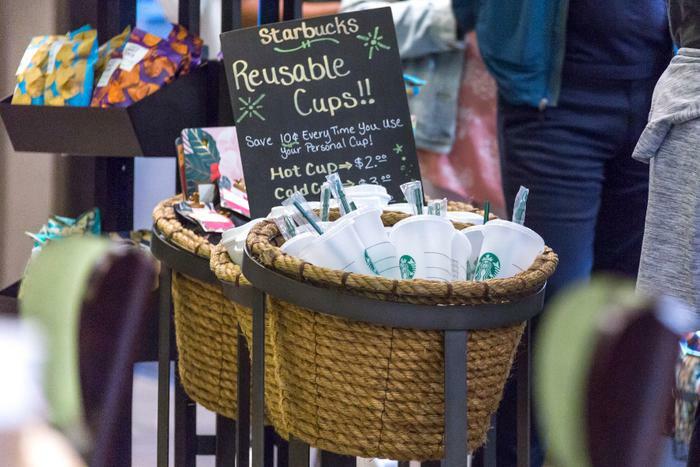 Starbucks is bringing back its reusable cup policy after suspending it at the beginning of the coronavirus (COVID-19) pandemic. Starting June 22, customers can use a personal, reusable cup for inside service at company-owned stores.
It's another sign that businesses are beginning to return to normal. Most supermarket chains don't require fully vaccinated people to wear masks, though most still maintain social distancing rules. Last month, Costco announced that it is bringing back in-store food sampling stations.
During the pandemic, Starbucks limited service to the drive-thru or curbside pickup. To resume service in reusable cups, the company said it developed a completely contactless, new method that eliminates any shared touchpoints between the customer and baristas.
Starbucks said the return of the reusable cup is about more than the fading of the pandemic. It said the longstanding program is part of its plan to reduce single-use cups and other waste by 50% by 2030.
"At Starbucks, pre-COVID 80% of beverages are enjoyed on the go," the company said in a statement. "To encourage customers to choose reusable and reduce single-use cup waste, Starbucks will continue offering customers a $.10 discount on their beverage of choice."
Health precautions
Although consumers will be able to get Starbucks coffee in their personal containers, the company is making clear that health precautions will be in place. It said it conducted extensive testing before adopting a new serving process. It will use a ceramic mug to transport the reusable cup through the bar.
It works like this: The customer retains the lid and places the reusable cup inside the ceramic mug. The barista prepares the beverage without touching the cup. The customer then removes the cup from the ceramic mug and replaces the lid.
Other rules will also be in place. Only clean cups will be accepted, and Starbucks personnel will not clean a dirty cup for a customer. The company said it is testing safe options that will allow for the use of reusable cups in drive-thrus, but they'll only be accepted in stores for now. 
In addition to revamping its reusable cups policy, Starbucks will also be reinstating "For Here Ware" for customers who choose to consume their food and beverages in-store where indoor dining is available.