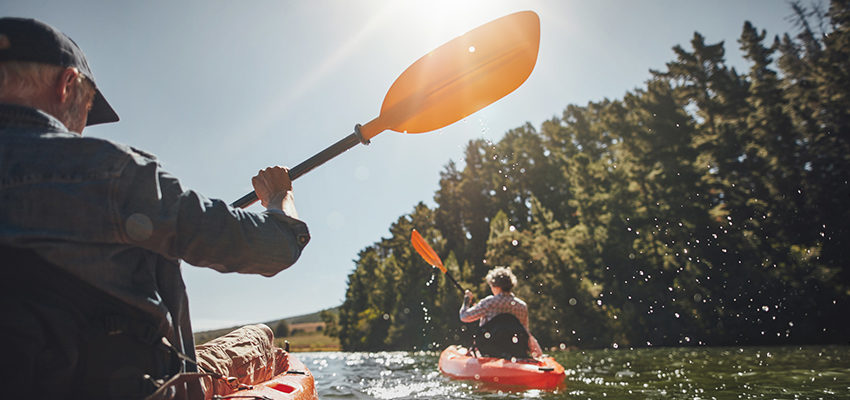 It's summer, and many of us will be hitting the water with family and friends on rafts and kayaks. A raft or kayak is a fantastic way to explore your favorite waterway or relax to the gentle sway of the water. Have fun on the water this summer, and remember: always wear a life jacket.
Inflatable, affordable raft
There's nothing quite as relaxing as rafting down the river with friends. This nifty inflatable raft holds up to four adults and comes with inflatable cushions. Grab handles make it easy to get in and get out. At the time of publication, this raft was just over $100, a great deal for such a sturdy rig.
Bargain inflatable kayak
At just under $100 at the time of publication, this inflatable kayak for two is a true bargain. It even comes with a paddle for each occupant. Although it's a low-priced kayak, its vinyl is puncture-resistant and surprisingly durable. Seats are removable and adjustable, and the kayak supports up to 400 pounds.
4-person relaxing raft
This 4-person raft is a good pick for a lazy river with minimal rowing needed. The seat setup is more about facing your friends and having a good time than paddling intensely through rapids. The raft comes with a gear pouch, repair kit and a convenient carrying bag for transport and storage.
Traditional kayak
We're big fans of this sit-in kayak. It has a classic, sleek look and several color options. There's also lots of storage for your paddling gear and supplies on your outing. The seat is adjustable and has some nice padding to keep you comfortable during long kayaking sessions.
Mid-range inflatable kayak
This 2-seater inflatable kayak and is in the midrange of prices for the same item. It seats 2 and is made of laminate PVC. We like the built-in seats with backs so you can truly relax and avoid aches and pains. There's also storage space in the bow to keep towels, snacks and water bottles.
High-end inflatable kayak
Some outdoor adventurers worry about the durability of inflatable kayaks. It's not as big of a worry to lose a cheap kayak, but what about pricier models? For a kayak priced like this one, it's natural to ask, "How long will this it hold up?" The reviewers attest to the long-lasting, durable nature of this kayak. We also like that it supports up to 550 pounds.
Youth kayak
Kids love kayaking. If they're old enough, it might be time to let them paddle on their own, although it's still important to keep an eye on them. This teeny six-foot kayak comes with a paddle and weighs just 18 pounds. If your kids are a fan of the water, this kayak may be perfect for them.
Pontoon boat
Maybe you aren't feeling a raft or kayak. Have you tried a pontoon boat? This pontoon boat has removable gear bags, two drink holders and loads of pockets to hold your stuff. The footrests and seat mounts are adjustable, and the boat comes with two 7-foot aluminum oars.