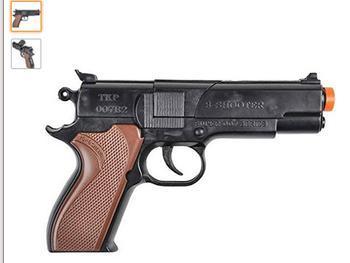 New York has put a stop to the illegal sale of toy guns by third-party sellers on Amazon.com, saying the companies sold nearly 2,000 toy guns to consumers in the state.
"We have seen all too often the tragic consequences that can arise when toy guns are mistaken for real ones," said New York Attorney General Eric Schneiderman. "The toy gun law exists to protect New York's children and our brave law enforcement officers, and we will continue our commitment to enforcing this law and holding accountable any retailers who violate it."
The settlement follows an investigation of major retailers for violating the New York State Law that prohibits the sale of "Imitation Weapons," which are toy guns that look like real guns. In the case of Amazon, the vast majority of the sales of prohibited toy guns were not sourced from Amazon but were sold by third-party sellers – like the ones part of today's settlements. 
The Attorney General sent "cease and desist" letters to the third-party sellers in 2015 to immediately stop their illegal operations -- and now has entered into settlements with 42 companies (including the seven announced today) to permanently change their business practices in New York.
The companies are: 
Halloweencostumes.com (fun.com),
Holy Monkey (Kids Army),
Dentt, Inc. (Hammond Toy & Hobby),
GL2 LLC (Always Brilliant),
Chevere International Corp (Five Big Stars),
Fatherland Shop (Jubilee Enterprises) and
Costume Hub.
Under the terms of the agreements, these online retailers are also required to adhere to the more-stringent New York City standard for all toy guns shipped anywhere in New York State; the toys must be colored entirely white, bright red, bright orange, bright yellow, bright green, bright blue, bright pink, bright purple, or a combination of these colors.