---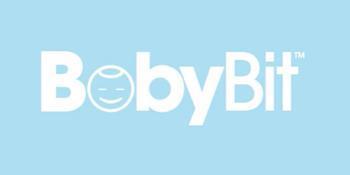 The decision to become a parent, as author Elizabeth Stone once put it, is "to decide forever to have your heart go walking around outside your body."
Leaving your baby in someone else's care can be an emotional hurdle. No matter how qualified or trustworthy a caregiver is, it can be hard not to become distracted at work wondering how your baby is doing.
Now, a new device may help ease parents' worries. BabyBit is a first-of-its-kind baby monitor that gives parents updates on their child's physical and emotional well being.
Wearable sensor
Simply snap the wearable sensor onto the child's clothing, and the updates can begin. The sensor connects through the caregiver's smartphone and sends parents updates on important things, such as if the baby has been crying for more than ten minutes.
Notifications also help parents stay apprised of changes in location, such as whether the baby is at the park with his caregiver or if grandma has picked him up from daycare.
And while the app seeks to offer parents as much information as possible, it also seeks to foster a good relationship between parents and caregivers.
"We felt that telling mom every time the baby cries undercuts the caregiver and creates tension," said Brian Ostrovsky, co-founder and CEO of BabyBit. "Instead, mom sets the amount of time she wants to give the caregiver to attend to the baby and BabyBit only notifies her when that time is exceeded and she would want to get involved."
Safety features
Parents might be wary of any device that gives information about their children, and rightfully so. But BabyBit is completely safe from hackers, according to the company.
All data is encrypted, accessible only to parents with access to the cloud data. The sensor also doesn't transfer audio or video, so no one can see or hear your baby.
And parents need not fear the inevitable moment that the wearable monitor ends up in the baby's mouth. BabyBit is durable and free of PVC, BPA, phthalate, lead, and latex. It has also been tested to ensure that it's not a choking hazard.
If all goes according to plan, the crowdfunding campaign for BabyBit will end in July and the monitors will begin shipping to early backers this November. 
---