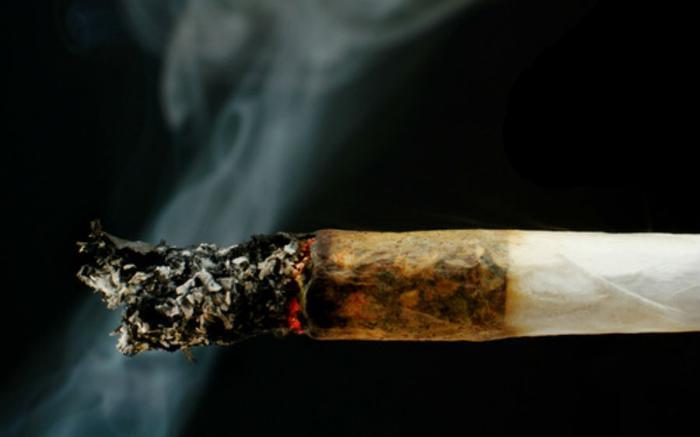 The majority of Arkansas voters want sick people to have access to marijuana, whether their own lawmakers approve or not. During last year's November election, Arkansas was one of seven new states to legalize marijuana in some form when 52 percent of voters passed Issue 6, an amendment allowing patients of 12 specified diseases to use cannabis for medical purposes. Issue 6 also allows the sale and cultivation of marijuana, meaning that accessing the drug legally is a reality for Arkansas consumers, not just an abstract pipe dream.
But since the election, Arkansas' Republican-led state legislature has drafted its own bills to undo the voter-approved amendment. "You mark my word. People will be hurt, they will be injured, and some will die as a result of this loose amendment," one state senator claimed earlier this month, when speaking in support of a proposed law that would have banned the act of smoking medical marijuana.
Another bill introduced at the same time would have banned the consumption of marijuana through edibles. Other Republican lawmakers, however, even those who were opposed to Issue 6, argued that banning the smoking or eating of medical marijuana in a state that just voted to legalize medical marijuana went directly against their constituents' wishes. 
"I would argue this is in direct violation of the vast majority of people that voted for that. I think it's time to respect the will of the people even if it doesn't comport with our desires or our feelings," State Senator Jeremy Hutchinson said several weeks ago, speaking against the proposed smoking ban. (Arkansas lawmakers instead last week voted to pass legislation that bans smoking medicinal cannabis only in places where tobacco smoke is already barred). 
It's still incredibly difficult to legally obtain marijuana in the Deep South, even in states where marijuana for medical use is technically legal. But it may not be that way for long. A new report by a marijuana-focused marketing and research firm predicts that every state in the union will legalize marijuana in some form by 2021. 
A growing industry
In 2016, retailers from 20 jurisdictions sold $6.5 billion worth of marijuana, according to a new report on the status of the cannabis industry by GreenWave Advisors, a firm that was founded by former equity analyst Ray Katz in 2014.  
Katz's firm, which tracks sales for the cannabis industry, anticipates that more states will follow the lead of places like California, Colorado and Washington, where voters continue to demand looser drug laws and easier access to marijuana. By 2021, 29 states will allow medicinal use of marijuana, GreenWave Advisors predicts, while 22 states will make marijuana completely legal. Such reforms will turn legal marijuana into a $30 billion industry.
GreenWave makes these predictions even as marijuana supporters are lamenting President Donald Trump's decision to appoint Jeff Sessions as attorney general. Sessions recently told law enforcement officers that marijuana is "only slightly less awful" than heroin. But Trump himself has spoken favorably about the legalization of marijuana as medicine and also suggested that states should be allowed to decide on the issue themselves. He at one point even said he favored the legalization of all drugs, albeit that was long before he ran for president. 
The financial services industry sees a more immediate benefit that Trump would bring to cannabis retailers -- deregulated banking. The Sarbanes-Oxley Act, for instance, is a law banks are supposed to follow in investments to prevent accounting fraud. But it has also discouraged banks from investing in cannabis businesses, GreenWave Advisors argue. Undoing this act, "could free up banking resources to focus on cannabis businesses," the firm's report says. 
Hurdles and gains for consumers who want to purchase cannabis legally
Strict drug laws remain in place even in states where medical marijuana is technically legal. 
While Georgia legalized the possession of medical marijuana in 2015, for example, the sale and growth of marijuana remained off the table, making it difficult for consumers to actually obtain the substance in a legal manner. And only patients diagnosed with one of eight specified diseases would be allowed to possess marijuana. But some of those restrictions are being relaxed. Georgia's lawmakers last Thursday voted to allow patients with six additional diseases and patients in hospice care to possess cannabis as well. 
And in Florida, where voters overwhelmingly approved expanded access to medical marijuana in the November election, state lawmakers are currently fighting over five competing bills that would dictate how to implement the reforms. 
Polling indicates that lawmakers overall are still well behind the curve of public opinion. According to a Gallup Poll pushed last fall, 60 percent of Americans, the "highest level in Gallup's 47-year trend," support the complete legalization of marijuana for recreational or medical purposes. 
EoY Report ExecSummary Final 3 by Toast da Most on Scribd