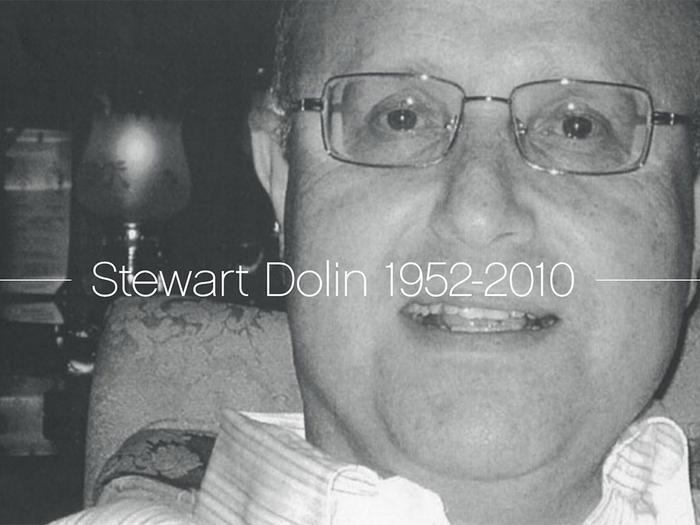 Before committing suicide in 2010 at the age of 57, Stewart Dolin lived what his wife Wendy described as a "perfect life." The Dolins had been married for 36 years and raised two children together, and Stewart at the time of his death was in charge of corporate and securities law at a prominent law firm in Chicago.
"This happy, funny, loving, wealthy, dedicated husband and father who loved life left no note and no logical reason why he would suddenly want to end it all," Wendy Dolin writes on MISSD, or The Medication-Induced Suicide Prevention and Education Foundation in Memory of Stewart Dolin, the nonprofit she created in her late husband's memory.  
"Neither Paxil nor the generic version listed suicidal behavior as a potential side effect for men of Stewart's age." 
Wendy Dolin is one of at least several people who have come forward publicly to blame the antidepressant Paxil for a loved one's death. Her lawsuit against Paxil manufacturer GlaxoSmithKline, after having been stalled for years, is currently being heard before a jury in a Chicago federal court.
GSK criticized over handling of data on adolescents 
The antidepressant Paxil had already brought GlaskoSmithKline an estimated $11.6 billion in sales when the company in 2012 was criminally prosecuted by the United States government, on charges that it was promoting Paxil for unapproved uses as well as hiding safety data about a different drug. That case ended with the United States government fining GSK a record $3 billion.
Since then, researchers have criticized GSK for its handling of evidence that paroxetine, the key ingredient in Paxil, is linked to suicide in young adults. The corporation had conducted a clinical trial in 2001 and reported positive findings -- that paroxetine is "safe and effective for adolescents." But a re-analysis of GSK's own data, published in the British Journal of Medicine in 2015, found that 12 of the 93 children given paroxetine in the clinical trial reported suicidal thoughts.
"There is an increased risk of suicidality in pediatric and adolescent patients given antidepressants like paroxetine," GSK acknowledged after the 2015 paper was published, pointing out that a black box label warning consumers as such had been placed on Paxil since 2004. But the researchers who analyzed GSK's 2001 clinical trial data argued that such a warning should have been on Paxil since the beginning."What would have happened if this data were available 15 years ago when the study was originally published?," one of the researchers said in an interview with Scientific American. 
Wendy Dolin's case charges that Paxil's suicidal side effects aren't limited to adolescents. Her attorneys are asking GSK similar questions about why they didn't warn adult patients of a potential suicide risk. 
Company blames FDA
Stewart Dolin's family says that he had suffered some work-related anxiety shortly before his death. A family friend and doctor prescribed him the generic version of Paxil, which is produced by Mylan. The doctor, Martin Sachman, testified on Monday that he wouldn't have prescribed paroxetine had he known about the suicide risk it posed in adults.
Dolin had been on paroxetine for six days, his family says, when he stepped in front of a commuter train after work.  His death was shortly after ruled a suicide. "Stu Dolin was a close personal friend, valued colleague and a great leader in our firm," the head of his law firm told reporters shortly after the news broke. 
GSK now acknowledges in court hearings that there is evidence of suicidal behavior in adults who take Paxil. "The results provided evidence of an increase in suicide attempts in adults with MDD [major depressive disorder] treated with paroxetine, compared to placebo, and that analysis based on the confidence interval was statistically significant," a former bio-statistician for the company testified in one deposition, describing a 2006 study conducted by GSK.
But in testimony earlier this month, GSK told the federal jury that they were unable to warn consumers about this potential side effect becase the FDA had four times rejected its attempts to alter their own warning label. "The FDA controls the label, ladies and gentleman," one of the GSK attorneys said at the trial, according to Law360. 
"GSK's position is that the label provides adequate warnings and provided adequate warnings at the time relevant to the lawsuit," GSK spokesperson Frannie DeFranco writes to ConsumerAffairs via email.
She adds:  "For the past decade (and well before Mr. Dolin's suicide), the label for Paxil has included a WARNING, regarding a listing of symptoms including akathisia:  'Although a causal link between the emergence of such symptoms and either the worsening of depression and/or the emergence of suicidal impulses has not been established, there is concern that such symptoms may represent precursors to emerging suicidality.'"
Wendy Dolin, who is accusing GSK of negligence by failing to warn doctors about the suicide risk, is asking for $12 million. Her suit is filed only against GSK, not Mylan, because the courts had determined in earlier proceedings that name-brand drugmakers, not their generic competitors, are ultimately responsible for the warning labels that go on all drugs.
Restlessness or something worse?
Little is known about Akathisia, the specific condition that Wendy Dolin says was caused by paroxetine and led to her husband's suicide. Researchers have described Parkinson's disease-like symptoms in some adults who take antipsychotic drugs, and others describe the condition as something similar to restless leg syndrome, or inability to sit still. Some critics, including personal injury attorneys and researchers, charge that the Akathisia disorder is linked not just to physical restlessness but intense emotional restlessness as well. 
Among those warning of a dangerous link between Akathisia and antipsychotics is Dr. David Healy, a British psychiatrist who co-authored the 2015 re-analysis of GSK's data showing an increased risk of suicide in adolescents. Healy, known as a gadfly in the pharmaceutical industry as well as in the field of psychiatry as a whole, is credited with convincing British and American regulators to place more warnings on antidepressants in 2004. Testifying on behalf of the the Dolin family earlier this month, he presented the jury with a study examining a link between Akathisia and Prozac, another popular antipsychotic medication. Both Paxil and Prozac are drugs classified as selective serotonin reuptake inhibitors, or SSRIs. 
"Akathisia is a disorder, induced by SSRI medications, which can cause a person to experience such intense inner restlessness that the sufferer is driven to violence and/or suicide," writes the memorial page that Wendy Dolin created in honor of Stewart. "It has been said, 'Death can be a welcome result.'"
GSK's attorneys, meanwhile, deny a link specifically between Akathisia and suicide, and they also deny that Paxil had anything to do with Dolin's death. Instead they have reportedly blamed work-related stress, which as the American Lawyer points out is a common problem in the legal field. One study published by a commission for the American Bar Association last year claims that 28 percent of attorneys struggle with depression.  
An $11 million verdict
But this is not the first trial examining the link between Paxil and adult suicide. In October, a jury awarded the family of 46-year-old Mumun Barbaros $11.9 million after he commited suicide in jail. Rather than suing the drug-maker, however,  his family blamed and sued the company that provided medical services at the jail for re-starting Barbaros on Paxil after he had been off of the medication for four days.
Dr. Peter Breggin, a psychiatrist and expert witness testifying on behalf of the family, said in a statement afterward that the verdict "illustrates the growing understanding within the judicial system and the public arena that psychiatric drugs can cause people to act in harmful ways that are contrary to their character and normal behavior."