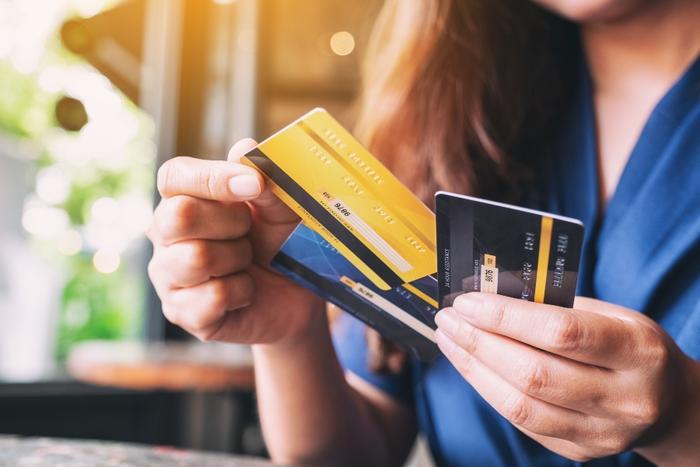 The number of U.S. consumers using credit cards has increased 7 percent over the last five years, according to a new report from Packaged Facts.
The report's authors say credit card use usually goes up during good economic times. Steady economic growth and an increasingly healthy job market in recent years have helped to provide a widening pool of credit-worthy credit card customers, and good times have encouraged them to spend.
Another factor driving increased credit card us is e-commerce, which is taking an increasingly bigger market share of retail and which is made much easier with payment cards.
The report found that consumers increasingly favor general-purpose credit cards over so-called private-label credit cards. This suggests that, after several years of growth, private label cards may now be less popular with consumers.
A private label credit card is a store-branded card that is meant to be used at a specific store. These cards are managed by a bank or commercial finance company for retailers like department and specialty stores and for some airlines.
The trend of going cashless
The growth in credit card use may also suggest the continuation of the trend of consumers paying for virtually everything using plastic. A 2018 Pew Research Center study found that 29 percent of U.S. adults said they make no purchases using physical currency during a typical week, up from 24 percent in 2015.
"Most notably, adults with an annual household income of $75,000 or more are more than twice as likely as those earning less than $30,000 a year to say they do not make any purchases using cash in a typical week (41% vs. 18%)," Pew said in a release.
"Conversely, lower-income Americans are about four times as likely as higher-income Americans to say they make all or almost all of their purchases using cash (29% vs. 7%)," the Center said.
More consumers can qualify
The higher income group is also more likely to have a bank account and to be able to qualify for a credit card. Packaged Facts' report showing credit card use is rising could also mean that consumers who previously couldn't qualify now can.
But a 2019 report from Origin, Hill Holliday's independent research arm, suggests most consumers aren't ready to give up cash completely. The survey found that 76 percent of consumers still carry some cash, even if they mostly use other methods to pay for things. Fifty-five percent said they "hated" the idea of completely abandoning cash.
Most merchants -- particularly small businesses -- also prefer that their customers pay with cash because payment cards always carry some type of fee.