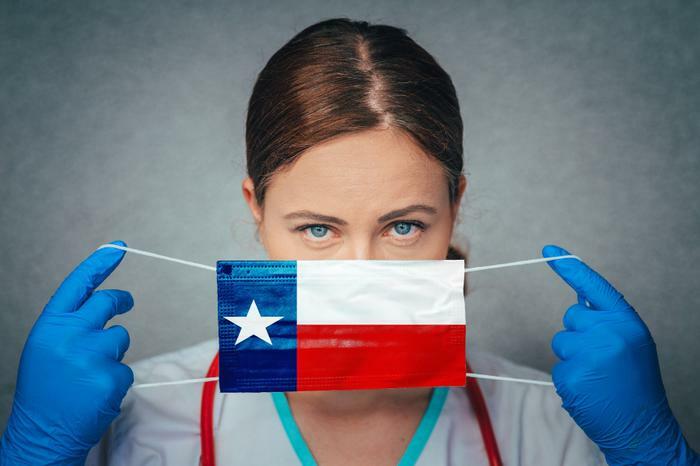 Coronavirus (COVID-19) tally as compiled by Johns Hopkins University. (Previous numbers in parentheses.)
Total U.S. confirmed cases: 28,725,592 (28,669,232)
Total U.S. deaths: 517,006 (514,842)
Total global cases: 114,912,129 (114,582,356)
Total global deaths: 2,552,687 (2,541,808)
Texas lifts mask mandate and business restrictions
Texas Gov. Greg Abbott had declared it's time to get back to normal in his state. With coronavirus (COVID-19) cases on the decline, Abbott has lifted the statewide mandate to wear a mask in public places and declared all types of businesses may resume normal operations at 100 percent capacity.
"Removing statewide mandates does not end personal responsibility," Abbott said. "It's just that now state mandates are no longer needed."
Some officials in the state's urban areas don't agree with that. They also criticized Abbott's declaration because they say it doesn't allow local municipalities to impose their own virus-mitigation practices.
White House steps up vaccination timeline
President Biden has announced that there will be enough vaccine doses available to vaccinate every American adult by the end of May, thanks to the recent addition of the Johnson & Johnson vaccine. Biden also announced that Merck will assist Johnson & Johnson in producing the drug.
Biden noted that the new timeline is two months earlier than previously predicted. "We're moving in the right direction," he said at a White House briefing. "And today's announcements are a huge step in our effort to beat this pandemic."
With more vaccine doses entering the pipeline, it should speed up the production and distribution process. Biden urged states to add teachers and child care workers to the list of people who are eligible to receive the vaccine this month.
Most small businesses aren't requiring vaccinations for workers
A survey by the U.S. Census Bureau shows that most small businesses do not require employees to get COVID-19 vaccinations or tests to return to work, and many have no plans to do so.
When asked if the business required employees to seek a vaccination or to take a COVID-19 test in the last week, 10 percent of business operators said yes and 70 percent said no.
The survey is designed to provide local, state, and federal officials with essential, up-to-date data to help them make informed policy decisions.
Senate ready to take up stimulus bill
Senate Majority Leader Chuck Schumer (D-N.Y.) said lawmakers are putting the final touches on a Senate version of the $1.9 trillion stimulus bill passed by the House. Schumer said Democrats have the votes to pass it before the end of the week.
According to CNN, the bill's text is incomplete, with various versions floating around Capitol Hill. Various factions are competing to get their version accepted.
Whatever version makes the final cut, it will have to win all 50 Democratic votes in the Senate. No Republicans have signed on to support the measure.
Dolly Parton gets a taste of her own medicine
Dolly Parton went to the Vanderbilt University Medical Center on Tuesday and got a shot of the Moderna vaccine. Perhaps that's newsworthy because the vaccine was developed, in part, with a $1 million donation from Parton's foundation.
Parton also took the opportunity to address those who are hesitant about receiving a vaccine against the virus, saying she was excited that it was her turn to roll up her sleeve.
"I've been waiting a while, I'm old enough to get it. And I'm smart enough to get it," Parton wrote in a tweet. "So I'm very happy that I'm going to get my Moderna shot today. And I want to tell everybody that you should get out there and do it too."
Around the nation
Missouri: State health officials say they are looking at ways to redistribute more vaccine doses to urban areas after many have gone unused at rural vaccination sites. About 1,400 doses were shifted this week from north-central Missouri after not enough people showed up at a mass vaccination event.

California: The state continues to show significant decreases in COVID-19 cases just a month after hospitals were nearly overwhelmed with patients. In fact, cases are down 35 percent and deaths are 20 percent lower in the last two weeks.

Tennessee: The state is moving to 1C eligibility next week, health officials say. That means anyone aged 16 and over with high-risk medical conditions will be allowed to get a COVID-19 vaccine. The vaccine will also be available to caregivers of people with high-risk medical conditions.