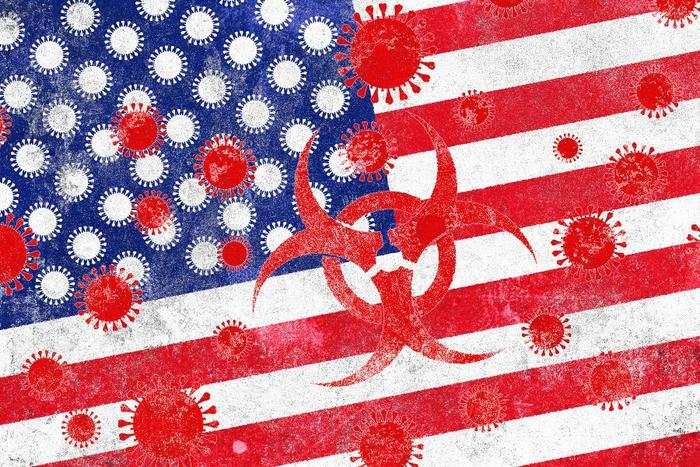 Coronavirus (COVID-19) ‌tally‌ ‌as‌ ‌‌compiled‌‌ ‌by‌ ‌Johns‌ ‌Hopkins‌ ‌University.‌ ‌(Previous‌ ‌numbers‌ ‌in‌ ‌parentheses.)‌
Total‌ ‌U.S.‌ ‌confirmed‌ ‌cases:‌ 53,217,506 (52,912,744)‌
Total‌ ‌U.S.‌ ‌deaths:‌ 821,346 (819,253)
Total‌ ‌global‌ ‌cases:‌ 283,243,283 (281,591,352)
Total‌ ‌global‌ ‌deaths:‌ 5,418,524 (5,410,921)‌
U.S. cases in record territory
Amid a sharp increase in COVID-19 cases driven by the Omicron variant, the U.S. seven-day average of cases has hit a record – 265,427. The previous seven-day record was 252,000 daily cases, which was hit in January before vaccines were widely available.
Nearly all sections of the country are seeing a major escalation of the pandemic because of the highly contagious new variant. Most health experts say the new year could see an even sharper rise in cases.
"January is going to be a really, really hard month," Dr. Ashish Jha, Dean of the Brown University School of Public Health, told CNN. "And people should just brace themselves for a month where lots of people are going to get infected."
Omicron very different from other variants, top scientist says
A top British medical scientist says the Omicron variant is very different from other forms of COVID-19, and that's not necessarily a bad thing. In an interview with the BBC, John Bell, a regius professor of medicine at the University of Oxford, said serious hospitalizations are falling as the new variant spreads.
"The disease does appear to be less severe, and many people spend a relatively short time in hospital," Bell said. "They don't need high-flow oxygen, average length of stay is apparently three days, this is not the same disease as we were seeing a year ago." 
While British hospitals are still full, Bell said the number of people in ICUs who are vaccinated remains "very, very low."
Flight attendants blast new CDC quarantine guidance
The nation's airline flight attendants are not happy with the Centers for Disease Control and Prevention (CDC) after it shortened the quarantine period for exposure to COVID-19. Sara Nelson, president of the Association of Professional Flight Attendants-CWA, said the decision to shorten the period from 10 days to five was motivated by business, not science.
"We said we wanted to hear from medical professionals on the best guidance for quarantine, not from corporate America advocating for a shortened period due to staffing shortages," Nelson said. "The CDC gave a medical explanation about why the agency has decided to reduce the quarantine requirements from 10 to five days, but the fact that it aligns with the number of days pushed by corporate America is less than reassuring."
Airlines canceled hundreds of flights during Christmas week because they were unable to assemble full flight crews.
Around the nation