---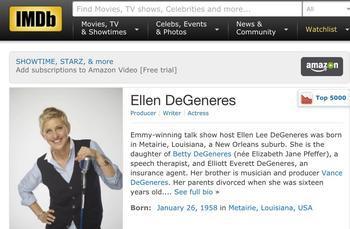 Maybe you occasionally find yourself wondering how old your favorite actor is. It's pretty easy to find out. A quick visit to IMDb.com will tell you, though maybe not for much longer.
A new California law that takes effect in January will require IMDb and other entertainment industry websites to remove birthdates when a subscriber requests it.
Gov. Jerry Brown signed the measure, AB 1687, Saturday. It was backed by the Screen Actors Guild and SAG-AFTRA as a way to combat age discrimination in Hollywood.
"Gov. Jerry Brown today stood with thousands of film and television professionals and concerned Californians who urged him to sign AB 1687, a California law that will help prevent age discrimination in film and television casting and hiring," said SAG-AFTRA President Gabrielle Carteris in a statement issued after the bill was signed. 
The measure was authored by Majority Leader Ian Calderon (D-Whittier), who said revealing actors' ages online could lock them out of roles before they even had a chance to audition.
"Even though it is against both federal and state law, age discrimination persists in the entertainment industry," Calderon said. "AB 1687 provides the necessary tools to remove age information from online profiles on employment referral websites to help prevent this type of discrimination."
Privacy groups unhappy
Privacy groups argued against the measure, saying it was unnecessary and unconstitutional. The Electronic Frontier Foundation, which normally takes a pro-privacy stance, said the law infringes on companies' First Amendment right to publish truthful information.  
Among the sites most obviously affected is Amazon's IMDb, a vast database that contains just about everything anyone could want to know about movies, actors, and the producers, directors, and screenwriters who form the core of the entertainment industry.
The measure got its start several years ago when actress Junie Hoang sued Amazon for revealing her true age on IMDb.
Hoang alleged that Amazon violated her privacy by accessing credit card data to learn that she was 40 and then added that information to her professional profile. 
Hoang said she looked younger than 40 but couldn't get as much work after her true age became known.
A jury ruled against Hoang, however, and an appeals court declined to reinstate her suit.
---