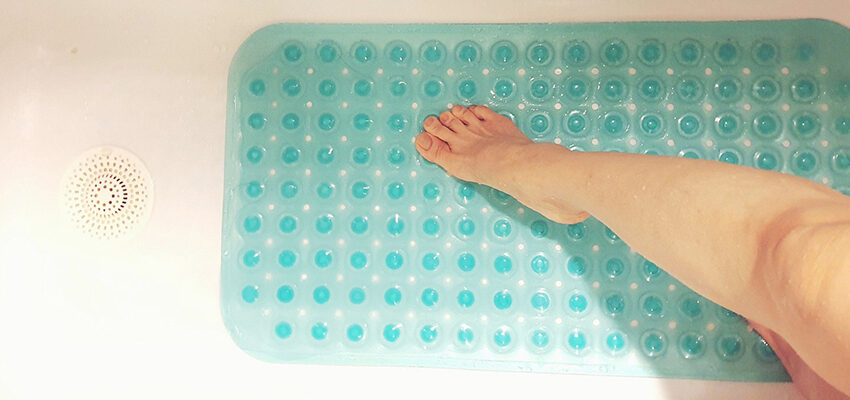 For many people, bathing is a ritual. We lather our loofahs with soap, body washes and oils to get rid of dirt, sweat and dead skin. Though these products keep us feeling clean and fresh, they can also create safety hazards in the bath and shower.
The mixture of water, soap and oil can make the bathtub and surrounding area slick, which raises the likelihood of injuries as bathers, especially those with mobility issues, exit the tub. Below are some products designed to help prevent fall incidents in the bathroom.
YINENN Bathtub Shower Mat
The YINENN Bathtub Shower Mat is a slip-proof mat with 200 gripping cups to help keep bathers from falling in the shower (not for use on tile or other textured surfaces). This mat comes in various colors, including clear, gray, blue, green and beige.
Small holes beside the gripping cups let water drain and circulate for easy cleaning and dirt-free water while bathing. The mat's texture is also ideal for manual foot massages. The company does advise against the use of body oils while using the mat.
Hygiene First Suction Shower Grab Bar, Hot Tub Handle & Bathtub Balance Handle
The Hygiene First Suction Shower Grab Bar, Hot Tub Handle & Bathtub Balance Handle gives customers support as they sit or stand in the tub. The handle sticks to smooth and solid walls, but it's incompatible with drywall and other rough surfaces.
The Hygiene First handle has gripping cups that stick to surfaces on both ends. This product is portable, so you can take it with you for travel or overnight stays. Use the flaps on the top to secure and unsecure the grip on existing surfaces. No assembly is required.
Vive Bath Step Slip Resistant Shower Stepping Stool
The Vive Bath Step Slip Resistant Shower Stepping Stool's surface and base are made of rubber to ensure it grips to the floor and prevents slippage on the surface. During a bath or shower, water can splash outside a tub, creating a slipping hazard — this product provides a safe space just outside the bathing area.
The stool helps you step safely into and out of a bathtub. It's 4 inches high and can hold up to 400 pounds, offering easier entry and exit for older adults, children and those with limited mobility.
Kyerivs Bathtub Non Slip Stickers
The Kyerivs Bathtub Non-Slip Stickers provide added safety by gripping to wet and moist areas. You can use these stickers in bathtubs, walk-in showers and pools as well as on dry surfaces like stairs, mirrors and walls.
Even upon contact with soap and water, the stickers will stay in place. Each purchase comes with 30 stickers. They require a scraper for removal, which is included in the price.
Yimobra Memory Foam Bath Mat
The Yimobra Memory Foam Bath Mat comes in various sizes (from 24 by 17 inches to 70 by 24 inches) and colors (including beige, dark gray, soft pink and lavender). Step out of your bath and shower without the worry of getting the floor wet. The product provides comfort and protection from potential falls.
It's made of velvet microfiber materials for absorption and memory foam for a soft surface. The rubber base prevents shifting and movement of the rug as you exit and enter the bathtub or shower. Make sure your floor is clean, dry and smooth before installing.
Home TechPro Non Slip Washable Rug Gripper
If you don't want to change out your current bathroom rug, this product is a perfect alternative if you need a safer space for entering and exiting the bathtub. You can stick these rug grippers underneath any carpet or rug. The base can grip to most floor types (except carpet).
Detach the rug grippers by peeling them like you would a sticker. The grippers are thin, so they shouldn't make your rugs rise or crease. Every purchase comes with four rug grippers.
Tub Guard Non Slip Clear Bathtub and Shower Grip Coating
This solution, used widely in the hospitality industry, comes in either clear or white. The color that's best for you (clear is ideal for a tub in good condition; white is usually best for one that needs touch-ups) depends on your bathtub.
This earth-friendly, gentle solution provides a non-slip grip to help prevent falls and injuries in the bathtub interior. It offers a more permanent way to safety-proof your bathroom if you're at risk of falling or have limited mobility. You'll likely see air bubbles when you apply it to the surface, but it dries solid and smooth.
Bottom line
Bathing should be relaxing rather than anxiety-inducing. If you're in need of a secure and slip-proof bathtub, the products above offer both easy and lasting solutions. If you're proactive and find the right equipment for your bathroom and tub setup, you can lower your chances of falling before, during or after a bath or shower, no matter your age or mobility level.